The New York Road Runners is a running organization that operates most of the major races in New York City, along with a ton of smaller races throughout the year. One of their races is the RBC Brooklyn Half Marathon, a race that's so popular it uses a lottery system for people who wish to run. But there's a good alternative to taking your chances on the lottery—the Virtual 6 program. In this post, I'll walk you through the Virtual 6 program for guaranteed entry to the RBC Brooklyn Half Marathon.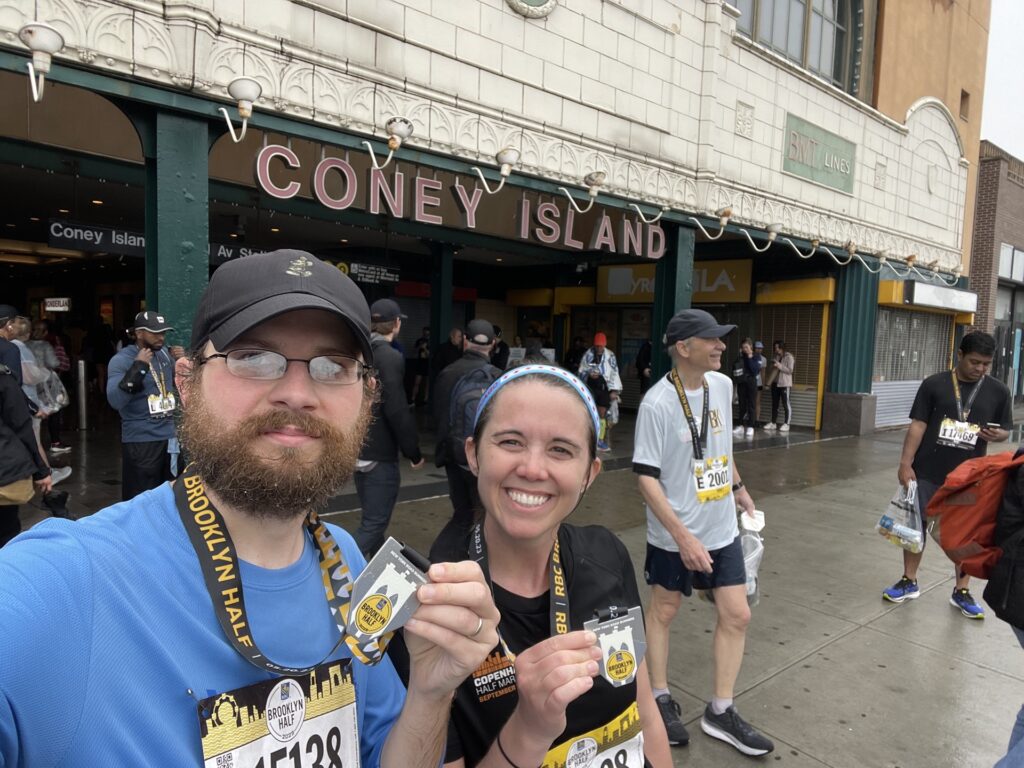 What is the NYRR Virtual 6?
The NYRR Virtual 6 program is a way to gain non-complimentary, guaranteed entry to the RBC Brooklyn Half Marathon. Completing the program requires completing six virtual races through NYRR. These races each require a fee for credit toward the Virtual 6 program, and getting credit for completion requires following a specific protocol for recording your race. If you complete six of the virtual races in a calendar year, you'll have guaranteed non-complimentary entry for the following year's RBC Brooklyn Half Marathon.
Note the bold. If you complete the Virtual 6 program in 2024, you're planning to run the RBC Brooklyn Half in 2025. Your entry will be guaranteed—meaning that if you complete the registration steps at the necessary time, you'll get into the race. But it's non-complimentary—you still have to pay the RBC Brooklyn Half registration fee.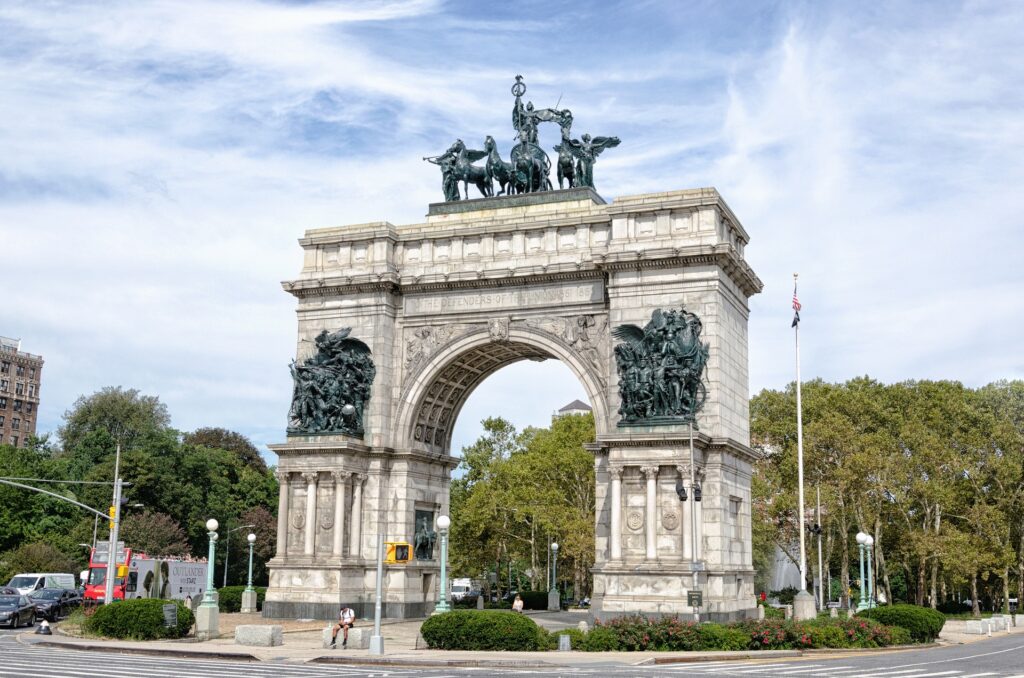 Some Official NYRR Pages to Know
You should of course consult the official sources to confirm everything we say in this post is true. We aren't affiliated with NYRR (big fans, though). Here are some of the important pages.
The NYRR race calendar is here, but I prefer the full year index. The NYRR Virtual Racing page is here. That page typically shows recent and upcoming virtual races, but the full virtual calendar isn't usually announced in advance. Finally, the NYRR Virtual Running Facebook Group is a good additional resource.
Picking Your Virtual 6 Races
Update: As the 2024 races are announced, I'll add them here. I still recommend reading the rest of this section for context and planning purposes, though. Announced for 2024 so far are:
Virtual NYRR Resolution 5K – January 1, 2024 to January 7, 2024 (also 9+1)
Virtual United Airlines NYC Half – March 9, 2024 – March 17, 2024 (see notes below)
The virtual races and challenges are announced a few weeks or months in advance. Unfortunately, we can't know in advance of 2024 exactly what races will be available when. In 2023 compared to 2022, for example, the Virtual 5th Avenue Mile and Virtual Abbott Dash to the Finish were eliminated, and the Virtual Bronx 10 Mile Challenge was added. Nonetheless, a good place to start planning for 2024 is to look at the 2023 calendar.
In 2023, there were eight virtual races or challenges, all of which were a part of the virtual 6. These were:
Virtual NYRR Resolution Run 5K – January 1, 2023 – January 8, 2023 (also 9+1)
Virtual NYRR Black History Month 5K – February 18, 2023 – February 26, 2023
Virtual United Airlines NYC Half Marathon – March 11, 2023 – March 19, 2023 (see notes below)
Virtual RBC Brooklyn Half Marathon – May 13, 2023 – May 21, 2023 (see notes below)
Virtual NYRR Global Running Day 5K – June 3, 2023 – June 18, 2023 (also 9+1)
Virtual New Balance Bronx 10 Mile Challenge – September 9, 2023 – September 17, 2023
Virtual TCS New York City Marathon – October 28, 2023 – November 5, 2023 (see notes below)
Virtual NYRR Run for Thanks 5K – November 18, 2023 – November 26, 2023 (also 9+1)
For starters, I recommend doing the three 5Ks that are a part of the 9+1 program. This is a separate program (not covered in this post) that guarantees entry into the New York City Marathon for running 9 races and volunteering for 1. Even if you're not interested in the Marathon at this moment, three virtual 5Ks gets you an easy 1/3 of the way to the 9+1.
The other notable thing is that in 2023 there were five 5Ks, one 10 mile challenge, two half marathons, and one marathon, so you'd have to complete at least one "long" challenge or race to get to six. The "challenges" typically allow you to complete your miles over multiple runs in a weeklong period, while the regular virtual races require a single run of the required distance.
Next, let's talk about those "see notes below" comments on the Half Marathons and the Marathon. These virtual races tend to come in a variety of flavors (that we don't need to go into much detail about here), like "Love of Running", "Medal", and "Guaranteed Entry."
The bottom line is that, to the best of my knowledge, you'll get Virtual 6 credit for any of these so long as it isn't the totally free option. Typically, the "Love of Running" option is a free race with a "Premium Entry" paid option, and the website notes that you'll get Virtual 6 credit only if you pay the "Premium Entry" fee.
This is true of the other virtual races, too. They usually have a free option, but you'll need to pay for the "Premium Entry" in order to get virtual 6 credit.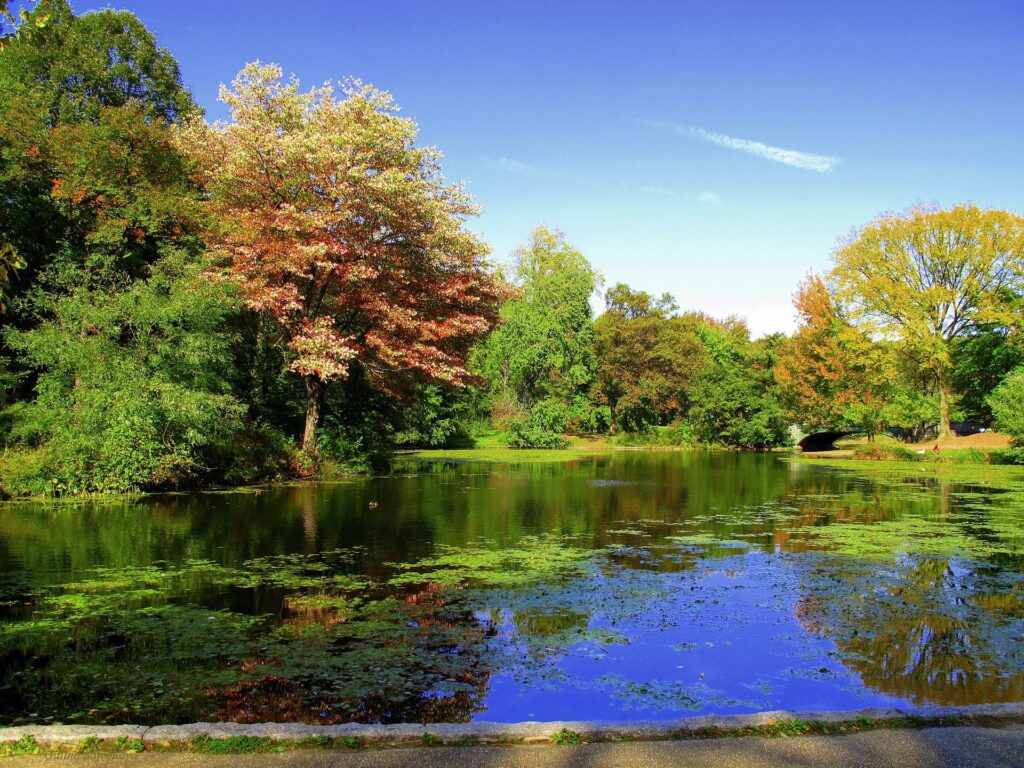 Becoming an NYRR Member
To the best of my knowledge, NYRR membership isn't required for the Virtual 6 program. But you're going to want it anyway. A standard individual membership costs $40 for the year. It gets you $10 off Premium Entry (required for Virtual 6 credit) for virtual races. You're planning to run 6 virtual races. 6x$10=$60. $60>$40.
Note: Membership rates are rising, with the individual starting at $60 on January 4. This is still breakeven if you do the Virtual 6, so we still recommend the membership.
Registering for the Virtual 6 Program
You don't have to separately register for the Virtual 6 program. Your NYRR account will automatically track your progress in your dashboard on their site: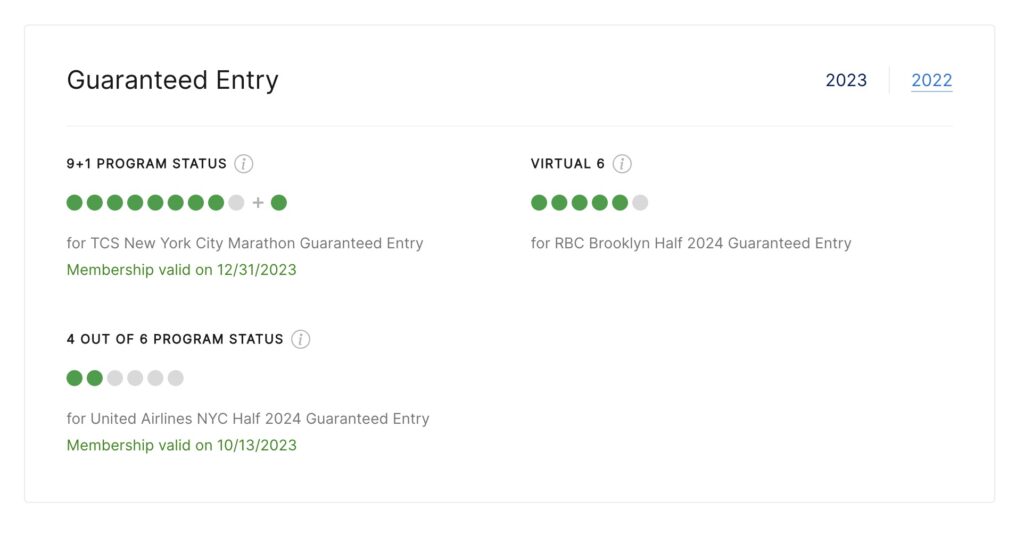 Setup a Strava Account
NYRR Virtual races are tracked in Strava. More on this later, but before you sign up for any races you'll want to setup a free Strava account. You can do that at Strava.com or by downloading the Strava app and registering from there.
Registering for a Virtual Race
The registration process for the virtual races is straightforward. The only tricky part is making sure you're regularly checking (either the website or your emails, if you subscribe to NYRR emails) to see when NYRR Virtual Races open for registration.
Once you're ready to register, simply head to the race webpage. Confirm the race is eligible for Virtual 6, and make sure you sign up for the "Premium Entry" (paid) option to get Virtual 6 Credit.
Connect to Strava
As part of your first virtual race registration, you'll link your NYRR account to your Strava account. This is a necessary part of getting Virtual 6 credit for a race.
Confirming Your Strava Connection
After registering for a virtual race (give it a few hours, maybe), I'm able to see in the profile section of my Strava app that I'm registered: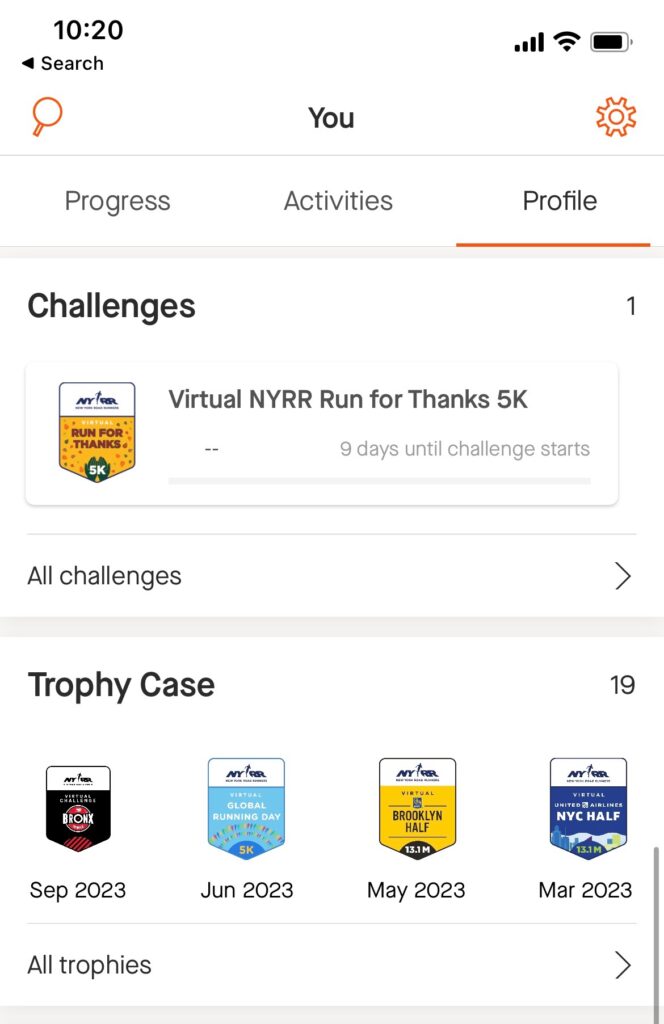 Completing Your Virtual Race or Challenge
This is the big moment. Each virtual race or challenge has a timeframe, usually a week, during which you have to complete it. When it comes time to complete your virtual race, you need to do the following …
Practice using Strava. I recommend doing a few practice runs on Strava to get familiar with the app. Make sure you're doing GPS recorded runs and that they're uploading into your profile properly when you're done.
Use Strava. Strava is the only way to properly track your NYRR Virtual runs for Virtual 6 credit.
Use GPS to track the run. You cannot complete a Virtual 6 race on a treadmill. You could theoretically complete it indoors, as long as the GPS is tracking you enough to give you credit for the distance.
Run (or walk) the required distance. There's no speed requirement for virtual races. You can walk the distance if you wish. Remember to confirm the terms of the race or challenge. Typically a virtual "race" will require you to run the required distance in one run during the timeframe. A virtual "challenge" usually allows multiple runs that combine to reach the target distance.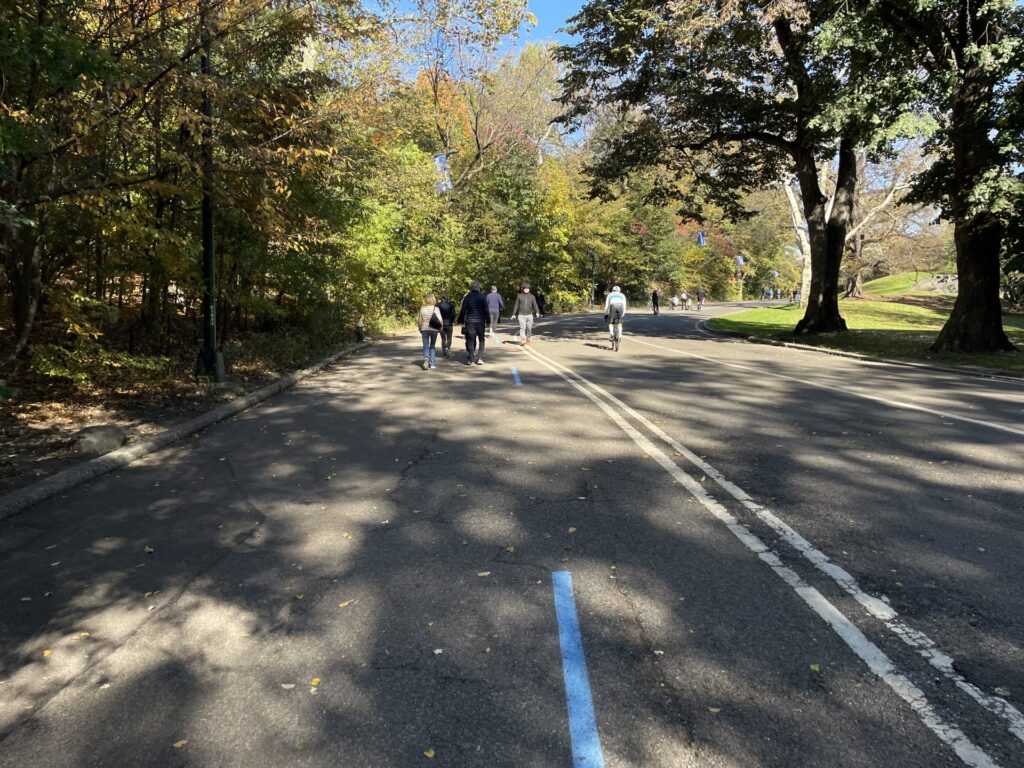 Run (or walk) a little extra. Make sure your Strava-measured distance is a little longer than the requirement. The easiest way to do this is to finish your run and then just walk an extra bit without stopping the recording until you've cleared the target distance.
Keep the units of measurement in mind. If the challenge calls for a 5K (5 kilometers), you'll want your mile count to be at least 3.11 miles. I'd aim for 3.25, just to be safe.
Make Sure Your Run Uploads to Strava. I'm in the habit of simply stopping my run and closing the app, and I've found several times that I won't get any sort of confirmation about my Virtual 6 credit until I take a second in the app to make sure the run is uploaded into the system. If you run on Strava every day this probably isn't an issue for you, the run will just upload next time you open the app. But if you only use Strava for these races, you don't want to run into problems because you closed the app and the run never uploaded.
Confirm You Completed the Virtual Run
If your GPS-recorded run is completed in the required timeframe and properly uploads to your Strava account, which you previously linked to your NYRR account, you should be set. There are usually a few ways to make sure you've completed the requirements shortly after the race. Here's a look at my Strava "Activities", showing the run counted for the Virtual Global Running Day 5K: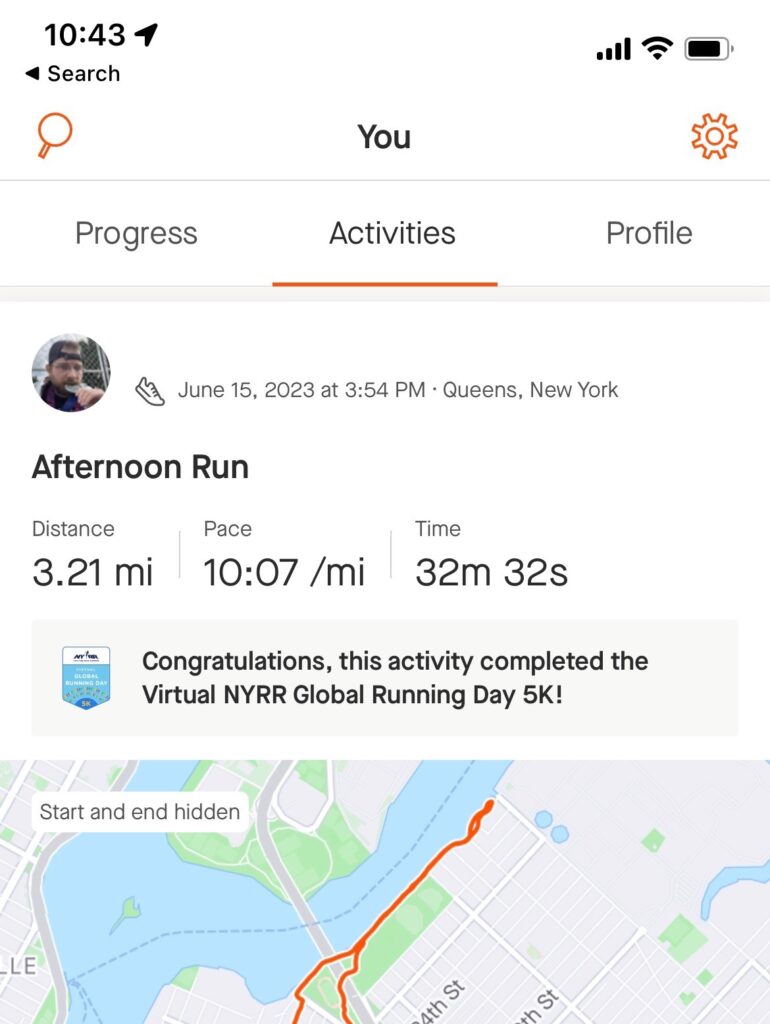 Here's an email I got a few hours after that: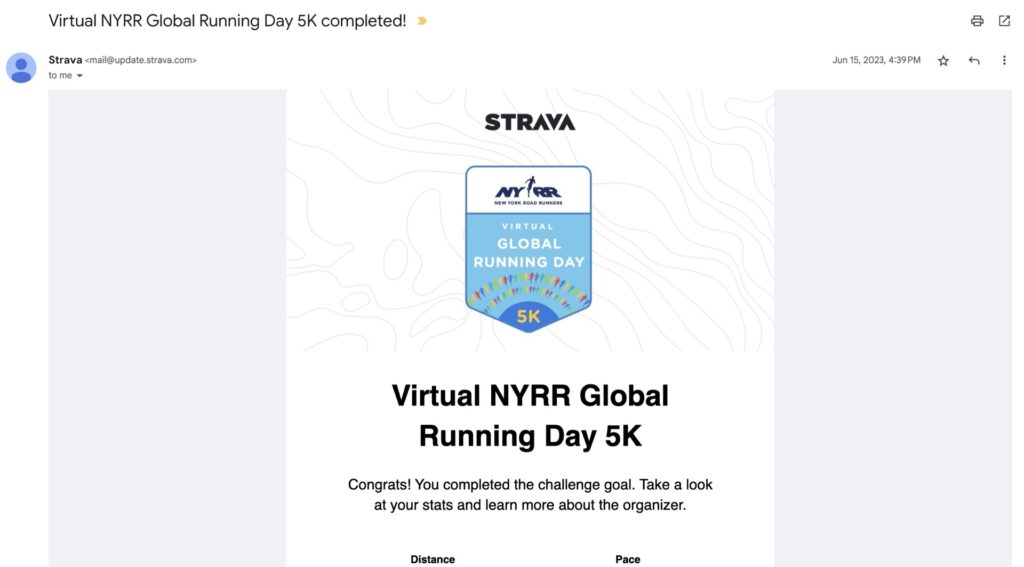 And here's a look at one of the challenges. This was the Bronx 10 Mile Challenge, and I was able to access this by clicking "Groups" in the bottom bar and then "Active" challenges on the top. You can see the progress bar filled: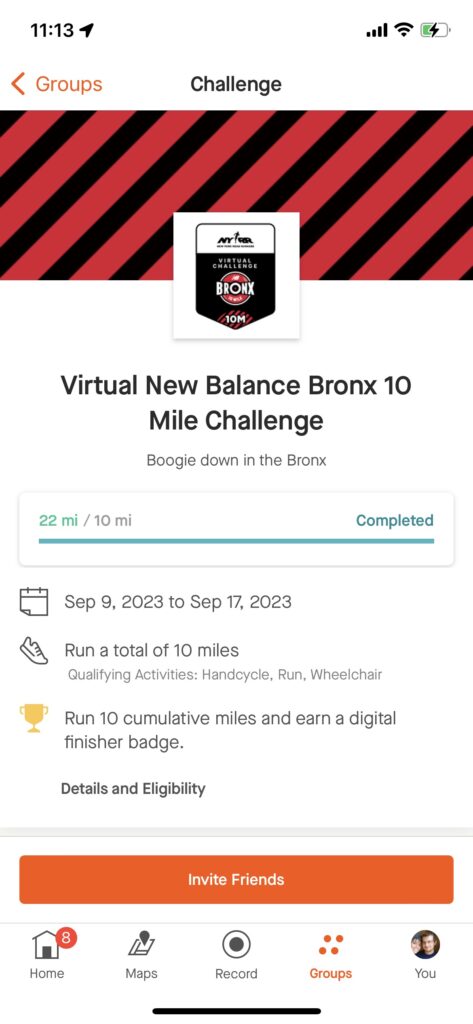 Confirm Your Virtual 6 Credit
It takes a while for your NYRR dashboard to be updated to show credit. Usually it occurs about a week after the window for completing the Virtual race closes. Here's that dashboard again, Virtual 6 on the right, with the green dots representing completed credits: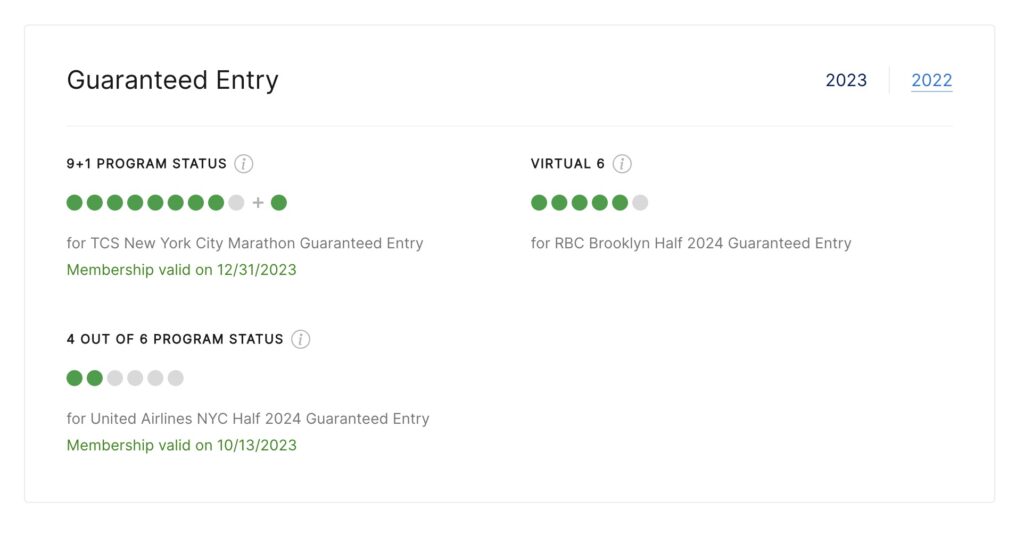 Using Your Guaranteed Entry to Register for the RBC Brooklyn Half
Once you've completed your Virtual 6, you'll wait for registration to open for the following year's RBC Brooklyn Half. So, someone who completes the Virtual 6 in 2023 will be able to run the RBC Brooklyn Half in 2024. The guaranteed entry claim period for that race opens on Tuesday, December 12, 2023 at 12:00 p.m. ET and closes on Wednesday, January 10, 2024 at 11:59 p.m. ET.
I haven't yet had the opportunity to see the exact workflow for claiming guaranteed entry for this race, but I did register for the United Half via a separate guaranteed entry program. In that case, NYRR automatically identified my account as eligible: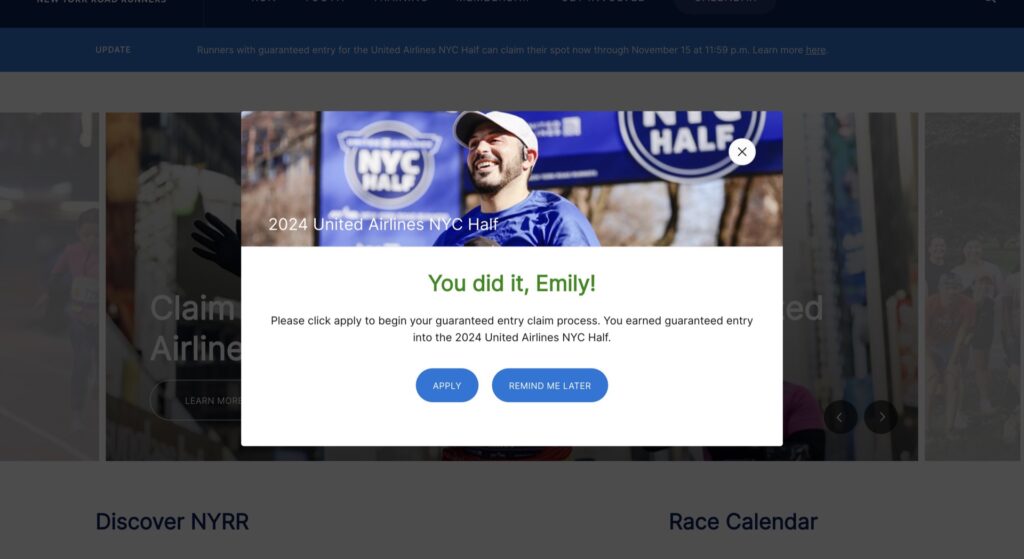 Thinking of completing the Virtual 6 in 2024? We'll be right there running virtually beside you!