Iowa City, Iowa, USA | Iowa City is a college town with serious Midwestern vibes. Located in the middle of Iowa, which is in the middle of the United States, it's a small city surrounded by farms and rolling hills on all sides. The people here say things like "pop" and "ope" and they are as kind as you'll find anywhere in the world.
You can't go anywhere in this town without being reminded that Iowa City is home to the University of Iowa Hawkeyes — not even the coffee shop at one of the only hotels in town.
When Starwood merged with Marriott, the former Sheraton got a complete facelift. The hotel, now called The Graduate, is about his hipster as Iowa City gets. The lobby is a trendy, library-inspired space with a modern edge, and attached to the lobby is the in-house coffee shop, Poindexter.
Poindexter has fully embraced the collegiate style of the hotel in which it's located. The walls are fully lined with pencils, which is the real show-stopper of their decor. The one wall free from pencil's bears a collection of  Midwestern art with kitschy sayings like "No Coast" in muted colors.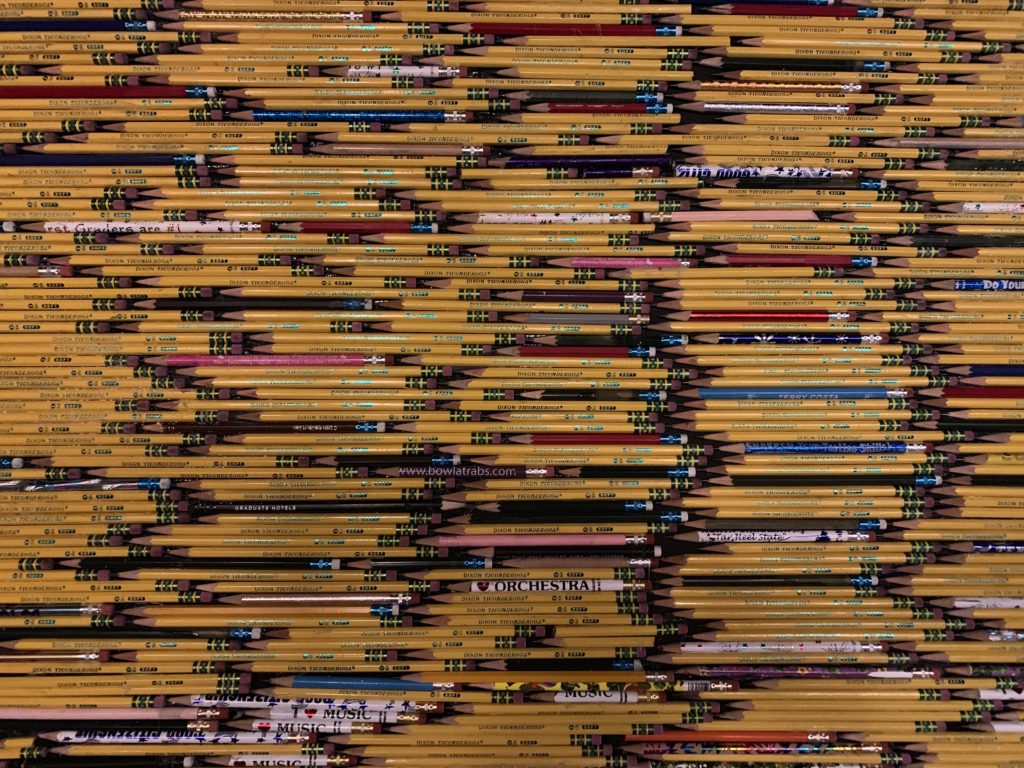 It's a spacious joint that is reminiscent of a college study hall. Each table has a jar of freshly sharpened pencils and there are lots of large, shared tables with outlets and overhead lighting.
Their coffee menu was respectable. The displayed menu was limited to a handful of core espresso beverages, nitro cold brew and a seasonal latte, which at the time was pumpkin brulee. In true hipster fashion, they offered four non-dairy milks including soy, oat, coconut and almond.
We tried the nitro cold brew and a cappuccino. The nitro was notably tasty. It was a really smooth cold brew with noticeable cocoa notes. It was not as acidic or lemony as a lot of cold brews and was very easy drinking. The cappuccino was pretty standard.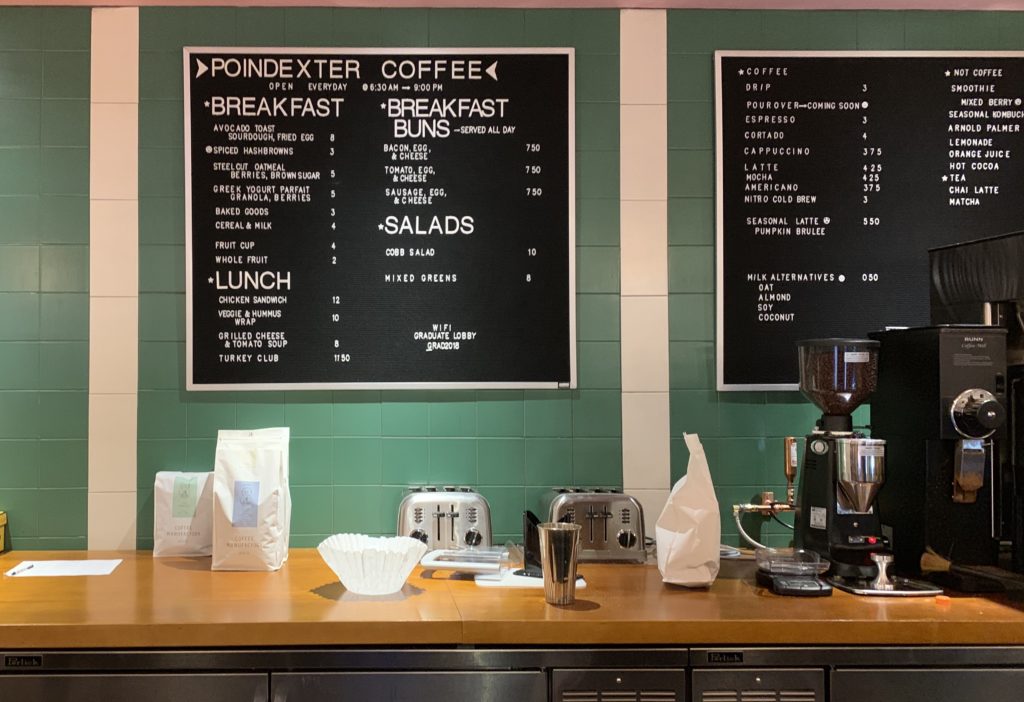 Poindexter also doubles as the hotel restaurant, and as such, leaves a little something to be desired. Breakfast offerings seemed decent, offering a variety of breakfast sandwiches and other sides, but lunch options were very slim and relied heavily on pre-packages sandwiches and snacks. The service was also notably not great.
In a college town with lots of coffee shops, both chain and local, Poindexter is a reliable option. Even if we were not staying in the hotel, this is the kind of coffee shop we would tend to seek out and choose to spend time at. We would definitely give it a positive rating and plan to return.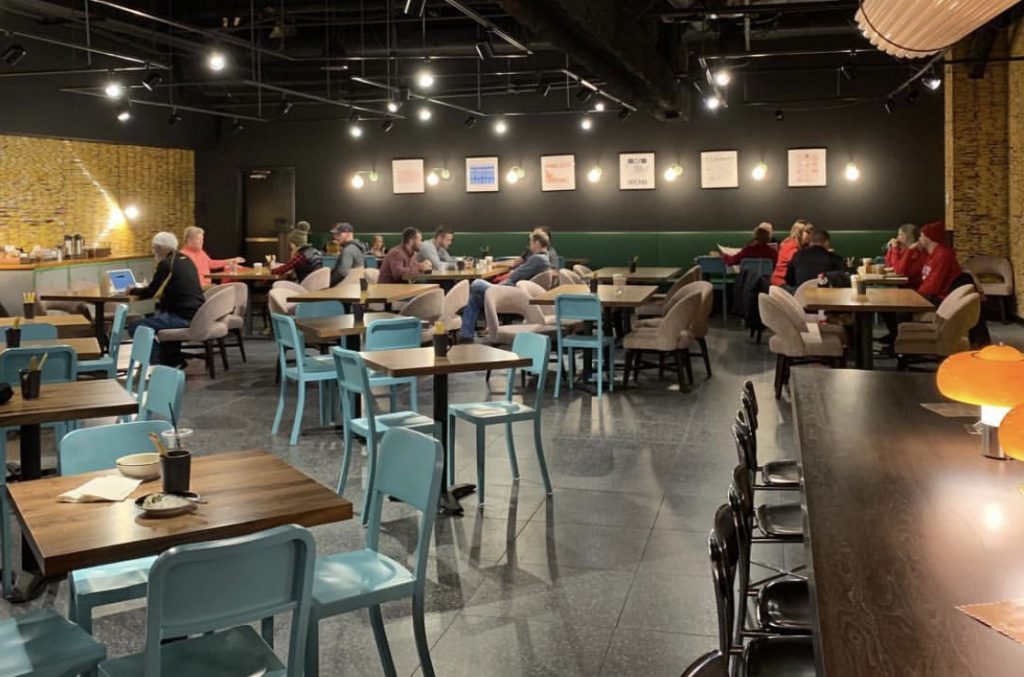 Details //
Location: Iowa City in The Graduate hotel (210 S Dubuque St, Iowa City, IA 52240)
What we ordered: Cappuccino and Nitro Cold Brew
Price: $3.75 / $3
Wifi:  Yes, free for all guests
Seating: Indoor seating and lots of it
Food: Breakfast and lunch sandwiches, limited pastries and other snacks
Table service or walk up: Walk up
Languages Spoken: English
Credit cards accepted: Yes
Chain or Local: Local

Scores //
Drink Quality: 8/10
Food Quality: N/A
Menu Creativity: 3/10
Service: 3/10
Good for digital nomads: 10/10
Good for vegetarians: N/A
Perceived Popularity: 9/10
Other Favorite Cafes //
Our love affair with coffee runs deep. We met at a coffee shop, we planned this trip from a coffee shop, and we work everyday at a coffee shop. So it's no surprise that coffee shops are deeply engrained in our travels. We've loved getting see the similarities and differences in coffee around the world.  A couple of our favorite cafes were Cafe Arabica in Kyoto and Dubai and Abaco Libros y Cafe in Medellin, Colombia.