The Great Wall of China is essential on any trip to Beijing and probably any trip to China. Visiting the Great Wall can be complicated. There are so many sections of the wall, tour providers and ancillary attractions to consider that it can make your head spin. The options and the cost can add up fast. It doesn't actually have to be that complicated or expensive, though. A DIY day trip to the Great Wall of China from Beijing is actually a very simple, very cheap option. In this post, we'll walk you through exactly how to take the bus to Badaling, a very popular section of the Great Wall, from central Beijing using public transit.
About Badaling
Badaling is the best preserved and most visited section of the Great Wall of China. It's the section most frequently visited by world leaders, including Ronald Reagan, Queen Elizabeth and Barack Obama (and if it's good enough for them, it's good enough for me).  This 7.5 mile section was originally constructed during the Ming Dynasty in 1368 – 1644 to defend Beijing from invasion by the Mongolians to the north. Today, 2.5 miles of this section of the wall have been restored and opened for tourists.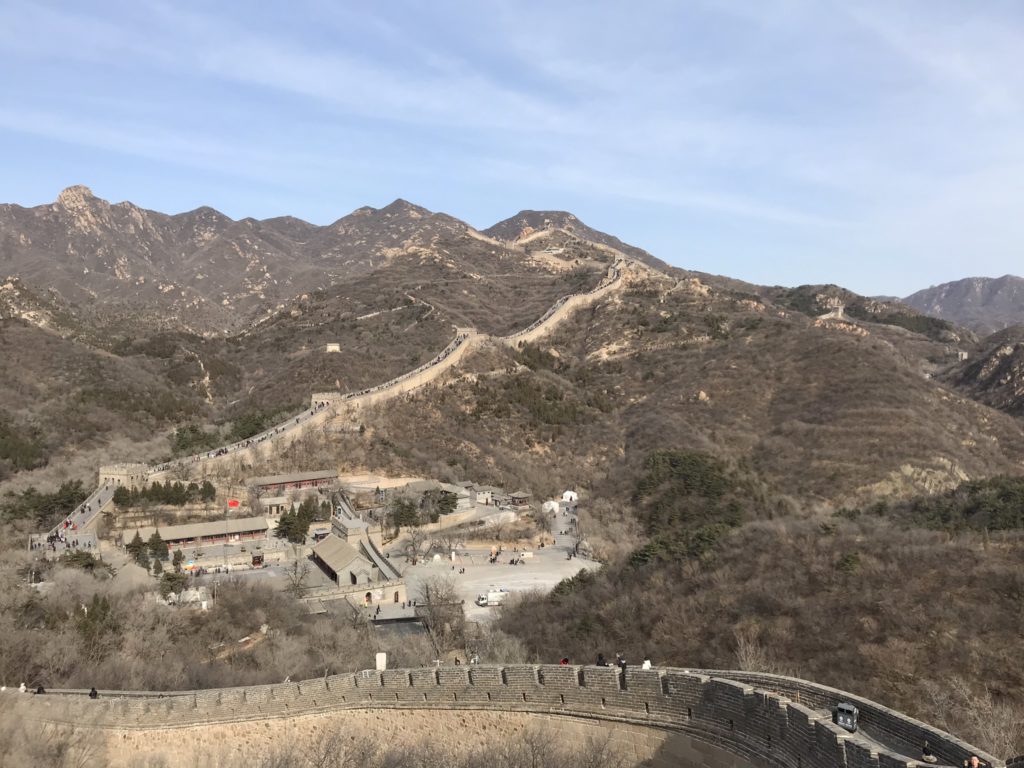 There are a lot of reasons to choose Badaling for your Great Wall visit: its proximity to Beijing, its beautifully restored construction, its 17 watchtowers with stunning views, just to name a few. This section will really help you see the immense beauty and looming size of this truly incredible wonder of the world. Located just 43 miles from the city center of Beijing, it's easy to visit with convenient connections via train and bus.
Make no mistake, Badaling is a tourist attraction. You will not be exploring the ancient remains of the wall by yourself in the middle of nowhere. This section of the wall has actual steps and handrails, cable cars and pulley cars to help visitors up and down, and plenty of souvenir stalls and snack stops available for breaks as your make your way along the wall. While this can be viewed as a downside to many, we enjoyed seeing the wall that closely resembled its former glory more than we think we'd have enjoyed the ruins. We also were perfectly happy to buy a hot cup of coffee to warm up along the way.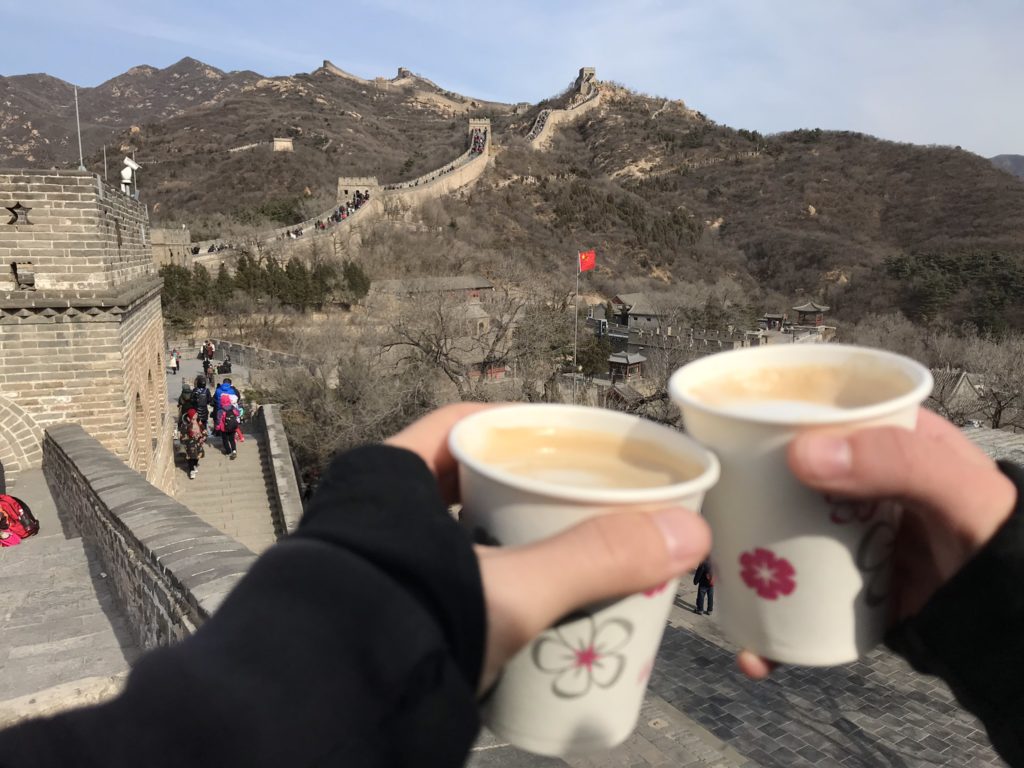 Other parts of the wall offer visitors different benefits, so if the Badaling section isn't speaking your travel language, that's cool. There are lots of tour providers and car services that can help you reach different sections of the wall for different prices. You can find a great guide to the different sections of the Great Wall here if you'd like to explore more.
But if I've got you convinced on visiting Badaling, let's start our journey!
Schedule & Fare Information for the 877 Bus to Badaling
The 877 bus will take you directly from central Beijing to Badaling. This bus is nonstop and runs continuously (meaning the buses depart as soon as they're filled, which is frequently) during the following times:
877 Bus Schedule during Peak Season (April 1 – October 31)
Beijing (Deshengmen Arrow Tower) to Badaling: 06:00-12:00
Badaling to Beijing (Deshengmen Arrow Tower): 10:30-17:00
877 Bus Schedule during Low Season (November 1 – March 31)
Beijing (Deshengmen Arrow Tower) to Badaling: 06:00-12:30
Badaling to Beijing (Deshengmen Arrow Tower): 11:00-16:30
The bus departs Beijing from the south side of Deshengmen Arrow Tower, which is searchable on Google Maps. If you're not staying near Deshengmen, you can easily get to Deshengmen on the subway. Take the 2 blue subway line to Jishuitan station and leave using Exit A. Walk east until you arrive at the tower.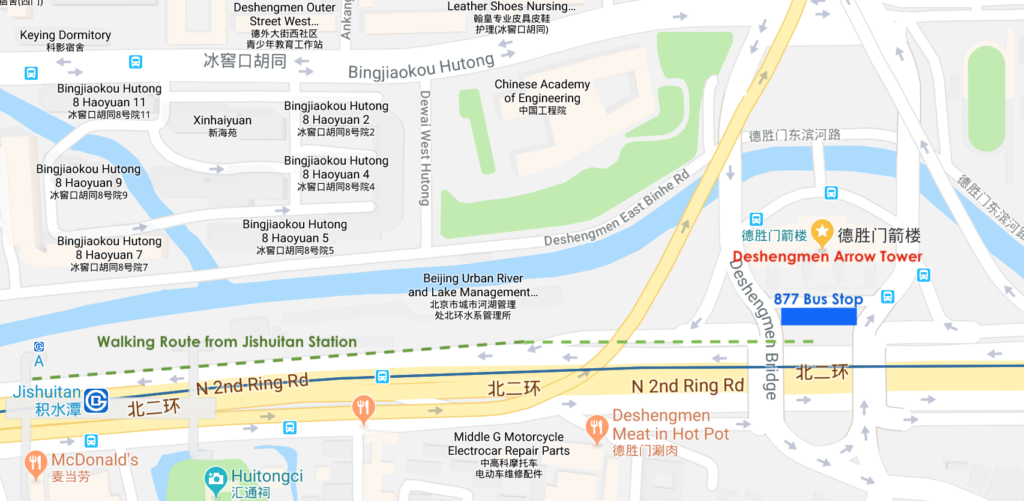 WARNING: Many people report fake buses and tour companies, many of which are even labeled 877, on the walk between the train exit and Deshengmen. Be aware that no one will ever try to convince you to get on the real 877 bus (they are too busy loading up all the people in line). The real busses are green and located right in front of Deshengmen Arrow Tower with a formal queue and boarding process. The fake buses aren't dangerous (they won't kidnap you or anything), but reportedly they over charge and take their guests on shopping trips to local villages along the way where they're pressured to buy things. Don't get duped.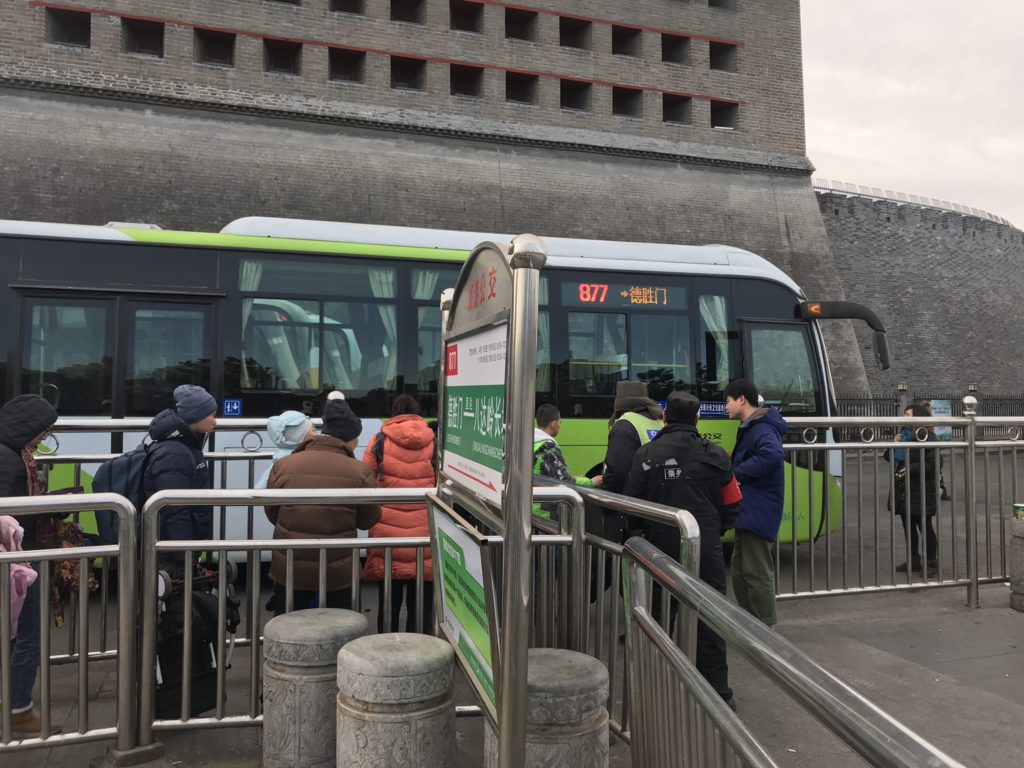 Bus Fare
The bus costs only 12 CNY ($1.89 USD). This is a steal when tours cost upwards of $100+ for the same trip. You can pay using exact change or by using your transit card. Note that there are no transit card loading machines at Badaling, so you will want to be sure that you have enough on your card for the round trip before getting on the bus.
Boarding the 877 Bus to Badaling
It's hard to miss the 877 when you arrive at the bus stop on the south side of Deshengmen Arrow tower during operating hours. There are several green buses lined up and a long queue of tourists extending south from the buses. Find the end of the line and jump in. Don't worry, it moves quickly. The staff will direct you as to which bus to get on. They'll speak in Mandarin, but it's easy to figure out; just go where they point. As soon as the bus is full (pretty much immediately), it will depart.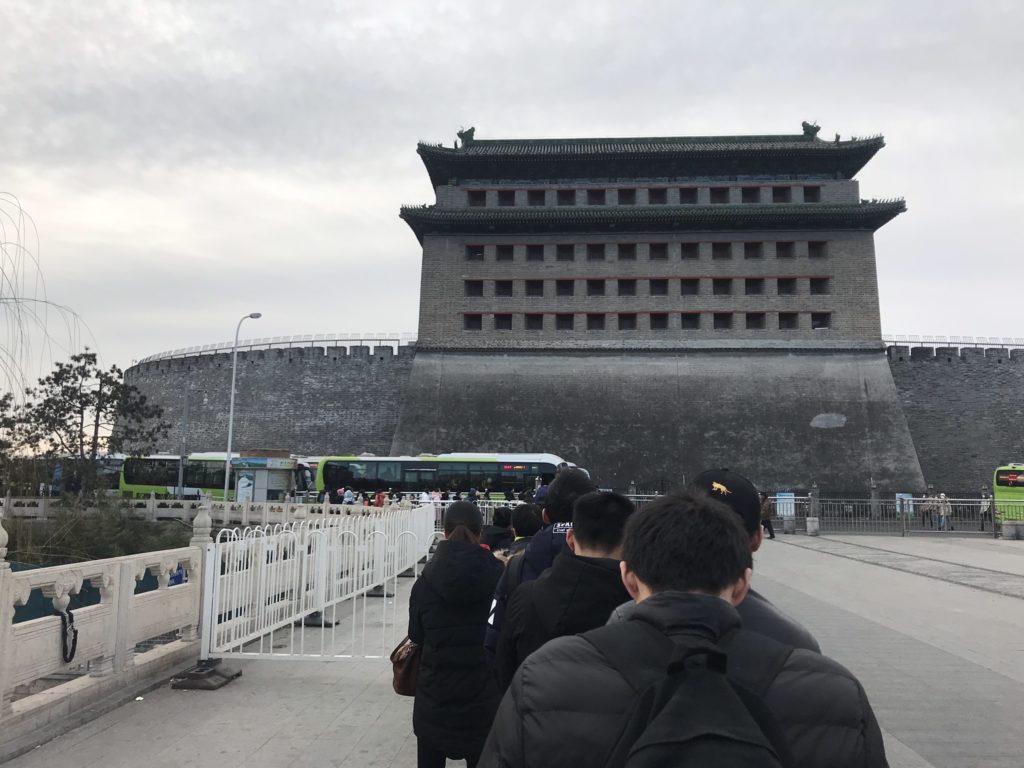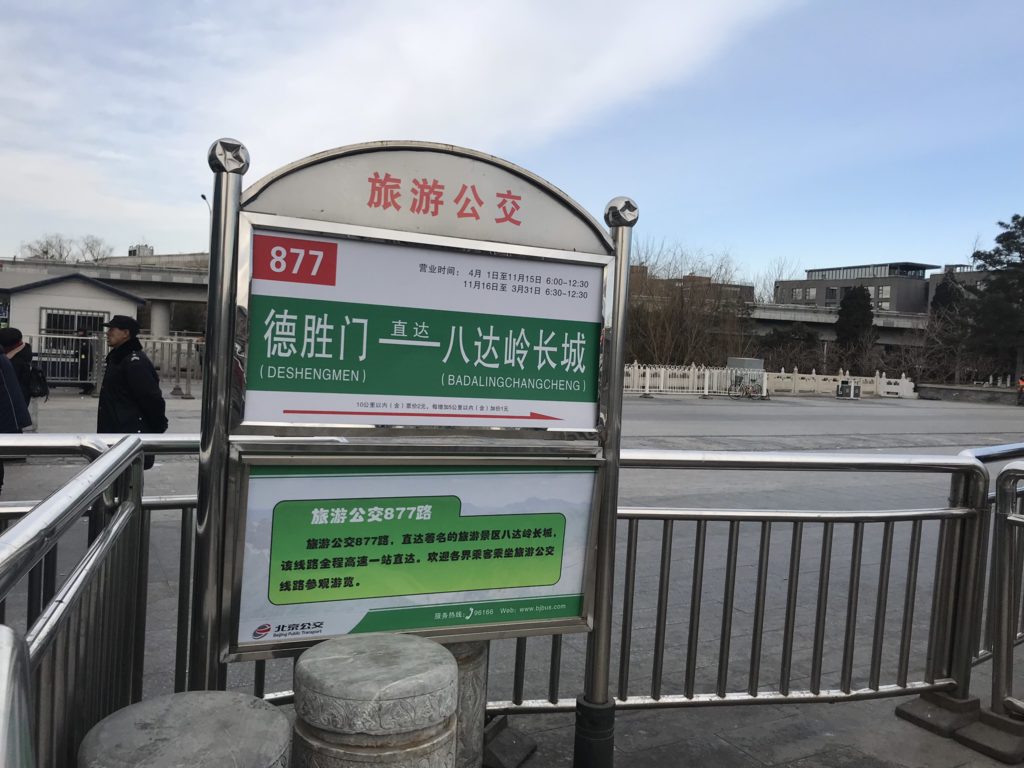 The Journey to Badaling on Bus 877
The trip takes about an hour and 15 minutes. While the first hour was nothing special, keep your eyes open toward the end and you'll be treated to some stunning views of the Great Wall as it winds its way up and over the mountains.
Most buses, including the one we were on, have a tour guide who will share information about the Great Wall and Badaling. We've heard this is awesome, but it's all in Mandarin. So if you don't speak Mandarin, it's a good time to put your headphones in and enjoy the ride.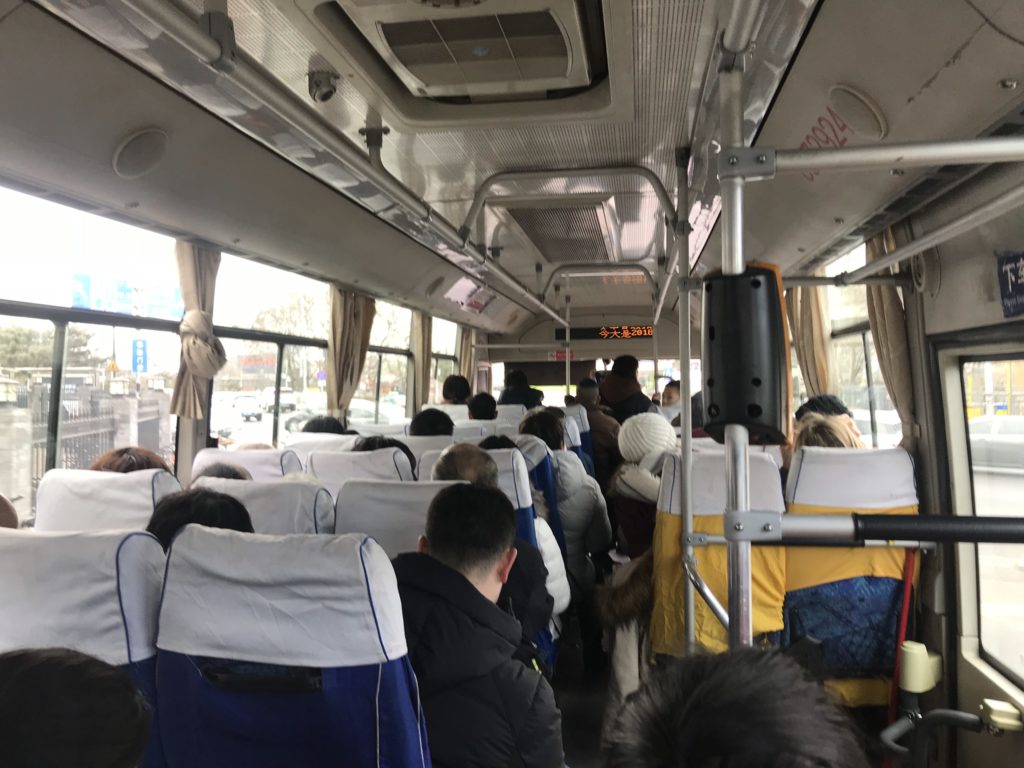 Arriving at Badaling
When you get off the bus at Badaling, everyone from the bus seemed to stay together and follow the tour guide to the ticket counter. We don't speak Mandarin and didn't know what this was about, so we just just broke off and did our own thing.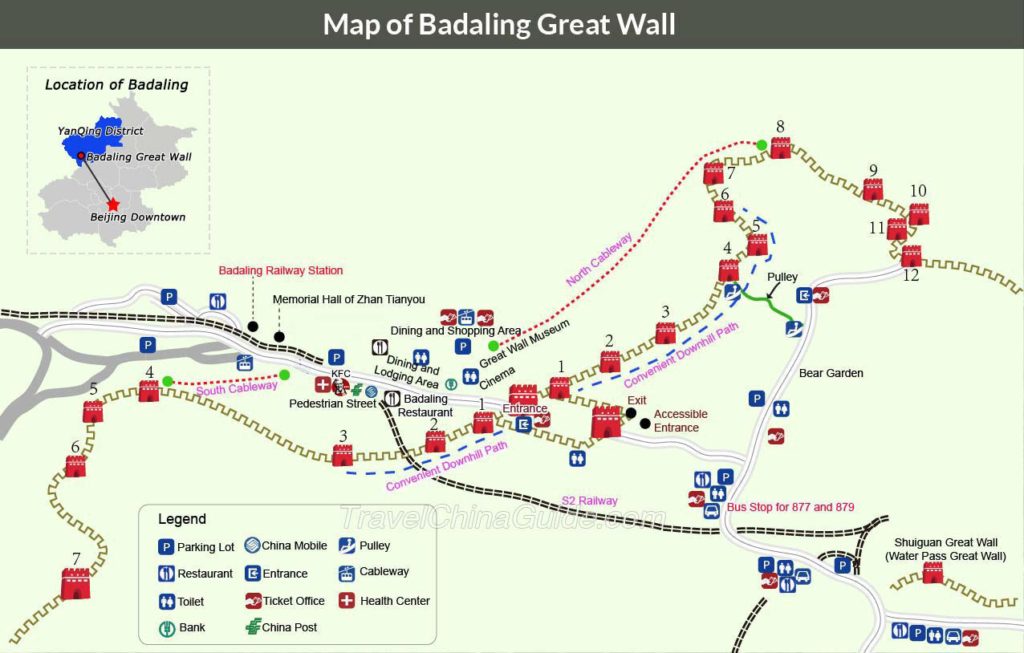 The bus drops you off southeast of the main entrance. This puts you near the pulley cars, but pretty far from the cable cars if you're looking for help to the top. There will be ticket counters and shops near the bus stop. We didn't really understand the signs here, as they appeared to just be tickets for the pulley car, so we kept walking. We recommend you do the same as this ticket booth was way more crowded than the ticket booth at the main entrance.
Note: If you're taking the pulley cars, you will want to stop at this ticket booth and then ignore the rest of my instructions. If you're taking the cable cars, you'll need to follow my directions below, pass the main entrance, and then follow signs toward the cable cars or museum.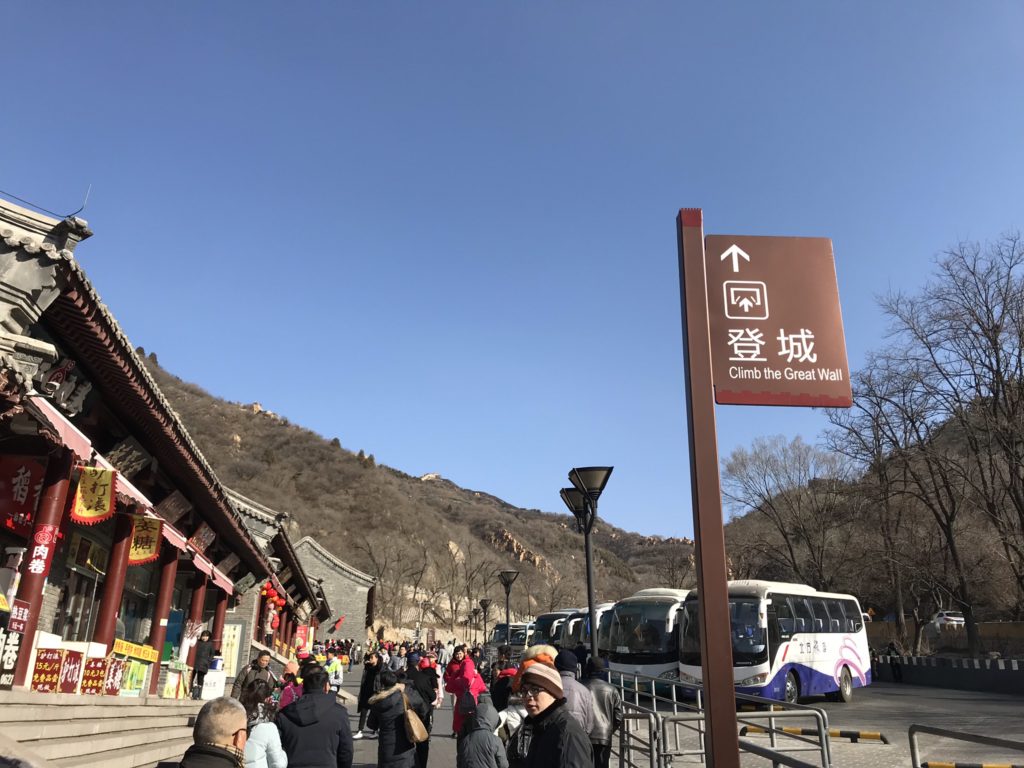 The route to the entrance is clearly marked with signs in English. From the bus stop, follow the signs for "Climb the Great Wall". This will take you past a ticket booth and several shops, up a covered flight of stairs lined with shops, and then back outside, ultimately popping you out at the main entrance. This is about a ten minute walk. As you get closer, the signs will get more specific, directing you toward the entrance or other attractions.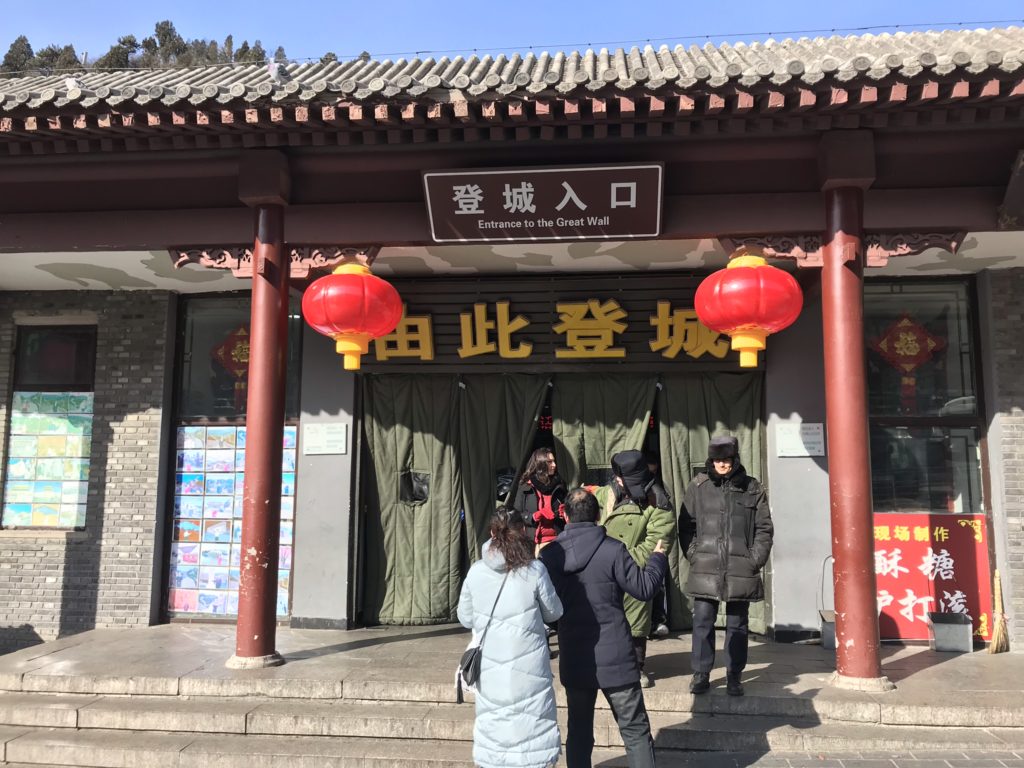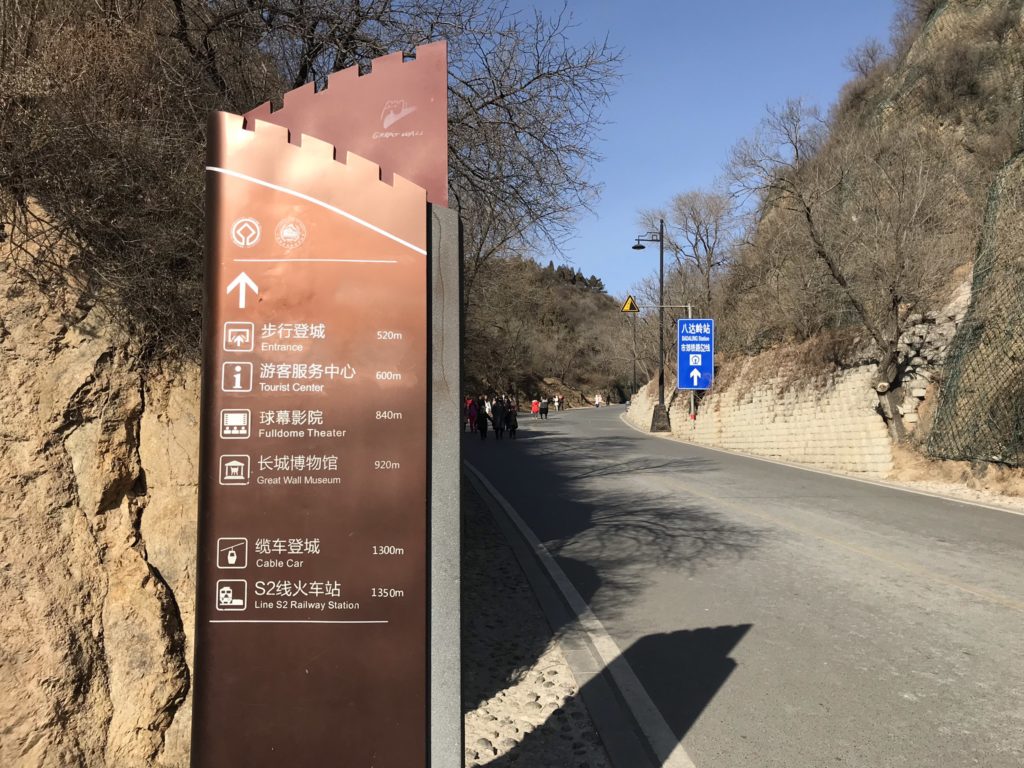 Soon you will arrive at the main ticket office and entrance to the Great Wall. From here, you can purchase your ticket for 40 CNY during peak season (Apr. 1 to Oct.31) or 35 CNY during low season (Nov.1 to Mar.31). If you're planning to take the cable cars up, you'll need to pass the main entrance and keep walking, following signs to the cable cars or the museum (both in the same area).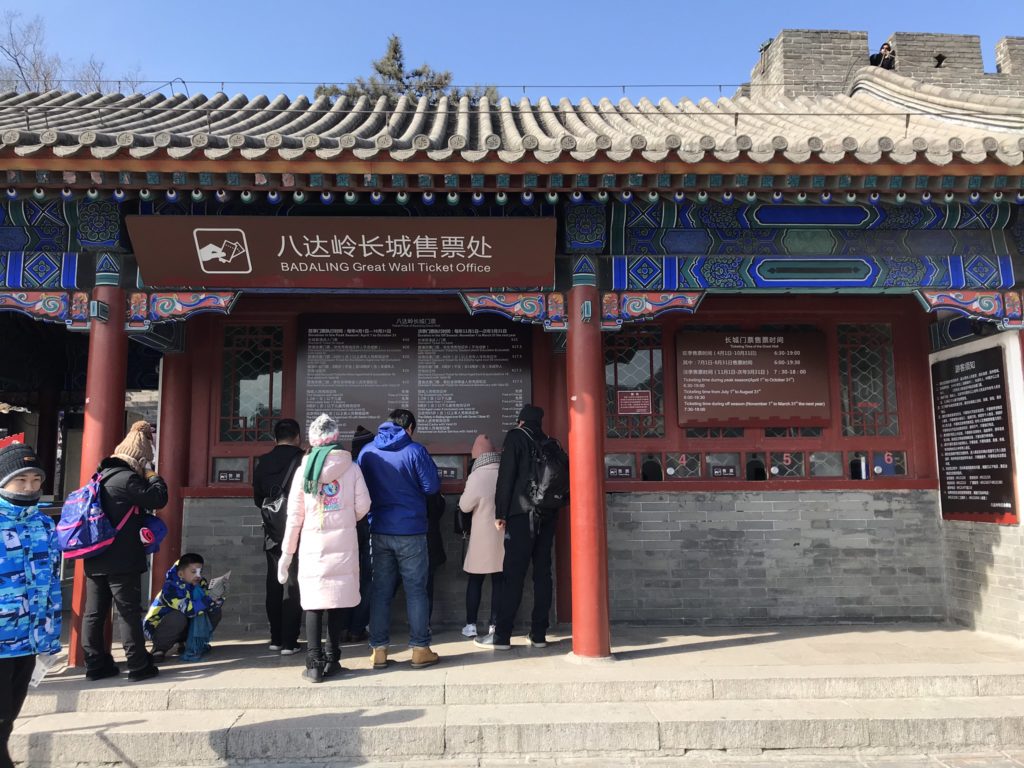 Once you go through ticket control, you can head north (turn right) or south (turn left). The north path is the most heavily trafficked and will take you to the famous 8th watchtower, the tallest tower on this section of the wall. South is much less crowded, but the climb gets really steep, really fast.  Regardless of your route, you'll eventually need to exit the same place as you enter, so keep that in mind when deciding how far on the wall you want to go.
Other Things to Do at Badaling
Climbing the Great Wall of China is obviously the coolest part, and the reason you're here. But there are a few other spots in the vicinity I want to point out.
The Great Wall Museum: The Great Wall Museum is free and located just past the main entrance if you're coming from the 877 bus stop. The museum is pretty good, and will take you about 30 minutes to walk through. You won't learn a ton, but there's some good tidbits and relics.
Cable Cars & Pulley Cars: The cable cars are great if your unable to or uninterested in the walk up the wall. The cable cars will pop you out near the highest point by the 8th watchtower and will cost 100 CNY one-way or 140 CNY round-trip. The pulley cars will only take you up about half way and cost 80 CNY one-way or 100 CNY round-trip.
Food & Drinks: I hate to be the bearer of bad news, but there is no longer a Starbucks at Badaling. We were bummed, too. But between the main entrance and the Great Wall Museum (as well as past the museum where "Dining" is listed on the map above), there are plenty of places to get food and coffee. There is a Subway, which is a great option to grab a sandwich before the hike or to take with you and have a picnic on the wall. You can also find a handful of snack stands on the wall if you need to recharge along the way, however, the prices on the wall are higher.
Fulldome Cinema Great Wall Film: This short film is about the Great Wall and is in Mandarin with no English subtitles. We found very little information about this film, and chose not to do this activity. But it's there if you're interested and speak Mandarin.
Departing Badaling for Beijing
After you've soaked in all the wonder you can from experiencing the Great Wall of China in real life, it's time to journey back to Beijing. You're return trip is just as simple as your outbound trip.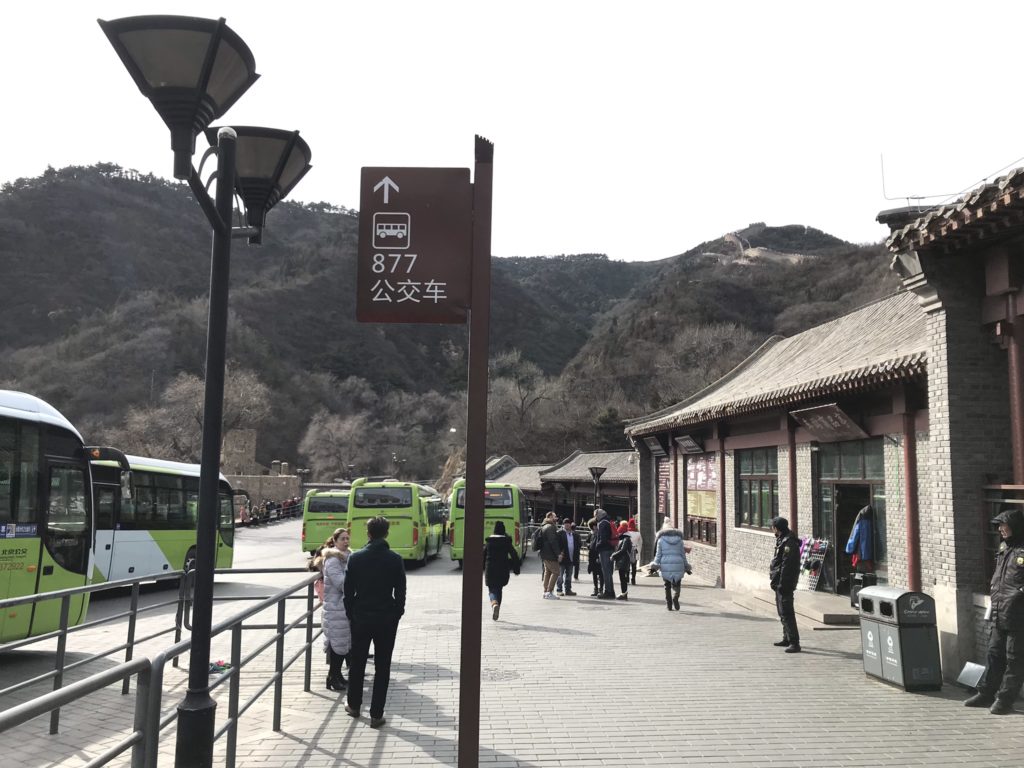 The bus departs from roughly the same place it dropped you off. After exiting the Great Wall near the main ticket booth, continue back down the same path you took to get there. This will take you back through the shops and vendors. Follow the street of vendors toward where you got off the bus, and you'll see another line of green 877 buses.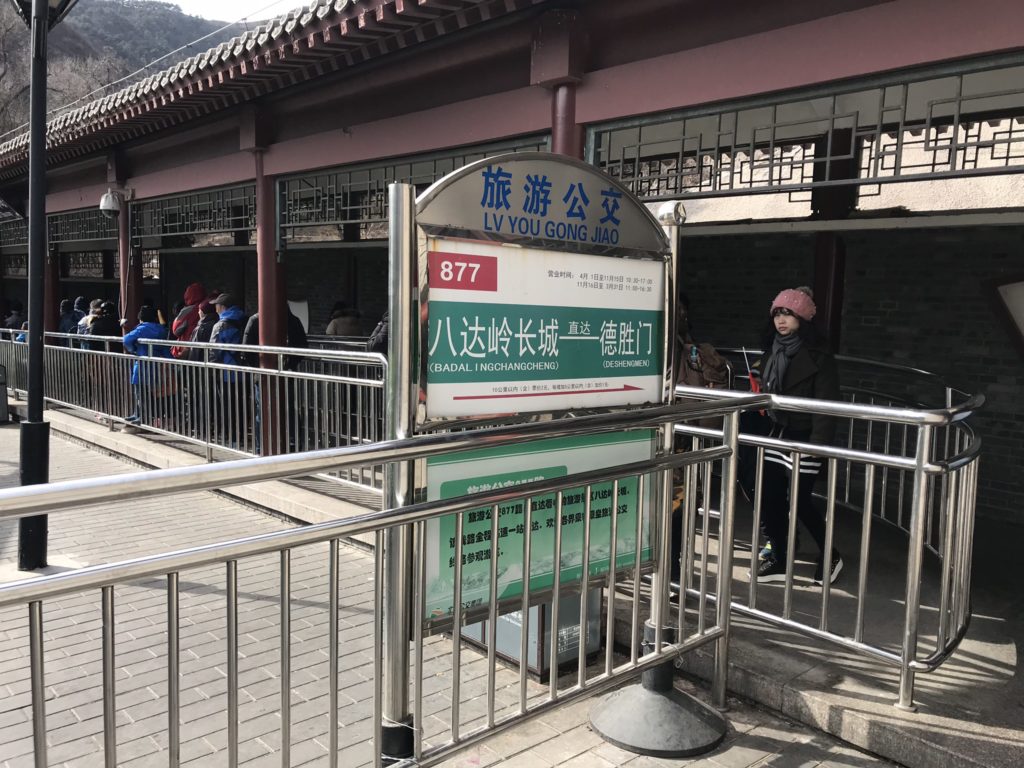 There will likely be a line, so jump on in. Buses run continuously from Badaling, and depart as soon as they're filled. Because of the number of people making the journey, there's nearly always a line of people waiting to board and buses ready to take them back to Beijing. We only waited for about five minutes before boarding and heading on our way.
The return trip is also around an hour and 15 minutes and takes you right back to Deshengmen Arrow Tower. From there, you again have easy access to the 2 subway train which will get you to wherever you need to get in central Beijing, either directly or with a connection.
Travel Tips
Avoid peak times. Badaling's popularity can quickly become a problem, and it's known to be unbearably crowded. If you're traveling during the summer months, you'll want to arrive as early in the morning as possible. You may also want to consider coming during the winter time for fewer crowds, and definitely avoid the two major holiday weekends (National Day Holiday in early October and Labor Day holiday in early May).
Be prepared to climb. The Great Wall is built through the mountains and is really steep! As the most restored section, Badaling is the "easiest" section of the wall to scale because of its well maintained stone steps and handrails, but it still isn't actually "easy" (at least not by these midwesterners' standards).
Dress accordingly. You'll definitely want to wear comfortable shoes and plan for the weather to be cooler and windier than in central Beijing. We visited in February, and man were there some frigid winds. Bundle up in all your layers, and definitely wear a hat and mittens if it's cold.
Don't buy coffee on the walll. We spent $6 each on crappy machine lattes which we purchased on the wall. We really just wanted to take a Lattes & Great Wall photo, but there were cheaper options. If you're planning to get coffee or any snacks  near Badaling you should do it before going through the ticket booth. While there's no longer a Starbucks in the area, there are plenty of restaurants and kiosks to grab a coffee or meal.
Venture beyond the 8th watchtower. Everyone at Badaling is going to the 8th watchtower because it's the highest watchtower in the area. I was not impressed. It's the highest, but it's not that high and looks just like the other watchtowers. If you're heading north, sure, stop there, but if weather and time allows, consider walking beyond the 8th tower where the crowds really lighten up (keeping in mind that you'll have to walk back). Also, walking south was beautiful and hardly crowded at all. If you can climb the steep steps in this direction, you'll have more space to breath, reflect and take pictures.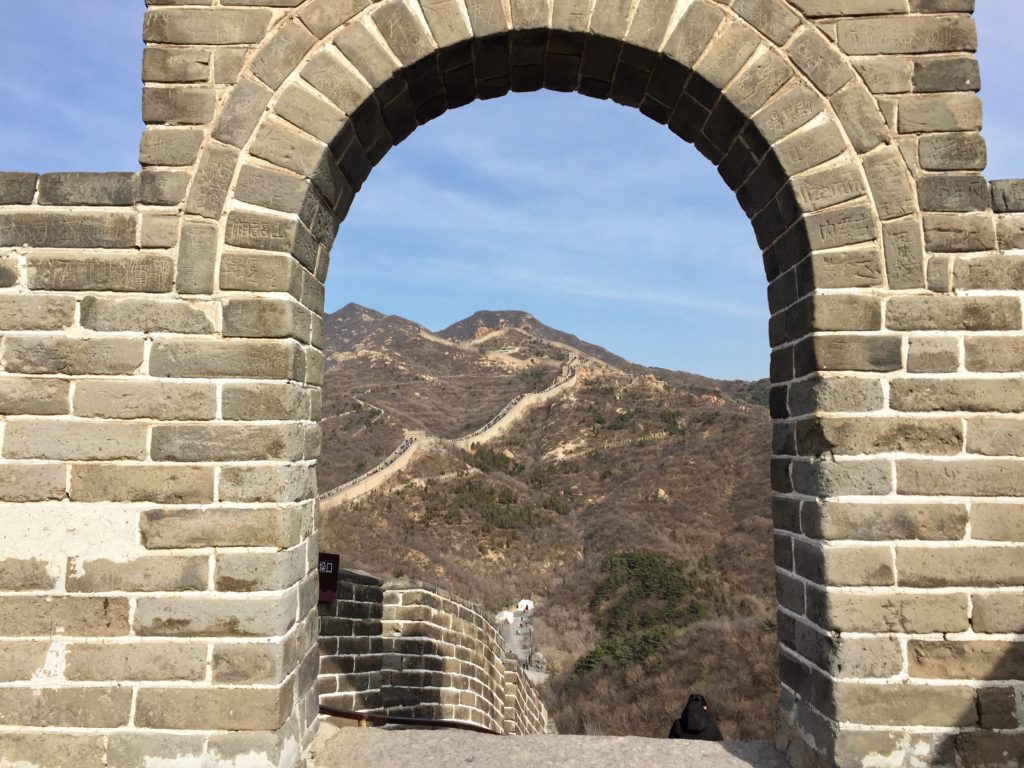 I hope you enjoy your journey to the Great Wall of China! I'd love to hear from anyone who has taken other public transit options, like the S2 train to Badaling. Feel free to share you experiences and tips in the comments.