I recently had the pleasure of seeing The Nutcracker in New York City for the first time. As a lifelong fan of the ballet, I was so excited to see it performed by the New York City Ballet to George Balanchine's iconic choreography. In this post we'll cover everything you need to know to plan a perfect visit to The Nutcracker in NYC, from buying tickets to the best tip for getting Champagne at the theater. Keep reading to learn more about The Nutcracker in New York City.
Also, please note that this post focuses specifically on George Balanchine's The Nutcracker performed by the New York City Ballet. There are other smaller performances around the city as well, but we will not be covering those in this post.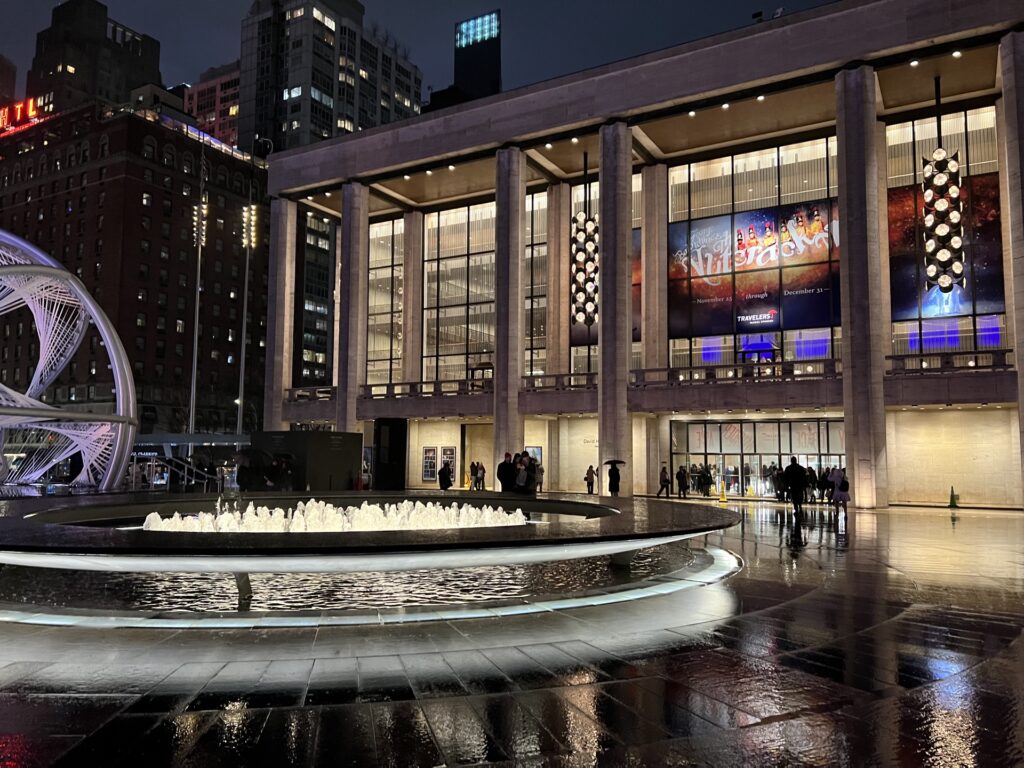 The Nutcracker Performance Basics
Let's start by going over some the key things you'll need to know if you're planning to see The Nutcracker in NYC.
What is The Nutcracker?
The Nutcracker is a famous ballet that was first performed in 1892. Set in early 19th century Germany at Christmastime, the ballet tells a whimsical story about a little girl whose nutcracker comes to life and a magical adventure ensues. The music of The Nutcracker, composed by Tchaikovsky, is arguably more famous than the story itself.
The story goes something like this …
It all begins at an epic Christmas party, where Marie (also known as Clara in some productions) receives a nutcracker as a gift. She falls asleep with her new toy and wakes to find that it has come to life and she has shrunk to its size.
After a battle with the Mouse King, her now-alive nutcracker whisks her away to the Land of Sweets. Led by the Sugar Plum Fairy, residents of the Land of Sweets perform a series of dances to celebrate them and their bravery. Each dance represents a different nationality and treat (e.g. there is Spanish chocolate, Arabian coffee, etc.) She eventually bids adieu and returns back home.
It's truly a delight to watch the story unfold, even if you don't know exactly what's going at every moment.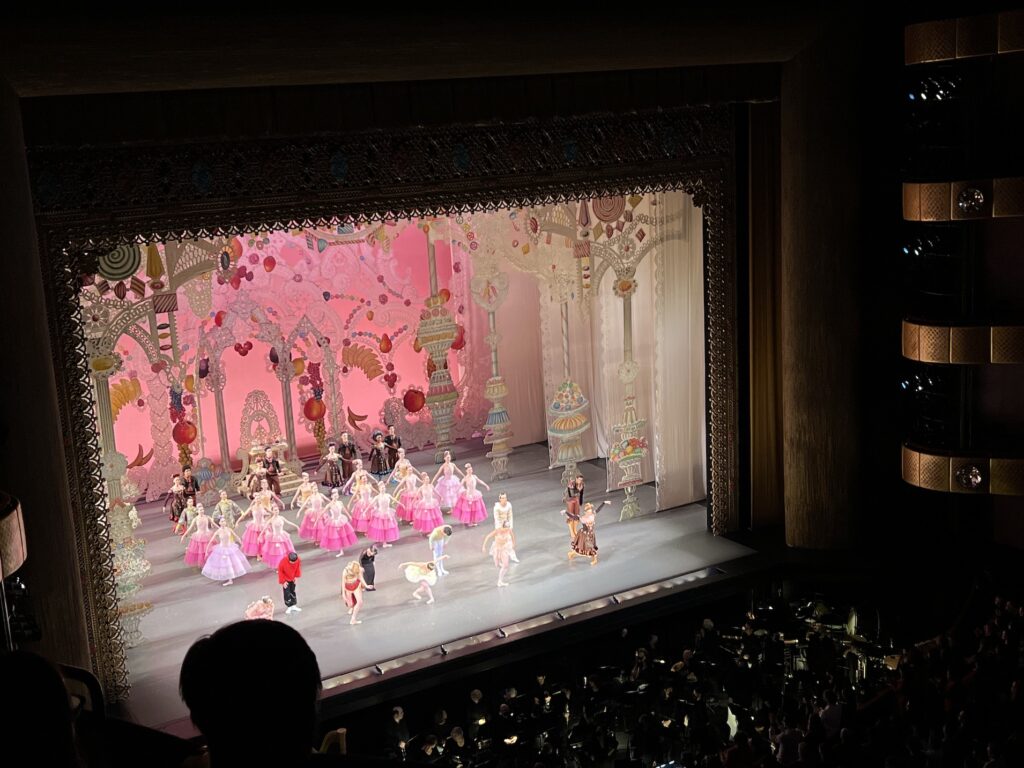 Why is the NYC version called George Balanchine's The Nutcracker
George Balanchine is a famous choreographer, often known as the father of American Ballet. He also happens to be the founder of New York City Ballet. His choreography of The Nutcracker is now the gold standard for nearly every other performance of The Nutcracker in America. His influence on The Nutcracker, the New York City Ballet and choreography in general has earned him permanent title billing on New York City Ballet's performance of the show.
Who Performs The Nutcracker in New York City?
George Balanchine's The Nutcracker is performed by the cast of the New York City Ballet and two alternating casts of younger dancers from the School of American Ballet. The music is performed by New York City Ballet's in-house orchestra.
Where is The Nutcracker performed in New York City?
New York City Ballet's performance of George Balanchine's The Nutcracker takes place at Lincoln Center in New York City. Specifically, The Nutcracker takes place inside David H Koch Theater, located at 20 Lincoln Center Plaza, New York, NY 10023.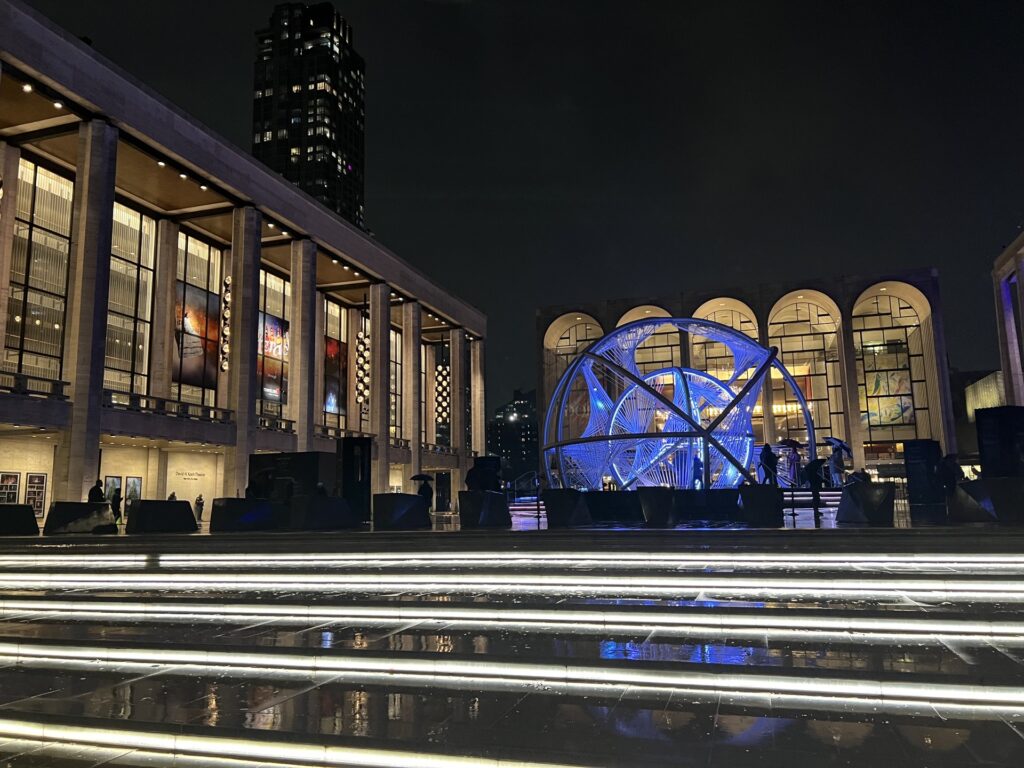 Performance Dates for The Nutcracker in New York City
Performances for The Nutcracker in New York City typically begin the Friday after Thanksgiving and run through the new year. In 2023, the show is scheduled for select dates between Friday, November 24 and Saturday, December 30.
How long is The Nutcracker
The Nutcracker ballet at Lincoln Center is about 90 minutes long. There is also a 15 minute intermission, which makes the total run time just about 2 hours.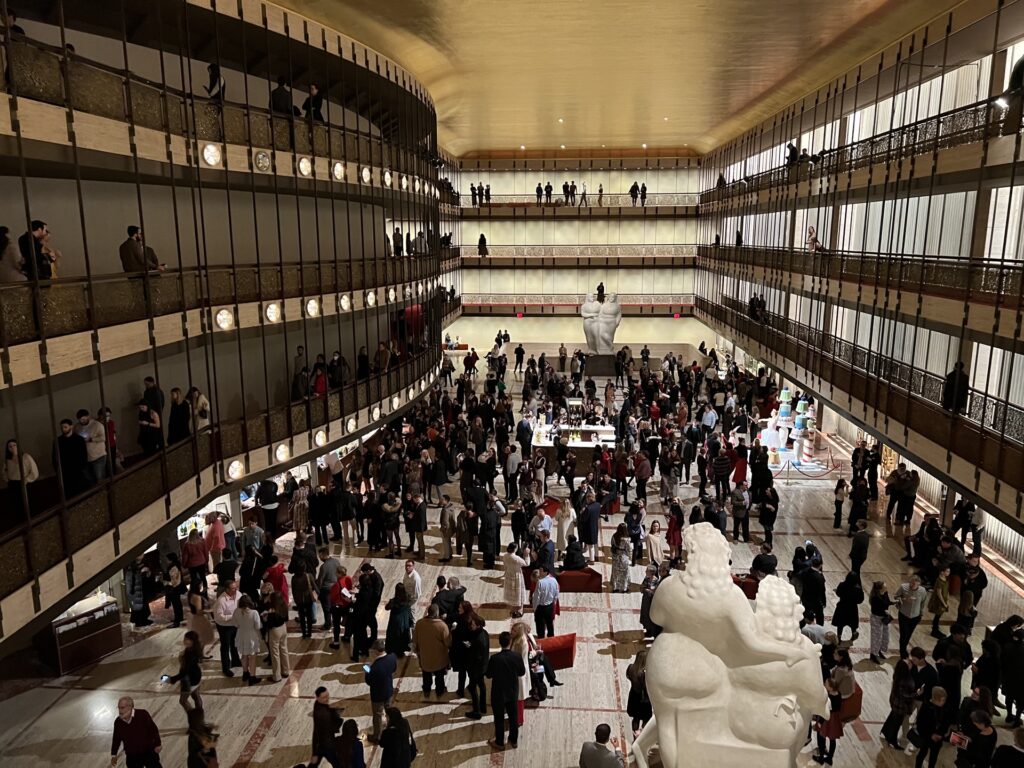 How to Get Tickets for The Nutcracker in New York City
Due to the numerous showtimes, getting tickets to The Nutcracker in New York City is not particularly difficult as long as you book in advance. In this section we'll talk all things tickets.
Where can you purchase tickets for The Nutcracker in NYC
The only official place to buy tickets to George Balanchine's The Nutcracker in New York City is directly from New York City Ballet. You can purchase tickets on their website or in person at Lincoln Center to avoid the online service fees.
New York City Ballet does not officially partner with any third-party resellers, such as StubHub. However tickets are almost always available on these third-party sites. In most cases, they're probably legit, but there is always the chance that they're not. Exercise caution before going third party.
When do tickets go on sale for The Nutcracker in New York City
Tickets for The Nutcracker in NYC typically go on sale to the public in early September. There are pre-sale events before that for donors and top-tier patrons, during which the very best seats (first few rows) are often sold before ticket sales open to the general public.
When tickets are released to the public, it's usually easy to snag tickets for reasonably good seats on nearly all dates. By early November though, tickets for face value directly from New York City Ballet can be slim pickin's.
I personally purchased tickets on October 21, 2022 for a December 16 performance (a Friday night). At that time, there was a handful of ticket options on most dates at a variety of price points.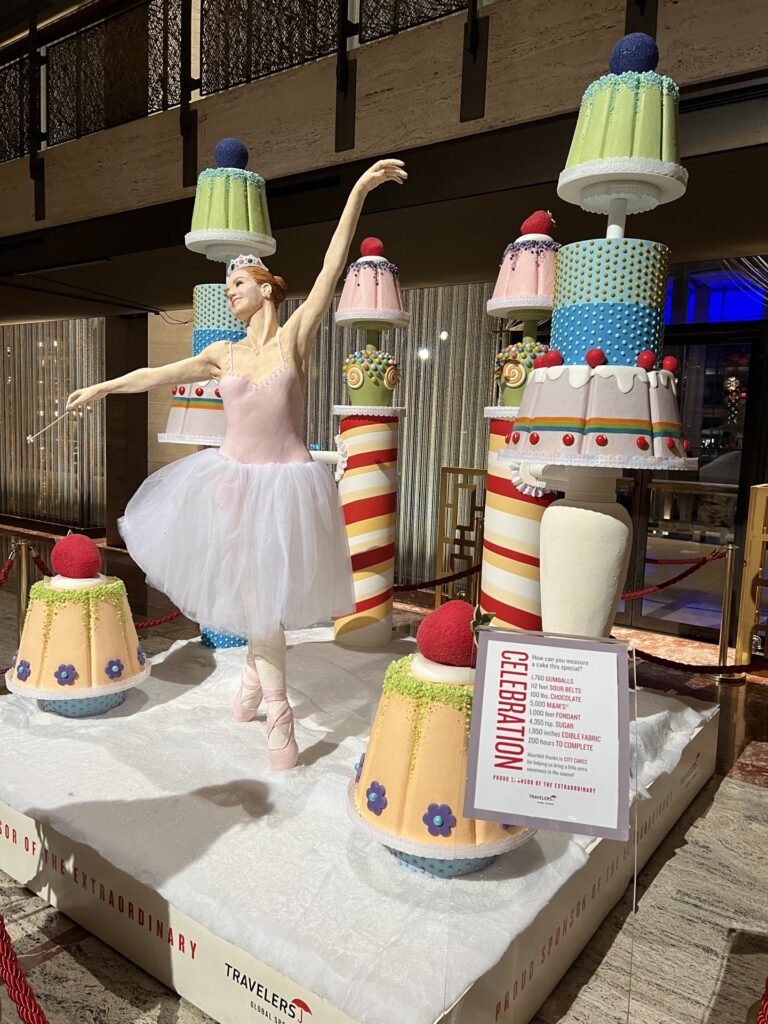 How much does it cost to see the Nutcracker in New York
Face value ticket prices for The Nutcracker in New York City range from $50–$300+ each. Any sub-$100 seat is likely going to be in the third ring or higher.
If you were setting a budget, I would recommend aiming to spend around $125 per ticket for average quality seats. You'll have the best selection of price points and seats the earlier you book.
In my experience, again having booked on October 21 for a December Friday night show, I spent $112 (including fees) for a single seat in the theater's third ring.
Can you get discounted tickets to the Nutcracker?
The short answer? No.
Because of the popularity of The Nutcracker, discounts and promo codes do not typically apply to The Nutcracker tickets. While group discounts do not apply to The Nutcracker, groups of 20 or more are eligible for "special group benefits." They also do not offer discounted tickets for young children or seniors.
How do you receive your tickets for The Nutcracker
If you purchase tickets online, you will have the choice of three ticket delivery methods.
Print at home. This option requires you to physically print your ticket and not simply show the code on your phone.
Box office pickup. You can show your photo ID and pick up physical tickets at the box office prior to the show.
Home delivery. Physical tickets will be mailed to your home for free. This option is only available for tickets purchased at least 2 weeks prior to the performance date to addresses within the US.
Each option has pros and cons. We don't have a printer, which ruled out option 1 and box office pick up ran the risk of added queues. If you meet the time and location requirements, we recommend the home delivery option.
This option of course does run the risk that you lose the tickets between the time you receive them and the performance date. If that does happen, you can call the New York City Ballet's tickets office to remedy the situation.
Do children need tickets for The Nutcracker in New York City?
Every guest entering the theater for George Balanchine's The Nutcracker requires a ticket. That rule includes children, regardless of whether they will be sitting in a seat or on your lap.
You can bring children to The Nutcracker in NYC, however the New York City Ballet does not recommend The Nutcracker for children younger than 5 years old. They stop short of officially banning children under 5, but it's pretty strongly not recommended.
Plan your visit
Today's the day! You're going to The Nutcracker in New York City! Here a few things to know for the day of the performance.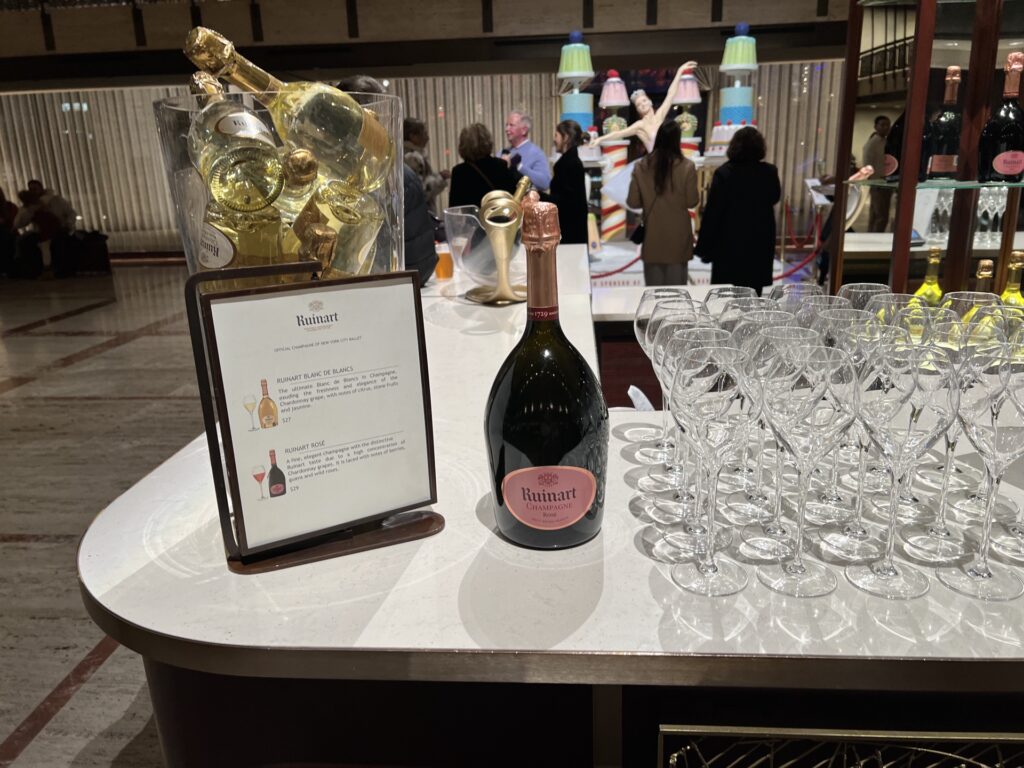 What to wear to the Nutcracker ballet in NYC
The New York City Ballet does not have an official dress code. The website clearly states that "we advise that patrons dress according to their comfort level and personal style."
We aren't fans of dress codes over here, so we love to see this! In my experience, I can certainly say that I saw a range of attire from jeans and sweaters to full black tie.
That said, The Nutcracker in New York City is considered to be a classy affair. I observed that most women were dressed in cocktail attire and men had at least a collared shirt, most with some kind of suit coat. Some people were definitely more casual, but that was the minority.
How early should you arrive at Lincoln Center for The Nutcracker
We'd recommend arriving at Lincoln Center a good 30 minutes prior to the scheduled performance start time, and up to one hour early if you need to pick up tickets at the box office.
There can be short queues at the box office (if needed) and to enter the theater itself. You'll also want to allot time to get to your actual seat, which may take some time if you're seated in upper rings. This also gives you time to purchase and enjoy a beverage or snack before the show.
It's important that you budget enough time to be in your seat before the scheduled start time. Late seating is not permitted. If you arrive late, you'll be required to wait until they lower the curtain between scenes to enter.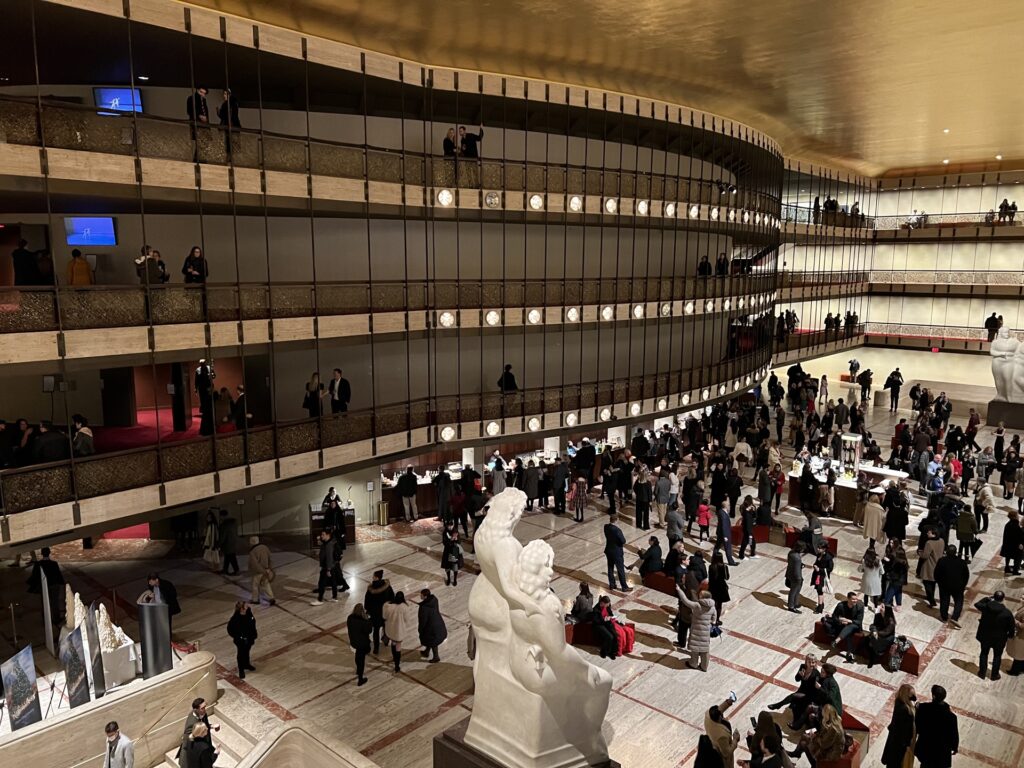 Food & drinks at The Nutcracker
There are beverages and limited snacks available at David H Koch Theater during showings of The Nutcracker.
There are several kiosks on the Promenade level where you can purchase drinks and snacks. They offer a small selection of beer, wine and liquors, as well as a selection of candies, cookies, chips and light sandwiches. These kiosks served Moët & Chandon Impérial Brut Champagne and Lunetta Prosecco.
For an upgraded glass of bubbly, stop by the Ruinart Champagne Bar in the center of the Promenade. Here you can purchase a glass of Ruinart Blanc de Blancs or Ruinart Rosé for a bit more.
During intermission, there was additional kiosks serving food and drinks on each floor.
It's important to note that no food or drinks (other than bottled water) are allowed inside in the theater, so you will need to finish your beverage or snack before you can take your seat.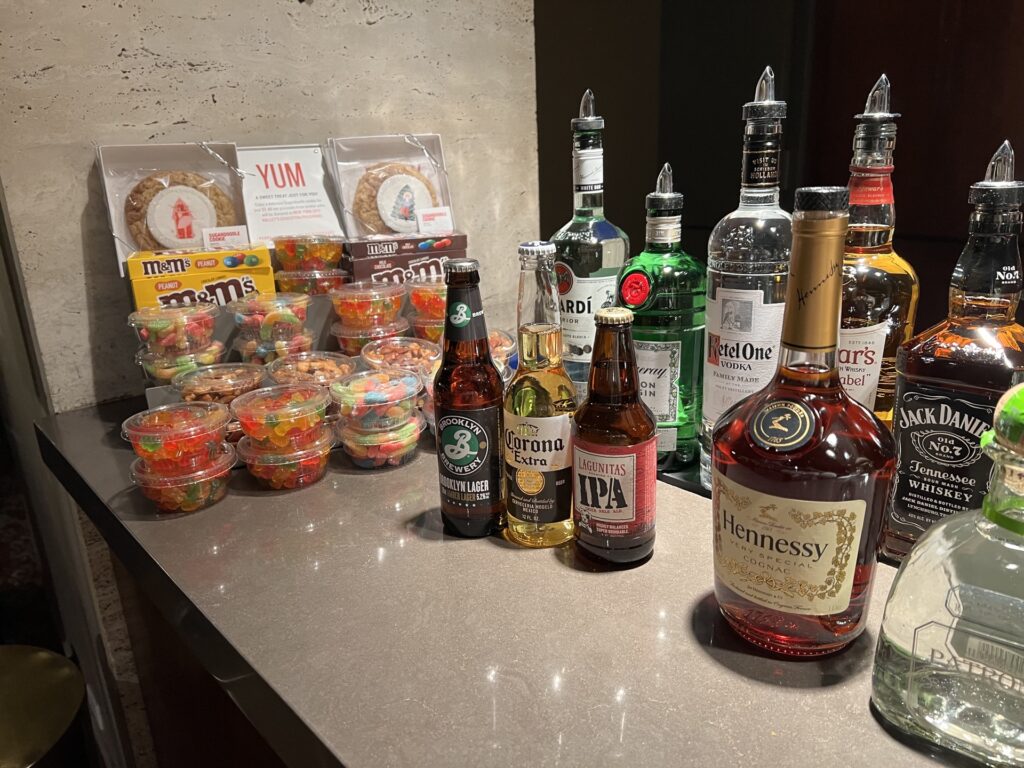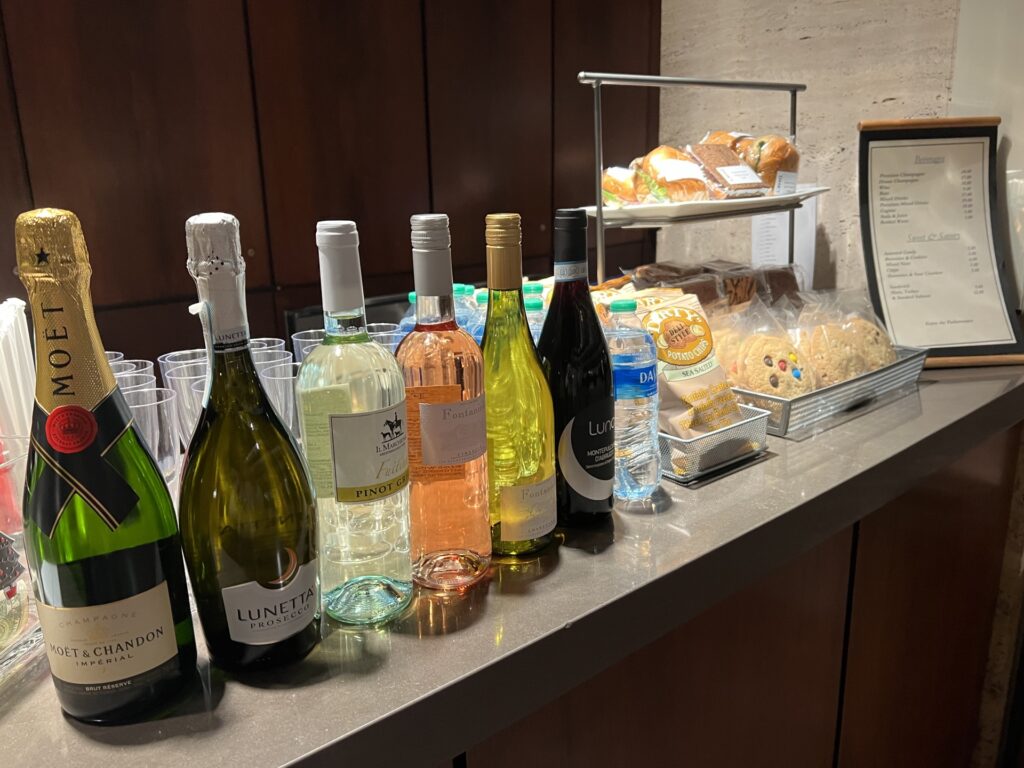 Pro tip! Order your food & drinks in advance!
Every snack stand, including the Ruinart Champagne Bar, has an option to order ahead for intermission!
Before the show begins, simply stop by the snack stand and fill out a short form. Check off any food or drinks you'd like to pre-purchase, note your name at the bottom, and pay for the items.
At intermission, your items will be waiting for you and you can enjoy them right away. No lines, no waiting. All pre-purchased items are available for pickup at the center counter on the Promenade level.
This is truly genius! Intermission is only 15 minutes, the lines get long quick, and you cannot bring beverages into the theater. By pre-ordering, you have the full 15 minutes to enjoy your drinks and snacks.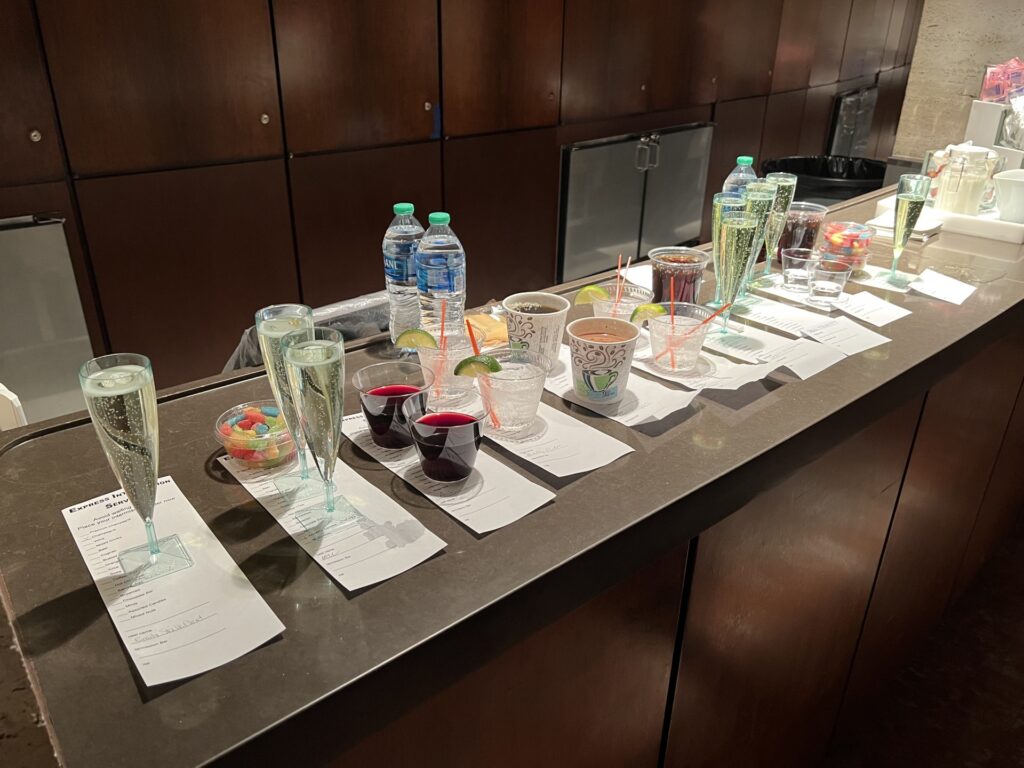 Souvenirs from The Nutcracker in NYC
There are a handful of souvenir stands on the Promenade level where you can purchase The Nutcracker and New York City Ballet branded items. More of these shops were open before the show than during intermission.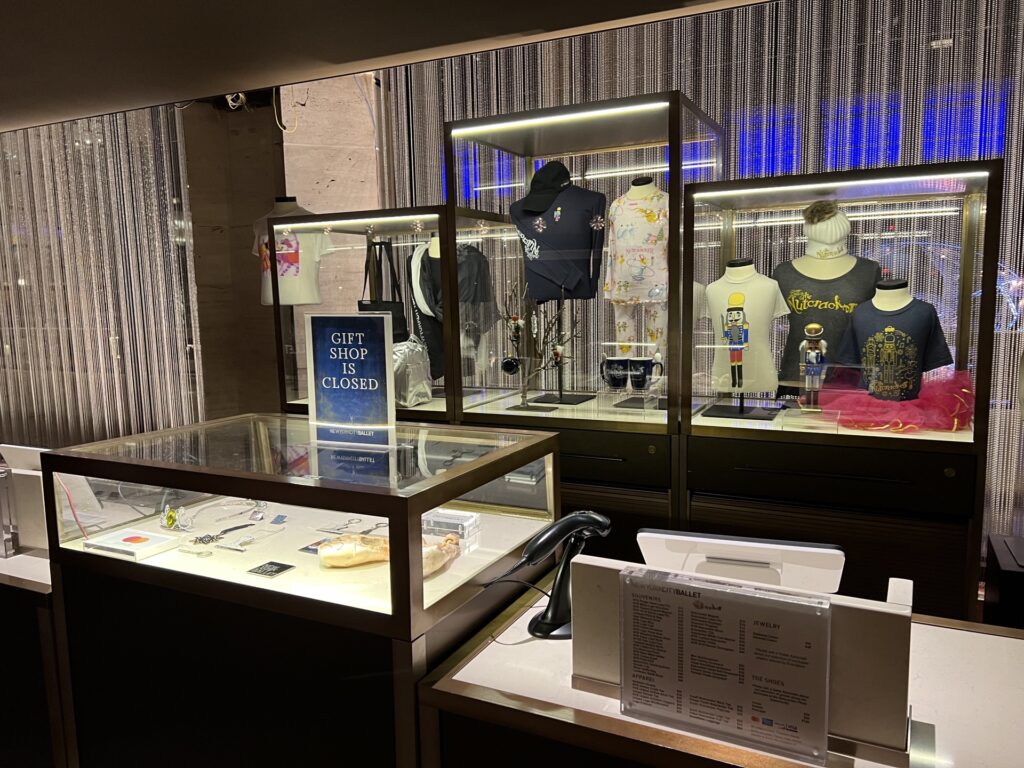 There's also a souvenir photo option where you can have a professional photo taken in front of a festive The Nutcracker backdrop with images of dancers, snow and Christmas trees. Alternatively, there was a ballerina scene made entirely of chocolate and candy that you could take photos in front of for free.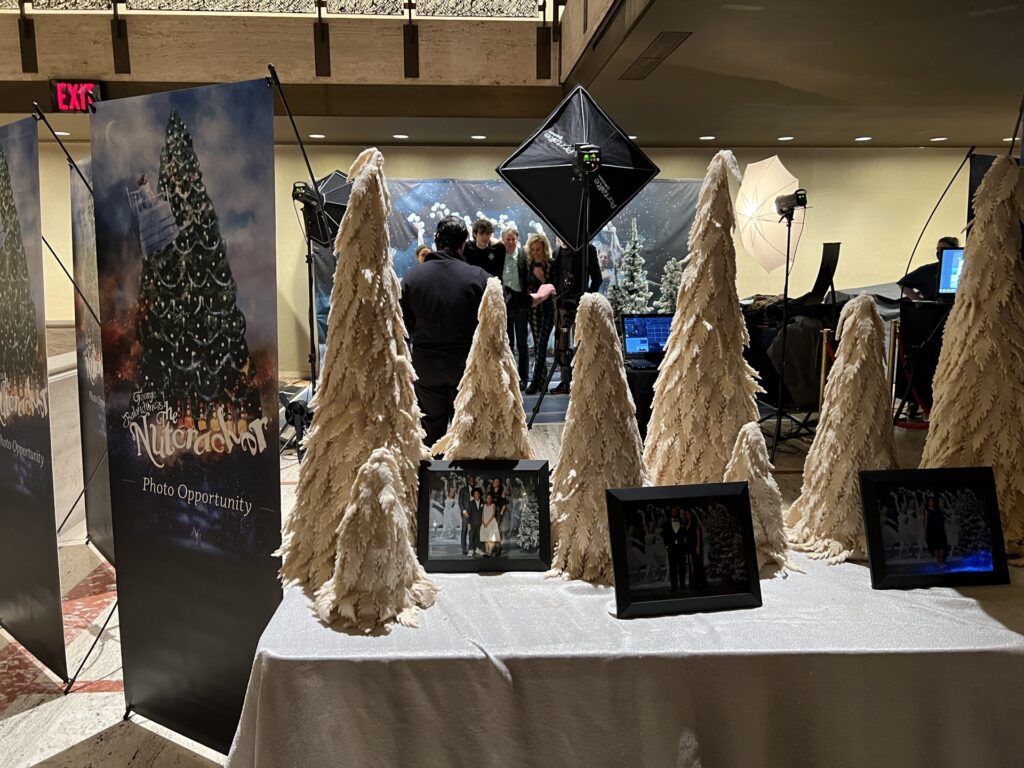 How to get to and from The Nutcracker in NYC
David H Koch Theater is located on the Upper West Side of Manhattan, just west of the south end of Central Park. The closest subway station is 66th Street / Lincoln Center Station, which serves the 1 train. You can also take the M5, M7, M10, M11, M66 or M104 buses, which all stop within one block of the theater.
Limited parking spaces are available if you plan to drive. You can reserve a parking space online in advance here.
Ride service pickup is available outside of Lincoln Center. However, surge pricing can hit hard at the end of the performance.
Personally, I took the subway to the show and Uber back. I ordered my ride almost immediately and snagged an Uber Black from Lincoln Center to my home in Queens for $47. Prices for UberX were oddly more expensive than Uber Black and were already showing up as $75+.
My Experience at George Balanchine's The Nutcracker
Can I gush for a second? I was so excited to see George Balanchine's The Nutcracker in New York City.
As a young girl, I always loved the idea of ballet. Unfortunately, I completely lacked the coordination, core strength and focus required to actually be one myself. So instead, I channeled that fascination into the audience section. Each Christmas, I sat wide-eyed at Sangamon Auditorium in my home town of Springfield, Illinois in complete awe of every spin, leap and sparkly tutu in The Nutcracker.
After I moved to Chicago, I saw The Joffrey Ballet's rendition. My mind was completely blown by the intricacies of the sets and costumes and other people's abilities to move so gracefully across the stage.
When we moved to New York, I knew that I just had to see the New York City Ballet's version of the Nutcracker. I'm not a ballet expert by any stretch of the imagination, but I was pretty sure that it had to be one of the very best performances in the world.
In my non-expert opinion, it absolutely was.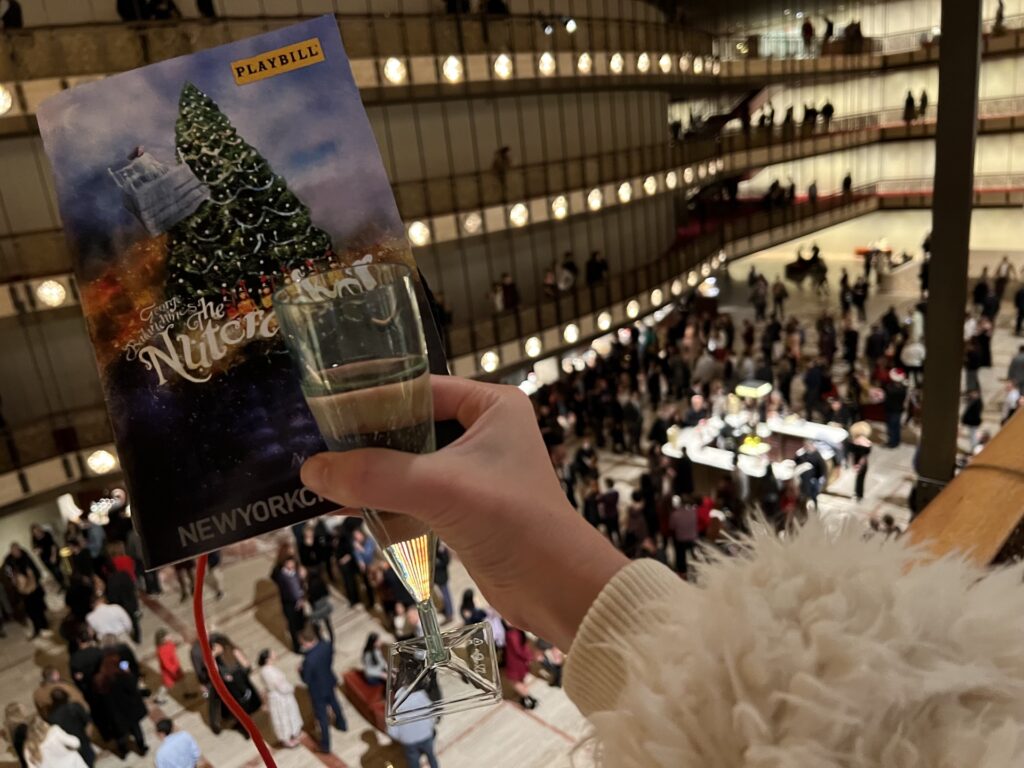 Buying Tickets to George Balanchine's The Nutcracker
As I mentioned above, I bought my tickets on October 21, 2022 for a Friday evening performance on December 16. At that time, there was a fine selection of seats at different price points. Mostly in small groups — a large group would have had to break up.
I wanted a decent view at a decent price. There were closer (more expensive) seats available, but I opted for the third row of the third ring. I don't mind being high if I'm close to the front of the section.
My single ticket cost $112 total, including fees. I only bought one ticket because no one in my family shares my enthusiasm for a 2-hour ballet.
The New York City Ballet's ticketing interface was easy enough to navigate. I had no major complaints once I got to the event page to select my tickets. There was a virtual seat selection view, which I didn't care for, but I was easily able to sort ticket options and select my seat.
What I wore to the Nutcracker in NYC
I'm not a fashion person, but I hold The Nutcracker and sequins at a very high regard. It was a good excuse to buy a new, sparkly dress, so I did.
I put together the below outfit inspired by Loverly Grey. I wore it over black tights and topped it off with my favorite pair of spiked booties. (Don't mind my hair – I got caught in the rain watching the Saks Fifth Avenue Light Show before the show.)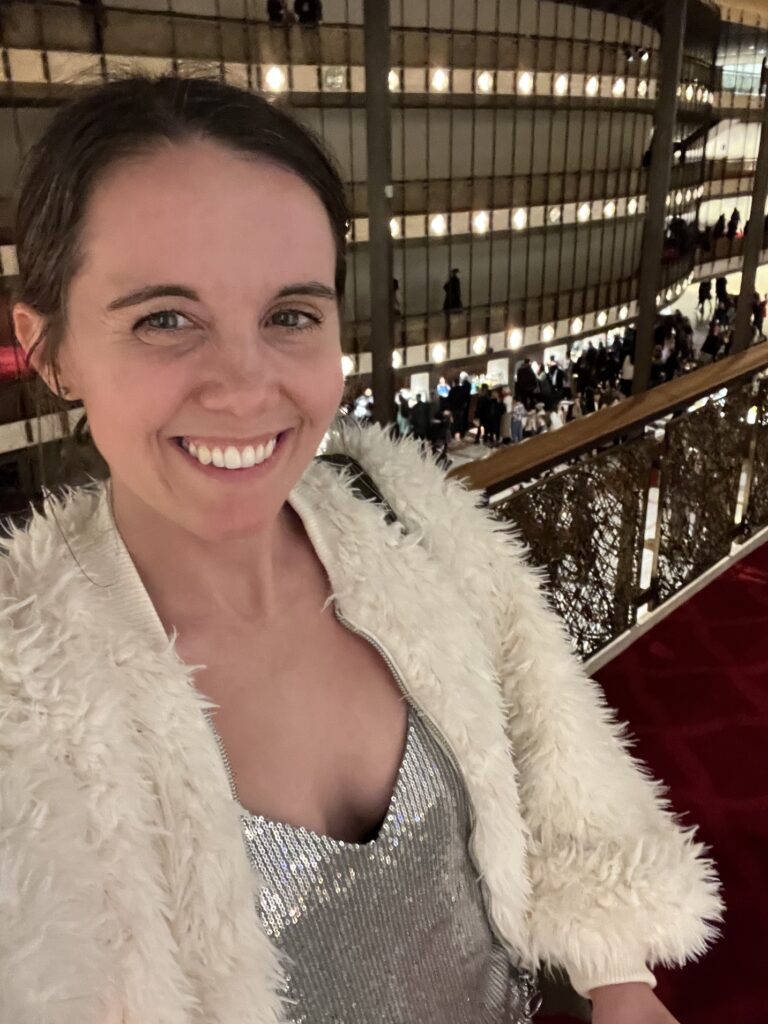 Before the show
This year, I was on a mission to do all of the New York City Christmas things. While I was out by myself for The Nutcracker, it seemed like a good time to knock out some other Christmas things.
I walked down Fifth Ave to see the Christmas window displays …
I saw the Christmas tree at Rockefeller Center (including a proposal on the ice rink!) …
Obviously I watched the Saks Fifth Ave lights display …
And then I was completely drenched and miserable. It was time to cozy up and find some dinner.
Eating Before The Nutcracker
I really wanted to eat somewhere festive. My first pick was Rolf's, but it was way too far away. I had also wanted to eat at Tavern on the Green to see their decorations, but alas, I couldn't snag a last minute reservation.
My next pick was Lillie's Victorian Establishment. I went inside long enough to confirm that it was in fact adorable, but unfortunately way too crowded for someone without a reservation on a Friday night. I swung by McGee's (the inspirations behind the bar in How I Met Your Mother), but ended up leaving my seat at the bar when the bartender didn't turn around for a good 10 minutes.
Feeling a bit defeated and soaked, I figured I'd go to my fallback option: The Smith, right across from Lincoln Center. That was obviously a dumb pick because literally everyone going to Lincoln Center thought to go there first and it was jam packed. No seats. No dice.
There is surprisingly not a lot of food options near Lincoln Center, so I was about to give up. My actual last option was P.J. Clarke's, across the street. I had actually just made fun of someone's post for recommending it before a show, and here I was, tail between my legs, praying for a seat at the bar.
I walked up, dripping wet, and by some twist of fate, walked right in as someone was leaving and snagged a seat at the bar! The bartender complimented my outfit. I got an espresso martini and truffle fries. Life was good again. It was actually perfect and I loved it and now I'm recommending it.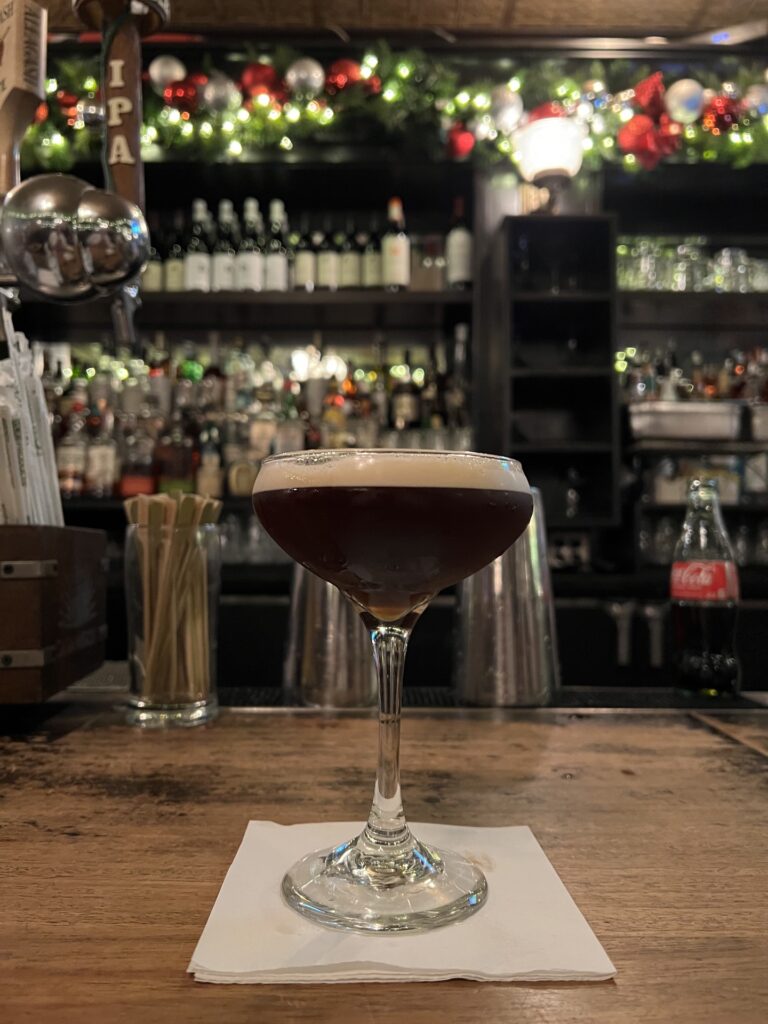 Arrival at Lincoln Center
I arrived at David H Koch Theater at 7:15 for an 8 PM show. There was a very short line at the Box Office at that time, and just a few people ahead of me to enter the theater.
I followed the stairs up to the Promenade level where the majority of patrons were mingling. First things first. I grabbed a glass of Prosecco and pre-ordered a second for intermission. (It was mom's night out, lay off.)
At this point, there was 30 minutes till the official curtain. I took a seat and enjoyed watching everyone's pretty, sparkly outfits go by, swooping in occasionally to take photos for people as needed. I didn't need to be there that early, but I enjoyed my time.
With half a glass of Prosecco to go and 15 minutes to curtain, I figured I'd head to my seat. I was abruptly stopped and kindly told that no food or drinks were allowed inside the theater. Noted!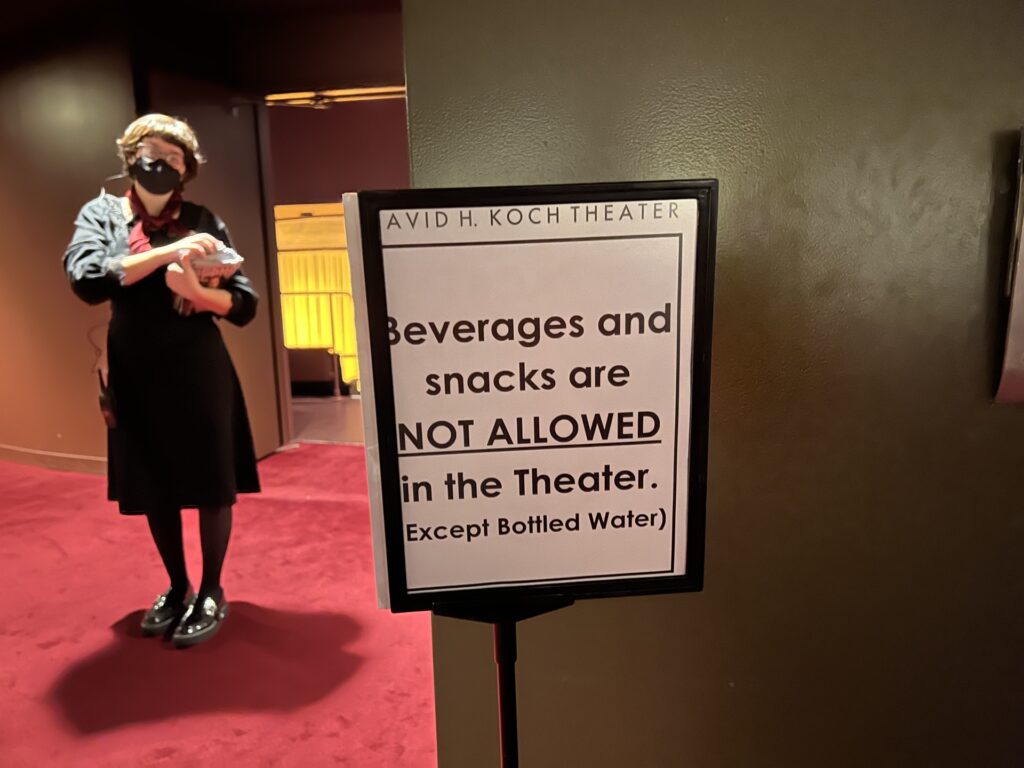 I had plenty of time to finish up while I enjoyed the view from the third ring balcony. I took my seat a few minutes later and the show began 5 minutes after the scheduled curtain.
The Nutcracker at Lincoln Center in New York City
Seeing The Nutcracker performed by the New York City Ballet live at Lincoln Center in NYC felt a bit like cheerleading tryouts. My cheeks literally hurt from smiling like a buffoon the entire time. From the moment the orchestra hit the first note, I felt transported to a different world filled with magic and wonder and sparkle.
I am not a ballet critic (and my third ring seats wouldn't have been helpful if I was), but as a regular person watching The Nutcracker just looking for a dose of holiday cheer, it blew me away.
As I mentioned, I've seen The Nutcracker on a small, hometown stage and also by The Joffrey Ballet in Chicago. There were a few things that stood out to me about the NYC performance specifically.
First was the Christmas tree. During the fight scene with the Mouse King, the Christmas tree on stage grows to a massive 41 feet high! Then there was the snow scene. There is always some snow during The Waltz of the Snowflakes, but this was a full blizzard. The entire second act is always a whirlwind of classic songs, but I could have watched the Dance of the Sugar Plum Fairy the entire night. Truly stunning. In the final scene, Marie literally flies over the stage from her bed and I nearly wept with joy.
So yeah. I liked it.
Leaving The Nutcracker at Lincoln Center
After the show, I booked it out of there as fast as my high heeled boots would let me. I immediately searched for an Uber, because I was honestly too tired to take the train.
Surge pricing was in full force, with UberX prices costing over $75 to get me back to Astoria, Queens. In a rare glitch in my favor, I snagged an Uber Black for $50 and enjoyed my personal escort back home.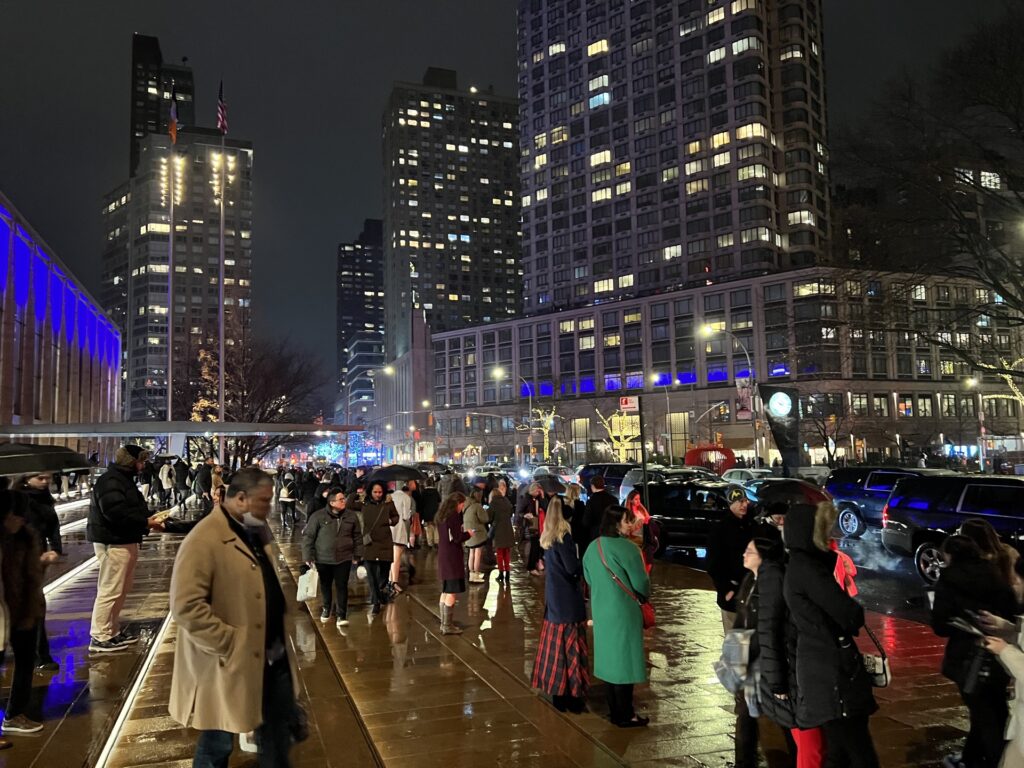 Closing Thoughts
George Balanchine's The Nutcracker in New York City is delightful. The show is beautiful, the dancers are exquisite, and the music screams holiday. It sets the bar for The Nutcracker performances around the country, and it sets that bar high.
It's an amazing and festive performance that will be the cherry of top of anyone's Christmas in New York City itinerary. Even if you've seen The Nutcracker before, this specific performance is worth seeing it again. Trust me.
That said, it is still a 2-hour ballet. If you've seen The Nutcracker before and didn't enjoy it or if you just know you don't like watching ballet, don't expect this show to convince you otherwise.
Have you seen George Balanchine's The Nutcracker in NYC? What was your favorite dance? Let me know in the comments!