We recently took the opportunity to fly between Orlando International Airport and LaGuardia on Delta's A321. The trip was in Delta Comfort+ one direction and Main Cabin the other. This post reviews the Main Cabin portion from MCO to LGA. Read on to see how our trip in Delta's A321 Main Cabin went!
Booking
I booked this flight as part of a mixed cabin itinerary, flying Delta Comfort+ on the leg from LGA to MCO and Main Cabin from MCO to LGA.
Emily has separately reviewed Delta Comfort+ before.
The cost for this roundtrip in Main Cabin is usually around $150 to $250, competitive with other carriers once you factor in baggage fees. In Comfort+ the prices jumps to about $400 to $600, with
Delta's First Class
another $200 on top of that. I paid $328 per person round trip, which is about what you'd expect splitting the itinerary between Main Cabin and Comfort+.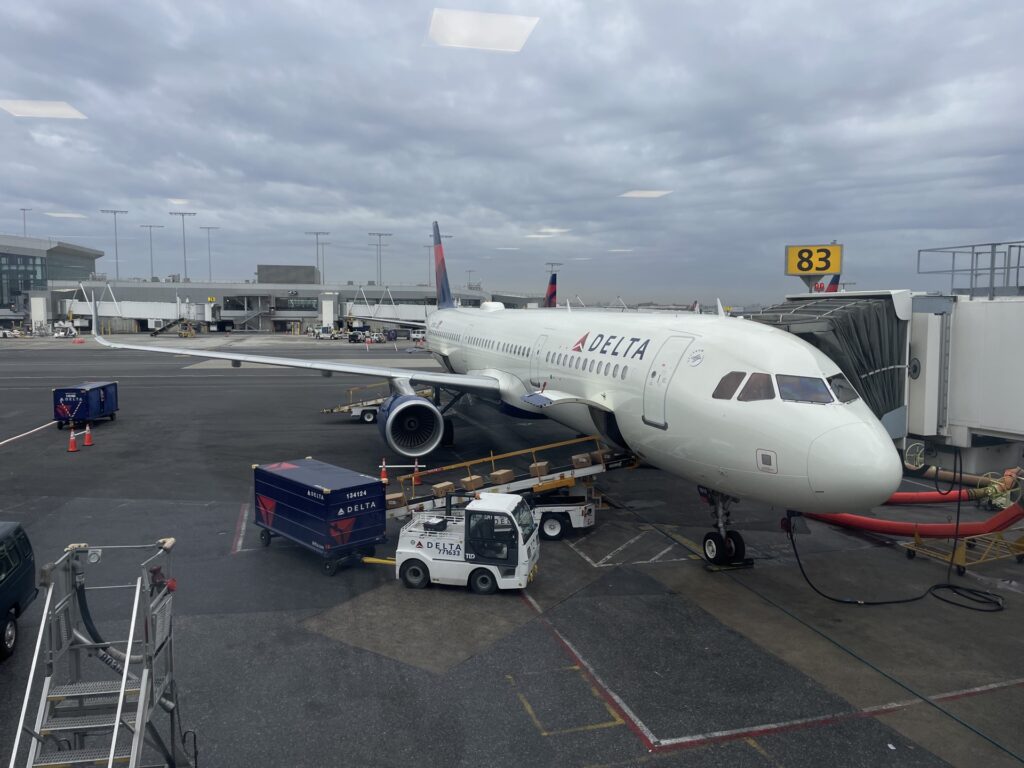 Check-In, Arrival, and CLEAR
We're relatively new to Delta, but I've been pleasantly surprised by how seamless their online check-in process is. So far, all I've ever had to do is click into the app, tap to confirm I'm not bringing any prohibited items onboard, and I've got my boarding pass. This is particularly a welcome experience when you get to the airport and see a long line of people. Hopefully simple bag check could be accomplished without waiting in that line, but that's a question we try to avoid having to answer.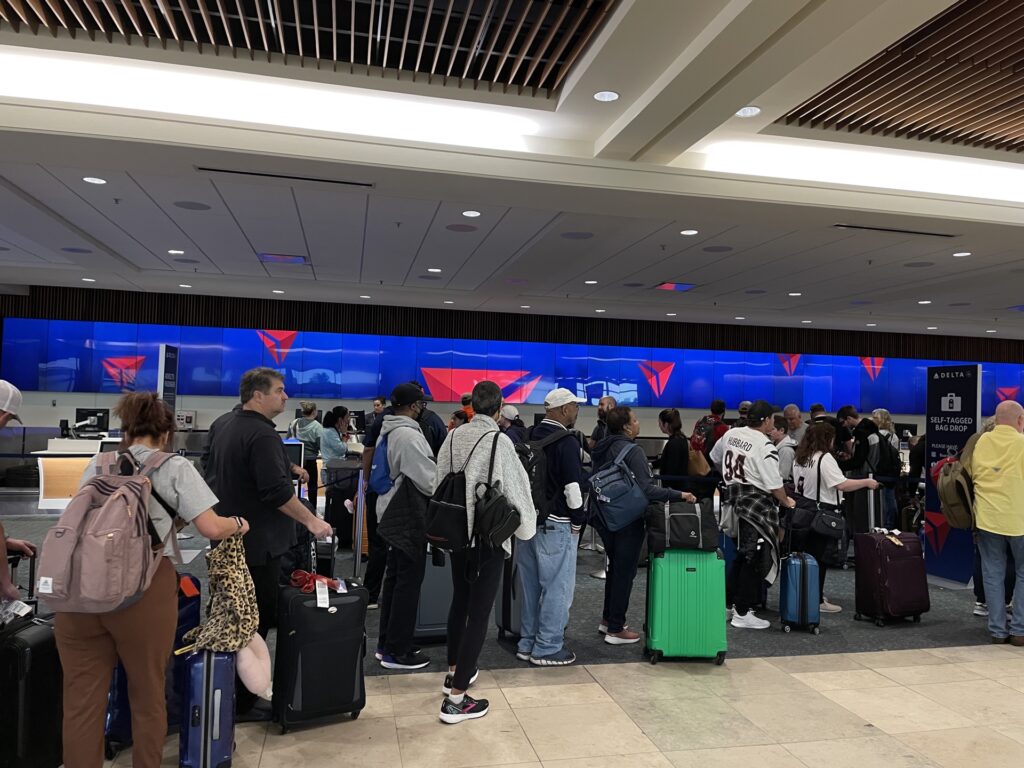 We arrived at MCO an hour before boarding. With CLEAR and
TSA PreCheck
at a familiar airport, we had little reason to be concerned about delays. Sadly this was our second straight mediocre experience with CLEAR, though. The issue seemed to be that the CLEAR customers with TSA PreCheck were being sent to one slow queue, while the regular TSA PreCheck line had multiple scanners and very few people in it. I've had some fear that with more and more people signing up for TSA PreCheck, CLEAR is going to become necessary to get through security quickly. My recent experience has been the opposite, with CLEAR lines offering little obvious advantage. Of course, we all know as soon as we cancel CLEAR (which we get an
Amex Platinum credit
for, anyways) I'll wind up missing a flight stuck in the PreCheck line. It wound up taking about 15 minutes to get through security. I can't fully blame CLEAR, though, as the TSA scanners were moving incredibly slowly.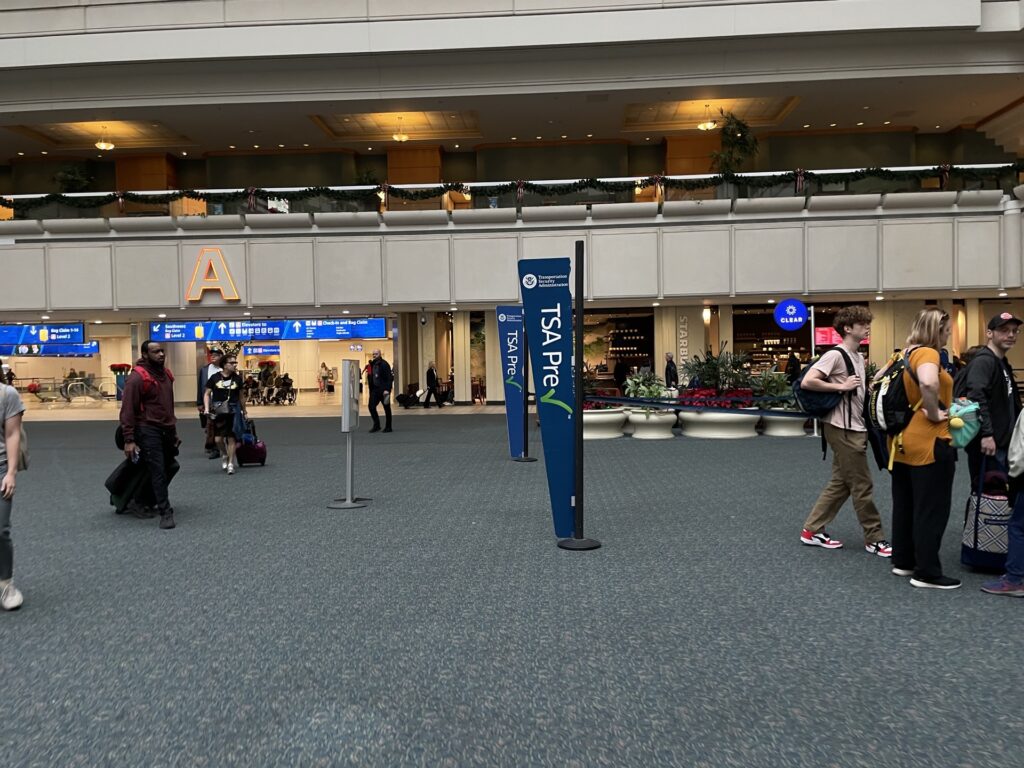 Airport Experience and Boarding
Delta flies primarily out of Gates 70-99 at MCO. Check-in is done at Terminal B. I love a lot about MCO, but one thing I love/hate is the balance of landside and airside offerings. You'll find a lot of restaurants and stores, including Disney and Universal stores, landside. Generally, I prefer to be airside, where options can be a little more limited. Gates 70-99 have a Starbucks, Outback, Burger King, and several other restaurants. There are two lounges at Gates 70-99. One is The Club. The Club has two MCO locations, one at Gates 70-99 and the other at Gates 1-29. We've visited these multiple times, as both are part of the Priority Pass program. They're pretty basic lounges (and to be honest we actually prefer paying for an Impossible Whopper when we're at MCO), but if you have access they're worth visiting. There's also a Delta Sky Club at Gates 70-99. We haven't had a chance to visit this one yet, but hope to in the coming months. Delta is
revising their Sky Club policies
in early 2023. We'll have access
via our Amex Platinum
(along with guest fees, including for Zoe). Overall the concourse is spacious. Our gate was all the way at the end of the concourse, which of course led to crowding as customers for 4 gates cram into the same space.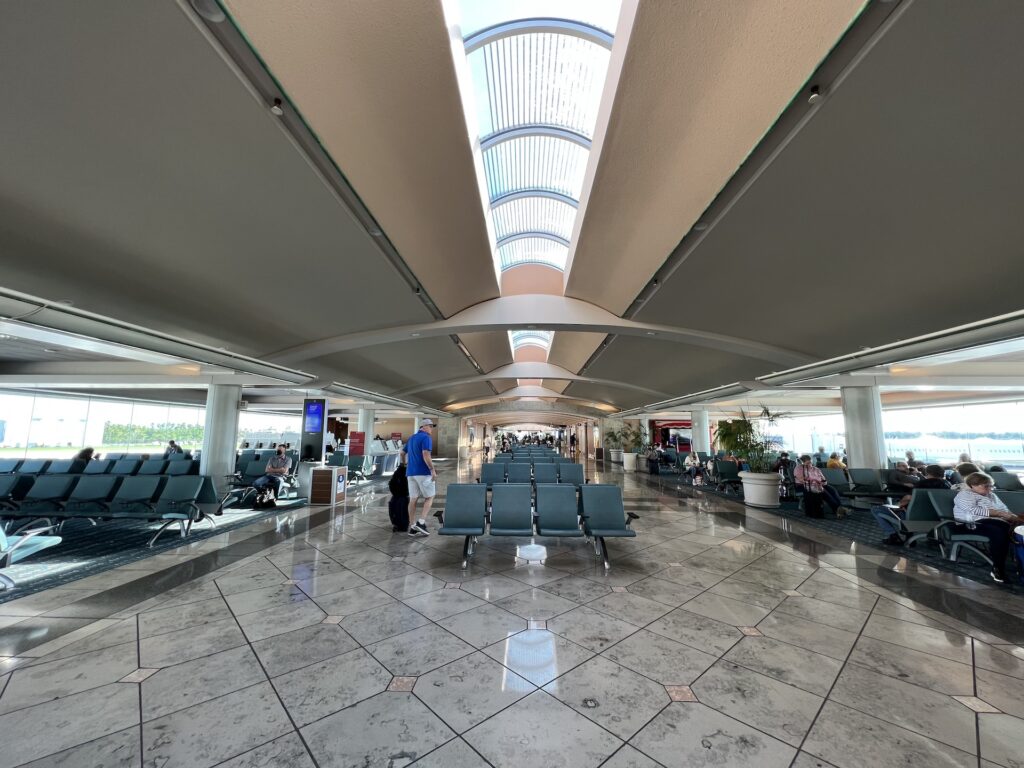 I've written before about Delta's opaque family boarding policy
. We were traveling with a 2-year-old in their own seat, so just waited for Main Cabin 1 boarding. Somewhat off topic, but it's been a while since I boarded a flight so late. We have "early" boarding on American Airlines and United through credit cards. Spirit and Frontier we usually board early via family boarding, because we have a carry on, or because we paid for a good seat. It's the sort of small perk that doesn't seem like a big deal but that you immediately notice when it's missing. Somewhat surprisingly, the
Delta Amex credit cards
only get on as early as Main Cabin 1 boarding, too. Boarding started at 9:20AM and we were onboard at 9:45AM.
Onboard Experience
Having flown Comfort Plus with Zoe on the first leg of this trip (which we didn't specifically review), I was interested to see how Main Cabin compared. Unsurprisingly, I was immediately taken aback by how much smaller the legroom felt.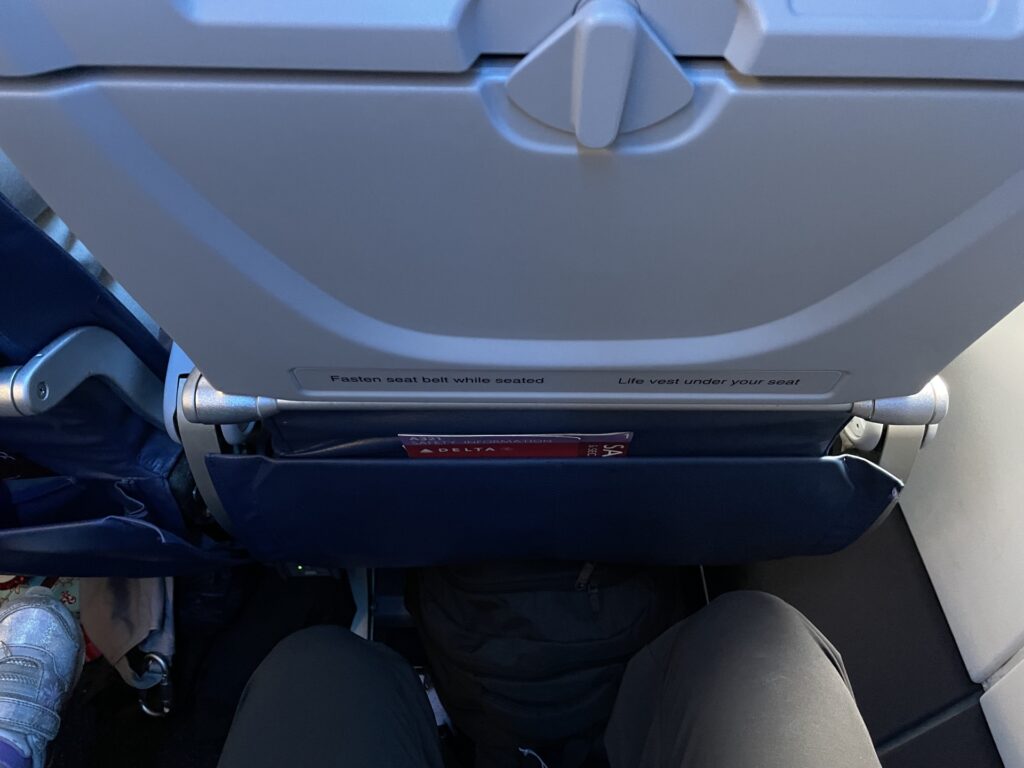 I'm not a big person, only 5'7″ and carrying a few dad pounds more than my old marathon weight. According to SeatGuru, the Comfort+ seats have 34″ of pitch and the Main Cabin seats 31″. This accords with my recent United reviews (
United 737 Economy
,
United A320 Economy
), where I also whined about 30-31″ of legroom and my
JetBlue Even More Space review
where I was comfortable in 35″. Here's a look across the aisle to get another sense of the space: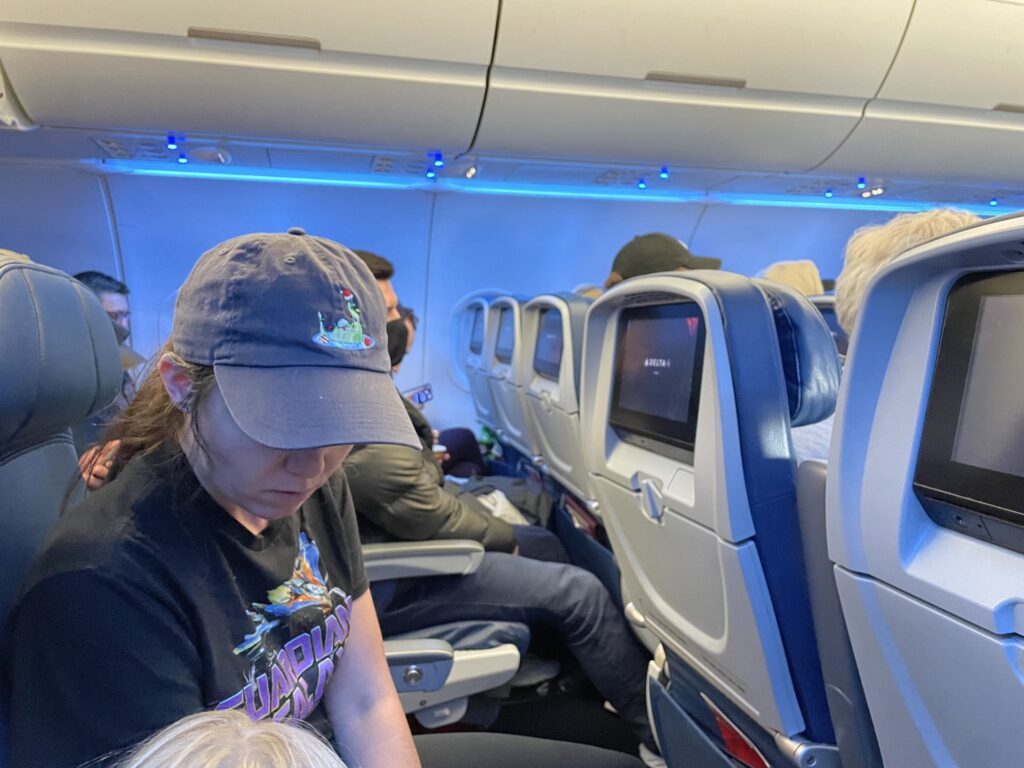 As always, our 36″ travel companion fit just fine: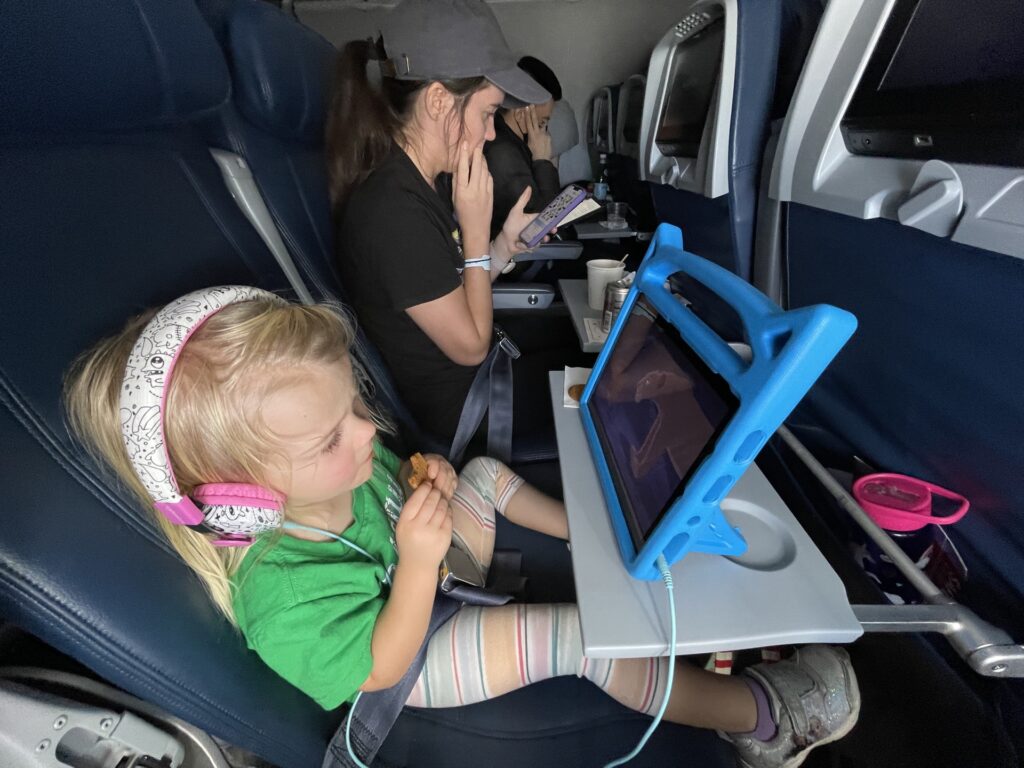 Disappointingly, the seat back entertainment didn't work the entire flight. As I've opined in the past, these devices are unnecessary even if they can sometimes be useful for keeping a toddler's attention. Crucially, one should never count on seat back entertainment working. Having that policy, we had plenty of tablet content loaded up to occupy Zoe for about an hour of the flight. The A321 has outlets in all rows of First, Comfort+, and Economy. Wifi is available for $5, and messaging (except SMS) is free. In February 2023, Delta also began offering free wifi to SkyMiles (their free-to-join loyalty program) members on over 500 of their domestic planes. Like seat back entertainment, in-flight wifi should never be relied on.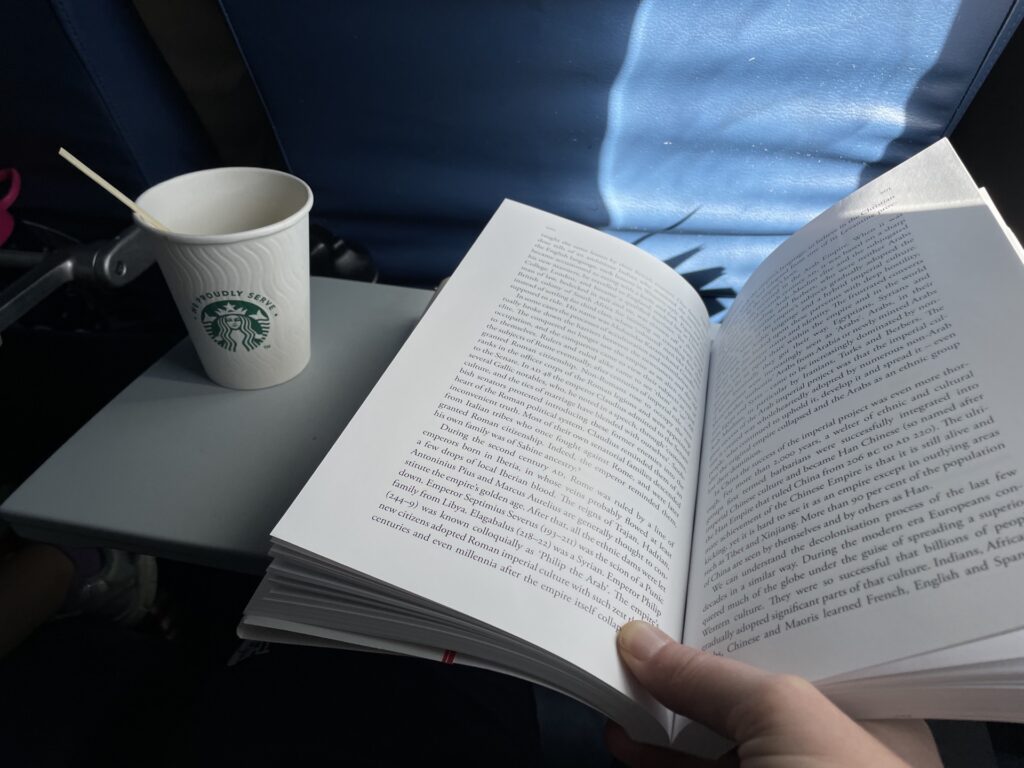 Service was excellent, which is what we've come to expect from Delta. There was one round of service for complimentary beverages and a selection of complimentary snacks (cookies, almonds, or a granola bar), along with subsequent coffee and water services. The seat back entertainment issue aside, we take comfort in knowing our Delta flights won't come with a ton of extra stress. There are lavatories in the front, middle, and rear of the plane. The middle lavatory had a changing table. Despite being in row 23, two rows ahead of the lavatory, we weren't bothered by it at all.
Conclusions
One of the shifts we're expecting to make in 2023 is flying Delta more often. Being based out of LGA now, it makes sense for domestic trips. We've been happy with cabin service in all classes, and our Amex Platinum will get us Delta Sky Club access when we need it. Where things get tricky is picking the right class of seat. If we figure our usual roundtrip itinerary comes out to $200 in Main Cabin and $500 in Comfort+, we'll have to pay a pretty penny every time we want a few more inches of leg room, an extra snack and a drink. Splitting the difference at $350 for a mixed itinerary seems a fine way to go. The broken seat back entertainment no doubt was a problem for some passengers. Somewhat surprisingly, the Flight Attendant said customer service would reach out to us, but that never happened. This particular issue is moot for us, but it is a bit disappointing coming from an airline whose service we've come to appreciate. At the end of the day, we really can't complain about 31″ of legroom these days. It's standard across many airlines and even more than you'll find on the stingiest of them. With that in mind, I'm happy we're planning to fly Delta more in 2023.
Other Delta Flight Experiences
This post focused on our experience flying Delta Main Cabin. We also have posts reviewing other Delta offerings including:
Flying Delta With a Baby
.