In this post we discuss and review JetBlue's "Even More Space" offering. This extra-legroom option on JetBlue is a pretty straightforward upgrade, but the ins and outs of pricing and seat selection can make a big difference in whether or not it's worth the cost. Read on to learn all about "Even More Space" seats on Jetblue!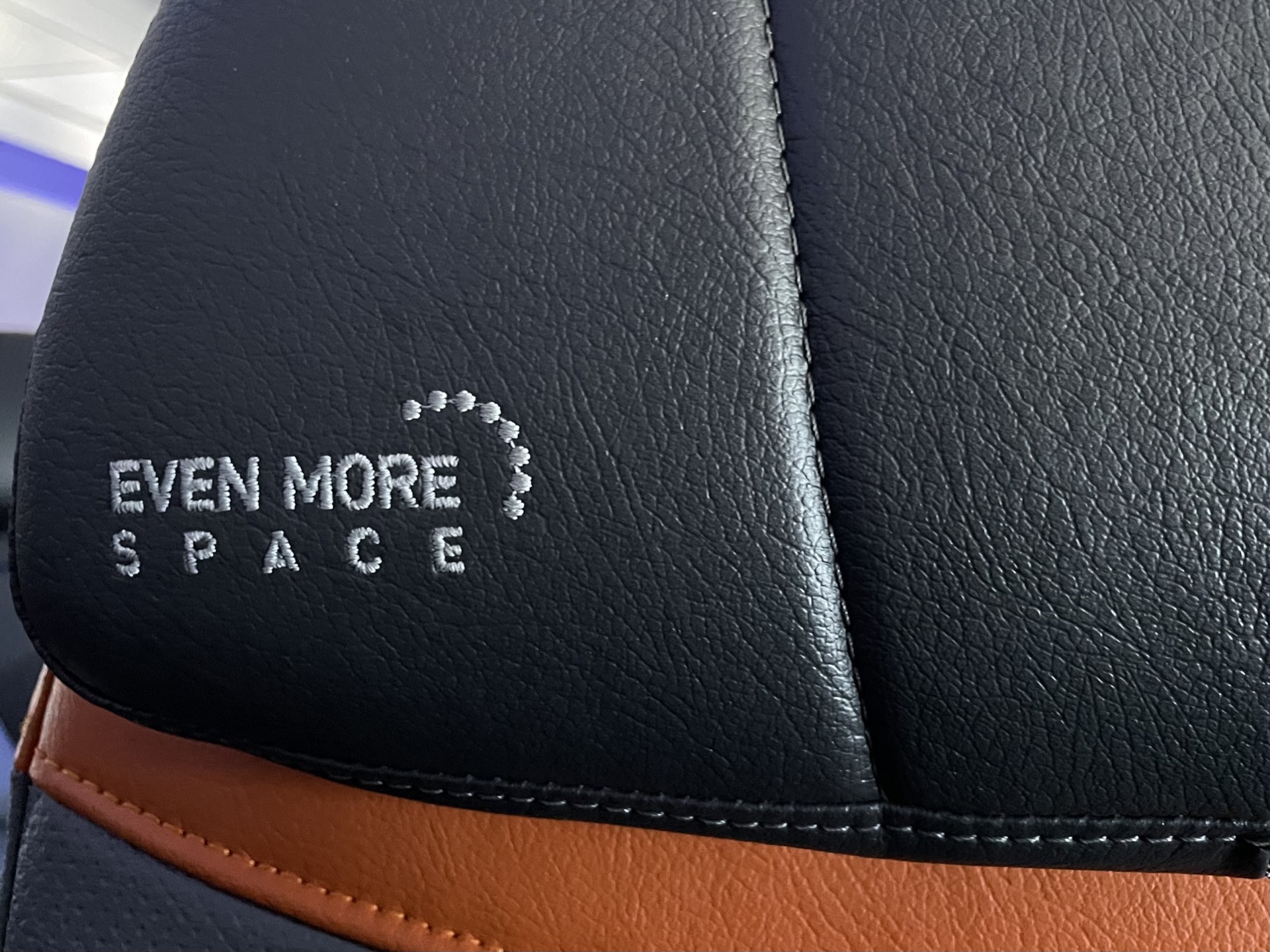 What are JetBlue "Even More Space" Seats?
JetBlue's "Even More Space" seats are, basically, seats with extra legroom. (Perhaps only Spirit's "Big Front Seats" are more efficiently named.) You can see how JetBlue describes them here, but we'll provide some other important context in this post.
"Even More Space" Seat Sizes
With a JetBlue "Even More Space" seat, you'll still have the same seat width, but JetBlue advertises the seats as having "up to" 7 inches of extra legroom, which they says is "up to" 38 inches. Looking at the SeatGuru page for JetBlue's fleet, these figures seem to be technically incorrect, but the bigger issue is that not every "Even More Space" seat is going to have 7″ extra legroom or have 38″ of pitch. Those are both "up to" figures.
For example, the flight detailed in this post was aboard N584JB, which has this 27-row layout. The regular economy ("Core") seats on this plane have 32″ of pitch (distance between seatbacks). The front five rows are "Even More Space" seats with 35″ of pitch. The two exit rows (10 and 11) are "Even More Space" seats with 38″ of pitch. I was in row 5, which meant I had just an extra 3″ of legroom.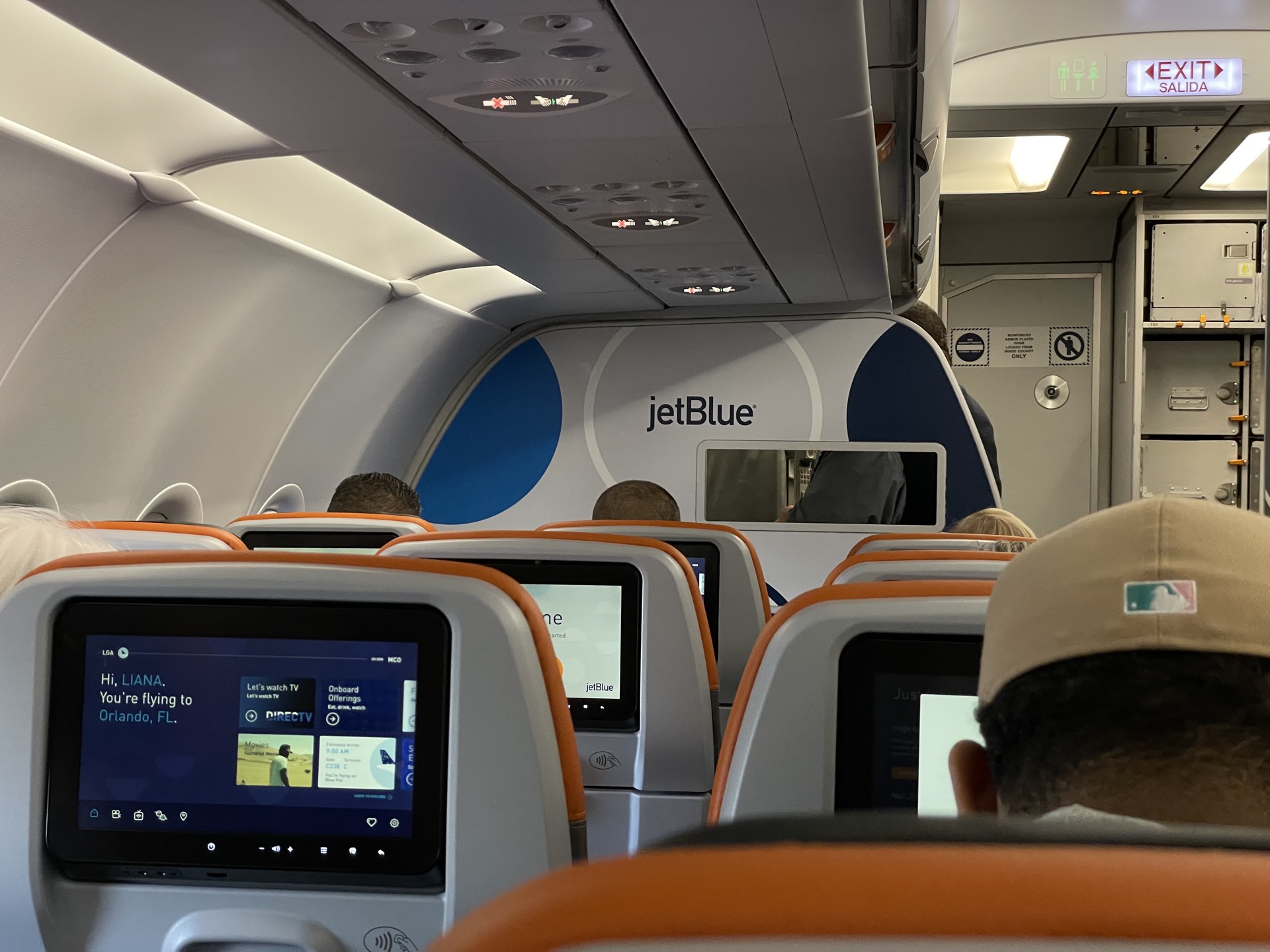 Other "Even More Space" Perks
JetBlue's "Even More Space" seats come with two other perks. First, they get Early Boarding and Early Access to Overhead Bins. JetBlue buries the lede a bit here, but if you book a "Blue Basic" fare—the lowest fare class—an "Even More Space" seat also comes with a free carry-on. I'll show an example of how this works price-wise below.
Finally, "Even More Space" seats come with expedited security (select cities only). If you're the type of person who has made it to this part of this post then you probably should have TSA PreCheck, if not CLEAR, so this perk probably isn't worth much. Even if you don't have either of those, I'd never change my arrival plans based on having "Expedited Security", though it could be helpful if you're significantly delayed for some unexpected reason.
The bottom line is that you're paying for additional legroom, early boarding, and, if you have a Blue Basic fare, a carry-on.
JetBlue "Even More Space" Example Pricing
Let's do a quick example of what "Even More Space" pricing looks like. These details will vary by flight and when you book, but I wanted to show how you might analyze this offering.
To begin with, we have to understand JetBlue's two economy fare types "Blue" and "Blue Basic." Blue Basic is JetBlue's version of "Basic Economy", the most restrictive ticket class you can find these days. "Blue" is the more traditional regular "Economy" fare.
Here's example pricing and what's included for Blue vs. Blue Basic on a March flight on the same route (LGA to MCO) I was flying for this review: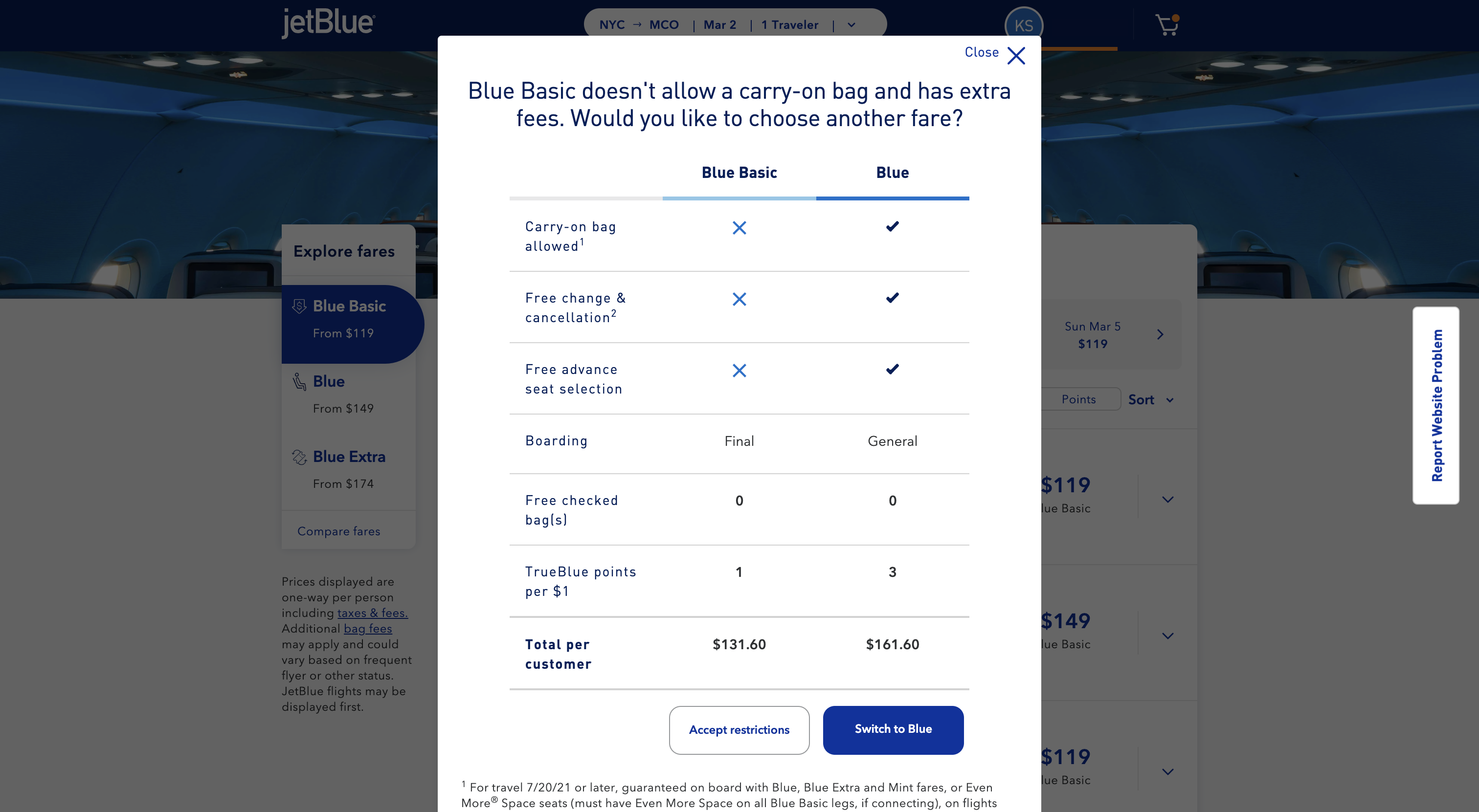 There are two differences between the fare classes that I want to highlight here. First, the Blue fare comes with a carry-on. While I'm comfortable traveling with just a personal item, I assume for most travelers a carry-on (in lieu of a checked bag) is essential. (If you prefer checking a bag, it cost $30 for this flight for both Blue and Blue Basic guests.)
Second, the Blue fare comes with complimentary seat selection, but this also means a discount on "Even More Space" seats. So, in our example, the Blue fare costs $161.60 and the Blue Basic fare $30 less, at $131.60. But when you get to seat selection, you'll see the following two seat maps. First, for Blue Basic: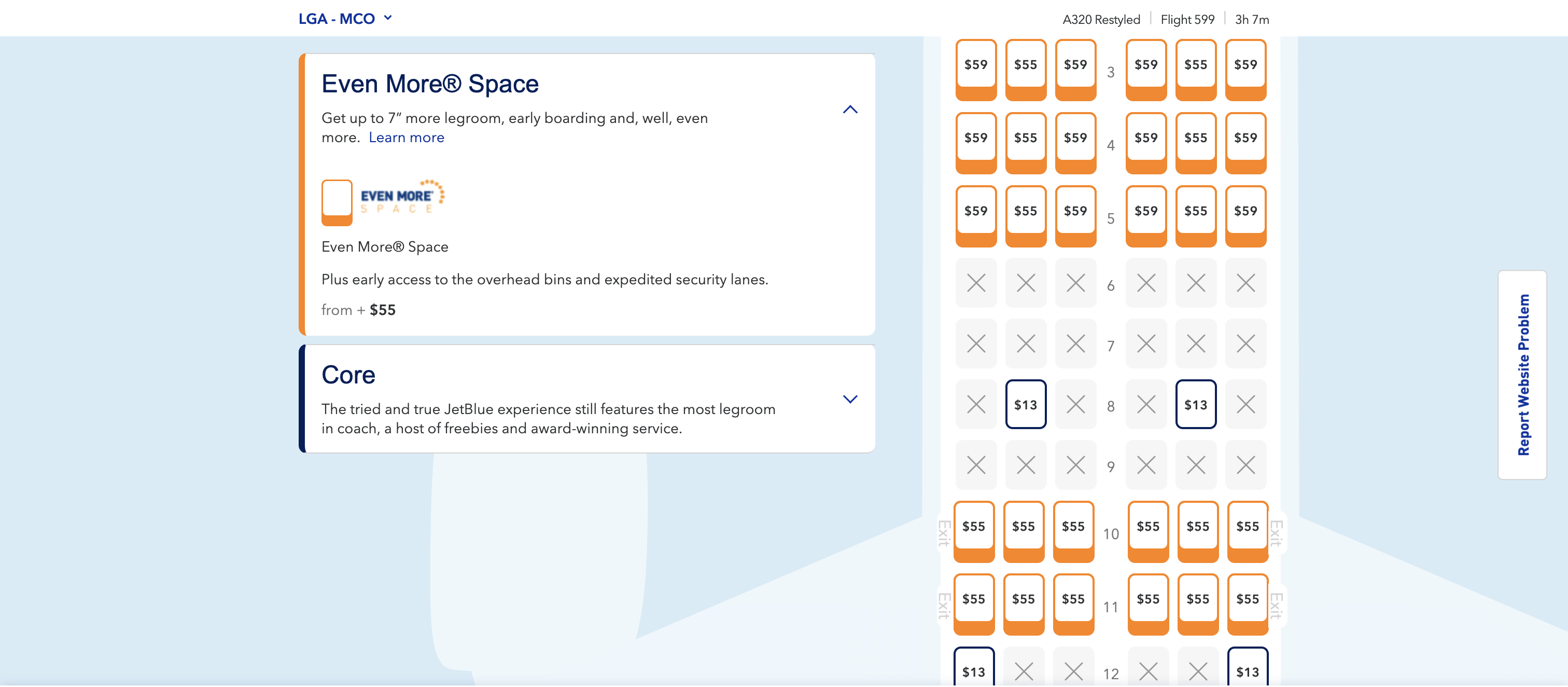 And then for regular Blue: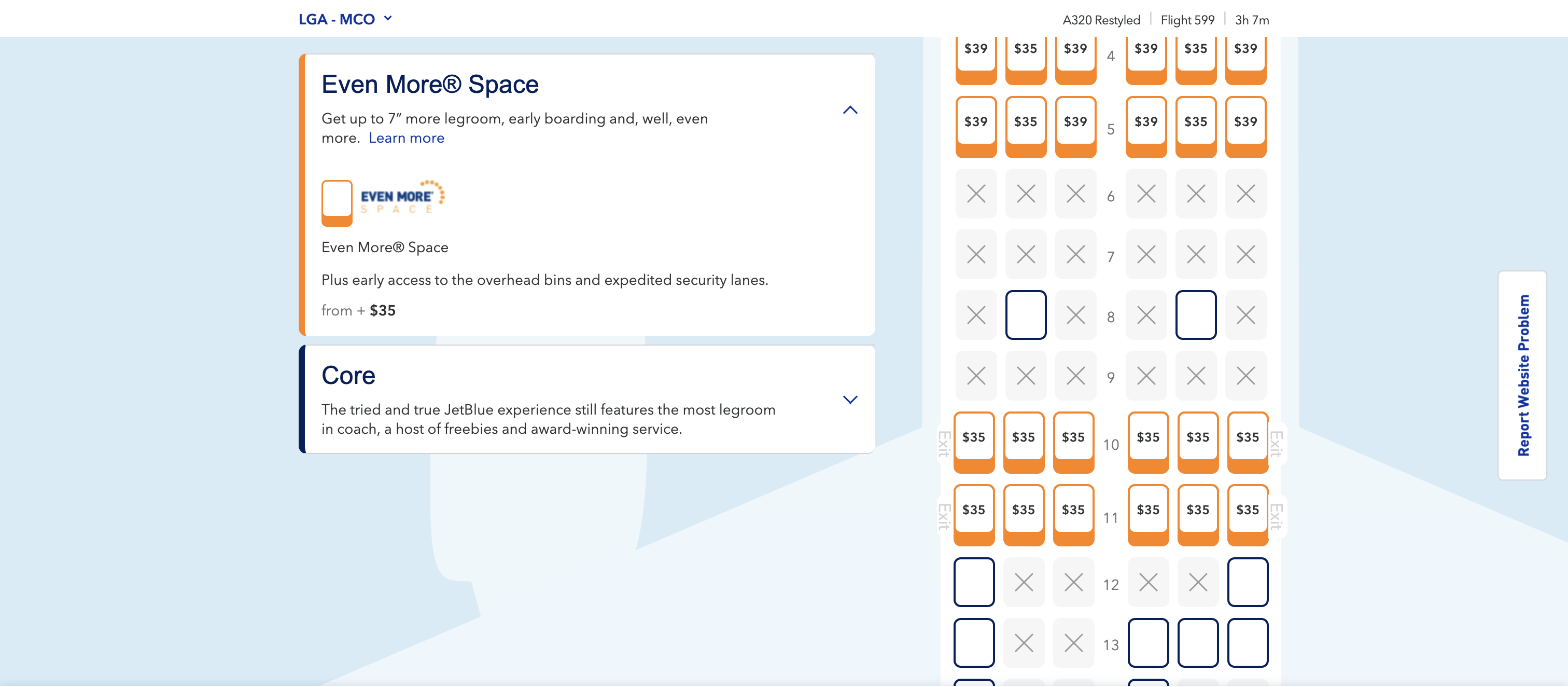 If you're booking a regular seat, your free selection is only worth around $13. But the Blue fare comes with a $20 discount on "Even More Space" seats. So:
Blue Fare + "Even More Space" Seat 5C = $200.60
Blue Basic Fare + "Even More Space" Seat 5C = $190.60
The second option there includes a carry-on and priority boarding (as part of the "Even More Space" booking), but you'd still be missing out on the additional perks of Free Changes and Cancellations, along with the 3X multiplier on TrueBlue points earned, that Blue Fares get. Are these worth $10 per person to you? If so, then booking the Blue Fare will make sense. If not, you could stick with Blue Basic and Even More Space.
The final thing to note about this example is that the "Even More Space" prices for rows 10 and 11 (Exit Rows) are the same as rows 1 through 5 (cheaper for the windows and aisles, actually). This flight shares the same seat map I discussed earlier, which means rows 10 and 11 are getting 38″ of pitch, compared to 35″ for rows 1 through 5 and 32″ for the rest of the plane.
My JetBlue Even More Space Flight(s)
With all that information on our minds, let's talk about how my actual flight went. I'll also throw in some photos from an earlier family flight (same seat map, but row 2 instead of row 5, I'll note the row throughout).
Boarding and Seat
Unfortunately for this review, but fortunately for me, I arrived at the airport after boarding had already begun. Since I didn't have a carry-on, I had no worry at all about overhead space. In any case, I know from past experience that JetBlue's "Group A" boarding is actually a pretty early group. This isn't like some airlines where "Group 1" is actually the sixth group to board.
I had seat 5C, opting for an aisle since I was flying into MCO and didn't particularly care about the view. Here's a look at the space (row 2):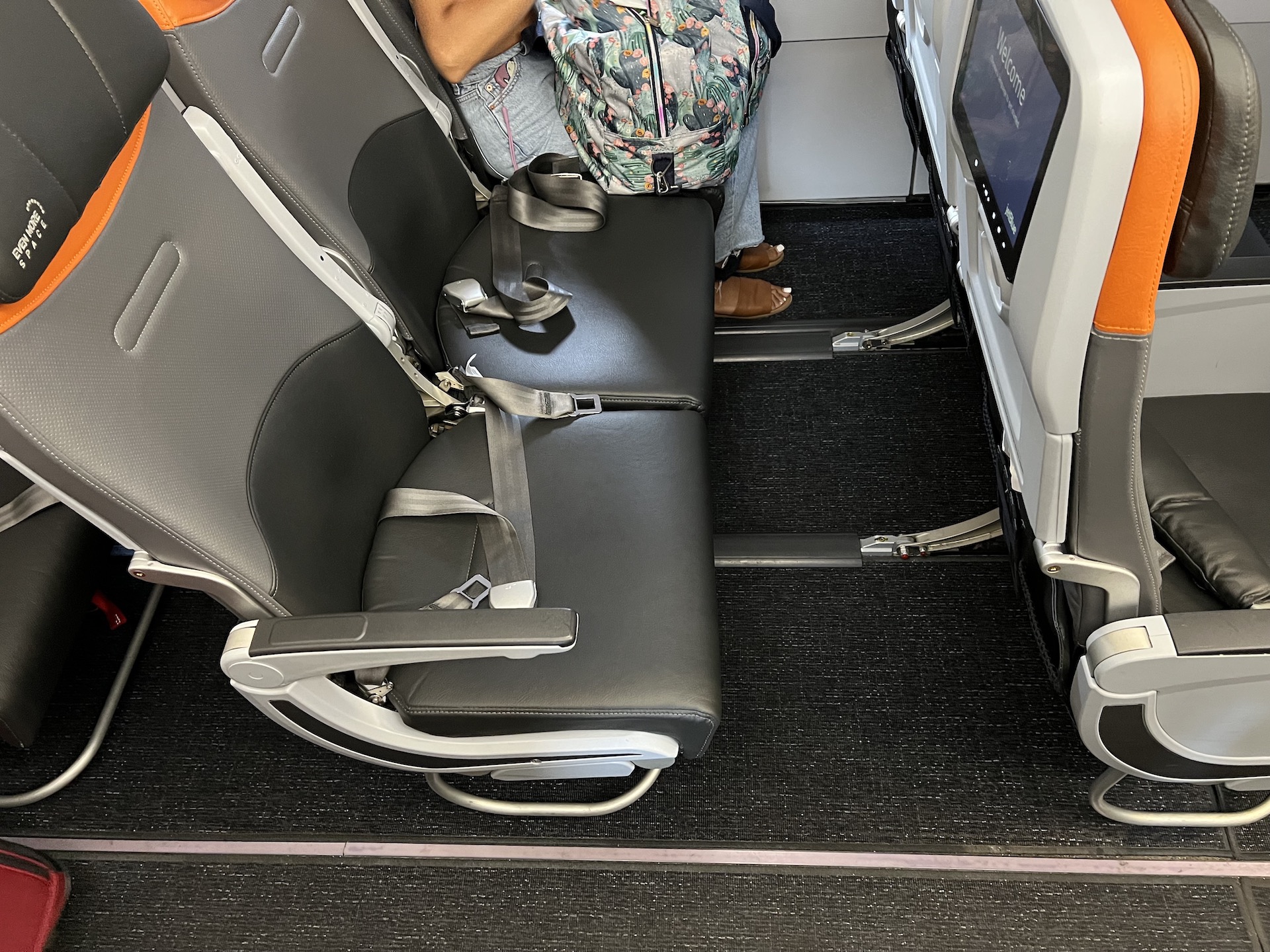 The "Even More Space" seats have the orange flare at the top that regular seats don't have. Other than that, the seats are identical to the regular seats. You'll also see the orange labeling of the overhead bins for "Even More Space" seats.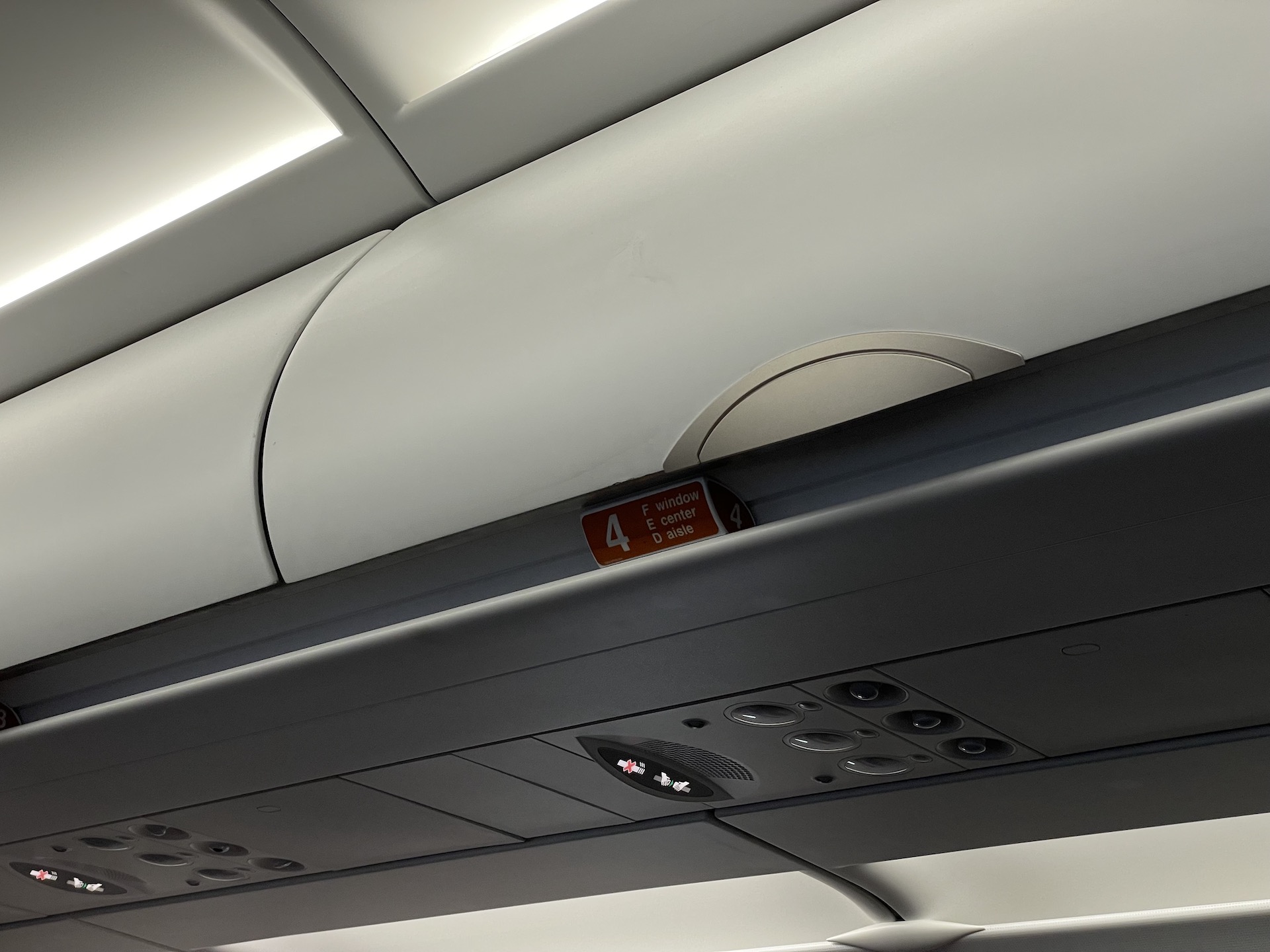 I'm only 5'7″, so the 3″ of extra legroom doesn't do much for me. If anything, I was disappointed to see that my slightly taller seat mate still felt the need to spread his legs the tiniest bit into my space.
The seats on this A320 have outlets between them and seatback televisions. The entertainment selection was pretty extensive. JetBlue allows TrueBlue members to log into the entertainment system. I've never done this, but I assume it has basic functionality like the ability to save favorite shows and such. I was also able to pair my phone with the screen to use as a remote, a feature I used exactly 0 times on the flight. I wound up just keeping the flight map up the entire time.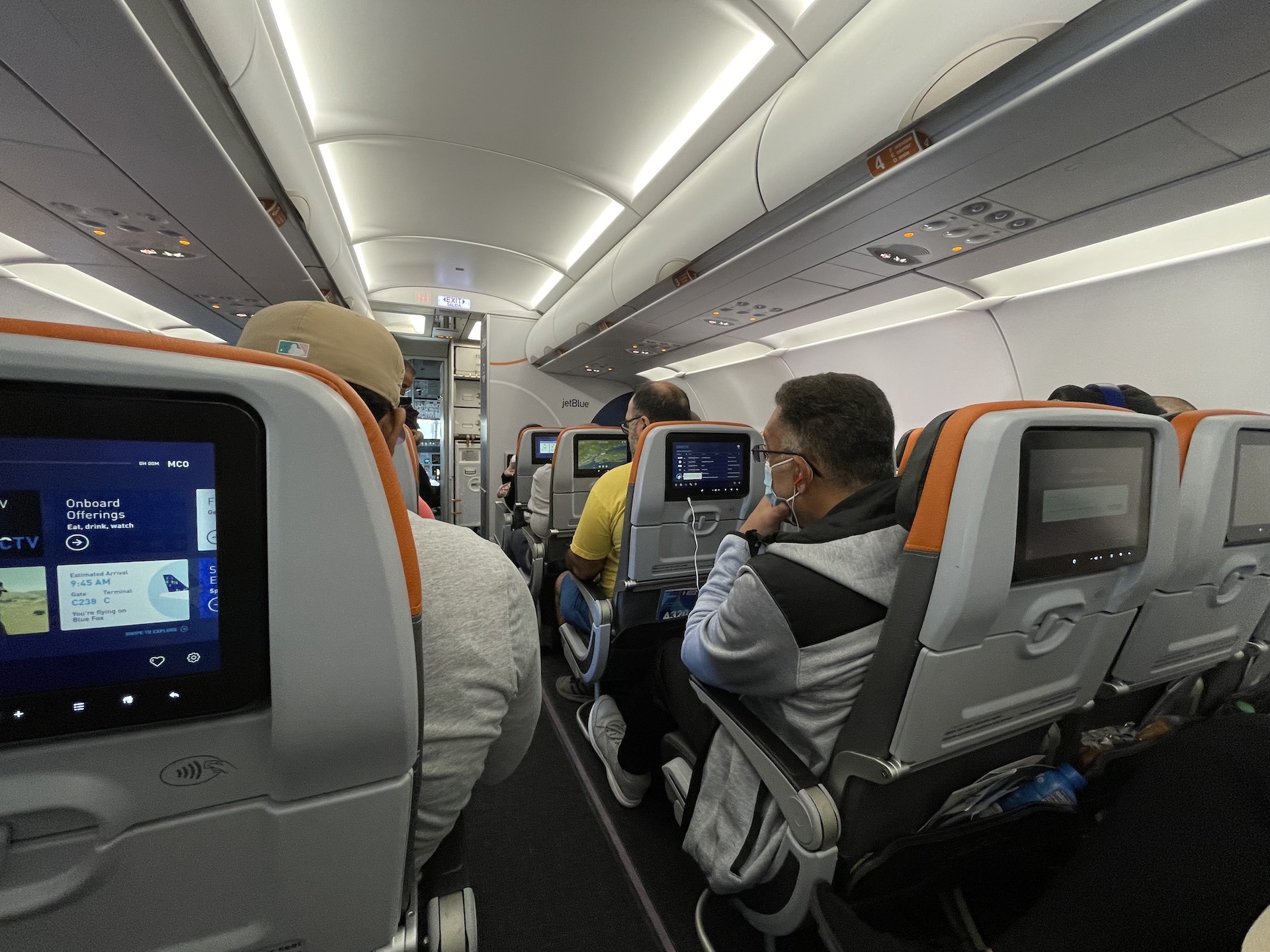 Onboard Service
JetBlue's complimentary snack and beverage selections are among the best (if not the best) of any domestic carrier. While I've been on flights where some items were unavailable, the standard lineup includes things like Cheez Its, cookies, and plantain chips, along with all the usual beverages.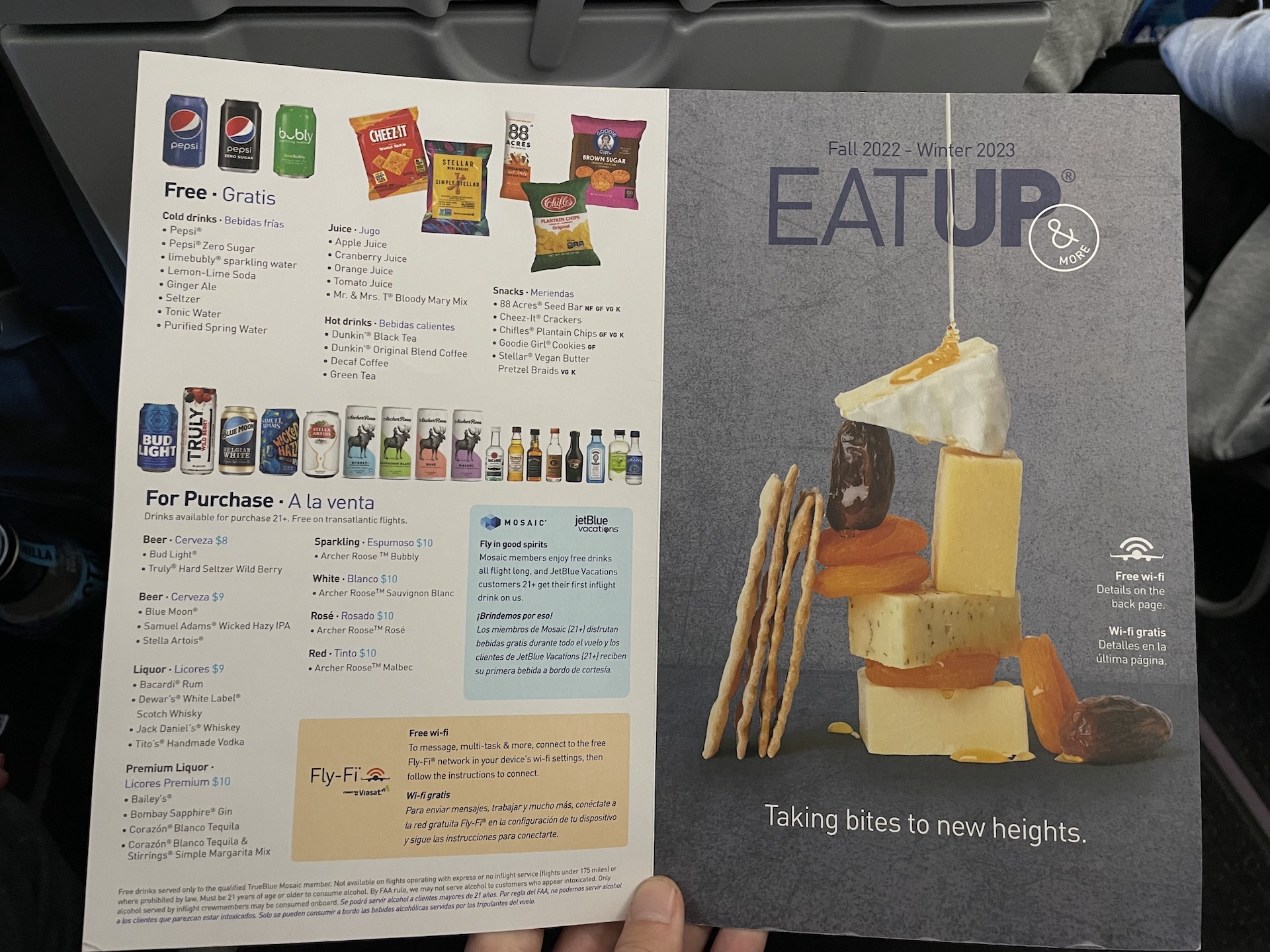 "Even More Space" seats don't come with any complimentary food or beverage perks. This is part of what distinguishes them from more comprehensive upgrades like Delta Comfort Plus. If you want alcohol, you'll still have to pay the usual price for that ($8 to $10 this flight), and the more extensive snack boxes still cost $8. I went with (free) Cheez Its and a can of sparking water.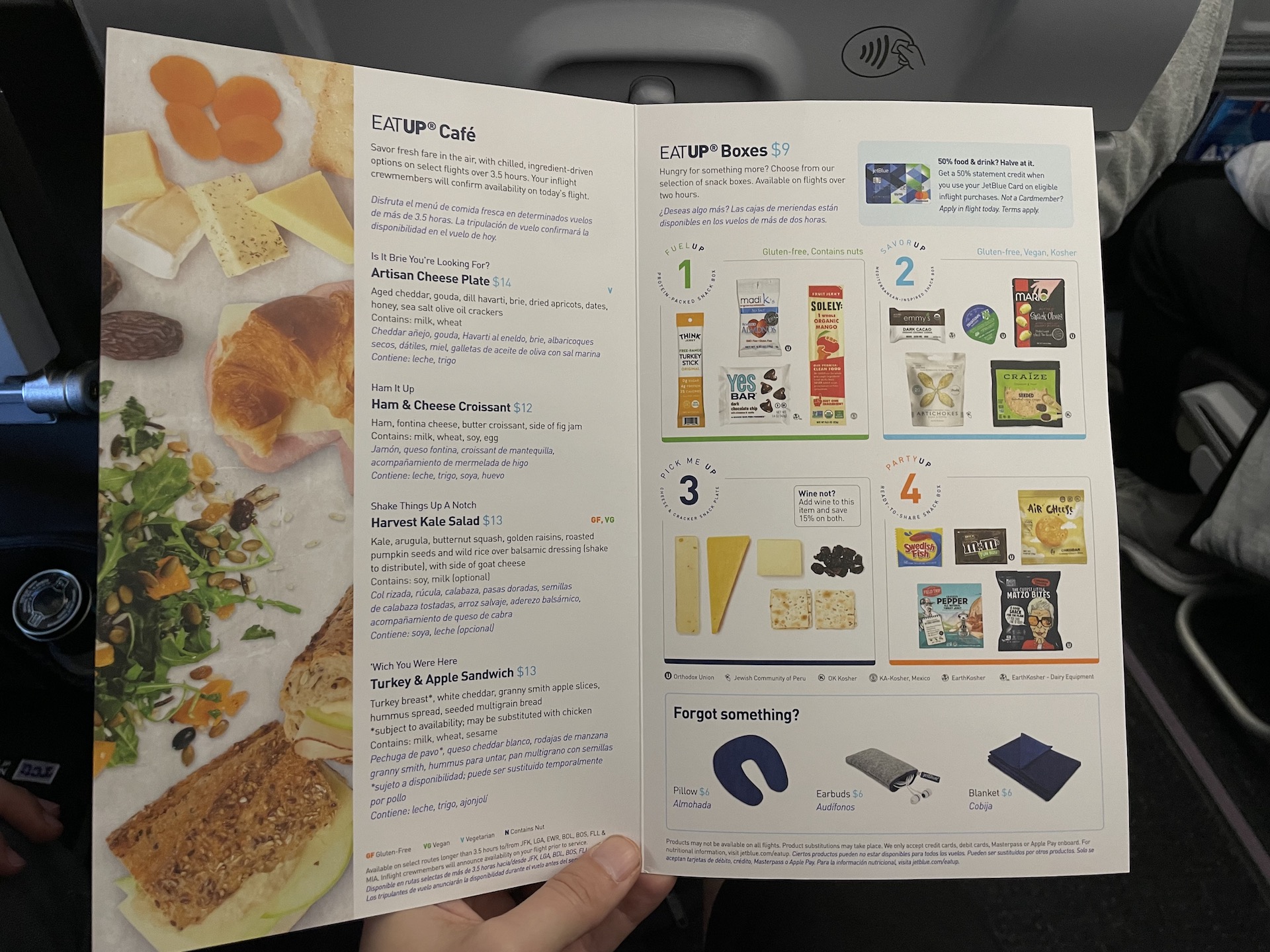 My biggest complaint about JetBlue remains that the food and beverage services are done separately, and the paid service is a third service on top of that. There's always announcements associated with each of those, and when you add in the occasional credit card pitch, you've got a lot of interruptions and aisles that feel like they're constantly blocked.
This isn't a huge problem, but even more than most flights I recommend making sure you use the bathroom before boarding. From boarding at 9:37AM, through takeoff at 10:33AM, I wasn't able to use the lavatory until 11:21AM. (If I'd had an emergency it wouldn't have been a problem, but as a patient passenger trying to let the flight attendants get through things, this was the result.)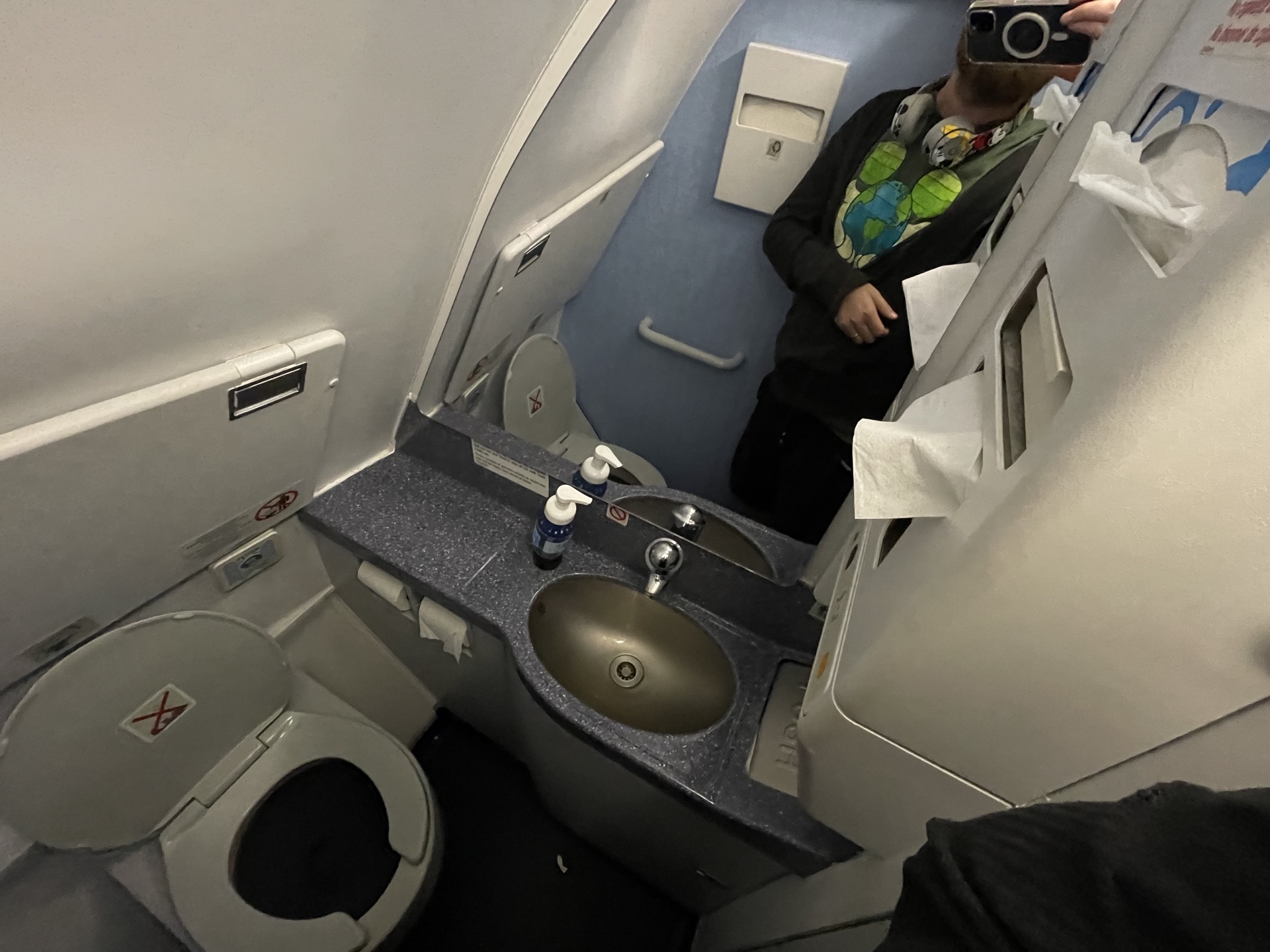 The flight itself was uneventful. I was able to enjoy my extra 3″ of legroom while reading. At least with the tray table fully extended, I didn't feel at all cramped. Three inches isn't much space, but it can still matter when it's time to have the tray table out, particularly if you're planning on working. As I write this, I'm about 3 inches away from my desk, and it would be a lot less comfortable typing without that space.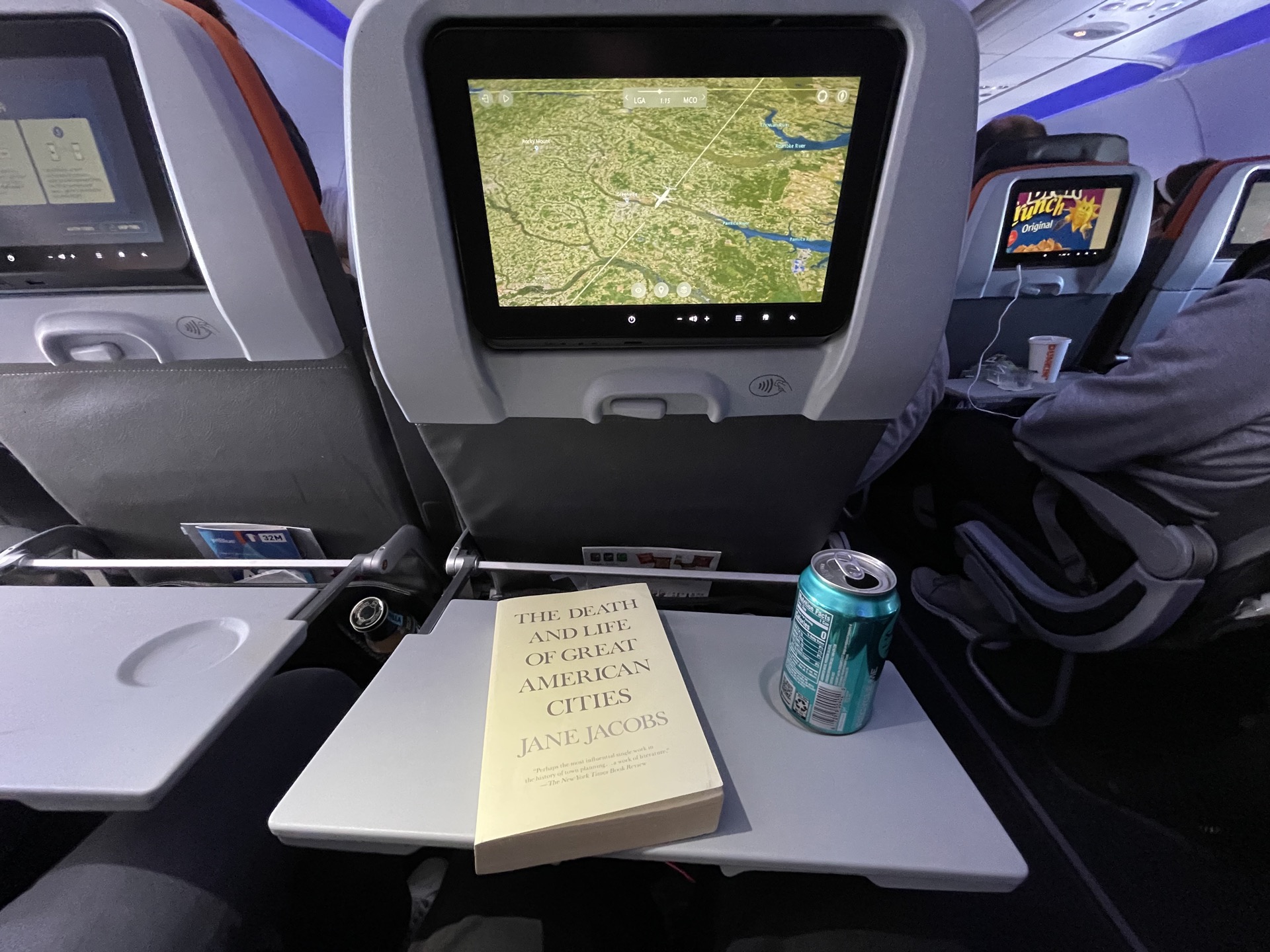 Is JetBlue "Even More Space" Worth It?
Obviously my big mistake here was not booking the more spacious Exit Row "Even More Space" seats. I paid $59 for a 5th row seat with an extra 3″ of legroom. As a solo traveler, without a carry-on, at 5'7″, this was probably a big waste of money on a 2-hour flight.
If all I'd needed was the carry-on, simply upgrading to a Blue fare from a Blue Basic fare for $30 would have made more sense. On a long flight perhaps the extra 3″ and relative proximity to the front of the plane (including the lavatory) would have added up to more significant value, but at the end of the day I have to say this just wasn't worth it.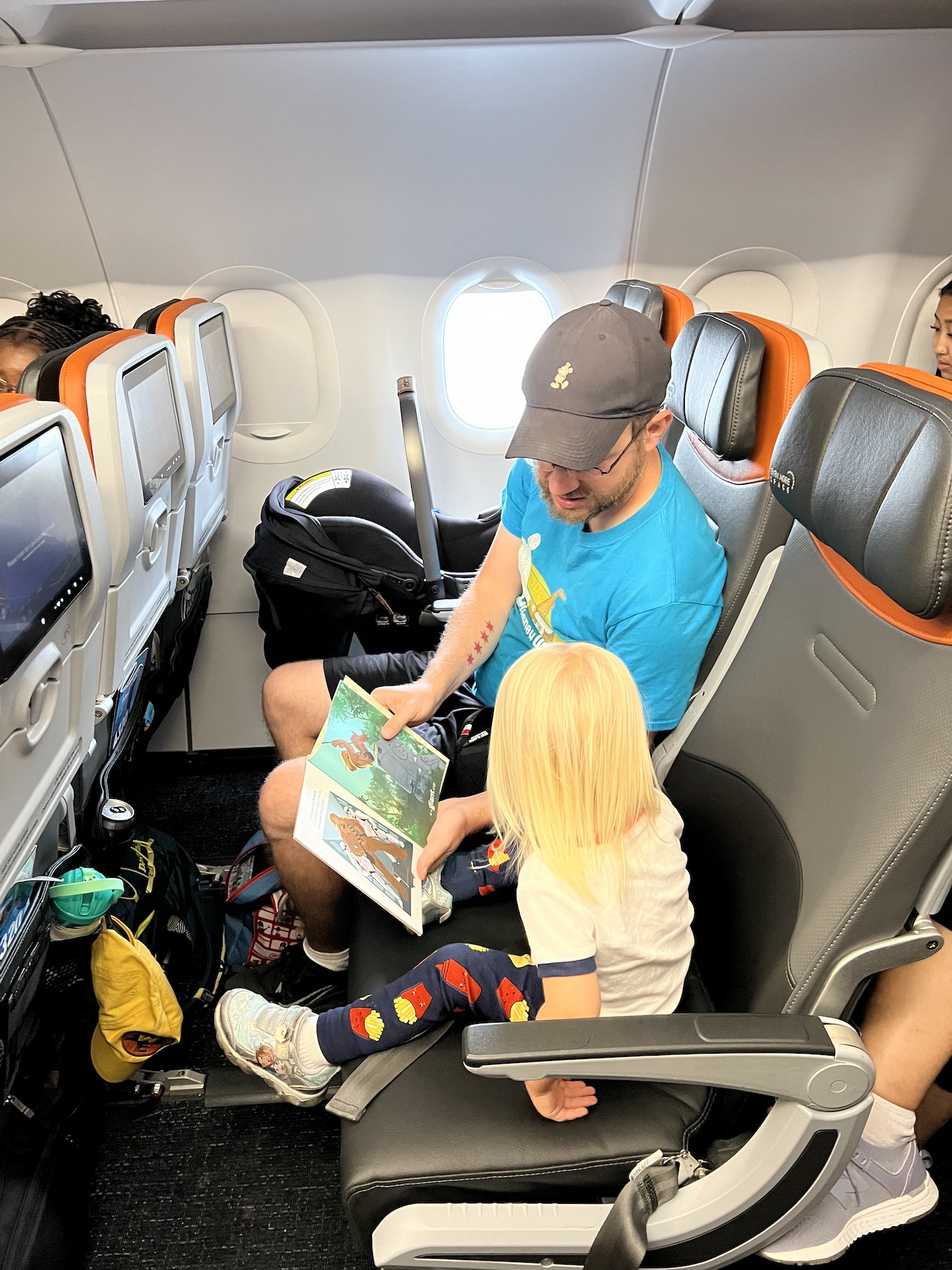 One circumstance in which these seats can make sense is when traveling with a small child. We've done JetBlue's "Even More Space" seats with Zoe (age 2) before and found it enjoyable. Trips with Zoe require a carry-on, and 3″ of space can be a lot with a small child, particularly if you're trying to fit a car seat.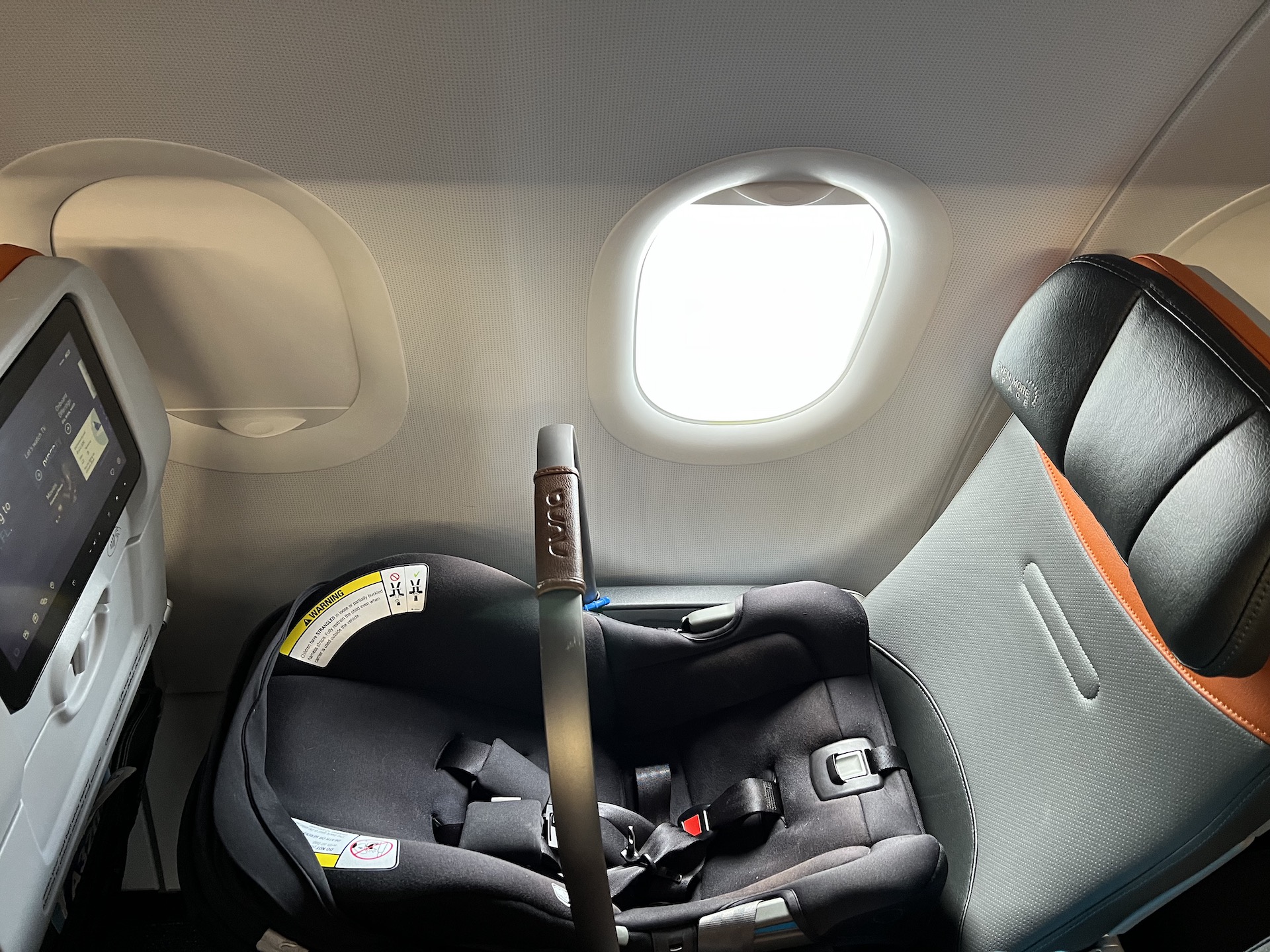 Unfortunately you can't have kids under 15 in the Exit Row, so your only "Even More Space" option in this case is going to be the front rows.
Overall, while the "Even More Space" seats on JetBlue can be pretty reasonably priced, settling on one is going to be pretty circumstantial, starting with whether you're getting that "up to" 7″ Extra Legroom or a more disappointing 3″. Beyond that, Blue Basic customers will see value in being able to bring a carry on, but the other perks (early boarding, expedited security) probably don't add enough value to justify spending the money if the legroom doesn't appeal to you.