In this post we're going to discuss how to spend three days in New York City. We'll start with how to get there before tackling where to stay and how we recommend you spend your three days. There's no shortage of options in the Empire City, but we want to at least help you balance tourist must-dos with some genuine city experiences. Read on to learn how to spend a weekend in New York City!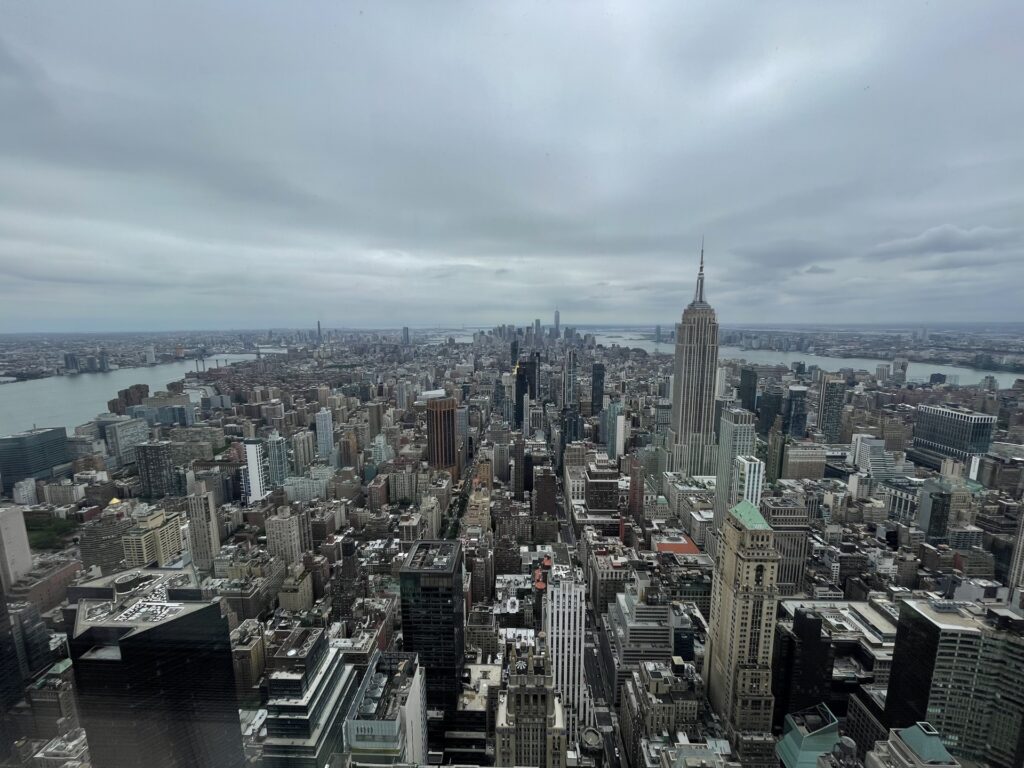 Getting to New York
To start, you need a plan for how you're going to get to New York. We'll quickly cover three options—flying, taking the train, and driving.
Flying to New York City
First thing's first—book a window seat. Since flight approaches can vary, I can't guarantee which window seats will always offer the best views of the city. I tend to go with an "A" seat into LaGuardia. Google and Reddit might be more help here, but I wanted to flag this right off the bat.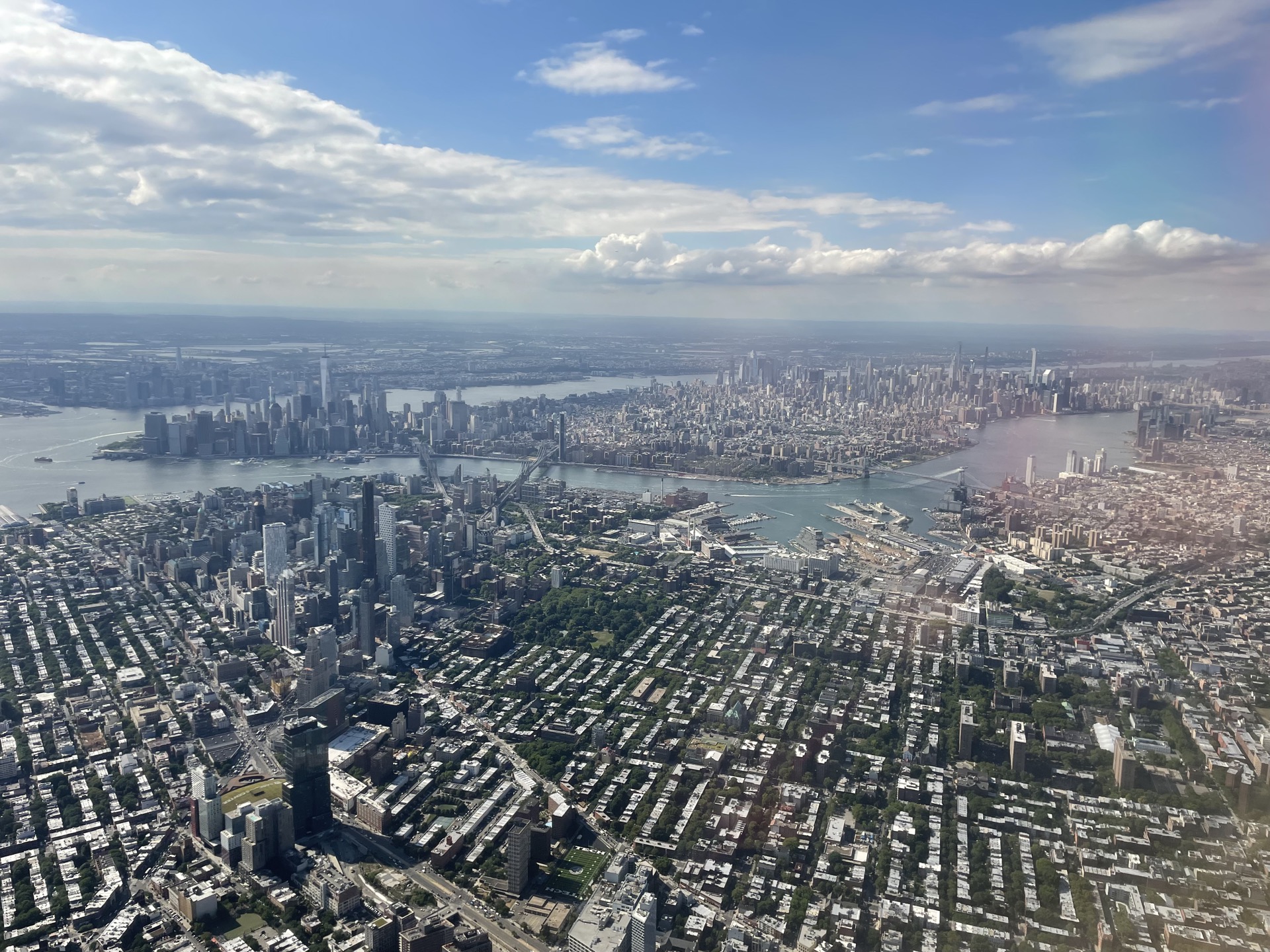 Chances are you're already planning to fly to New York, so the thing you really need to know is which airport to fly into. There are a lot of factors that are going to go into your decision, including which airline you're flying, where you're coming from, and where you're staying.
The bottom line is that all three airports—Newark (EWR), JFK, and LaGuardia (LGA) are fine options. If I quickly check for travel times and prices to Central Park Zoo (a centrally located spot in Manhattan), here's what they look like right now (middle of a Friday):
JFK to Central Park Zoo — 68 minutes, $78 by Uber; 65 minutes, $11 by transit (subway)
EWR to Central Park Zoo — 43 minutes, $58 by Uber; 65 minutes, $16 by transit (train)
LGA to Central Park Zoo — 34 minutes, $54 by Uber; 43 minutes, $2.75 by transit (bus, train)
The only caveat I'd add from personal experience is that the 43 minutes for transit from LGA is optimistic. This involves a bus from LGA, which I've waited over 15 minutes for multiple times, and a transfer to the N/W, which can run less than every 10 minutes sometimes.
Assuming you're staying in Manhattan, and assuming you go on Google maps and find travel times to your hotel are pretty similar to what I've shown above, then you'd probably be fine with whatever flight times/prices work best for you, regardless of which airport you pick.
(If you choose Newark, we have posts on how to take the train from Newark to the city and from the city to Newark.)
Taking the Train to New York City
If you're coming from nearby there are several commuter trains from surrounding areas into New York. From farther away, you'll be looking at Amtrak.
If you're taking the train into New York you're probably arriving at Penn Station / Moynihan Train Hall or Grand Central Terminal. These are both located in Midtown Manhattan, and you shouldn't have trouble getting to any Manhattan hotels via public transit or taxi/Uber.
For a sample train experience, you can read about taking the Amtrak between Boston and New York.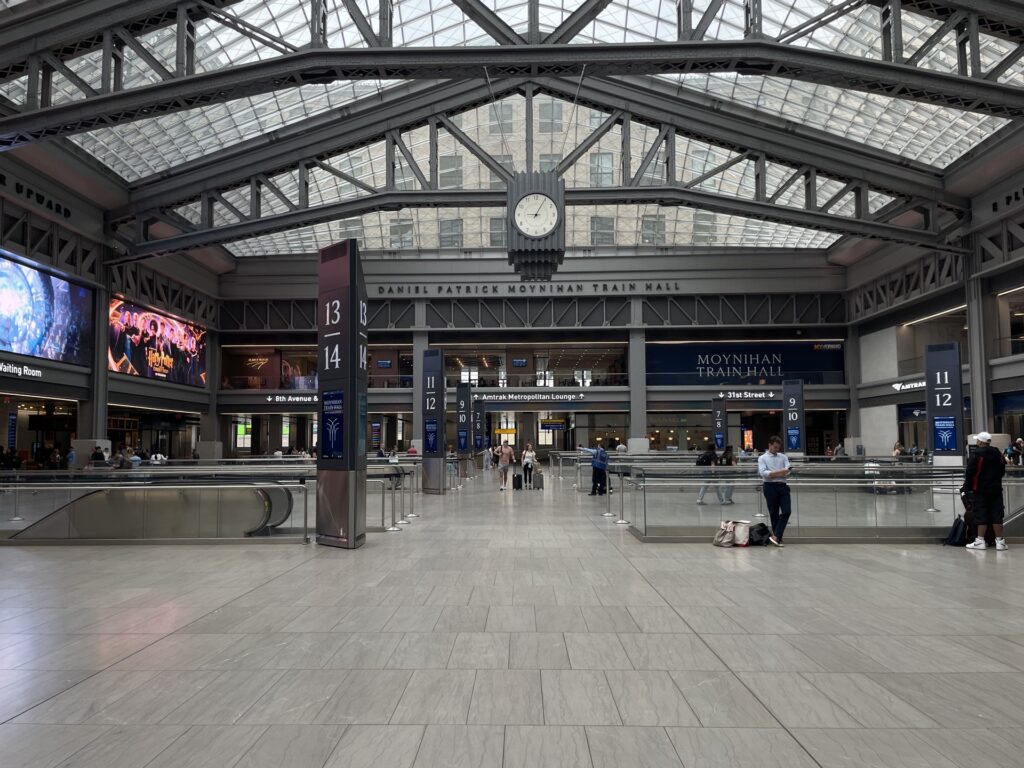 Driving Into New York City
If you can avoid it, don't drive into New York City. You'll probably pay at least $10 in tolls each direction, plus parking during your stay (figure at least $50 per night). Plus, driving into the city is just not a nice introduction. There's a reason New York City has the lowest rate of car ownership in the US (below 50%).
Where to Stay for a Weekend in New York City
This section isn't going to be a list of best hotels, instead we're going to talk about picking what area to stay in.
You'll have no problem filling your weekend in New York City with activities of your choice (of course we give recommendations below), so where you stay will somewhat come down to where those activities are. If you're spending two days at One World Observatory, the 9/11 Museum, the Statue of Liberty, and Ellis Island, it makes sense to just stay in the Financial District.
The flip side of this though is that the subway system is good enough to get you around pretty efficiently from most anywhere you'd plan to stay.
Let's say you have to see the Charging Bull statue in the Financial District. From Soho House New York, near Chelsea, only 2.5 miles away, it's 25 minutes by subway. The Plaza Hotel, 5 miles away, is also 25 minutes by subway. From the Courtyard by Marriott Long Island City, in Queens, it's 6.5 miles including a trek across the Queensboro Bridge, but still only 30 minutes by subway.
It makes sense to think about location, but it isn't worth stressing over. In all likelihood you're going to pick something in Midtown Manhattan, and that's great. You can work off whatever hotel list you can find—Booking dot com top picks, TripAdvisor rankings, anything Google spits out—and use Google Maps to confirm travel times are acceptable from wherever you pick. But if you'd like a little more guidance, here are four locations to consider…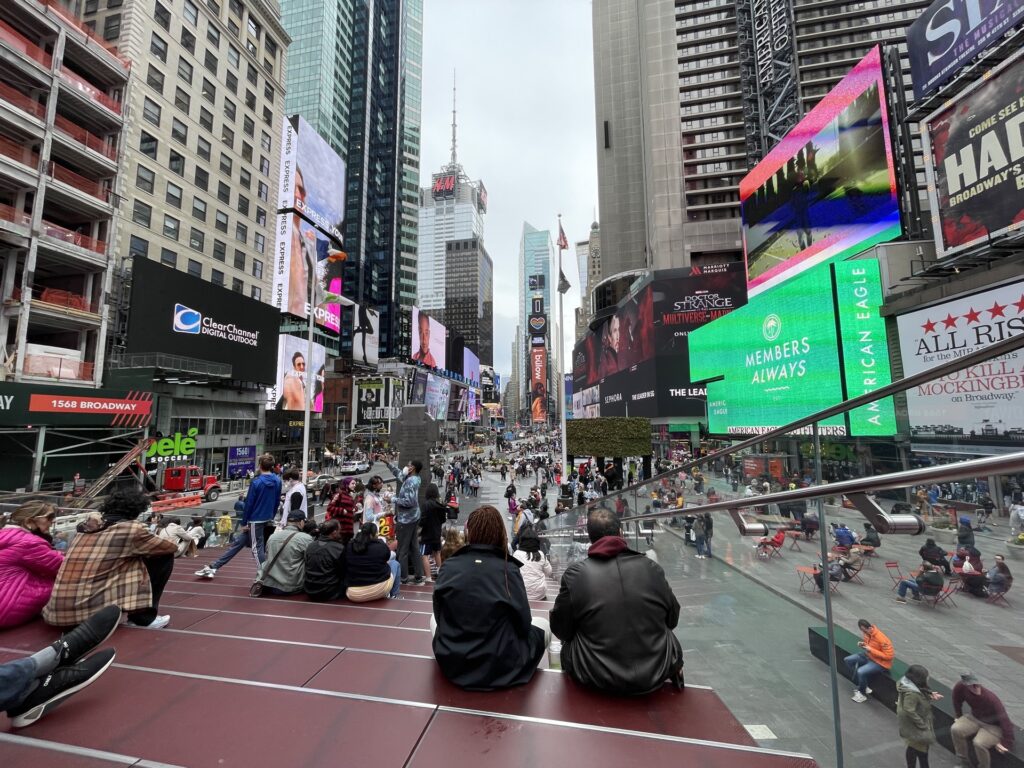 Times Square. Popular locations tend to be popular for a reason. Chances are Times Square is on your itinerary, and you've probably got a few things that are walkable from it, too. Times Square is also where you'll find the Times Square—42nd Street Station, the busiest station in the New York City Subway and a hub from which you can easily reach most major tourist destinations.
Example stay: Three nights at the Hilton Garden Inn New York – Times Square Central for $899 total.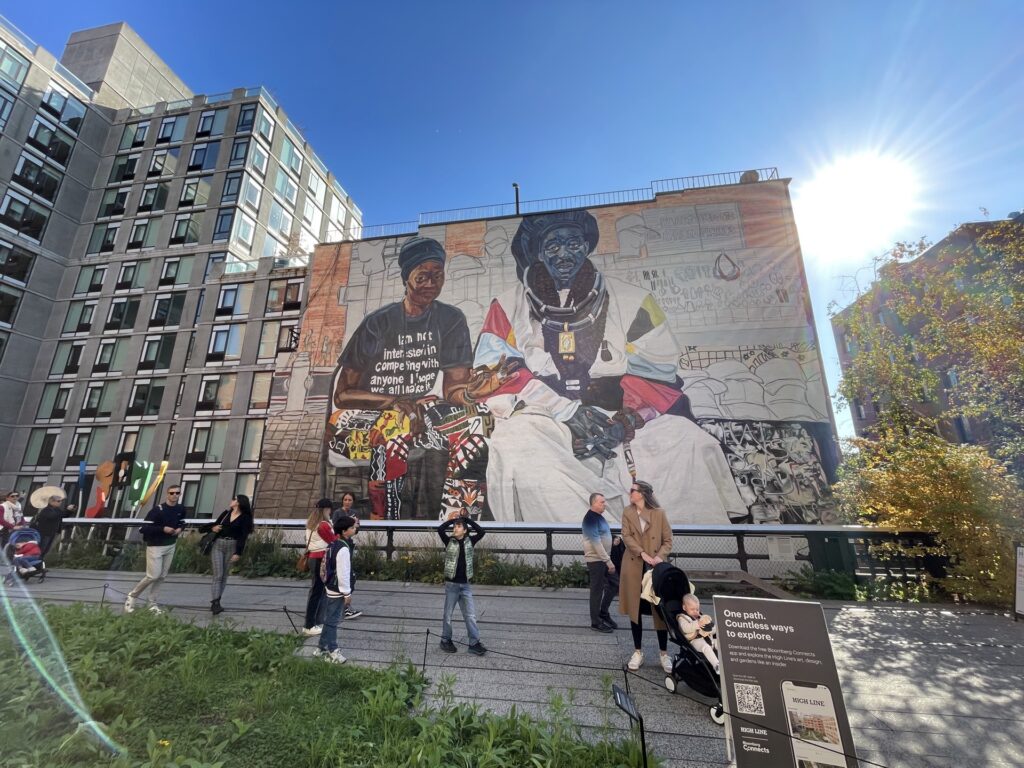 Chelsea / Flatiron. The eastern edge of Chelsea, near 6th Avenue and 26th Street is also a good spot to consider. This removes you a bit from the chaos of Times Square, but it's still a very busy area. There are several subway stations scattered around the area, convenient for getting you to a variety of sites. Chelsea is itself a fine neighborhood to spend an afternoon in.
Example Stay: Three nights at the Hyatt House New York/Chelsea for $1,035 total.
Downtown Brooklyn. Downtown Brooklyn is a good option that isn't in Manhattan. It's right across the Brooklyn Bridge from Manhattan. It's got a few things going for it. First, it's in Brooklyn. Brooklyn is tons of fun and offers plenty of less touristy stuff than Manhattan, which makes it ideal if you want to spend some time just experiencing city life. There's also the awesome-even-if-somewhat-touristy Brooklyn Bridge.
Second, it's close to the Financial District and only about 25 minutes to Times Square. Once you start going farther north—Central Park (35 minutes) or Yankee Stadium (45 minutes)—the travel times might start to wear on you.
Besides travel times, the biggest downside to Downtown Brooklyn is that it doesn't have a ton of hotels, so prices are competitive with the places you'd likely be looking at in Manhattan. The bottom line—stay in Downtown Brooklyn if and only if you're going to spend at least half a day just exploring the neighborhood.
Example Stay: Three nights at the New York Marriott at the Brooklyn Bridge for $1315 total.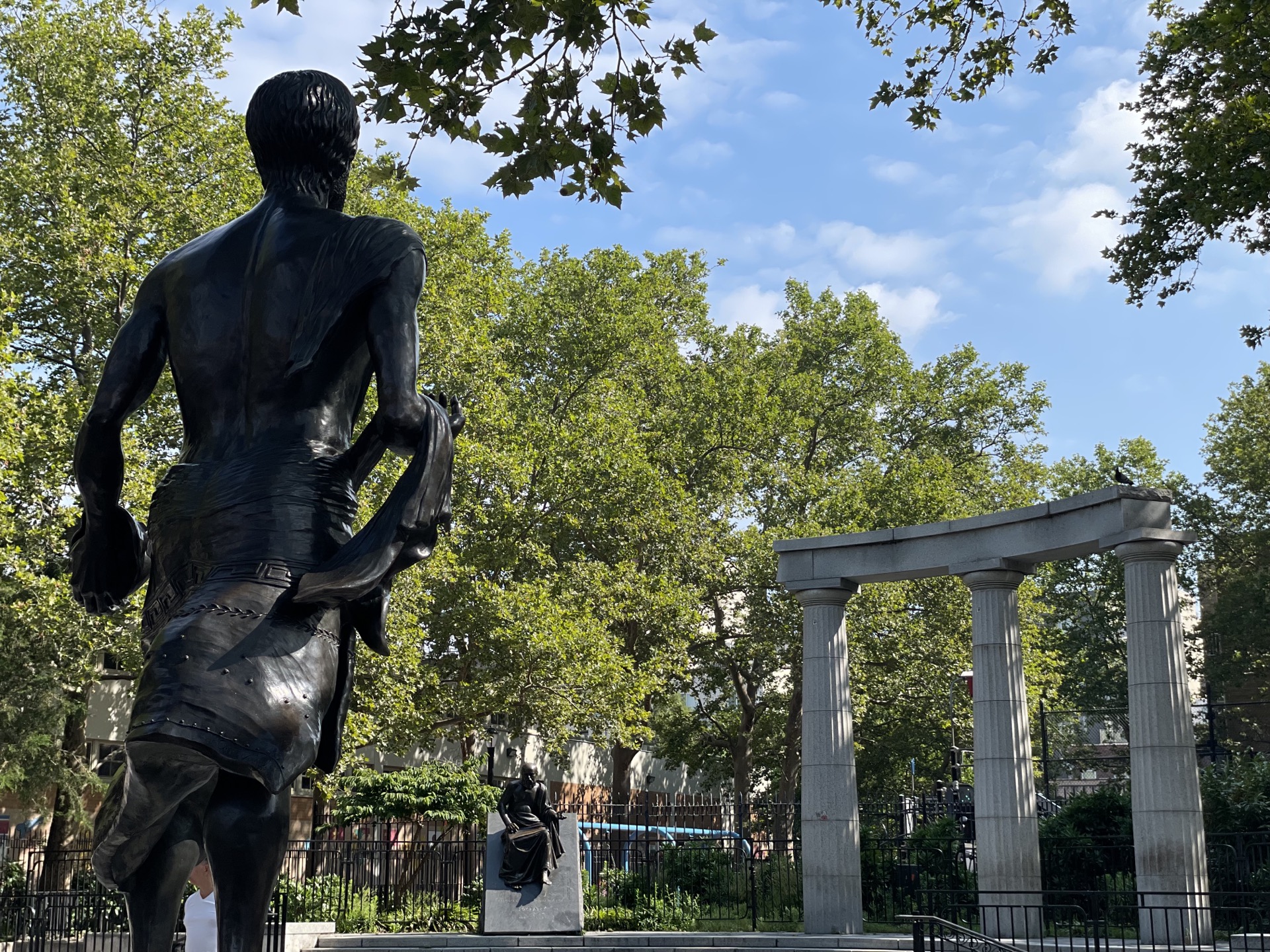 Long Island City. Long Island City is another good option that isn't in Manhattan. It's across the river in Queens. The benefits of Long Island City are fourfold.
First, it's generally cheaper than Manhattan, though the greater number of hotels in Manhattan keeps prices competitive.
Second, you can find a few hotels that are short walks to both Queensboro Plaza station and Queens Plaza station. These are both great stations for getting you fairly quickly to various sites in Manhattan.
Third, you're closer to both JFK and LaGuardia than if you stay in Manhattan.
Fourth, you're in a great position to check out some of Queens. In particular, you're a short train ride (or longer walk) from Astoria, once named one of the "coolest" neighborhoods in the world.
Example stay: Three nights at the Hilton Garden Inn Long Island City for $760 total.
How to Spend Three Days in New York City
Finally, the thing we came here to talk about. You can spend three days doing just about whatever your heart desires in New York City. Okay, you can't mountaineer (though there are plenty of climbing gyms), but you can surf, play chess, and visit a high ropes course.
Planning to stick to "the highlights"? The bad news is you need more than three days even for the highlights. The good news is you'll have no problem packing a weekend full of fun. But here's how we'd recommend spending a weekend (Friday arrival to Monday departure) in New York City.
Visiting during the holidays? Consider adding the Saks Fifth Avenue Light Show to your list!
Five Quick New York City "Must Dos"
Before we get to the day-by-day itinerary, I want to highlight five quick things that you should be sure to do as part of your trip. These should fit right into your itinerary.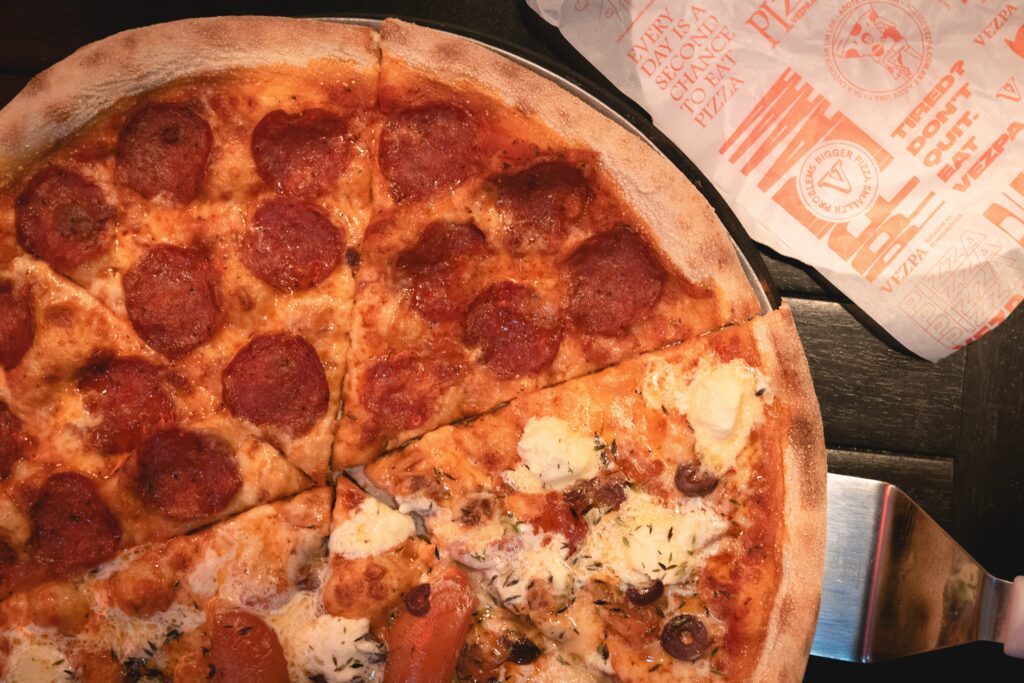 Eat a slice of Pizza. Pizza is ubiquitous in New York. As a born and raised Chicagoan, you might expect I'd have some thoughts about floppy, greasy New York pizza, and I do—I love it. I love the taste, I love the experience, and more than anything I love the convenience. When you need that quick bite, find a local spot and grab a regular slice (or two) and a can of Coke.
Tip a Street Performer. City life and city tourism are greatly enhanced by street performers. You'll find them in parks, in subway stations, on the trains, and on street corners. Bring small bills and tip them so that we can keep having nice things.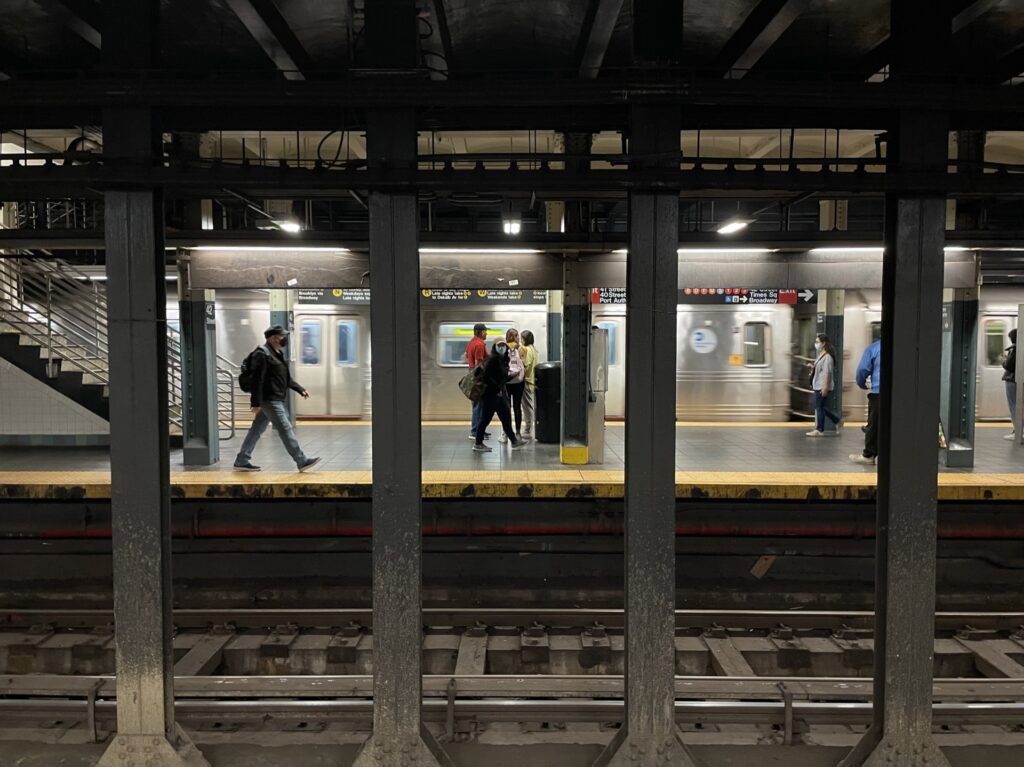 Take the Subway. As a practical matter, you should be taking the subway most of your visit. But if you're undecided, well, that's why I'm calling it a must do.
I admit it—I'm overly romantic about the New York City Subway, but my most vivid memories from before I moved here were tied to the subway. And I still ride it almost daily, reciting the stations with my toddler as we pass them. Whether you take the subway daily in your hometown or can't imagine ever setting foot on a public train, there's literally no reason you should set foot in this city if you aren't going to take at least one ride on the New York City Subway.
(And if something ridiculous happens during your ride, do what everyone else does—stare blankly forward as if this is just an everyday occurrence in a city of 8 million people.)
Buy Something from a Bodega. Preferably, a bodega that has deli-style foods and a cat. But if you only manage to make it into a more traditional convenience store, you might still check this one off.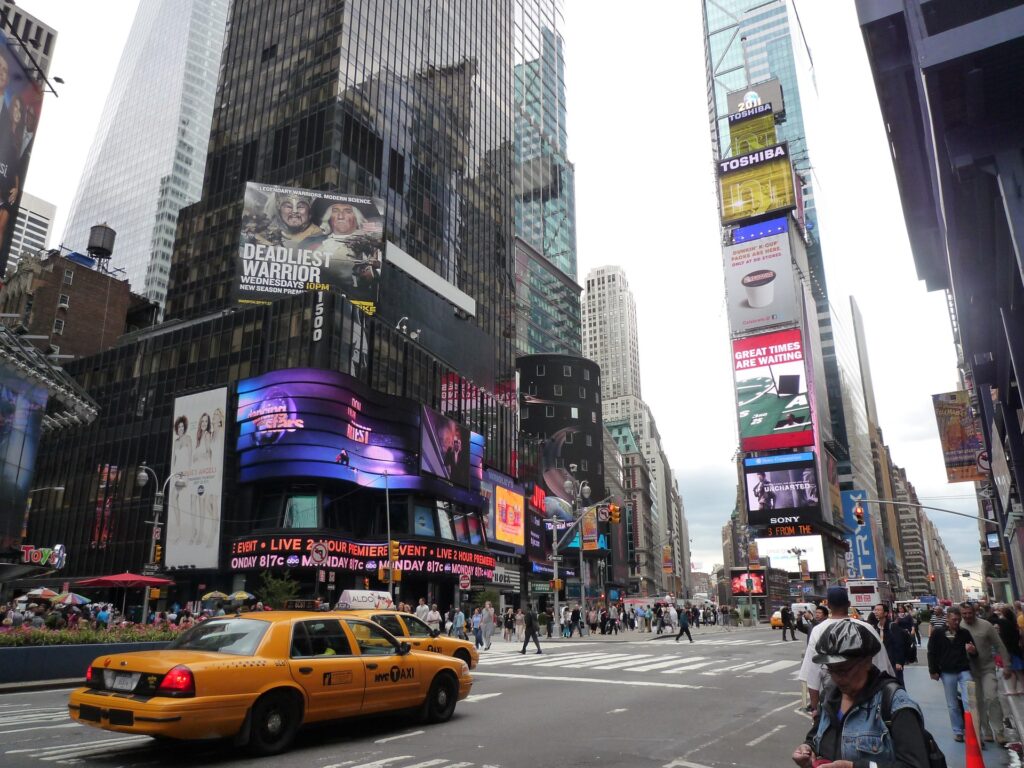 Visit Times Square. If you're anything like me, then you rolled your eyes just now, but just hear me out! I think you have to be a bit jaded to not think Times Square is a little "cool." And regardless of what a "true New Yorker" might have to say about the place, there aren't many spots like it in the world, and even fewer (none) in the United States.
I'm not putting Times Square into a specific part of the itinerary below because the itinerary is flexible enough for your to fit it in at various points. There's also nothing specific I'd tell you to do there. Maybe you go into a few stores. Or you sit on the steps at Father Duffy Square and read for an hour. Maybe you walk through it for 10 minutes before a Broadway show.
Times Square 42nd Street is an incredibly well-serviced subway station, so chances are that during one of your many subway rides you'll be able to divert to Times Square for as much time as you'd like.
Now, onto an actual example schedule…
Arrival Day — Street Food and a Park
No matter where you're traveling, I never recommend planning for any sort of fancy dinner on your arrival day. If you're here for the good restaurants, then of course every meal counts. Otherwise, I recommend getting your feet on the ground, experiencing the city, and finding some street food.
Pizza is a good option, though you might wish to save that for a time when you're in more of a hurry. You'll also find food trucks and stands galore in Manhattan.
The other half of our arrival day recommendation is to go a park. Don't go to Central Park this evening. Instead, pick a smaller park like Bryant Park, Union Square Park, or Washington Square Park. These are spots where you're likely to find all manners of locals enjoying the evening.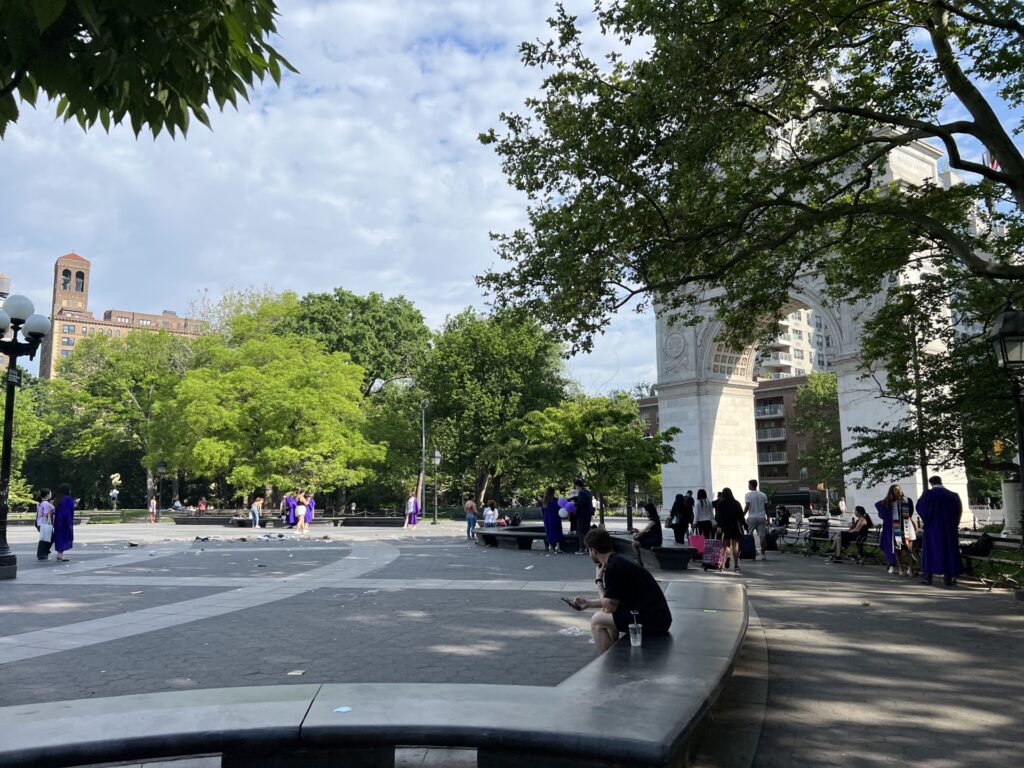 Day One — Central Park, a Museum or a Baseball Game, and Some Comedy
Now, for the two full days. Nothing about our recommended days should be taken as set in stone. Indeed, I'll spend more words explaining how and why you might not follow our specific plan than I will outlining the plan. That's because more than anything you need to build the trip that works for you. Our suggested itinerary is a good starting point, but the beauty of this city is that you can do you.
Our basic outline for how to spend your first day is to start at Central Park. This is a leisurely, flexible start that positions you for basically any way you want to continue your day. We recommend either a museum or a baseball game in the afternoon. Then spend the evening at a comedy show.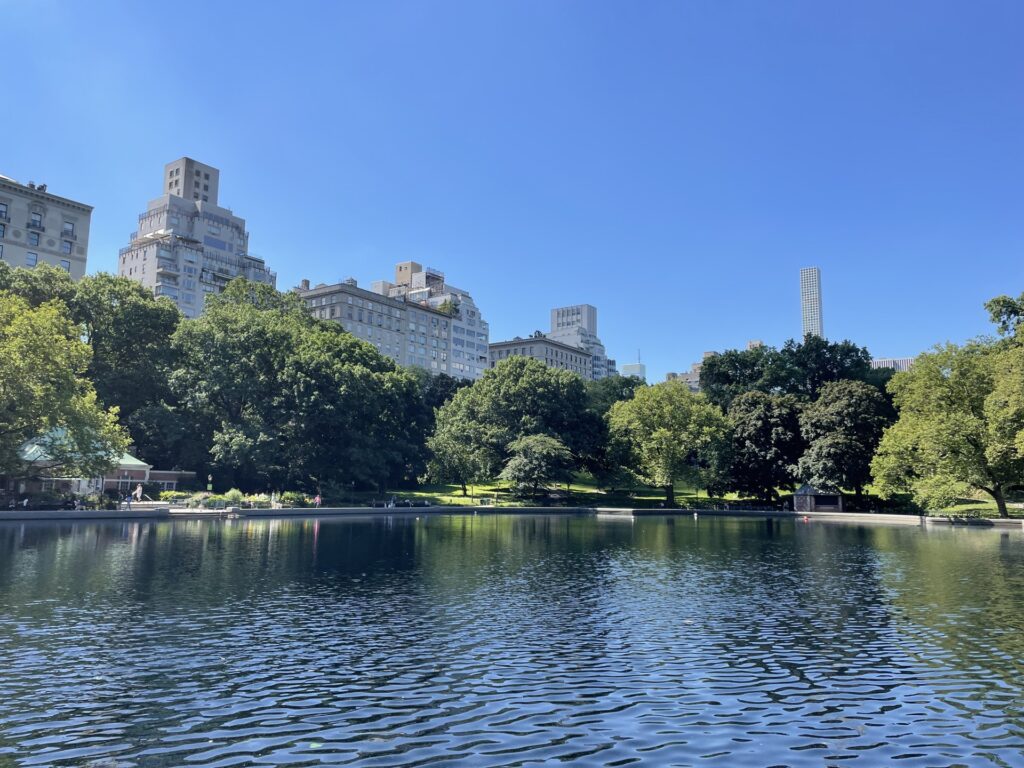 Morning at Central Park
A good way to start your trip is with a morning visit to Central Park. It's always nice to check off a major box early in your trip. Even in the City that Never Sleeps, your best options from 8AM to 10AM are breakfast and parks. Central Park is there for you whenever you're ready. Find a spot for breakfast or just grab bagels and coffee on your way to the park (Liberty Bagels looks touristy but gets fine reviews).
Central Park is massive, so don't plan to visit the entire thing. We tend to stick to the southeast corner, with a route that is something like Central Park Zoo to the Alice in Wonderland Statue to Bethesda Fountain to the Central Park Mall to the Central Park Carousel.
There's no bad time to visit Central Park, and particularly on the weekend it will liven up as the day goes on. We like it in the morning though because it'll be a little more peaceful and it's a good way to spend time before things like shops and museums open around 10AM.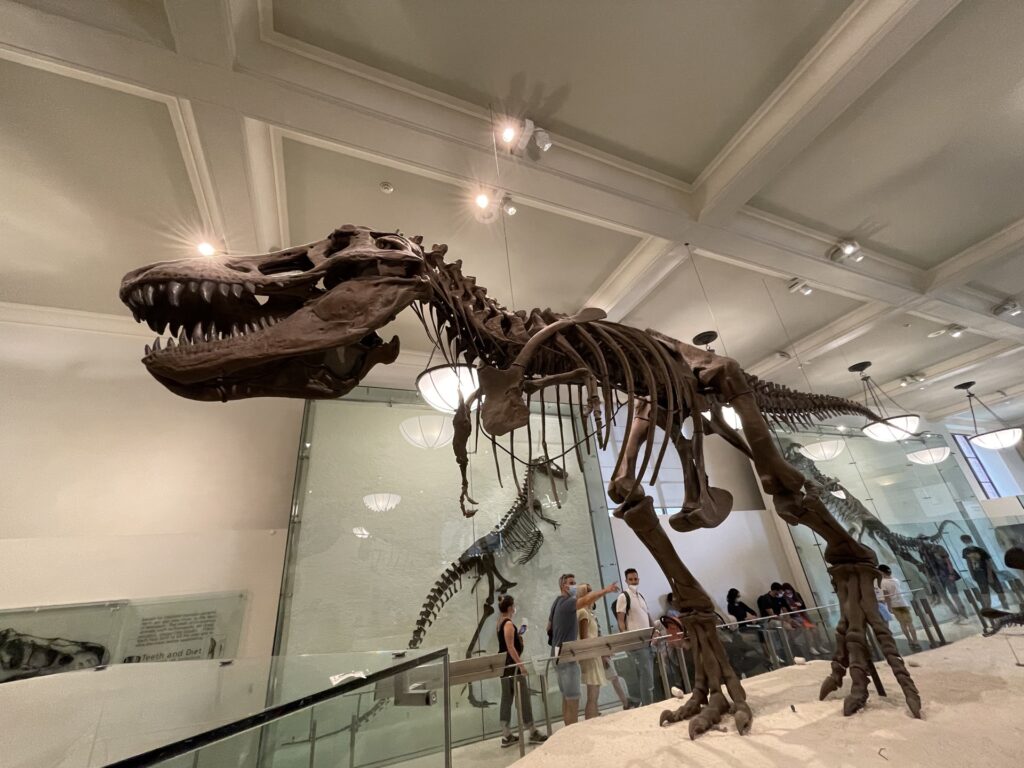 Afternoon Option 1 – Museums
The most natural thing to pair with a morning in Central Park is a visit to a museum. The Metropolitan Museum of Art (The Met) and the American Museum of Natural History are directly accessible from the park. The Museum of Modern Art (MoMa) is a short walk from the southern edge of the park.
If possible, find a good spot for an early lunch that isn't the museum. This might be a good time to check "NY style pizza" off your "Must Do" list. Starting a museum around noon allows you a solid few hours before you start thinking about dinner or an early evening activity.
While New York has no shortage of museums, I also want to specifically mention the 9/11 Memorial & Museum. Located in the Financial District, most tourists will have to go a bit out of their way to get there. It's an emotionally jarring experience, not recommended for young children, and of course "worth it", but that doesn't mean it's a fit for every person or every trip.
If you're set on the 9/11 Museum, a good option might be to pair it with a visit to the Statue of Liberty. Boats there depart from Battery Park. You might also consider a visit to One World Observatory.
Advance reservations are required for many of New York's museums, so be sure to check in advance.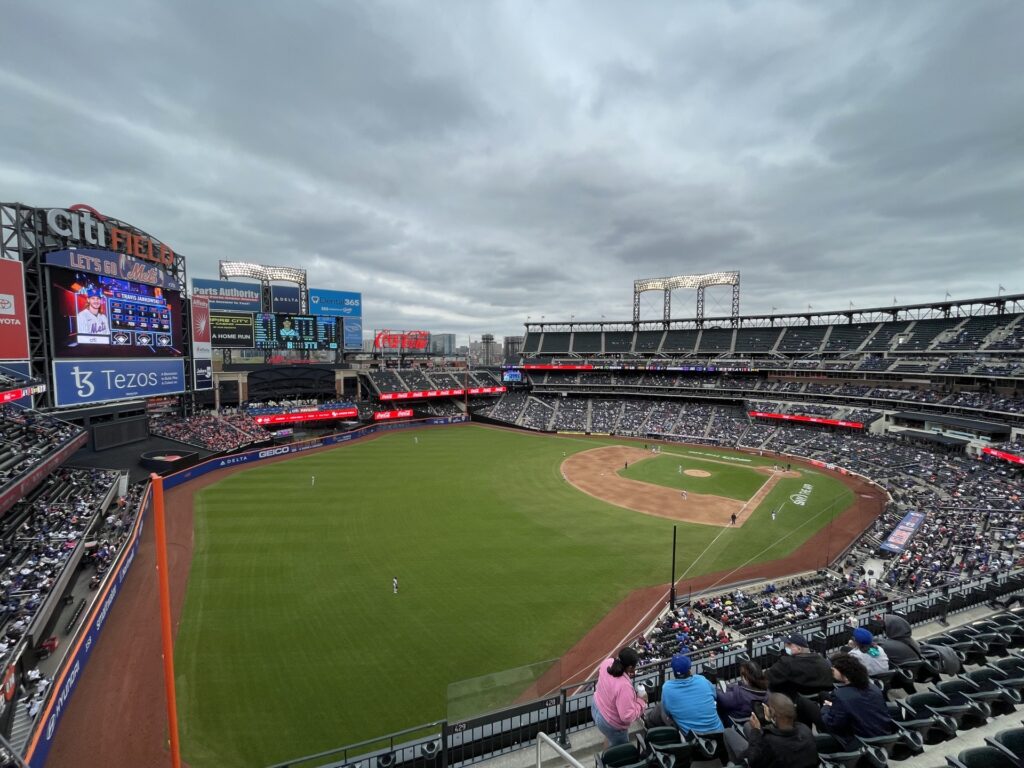 Afternoon Option 2 – A Baseball Game
The only thing on our itinerary that comes with a strict schedule is going to a baseball game. It's easy (or easy-ish, depending on specifics) to get to both Citi Field (the Mets) and Yankee Stadium (the Yankees) from Central Park. Of course if you're visiting during the winter, or if both teams are out of town, or if you don't like baseball, you won't be stuck planning around the game, which is why we already mentioned museums.
We're fans of baseball games wherever we go, and we definitely recommend taking one in while you're in New York City. While we're personally partial to the Mets, we understand that a Yankees game is probably on a few more bucket lists.
If you have a choice, we recommend an afternoon game so that you leave your evening more flexible. That said, a 7PM game that ends at 10PM leaves you more day to work with and sets night owls up for a fun few hours in the city's late night scene. Night games are also an experience in themselves, so no need to feel bad about picking one of those.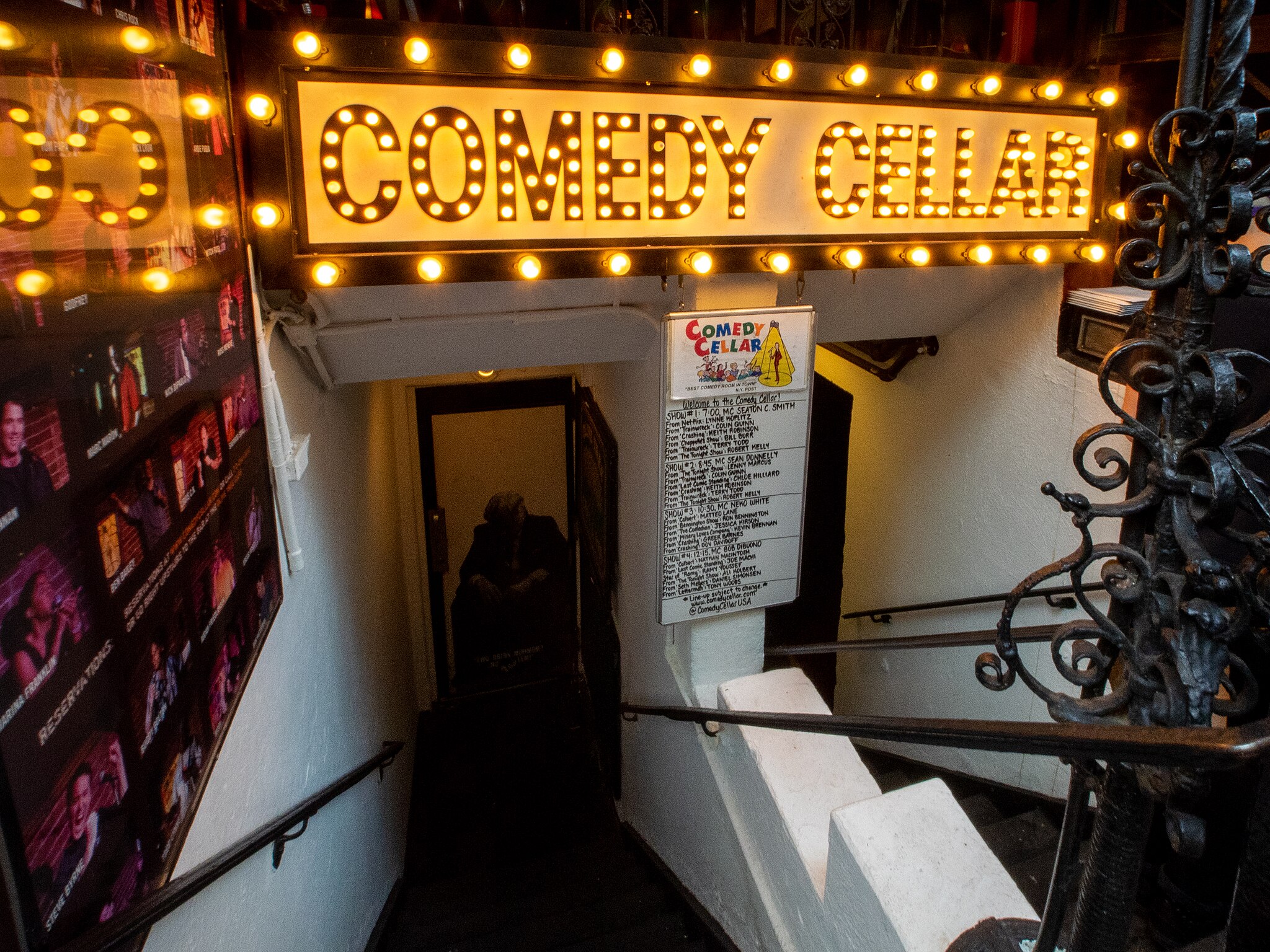 An Evening Comedy Show
In the evening, treat yourself to New York's famed comedy scene. The Comedy Cellar is the most famous (and arguably best) comedy club in New York, and so probably the world. Wherever you choose to go, I recommend somewhere that has advanced ticketing / reservations. These spots tend to be better (hence the need for reservations). If you pick a hotspot without reservations, it's on you to navigate the generic advice of "arrive early to secure a spot!"
Day Two — Observation Deck, a Neighborhood, and A Show
The basic outline for full Day Two is to start the morning at an observation deck. From there you'll spend some time on the ground exploring a neighborhood, or two, or even more. Finish the day with a Broadway show.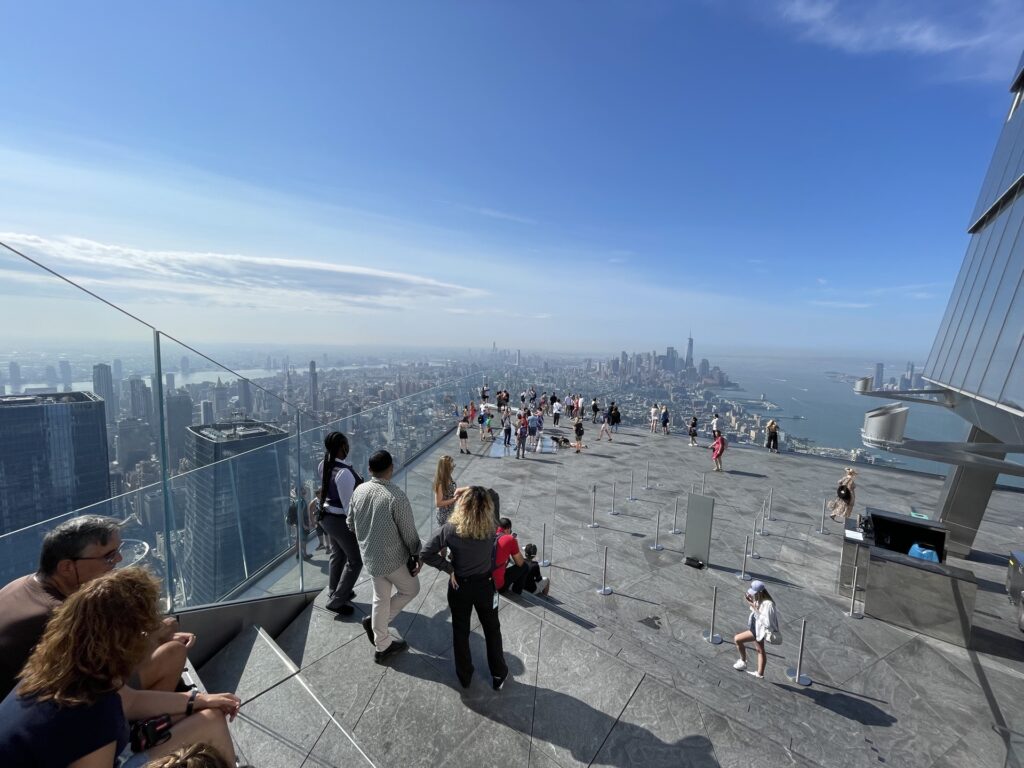 Morning at an Observation Deck
Observation decks tend to open early—around 9AM—which makes them ideal for your second morning. Popular options include the Empire State Building, Top of the Rock, SUMMIT One Vanderbilt, and Edge. Of these, my favorite in good weather is Edge. Edge also has a good location to pair with an afternoon visit to Chelsea.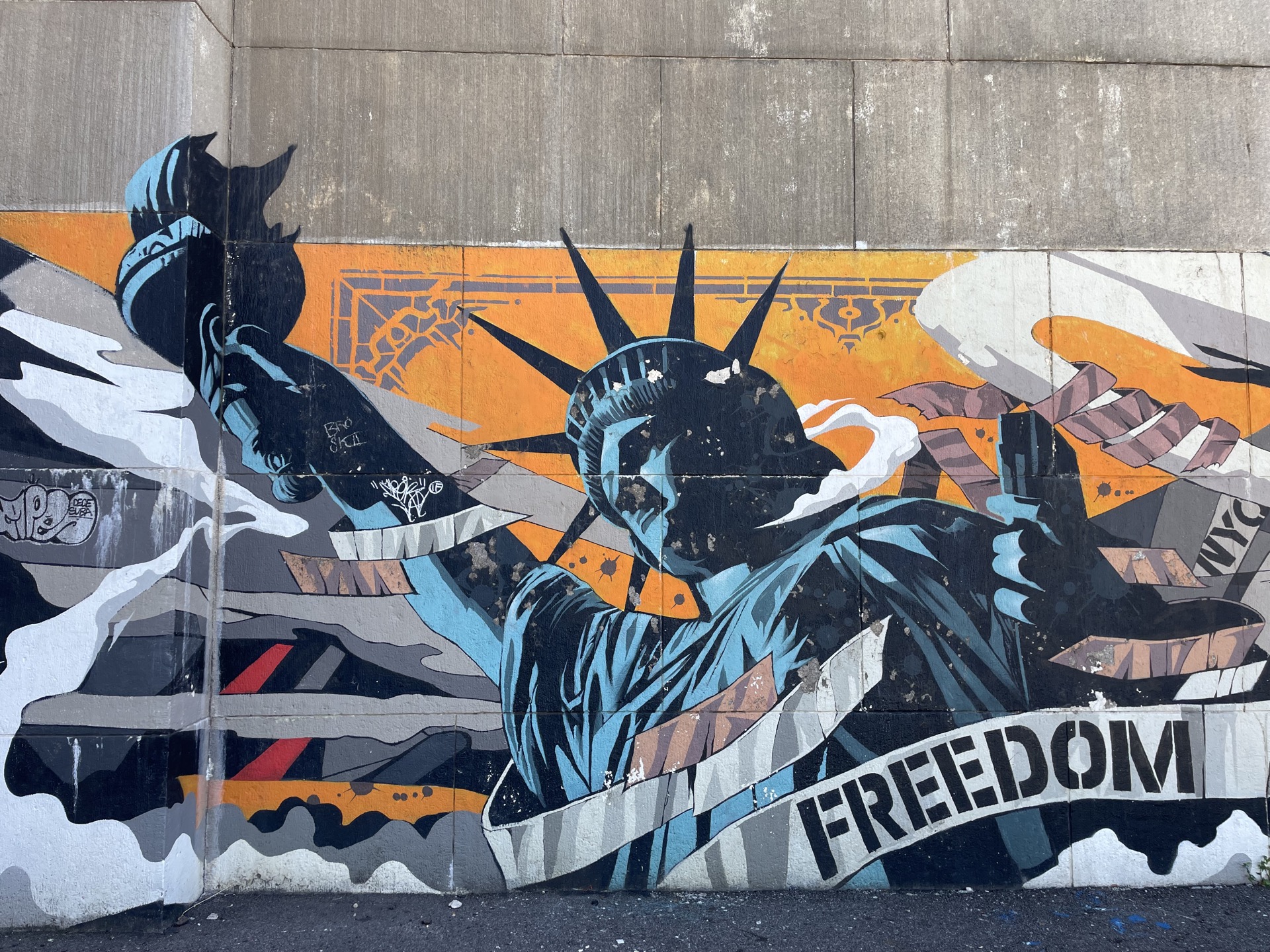 Afternoon at a Neighborhood
For starters I want to say I know that "explore a neighborhood" isn't for everyone. People who aren't from cities might not "get it." People who are from cities might just "get" that a neighborhood is just like one they have back home.
If you feel like exploring neighborhoods might not be for you, there are a few alternatives. Probably the most straightforward option is to make One World Observatory the observation deck you go to in the morning. Pair that with some combination of the 9/11 Museum, Statue of Liberty, and Ellis Island. Alternatively, you might pick a museum to spend the afternoon at.
If you're willing to explore, I think being "boots on the ground" in the city is a nice complement to your morning spent high above the city. Pick a neighborhood, or a few neighborhoods, or just a few stores and restaurants across the city you want to go to. However you do it, plan for walking and subway rides to experience as much as possible.
Here are some specific neighborhoods to consider.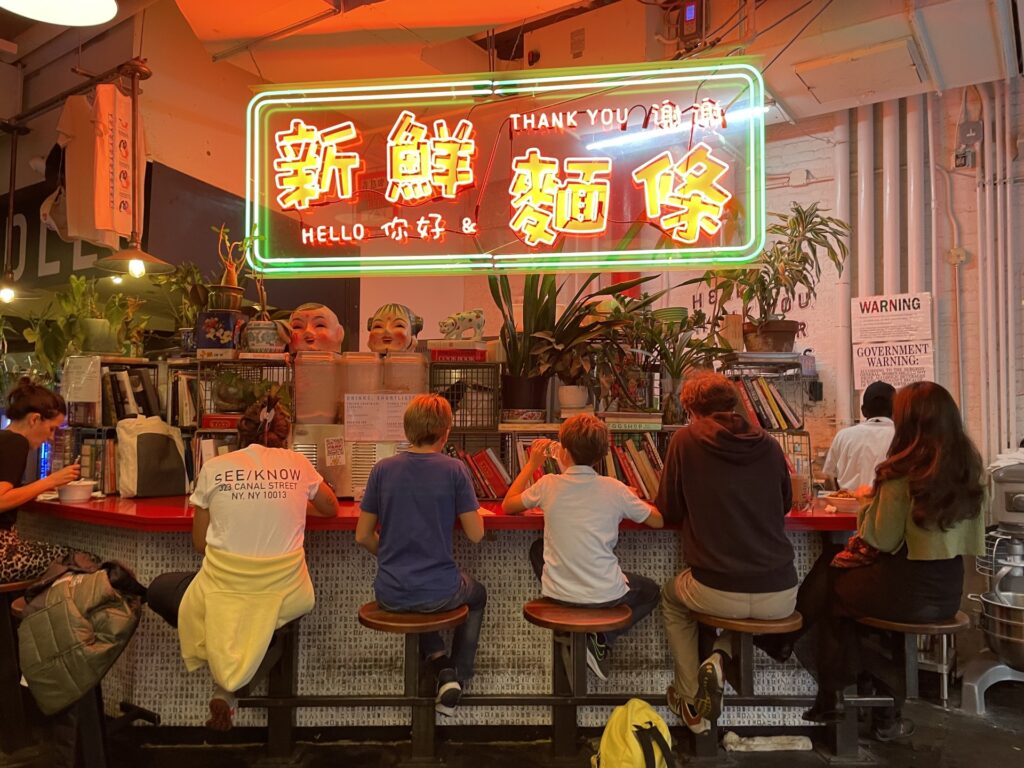 Chelsea. As noted a few times already, we actually have an example of an afternoon we spent in Chelsea, and we left a lot untouched. Highlights include Chelsea Market, the Starbucks Reserve Roastery, and the High Line. The eastern edge of Chelsea is also close to Madison Square Park, Union Square, the Flatiron Building, and Harry Potter New York. For a busier afternoon, pair Chelsea with nearby Greenwich Village.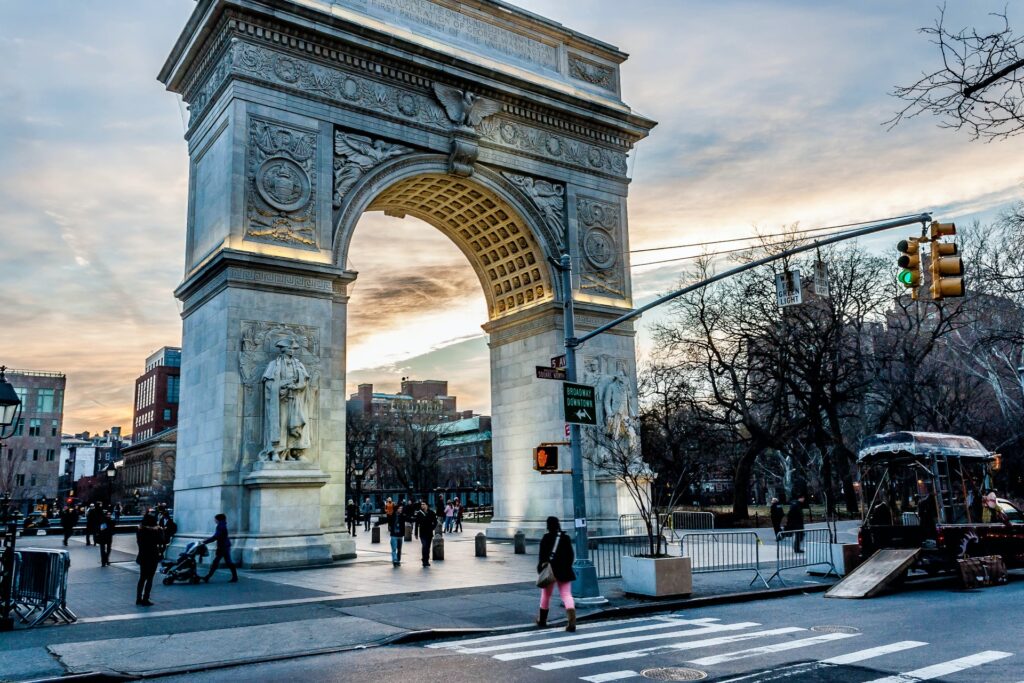 Greenwich Village. Greenwich Village is another trendy Manhattan neighborhood, known best among some people as the place the Friends characters lived and among others as the place Jane Jacobs lived. Highlights include Stonewall Inn, Strand Bookstore, and Washington Square Park.
Read about some of the best things to do in Greenwich Village.
SoHo. The last option I'll mention in Manhattan (you can find plenty more) is SoHo. While SoHo offers a little something for most everyone, what the neighborhood really excels in is art galleries and fashion.
Downtown Brooklyn. There are several good options in Brooklyn. Downtown Brooklyn and the surrounding areas offer the best density of activities, including Brooklyn Bridge Park and underrated gems like the New York Transit Museum. In particular, I like to pair Downtown Brooklyn with a walk down Flatbush to Prospect Park.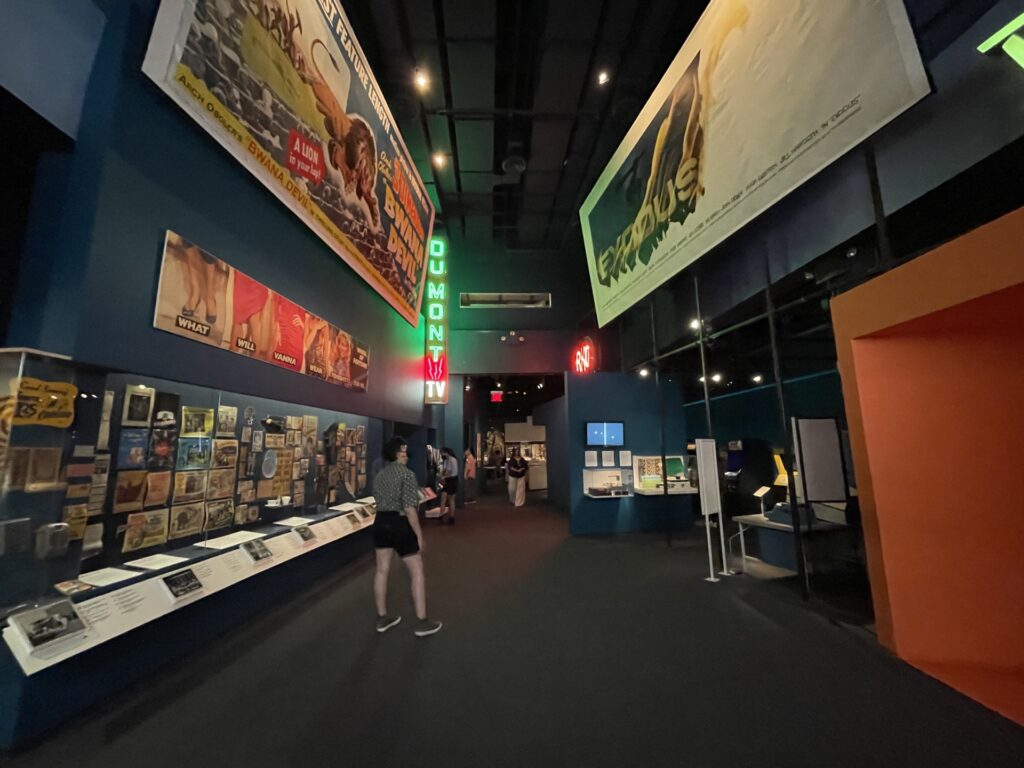 Astoria. With its proximity to the N/W/Q/R trains, Astoria is an easy pick to visit for an afternoon. A walk from the Broadway station east to Steinway St., north on Steinway to 30th Ave, and back west to the 30th Ave station is a simple route filled with stores, bars, and restaurants. The awesome Museum of the Moving Image is also worth a visit.
An Evening Broadway Show
For your second night, enjoy a Broadway show. There are a ton of options at any given time. You'll probably need to plan to spend at least $100 per ticket, but prices definitely trend much higher than that (our guide to Broadway has some tips for finding cheaper tickets, though). This is definitely a "bucket list" item more than an casual thing to do.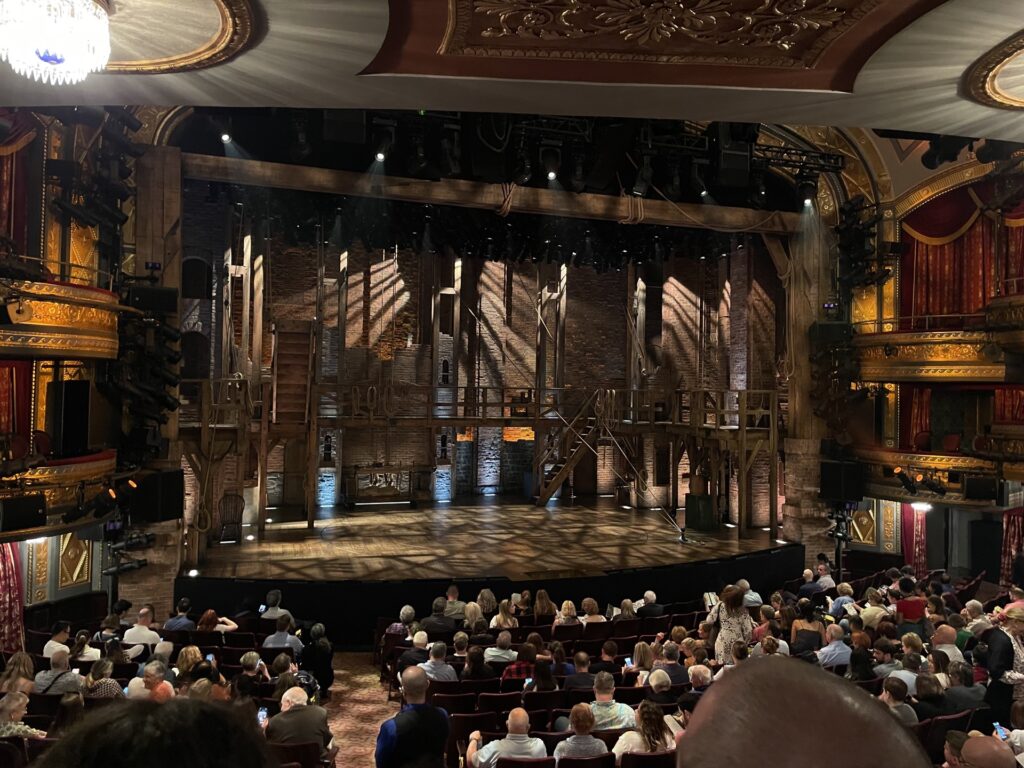 And Be Sure to Plan Your Return Trip
There's always more to do in New York City. Once you've got a weekend under your belt and you're used to the city, be sure to come back! If you'd like to see more of the northeast, you can easily pair New York with a visit to Boston or a weekend in Philadelphia, too.