The eclectic and artsy New York City neighborhood of Chelsea is located on the central east side of Manhattan. This area of the city is famous for its many art galleries, unique architecture and namesake market. We recently spent a relaxing afternoon in Chelsea, and in this post we're sharing our exact itinerary.
Our afternoon in Chelsea was planned on a whim. We were nearby at the DMV at 10:30 AM on a Thursday. It was a perfect fall day that was begging to be seized and Chelsea was right there. Since we didn't spent much time planning in advance, we stuck to the neighborhood's main attractions. In this post, we're sharing the highlights of Chelsea so you can get the most out of a couple hours in the area.
How to get to Chelsea
For this itinerary, start your day on the north side of Chelsea near the intersection of 30th Street and 10th Avenue.
The closest subway station is 34th Street – Hudson Yards, which serves the 7 train. From here, walk one block south down 11th Avenue, past the massive Vessel structure (which remains closed indefinitely), to the start of the High Line here.
Alternatively, you can take the A, C or E trains to 34th Street – Penn Station or one of the many trains that stop at 34th Street – Herald Square. If you choose either of the 34th street stations, you'll need walk about a half mile west on 30th to get to our starting point here.
As you arrive, be sure to look up. You'll see a unique triangular observation deck jutting out of the North Tower at 30 Hudson Yards. If you have a few extra hours, consider a visit to Edge; it's one of the best observation decks in NYC.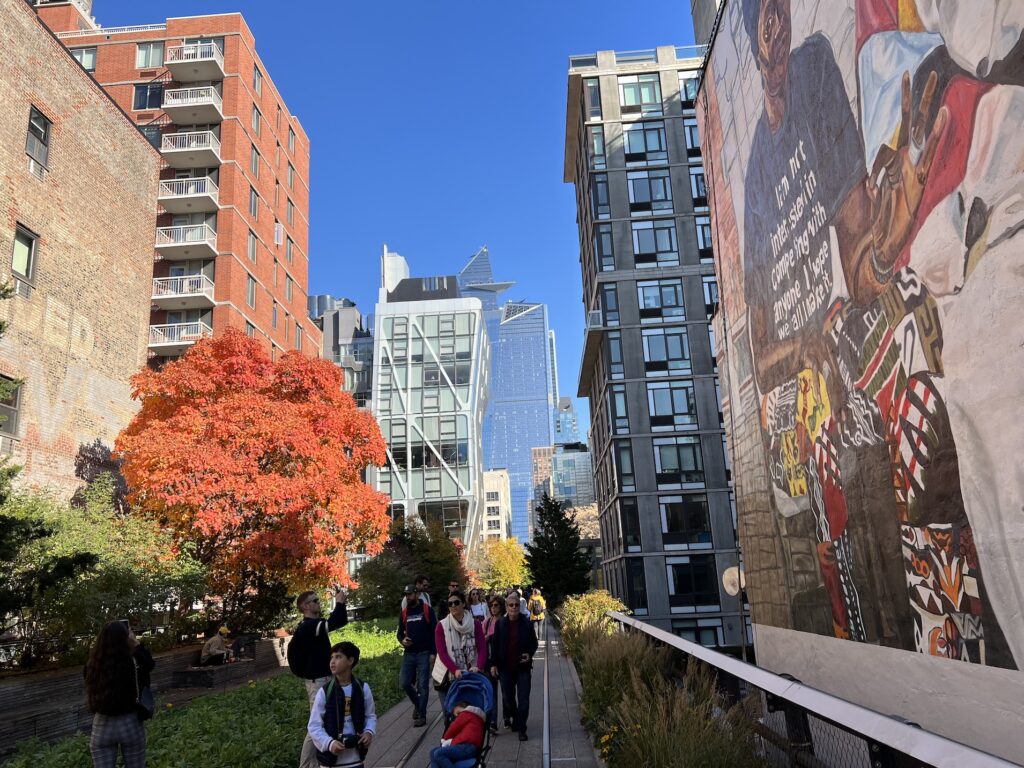 The High Line
Our first stop in Chelsea is the High Line. After sitting empty for more than 20 years, an abandoned elevated train track was converted into a now-famous garden and art walk. The concept of reclaiming train lines for parks isn't unique to New York (the idea was lifted from the French who completed a similar project in the 90s), but the High Line definitely made the idea famous and now popular.
The High Line is a paved walkway that follows 1.45 miles of elevated train track through a manicured garden oasis. The High Line runs from the north end of Chelsea near the base of Edge all the way to the Whitney Museum of American Art (which is technically in the Meatpacking District).
Along most of the path the actual train tracks are still in place, but they now serve as garden beds for the many flowers, bushes and trees along the way. The High Line also features art installations, seating areas, and some great city views. The High Line was lovely in the fall, but I think the colors during the spring and summer would be incredible.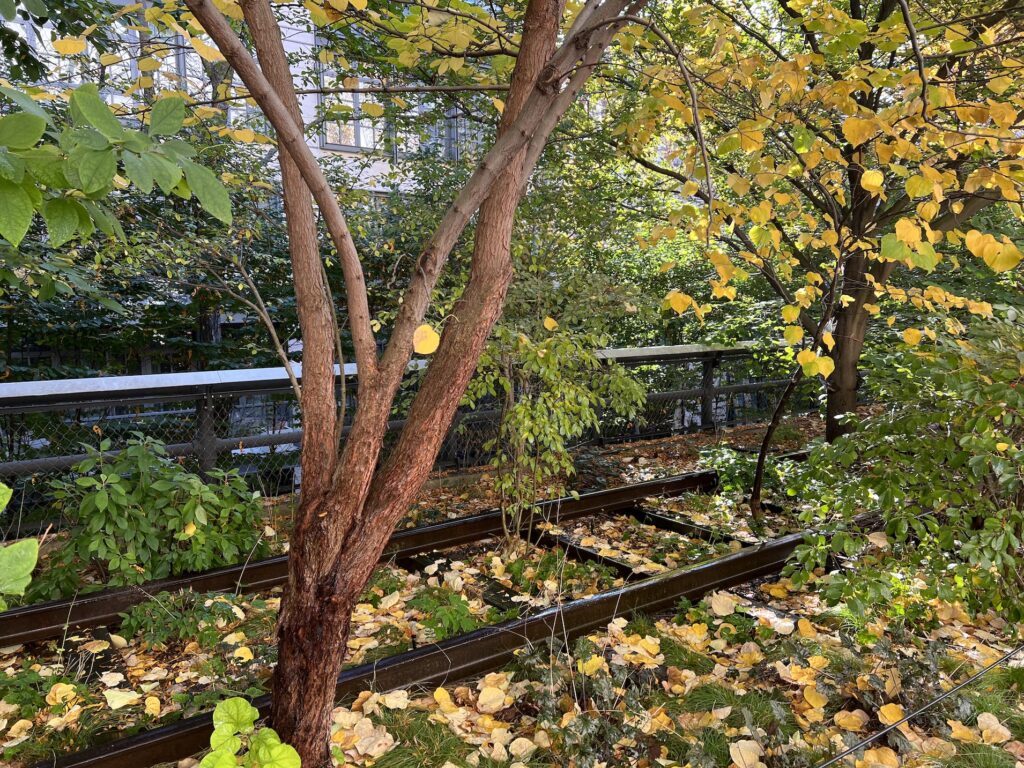 There are elevators and stairs that lead up to the High Line at various spots along the trail. If you're entering from the north end, there is both stairs and elevator access on 30th Street between 10th and 11th Avenue. As of November 2022, there was some construction in this area which made the stairs and elevators hard to spot. They are still there and still open and are clearly labeled as access to the High Line.
The High Line is really pretty and a nice place to walk. Personally though, I found it to be a bit cramped, even midday on a Thursday. For fewer crowds, definitely plan for a weekday and/or morning. I'd recommend spending 30 minutes to one hour on the High Line before moving on to your next activity.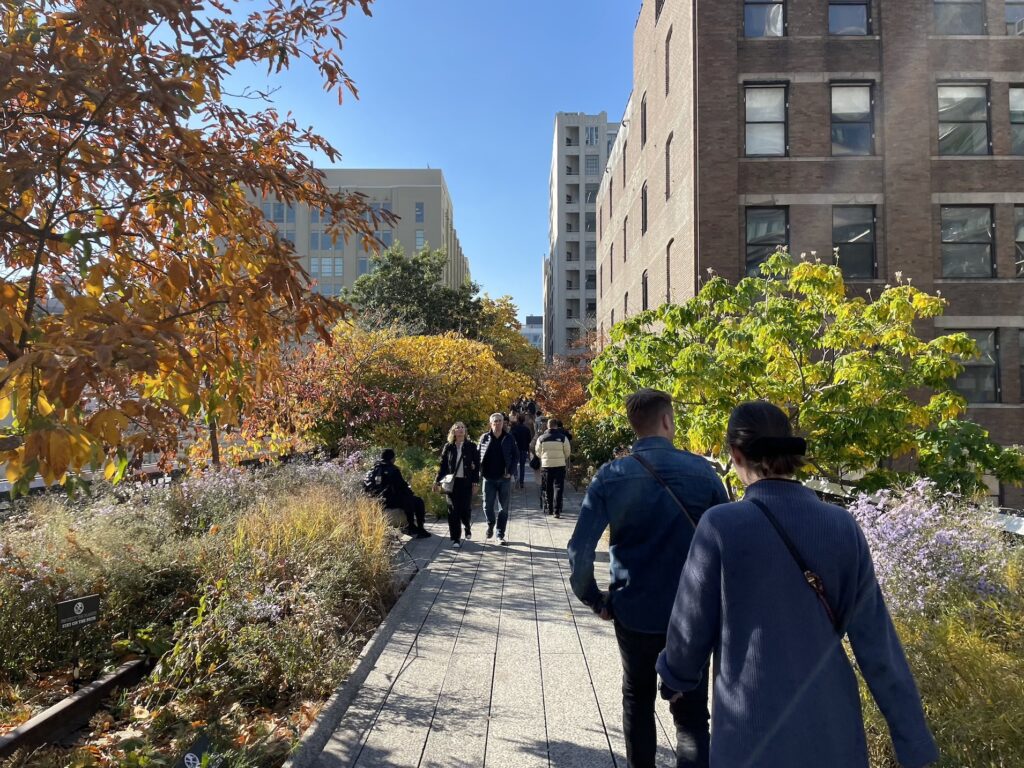 In the city for the holidays? Consider a visit to the Saks Fifth Avenue Light Show!
Chelsea Market
After about 3/4 mile on the High Line, you will see signs to exit for Chelsea Market. There is both elevator and stair exits from the High Line to the street-level entrance to Chelsea Market. The main entrance to Chelsea Market is on 9th Avenue, but you can also enter from the 10th Avenue side.
Chelsea Market is an indoor complex that is a combination food hall, shopping mall and grocery store. Inside the market that spans an entire city block, there are quick-service and sit-down restaurants, cafes and bakeries, specialty food stores and even a few non-food shops like book stores and flower shops.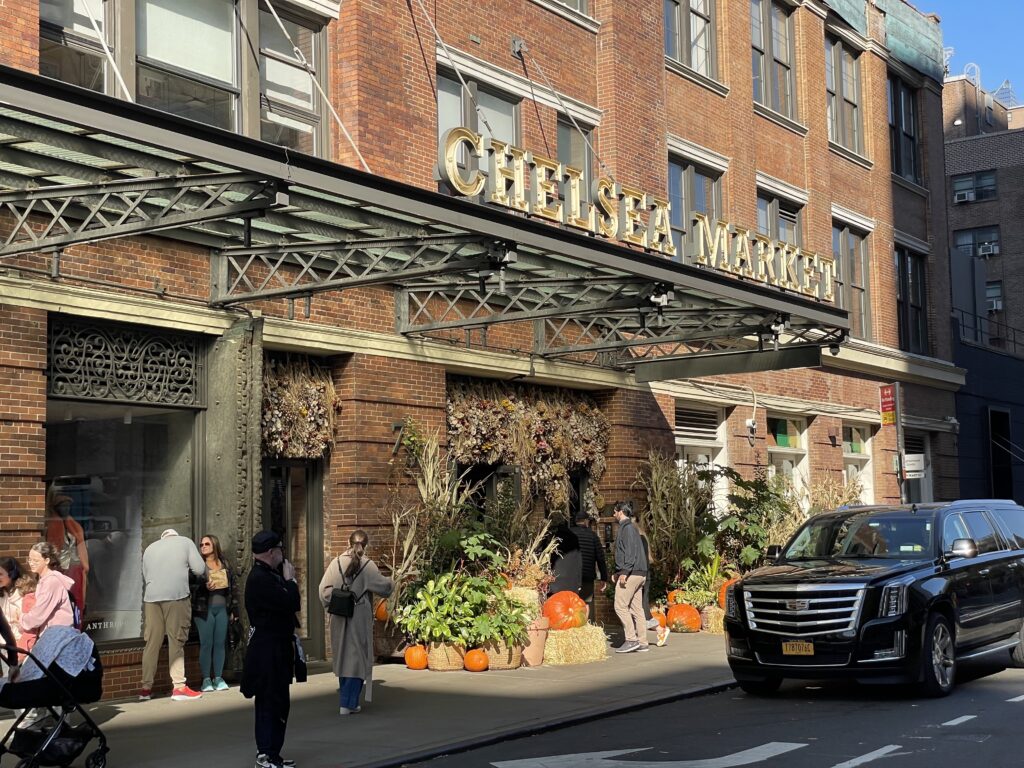 Chelsea Market is open Monday through Saturday from 7 AM to 2:00 AM (no, that's not a typo) and 8 AM to 10 PM on Sundays. It can get really crowded on weekends and during lunch time, so I'd suggest planning to eat during off-peak times if you can. We suggest planning for an early lunch around 11 for the best options with the shortest waits.
The most popular place to eat in Chelsea Market definitely seemed to be Los Tacos No. 1. They had a long line when we passed at 12:30, but based on the fact that we saw signs to buy beers for the line, I think the wait can get much longer.
Personally, we ate at Eat OffBeat which is right inside the 10th Avenue entrance. They hire refugees and immigrants who create dishes from their home countries. My bowl was a mashup of cuisines including rice from Senegal, eggplant curry from Sri Lanka and black beans from Venezuela.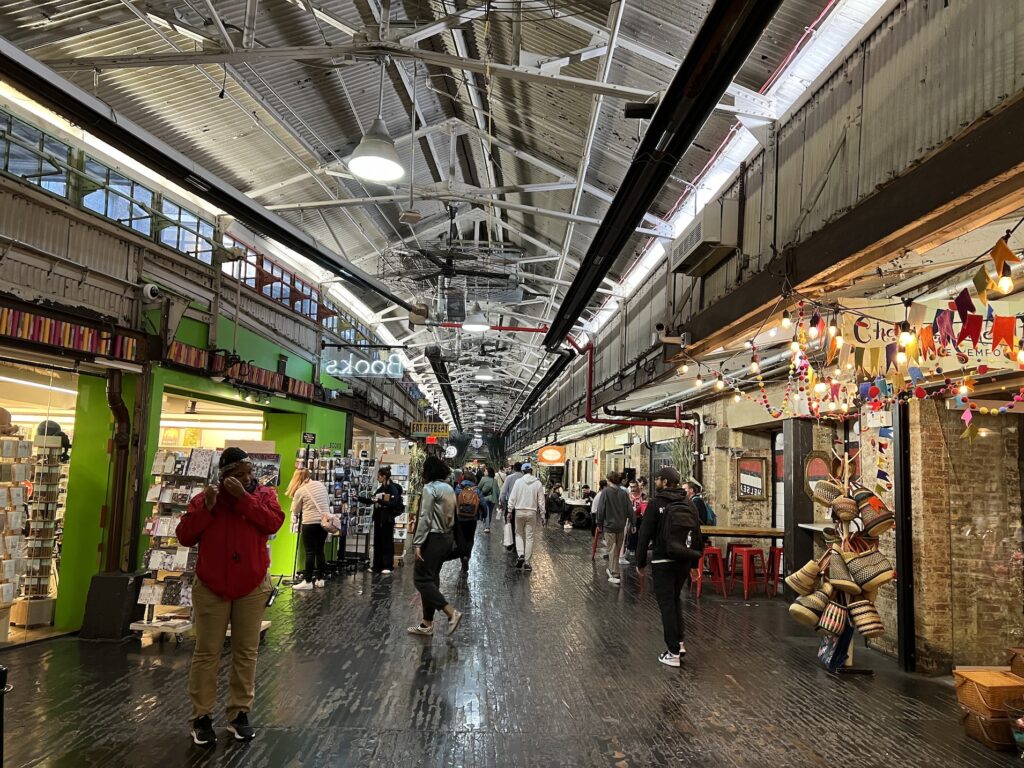 After lunch, we continued to stroll through the market. We popped downstairs to Chelsea Local, which had more grocery store and cafeteria vibes before heading into the heart of the market. We perused a book shop, peeked at different restaurant menus for future visits and got coffee at Pulley Coffee Bar.
With lunch and a short stroll, we ended up spending about one hour at Chelsea Market. If you were planning to enjoy a table-service meal or were arriving during a busy mealtime, I would budget at least two hours.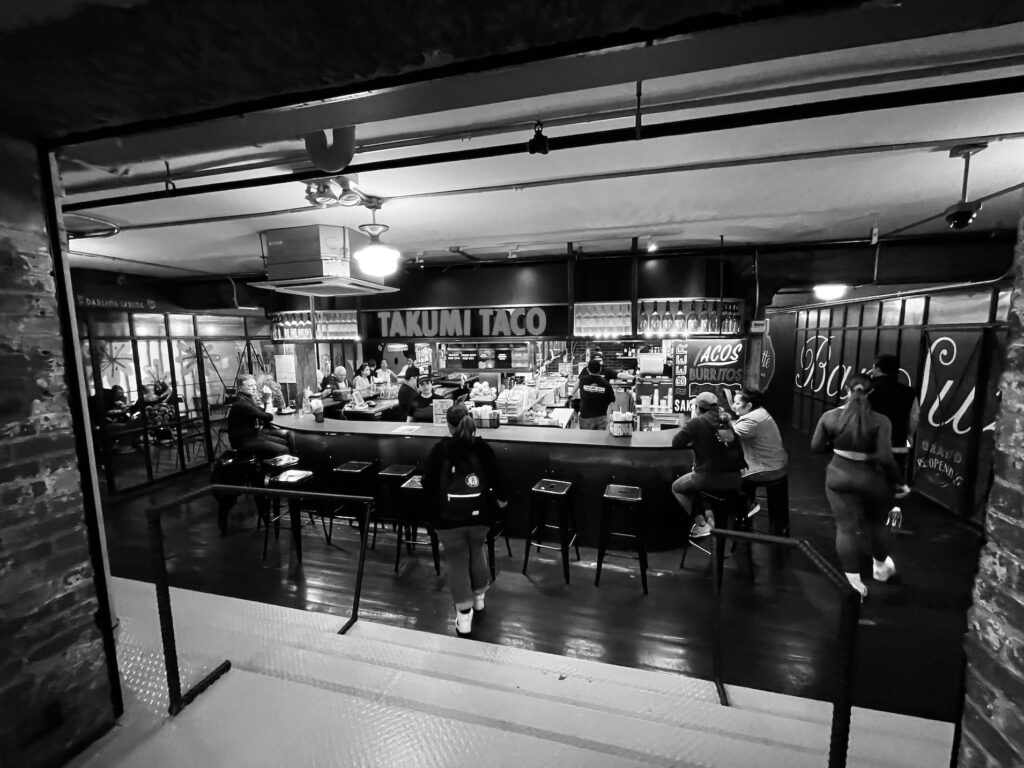 Starbucks Reserve Roastery
Right across the street from the main entrance to Chelsea Market is the Starbucks Reserve Roastery. It is one of only six Starbucks Reserve Roasteries in the world, with other locations in Chicago, Seattle, Tokyo, Shanghai and Milan.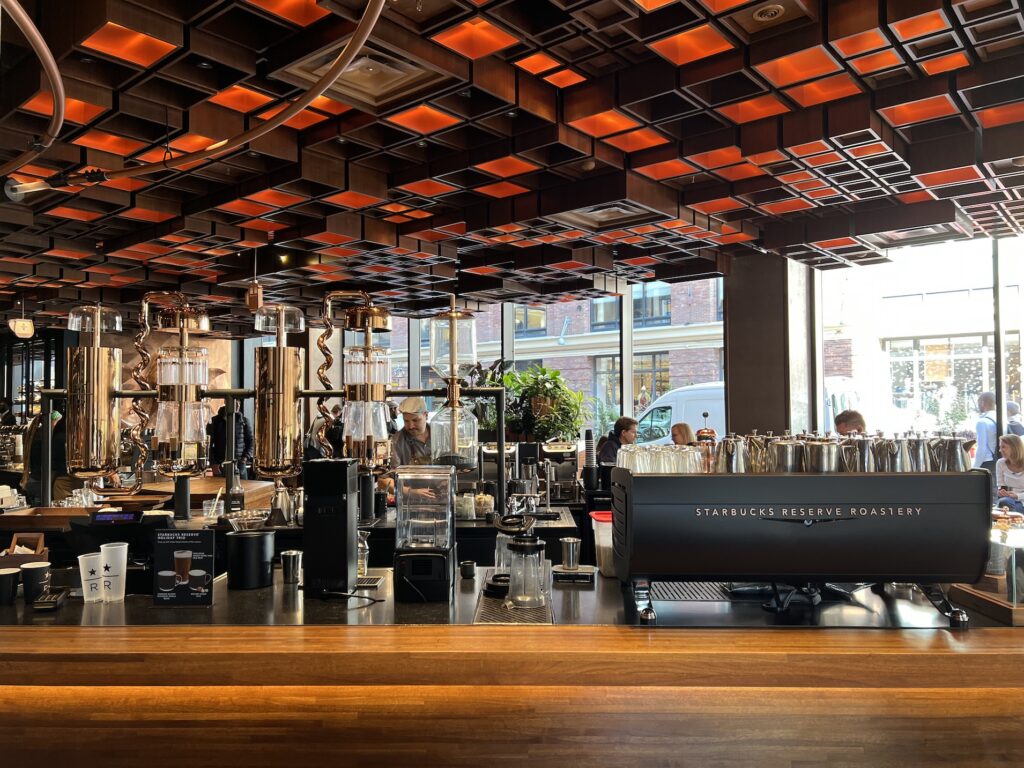 The Starbucks Reserve Roastery is not a typical Starbucks. The store comprises two coffee bars, a wholebean counter, a cocktail bar and a bakery. As their name implies, the Roastery does in fact roast beans on premise, which you can see in action.
The menu features unique coffee beverages, brewing methods and food items that you won't find at your regular corner Starbucks. In fact, they don't even serve many of the brand's most popular drinks like Frappuccinos or Pumpkin Spice Lattes. If you visit during the holidays though, the Roastery has an exclusive holiday beverage trio.
Another unique feature to the Roastery is Arriviano Bar on the second floor. It's an actual bar that has a full coffee-based cocktail menu — think espresso martini flight and cold brew old fashioned — as well as a line up of classic cocktails, wine and beer.
NOTE: The bar is limited to guests 21+ and does not have the same hours as the rest of the store. The bar was closed during our weekday afternoon visit.
As a former Starbucks Partner, my little barista heart beats fast for the Starbucks Reserve Roasteries. The Chelsea Roastery is beautiful, and if you've never been to a Starbucks Reserve Roastery you should absolutely go. That said, it's not as impressive as the Chicago Roastery. If you've been to Chicago's 6-story Roastery, the Chelsea location will likely fall flat for you.
Little Island
The last official stop on our afternoon tour of Chelsea is Little Island — though technically, Little Island is in the Meatpacking District. Little Island is a manmade island park on the Hudson River.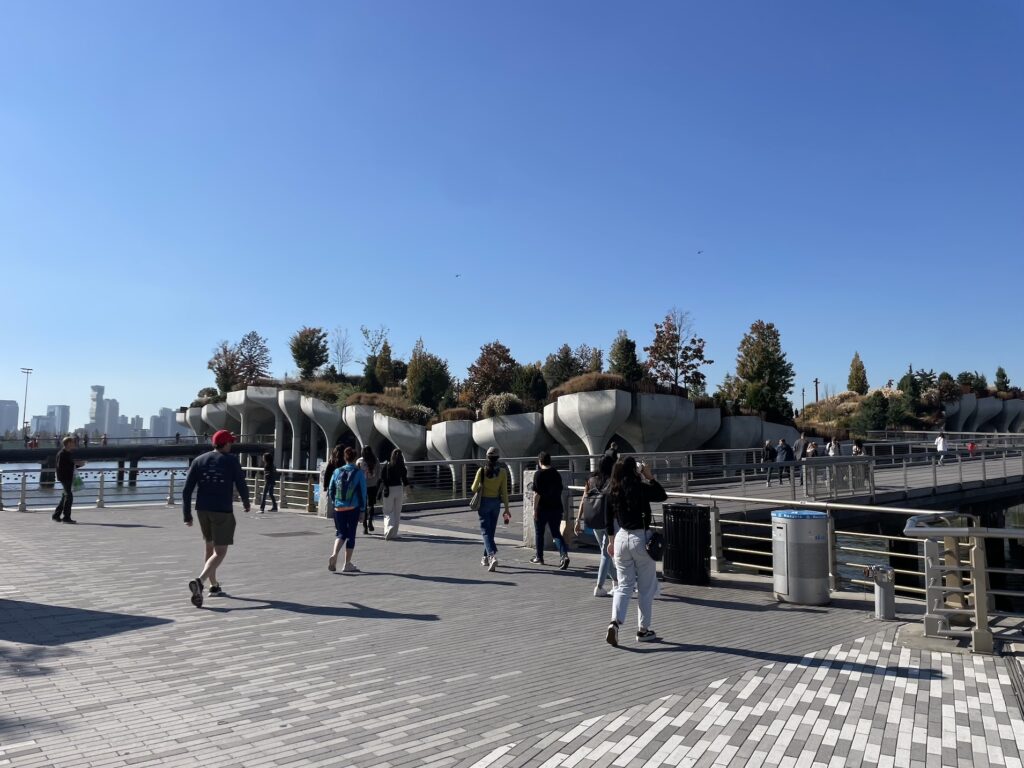 The park is accessible to pedestrians via two bridges that connect the park to the Hudson River Greenway. The southern bridge is marked by an iron archway. The archway is from a pier that used to stand in this exact spot and served trans-Atlantic ocean liners in the early 1900s. The rescue ship RMS Carpathia actually brought survivors from the Titanic disaster to this very pier.
After you enter the park, you're sure to forget that it's floating at all. The park has hills and winding paths, and it's so densely landscaped with trees and greenery that it feels a world away from Manhattan. From the highest point on the park, you can see the skyline of lower Manhattan and even the Statue of Liberty in the distance. In addition to the views, there are also a variety of interactive play spaces scattered around the park and a small amphitheater that hosts different events and shows in the summer months.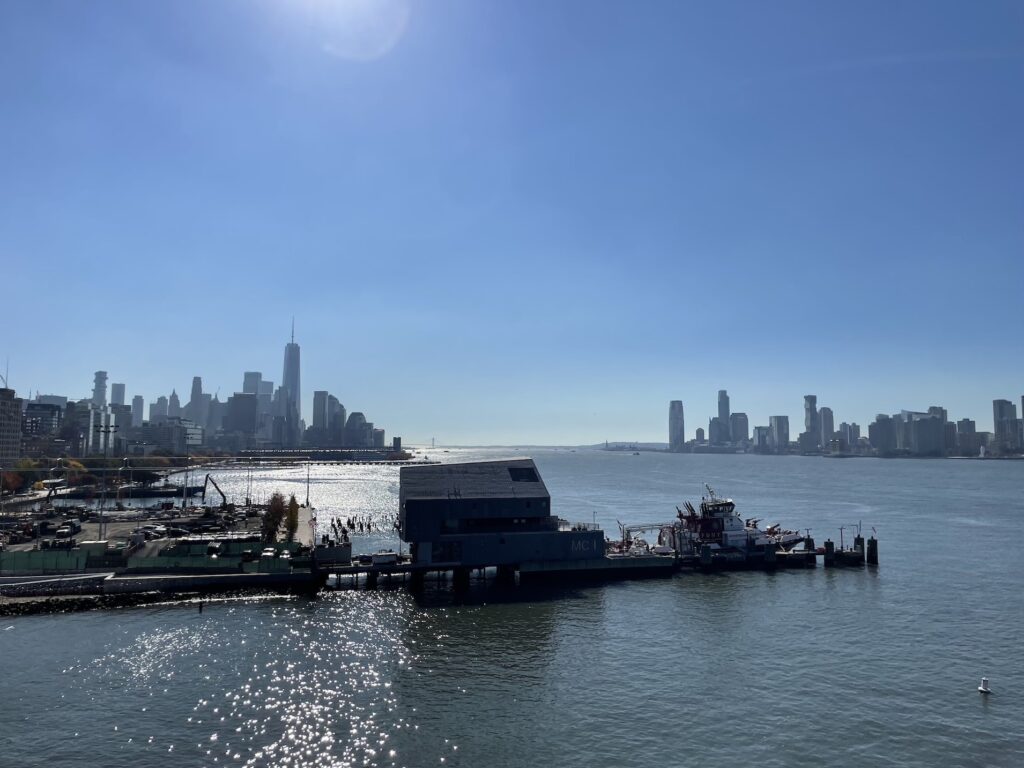 Near the entrance to the park is a small food kiosk. They serve a limited food and beverage menu, including alcohol. You can bring alcohol throughout the park, but not to the highest lookout point. While the park is open from 6 AM to midnight, the food kiosk is only open from 11 AM – 7 PM.
Little Island is a new addition to the area, having only just opened in 2021. I really enjoyed my first visit to this little park. The park makes such good use out of a relatively small amount of space. It was a great place to relax, take in the view, and enjoy time outdoors.
We spent about 30 minutes here, which felt right. You could easily make that an hour if you wanted to grab a drink.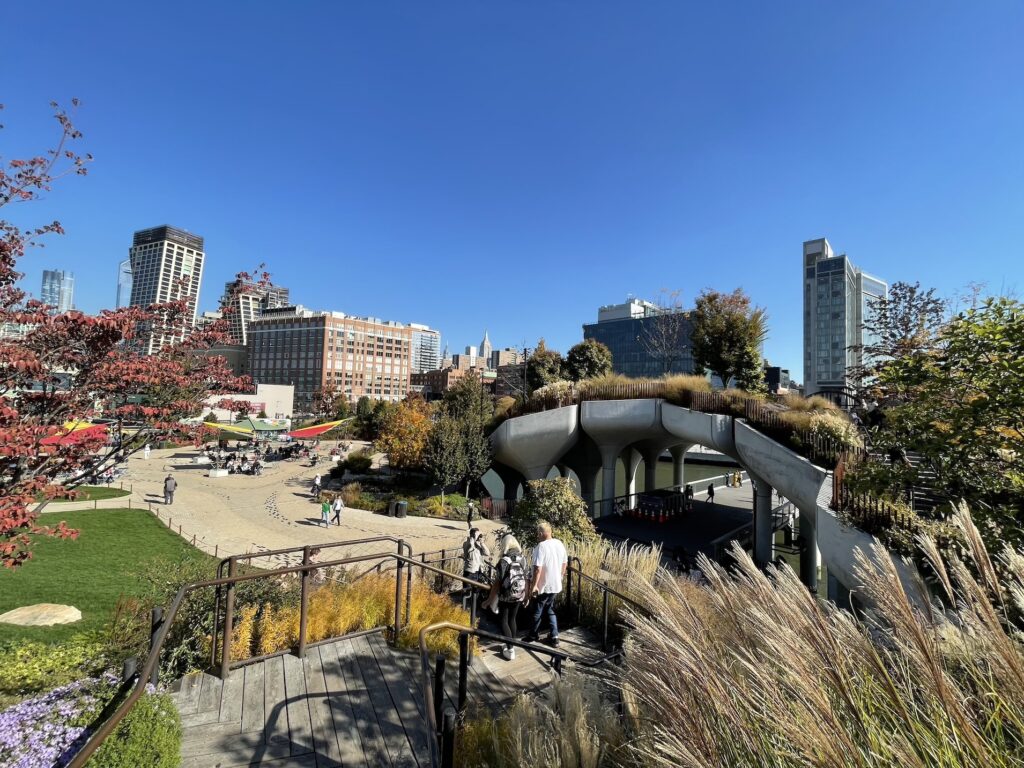 Other things to do in Chelsea
We had a kid to pick up from day care, so after Little Island we made our way back home to Astoria. That certainly left a lot of Chelsea unseen. Here are some other great things to do in Chelsea that we hope to try next time.
Pop into Printed Matter, Inc, a local non-profit book shop that has been around since 1976.
Visit a museum. There are several options including the Whitney Museum of American Art, the Rubin Museum and The Museum at FIT.
Explore one of the many art galleries in the area. Check out this post fora deeper dive into some of the galleries in the area.
Hit up Chelsea Piers, a massive fitness space with a driving range, ice skating rink, fitness clubs and more.
Stay for a cocktail. There's plenty of great options, including Chelsea Market and the Reserve Roastery which we mentioned above. Beyond that, some great pics include Jungle Bird, Gallow Green Rooftop Bar and Bathtub Gin.
What to do next
You could certainly spend an entire day exploring Chelsea. But if your days in New York are limited, I honestly wouldn't recommend spending an entire day there. Instead, pair Chelsea with some of the other great neighborhoods near by.
Here are a few ideas for things to do after Chelsea.
The Standard Biergarten. Get a liter of beer and a giant pretzel at this outdoor beer garden under the High Line. It doesn't open till 4 on weekdays so be sure to add it to the end of your Chelsea afternoon.
West Village. This famous neighborhood is as charming as it is trendy. It's a great place to be in the evening for a meal and drinks.
Harry Potter New York. A little ways east of Chelsea in the Flatiron District is Harry Potter New York. The store is themed to your favorite Wizarding World and has tons of cool merchandise from house-specific accessories to Harry Potter New York branded apparel. There's even a Butterbeer bar with themed treats.
Washington Square Park. If you need a break from walking but not a break from the city energy, head to Washington Square Park. There's always something going on in this energetic park near the NYU campus.
Seasonal Events. If you're visiting New York at Christmastime (and by that, I mean anytime from Mid-November to Mid-January), check out some of the holiday happenings. There are holiday themed harbor cruises, Christmas markets, ice skating and more.
Is Chelsea worth going to?
Chelsea is a really cool neighborhood in New York City. It has some really interesting buildings, colorful street art and eclectic shops and galleries. Chelsea has character and charm and that makes it stand out from other nearby neighborhoods. It's a fun district to walk around, see a few things and enjoy some great food.
There's a fair amount to do in Chelsea, but not a lot of "attractions." There are a few hot spots, which we mention in this post, and then it's a matter of shopping and dining which you'll find an abundance of all over New York City. So while you could spend a full day there, I don't think you have to.
So yes, I would say Chelsea is definitely worth going to, but maybe only for a few hours. I think a morning or afternoon in Chelsea is a perfect amount of time and a great addition to any NYC itinerary.