Baby wearing might be the single best tip for parents who want to travel with young children. In this post, we'll explore all the ways baby wearing can make travel easier. We'll also comb through some of the downsides to baby wearing, and how we address those issues. After we've convinced you that baby wearing can improve your travel experience, we'll share all of our very best tips and review our favorite carriers.
Our passion for both baby wearing and travel runs deep over here. In the past 2+ years of our child's life, we've been on 40+ flights, visited four countries and spent countless days exploring cities and theme parks. We've done it all exclusively baby wearing and have never owned or used a stroller.
Our feelings on the matter are a little extreme, but it's made us experts on the topic of baby wearing while traveling. We're confident that by the end of this post, you too will have all the knowledge to start confidently baby wearing on your next trip.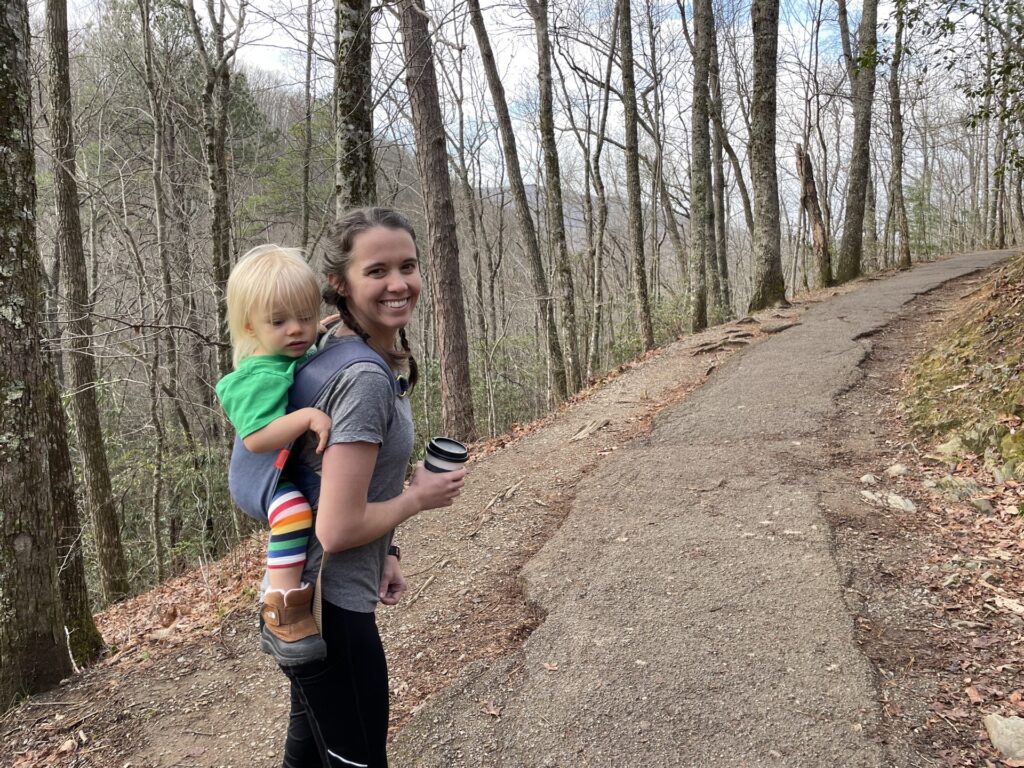 What is baby wearing
Let's start with the basics. Baby wearing is when you use a baby carrier to safely attach a child to yourself. The carrier allows you to bare the weight of the child on your shoulders or core while keeping your hands and arms free. Baby wearing is an alternative to using another assistive device like a stroller or a wagon, or eventually to the child walking on their own.
There are many different types of baby carriers, but they typically support one or more of these primary positions.
Front carry, inward facing — best for newborns
Front carry, outward facing — best for older babies
Back carry — best for toddlers
Different types of carriers and positions have different weight limits. Typically, children can be carried in carriers from the time they are born (or at least 7 pounds) until they're 4 or 5 years old. Some carriers support children up to 45 pounds, which is the weight of an average six year old. However, many parents ditch baby wearing when their kid builds up some walking endurance.
Disclaimer: Baby wearing is widely considered to be safe according to medical professionals, but certain safety protocols should always be observed. Be sure to research and understand safe baby wearing in general and for your specific carrier. This post is not medical advice and does not replace the recommendations of your pediatrician.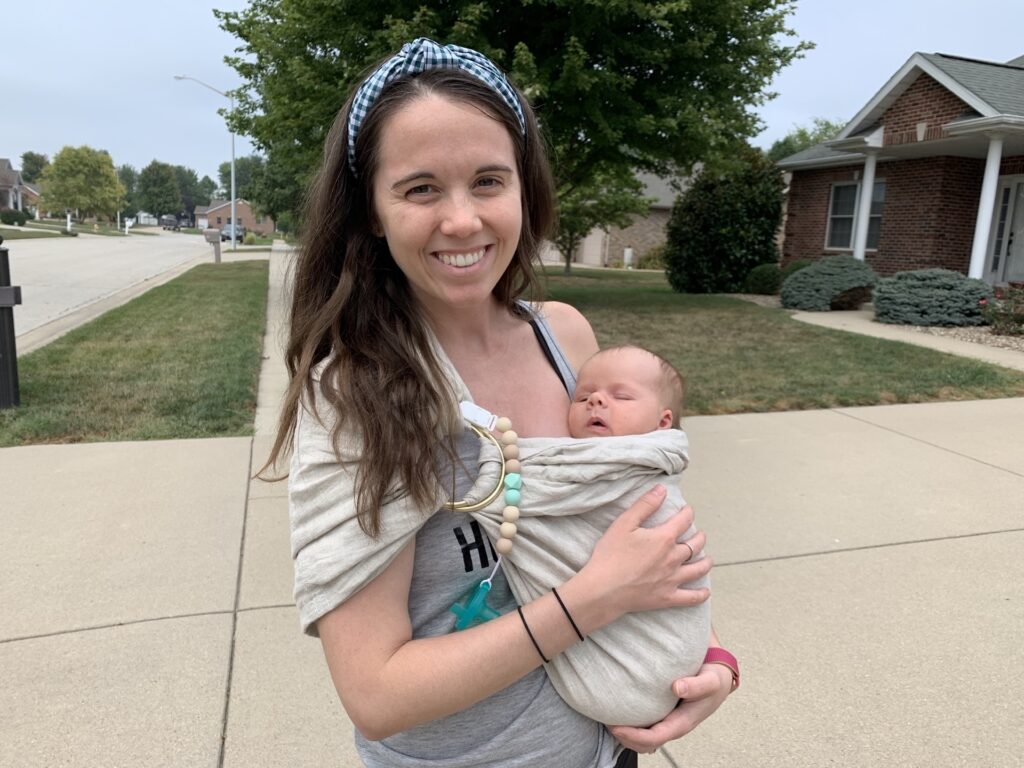 Pros and Cons of baby wearing for travel
Baby wearing is good for lots of things, but it's particularly useful when it comes to travel. Baby wearing softens the friction that often arrises from traveling with children and creates a smoother experience for everyone. Let's look at how baby wearing can make your next trip easier. (We'll explore some of the drawbacks in the next section.)
10 Benefits to Baby Wearing for Travel
It keeps your hands free. With your kid safely strapped to you, you have two hands free to do everything else. When you're traveling, that can be anything from managing everyone's passports at the airport to climbing to the top of a waterfall in Iceland.
Naps on the go. Teach a child to sleep in the carrier and you've unlocked full days exploring a destination. When you don't have to trudge back to the hotel for nap time, you can see and do more on your trip without sacrificing your child's sleep.
Airports are easier. Some carriers allow you to walk right through TSA security checks without taking baby out of the carrier. Even if you do have to take off the carrier for security, afterwards you can breeze through a crowded terminal without chasing a toddler or dodging crowds in a stroller. (If you have TSA PreCheck, your baby will automatically have it as well.)
You can navigate uneven terrain better. Cracked sidewalks (or lack of sidewalks), cobblestone and gravel roads, or even dirt paths at parks can make stroller travel difficult. Baby wearing makes getting around these destinations easy.
People are less likely to touch your baby. In some parts of the world and for some generations of people, it's totally common for strangers to touch babies. Even in the US during a pandemic I've had strangers touch my baby. By keeping your child attached to you and covered in some cases, you can eliminate or at least better control this situation.
Little ones get a better view of the world. In either a forward-facing front carry or back carry, children can enjoy the same view as you. This helps keep them engaged with the experience and makes them feel included, helping them enjoy travel that much more.
Public transportation is easier. A stroller is often easier for getting in and out of cars, but carriers are better on public transportation. Not all train stations have elevators and strollers need to be folded on most buses. Baby wearing allows you to easily take public transportation, which is much cheaper and often faster than a cab or car.
One less thing to keep track of. With a carrier, your child is either in it or you wear it on your body empty. It doesn't require any extra hands, extra folding, or extra steps to check it at the airport.
Move through crowds with ease. Baby wearing allows you to keep your child close while you nimbly move through crowded spaces like theme parks or popular tourist attractions.
Do more things. Whether you're going to the top of the Eiffel Tower in Paris or going to a Cubs game at Wrigley Field, strollers aren't always allowed. Baby wearing gives you flexibility to comfortably see and do more things without limitations or additional steps.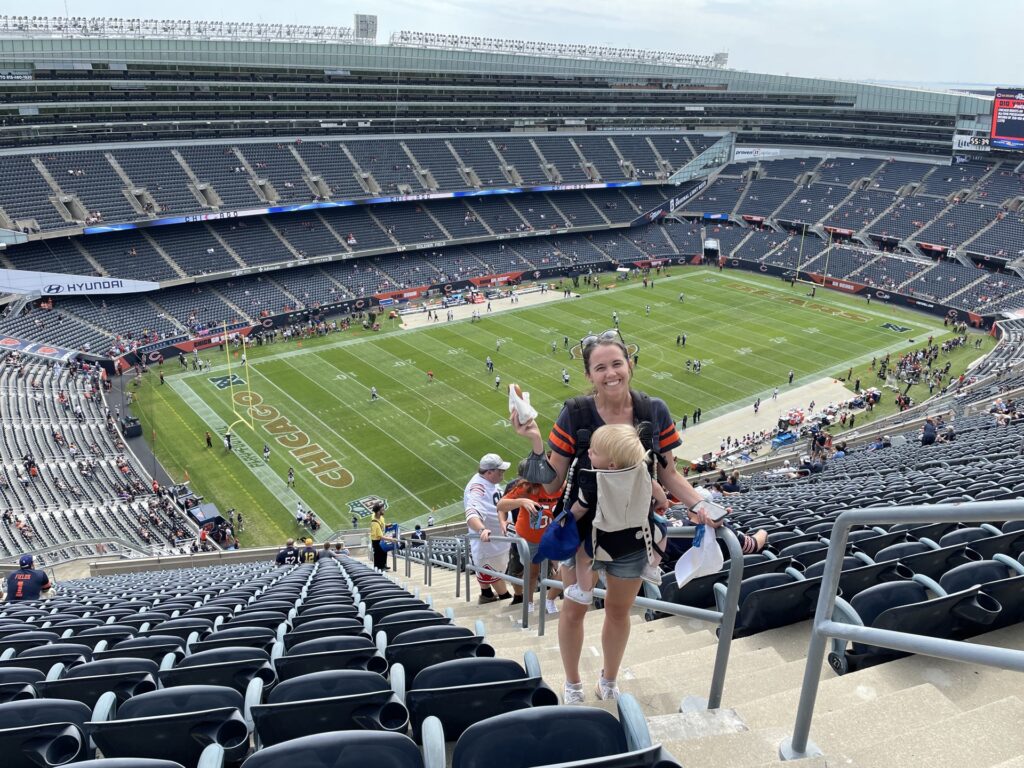 A few cons to baby wearing for travel
Baby wearing often makes travel easier, but it's not without flaws.
Multiple children can make baby wearing difficult. If you have more than one young child, baby wearing may be difficult or impossible. While many carriers can be used in tandem (e.g. a newborn on the front and toddler on the back), that isn't necessarily an ideal solution for everyone.
Other adults can't always help. If you're traveling with people of different ages, strengths or body types (like grandparents or even older siblings), they might not be able to safely wear your child for you. This means that you can't leave the child with other people the same way you could if your baby was in a stroller.
Storage is limited. A baby carrier doesn't come with a lot of storage space. It's going to have one or two small pockets at best, so you'll likely need to carry another bag. The carrier itself can even impact which bags you can use. For example, if you're wearing baby on your back, you can't also wear a backpack. (Well, technically you can and I have, but it's not ideal.)
Weather can make baby wearing unpleasant. If it's hot, baby wearing can be hotter for both you and baby. In the winter, you may need a special baby wearing coat. You also need to be conscious of your footwear in icy conditions. The added equipment and potential discomfort isn't always worth it.
Long naps get heavy. When your child starts to take fewer naps, those naps usually get longer. By that time, your baby is also getting pretty heavy. That can make long carrier naps exhausting. Balance is key. Sometimes, we'd have to settle for a shorter nap if we got too tired to carry. We'd also switch between crib naps and carrier naps on alternating days.
Baby wearing at the airport and on planes
Baby wearing can make the airport and plane portion of travel so much easier. Here's what you can expect from baby wearing at the airport and on planes.
Baby wearing through airport security
The first obstacle of travel is usually the security check point at the airport. According to TSA policy, if you have a soft baby carrier or wrap that does not contain metal you "should" be able to pass through security checks without removing the baby from the carrier. (I say "should" because I've still been told to take my baby out of a compliant carrier.)
Some examples of baby carriers that you can wear through airport security are the Colugo baby carrier, BabyBjörn Mini carrier or a wrap style carrier like this one. Children will need to be removed from the carrier to go through security if the carrier contains metal. Examples of carriers that cannot be used through airport security are the Sakura Bloom Onbuhimo or any kind of ring sling carrier.
If you have a compliant carrier and wear your child through the metal detector, you may still be subject to additional screening. I really hate this, but it's a fact. Sometimes, to avoid delays with security, it's easiest to just take your baby out of the carrier before you go through. Especially if the carrier has visible pockets or substantial structure. That's not always convenient though, especially with sleeping babies.
Once you've gone though security, wearing your baby is an easy way to navigate the terminal with a baby. Even if you brought a stroller, a baby carrier is convenient for use after you've checked it and while on the plane.
NOTE: The aforementioned rules apply to TSA security checkpoints in the US. Other countries and airports may have different security protocols in place.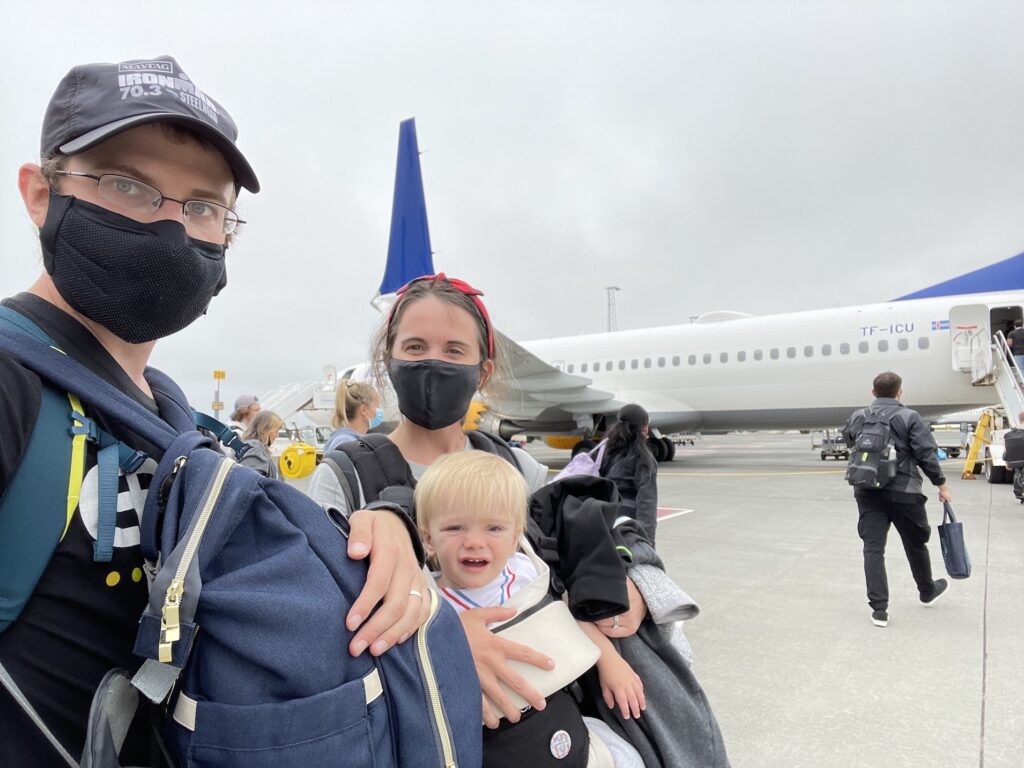 Baby wearing on a plane
The rules around babies on airplanes vary by country, airline and even aircraft. Enforcement is often inconsistent and at times contradictory. That said, children can typically be in a baby carrier during a flight except for during take-off and landing. One major exception here being United, which does not allow baby wearing at all.
During take-off and landing, babies cannot be in a baby carrier. Babies under 2 who do not have their own seat need to be held firmly by an adult. Sometimes they also need to be buckled into a special infant seatbelt and other times they can't be under a seatbelt at all. This varies by airline and plane type.
If you purchased a seat for a child under 2 and brought a TSA approved car seat, the child typically has to be secured in the car seat and cannot be held. (Yes, even though if you didn't purchase the seat you'd be required to hold them.) Children older than two will need to be seated and buckled into their own seat for take off and landing.
At all other times when the plane is in flight, children of all ages are allowed to be in a carrier.
If the seatbelt sign is on during the flight, a child over 2 will need to return to their own seat and wear their own seatbelt. The rules and enforcement with children under 2 is inconsistent. If the child under 2 does not have their own seat, they can typically remain in the carrier. If they do have their own seat, sometimes you will be told to put them into the car seat when the seatbelt sign is on.
It's always best to confirm the rules with a flight attendant on each flight.
Flying with a baby?
We have put together some helpful guides by airline that will walk you through everything you need to know about flying with a little one.
Baby wearing on public transportation
Public transportation is often the fastest, easiest and cheapest way to get around a city. It's also usually your only option if you don't want to bring a car seat. Most cities have your standard buses and trains, with some places having unique transit options like street cars or gondolas. You can safely and easily baby wear on just about all public transportation (at least all kinds that I'm aware of).
Baby wearing is particularly convenient on elevated or subway trains because not all stations have elevators and/or escalators. A baby carrier makes it easier to navigate stairs. It also makes it easier to boarded crowded trains and buses.
I personally prefer to stand on public transportation when I'm baby wearing. Sitting down is often less comfortable for the baby, and the change in position can wake them up if they're sleeping. I find myself explaining this a lot when people offer me their seat. I always appreciate the gesture, but frequently found myself kindly telling strangers that it was more comfortable for all of us to stay standing.
Naps in a baby carrier while traveling
If I had to pick the best thing about baby wearing while traveling, I think it would be naps on the go. If you have a baby who can sleep in the carrier, you don't need to trudge back to your hotel for naps. It is so freeing to be able to plan full days out exploring a new place and know that your child can still get their needed sleep. If you're planning naps in the carrier during your trip, there are a few things to keep in mind.
First, be sure to take weather into account. If it's hot or cold outside, plan to visit a mall or a museum during nap time so you can regulate temperature. Avoid major temperature shifts, like walking into an air-conditioned building on a hot day, while baby is sleeping, as it can wake them up.
Similarly, be strategic about what activities you do when. you obviously don't want to plan to arrive at a children's museum at the start of nap time. I love to plan carrier naps during long walks between attractions. That way they're not missing out on any fun, but you're also making a productive use of your time. Also plan quieter activities during nap time, like walking through a park or a church. Long walking tours are also great for nap times.
Lastly — as is true with all things parenting — be flexible. Sometimes our child would fall asleep in the carrier when we least expected it or would totally fight us on a nap when they really needed it. This might mean moving an activity to a different day, making an unexpected trip to the hotel or even accepting that your child just might miss something.
It's also important to note that napping in a carrier is a learned skill for a child. If traveling with a carrier is something you're interested in, be sure to practice naps in the carrier early and often so they get used to it.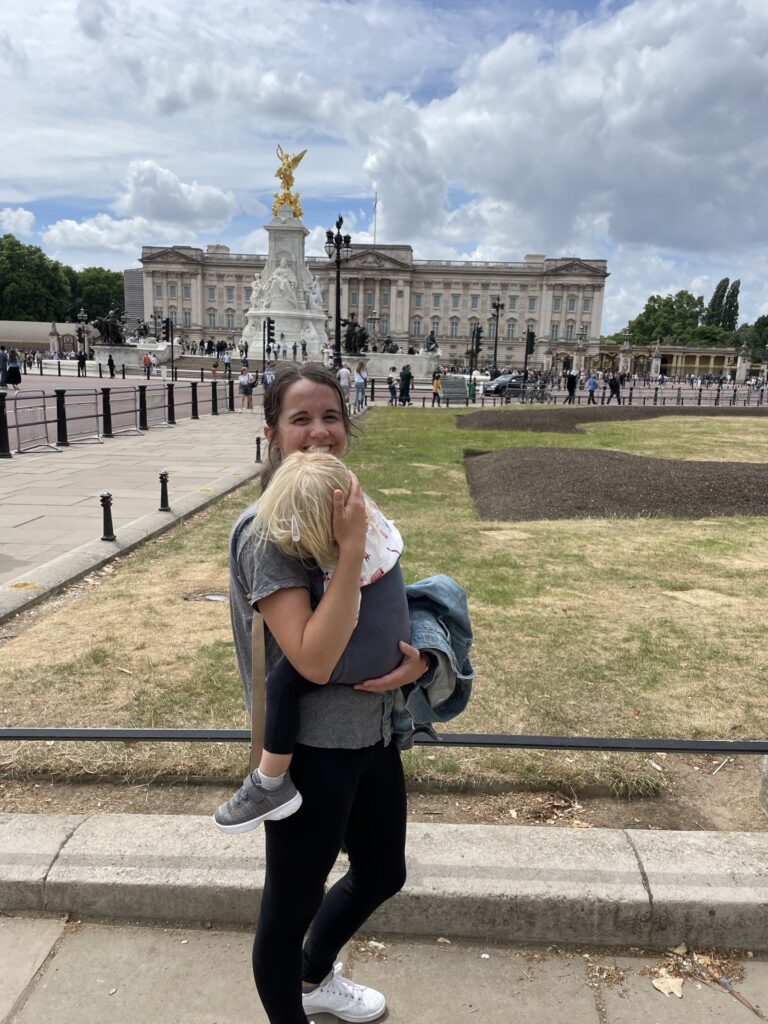 What to wear when baby wearing
The most important thing when it comes to dressing for baby wearing is to make sure that you and baby are dressed in equal layers. If you're too hot or too cold, they probably are too.
Baby wearing in warm weather and cold weather call for completely different wardrobes. Here's the breakdown for how to dress for both.
What to wear for baby wearing in warm weather
Baby wearing in warm weather is easiest, so we'll start there. Most importantly, be sure you and baby are dressed in light, breathable clothing.
For baby, even when it's hot I like to keep them covered for sun protection. This UPF hoodie and these UPF pants were perfect protection for many hot, sunny trips to Walt Disney World. For the wearer, I'd recommend t-shirts. If you wear a tank, make sure the straps are wider than the carrier straps. Try to avoid your carrier rubbing against bare skin on either you or baby.
If you're going to be in warm weather for extended periods of time, consider even buying carrier that's made of a light, breathable fabric. Sakura Bloom as a line of silk carriers, which are great for warm weather wearing. A portable fan is also great for keeping cool, and the white noise helps at nap time.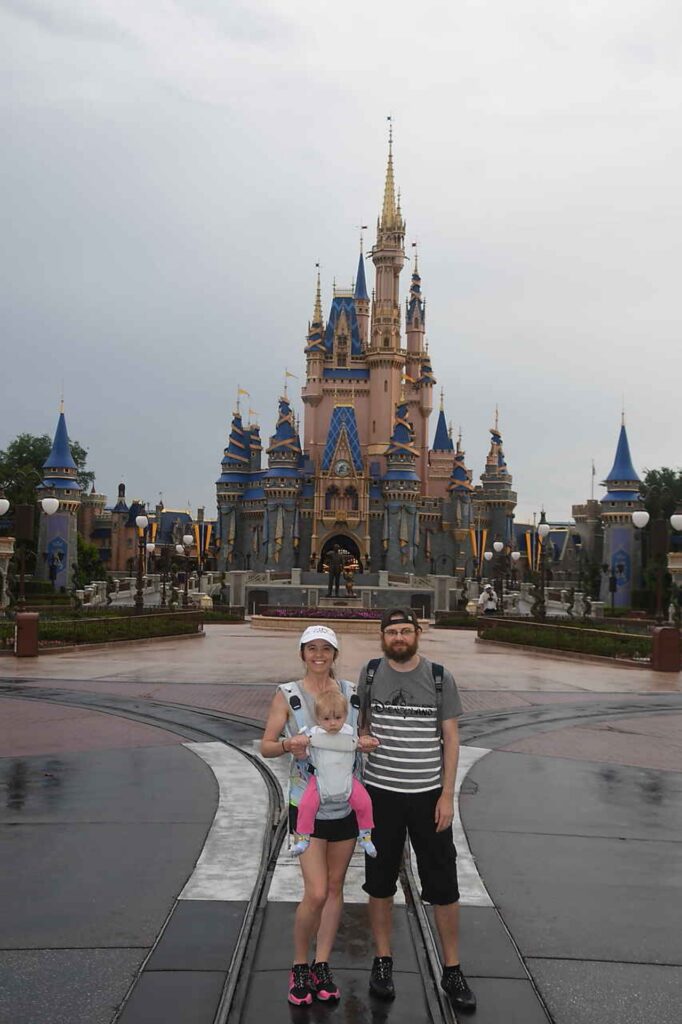 What to wear for baby wearing in cold weather
If you're baby wearing in cold weather I have all the tips. We wore our August-born baby through an entire winter in Chicago, including a February which I'm pretty sure had snow every single day.
If you're wearing a baby younger than one, you should get a baby wearing winter coat that fits around you and baby. You can find them on Amazon or a resale site like Poshmark or Mercari. We personally had this one, and my husband and I both wore it. It was fine, not great. What it lacked in style, it made up for in warmth. The zipper broke after a year, but fortunately I didn't need it longer than that. If I were buying another one today, I'd get this one.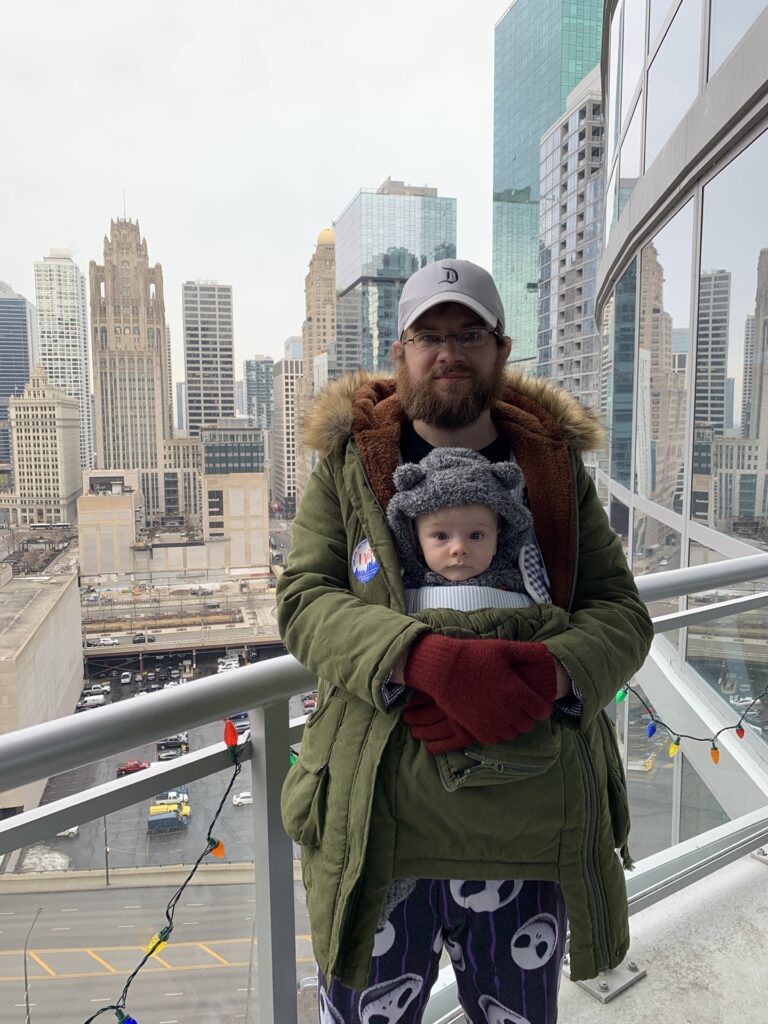 Under the coat, you and baby should wear the same layers. If it's cold enough for you to wear a sweater, put baby in a sweater. You want to be at the same temperature as your baby so you know if they're too hot or too cold.
After your baby has outgrown your shared coat, you can each dress in your own layers. The same dressing rule applies, though. If you wear a sweater and winter coat, put them in a sweater and their own winter coat. Then wear the carrier on top of your outermost layer. Try to avoid overly puffy coats for either parent or baby, because the carrier still needs to fit snuggly. It's the same logic as avoiding puffy coats in a car seat, just not nearly as dangerous since you're just walking.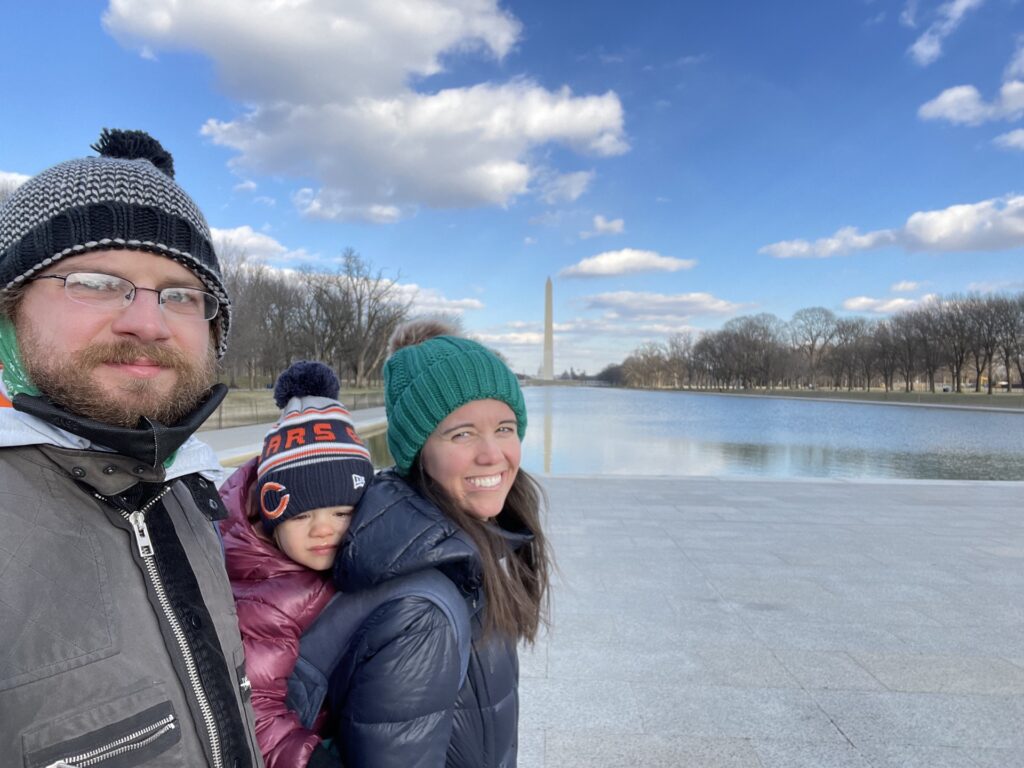 Alternatively, many baby carriers have cozy covers designed to fully wrap your baby in an extra warm layer, like a wearable sleeping bag. For example, the Colugo carrier has this custom cover for winter wearing.
In either coat configuration, I'd highly recommend investing in leg warmers for your baby. Your child is in a seated position in the carrier, with their knees bent. This forces their pants to ride up and often exposes their little legs. I found leg warmers to be the perfect solution for this problem.
Lastly, be sure to invest in a good pair or shoes or booths that have good traction. Sidewalks can get slippery and that's really scary when you're carrying a baby. My husband and I both have and love the Nike Gortex sneakers which have great traction and are waterproof.
What to wear for baby wearing in the rain
Baby wearing in the rain during regular life is actually quite easy. All you need is a good bubble umbrella. It will fully protect you and baby (in any carry position) and it won't impede baby's view.
Unfortunately, a bubble umbrella is not something you can easily travel with. So instead, I suggest traveling with ponchos. For our trip to Iceland, we got a baby poncho with a hood to drape over baby before we put them in the carrier. I then wore my own set of waterproof pants and my own rain jacket. This kept us both dry individually.
If I get caught in rain unexpected, I love having an excuse to buy a cheesy umbrella from a souvenir shop.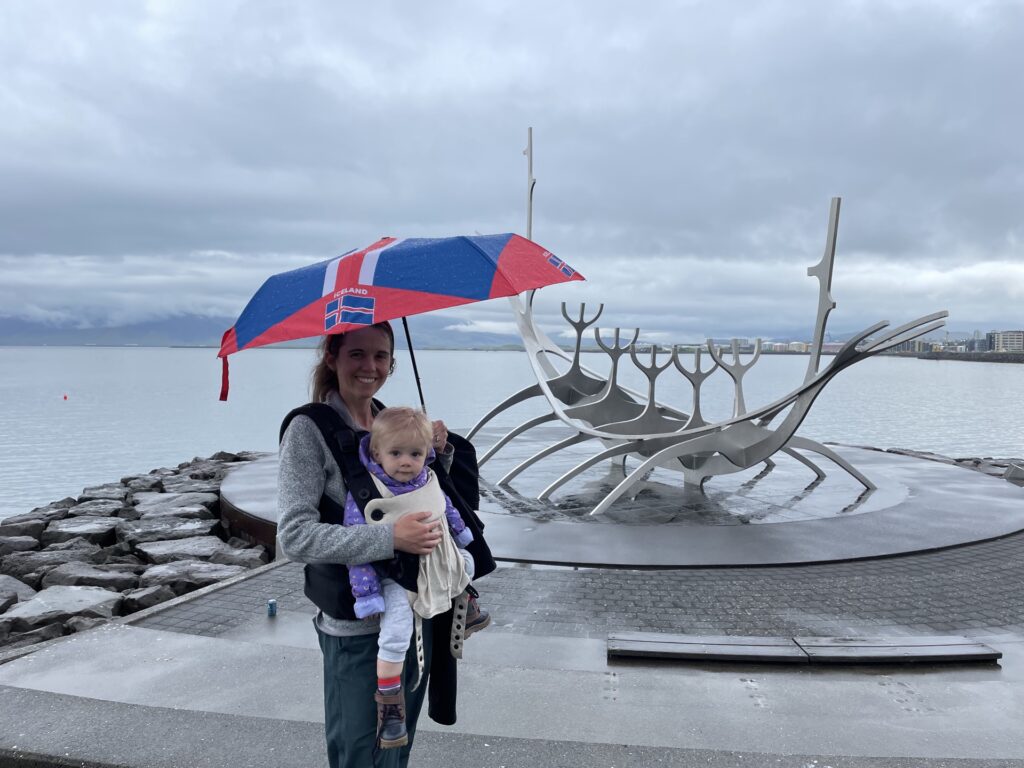 Baby wearing with a toddler
One major misconception about baby wearing is that it's just for babies. You can safely and comfortably wear toddlers up to four or five. It just takes the right equipment and a little practice.
As your baby becomes a toddler, they'll start walking on their own more. That means you'll have to carry them less. However, they still can't walk as far as adults so you'll still need to bring some sort of support for them. That can be that a stroller or a carrier. And when they're not using that support item, you're still responsible for transporting it.
If you opt for the carrier, you can wear it empty on your back or pack it in backpack when you're not using it and you still have two free hands to hold your child's hand, hold a coffee, open doors, etc. If you have a stroller, you now have to push around an empty stroller, which still requires two hands.
Our toddler is currently 2.25 years old and we like to see them walk as much as possible. Letting them walk on their own does take a bit longer, but they're building the strength and skills to walk further every day. For that reason, we prefer to have a low-profile carrier that's easy to just pop on our bag or on our back when we're not using it.
UPDATE: Our toddler is now 3 and can walk pretty much everywhere, including my recently the entire freedom trail in Boston and multiple full days at Disneyland.
Again I'm not a pediatrician, and again this is not medical advice.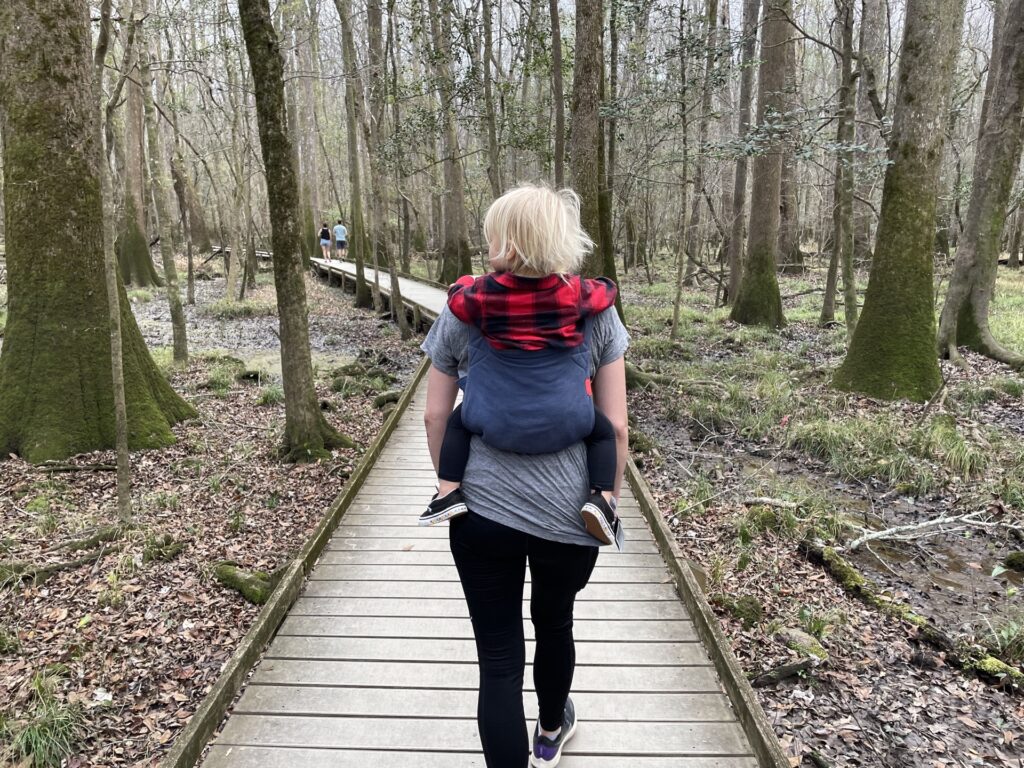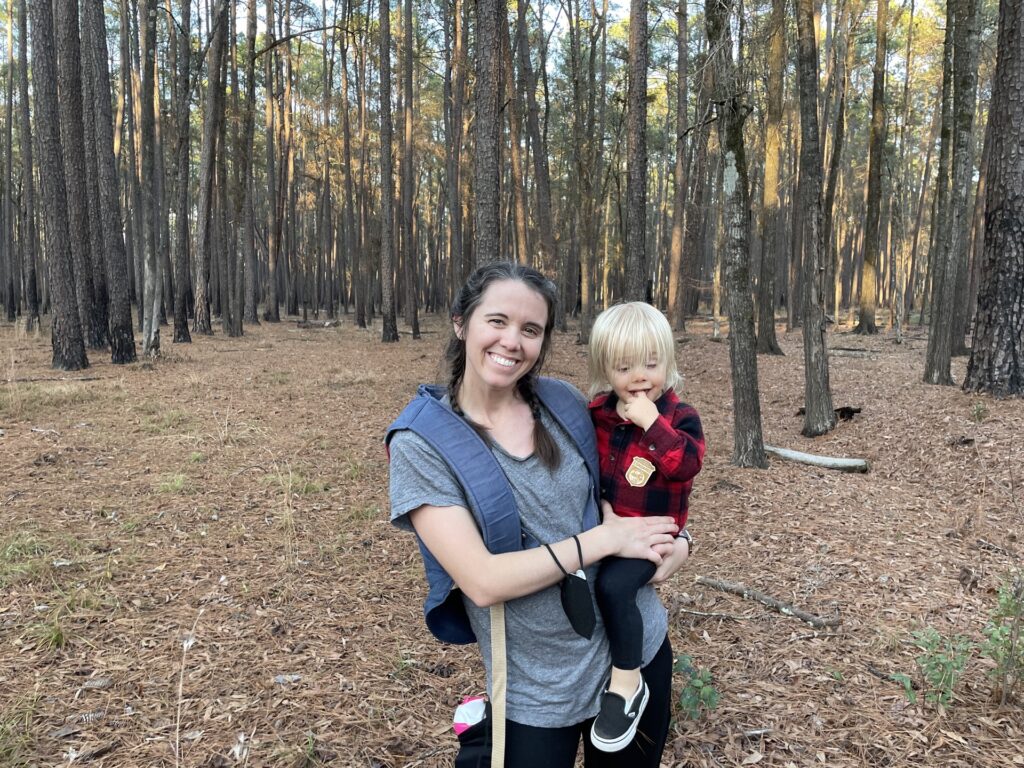 What type of carriers are good for toddlers
There are many baby carriers on the market that are good for toddlers. Each carrier has a specific height and weight range that can safely be supported in that particular carrier.
There are two approaches to choosing a carrier for your toddler. One option is to invest in one baby carrier that will support your child through the full duration of your baby wearing years from infancy through toddlerhood. That would be something like the Sakura Bloom Scout or the Ergobaby Omni 360, which both support children from 7 pounds to 45 pounds.
A different approach is to get different carriers as your child ages, so you can better target both of your needs at that specific age. For example, you might start with the BabyBjörn Mini carrier for a newborn, then move up to the Colugo baby carrier which has added waste support for bigger babies, and then graduate to the lower profile Sakura Bloom Onbuhimo for when your toddler is walking more.
I personally would recommend the later approach because you care about different things through different phases of development. However, choosing a single carrier is much cheaper.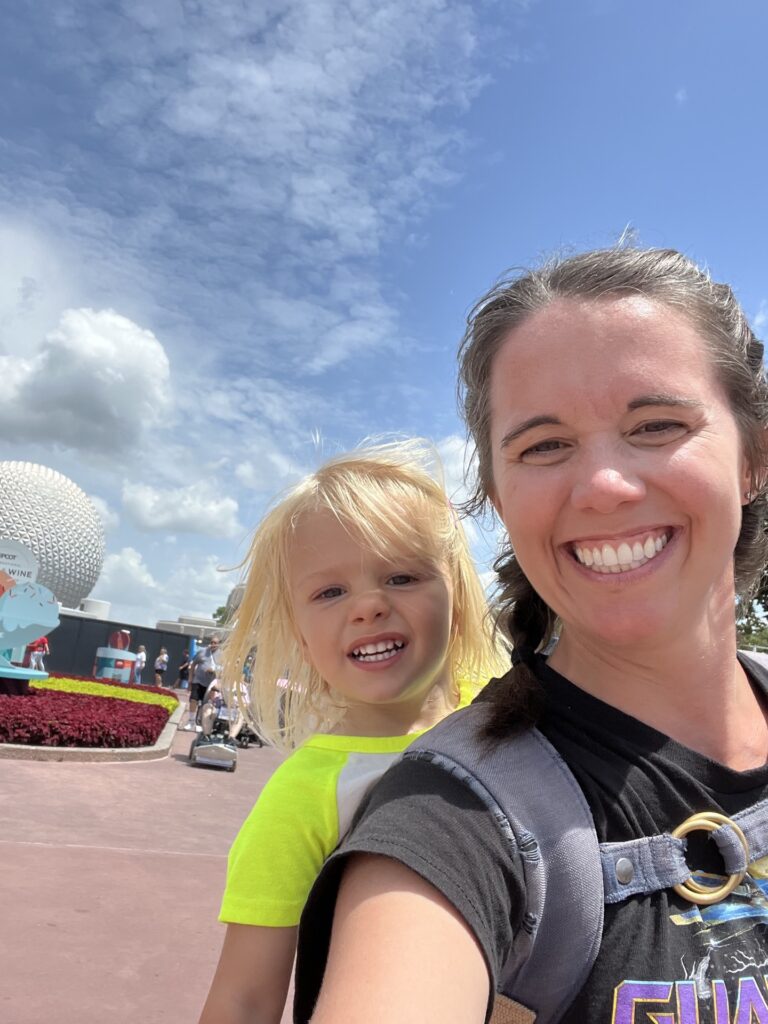 When choosing the best carrier for a toddler, the most important factors are:
Weight distribution — since toddlers are much heavier than newborns
Simplicity of getting in and out of the carrier — because sometimes a toddler will want to walk and sometimes they wont and sometimes they'll change their mind 17 times over the course of an hour
Easy to carry when not in use — as toddlers start to spend as much time out of the carrier as they spend in it, you care more about how clunky it is to carry on its own
And on that note, let's dive into …
Best baby carriers for travel
At the time of publication, I've extensively carried my 2-year-old in five different baby carriers. I can't vouch for all the carriers on the market, but I can thoroughly review these and what I think they're best for.
It's also worth noting that I'm not sponsored in any way from these baby carrier brands. The links in this section are standard links to the official website for carriers that I have personally paid for and used. I don't make any sort of affiliate income from these brands whatsoever. The feedback below is entirely uninfluenced.
(I may still earn affiliate commissions from purchases from Amazon links outside of this section.)
Factors to consider when choosing a baby carrier
Choosing a baby carrier is no easy task. There are so many on the market and they cover a wide range of styles and price points. If you've never tried baby wearing before, you might not even know what to look for or what matters. Here is a laundry list of things to consider when you start evaluating carriers for your needs.
Child's age and weight — Your child must fit into the carrier's supported range for safety reasons.
Hip safety — Hip positioning is crucial to safe baby wearing, particularly during the first 6 months of life. You can find the list of baby carriers that have been certified hip-healthy by the Hip Dysplasia Institute here.
Weight distribution (e.g. waist straps, chest straps, etc) — This determines where and how you bare the weight of the child.
Shoulder strap thickness and padding — For shoulder comfort.
Storage options — Are there zippers or pouches to store small items like a phone, portable white noise machine or spare diapers?
Washing options — Is it machine washable or not? Do you care?
Carrier size — Will it fit in your suitcase if you want to pack it for a trip? Can you fold it up and keep it handy in a tote or is it comfortable to wear when the child isn't in it?
Adjustable sizing — If you plan to share the carrier with your partner, can you easily resize the carrier without having to readjust multiple straps each time?
Airport security — If it has metal or a hard structure, you cannot wear the carrier with your baby in it through airport security.
Temperature — Hot weather destinations may call for a lighter, cooler fabric carrier.
Hood — Is there an attachable hood or sunshade to protect baby from light while they're sleeping? This isn't a must-have as you can DIY one with a muslin blanket, but it is definitely nice to have.
Carrier positions — Does the carrier support the different carrying positions you're interested in, e.g. front or back carry, forward facing or inward facing
Based on these factors, let's explore some of my favorite baby carriers by age.
Best baby carrier for traveling with a newborn: BabyBjörn Mini
Fun fact. We lived few blocks away from the hospital where my child was born. Since we didn't have a car, I carried my baby home from the hospital in the BabyBjörn Mini carrier. We used it daily for the next five months.
The BabyBjörn Mini is a popular pick for newborn baby wearing because it's a simple, easy to use carrier by a trusted brand. It has a thick, padded bodice which comfortably supports very small babies. It's a perfect, lightweight starter carrier which is why we think it's the best baby carrier for traveling with a new born.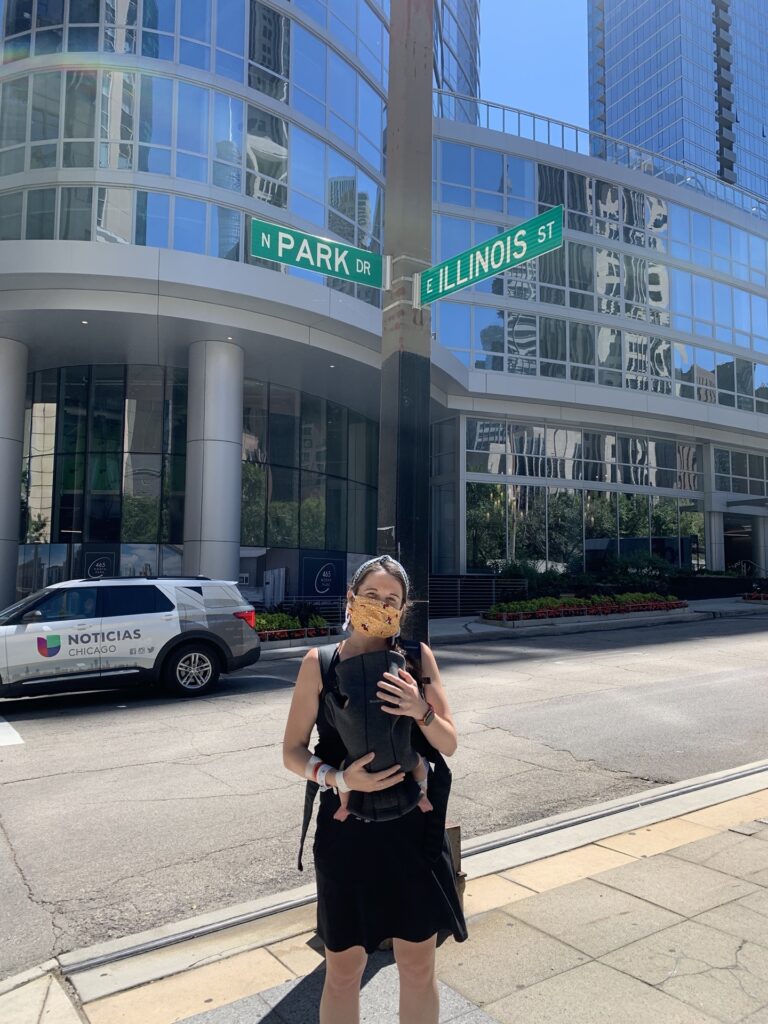 BabyBjörn Mini Highlights
Size & Age Range: The BabyBjörn Mini adjusts to support babies as they grow through their first year and weigh between 7 and 24 pounds.
Straps & support: The shoulder straps cross behind the wearer's back and can be adjusted via plastic buckles for size. There is no waist straps to support the weight, which is generally fine for babies this small.
Carry Positions: This BabyBjörn Mini only supports front wears, either forward or inward facing.
Cleared for Airport Security: The slide-on clips that secure the baby in place are made of thick plastic, so it can be worn through airport security.
Sunshade: The BabyBjörn Mini does not come with a built in sunshade. The bodice of the carrier does fold up for support, which tends to block out the sun, though.
Certified Hip-Healthy: No
Storage: None
Price: $110
BabyBjörn Mini Review
During this newborn time, we used both the BabyBjörn Mini and the Sakura Bloom Ring Sling. I loved the ring sling for naps, but getting the carry just right took a bit more finesse in the sling than the BabyBjörn. The ring sling also has a metal ring, which makes it a problem for going through airport security.
Between the two, we liked the BabyBjörn Mini better overall. Its slim profile makes it easily packable, and the soft padding makes it really cozy for baby. It's simple and quick to get baby in and out of the carrier as needed, which is helpful on planes when they have to come in and out of the carrier for take-off and landing, plus frequent frequent feedings.
For full transparency, we actually did not travel much with this particular carrier. Our child was born in the middle of a pandemic, so we were limited to short car trips to visit family.
It's also worth noting again that while the BabyBjörn Mini has a wide hip base, this specific carrier is not certified "hip-healthy" by the Hip Dysplasia Institute. We did use this carrier for our child's formative first five months, but we eventually couldn't get past this technicality and upgraded to the Colugo carrier.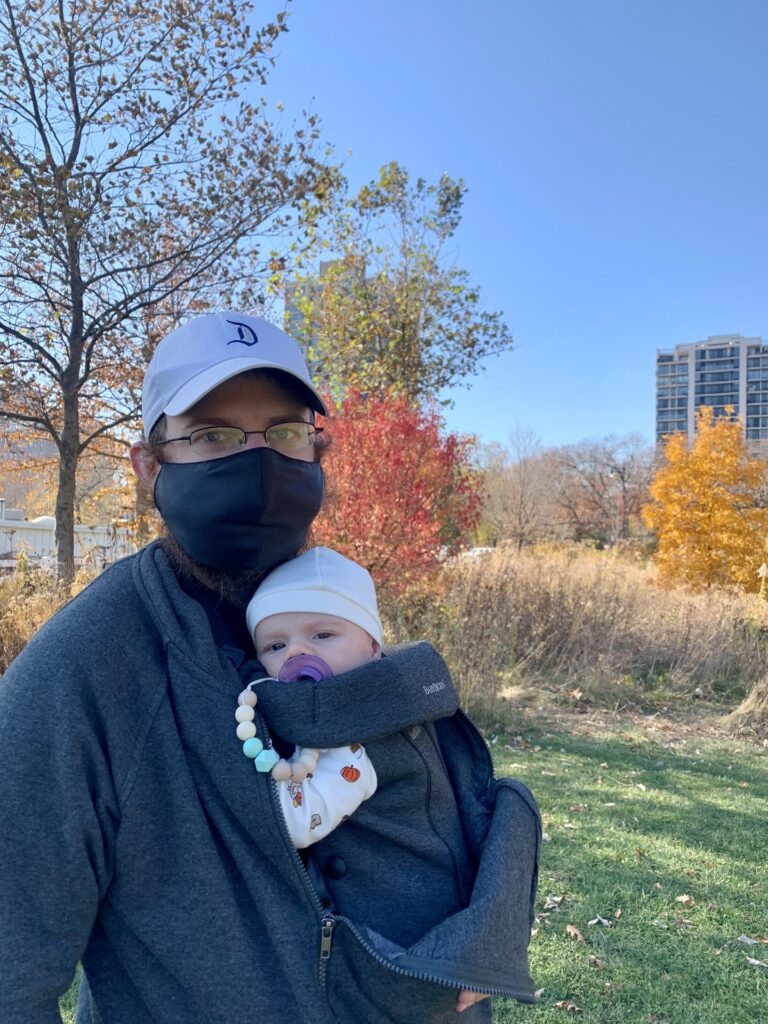 Best baby carrier for traveling with an infant: Colugo Carrier
We started using the Colugo baby carrier when our child was five months old. It served us well for the next eight months, until just after our child turned one.
The Colugo brand is not as well known as BabyBjörn. However, if you dig into reviews and articles ranking the best baby carriers, it shows up frequently and is very highly rated. We can confirm that the Colugo is a great carrier. It's more structured and less cuddly than the BabyBjörn Mini, so it's better for older babies who are a bit more sturdy. It is perfect for longer carries and naps on the go, which is why we believe the Colugo carrier is the best baby carrier for traveling with an infant under one.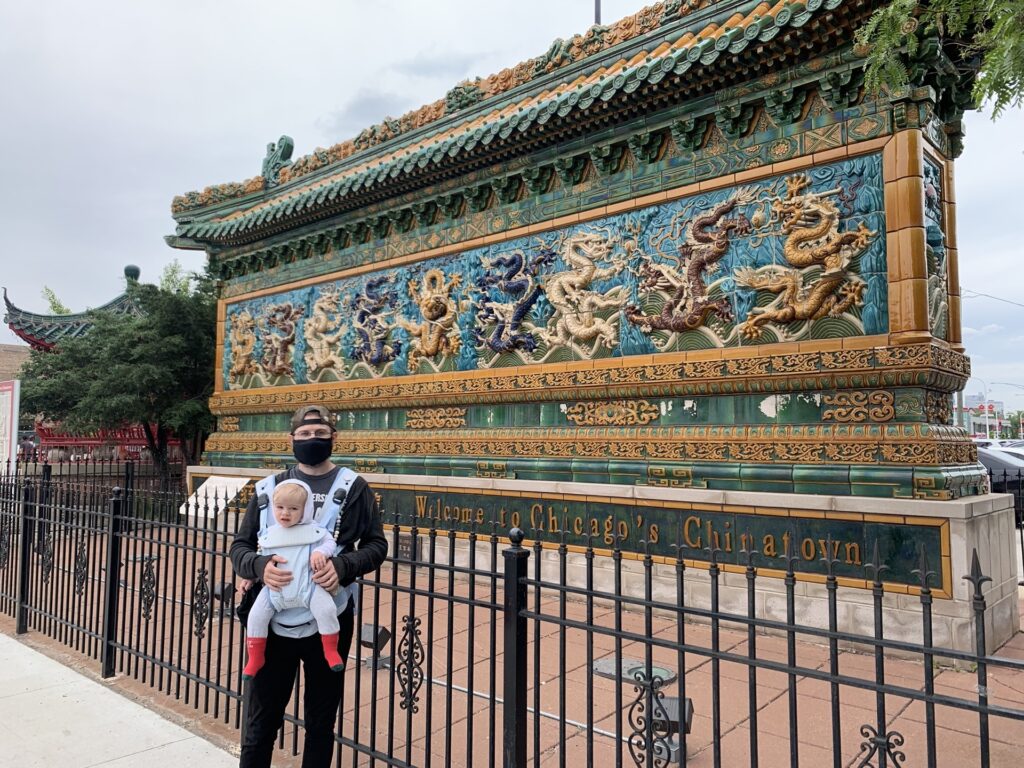 Colugo Carrier Highlights
Size & Age Range: The carrier is designed for babies 7 to 33 pounds. The hip spacing is adjustable between two different settings via velcro tabs to accommodate babies as they grow.
Straps & support: A wide waste belt with back padding allows the wearer to carry the weight in their waist and core as opposed to bearing it all on the shoulders. The belt and shoulder straps are adjustable with plastic clips. The shoulder pads are thick and comfortable.
Carry Positions: The Colugo carrier can be used for front carries both inward and outward facing, as well as a back carry.
Cleared for Airport Security: The clips are plastic, so this should technically be allowed for carrying an infant through security. However, there is substantial structure to this carrier and several pockets so there's an increased chance that you'll be flagged for additional security.
Sunshade: The Colugo carrier has a built-in sunshade that can be clipped into place or stored.
Certified Hip-Healthy: Yes
Storage: There is a zippered pock along the bodice of the carrier and a detachable zipper pouch.
Price: $145
Colugo Carrier Review
We loved the Colugo for so many reasons. The waist band helped transfer the weight off the shoulders, so it was comfortable to wear for long periods of time. The best thing about this carrier was probably the pockets. Combined with the built-in sunshade, the Colugo carrier was perfect for naps on the go.
This is the carrier we used for our first trip to Walt Disney World when our child was 10 months old. (We actually have an entire post about baby wearing at Walt Disney World on our sister site.) It was comfortable enough to wear all day, even when our baby wasn't in it. Our child sleeps well in a carrier and took multiple naps a day in the Colugo. It was cool enough for Florida heat and the sunshade helped block out the light.
One downside to the Colugo was that you had to really adjust the straps for each individual wearer. Since we were often switching the carrier between the two of us, it became a bit of a hassle. We also didn't care for the back carry position in this carrier, but that could have been because our child was just a little too small for it still.
After using this carrier for eight months, the velcro tabs that widened the baby's hip position started to fail. This flaw did not compromise the safety of the carrier at all, it just was less comfortable and supportive. It became too much of a hassle to deal with, so we upgraded to the Nuna CDL Carrier.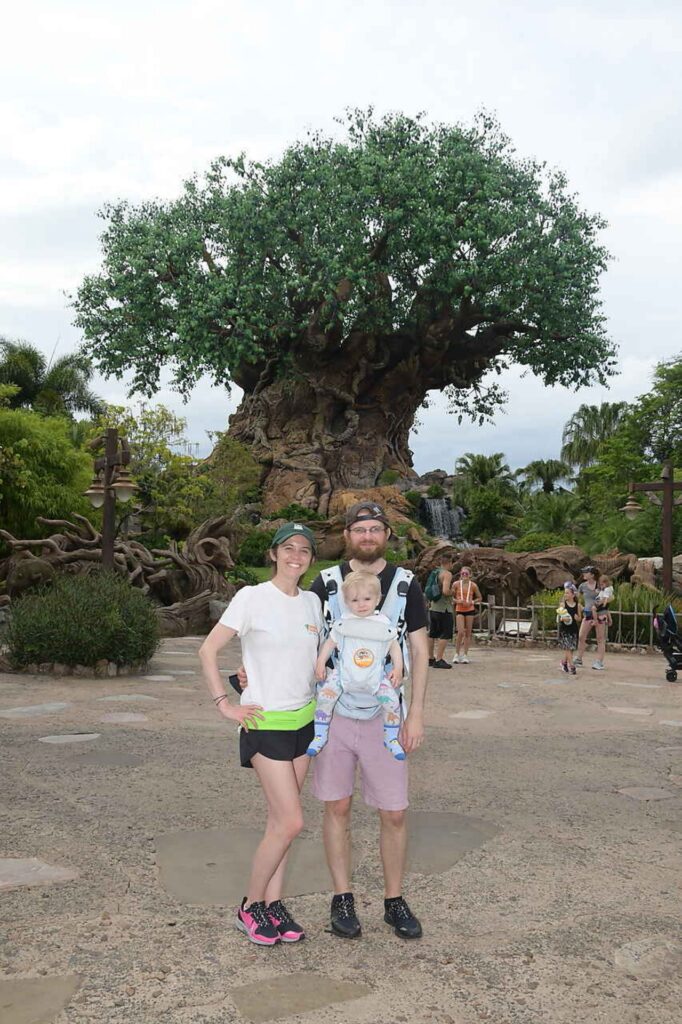 Best baby carrier for traveling with a one-year-old: Nuna CUDL
We began using the Nuna CUDL baby carrier a little late in our baby wearing journey, having purchased it just after our child turned one. It was the sturdiest baby carrier in terms of construction, which is why we think it's the best carrier for one- to two-year-olds.
The Nuna CUDL carrier is also the most expensive carrier we own. If you wanted to invest in a single carrier to use for the duration of your baby wearing years, we'd recommend this one. It adjusts to support newborns, but can also safely carry babies up to 35 pounds. It's good quality and will hold up to the wear, plus it's very padded and comfortable.

Nuna CUDL Highlights
Size & Age Range: The Nuna CUDL carrier is designed for babies 8 to 35 pounds.
Straps & support: This carrier features a wide, entirely velcro waistband to customize sizing for each wear. The shoulder straps are heavily padded and comfortable.
Carry Positions: The Nuna CUDL supports four carries: front inward facing, front outward facing, back carry and a modified newborn inward facing carry.
Cleared for Airport Security: The clips are plastic, so this should technically be allowed for carrying an infant through security. However, there is substantial structure to this carrier and a visible pocket so there's an increased chance that you'll be flagged for additional security.
Sunshade: The CUDL carrier has a built-in sunshade that can be clipped into place or stored.
Certified Hip-Healthy: Yes
Storage: There is one pocket on the waistband that holds a standard iPhone (not a Max)
Price: $220
Nuna CUDL Review
The Colugo and Nuna CUDL carriers are very similar in terms of style and comfort. If you had either one and it was still working well, there's not really a reason to upgrade to the other. I like the pockets better on the Colugo, but the Nuna CUDL is better quality all around. The CUDL is more expensive, but also will likely last longer.
Like I said, we switched to the Nuna CUDL after having issues with the velcro on the Colugo. The CUDL uses buttons instead of velcro, so it holds up better to heavier babies and repeated wear. That's why we recommend the CUDL for one-year-olds and up.
We took the CUDL carrier on our trip to Iceland when our child was one. We loved that this carrier could do it all. The forward facing position was great for seeing waterfalls and walking through Reykjavik, and then the inward facing carry was perfect for naps. When there was steep steps or moderate hiking involved, we used the back carry so we could lean forward easier and see where we were going.
There were a few other downsides to this carrier, though. The large wide waistband is entirely velcro, which was good for switching the carrier between parents, but it was also harder to get nice and tight. The Nuna CUDL carrier is also quite bulky, which is comfortable while it's in use, but clunky to carry around when it's empty. That's why we ultimately ditched this one in favor of the Sakura Bloom Onbuhimo for our toddler.

Best baby carrier for traveling with a toddler: Sakura Bloom Onbuhimo
The Sakura Bloom Onbuhimo was the first carrier I bought as an expectant mom and the last one I got use out of. There's a steep learning curve to getting baby in and out of this one, and it can definitely be awkward. Once I figured it out though, this carrier quickly became my favorite.
This baby carrier is absolutely perfect for travel with a toddler. The back carry gives baby the same view you have and lets them fully experience the destination with you. The carrier itself is super light weight and low profile, so when they're not in the carrier you can easily pack it in a bag or trow it over your shoulders. Plus, it's so small you can easily fit it into your suitcase for any trip, even if you're not sure you'll need it. This carrier is perfect for just about everything except naps.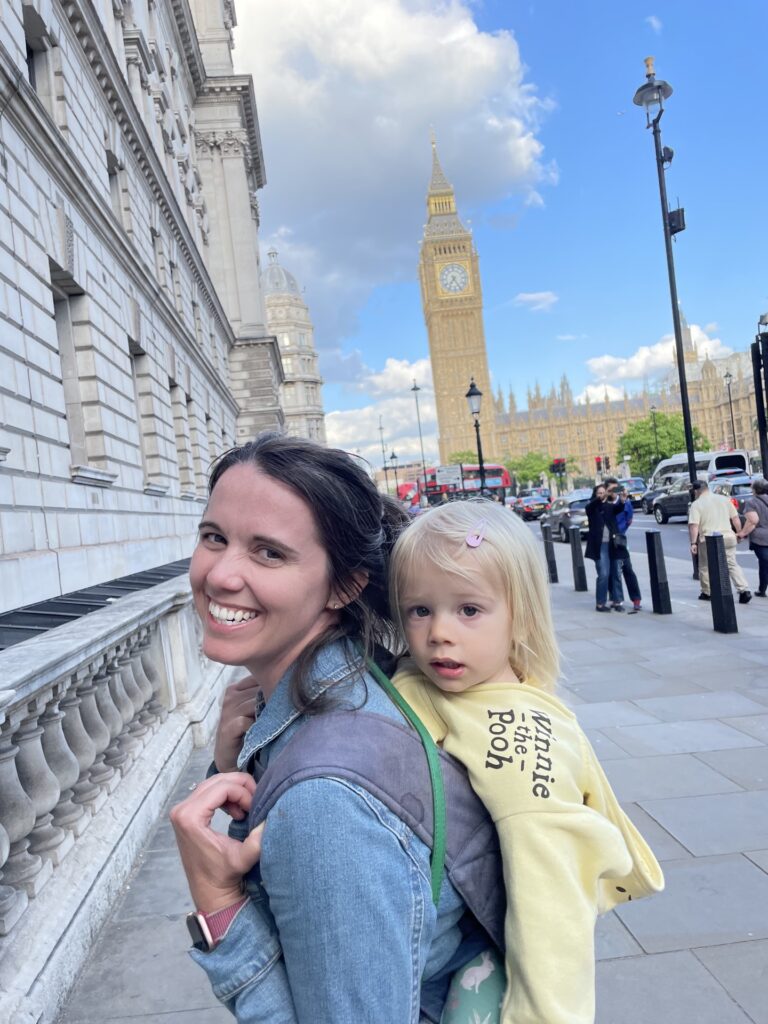 Sakura Bloom Onbuhimo Highlights
Size & Age Range: The carrier is designed for babies 15 to 45 pounds.
Straps & support: This carrier only has a single chest strap. There is no waistband so all the weight is carried on the shoulders and chest.
Carry Positions: You can use the Onbuhimo for front inward facing and back carries
Cleared for Airport Security: There are metal rings on this carrier so you cannot wear it through airport security.
Sunshade: A separate sunshade is included with the carrier, but it is not built in. It can be attached via snaps and ties.
Certified Hip-Healthy: Yes
Storage: None
Price: $198+
Sakura Bloom Onbuhimo Review
I started using the Onbuhimo carrier for casual back carries as soon as my child hit 15 pounds. This particular style of carrier is a bit awkward to load, especially when a child is that small. After I mastered the loading process, this quickly became my carrier of choice for everything except naps. It's small and perfectly packable, making it great for travel.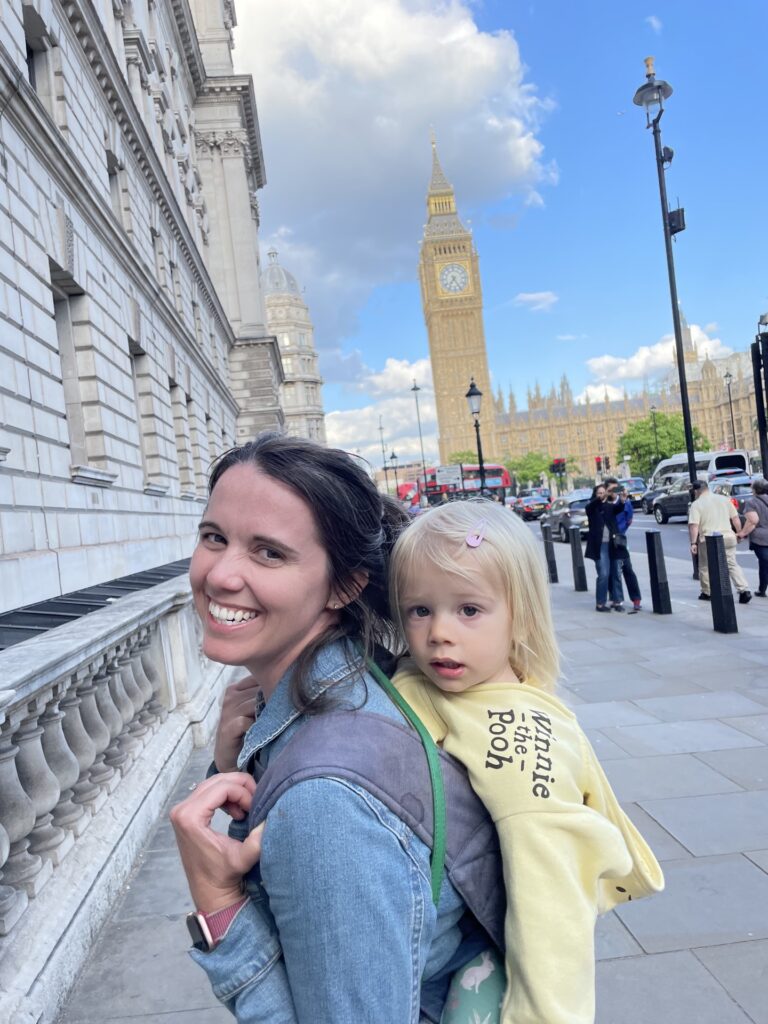 A child in the Onbuhimo sits high on your back, so they have a great view of the world around them. With the child on your back, the wearer has a full range of motion and total use of their hands and arms. It's basically like wearing a backpack, so the two of you can do more together. The Colugo and CUDL carriers supported back carries too, but baby sits really low. The Onhuhimo was the most comfortable and provided the best views for baby.
My toddler loves to walk and explore, so they spend a decent amount of time out of the carrier. However, I still need to bring the carrier because they can't always walk all day or as far as we do. This carrier empty is extremely low profile and light weight, so I can easily keep it on my shoulders when they're not in it.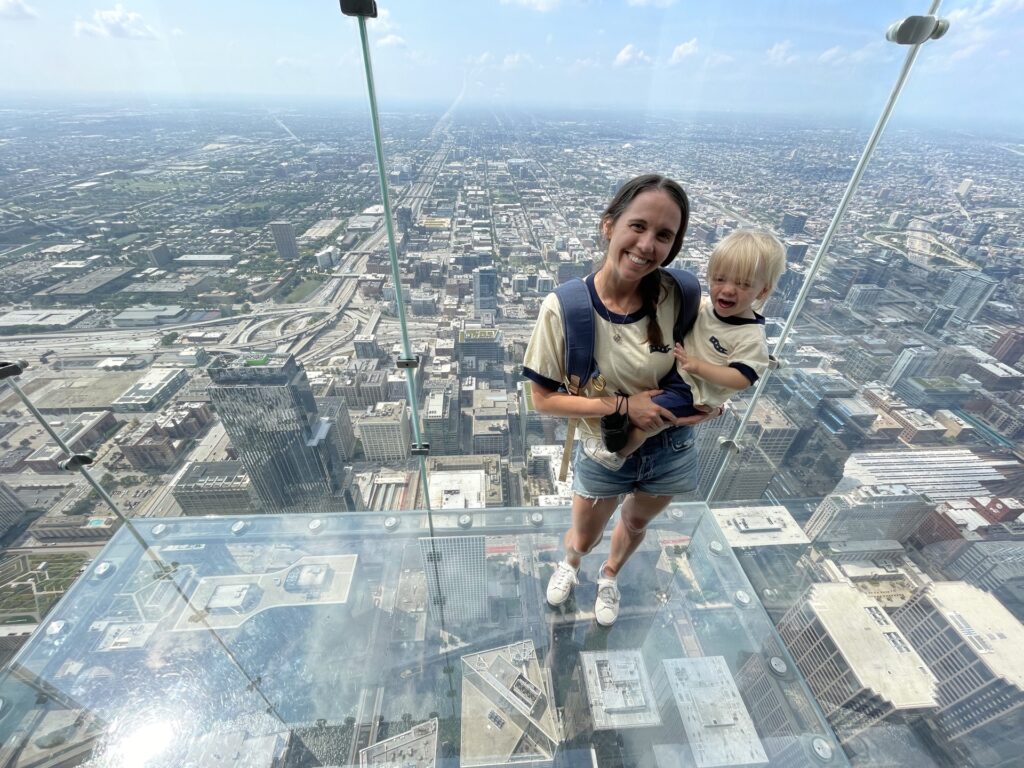 While I love this carrier for toddlers, of course there are downsides. The biggest being that it's not great for napping. There's no waist support, so extended time in this carrier is hard on your shoulders. And while the carrier technically supports a front carry, trying to carry a toddler in that position is really uncomfortable for everyone because it sits so high. Also, the sun shade doesn't really work for much. It's mostly beneficial for front carrying a smaller baby.
All things considered though, the Onbuhimo is a near-perfect carrier for intermittent toddler baby wearing. PS, if you're struggling with the loading be sure to read the tips and watch the videos here.
NOTE: I recently saw this toddler sling and was intrigued. It's not so much a carrier, but it helps redistribute some of their weight. I haven't tried it, but it seems like an interesting option for a toddler.
Best tips for baby wearing for travel
While it might not be for everyone, I firmly believe that baby wearing is the key to reducing travel stress with children. Once you start traveling with a baby carrier, you won't look back. After 2+ years of exclusively baby wearing, I've learned a few tips and tricks that I can't not share.
1. Practice
Baby wearing is a learned skill for both parent and baby. Don't show up on vacation with a new carrier and expect it to be smooth sailing. Practice naps in the carrier at home. Go for walks in the carrier — start short and work your way up to longer walks. The more comfortable you and baby become in the carrier, the easier it will be.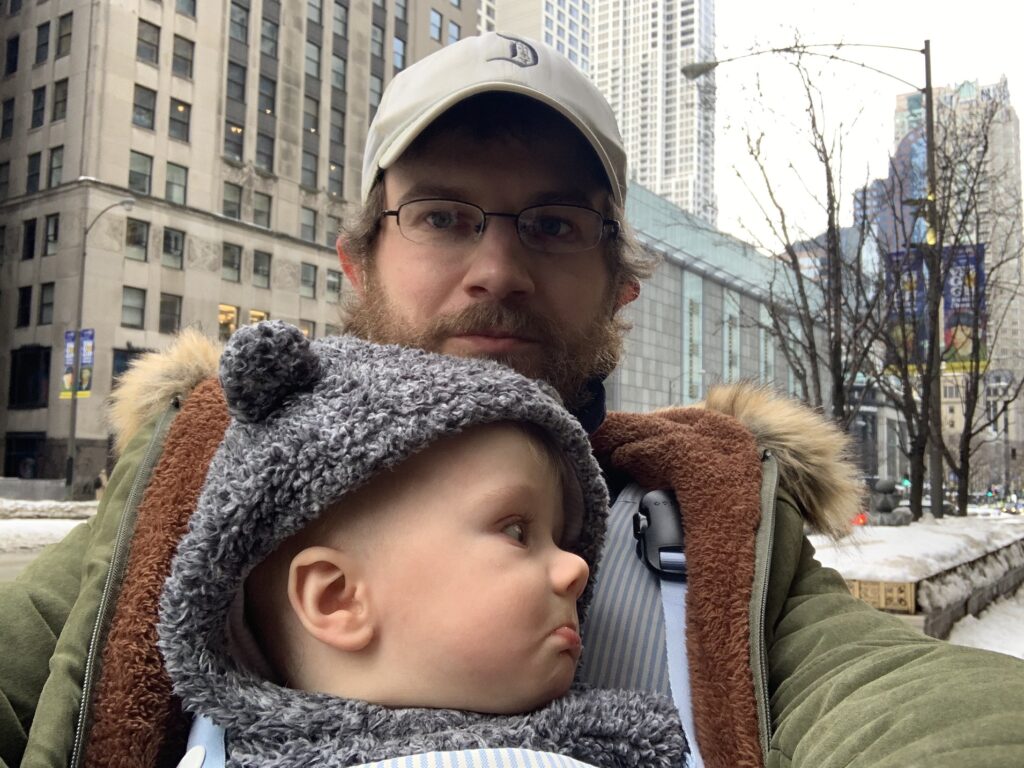 2. Start early
One common argument I hear a lot about wearing toddlers is, "Aren't they heavy?" The answer is yes, but they don't start out that way. If you start baby wearing at a young age, you get stronger as your baby gets bigger. But also, the heavier your baby gets, the less time they actually spend in the carrier because they're walking more.
3. Plan your baggage
No matter how minimalist you might be, anywhere you go with a toddler you will need at least a small bag of stuff (diaper, wipes, maybe a toy, etc). Be sure to plan a bag that you can wear in conjunction with your carrier. If you plan to front carry, bring a backpack. If you plan to back carry, get a fanny pack. (Do we call these waist bags now?)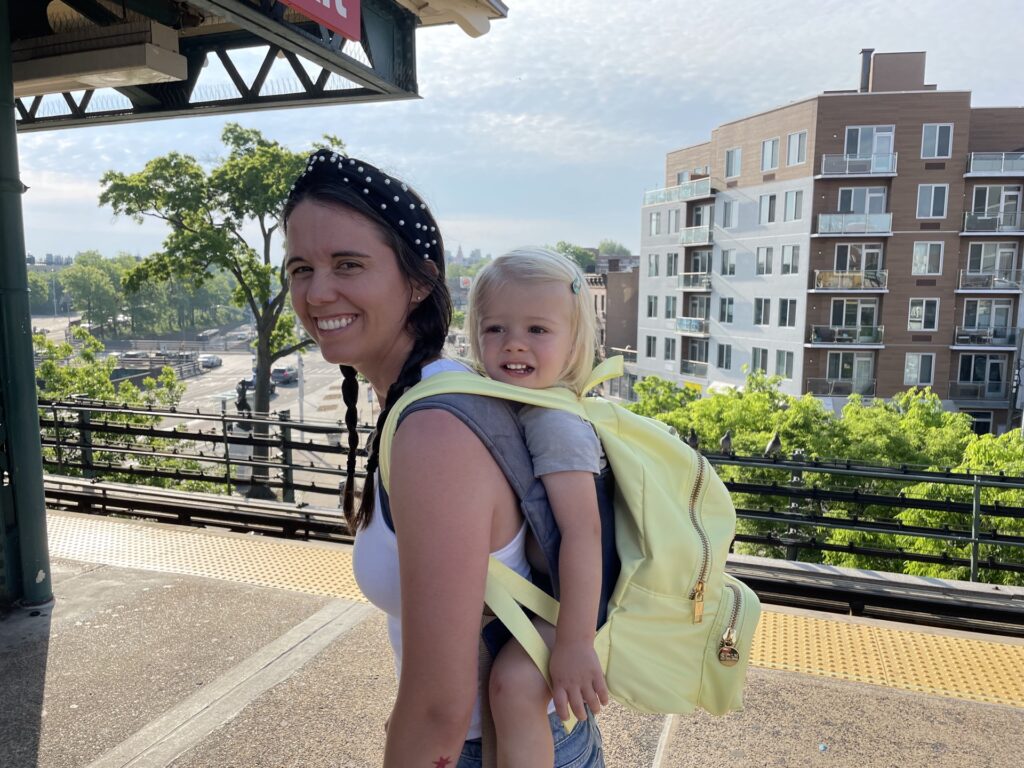 4. Watch for sales
Some baby carriers are really expensive. If you're expecting, start shopping for carriers ASAP. Third-party retailers like Buy Buy Baby, Target and even Amazon have occasional seasonal sales where you can save on carriers. For Sakura Bloom, they have seasonal sample sales where you can get great deals on their carriers. (Be sure to shop right when it opens because they sell out quick.)
5. Get the right gear
If you live in or are visiting a remotely cool climate, invest in a baby wearing sweatshirt. This type of sweatshirt has a zip-on attachment that makes space for baby. Not only does it keep you both warm, but it creates a very dark space for baby to nap. It's also great for travel because it protects baby from strangers who might want to touch them and also helps limit the dirt and germs they breath in. (Again, not a doctor.)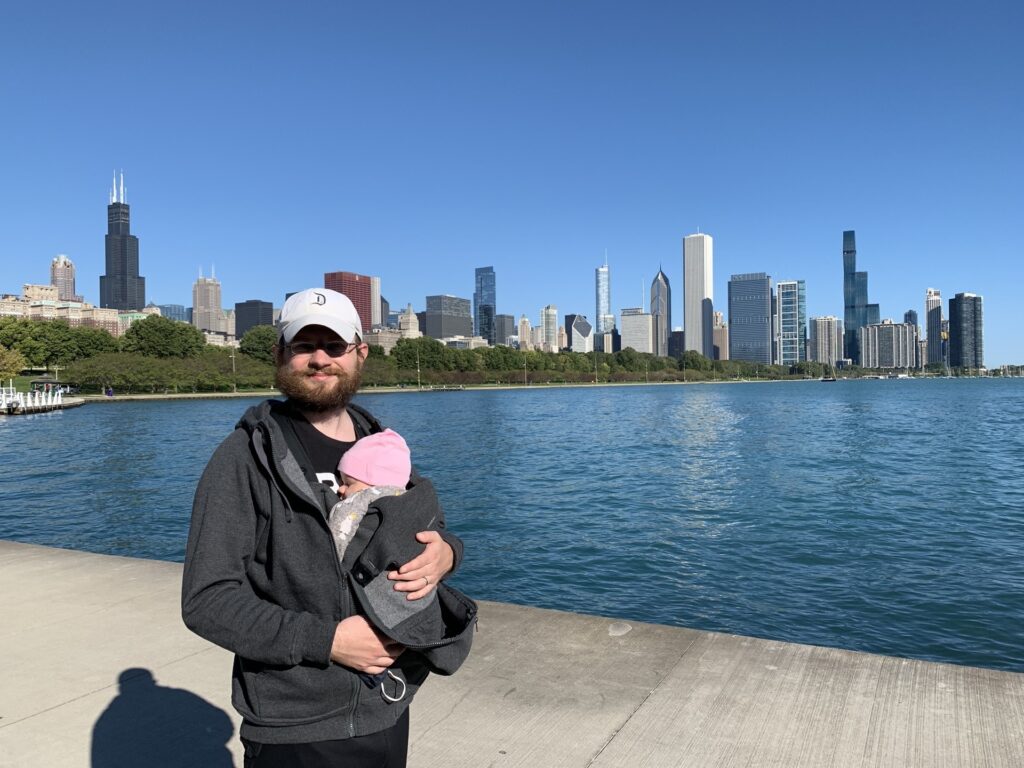 6. But don't overcommit
Conversely, don't overcommit to carrier-specific accessories. Many carriers have a variety of accessories available, like cool weather covers or drool cloths. Sometimes these items are helpful, but test out the carrier first before you invest in the add-ons. For example, we got the cold weather cover for the BabyBjörn Mini, but never used it because we liked wearing a baby wearing winter coat better.
Alternatively, look into accessories that work for a variety of carriers.
7. Stock up on pacifier clips
Pacifier clips are a great way to attach small items to the carrier so baby doesn't lose them and you aren't constantly picking things up. We used pacifier clips to attach a hat (which our child was constantly taking off) and a small toy to the carrier. Our child loved having something to hold onto, and it quickly became a comfort thing.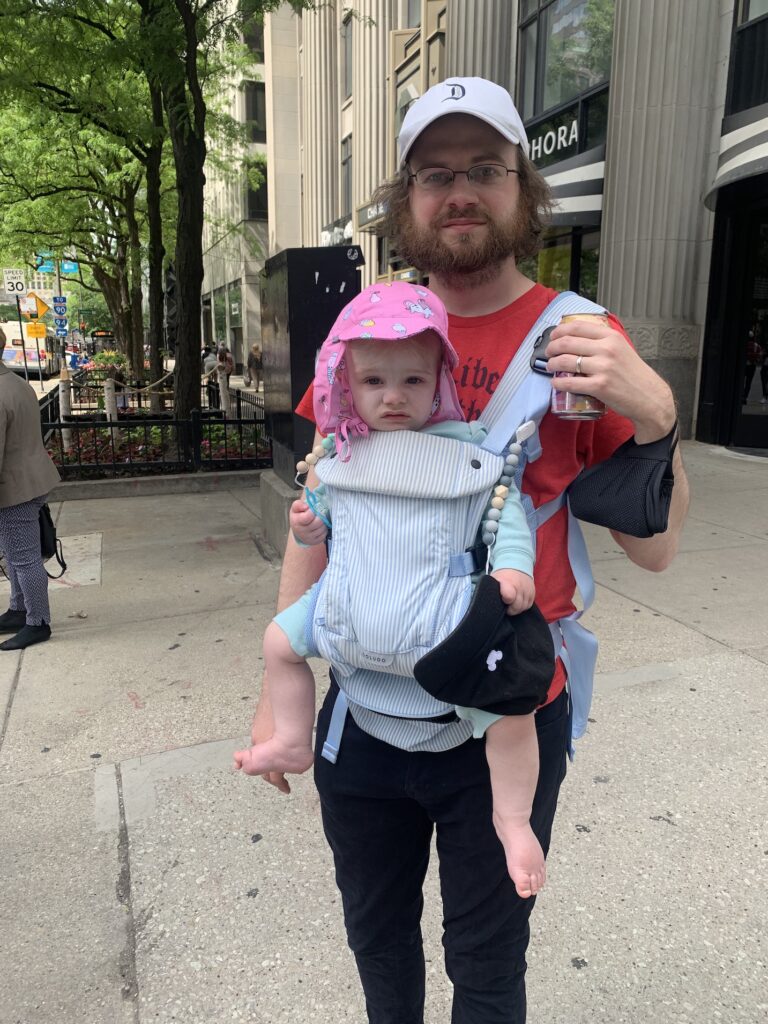 8. Carry safely
Be sure to do your research and/or talk to your pediatrician about baby wearing safety. Also read the safety information for your specific carrier. You should know the proper hip positioning, safe napping positions, when it's safe to carry your baby in different positions, how to safely secure your child into the carrier, etc.
Also remember to give your child breaks out of the carrier to stretch and move around. This is true of babies and toddlers of all ages. (It's also true for babies in strollers.)
9. Plan activities strategically
If you have a child who can sleep in the carrier, you can free up full days (or at least longer days) for exploring your destination. It's important to plan your itineraries around potential nap times. This is mostly important for children who are down to one or two naps a day, as younger babies who sleep all day will end up napping everywhere.
One of my favorite things to plan for nap times is a walking tour. These usually take a few hours and would otherwise be difficult to complete with a baby who's awake. Another good option is to nap on walks between neighborhoods or attractions. In a city like London or Paris, you could easily walk a mile from one neighborhood to another. That might be too long to walk with the toddler while they're awake, but it's perfect for parents while they're asleep.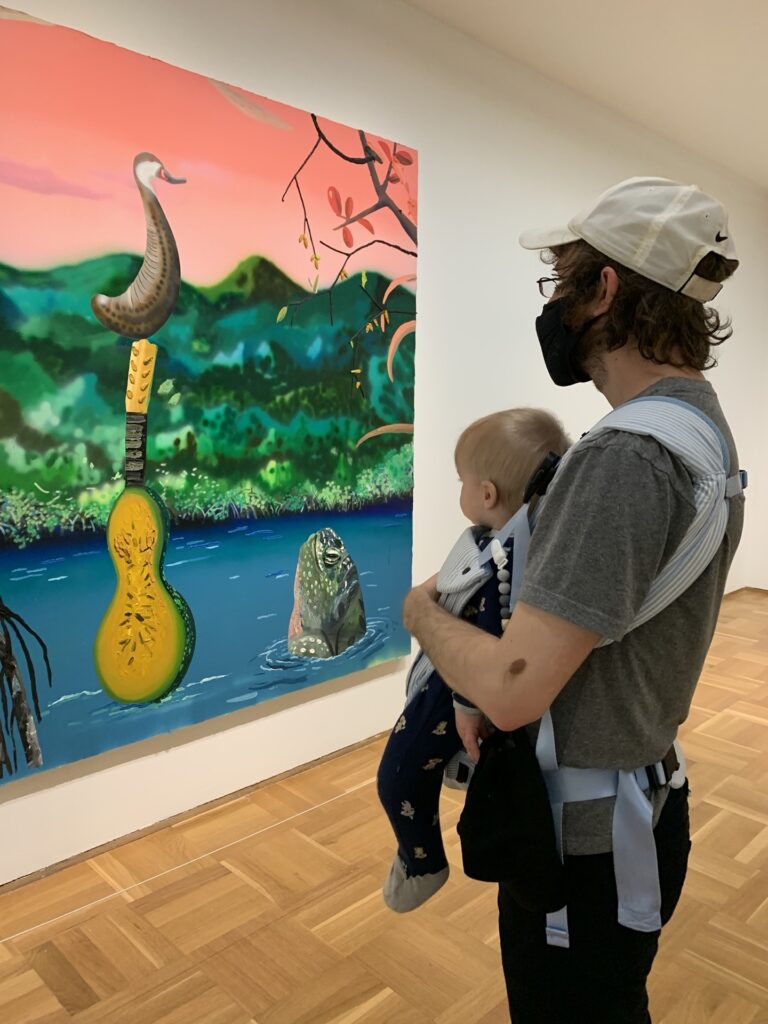 10. You don't have to go all in
Baby wearing doesn't have to be all or nothing. You don't have to ditch your stroller entirely when you start baby wearing. Maybe you just need the carrier at the airport or on days when you have certain activities planned. Having a carrier that works for your family can improve your travel experience in a variety of ways, big and small.
As you're working on this balance, just make sure that the carrier doesn't become a nuisance. If it starts to be one more thing you have to tote around, it is creating a problem instead of solving one. It might not the right fit for everyone and that's okay. We all travel and parent differently, and the goal is to find the right solutions and balance that works for your family.