There is something magical about watching the Chicago Cubs play baseball at Wrigley Field. The ivy-covered outfield walls and manual scoreboard are as iconic as the Chicago-style hot dog itself — which is required eating in the Friendly Confines. It's no surprise that a parent would want to bring their baby to a Chicago Cubs game at Wrigley Field.
Depending on the kind of parent you are, though, taking a baby to a Cubs game either sounds delightful or awful. I'm here to assure you that with a little preparation and flexibility, you and your baby can have an amazing time at a Cubs game.
We've brought our baby to numerous Cubs games and have learned a ton about what works and what doesn't. In this post, we'll explain everything there is to know about bringing a child under 2 to a Chicago Cubs game at Wrigley Field. Whether you're looking for a place to nurse, a special souvenir or a changing table, we've got you covered.
In This Post
Here's what we're covering in this post. We invite you to read the full guide or jump ahead to the section you're most interested in.
Our Experience at Cubs Games with a Baby
We consider ourselves experts on going to Cubs games. Kenny was born and raised on the north side going to baseball games (mostly Cubs, but his Mom's a Sox fan so he did both). I started tagging along when we began dating in 2010. We took wedding photos in front of the marquee and were at Wrigley when the Chicago Cubs won their only World Series home game in 2016.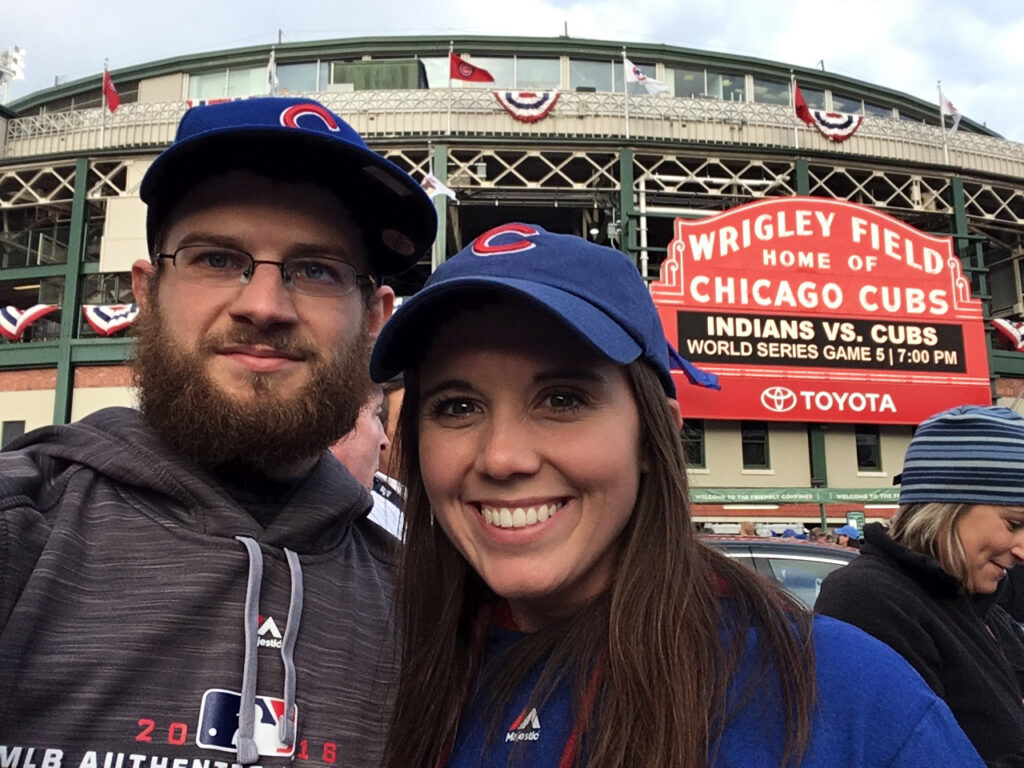 Just like everything else, going to Cubs games changed when we had our first kid in 2020. Though I'll never feel like a true expert at anything parenting related (does anyone?), this is probably as close as I'll ever get.
We went in on season tickets with friends for the 2020 season, which as you know was not the year for baseball (or anything). So by the time we got to use our tickets, we had a plus one. We ended up bringing our baby to quite a few Cubs games during their first year of life. Their first game was at 10 months and their last of their first season was just after their first birthday.
We got to experience everything from nursing in First Aid to eating their first hot dog in the stands. They napped on the Red Line on the way to Wrigley Field and in the carrier in Gallagher way. This kid learned to love just about everything that a Chicago Cubs game had to offer, except maybe sitting still and watching baseball.
As parents, we learned a lot about about what's available for children at Wrigley Field, what works, and what doesn't. We're excited to share that knowledge with you in this guide.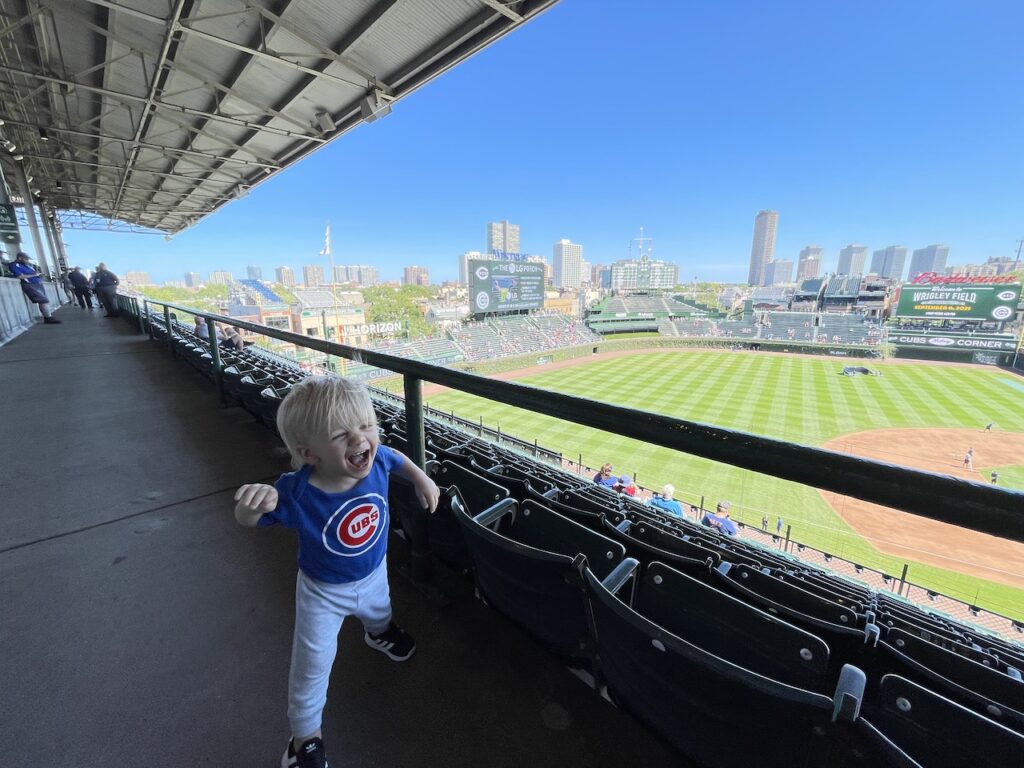 Baseball in Chicago
Let's set the stage.
The city of Chicago has two Major League Baseball teams. The Chicago Cubs play in the city's north side at Wrigley Field, while the Chicago White Sox play in the south side at Guaranteed Rate Field (formerly Comiskey Park). Both parks can be great for babies and have different pros and cons.
If you're heading to Wrigley Field to see the Chicago Cubs, you'll be walking into a National Historic Landmark. The Chicago Cubs are one of the oldest teams in baseball and so is their stadium. Built in 1914, Wrigley Field is the second oldest stadium in the league. Wrigley Field is known for its iconic red marquee, manual scoreboard, and ivy-covered outfield walls.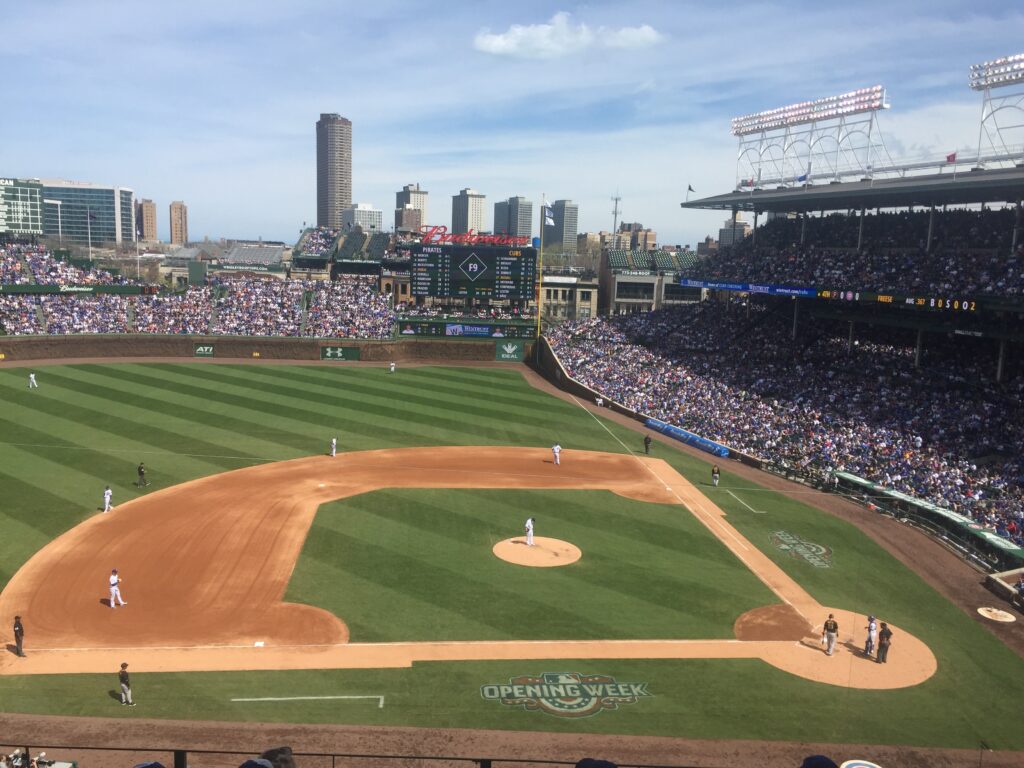 You don't just go to Cubs games to see a win — though getting to hear the crowd erupt with Go Cubs Go is sure to give you goosebumps every time. Nicknamed the lovable losers, the Chicago Cubs experienced the longest World Series drought in MLB history, which was broken in 2016 after 107 years.
You go to Wrigley for the experience. Sure, you watch the baseball, but you taste the Chicago-style hot dog, you hear the organ playing, you smell the crisp spring air and you feel, for just a moment, that everything is right with the world.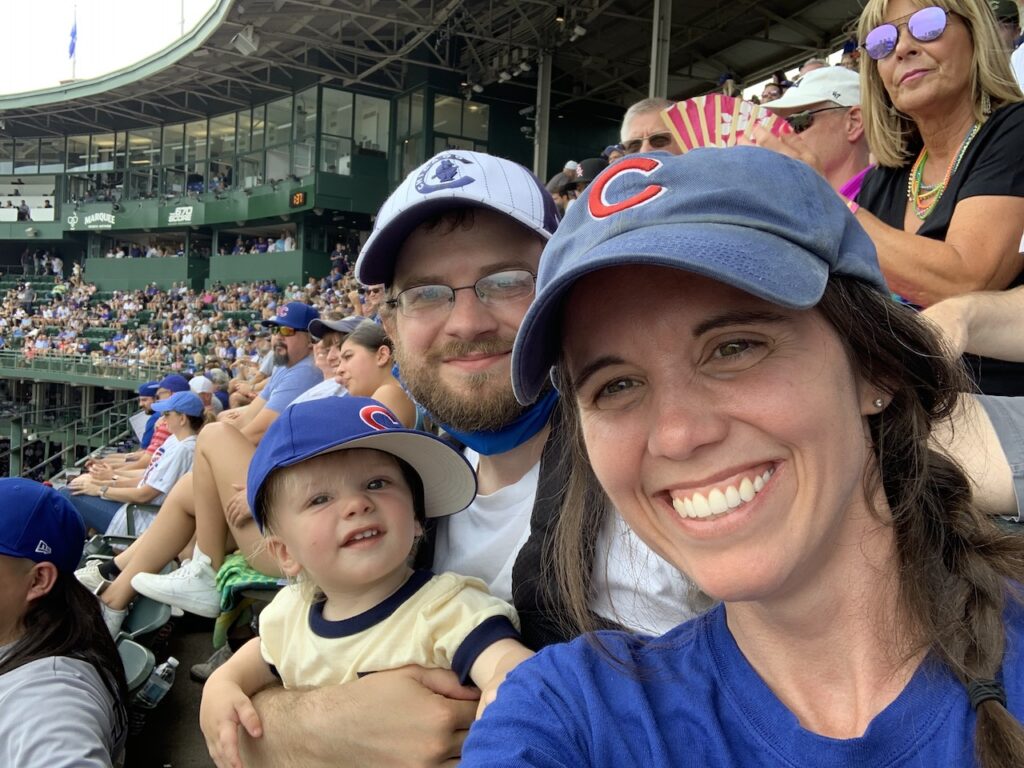 Wrigley Field Overview & Map
Throughout this post, we'll explore the baby and family services available at Wrigley Field, as well as some special things that will make your visit fun for everyone. Before we get too far into the weeds, let's go over the general layout of Wrigley Field.
Wrigley Field is located on the corner of Clark St and Addison St in the Lakeview neighborhood of Chicago. The stadium is easily accessible by public transit, primarily the Red Line train, the 22 Clark bus and the 152 Addison bus.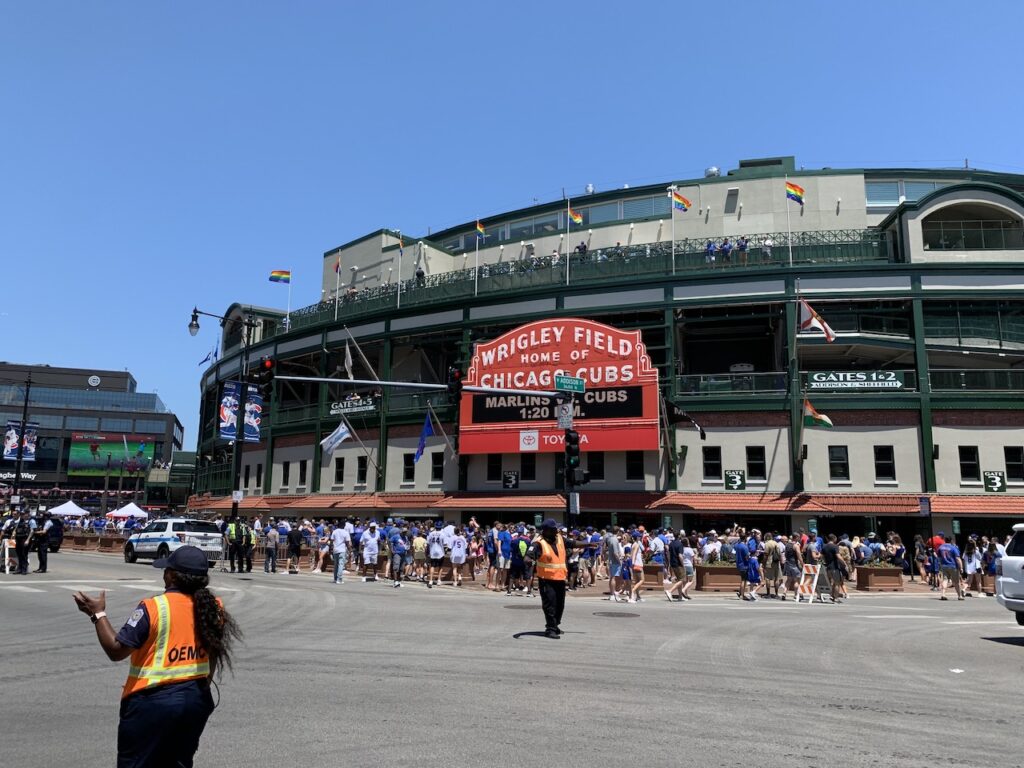 The stadium has two main tiers and five levels. Each level is broken into sections which are numbered and clearly posted in the concourses and inside the stadium. There are long ramps and some stairs for pedestrians to access upper levels. A limited number of elevators are also available.
All infield seats are Wrigley Field are standard stadium seating. Each seat has a number which is associated with a specific paid ticket. The outfield section is all general admission bleacher seating, available first-come-first-serve.
Adjacent to the stadium is Gallagher Way, a small park with a splash pad, concessions and seating. During Cubs games, the park is only accessible to ticket holders. After the game has begun, ticket holders can freely move between the park and the stadium as often as they like. It's great for kids and parents alike.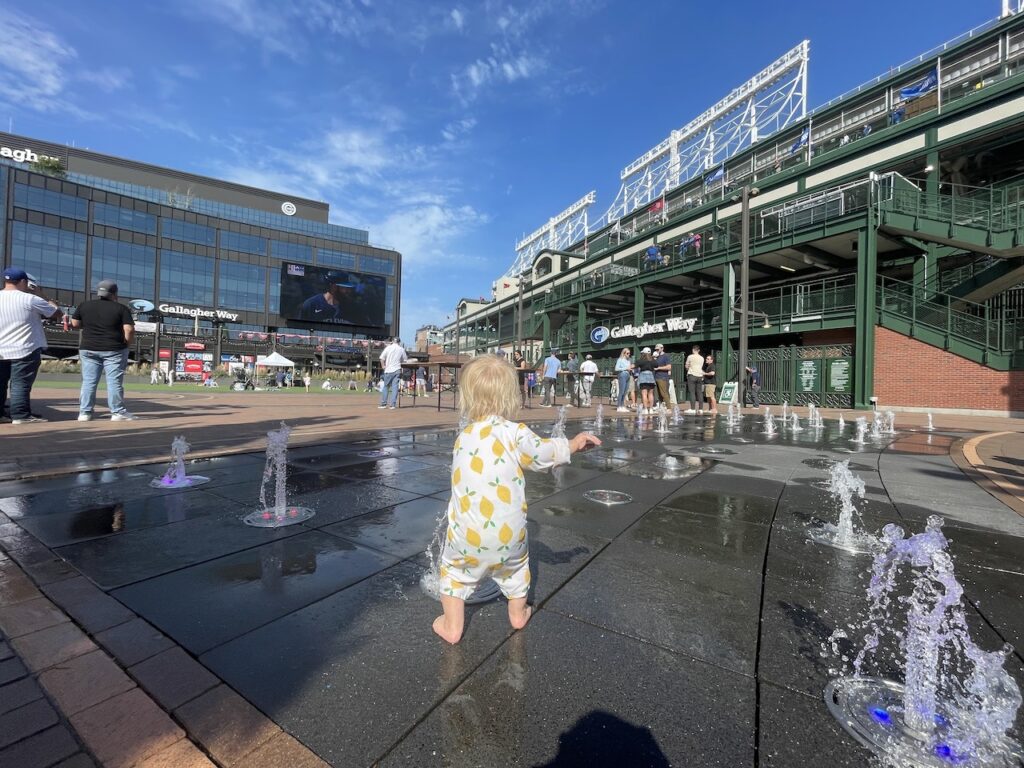 There are concession stands and bathrooms with changing tables located on all levels near all sections of the stadium. These are all clearly labeled inside the stadium. There are also five family restrooms with changing tables, two in the main concourse, 2 in the 300 level, and one in the bleachers.
Many child and baby services can be found at first aid. The first aid station at Wrigley Field is located on the main concourse, just inside Marquee Gate, on the first base side.
As we talk through more of these services in detail throughout this post, we'll reference specific gates, streets and other locations. The map below highlights some of those key locations.
A few quick tips for using this map.
To view the map in Google Maps, click the expand icon on the top right corner or click the link here.
Click the star icon near the map title to save the map to your Google account for later.
To access the map again (say, when you're at Wrigley Field), open Google Maps app > click the Saved tab > click Maps.
Tickets for Children at Chicago Cubs Games
Children age 2 and under do not need their own ticket for Chicago Cubs games. If the child does not have a ticket, they will not get their own seat and must sit on the lap of their parent or guardian in the adult's assigned seat.
If you have a child 2 or under who can sit on their own and wants or needs their own seat, you will need to purchase a full-price ticket for the child. All children 3 and older will need a full-price ticket. There is no discounted pricing for kids tickets to Cubs games.
We personally did not buy a separate ticket for our child when they were in the10 – 13 month range and it worked out fine. At this age, they were mobile, but could easily be contained. We'd sit for a couple innings and then take a walk and let them get the wiggles out.
Things get trickier the older and wilder kids get. I'm sure there are 18-month-olds who can sit sweetly on their parent's lap, but mine is not one of them. At this age, our kid has two speeds: 100% firing on all cylinders and asleep.
If you have a kid who is close to two and you have the funds, buying an extra ticket for the child would make things more comfortable, but it's certainly not required. Personally, I think we'd still save the money, skip buying the extra seat and plan to just spend more of our time outside of our seats.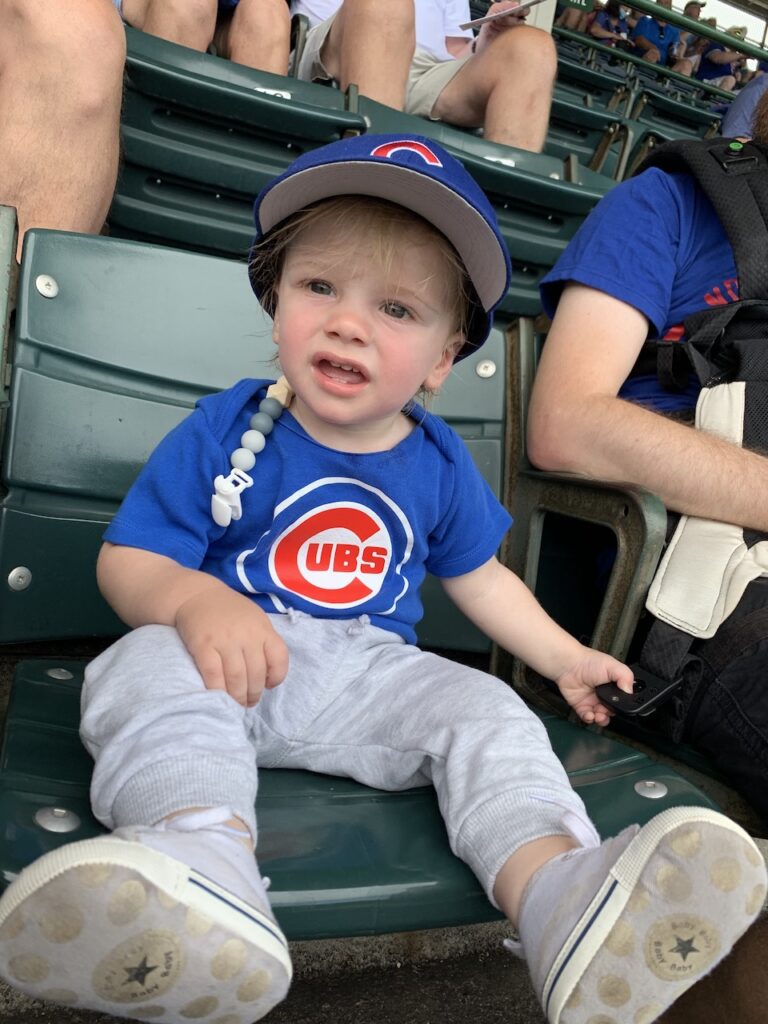 How to Buy Tickets
The most straightforward way to buy single game Cubs tickets in advance is from the MLB website here (powered by Tickets.com). If you're booking weeks or months in advance, this is the best place to start.
You can search by seating section or price range. All tickets are subject to a 12% "City and County Amusement Tax," a $5.75 per ticket "Ticket Fee" and an "Order Processing Fee" of $4.50 for each order. You will need to have or create a MLB Account in order to complete your purchase.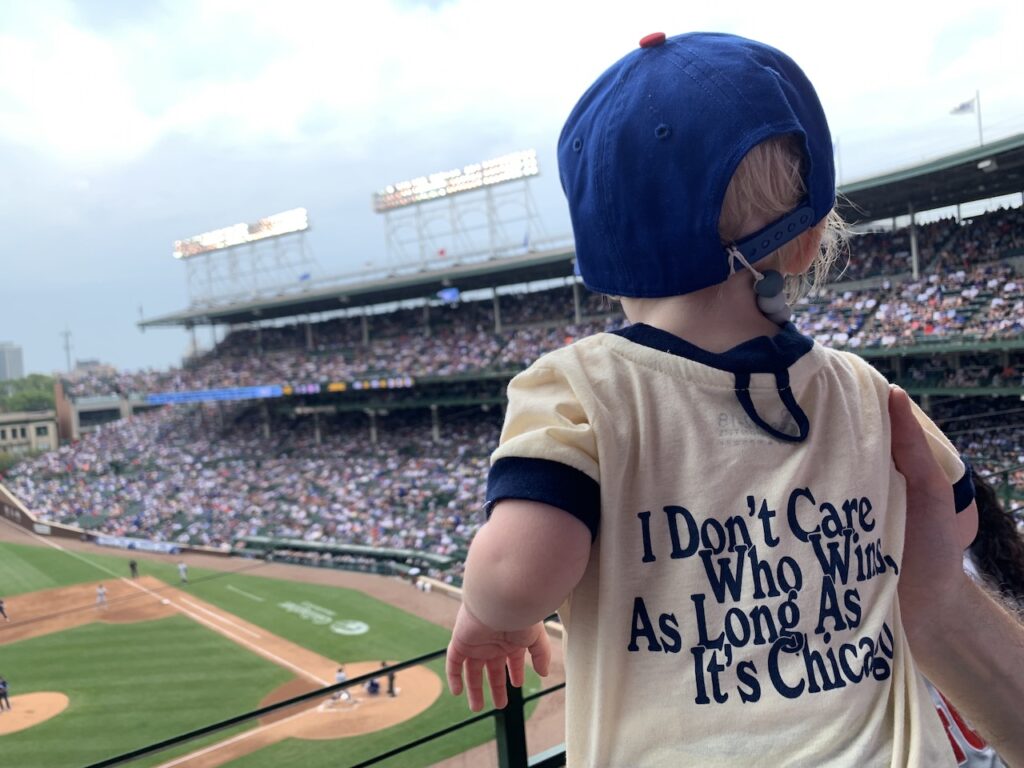 If you're booking closer to or on game day, the MLB site likely won't have the best selection or lowest prices. For last minute tickets, check StubHub which is the official ticket reseller supported by the Chicago Cubs.
Be sure to use the "Instant Delivery" filter to avoid any delays getting your tickets. StubHub tickets are all subject to a service fee (which is not a set percentage and can vary but is typically between 20-25%) and a small fulfillment fee ($2 per ticket).
Tickets are also available on other third-party sites, such as Ticketmaster, Vivid Seats, SeatGeak, etc. Always be sure to verify the authenticity and review guarantees available when buying tickets from other sites. In most cases these are legit, but since they aren't directly associated with the MLB, you want to be careful.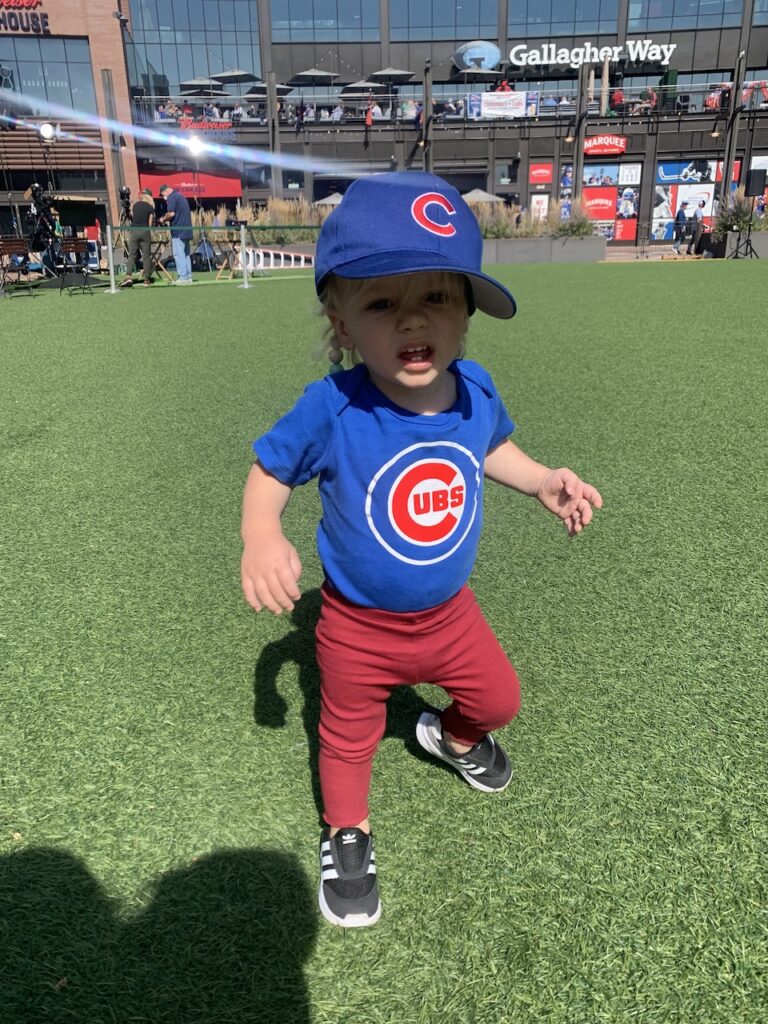 Special Ticket Offers & Promotions
If you're flexible on dates, be sure to check the Chicago Cubs website before you buy your tickets. There are a few different types of promotions available throughout the year.
First, check to see if there are any seasonal sales going on. For example, in 2022, the Chicago Cubs have a School Night Special. If you buy a ticket for select weeknight games, you'll get a free hot dog and non-alcoholic drink.
The Chicago Cubs also have special themed nights. These events range from school pride (University of Illinois Night), to fandoms (Stranger Things Night), to worker appreciation (Teacher Appreciation Night). Tickets purchased for these themed nights come with a free gift, like a hat or shirt.
For these events, you need to purchase your ticket through the Special Ticket Offers page to be eligible to receive the gift. Items are typically distributed in Gallagher Way (adjacent to the stadium) before the game, but follow the instructions with your ticket for specific details.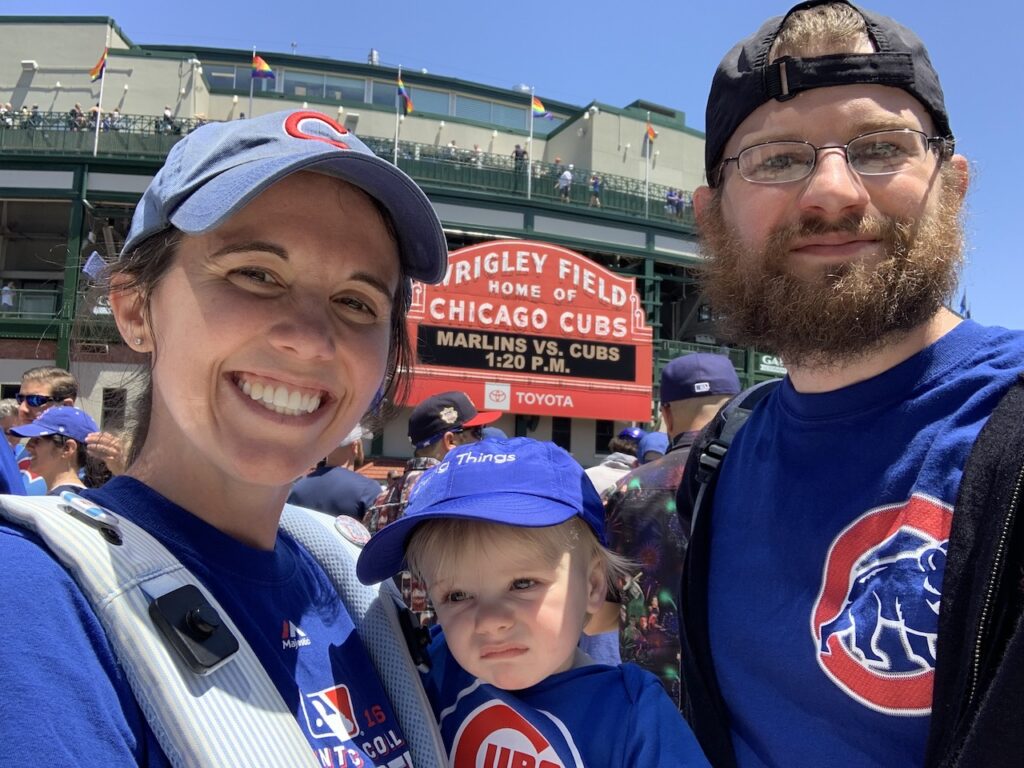 Lastly, there are a handful of games throughout the season where free promotional items are given out on a first-come-first-serve basis. These items range from hats to shirts to bobbleheads. You can review the Cubs Promotional Schedule here, which notes the free item as well as how many are available. (Note: some are reserved for bleachers ticket holders or guests over 21 only.)
There is no special ticket or action required for these promotional items. If you have a ticket for the game on a day they're giving something out, you'll get the free item if you arrive before they run out. Items are typically distributed at the gate after you scan your ticket.
It's important to note that all of these promotions are 1:1 with a ticket purchase. If you purchase one ticket and are bringing your child under 2 without a paid ticket, you will only receive one promotional item. The child will not get their own promotional item unless they have purchased their own ticket.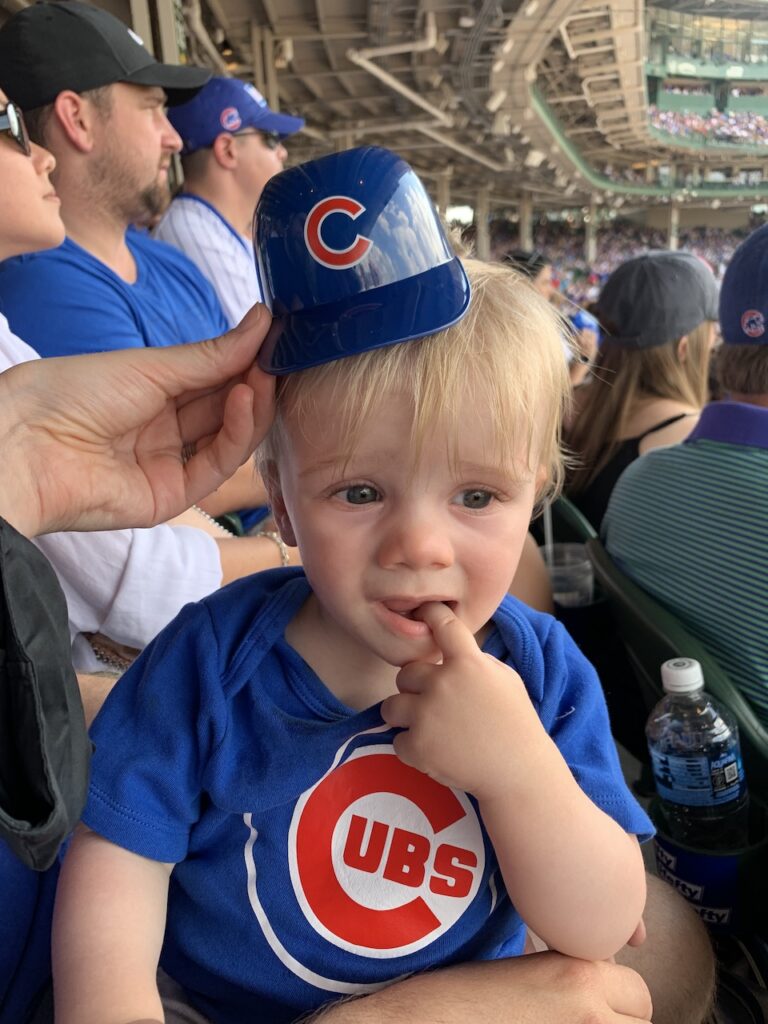 Suites and Premier Clubs
If you're feeling boujie or work in a field that comes with a lot of wining and dining, you might have the opportunity to bring your child to a suite or premiere club at Wrigley Field.
Suites are private rooms and seats, purchased as a full package by a single party (often by businesses for clients or staff). Premier Clubs are similar but larger shared spaces, and anyone can purchase a ticket (if available) for a specific club. Think of suites as a private jet and premier clubs as flying first class.
Children of all ages are allowed in suites and premier clubs, assuming they were invited and with an adult. Children under 2 will not need a separate ticket to enter the suite. Any child 2 and over will need their own ticket for the specific suite or premier club.
Where to Sit with a Baby at Wrigley Field
When choosing your seat, there are a variety of factors that might influence your selection. Here are a few things to consider when picking where to sit with a baby at Wrigley Field.
Price: This is the most obvious factor. Tickets can range from $20 up to hundreds of dollars. Filter by your price range first and then consider some of these additional factors.
View: Most of the views at Wrigley Field are great, but some seats have obstructed views by poles or overhangs. You can check the view from every single seat using the Wrigley Field 3D Seat Map. If you are buying your ticket on StubHub, you can cross-reference the view listed on StubHub with the Wrigley Field map.
Overhead Coverage: Wrigley Field is a fully outdoor stadium, but some seats are covered from the sun and wind and some aren't. Finding a covered seat isn't an exact science, with sun placement and wind changing things by the day. The Wrigley Field 3D Seat Map should give you a general idea though.
Aisle: With a baby, we recommend the aisle seat whenever possible.It's easier to come and go as frequently as you wish for diaper changes, snacks or walks. Sometimes it's more expensive, but worth it if you can afford it and it's available.
Row in Section: The front row in each section has a bit more leg room, which can be nice if you have a standing child. However, in many cases the front row also has a ledge that drops a few feet to the walkway in front, which can actually make this row worse for a baby.
Bathrooms: There are bathrooms on all levels of Wrigley field so you should never be too far from one. However, there are only 5 family bathrooms (locations listed below). If this is important to you, you may want to sit near these sections.
Elevators: There are 7 elevators at Wrigley field which can be utilized by any guest. They are located fairly close to each gate. You can access every upper section via an elevator, but not every elevator goes to every section. Review the Elevator section of the Wrigley Field Accessibility Guide for details.
Alcohol: There's going to be people drinking alcohol in all sections at all games at Wrigley Field. However, the Budweiser Bleachers tend to be a rowdier section. This might be a section to avoid with young kids. Speaking of bleachers …
Bleachers: Between the wilder crowd and the open seating, I would avoid the bleachers on nights and weekends with a young child. If you're coming on a weekday during the day and find a seat near the back of the section, you might get lucky and have some extra space and enjoy a nice relaxing time. It's a gamble though.
Our Recommendation
If you're planning on only one game during the season, we'd recommend spending a bit more for better seats. In an ideal scenario, we'd suggest an aisle seat in the 100 level sections.
If it is cold, try to find a sunny spot, likely in the 123 – 134 sections. If it is hot, try to find some shade, maybe in the back of the 111 – 105 sections or in the 200 level. (This sun estimate is general and will vary based on day of the year and time of the game.)
For our child's first game at 10 months old, we opted for an aisle seat in section 226. For us, an aisle seat that we expected to be covered (it was) was the best option. We also prioritized being in the lower tier of seats so that we could easily move between our seats and Gallagher Way without going up and down the ramps.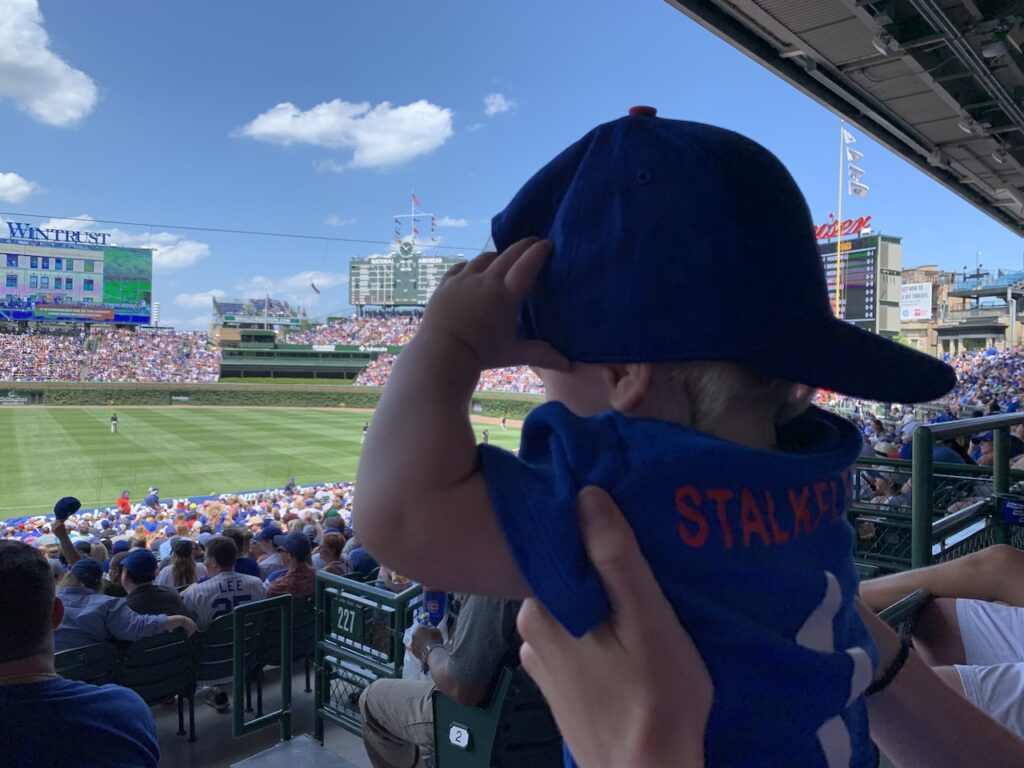 If you plan to go to several games throughout the summer, we wouldn't fork up the money for 100 level each time. We'd recommend 200-300 level seats which give you a great view at a lower price. Still spring for the aisle seat if it's available. If you plan on spending time in Gallagher Way, we'd recommend seats along the 3rd base line which is closest to the Gallagher Way entrance.
Personally, we had shared season tickets in section 311L and it was perfect. It was usually shaded at the start of an afternoon game, but sunny by the first couple innings. The concession stand nearby has a small patio that overlooks Gallagher Way, making it the perfect place to hang out with a little one before the game starts.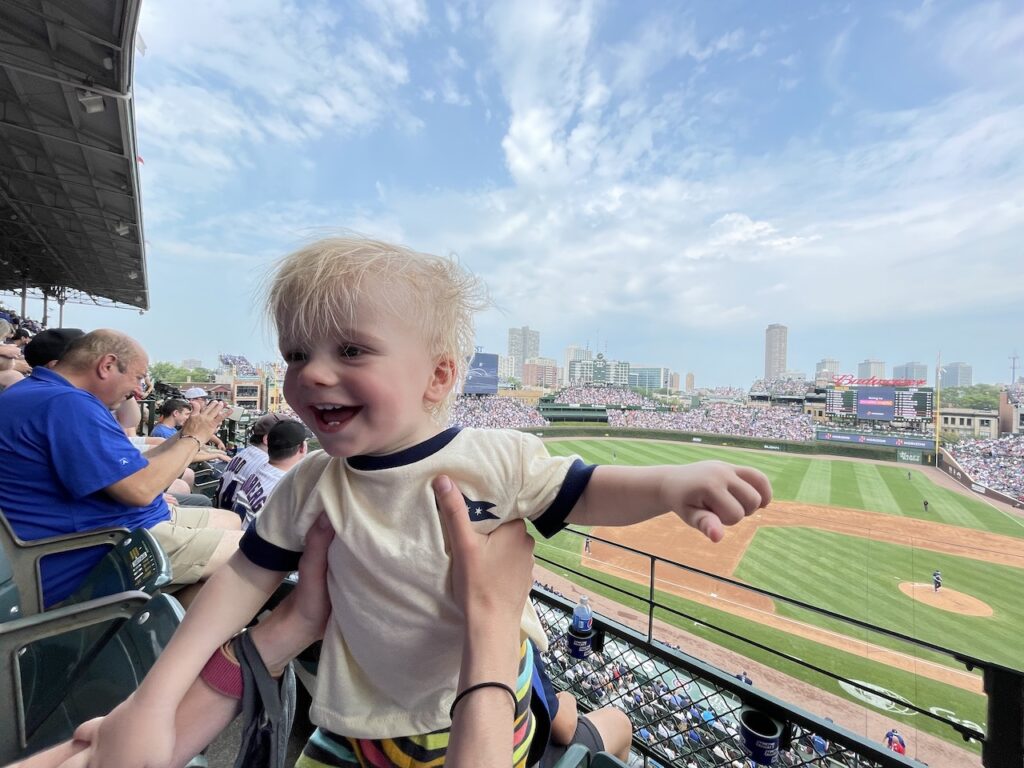 Bag, Diaper Bag & Stroller Rules at Wrigley Field
Bags larger than 9×5″ are not generally allowed, however diaper bags are allowed at Wrigley Field for parents and guardians entering with small children. Diaper bags will need to be searched and tagged upon entry to the stadium.
You can enter at any gate with your child and tell the person scanning your ticket that your bag is a diaper bag. They will send you through a security check, search your bag and tag it with a paper wristband. There is no separate queue or gate for diaper bag checks and it should take just a few extra minutes when you arrive.
To the best of our knowledge, there are no rules around the type or size of diaper bag that you can bring. We brought this diaper bag which is a pretty common diaper bag size and style and never had issues bringing it in.
(NOTE: We do not actually recommend this diaper bag. The closure is really annoying. I just wanted to share the link for context on size and style.)
Large strollers are not allowed at Cubs games. The only strollers allowed inside Wrigley Field are small umbrella style strollers that fold and fit under the seat in front of you. Something like this.
All other strollers must be checked at Bike Valet Services. The bike valet is located beneath the CTA Red Line train stop. It's free to check your stroller with the bike valet and there is an attendant on duty at all times. The valet opens 3 hours before the game's scheduled start and closes 1 hour after the game ends.
We recommend a baby carrier for getting a baby to and around Wrigley Field. The Nuna CUDL baby carrier and Sakura Bloom Onbuhimo are two of our favorites.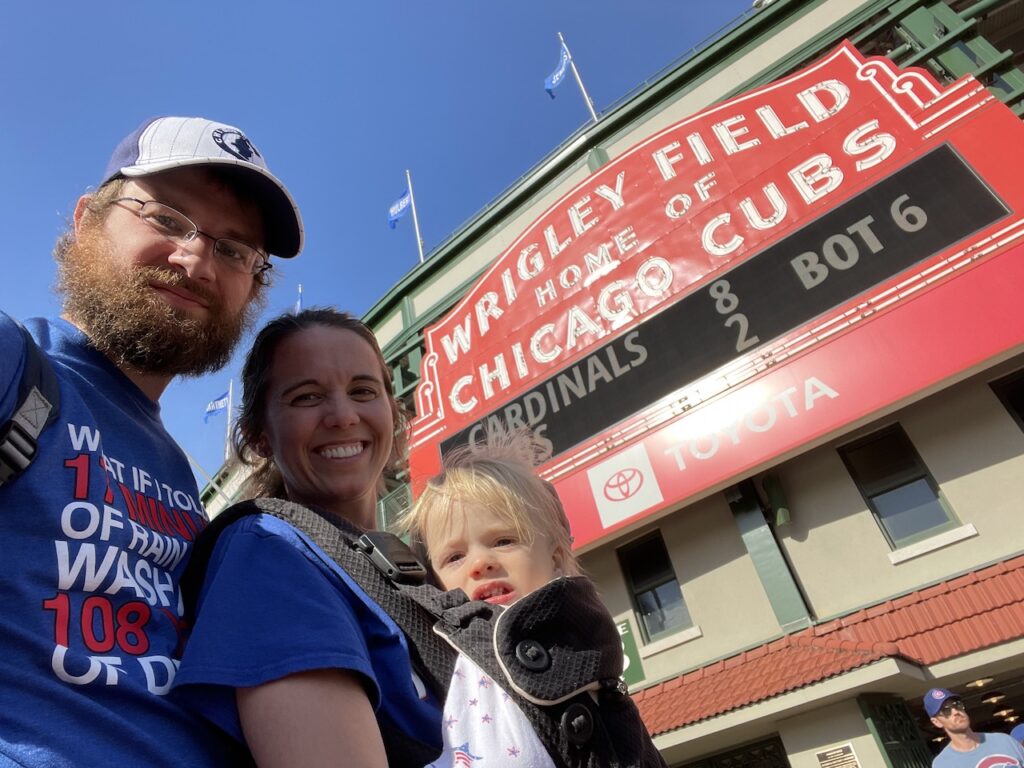 Baby Care at Wrigley Field
Going anywhere with a baby usually requires figuring out eating, diaper changes and sometimes sleeping in a new location. This can be stressful if you don't know what to expect or where to go. Fortunately, Wrigley Field makes most of these things manageable.
In this section, we'll make sure you are crystal clear on all of the baby services available at Wrigley Field.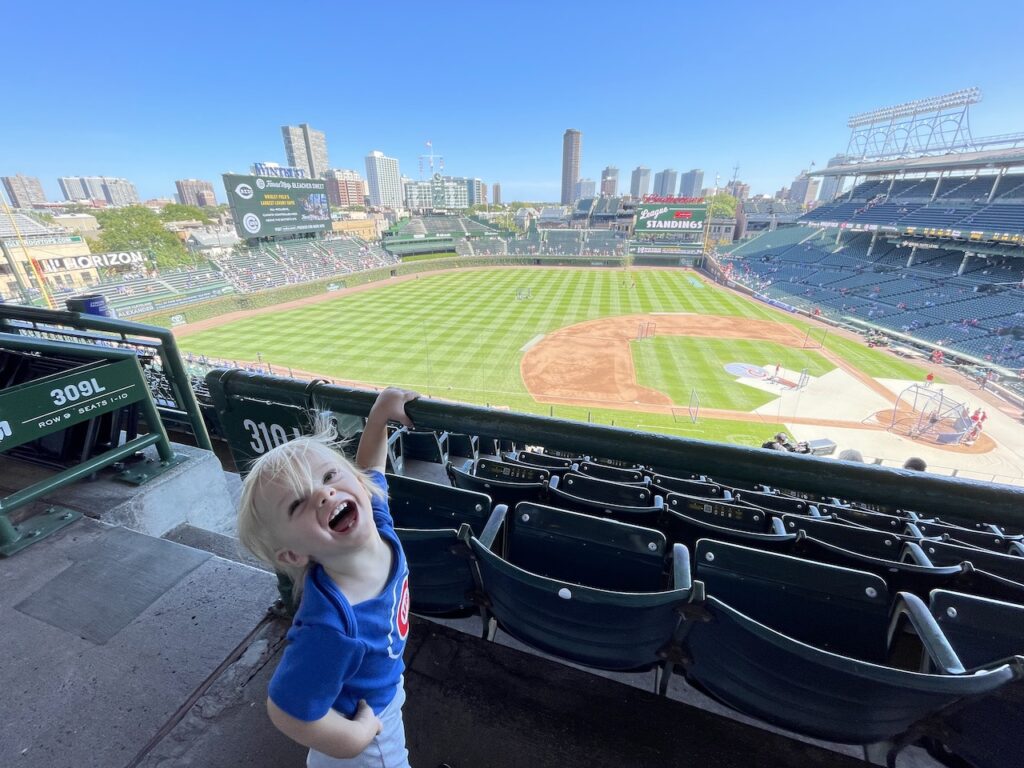 Bathrooms & Diaper Changing
There are bathrooms located throughout all main concourses at Wrigley Field, so you should have no trouble finding one near your seat. The lines for the bathrooms are often very long, but don't be stressed by a line well out the door. The bathrooms at Wrigley are staffed with attendants during busy times and the lines move quite fast.
Most men's & women's restrooms are equipped with diaper changing tables. This includes all of the large restroom facilities in the main concourses. In my experience, the attendant saw me with a baby and immediately directed me to an available accessible stall equipped with a changing table without even asking.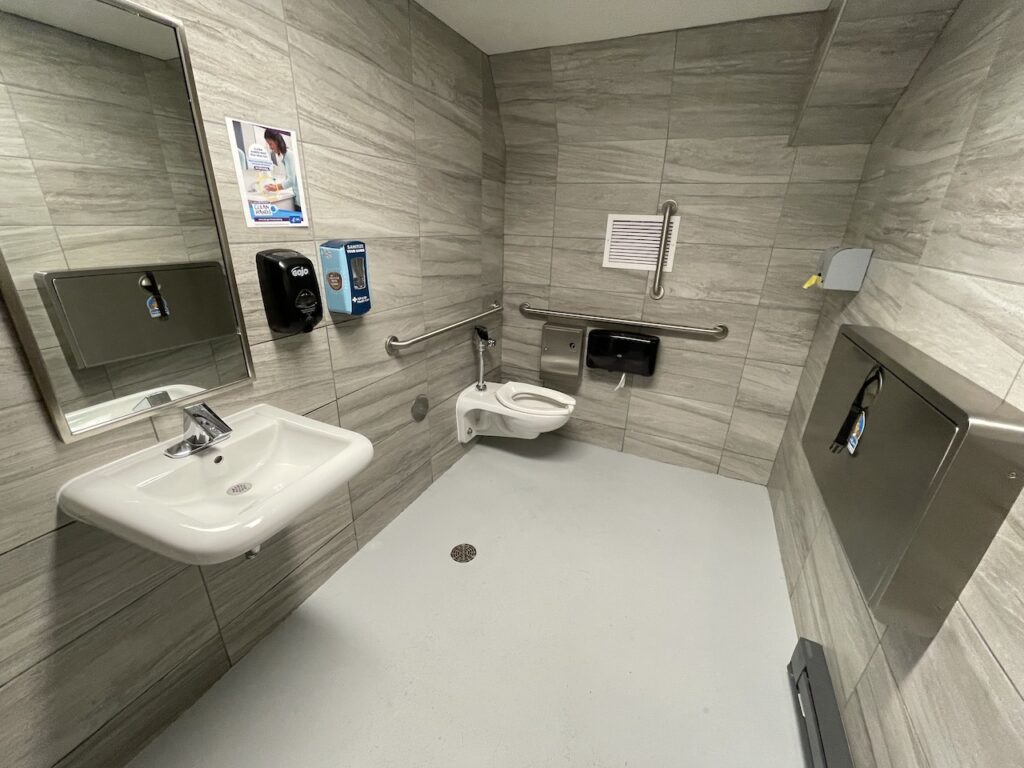 There are also 5 family restrooms in the concourses near sections 113, 128, 307L & 326R and the Budweiser Bleachers. Each family restroom is equipped with a diaper changing table. In our experience, the line for these family restrooms were quite long and moved very slow.
As a final option, the first aid station is equipped with a family bathroom and baby diaper changing tables. First aid is located behind home plate on the first floor of the main concourse near Marquee Gate.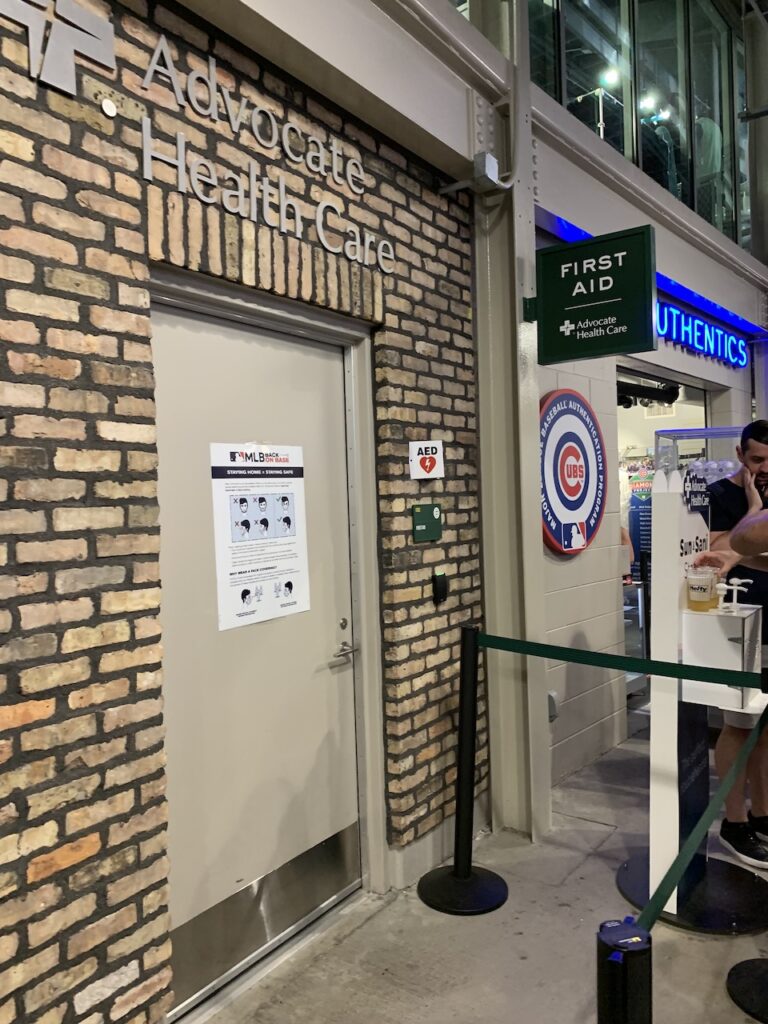 Napping
Most babies under two will end up having to nap either during the game or shortly before or after. Depending on your child's ability to nap on the go, you may or may not be able to secure a good nap at the stadium.
Kids who can nap in a carrier or in their parents arms will fare best. Our baby took many naps inside and around Wrigley Field between the ages of 10 – 13 months primarily in the Nuna CUDL baby carrier. We used the Colugo baby carrier early on as well. (We have a separate post dedicated to baby wearing for travel and our favorite baby carriers if you're looking for more info and tips on baby wearing.)
If your kid can sleep in a carrier, strap them in and head to the upper concourses. These walkways are among the quietest spaces in the stadium and are usually shaded and cool. Gallagher Way is another good option. Find a corner of the park away from playing kids and play a lullaby or white noise on your phone.
If it's hot, stick to shaded areas and keep baby covered. Most carriers have a sun shade, but a muslin blanket works fine, too. It's also a good idea to bring a small fan to keep baby cool and help with white noise. If you have a very young baby who can sleep in your arms, you can also sit in the air conditioned mother's room in first aid while baby naps.
Another good option is taking naps outside of the stadium before or after the game, even if it means arriving late or leaving early. Once our little one was on a two-nap schedule, the 1 PM games were perfect. We'd do one nap on the train on the way there, watch the game for a bit, and then do our second nap in the carrier as we walked home.
As our child approaches two, carrier naps are getting heavier and less appealing. We recommend a carrier that allows you to sit down without waking up your child. For that, we recommend the Sakura Bloom Onbuhimo carrier in the front wear position. It sits high above the wearer's waist, so the baby's positioning doesn't shift much when the wearer sits down.
If your child can only nap in a stroller, car seat, or crib, it might be hard to make a nap work at Wrigley. These items are not allowed inside Wrigley, with the exception of a small umbrella style stroller that can fold and fit under your seat. In this case, we'd recommend getting your nap outside of the stadium, whether that's in a stroller before/after you check it or back at home/wherever you're staying.
Feeding & Nursing
The state of Illinois requires that mothers be allowed to breastfeed in any public or private place they're allowed to be. As a ticket holder, you're allowed to be at Wrigley Field and therefore you can legally breastfeed anywhere inside Wrigley Field.
You are absolutely welcome to nurse in your seat. I've done this and had absolutely no negative comments or interactions with any fans or employees. However, it was not super pleasant. Between the narrow seats and the metal arm rests, it was difficult to find a comfortable position for mom and baby.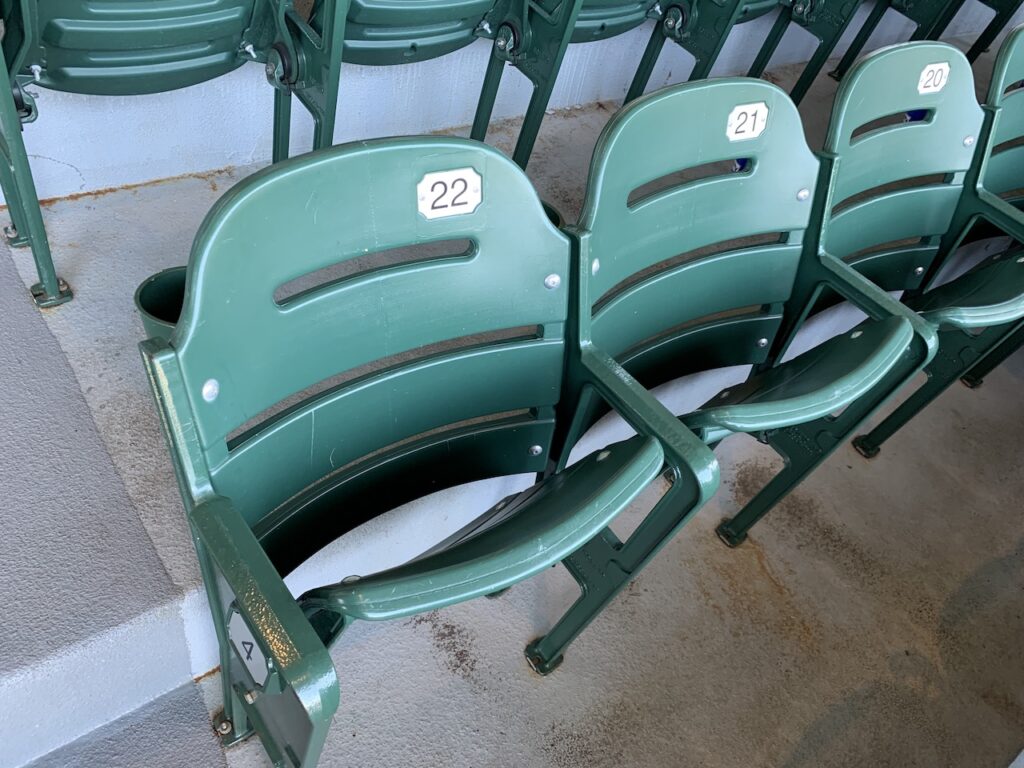 So if you're looking for a more comfortable place to nurse your child, Wrigley Field has two dedicated locations for nursing mothers.
Private Nursing Pod
The first option is a private Mamava nursing pod. This pod, similar to what you might find at many major airports, offers fully private nursing space for one mother at a time.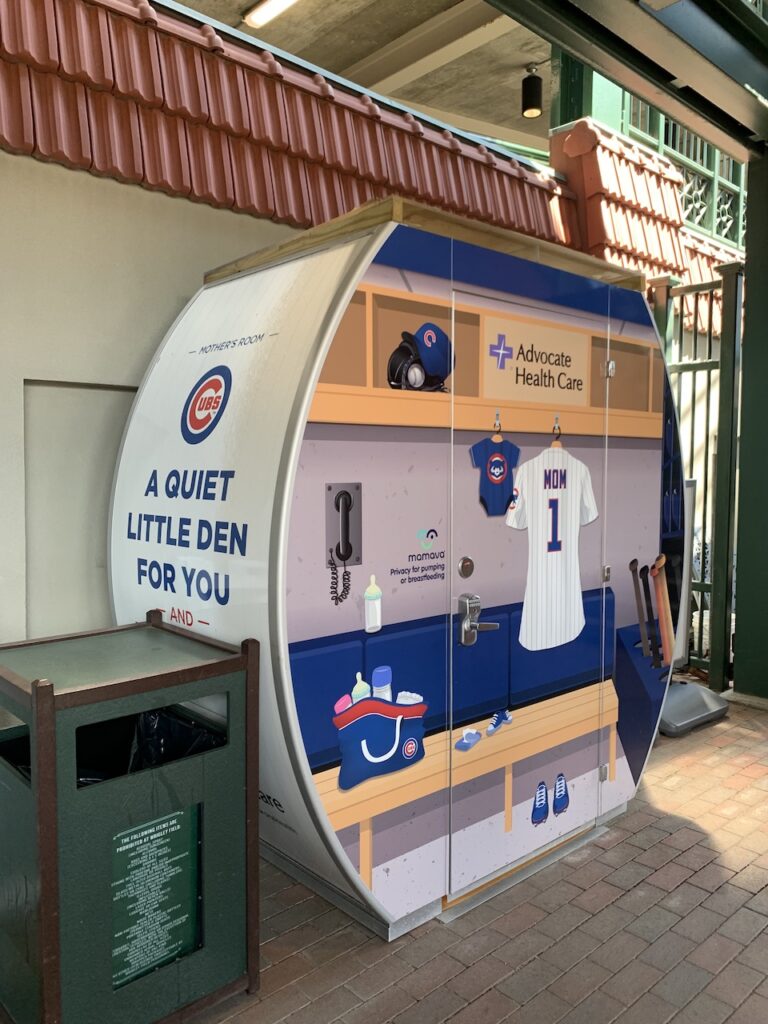 The pod is equipped with bench seating, hand sanitizer, and disinfecting surface spray. There is an outlet inside as well for mothers looking to use a breast pump. It is temperature controlled with a small air conditioner unit.
The pod is located just inside Gallagher Way Gate by the entrance to Gallagher Way park. It's a little hidden if you don't know to look for it. When you turn off the main concourse toward the park, stay inside the gate and turn left before scanning out of the stadium and into the park.
As of 2021, Wrigley Field only has one pod available. Because of the wide range in nursing times, even a short line may mean you have to wait for a significant amount of time for the pod to be available.
Also, in my experience, the pod has been locked even when it's not in use. I have had to ask the nearby ticket checkers for access, and then they had to ask for someone else to get the key. It was all a bit clunky to me.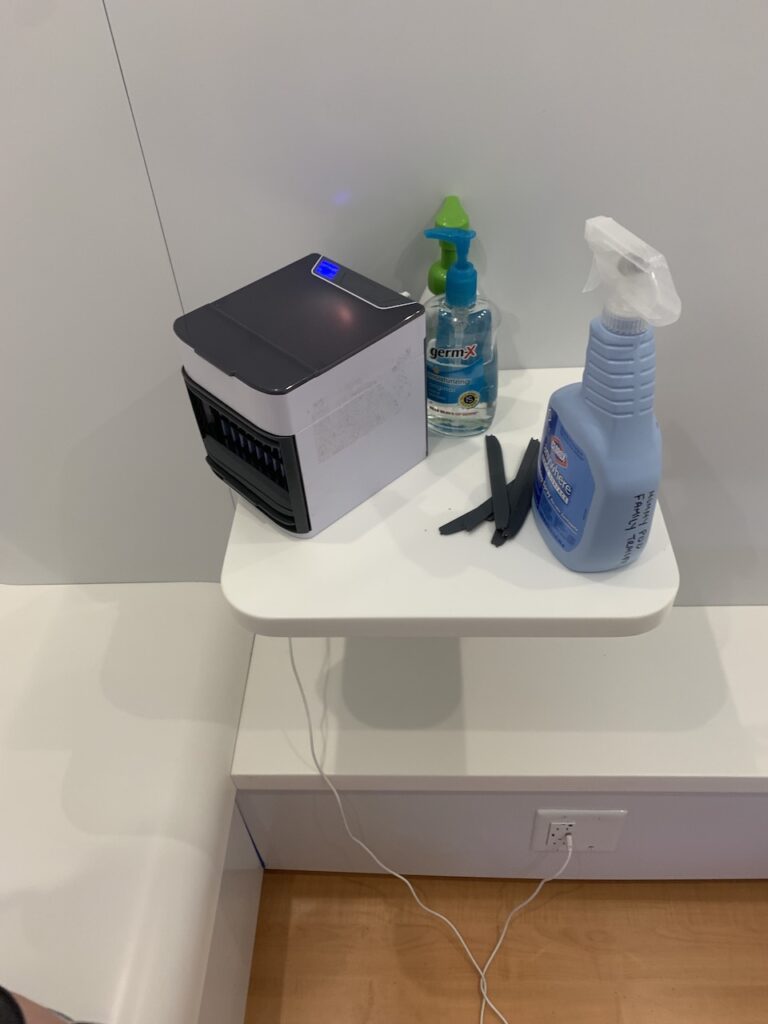 Semi-Private Nursing Room at First Aid
There is a nursing mothers room located in the first aid station. You can find first aid behind home plate on the first floor of the main concourse near Marquee Gate. When you walk into first aid, ask the attendant for the nursing mothers' room and they will show you to the room.
The air-conditioned room is equipped with 3 sofa chairs, a sink, hand sanitizer, and outlets. It also has a TV broadcasting the game so you won't miss a moment of the game. The room is first come, first served and accommodates up to 3 mothers at a time. I arrived 1 hour into the game and was the only person in the room for the 15 minutes I was in there.
This nursing room was great, and I personally found it to be the best option for nursing at Wrigley Field. I was surprised that it was not more commonly suggested by Wrigley Field staff. I asked four different guest services employees for instructions to the nursing pod and no one mentioned this option to me. It wasn't until I waited for 15 minutes in the pod line that a member of their medical staff approached me and walked me to first aid. I am so grateful for her because it truly felt like a luxurious hidden gem.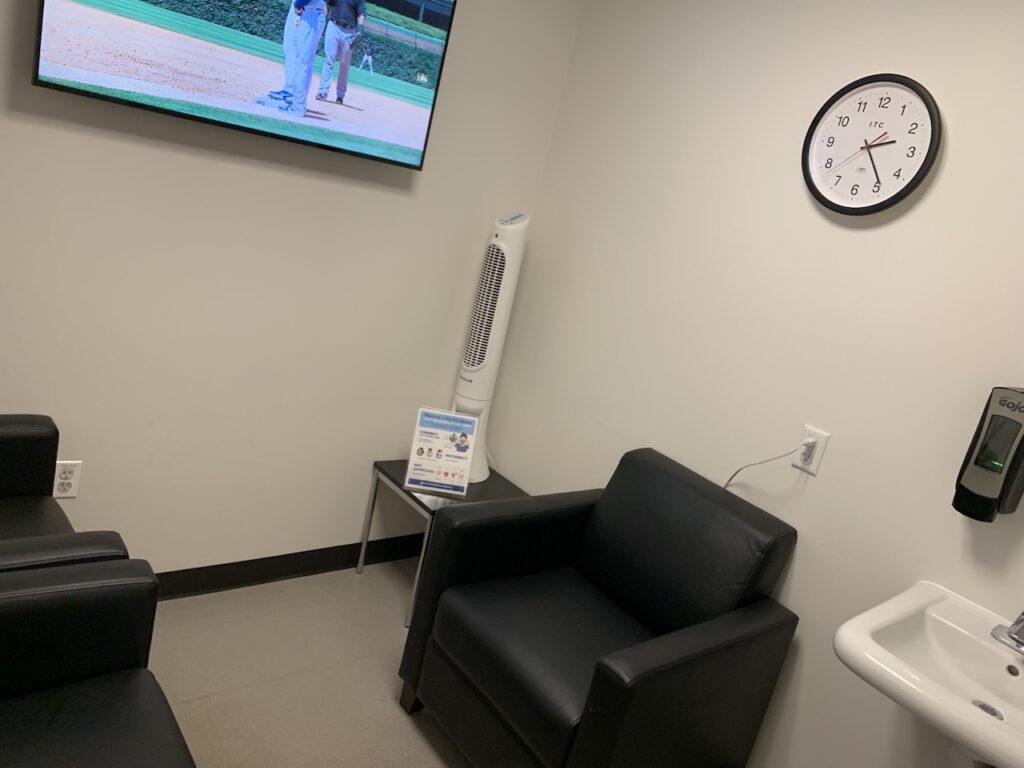 Public Breastfeeding at Wrigley Field
If you don't want to go out of your way to nurse in one of the two designated locations listed above, you're allowed to breastfeed anywhere in Wrigley Field. Your seat is an obvious and easy option, but as I said, the seats are cramped and the metal armrests are poorly placed for nursing.
A great place to nurse at Wrigley Field is in Gallagher Way park. There is ample seating in the form of short bleachers, chairs, benches and a wide swath of open grass space. You'll have plenty of options for you and baby to get comfy and enjoy a nice meal.
Solid Food for toddlers at Wrigley Field
If you have a child who is eating solids, you might be looking for kid friendly foods at Wrigley Field.
Let's start by saying that if you're looking for healthy food for a child under two, bring your own. As a parent with a child, you're allowed to bring a diaper bag. Fill it up with foods you know your child will eat.
For us, this meant fruit and veggie pouches and puffs for our one year old. With an older kid, Uncrustables, mandarine oranges, cheese sticks, goldfish, yogurt tubes and M&Ms are our go-to travel snacks. We also always bring their sippy cup with water or milk.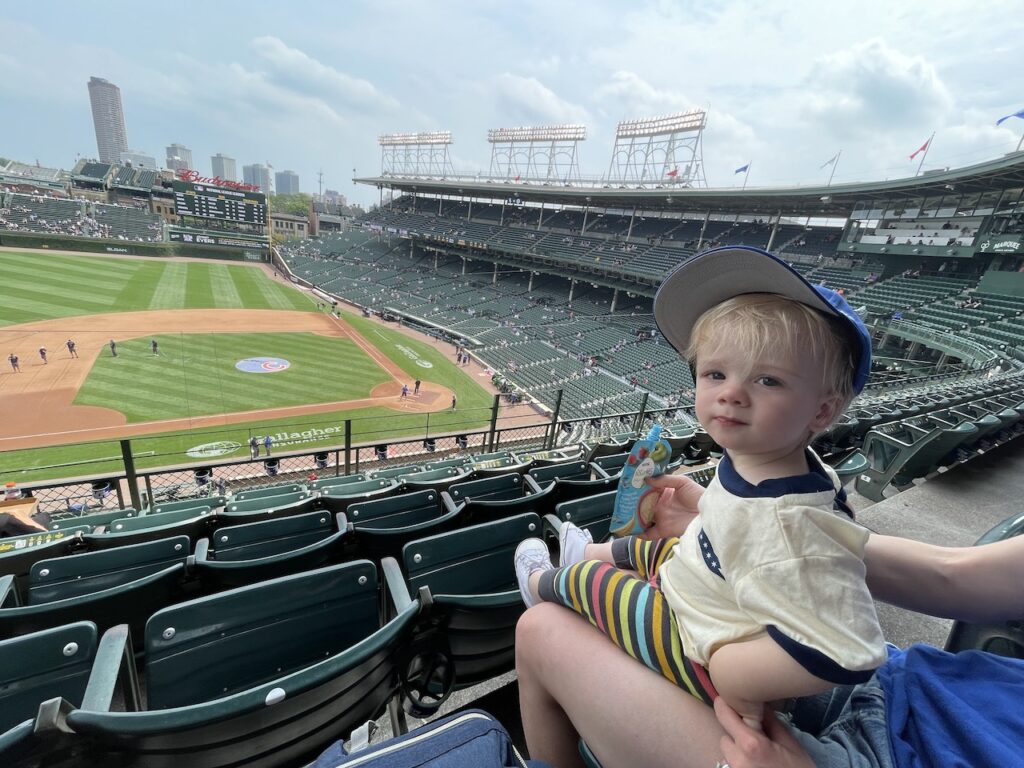 If you're looking to buy food at the stadium, you have a few options. Fortunately one of the most iconic Chicago food items just so happens to be a kids favorite: a hot dog! At 11 months, our child went to town on their first (veggie) hot dog with all the fixin's!
You can order plain hot dogs at a just about every concession stand or you can get a Chicago style dog at Chicago Dogs (sections 108, 115, 119, Upper Bleachers Platform 14) or Vienna Beef Grill (section 131). They also have vegetarian hot dogs at Chicago Dogs (sections 108, 115, 119) and Vienna Beef Grill (section 131) and gluten free hot dogs at Classics locations (sections 105, 110, 123, 128, 309, 324).
There's also a kids meal available. The Cubs Kids Meal can be found at Classics locations (sections 105, 128, 309 & 324).
Other available kid-friendly (though not exactly healthy) foods available at Wrigley Field include: chicken tenders, cheeseburgers, french fries, frozen treats, pizza, and soft pretzels.
Dealing with Noise at Wrigley Field
The noise at a baseball game can be concerning for parents, especially parents of very small babies. Before we say anything else, let's clarify that we are not doctors and this section is not medical advise. Please consult a physician for more information about safe sound levels for your child.
A Cubs game at Wrigley Field is loud. There is music playing, announcements blasting over the speakers, fans cheering and more. There are a few ways to help combat the noise if your child is sensitive to sound or if you want to provide an extra level of protection.
One option is to create a physical barrier in the form of noise-cancelling headphones. If you don't have your own pair, Wrigley Field has a limited number of noise-cancelling headphones available for guests to use.
Rental noise-cancelling headphones are available at the Fan Services Booth, which is located on the main concourse behind home plate. To rent a pair, you'll just need to fill out a form and leave behind your ID. Headphones are first-come-first-serve and are available for anyone until they run out.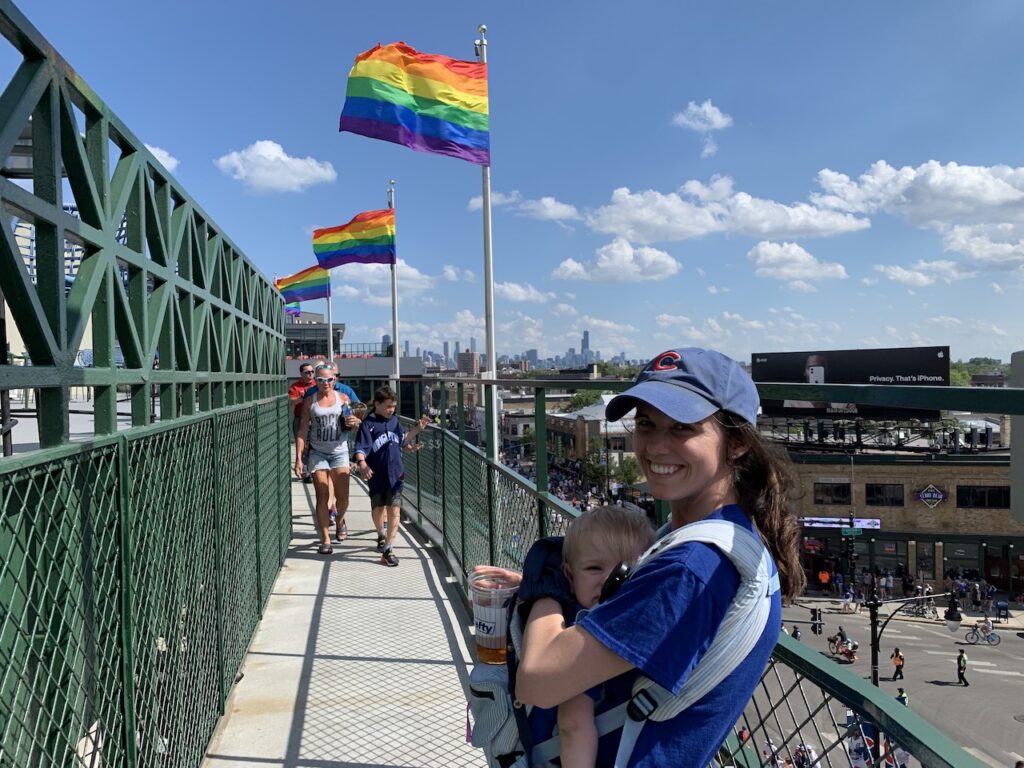 Alternatively, you can seek out quieter spaces. There are very few actually quiet spaces inside the stadium, but we've found the concourses on the upper levels to be the quietest. Gallagher Way is another good place to escape the noise at Wrigley. It's still loud with children screaming and they do broadcast the game, but it's not as piercingly loud as inside the stadium.
Our child handled the noise pretty well. At their first game, the national anthem was played on a saxophone and that was tough because it was so loud and high pitched. The rest of the noise of the game didn't seem to bother them too much. I think We only spend about three innings in the stadium and then head to the park, so we're not subjecting them to seven innings of noise.
Fun Things to do with a Baby at a Cubs Game
Wrigley Field may not have batting cages and playgrounds like some other stadiums, but it will absolutely be plenty of fun for kids. Here are a few things you'll want to be sure to do with a baby at Wrigley Field.
First Visit certificate
This is a must! If it's your child's first visit to Wrigley Field (or yours!), be sure to pick up a free First Visit certificate from the First Timers booth.
The certificate notes the date and opponent for the game, and can be customized with your name in permanent marker. The certificate comes with a plastic bag to keep it clean during the game. We suggest doing this first as the booth is usually not open the entire game.
You can find the First Timers booth just inside Marquee Gate.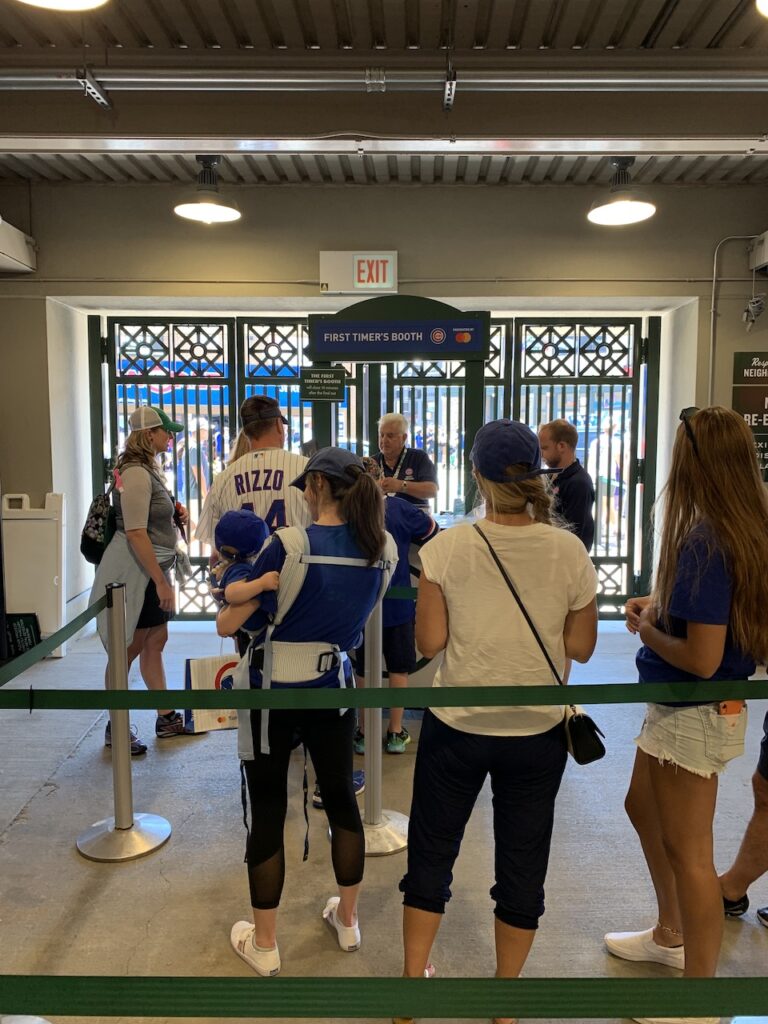 Gallagher Way
Gallagher Way is a small park adjacent to Wrigley Field. Access to the park is limited to ticket holders on game days, which helps keep crowds low.
The park has an open grassy area and a splash pad, making it fun for kids of all ages. The game is broadcast on a large TV in the park, so parents love it, too. Food and drinks (including alcohol) are available for purchase inside the park, and seating and tables are available.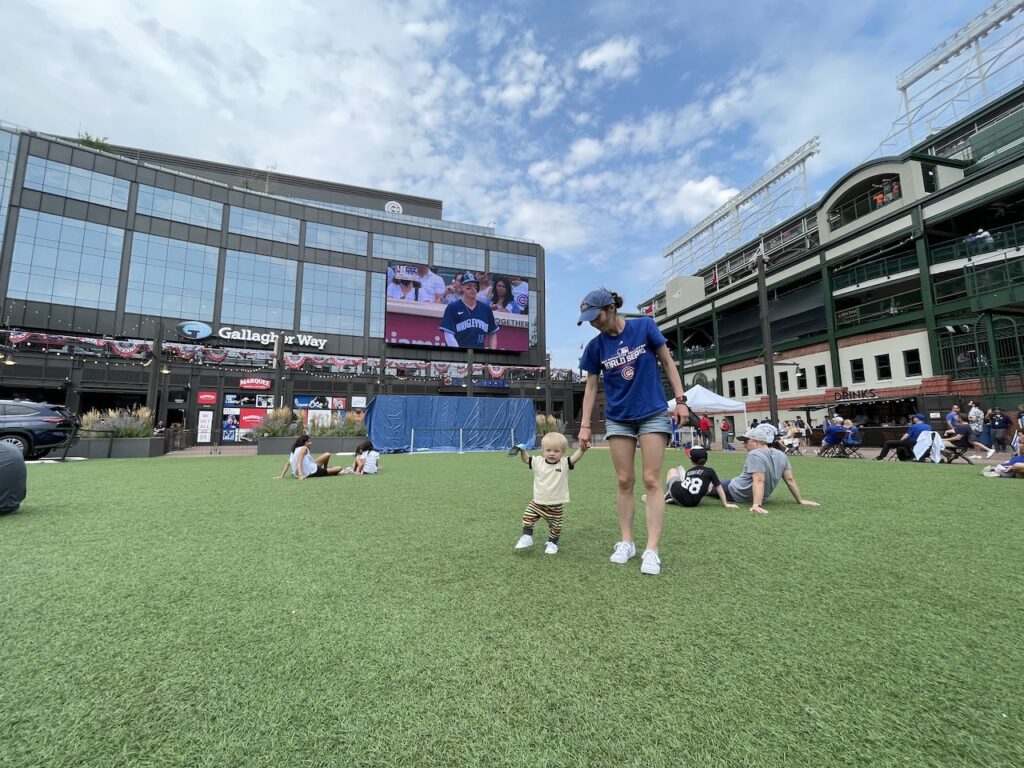 You cannot bring alcohol between the park and the stadium. You can purchase and consume alcohol in both locations, but it must be consumed in the same location it was purchased. Moving snacks and food between locations is allowed.
If you want to enter the park before the game begins, you must enter the stadium at Gallagher Way Gate. You cannot enter the park from the stadium before the game begins.
After the game has begun, you can move back and forth between Gallagher Way and the stadium as often as you like. You'll need to scan your ticket to exit the stadium and enter the park, and vice versa. However, if you completely exit the park or the stadium, you may not reenter either.
Gallagher Way is one of our favorite additions to Wrigley Field. We often spend about half the game there. It's a good time to get out of our seats, eat some lunch, and let the kiddo play.
Baseball Helmet Ice Cream
This classic ballpark dessert is somewhat of a right of passage. A serving of soft serve comes inside a small, plastic bowl that's shaped like a Cubs baseball helmet. Dessert + a toy = ultimate children's treat.
In 2021, Wrigley Field changed their primary soft serve offering to a vegan Oatly oat milk soft serve that comes in chocolate, vanilla and swirl. We found the texture of the dairy-free version to be almost identical to a dairy-based soft serve, but the oat flavor was noticeable and it did melt a little faster than the traditional dairy version.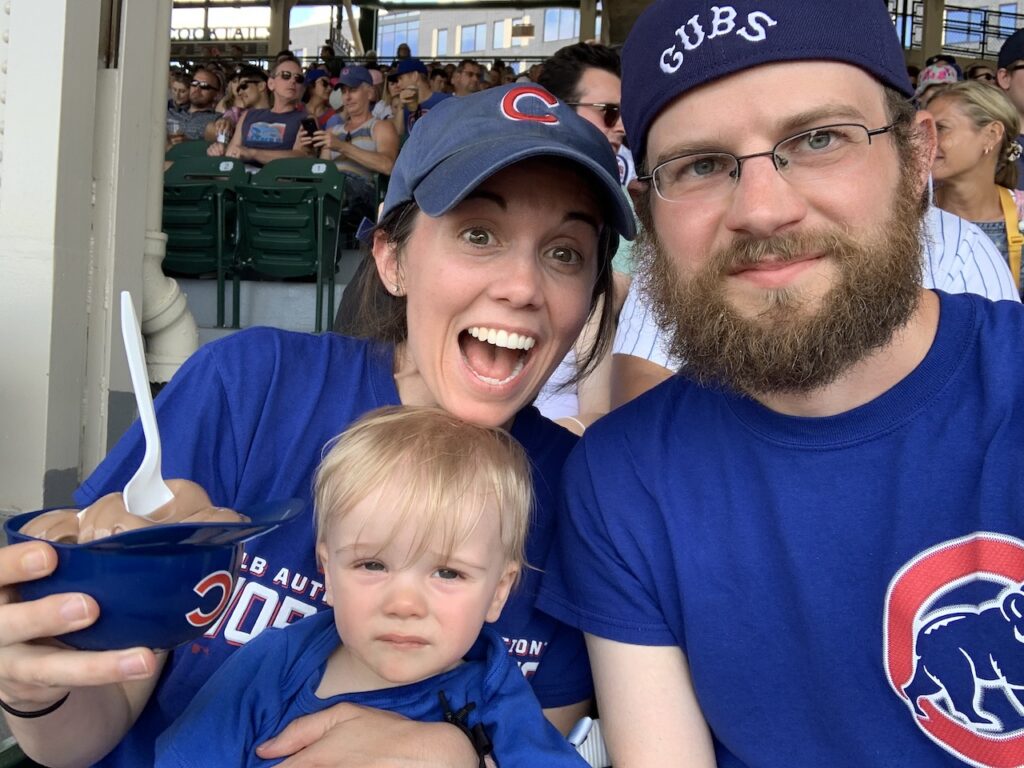 The non-diary soft serve is available at most of the Classics concession stand locations (sections 105, 110, 123, 128, 309, 324) and Waveland Grill.
If you're set on the traditional diary soft serve in a baseball helmet, the only place to find it is at Marquee Classics (section 117).
Kid Sundays
If you have an older child who can run on their own and is younger than 13, they can run the bases at Wrigley Field on Kid Sundays. This opportunity is available on select Sunday day games for the first 1,000 kids to check in. If you're interested, be sure to arrive early.
To lock in your spot, check-in when you arrive and you'll receive a special wristband. Ask a staff member when you arrive at the game for the exact check-in location. Once your wristband is secured, you'll get instructions for where and when to line up after the game. One parent can accompany each child in line. Only children can run the bases, and staff will then assist in making sure the children are reunited with their parents after their round home. There is no additional cost for this experience.
Our child wasn't quite ready for this experience, so we haven't personally done it. We have read many positive reviews of the experience.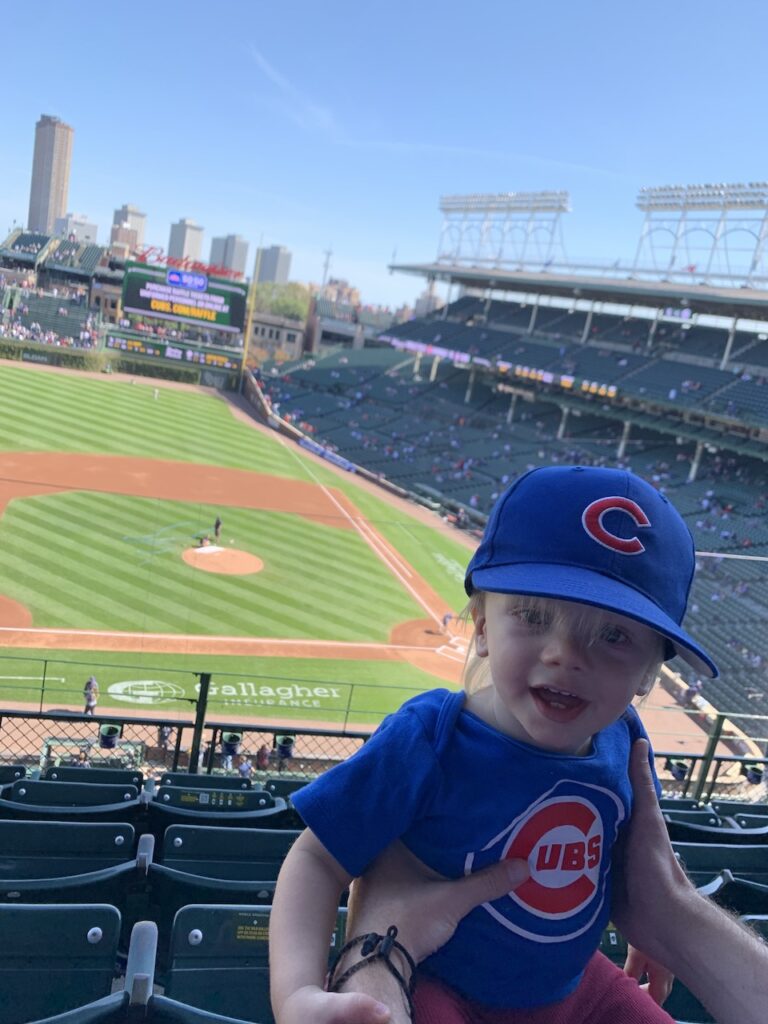 Chicago Fan Clubs for Kids
The Chicago Cubs also have two different children's fan clubs, both of which are paid. In both cases, you're mostly just paying for some Cubs swag.
The Newborn Fan Club is for kids 0-3. Members receive a baby blanket, 2 bibs and a personalized marquee photo. Each membership costs $52, plus $10 shipping. You can purchase a frame for an additional $25.
The older kids (3-13) can join Clark's Crew. Members will receive a selection of gifts, which vary each year. In 2022, the gifts included a backpack, socks, fidget toy, lanyard, membership ID card and a hat. Members also receive additional discounts and access to special events. Each membership costs $30, plus a $2 service fee and $10 shipping fee.
We did not sign up for either and probably we won't. We'd much rather spend the money on Cubs gear that we pick out.
How to get to Wrigley Field
Wrigley Field is located on the northeast corner of Clark St & Addison St in the heart of Chicago's Lakeview neighborhood. It's easily accessible using the CTA via train or bus.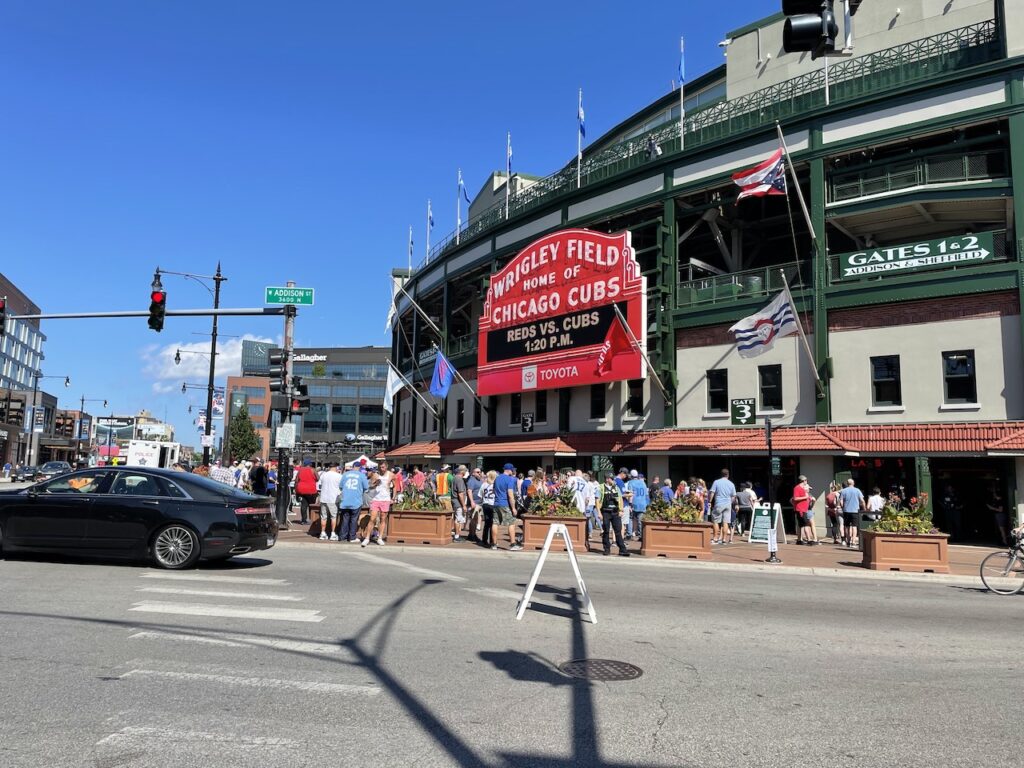 If you're coming from the east side of the city (such as the Loop, River North or Lincoln Park neighborhoods), the Red Line is your best bet. The red line train runs as far north as Howard and south to 95th and stops right at Wrigley Field.
Wrigley Field is located just off of the Addison Red Line stop. When you exit the train, head west. You'll be able to see the stadium from the exit of the train. If you're arriving during game time, you will likely be with a crowd of people heading in the same direction. If you've walked past more than 2 street lights, you went the wrong way.
You can also get to the stadium by bus. The 152 Addison bus and the 22 Clark bus both have stops at Clark and Addison right in front of the stadium. These busses operate more frequently during game days.
You can also drive to Wrigley Field, though it is not recommended. If you do have to drive, there is free remote parking available at 3900 N. Rockwell St. There is a free shuttle from the parking lot to the stadium. The shuttle begins 2 hours before the game and runs until 1 hour after the game.
Not interested in a long commute? Consider staying at Hotel Zachary which is located right across the street.
Entering Wrigley Field
Once you've arrived at Wrigley Field, there are five gates to enter the park. Gates open 2 hours before the scheduled game time.
Marquee Gate under the iconic Wrigley Field marquee on the corner of Clark St & Addison St
Wintrust Right Field Gate on Addison St
Budweiser Bleacher Gate at the corner of Waveland Ave & Sheffield Ave
Horizon Left Field Gate on Waveland Ave
Gallagher Way Gate on Clark St
If this is your first visit, we recommend entering through Marquee Gate. This gate is often the most crowded, but it gives you the classic Wrigley Field experience and photo op. It's also closest to the First Timers booth, so you can get your customized first visit certificate right when you arrive.
If you want to go the Gallagher Way before the game begins, you must enter at Gallagher Way Gate.
Play ball!
Now you're ready to head to Wrigley Field and enjoy a Cubs game with your baby! We're confident that you have all the information you need to have a wonderful time. If there's anything we missed, let us know in the comments. We'd also love to hear about your experience with your little one!
Whether you're a Chicago local sharing this this rite of passage with your little one or your whole family is seeing Chicago for the first time, we hope you love it and have a wonderful experience.
Go Cubs Go!