We recently brought our 11-month old baby to their first Chicago White Sox game at Guaranteed Rate Field. We learned a ton about the experience, from stadium rules to helpful tips, which we've documented in this guide.
In this post, we explore all of the features and facilities at the White Sox stadium that parents need to know about. We'll help you prepare for the game from seat selection to deciding what to bring with you. Then we'll head inside the ballpark and explain how feeding, changing and napping will go, plus fun things for kids to do. Read on to learn more about going to a Chicago White Sox game with a baby.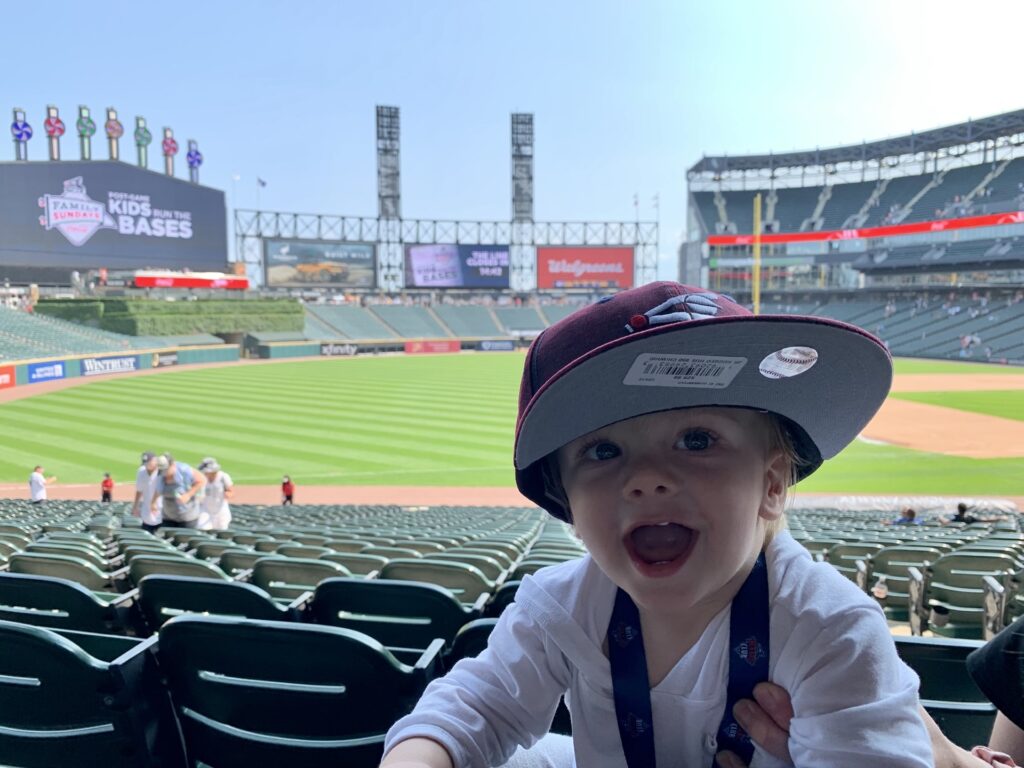 In This Post
Here's what we're covering in this post. We invite you to read the full guide or jump ahead to the section you're most interested in.
Baseball in Chicago
Let's set the stage. The city of Chicago has two Major League Baseball teams. The Chicago White Sox play on the south side at Guaranteed Rate Field (formerly and sometimes still referred to as Comiskey Park and/or The Cel), while the Chicago Cubs play in the city's North Side at Wrigley Field. Each park provides a great experience for families, but have different pros and cons. (Read more about taking a baby to a Chicago Cubs game here.)
If you're heading to Guaranteed Rate Field to see the White Sox, be sure to pack your gym shoes and your appetite. This stadium gives you plenty of reasons to get up and out of your seats, like a 3-level kid's activity zone and a full tasting menu of the city's south side. There are home run fireworks, free gifts for kids and obviously baseball helmet ice cream.
Ready to pack up the diaper bag and head to the Sox Side? Let's get planning.
Guaranteed Rate Field overview
Guaranteed Rate Field is located on Chicago's south side in the Armour Square neighborhood. The stadium is part of the neighborhood, but it's not as integrated into the fabric of it in the same way that Wrigley Field is to Wrigleyville. There are a handful of bars and restaurants within walking distance, but the stadium is mostly surrounded by parking lots and the highway.
The stadium has six gates, with the main entrance located on the northwest side near home plate. Most of the stadium comprises standard stadium metal seats, which are assigned by number and section. There is also a bleacher section in the outfield, which is open seating.
There are ramps and escalators throughout the stadium to move between the levels. Guests with disabilities may also use a limited number of elevators.
In the past 10 years or so, Guaranteed Rate Field committed to improving its food and beverage selections and it's paid off. In addition to standard stadium concession stands, the ballpark has a wide variety of restaurants and bars with many local specialities. They also have a lot of suite space and club level packages.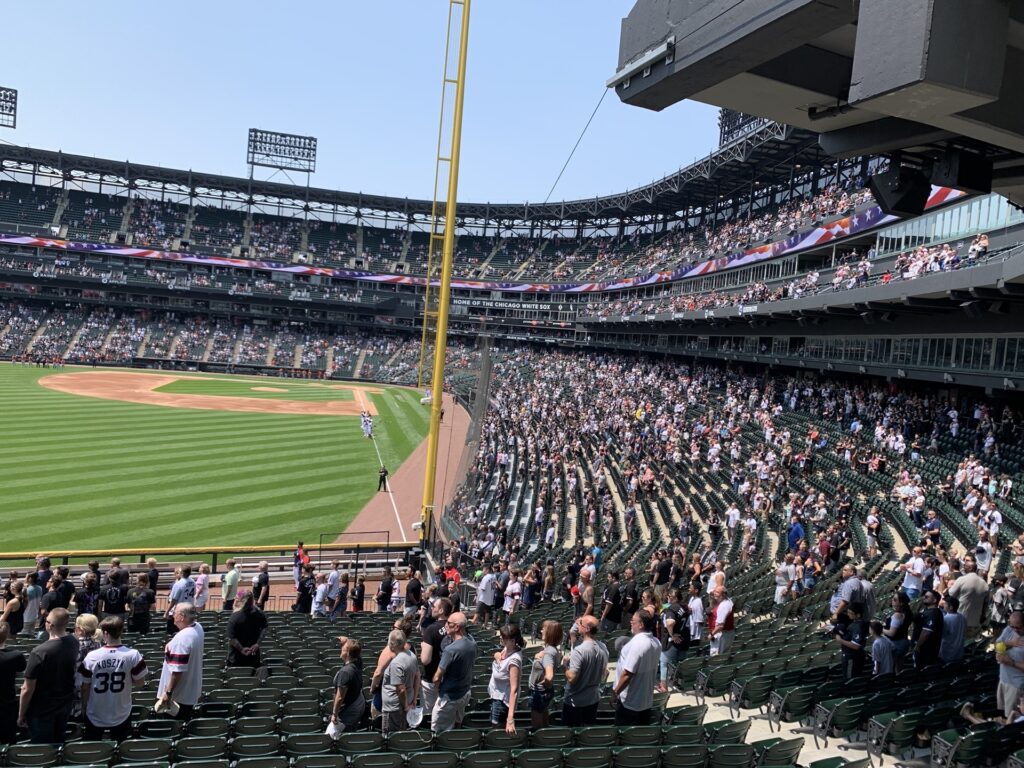 The stadium isn't exactly modern, but it's not historical either. The current stadium was built in 1991 to replace the original Comiskey Park that was home to the White Sox since 1910. The new stadium kept a few nods to the original park, including the famous "exploding scoreboard." The scoreboard today features spinning pinwheels with fireworks that "explode" at each home run. The original concept was introduced in 1960.
Over the past 30 years, the stadium has seen a handful of renovations to adapt to modern trends. Today, the stadium has all the creature comforts you'd expect in a modern baseball stadium, plus some unique bells and whistles.
Key things to know before you go to a White Sox game
Guaranteed Rate Field is completely cashless (as of 2022). Bring a credit card or digital payment method (e.g. Apple Pay).
Parking opens 2 hours before the start of the game and gates 90 minutes before.
All tickets are digital and can be scanned from a mobile device.
Generally speaking, no bags are allowed. (There are exceptions. See bag policy below.)
Locations parents should know at Guaranteed Rate Field
You can find a detailed map of the stadium and its main amenities and locations here. If you're going to a White Sox game with a baby, here are some important locations to know.
Guest Relations: Located behind home plate on levels 100, 500 and club level. Representatives are also scattered around the park. Here you can check a stroller, get your child a Kids ID bracelet, or request access to the Mothers' Nursing Room or Sensory room. This is also the meeting place for lost children.
First Aid: Located on the ground level behind home plate. Here you can find an additional family restroom, OTC medicines, sunscreen, bandaids and more.
Mothers' Nursing Room: Located on the suite level near section 352. Visit a Guest Relations booth for assistance and entrance. The room has semi-private nursing space, changing tables, and outlets for pumping. There is also a TV broadcasting the game.
Sensory Room: Located on the suite level near section 460. Visit a Guest Relations booth for assistance and entrance. The room has softened lighting, reduced noise, weighted blankets and other tools for sensory relief. There is also a TV broadcasting the game.
Family Restroom: Located near section 106. Visit a Guest Relations representative for entry.
First Game Certificate: The main location is on the centerfield concourse next to the '47 Brand Shop. You an also get your certificate at Guest Relations on the 300 level behind home plate or near section 522.
Charging Stations: Located near 109, 137, 312 and the PNC Diamond Club. Outlets and chords are provided for a variety of popular charging types, including iPhones. Free of charge.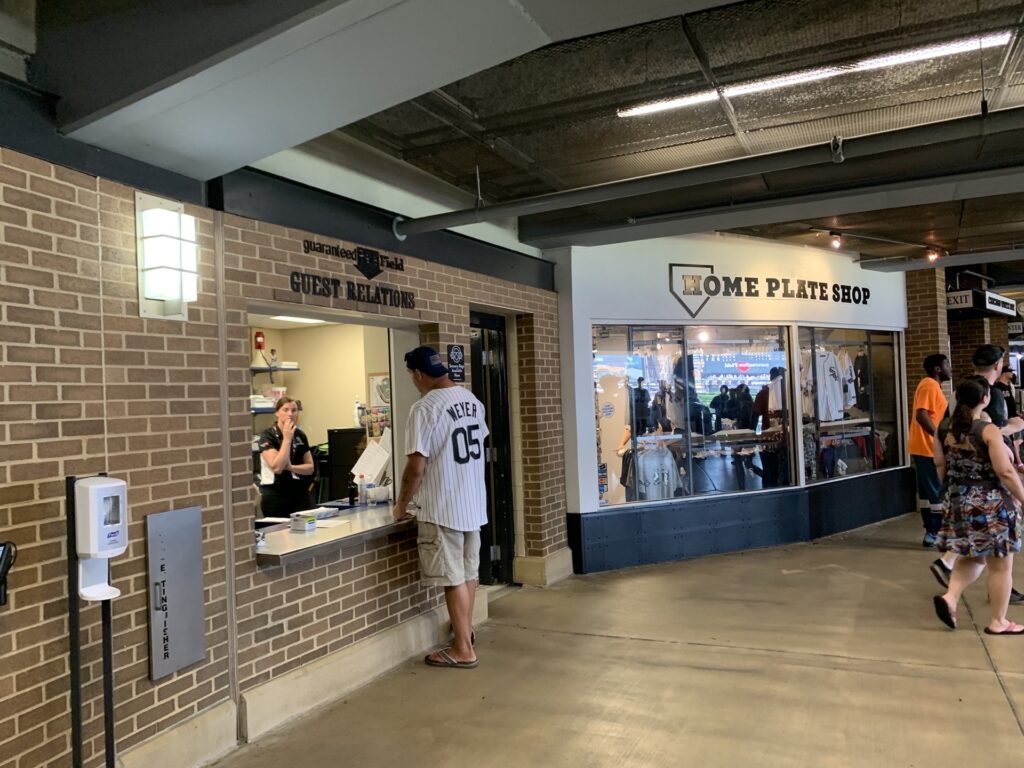 Is going to a White Sox game safe?
As a general rule, I don't like to discuss "safety" on this site. There is such a wide range in people's comfort levels, personal experience and baseline safety practices. Someone from the city, who takes the train regularly and often explores different neighborhoods is going to feel safer at a White Sox game than someone driving in from Galena to Chicago for the first time to watch the game.
You are as safe as anywhere inside the stadium. The issue is usually with the neighborhood around it. The area around the stadium, on game days, is crowded and heavily secured. If you're taking public transportation, it's going to be more crowded and "safer" than if you were taking the Red Line at night when there wasn't a game.
As a general statement, going to a White Sox game is about as safe as going to most any tourist attraction in the city. You face the same risks as you would at any crowded location, like pickpocketing and scammers (and the larger looming risk that this is America and awful things can happen literally anywhere, anytime). These are the same risks you'd face at a Cubs game or Lollapalooza or Navy Pier.
Honestly, the biggest risk I would warn you about is petty theft in crowded spaces, which is a risk all over the city and in any city. Stay alert. Keep our values secured.
We personally felt completely safe going to a White Sox games with our baby. We've done it before and we'll do it again. Onward!
How to get to a White Sox Game
Guaranteed Rate Field is located here at 35th Street and the Dan Ryan (I-90). It is easily accessible via public transportation or by car.
All transportation methods are likely to be crowded before and after home White Sox games, so plan to arrive a bit early. Public transportation is recommend and will be faster in many cases. If you're coming from north side neighborhoods like the Loop, River North or Lakeview, the Red Line is probably going to be your best bet.
"L" Train: Take the Red Line train to Sox-35th or the Green Line train to 35th-Bronzeville.
CTA Bus: Take the 35 bus to 35th Street & Shields, 24 bus to Wentworth & 35th Street, 31 bus to 35th Street & Federal or 29 bus to State & 35th Street.
Metra: Take the Rock Island Metra train to 35th Street.
Rideshare: There is a rideshare lot located in Lot A to meet Uber and Lyft drivers. Rideshare drivers cannot pick you up from specific areas around the stadium. You can view the map and details here.
Car: Parking is available around the stadium. Pre-paid parking is available north of the stadium, while same-day parking is south side of the stadium. Overflow parking and shuttles are available in the case that on-site parking fills up. You can find a map, driving instructions, and links to pre-purchase parking here.
Bike: Bike parking is available between gates 2 and 3 on the southwest side of the stadium and by gate 5 on 35th St. There is also a Divvy bike share dock on 35th Street near Wentworth Avenue.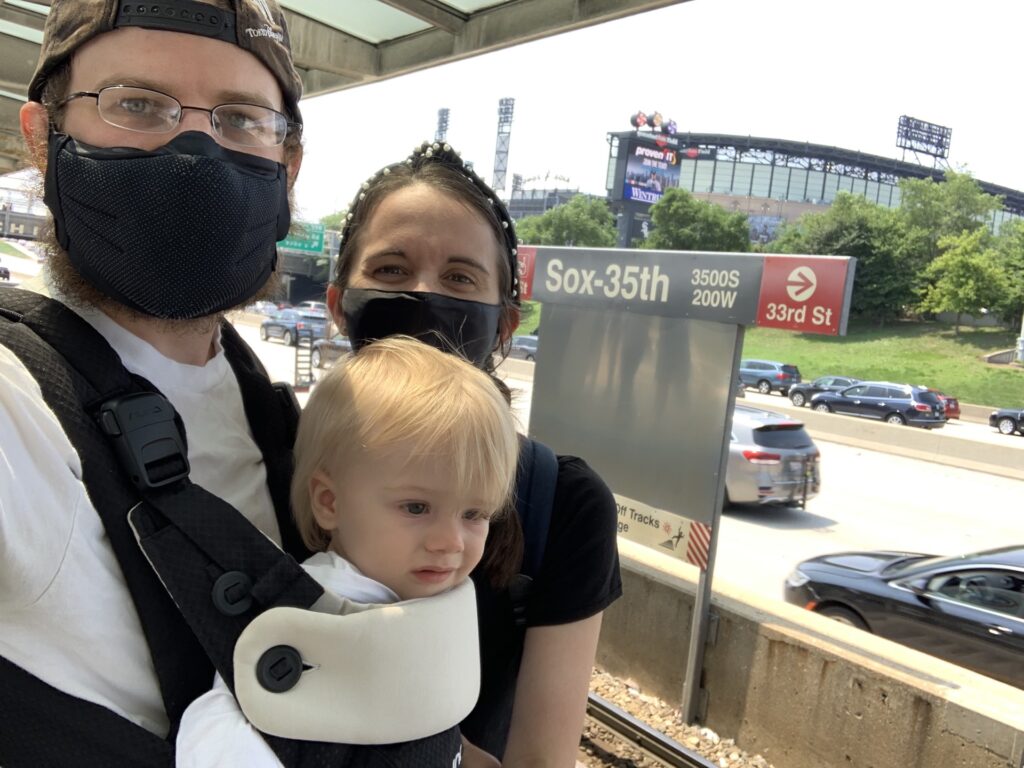 Public transportation in Chicago with a baby or toddler
Taking public transportation with a child, especially during a crowded time, can be stressful if you aren't prepared. Here are a few things to know if you're taking a baby on the bus or train in Chicago.
Children under 7 ride free. Any child under age 7 can ride the bus or train in Chicago for free with a fare-paying adult. They can be carried through the turnstile with an adult (or they can walk under it) or they can simply board the bus with an adult.
Reduced fairs are available for children 7 to 11 and students. For reduced fares, notify the bus driver if paying in cash or see a train station attendant to purchase a paper ticket.
Skip or fold the stroller. Trains and buses can be really crowded at game times. There might not be room for you to board with a stroller, and if there is it might mean there isn't room for others. If you must bring a stroller, fold it up when you board bus or train. We recommend baby wearing instead.
If you're nervous about public transportation in general, we have detailed guides about taking the 'L' train and the CTA bus that will give you all the info you will need.
How to buy tickets to a White Sox game
The most straightforward way to buy single game tickets is from the MLB website here (powered by Ticketmaster). If you're booking weeks or months in advance, buying direct is probably the best place to start.
You can search by seating section or price range. You will need to have or create a MLB account in order to complete your purchase. All tickets are subject to a 12% "Chicago and County Tax," a $5 per ticket "Service Fee," a $0.60 per ticket "Chicago and Cook County Service Fee Tax" and a $3.60 "Order Processing Fee" for each order.
Alternatively, if you're booking closer to (or on) game day, the MLB site might not have the best selection or lowest prices. In that case, you can also purchase tickets from StubHub, which is the official ticket reseller supported by the Chicago White Sox.
StubHub will allow you to filter by "Instant Delivery," which we recommend. StubHub tickets are all subject to a service fee (which is not a set percentage but is typically between 20-25%) and a small fulfillment fee ($2 per ticket).
Tickets are also available on other third-party sites, such as Vivid Seats, SeatGeak, etc. Always be sure to verify the authenticity and review guarantees available when buying tickets from other sites. In many cases these are legit, but since they aren't directly associated with the MLB, you want to be extra careful.
All tickets are digital and accessible using the MBL Ballpark mobile app.
Do babies need a ticket for White Sox games
Children under 36 inches tall do not need their own ticket for White Sox games and can enter for free with a parent. If your child does not have their own ticket, they will need to share your assigned seat space. That means sitting on your lap or standing in the 12 inches of space in front of your seat.
If you have a child under 36 inches who wants/needs their own seat OR if your child is taller than 36 inches, they will need their own ticket. There is no discounted pricing for children's tickets.
For reference, most children hit 36 inches between 2 and 3 years of age.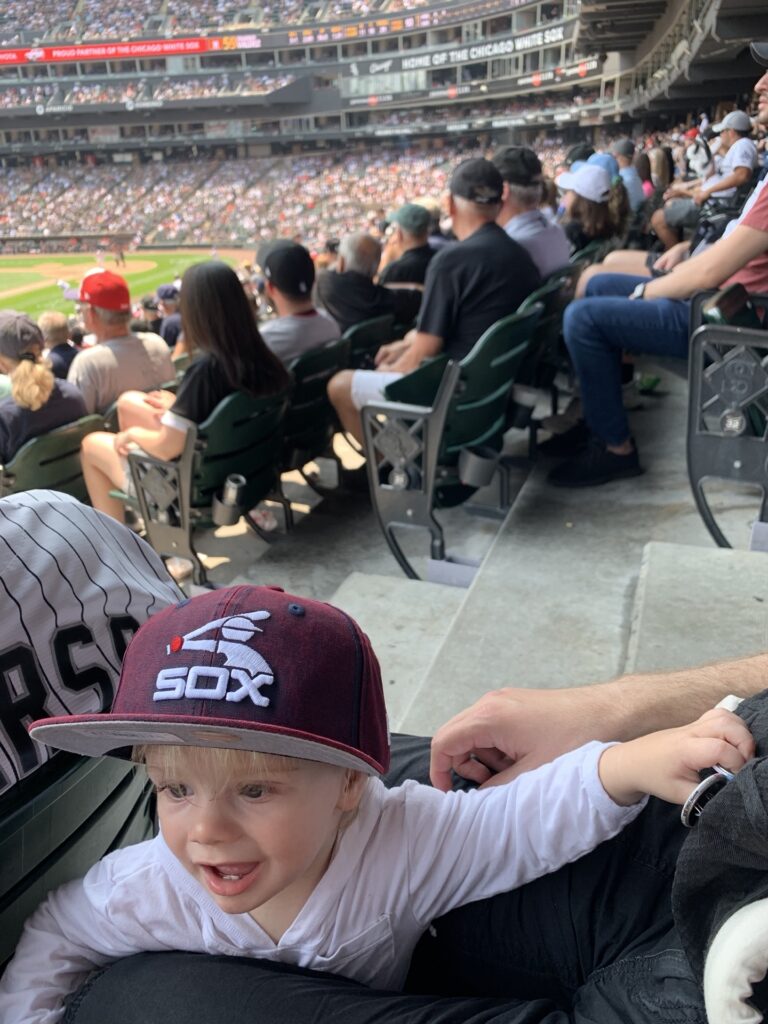 Seating levels at Guaranteed Rate Field
Typically, seat level would just impact your view of the game and how many stairs you have to take to your seat. At a White Sox game, though, it also impacts where you can go within the stadium.
There are two main seating levels at Guaranteed Rate Field: 100 level is closest to the infield and 500 level is the upper tier. (Levels 200, 300 and 500 are suite levels.)
The 100-level concourse has real baseball stadium energy. The indoor portion of the concourse runs between first, home and third baselines and includes a wide selection of food vendors and shops. The real highlight of this concourse is the portion that runs along the outfield. It's a spacious outdoor patio of sorts, lined with food vendors, standing room viewing and eating space.
Conversely, the 500-level feels more utilitarian. It has fewer food vendors inside the concourse (15 vendors at the 500-level vs 53 at the 100-level) and comes to an and at both first and third baselines. There's no place to watch the game other than your seat on the 500-level.
Access to the entire 100-level concourse (not just the seats!) is limited to 100-level ticket holders, and they do check tickets at all points of entry to that concourse. 100-level ticket holders can visit the 500-level concourse, but not the other way around.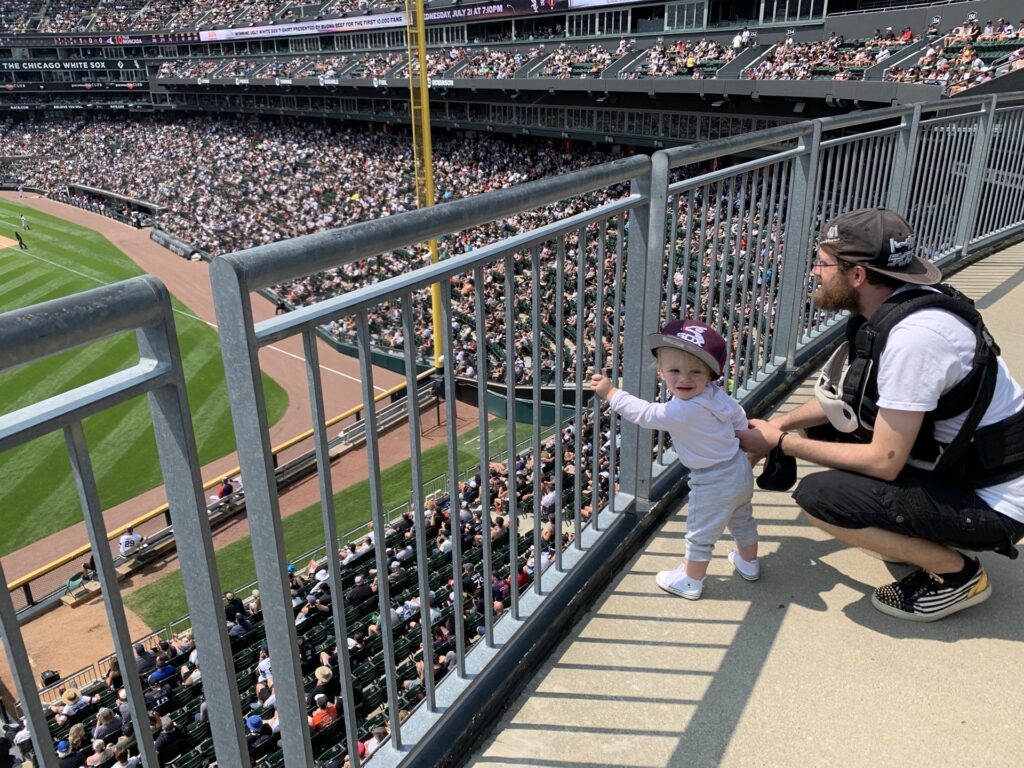 Is 100-level worth it with a baby?
We didn't realize this divide when we purchased our 100-level tickets, but it worked out well for us. We were happy with our seats and really enjoyed walking the loop around the stadium. However, we liked the 500 level, too! The vibe was more chill, the view was still quite nice, and there was still a fine selection of food vendors.
If we went to another Sox game, we'd probably purchase 100-level again, just because of the outfield experience. If there's a large price break and you plan to watch most of the game from your seat, we think the 500-level is a fine option.
Where to sit with a baby at a White Sox Game
During our most recent visit to a White Sox game on July 18, 2021, we purchased two tickets in section 147, Row 32, Seats 1 & 2 for $190. We did not buy a ticket for our baby.
We bought our tickets about 4 hours before game time, so our options were a bit limited and our price was a bit high. There was definitely a much wider selection available (better and cheaper) even just the day before, but we didn't commit in time.
It was a sunny, warm day and we had an 11-month-old baby. We prioritized an aisle seat that we hoped would be in the shade. There are several factors, though, that you may want to consider when picking where to sit with a baby at a White Sox Game. Let's go over a few of them.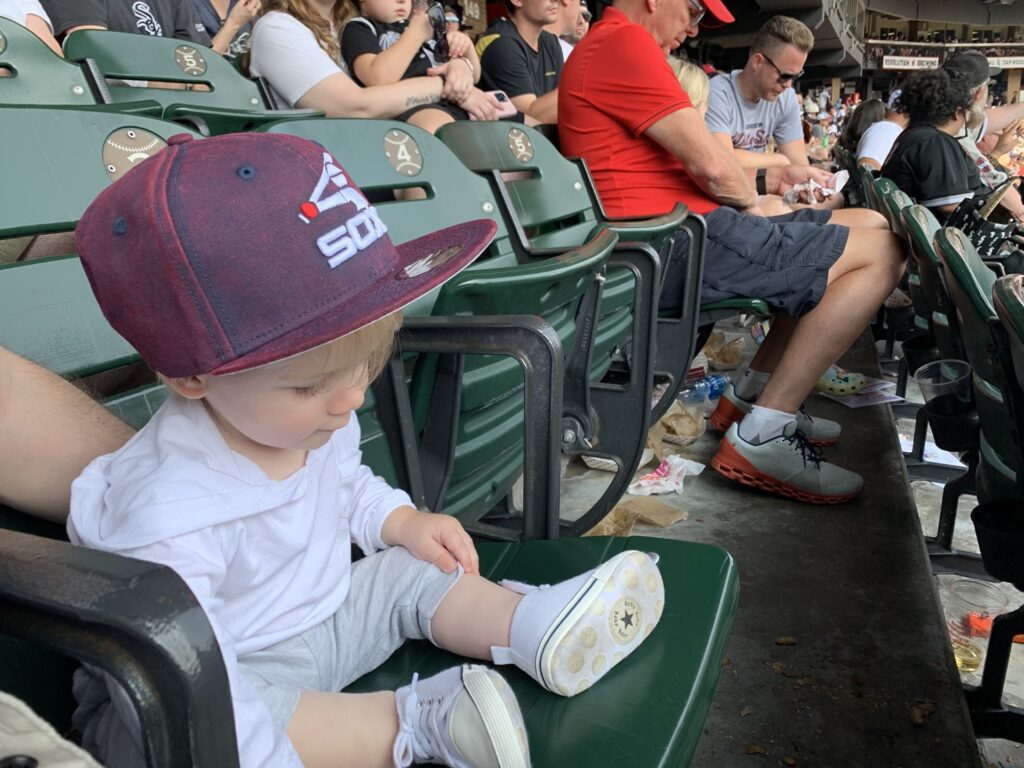 Things to consider when picking your seat at a White Sox game
View: A majority of the views at Guaranteed Rate Field are great; even the seats way up high. The White Sox don't have a 3D seat map, but if you are buying your ticket on StubHub, you can see the estimated view from the seat there.
Seat Level: Seat level will determine what you have access to at the game. The 100-level seats are good if you want to walk around and explore. The 500-level tickets are cheaper and don't get you access to everything, but you can still access the Kids Club.
Overhead Coverage: The stadium is fully outdoor, with very few overhangs. For shade, this article suggests sections 117-129 and rows 30 and above. In our experience, 100-level sections along the 3rd baseline (roughly 133-153) in rows 30 and above were also in the shade.
Aisle: Aisle seats are nice for obvious reasons. With a baby, it's nice to have aisle access to easily get up for walks, nursing, snacks and diaper changes.
Row in Section: If you have a standing child, a seat in the front row of a section is a good way to let them stand and not bother the people in front of you. Depending on the location though, this might also be an added danger.
Bathrooms: Family restrooms are available near section 106 and in First Aid behind home plate. However, all Men's and Women's restrooms have baby changing tables.
Alcohol: There are people drinking alcohol in all sections at a White Sox Game. However, the bleacher section is definitely more rowdy. The bleachers also don't have assigned seating.
Price: This is the most obvious factor. Tickets can range from as low as $1 up to hundreds of dollars. Filter to your price range first and then consider some of these additional factors.
Special ticket offers & promotions
If you're flexible on dates, be sure to check the Chicago White Sox website before you buy your tickets. There are a few different types of promotions available throughout the year.
First, check to see if there are any seasonal sales going on. For example, in 2022 they had a Family 4 Pack special where you could get 4 tickets, 4 hot dogs, 4 drinks and 4 chips for $70.
The Chicago White Sox also have themed nights and special events. You can find the current schedule here. Themed nights have historically included Hispanic Heritage Night, Autism Inclusion Night or Country Music Night. Other special events include Family Sundays (more on that below) and post-game fireworks.
There are a handful of games throughout the season where free promotional items are given out on a first-come-first-serve basis. These items range from Hawaiian shirts to bobbleheads. (Note: some are reserved for guests over 21.)
There is no special ticket or action required for these promotional items. If you have a ticket for the game on a day they're giving something out, you'll get the free item if you arrive before they run out. Items are typically distributed at the gate after you scan your ticket.
It's important to note that all of these promotions are 1:1 with a ticket purchase. If you purchase one ticket and are bringing your a baby without a paid ticket, you will only receive one promotional item. The child will not get their own promotional item unless they have purchased their own ticket.
Bag, diaper bag & stroller rules at White Sox games
Guaranteed Rate Field has a strict bag policy. No bags are allowed inside the White Sox stadium, however they do make exceptions for medical bags, clutch purses smaller than 9″ x 5″ x 2″ and diaper bags when an infant is present.
Here's a list of what you can and can't bring when you're going to a White Sox game with a baby.
Diaper bag: Yes — as long as you enter with your child.
Outside food: Yes. Outside food items can be brought inside the ballpark as long as they are in a clear storage bag no larger than 1 gallon in size.
Outside drink: You may bring unopened bottled water 1 liter in size or smaller. No other beverages are allowed. (They do not specify formula or breast milk as an exception, but I have to imagine that would be okay to bring.)
Strollers: Yes, you may bring a stroller into the stadium. However, only small umbrella strollers that can be folded and placed under your seat are allowed in the stands. Larger strollers must stay in the concourses or standing room viewing areas. You can also check larger strollers at Guest Relations behind home plate.
Sunscreen: Aerosol sunscreen is NOT allowed, only lotion or sticks that fit in your pocket or approved bag is allowed.
If you bring a bag that is not allowed, there is a third-party bag check facility in parking lots C and E where you can store your bags for a fee.
Baby care at Guaranteed Rate Field
The good thing about Guaranteed Rate Field is that they have really nice facilities available for parents. Unfortunately they make them really difficult to access if you're a general ticket holder and not a suite guest.
Let's start with family restrooms. The White Sox stadium has one family / gender neutral restroom located near section 106. You will need to track down a guest services representative in that area for access to the restroom. There is a second family restroom available inside First Aid, which is located on the ground level behind home plate.
If you don't have to use the family room, we suggest skipping it. All restrooms — both men's and women's — are equipped with baby changing tables. (And Mom, I'd suggest putting Dad on diaper duty because their bathroom lines are always shorter. You're welcome.)
Lastly, there is a really nice diaper changing facility inside the Mothers' Nursing Room. It is fully stocked with diapers, wipes, lotion and a very comfy table. Unfortunately, it's at the suite level so you'll need an escort to that level plus someone with a key to let you in. More on that in the nursing section below.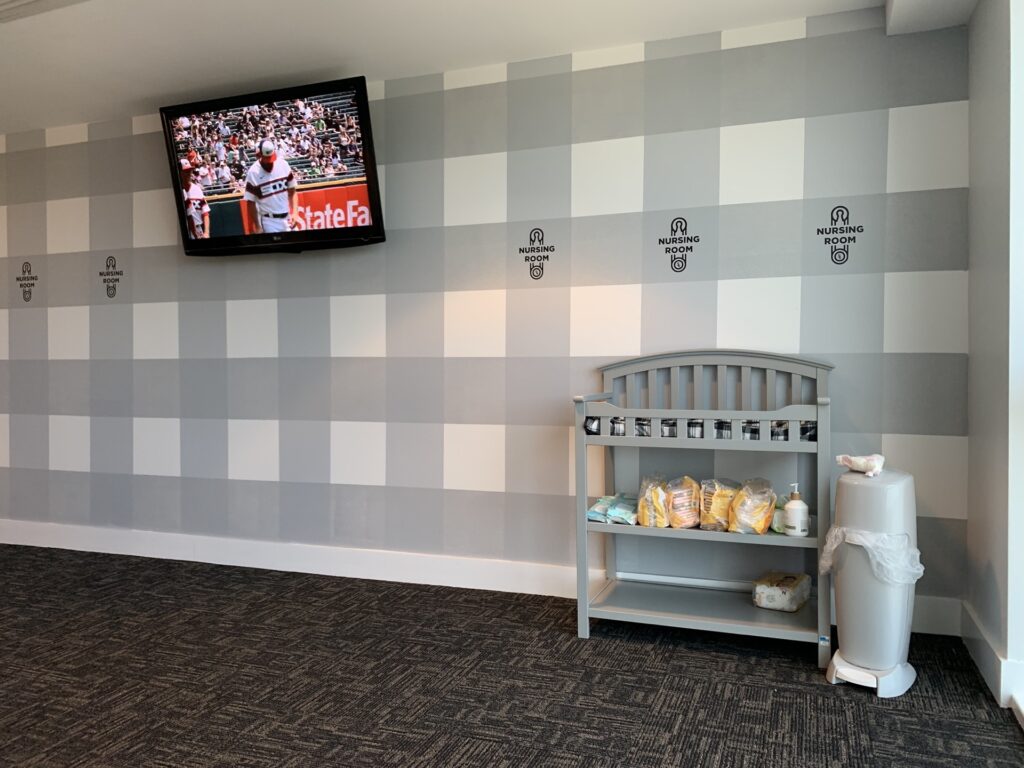 Sensory relief & naps at a White Sox game
Baseball games are loud, and a White Sox Game specifically can be extra stimulating. Here are a few things to note if you're planning to have a child nap at the game or have a child who will need a sensory break.
Sensory relieve at White Sox games
The little party that the White Sox throw at the start of each game (5 minutes before first pitch), at each home run and after a win is so intense that they prominently issue a photosensitivity warning on their website. There is flashing LED lights around the stadium, spinning pinwheels and fireworks.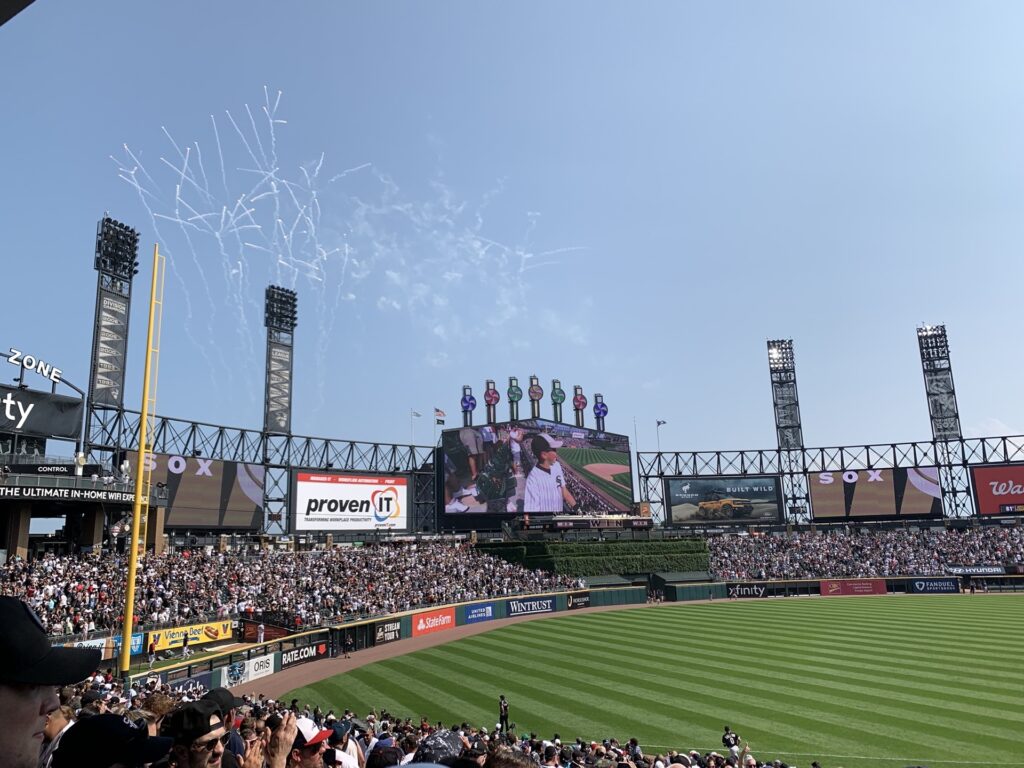 This can be hard on tiny babies, napping children and anyone with sensory sensitivity. While making it hard on these groups, the White Sox do what they can to help reduce this stress. In fact, the ballpark is actually sensory inclusive certified by KultureCity.
To quickly and generally reduce the impact of light and sound, you can retreat to the concourses. The lights won't flash and the sound will be generally lower. The bathrooms are also good "safe" spaces for short breaks.
Another option is to request a sensory bag from any Guest Relations booth. They can provide noise-cancelling headphones, ear plugs, fidget toys and other items that may be helpful to children (or adults) experiencing sensory overload.
For a lengthier and more thorough escape, there is a Sensory Room located near suite section 460. The room features textured noise-reducing walls, softened lighting, weighted blankets, comfortable chairs and more. There is also a TV broadcasting the game so no one feels like they're missing out.
Again though, this space is really difficult to get to if you're not a suite ticket holder. You will need to visit Guest Services to get an escort to the 400 level and then get access to the Sensory Room.
Best place to nap at a White Sox game
If you're going to a White Sox game with a baby under 3, there's a good chance they're going to need a nap while you're there. Despite how it sounded in the section above, it's possible to escape the noise and give your little one a good chance at a nap.
Start by finding a napping position. Our little one always napped well in a baby carrier, so that was really convenient at the White Sox game. If you have a kid who sleeps in a stroller and you don't mind toting it all the way to the stadium (and storing it if you have to), that could work well too.
In either position and no matter where you're sitting, we suggest heading up to the 500 level for nap time. The outer perimeter is one of the quietest areas of the stadium, it's usually not that crowded and it is often shaded. Plus there's great views of the skyline.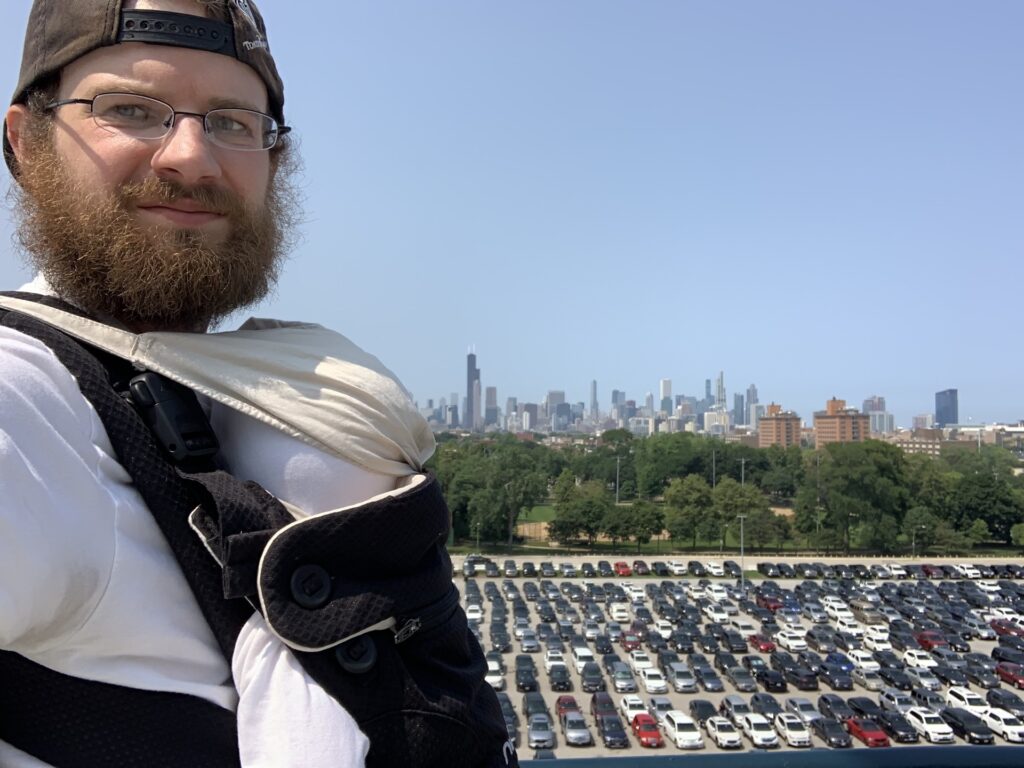 Walk a few laps up here and your kid should be out in no time. We felt comfortable playing white noise or a lullaby out loud on our phones up here, because we're not close enough to people to bother them.
Lastly, if you have little baby who will easily sleep on your chest, we suggest heading to the Mothers' Nursing Room. As long as there are no mothers waiting to nurse and there are available chairs (it's usually pretty empty), cozy up here for a quite nap. This is particularly useful if it's hot outside.
Feeding babies and toddlers at a White Sox game
Just like most children are going to need a nap at a White Sox game, most of them are also going to need (or just want) to eat, too. Whether your child is nursing or eating solid foods, you will be able to feed them at Guaranteed Rate Field. It might be a pain and it might be expensive, but it's possible.
Where to nurse at a White Sox game
The state of Illinois requires that mothers be allowed to breastfeed in any public or private place they're allowed to be. As a ticket holder, you're allowed to be at Guaranteed Rate Field and therefore you can legally breastfeed anywhere inside Guaranteed Rate Field.
You are absolutely welcome to nurse in your seat. I've done this and had absolutely no negative comments or interactions with any fans or employees. However, it was not super pleasant. Between the narrow seats and the metal arm rests, it was difficult to find a comfortable position for mom and baby. And it's extra awkward if someone needs to get past your seat.
A more comfortable option is the Mothers' Nursing Room. The room is incredibly nice, clean and spacious with great skyline views. It's private, temperature controlled, has a fully stocked diaper changing station, and they broadcast the game. There's also outlets for pumping. It was the nicest nursing room I've been in anywhere.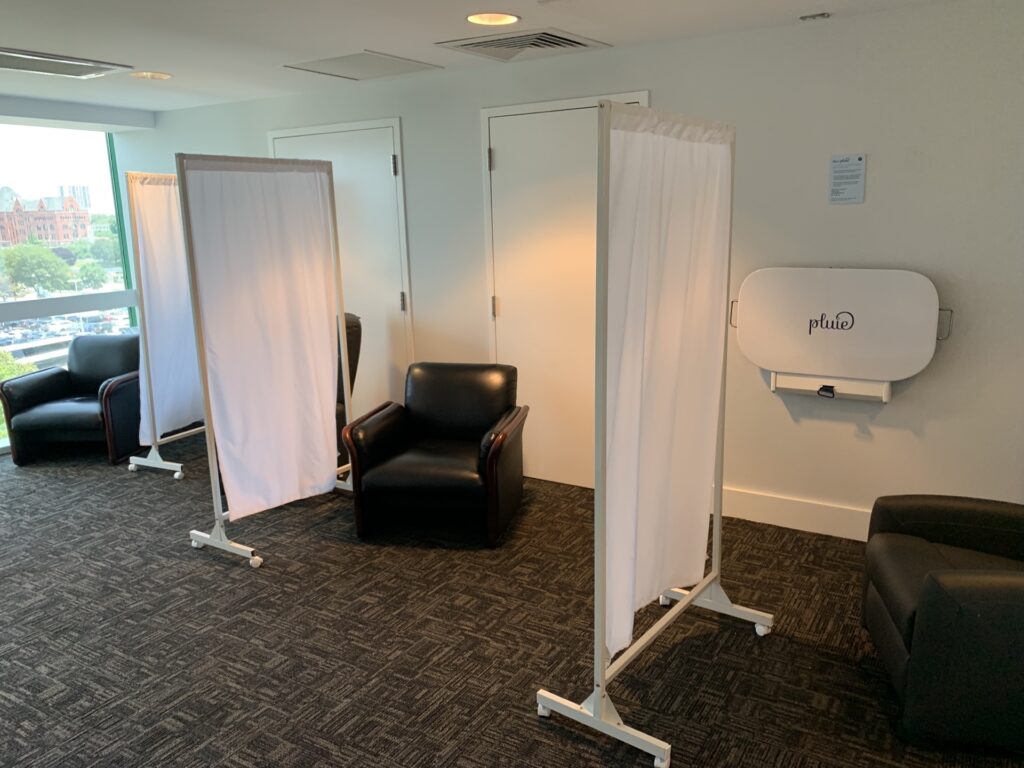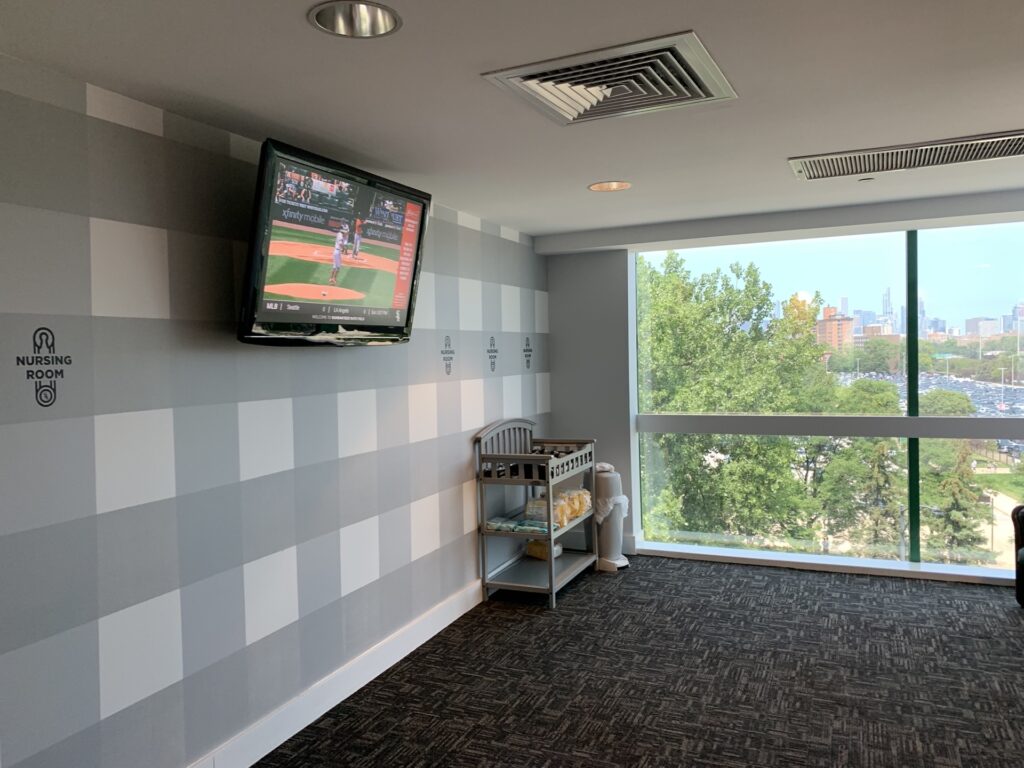 Unfortunately it's a pain to get to because it's located on the suite level near section 352. If you don't have a suite ticket, you need to visit Guest Relations to get a card that grants you access to the suite level. Then you'll need an escort (or to follow some very confusing directions) up to the right floor. And finally, someone with a key has to actually let you in. This isn't really ideal if you have to nurse more than once during the game.
So I guess pick your poison? Uncomfortable but quick in your seat or miss an entire inning on a journey to the luxe nursing room.
Tip: It might also be worth popping into First Aid and asking if they have a nursing space there. I personally didn't do this, but I know they have a nursing space in First Aid at Wrigley Field, so it might be worth a short if you're near there.
Best toddler-friendly foods at a White Sox Game
If you're at the game with older kids, you may be in the market for solid foods. Baseball stadiums in general tend to be pretty kid friendly when it comes to food options, and Guaranteed Rate Field is no different. Here are a few foods and snacks that should be popular with the little ones.
Meals:
White Sox Concessions (main concourse): Hot Dogs, burgers and fries
Beggar's Pizza (centerfield concourse): Cheese and pepperoni pizzas
Froman's Cheddar Pierogis (section 126): Cheese and potato filled pierogis
Antique Taco (sections 109 & 137): Chicken and beef tacos
Chef's Signature Carvery (section 109): turkey club, Italian grinder, caprese sandwich
Chicken & Waffle Fries (sections 163 & 544): Exactly what it sounds like, but these get rave reviews and will be a hit with the McDonald's nugget fan in your life.
Snacks:
Marketplace 154 (section 154): Grab and go food and beverage spot with Amazon market technology (aka fast check out)
Elotes (sections 104, 127, 142, and 529): Corn cut off the cob and served with a cheesy mayo sauce in a bowl.
Dessert:
Rainbow Cone (sections 158 & 526): Five ice cream flavors sliced square and served on a cone. It's been a local favorite for over 95 years, so expect long lines.
Baseball Helmet Ice Cream (main concourse): Single serving of ice cream in a souvenir White Sox baseball helmet
Tip: You can also mobile order your photo in the MLB Ballpark app.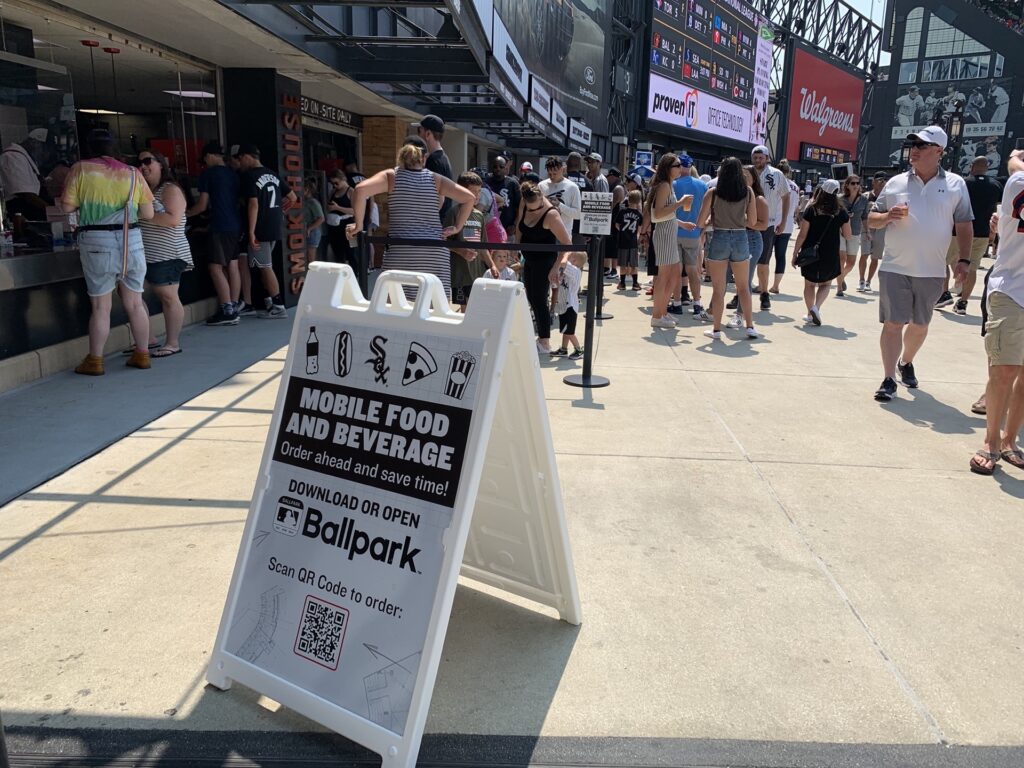 Bringing your own food to a White Sox Game
The OG parenting tip for going anywhere has always been "bring your own snacks!" And honestly, I'm not sure parents are going anywhere with out snacks if they can help it, so I'm not going to pretend like this is a tip.
I will just again confirm that bringing your own food is allowed as long as it's packed in a clear, zipped bag not larger than one gallon size. You can fill it with anything from Subway sandwiches to baby food purees.
Bringing your own food is cheaper (duh), but more importantly it gets you out of waiting in lines. If your toddler is anything like mine, they go from zero to starving in 4.5 seconds. Lines can get long and mobile ordering can be slow.
If you have dietary restrictions, you're probably used to bringing your own food anyway. We are all vegetarian, so we're used to packing a bento box (affiliate link) filled with fruit, veggies, string cheese and Goldfish everywhere we go.
Things to do with kids & babies at a White Sox game
Guaranteed Rate Field is a great ballpark for big and little kids. There's plenty to see and do around the stadium to keep little ones busy. And in most cases, it comes with a view of the game so parents won't have to miss any of the action.
Xfinity Kids Zone
The Xfinity Kids Zone is a 3-story interactive space where children can practice real baseball skills. It is located above the left-field concourse with entrances at the 100, 300 and 500 levels.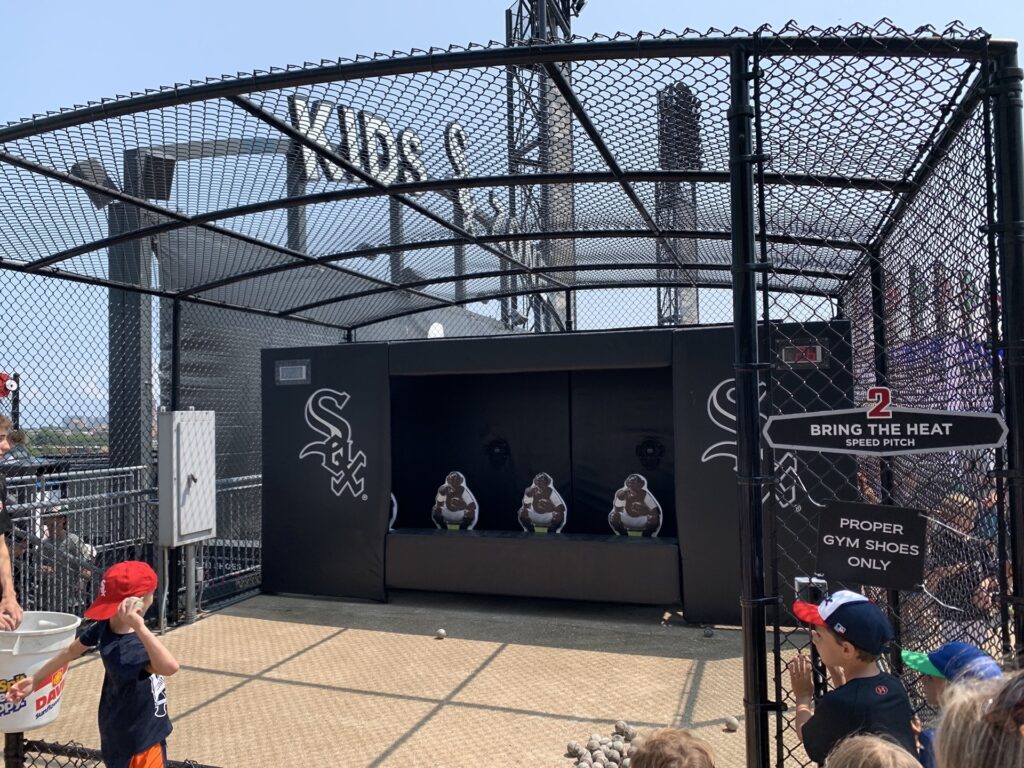 There's batting cages, a kid-sized baseball diamond, speed test and more. It is not an open playground (like they have for kids at Yankee Stadium for example), but instead a collection of specific activities and challenges.
All children ages 13 and under are allowed in the Xfinity Kids Zone. In our experience, this area is more targeted at older kids. I'd say kids 3 and up will get the most out of it. Our baby wasn't even one at the time and wasn't able to participate in any of the activities, but it was still a good place to walk around.
Tips:
The area closes after the 6th inning on fireworks nights.
Tennis shoes are required. Sandals, flip flops and Crocs are not allowed.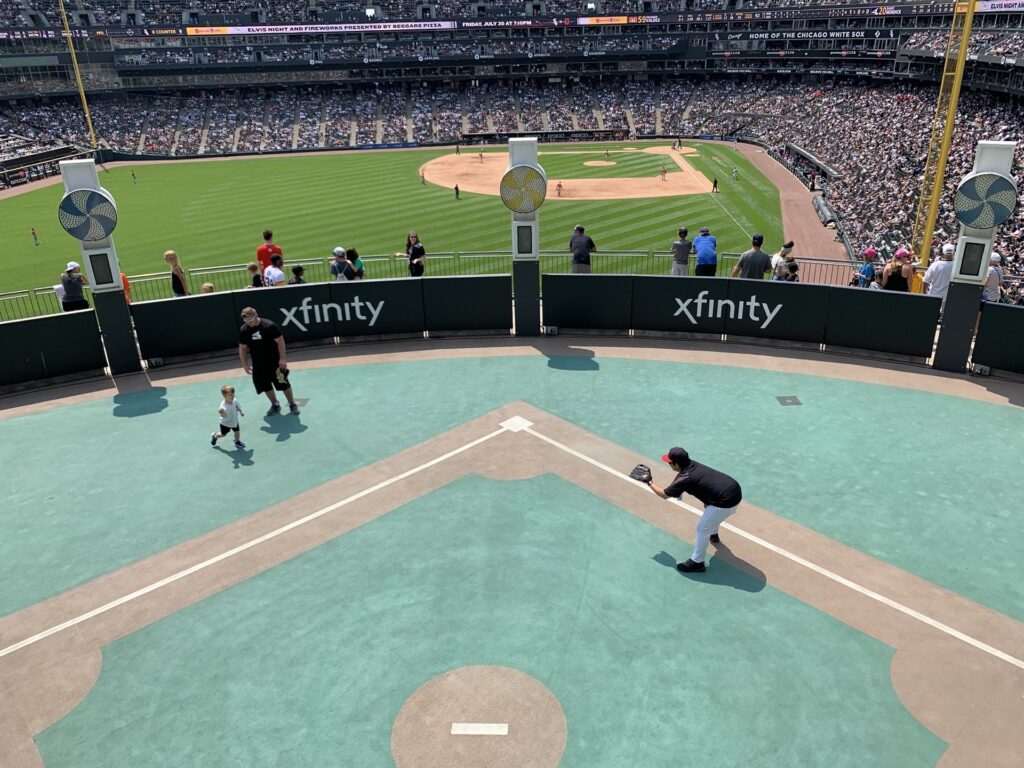 White Sox Kids Club
This is a free kids club for children under 13. Parents must register their child in person on the 3rd floor of the Xfinity Kids Zone at the stadium. After registration, kids will receive a photo ID badge, a welcome bag of goodies, and a free prize. It's honestly a really great prize pack for a free program.
Kids Club members can then receive a different prize each month that they attend a game. New prizes are typically released on the first of the month and can only be redeemed in person at the stadium. You can learn more about the program here.
Tip:
Register for the Kids Club before the game to beat the lines.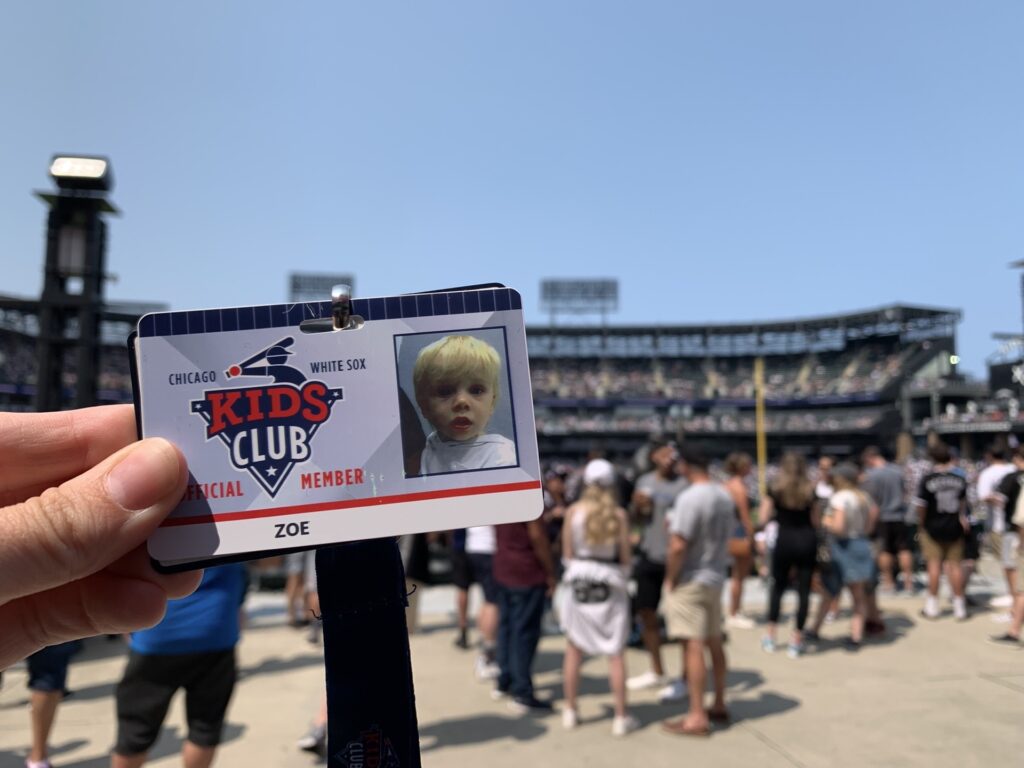 First Game Certificate & Button
This is a free memento that most MLB stadiums offer in some way, shape or form so it's a fun thing to collect at stadiums you visit as your child grows up. The White Sox also have a free first game button, which I believe is new since our last visit.
Unlike many first game certificates at MLB stadiums, this one actually comes with a nice folder to keep it clean and neat while you carry it around for the rest of the game.
Certificates are printed on the spot at one of these three locations:
100 Level: Centerfield Concourse next to the '47 Brand Shop
300 Level: Guest Relations booth behind home plate
500 Level: Section 522
Tips:
Get your certificate before the game. There is usually lines throughout the game, so you won't "beat" them, but you'll get this over with without missing the game.
If you don't want to carry the certificate around, you can also print your certificate at home.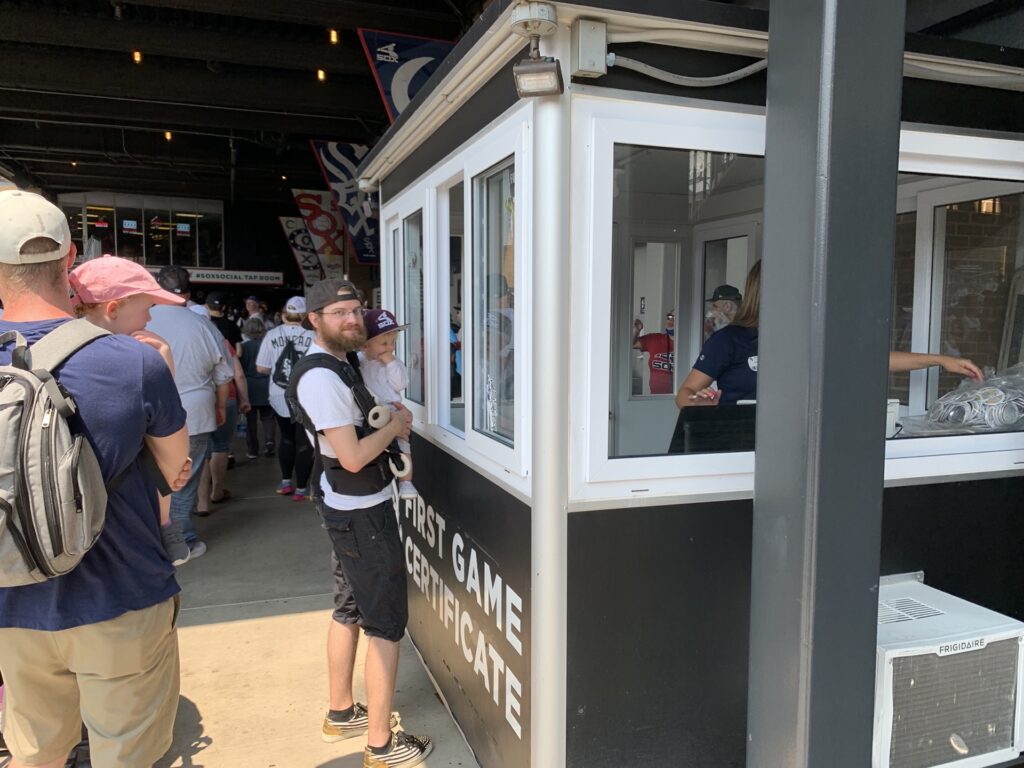 Hit the Shower
Yeah, I said that! In 1976, a shower was installed in the old Comiskey Park to cool off fans on hot summer days. As a bit of nostalgia, they moved the shower to the new stadium and you can still find it there today.
The shower typically only runs on hot summer days, but you can see it any time. It's located behind the bleachers near section 161.
Chicago White Sox Family Sundays
Family Sundays is a promotion that runs during home games on Sundays throughout the season. The event is aimed at brining in — you guessed it — families!
Tickets are cheaper (historically $5 for upper level and $15 for lower level) and even parking is offered at a discounted rate (historically $10). Family friendly events are offered throughout the game, usually things like face painting, balloon animals or greetings by White Sox mascot, Southpaw.
Kids can also run the bases on the field after the game on Family Sundays. Kids will need to be old enough to run on their own, so we personally haven't done this yet. Signs will be posted in the concourse, or you can ask a Guest Relations associate for more information. The line can get really long for this, but we've read that it moves fast.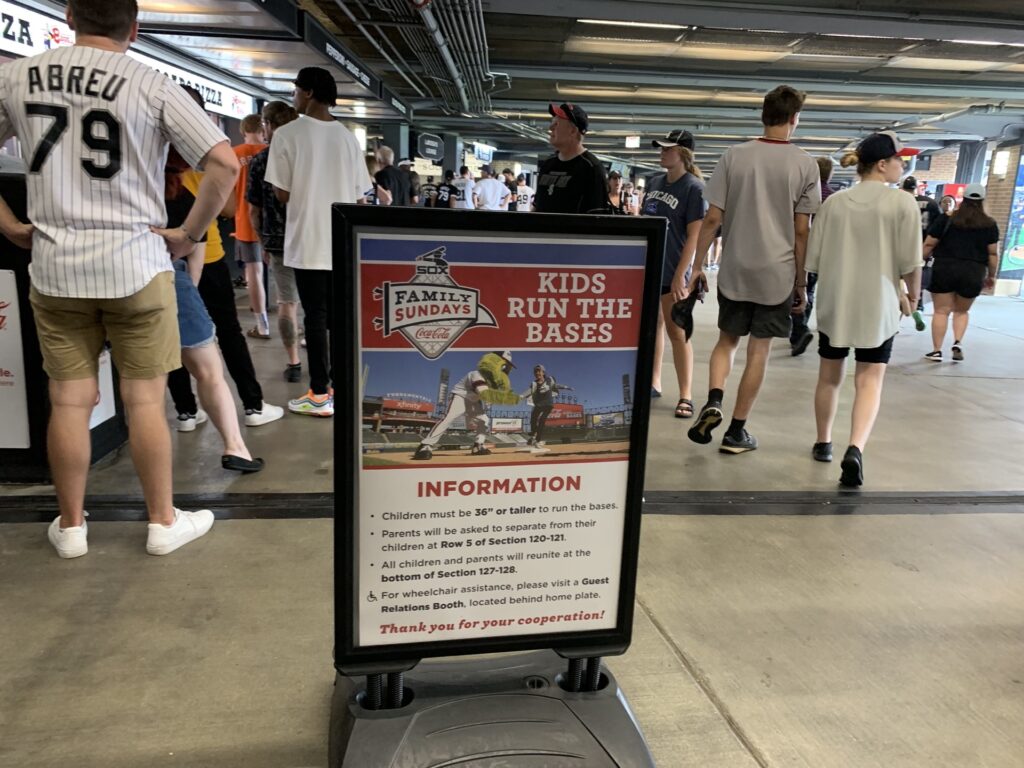 Baseball Helmet Ice Cream
You can buy ice cream in little souvenir baseball helmets from concession stands around the stadium. This is another thing we like to collect from every baseball stadium we go to. It's a perfect mix of special treat plus a toy/keepsake.
We actually missed this at our most recent game because the concessions stands start to close up around the end of the 6th inning. By the time we played at the Kids Zone, napped and ate lunch, the ice cream stands were closed. Something to keep in mind.
If you have an extra large family and are looking to splurge, they also offer a 3-pound sundae with 12 whole scoops of ice cream in a full-size souvenir helmet for $17.
BONUS: Newborn Fan Club
This isn't something to actually do at the game, but it is worth noting for White Sox fan parents.
The Chicago White Sox have a Newborn Fan Club. This is basically a gift box for new parents that includes a onesie, hat, bandana and certificate. It costs $40 and takes 6 weeks to ship. You can learn more and register here.
Closing thoughts on going to a White Sox Game with a baby
Our little one is now headed into their third baseball season of life. In addition to the White Sox game, they have been to games for the Chicago Cubs, New York Mets and New York Yankees. Out of all of those stadiums, the Chicago White Sox offers the most in terms of kid-friendly experiences.
The White Sox Kids Club is the best kids program we've seen, and we love that it's free and includes regular free prizes. The variety of food options was great, and we liked that mobile ordering was an option. The stadium has a ton of standing room viewing, which is great for parents who want to watch the game but don't want to confine their toddler to their small seat space.
That said, I think Guaranteed Rate Field is better suited for older kids and toddlers (2 and up) than babies. The stadium is really loud with flashing lights and fireworks, the Kids Zone doesn't have a lot of baby and toddler friendly areas, and the nursing room is way too hard to get to.
Would I bring my baby to a White Sox game again? Absolutely! If I was only taking my baby to one game in Chicago a year though, I'd bring my baby to a Cubs game and a my toddler to a White Sox game.