Fenway Park is a revered place for Red Sox fans, but it also holds a special place in the hearts of all fans of the sport. (Except maybe Yankees fans.) A trip to Fenway is a highlight on any Boston itinerary, and some people travel to Boston just to visit this iconic stadium.
The Boston Red Sox have played at Fenway since 1912, making it the oldest active ballpark in the MLB. With age, comes a unique set of quirks and a smaller capacity, but these are the things that make Fenway one of the most beloved ballparks in baseball. The stadium lacks some of the creature comforts that you'll find in most modern stadiums, but the history and charm easily make up for it.
If you're headed to Fenway for the first time, there's definitely some things you should know first. In this guide, we'll introduce you to the stadium and walk you through everything you need to know to make the most out of your first trip to Fenway.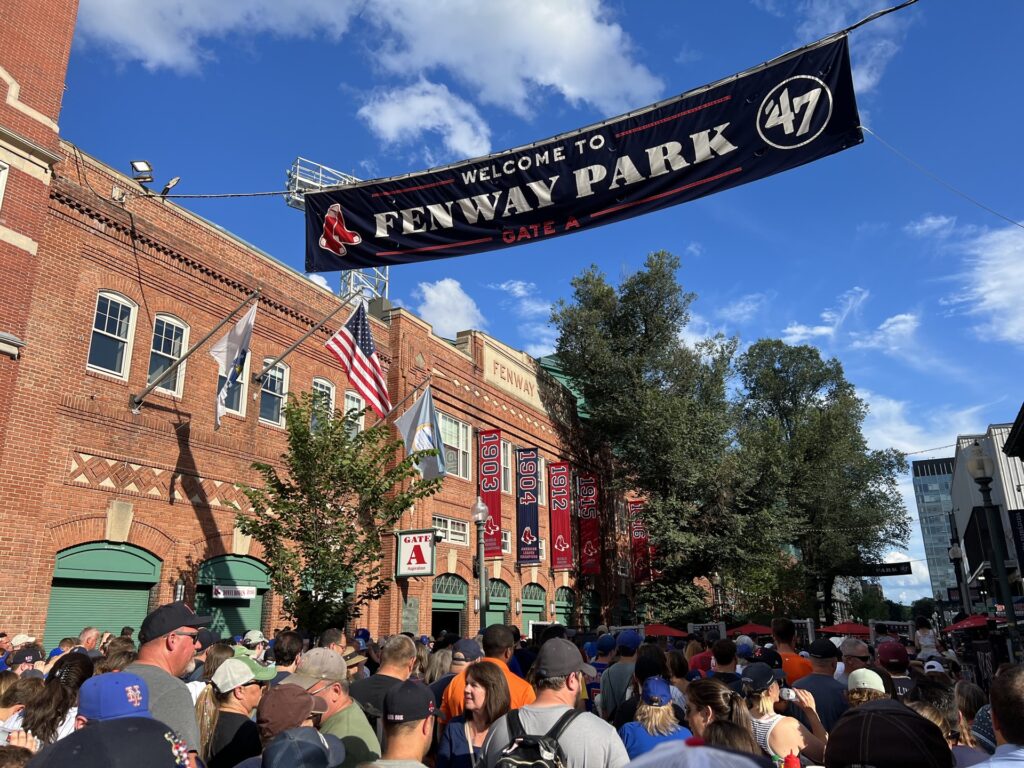 In This Post
Fenway Park Overview
Centrally located in Boston's Fenway-Kenmore neighborhood, Fenway Park is a city ballpark. With that, you get the perks of public transportation, nearby bars and restaurants, and a baseball experience that extends beyond the confines. It also means the stadium isn't surrounded by a sea of parking lots (something our carless urban hearts personally love, but drivers surely hate.)
The unique shape and architecture of the stadium is apparent from first glance. The asymmetrical stadium is sandwiched between five criss-crossing streets. The main gates to the park are at each of these intersections.
There's no centerpiece marquee outside of Fenway. There is a large Red Sox sign on the back of the scoreboard which can be see from Landsdowne Street, but it isn't otherwise a very photogenic spot. Instead, you might find the Fenway banners on Jersey St or the paintings along the concourse make for a better photo op.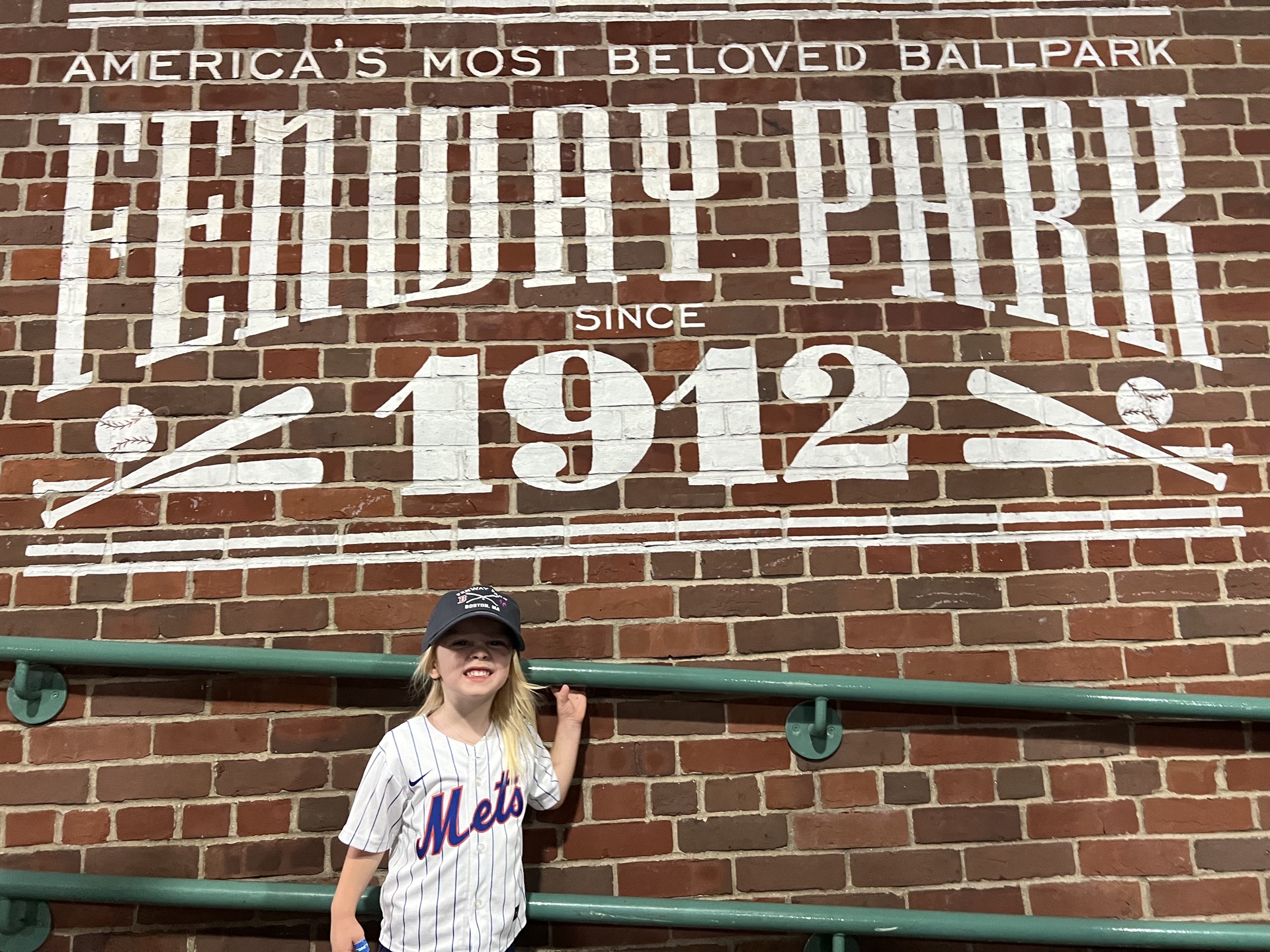 Jersey Street (the new name for that other street which was renamed in 2018) is closed to vehicle traffic on game days. The street turns into a block party and becomes an extension of the stadium. There are food vendors, live music, and even a Red Sox stilt walker before the game, plus access to the largest team store. You can freely move between the stadium and Jersey Street during the game.
Fenway Park is a small stadium, and once you step inside you can immediately feel that. The concourses around the park are narrow and crowded. Unlike many newer stadiums, there is no view of the field from the concourses. You will have to rely on the many screens above to keep track of the game while you buy your Fenway Frank.
It's also worth noting that the field level concourse does not circle the entire stadium. The concourse ends at the bleachers on one end and the Green Monster (the large green wall in left field) on the other, so you can't walk around the entire stadium.
When you step into the stands at Fenway, that's when it hits you. Thats when you can feel the history of the ballpark and the game sweep over you and you almost have to pause to take it all in. You spot the field's famous features like the Green Monster wall and the Pesky's Pole. You see the simple but meaningful Fenway Park sign behind home plate. Everything is dark green and white and it just feels like baseball.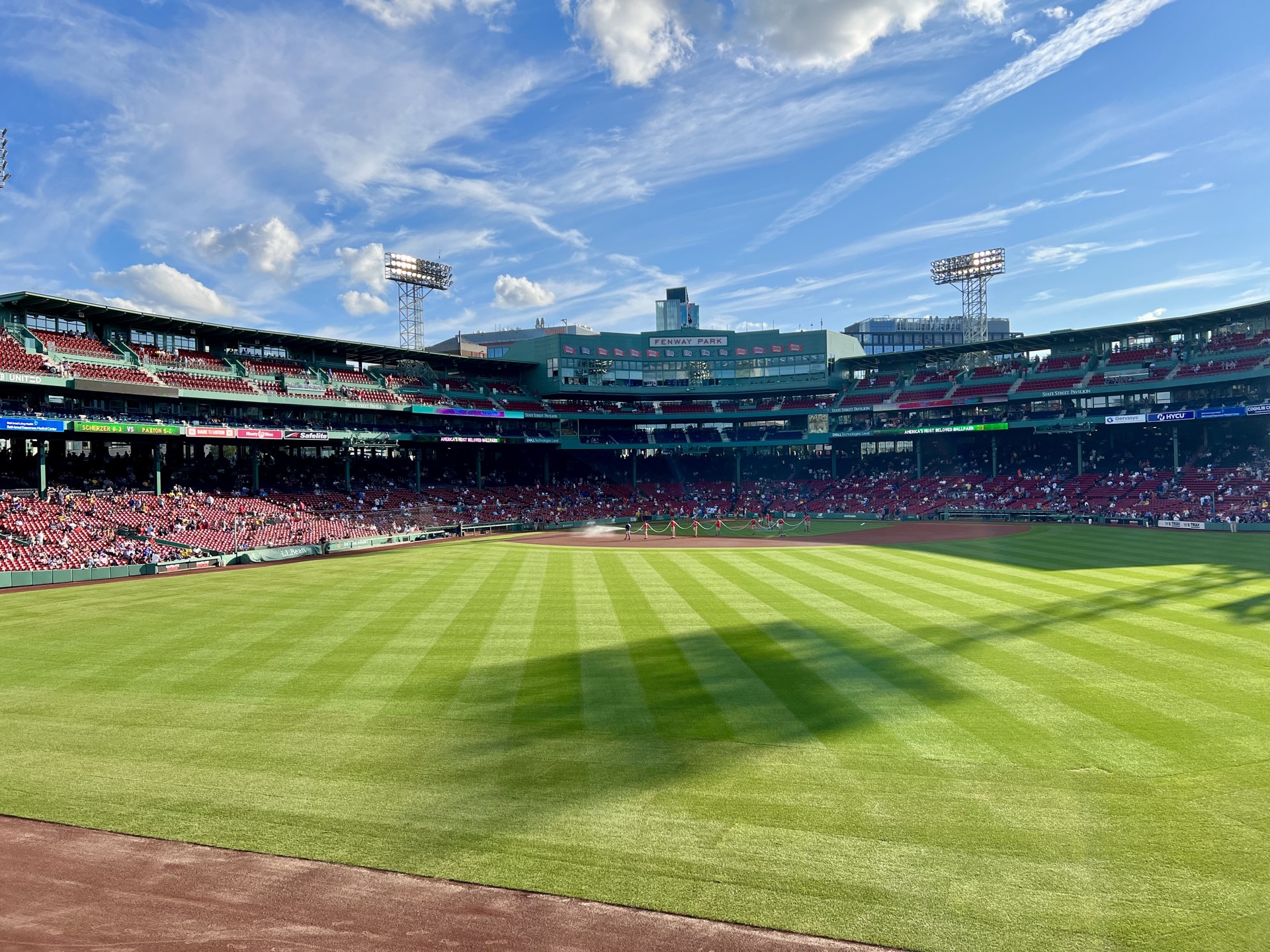 Picking Your Seats at Fenway
Picking your seats at Fenway requires a little bit of effort. The unique shape and features of the stadium, combined with the older construction means that seat selection is not as simple as how close you want to be to the action.
First off, Fenway has a lot of obstructed views, mostly in the Grandstand sections. The obstructions come in the form of the large green poles that hold up the stadium and the overhangs from the decks above.
There is not a prominent "obstructed view" flag when you buy tickets direct through the Red Sox website. However, there is a seat view feature built into the interface. Click the binoculars before you book your seat to be sure your view doesn't look like this.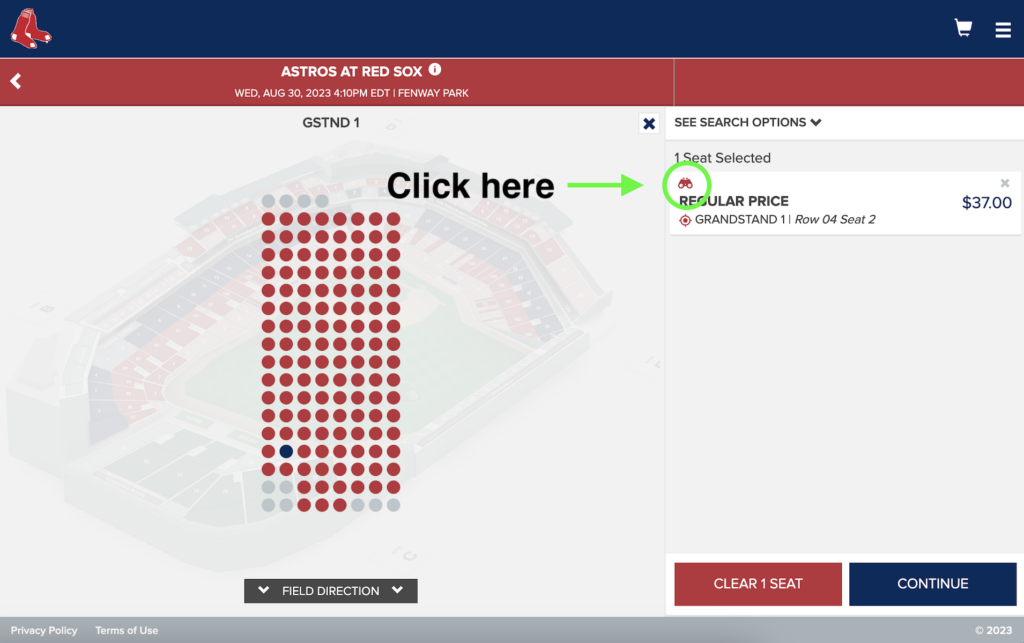 If you're buying tickets from a third-party site, you can still avoid (or prepare for) issues by checking the view from your seat on a 3D seat map. (For any fellow chart people out there, this website has a great visualization of the obstructed views by section.)
Now, let's take a look at a few of the seating categories at Fenway.
Loge Box Seats
Field Box level is the closest seating section to the infield, and the Loge Box level is just behind that. These seats offer great, close views of the game without any obstructed views. Loge Box seats are easily accessible from the main concourse, which means convenient access to concessions and bathrooms. These seats are not often cheap, but they are darn good.
We spent a pretty penny on Loge Box seats (Loge Box 145, Row AA, Seats 2-4) for the Red Sox game against the New York Mets. In fact, these tickets were the most we've ever spent on a regular season baseball game. We justified it initially by saying that it was our first trip to Fenway against our home team, but appreciated them even more when our day game changed to a night game (with a toddler).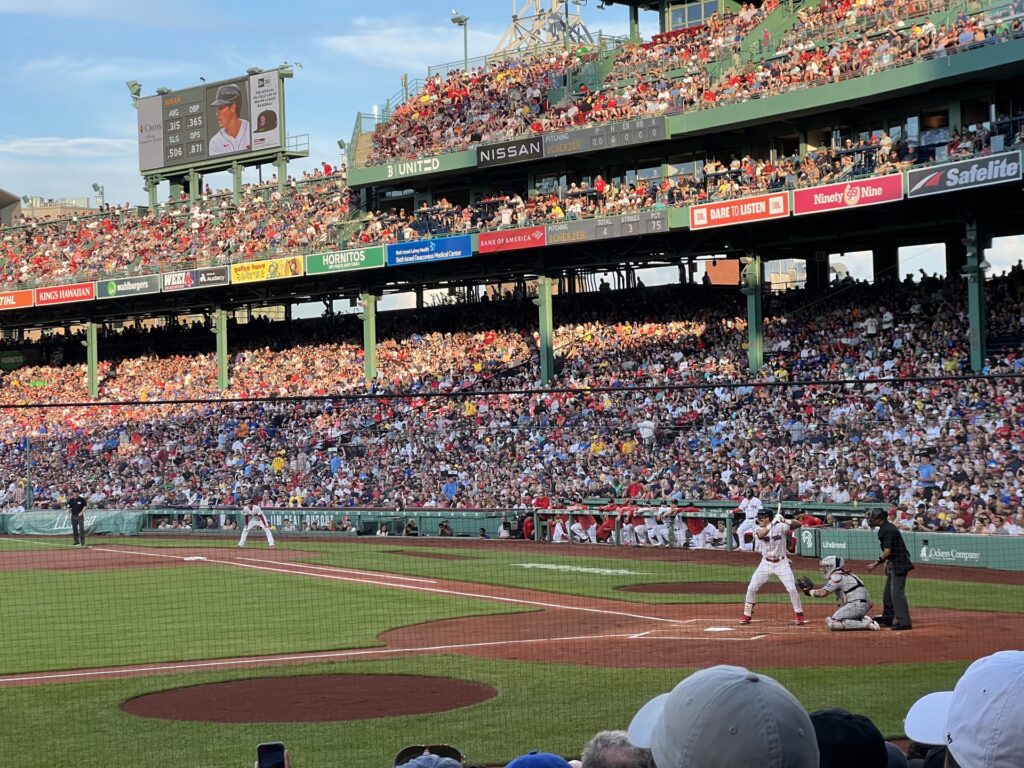 Money aside, we appreciated every second in those seats. All night I was talking about how perfect they were. We were so close to the action that our toddler could actually see what was going on, which surprisingly kept them engaged for most of the game. Plus, we sat behind the visiting team's dugout. Not only could we see our favorite players up close, but there were also a lot more Mets fans in the area.
We also got tickets in the front row of our section on a corner. If we put our toddler in that corner seat, we didn't have to worry at all about them bumping into or bothering anyone around them (because there wasn't anyone around them.) We also only had one person separating us from the aisle on the other side, so we were never climbing over an entire row of people. They truly were the best seats I've ever had at a baseball game.
If you can afford the splurge, I'd highly recommend Loge Box seats.
Fenway Grandstand Seats
Just beyond Loge Box level is the Grandstand seating level. This is where you'll start to find more reasonably priced tickets. Do be cautious of obstructed views, but if you play your cards right these seats can be a great value.
Grandstand seats are still just off the main concourse. You're not yet in the upper tier, so you're still very close to the action. The seats are also covered by the upper deck, which is good for sunny and rainy days. (That same coverage can cost you your view, though, so be sure to check before you buy.)
The Grandstands also feature wooden seats which date back to the 1930s. This is cool and historical, but not very comfortable. These seats are also close together in all direction, so they're not great for larger or taller fans.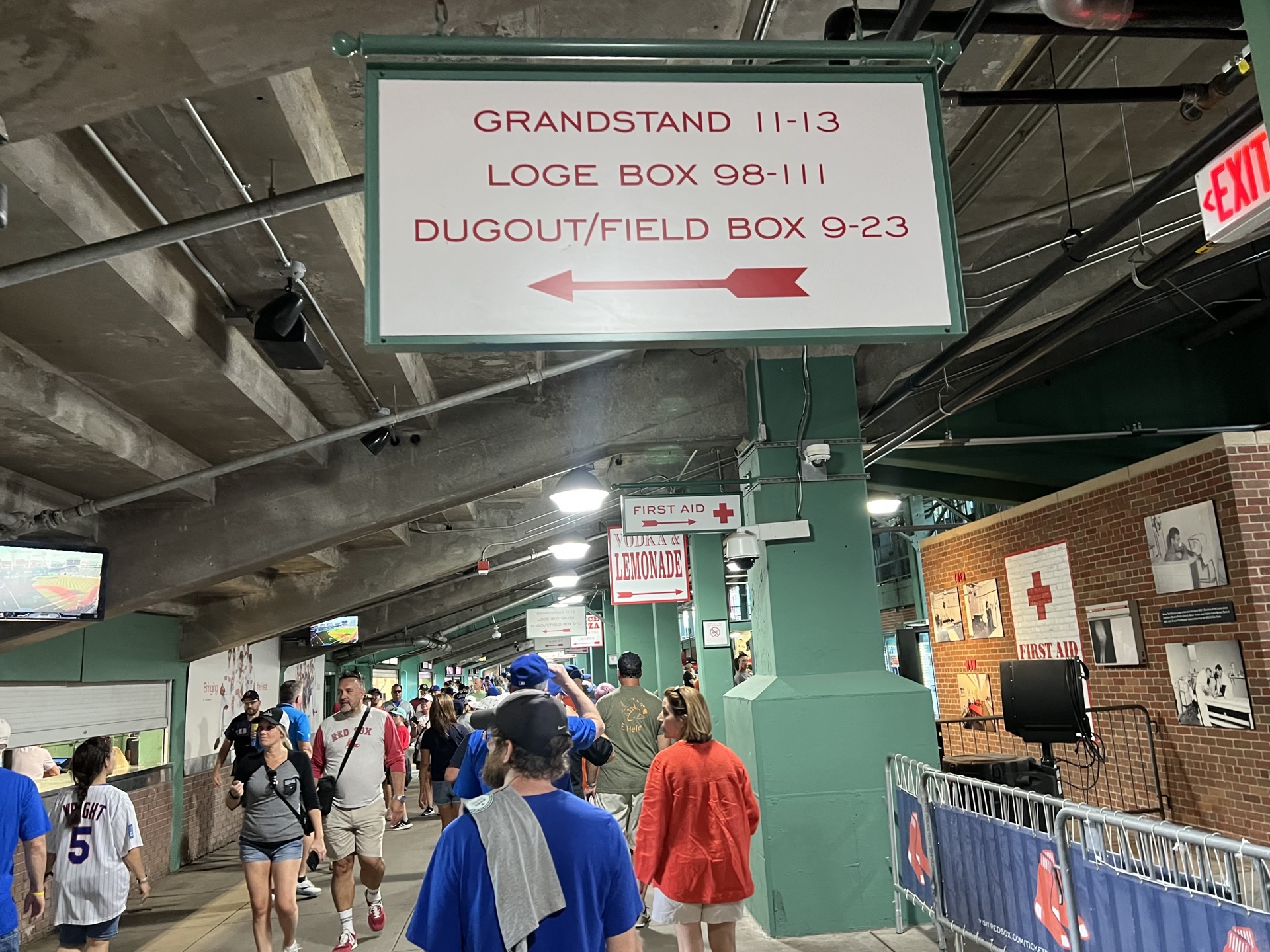 Bleachers at Fenway
The Bleachers at Fenway aren't bleachers at all. Instead, the Bleacher section comprises actual seats with backs and everything. While the physical seats are different, the section is generally the same as any bleacher section in the MLB. It's all open seating (first come, first served), it's located in the outfield, and the fans can often be a bit rowdier.
The Bleachers at Fenway are pretty far away from the field, too, so the view isn't great. However, many fans still love to sit in this section for the camaraderie and energy.
Bleacher ticket holders still have access to the rest of the stadium and its concourses (premium boxes and suites excluded).
Green Monster Seats
Out in left field is a massive green wall — the tallest outfield wall in the MLB — which is lovingly referred to as the Green Monster. Built into the wall is a manual scoreboard, and on top of it sits some of the most sought-after seats in baseball. Tickets for these seats sell out quick, but you can sometimes get lucky on third-party sites.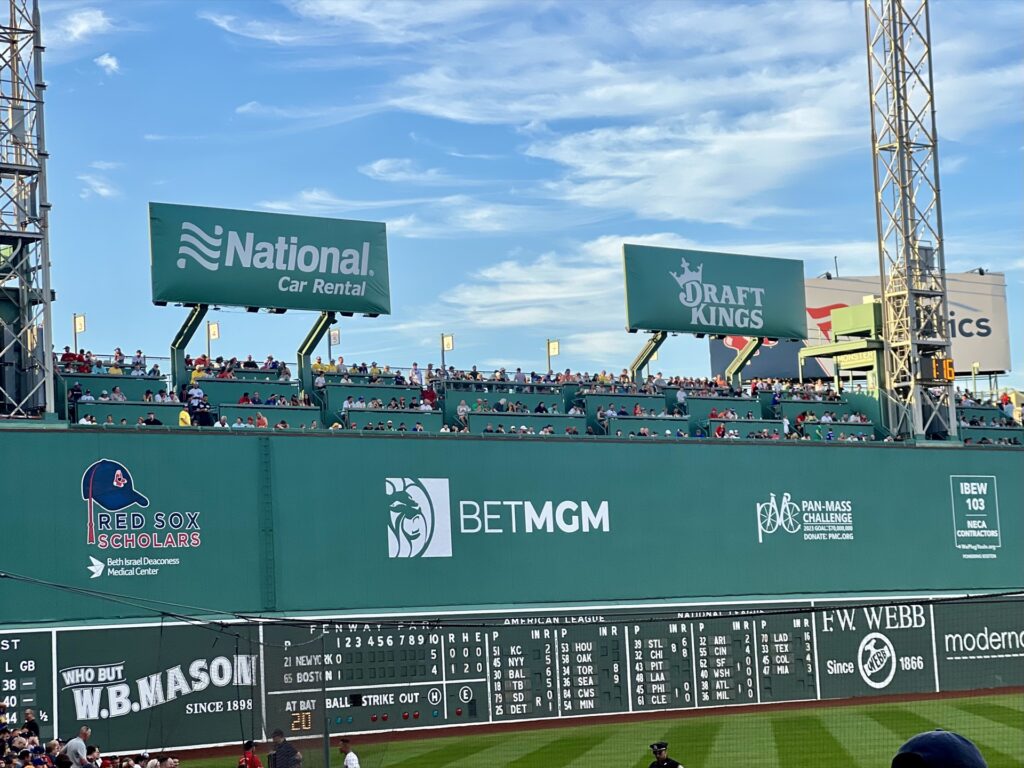 The seats on top of the Green Monster are more than just unique, they're actually pretty great. Each seat is a stool with a back, and is seated at a bar style table where you can keep your food and drinks. For the most part, the views from up here are good, but you do lose views of the outfield below you (unless you're in the front row). And of course, you don't have views of the Green Monster.
The Green Monster also has Standing Room Only tickets available. These tickets are much cheaper, but you won't get an actual seat. If you arrive early and get a standing spot close to the bar overlooking the field, you will enjoy a great view. From the back of the standing area, you can't actually see much of the game, and it's more about the atmosphere. It's still a worthwhile special experience for many.
There are a few downsides to seating on the Green Monster. There are no bathrooms on the wall itself, so you will have to go down to the main concourse when you've got to go. There's also not many concessions up there. If you want anything more than your basic hot dogs, peanuts and beer, you'll need to head downstairs.
If you do not have a Green Monster Ticket (seat or standing room), you may not enter the Green Monster area. However, Green Monster ticket holders may also access the rest of the stadium and its concourses (premium boxes and suites excluded).
Fenway Standing Room Only
Standing Room Only tickets are usually the cheapest way into a game at Fenway. As the name implies, these tickets do not come with access to any seats. Instead, you can watch the game from a variety of designated standing room sections around the ballpark.
Standing Room Only tickets are by section. I mentioned Green Monster Standing Room Only, which is a specific ticket. You can also get Standing Room Only tickets for other specific sections, like Right Field Roof Deck. This area is great because it doesn't have any obstructed views.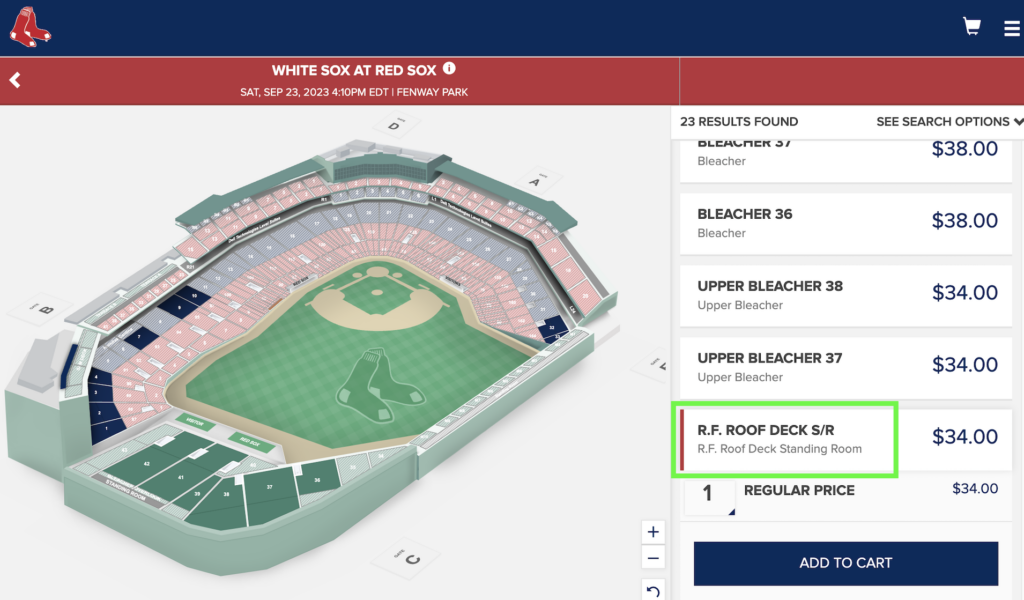 Standing Room Only tickets actually sell out pretty quickly on the Red Sox website. However, you can usually find them on third party sites like StubHub.
Other than not having a seat, Standing Room Only ticket holders don't have any other restrictions. You'll still have the same access to the stadium and its concourses (premium boxes and suites excluded).
Other Seats at Fenway
In the sections above, we covered some of the details about the most popular and best seating sections at Fenway but we definitely did not cover all of them. If you really want to dive deep into the different seating sections and best and worst ticket options, head over to this great and detailed guide on Fenway Park Seating.
Otherwise, I would say that any ticket to Fenway is better than no ticket to Fenway. All tickets include access inside the historical stadium and through the concourses. Wherever you end up, you'll have some sort of view of the game, and even a bad view is special here.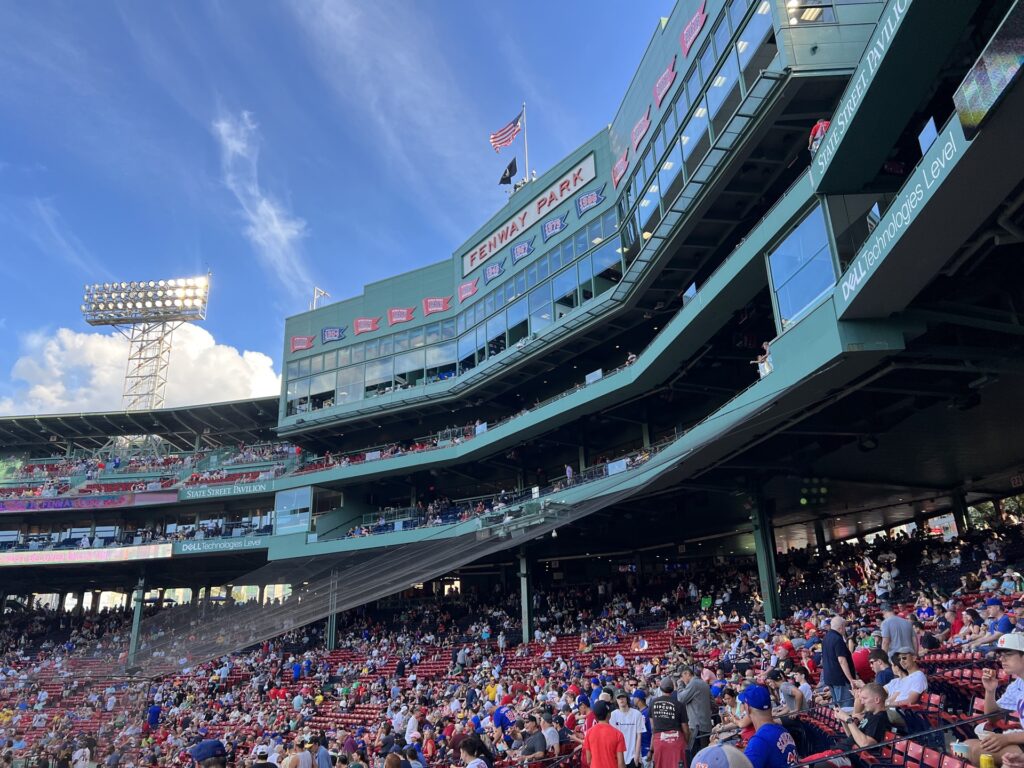 How to get to Fenway Park
Fenway Park is located in the Fenway-Kenmore neighborhood of Boston. There is not a lot of parking near the stadium, so driving is out of the question. You could take a rideshare, but traffic is awful so it's not ideal.
It's usually best to get to Fenway Park by public transit — specifically by train. It is crowded though, so be sure to leave early. (If you're staying in nearby Back Bay, you can also walk to the stadium pretty easily.)
The Green Line metro tram stops near Fenway Park at Kenmore station. There are signs in the station and at street level that will guide you on the short (0.25 mile) walk to the stadium. (You can also get off at Fenway station, but it's a longer walk and only makes sense if you're coming from the west.)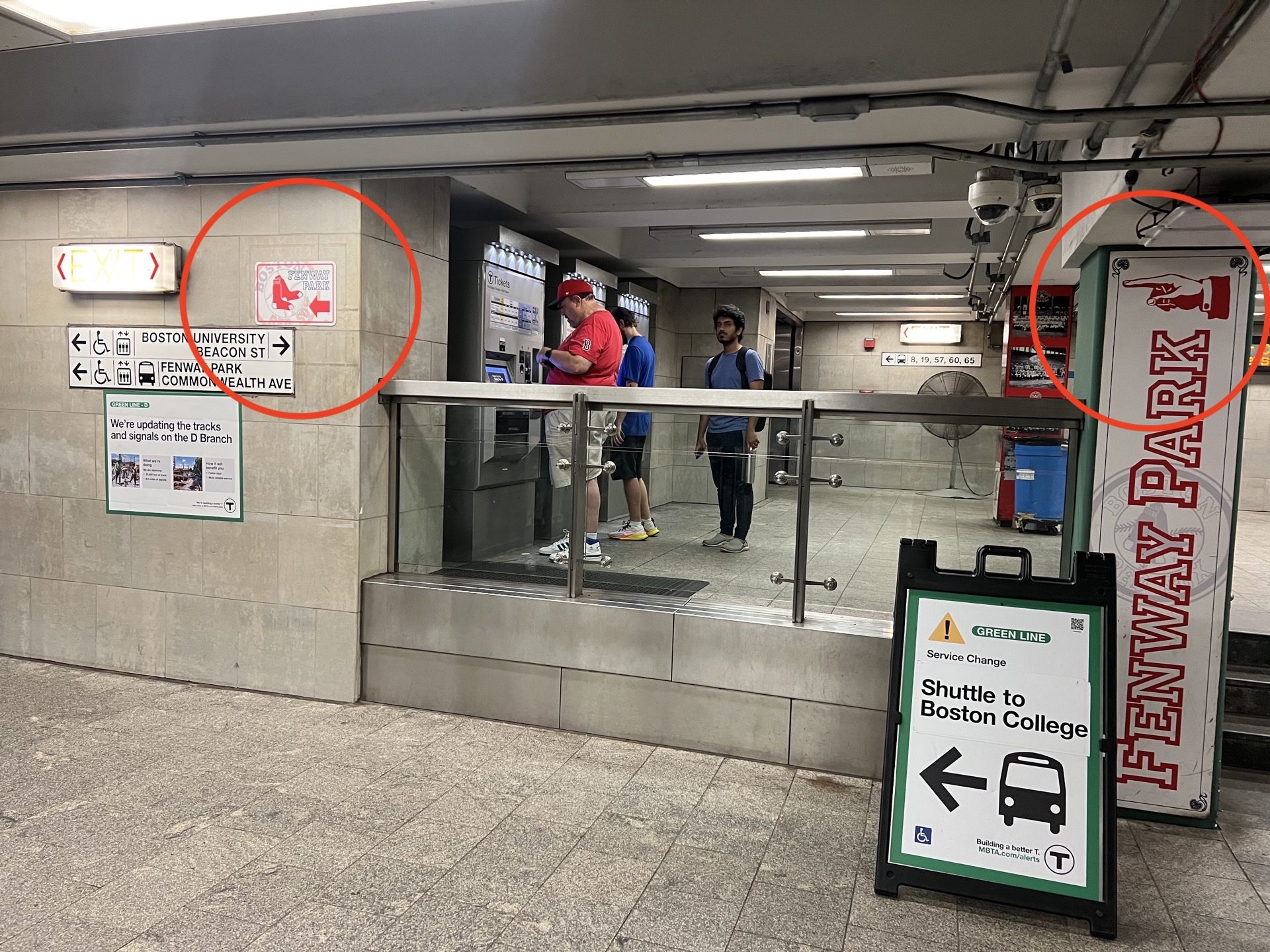 Leaving Fenway
Leaving Fenway is a different story. Now, I'm a city gal without a car and am generally very pro public transportation. I have taken crowded trains home from baseball games at Yankee Stadium, Citi Field and Wrigley Field many times. None of those experiences compare to just how awful our experience was on the Green Line in Boston after a Red Sox game.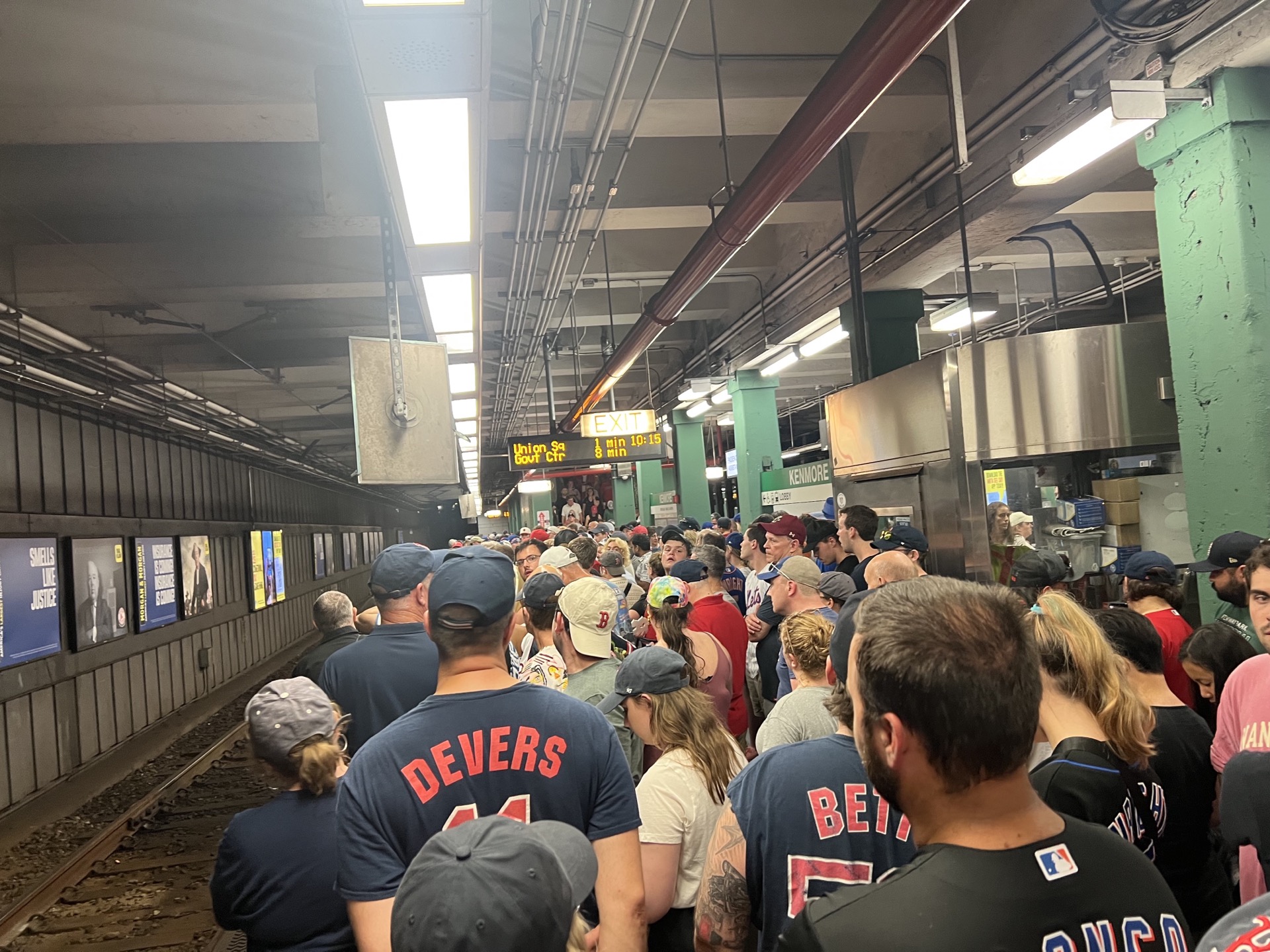 The Green Line isn't actually a full train. It's a tram with only two cars. That's not enough for a stadium full of people leaving at the same time. Plus, they didn't increase service to accommodate the (very much expected and regular) crowds. And to make things worse, there were no markers on the platform to indicate where the tram would actually stop. So here we were at the front of the completely packed platform, and the tiny tram stops in the middle nowhere near us. It was pretty brutal and took forever.
At minimum, prepare yourself mentally for this. Alternatively, I would highly recommend avoiding this all together. You might want to leave the game early or grab a drink in the neighborhood to kill some time and then take a rideshare. Walking might even be a better option. (Without a kid, I'd have definitely walked the 2.5 miles to our hotel over that train ride.)
Things to See at Fenway Park
Fenway Park is an old school ball park that is all about baseball. However, there are still are a few spots around the stadium that you don't want to miss.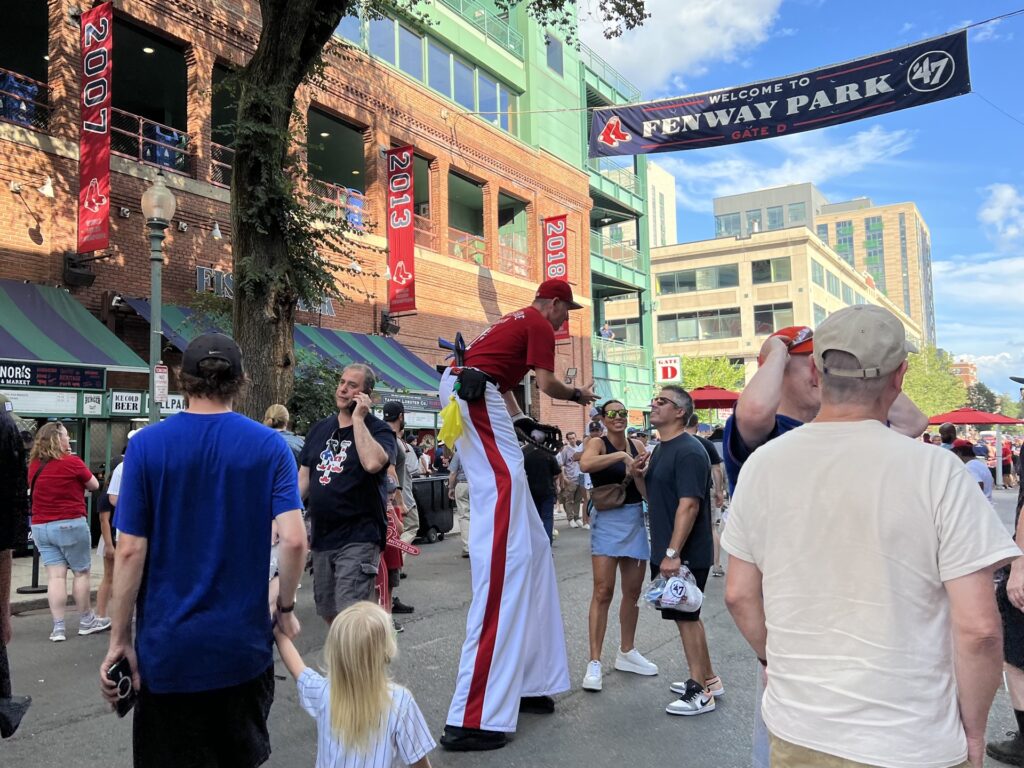 Jersey Street: The block of this street between Brookline Ave and Van Ness St is closed to vehicle traffic for 3 hours prior to the start of the game. There's some entertainment, street vendors, and a large team store. It also has some really good banners that make for a great photo spot. It's much more spacious than inside the concourses.
Big Concourse: I quickly learned why they go out of their way to call this the "big" concourse: all the other concourses are very small. The Big Concourse has a lot of concession stands with clearly marked overhead signs. You cannot see the game from here, but there are TV screens. The Big Concourse is located below the bleacher sections in right field, between sections 40-86 (roughly). If you're looking at a map, it's inside the stadium between Landsdowne St and Van Ness St.
Kids Concourse: The Kids Concourse is located right next to the Big Concourse by gate K near the corner of Van Ness St and Ipswich St. It has a handful of games and activities for kids, but it's pretty small and crowded. There is also a Fan Services booth, nursing pod, and kid friendly concessions in this concourse.
Photo Ops & Memorabilia: Walk the main level concourse along the first base line parallel to Van Ness Street. Here you'll find a cool Fenway Park sign, a history of the Red Sox logos, and a few other exhibits with photos and memorabilia. These little exhibits are scattered around the rest of the ballpark, too.
The Green Monster and Fenway Park Stadium Sign: Be sure to snap a photo of these two ballpark icons inside the stadium. You'll probably be looking at one for most of the game, but you might have to go somewhere else to see the other.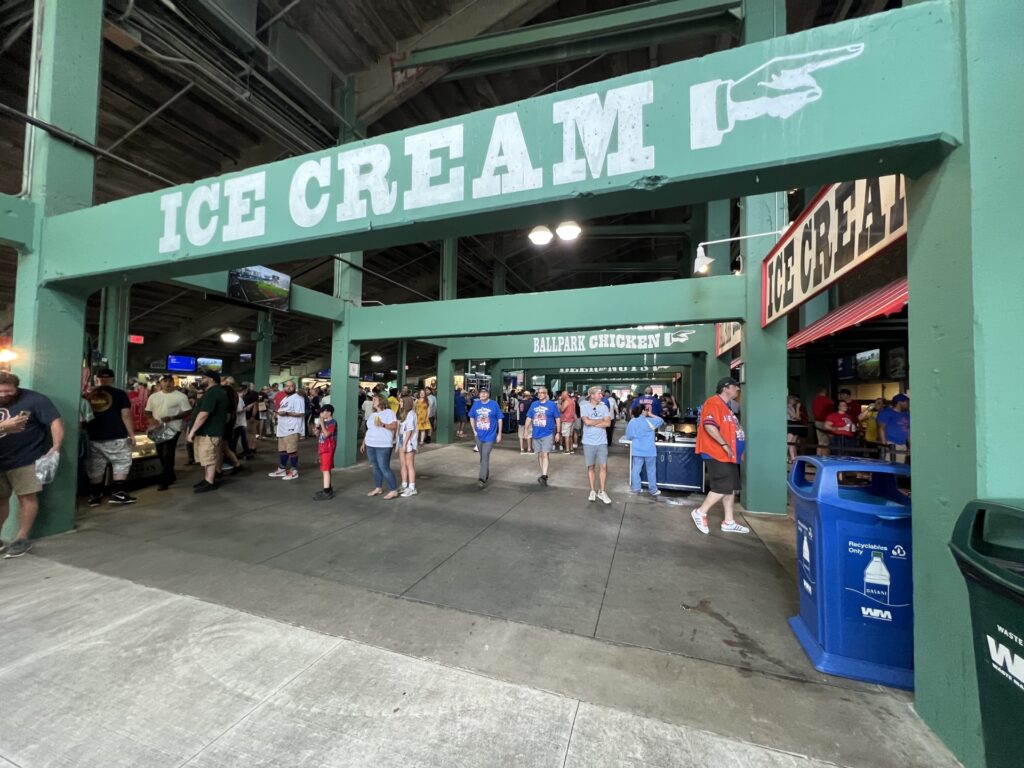 NOTE: There is no museum or hall of fame in Fenway that's open to all ticket holders. There is a museum above the Big Concourse, but during games it's only accessible to season ticket holders. The general public can otherwise access the museum with Fenway Park tours.
First Game Certificate at Fenway Park
If it's your first time a Fenway, don't forget to get your (free!) first timer goodie bag!
Most MLB stadiums have some sort of first game certificate. At Fenway Park, they offer a digital first game certificate, which you can print at home at anytime. I actually prefer this because it's hard to keep a paper certificate clean and flat for an entire baseball game.
In addition to the digital certificate, you get a few other special goodies, too. The exact contents may vary, but we received the following:
First Timer Button
Sticker
Bracelet
Small bag of dirt from the field
To get your Fenway first game certificate and goodie bag, stop by a Fan Services booth at one of the following locations.
Gate B/K (In the Kids Concourse near the corner of Van Ness St and Ipswich St)
Gate D (In the Home Base Concourse near the corner of Jersey St and Van Ness St)
Gate E (In the Third Base Concourse near the corner of Brookline Ave and Lansdowne St)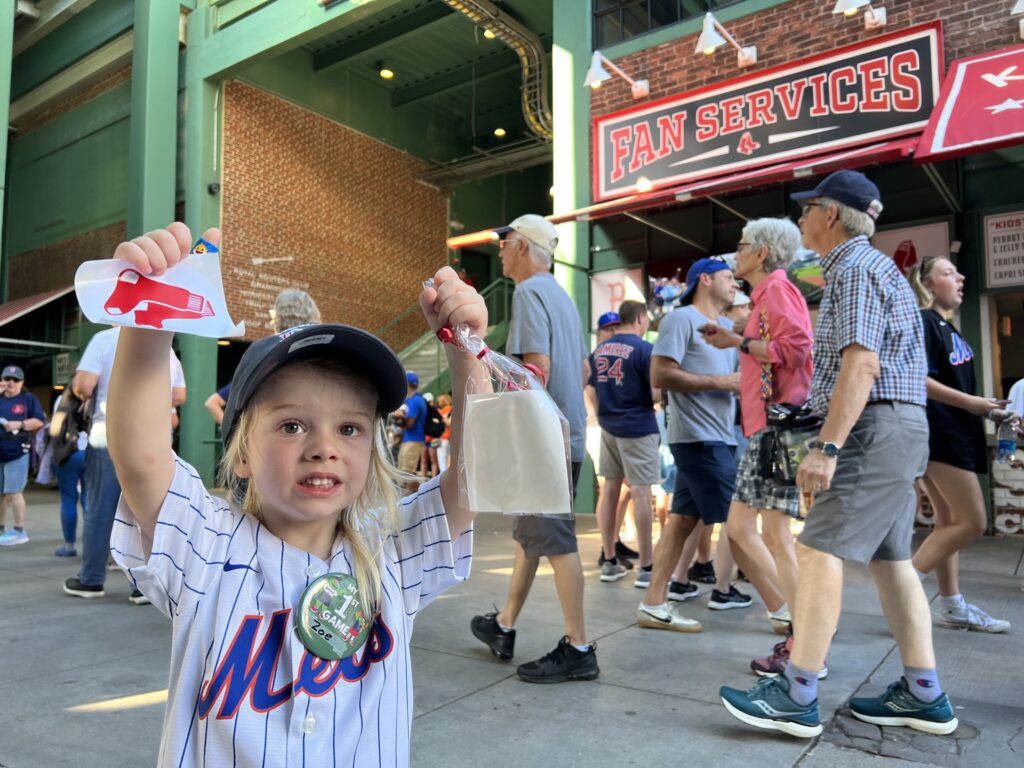 Stadium Locations You Should Know
Despite being a small and pretty straightforward ballpark, I found Fenway a bit hard to navigate during my first visit. I think that's largely because the concourses don't overlook the stadium, so it's hard to get grounded. Instead, locational information is given in terms of gates, concourses and seating areas. So let's start there.
Fenway Gate locations (counterclockwise from Gate A):
Gate A: Corner of Brookline Ave & Jersey St
Gate D: Corner of Jersey St & Van Ness St
Gate B: Corner of Van Ness St & Ipswich St
Gate K: Also on the Corner of Van Ness St & Ipswich St with direct access to Kids Concourse
Gate C: Lansdowne St (middle of the block between Ipswich St & Brookline)
Gate E: Corner of Lansdowne St & Brookline Ave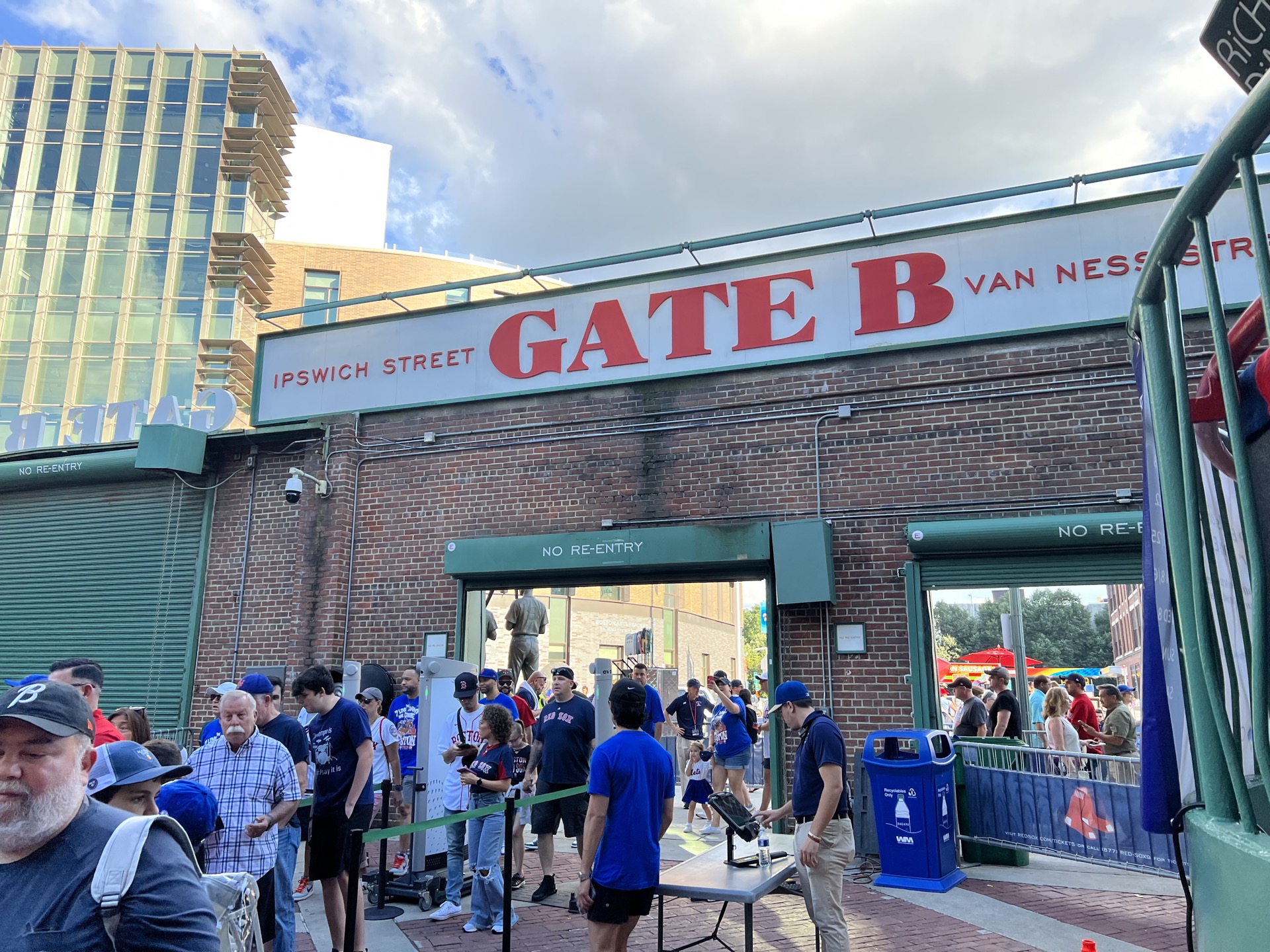 That said, now let's go through where you will find some some specific services and amenities around Fenway Park.
Fan Services: Kids Concourse near gates B & K, Home Base Concourse near gate D, and Third Base Concourse near gate E.
First Aid: Main level concourse near section 12. (Right field between gates B and D)
Nursing Mothers Room: You are welcome to nurse anywhere, but private spaces are also available. A Mamava pod is located in the Kids Concourse near gate K (you'll need to first get a key from the Fan Services booth) and there's a room on level 5 behind the State Street Pavilion Box.
Sensory Kits & Noise Cancelling Headphones: You can rent these items for free at any Fan Services location. A $20 cash deposit is required and will be returned when you return the items.
Elevators: Gates D, B & E
Bag Storage Lockers: If you get to the stadium and your bag doesn't pass the security screen, you can pay to have it safely stored nearby. Bag storage is available on the top of the Lansdowne Garage across from Gate E.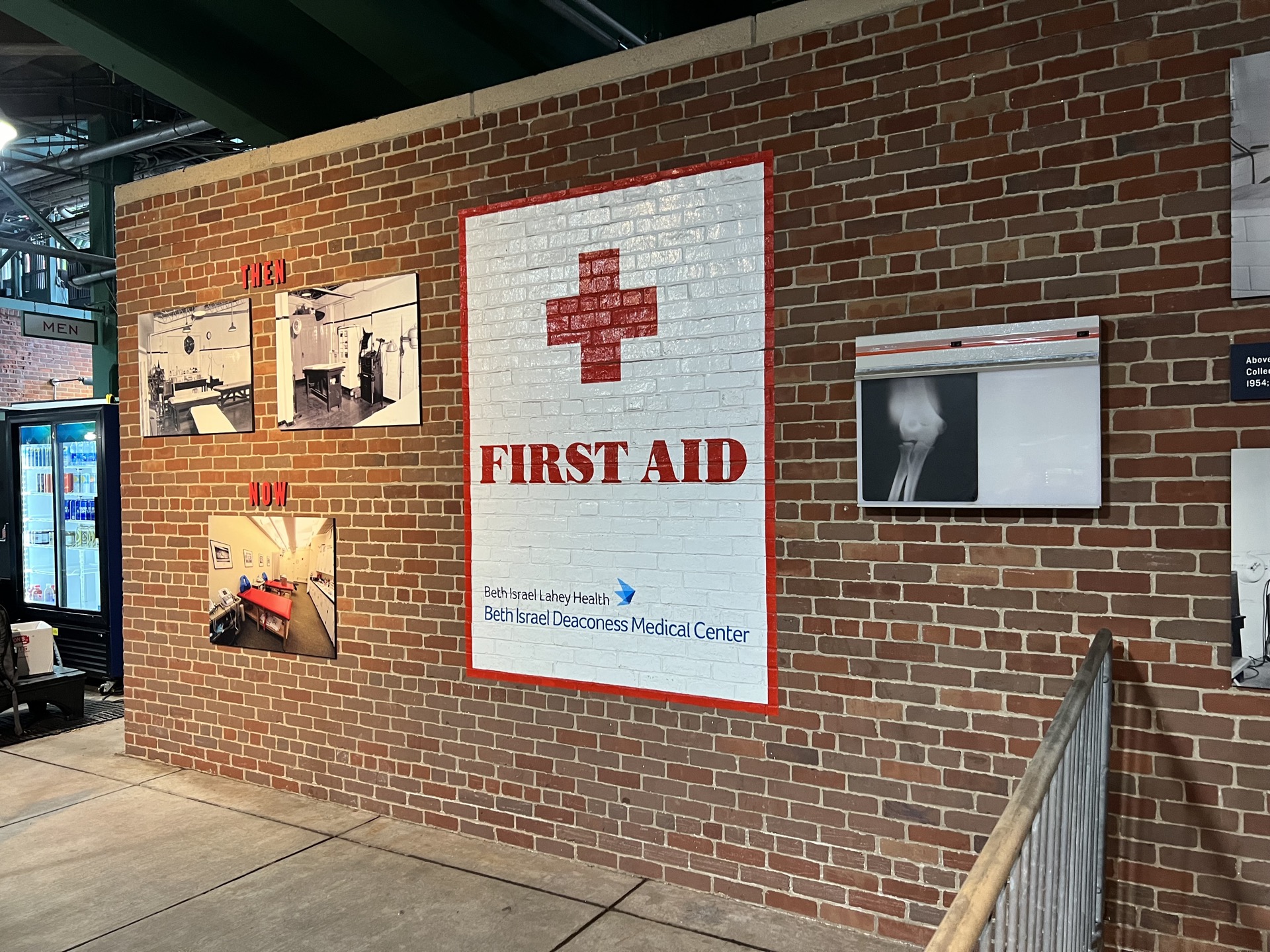 Food at Fenway Park
The food at a ballpark is always a huge part of the experience. Whether you're looking for the tastiest treats or trying to accommodate a specific dietary requirement, Fenway park has all those bases covered. (Pun intended.)
First off, Fenway has a pretty thorough guide to all the food and drinks that are available at the stadium. If you're looking for something specific, be sure to check there for the most updated information. In this section, I just want to breeze through some of the most interesting and important menu items at Fenway.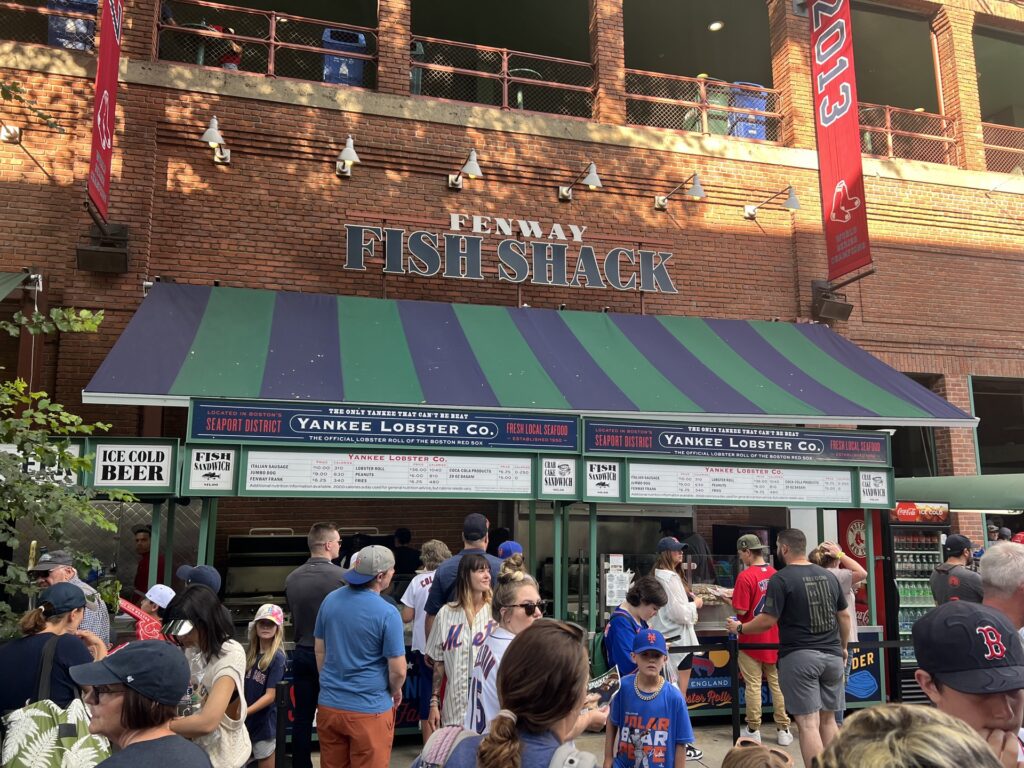 Lobster Rolls & Clam Chowder: You read that right — at a ballpark! That's New England for ya! You can find Lobster Rolls at: Gate E Concourse, Home Plate Concourse, Home Plate Grandstand, Jersey Street, Kids Concourse, Sam Deck & Truly Terrace. Clam chowder is available at: Home Plate Concourse, Left Field Pavilion, Right Field Pavilion, Truly Terrace.
Fenway Frank: This classic local dog is boiled and then grilled and served on a split-top roll. You can find them at a slew of locations around the ballpark, including the Bleacher Concourse, Jersey Street and Home Plate Concourse (just to name a few).
Baseball Helmet Ice Cream: This is my personal favorite because you get dessert and a souvenir in one. Grab a mini baseball helmet filled with Hood Ice Cream from a variety of locations around the park including: Bleacher Concourse, Gate E Concourse, Home Plate Concourse, Kids Concourse & Right Field Concourse.
Fried Dough: This is another Boston specialty. It's somewhere between an elephant ear and a funnel cake and is usually topped with powdered sugar. Grab one from the Bleacher Concourse or Kids Concourse.
Vegetarian Hot Dogs: The vegetarian options overall aren't great at Fenway, but they do have a veggie dog at the Gluten-Friendly stand in the Gate A Concourse and in the Home Plate Concourse. (Note: They were sold out during our visit so maybe be prepared for that.)
Vegan Mingsbings: Vegan fans have a fun and unique option at Fenway. These plant-based fried pockets are filled with cheeseburger or sausage and peppers fillings. Grab one on Jersey St or the Sam Deck.
Sam Adams: Drinking a Sam Adams at Fenway was a must do for us! Fortunately, it's incredibly easy to do because they sell Sam Adams all over Fenway. (Not a bad ballpark beer!) Sam Adams seasonal is available all over the ballpark and Boston Lager is served in the Gate E concourse and Sam Deck.
Non-Alcoholic Sam Adams: It's also easy and just as fun to have a zero proof version of the scenario above. You can secure Sam Adams Just The Haze non-alcoholic beer at many locations around the park, including: Bleacher Concourse, Gate E Concourse, Home Plate Concourse and Sam Deck.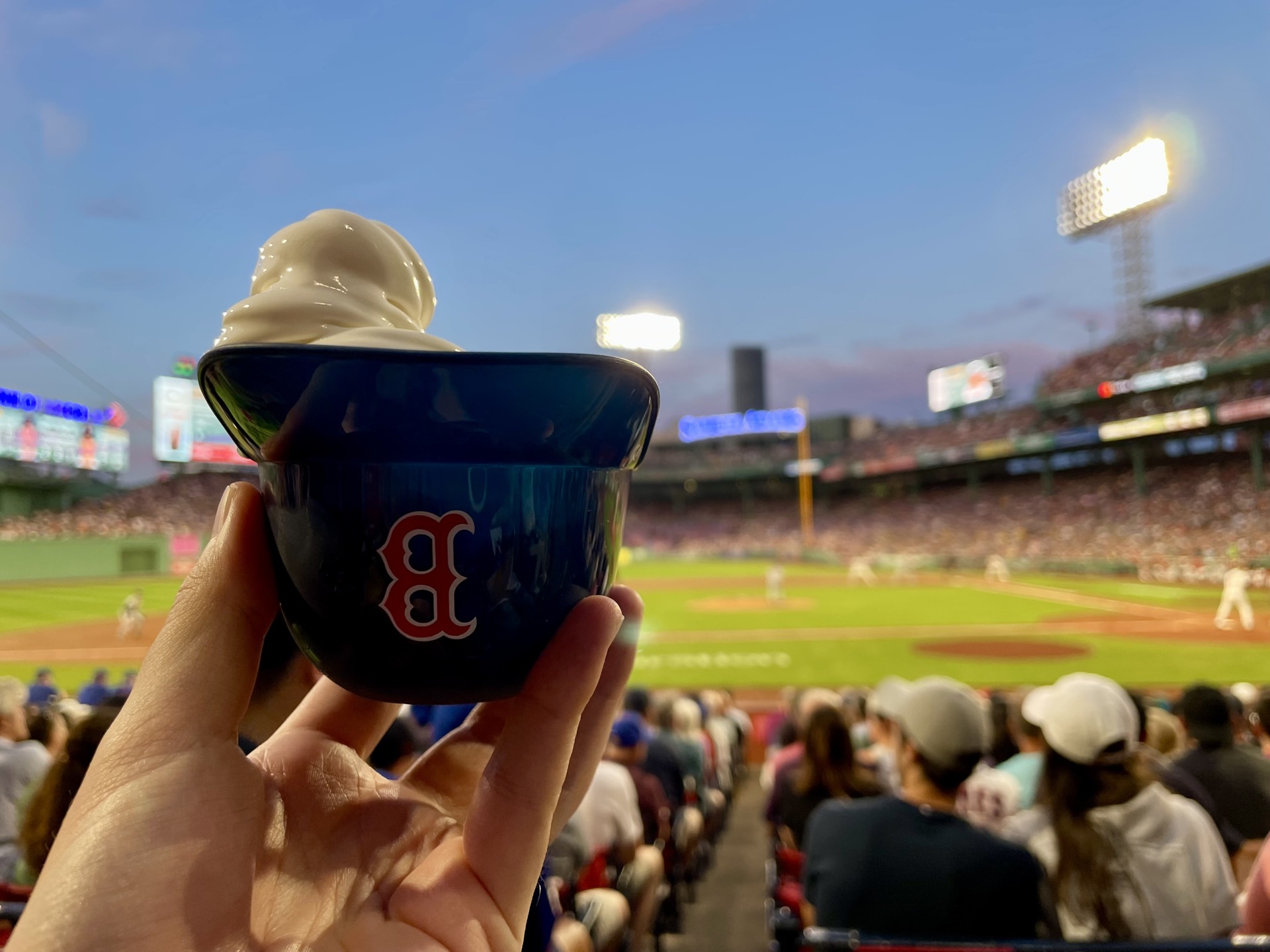 Tips for Your First Game at Fenway Park
We had an amazing first visit to Fenway Park. I did a ton of research before my trip, but I still learned a lot while we were there. Based on all of my research plus my personal experience, I put together my 10 best tips for your first game at Fenway.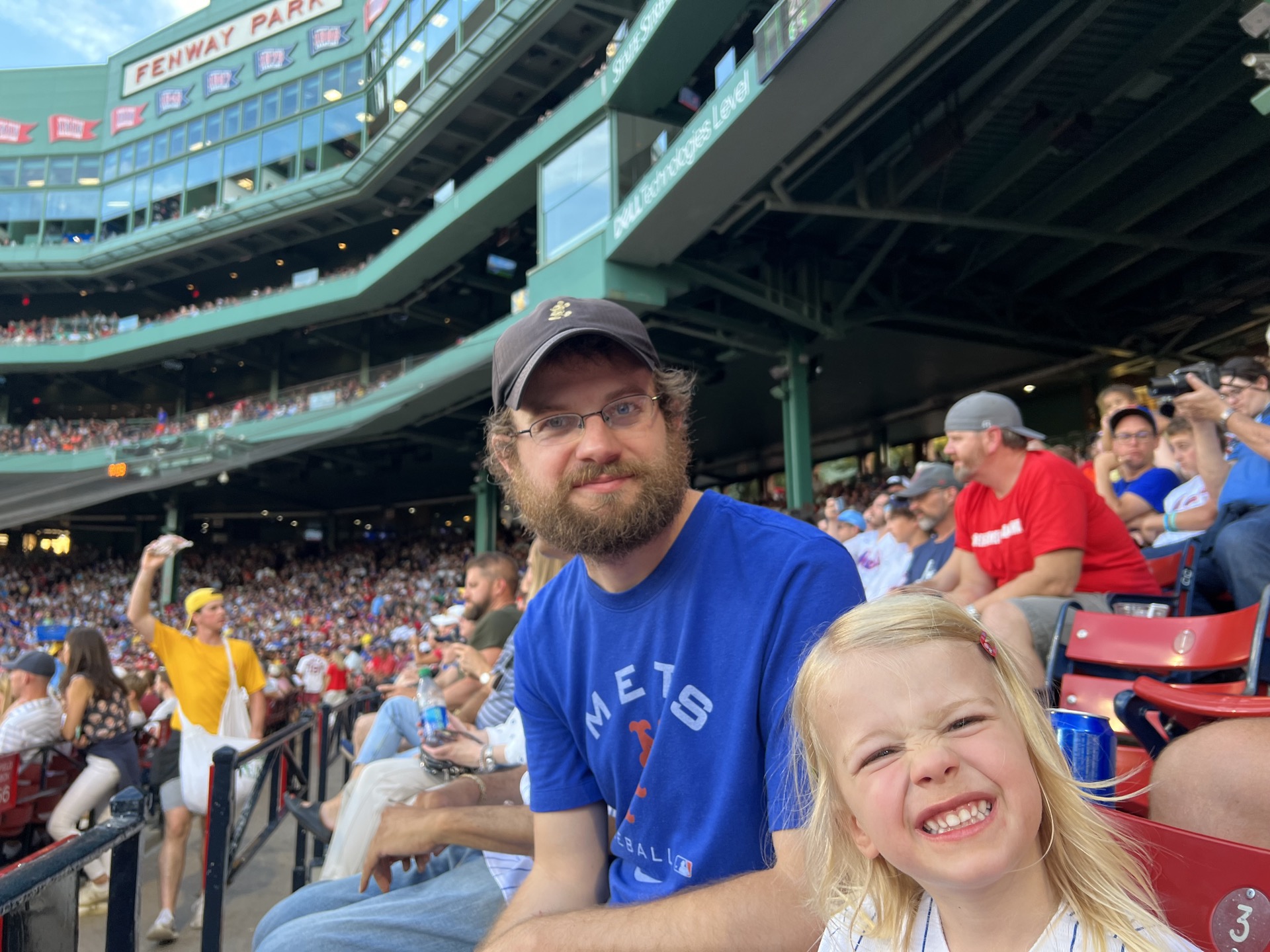 Get there early — like early, early. The gates open 90 minutes before the game, but crowds get there much sooner. We left at 4 PM for a 7 PM game and we had very little down time. After navigating the crowds on the Metro and at the stadium, taking a walk through the ballpark, and getting food, we were barely at our seats by game time.
Enter at Jersey Street. Gates A and D both lead right to Jersey Street. This is a great place to enter the stadium for your first visit. The banners and decor make a great photo op, it has a great atmosphere with performers and street food, and it's right beside the largest team store at the ballpark.
Check for matchup merch. If you're rooting for the opposing team, you might not think it's necessary to visit the Red Sox team store. However, they often have merch for the current matchup with both teams' logos, and also more general Fenway Park merch.
Check baggage requirements in advance. Backpacks and large bags (among other things) are not allowed at Fenway. If your bags don't meet the requirements, you won't be able to enter and may have to make a long hike over to the baggage storage lockers at the top of Lansdowne Garage. Check the current bag policy here.
Get your Fenway first visit certificate and goodie bag. This is a perfect free souvenir from Fenway park. Grab your bag and request your digital certificate from any Fan Services booth.
If you're rooting for the visiting team, sit behind the visitor's dugout. The visitor's dugout is located by third base. Sit in the sections behind there for the most visiting team camaraderie and views of your team.
Have a food Plan B. Fenway has great food options for kids and those with dietary restrictions. However, those items can sell out! In our experience, they were out of the PBJ kids meals and the veggie hot dogs. Consider bringing food or having a backup option in mind in case this happens.
Avoid the Metro after the game. The Green Line that stops near Fenway at Kenmore is not a train, but a tram with 2 cars. It took forever, it was packed, and it was extremely unpleasant. Depending on how you feel about that, you will want to skip it entirely, leave before the game ends, or just be mentally prepared for it to suck.
Escalator and elevator access is limited. Most able-bodied guests should expect to take the stairs or ramps to upper levels. There is not abundant elevator or escalator access at Fenway. It is ADA accessible though, so if you have a mobility issue, there are limited elevators available at Gates D, B & E.
Consider game day tickets. If you find yourself in Boston on a game day without tickets, you might still be in luck. A limited set of game day tickets are available for purchase at Gate E starting 90 minutes before the game. Each fan can buy one ticket for themself and must enter immediately.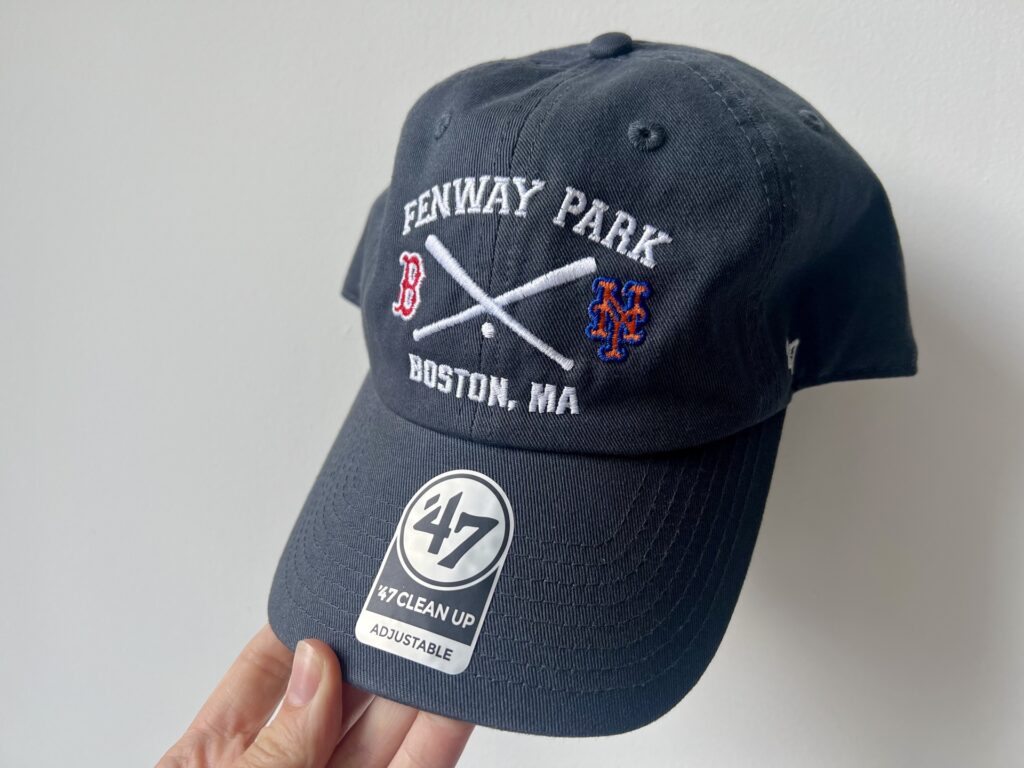 Bringing a Baby or Child to Fenway Park
Like most ballparks, Fenway is pretty family friendly. They have some fun things for kids to do (though not as many as some newer stadiums), convenient amenities that make bringing children easier, and some food items just for kids. Mostly though, Fenway is a fun atmosphere for kids to enjoy the game of baseball.
We brought our almost-three-year-old to the ballpark and had a great time. Our kid has been to several baseball games, but this was our first night. Between the ice cream and the good seats, we managed to keep them entertained for the whole game.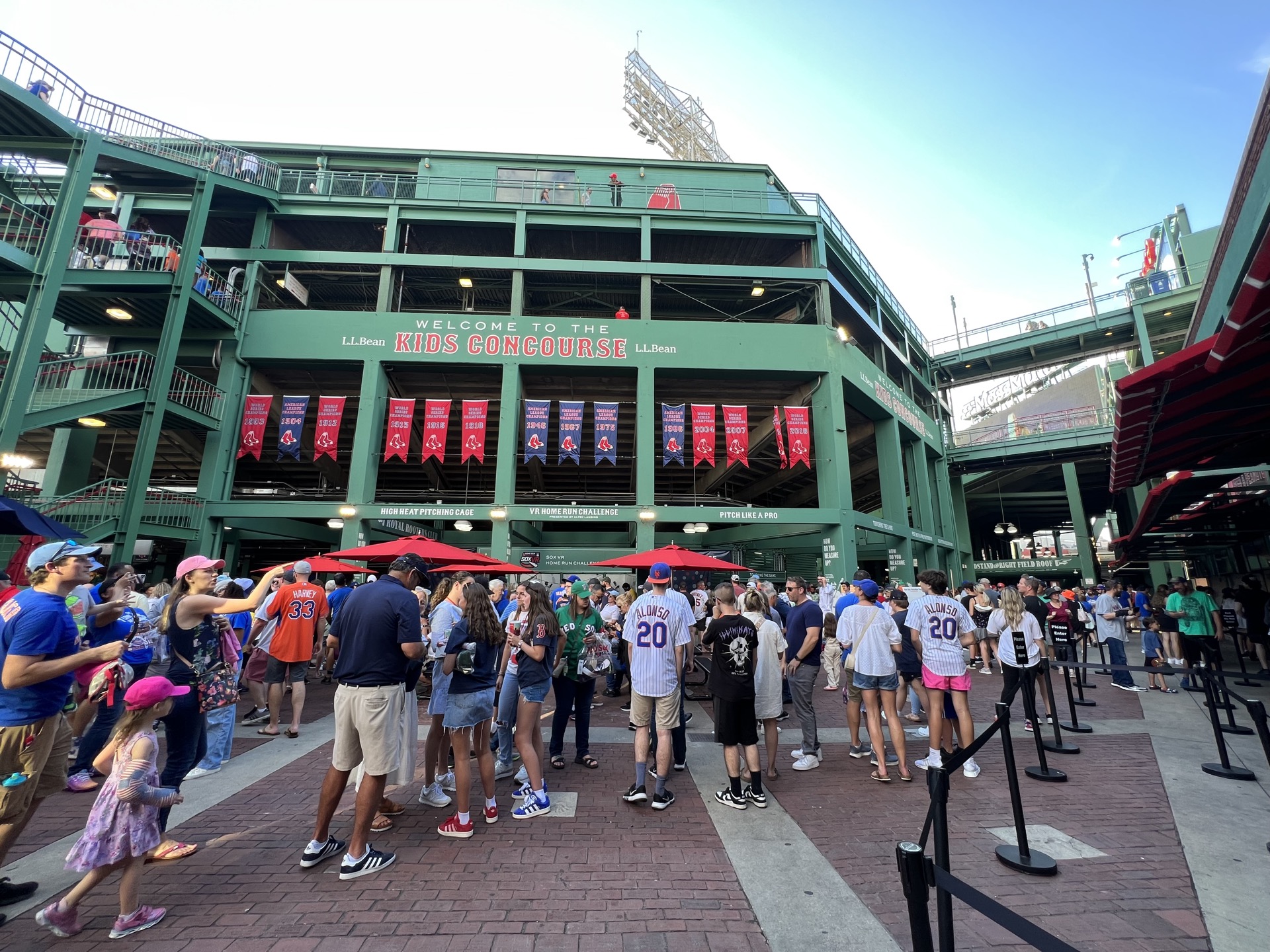 Here are 10 things to know if you're bringing a baby or child to Fenway.
Children 2 and under do not need a ticket. If a child doesn't have a ticket, they must sit on an adult's lap and cannot occupy their own seat. Children age 3 and older (and any child who wants their own seat) will require a full-price ticket.
Kids meals are available. PB&J or hot dog kids meals (served with animal crackers and a Capri Sun) are available in the Home Plate Concourse or Kids Concourse. PB&J kids meals (served with Goldfish crackers and a Carpi Sun) are available in the Gate E Concourse. The best part? They're only $5!
Changing tables are not in all bathrooms. This is rare for a modern stadium, so it's important to note. You can find changing tables in the bathrooms near Gate E, the lower concourse behind home plate, and on Pavilion Level behind Box 14. There are also Family Restrooms with changing tables near Gate E and behind Grandstand 18.
Strollers are allowed, but not recommended. If you need to bring a stroller to the game, you will need to store it at a Fan Services booth during the game. Instead, consider baby wearing. (Read this post for our favorite carriers by age.)
There are private nursing locations available. You are free to nurse anywhere in the ballpark. However, if you want added privacy and/or need an outlet to pump, there are two nursing locations at Fenway. A Mamava pod is located in the Kids Concourse near gate K (a key from Fan Services booth is required) and a room on level 5 behind the State Street Pavilion Box.
The Kids Concourse is great for older kids. The Kids Concourse at Fenway is small and crowded, but it's good for older kids. For the toddler set, it was primarily balloon animals and photo ops. They sometimes have little freebies (my toddler got a plush baseball), so it's worth walking through anyway. Plus you can grab your first game goodies from the Fan Services booth in the concourse.
Pick your seat wisely. We splurged on close seats, and it made a huge difference. Our kid could actually see what was going on in the game, and that kept them engaged for much longer. We also loved having a section corner seat for our kid. It was so nice to not worry about them bumping into people around us. Aisle seats are also helpful if you have a baby and need to get up for diaper changes and feedings frequently. There's a lot to think about here.
Check for promotions. A few times a year, kids can run the bases after the game. They also have a few giveaways for things like bobbleheads and tote bags. If your dates are flexible, check the promotions page before you pick a game.
Noise-cancelling headphones are available to rent. The sound at a baseball stadium can be really overwhelming for babies and children, especially those with sensory sensitivities. Noise-cancelling headphones can help a lot. If you don't have a pair at home, you can rent them from Fan Services.
Look out for Wally! The Red Sox mascot is a lovable green monster named Wally and his pal Tessie. They can be spotted on the field before and during the game. Fun fact! They walk between the Field Boxes and Loge Boxes from home plate to the exit at section 145. If you're seated in a front row of a Loge Box in this area, you can often snag a high five. This is a moment my toddler is still talking about.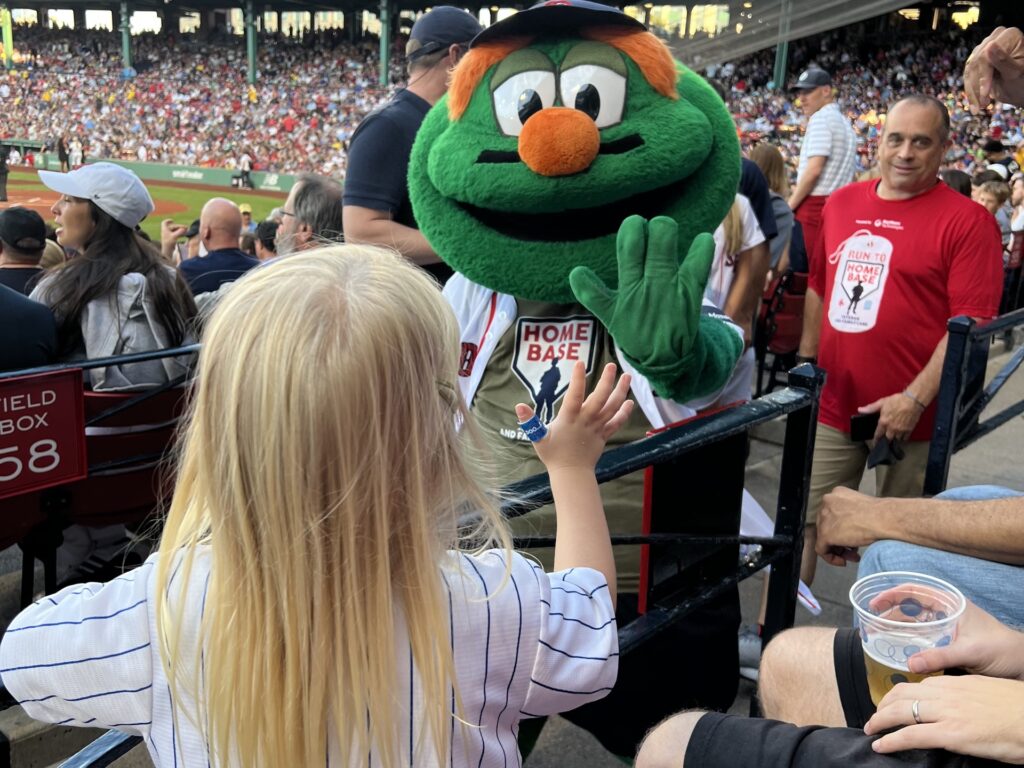 How to See Fenway When the Red Sox Aren't Playing
The Red Sox play at home at Fenway Park upwards of 80 times per year. That's a lot of baseball, but what if you're in Boston during the other 280ish days a year? Fear not! You can still see Fenway Park even if the Red Sox aren't playing at home.
The best option is to take a Fenway tour. There's a variety of tour options that range in duration, price and detail. The most popular option is a one-hour guided group tour that costs $25 for adults and $17 for children (3-12) and military. Tours of Fenway Park are offered daily, year-round.
Another great option is to visit Bleacher Bar. This bar is located below the bleachers and used to be the visiting team's batting cages. It was converted into a bar which looks out into Fenway Park. The restaurant and bar is open everyday and is a great way to see the ballpark even when the Red Sox aren't in town.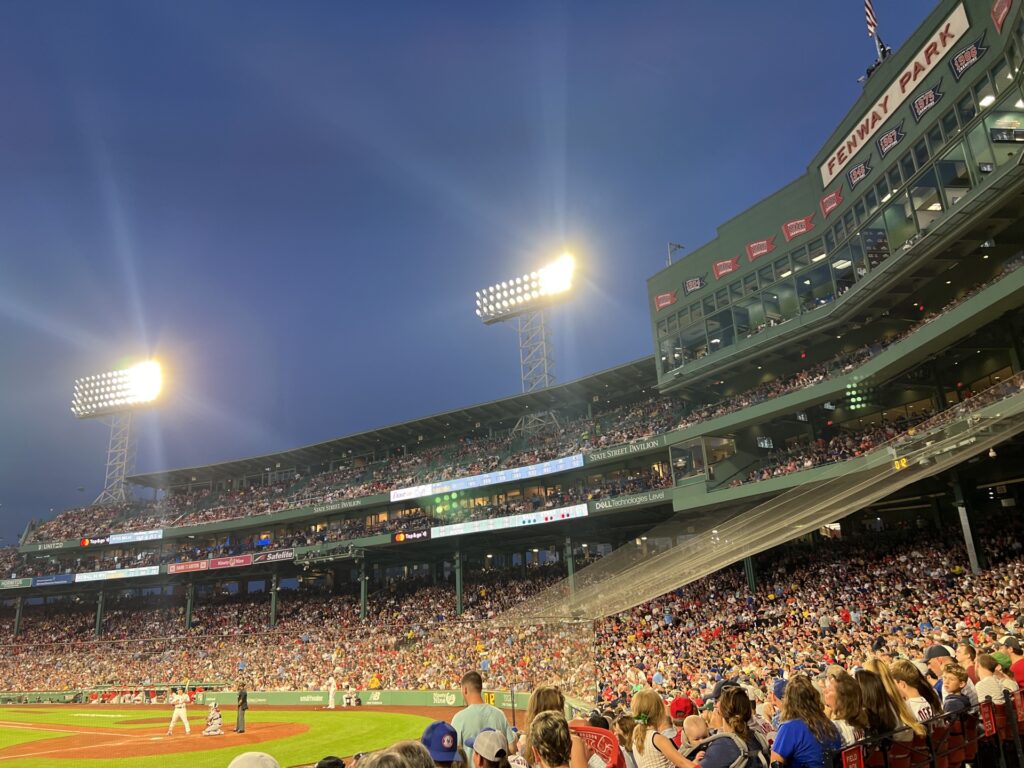 Other Baseball Stadium Guides
I hope you found this guide helpful! If you're interested in other ballparks, especially with kids, be sure to check out some of our other guides.