If you're heading to a Phillies game with kids, you've come to the right place.
We recently spent a weekend in Philadelphia, and the Phillies game was one of the first things we did in town. It was a great family activity and our Mets loving 2-year-old is still cuddling with their Phillie Phanatic pillow. Overall, it was a smooth experience, but we learned a lot along the way. In this post, we're sharing everything we learned so you can have the best time at a Phillies game with your kids.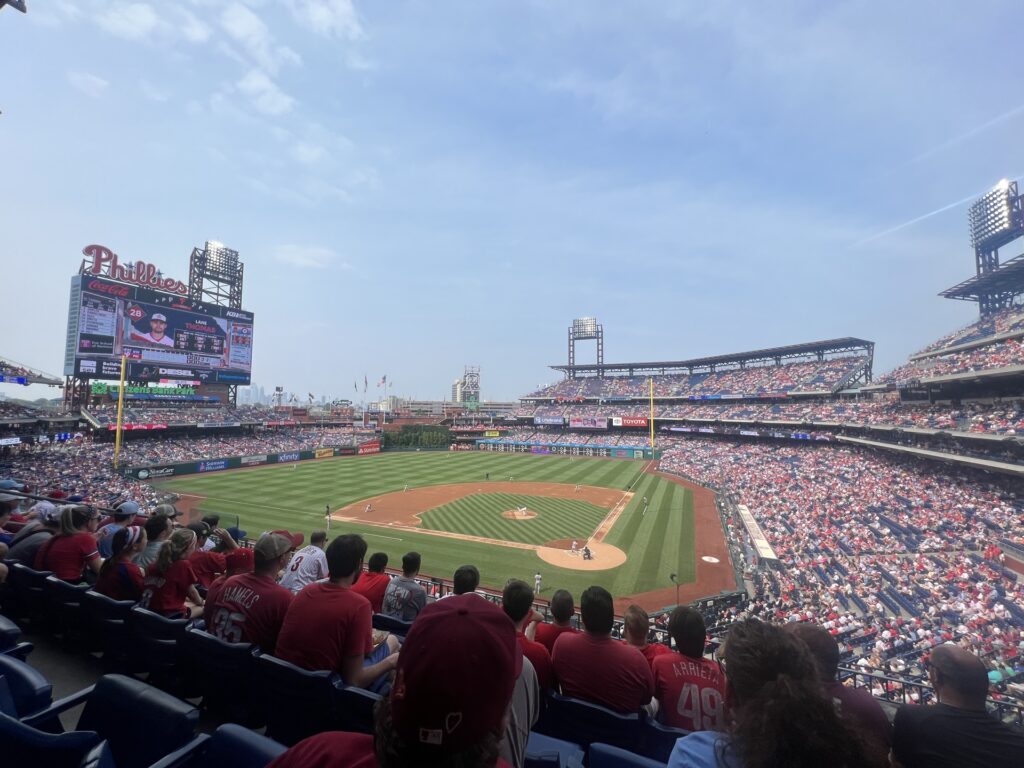 1. Pick up your First Phillies Game Certificate.
Be sure to grab a free certificate to commemorate your first Phillies game. Printed certificates are available at either Guest Services locations (Main Concourse behind section 122 and Terrace Level behind section 318).
The problem with printed first game certificates is that you now have to try to keep them nice and neat for the rest of the baseball game. If you care about this sort of thing, pack a sheet protector or folder into your stadium-approved bag.
Technically, first game certificates are for children 14 years and younger. However, I can't imagine they card that hard, so I'm sure you could snag one for older kids, too.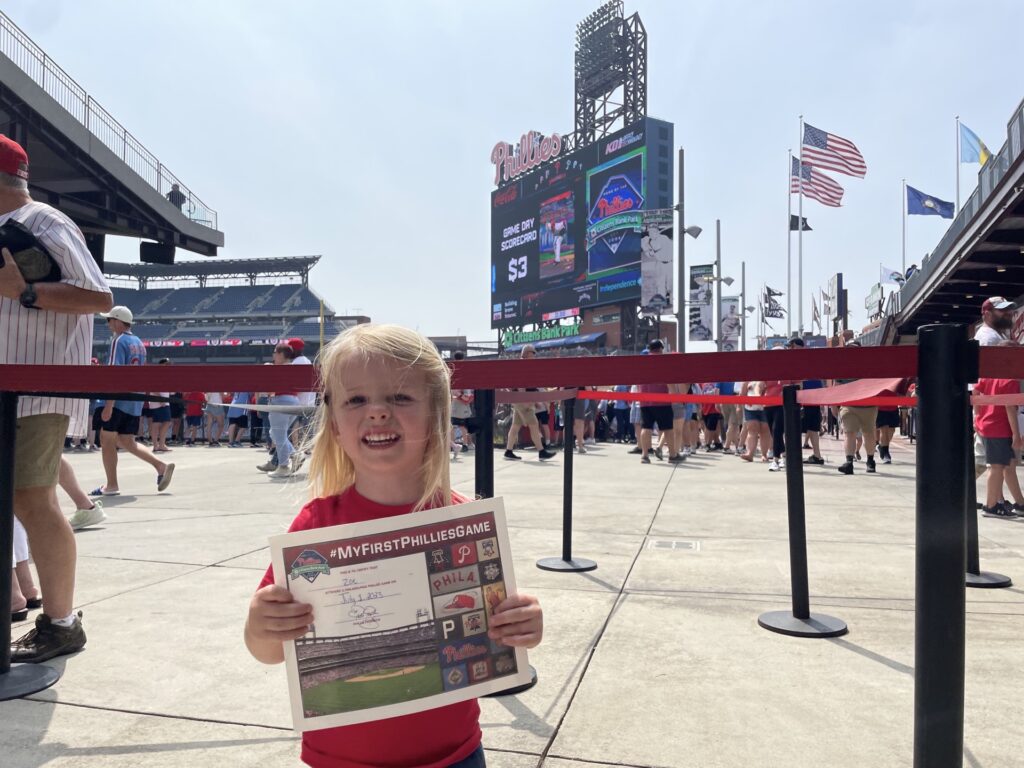 2. Get there early.
This is the most uninteresting tip, but it's important!
If you're going to a Phillies game with kids, you're definitely going to want to visit The Yard. This is the kid's area at Citizens Bank Park. The Yard has a miniature ball field where kids can play Wiffle ball, a speed-pitch area, rock climbing wall and foam hot dog launcher, all for free. The kids activities are fun, but the lines get long fast. The best way to beat those lines is to get there early.
Stadium gates open 90 minutes before game. We arrived 15 minutes before that and there were already lines at the gates. When the gates opened, we went straight to The Yard. There was no line for the hot dog launcher or rock wall, so we went straight to the hot dogs. By the time we were done, the line for Wiffle ball was already a 15 minute wait. I'd recommend doing Wiffle ball first, then any other things.
We swung back by this area around the third inning and the lines for everything were much longer. If your kids want to get some playtime in and you don't want to miss the game, get there when the gates open and head straight to the Yard.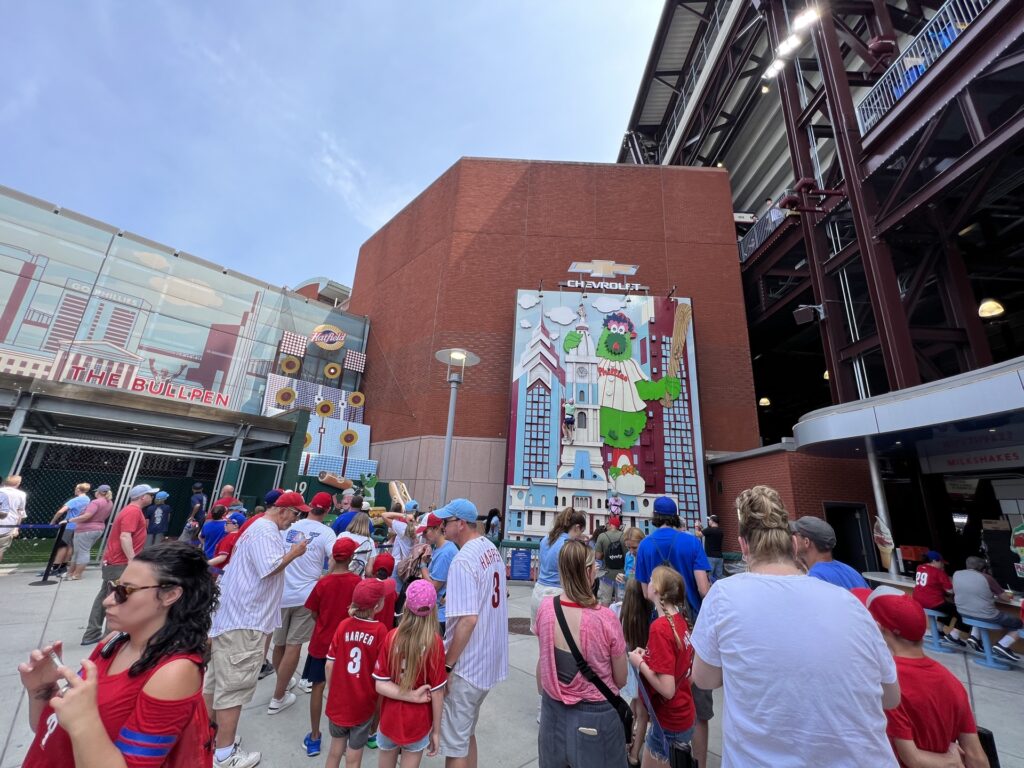 3. Know if your kid needs a ticket.
I went to a Chicago Bears game a few years ago and watched a mom try to enter with her two kids (who looked to be around 5 years old) for whom she did not buy tickets. She thought all kids were free. The ticket agent turned them away and the family couldn't get into the game without proper tickets. Don't be this parent. Know if your kid needs a ticket.
Children 2 and under do not need a ticket for a Phillies game. Just note, any child who does not have their own ticket cannot occupy an additional seat and must sit on the lap of an accompanying adult. If you want your child to have their own seat, you will need to buy a ticket for them.
All children age 3 and above will need to have their own ticket with a specific seat assignment.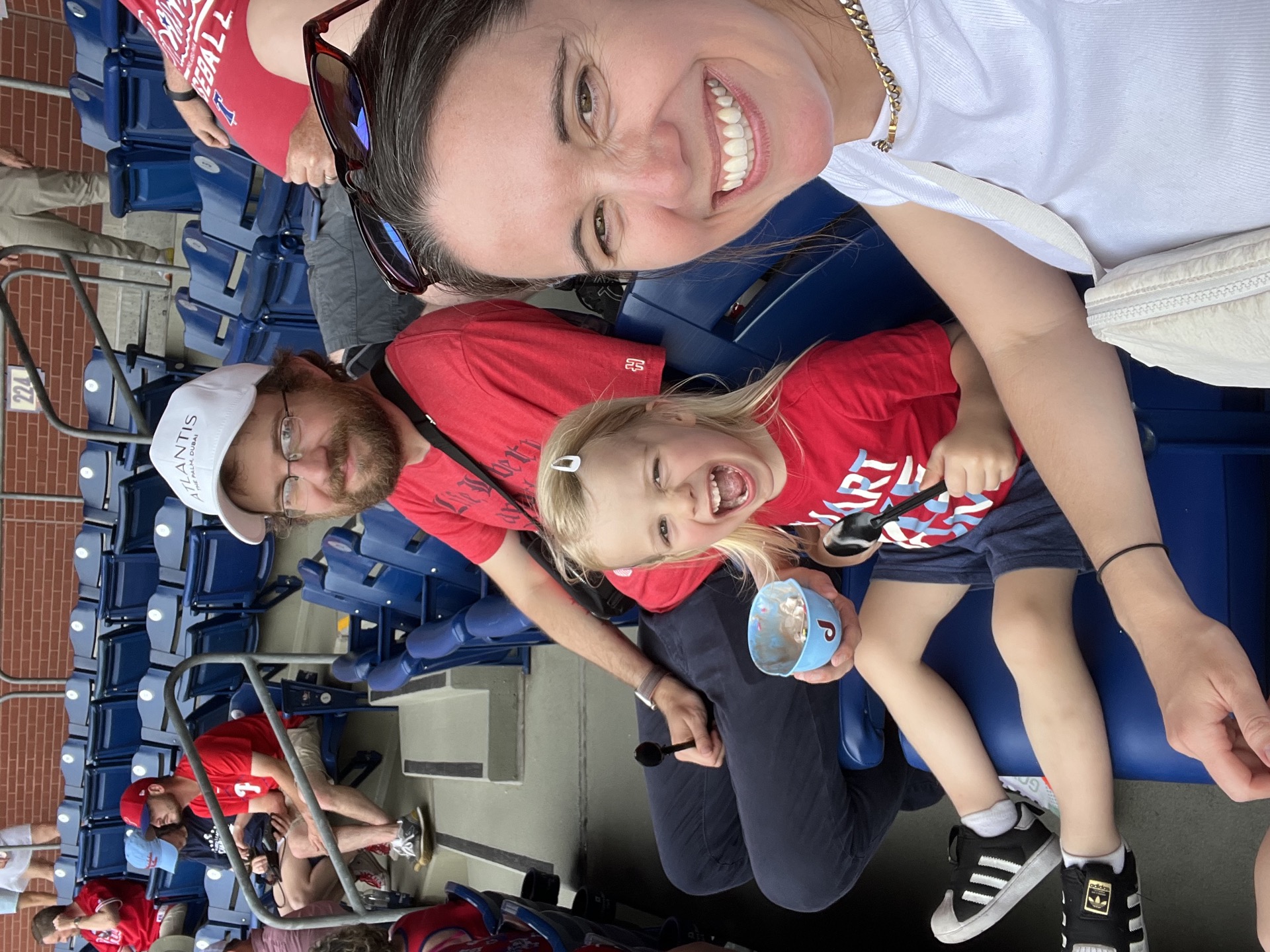 4. Visit the SEA Market before a weekend game.
FDR Park is just across the street from NRG station (the Metro station closest to the ballpark). On Saturdays and Sundays, there is a really cool Southeast Asian Market in the park from 10 AM to 6 PM. The market has authentic, fresh-made street food, Thai iced tea and iced coffee, and a few little toy stands.
It's a fun place to start your day and grab a drink and a snack. I will warn you that some of the food can take a really long time, especially during popular meal times. We ended up waiting about 20 minutes and our Pad Thai still wasn't ready so we bailed. I'd prioritize ready-made items, especially if you're on tight schedule.
There's also a little playground around the lake, not far from the market. It's not an amazing playground, but it's a good place for kids to run around while you eat anything you bought at the market.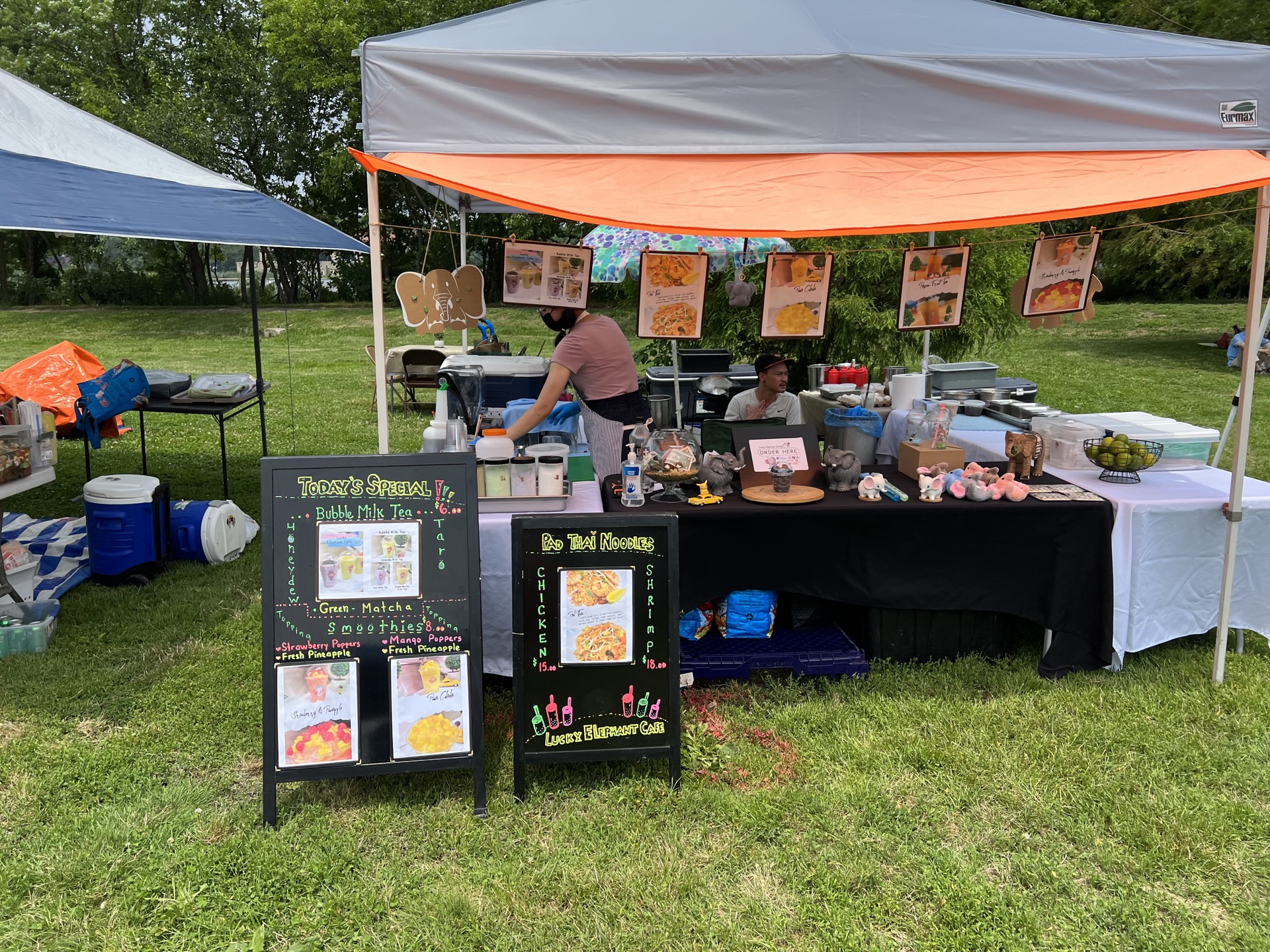 5. Bring the right bag & stroller.
The bag policy at the Phillies' stadium is a little confusing. Be sure to read the official bag policy closely and bring the right bag. Fortunately for parents, Citizens Bank Park makes exceptions for (most) diaper bags.
You will not be able to enter the stadium if your bag does not comply with the bag policy. If that happens, there is a spot by Third Base Gate where you can check your bags, but you'll have to pay a fee.
I always bring these packable totes when we travel, and they were perfect for the baseball game. Unfolded, the bag still meets security requirements. I didn't actually need a big bag, but stuck one of these bags in my stadium-approved fanny pack anyway. I used it inside the stadium to carry our first game certificate, helmet bowl from our ice cream, and a Pillow Pet that my kid just had to have.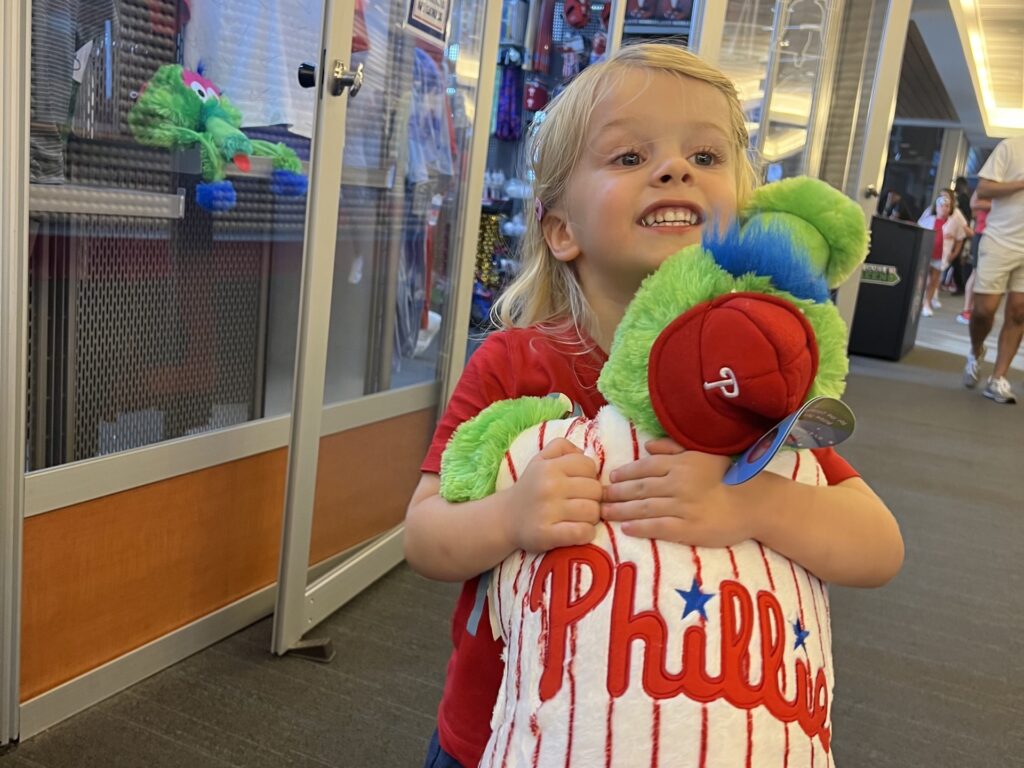 As far as strollers go, we generally don't recommend them. Typically they're more effort than they're worth at baseball games. That said, strollers are allowed at Phillies games. If you choose to bring one, the best bet is a small umbrella stroller that can be folded and stored under your seat. Anything larger will have to be checked at guest services.
6. Buy train tickets for your return when you arrive.
The Philadelphia Metro does not have tap-to-pay at the entry gates. To ride the Metro, you will need a transit card (SEPTA Key card) loaded up with at least $2 or a single ride ticket (which costs $2.50). You can buy a Key card or Quick Trip tickets from the ticket kiosks at any station.
If you leave the stadium after the game with everyone else, the lines for the ticket kiosk can get long. No one wants to be waiting in that line, especially not parents with tired little ones after a long day of baseball.
Skip the wait by buying your tickets in advance. We purchased our tickets for our return trip when we arrived at the station before walking to the stadium. It also would have made sense to purchase our return tickets the same time we bought our tickets for the trip there, but we didn't think of that.
Train tickets are paper, so put them somewhere safe so you don't lose them during the game.
7. Know the things to see and do at the stadium.
Citizens Bank Park has a handful of fun spots you'll want to be sure to check out, especially if it's your first Phillies game.
Ashburn Alley (outfield, main concourse): This is the open concourse area in the outfield. There are lots of restaurants, bars and shops, all with great standing-room views of the game.
Bull Pen (Ashburn Alley): Older kids will love watching the pitchers warm up in the two-story bull pen, which you can easily see from Ashburn Alley.
The Yard (Ashburn Alley): I already mentioned The Yard as being the kid's zone in the outfield. My kid loved it at 2, but I would say it's even better for slightly older kids. (The rock wall has a height requirement, the speed pitching is more fun for big kids, and while they have a tee available, most of the kids were pitched to for Wiffle ball.)
Pass & Stowe (Third Base Gate): This area is new, and a bit overhyped in my opinion. It has a couple restaurants and some outdoor seating, but I wouldn't go out of my way to spend time here.
Left Field Plaza: Left Field Gate leads right to this plaza, and it's a good place to enter if you're planning a beeline to The Yard. It's also a nice area for photos with the World Series trophies, retired numbers, and just a nice backdrop.
Home Run Liberty Bell (Outfield, visible from around the stadium): When the Phillies score, the Liberty Bell in the outfield lights up and rings/swings.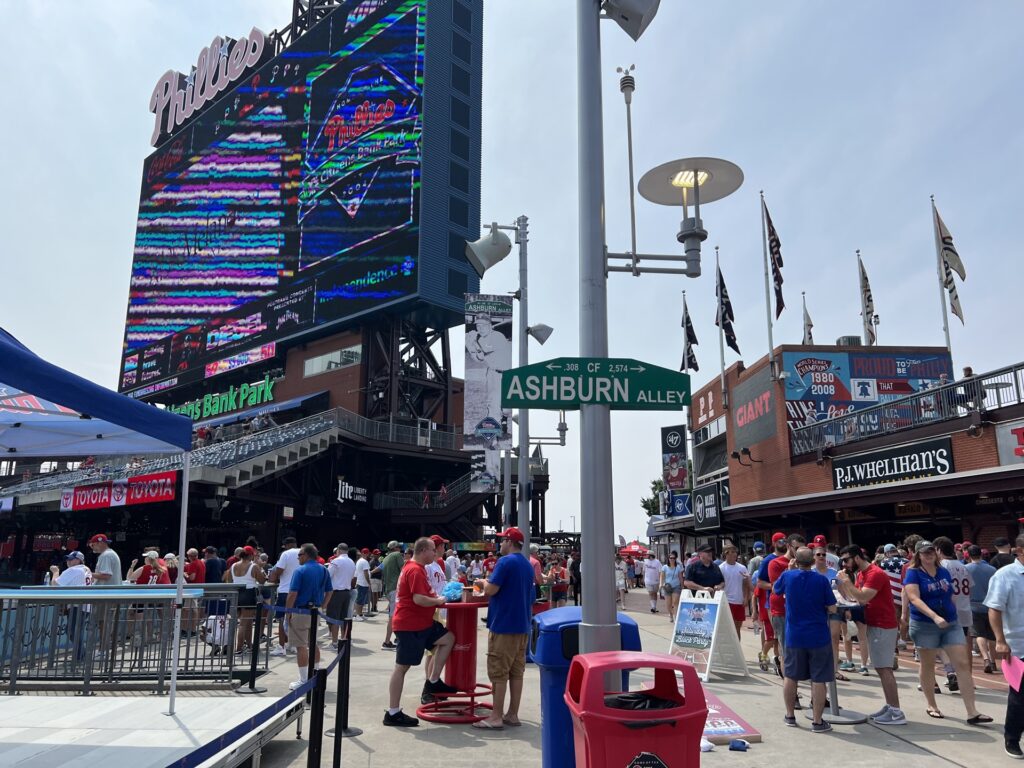 8. Consider premium seating.
I'm not talking suites or all-inclusive club level luxury experiences. The Hall of Fame Club is a tempting option for parents because it offers some added conveniences at a slightly higher price point than regular tickets. This block of seats has a special entrance near Third Base Gate that leads you up to the main floor, which is only accessible to Hall of Fame Club ticket holders.
The concourse is indoors and temperature controlled, which is very appealing on hot, cold or rainy days. It's also a bit quieter inside, which is good for naps. The seats themselves are a bit bigger and padded, which is nice for parents sharing a seat with a child without a ticket who doesn't have their own. There's also more bathrooms, special dining options, and shops that are much less crowded than the general concourse. It also has a nice little museum area.
I don't think this is right for everyone going to a Phillies game with kids, but I do think parents — particularly those with babies under two — will find that these benefits make the experience much more pleasant. If you're planning to spend all your time at The Yard or have a large group, this upgrade might not make sense.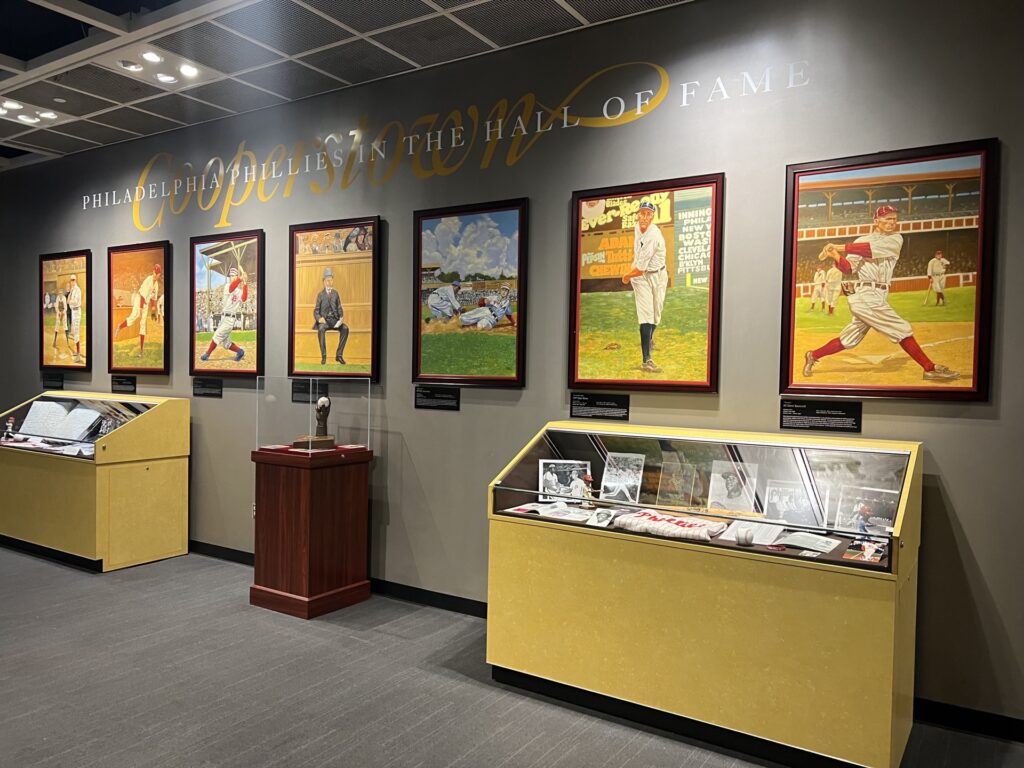 9. Plan meals before you go.
This isn't necessary and is certainly showing my Type-A-ness, but I've started doing this and it's so helpful! It's particularly helpful if you have picky eaters, kids, dietary restrictions, etc.
Before the game, take a look at the list of food vendors available at Citizens Bank Park. Jot down the restaurant(s) you would like to try and where they are located. This will help you quickly and easily find the food you want when you need it.
The stadium is big! You could easily sink a lot of time walking around looking at all your options, or worse, you might settle for one thing because you didn't know your favorite thing was just one more section down.
We are vegetarian and have a kid, and this makes meal time much less stressful. I always write down which booths have veggie options and what sections they're in. Then, when we're hungry, I can find the vegetarian option that's closest to where we're at, or I'll make sure to stop at a specific section when we're out for a walk.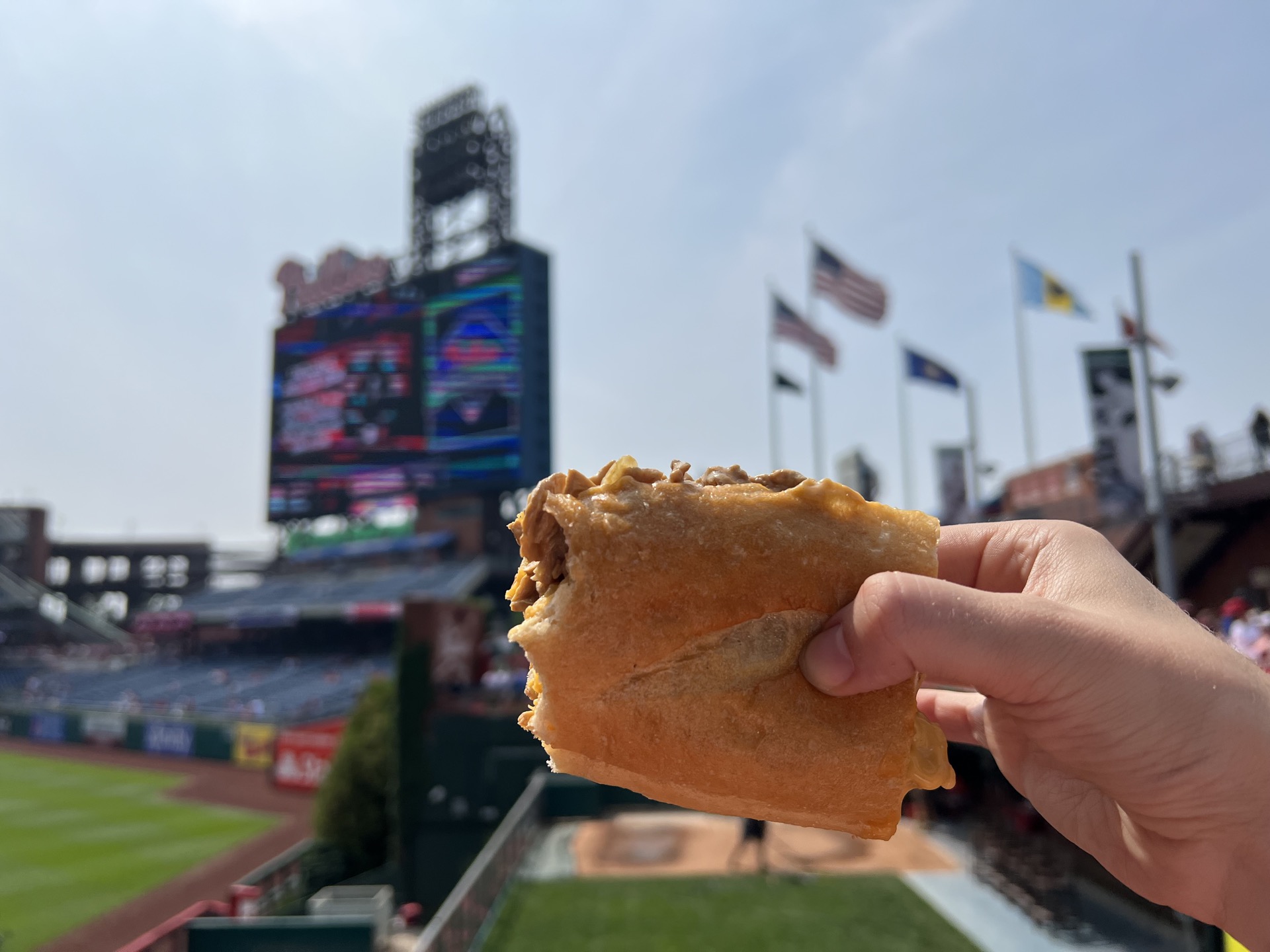 10. Familiarize yourself with available resources.
Citizens Bank Park has a few facilities that are really helpful for parents. You might not always need them, but it's good to know that they're there. This is meant to guide you, but don't worry, the stadium is also very well marked.
Nursing Mothers Room (Main Concourse behind section 125): Mothers are free to nurse anywhere in the stadium. However, the stadium also has a special room for mothers to nurse (or pump, there are outlets) in a private, quiet and clean space. The door to the room is right beside the elevators that lead up to the Hall of Fame Club.
Guest Services (Main Concourse behind section 122 & Terrace Level behind section 318): This is where you can get your first game certificate, check a large stroller, and rent certain items mentioned below. If you have any questions or need any assistance, Guest Services can help.
Sensory Activation Vehicle (First Base Plaza): Children (or anyone!) who have sensory sensitivities can find relief in this calm and quiet space. There are special beanbags, light panels, bubble walls and more. Only one individual/family is allowed inside at a time. Ask a guest services rep for access.
Sensory bags & noise cancelling headphones (Guest Services): Along the same vein, guests of all ages can check out sensory bags (containing fidget toys, weighted blankets, and more) or noise cancelling headphones. Headphones require a $20 cash deposit which will be returned when you return the headphones.
First Aid (Main Concourse behind section 105 & Terrace Level behind section 318): We all hope we won't need this, but it's good to have the location handy for that unexpected scraped knee or bee sting.