Yankee Stadium calls to baseball fans the way Disney World calls to my 2-year-old. You just have to go. Whether you're a fan of the team or just the game, watching the New York Yankees play in the Bronx is a bucket list experience. If you're not from the city or just haven't been to a Yankees game before (or in a while), the experience can also be overwhelming. We've got you covered.
In this post, we'll explore the ins and outs of Yankee Stadium so you can make the most of your visit. We'll help you prepare for and get to the game, and also make sure you're comfortable and don't miss a thing while you're there. If you're going to the game with kids, we even have a special section for that. While most of this post is targeted to Yankee Stadium rookies, there's plenty of good info for repeat fans, too.
Keep reading to learn more about going to a Yankees Game at Yankee Stadium!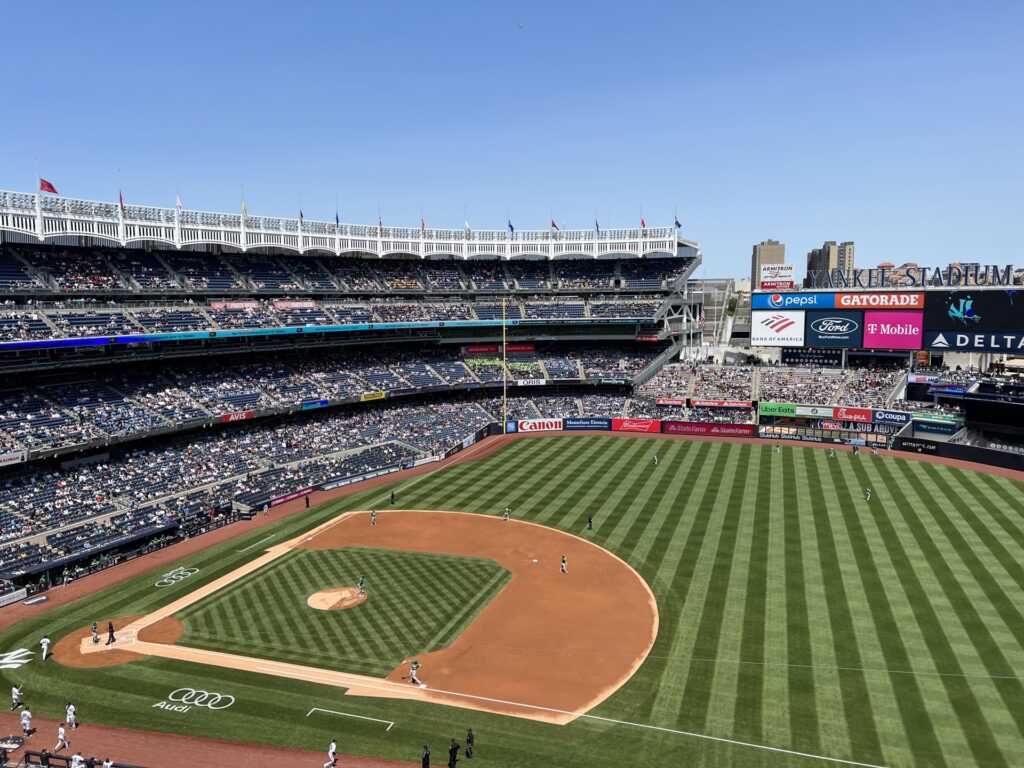 In this post
This post is thorough (read: long), so I've broken it up into four main parts. Depending on where you are in the planning process, you might want to skip around.
Know before you go — From buying tickets to getting through the gates
Inside the Stadium — Everything you need to know during the game
Yankees game with kids — Guarantee a smooth experience for little ones and parents
Tips for going to a Yankees game — 10 best things that we've learned from multiple Yankees games
The New York Yankees and Yankee Stadium
I have a few baseball stadium guides, and they usually start with an introduction to the team and the stadium. It almost feels insulting to do that for the oh-so-famous Yankees, so I'll keep this brief.
The New York Yankees are an American League baseball team that have been around since 1903. The team has been home to some of the sport's greatest players like Babe Ruth, Yogi Berra and Derek Jeter. With an impressive 27 World Series wins, the New York Yankees have won substantially more titles than any other team in the MLB (followed by the St. Louis Cardinals who have less than half as many).
Nicknamed the Bronx Bombers, the New York Yankees play in the Bronx borough of New York City at Yankee Stadium. The original Yankee Stadium, lovingly referred to as the "The House That Ruth Built," was built in 1923. New Yankee Stadium was built just across the street and became the Yankee's home in 2009. After the original stadium was demolished, the land was converted to a park. Today, where the original stadium once stood, there is a playground, walking paths, and of course, a little league baseball field.
Yankee Stadium has 4 main General Seating levels: 100 (Field Level), 200 (Main Level), 300 (Terrace) and 400 (Grandstand). There are also three concourse levels (Terrace and Grandstand share a concourse) that each have a variety of food/beverage options, bathrooms, shops and other services.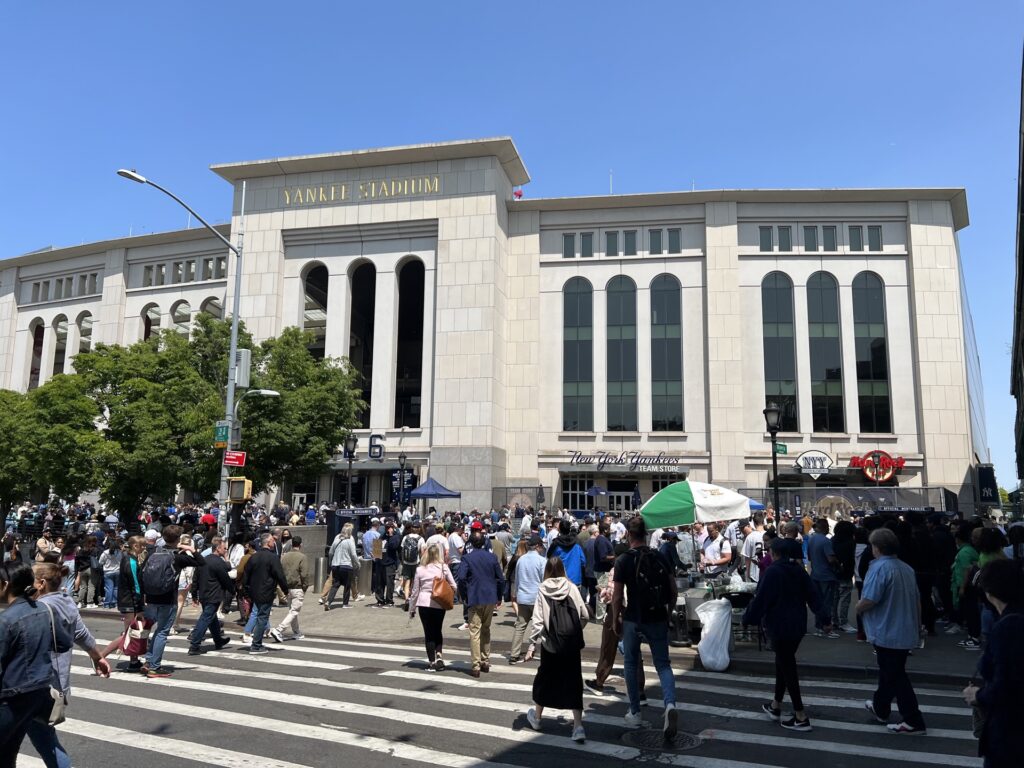 Things to Know Before You Go To a New York Yankees Game
In this first section, we'll cover everything that takes place before you actually set foot instead the stadium. We'll cover choosing and buying tickets, and also how to get ready and get to the stadium on game day.
New York Yankees Tickets
Ideally, you should buy Yankees game tickets online in advance. You can view the schedule and buy single game tickets on the Yankees website here (which will link you to Ticketmaster) or just go straight to Ticketmaster. You can also buy resale tickets on Stubhub, which is the official ticket resale partner of the MLB.
When you're ready to buy tickets, I always recommend starting at the MLB website. If you're booking far in advance, buying direct is going to give you the best selection and lowest prices. Plus, you can also check for any existing deals or events going on.
If you're buying last minute or attending a popular matchup, head to Stubhub. This is usually where you'll find the best selection and prices closer to game day. Whenever you buy though, it's usually a good idea to check both places before you book.
TIP: If you're buying last minute tickets on Stubhub, be sure to filter to "Instant Delivery" tickets only. That way, you know you'll have your tickets as soon as you complete your purchase.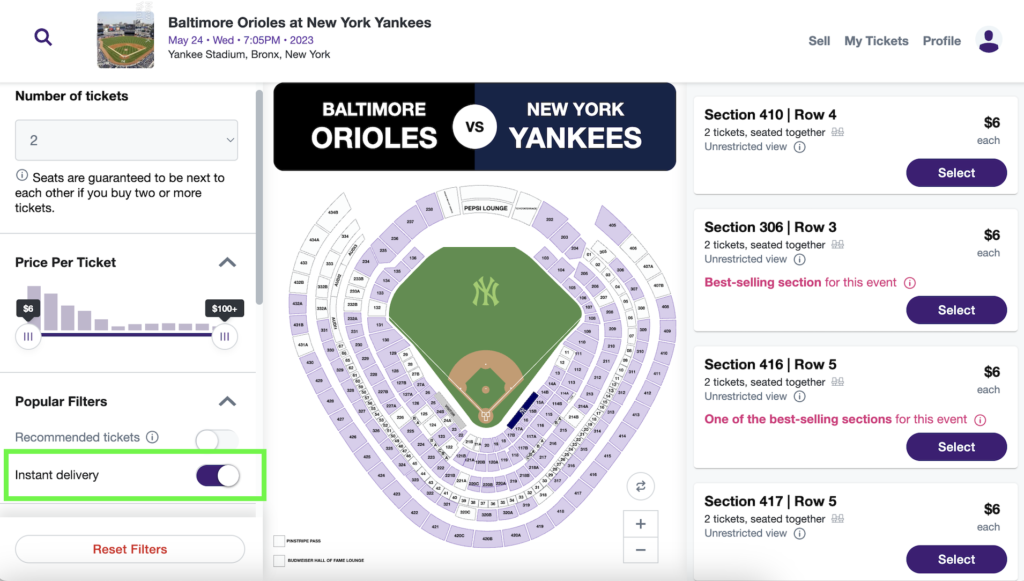 Lastly, there is also a box office at Yankee Stadium behind home plate near Gate 4. You can buy tickets from here on game days until the start of the 7th inning if necessary. We don't really recommend this for obvious reasons, but I'm sure there are scenarios when this makes sense.
How much does it cost to go to a Yankees game?
As a rule of thumb, expect to pay about $50 to $100 each for New York Yankees tickets for a moderate seat at a decent game. That said, prices and experiences vary greatly. You can get tickets for as little as $10 or as much as you're willing to spend (easily $500 to $1,000 and up depending on the game and seat).
Yankees tickets are sold in 3 categories: Premium Seating, General Seating and Pinstripe Pass.
Premium Seating includes access to select suite locations and typically includes some sort of food and beverage package. These tickets will start around $400 and easily soar to the $1,000 and above price point. We aren't going to focus much on Premium Seating in this post, because we've never done it.
General Seating is your basic stadium seating experience. Your ticket gets you in the door and an assigned seat. Ticket prices and experiences can vary greatly based on the matchup, day of the week, and of course seat selection. You can find upper level weekday tickets for less than $10, but those same tickets can easily cost $50 and up for a better matchup on a weekend. If you want to move down from the nosebleeds, a seat in the 200 level (middle level) will cost closer to $100 and up.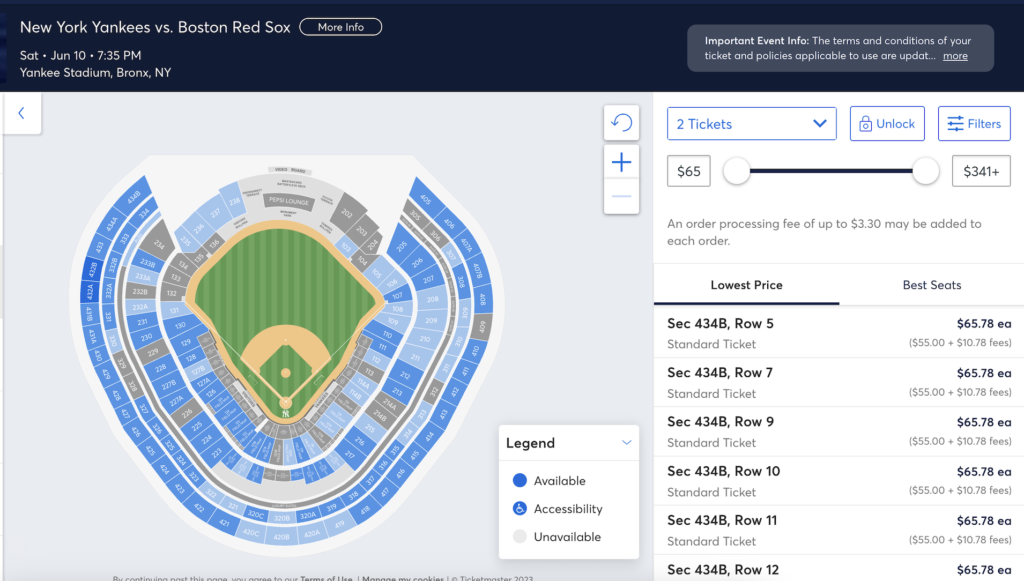 Pinstripe Pass is basically a standing room only ticket. Tickets do not include a seat, but you'll have entry to the stadium and all the public spaces. This includes non-reserved standing room areas around the stadium, including the social gathering spaces and party decks. These tickets start as low as $15 but can be as high as $50 or more for more popular games.
How to Save Money on Yankees Tickets
There are several ways to save money on Yankees tickets or even just get more for your money.
First, check the Yankees website for current ticket specials. Throughout the season they offer discounted tickets for select games, some of which even include food and beverage credits. The Yankees also offer up to 50% off tickets for seniors, teachers, healthcare workers, college students, military and first responders.
The next thing to check is for any upcoming special events. Like most MLB teams, the New York Yankees often have promotional events and giveaways where you can get special items like t-shirts, hats and bobbleheads (or even a Yankees x Harry Potter scarf!). However, access to these promotional items typically requires a special event ticket purchased through the events page. Sometimes these tickets can be more expensive.
Another good way to see the Yankees for cheap is to get the Pinstripe Pass. It's a standing room only ticket, so you won't have a seat, but the views from the standing room spaces can be really great. This is a great option for adults who just want to have the ballpark or social experience. Plus, your first drink is included with the Pinstripe Pass!
And finally, the last place to check for a deal on Yankees Tickets is Stubhub. This is where you'll find the best last minute deals and cheap nosebleed tickets. Taxes and fees still apply, so it'll be a bit more than it looks, but you can definitely find some deals.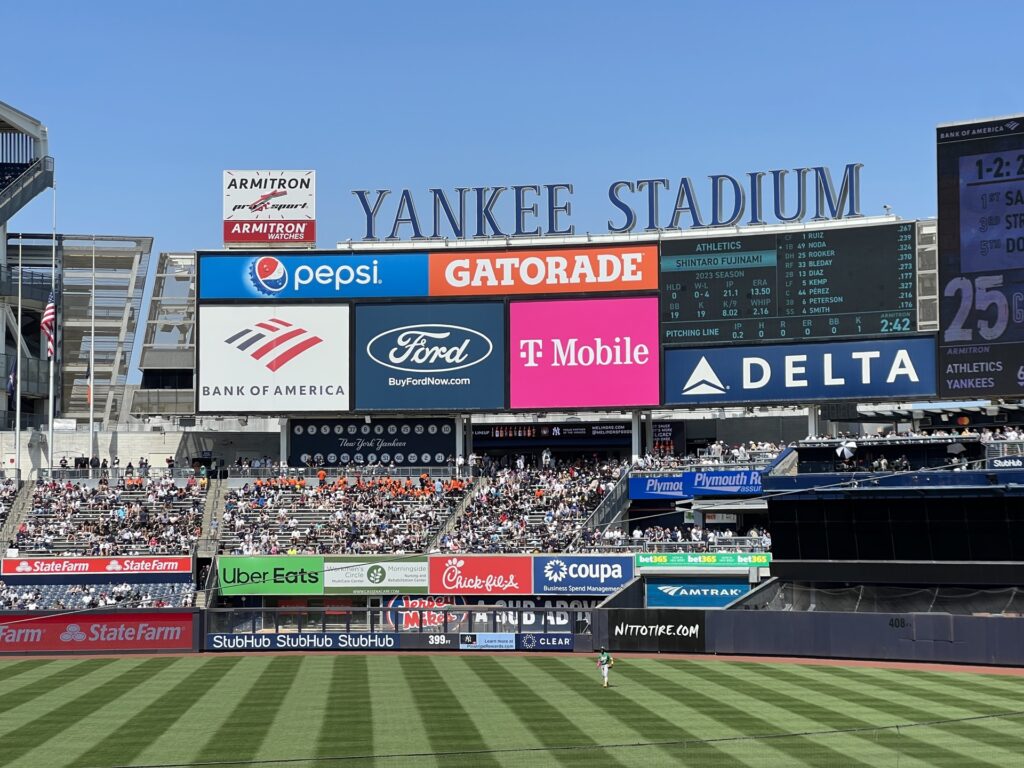 Where to sit at Yankee Stadium
There is so much to consider when it comes to picking your seat at Yankee Stadium. Price will likely be the biggest factor. Like most stadiums, the best seats are lower and closer to home plate, but these tickets are also the most expensive. So other than price, here are some more things to factor into your seat selection.
Stadium Levels: Unlike some stadiums (I'm looking at you White Sox), your seat location does not have any impact on your stadium access (suites and clubs excluded). All ticket holders (including General Seating and Pinstripe Pass) will have access to all the same food and beverage locations, services and amenities across all three concourses. The level of your seat will only impact your view and in-seat experience.
Accessibility: All seats and levels are accessible by stairs, ramps and/or elevators. There are ramps in right field near gate 6 and left field near gate 2. There are a few elevator banks available around the stadium, but the largest concentration is behind first base with access from the great hall. A handful of escalators are also available, but they aren't always running or going in both directions. If you have limited mobility, you may want to prioritize seats along the first base line for the closest elevator and escalator access.
Seats vs Bleachers: Most General Seating is standard stadium seating with an assigned seat. The New York Yankees also have a bleacher section in the outfield, which is open seating. Section 203 specifically is home to the notorious Bleacher Creachers. Bleacher seating is cheaper but less comfortable and often rowdier.
Alcohol-free sections: Contrarily, if you'd like to avoid alcohol you should consider alcohol-free sections 407A and 433. Alcohol cannot be sold, brought into or consumed in these sections.
Shade/rain coverage: Yankee Stadium is an open-air stadium, which means many of the seats are exposed to the elements. This can make a huge difference in your experience. Seats further back in most sections will likely have more coverage, but the actual shade will vary by day.
Nearby amenities: If you care about a specific restaurant or are attending the game with a child, you might want to pick a seat that's close to a certain location. For example, mothers who need to nurse throughout the game may want to prioritize a seat near the Kids Clubhouse.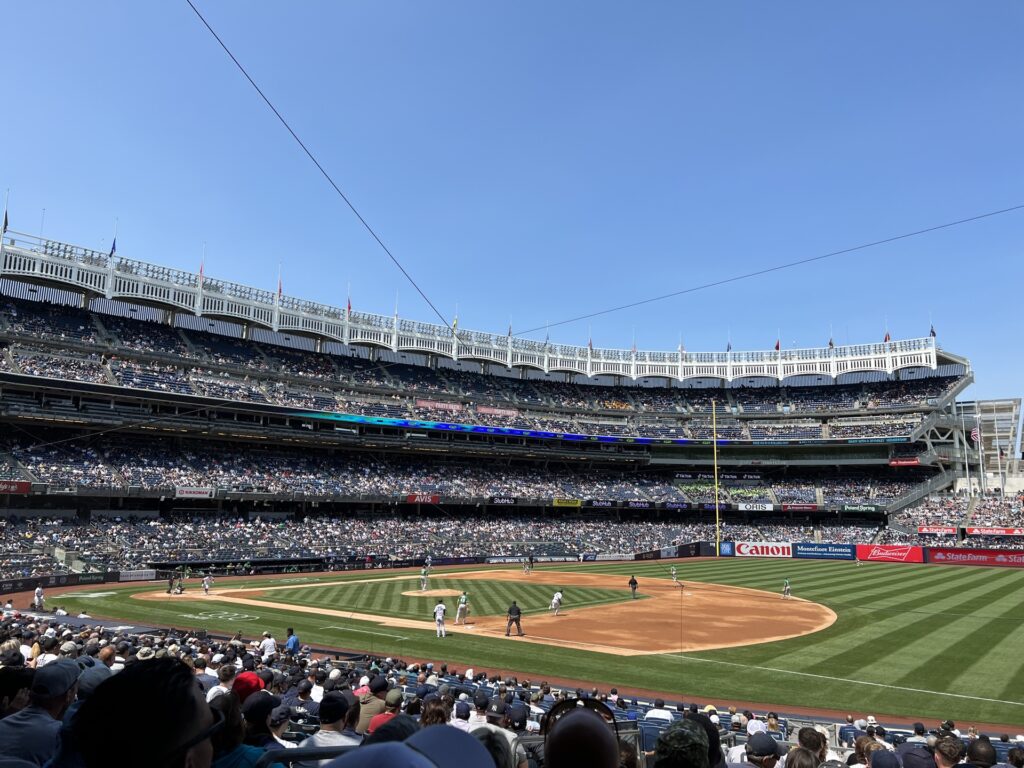 If you want my personal recommendation, I usually try to balance price with view and convenience. We like the back rows of the 100 level, between first or third and the outfield. I most recently sat in section 13, row 15 and it was perfect! I was in the shade, had a great view, and was close to the main entrance. If it was a more expensive game and we were bringing our toddler, we'd look to sections 309/310 or 409/410 for proximity to the Kids Clubhouse.
We've never personally done Pinstripe Pass, but I'd actually strongly consider it for a weekday family game when I expected low crowds. I'd plan to watch less of the game and spend more time in the Kids Clubhouse, chilling in the standing room areas or walking the stadium, and focusing more on snacking and shopping.
How to get to Yankee Stadium
The best way to get to Yankee Stadium is on public transportation, specifically the subway. Yankee Stadium is located right of the 161 Street Station which serves the B, D and 4 trains. The train station is right across the street from the main entrance at Gate 6.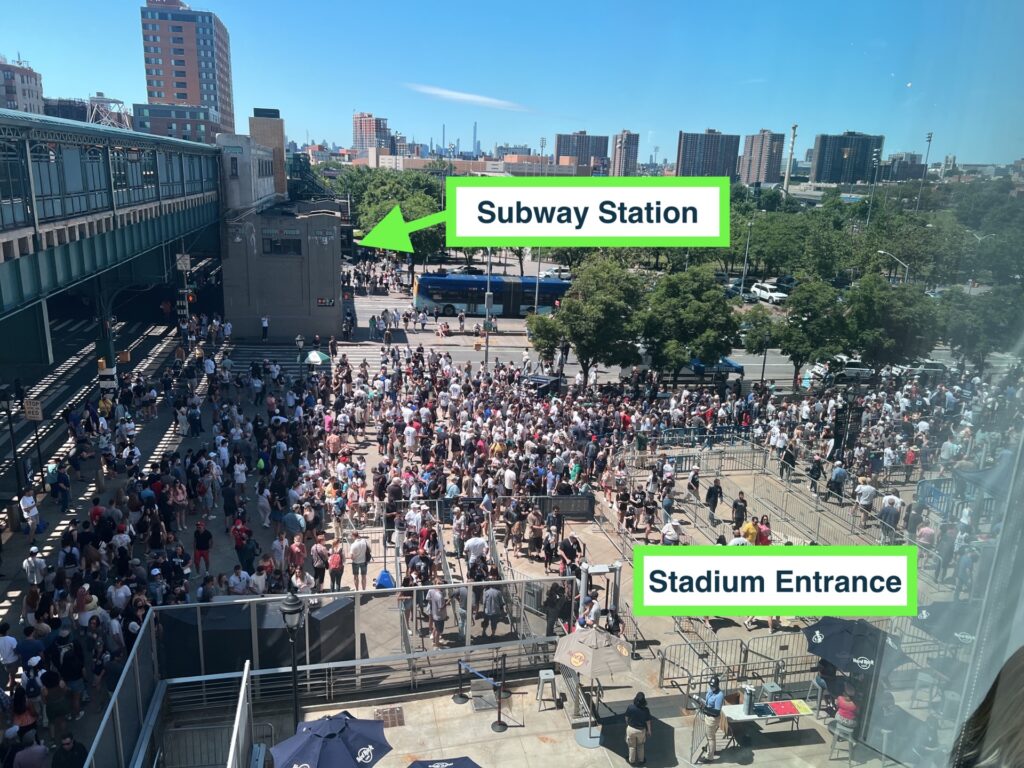 There's a handful of buses that stop nearby too, but we'd only recommend that if you're traveling from within the Bronx and are not close to the train. Citi Bike docks are also located around the stadium, so biking is an option if you're in the borough.
If train, bus and bike are not convenient, the next best option is a taxi or rideshare (Uber or Lift). You might think this will be faster, but given traffic around the stadium, including a few closed roads on game days, it usually isn't.
Driving yourself is your last and probably worst option. Not only will you be dealing with traffic, but you'll also have to find and pay for parking. There are a few different lots around the station, but they are not managed or maintained by the Yankees.
Entry Gates & Security at Yankee Stadium
There are 4 gates to enter Yankee Stadium which all open 90 minutes prior to the scheduled start of the game. The main entrance is Gate 6, which is located on the corner of East 161st Street and River Avenue near the subway.
Gate 6 opens up to the Great Hall which is where you'll find the largest team store, highest concentration of elevators, and entrance to Field Level near the first base line. Because of its proximity to the subway, Gate 6 is usually the most crowded and the lines to enter the stadium can get really long shortly before the game starts. To avoid the long lines, plan to arrive 30-60 minutes early or walk to another gate.
Another great way to get into Yankee Stadium faster is with CLEAR. Yes, the same CLEAR that they have at airports. If you have a CLEAR membership, you can skip the long long at Gate 6 and enter through the dedicated CLEAR lane on the southwest corner of the stadium near Gate 4. To use the line, you'll just need to download the CLEAR app, log into your account, and display the QR code. Both times I've used CLEAR at Yankee Stadium, I've basically walked straight in.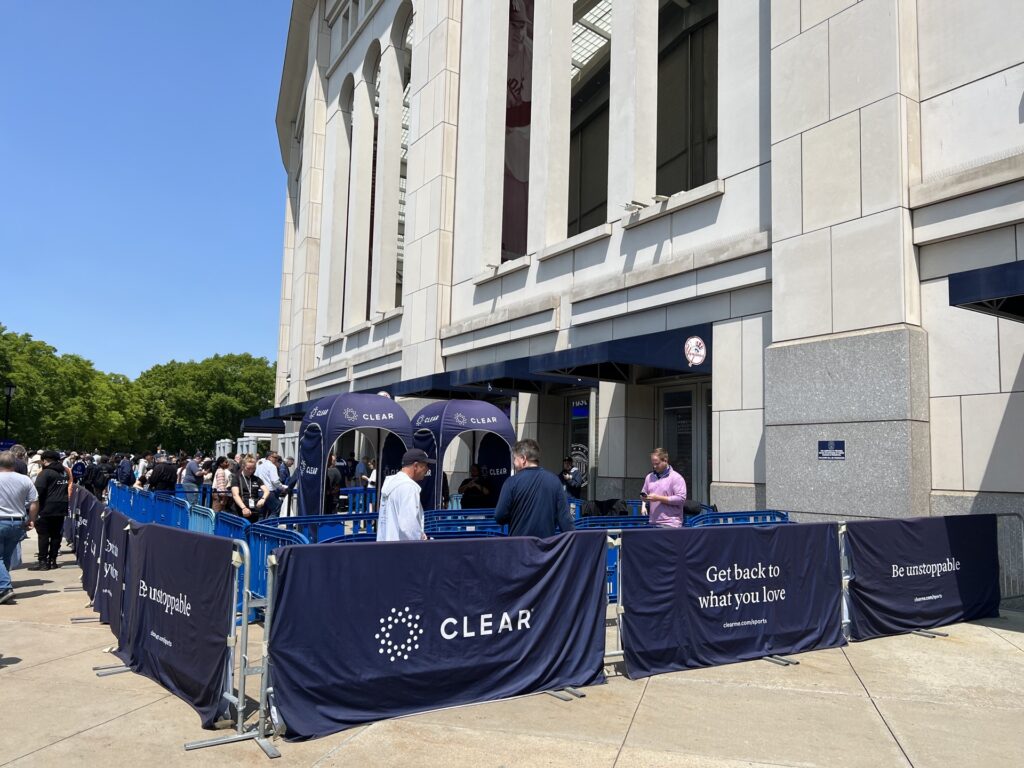 Yankee Stadium Bag Policy
You can preview the complete Yankee Stadium bag policy here. In this section, I want to call out some of the main things that you can and cannot take into Yankee Stadium.
Fans are allowed one soft-sided bag that is no larger than 16″ x 16″ x 8." You're also allowed one smaller personal item such as a small purse or plastic grocery bag. Bags can be of any style, including backpacks, and do not need to be clear.
Outside food is allowed, but outside beverages are limited to one sealed bottle of water that is smaller than 1 liter. No alcohol, glass, cans or thermoses are permitted.
Cell phones and cameras are allowed, but tripods, selfie sticks, drones, video cameras and audio recording equipment is not permitted.
Recreational scooters, skateboards and helmets are not allowed. ADA-required vehicles are of course allowed.
Laptop computers are not allowed, which is noteworthy if you're coming to the game after work.
There are security checks at each gate, which include metal detection and bag check.
What bring to a Yankees Game
As you're packing up that 16″ x 16″ x 8″ bag for the game, here are a few things to be sure you throw in it.
Debit or credit card (Yankee Stadium is cashless!)
Portable battery pack and charging cord (we like this one)
Sunscreen, hat and/or sunglasses if it's a day game
One bottle of water
Layers and/or packable rain jacket like this one
Valid photo ID if you plan to purchase alcohol (passport, drivers license or state ID)
Folder and/or sheet protector if you plan to get a First Game Certificate printed
Inside Yankee Stadium
Alright, you've made it! It's game day, you're inside Yankee Stadium, and you're ready to watch some baseball! Here's what you need to know about your visit.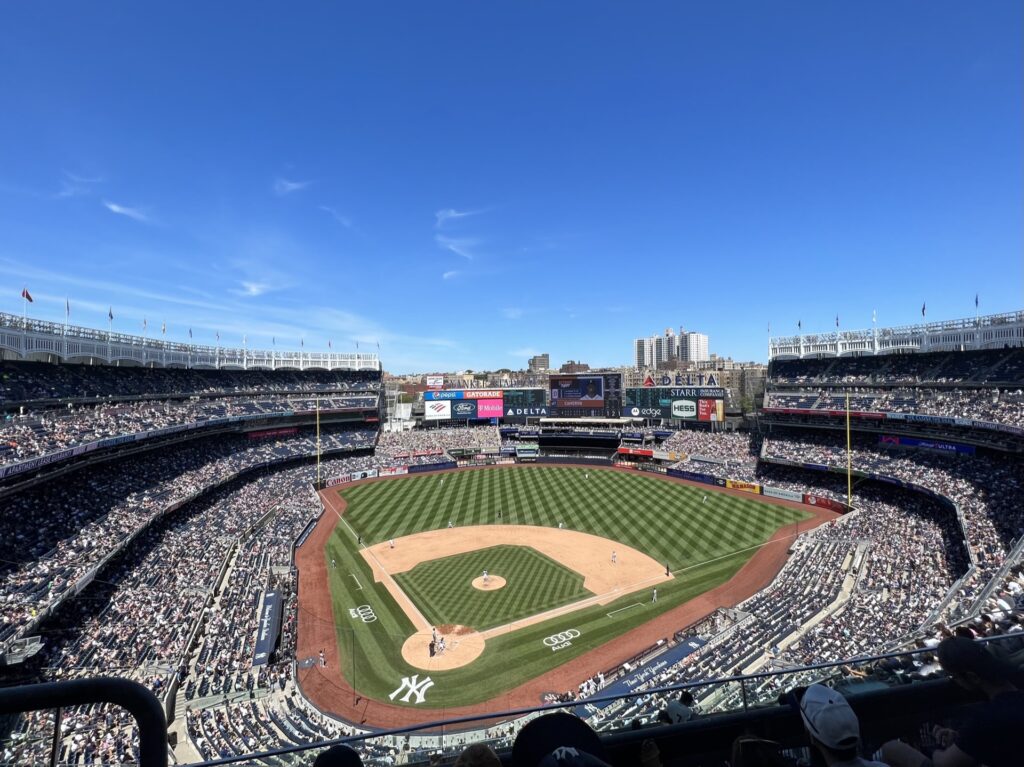 Services at Yankee Stadium
First things first. If you're new to Yankee Stadium, it's a good idea to familiarize yourself with a few key service locations.
Guest Relations: There are three main Guest Relations booths at Yankee Stadium: in the Great Hall near Gate 6, near Section 128 and near section 320C. All locations offer some of the same services, like answering basic questions or providing security bracelets for kids. However, some services are unique to each location. For example, you can only check a stroller at the Great Hall location, but they can't print a First Game Certificates there.
First Aid: If you need medical assistance, there are First Aid locations near sections 128, 221 and 320C.
Nursing Mothers Room: Mothers are free to nurse anywhere inside Yankee Stadium. If you want more privacy or require an outlet for a breast pump, you can visit the nursing mothers room located inside the Kids Clubhouse near section 310.
ATMs & Reverse ATMs: Yankee Stadium is cashless. If you only brought cash, you can convert it to a card at reverse ATMs near sections 110, 128, 223 and 320C. If you need cash for something else (say a taxi ride after the game), there are regular ATMs available in the Great Hall near Gate 6.
Elevators: Elevators are available to all guests. There are elevators near the gates at all four corners of the ballpark, but the highest number of elevators are in the Great Hall behind first base (best for busy times of the game).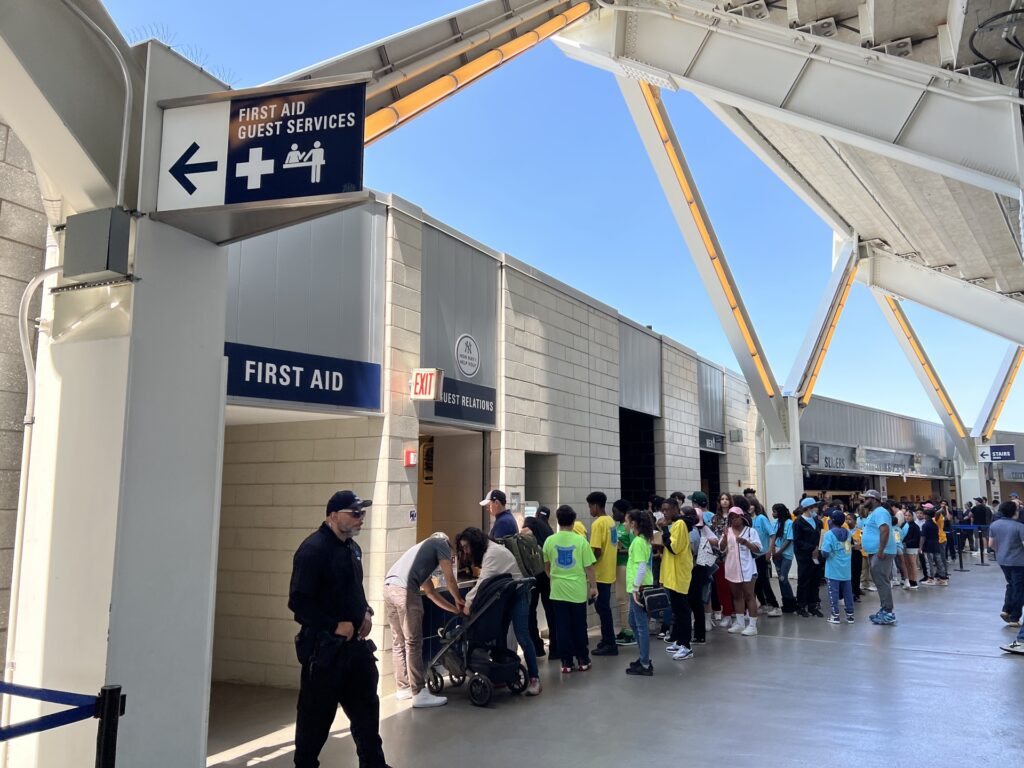 Food & Drinks at Yankee Stadium
Yankee Stadium has a pretty solid lineup of food and beverage offerings around the stadium. I haven't tried it all, so if you're looking for a guide to the best things to eat and drink at Yankee Stadium, head here.
In addition to ballpark classics, Yankee Stadium also has a few unique offerings. Some of the most popular items include the garlic fries, Fuku fried chicken sandwich and Lobel's steak sandwich. Yankee Stadium also has a gluten free stand, kosher stands, and a handful of vegetarian and vegan options.
The signature beer at Yankee Stadium is the Pinstripe Pils from Blue Point (a Long Island brewery). Throughout the stadium you'll find a decent variety of craft, premium and domestic beers. Wine and cocktails are also available at select stands. You must show a valid photo ID to purchase alcohol (regardless of apparent age) and there is a limit of 2 alcoholic beverages per person per sale.
I recently tried the Mexican Street Mac from the new Mac Truck near section 223. I was really excited about it, but I was unfortunately unimpressed. Personally, my favorite stadium treat is always the baseball helmet ice cream. The best place to get this is at Ben & Jerry's on the 300 level along the first base line, but the line gets really long. Also, if ice cream is your jam, Grand Slam Shakes has some decadent options!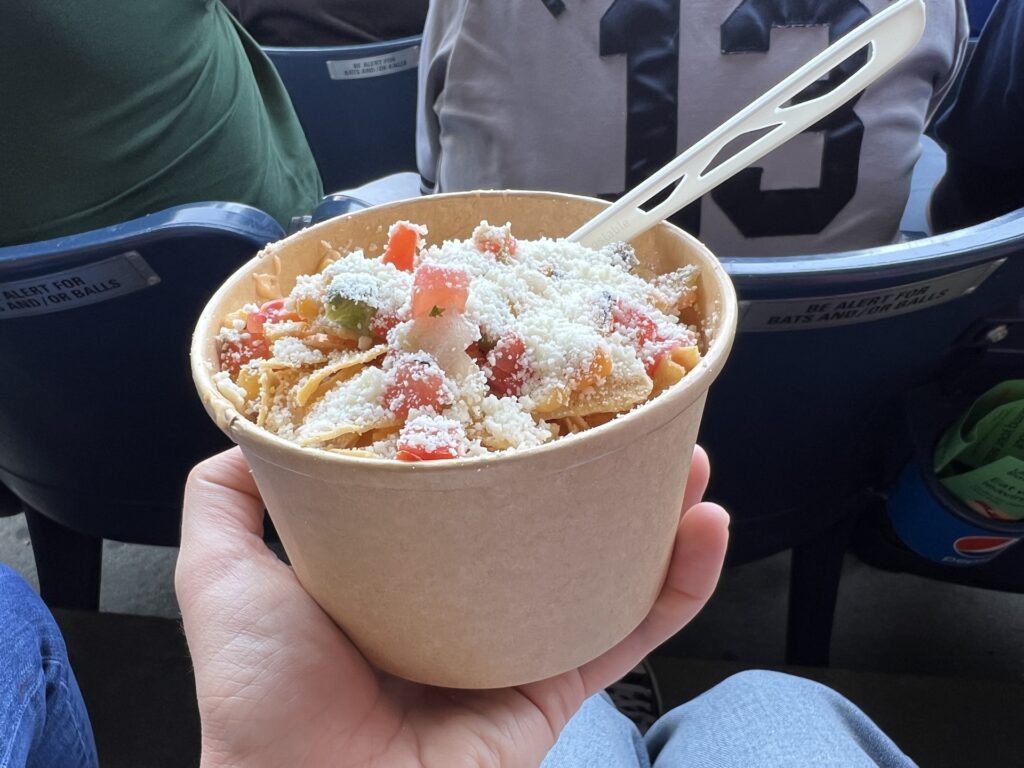 Ordering Food & Drinks at Yankee Stadium
I know I've mentioned this a few times in this post, but Yankee Stadium is cashless. All food and beverage vendors exclusively accept credit cards. This includes food vendors walking through the stands, and yes, you can tip them via card as well. You can't add tips at quick service registers (which was a tad awkward because some had makeshift tip jars out).
When it comes to ordering food and drinks at Yankee Stadium, you have a few different options.
Quick Service: Just like any baseball stadium, Yankee Stadium has food and drink stands around all concourses. You can wait in line and buy things like hot dogs, chicken tenders, ice cream and alcoholic and non-alcoholic drinks.
Uber Eats* (delivery to your seat or pickup): Yankee Stadium offers mobile ordering via Uber Eats. You can order from many of the quick service restaurants/stands and have your food delivered to your seat or pick it up from a dedicated queue at certain food stands. (See note below.)
Grab-and-go Kiosks: There are a handful of market-style kiosks around the stadium. You can pick up snacks like Cracker Jacks or candy, as well as canned and bottled alcoholic and non-alcoholic drinks. Then you can go to a register to check out. It's usually quicker than waiting in a full food line if you just want something small.
Vendors in the Stands: Yankee Stadium has a handful of food and beverage vendors that sell in the stands. They offer things like water, beer and some other food/snacks. In my experience though, the offerings have been limited and infrequent.
Table Service: There are also a few sit-down restaurants and bars inside Yankee Stadium, primarily NYY Steak and Hard Rock Cafe. There are often special event tickets that include a game ticket and prix fixe meal. Reservations are recommended at NYY Steak.
*Uber Eats sounds really great, but in our experience it has never went well. During our first visit, we ordered pickup and line for pickup was longer and slower than the regular line. We waited 40 minutes in line to pick up our food. During our second visit, Uber Eats never connected. I received a connection error the entire game. I would be very cautious about relying too heavily on Uber Eats.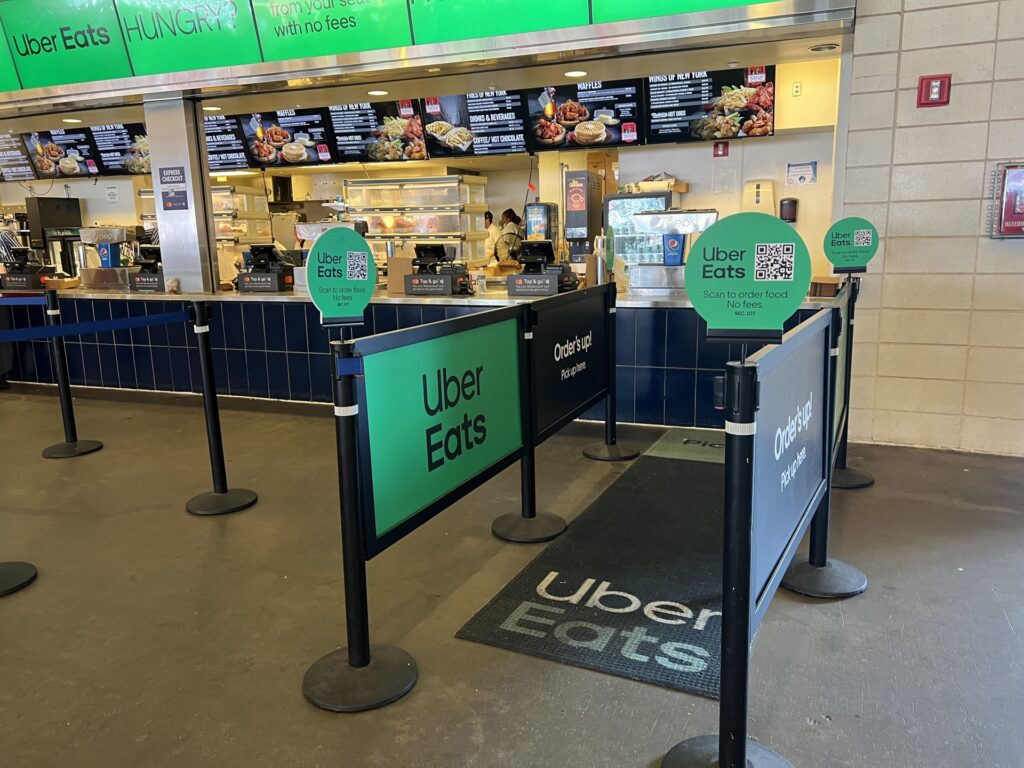 Avoiding Lines at Yankee Stadium
The first time we went to Yankee Stadium was on a Sunday afternoon and the lines were unreal — at every single restaurant and food kiosk. I am not exaggerating when I tell you we waited 40 minutes for ice cream. When I went back on a weekday, lines were much more reasonable and could be avoided if you were flexible with time and location.
Here are a few tips to avoid the food and drink lines at Yankee Stadium.
Arrive early and eat before the game
Order Uber Eats as soon as you arrive
Take advantage of in-seat vendors anytime you see them
Bring your own food (most import for our toddler!)
Attend a weekday game if that's an option
Go in the middle of an inning
Buy snacks like peanuts, Cracker jacks and bottled water outside the stadium and bring it in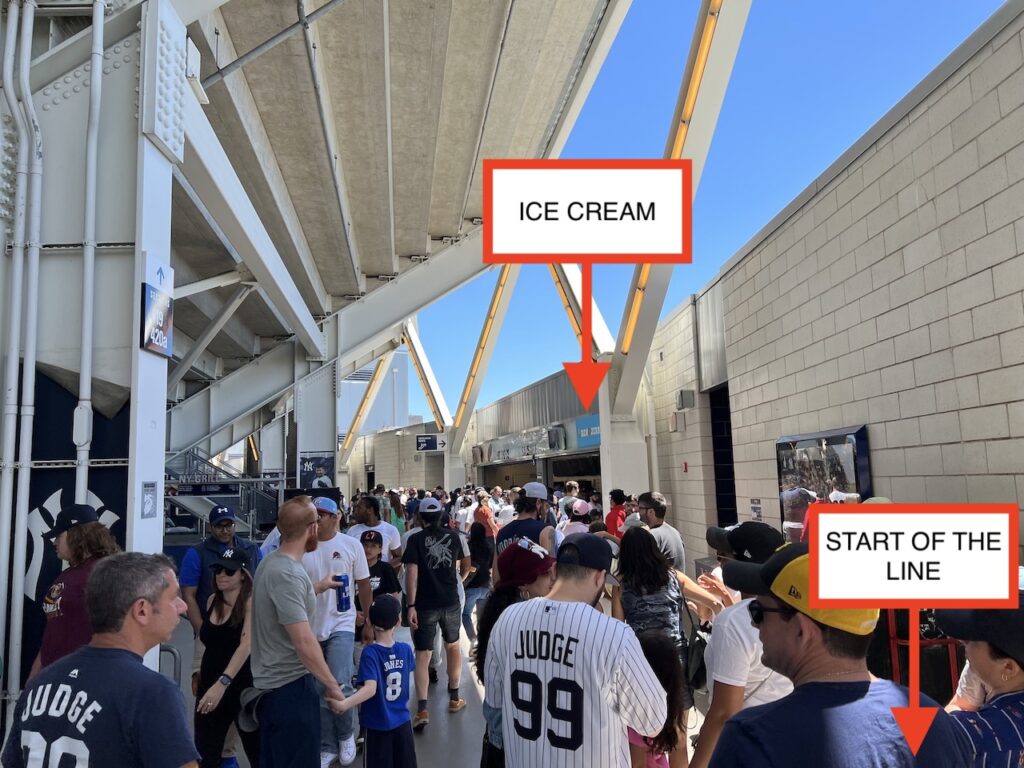 Standing Room & Social Spaces at Yankee Stadium
One of my favorite things about Yankee Stadium is all of the open, public spaces where you can stand (and sometimes sit) while still enjoying a view of the game. It's great for eating a meal, taking a break to chat with friends (especially if you're with a larger group spread across a row) or even just enjoying the game from a different perspective. It's also great if you need some shade.
You can find open standing room spaces around all of the concourses, but most of the space is at the 300 level and outfield. These areas are clearly labeled and feature a couple levels of standing space with bar-height tables. In some areas, particularly in the upper decks and outfield, there are also chairs.
There are also a few larger social spaces with nearby bars and a lot more standing room and tables. The biggest and most popular of these social spaces are FreshDirect Terrace and Toyota Terrace, which are in the outfield near the bleachers. You can read more about these specific social spaces here.
Pinstripe Pass ticket holders will only have access to these areas, but they're open and available to everyone. Just be on the lookout for reserved areas. These spaces often look the same, but are reserved with guests with disabilities. They are quick to kick you out if you get confused.
Lastly, if you're looking for a place to sit and eat, but don't necessarily need a view of the game, you'll find some of that too. One of these seating areas is near the food carts by section 223.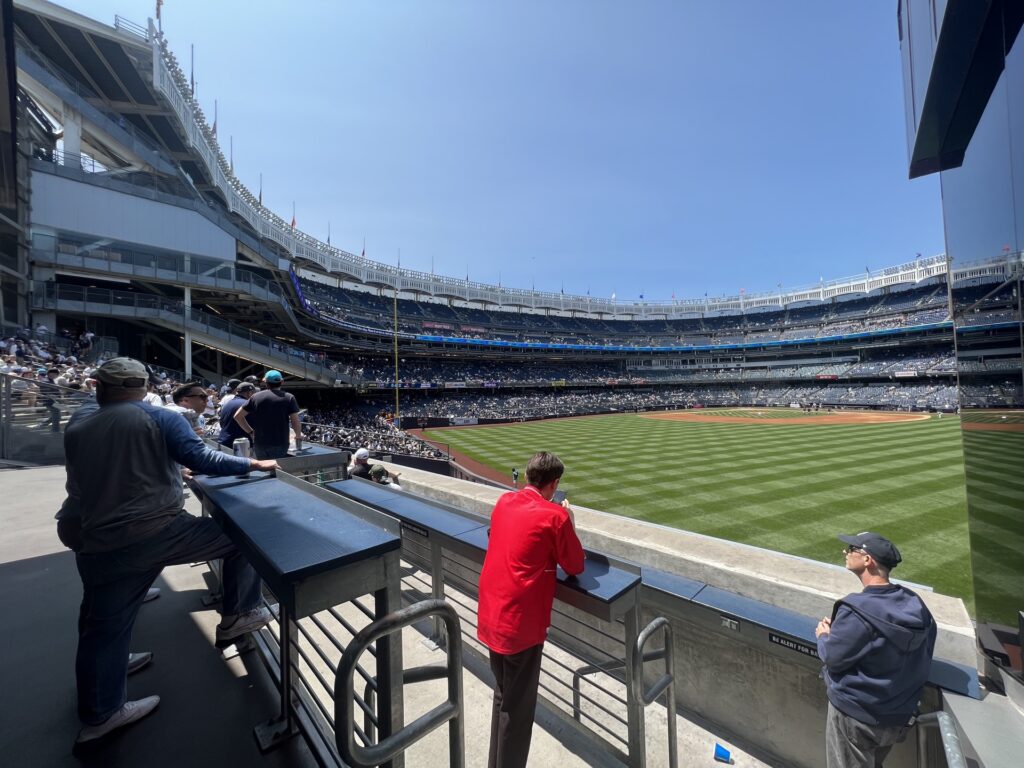 Things to See & Do at Yankee Stadium
There are a few things to do at Yankee Stadium other than watch baseball. If you're waiting for the game to start or need a break from your seat, be sure to check out these other spaces at Yankee Stadium.
New York Yankees Museum (near section 210): Take a look at some of the team's World Series trophies and rings, balls signed by the team's greatest players, and other memorabilia and photo ops. The museum is open 90 minutes before the game until the end of the 8th inning.
Monument Park (100 Level, Center Field): This is where you can see plaques and monuments that honor the team's greatest players. If you want to see Monument Park, you've got to get there early. It opens 90 minutes before the game, but closes 45 minutes before the scheduled start of the game.
Team Stores: There are a handful of shops and stores around Yankee Stadium where you can buy shirts, hats and other souvenirs. The largest team store is in the Great Hall behind home plate. There's also a place in the great hall where you can get your jersey personalized.
Kids Clubhouse (near section 310): Hidden in the upper deck, this kids space has lots of things for little ones to climb on, jump off and run around. There are cute photo ops and bleachers for parents to watch.
First Game Certificate (Guest Relations in Great Hall or near Section 128): If it's your first time at Yankee Stadium, you can get a special (and free) certificate to remember your visit. You can get a printed certificate from Guest Relations near Section 128 or scan the QR code at the Great Hall location to get a digital version.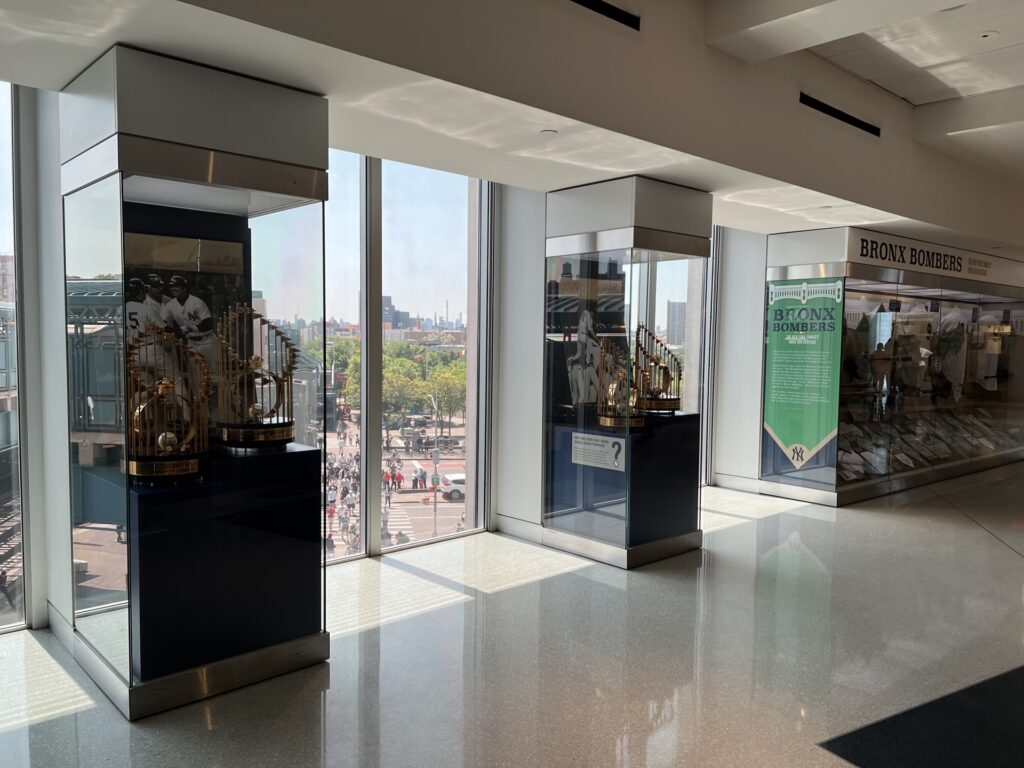 Yankees Game with Babies & Kids
If you're planning to bring the little ones with you, there are a few extra things you should know. We also have a separate post with our 10 best tips for taking kids to a Yankees game, so you'll definitely want to read that too.
Here are a few things to note if you're going to a Yankees game with a baby or child.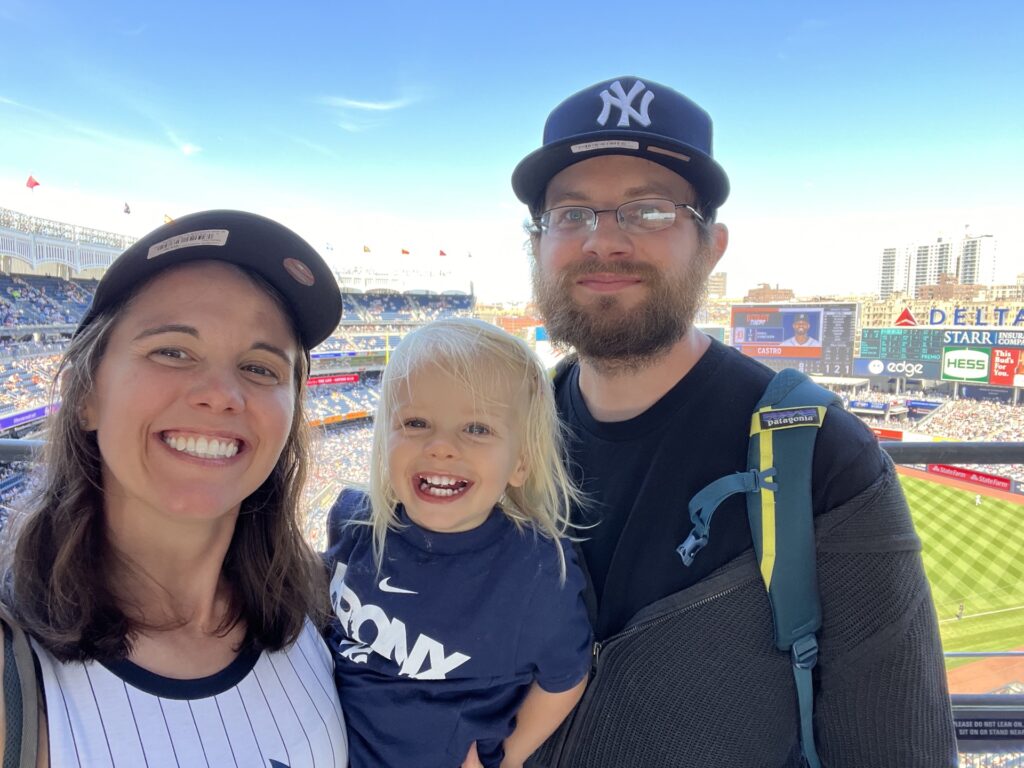 Kids Clubhouse
The most important thing to know about if you're bringing a child to a Yankees game is the Kids Clubhouse. It's located on the upper level near section 310. There aren't really many signs guiding the way, so it's easy to miss.
The Kids Clubhouse is primarily an indoor playground area. It's best suited for the younger bunch (I'd say ages 1 through 5), but it's open to kids of all ages. There are cute photo ops, tons of things to climb on and jump off, and it's overall just really cute and fun. Parents can watch their kids from the "stands" nearby or play with them.
The Kids Clubhouse at Yankee Stadium is covered, but not fully indoors.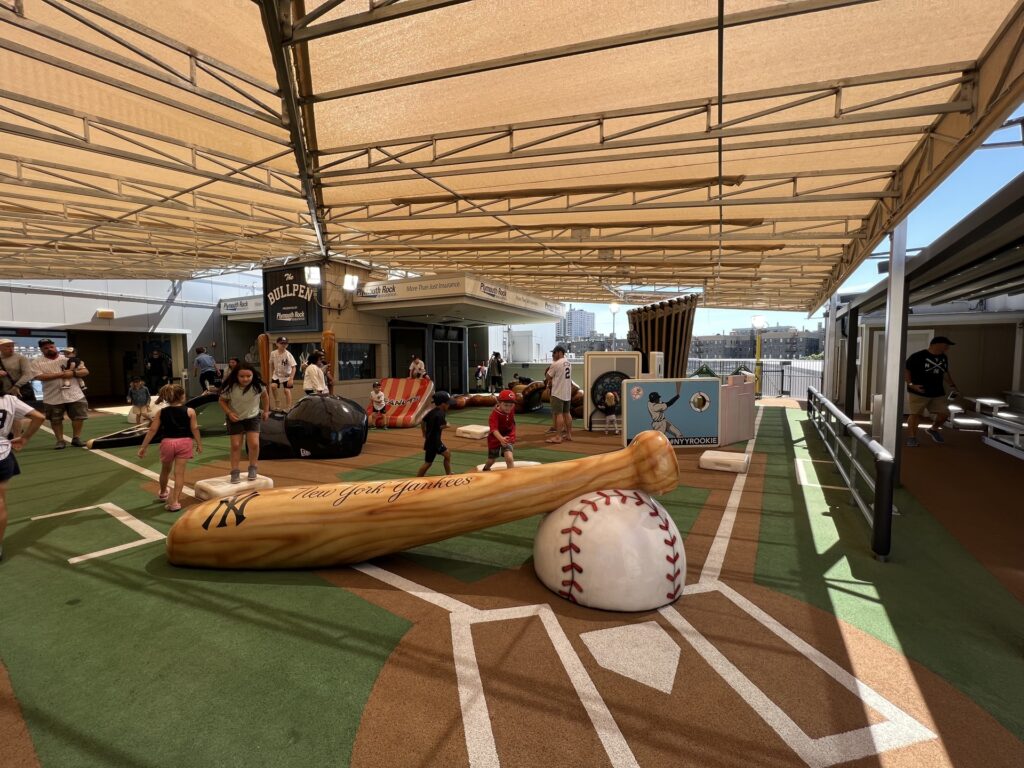 Feeding Kids at Yankee Stadium
Nursing mothers are welcome to breastfeed anywhere inside Yankee Stadium. While you could nurse at your seat, it's quite narrow and wouldn't be very comfortable to do so. There are other seating areas and tables around the stadium if you are looking for more space, but the best place is the nursing room at the Kids Clubhouse.
There are private nursing rooms available near the entrance to the Kids Clubhouse. The nursing rooms include a chair, outlets for electric breast pumps, and a TV so you can still watch the game. The rooms are first come, first serve. There is also plenty of space in the stands in the Kids Clubhouse were you could also nurse more comfortably.
If your child is eating solids, Yankee Stadium has plenty of kid friendly (though not exactly healthy) options for kids. Typically this is stadium food like hot dogs, chicken tenders, and french fries.
And definitely don't miss the ice cream in the baseball helmet! A few different stands offer it with Oatly non-dairy soft serve, but for the best real-deal ice cream you'll need to go to Ben & Jerry's on the 300 level. Conveniently, it's not far from the Kids Clubhouse.
As I mentioned above though, the lines at Yankee Stadium are long. If you have a kid who is picky or needs to eat on a schedule, I'd suggest bringing your own food. We packed a lunch for our 2-year-old, and it ended up saving the day. (We recently upgraded to this bento box which has an icepack and would be perfect for a Yankees game.)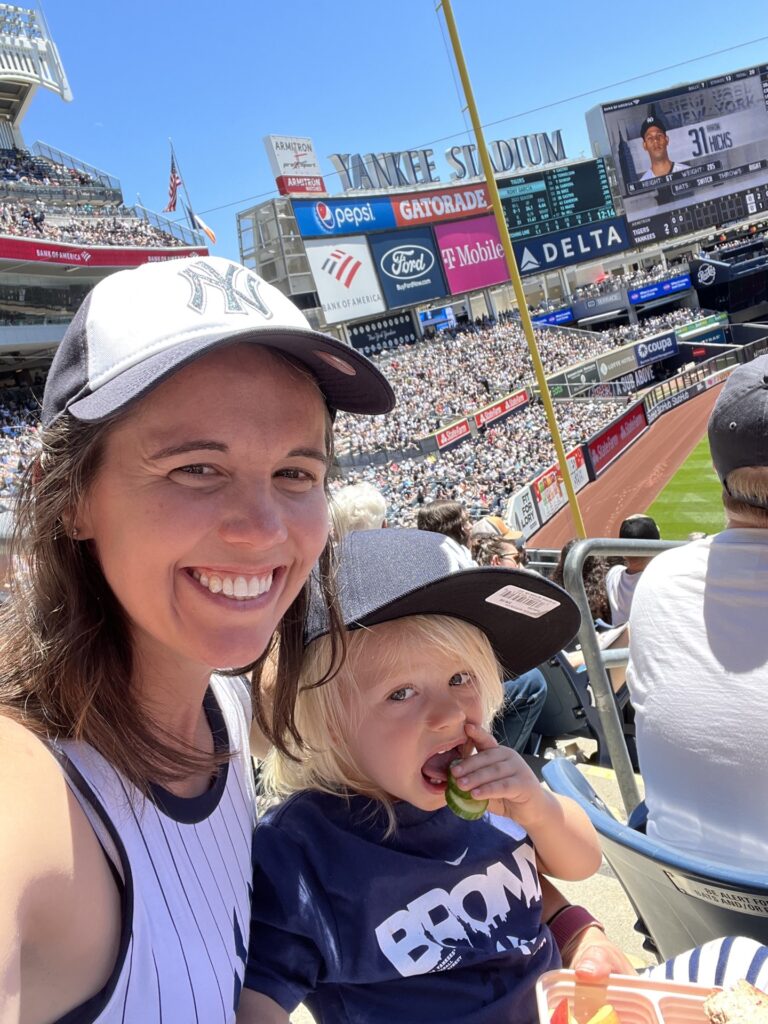 Strollers at Yankee Stadium
Strollers are allowed inside Yankee Stadium. If you have a small, folding stroller, you can store it under your seat. If it doesn't fit under the seat, you'll need to check it at Guest Relations in the Great Hall.
Strollers may be helpful for some, particularly if you have a little one who will need to nap during the game. The stadium is pretty stroller-friendly and has wide concourses, ramps and elevators.
Personally, we don't recommend brining a stroller to a Yankees game. Especially if you're traveling on public transportation, a stroller is just one more thing to juggle. Instead, we recommend baby wearing. We talk more about baby wearing and review our favorite carriers in this post on baby wearing for travel.
Diaper Changes & Bathrooms at Yankee Stadium
Baby-changing tables are available in all men's and women's restrooms throughout Yankee Stadium. The changing tables are located along the wall inside the restroom but outside of the stall. (Compared to some restrooms which have the baby changing table inside the accessible stall.)
For more privacy or if you are trying to juggle multiple kids at once, there are also several family restrooms around the stadium. These restrooms are larger with a toilet, sink and changing table in a private stall/room.
If the family restroom is open, it's obviously a better pick. However, the family restrooms often have lines. Since it's only one stall, the line moves very slowly.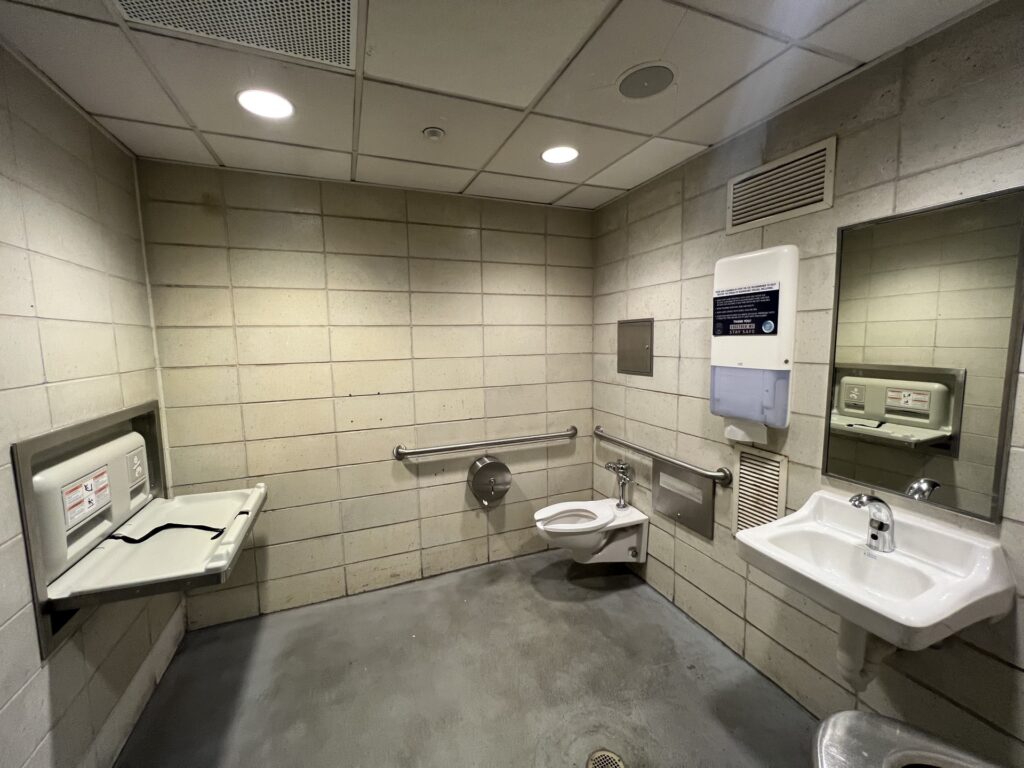 Naps & Sleeping at Yankee Stadium
Afternoon baseball games usually start around 1 PM. If your child's schedule is anything like mine, that usually means right around nap time. Depending on your child's age and ability, that might mean you need to squeeze in a nap at the game. Not to mention night games that usually start after 7 PM and will easily go past many kids' bedtimes.
The first thing to consider is where your child will sleep. Personally, we had a kid who could easily sleep in a baby carrier. This is great because you are mobile. Once they're asleep, you can pretty much carry on as usual. If you have a stroller napper, Yankee Stadium is pretty good for that, too. There are plenty of open spaces, wide concourses and ramps to push a stroller until your little one falls asleep. Once they're asleep though, you're still confined to stroller-accessible places.
Yankee Stadium has a few good spots to start a nap. The best option is the Great Hall. This is a wide open, covered and temperature controlled space that spans much of the first base line on the exterior portion of the stadium. It's pretty quiet and empty during the game, because it doesn't have any stadium views. Another good place to escape some of the stadium sounds, is the dining area near section 223. It's covered and there are several tables and chairs where you can relax.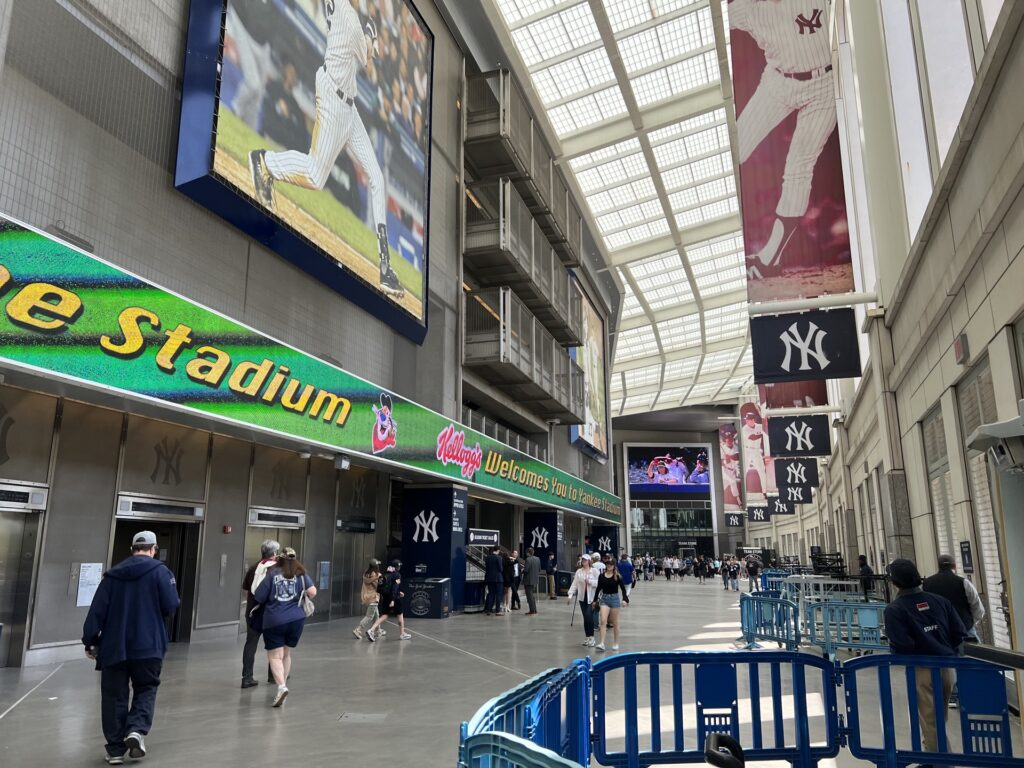 If you want a view of the game while your child naps, head to the 200 and 300 level concourses. You can see the game from the concourse, which is nice if you're walking while they try to fall asleep. There's also lots of standing room and tables, and I fully support any mom who wants to enjoy a beer here while their kid rests. It can get loud and sometimes crowded in the concourses, though.
Another decent option — especially if you have multiple young kids — is the Kids Clubhouse. This area can definitely be loud and would be distracting for an older child. However, if you have a kid who can play and a baby who needs to nap, this might just be a win-win.
We personally haven't done naps at Yankee Stadium. Our kid was 2 for their first Yankees game, and just skipped the nap that day. However, we brought them as a baby to many Cubs games at Wrigley Field and got a lot of practice napping in a baseball stadium. I'm confident that the cool and covered spaces at Yankee Stadium will give you a good chance at a nap.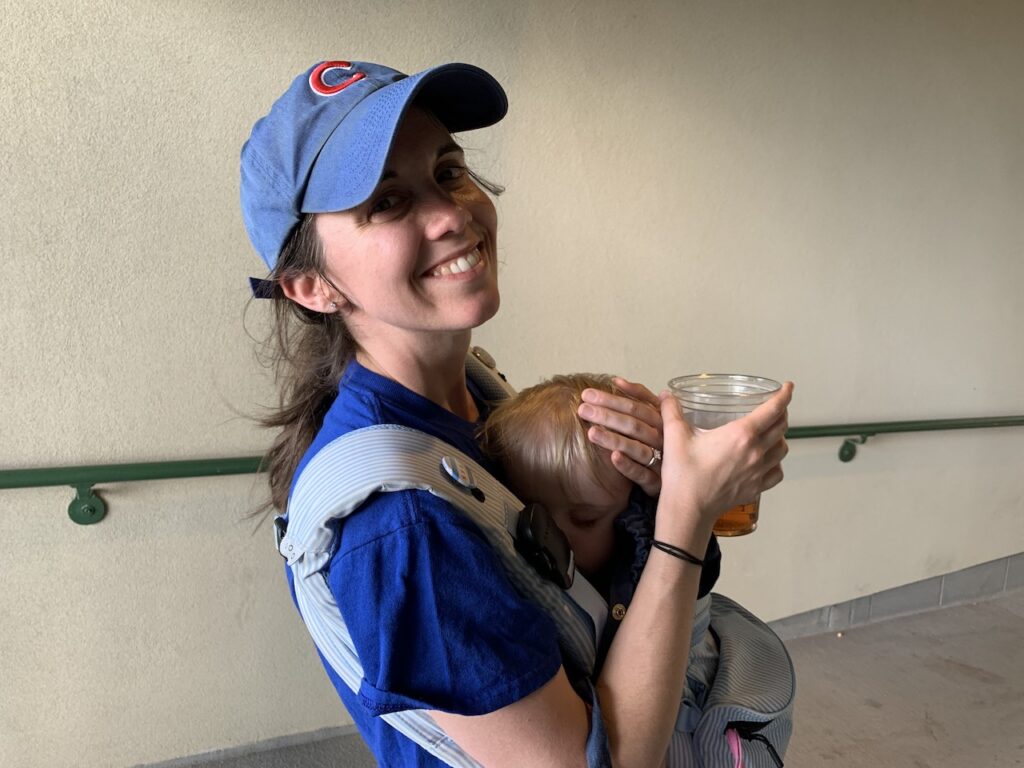 10 Tips for going to a Yankees game
Take the train. I'm sure this is obvious to New Yorkers, but it's not so obvious to tourists. The train is the easiest, cheapest and fastest way to get to Yankee Stadium. You don't even need to stress about getting a ticket; simply tap your credit card right at the turnstile. Just follow the crowd in Yankees jersey and I'm confident you'll find your way.
Buy tickets close to game day if you can. Unless you're going to a popular matchup and/or are set on specific seats, I'd suggest waiting to buy your ticket(s) until a day or two day before. You can better plan for weather, the starting pitcher, or any last-minute changes to your travel plans. The prices on Stubhub are competitive and there's almost always a wide selection of seats and prices available.
Get the cheap seats. If your options are bad seats or no seats, take the bad seats. Or even get the Pinstripe Pass for standing room. You can enjoy a variety of different views, experience the energy of the stadium and have a great time with any ticket.
Bring a credit card & your ID. Yankee Stadium is cashless, so you'll need a credit or debit card. If you only have cash, reverse ATMs are available. They also card hard for alcohol, so you will need a valid photo ID, too.
Download the CLEAR app. If you have CLEAR, be sure to download the app and log in before the game. I wouldn't recommend buying CLEAR just for this, but definitely use it if you have it. Also, it might be a good use of your CLEAR guest pass if your whole party does't have it.
Pack a portable charger. Between trying to order on Uber Eats and taking pics, your phone might die quickly at Yankee Stadium. I highly recommend throwing a small power bank in your bag. There are outlets and USB plugs in the standing tables at FreshDirect Terrace and Toyota Terrace, but there isn't otherwise a charging station at Yankee Stadium.
Print your First Game Certificate at home. The line for a printed First Game Certificate can be (and in my experience always has been) painfully long. Plus, then you have a paper certificate that you need to keep clean and flat the rest of the game. Instead, head to Guest Relations in the Great Hall for a digital copy that you can print later.
Take a walk. My favorite thing about Yankee Stadium is all the standing room space. It's great that you can stop and watch the game from a variety of different view points other than your seat. At some point during the game, be sure to get up and walk around different stadium levels for different views.
Don't leave early! If the Yankees have any chance of winning, you have to stay until the final out. They blast Frank Sinatra's "New York, New York" and it's the best part of a Yankees game.
Visit the park after the game. After the game, leave through the Great Hall and head across the street to Elston Gene Howard Field. You can walk around the park where the original Yankee Stadium once stood, and I have a feeling that means a lot to a lot of people. There is also a playground and splash pad for kids and a handful of food vendors. It's just a great place to hang out while you wait for the crowds to thin out at the train station.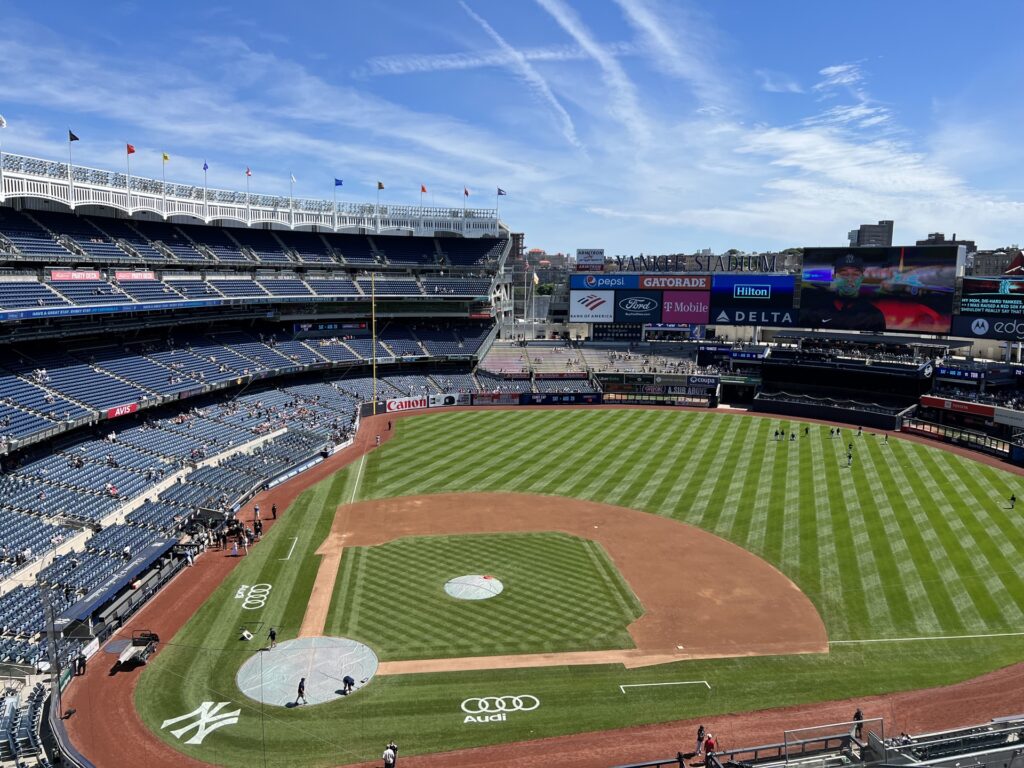 Rooting for that other New York baseball team?
We've also got a complete guide to going to a Mets game at Citi Field!