If you're headed to a baseball game in New York City, you have two options: the New York Yankees or the New York Mets. The Yankees are generally considered the golden child in town, but if you're looking for a changeup, head to Queens. In this post, we'll go over everything you need to know about watching a Mets game at Citi Field.
NOTE: We attended Opening Day at Citi Field and this post has been updated for 2023.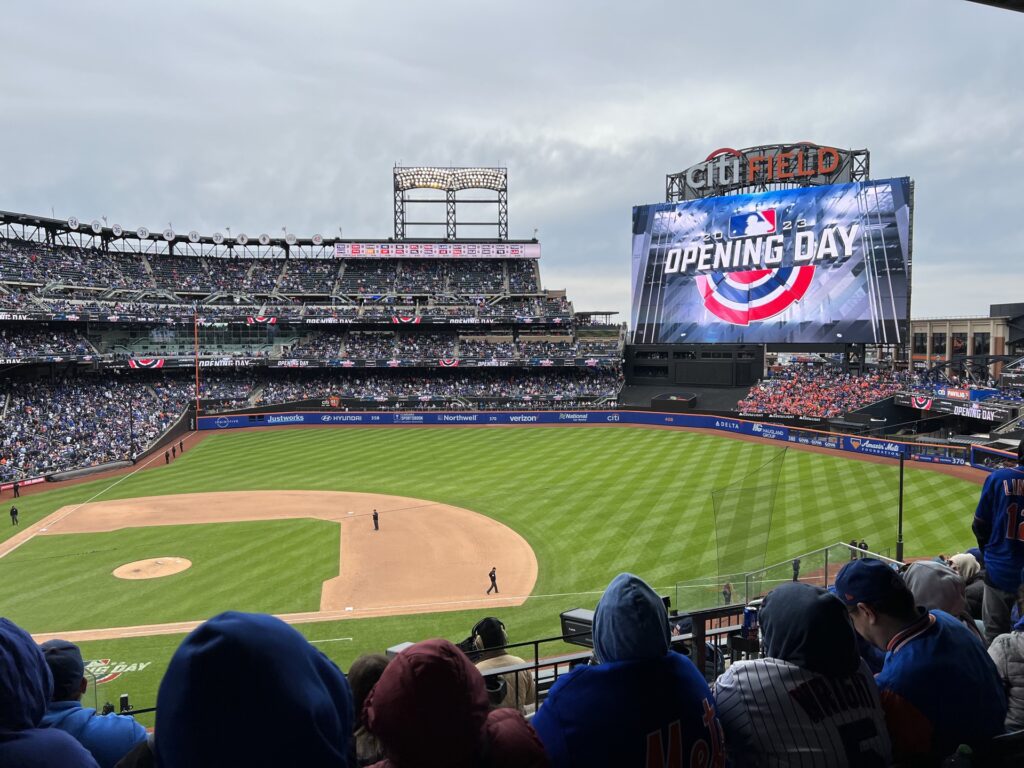 In this Post
Here's what we're covering in this post. We invite you to read the full guide or jump ahead to the section you're most interested in.
Citi Field Overview
The New York Mets play in the Queens borough of New York City at Citi Field. The stadium opened in 2009 and is one of the newest stadiums in Major League Baseball.
Citi Field replaced the iconic Shea Stadium, the team's original ballpark that opened in 1964. The change was met with mixed emotions from loyal Mets fans, many of whom wanted to see Shea preserved to the likes of Wrigley Field or Fenway. The stadium itself was inspired by Ebbets Field, the original home of the Brooklyn Dodgers who relocated in LA in 1957.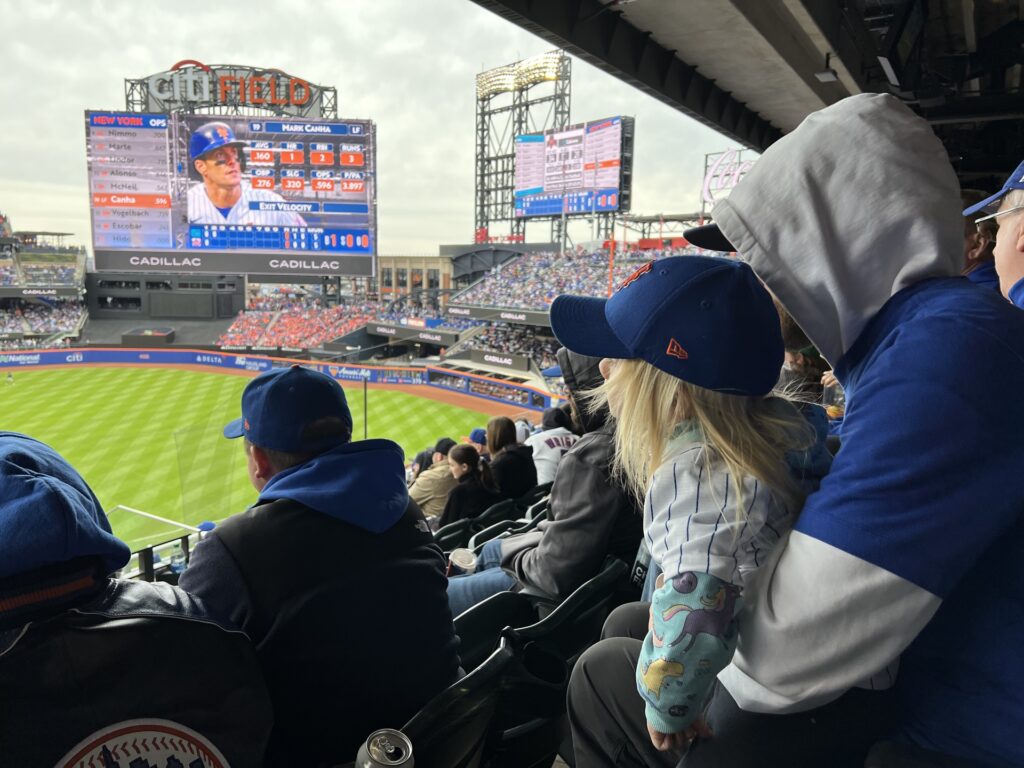 In 2023, the Mets unveiled a massive new digital scoreboard. At 21,500 square feet, it is the largest in the MLB!
Despite being one of the larger stadiums in the MLB, Citi Field is surprisingly easy to navigate and is very accessible.
Citi Field Levels
Citi Field has three main levels: Field Level, Excelsior Level & Promenade Level. Each level is accessible by escalators (through the 7th inning), elevators and ramps located around the stadium. All three levels have food and beverage vendors and bathrooms (including family and accessible bathrooms).
All ticket holders can freely move between levels to access services and amenities on each level (excluding premium clubs and bars which require special ticketed access). Access to seating sections is limited to those who have a seat in that section.
Field Level is where you will find the majority services, stores and food vendors. The Field Level concourse encircles the entire stadium. It is very spacious and you can see the game from most parts of the walkway.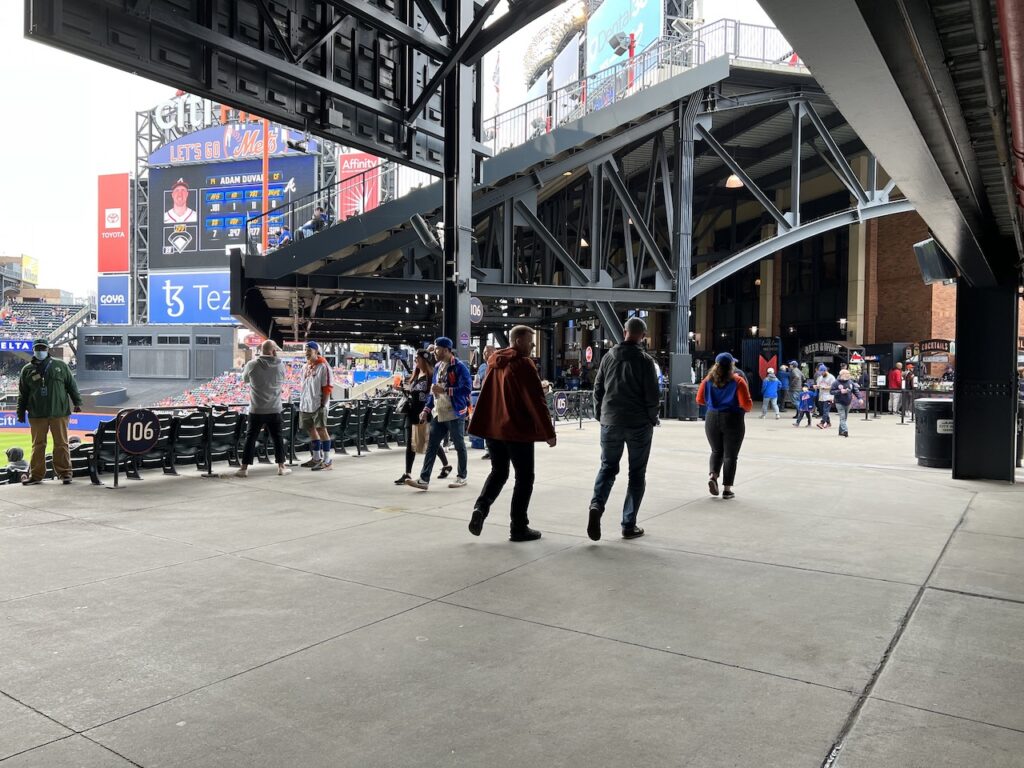 Excelsior and Promenade Levels have a more limited selections of food and beverages, but still have all of the essentials. The walkways for these levels do not fully circle the stadium.
Note: There are also suites and club levels, but entry to those levels and areas is limited to those ticket holders. I will not be covering those in this post.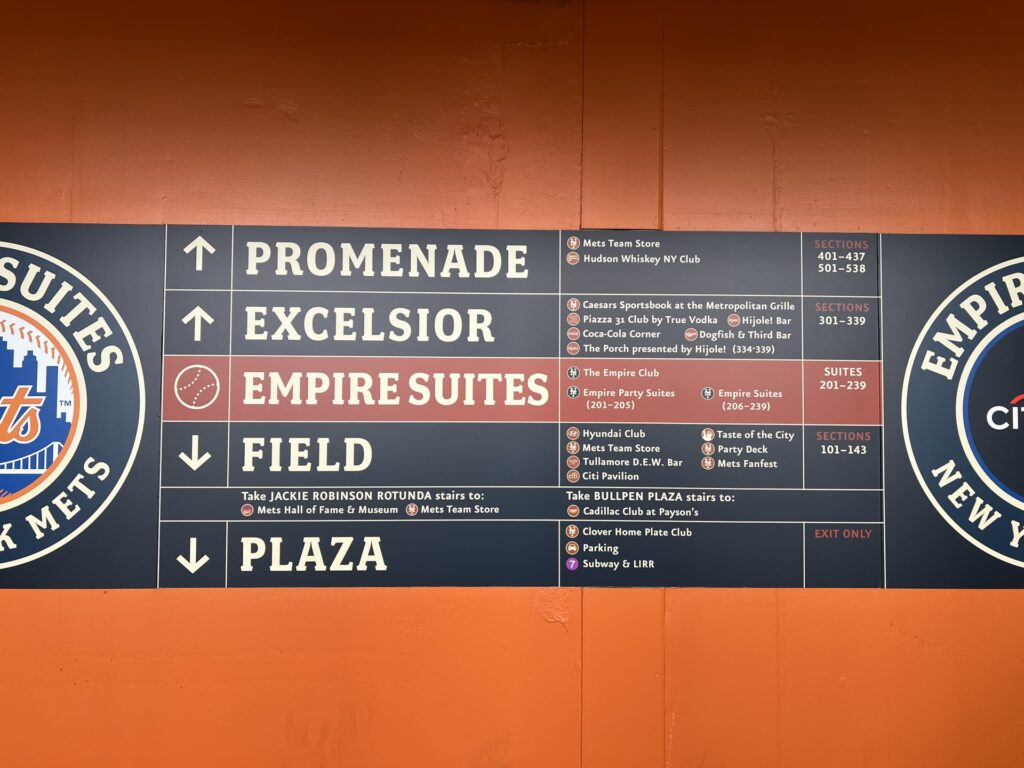 Citi Field Sections & Seating Areas
Within each level are numbered sections, each section comprising rows of seats. Sections are numbered and clearly labeled on signs throughout the stadium. Each ticket will be assigned a section and seat number, as is typical with all stadiums.
Sections are then grouped together into seating areas and given names. For example, sections 411-418 are called "Promenade Gold." These named seating areas are not posted around the stadium, but instead are used to reflect similar price points and club access. You can check which sections and ticket holders have access to which clubs here.
I personally found all of these names to be a bit overwhelming. At the end of the day, don't let it distract you. Unless you are looking for club access, you don't need to worry about the names of the seating areas. If you're interested in more information on seating areas and their benefits, check out this post.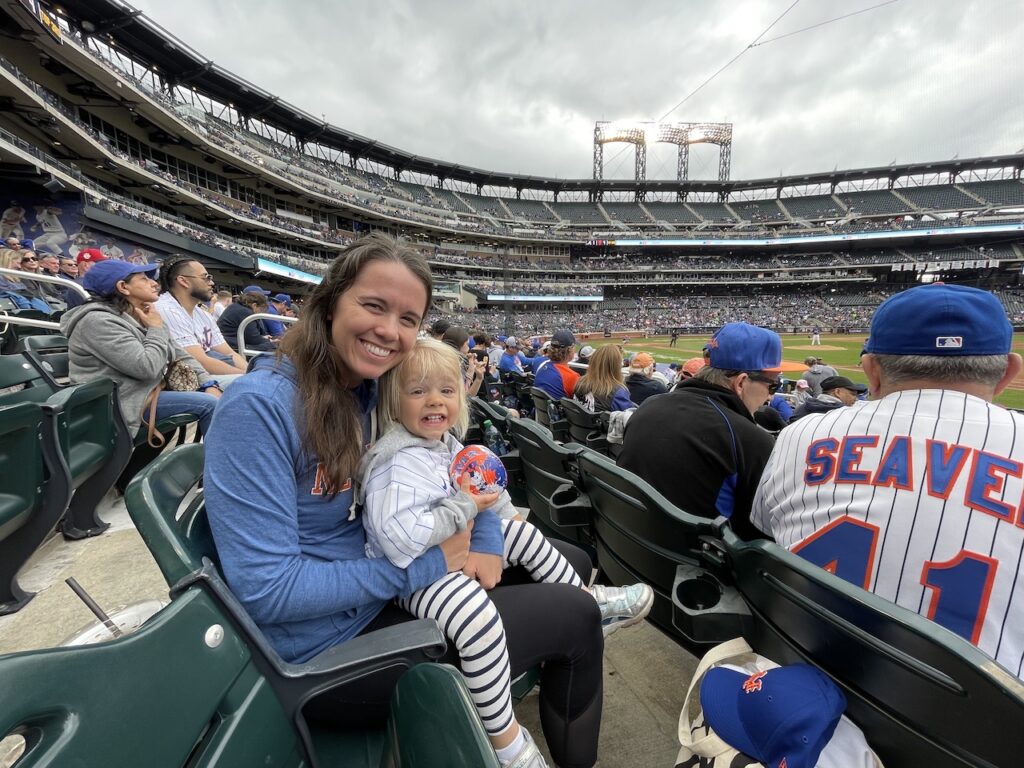 Citi Field Gates
There are six main gates at Citi field. Ticket holders can enter from any of these six gates and access any seat in the stadium. Some people tend to enter the gate closest to where they arrive, while others prefer to enter the gate closest to their seats. Either works.
Rotunda Gate is the main entrance located behind home plate. It's the most convenient entrance for guests arriving on public transportation via the 7 train or LIRR or guests parking in lots D, E and F. Just outside this gate is the original Home Run Apple from Shea Stadium, which makes it a popular entrance for diehard fans and first-time visitors alike.
Seaver, Stengel and LF gates are located along left field and are ideal for guests parking in lots B, C or D and sitting along the 3rd baseline.
The last two gates, Bullpen and RF gates, are located along the outfield. These gates are best for those sitting along the first baseline or in the outfield sections.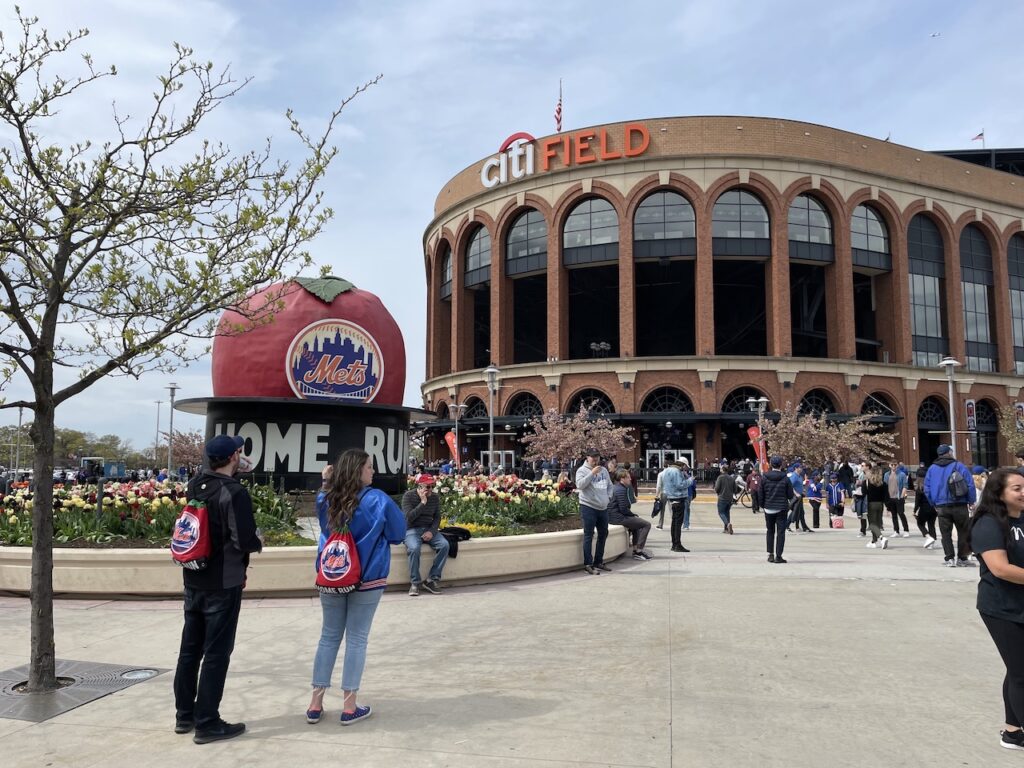 Citi Field Amenities
When I use the term amenities here and throughout this post, I'm referring to all of the vendors and services that are available at the ballpark other than the actual baseball game. Things like food and beverage vendors, fan services, ancillary activities, etc.
Citi Field is a relatively new stadium, and its amenities are high in quality but low in quantity. The park is not oozing with bells and whistles, but it's a well thought out, nice stadium.
Here are a few things you will find at Citi Field.
Jackie Robinson Rotunda. This entryway is located directly inside Rotunda gate. Inside is a "42" photo op, the Mets Hall of Fame & Museum, Lost & Found, and a team store. There is escalator and elevator access up to Field Level from the rotunda.
Fan Assistance Booth: This small booth is located at the top of the escalator and to the left coming from the rotunda. This is where you can register for your first game certificate or get a day pass to access club levels to utilize the nursing pod or sensory nook.
Field Level Concourse: This is the main, spacious concourse that circles the entire field. Here you'll find many food and beverage vendors, stores, Center Field Plaza, and access to lower seating areas and standing room viewing.
Center Field Plaza: This wide open patio in center field is the location for many of the stadium's non-baseball activities. Fan Fest and kids activities are over here, so is a large Shake Shake and many restaurants and bars.
Shops: There are two team stores (Field Level behind home plate & Plaza ( ground) Level past the Hall of Fame & Museum), children's team store (Field Level, right field), Jersey customization (Field Level, behind home plate), and Amazin' Memorabilia (Field Level, behind home plate). Several smaller shops can be round around the stadium as well.
Shea Bridge: An homage of sorts to former Shea Stadium, this functional bridge leads straight to Center Field Plaza. It also offers great views of the game.
Bathrooms: There are ample bathrooms located around the park, including 15 family restrooms. All concourse bathrooms have baby changing tables and some also have adult changing tables.
First Aid: The first aid room is located on Field Level across from the Hyundai Club third base entrance.
Cell phone charging: There are two charging tables on the Field Level behind sections 101 and 128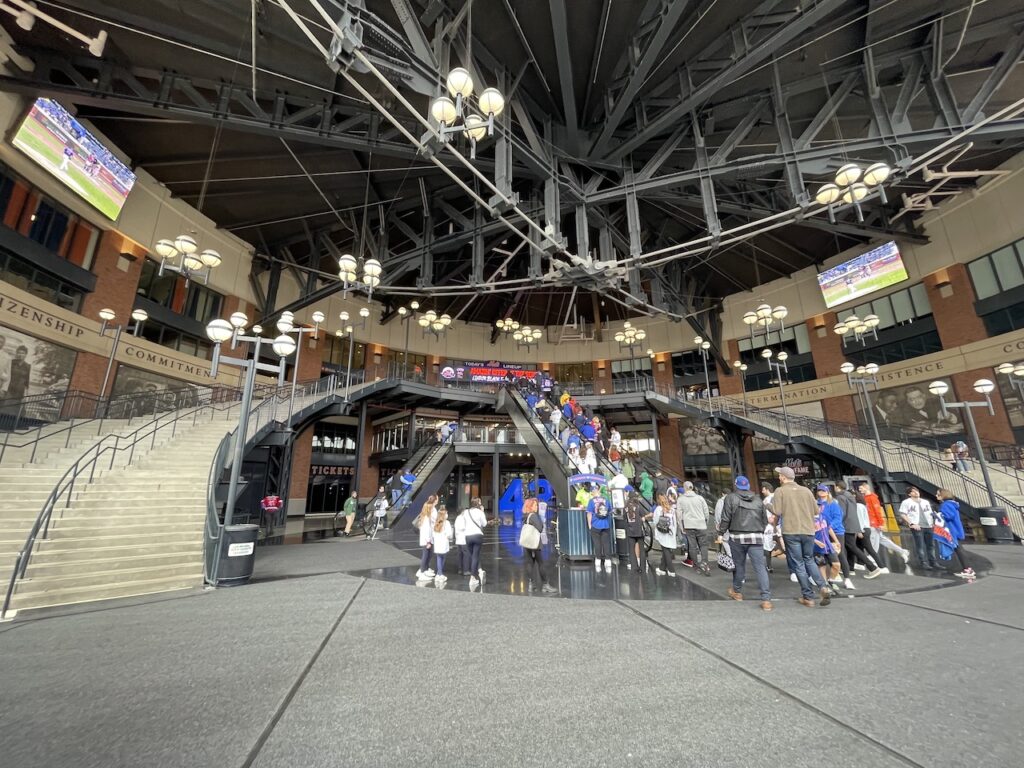 How to Purchase Mets Game Tickets
The most straightforward way to buy single game Mets tickets in advance is from the MLB website here (powered by Tickets.com). If you're booking weeks or months in advance, this is the best place to start.
You can search by seating section or price range. All tickets are subject to per-ticket (varies by ticket price) and per-order ($6) service charges. You will need to have or create an MLB account in order to complete your purchase.
If you're booking closer to or on game day, the MLB site may not have the best selection or lowest prices. For last minute tickets, check StubHub which is the official ticket reseller of the MLB.
Be sure to use the "Instant Delivery" filter to avoid any delays getting your tickets. StubHub tickets are all subject to a service fee (varies by ticket price) and a fulfillment fee ($2 per ticket).
Lastly, you can purchase Mets tickets at Citi Field. There is a ticket window on the exterior of the stadium on the third base side of Jackie Robinson Rotunda. The ticket window is open on game days starting at 9 AM through the end of the 7th inning.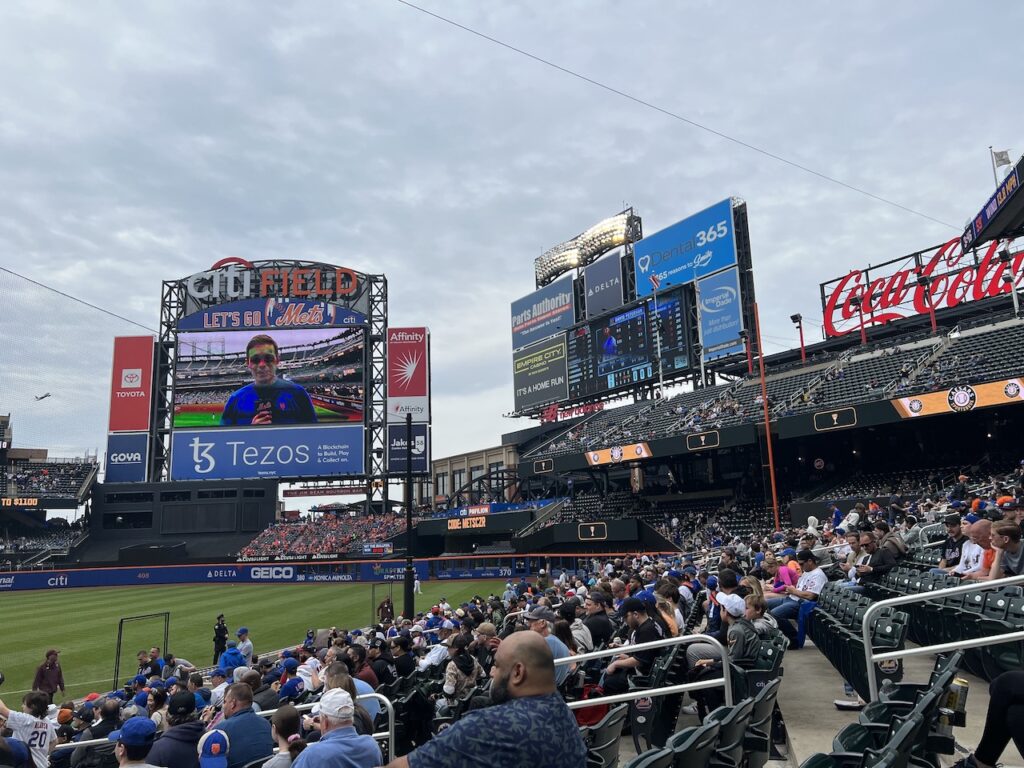 Special Ticket Offers & Promotions
If you're flexible on dates and are looking for something special to add to your experience, be sure to check out the Mets Special Events page first. Here you'll find information on all upcoming events and promotions.
The Mets have several themed nights and celebrations throughout the season. This includes events like Pride Night, different heritage nights or Bark in the Park where guests can bring their dogs. Some games also have special promotions or giveaways, such as free hats, bobbleheads or shirts. These items are given out to a set number of fans on a first-come-first-serve basis. You can find the celebrations and giveaways schedule here.
Sometimes you'll even find a day. In 2023, you can save 20% when you buy tickets for three games. In 2022, the had a promotion where you could get a ticket and two beers for only $25. More events are added throughout the season, so check back often. Tickets for these events must be purchased through the link for the specific promotion.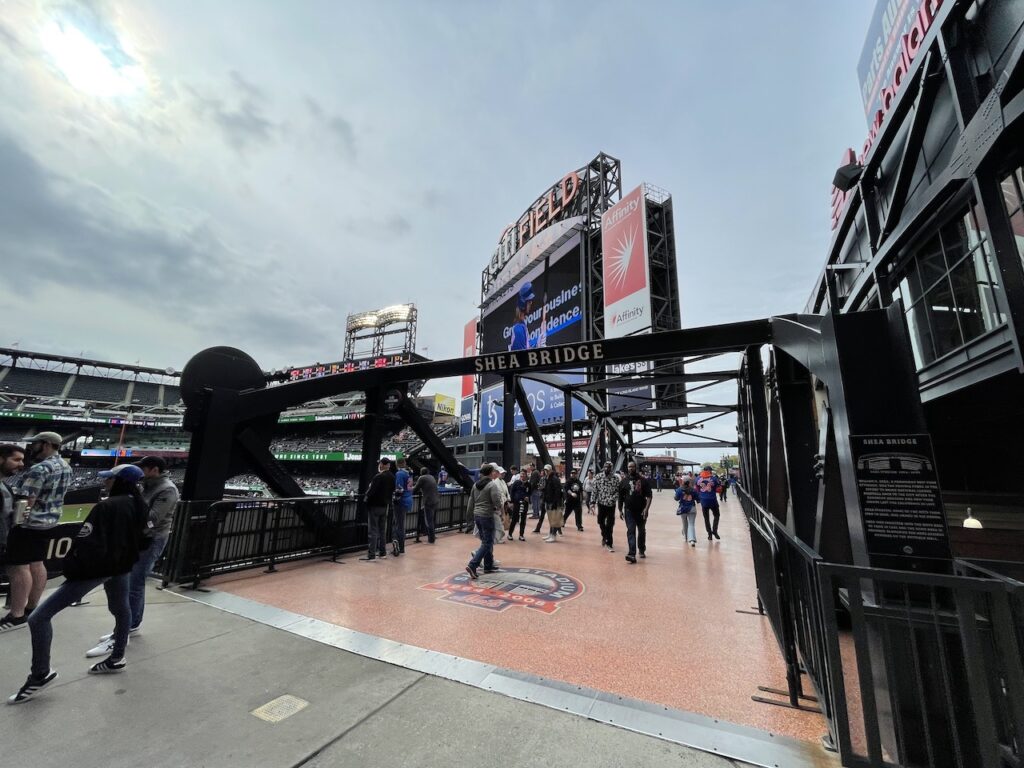 Children's Tickets for Mets Games
Children under 32 inches do not need their own ticket for Mets games. If the child does not have a ticket, they will not get their own seat and must sit on the lap of their parent or guardian in the adult's assigned seat.
All guests 32 inches and taller will need a full-price ticket. There is no discounted pricing for kids tickets to Mets games.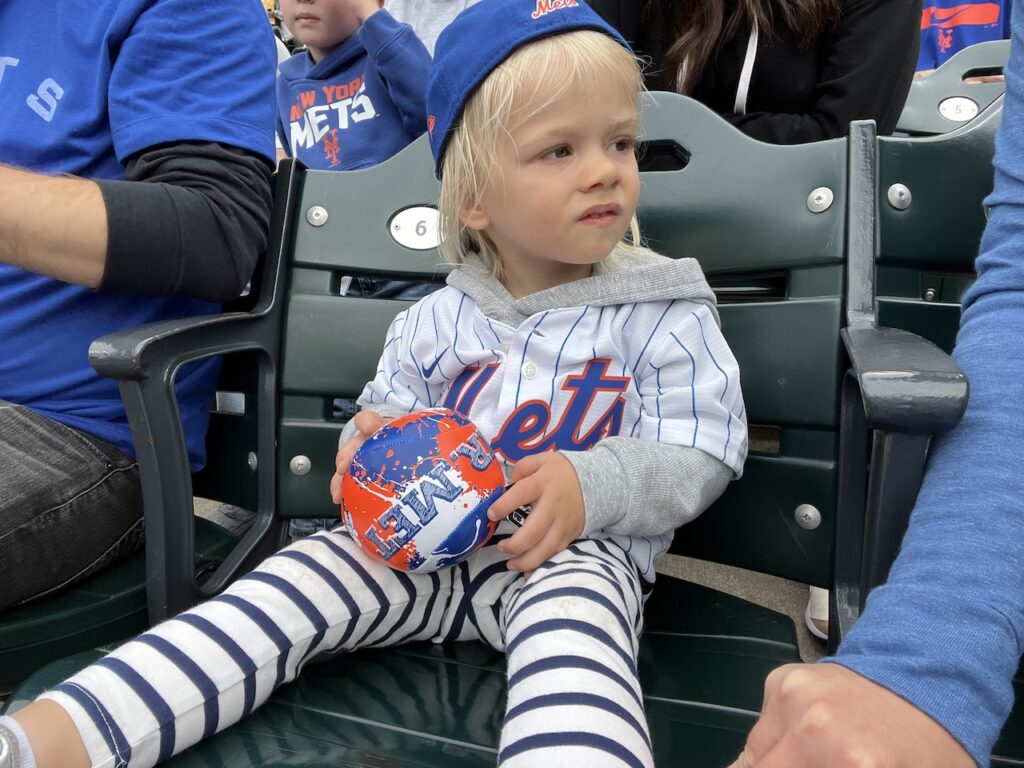 We found the seats at Citi Field to be quite spacious compared to the seats at Wrigley Field (the stadium where we've spent the most time with our child.)
For their first visit, our 19-month-old was taller than 32 inches, so we bought them their own ticket. However, they sat on our lap most of the time anyway and we were perfectly comfortable. They are now almost 3 but still sit on our lap or stand most of the game. They aren't quite heavy enough to hold the seat down on their own, so that's always a challenge.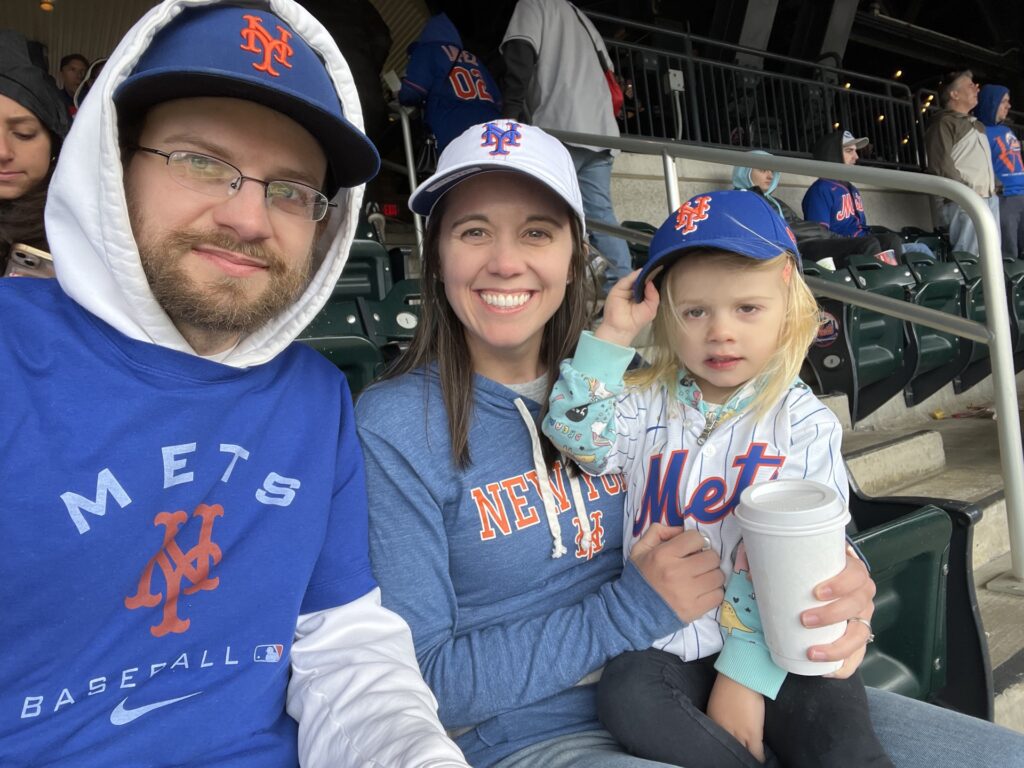 Where to Sit at Citi Field for a Mets Game
There are a few things to consider when picking where to sit at a Mets game. One of the more confusing things about Citi Field, to me at least, is all the names of the levels and seating areas.
Before you start picking your seats, I suggest reading the section above which outlines Citi Field levels and seating areas to help you better understand the terms you'll see when trying to select your seat.
Once you've got a handle on that, here are a few top things to consider when choosing where to sit at Citi Field for a Mets game.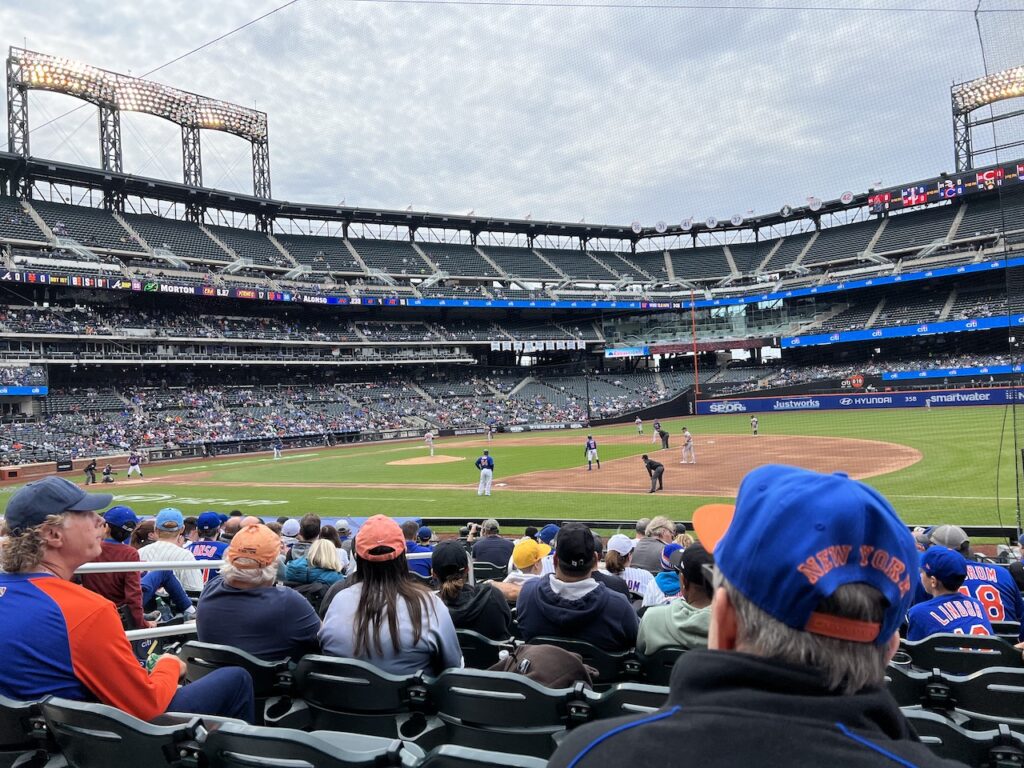 Price
The most obvious factor is price. Like all stadiums, the best seats are the closest to the action. So if money was no object, you'd ideally want to sit as close as possible.
However, money is usually at least somewhat of an object for most guests. For everyone who is looking for the best seats within their set budget, you'll be happy to know that Citi Field is a great place to visit for great value.
Citi Field is large, but it's a really open stadium. Since it's a new construction, there are virtually no seats with obstructed views. There are basically no bad seats at Citi Field, some seats are just further than others.
The Mets ticket prices are usually pretty reasonable. We suggest setting a budget and filtering your search, then choosing the closest seats in your price range.
You can often find upper level tickets for under $20. Depending on the day and opponent, Field Level tickets can usually be secured in the $50-$100 range. Weekday and day games are often cheaper, while weekend games and rivalry matchups tend to be the most expensive.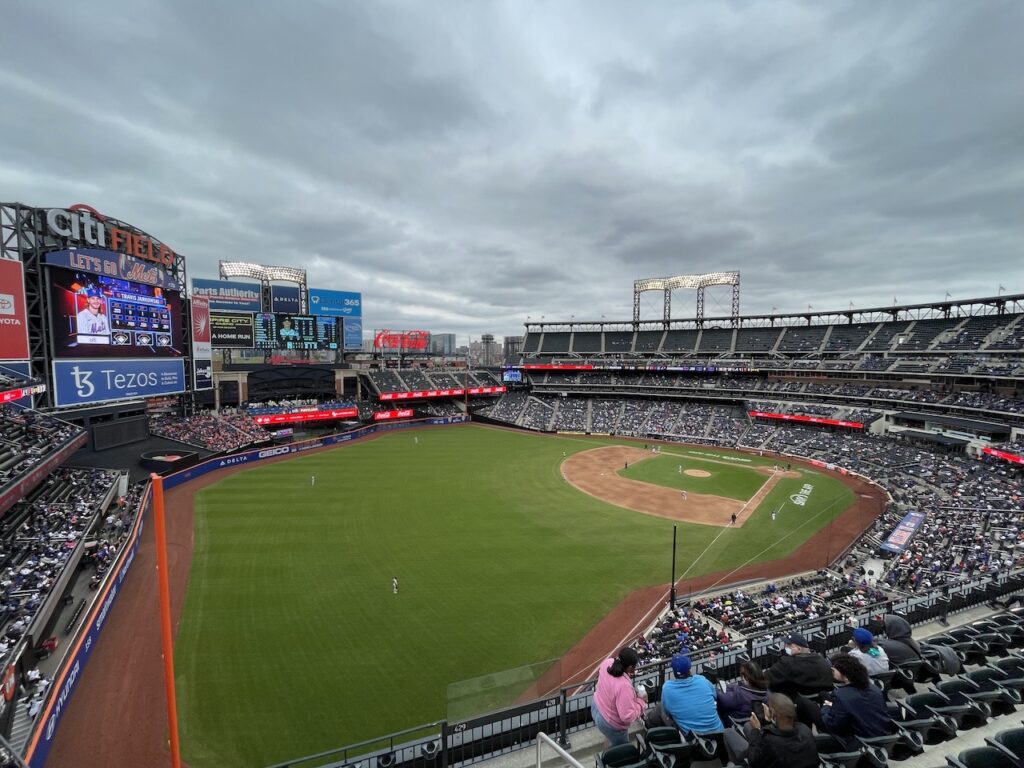 Overhead Coverage
Another thing to consider when selecting your ticket is overhead coverage. Sometimes you want to be covered (like when it's raining or really sunny) and sometimes you don't (like in early spring or late fall when it's cold). Some seats at Citi Field are covered by overhangs, but with the moving sun and wind its hard to predict exactly whether or not a seat will be covered or not.
Typically, the back rows in most sections will have the best chance of being shaded, specifically along the 3rd base line. To getting a visual on your specific section, check out the Mets Seat Map. This will help give you a general idea of whether the seat is likely to be covered or not.
Amenities
The last thing to consider is how close you want to be to the Field Level amenities. If you plan on going back and forth between your seats and these services, you may want to prioritize a lower seat so you don't waste time moving between levels.
Some of the amenities are listed above and detailed below in this post. Think dining options, shopping and non-baseball activities (like the Hall of Fame or Fan Fest).
How to Get to Citi Field for a Mets Game
Citi Field is located in the Queens borough of New York City. While it can be far, depending on where you're coming from, it's easily accessible via public transportation or by car.
We recently relocated to Queens, so we love that Citi Field is in our borough! However, we're starting to get the feeling that not all New Yorkers love Queens quite as much as we do. Fortunately, it's pretty easy to get to Citi Field from most other boroughs, so don't let its location stop you.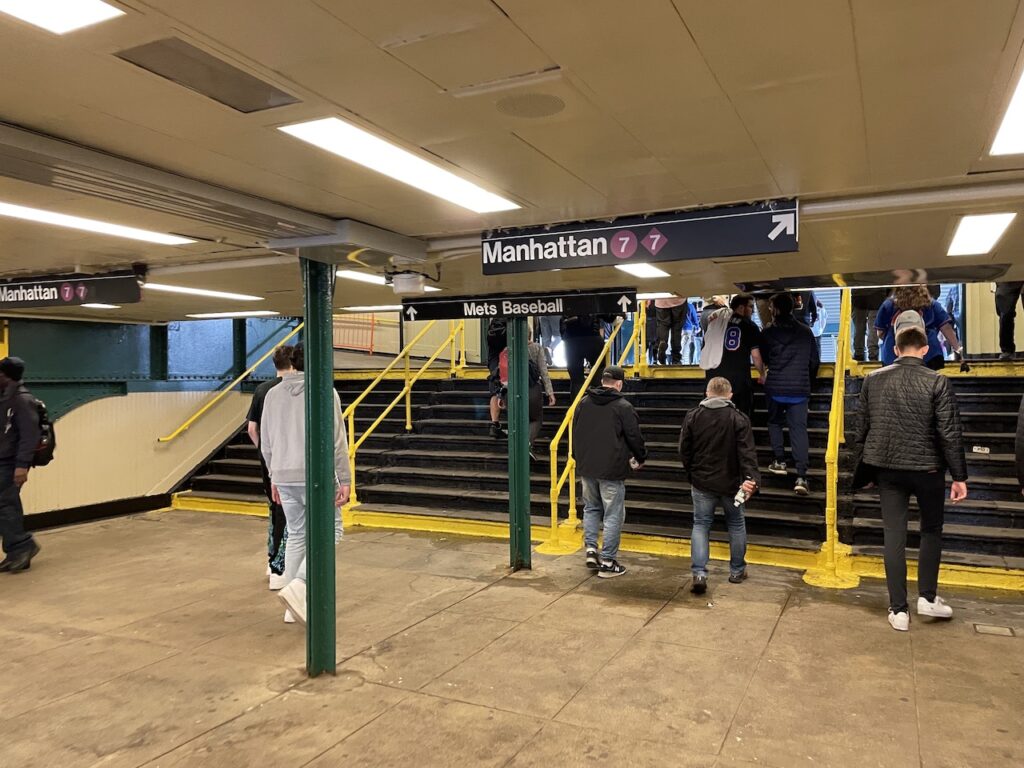 Getting to Citi Field on Public Transportation
Citi Field is located just steps from Mets – Willets Point Station. This station serves the 7 MTA subway train and the LIRR Port Washington Branch train.
If you're taking the subway, the 7 train cuts through Midtown Manhattan and western Queens. If you're not starting near a 7 train stop, you can connect to the 7 from N or W trains at Queensborough Plaza or from E, F, G, R or V trains at 74th Street-Broadway / Roosevelt Avenue.
The Q48 bus also stops at Citi Field. This is ideal for anyone coming straight from LaGuardia Airport.
For those who live closer to Citi Field, you can also bike to the stadium. There is secure bike parking available in the following locations: first base side of the Rotunda, third base side of the Rotunda, outside the Right Field Gate on Seaver Way. Oddly enough, there is not a Citi Bike station at Citi Field.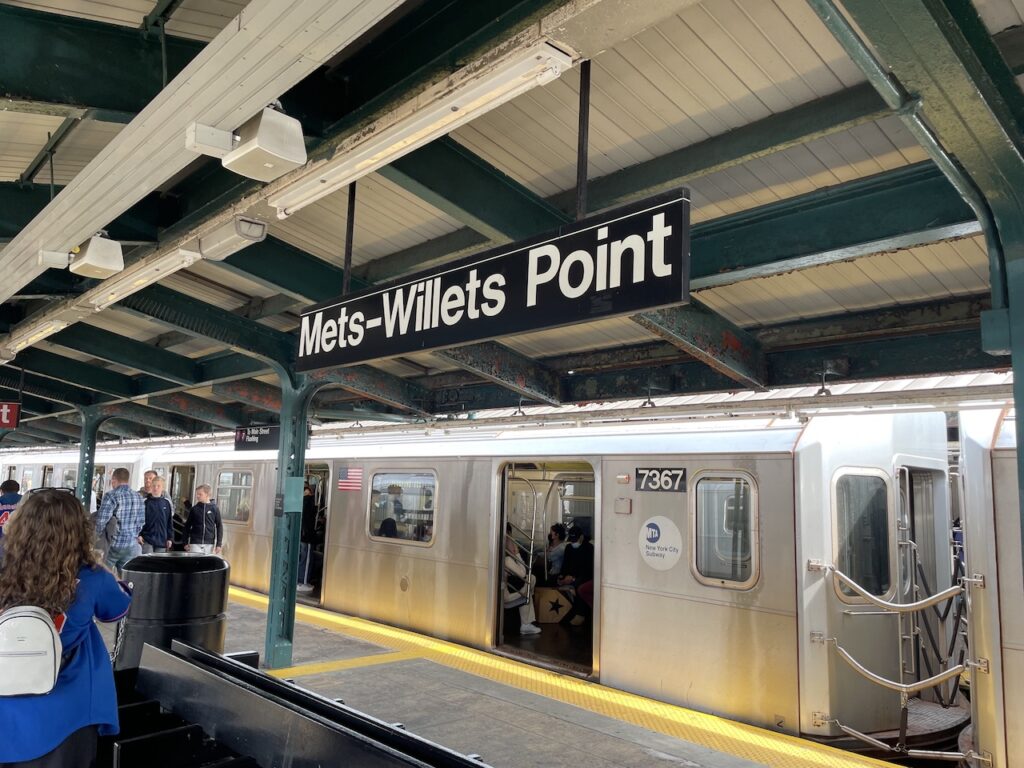 Driving to Citi Field
While public transportation is recommended, you can also drive to Citi Field for a Mets Game. If you choose to drive, plan to arrive early to avoid congestion and delays. You can look up driving instructions in Google Maps or from a variety of starting points on the Mets website. NYPD will direct traffic to available parking lots.
Parking is available at Citi Field and costs $30 per car for regular season Mets games. Drivers can pay for parking when they arrive with credit/debit cards, Apple Pay or Google Pay. You cannot pay for parking at a Mets game with cash.
Alternatively, you can purchase a parking pass in advance. Pre-paid parking passes serve as a voucher and can be redeemed for parking at the nearest available lot.
There are 7 parking lots at Citi Field (A – G), however only C, D, E and F are available to standard ticket holders. (Parking lot A is reserved for Employees, B for season ticket holders with eligible tickets, and G for VIP Guest and Premium Suite Pass Holders.)
Parking lots open 3 hours before the scheduled game time, and parking spots are available on a first come, first serve basis.
If you're using Uber or Lyft, there is a new rideshare pickup area on Shea Road near Seaver Way. The easiest way to get there is to exit Bullpen gate by center field.
What Can You Bring to a Mets Game
Let's actually start with what you can't bring. The Citi Field bag policy states that no backpacks of any kind are allowed inside the stadium. Large bags that exceed 16″ x 16″ x 8″ are also prohibited.
The only exceptions to this policy are completely clear backpacks with no obscured pockets or backpacks required for ADA/medical reasons.
All other bags that are smaller than 16″ x 16″ x 8″ and are not backpacks are allowed inside Citi Field. This includes tote bags, diaper bags (that aren't backpack style), messenger bags and (oddly enough) drawstring bags.
Small soft-side coolers are also allowed inside Citi Field, meaning you can also bring your own food. Guests are permitted to bring personal food items and up to one beverage per person as long as it is factory-sealed, non-alcoholic and not in a glass container. Alcoholic beverages cannot be brought into Citi Field.
Strollers are allowed at Citi Field. Small, umbrella style strollers can be folded and stored under your seat. Larger strollers can be stored at Fan Assistance booths located on Field Level behind home plate and sections 306 and 412.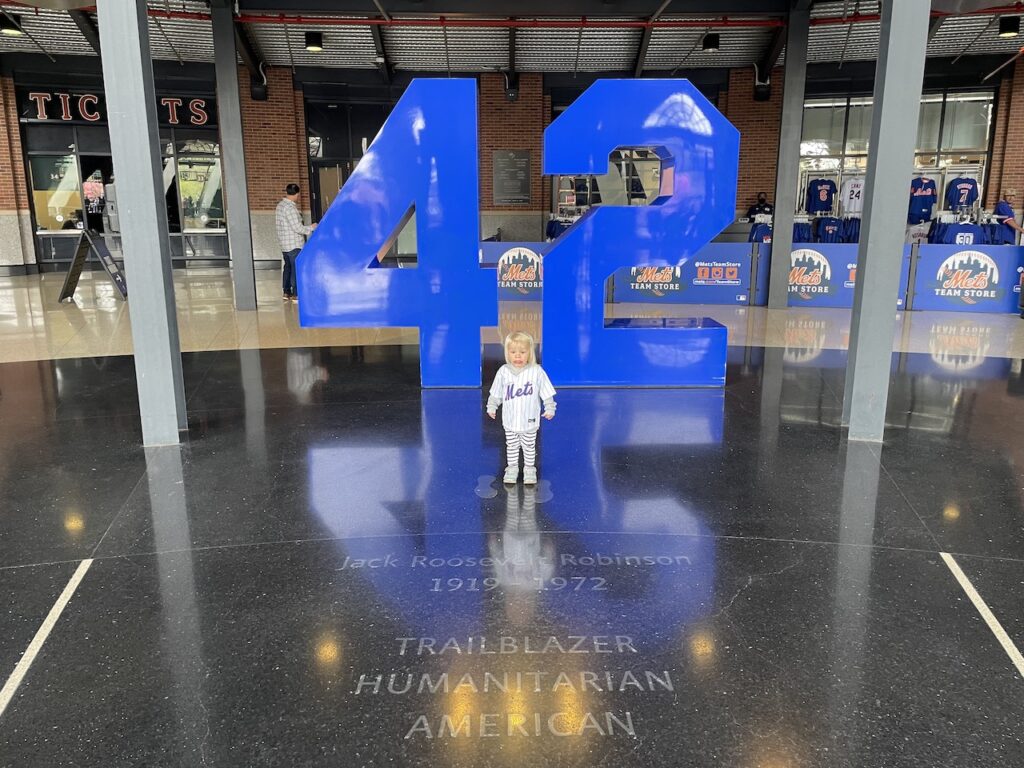 What to Eat at a Mets Game
People who visit Citi Field have very divisive opinions about the stadium. Regardless of where you stand on the stadium as a whole, nearly everyone can agree on one thing: the food is amazin'.
There are lots of reasons why many people love the food options at Citi Field. It is high quality (as in it features a James Beard award winning chef and a Shark Tank winner), covers a wide range of cuisine (arancini to sushi to chicken and waffles) and accommodates many specific diets (vegan, kosher, gluten-free).
You can find the full Mets dining guide here, but list below are some of the stand-out items to look for.
New in 2023
There are several new foods coming to Citi Field in 2023, but a good chunk of them require special club access. These are a few items that can be found and purchased by all guests at Citi Field starting in 2023.
Jacob's Pickles: This restaurant isn't new, but this menu item is. Jacob's Pickles is now offering a fried chicken sandwich on a donut bun!
Chef Marc Murphy's Porchetta Sandwich Shop: In addition to porchetta sandwiches of course, this celebrity chef spot also features an Italian Salsa Verde and chicken burger.
Sunny's All-American Kitchen: Another celebrity chef in the house! Here you'll be able to snag indulgent comfort foods like mac and cheese or a s'mores parfait.
Most Popular Food Spots at Citi Field
Shake Shack: This popular chain takes their talents to Citi Field, offering their core menu items like burgers (including the vegetarian 'Shroom Burger), fries and custard.
Sweet Chik: American comfort food featuring chicken & waffles, chicken sandwiches & loaded fries.
Amazin' Chicken Co: You can't go wrong with a classic. Here you can get classic tenders and nuggets with a variety of sauces and dips.
Most Interesting Food at Citi Field
Arancini Bros: These risotto balls come from Sicily, but dip into a variety of flavor profiles like pizza, taco and even Nutella.
Hot Pastrami on Rye: Not exactly interesting for New York, but not something you'll find at many ballparks!
Pig Beach BBQ: You can get a bbq sandwich at plenty of stadiums I'm sure, but here you can also get a full bbq brisket and and pulled pork platter!
Kid Food Faves at Citi Field
Pizza Cupcake: It's a family outing and you don't want to fight over finishing dinner. These pizza cupcakes are super fun for the kids, and incredible delicious for the parents.
Alonso's Arctic Grill: They want a burger, but you want something more fun. Everyone can be happy at Alonso's, which features burgers but piles on a slew of mouth-watering toppings.
Tacocina: Adventurous eaters might be down to try the pork and pineapple taco, or you can play it safe with the cheese and corn taco with a side of chips and guac.
Best Desserts at Citi Field
Mister Softee: We love a baseball helmet soft-serve and this one blew our minds. It was so fluffy! Get the sprinkles.
Wowfulls: Sweet bubble waffles filled with ice cream and a variety of delightful toppings.
Sweet Chick: I'll let this description speak for itself … Waffle Cookies, Maple Ice Cream Dipped in Dark Chocolate topped with Sprinkles & Pretzels Bits
Food Options for specific Diets & Allergies at Citi Field
Vegan City: Everything you could want at a baseball stadium, but made vegan. We're talking nachos, hot dogs, and sausages.
Gluten Free Stand: Here you'll find your ballpark favorites (hot dogs, chicken tenders, burgers, fries) all made gluten-free.
Prime Kosher Sports: Kosher prepared ballpark classics, deli sandwiches, knish and other snacks.

NOTE: If you plan to purchase alcohol at Citi Field, you will need to show a valid ID. (Even if you look plenty older than 21!)
Fun Things to Do at Citi Field
If you're looking for an excuse to get out of your seat, there a few things around Citi Field to check out. There's not a ton to do, and these things won't take too long. There is also video screens throughout the stadium and inside many of these attractions, so you can take a break from your seat without taking a break from the game.
Fan Fest: This kids area is located in Center Field Plaza on Field Level behind the scoreboard near Shake Shake. There is a mini baseball field where kids can practice their swing and run the bases. This is also where Mr. and Mrs. Met come to greet fans before and during the game.
Hall of Fame & Museum: This is a small but excellent museum about the history of the Mets. There's also a Hall of Fame wall and their two World Series trophies on display. There's a TV with the game broadcast inside the museum.
Home Run Apple: If the Mets hit a home run while you're there, get to a place with a view of the outfield ASAP to see the Home Run Apple pop up. The original home run apple from Shea Stadium can also be found just outside Rotunda Gate.
First Game Certificate: Pop by the Fan Assistance Booth on Field Level behind home plate and you'll see a sign with a QR code. Enter some basic info and they'll have a custom certificate printed for you. If you visit during the first two innings of the game, you can pick it up later that same day. Otherwise, they will mail it to you. This is 100% free.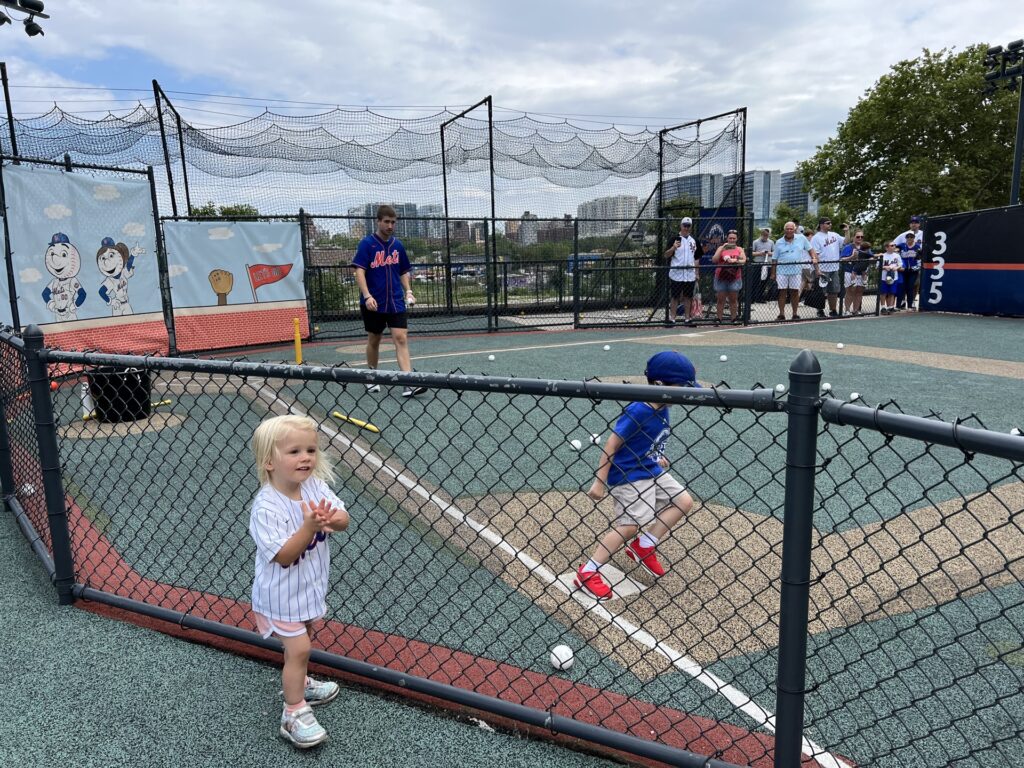 Going to a Mets Game with Kids
You can absolutely bring babies, toddlers and kids to a Mets game, and we highly recommend it! We have been bringing our little one to baseball games since they were just a baby going to Wrigley Field. Now that we live in Queens, we've been to several Mets games.
Baseball games with kids can be really fun, but it can also be a bit hard on everyone. It's loud and crowded and it's always hard to shake up kids' routines. Parents have to figure out what to feed their children (and pay for it), where to change them, and how the heck they're going to nap.
These things can be easier if you are prepared. So in this section, we want to try to help parents feel as comfortable and confident going into a Mets game so they have their best shot at a smooth, pleasant, happy family day at the ballpark.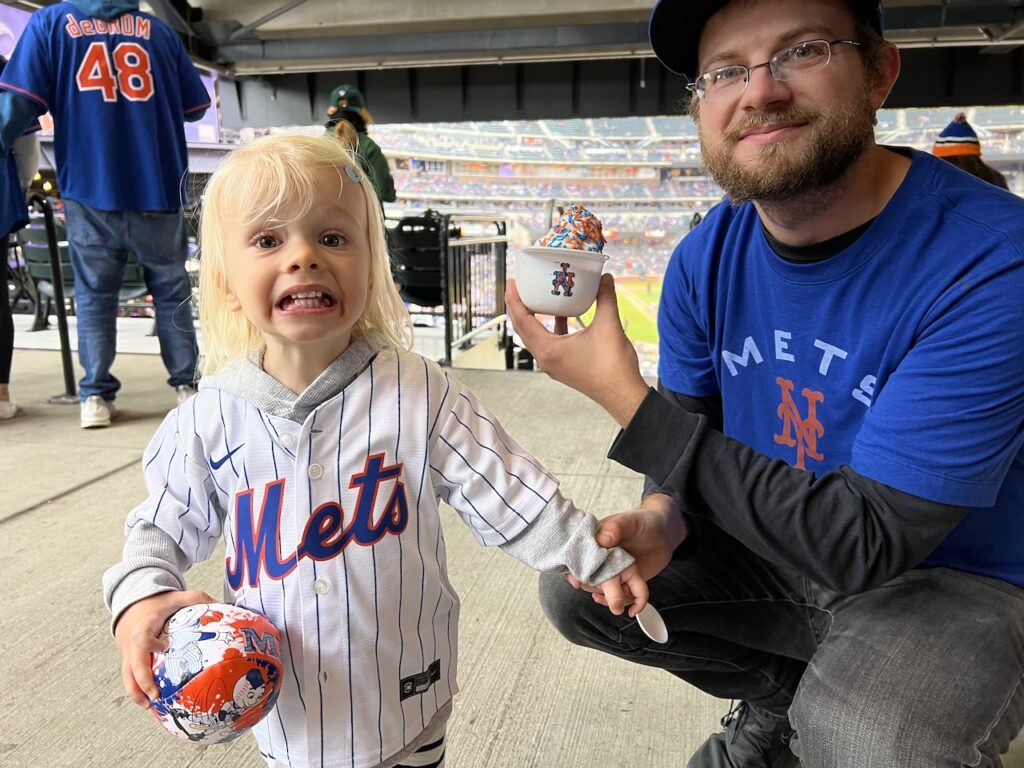 When to go to a Mets Game with Kids
The Mets used to have Family Sundays during most Sunday day games. They had entertainment, appearances by Mr. and Mrs. Met, and more. However, I can't find any official information about this event returning in 2023.
What is definitely coming back is the Mr. and Mrs. Met Post-Game Dash. On select Sunday day games, kids 12 and under can run the bases on the field after the game for no extra fee. You can find upcoming dates here — the event is listed as a promotional item.
Other than that, we'd recommend weekday afternoon games in the early summer. We went to a Tuesday afternoon game in May and it was pretty empty. There were lots of empty seats around ours, and we had some space to spread out. Since the concourses were also empty, out little one was able to run around a bit more than if it was crowded. Conversely, we went to Opening Day in 2023 and it was very crowded.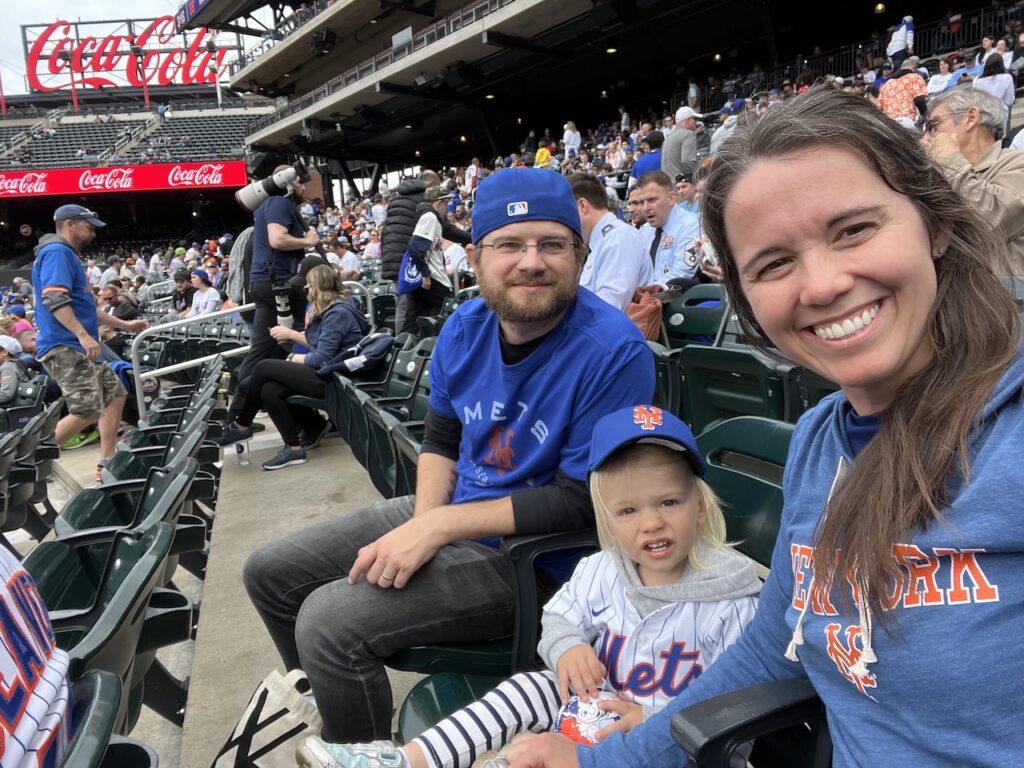 Lastly, consider nap times. Our little one naps from 1- 2:30 and goes to bed at 7. That makes the standard 1 and 7 PM game times really hard for us. We found that 3 PM games worked great for us! There aren't many, but we plan on going to all of them.
Food for Kids at a Mets Game
Citi Field has a ton of fun and delicious food options that appeal to kids and adults. We personally are raising a vegetarian toddler who loves hot dogs, so the vegetarian hot dog at Vegan City was an easy meal win for us.
The pickiest eaters will be able to enjoy basic staples like mac n cheese, chicken fingers, hot dogs, pizza and burgers from concession stands and restaurants around the park. More adventurous kiddos will love the pizza cupcakes, french fries with fun dipping sauces, and even tacos with a variety of fillings.
Parents absolutely must know about the kids meal available at Citi Field! It is such a good deal. The kids meal includes a Nathan's hot dog, popcorn, juice box, and prize. Officially, you can purchase kids meals only at the concession stand on Field Level behind section 121, but we saw it listed on other concession stand menus too.
Unfortunately veggie hot dogs aren't available with the kids meal, so we didn't personally get to try this.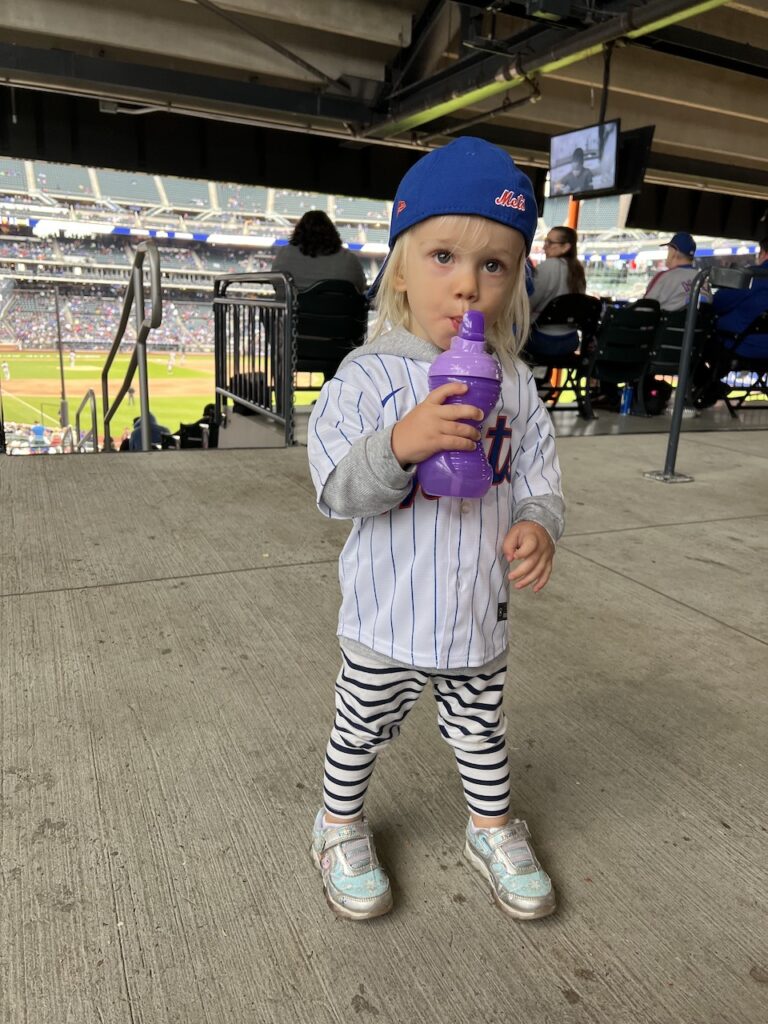 Nursing at a Mets Game
In the state of New York, women are legally allowed to breastfeed anywhere they are allowed to be. So as a ticket holder, you are allowed to be inside Citi Field, and therefor are permitted to breastfeed anywhere you please inside Citi Field.
Your seat is the easiest, most obvious place to nurse. I was no longer breastfeeding when we came to Citi Field, so I can't say exactly how comfortable this would be. I did notice that the seats are actually relatively spacious (compared to Wrigley Field at least), so you could likely do this somewhat comfortably in your seat.
Alternatively, there is a nursing pod available where you can nurse in private. Unfortunately, they do not make this easily accessible. The nursing pod at Citi Field is located on the Empire Suite Level, across from Suite 213. If you do not have a suite level ticket that grants you access to this section, you'll need to stop by the Fan Assistance Booth (located on Field Level behind home plate) to get a pass to use the nursing pod.
Fun Things to do with Kids at a Mets Game
It shouldn't be hard keeping your kids busy for three hours or so at a Mets game. If your little ones can't sit still for the whole game, fear not! Here are a few things to make a Mets game extra special for your little one. (We also have a longer list of 10 things to do with kids at a Mets game.)
First Visit Certificate: If it happens to be your kid's first visit, this makes a special and free souvenir. Stop by the Fan Assistance Booth (located on Field Level behind home plate), scan the QR code and enter your little one's info. If you visit during the first two innings, your certificate will be printed and available to pick up after the 8th inning. Otherwise, they will mail it.
Mets Helmet Ice Cream: I think this was our toddlers favorite part of the entire game. It's a toy, it's dessert, it's everything children love.
Fan Fest: If your kid can hold a bat, they'll love taking a swing at this mini Mets baseball diamond and running the bases. You might also get to meet Mr. and Mrs. Met who visit before and during most games. This is more for older kids who can hit and run on their own. At 19 months, our toddler couldn't do anything, but at 2.5 they LOVED it.
Plane Spotting: Citi Field is located near LaGuardia Airport along a takeoff flight path. Planes are often flying over the field and our toddler got excited EVERY time. This is a bit tougher with the giant new scoreboard, though.
Kids Club: If you're planning in advance and okay dropping some dough, you might want to sign your kids up for the Mets Kids Club. Each membership costs $60 and includes a few goodies, and special deals throughout the season.
Kids Team Store: I bring this up hesitantly because I know some parents aren't looking for more things to spend money on. If you're interested though, there is a kids team store located on Field Level near Right Field. You can find youth apparel, toys and more.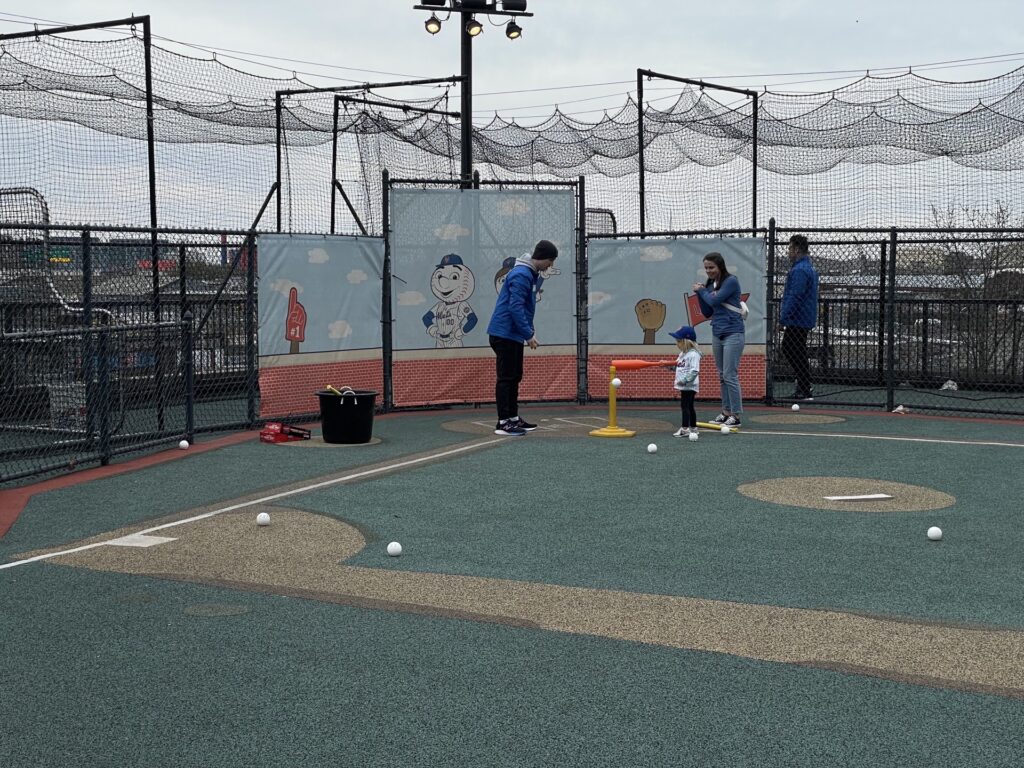 Naps during a Mets Game
If you have a child under 2, theres a pretty good chance that a Mets game is going overlap with your regularly scheduled nap time.
If you have a young baby who can sleep in a baby carrier, you are golden at Citi Field. The upper concourses, outfield ramps and elevator bays are all relatively quiet, open spaces where you can escape some of the noise and distractions and squeeze in a nap. We personally didn't do a carrier nap at Citi Field, but we've done enough at Wrigley Field to know that Citi Field would have been great.
If you have a stroller sleeper, you might be in luck at Citi Field, too. Since the concourses are wide, you can easily push a small stroller around the same areas and might be able to get your little one to fall asleep. Older toddlers might still be too distracted or excited, though.
A final option is to plan naps around game time and avoid napping at the stadium, even if it means arriving late or leaving early. When we were on a two-nap schedule, 1 PM games worked great because we'd nap right before and right after the game. Now that we usually just take a single nap at 1 and go to bed at 7, things are tougher. We found that 3 PM games work great and we can just arrive a little late after our nap at home.
Since 3 PM games are rare, the next thing we'll try is a 1 PM game and leave early for a late nap. We'd also consider doing a late nap at home and then trying the 7 PM game and seeing what happens. We figure they'll probably have fun, stay up late, then pass out on the train home. TBD.
Diaper Changes at Citi Field
Diaper changing tables are available in all concourse restrooms on all levels of Citi Field. You should never be too far from one should a diaper emergency arise.
There are also also 15 family bathrooms located around Citi Field. Some of those are located on suite levels. Here are the main family bathroom locations that are accessible to all ticket holders.
Field Level – Sections 111, 114, 121, 124 & 130
Excelsior Level – Sections 312, 326 & 339
Promenade Level – Sections 409,420 & 430
I personally recommend using the changing tables in the restrooms instead of the family bathroom if that's an option for your family. The lines for the family bathrooms are always long and tend to move very slowly.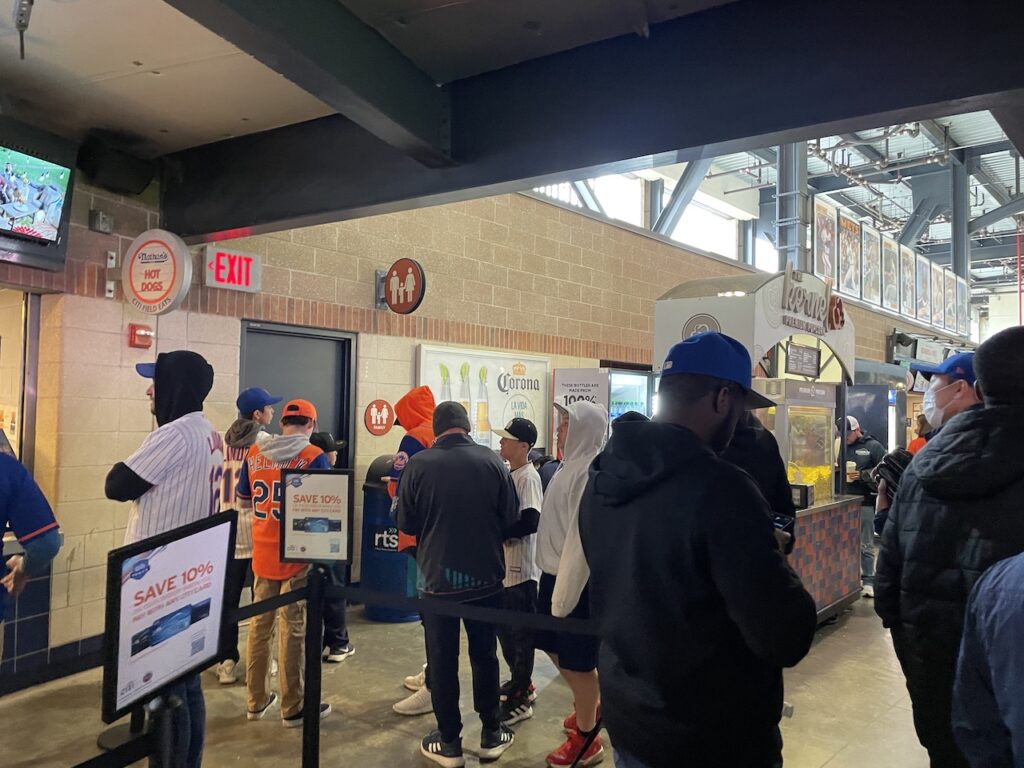 Sound Protection & Overstimulation Services for Kids
Baseball games can be really loud and overwhelming for kids, especially those with sensory sensitivities. Citi Field has several services that help children (and adults) find relief and comfort during the game.
Light sensitivity sunglasses, noise reducing headphones, sensory bags and weighted lap pads are available for any guests (not just kids) to use during the game. You can rent any of these items for free by going to the Lost and Found booth located in the Jackie Robinson Rotunda. Simply leave a credit card or valid ID as a deposit and retrieve them when you return the item.
Citi Field also has a Sensory Nook which serves as a quiet area for fans who need a break from stimulation. Similar to the nursing pod, they don't make this convenient for all guests to access. The nook is located on the Empire Suite Level across from Suite 229. If you do not have a suite level ticket that grants you access to this section, you'll need to stop by the Fan Assistance Booth (located on Field Level behind home plate) to get a pass to use the Sensory Nook.
5 Tips for your First Mets Game
Take the train. It is so easy and inexpensive to take the train to Citi Field. If you're someone who already rolls their eyes at Queens and thinks it's too far, I promise you will hate it even more if you have to deal with traffic to get there. The train is so convenient, and it usually runs express from Manhattan on game days, which makes it even faster.
Get your first visit certificate first. In order to be able to pick up your printed first visit certificate at the game, you must sign up before the 3rd inning. We suggest doing this right when you arrive as the Fan Assistance Booth is just to the left of the escalator up from Jackie Robinson Rotunda. You can then pick up your certificate after the 8th inning. If you miss the cutoff or forget to pick it up, your certificate will be mailed to you.
Watch an inning from Field Level. There are standing room tables in Right Field and also a lovely view from Shea Bridge. This is a fun way to get a drink or a snack and watch the game from a new spot.
Don't bring cash. Citi Field is a cashless venue. You can only pay by credit/debit card at all vendors and stores at the stadium. If you did happen to only bring cash and no cards, there are reverse ATMs at Citi Field where you can convert cash to a Mastercard gift card, which can be used anywhere.
Try the cheap seats. Field Level has the best amenities and the best views. However, all ticket holders have access to the Field Level concourse, which also has a great view of the game. If you're not committed to sitting in your seat the whole time, we recommend buying cheaper tickets in the Promenade Level and just spending most of your time standing in the Field Level standing areas.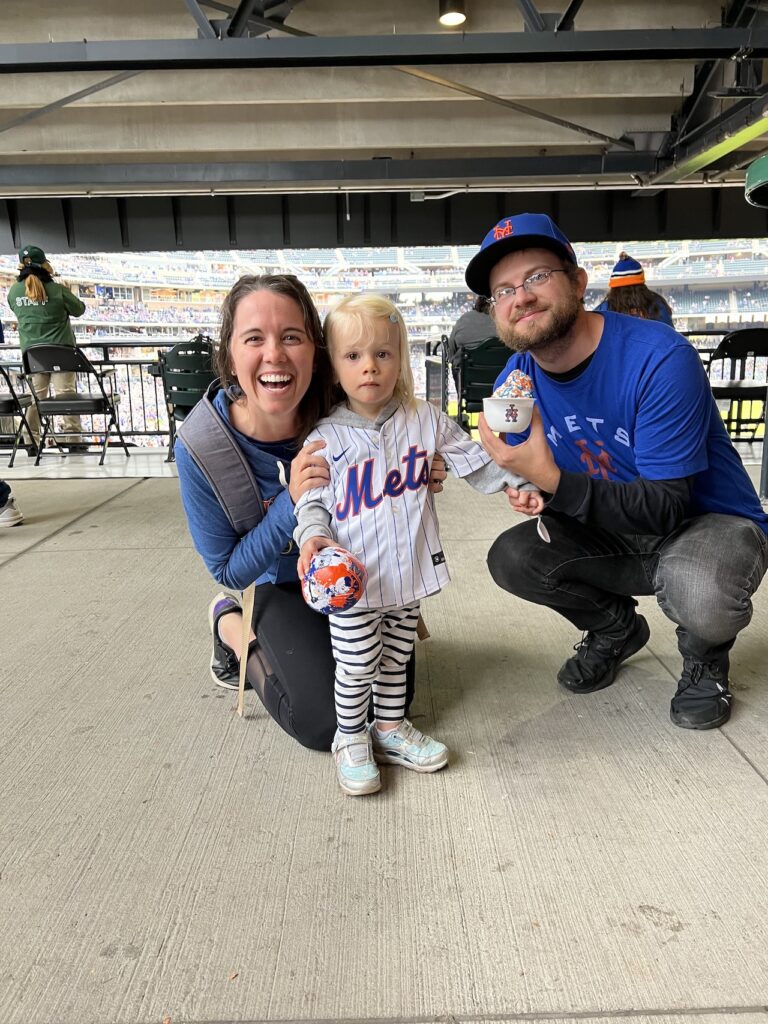 Play ball!
Now you're ready for some baseball! Grab your friends, grab your family, and head to Citi Field! You now know everything you could possibly need to know to have a perfect visit to Citi Field for a Mets game.
If there's anything we missed, let us know in the comments. We'd also love to hear about your experience, whether it's your kid's favorite part, your favorite beer or a special memory you made. Let us know!
Whether this is your first time at a Mets game, the first time for your little one, or just the first time in a while, we hope you have an amazin' time.
Go Mets!