This post is all about the Philadelphia Phillies and watching a ballgame at Citizens Bank Park. Whether it's your first game ever or just in a while, this post will get you up to speed on just about everything there is to know about the experience. Keep reading to learn more about going to a Phillies game at Citizens Bank Park!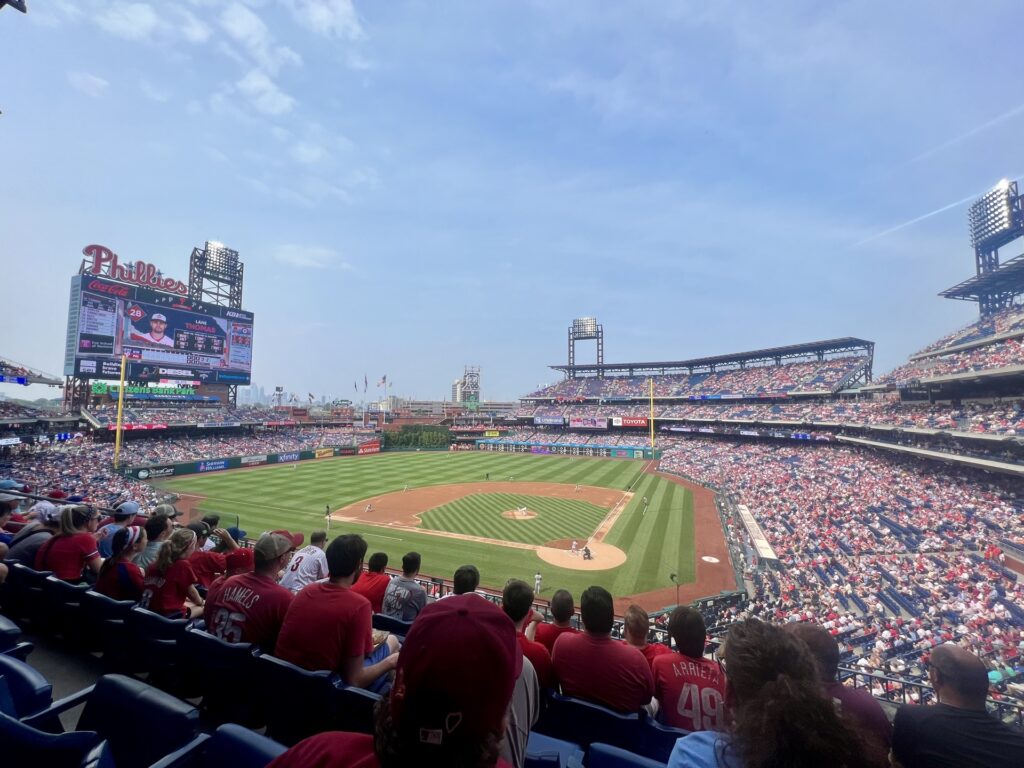 And if you're looking for more things to do in Philadelphia, be sure to check out our sample itinerary and guide to a weekend in Philly.
In This Post
Citizens Bank Park Overview
The Philadelphia Phillies play at Citizens Bank Park. It's a modern stadium that first opened in 2004, complete with city views, open concourses and an angled outfield. The stadium has several areas for fans to spend time out of their seats, including The Yard (kids area), Ashburn Alley (outfield patio with concessions, shops & entertainment), and Pass & Stow (outdoor beer garden).
Citizens Bank Park has two main concourse levels that are accessible to all ticket holders. The Main Concourse circles the stadium behind the 100-level seats and includes Ashburn Alley in the outfield. The Terrace Concourse is between the 300- and 400-level seats and follows an arc shape behind the infield. It has a more limited selection of concessions and stores. There are also limited-access concourses for suite and club-level ticket holders.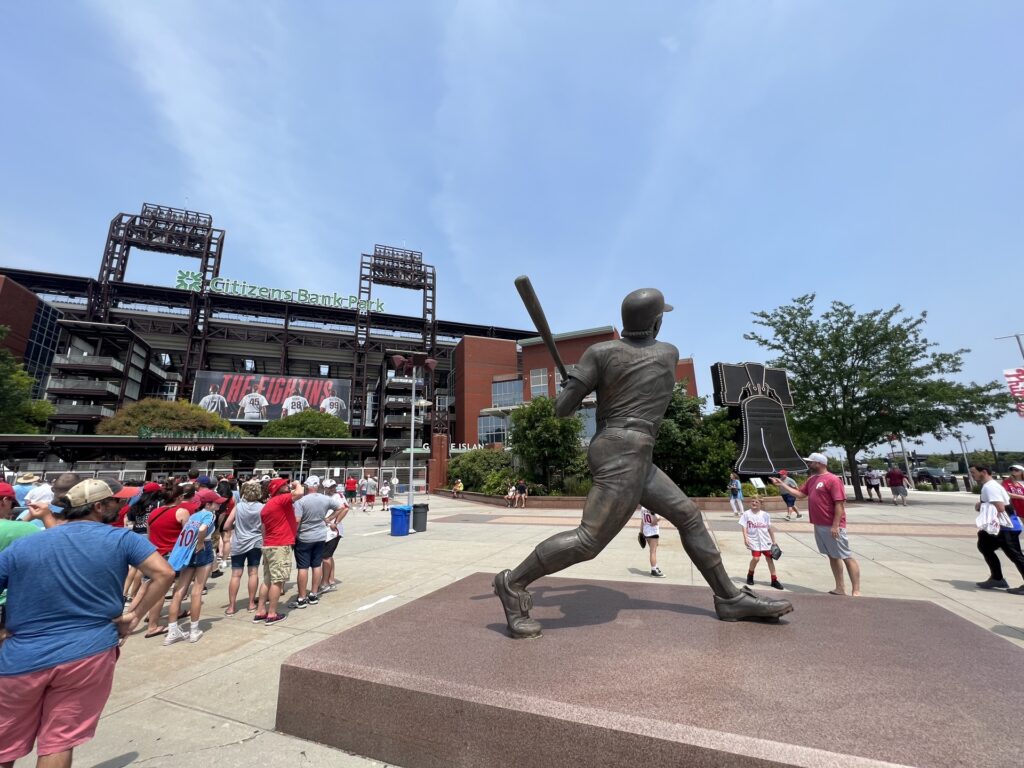 Citizens Bank Park is not near the city center of Philadelphia. Instead, the ballpark is located in a sports complex about five miles south downtown. The Philadelphia Eagles (NFL) and Philadelphia Flyers (NHL) also have stadiums in the same area. The complex is pretty manufactured, with only a handful of sports bars nearby.
The most notable feature of Citizens Bank park is its open concourses. Several stadiums have a similar design, but the idea is that fans will have a view of the game from pretty much anywhere in the stadium. Combined with Ashburn Alley, fans can easily spend a few innings (or even the entire game) out of their actual seats.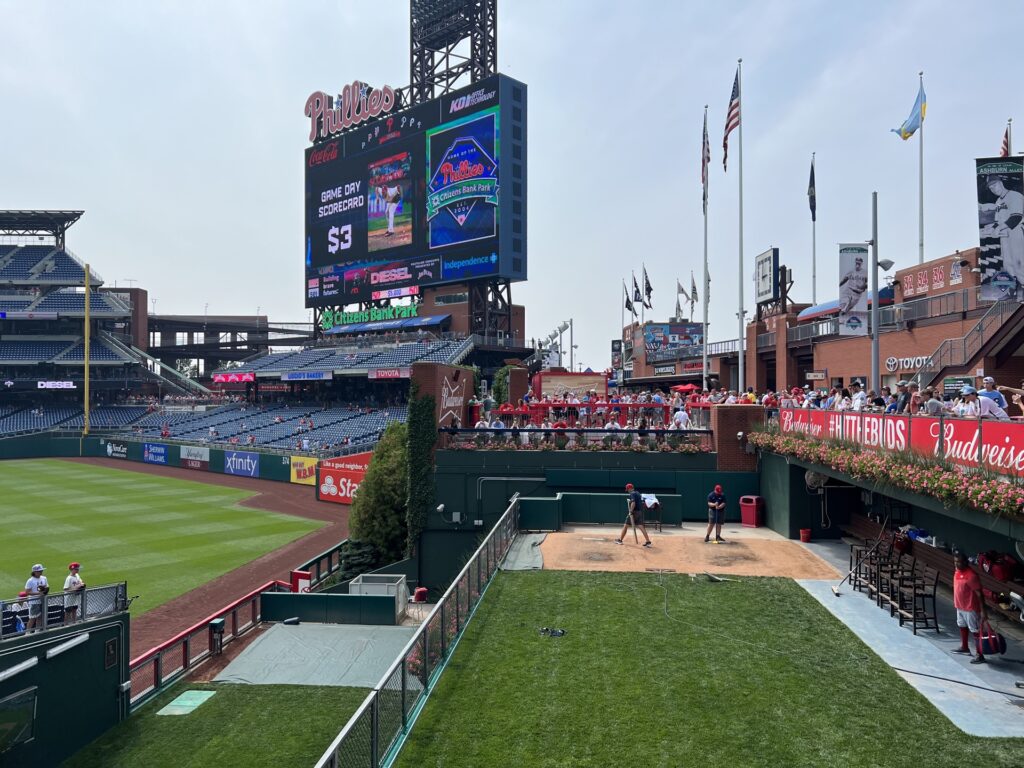 Buying Phillies Tickets
You can buy Phillies tickets direct through the MLB or via ticket resale sites like SeatGeek. Each method has some pros and cons. A good rule of thumb is to check both before you commit.
Buy your tickets direct from the MLB if you are planning in advance and know you want to attend a specific game. In that case, buying direct will usually give you the best selection. And if it's a popular matchup, buying direct will also usually be cheaper than resale. The Phillies also have special deals and promotions throughout the season, some of which you can only get if you buy direct.
If you're buying your tickets closer to game day, it's usually better to buy your tickets on SeatGeek. As game day approaches, ticket resellers usually have a wider selection of tickets available. Last minute tickets can go either way on price, though. Tickets can soar above face value for popular matchups but they can also dip much lower for less popular ones or if the team is doing poorly.
There are two important things to check before you buy tickets anywhere other than the MLB. First, only buy verified tickets. They will have a little logo and say that they're verified, which is the only way you can know that your tickets will work at the door. Next, check for instant download. This means you'll be able to access the tickets immediately after you buy them, which is important of your buying last minute.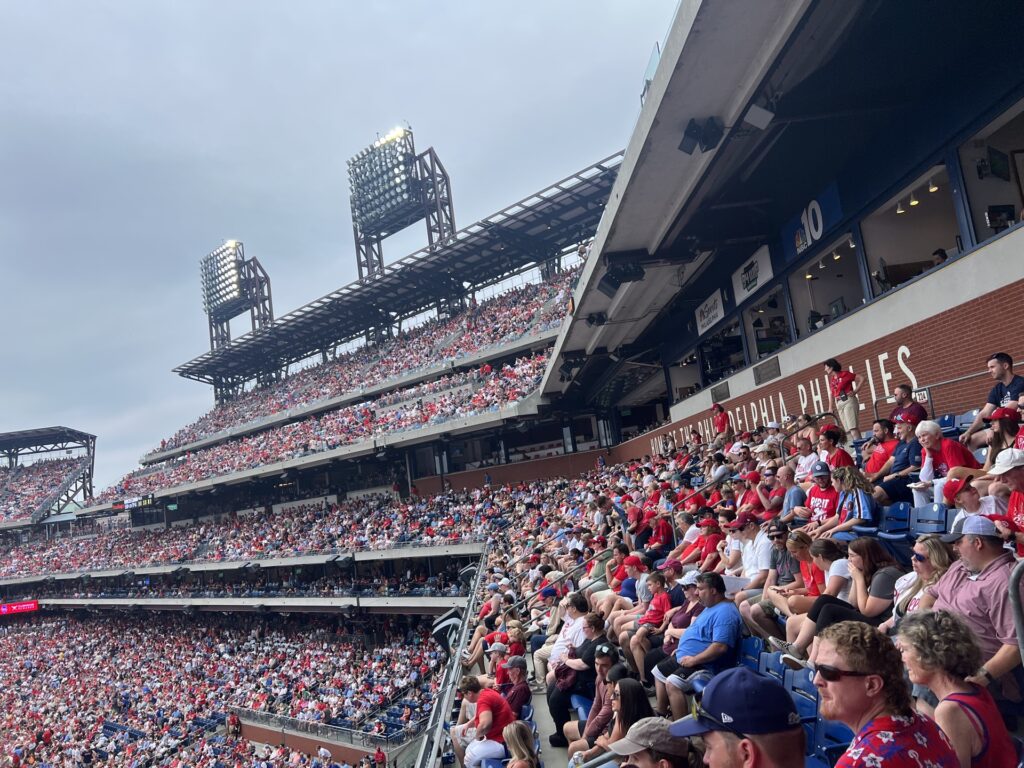 Picking Your Seats at Citizens Bank Park
When it comes to picking your seat at a Phillies game, there is a lot to consider. Here are some things to think about when you're buying your tickets.
Price: Let's start with the most obvious and most important factor. The cheapest seats at a Phillies game are going to be the upper terrace and rooftop bleachers. The most expensive seats at a Phillies game are premium club-level seats and, of course, suites.
Premium Seats vs Regular Seats: Premium seats include the Diamond Club (seats behind home plate) and Hall of Fame Club (200-level seats). These seats are a bit larger than regular seats, and are also padded. Tickets in these sections come with a few extra perks like private concession stands and bars, temperature controlled concourses, and access to Cooperstown Gallery Hall of Fame. Premium Seats should not to be confused with suites, which are much more luxurious.
Views: The best views at a Phillies game are any level behind home plate and along the third base line. These seats have the best views of the game, the skyline and the home run Liberty Bell.
Concourse Experience: All ticket holders can access the Main Concourse and Terrace Concourse at anytime during the game. However, it's a large stadium, and you might want to prioritize sitting near a certain concourse. The Main Concourse has the widest selection of food, drinks and shops, plus it has Ashburn Alley. The Terrace Concourse has a more limited selection, but still has open views of the game. Meanwhile, Premium Seating has an indoor concourse, which is really nice on hot/cold/rainy days.
Are you bringing your kids? If you've got babies, consider splurging on Premium Seats. The indoor concourse is great for nursing and napping babies, and it's nice to not have to stress about the weather. If you're bringing older kids, consider seats near The Yard. You're definitely going to want to spend some time there, so it might be nice to sit nearby.
Time in your seat: All of these factors kind of assume you'll be spending time in your seat. However, if you plan to spend the game watching from the outfield in Ashburn Alley, having a beer at Pass & Stow or playing in The Yard, none of it matters except price. If you're not planning to spend time at your seat, buy the cheapest ticket and then just don't sit there.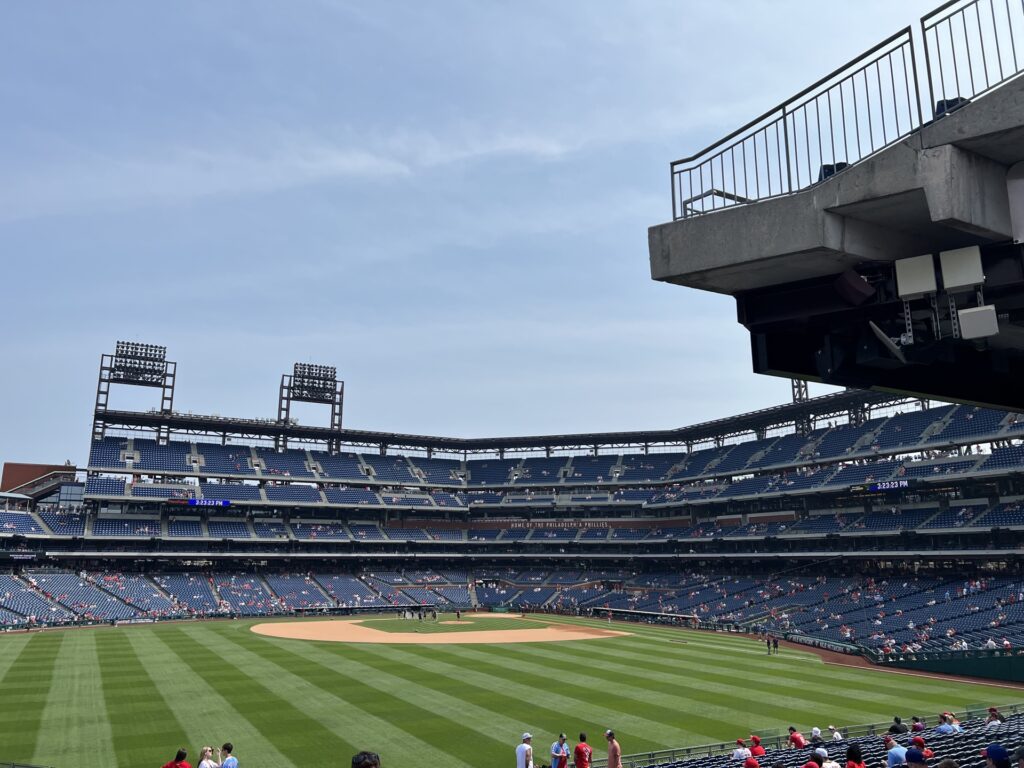 How to get to Citizens Bank Park
Citizens Bank Park is located on the south side of Philadelphia, about five miles away from downtown. It's not really walkable from anywhere, so you'll need to plan some sort of transportation. There are a few options.
First is SEPTA, Philadelphia's Metro train. The Broad Street Line stops at NRG Station, which is a 5 minute walk to the stadium. SEPTA does not have tap-to-pay entry, so you will need to buy a paper ticket from the kiosk before you can board.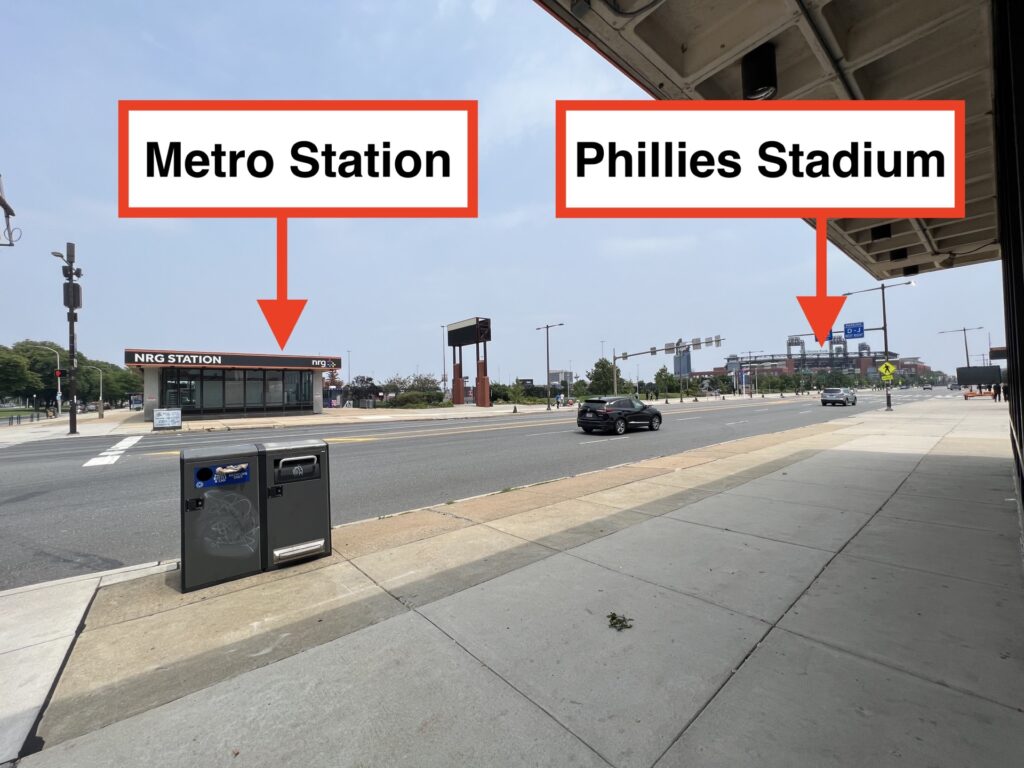 Rideshare is another good option, particularly for tourists without a car or fans who plan to drink at the game. There is a dedicated Uber pickup lot near NRG Station. The downside to Uber, of course, is the risk of surge pricing when you leave the game at the same time everyone else does. This option also isn't ideal for parents with children who need car seats.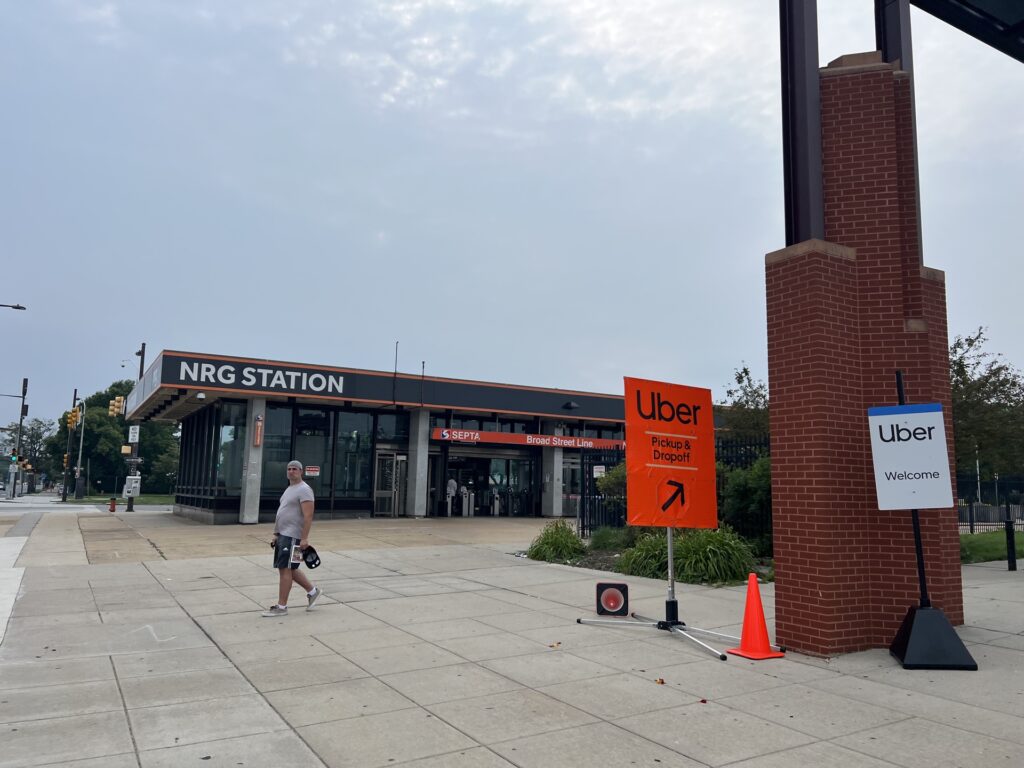 And finally, you can drive. If you are local or you are a tourist who drove to Philly or rented a car, it's perfectly easy to drive to Citizens Bank Park. I rarely recommend driving to baseball stadiums, but in this case it can make sense (as long as you aren't drinking). There is loads of parking in the massive lots surrounding the stadium, and you can even pre-pay for your parking pass to save some time.
Gates and Arrival at a Phillies Game
Gates at Phillies games typically open 90 minutes before the scheduled game start. However, some weekday games only open 1 hour prior and post season games usually open 2.5 hours before the game. Be sure to check the Phillies website directly for your specific game.
Each ticket will designate an entry gate that is closest to your seat. However, you can enter the stadium from any general admission gate, regardless of what gate is on your ticket. It really depends on if you want to navigate to the area of your seat inside or outside of the stadium. We prefer to do it inside the stadium.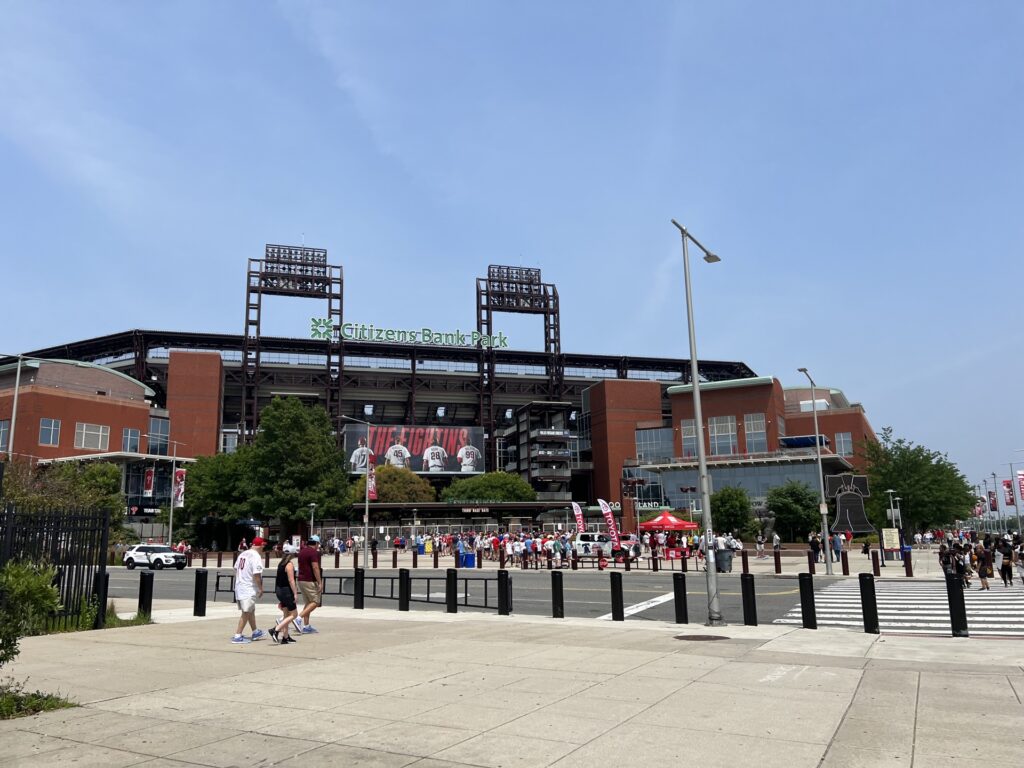 There are 3 general admission gates at Citizens Bank Park.
Left Field Gate (Northwest corner): Closest to Ashburn Alley and The Yard
Third Base Gate (Southwest corner): Closest to public transportation (NRG Station) and FDR Park
First Base Gate (Southeast corner): Closest to parking lots K, L, M, N, O and preferred lot P
Suites and club-level ticket holders can also enter from three dedicated entrances, in addition to any of the general admission gates. If you're in these premium seats, though, it actually does make sense to enter from the gate listed on your ticket.
Darien Street (East side)
Citizens Bank Way (West side)
Pattinson Avenue (South side)
What You Can and Can't Bring to a Phillies Game
Before you go to a Phillies game, it's always a good idea to double check the official bag policy. In this section, we'll cover some of the basics and most notable policies.
The bag policy at Citizens Bank Park is pretty strict. The Phillies ballpark only allows single-compartment, soft-sided bags that are smaller than 5″ x 7″ (such as totes, fanny packs or drawstring bags). Security staff at the entrance have a paper card that matches those dimensions and they will check that each bag is smaller than that.
Here a few notable items that are allowed inside the ballpark, as long as they fit in your approved bag.
Outside food, including packaged snacks or prepared food
Sealed, non-alcoholic beverages, including unopened bottled water and juice boxes
Still cameras, including DSLRs as long as the lens is smaller than 3″
Banners and signs, as long as they meet the size, material and content requirements noted here
NOTE: Parents entering with young children have some exceptions to this policy. We cover those details in the Phillies Game with Kids section.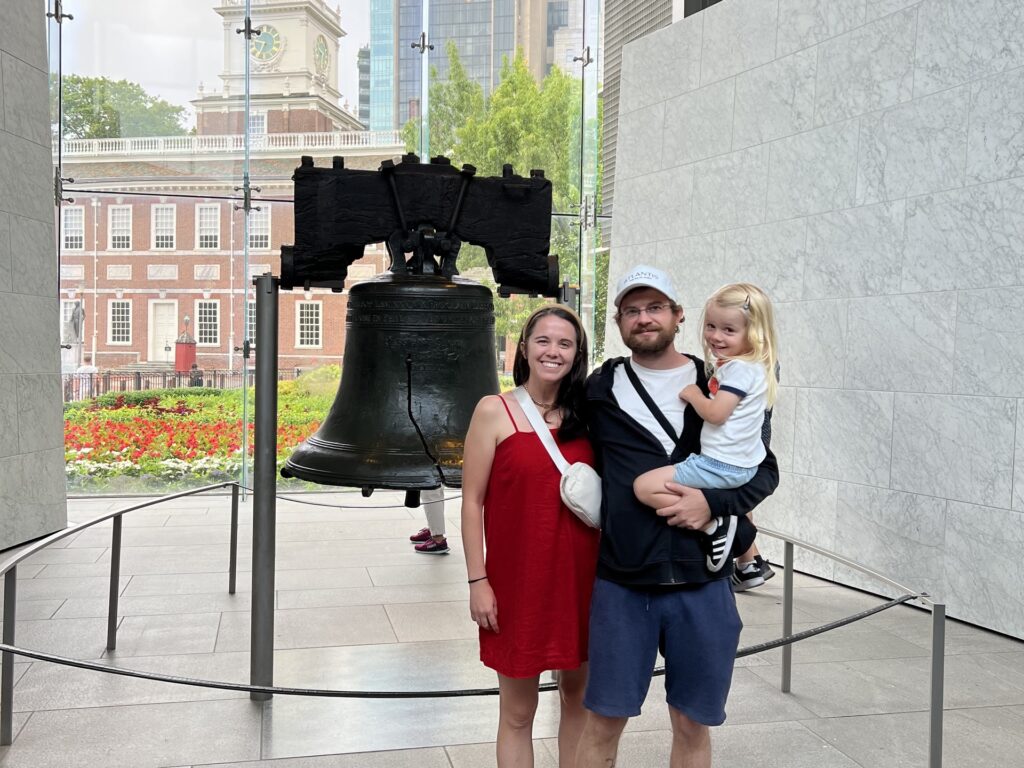 And now, here's a few notable items that you cannot bring to a Phillies game.
Backpacks, regardless of size
Hard-sided coolers
Soft-sided coolers larger than 5″ x 7″
Alcohol in any form
Opened beverage containers, including water
Cans and bottles
Noisemakers
Camera cases
Cameras with detachable lenses larger than 3″
Tripods & selfie sticks
Video cameras
Weapons (duh)
If your bag is too large and/or if you get caught at the gate with any of these prohibited items, you can store them nearby. There are lockers available on Citizens Bank Way which cost $10.
Phillies Ballpark Locations to Know
To help you get a lay of the land, here's where you can find some important locations in Citizens Bank Park.
Ashburn Alley (Concessions, shops, entertainment, bullpen and game views): Main Concourse behind Center Field
The Yard (Kids area): Main Concourse behind Right Field
Pass & Stow (Outdoor beer garden without game views): Third Base Plaza, behind the stands and just inside Third Base Gate
First Aid: Main Concourse behind Section 105 and the Terrace Level behind Section 318
Mother's Nursing Room (Climate controlled room with comfortable seats, outlets and changing tables): Main Concourse behind Section 125, between the Phillies Radio Booth and Home Plate Lobby
First Game Certificate: Guest Services booth on the Main Concourse behind Section 122 and the Terrace Level behind Section 318
Escalators & Elevators: Escalators are available to all fans and are located behind Sections 114, 126 & 140. Elevators are reserved for guests with disabilities and are located behind sections 103, 112, 119, 123, 133, 137 & 141.
Family Bathrooms: There are 14 family restrooms in the ballpark, including locations around the Main Concourse (behind Sections 106, 112 & 137) and Terrace Level (behind Sections 319, 322 & 329).
Sensory Activation Vehicle (Private and quiet sensory relief space created by KultureCity): First Base Plaza, behind the stands and just inside First Base Gate
Sensory Relief Kits (Bags available to rent which include noise-cancelling headphones, weighted laptops, fidget toys and more): Guest Services booth on the Main Concourse behind Section 122 and the Terrace Level behind Section 318
Photo Ops with World Series Trophies & Retired Numbers: Left Field Plaza, behind the stands and just inside Left Field Gate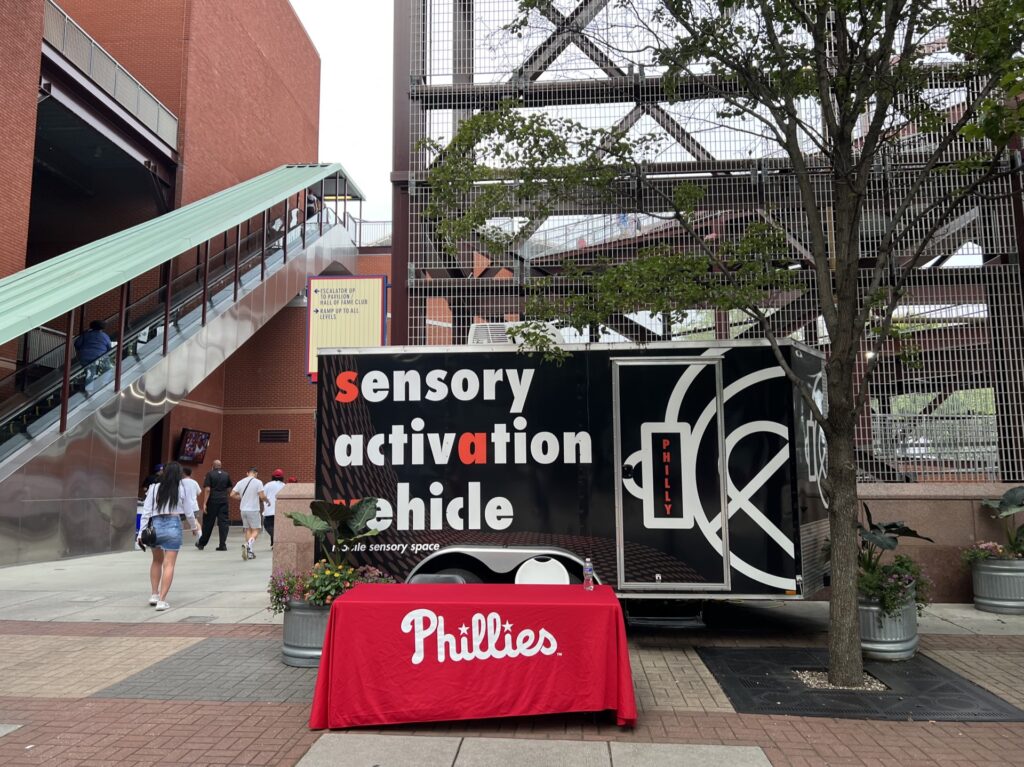 What to Eat at a Phillies Game
What a time to be alive and eating at baseball games! Ballpark food has evolved far beyond hot dogs and Cracker Jacks, and it now is all about capturing the culinary scene of the city. The Philadelphia Phillies do ballpark food very well.
If you want to dig into all the options, the Phillies website has a great guide to all of the concessions in the ballpark. They have a list of concession stands and offerings, including a detailed map with exactly where to find each one.
Here are a few of the best things to eat at a Phillies game. I'm pretty sure if you don't get at least one of these things, they'll ask you to leave the ballpark.
Philly Cheesesteak: The two best cheesesteaks are from Campo's and Tony Luke's (both in Ashburn Alley). You will have to choose a side in the heated debate.
Water Ice: A local term for Italian Ice, Water Ice comes in a variety of flavors. (I've gathered that watermelon is the hot flavor though!) You can find it in Ashburn Alley and behind Sections 118 & 134.
Crab Fries: Fans love these crinkle fries and will wait in very long lines for them. Snag them at Chickie's & Pete's located near sections 208, 219, 225 & 319.
Baseball Helmet Ice Cream: This is the best baseball treat because it comes with dessert and a souvenir! You can get soft-serve ice cream in a tiny Phillies helmet, topped with sprinkles if you dare, from Old City Creamery near sections 110 & 137.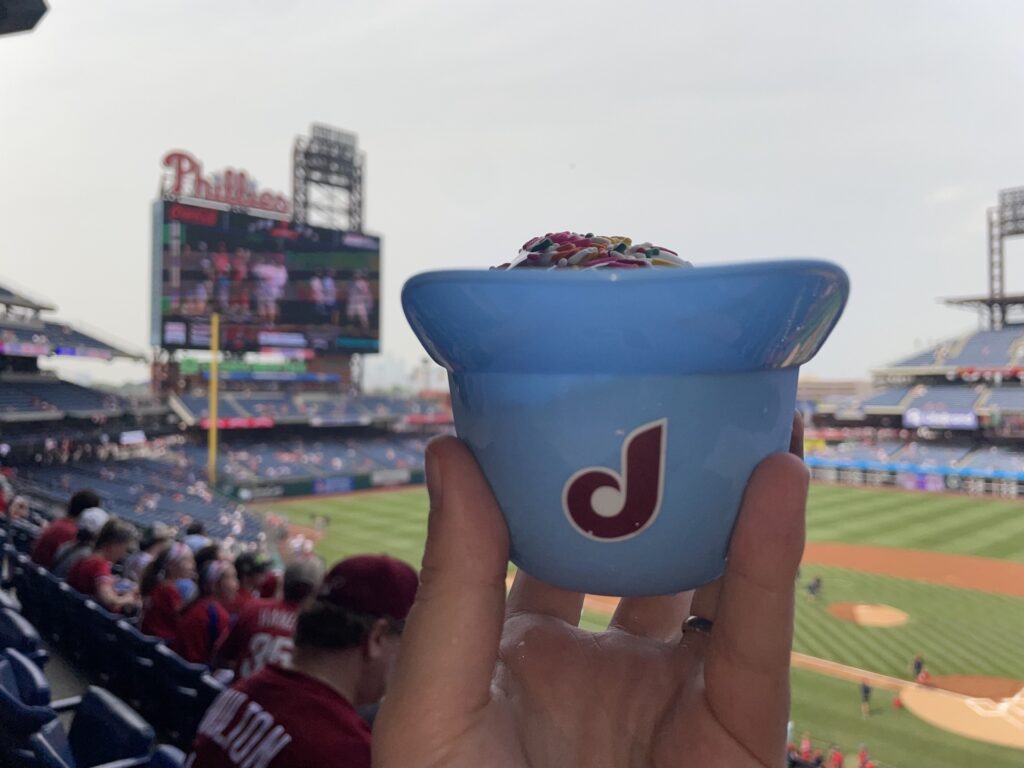 Now, the Phillies have great food for carnivores, but they pretty much always get good food at baseball stadiums. What's even more impressive is that the Phillies have a really great lineup of vegetarian options, which is much less common. Here's where you can find vegetarian and vegan food at a Phillies game.
Vegetarian Cheesesteak (!!!): Campo's in Ashburn Alley
Veggie Dogs & Burgers: Boardwalk Eats in Left Field Plaza
Vegan Gyros, Hot Dogs, Chk'n Parm Pesto Panini: Greens & Grains behind Section 125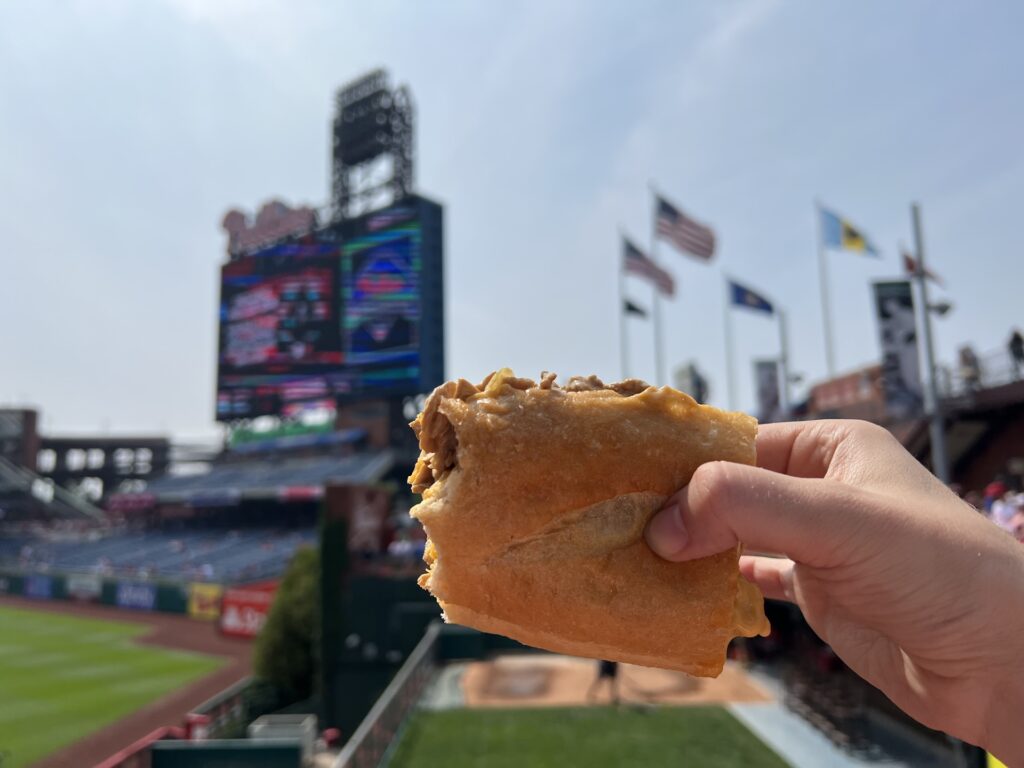 Things to see & do at Citizens Bank Park
Of course the main thing to do at a Phillies game is to watch the Phillies game. Now that we've gotten that out of the way, let's go on and discuss some of the other things to see and do around the ballpark.
Citizens Bank Park is a great ballpark for getting up and out of your seats. There are views of the game from almost every concourse, and the entire outfield is an open patio where you can eat, drink and hangout with your party, all while watching the game. These areas are great places to go to take a break from your seats or even to spend the entire game if you bought the cheapest nosebleeds.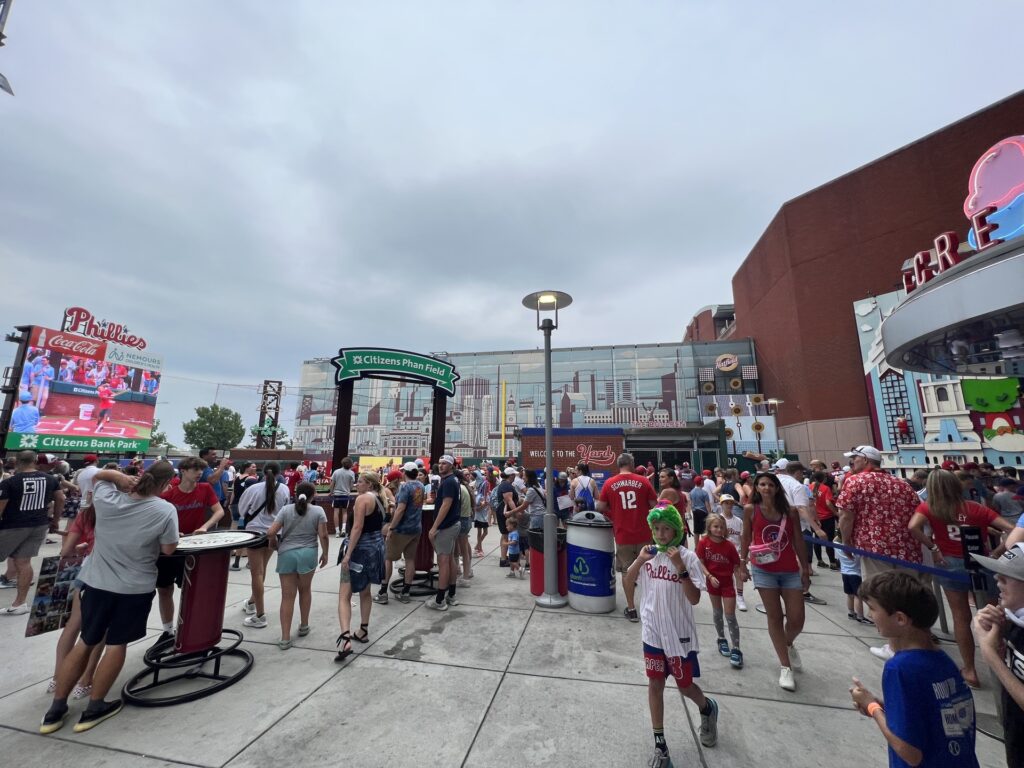 Here's a few things to do see and do at a Phillies game.
Ashburn Alley: This is really *the* place to be at a Phillies game. Ashburn Alley is the large patio space behind most of centerfield. Here you'll find some of the best concession stands and bars in the ballpark, great views of the game, a birds-eye view into the bullpen, team store and even some entertainment before the game starts.
The Yard: Now, this is *the* place to be a Phillies game if you're a kid (or kid at heart). It's located just beyond Ashburn Alley behind right field. There's a miniature Phillies Wiffle ball field, pitching area, foam hot dog launcher and climbing wall (children 4-14 under 150 lbs) that are free to do. There's also an ice cream shop where you can buy tasty treats. The lines for these activities get really long, so I'd recommend getting there early and heading there first if you're interested in that.
Liberty Bell: If the Phillies hit a home run, look to the outfield and watch the Liberty Bell light up and ring.
Pass & Stow: If you get to the game early or if the Phillies are doing really bad in the middle of the game, visit this outdoor beer garden. It doesn't have field views, but it does have lots of TVs to keep you updated.
Photo Ops: World Series trophy replicas, retired numbers and a Wall of Fame are located behind the stands in Left Field Plaza. If you're taking a walk, pop back here for a photo. Tip: it's less crowded during the game, after fans are done pouring in the nearby gate.
Cooperstown Gallery: This is a cool exhibit that features some Phillies memorabilia and history. Unfortunately, access is limited to Premium Seat ticket holders, including those sitting in the Hall of Fame Club (which is adjacent to the gallery) and Diamond Club.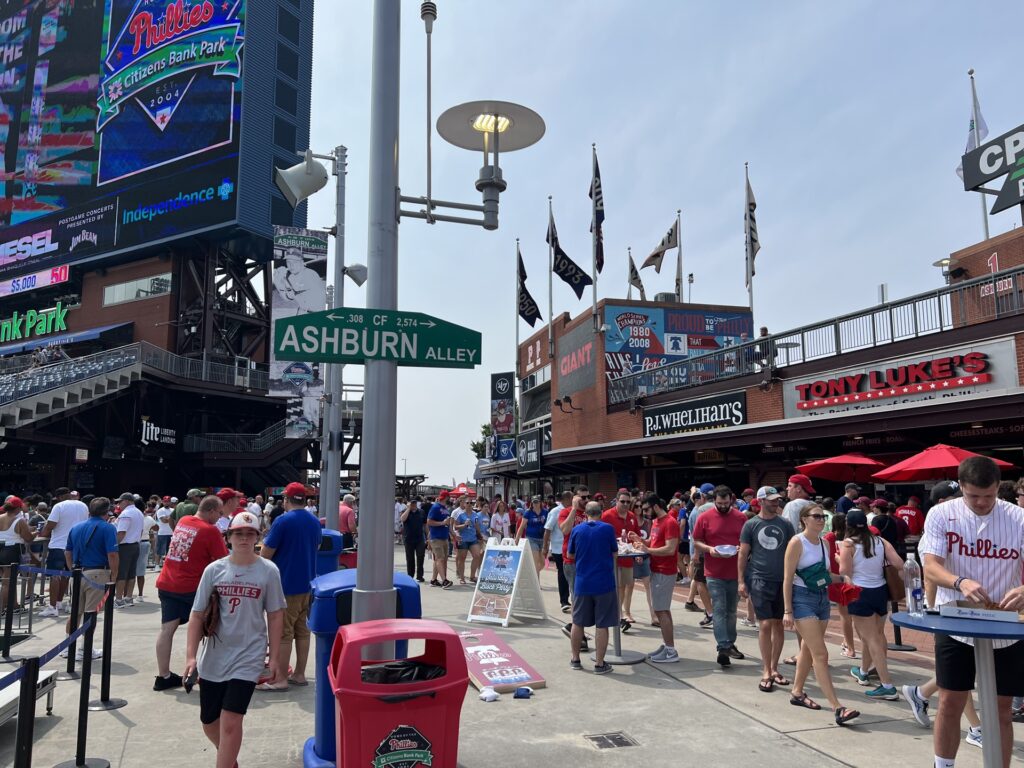 Phillies Game with Kids
Generally speaking, a Phillies game is a great family activity. Citizens Bank park is very kid-friendly and has some really fun things for children. Here are a few things to know if you're heading to a Phillies game with kids.
Strollers are allowed, but not recommended. If you bring a small umbrella stroller, you can fold it and store it under your seat. Larger strollers can be checked at Guest Services. It's usually easier to leave the stroller at home and stick to babywearing at the ballpark.
Diaper Bags can be larger than the standard approved bag size. Parents entering with young children have a more generous bag allowance. Diaper bags smaller than 16″ x 16″ x 8″ are allowed inside the ball park, compared to the 5″ x 7″ max for everyone else.
Children ages 2 and under do not need a ticket. However, children without a ticket cannot occupy their own seat and must sit on the lap of an adult. If your child is 3 or older or if you want your child of any age to have their own seat, they will need their own ticket.
Baby and kid food is allowed inside. Bottles, juice boxes, baby food, packaged snacks, pouches, their favorite sandwich, all of it, is allowed inside a Phillies game. Other than baby bottles though, all drinks have to be sealed when you enter.
There is a Mother's Nursing Room. Mothers are free to nurse their child anywhere they wish around the stadium. However, if you prefer a private space, there is a Mother's Nursing Room on the Main Concourse behind Section 125. It's temperature controlled with comfortable seats and outlets for those who may need to pump. The room is usually locked, but a staff member in the Home Plate Lobby next door can let you in.
Sensory relief is available. If your child has sensory processing issues, Citizens Bank Park has partnered with KultureCity to offer some great resources. There's a Sensory Activation Vehicle that offers a dark and quiet space with a variety of tactile relief items inside. You can also rent sensory bags that include noise-cancelling headphones and other helpful items that you can take to your seat during the game.
Fun things for kids. The Yard is a popular spot for kids to have some fun before and during the game. Be sure to get there early to beat the crowds. Also check the Phillies website for promotions and giveaways. There's often toys, kids clothings and other kid-friend goodies. Finally, there are a handful of games where children can run the bases on the field after the game. Check the Phillies website for more details.
For even more helpful information, check out our 10 Best Tips For A Phillies Game With Kids.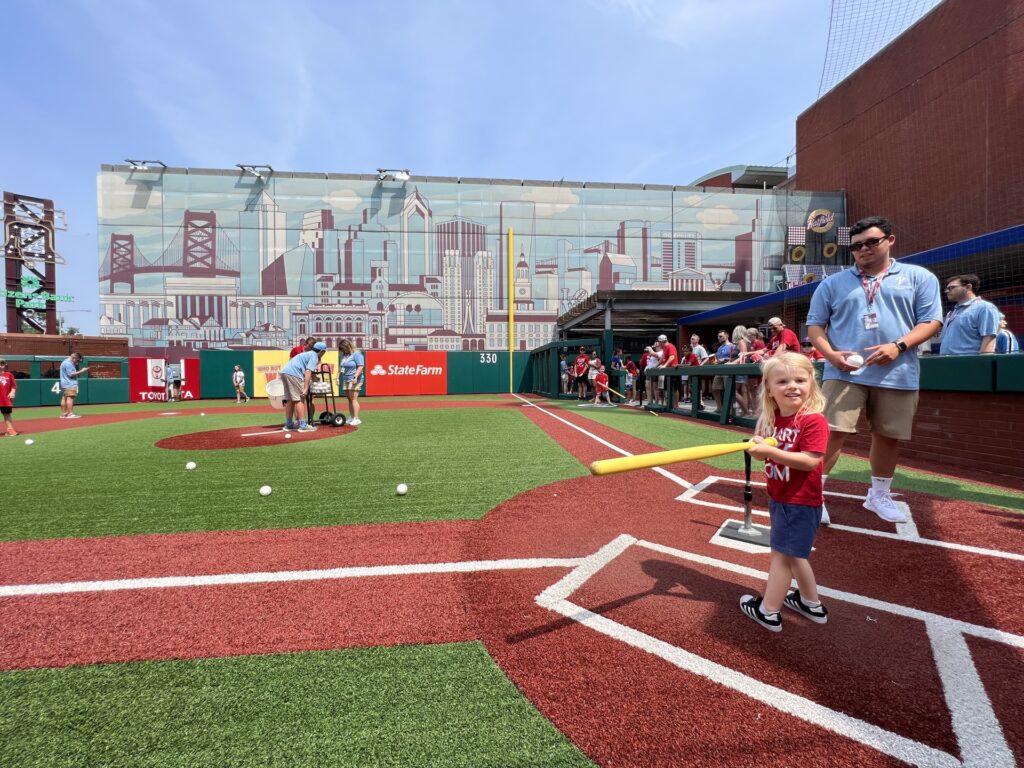 5 Tips for Your First Phillies Game
Grab your First Game Certificate. This is a great, free keepsake to remember the game. It is paper though, so you might want to grab it later in the game so you don't have to carry it around with you the whole time.
Pack a foldable tote. Stick one of these folded up totes into your approved 5″ x 7″ bag. Once you're inside the stadium, you can unfold it and use it to carry around anything you pick up during the game. It's great to hold jackets you take off, bottles of water while your hands are full carrying food, the Phillie Phanatic toy your toddler insisted on getting but doesn't want to carry, or even that first game certificate.
Get there early and take a lap. The hour or so before the game starts is the best time to take in the ballpark amenities because you won't miss any of the game. Take a lap around the ballpark, noting or grabbing any foods you want to try, taking photos from the different views and enjoying the pre-game energy.
If you're taking the Metro, buy your return ticket when you get there. The Philadelphia Metro doesn't have tap-to-pay, so you'll need to buy a paper ticket from the kiosk. To beat the rush after the game, buy your return ticket before the game at NRG Station. Just be sure to put it somewhere safe so you don't lose it.
Visit FDR Park before the game. A few blocks from the ballpark is a sprawling city park, called FDR Park. It is lovely for a stroll any time, but the real highlight is the Southeast Asian Market which is held in the park on Saturdays and Sundays (April through October) from 10 AM – 6 PM. It's a perfect place to spend a few hours before heading to the game, especially if the weather is nice. It's primarily food and drink vendors, but there are a few stalls selling toys and trinkets, too.
Other Ballpark Guides