We went to the Mets home opener with our 2.5-year-old at Citi Field this year. We had a great time watching the first three innings at our seat and then took a break to walk around the stadium and do a few things. On our way back to our seat, our toddler started to cry and said, "I not watch baseball."
That's never what you want to hear after you spent a couple hundred dollars on a fun family outing. As it turns out, they weren't sad because they didn't like baseball. They were just sad to be back in their seat because they were having so much fun out of their seat doing everything else around the stadium.
In this post, we're sharing the best things to do at a Mets game with kids. For a little one, these things just might be better than the game itself. So be warned! You might want to actually watch the game first.
For more information about going to a Mets game, we have a detailed guide to Citi Field with an entire section about going with kids.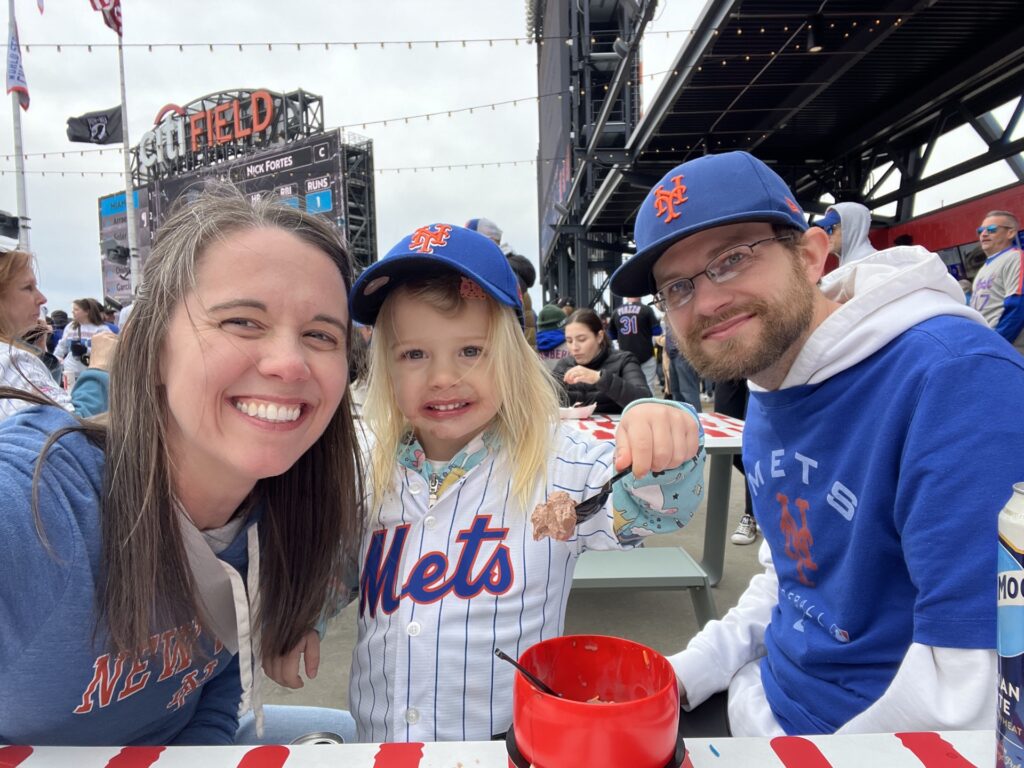 1. Hit a home run
On Field Level in center field behind the giant scoreboard, there is a small kids area that has a miniature baseball diamond. Kids can step up to the plate and take a swing.
It is tee ball style, and there's no pitcher. Each kid can take three swings at the Wiffle ball with a plastic bat. Then they'll have a chance to take a lap around the bases, too.
At 2.5 years old, our toddler absolutely adored this and begged to do it again and again. I think it's most fun for littler kids, but anyone under 12 can play. The line can get a little long, but they do their best to move the kids along pretty quickly.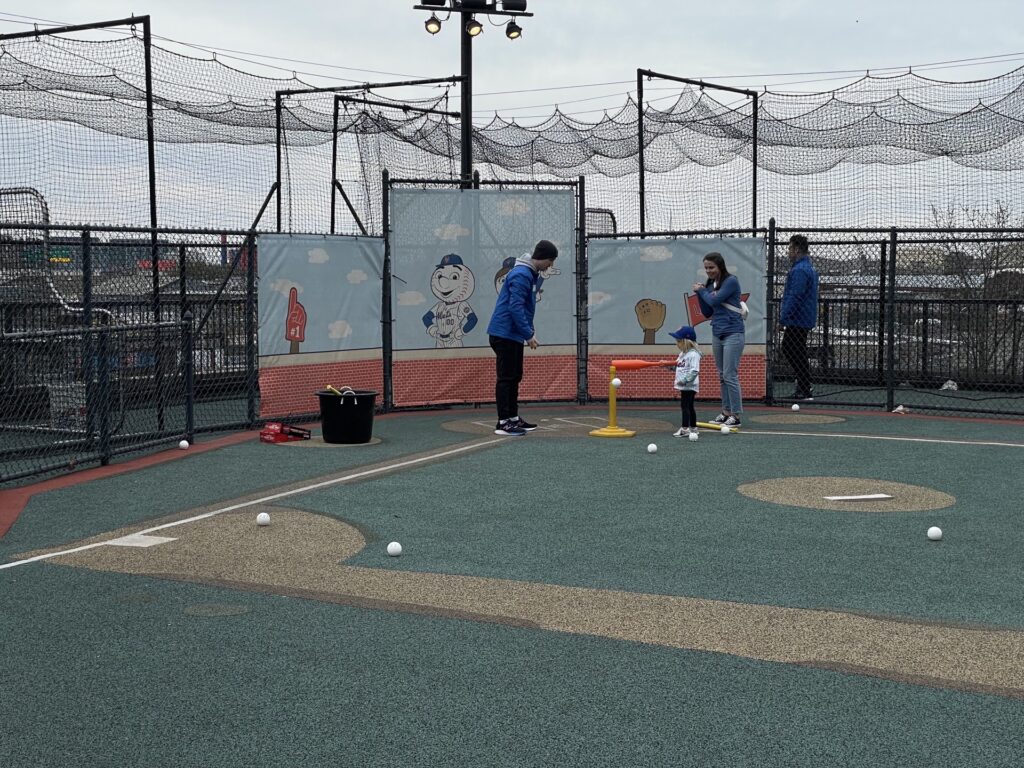 NOTE: Citi Field used to have a bigger Fan Fest event with more activities on Family Sundays. I can't find any official information about this returning in 2023.
2. Get Your First Game Certificate
If it's your kid's first game at Citi Field (or yours!), be sure to pick up a free First Game Certificate. This makes a great keepsake, plus they're really fun to collect at every stadium you go to.
To get yours, visit the Fan Assistance booth on Field Level behind home plate. If you're coming up the escalators from Jackie Robinson Rotunda, it's to your left. They have a QR code you can scan which will take you to a quick form to complete.
If you complete this early enough in the game (before the 3rd inning), you can pick up your printed certificate later in the game anytime after the 7th inning. If you miss that cutoff, they'll mail you a copy for free.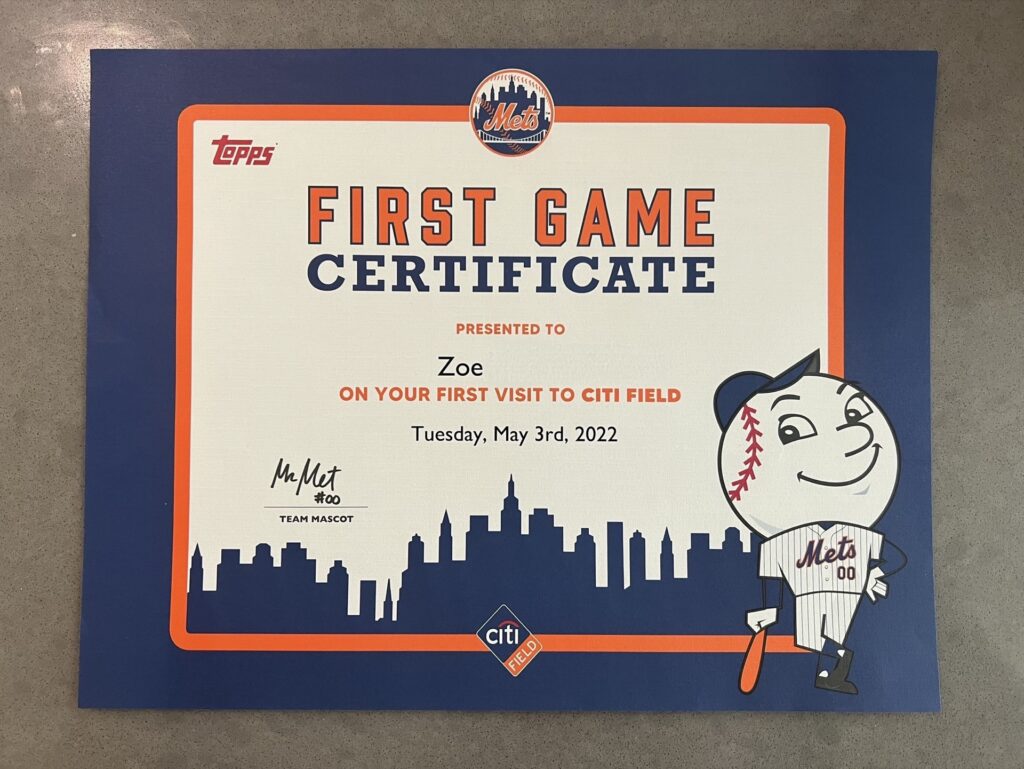 3. Eat Ice Cream Out of a Baseball Helmet (or Home Run Apple)
Another fun thing for kids to collect at baseball stadiums is tiny little baseball helmets after they've eaten the ice cream out of it. This is something I remember loving about baseball games as a kid, so it's really special to share that with my own kid.
You can get a mini baseball helmet filled with ice cream at any of the Mister Softee locations around the stadium and most of the standard concession stands. Most locations offer vanilla, chocolate or swirl soft serve and the option to add orange and blue sprinkles on top for free.
If your kid is willing to share, consider splurging on a Home Run Apple! It's double the size (and double the price) but a good one to add to your collection if you already have the helmet.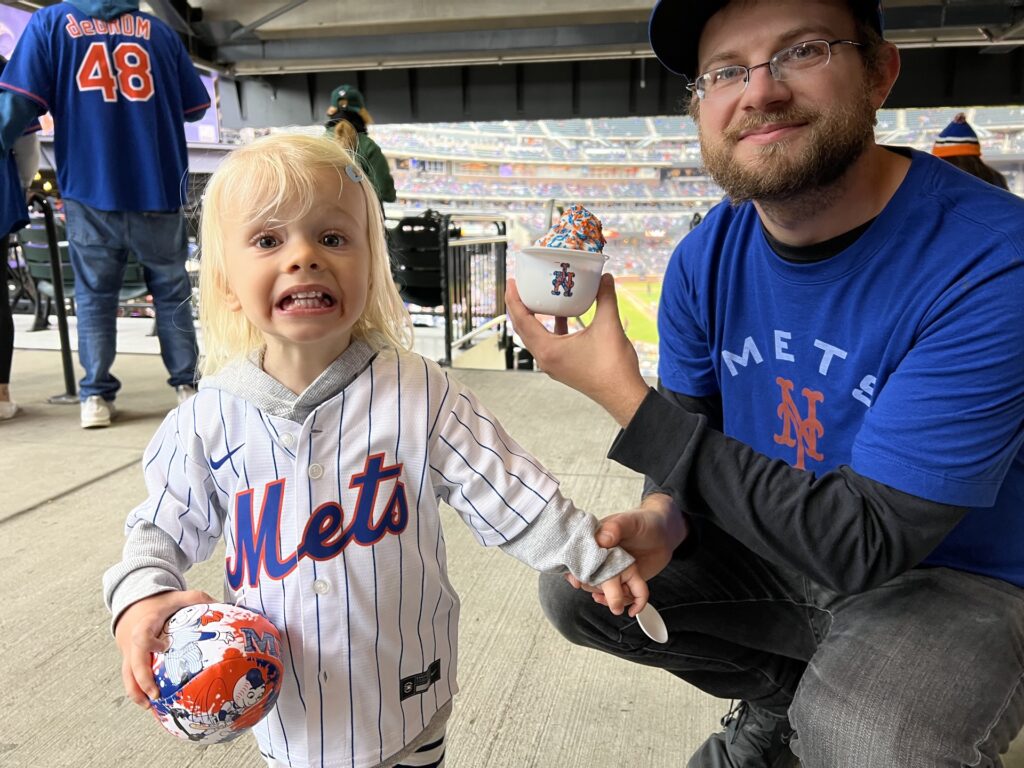 4. Say hello to Mr. and Mrs. Met
Mr. and Mrs. Met are the mascots of the New York Mets. They're always around to cheer for their favorite team and hype up the crowd, but they also love meeting young, adoring fans at Fan Fest!
Kids (and adults) can meet Mr. and Mrs. Met at the Fan Fest in center field plaza behind the giant scoreboard before and during the game. They come out at the following times.
1:10 PM Games: 11:45 AM, 12:20 PM and the 2nd inning
1:40 PM Games: 12:15 PM, 12:50 PM and the 2nd inning
4:10 PM Games: 2:45 PM, 3:20 PM and the 2nd inning
7:10 PM Games: 5:45 PM, 6:20 PM and the 2nd inning
If you happen to miss the real Mr. and Mrs. Met, you can spot a replica in the Mets Hall of Fame & Museum at any time.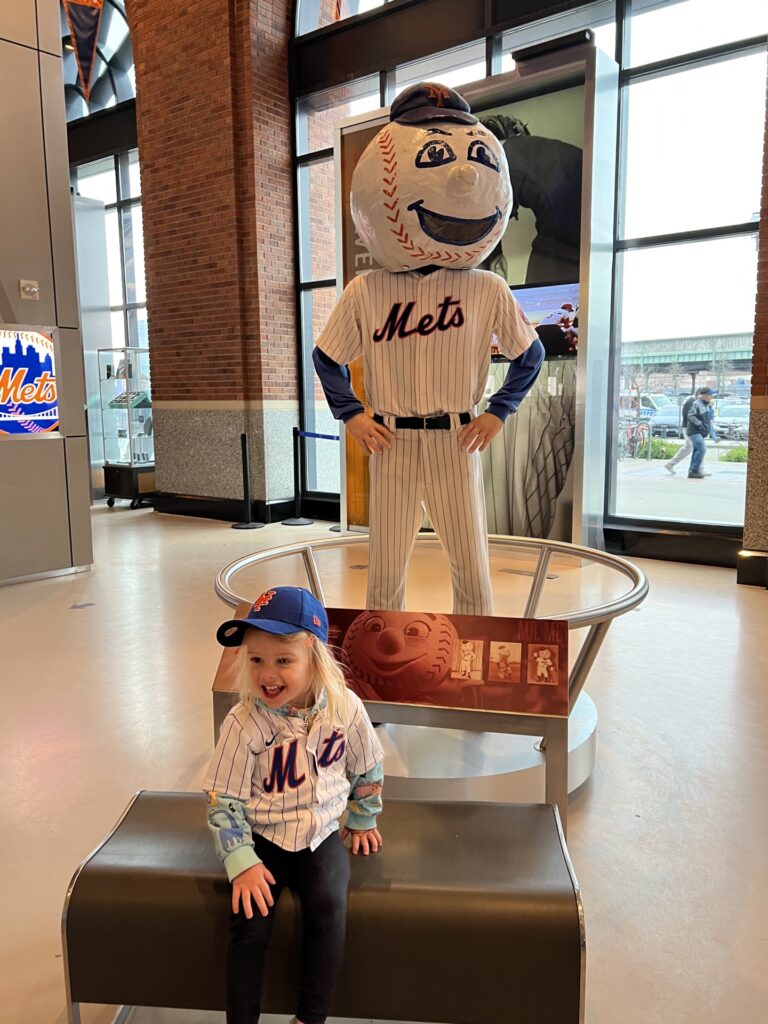 5. Get inspired at the Mets Hall of Fame & Museum
Speaking of the Hall of Fame & Museum, it's definitely something to bring your kids to at some point during the game. They can see the Mets' World Series trophies up close, learn about some of the great Mets players like Jackie Robinson and see some other cool memorabilia, too.
If you are at the game with little babies, let me let you in on a secret. The Hall of Fame and nearby rotunda is a great place for them to nap! It's relatively quiet, not sunny and air conditioned. Plus, they have screens playing the game so you won't miss anything.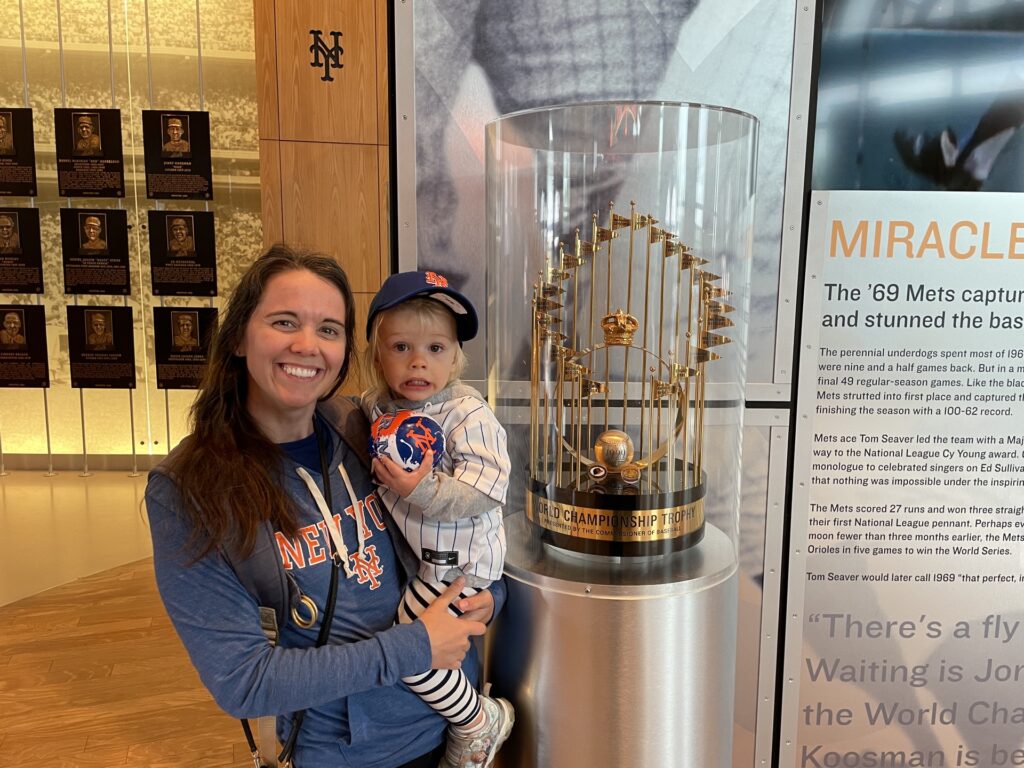 6. Do some shopping at the Children's Team Store
Did you know that Mickey Mouse is a Mets fan? I saw him at Citi Field wearing a Mets jersey!
There is a whole shop dedicated to the littlest Mets fans where they can find some of their favorite characters dressed up in Mets gear or dress up themselves. The shop is filled with kids clothing, plushies, baseball toys and more.
Our little one loves shopping, so we like to go in here first and see what they really like. We encourage something cheap like a foam finger or a stuffed baseball. Then we say that if they behave the entire game, they can come back and get it later. This *usually* works like a charm.
The Children's Team Store is located on Field Level in right field near section 105. They also have kids stuff at the two other large team stores located on Field Level behind home plate and Plaza (ground) Level behind the Hall of Fame & Museum.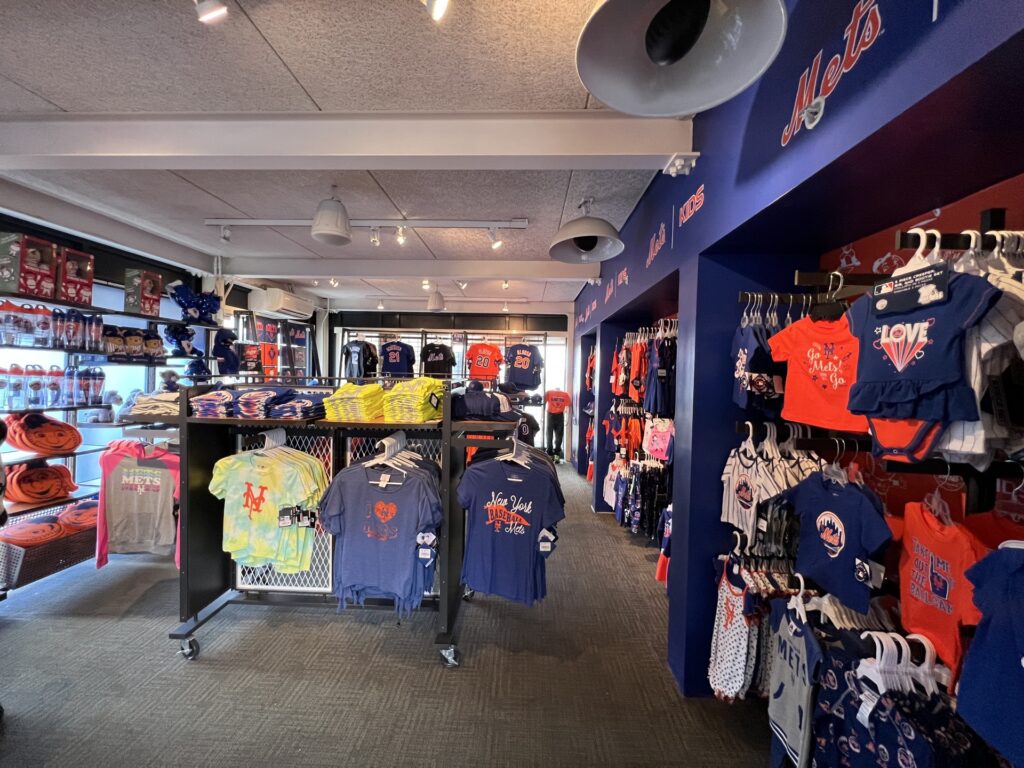 7. Run the bases on the field
This one takes a bit of planning, but can be a really memorable experience for your little one. After select games, kids 12 and under can run the bases on Citi Field just like their favorite players.
Start by checking the schedule for the Mr. and Mrs. Met Post-Game Dash. It's listed as a promotion on certain Sunday day games. You'll need to buy tickets for the game, but it does not cost any extra to run the bases after.
After the game, grab your kids and head to the meeting point by Bullpen Gate. Staff will direct you where to go and what to do. You can ask any Fan Assistance representative around the stadium for help if you need assistance or directions.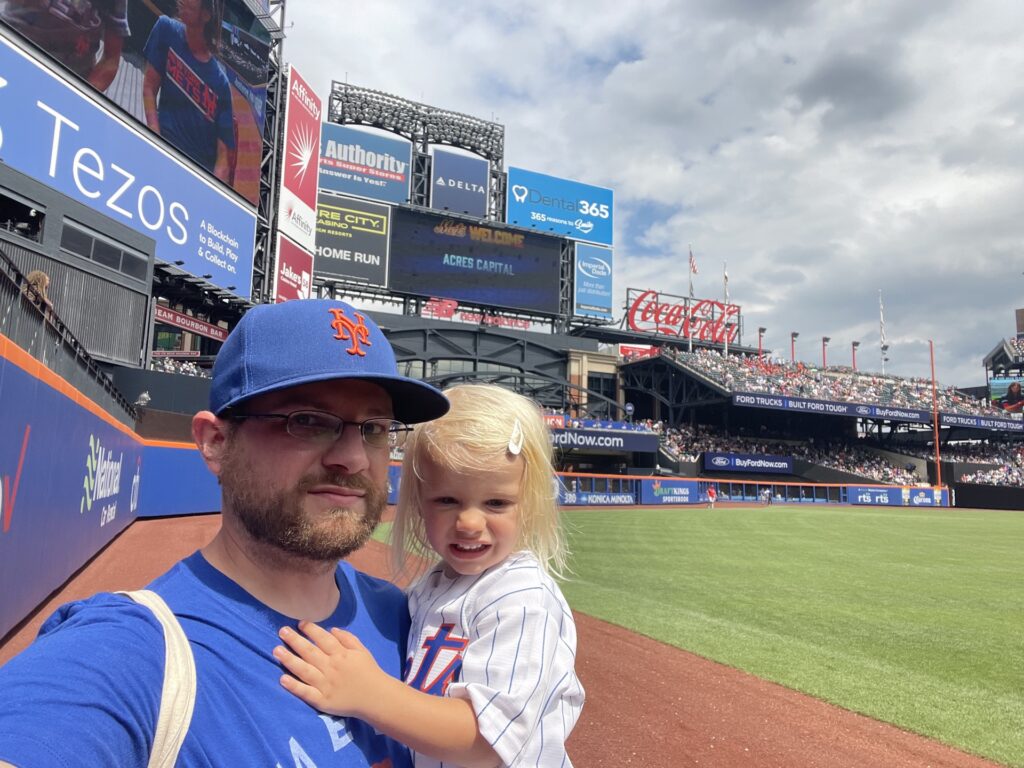 8. Eat a kids meal
What is a baseball game without a hot dog? Citi Field has a special kids meal that is one of the best deals in stadium food history. A kids meal costs right around $7, and includes a Nathan's hot dog, small bag of popcorn, juice box and toy.
Officially, the kids meal is only available at the basic concession stand in section 121. However, we did see it listed on a couple other concession stands so it's worth checking all the stands you walk past.
Unfortunately, there are no substitutions allowed with the kids meal. We are vegetarian, so our little one hasn't had the chance to try this one specifically. Instead, we get to pay $11 for the adult veggie dog (with no sides or toys!) at nearby Vegan City.
9. Watch for the Home Run Apple
If the Mets hit a home run while you're there, get to a view of the outfield as quickly as you can to spot the Home Run Apple. The apple rises from the outfield for a few brief minutes after each home run. It doesn't actually do anything cool other than come up and go back down, but it's something fun and unique to look out for.
The original Home Run Apple from Shea Stadium is located outside the main entrance to City Field. Be sure to swing by that one, too.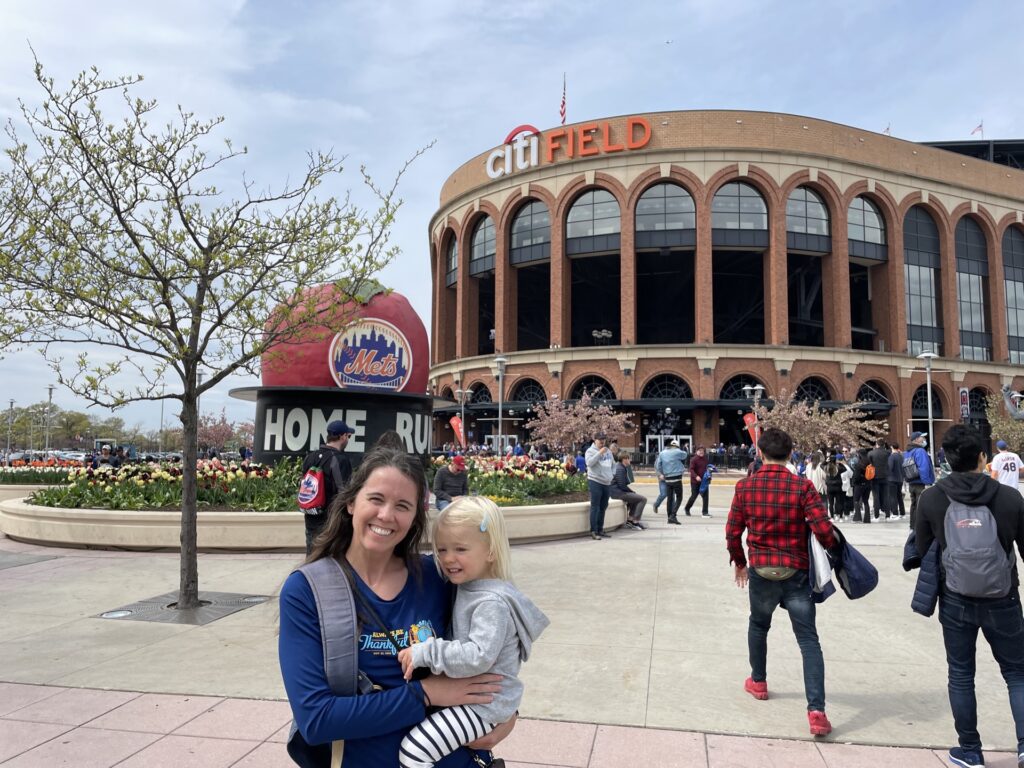 10. Watch an inning from Shea Bridge
If your kid is anything like ours, sitting still for more than a few innings at a time is next to impossible. We like take a break every three innings to walk around, get a snack or do one of these activities. However, we actually really like baseball and don't like missing too much of the game.
Our favorite solution is to watch an inning from Shea Bridge (or really any of the standing areas on Field Level). The bridge is in the outfield between right and center field. It has unobstructed, standing room views of the game. Plus, it's pretty wide with plenty of space for our toddler to move around a little bit. Center field plaza is also right over here, which has even more space.
We'll get them an ice cream or let them play with a toy while we watch the game. Everyone's happy.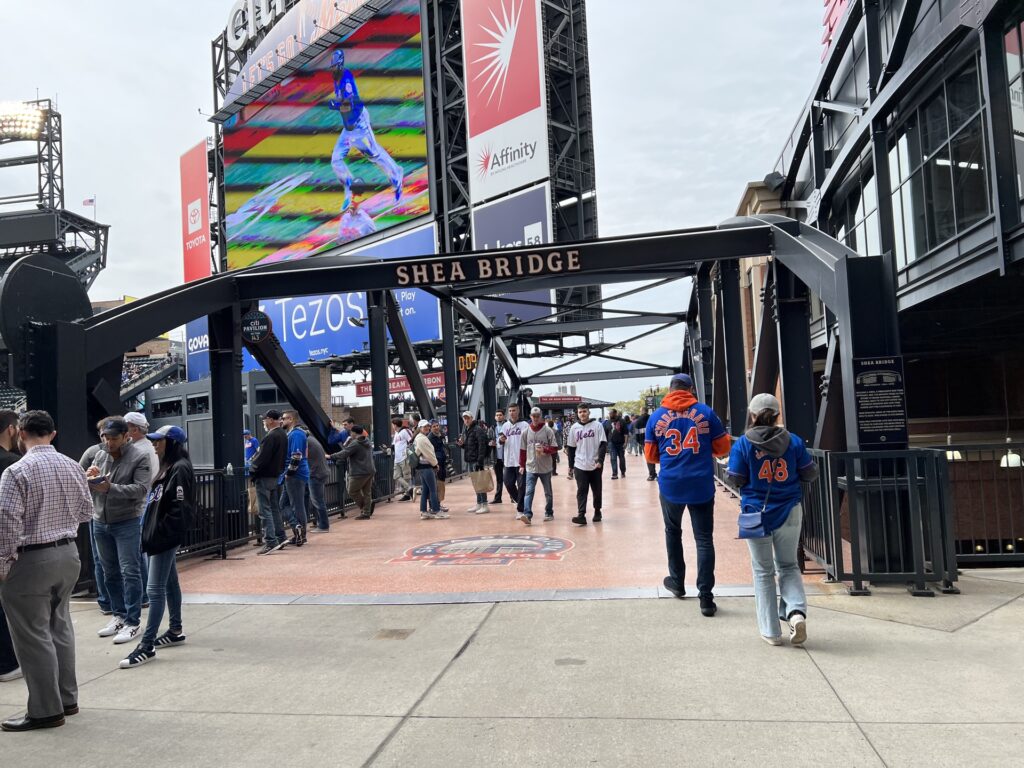 BONUS: Get a custom tiny jersey
This one is expensive, so I couldn't include it casually on a list of things to do. But if you wanted something extra special, you can get your little one a custom Mets jersey.
There is a jersey customization station located on Field Level behind home plate, right in front of the main team store. For $100, you can get a custom jersey with your child's name on the back. If you already have a jersey, it's only $20 to add their name to it.
I've never personally done it, but this would make an adorable keepsake!