We recently brought our almost 2-year-old to Yankee Stadium. It was the family's first Yankee's game, but we're no strangers to baseball. In just a season and a half of their life, we've brought our favorite tag-a-long to 15+ games at four different MLB stadiums. Yankee Stadium hit different, though. In today's post, we're sharing everything we learned so you are more prepared than we were to go to a Yankees game with kids.
Yankee Stadium Overview
Before we dive into the tips, let's set the stage.
I probably don't need to tell you who the Yankees are, but I will. Even if you're not a fan personally, you can't call the Yankees anything but an iconic baseball team. They've been around since 1903, won a record 27 World Series Championships and have been lead by famed players like Babe Ruth, Lou Gehrig and Mickey Mantle.
The New York Yankees play at Yankee Stadium in the Bronx borough of New York. The original Yankee Stadium, often lovingly referred to as The House That Ruth Built, was replaced by the new Yankee Stadium in 2009. The new stadium was designed to honor the legacy of Yankee Stadium, while also providing much needed modern stadium comforts. While the stadium isn't particularly beloved, even by Yankees fans, most would argue that it achieved that.
Yankee Stadium is huge. The stadium holds 54,000+ fans, making it the 3rd largest stadium in the MLB. As regulars at Wrigley Field, which seats about 12,000 fewer fans in a much more intimate setting, the size of Yankee Stadium hit hard. From the view of the game in the upper levels to the ridiculous lines for concessions, we really noticed the size difference.
Like any good city stadium, Yankee Stadium is easily accessible via public transportation. The B, D and 4 subway trains all stop at 161 St-Yankee Stadium. The Hudson Line of the Metro-North (suburban commuter train) also stops at Yankee Stadium at the Yankees-E 153rd Street station.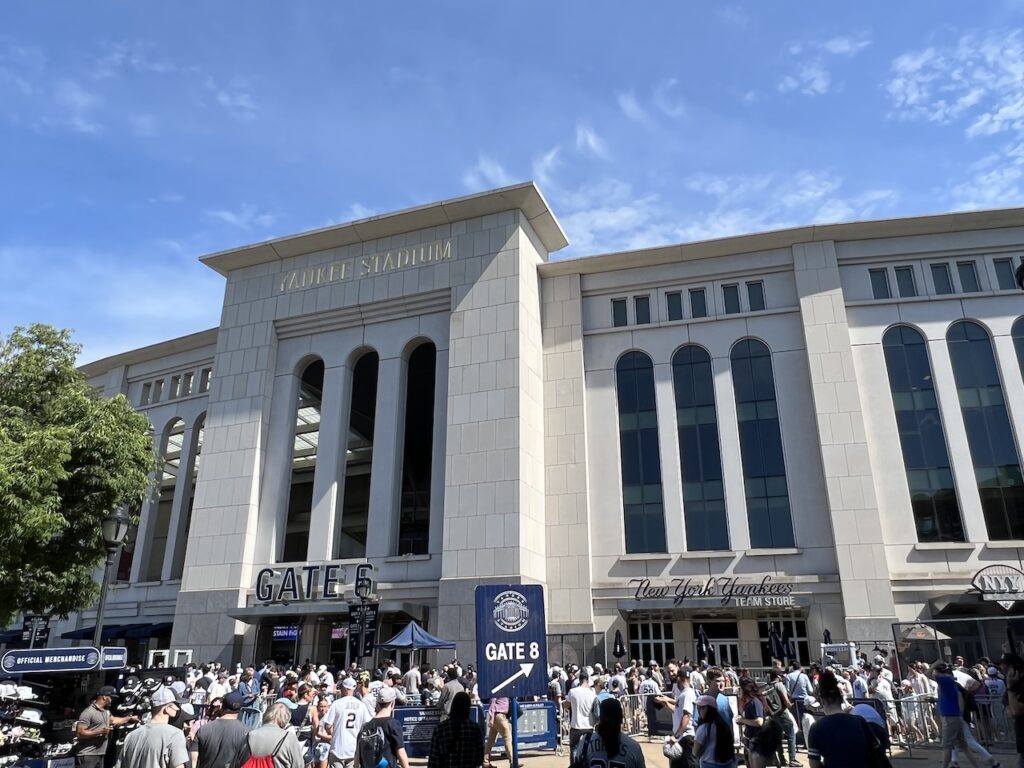 Baseball Games with Kids
We've brought our toddler to quite a few baseball games in their <2 years of life. They love the ice cream in the baseball helmet, stealing bites of our (veggie) hot dogs and clapping for the players. But we'd be lying if we said it was all baby giggles and lap sitting.
Taking a baby, toddler or young child to a baseball game isn't always easy. It's loud, it's crowded, their schedule is totally shot, and the weather isn't always ideal. We have had our share of meltdowns, missed or bad naps, and diaper changes in less-than-ideal conditions. But we keep going to baseballs games because for us, the memories outweigh the work and occasional crabbiness.
To help both kids and parents alike, we suggest researching the ballpark you're going to in advance. Familiarize yourself with the locations of things like family bathrooms, guest relations, and first aid. Research the dining options in advance so you don't sink too much time dragging a reluctant toddler around the whole park looking for something they will eat.
We also suggest looking up any fun things for kids at the stadium. Some stadiums have playgrounds or kids clubs, others might just have a special treat, and nearly all have a first visit certificate. This helps to get them excited about the outing even though they might not actually understand watching baseball.
Things for Kids at Yankee Stadium
Yankee Stadium is a traditional, baseball-forward stadium. There's not a ton of ancillary activities, but there are a few things that you won't want to miss if when you go to a Yankees game with kids.
Kids Clubhouse: There's an entire play area for kids inside Yankee Stadium. The Kids Clubhouse has all sorts of stuff to climb on, crawl under, and slide down. It will mostly appeal to the younger toddler set from 1 – 5, but all kids are welcome. There's also seating for parents, TV's with the game and a private room for nursing mothers. The Kids Clubhouse is located on the 300 level in right field.
First Visit Certificate: You can get a First Visit Certificate at the Guest Relations Booth located across from section 128. The certificate is free and is printed on the spot.
Baseball Helmet Ice Cream: Get a scoop of Ben & Jerry's in a souvenir Yankees helmet at Pepsi Food Court locations in sections 125, 127 and 318. Our little one loves collecting these helmets at each stadium.
New York Yankees Museum: Older kids will enjoy the small museum located near section 210. Here you'll find several World Series trophies, a collection of autographed baseballs, and some classic memorabilia as you learn about the legacy of the New York Yankees.
Sensory Kits: If your child has sensory sensitivity, you can pick up a sensory kit at Guest Relations Booths located in the Great Hall near Gate 6 or by section 128. The kit includes fidget toys, noise canceling headsets and sunglasses. Sensory kits are available for kids or adults and are free of charge (with a valid credit card or ID as a deposit).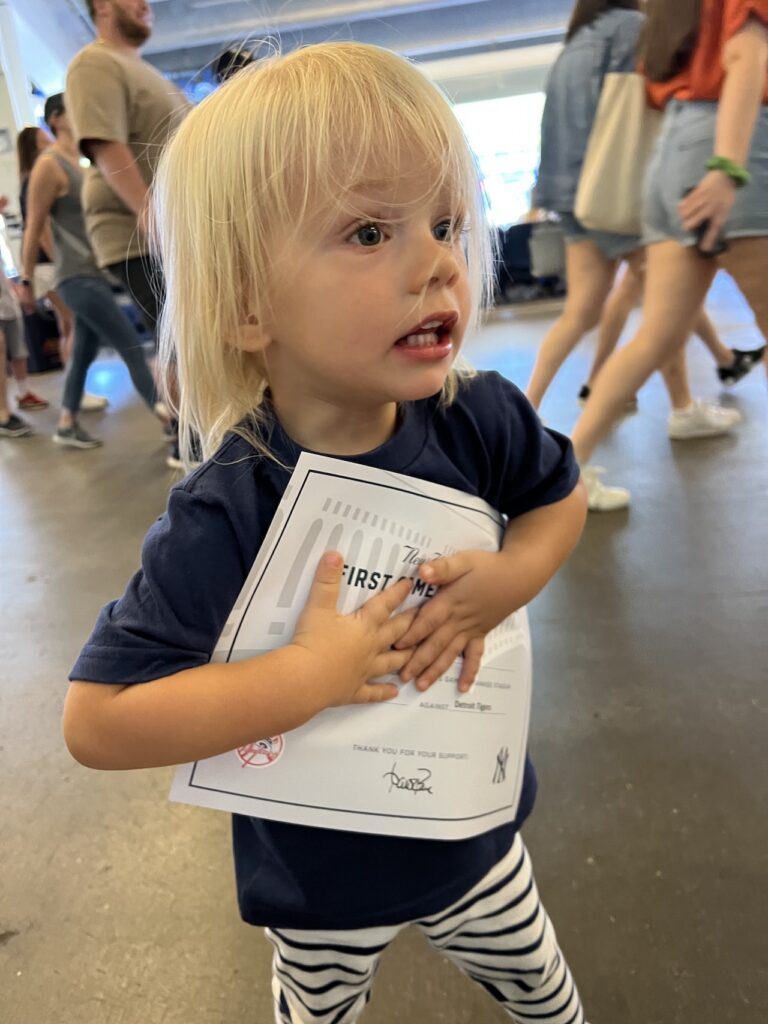 10 Things to Know Before You go to a Yankees Game with Kids
On a Sunday in June, we packed our (smaller than 16″ x 16″ x 8″) backpack, hopped on the D train, and made our way to Yankee Stadium. It was everyone's first time going to Yankee Stadium and we were excited to see the iconic baseball team in action!
We did our best, but overall I would give Yankee Stadium a 6 out of 10. The combination of size and crowds made the stadium that is allegedly very family friendly feel less than friendly for my family.
Fortunately, we learned a ton of lessons along the way. If you're planning to go to a Yankees game with kids, keep reading! We made all the mistakes so you don't have to. Here are 10 things that you must know before going to a Yankees game with kids.
1. Be prepared for lines.
The lines for concessions at Yankee Stadium were unlike anything I've ever seen. Popcorn, drinks, food, ice cream — no matter what you were looking for, there was a line and it was long. The high capacity of the park combined with the relatively low concentration of concession stands (many of which weren't open) and the low number of registers at each stall resulted in extremely long waits.
I'm not being dramatic either. I timed it all. I waited 45 minutes for a scoop of ice cream in a baseball helmet. Kenny waited 55 minutes for burgers for lunch. I won't even wait 55 minutes for the best ride at Walt Disney World! Not to mention that fact that we missed almost 3 innings of baseball, including 4 runs, while we were in line.
When going to a Yankees game with kids, be sure to set expectations appropriately. Don't hype up the baseball helmet ice cream if you don't want to invest 45 minutes getting it.
To reduce the amount of time you spend waiting in lines, pick one concession stand that has all of the items you want. If you need to hit up multiple booths, try splitting up if you have multiple adults in your party. And lastly, consider getting all of your food purchased as early in the game as possible. The lines were still long at the start of the game, but much shorter than they were later on.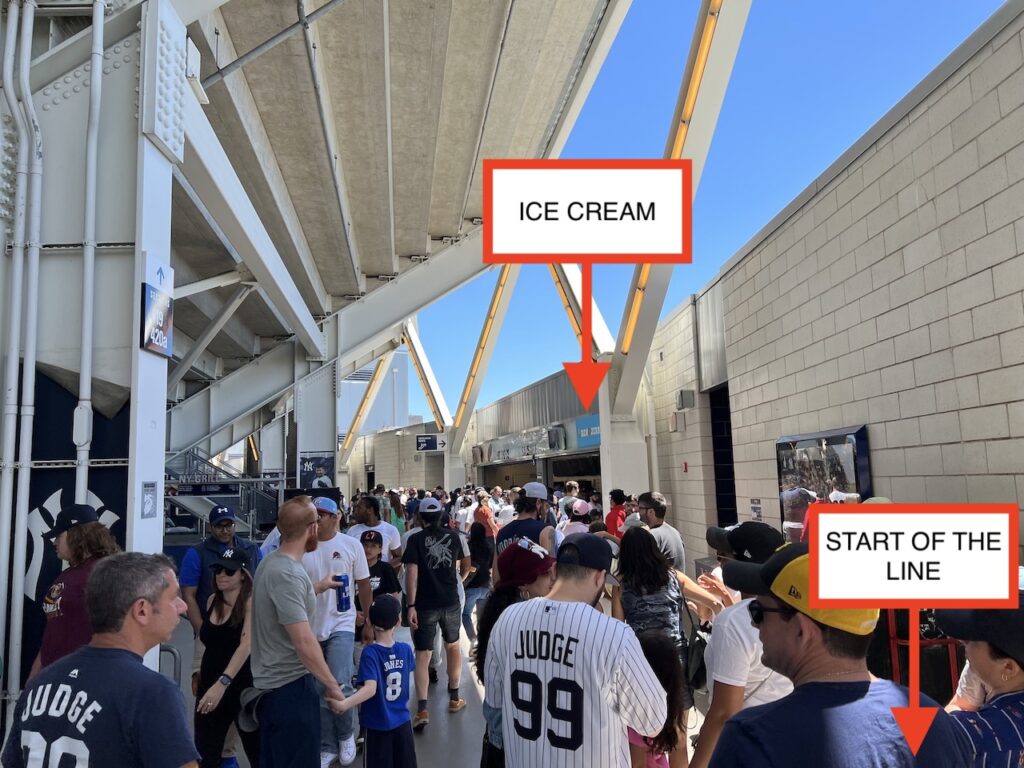 2. Bring your own food for kids at a Yankees Game.
I feel like "bring your own food" is such a basic tip that you would see on any mom's tips for anywhere. Stick with me, though. I promise you, I'm not generally that mom. Typically, I'm in the do-what-ever-is-easiest mom when it comes to feeding my child. That usually means just buying food at the ballpark, even though it's more expensive.
Trust me when I tell you that buying food at Yankee Stadium is NOT the easiest option. The lines alone are a deterrent enough. It took almost an hour to buy lunch for us parents. That sucked, but at least we're adults who can handle being hungry for a bit. Kids aren't always so flexible.
Then there's finding food that you know your kid will eat. My kid isn't particularly picky when it comes to food, but we are raising them vegetarian. The vegetarian, toddler-friendly meal options at Yankee Field aren't great. The only real veggie option was a veggie burger. That's just a bit too big and messy for a toddler to tackle.
That's honestly the only reason I thought to pack a lunch for the game at all. I wasn't sure what they'd be able to eat, so I threw together a quick bento box with PBJ, apples, cucumbers and a cheese stick. Thank goodness for that decision. With a packed lunch, my kid was able to eat a lunch they liked at our usual lunchtime with no hassle.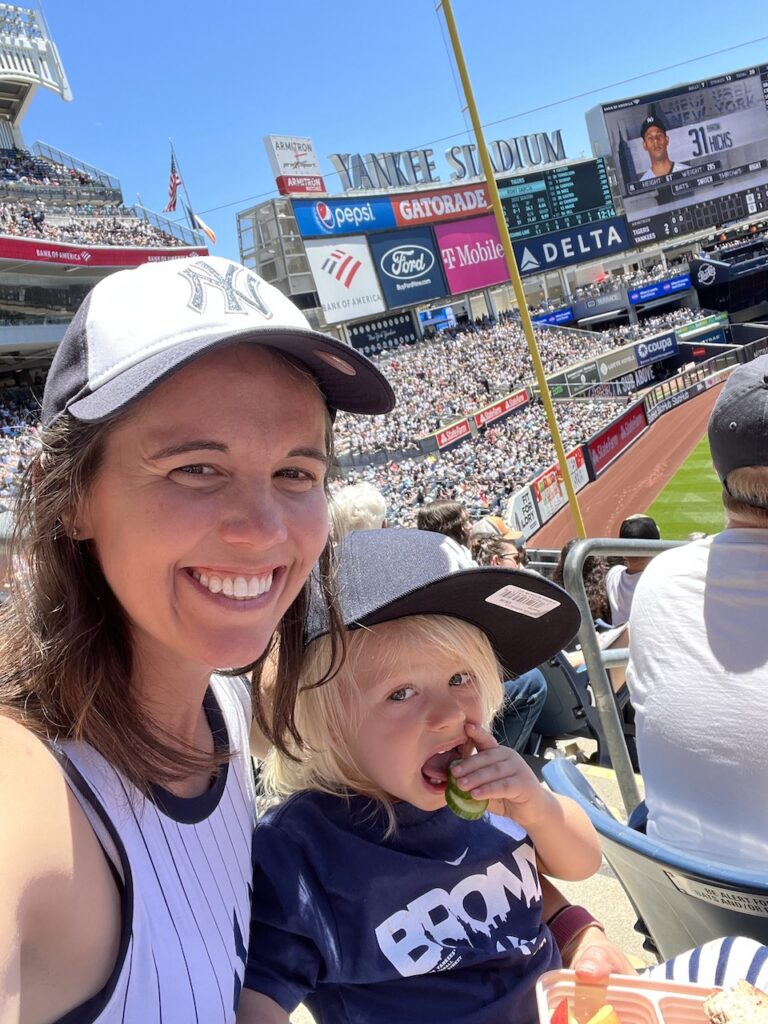 NOTE: Non-vegetarian kiddos will happily find real hotdogs, chicken tenders, beef burgers and more around the stadium.
Yankee Stadium Official Food & Beverage Policy
Guests are permitted to bring food into Yankee Stadium for individual consumption. Items such as apples and oranges must be sliced or sectioned. Clear factory-sealed plastic bottles of water, 1 liter in size or smaller, are also permitted.
3. Use CLEAR to enter Yankee Stadium quickly.
You might know CLEAR as the identity verification service that typically helps you breeze through security at the airport. You'll also find CLEAR at Yankee Stadium! The lines to enter Yankee Stadium can be really long before the game and using the CLEAR line will be much quicker.
Before the game, download the CLEAR app and log in. There is no biometrics at the stadium so you have to use the app.
The CLEAR entrance is located along the 161st Street side of the stadium between gates 4 and 6. Open the CLEAR app, click "Profile," and then click the QR code in the upper left corner. When you enter the CLEAR queue, they'll scan your QR code and send you through the standard security check.
I don't recommend buying CLEAR just for a visit to Yankee Stadium, but if you have it already it's a great perk to utilize. It's one less line your kids will have to wait in.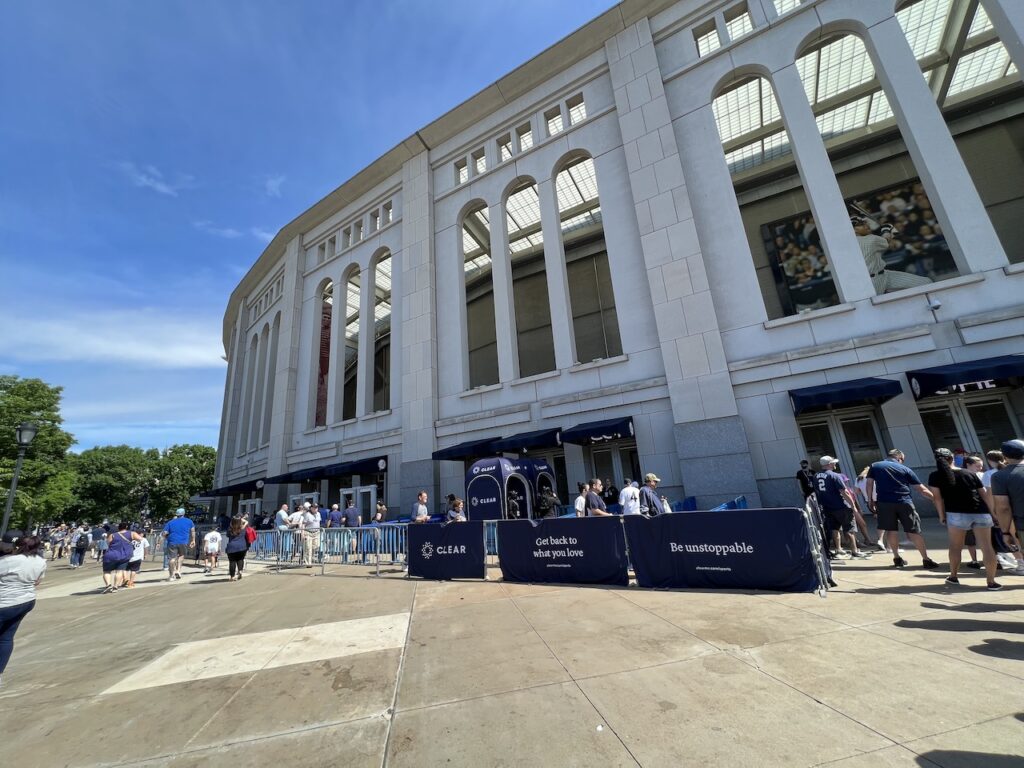 4. There are escalators and elevators — use them.
Have I mentioned that the stadium is big? There are three levels and they tower above the field below. There are prominent ramps that lead to every section, but I found them to be never ending. We were keeping our toddler up past nap time already, so I didn't want to wear them out even more by walking up and down ramps.
There are two escalator banks at Yankee Stadium that go upward for the first half of the game. (They either stop or reverse as the game comes to a close.) This was so much faster and easier than the ramps. You can find escalators behind home plate near the Yankees Team Store (located right inside the CLEAR entrance) or near Gate 6.
There are also several elevators located around the stadium. Different elevators reach different levels and some are limited to suite guests. You can find the list of elevators and the locations served here.
5. Visit the Kids Clubhouse.
If you're going to Yankee Stadium with kids, you absolutely must visit the Kids Clubhouse! It's tucked away on the 300 level in right field. There's not a lot of signage and the room is pretty blocked off from the concourse so you could easily miss it if you weren't looking for it.
The Yankees Kids Clubhouse is a great space for kids to play. There is a small playground with lots of things of things to climb over, slide down and jump on. There's plenty of cute photo ops and activities to keep little ones engaged.
Parents will be happy to find plenty of seating, TVs with the game and adjacent family bathrooms. There is also a private room for nursing mothers, which includes outlets for those who need to pump.
The Kids Clubhouse at Yankee Stadium can get really crowded, so stop by before the game if you can.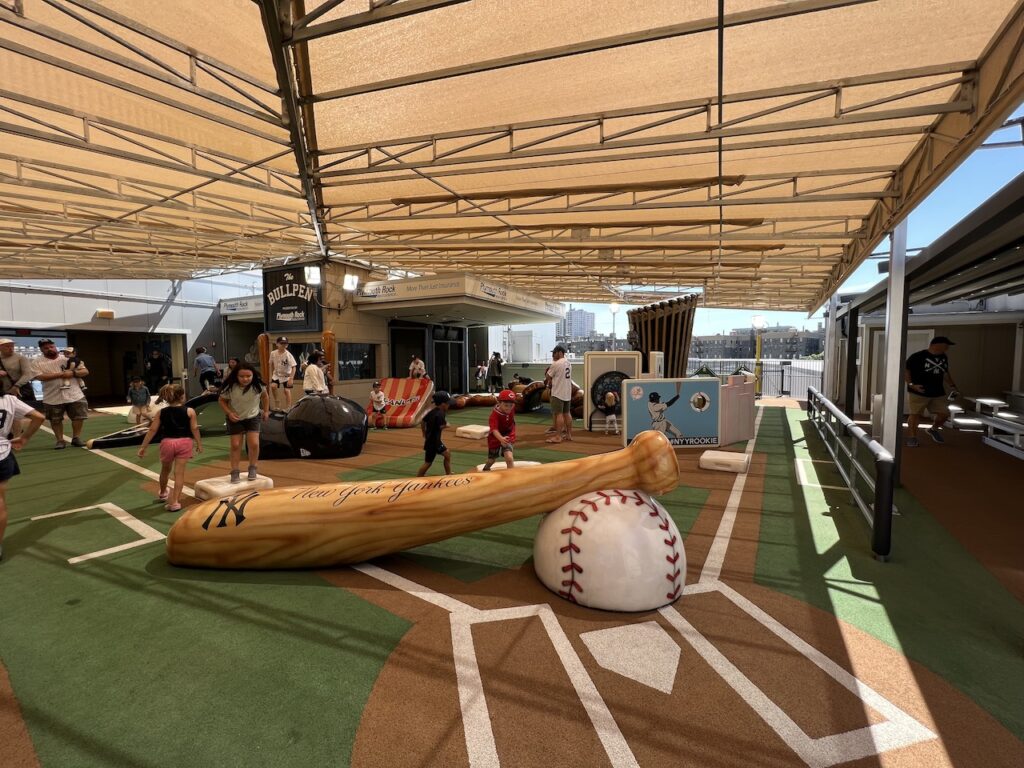 6. Get your First Visit Certificate early or late.
If you're going to a Yankees game with kids for the first time, don't forget to pick up a First Visit Certificate. You can get a custom certificate from the Guest Relations Booth located near section 128. Certificates are free and printed on the spot.
I arrived at Guest Relations right at the scheduled start of the game and the line was pretty long. I waited about 20 minutes before I got my certificate. To avoid the long queue, go to Guest Relations first if you arrive early for the game or wait until the middle of the game to avoid the long line at the start.
Our suggestion would be to arrive at the game 90 minutes prior to the scheduled start. Go through CLEAR security and then take the nearby escalator up to Guest Relations to get your First Visit Certificate. Then head to the Kids Clubhouse and play for a bit before going to your seats.
Bonus tip! Bring a folder. The First Visit Certificate is printed on heavy paper, but does not come with anything to protect it. If you have a small folder in your bag, you can keep your certificate nice and neat.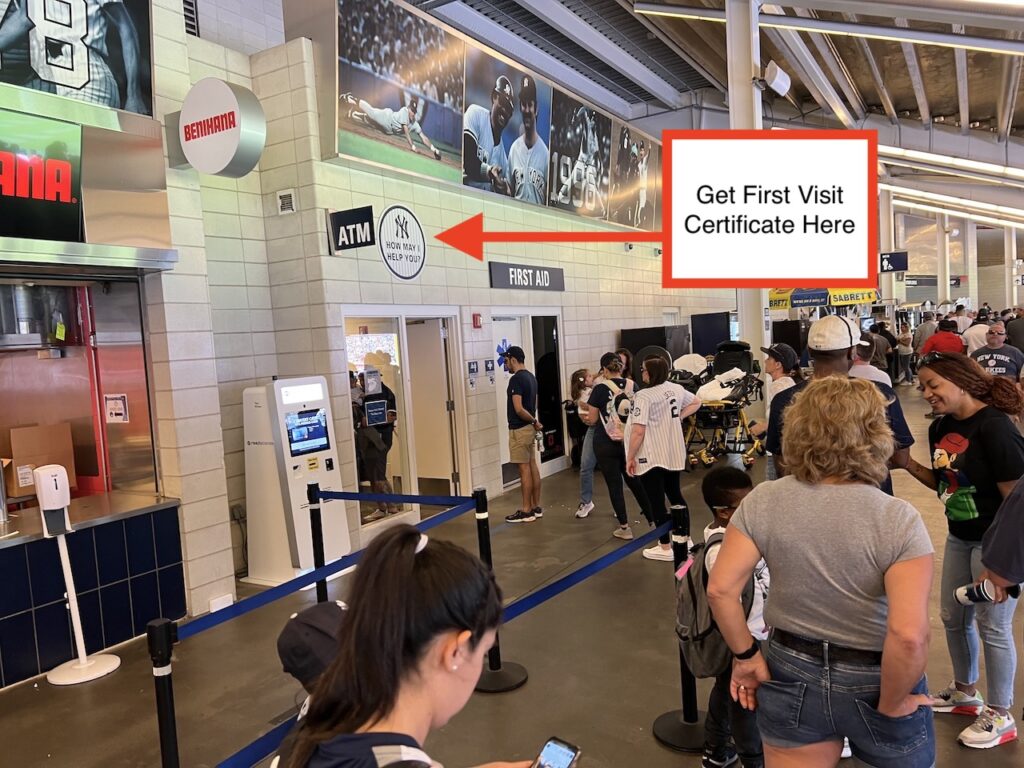 7. Buy drinks from stadium vendors in the stands.
Another good way to avoid the long lines at Yankee Stadium is to order from the vendors walking through the stands. The stadium vendors sell everything from popcorn to beer to bottled water. If you see one in your section, flag them down.
You might have to be a little aggressive to get their attention. I tried to buy something from one seller who just walked right past me. But a hearty wave and a loud "here!" will do the trick.
I spent almost $7 on a large bottled water, but my toddler's cup was empty and we were already situated in our seats. It was so much easier to buy from the stadium vendor than to get up and wait in the long line at a concession stand or track down a water fountain.
All stadium vendors in Yankee Stadium accept credit cards and cash.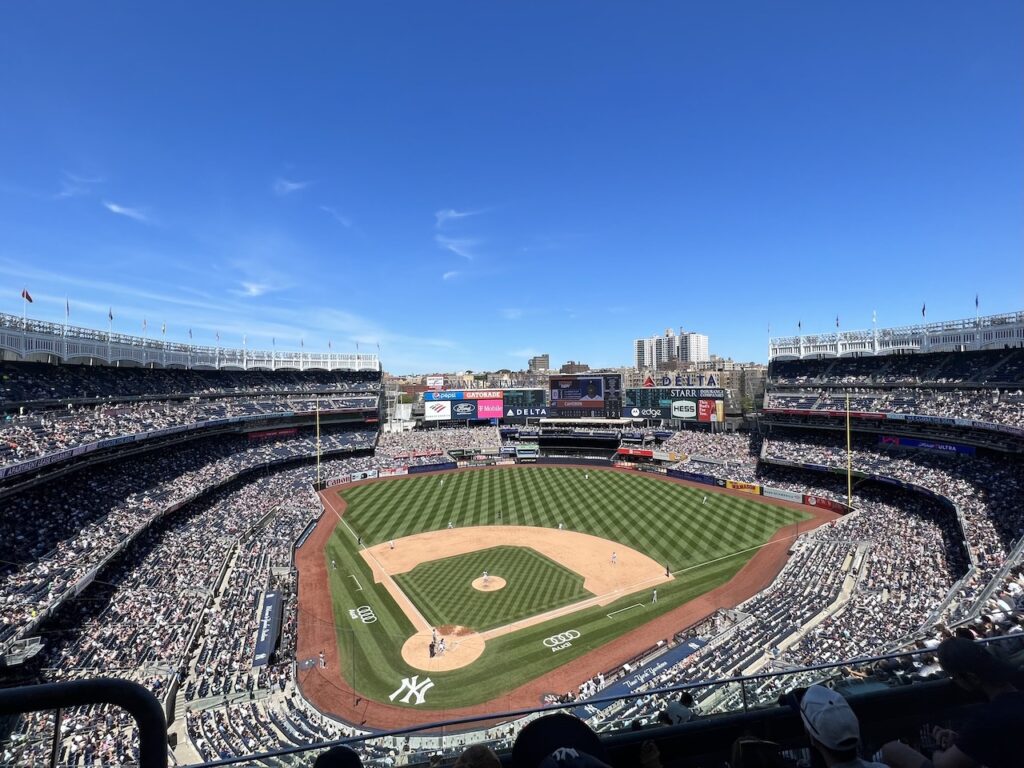 8. Skip the stroller.
Strollers are allowed at Yankee Stadium. Small folding strollers can be stored under your seat and larger ones can be checked at Guest Relations in the Great Hall near Gate 6. However, they're not ideal.
The concourses at Yankee Stadium are wide, but they don't have a view of the game. The most convenient time to have a stroller would be for going up and down the ramps, but that's not helpful if you have to store your stroller on the first level. And if you're arriving via public transit, you won't want to be lugging the stroller around on the subway anyway.
Instead, bring the baby carrier. This is the easiest way to get babies and toddlers around the stadium with the least about of hassle for parents. I discuss all of our favorite baby carriers in this post about baby wearing for travel.
9. Visit the New York Yankees Museum before the game.
Inside Yankee Stadium near section 210 is the New York Yankees Museum. It's a small room, but showcases some great Yankees memorabilia and history.
Older kids will love seeing the real World Series trophies, autographed baseball collection, and vintage uniforms from legendary Yankees players. It's a fun trip down memory lane and includes a cute locker room photo op at the end.
Like everything at Yankee Stadium, the museum can get really crowded. The earlier you can get there the better. It opens 90 minutes before the game starts and remains open through the 8th inning.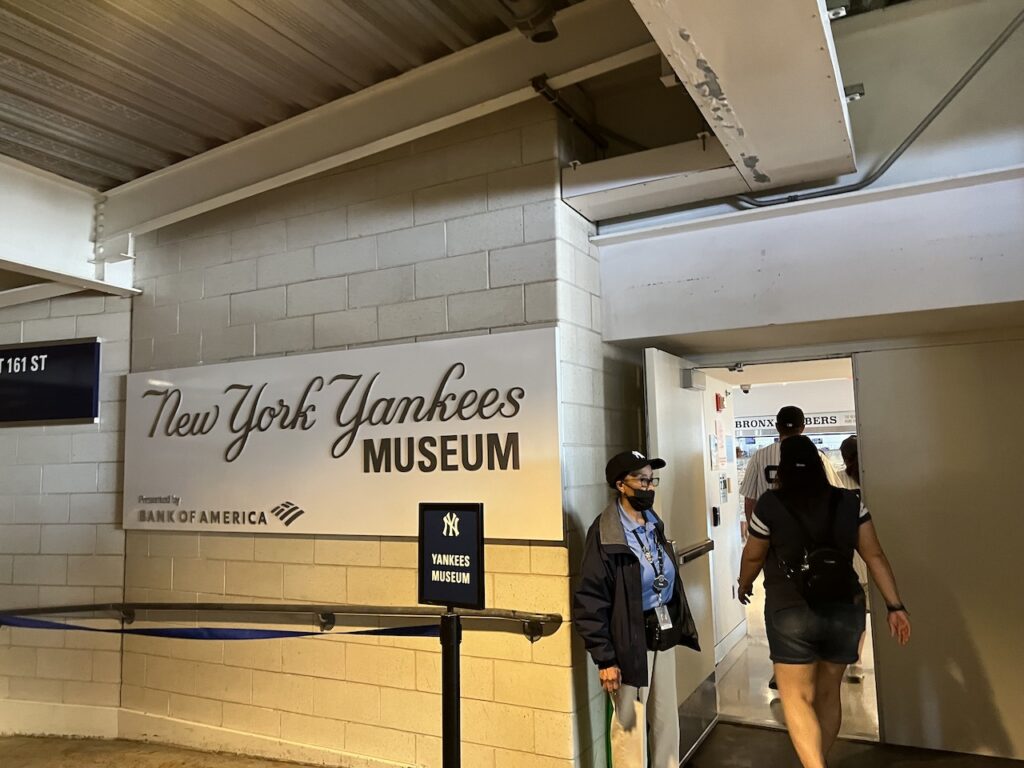 10. After the game, play at the park where the original Yankee Stadium once stood.
Across the street from new Yankee Stadium is the grounds were the original stadium once stood. The land was converted into a large park called Elston Gene Howard Field. The park today includes a pathway that outlines the original stadium and a little league baseball diamond. The park also has a nice little playground and splash pad.
If you came to the Yankees Game with kids and are trying to avoid the massive rush to the subway after the game, we recommend making a pit stop at this park. It's a great place to kill some time while the crowds thin out, and your kids can get out their last bit of energy. You can usually grab a drink from the street vendors who are out selling waters and Gatorade for much more reasonable prices than inside the stadium.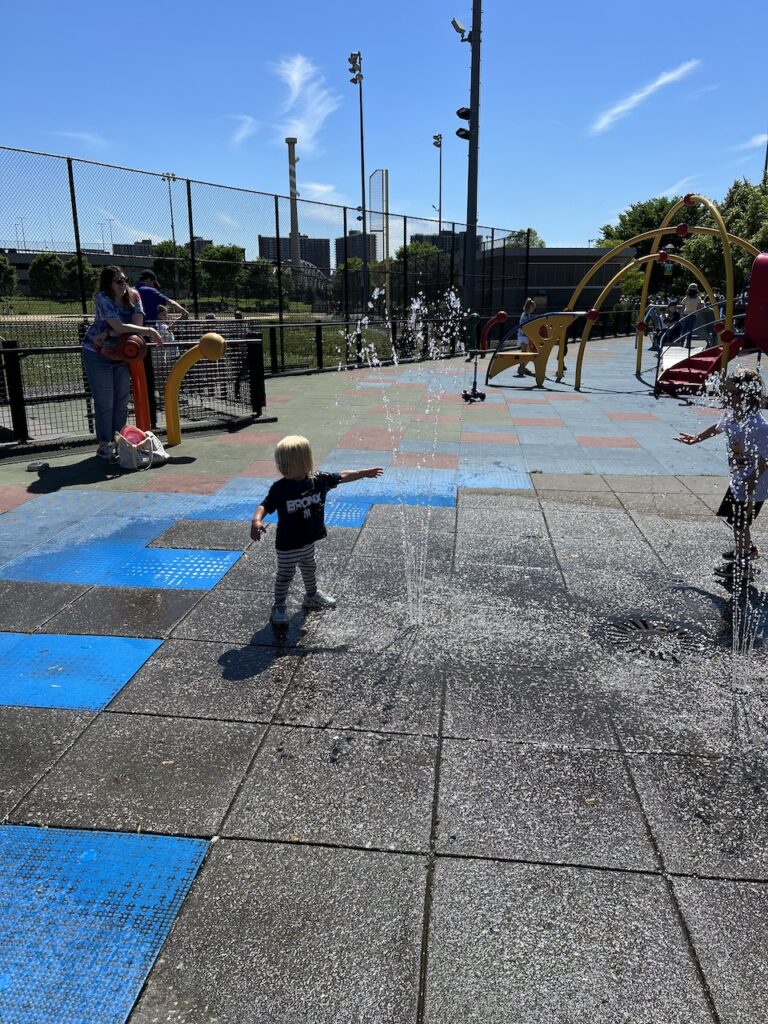 Recap: 10 Things to Know Before You go to a Yankees Game with Kids
Be prepared for lines.
Bring your own food for kids at a Yankees Game.
Use CLEAR to enter Yankee Stadium quickly.
There are escalators and elevators — use them.
Visit the Kids Clubhouse.
Get your First Visit Certificate early or late.
Buy drinks from stadium vendors in the stands.
Skip the stroller.
Visit the New York Yankees Museum before the game.
After the game, play at the park where the original Yankee Stadium once stood.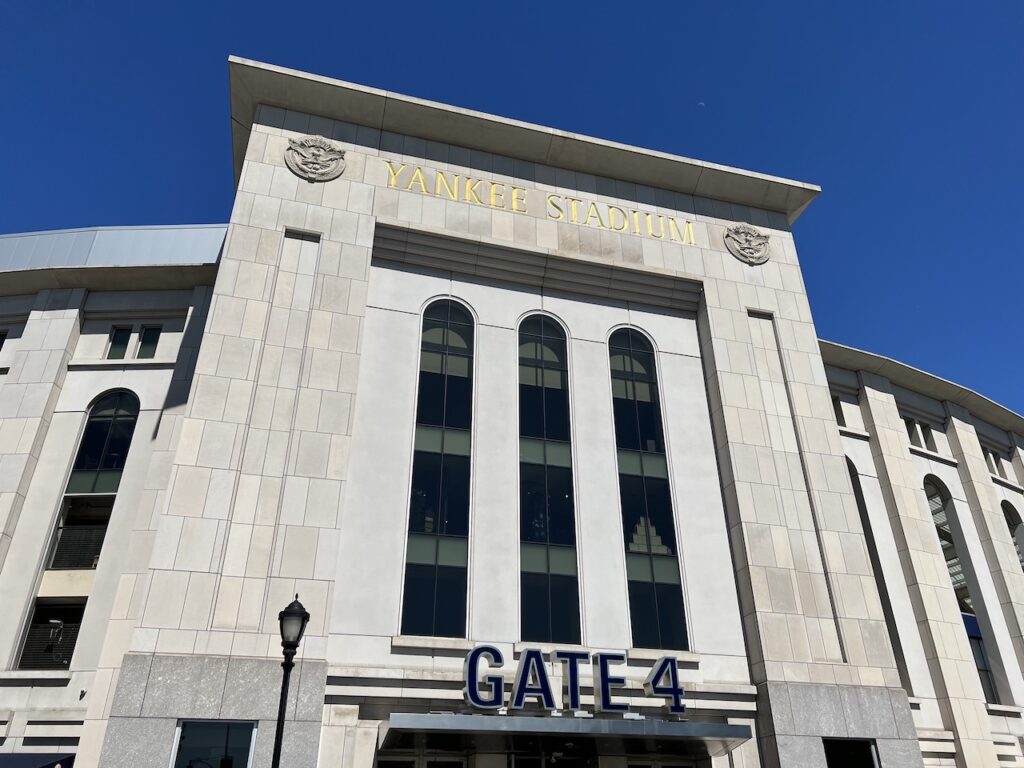 Closing Thoughts on Going to a Yankees Game with Kids
I love baseball games with my toddler … usually. I just didn't love Yankee Stadium. The long lines and making our way through the giant stadium just took up too much of our time. We didn't have enough time to just sit and watch baseball. That's a shame because the few innings we got to see were actually really fun.
The game we saw went into extra innings. Watching the Yankees pull out the win and then hearing New York, New York play gave me goosebumps! That was such a special and cool moment that I'll never forget. There just wasn't enough of that good baseball time for me.
We live in Queens so maybe we're a bit bias, but we love going to see the Mets at Citi Field. Our experience there of usually much more relaxed and fun. If you're looking to bring kids to a baseball game in New York, we suggest you check out the Mets!
If you're a Yankees Fan though, I understand the appeal. That team has so much history and a deep legacy that going to Yankee Stadium is somewhat of a birthright trip for many. I expect Yankees parents will have a different story to share than mine. And I'd love to hear it!
Have you gone to a Yankees game with kids? What was your experience? What tips would you share? Let us know in the comments.