Up until recently, Boston was my favorite city that I'd never been to. Before I ever stepped foot in the city, I just had a feeling I'd love it there. We recently went to Boston for a long weekend, and I was pleased to have my suspicions confirmed. I loved it. If you too want to make your Boston dreams a reality, this is the post for you.
Follow along as we plan a perfect weekend trip to Boston, Massachusetts.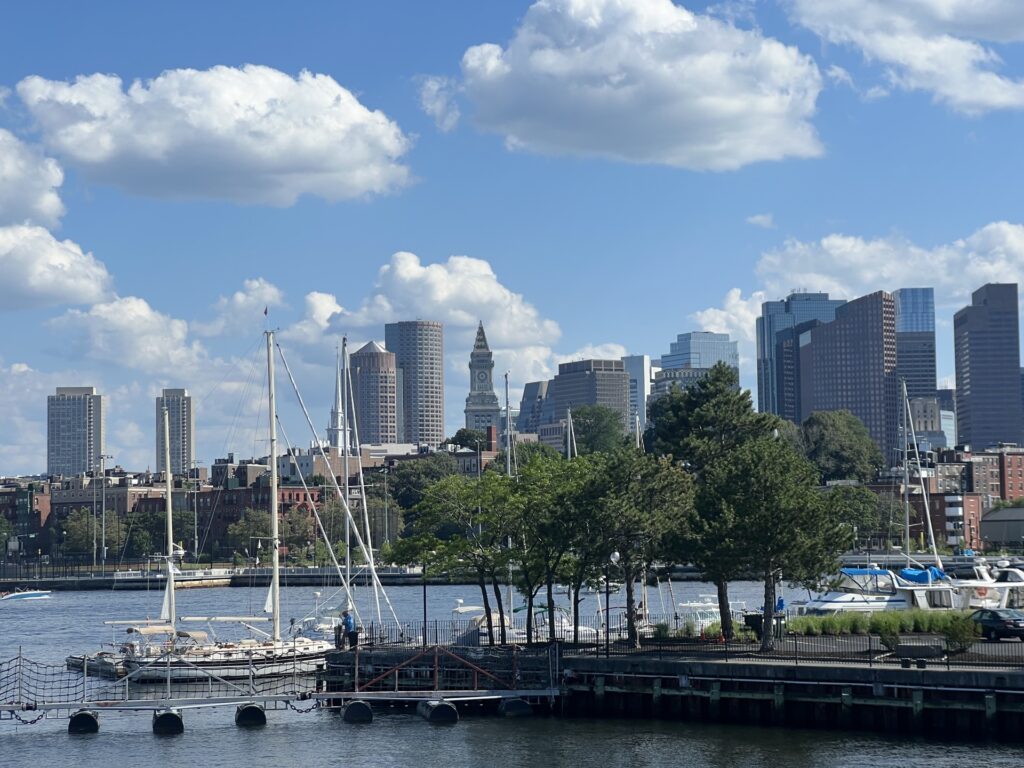 In This Post
How to Get to Boston
If you're coming from the Northeast, the train is a great option. We take Amtrak often and find that it's usually on time and often very convenient. Amtrak has three routes with daily service to Boston.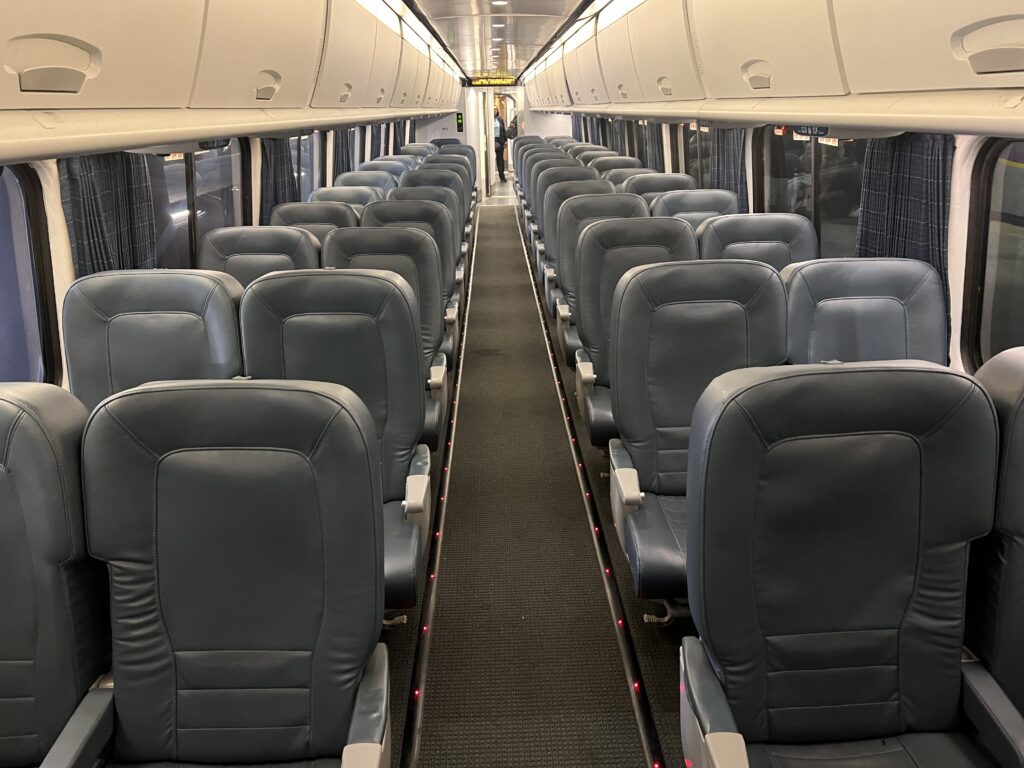 Northeast Regional: This train runs between Boston and Virginia. It makes stops in New Haven, New York City, Philadelphia, Washington DC, and many other cities along the way. The route separates near Alexandria and goes toward Roanoke or Norfolk.
Acela: This train runs between Boston and Washington DC. It is a nicer train with Business and First Class only. It's also a little faster and makes fewer stops than the Northeast Regional.
Downeaster: This train runs between Boston and Brunswick, ME, stopping at 10 cities along the coast in between.
There are three Amtrak stations in Boston. The Northeast Regional and Acela trains stop at both South Station and Back Bay. South Station is the start of the line. If you're traveling with a group in Coach on the Northeast Regional, I'd recommend traveling out of South Station. Since Coach is open seating, this gives you the best chance at finding seats together. The Downeaster trains stop at the North Station.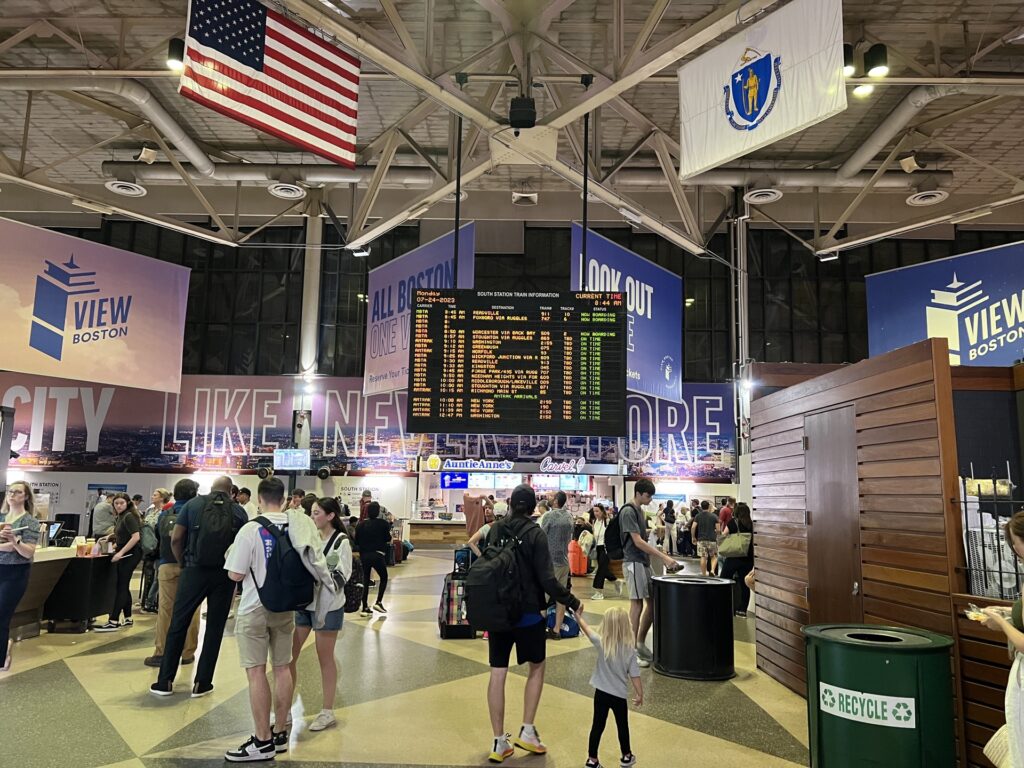 If you're regional but not on a train line, driving is also an option. Boston isn't the worst city to have a car. However, parking is expensive and not always available and/or complimentary at all hotels.
And finally, you can fly into Boston Logan International Airport if you're coming from further away. There is no Metro station at the airport. Instead, there are frequent buses that run between the terminals and the Blue Line station. Even with the connection, this might still be the fastest option. Traffic around Boston Logan can be brutal.
Getting Around Boston
Boston has a decent Metro system that comprises both trains and trams, plus a wider web of bus routes. We found the trains and trams ran pretty frequently, but they didn't have many cars and were often very crowded.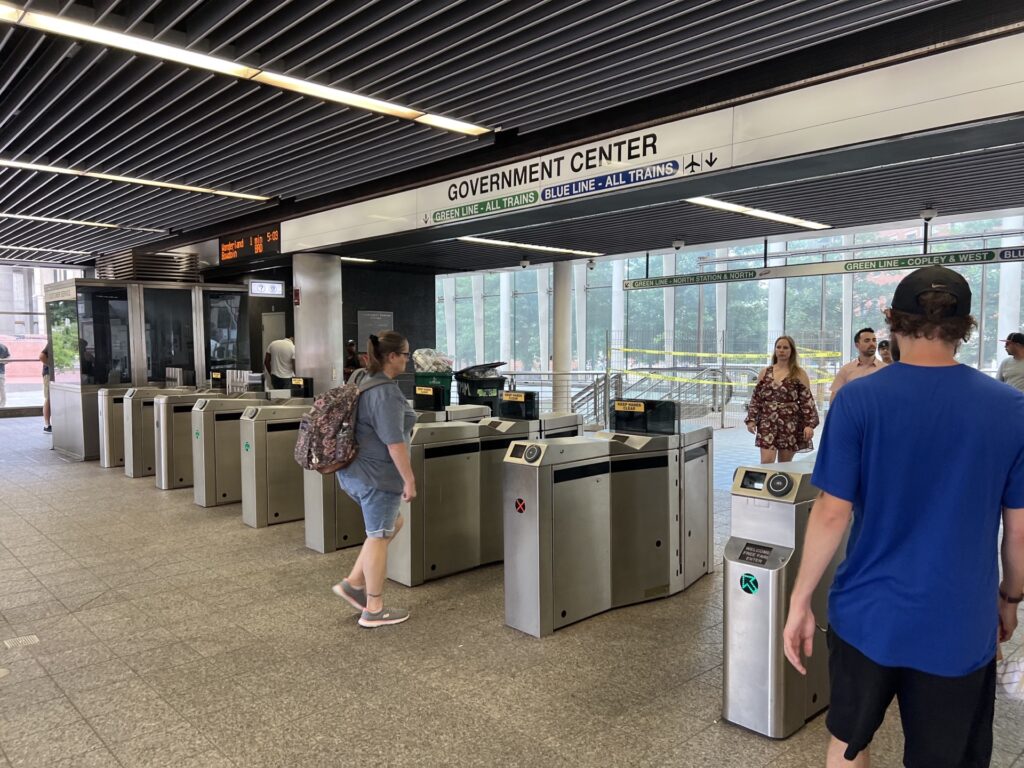 The Boston Metro does not have tap-to-pay gates. To board, you need to first purchase a ticket or transit card before you board. There are ticket kiosks at all stations. You can buy a one-way fare, load money onto a transit card (CharlieCard) or purchase an unlimited ride pass (CharlieTicket). Buses in Boston accept all of those ticket types, plus cash.
Central Boston is also pretty small (Fenway to the North End is only 3 miles). If you're willing and able to walk, you can cover a lot of ground on foot. In fact, we often found that the Metro took just about as long as walking. The streets in Central Boston are a bit windy — we definitely missed Chicago's grid system a few times. That makes them tricky to navigate, but it also means you can take slightly different routes each time.
Where to Stay in Boston
The first thing to know when it comes to hotels in Boston is that they are expensive — and some are really expensive. Regardless of the season or day, it's tough to find a hotel room for under $200 a night. Most hotels are going to be closer to the $250-$300 a night mark, with luxury hotels easily double that.
So once you've swallowed that pill, it's time to pick your poison. Here's a look at the best neighborhoods to stay in Boston and what hotels we recommend in each.
Downtown: This is the business district, which is centrally located between Boston Common and the North End. It has the highest concentration of hotels. It's busy during the week and pretty quiet on the weekend. We recommend The Langham (luxury) and Hyatt Centric Faneuil Hall (midrange).
Back Bay: This upscale neighborhood is bustling all the time, particularly on nights and weekends. It has a great food scene and lots of shops nearby. It's easily walkable to Fenway and Public Garden/Boston Common. We recommend The Lenox (luxury) and Courtyard Marriott Copley Square (midrange)
Beacon Hill: This little pocket of town is charming as can be, but it's a bit of a Metro desert. It's not the best location for getting around to the rest of Boston. Stay here on your second visit when you plan to cozy up in Beacon Hill your whole stay. We recommend The Whitney Hotel (luxury) and Beacon Hill Hotel (midrange).
Seaport: For a nautical New England vibe, head to this waterfront area on the south side of town. It is a bit trendier, has a lot of great views, and is close to its own set of activities. We recommend The Envoy Hotel, Autograph Collection (luxury) and Hyatt Place Seaport District (midrange).
Fenway-Kenmroe: This is the area around Fenway Park. It is obviously a good pick if you're just in town for a Red Sox game. There's plenty of good restaurants and great parks nearby, too. We recommend The Verb Hotel or Residence Inn Back Bay/Fenway (both usually midrange, but expensive on game days).
We personally stayed in Downtown Boston at The Langham. The hotel was great, and it was a perfect location for our plans. The only thing we didn't love was that several of the restaurants in the area were closed on weekends. Next time, I think we'd like to stay in Back Bay.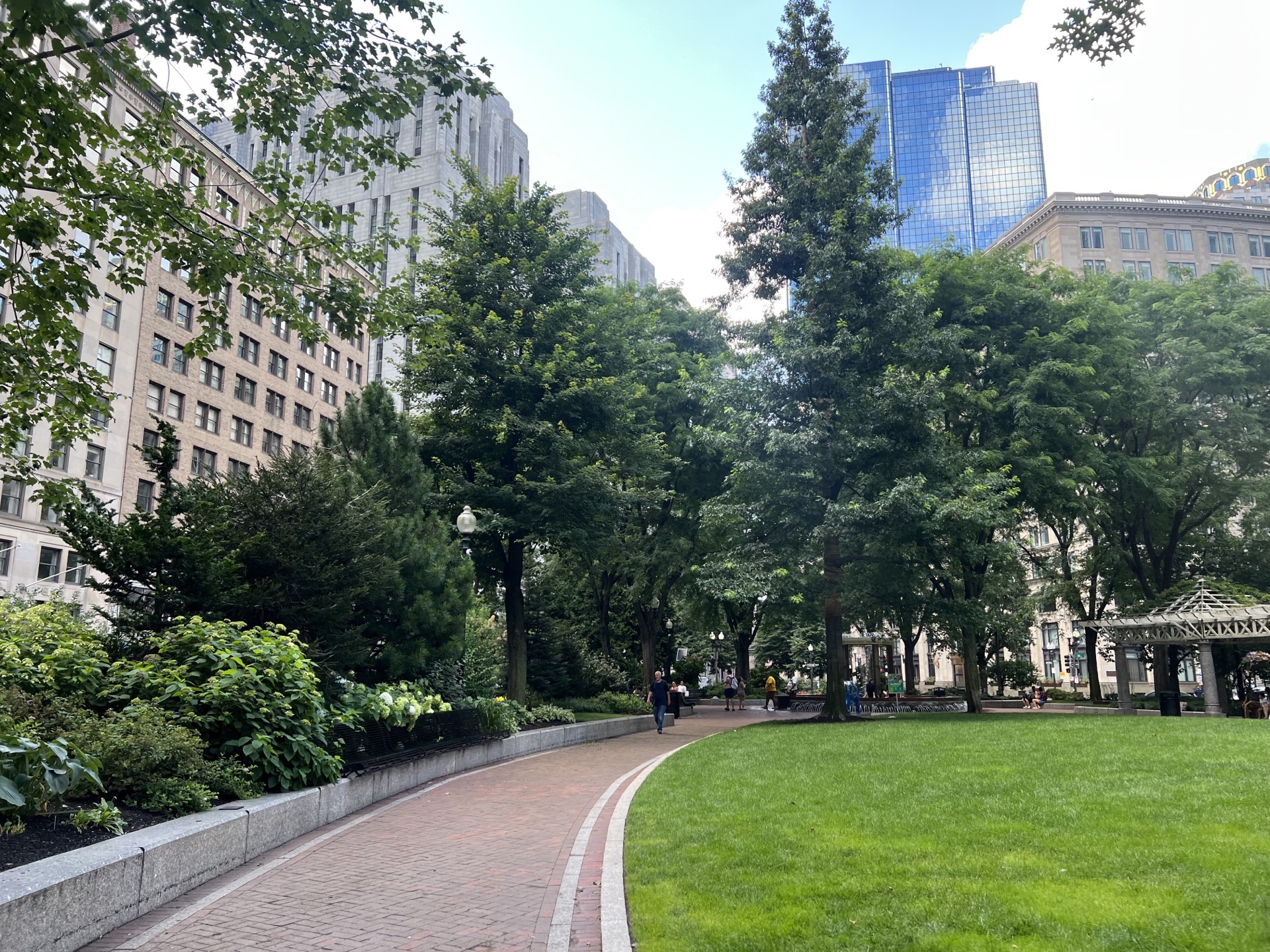 When to go to Boston
There's a lot to consider when it comes to picking the best time to visit Boston.
First, there's the weather. Boston has four distinct seasons with warm summers, cold winters, and consistent precipitation throughout the year. If you're planning a lot of outdoor activities (like the Freedom Trail and parks), this matters a lot. We walked the Freedom Train when it was 85°F and sunny, and it was not fun. I assume it's also not fun at 20°F.
The seasons also impact how the city looks and the activities that are available. In the fall, you might want to spend all of your time leaf peeping, taking colorful strolls through Public Garden and the esplanade. Christmastime will mean festive storefronts on Newbury Streets, Beacon Hill homes draped in garland and ice skating in Boston Common.
You also should plan for the specific things you want to do. Check the Red Sox schedule if you want to guarantee a game at Fenway. If you want to stay at a boutique hotel (like the Newbury Guesthouse), be sure to check their availability. Boston also has a handful of festivals you might want to plan around, like the Boston Seafood Festival in September or St. Anthony's Feast in the North End in August.
Finally, think about the day(s) of the week you'll be visiting and how that impacts your plans. For example, the business district downtown can be pretty dead on weekends and many restaurants are closed. If you do the Freedom Trail on a Sunday morning, you might not be able to go inside the churches. Tours of the Massachusetts State House are only available Monday – Friday.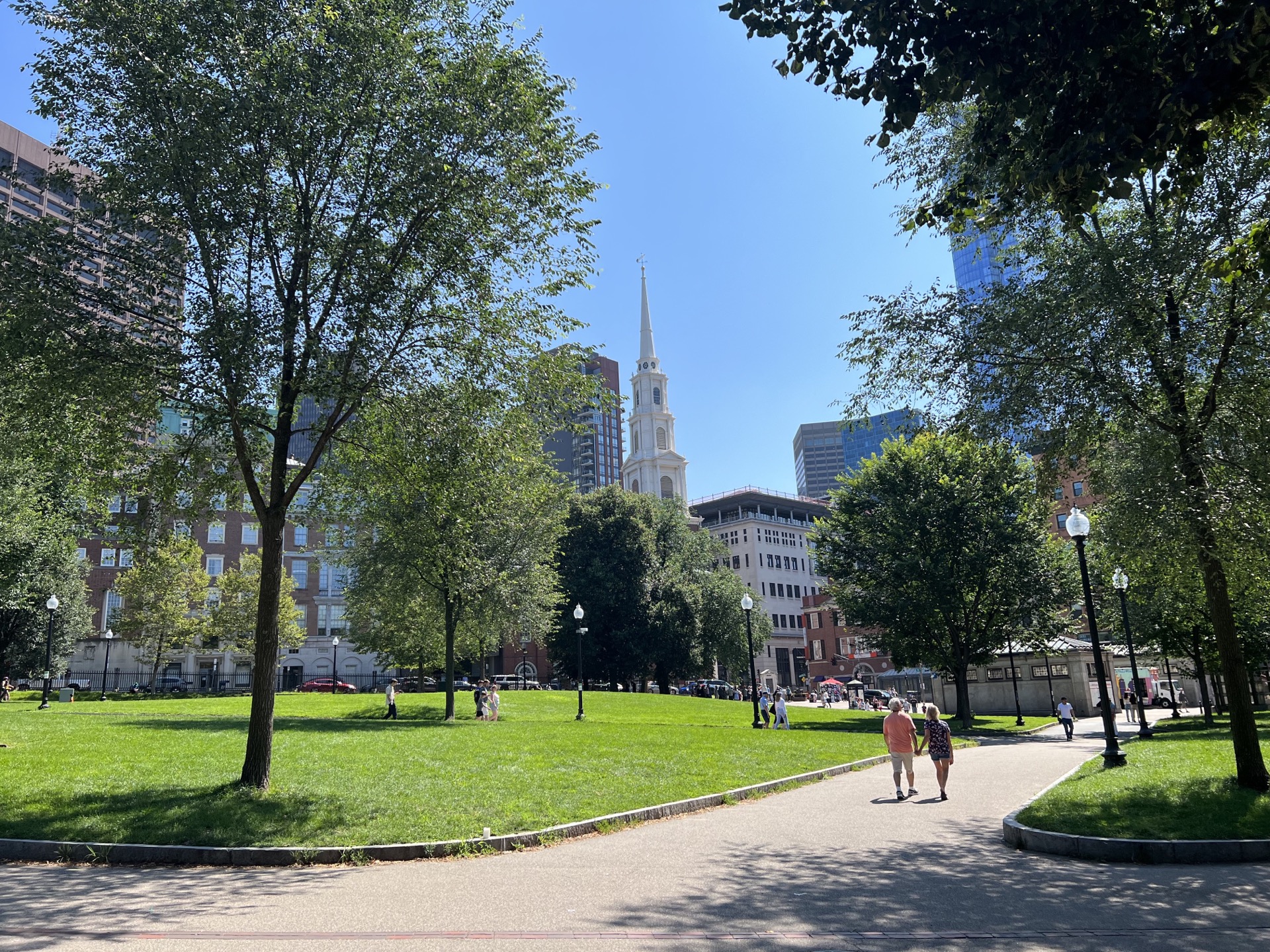 So when is the best time to go to Boston? Personally, I'd recommend late spring (May-June) if you want to see a Red Sox game or peak fall (October) if you don't care about baseball.
A visit to Fenway can really anchor a trip and is absolutely worth planning around. Late spring/early summer will give you the best shot at a game with good weather. Fall in Boston looks like an absolute dream. I planned a fall trip that we had to cancel last minute. Now that I've seen Boston in the summer, I'm even more confident that Boston in the fall would be perfect.
I would avoid summer if you are interested in the Freedom Trial, because the long outdoor walks are no fun in the heat. Christmas in Boston looks lovely, but any chance of snow can make travel plans flimsy and stressful. So for that reason, I'd avoid winter too.
How Long to Stay in Boston
A long weekend in Boston is pretty perfect. Ideally, you want to have at least two full days. If you have an extra half day on either of your travel days, that's even better. That will give you just enough time to get a taste of the city and check off some of your must-dos. You won't have time to do it all, but it's a good excuse to plan another trip during a different season.
If this is your only trip to Boston in the foreseeable future and you want to get the most out of it, I'd suggest giving yourself at least 4 full days. With that much time, you could easily spend a day on the Freedom Trail, explore several different neighborhoods, make it to a Red Sox game (if in town) and visit a few museums.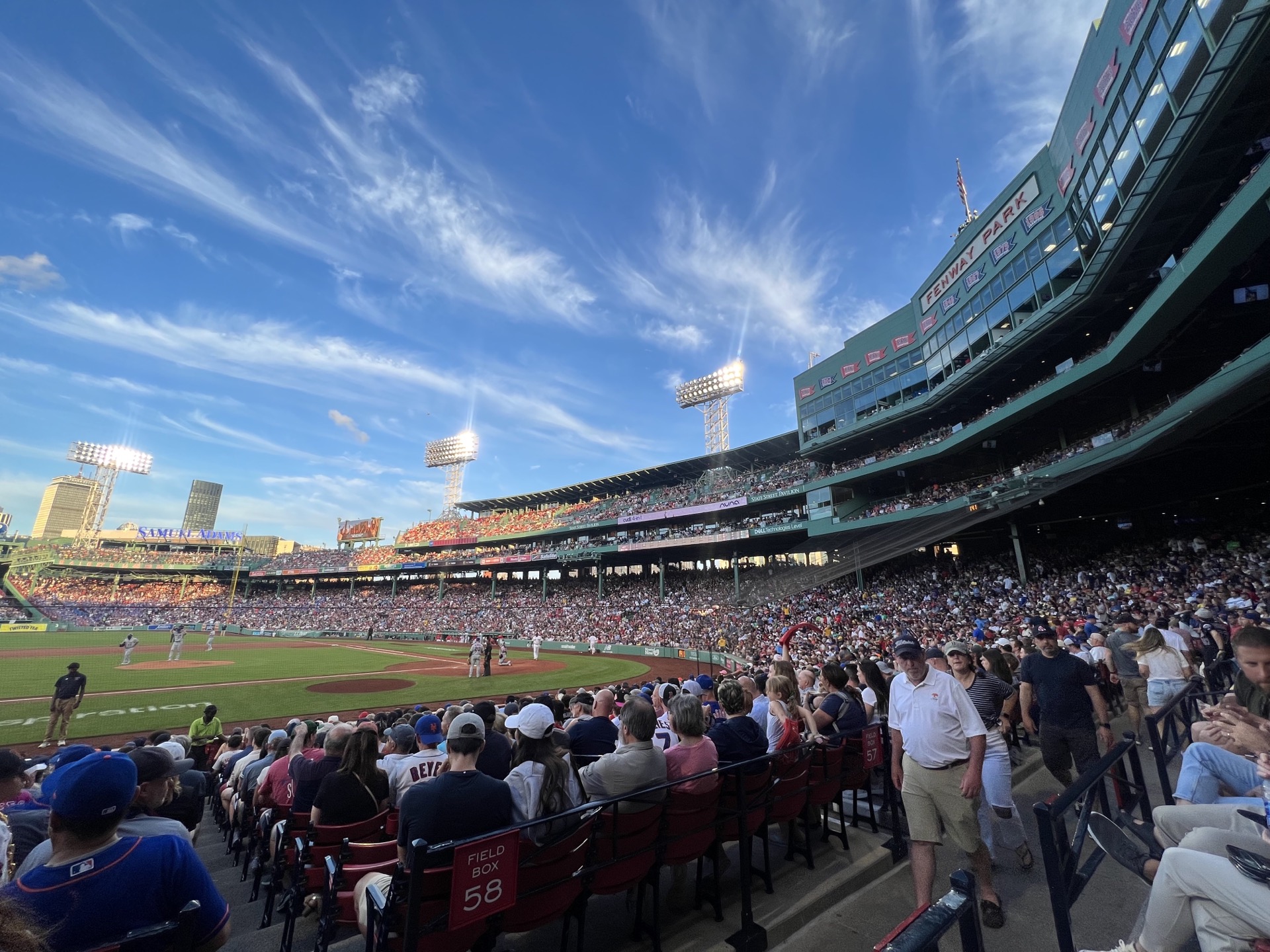 Boston Weekend Itinerary
In these next few sections, we'll walk through our Boston weekend itinerary. We'll narrate our specific experience, while also providing tips and recommendations based on what we learned. Before we get into the specifics, here are a few things to note about this itinerary.
We traveled from New York City to Boston on a Friday morning and left Monday morning. That gave us 2.5 days to explore the city. We were traveling with an almost-3-year-old, so our schedule includes nap times (most days) and early bed times. Our trip was in mid-July in the middle of a record heat wave and the Red Sox were in town. We stayed Downtown at The Langham.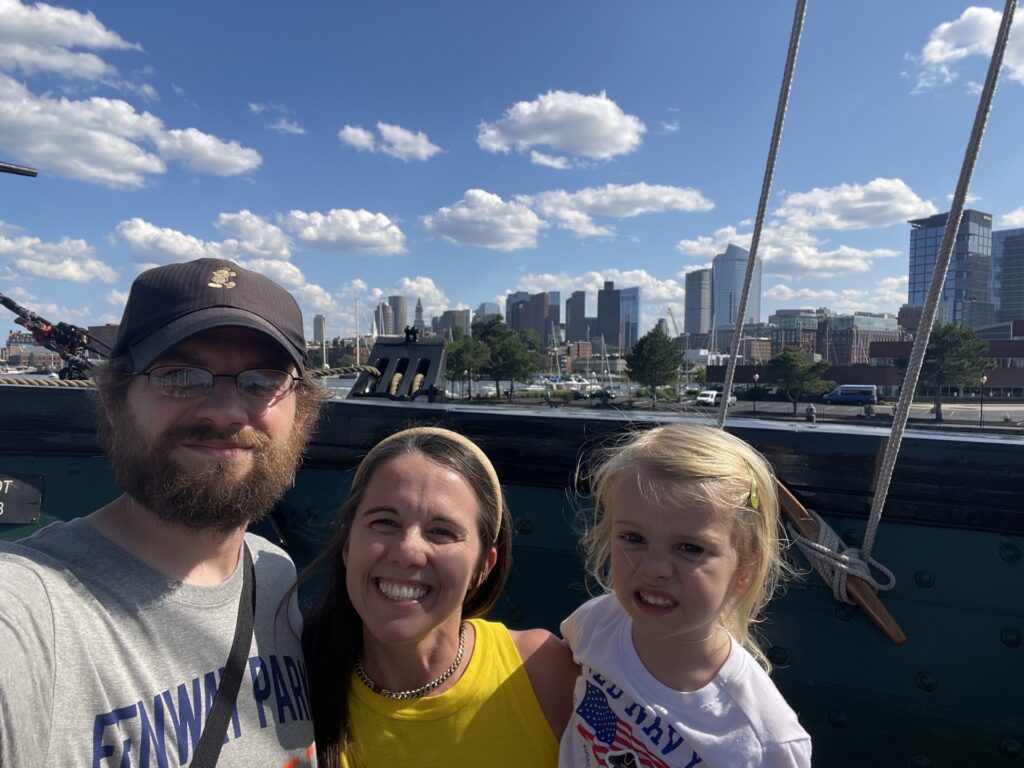 And a final disclaimer, this itinerary calls for quite a bit of walking. Boston does have a Metro, but it didn't always connect the places we needed to go. In many cases, the Metro was only a few minutes faster than walking, so we chose to walk.
Our NYC toddler is a great walker, so this worked out for us. If you are traveling with a child who can't walk that far, be sure to bring a baby carrier or stroller. Strollers are generally fine around most of Boston, but they won't fare as well on the cobble stones of Beacon Hill or the narrow sidewalks of Newberry Street. Instead, we highly recommend baby wearing for trips like this.
Without any further ado, let's get this itinerary!
Arrival Day – Back Bay
We arrived in Boston by train around 1 PM and then made a quick 10-minute walk to our hotel (The Langham, Downtown Boston.) We checked in and our room was ready. They immediately sent housekeeping to our room to make up the sofa bed, so our toddler was napping shortly before 2 PM.
With a good 2-hour nap under our belt, we set off for Back Bay. We took the Green Line Metro (C or D lines work) to Hynes Convention Center Station, ready to walk Newbury Street from west to east.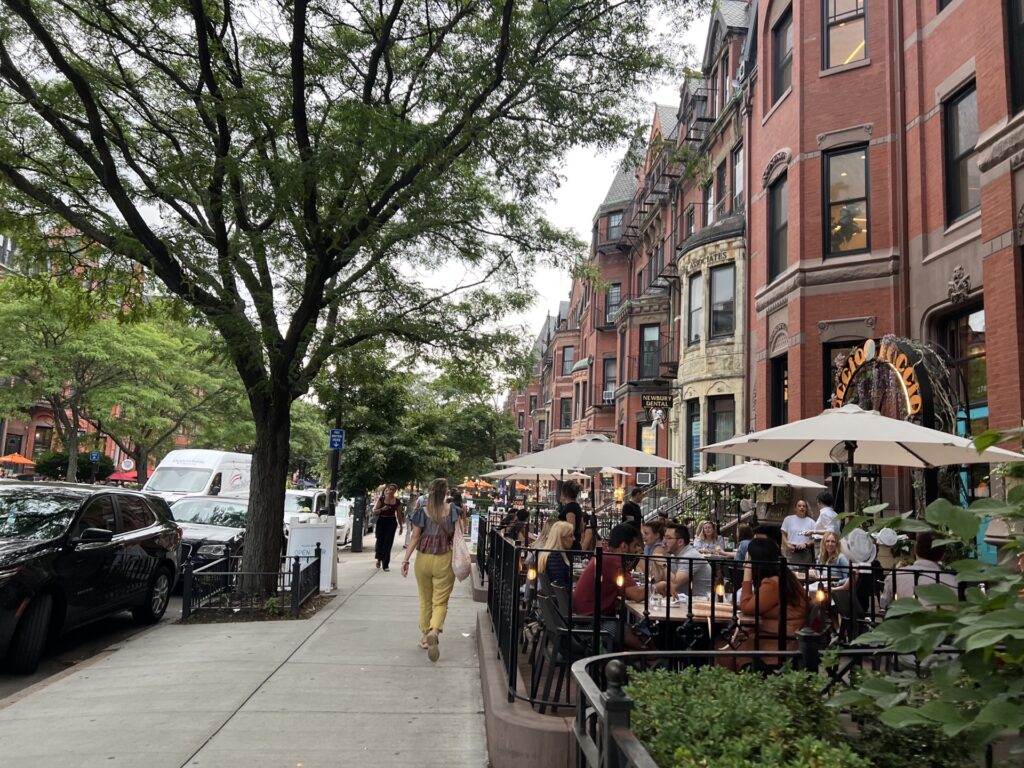 Back Bay is a high-end shopping and dining district with several residential streets and office buildings mixed in. It's a charming neighborhood with rows of brownstone homes, which give the area it's distinctive look.
The heart of Back Bay is Newbury Street between Massachusetts Ave and Public Garden. The west end has more affordable shopping and the highest concentration of restaurants and the east end has the designer shopping.
I absolutely loved Back Bay. Unfortunately, our toddler was being a bit of a terror that day. (What is it about travel days that just turns children into gremlins?) We didn't get to spend nearly as much time here as I would have liked, so it will definitely be on my itinerary next time we visit.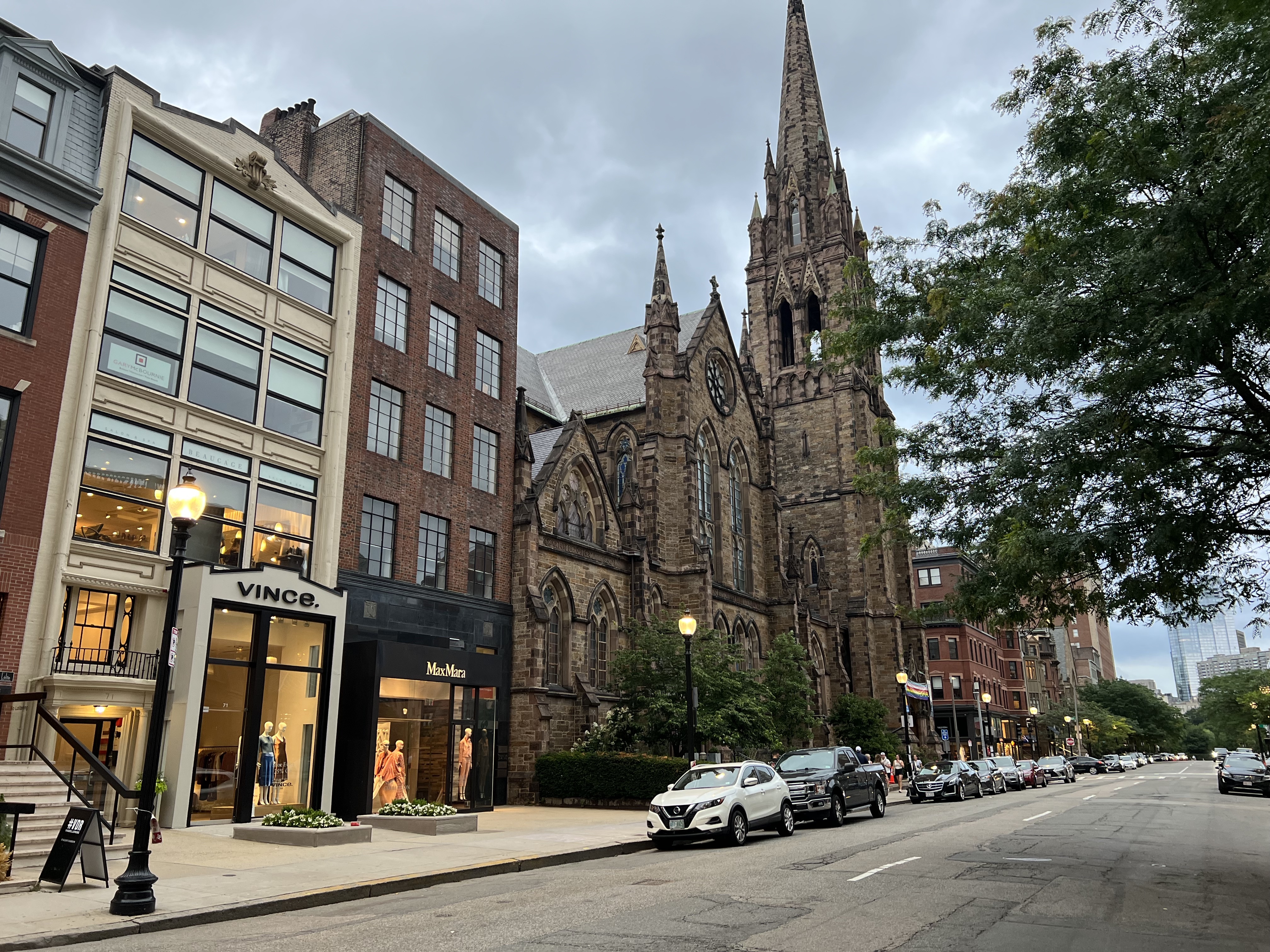 Things to see & do in Back Bay
Newbury Comics: Their comic collection actually leaves much to be desired, but they have some great apparel, toys and gift-y items.
Trident Booksellers & Cafe: Lovely bookstore, but I don't recommend eating here when there are countless better options just down the street.
Boston Public Library: This historical public library is free and open to the public. It's a beautiful building that's worth visiting even without a library card.
Emack & Bolio's: Yes, this is a chain, but it originated not far away in Brookline, MA so it still feels a bit local. It's also delicious.
Dirty Water Dough Company: Easy dinner option with outdoor seating and clever pizza combinations (including a vegan option).
Buttermilk & Bourbon: Higher end dining option for southern food and seafood.
Clarendon Street Playground: If you have kids, this is a good detour.
Copley Square & Trinity Church: This entire area was under construction in summer 2023, but it's worth noting for a future visit. Old South Church is also over here and very pretty.
Commonwealth Ave Mall: If you're making a loop through Back Bay, walk one direction down Newbury Street and the other down the mall. This walk would be extra pretty in the fall.
Charles River Esplanade: This narrow park along the water has paved paths for running or walking, a playground, kayaking in the lagoon, and more. Great views, too.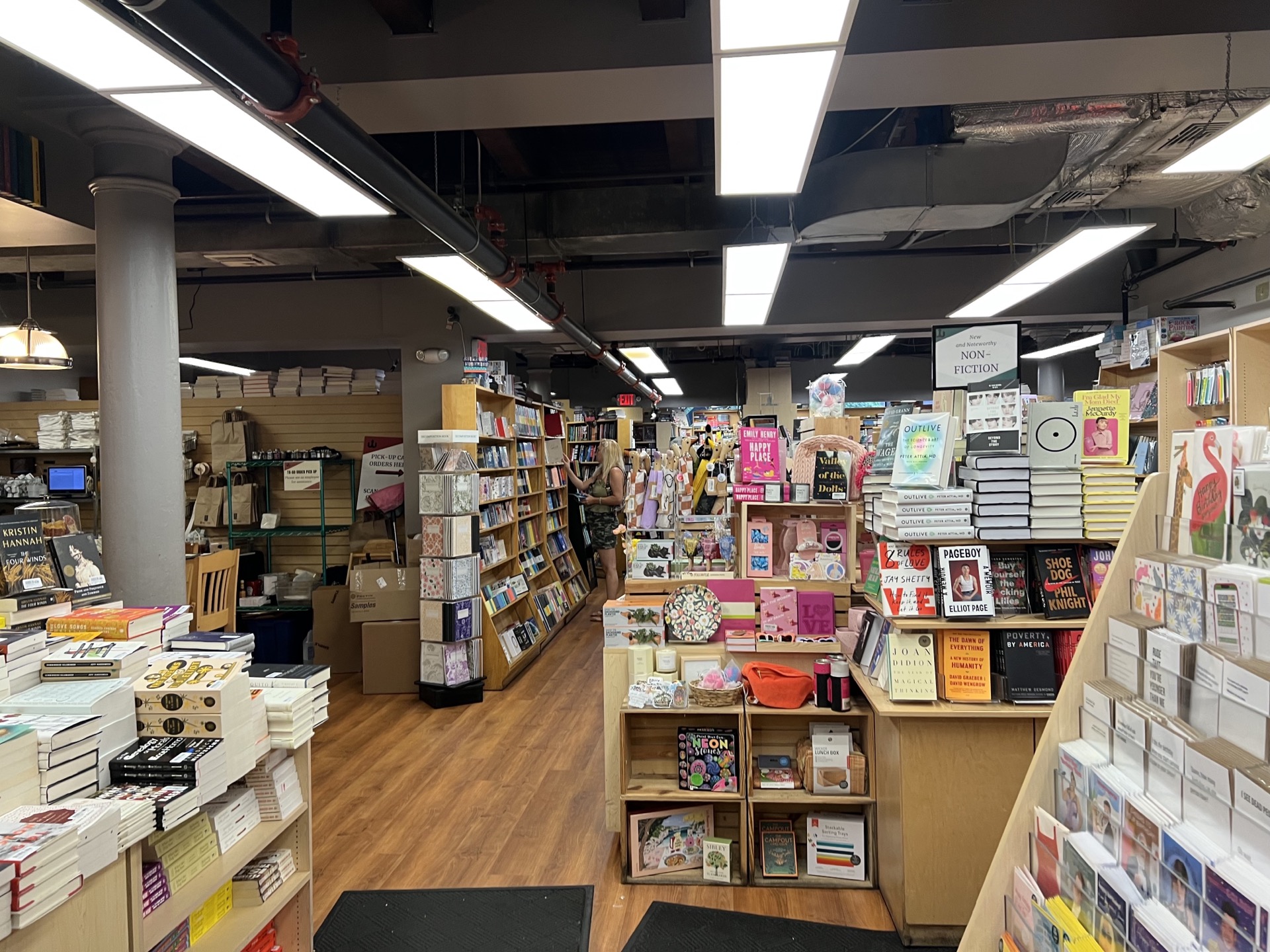 Newbury Street ends at Public Garden, which borders Boston Common. Though not actually a part of Back Bay, these parks are a great place to relax before or after a stroll down Newbury Street. We walked through both on our way back to our hotel.
Day 1: Beacon Hill & Fenway
If you had one day in Boston, I would follow this itinerary to a T (plus maybe add a few things during the time we spent napping.) We strolled through the cutest neighborhood in town, explored a waterfront park, and then spent the evening at one of the most beloved baseball stadiums in the MLB.
Here's how we spent our first full day in Boston.
Coffee & Breakfast at Tatte
Tatte (pronounced like "latte") is a bakery and coffee shop chain in Massachusetts and Washington, DC. There are many locations in Boston, including in Beacon Hill. We personally went to the location closer to our hotel before heading to Beacon Hill, but you could do it either way.
What I love about Tatte is that you can just stop in for a quick coffee and pastry to go, or you can order a full restaurant-quality meal to eat there. It was the perfect place to enjoy a delicious breakfast without spending quite as much time as we would at a table-service restaurant.
The food was incredible. I had the most delicious halloumi breakfast sandwich, Kenny had the sweet french toast, and our toddler got the pancakes with the toppings on the side. The pancake order came with three giant pancakes, so we took two to our hotel and had breakfast for the next two days.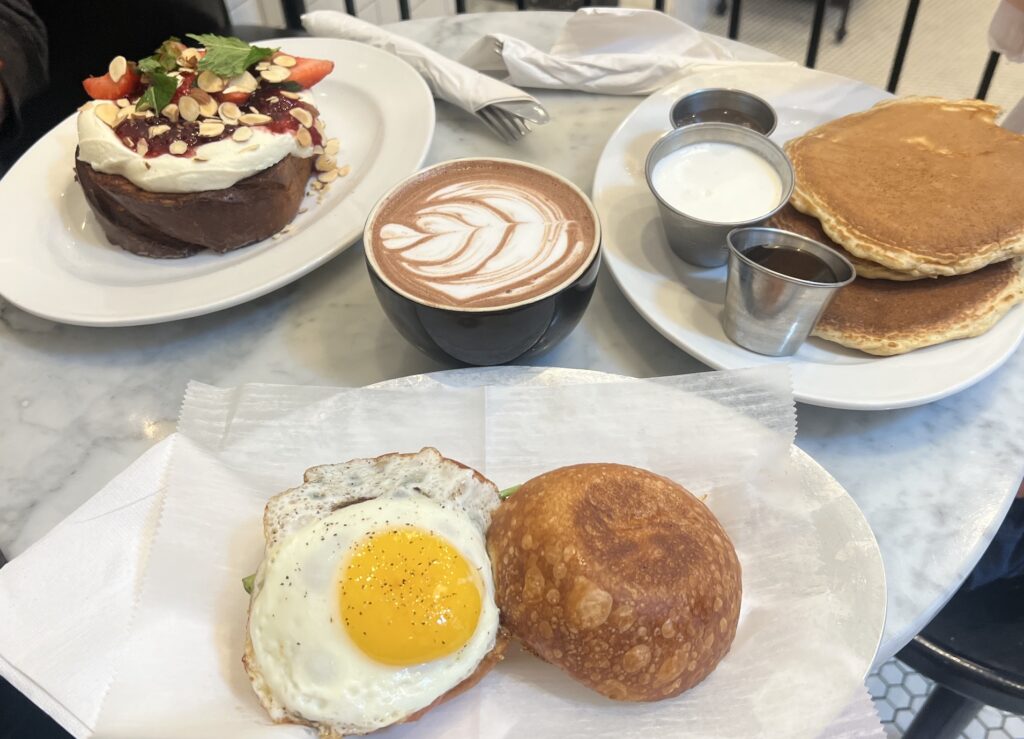 A Walk Through Beacon Hill
We walked from Downtown to Beacon Hill via Beacon Street to Joy Street to Mt. Vernon Street and on over to Charles Street. Taking a winding path through Beacon Hill is highly recommended.
I said Back Bay was charming, but Beacon Hill is somehow even cuter. Beacon Hill is exactly what I pictured Boston to be and it was perfect in every way. (It reminded me a lot of Gold Coast in Chicago, if you've been there.)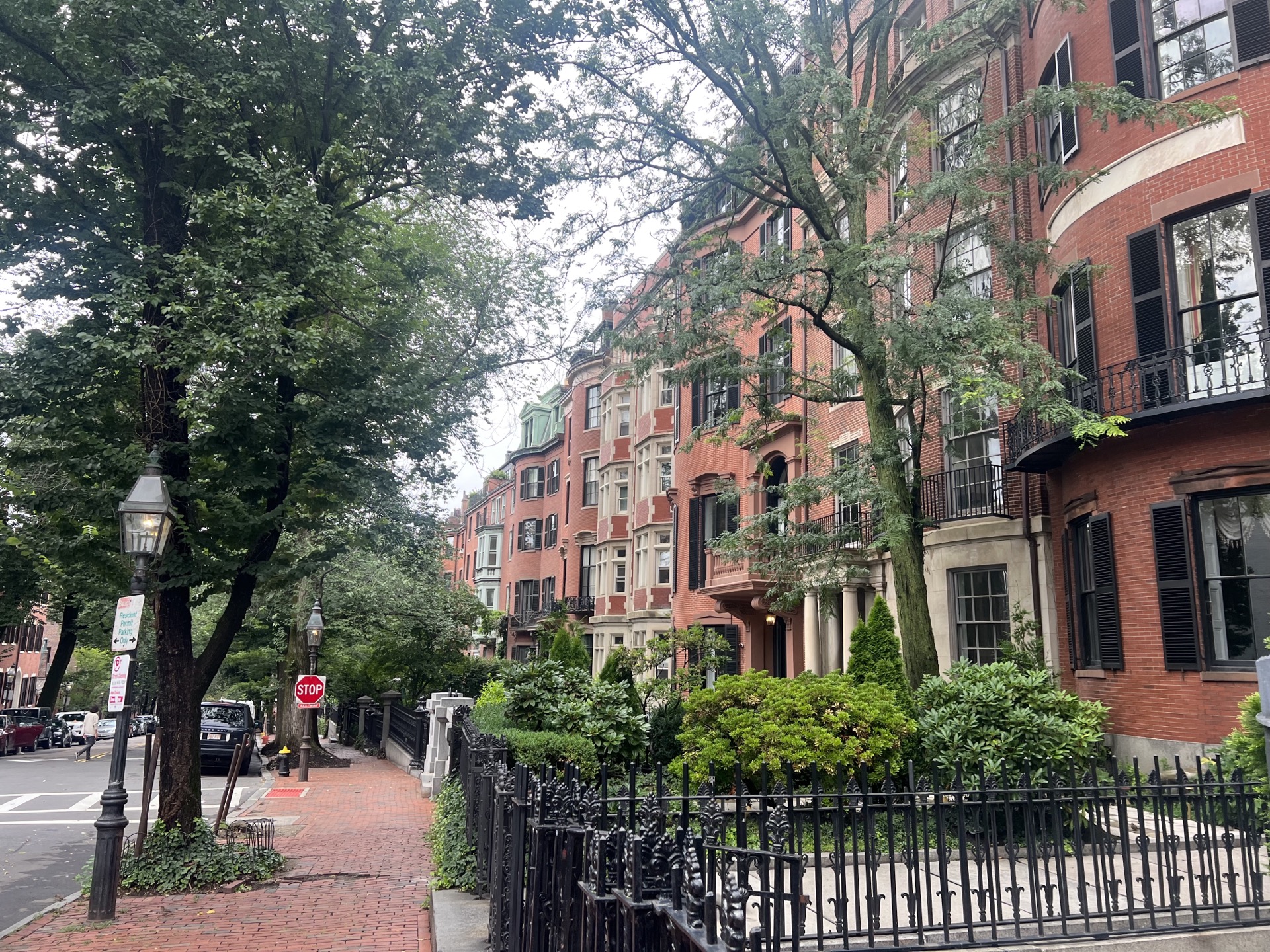 The neighborhood is one of the oldest in Boston and is largely residential. The streets (some of which are cobble stone) are windy and hilly, lined with federal style row houses and street lights that glow with real flames. The main shopping street — Charles Street — runs along the west side of the neighborhood and has a lovely collection of local shops and stores that feel so quintessentially New England.
Here are my favorite spots in Beacon Hill:
Beacon Hill Cafe & Books: This book shop is great for people of all ages, but the kids section on the top floor is absolute perfection. There's a little kid-sized door, a train that runs around the rooms, and lots of little chairs for your little reader. The cafe looks incredible, but reservations book up quickly, so we didn't get the chance to try it.
Gus & Ruby Letterpress: I love a card shop, and this one is perfect. They have cards, but also a great selection of little gifts, party supplies, colorful pens, etc.
Whitney + Winston: If you have little ones in your life, you have to stop here. They have the most adorable clothes (pricey, though) and unique toys (my toddler was in love with the wooden barista set).
East Coast Ivy Boutique: Don't worry, adults have cute boutiques on Charles Street, too. The only thing people love more than the curated style is the kind salespeople.
Mt. Vernon Street: This street is one of the most lovely in Beacon Hill, but honestly it's worth strolling around all the residential streets over here. There are two other popular streets (Acorn Street and Louisburg Square), that are very beautiful but have signs that they're private to residents. If you choose to venture down those streets, please be respectful.
Blank Street Coffee: This is a chain coffee shop that's all over, but I'll take it over Starbucks any day. They have the best seasonal specialty drinks that always set the mood.
Charles River Esplanade
There's a pedestrian bridge that connects Beacon Hill to the Charles River Esplanade. The esplanade is a large park along the banks of the Charles River that is cut in half by a narrow lagoon.
There are paved pathways around the entire park, so it's popular with runners, bikers, and stroller parents. You can watch the boats sail past on the river side of the park or kayakers in the lagoon on the land side. There's a playground and baseball diamond on the north end of the park, a small outdoor amphitheater, seasonal beer garden, and a splattering of monuments. The Charles River Esplanade also has several public bathrooms, which were clean in our experience.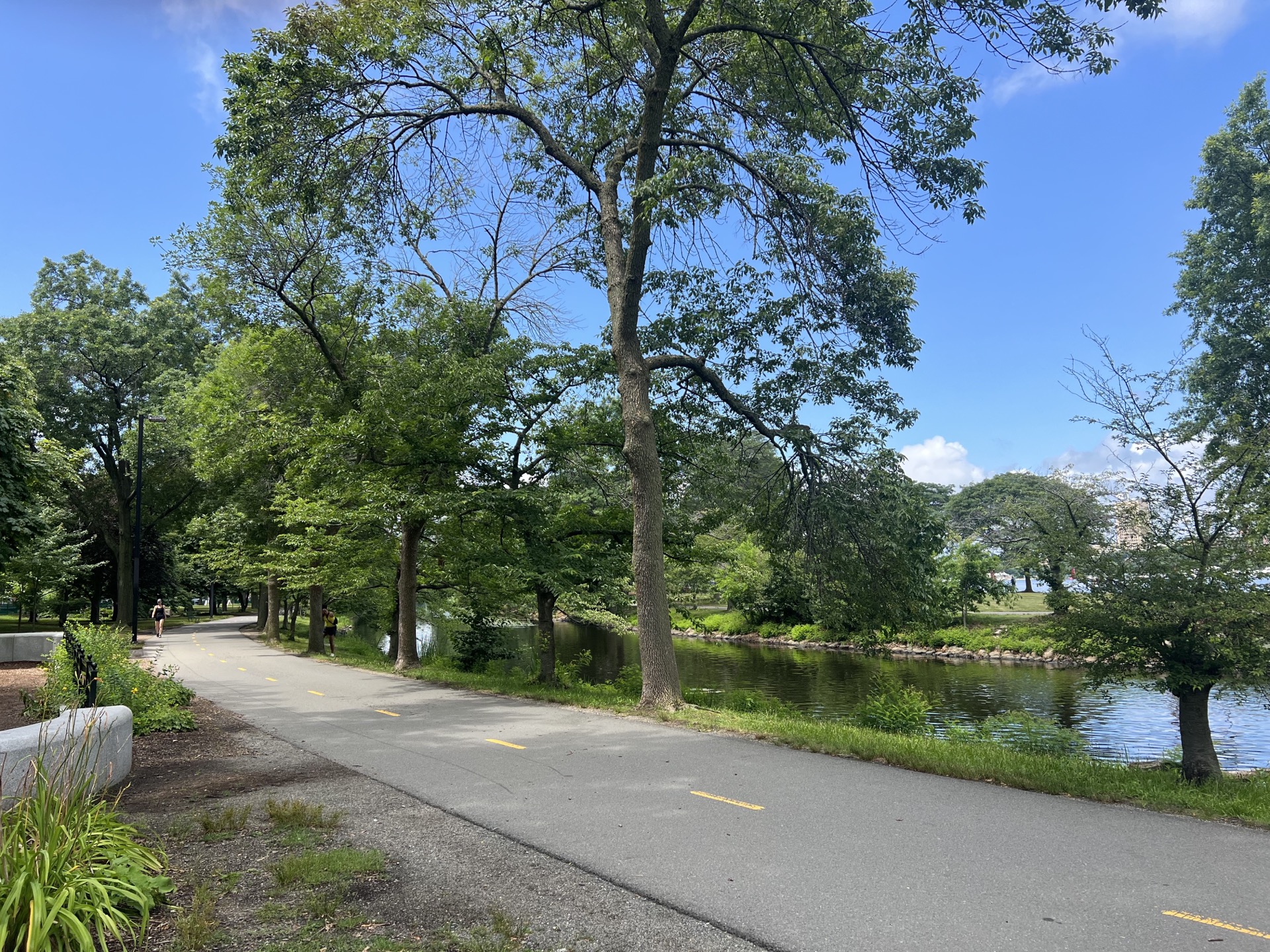 We came to the esplanade for the playground. After a morning shopping in Beacon Hill, our toddler was due for some running around. The playground over here was nice, but it's definitely targeted to bigger kids. (My kid is almost 3 and needed help with most things.) There was one big slide, but it was broken (it had a small hole on the side and was blocked off with a cone). The only way to get to the top of the slide was by climbing a web of nets, which wasn't easy. There was also several spinning apparatus and a zip line.
The Charles River Esplanade was nice in the summer, but it looks like it would be extra lovely in the fall. Honestly, all of Boston looks like it would be lovely in the fall. (Okay, but also aren't all places better in the fall? I digress.)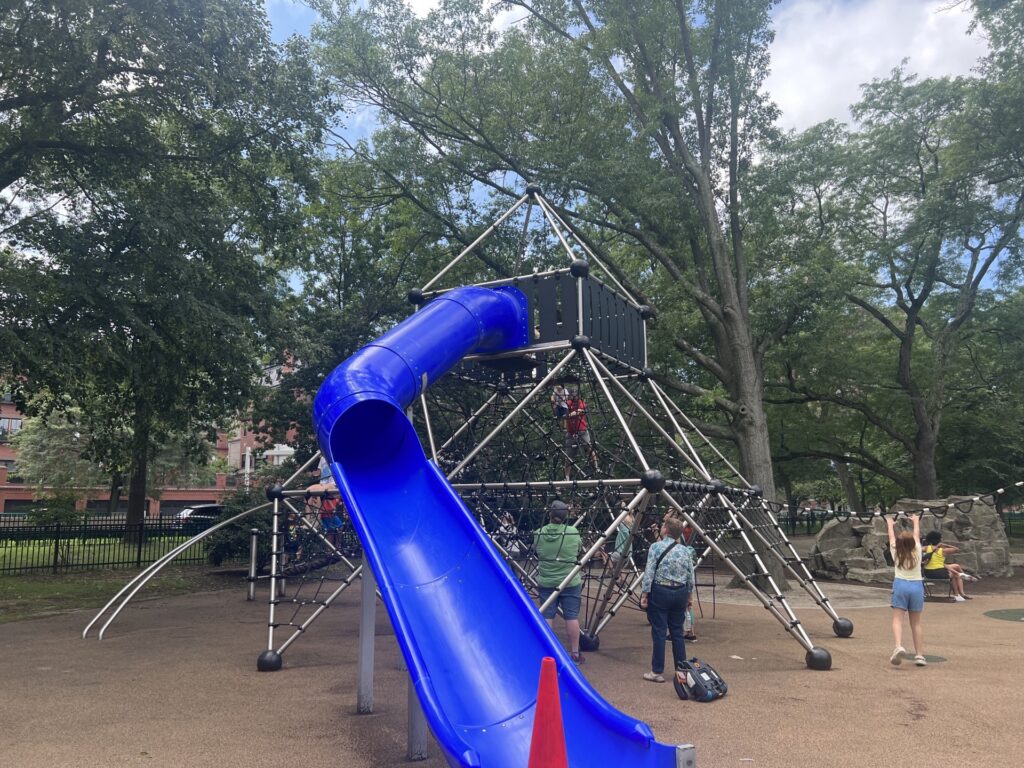 Lunch at Clover Food Lab
It was noon by the time we left the park and we were starving. We walked back toward downtown to get lunch because it was on the way to our hotel. There are lots of good options around here, but we chose Clover Food Lab.
Clover Food Lab is a quick-service vegetarian restaurant with several locations in Boston. It's a good pick for vegetarians and/or coffee snobs. They have seasonal plant-based sandwiches, bowls and plates that are a nice and healthy alternative to the Impossible burger, salad or pasta option that typically checks the vegetarian box at most restaurants. Plus they have a curated coffee menu brewed primarily via pourover.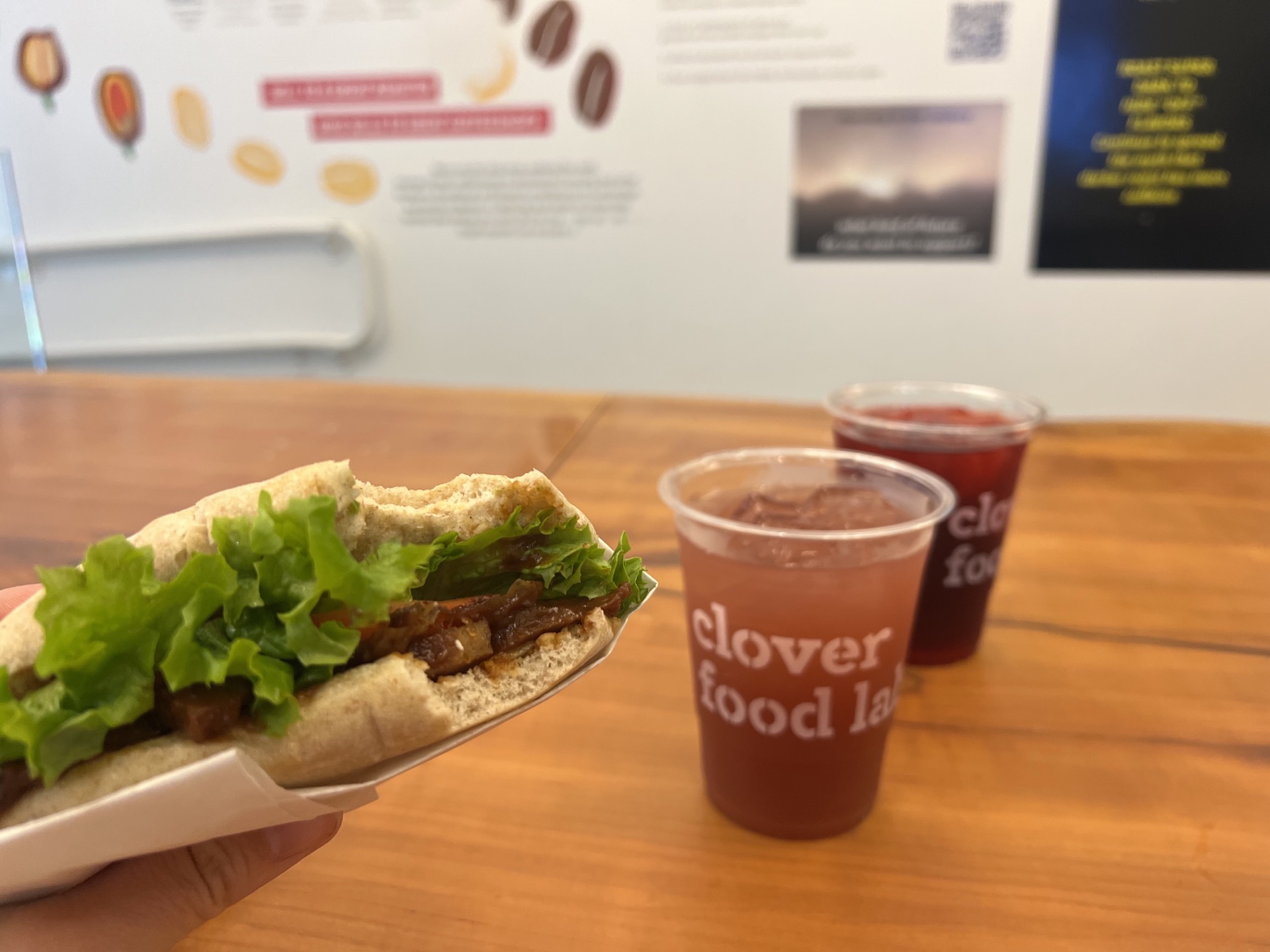 We walked from the Charles River Esplanade to the Clover Food Lab on School Street (near the Old Corner Bookstore on the Freedom Trail). It wasn't a short walk walk (0.9 miles), but Google Maps said taking the Metro would only save us one minute. We were fine to enjoy the walk, most of which was through Public Garden and Boston Common.
We ordered the BBQ seitan sandwich, Impossible meatball sub and the peanut better/banana/honey sandwich for our kiddo. It was a bit expensive for what it was, but everything tasted delicious. We also got a blueberry lemonade and hibiscus tea, which were incredibly refreshing in the summer heat.
Nap Break
Our toddler can make it all day without a nap, but it's not ideal. We only like to skip naps when we have to (which we'd end up doing the next day), and choose to take a nap break at the hotel today. I'd be lying if I said I didn't also appreciate the 2-hour AC break in the middle of a long day.
My husband put our kid down for the nap and then went for a run in the hotel fitness center. I laid on the floor watching cooking shows on my phone and falling in and out of sleep. Same, same.
Red Sox Game at Fenway Park
We knew we wanted to plan our trip to Boston around a Red Sox game. As luck would have it, the New York Mets were playing at Fenway during one of the free weekends we had this summer. (We line in Queens and are Mets fans.) We happily planned our Boston trip around that.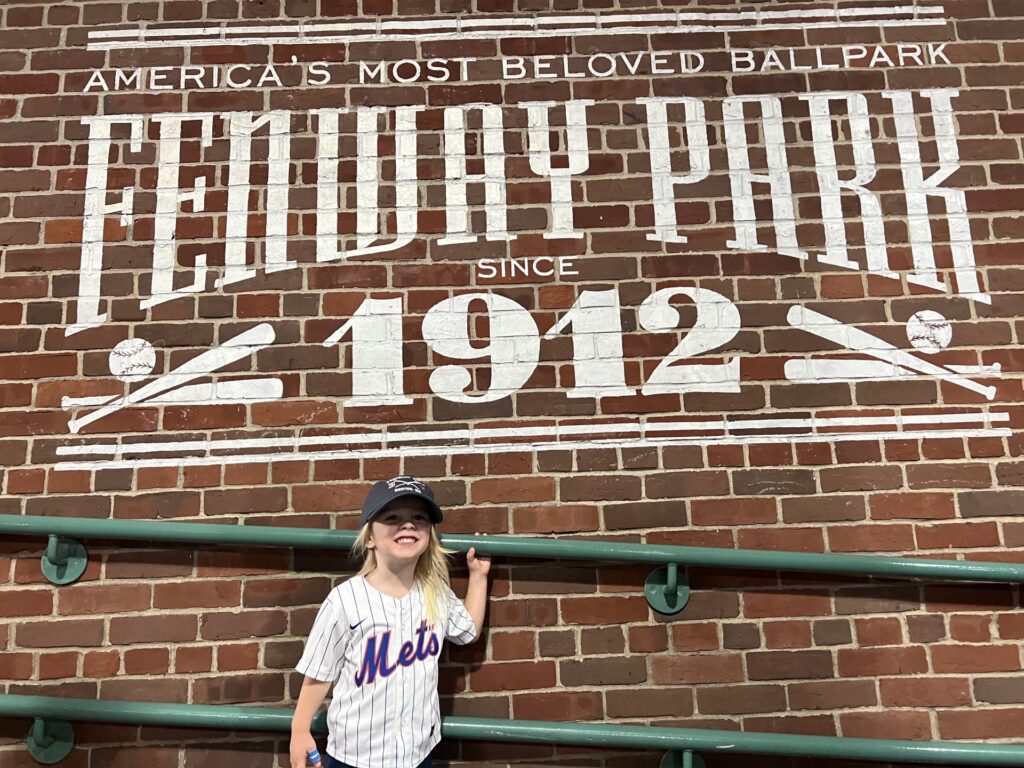 The game was originally scheduled for 4 PM (pretty much perfect for our toddler who naps 1-3), but due to a rain delay it was pushed back to 7 PM (much less perfect for a toddler who goes to bed at 7.) We briefly considered skipping it, but decided it was worth a shot. We figured there was probably enough ice cream and popcorn to keep our kid distracted from the late bedtime.
It turned out okay and the game was absolutely incredible. As former Chicago locals who spent a lot of time at Wrigley Field, we were thrilled to get back to a real historical baseball field. The park was great and everyone was surprisingly nice to us — from the Red Sox dads behind us to the Mets fan next to us to the Fenway staff member who averted a near total meltdown by replacing our spilled popcorn.
We spent way too much money on good seats, but it was worth it. Our toddler could actually see the ball and the game being played, which kept them interested longer. Plus we had seats that were the front corner of a section, so our toddler could be trusted to sit or stand in their seat space without us worrying about them bothering fans next to or in front of them. It was truly a magical evening of baseball.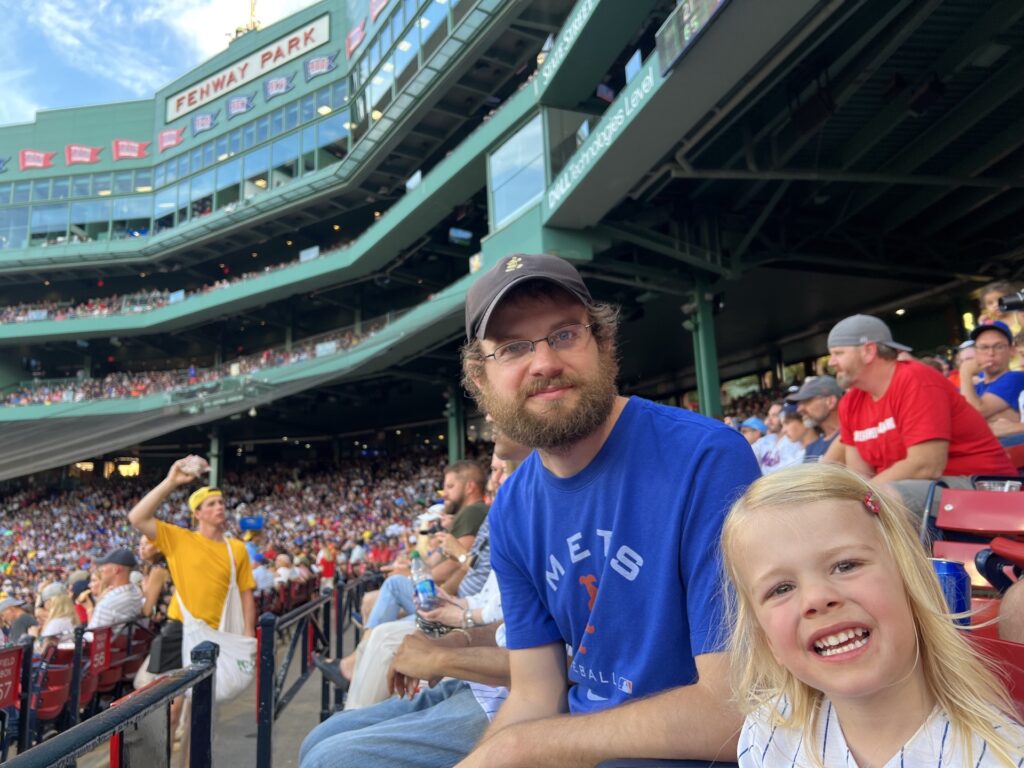 I have a more detailed guide to Fenway Park coming soon, but there are two things I will say right now.
2 things to know about Fenway
Get there early — like early, early. The gates open 90 minutes before the game, but crowds get there much sooner. We left at 4 PM for a 7 PM game and we had very little down time. After navigating the crowds on the Metro and at the stadium, taking a walk through the ballpark, and getting food, we were barely at our seats by game time.
The Metro after the game is awful. The Green Line that stops near Fenway at Kenmore is not a proper metro train. It's a tram with 2 cars. That is not enough for a stadium full of people. Plus, they didn't seem to increase service to account for the crowds. It took forever, it was packed, and it was extremely unpleasant. (That's coming from people who frequently crammed onto Red Line trains after Cubs games. It's way worse than that.) Depending on how you feel about that, you will want to skip it entirely, leave before the game ends, or just be mentally prepared for it to suck.
Day 2 — The Freedom Trail
The Freedom Trail is a literal brick trail that leads past a series of historical sites around Boston. In full, the Freedom Trail is about 2.5 miles long and passes 16 sites. Most of the Freedom Trail is in the Downtown and North End neighborhoods, with the final few stops across the river in Charlestown.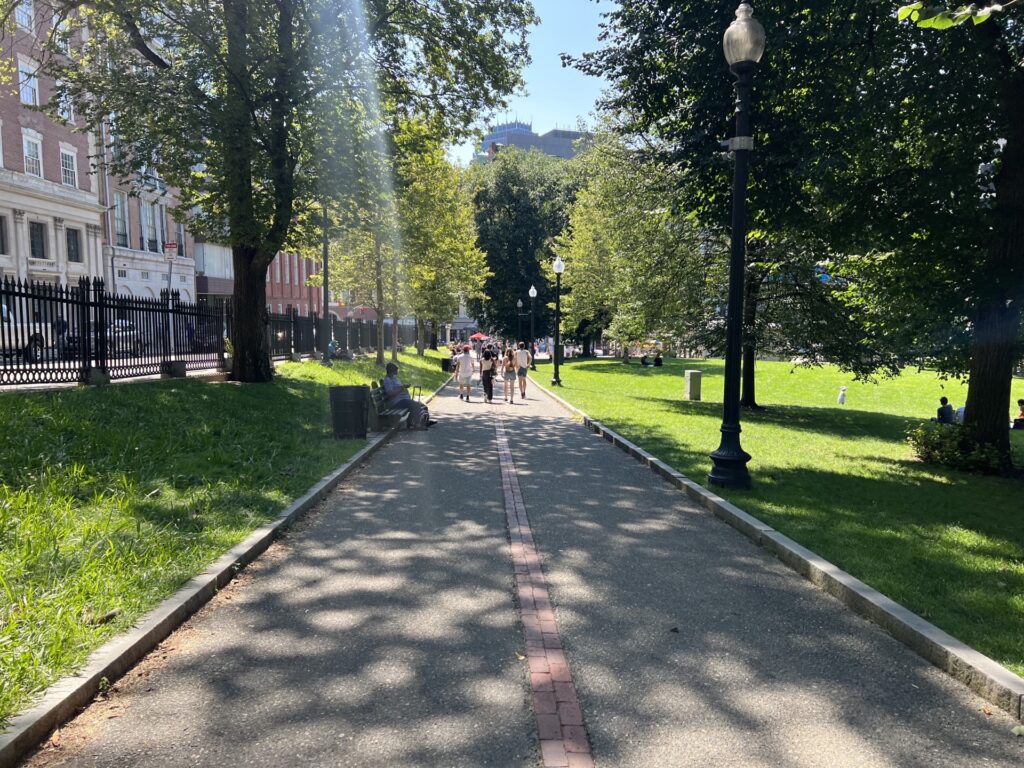 If you want to visit all of the sites on the trail, go inside the sites that allow it, stop for meals, etc, the Freedom Trail will take an entire day. And even still, you might be hard-pressed to do it all and still make it to the final attraction (Bunker Hill Monument) before the inside portion closes at 4:30 PM. Doing the entire Freedom Trail in a single day is pretty exhausting.
Alternatively, we recommend a shortened version of the Freedom Trail. You can spend a half day on the Freedom Trail and finish up at Faneuil Hall for lunch. You could either spend the rest of the day there and nearby Christopher Columbus Waterfront Park, or tack on a few more stops and finish at Old North Church. That puts you in the North End for dinner time.
If you take the shortened route that ends at either Faneuil Hall or Old North Church, you have more flexibility in your schedule to add in some unofficial Freedom Trail stops. The Sam Adams Taproom, Mike's Pastry or even just a leisurely lunch somewhere are all great options that you might not otherwise have time for.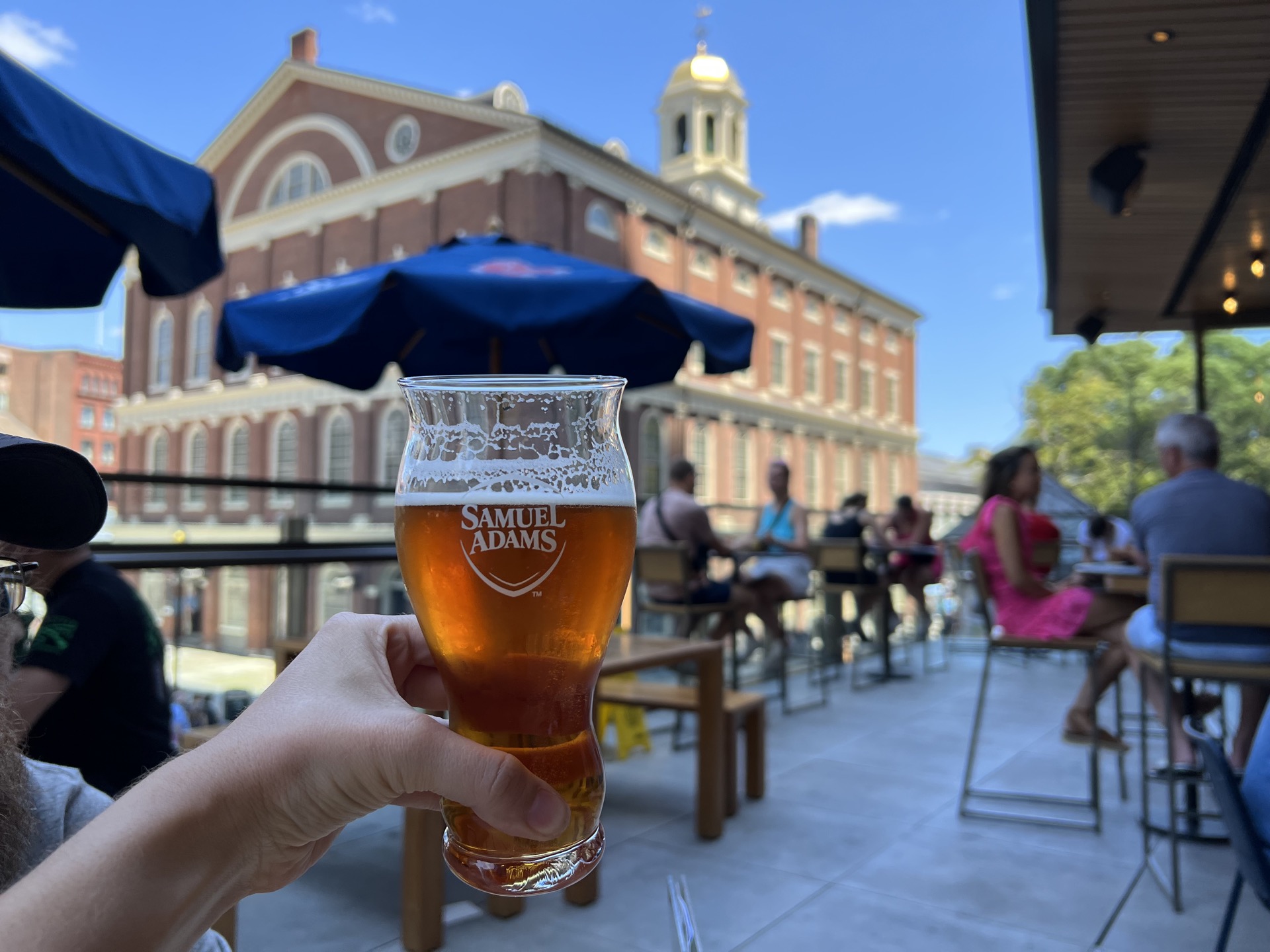 I wouldn't feel bad missing the final few stops. The walk there is long and boring, and I would argue that these final two sites feel disjointed from the rest of the trail. If you do really want to see these final sites, I would do it on a different day. Not only will you have more time and energy to enjoy them (the Naval Yard alone can fill an entire morning), but you also won't have to rush through everything else to get there.
But hindsight is 20/20. Here's how we actually spent a full day on the Freedom Trail.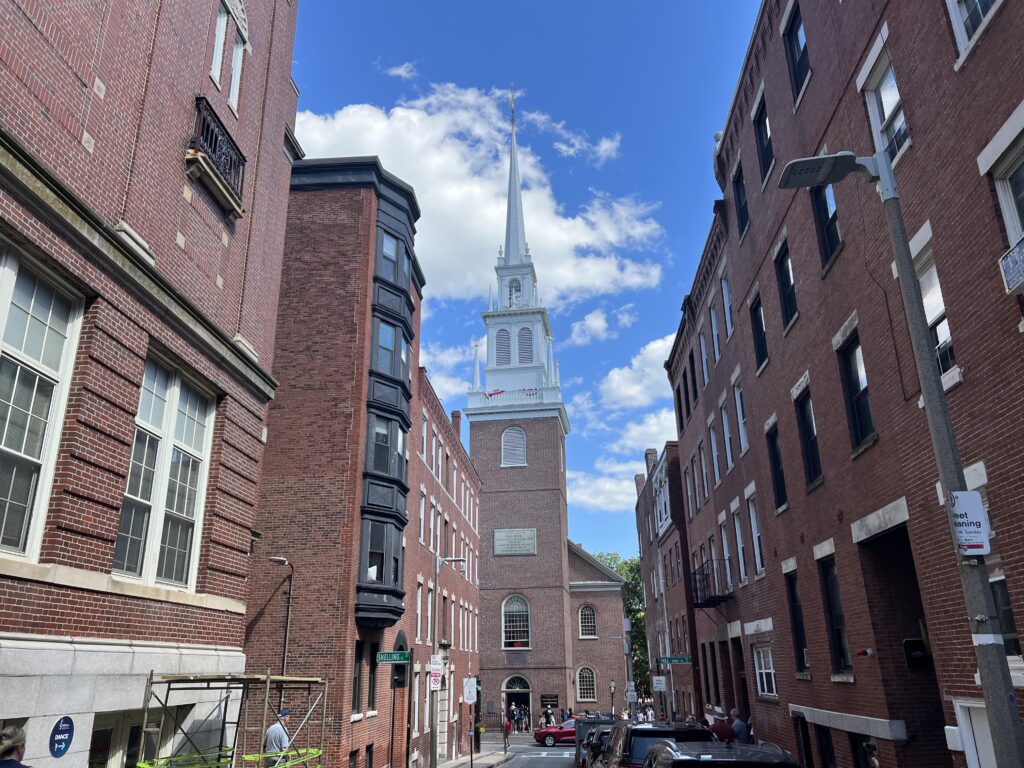 Freedom Trail (and more!) Walking Route & Timeline
Note: The (*) indicates stops that were along the trail, but not technically part of it.
Boston Common (10:15 AM): We spent a half hour here, which included a stop at the playground and the small visitor center.
Massachusetts State House (10:45 AM): Tours are available, but we did not go inside.
Park Street Church (10:50 AM): We took a quick lap through the church, which has seen one too many restorations to be interesting.
Granary Burying Ground (10:55 AM): We were offered a complimentary map which pointed us to the main grave sites. The large tour groups made this stop pretty awful.
King's Chapel (11:05 AM): You can usually go inside this church, but we caught it on a Sunday morning when it was closed to the public for service.
Boston Latin School & Ben Franklin Statue (11:15 AM): The school is really just a mosaic monument and the statue is a statue. Quick and uneventful stop.
Old Corner Bookstore (11:20 AM): The building still stands, but it's no longer a bookstore. In fact, it's a Chipotle restaurant. Another quick stop.
Lunch break* (11:25 AM): We ate at said Chipotle and it was the worst Chipotle I've ever been to in my entire life. Just atrocious service, dirty store, and poorly made food. 0 out 10 recommend. Eat anywhere else in Boston.
Old South Meeting House (12 PM): We bought a combo ticket to go inside this building and the next. The Old South Meeting House is one large room with a small museum exhibit along one side. They did have good, clean bathrooms downstairs.
Old State House (12:15 PM): We used our joint ticket to go inside here, too. The museum portion was much bigger and well done, plus there was a gift shop (free to enter) and more clean bathrooms.
Boston Massacre Site (12:30 PM): This is just a marker on the ground. Quick visit.
Sam Adams Tap Room* (12:35 PM): We took a much needed break and enjoyed a beer (and a root beer) on the rooftop patio. The taproom is huge and the location across from Faneuil Hall is perfect. 10/10 recommend adding this to your route.
Faneuil Hall (1:15 PM): This stop could take 5 minutes or 5 hours. There is Faneuil Hall Visitor Center which is mostly souvenir shops and then there is Faneuil Hall Marketplace which is massive and has a variety of restaurants and stores in and around it. We breezed through most of this, but would come back again.
Paul Revere House (1:45 PM): I would have liked to go inside here, but the line was too long we were too hot and tired to wait in it. You can't see much from the outside, so this was quick.
Mike's Pastry* (1:50 PM): This is a North End institution, so I was happy to wait the 20 minutes in line for a cannoli and slice of Boston creme pie. We ate our treats in the park by the Paul Revere Statue, which seemed to be the unofficial Mike's Pastry seating area.
Old North Church (2:40 PM): While Kenny got us some afternoon iced coffee, I took our toddler into the church. It was a $5 adult ticket, and kids 5 and under were free. The church itself was just okay, but they had a scavenger hunt for kids which mine loved. They got a sticker at the end for finishing it, and it was probably the highlight of the trip for them.
Copp's Hill Burying Ground (3:05 PM): We didn't recognize any of the names of people buried here. We were so hot and tired by now that we just poked our heads in and carried on.
USS Constitution (3:30 PM): We got to the Charlestown Naval Yard at 3:30 and immediately cooled off in the visitor center for a bit. The ship itself is free and was really cool, but we were just over it by now. You can also board the USS Cassin Young for free, which I popped into quickly while Kenny & Zoe relaxed in the shade. There's also a museum, which we didn't have time for.
Bunker Hill Monument (4:40 PM): It was a hike to get here and a hike to get back to the train after and it wasn't worth it. We didn't want to go to the top, but it was closed even if we did.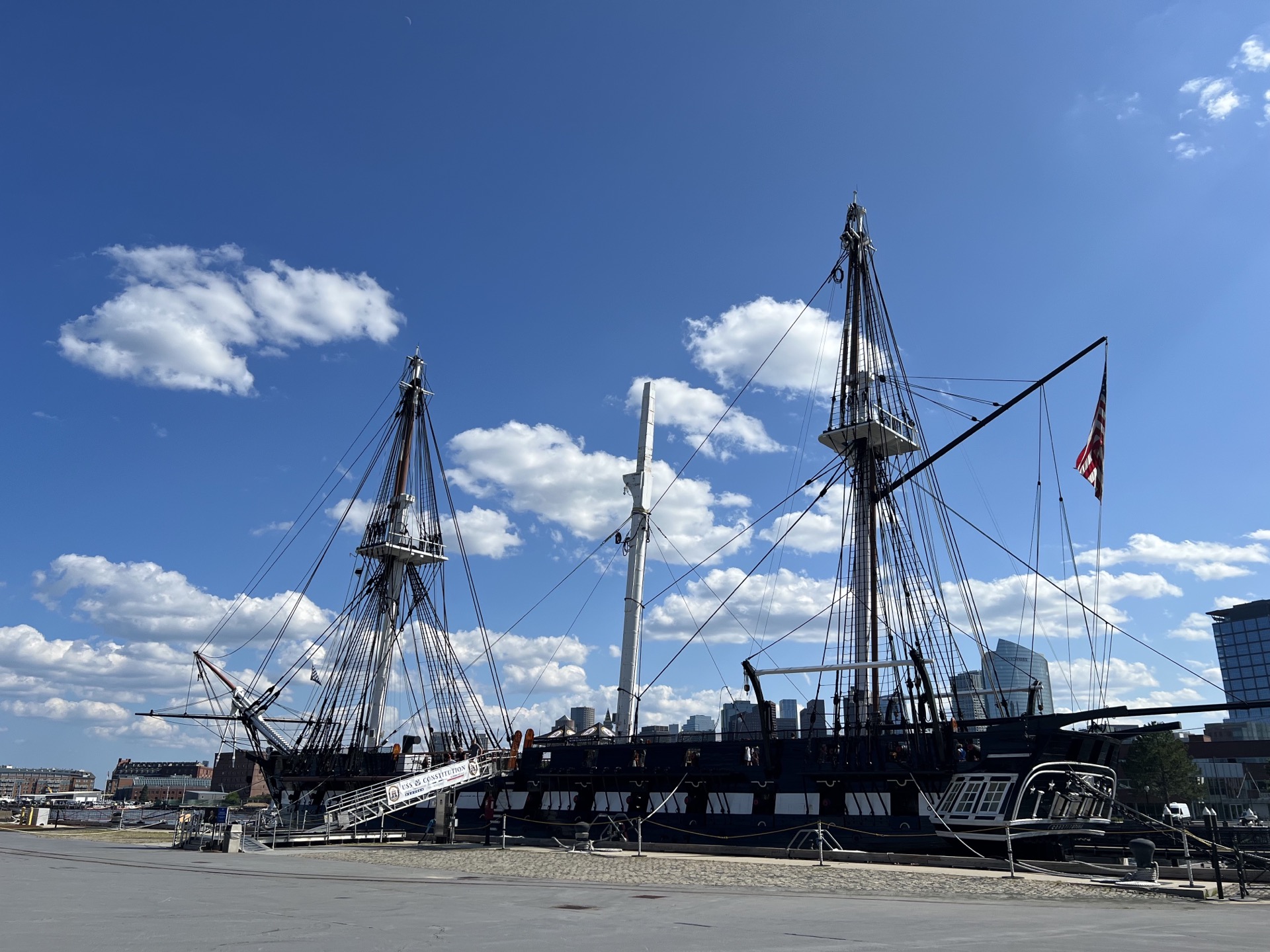 After Bunker Hill, we walked 0.6 miles to the Orange Line stop at Community College Station. We took the train downtown and went back to our hotel. Instead of going out for dinner, we decided to go for a swim at the hotel pool and order room service.
If I sounded grumpy at the end, it's because I was. It was just a really hot, really long day. The final stops just were not worth it for us. Looking back, we wish we would have just called it early and had dinner in the North End after the church.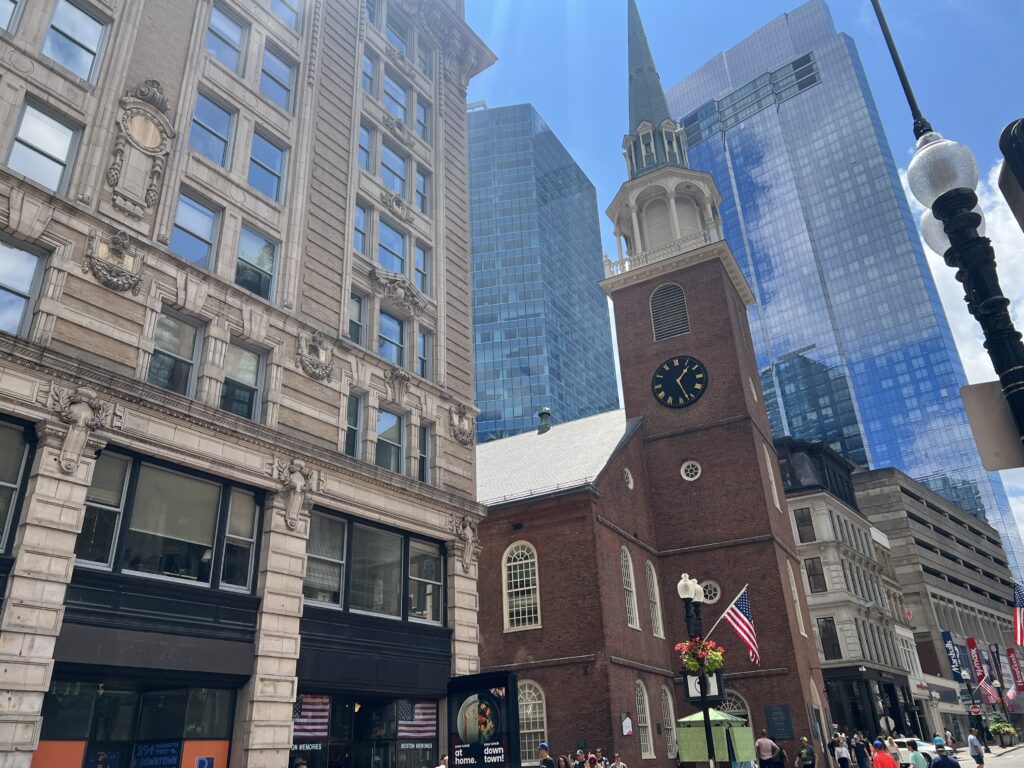 Departure Day
Our train back to New York City departed South Station at 9:15 AM. We had a quick breakfast in our room and then walked to the station.
The Northeast Regional train starts in Boston at the South Station and then makes its first stop at the Back Bay station. Even if your hotel is closer to Back Bay, I'd still recommend traveling out of the South Station. This Amtrak train is open seating, so if you board at Back Bay, you might have a hard time finding seats together on a full train.
Otherwise, the train was very pleasant. It wasn't quite as nice or as fast as the Acela, which we took too Boston, but it wasn't bad. We snagged three seats in one of the few quads on the train, and it was perfect. (Oh! Also watch out for the Quiet Car, which is the second from the rear after the Business Class car. We accidentally sat there and had to move because our toddler definitely could not maintain a "library like atmosphere.")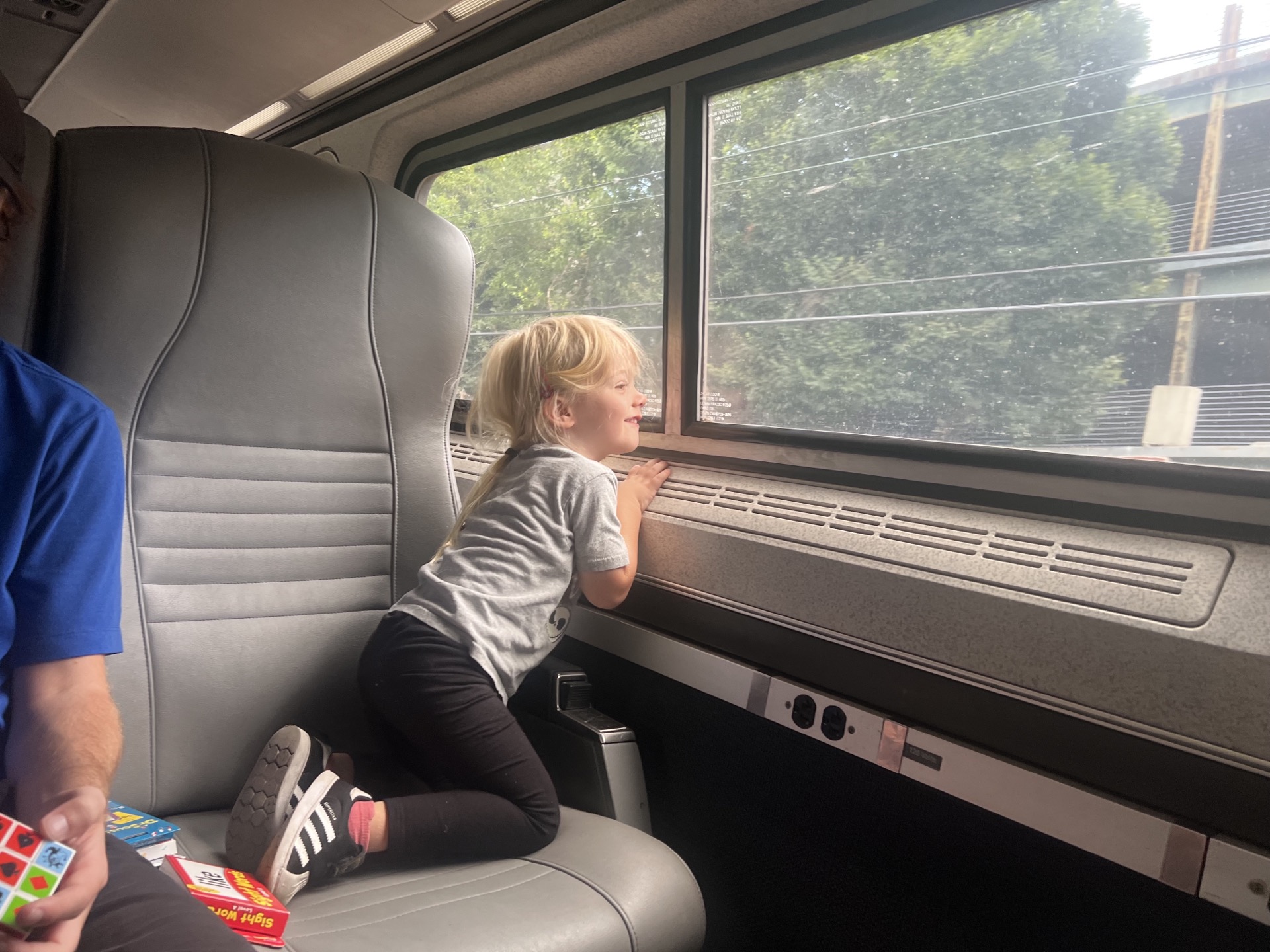 Boston Itinerary Walking Map
All of the walking routes in the itinerary above have been plotted out on the map below.
Before you dive in, here are a few quick tips for using this map.
To view the map in Google Maps, click the expand icon on the top right corner.
Click the star icon to save the map to your Google account for later. To access the map again, open Google Maps > click the Saved tab > click Maps.
You can click the checkboxes beside each day's walking route to add or remove those items from the map. This will help you see the map for one day at a time.
Other Things to do in Boston
We easily filled 2.5 days in Boston, but left with a long list of things we still wanted to do. Here's a peak at some other things to do in Boston that we didn't cover here.
Swan Boats at Public Garden: For under $5 a person, you can take a ride around the pond at Public Garden aboard the iconic swan boats. Boats run from mid-April to early September from 10 AM to 4 or 5 PM (varies by date).
Boston Tea Party Ships & Museum: If you're in Boston for history, this is probably a must-do for you. Tickets are pricy ($38 general admission) but include a 1-hour guided and interactive group tour.
Boston Children's Museum / Museum of Science: Both of these museums are good if you have kids and/or if the weather is bad.
Eating & Drinking in the North End: The North End is Boston's Little Italy. It's filled with restaurants, bakeries and bars that are as tasty as they are historic. It's a perfect place to end up after a Freedom Trail half day.
Christopher Columbus Waterfront Park: We hardly saw the water at all during our Boston trip, and that's wild to me! This park is beautiful and really gives New England harbor vibes.
Back Bay Fens & Arnold Arboretum: If you're visiting in the spring or fall and want to spend more time outside, both of these parks look stunning.
Trillium Brewing Company: Drinking and Boston go hand in hand. If you've already checked off the Sam Adams Taproom and an Irish Pub, a brewery is next. Trillium is one of the best in Boston.
Day trip to Salem, MA: It's a quick 30 minute train ride to get from Boston to Salem. Most famously known for the Witch Trials and Hocus Pocus, this small town celebrates Halloween all year long (but mostly all of October.)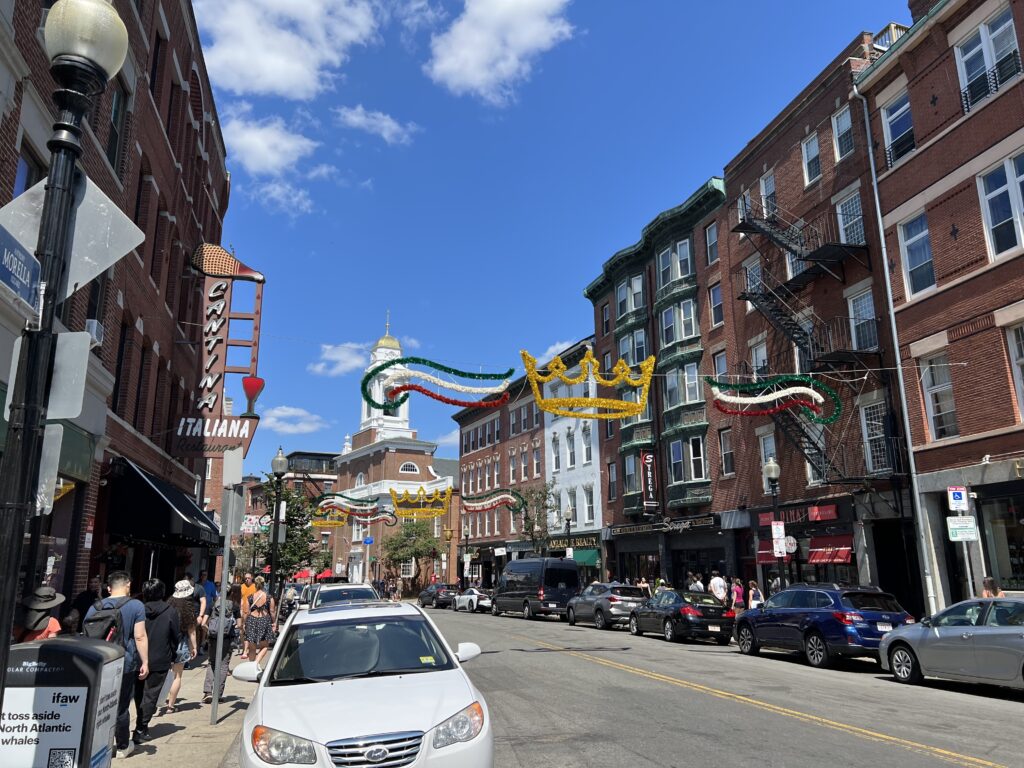 Closing Thoughts
I absolutely loved Boston. It had the conveniences of major city with the charm and walkability of a smaller New England town. (She says having been to no other New England towns). I loved exploring each of the different neighborhoods and re-learning a lot of the history. If you eat seafood, I can imagine you'd love Boston even more.
While Boston has a lot more to see and do, it's still a great weekend destination for East Coast travelers. It's easy to get to from around the region, which makes it appealing for repeat visits. We enjoyed our summer trip and going to Fenway, but I will absolutely prioritize fall for our next visit.