In this post, we'll discuss the ins and outs of flying United Airlines with a baby or toddler. Whether you've already booked a flight or you're considering United as the best option for your trip with a little one, we've got you covered with what you'll need to know to prepare for the experience. Read on to learn all about flying United Airlines with a baby!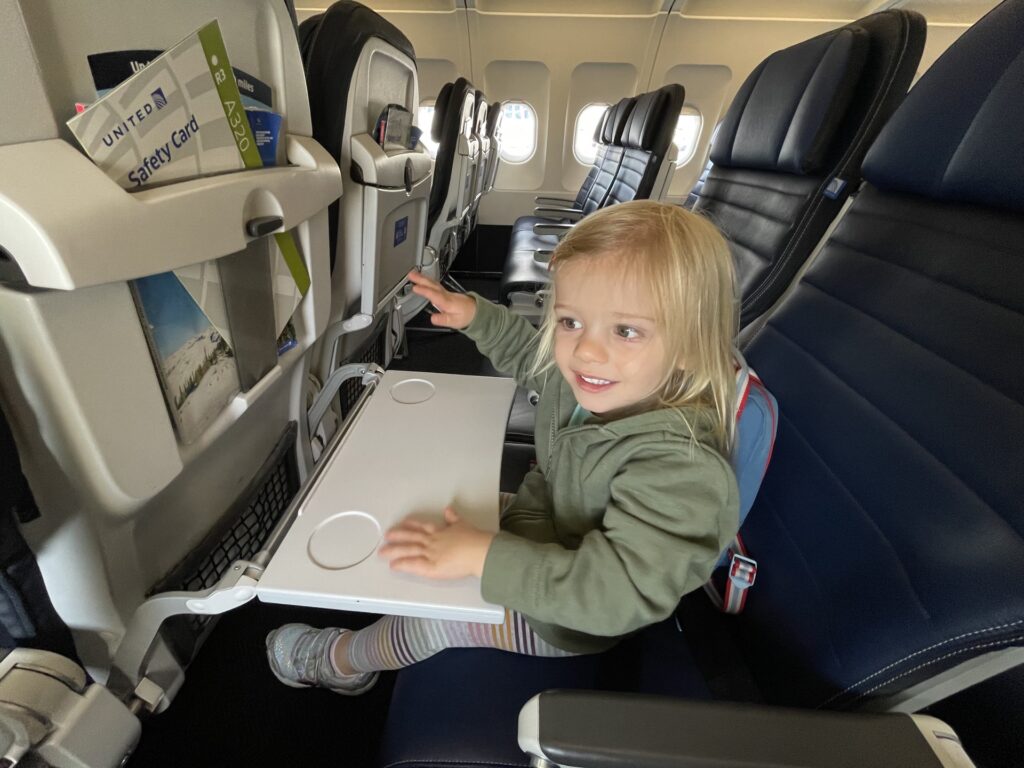 About This Post
This post is mostly concerned with infants (under 2) who either need a car seat or fly as lap infants. That said, much of what we'll have to say regarding seat selection and onboard experience will be relevant even once your little flyer can sit in their own seat unassisted. (Some information, like our discussion of onboard entertainment / tablet usage, is more relevant to older kids.)
You can find official policy from United here. You should always confirm details of policy directly with the airline. This post discusses not only those policies, but how they impact your planning and experiences.
This post contains affiliate links, which means that we may receive a commission if you make a purchase using these links. As an Amazon Associate, this site earns from qualifying purchases.
Booking United Airlines With a Baby
Well, for starters…
Can you bring a baby on United Airlines?
Yes. As long as your baby is at least 7 days old they can fly on United. United specifies, "We cannot fly infants younger than seven days old."
Can my baby sit on my lap?
A child under two years of age can fly as a lap infant on United.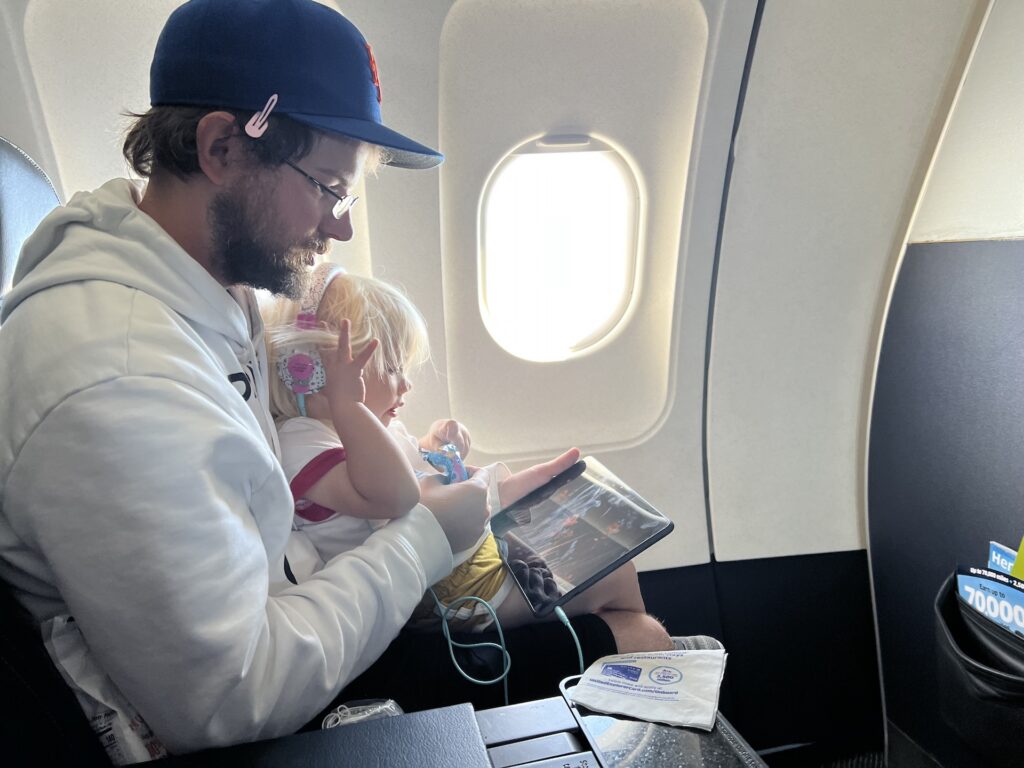 Does my baby have to sit on my lap?
No. You can buy a seat for your baby when flying United Airlines, even if the baby is under 2 years old. For safety reasons, small children should be restrained in an FAA approved safety seat (usually a car seat) when in their own seat. We discuss which seats may not allow car seats later in this post.
Do babies fly free on United?
Babies under 2 years old who fly on an adult's lap (i.e. without their own seat) fly for free within the United States on United. On flights between the US, Canada, and Mexico, you have to pay taxes only. On other international flights, there is a partial fare that varies by destination.
Babies of any age who have their own seat will typically pay the full regular fare. Some destinations may have discounts.
How do I book a lap infant or a seat for my baby on United?
United makes it very easy to book a lap infant. When you make your initial search, you'll be able to click into "Travelers." There, specify the number of "Infants on lap." If you wish to have a separate seat for the infant, you can instead add one "Infants (Under 2)."
Can you bring a car seat onboard United?
If you book a seat for your baby, you'll be able to bring an FAA approved car seat onboard for their seat (subject to restrictions about which seats can have car seats, discussed below). United's explicit policy is actually:
If you're traveling with a child of any age, you can bring the following on your flight for free in addition to your carry-on and personal items:…FAA-approved car seat

Cite
I suspect this is actually a bit mistaken (and if it isn't I'd prepare myself for a crew to share my interpretation). Specifically, if you don't book a seat for your baby then I'd expect you can only bring a car seat onboard if it can collapse into the size of a carry on. An ordinary car seat can't fit in the overhead bin. Without a seat for it I don't know where you'd put it. Here's an example of a collapsible car seat (affiliate link).
You can check the car seat for free at the ticket counter (before security) or at the gate.
Can you bring a stroller onboard United Airlines?
You can't bring a full-size stroller on the plane. You can check a stroller at the ticket counter or the gate for free.
However, United specifically notes that a stroller that collapses into carry on size is allowed onboard for free (to be stowed overhead as a carry on) when traveling with a child. They mention the gb Pockit as one such stroller (affiliate link):
United does not specify a size restriction for gate-checking strollers, but I would recommend checking large strollers or double wides at the ticket counter before security (or at least asking them if you'll be able to gate check it).
Does United Airlines have bassinets?
Per United, they have "free onboard bassinets in United Polaris® business class and in Economy on some international flights." This is ambiguously phrased, and I believe it actually should just say they have "free onboard bassinets on some international flights."
Information as to exactly which flights is hard to come by. SeatGuru's maps suggest some 787s and some 767s have bassinets available. In any case, I wouldn't suggest banking on a bassinet. If a United flight best fits your international route, it is worth contacting them to see if one is available, though.
Does United Airlines allow Diaper Bags?
When flying with a child, United allows you to bring a diaper bag for free "in addition to your carry-on and personal items." I wouldn't bring both a personal item and diaper bag for a child with a seat, but the rules do seem to allow this.
Does my child need a birth certificate to fly United Airlines?
Any time you're flying with a lap infant you should be prepared with a scan of your child's birth certificate to show they meet the "under 2" age requirement. While we've never been asked for this, it's the sort of thing airlines can and occasionally do request.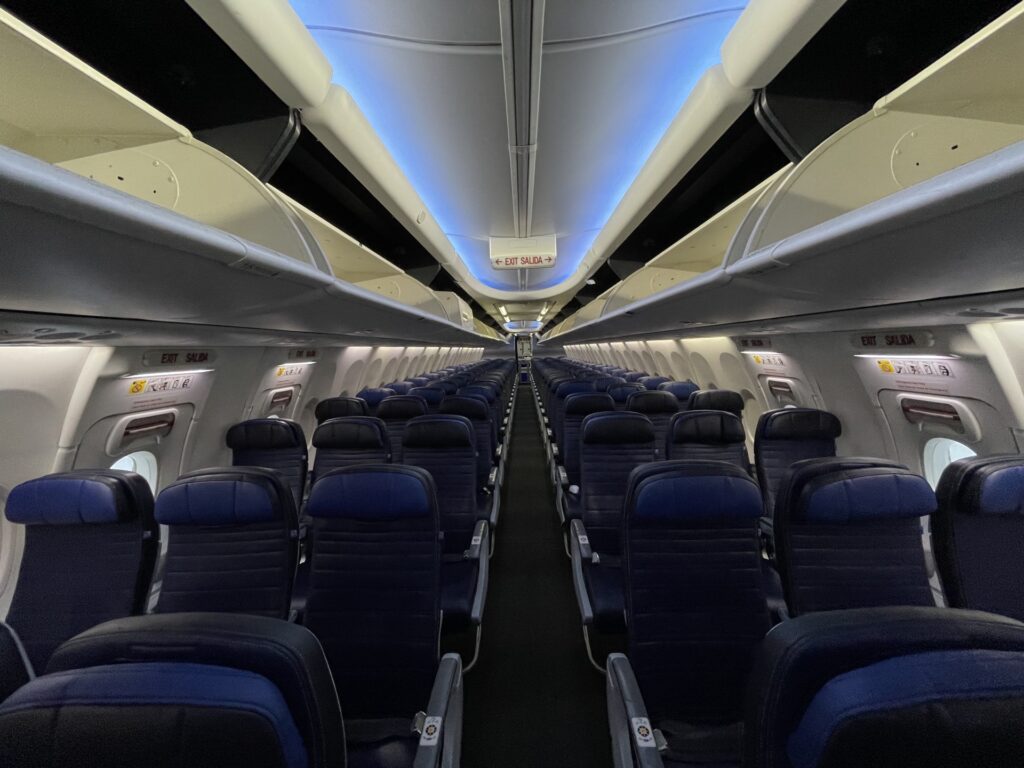 United Airlines With a Baby — Seat Selection
United Airlines has a huge fleet (851 planes as of publication) on around 20 different aircraft types. Almost all of these have multiple classes of seats, and within those classes there is variance in which seats are appropriate for kids. We definitely can't cover every single one, but we'll do our best to provide an overview.
United Seat Selection With a Lap Infant (Basics)
When traveling with a lap infant, you have a lot of freedom in picking your seat. Most notably, lap infants are not allowed in exit rows. The FAA requires everyone in an exit row to be 15 years or older.
I would also be hesitant to book a seat with an inflatable seat belt (or "airbag seat belt"). I can't find any rule about this, but I know some airlines prohibit lap infants in these seats. Personally, I also can't imagine it's safe to have a lap infant in one of these since there's literally an airbag ready to deploy from the seatbelt in case of an emergency.
These are typically seats at the front of a section, like the first row of First Class, first row of Economy, or any bulkhead row. That said, they seem relatively uncommon on United, and we've actually flown First Class bulkhead (on a plane without inflatable seat belts there) with Zoe as a lap infant:
I see when attempting a sample booking that United allows me to book a seat that I know has an inflatable seat belt with a lap infant, but I wouldn't be surprised to have a crew member ask me to move.
United Seat Selection With a Car Seat (Basics)
United specifies, "Car seats aren't allowed in United Polaris business class on most Boeing 767, 777, or 787 planes." This is helpful enough, but unfortunately not the whole story. For example, car seats also aren't allowed in exit rows, though the seat assignment system shouldn't have a problem catching that.
As with the lap infant situation (above), I'd be careful about booking seats with inflatable seatbelts when bringing a car seat, too.
As is usually the case, "Children in car seats should sit in a window seat with the car seat secured to the seat itself."
United Cabin Selection With a Baby
Above we covered the specific types of seats that babies and car seats generally cannot (or may not) be allowed in. Next, let's cover some of the factors you might want to consider in picking the right cabin.
United Economy and Basic Economy
United Economy seats make up most of the seats on United's planes. Since exit rows and rows with inflatable seat belts will usually be marketing as "Economy Plus," you usually won't have any restrictions on picking an economy seat when flying with a baby.
We're reviewed United economy twice: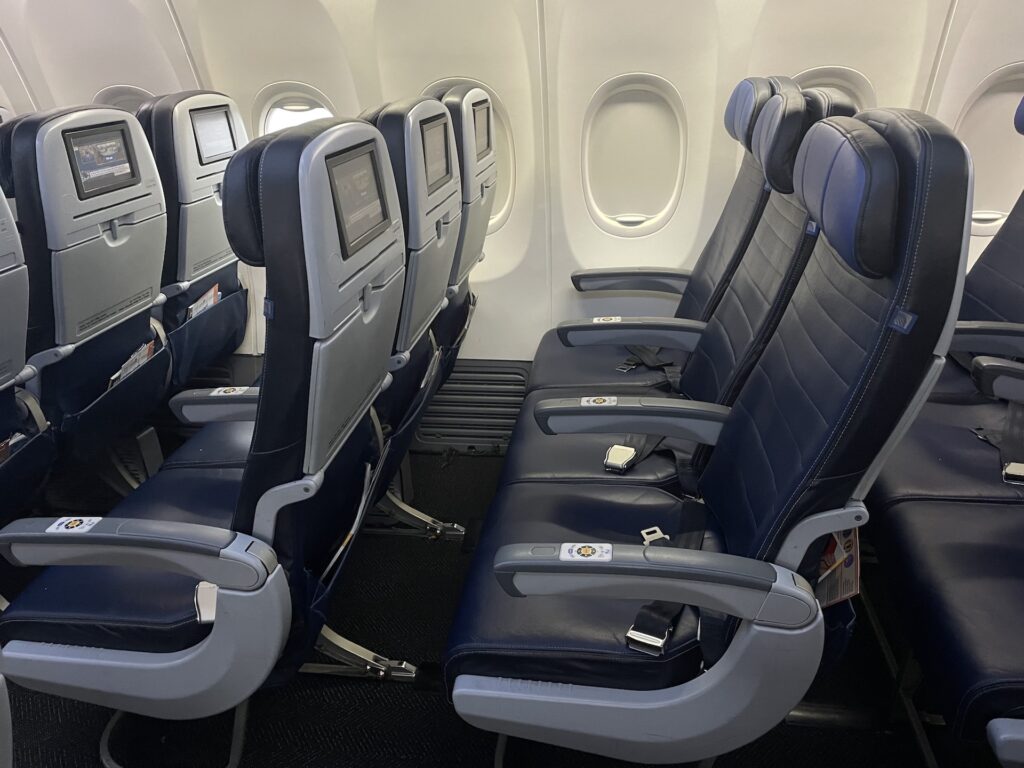 Basic Economy is the lowest cost United fare class, and it notably doesn't include a carry on. You'll only have a personal item. We've generally found a carry-on necessary for travel with a baby, so we don't fly Basic Economy with a baby.
Basic Economy also doesn't include complimentary seat selection. Update: United is rolling out a feature for families traveling with children that will allow them complimentary seat selection for one adult and one child, even on basic economy fares. So far the feature seems to be partially rolled out (I hope), as the best I can get is this "if seats are available we'll put you together" notice: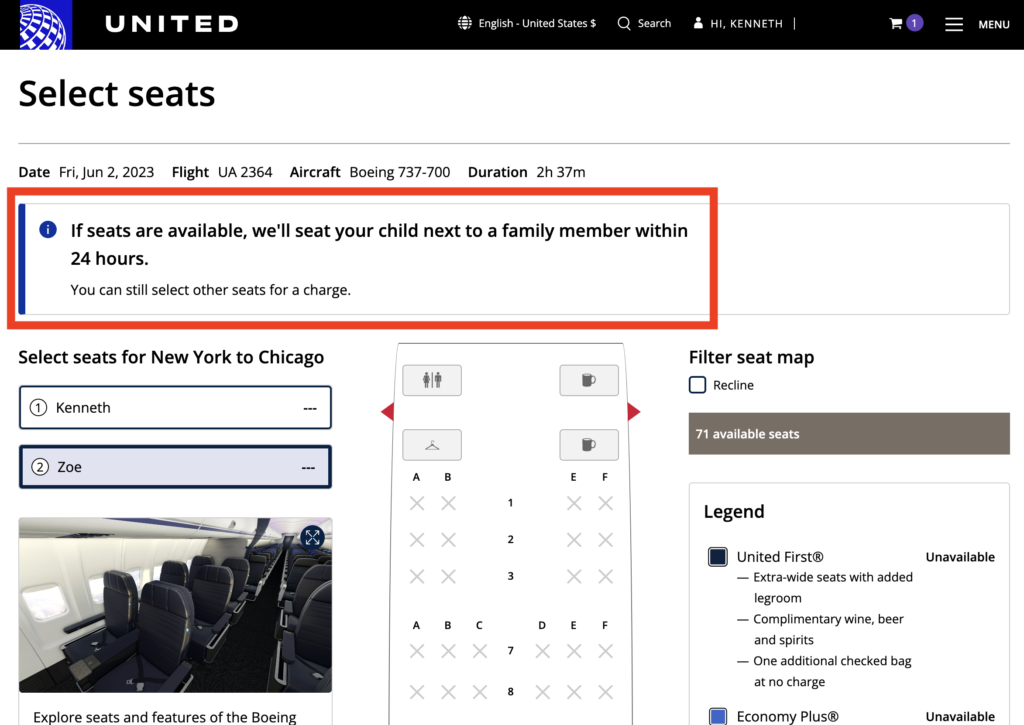 United Economy Plus
Economy Plus seats are seats in the Economy cabin with extra legroom. If you purchase an Economy fare, you can buy an Economy Plus seat at the time of ticket purchase. If you buy a Basic Economy fare, you'll usually have to wait until check-in.
Economy Plus doesn't come with any special benefits besides the legroom and seat location. The only semi-exception to this is that on some planes (this one, for example), the only Economy seats with outlets are the Economy Plus seats. This is distinct from, say, Delta Comfort Plus, which includes a variety of benefits alongside the increased legroom.
We're generally fans of extra legroom options when traveling with a baby. Since a lap infant goes on your lap, the extra space between you and the next row is obviously valuable. When flying with a car seat, the extra inches can be the difference between properly fitting a car seat and awkwardly squeezing it in angled between the two rows.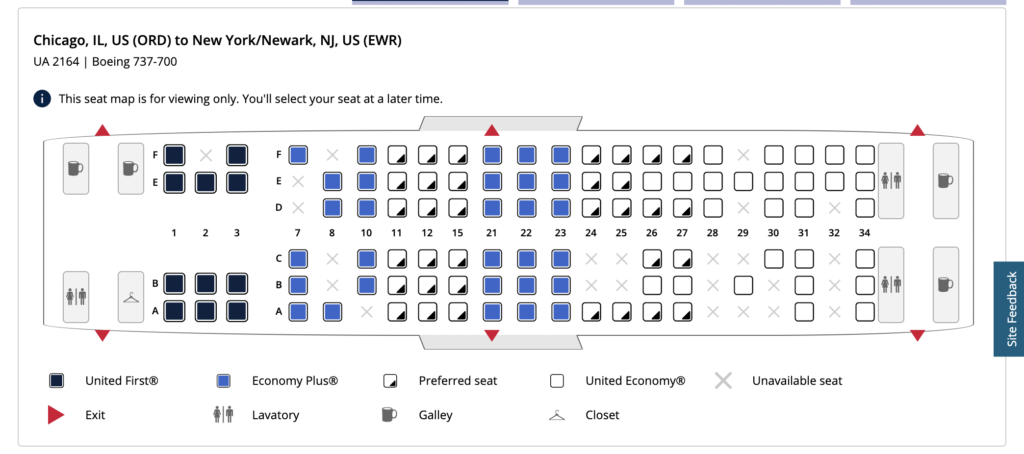 Once you move past the car seat age, the extra space is still nice because toddlers like to climb around a bit, though it's much more nicety than necessity at that point.
As I mentioned above, Economy Plus is usually where you'll find exit rows and inflatable seatbelts. United's seat assignment interface will keep you from booking exit rows, but I'd also avoid the first rows of any sections (or at least Google some reviews, first) to avoid the potential of inflatable seatbelts issues.
United Domestic First
Domestic First is the class at the front of most United flights within the United States. Note that some longer domestic flights, like transcontinental flights or flights to Hawaii, might be flown on planes offering the more premium options discussed next.
Domestic First seats are usually in a 2-2 setup or a 1-2 setup on smaller planes. A two-seat row is perfect for a couple traveling with a lap infant or a lone parent traveling with a child their own seat.
On other airlines, we've booked a setup where one of us will sit with Zoe in a two-seat row while the other one sits in the aisle seat immediately behind in a three-seat row. This wouldn't work as well on most United planes because of the partition between the two cabins: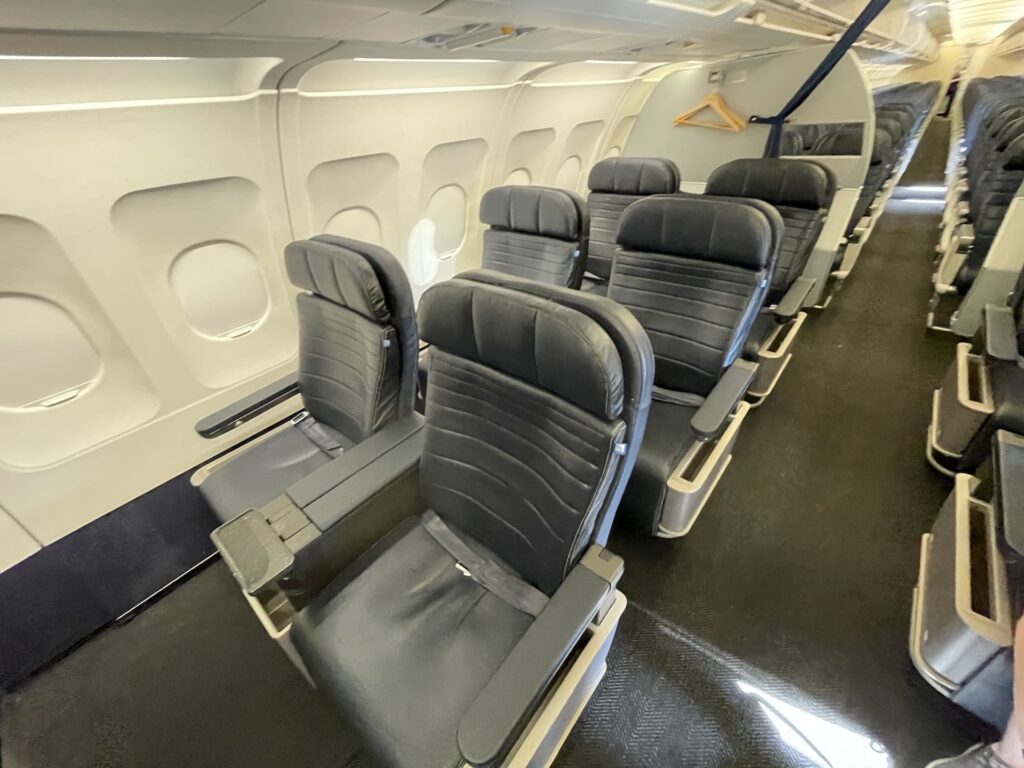 Besides the extra space and better seats, United First comes with free alcoholic beverages (not useful for the child, but maybe useful for a parent) along with premium food (specifics depend on flight duration). There are also a variety of other benefits, like expedited security and more checked bags.
While we've splurged for United Domestic First on a flight or two with Zoe, it is hard to justify the price. Specifically, as a family of three we can do pretty well in our own row further back in the plane.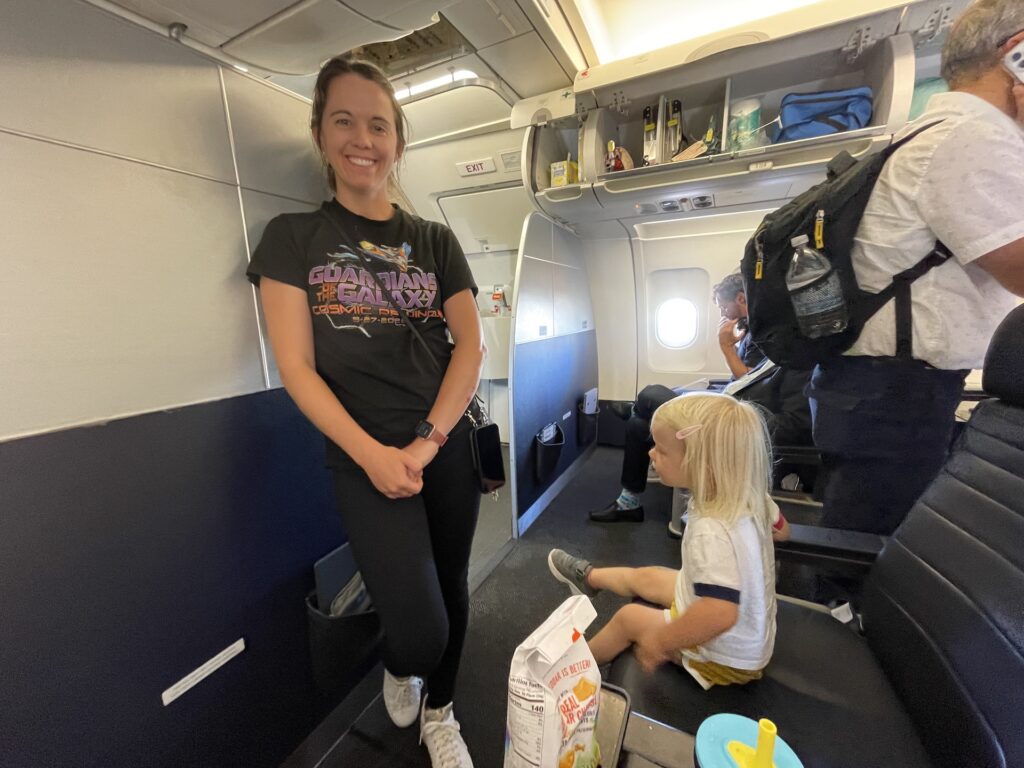 With a lap infant or a baby in a car seat, those babies tending to be younger, you'll really have to think about how much you value your in-flight comfort vs. the stress of bothering other First passengers every time your baby makes a peep. We're on the record as "babies everywhere" people, but that comes with the caveat that we try incredibly hard to avoid situations where our baby will be an excessive bother to other people.
United Transcontinental and International Premium Plus / Business / First / Polaris
These are the seats where it's most important to do your research ahead of time. If you're flying a long flight and considering a premium cabin, you'll want to do a deep dive. Learn what you can about the experience (i.e. is there food? charging ports for toddler's tablet?) but there are some less obvious things to consider, too.
For example, here's a business class setup on British Airways (not United, just an example to make a point):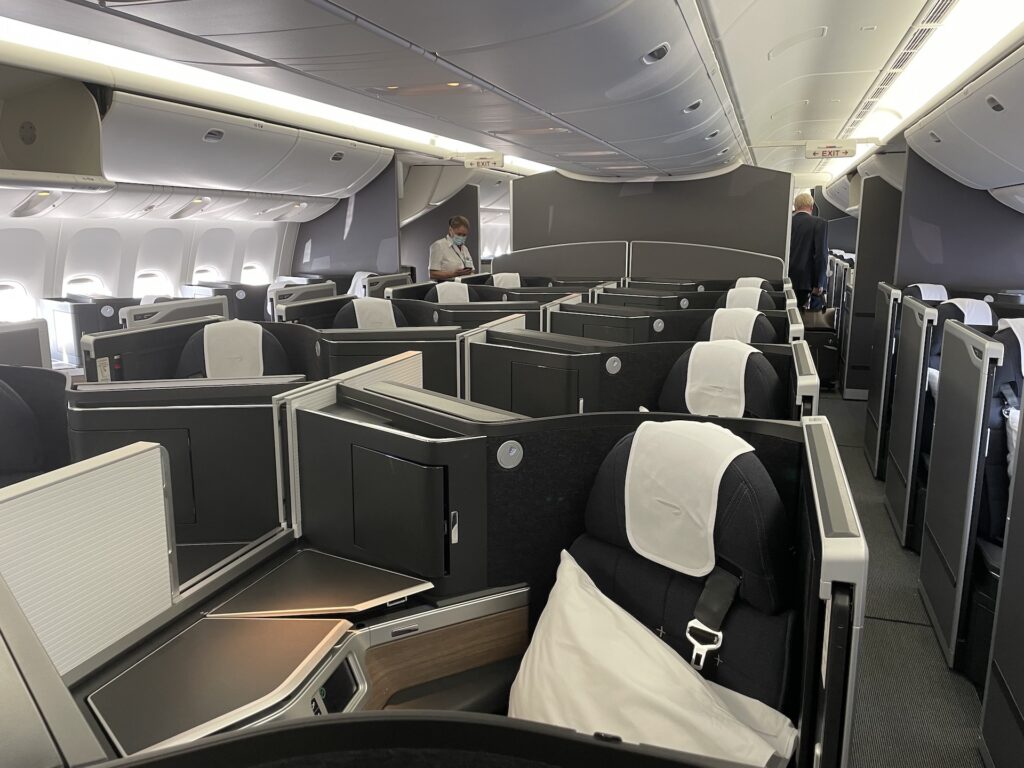 I wouldn't want to sit my child with or without a car seat in a configuration like that because I wouldn't be close to them anytime the seatbelt sign was on. (I would, and did, fly that product with a lap infant, though).
United Airlines With a Baby — Luggage
Every passenger with a seat gets a personal item. United's personal item size is one of the more restrictive of the domestic carriers. United limits personal items to 9 in. x 10 in. x 17 in. (22 cm. x 25 cm. x 43 cm.). That said, I've never had a problem with packing my usual backpack that I use as a personal item on every airline and which slightly exceeds that size.
Customers flying on fares except Basic Economy fares also are entitled to a carry on. This can be a larger bag, up to 9 in. x 14 in. x 22 in. (22 cm. x 35 cm. x 56 cm.). Importantly, Basic Economy fares cannot add a carry on later. If you attempt to bring a carry on with a Basic Economy, you'll be charged a fee to check the bag at the gate along with a $25 penalty.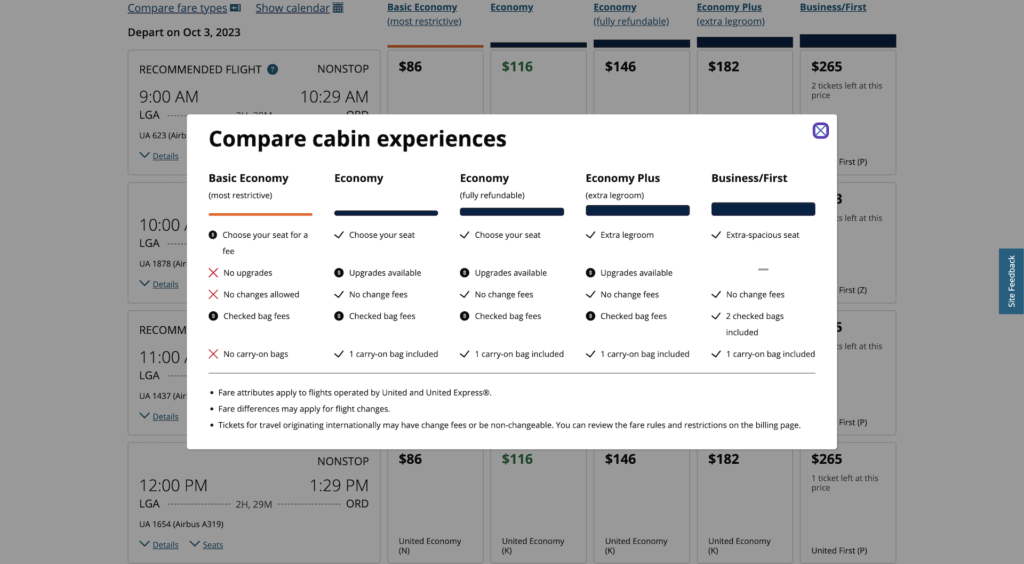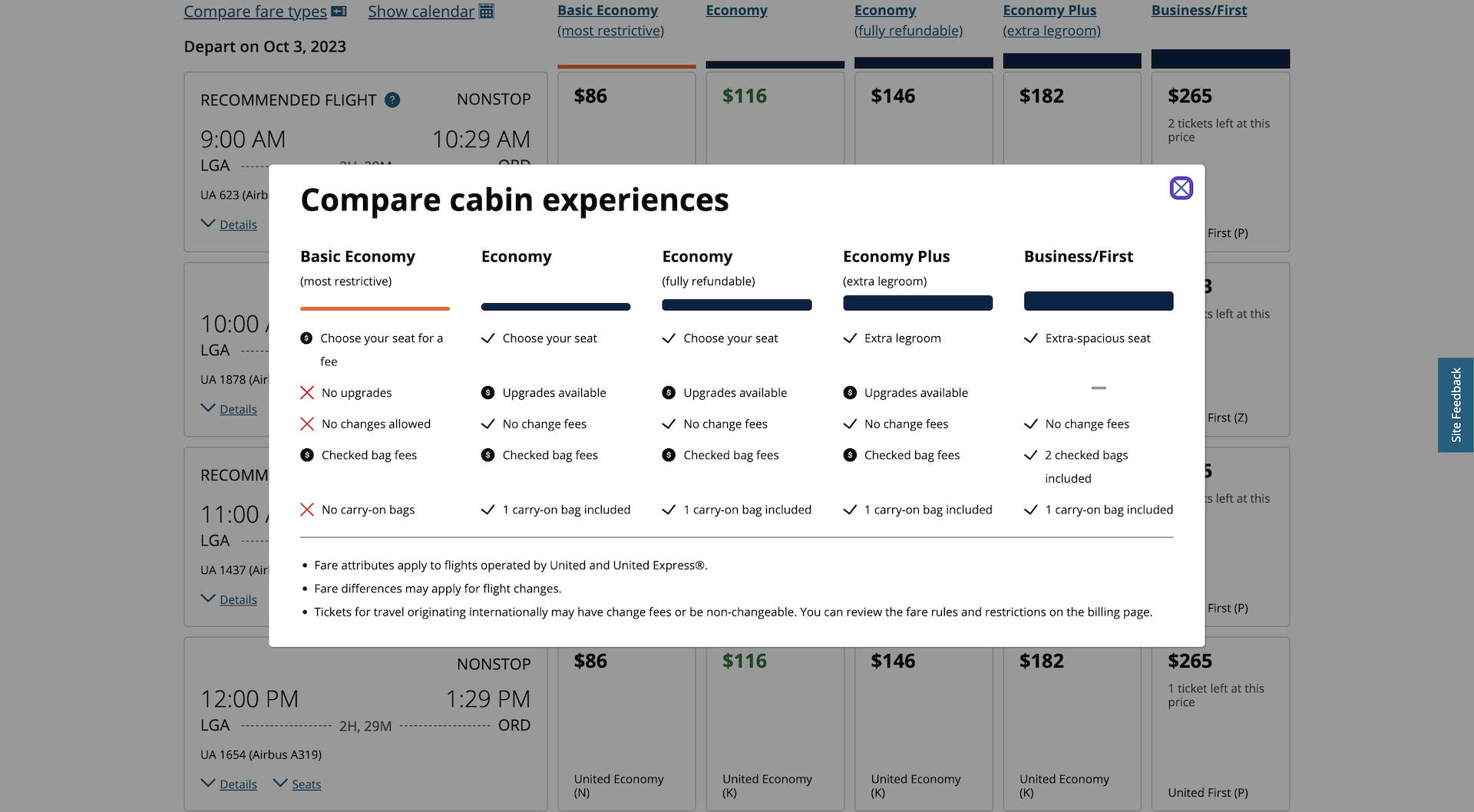 As noted above, when we fly with a baby we almost always require a carry on. That means Basic Economy fares aren't an option. Theoretically we could make separate bookings with two of us on Basic Economy fares and one of us on a regular Economy fare (with a carry on) to save some money, but that creates some logistical headaches we just opt to avoid.
Checked bags generally require a fee (exceptions are made for certain premium cabins).
Included Items for Families with Children
United specifies that families with children can bring the following onboard (without extra charge):
Diaper bag
Breast pump, milk or formula
FAA-approved car seat
Compact folding stroller that meets carry-on bag size guidelines when collapsed
As noted earlier, I assume the car seat policy is specifically that a car seat can be brought if a child has a seat or if it can collapse into a carry-on size. In any case, families can also check one stroller and one car seat per child for free. These items can be checked at the ticketing desk (before security) or at the gate.
Online Check In
As always, when flying with a lap infant you should be prepared for online check-in to not work. This is because some airlines have a policy of confirming lap infant ages at the ticket desk before issuing boarding passes. We never had any issues with online check-in on United when flying with Zoe as a lap infant.
United Lounge Access With a Baby
United has two levels of lounges—United Clubs and United Polaris Lounges, neither of which is particularly easy to get access to. In all cases, to access a United lounge you'll need to be flying United or a Star Alliance partner. Specific access requirements can be found here, but I'll give a brief overview of how to get in.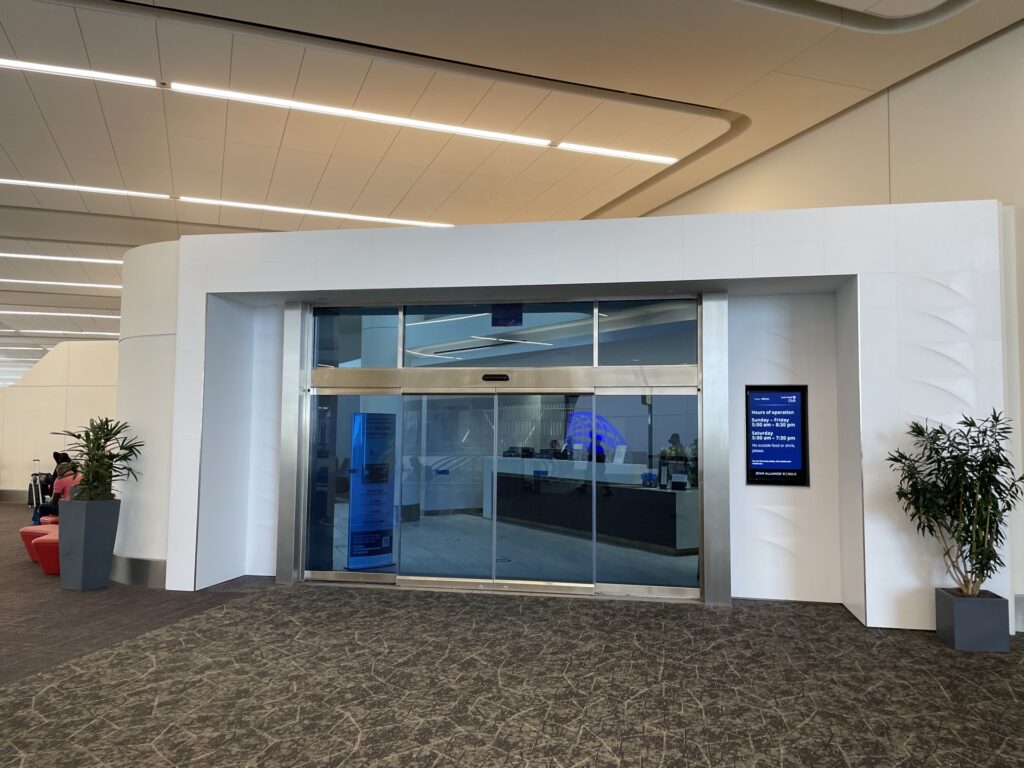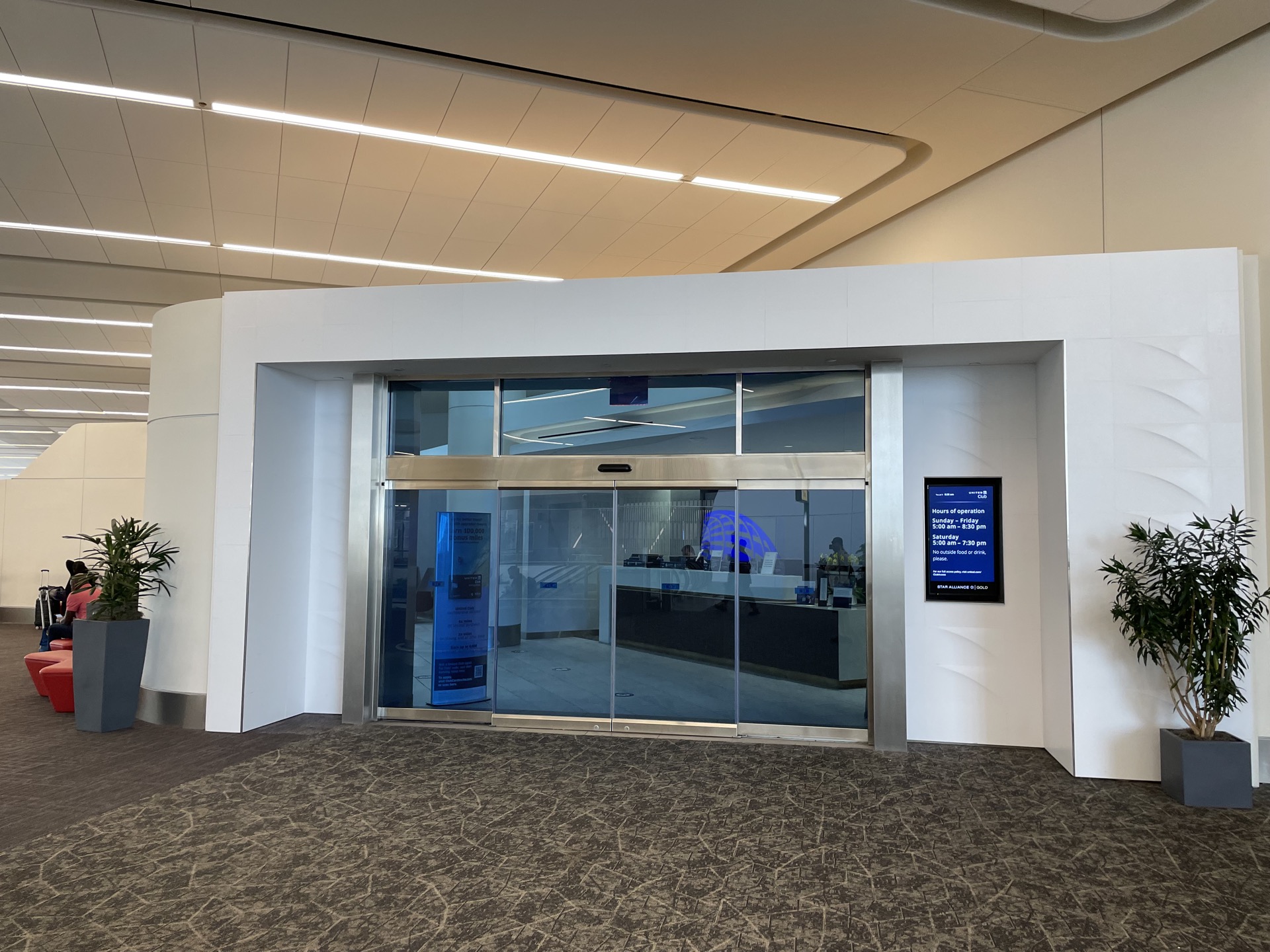 The usual way to access the lounge is by flying a premium cabin (business or first) on a transcontinental premium route or an international route. In this case, any properly ticketed passenger (including kids) can access the lounge. If you're ticketed in the flagship "Polaris" cabin, then you'll have access to Polaris lounges where available.
Importantly, business and first class passengers on most domestic routes will not have access to the United Club or Polaris lounges.
Alternatively, you can directly purchase access to United Clubs, via an annual membership (also available as a perk of the Chase United Club Visa Infinite Card or via one-time passes (you can get two free per year with the Chase United Explorer Card).
The membership includes access for 2 guests, which means it's a feasible option for a small family.
The one-time passes do not include guests, except children under 2. This means that even our small family (two adults, one toddler over 2) can't efficiently make use of our annual pair of guest passes.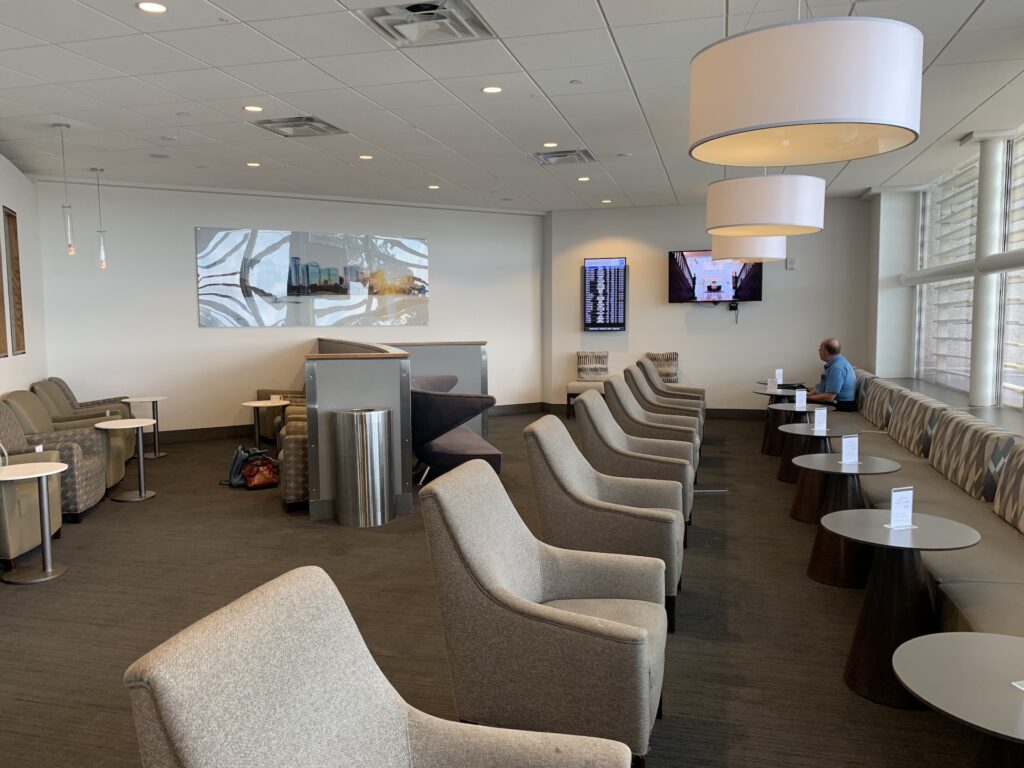 Whatever airline you're flying, you'll often find Priority Pass is the easiest way to get lounge access. It won't get you access to the United lounges, but Priority Pass has a network of lounges available at many airports.
Priority Pass is included as a benefit of several premium cards these days, including the Chase Sapphire Reserve and Amex Platinum. Guest policies for Priority Pass vary but typically include two guests, with additional guests allowed for a fee. A large family may want to find a way to have two Priority Pass accounts to maximize their guest count.
Finally, please keep basic etiquette in mind when visiting a lounge with a child. We fully support bringing kids into lounges, but finding a relatively isolated spot, not allowing your kid to run around, and leaving if they can't control themself are the minimum steps you should take as a courtesy to other people in the lounge.
United Boarding With a Baby
United's pre-boarding process technically includes families with children 2 and under. Practically, you'll hear the announcement made in various erroneous ways ("families with children under 2" or "families with lap infants" being common ones).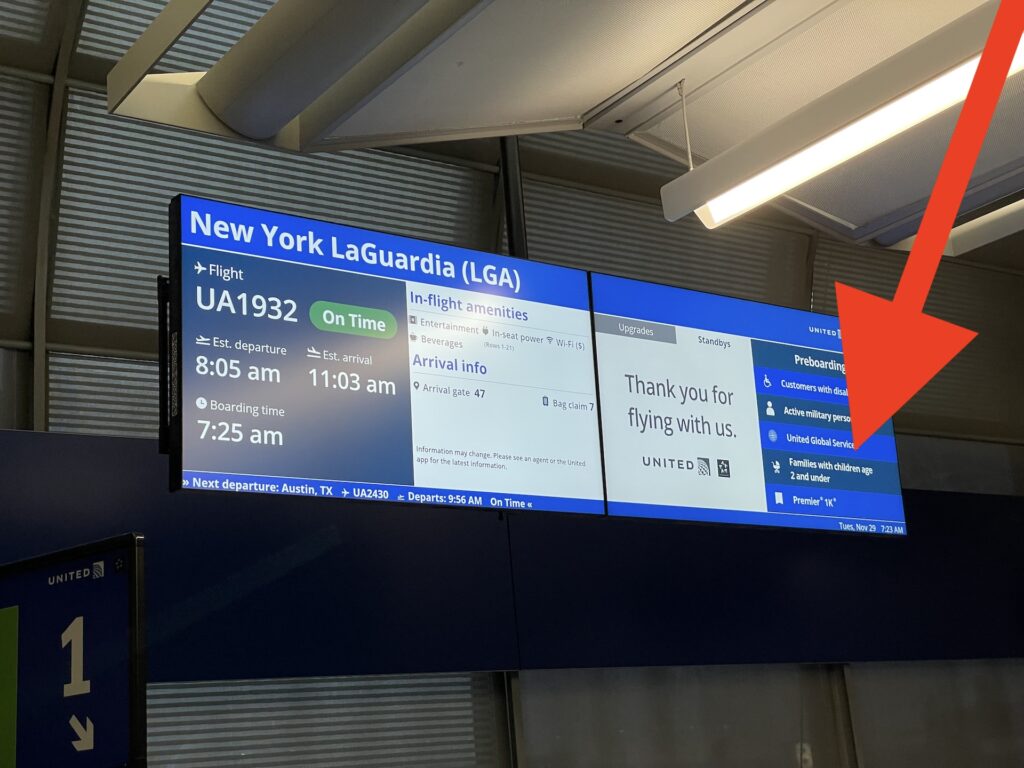 If you technically qualify for pre-boarding, we recommend you attempt it even if the announcement is erroneously made. Just don't argue if the gate agent gives you some wayward explanation for why it's different today.
Onboard United With a Baby
Because of how diverse their fleet is, the specifics vary a bit plane by plane. Even United isn't fully thorough in their explanations of offerings…
Changing Tables. For example, United lists the following planes as having changing tables:
Boeing 757-300
Boeing 767
Boeing 777
Boeing 787
Select Boeing 757-200
We know from experience that this list is incomplete. For example, this is a lavatory on an A320 we flew a few months ago: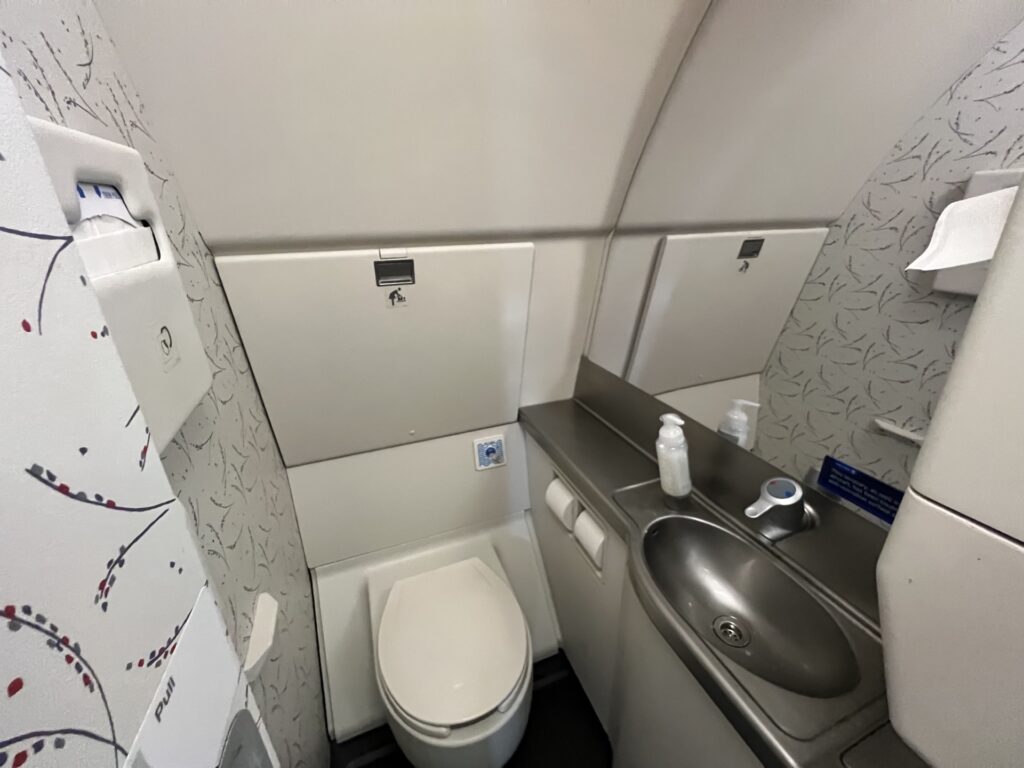 You can see directly above the toilet is a changing table. Generally, I believe almost all of United's fleet would have at least one changing table onboard. You might not find them on smaller planes operated by United Express.
Nursing. United spells out their onboard nursing policy on their website, explicitly stating that nursing and pumping are allowed both in your seat and in the lavatory.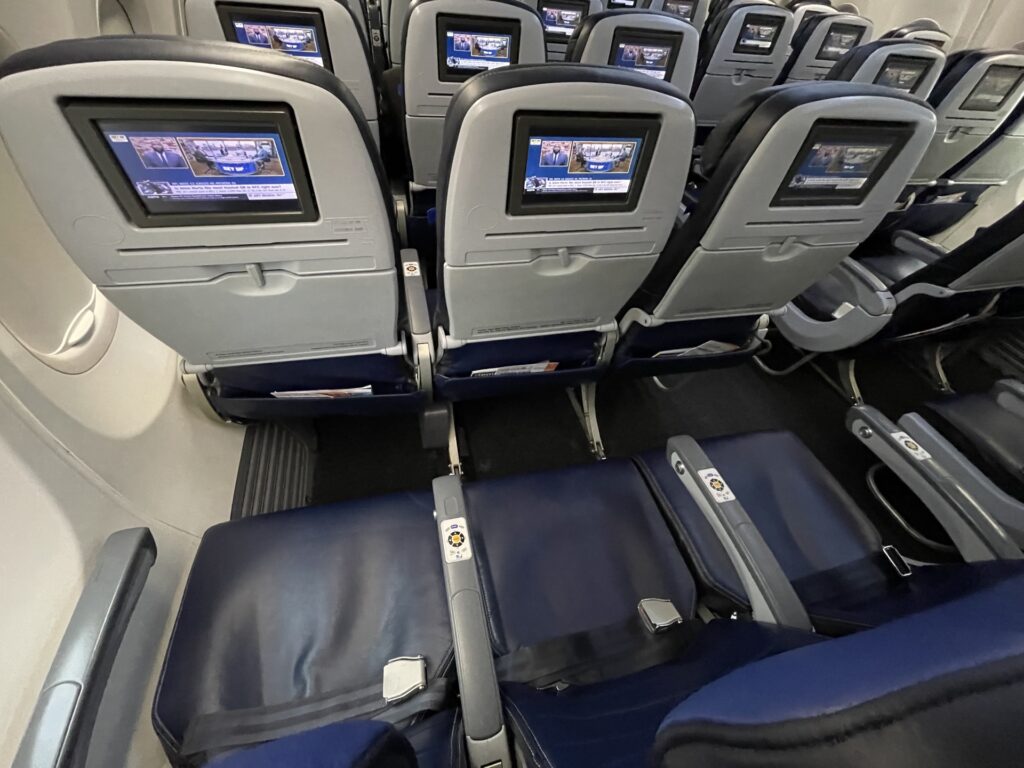 Entertainment. United planes offer either seat back entertainment or entertainment accessible on your device via the United app. We never like to rely on airlines to provide entertainment, so we travel with a tablet—an Amazon Fire HD 10 (affiliate link)—loaded with downloaded content.
I've opined before that I don't think seat back televisions are a necessity on plane. But if a plane offers entertainment only on personal devices, then your child won't have any entertainment unless they have their own device or use someone else's.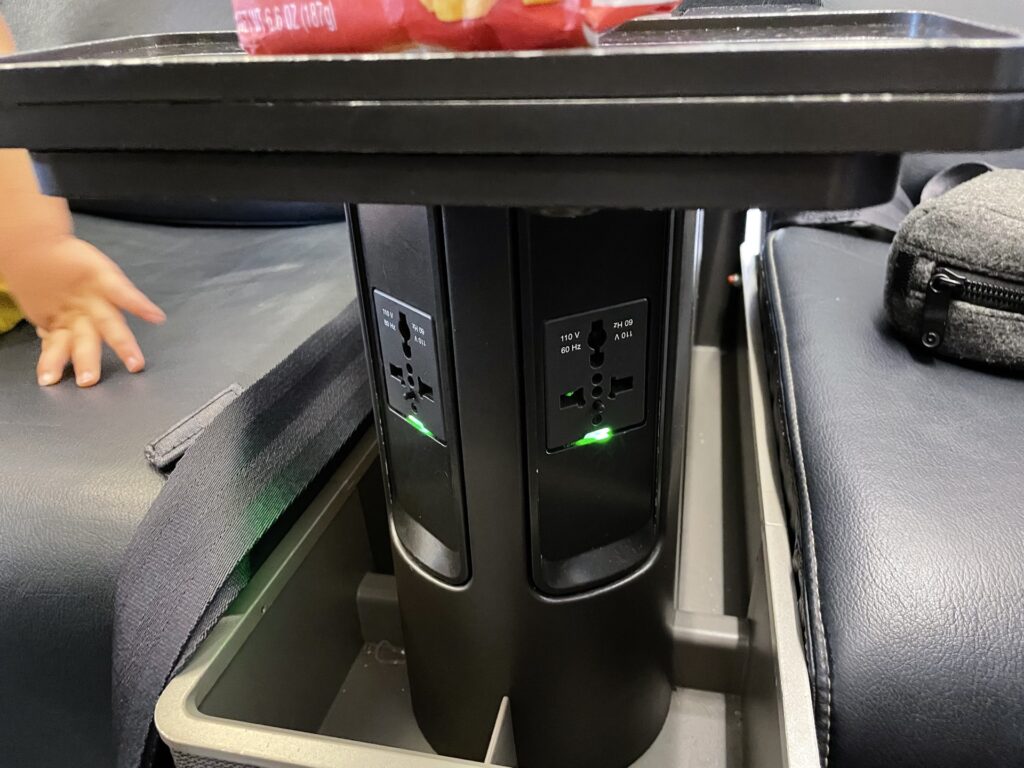 Outlets. Charge up your tablet beforehand, because not every United seat has outlets. Most do, but on select planes the only Economy seats with outlets are the Economy Plus seats.
Wifi. Never count on wifi on planes. You should have wifi, including free messaging, on most United flights. More extensive options (i.e. for streaming) come at a cost. You might opt to pay for this, but we still recommend downloading some content onto a tablet if you're hoping for tablet time.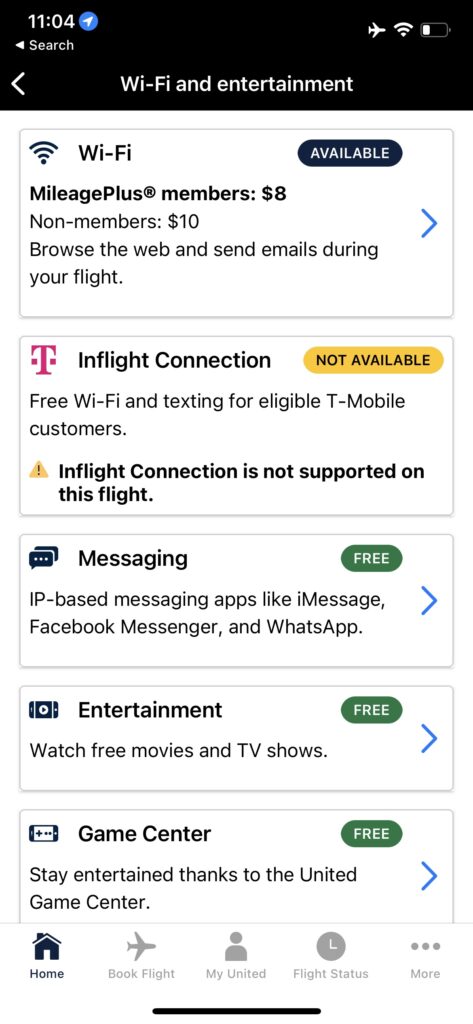 Food and Drink. United provides complimentary beverages on all flights. They provide small snacks, usually a small pack of cookies, on flights at least 800 miles. Flights over 500 miles have snacks available for purchase, too. Additionally, premium cabins may have more food offerings.
Importantly, to buy anything on United you need to store a credit card in the United app on your phone. While you could theoretically do this with onboard wifi after departure, we highly recommend doing it before departure.
Baby wearing. United specifies that "harnesses that hold an infant to your chest, such as a papoose, cannot be used onboard your flight." This is apparently an across-the-board ban on baby wearing onboard.
I'm entirely familiar with a prohibition on baby wearing anytime the seatbelt sign is on, but I can't recall seeing a total ban like this. (Moreover, I suspect this is could be an FAA rule, which is strange because it's relatively common to see people baby wearing in the aisle of long flights.)
We have a full post on all things baby wearing for travel if you're looking for more details on that topic.
Special things for kids. Per United: "We've created a Children's Travel Kit in partnership with Ranger Rick so they stay engaged and inspired while they fly. It includes an activity book with crayons and a toy. Ask your flight attendant to see if they're available on your next flight."
We've never asked for this, and no one has offered it to us.
United Airlines With a Baby — Conclusions
Overall I'd say United with a baby is an average experience. Their website offers a good amount of information, and they are pretty generous with their policies overall.
Free snacks and beverages on most flights are a plus. The lack of seat back entertainment on some planes is going to be a minus if your little one is old enough for some screen time but doesn't have their own device. The fleet diversity can make some things tricky (just give every seat outlets), which is a little frustrating.
We've found the service on Delta to be better than United, but that isn't enough to make us pick Delta every time at any cost.
In the end, I'd book United with a baby in a heartbeat, specifically if the Economy fare (not Basic Economy) had a reasonable cost.