In this post I review my domestic first class experience on United's A320 flying between New York's Laguardia (LGA) and Chicago's O'Hare (ORD) airports. I'll cover booking , my time in LaGuardia's new Terminal B, and the in-flight experience.
NOTE: United started to roll out a newer First Class product in July 2023. We have also reviewed the new United First Class in a separate post.
Booking My United Flight LGA-ORD
This entire journey was made on short notice. I booked a roundtrip LGA-ORD economy fare for $217.20 just a few days before my flight. Once I got to the airport, I saw that upgrades to first class were available for $149. I decided to take advantage of my solo trip to review this product. Upgrading in the app was incredibly smooth and easy.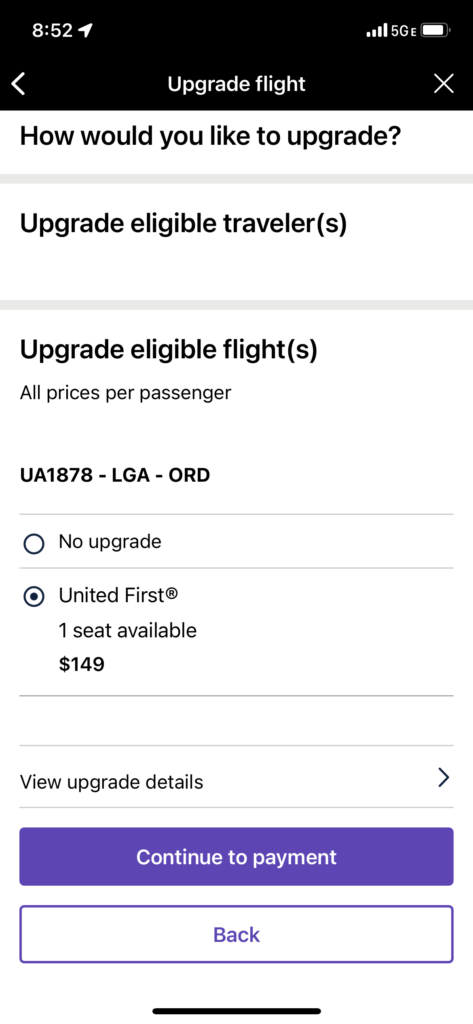 This is about par for the course when it comes to this route, with roundtrip economy fares hanging out around $200 and first class around $500.
If you're booking using miles you can find round trip economy for 14K to 30K and round trip first class for 50K to 120K. This is rarely going to be a good use of miles.
United flies a variety of planes between LGA and ORD, including some Embraers and the A319.
LaGuardia's New Terminal B
LaGuardia has gotten a huge makeover the last few years, and this was my first time flying out of the new Terminal B, which serves Air Canada, American, United, Southwest, and JetBlue.
I parked at LaGuardia at 8:24 AM and was through security (via TSA PreCheck) at 8:31 AM.
United Domestic First passengers don't get lounge access. Given the relatively limited number of United flights, and the small size of domestic first class, I find this disappointing. Unfortunately, it is industry standard.
You can get a look at the lounge here:
I wish I'd remembered that I have one-time passes for the United Club with my Chase United Explorer Card. Emily and I are quickly learning that lounge access is a huge challenge for family travelers (and getting worse). Similarly, my one-time passes allow a child under 2 to accompany the pass user. That means the two passes I get each year won't be enough for our small family once Zoe turns three. Add in the fact that you must be flying United to use the passes, and it's just rare I'll have the chance to make use of them.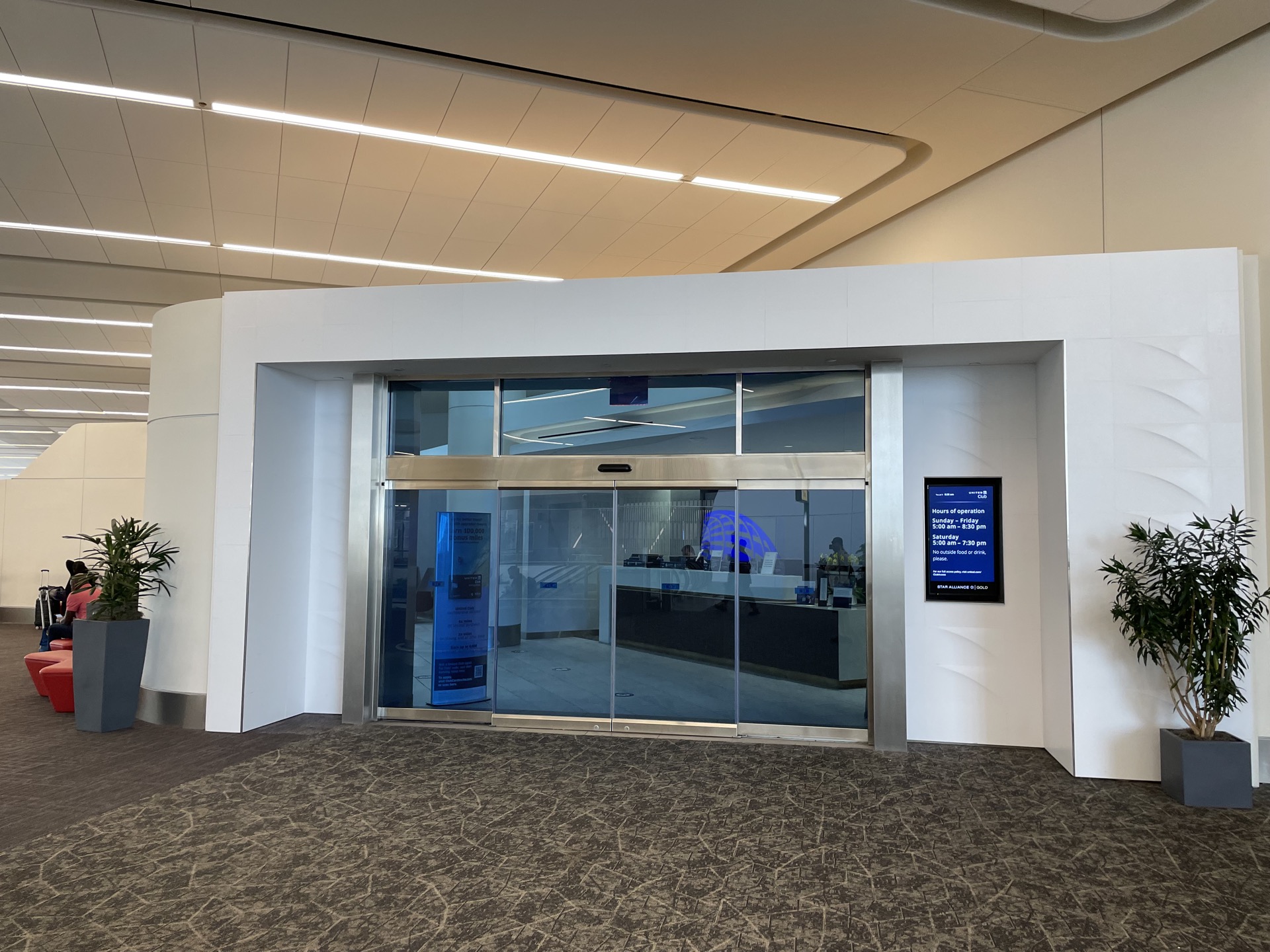 LaGuardia is limited in its Priority Pass options, the only two options (located in Terminal B) being the Be Relax Spa and the Minute Suites Express, neither of which is a traditional lounge.
Luckily, the new LaGuardia Terminal B is beautiful and a fine place to spend an hour. After security you'll pass through some shops and then into the heart of the terminal, with a fantastic fountain at its center. Of course, I didn't get a great glorious photo with the fountain going.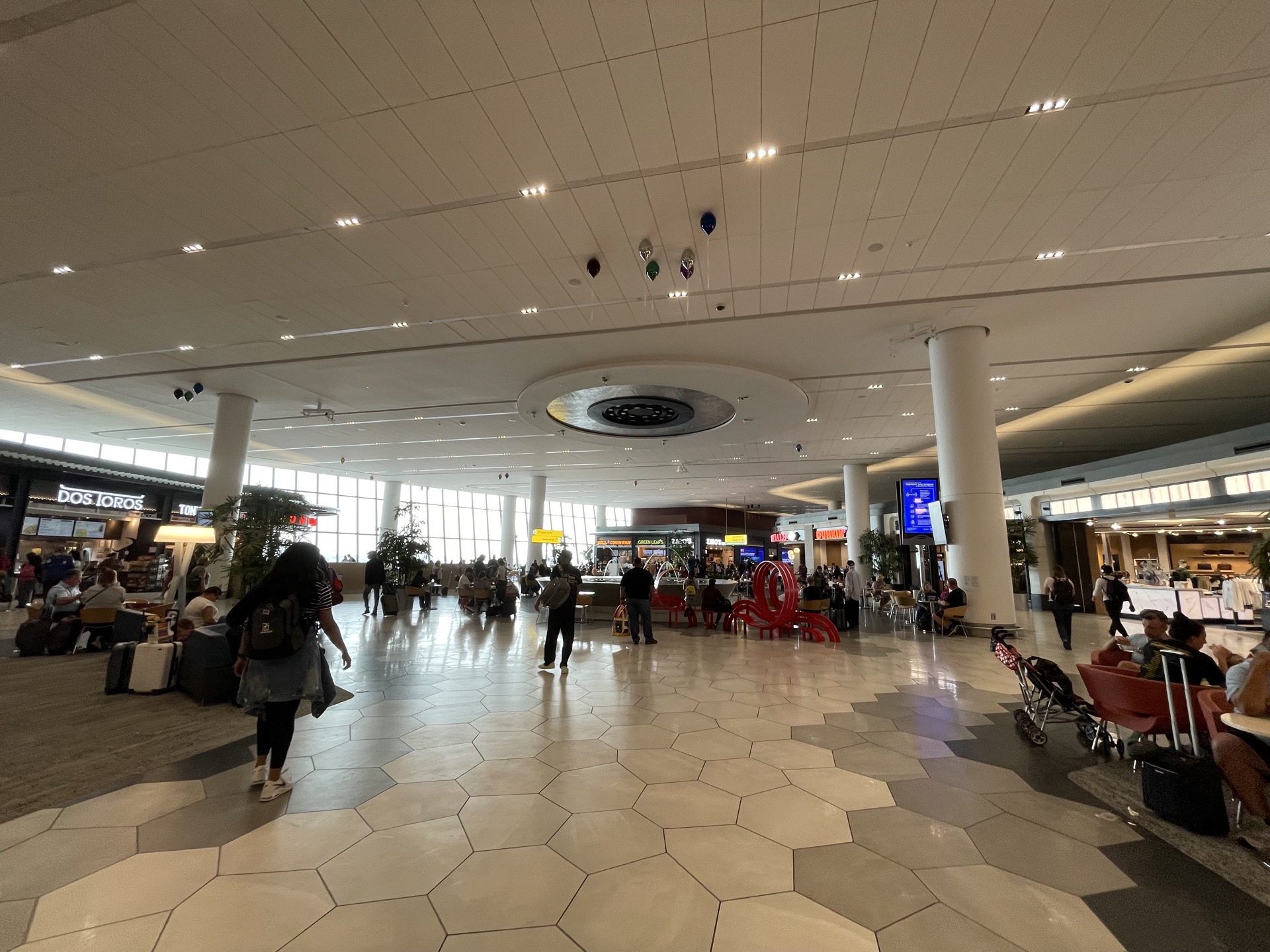 The main terminal hall is separated from the gate areas by short walks (a few minutes—the departure boards estimate walking time to your gate). Both the main hall and the gate areas have shops and restaurants, but the selection and seating is better in the main hall.
I can't recall much about old LaGuardia, but I very much felt like the new Terminal B was spacious without being too large. It was a few minutes' walk to the gate area, but not the long walk that has you feeling like you took a risk leaving the main hall too early (in fact I walked to the gate, then back to the main hall and back again).
Mobile order (via a QR code I scanned off one of the information boards) was available at a few restaurants, but the Dunkin' Donuts wait was estimated 20 minutes. I opted instead to just buy a canned Starbucks beverage.
Between the main hall and my gate area were three lounges—The American Express Centurion Lounge, the United Club, and the Air Canada Maple Leaf Lounge. The American Airlines Admirals Club is on the way to the other set of gates.
The gate area had plenty of seating, even with three flights boarding or preparing to board.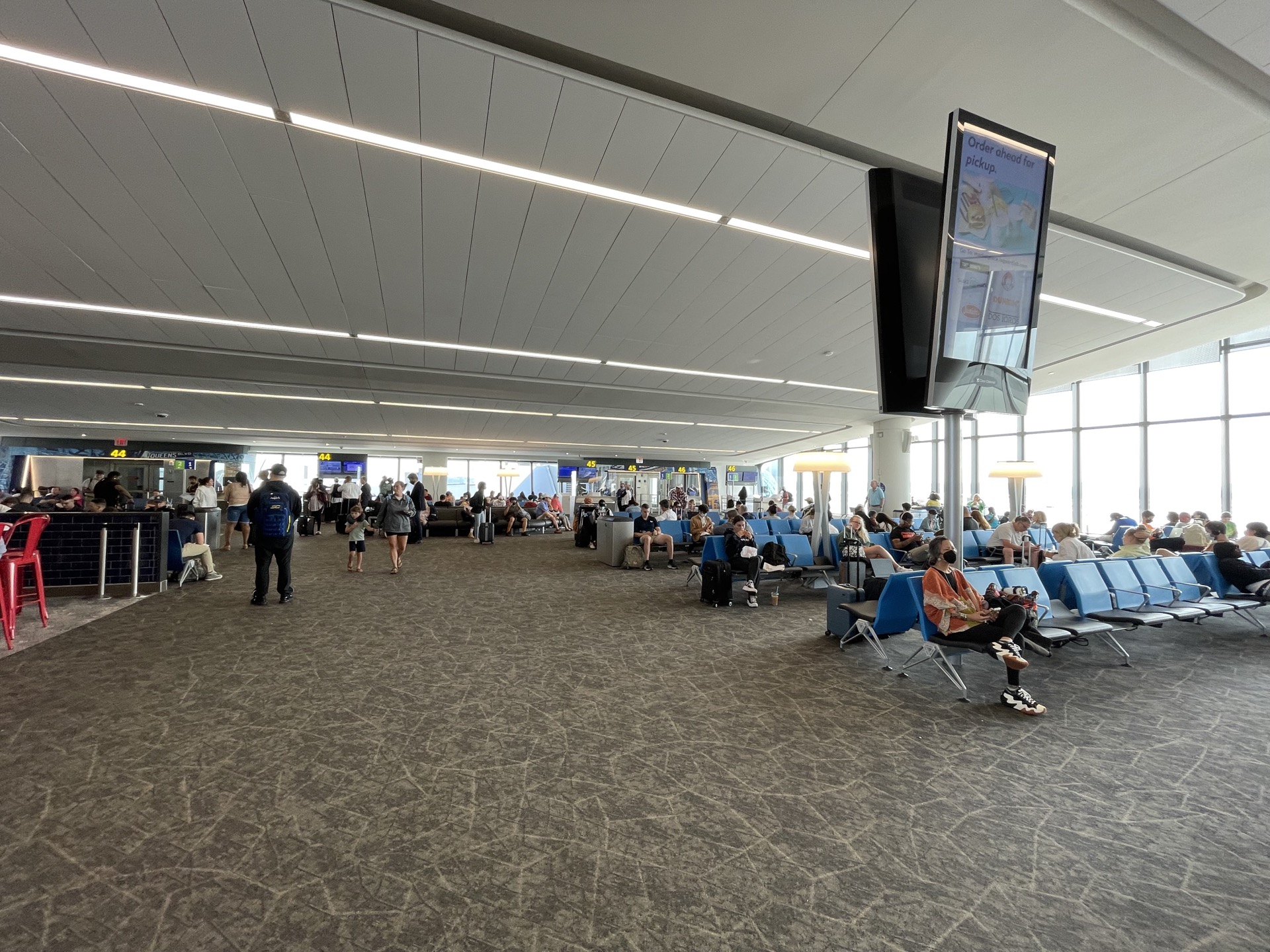 The biggest—and maybe only—travel perk to having a little one is getting to board planes first. Since I was solo today, I missed out on pre-boarding, and then had to wait through the comedic lineup of people who get to board before Group 1.
I'm not bitter about Group 1 boarding after various other groups, I just find it comical that airlines don't just actually number the groups according to the order in which they board. It's like most other countries where the first floor is actually the second floor.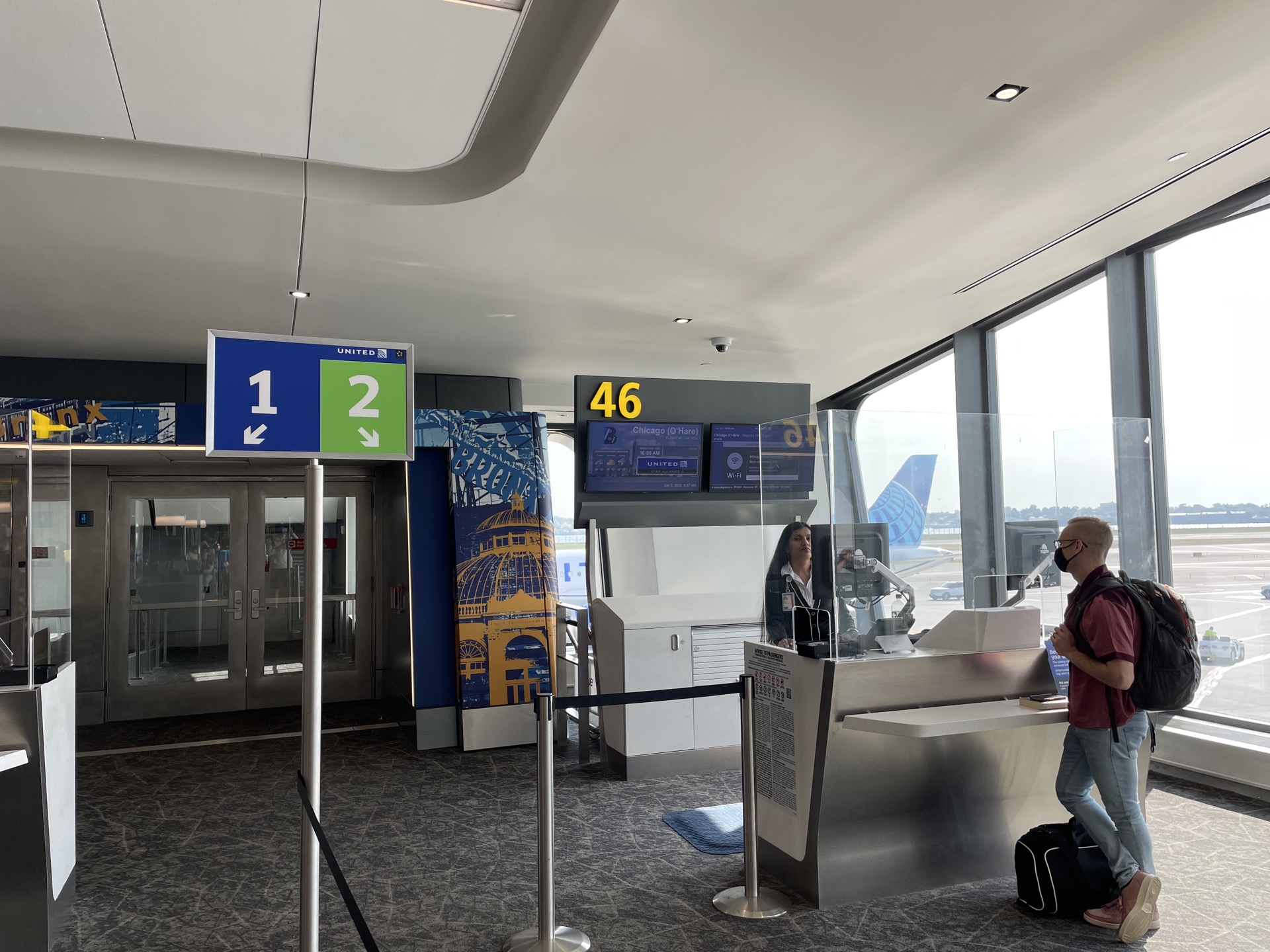 Anyways, there's lots of ways to spot a domestic first class novice (which I definitely am), but the best is surely that they make that first half step to the gate every time the agent picks up the microphone even though they're actually like the seventh group to board.
In-Flight Experience – United A320 First Class
Remember that domestic premium cabins won't, for the most part, compare to those on international routes. We've reviewed Etihad Apartments, Singapore Suites, and business class on Air Canada, Japan Airlines, and British Airways (with a toddler!) if you're interested in those. It isn't fair to compare 2 hours in domestic First to those experiences, though.
As a quick aside, I actually had the opportunity to fly this product twice this week. The second time was from ORD to LGA with Emily and Zoe as a lap child. As a result, this section will sometimes contain references to the second flight.
The First Class cabin on United's A320 has 12 recliner seats (3 rows of 2-2) with 39 inches of pitch and 20.5 inches of width. We flew bulkhead on the second leg and it was very spacious, a big plus when traveling with a toddler.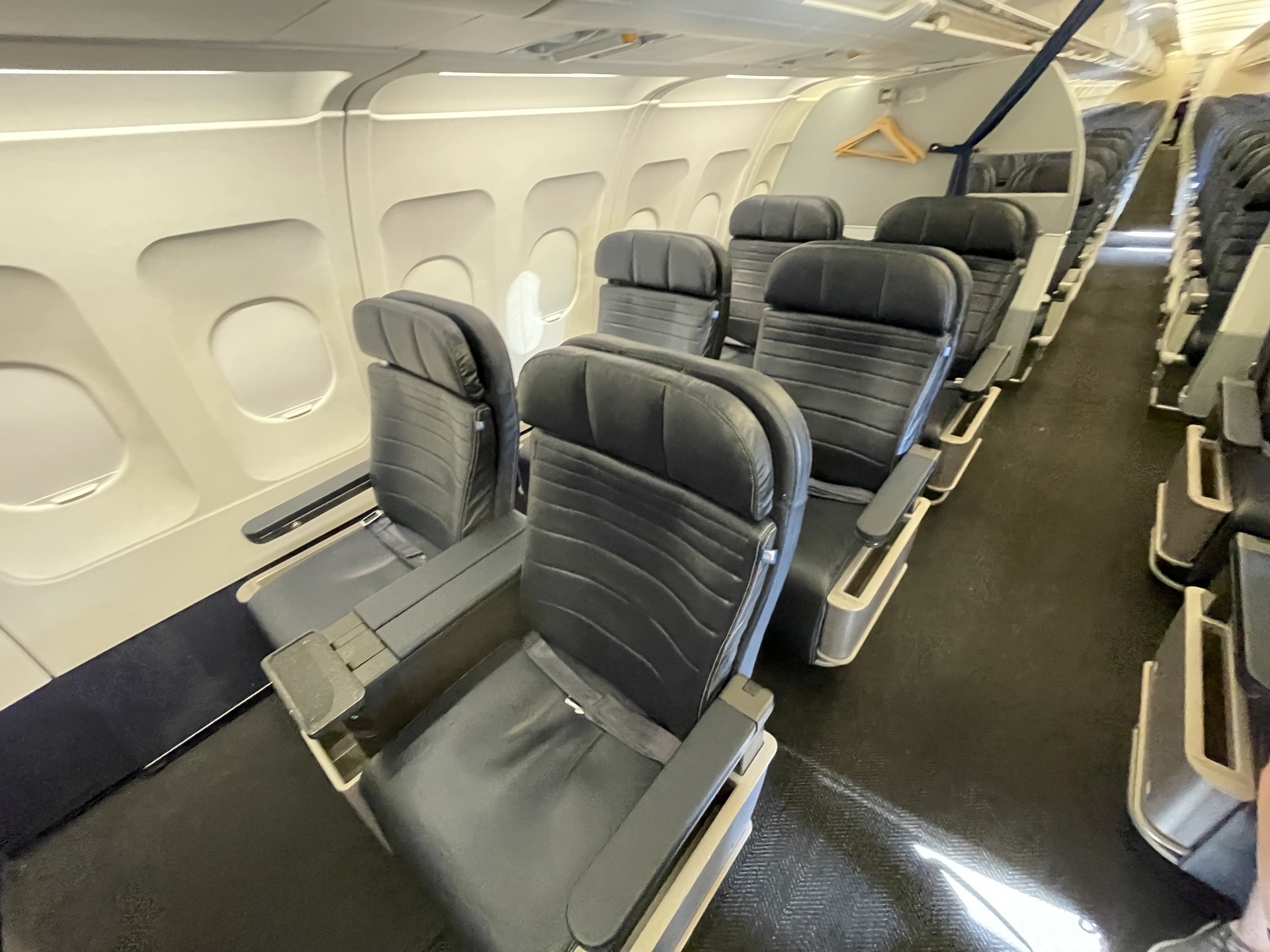 As a relatively small person, I was more than happy in my seat. I've long flown the tiny seats of Frontier and Spirit and am well equipped to get through a 2-hour flight in the most cramped conditions. Pop on headphones, play on your phone, maybe read a book. If you expect to use the restroom, pick an aisle seat. Otherwise, pick a window and just get comfy in what little space you have.
Domestic First isn't much, but the extra space allows for a bit more of a sense of freedom. I'm able to take my laptop out and keep my elbows pretty wide without at all feeling like I'm encroaching on my neighbor.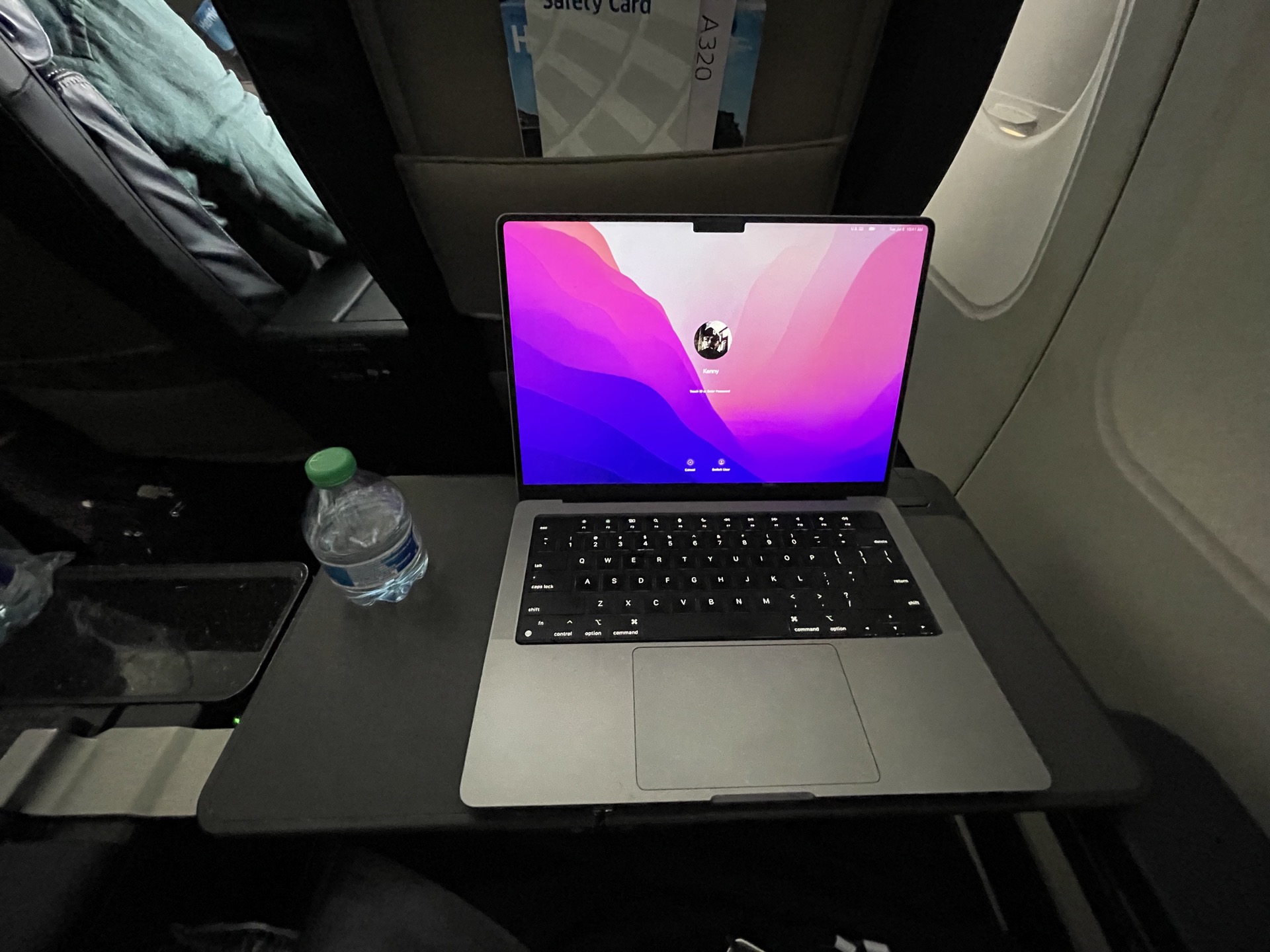 The tray tables on all 12 seats are located in the armrest between the two passengers. There was some conveniently placed storage, including a laptop/book slot under the outside armrest and a spot for your beverage in the center console. Using that beverage space could impede your access to the outlet, which is also in the center console.
I was offered a preflight beverage of water or orange juice on one leg. The other leg included champagne. The only other difference in service was that we were given real (ceramic) coffee cups from ORD to LGA but only paper from LGA to ORD.
I typically try to select a window seat on the left side of the plane (so, an A seat usually) when flying to O'Hare. With limited options today, I wound up in an F window seat on the right side of the plane. This turned out to be an especially big bummer for takeoff because we departed heading east(ish), did a u-turn to the left and passed over the north end of the city. The people on the left definitely got the better views, though I did get a good look at Citi Field.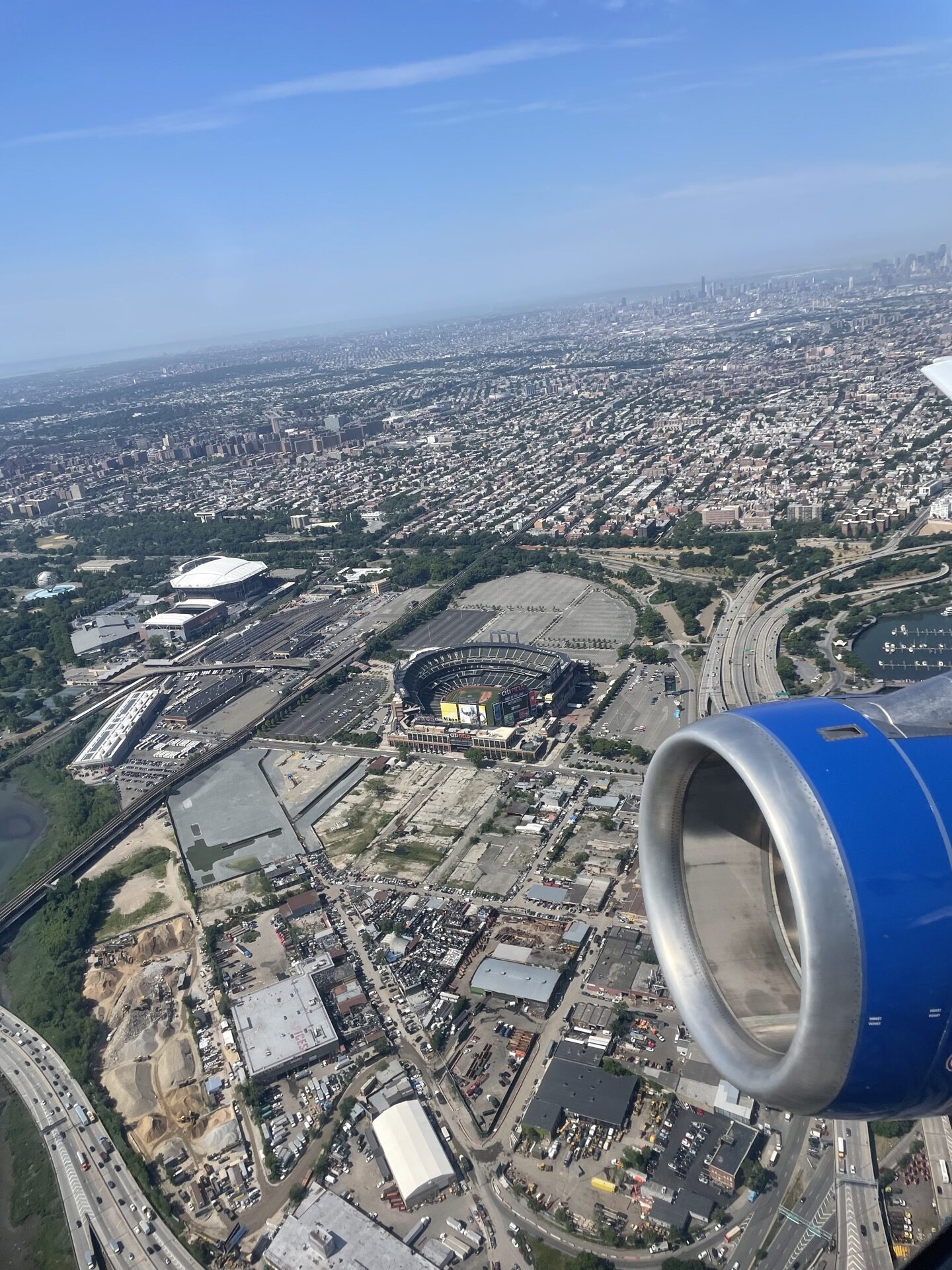 On the way from Chicago to New York I was able to book us the left side (A and B), which gave us fantastic views of New York on the way into LGA.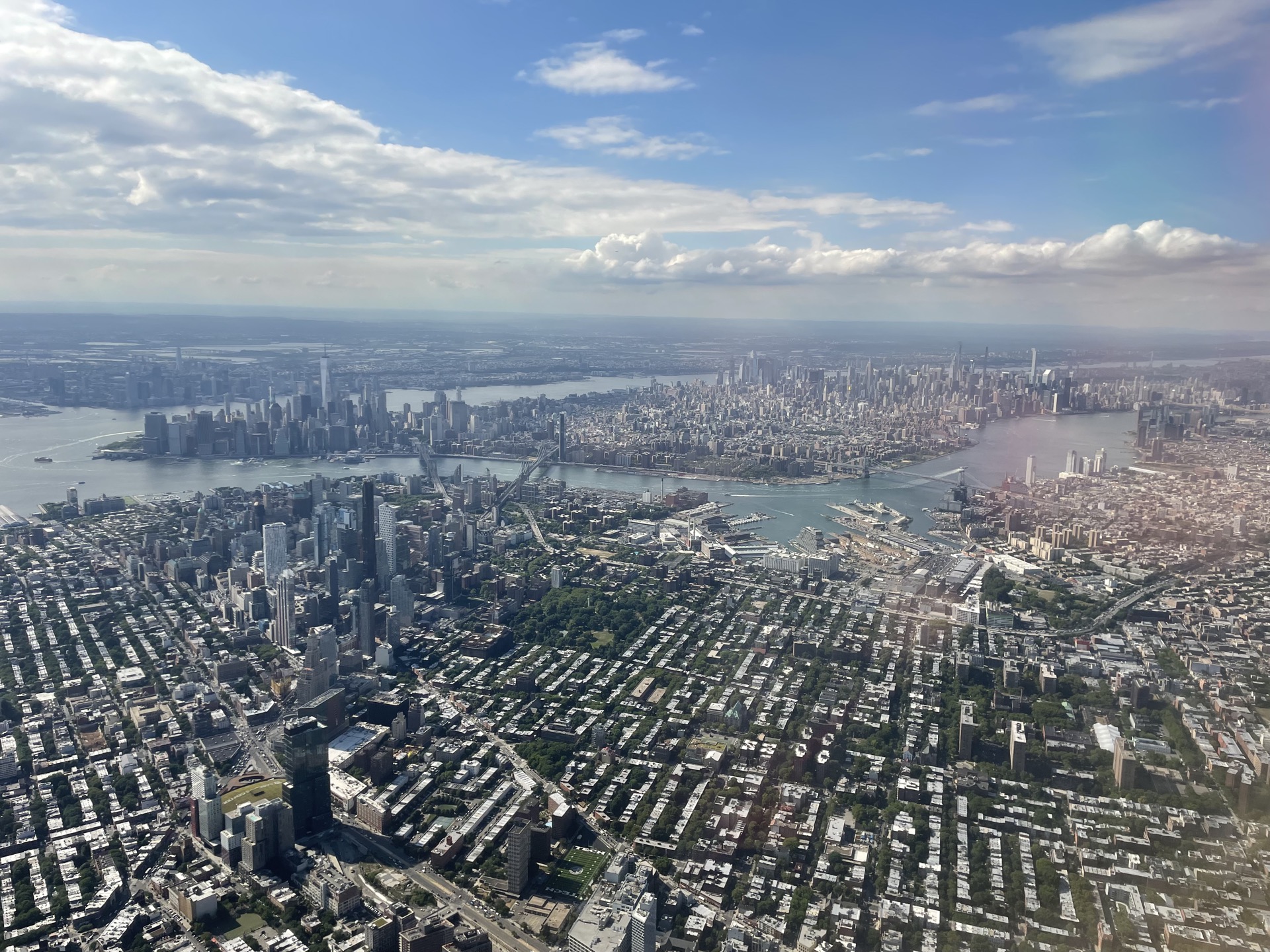 The flight came with free messaging (including iMessage, WhatsApp, but no SMS), but full-power wifi was $8 for MileagePlus members and $10 otherwise. I was able to message Emily most of the flight with no problem. You can also stream the United-provided entertainment and games onto your device.
For onboard purchases, you'll need to have a card loaded into your United app. On the one hand, I love how powerful the United app is for inflight purposes. On the other, it's a bit silly to expect casual flyers to go through all this in order to get a drink onboard.
Since my flight was only 733 miles, there was no meal service. United's cutoff for meal service in first class is 800 miles. In any case, a meal isn't really necessary for a flight of this length. We got a United CleanPlus all-in-one snack bag, that had a small bottle of water, a Stroopwafel, and a bag of pretzels. Other beverages were available on request.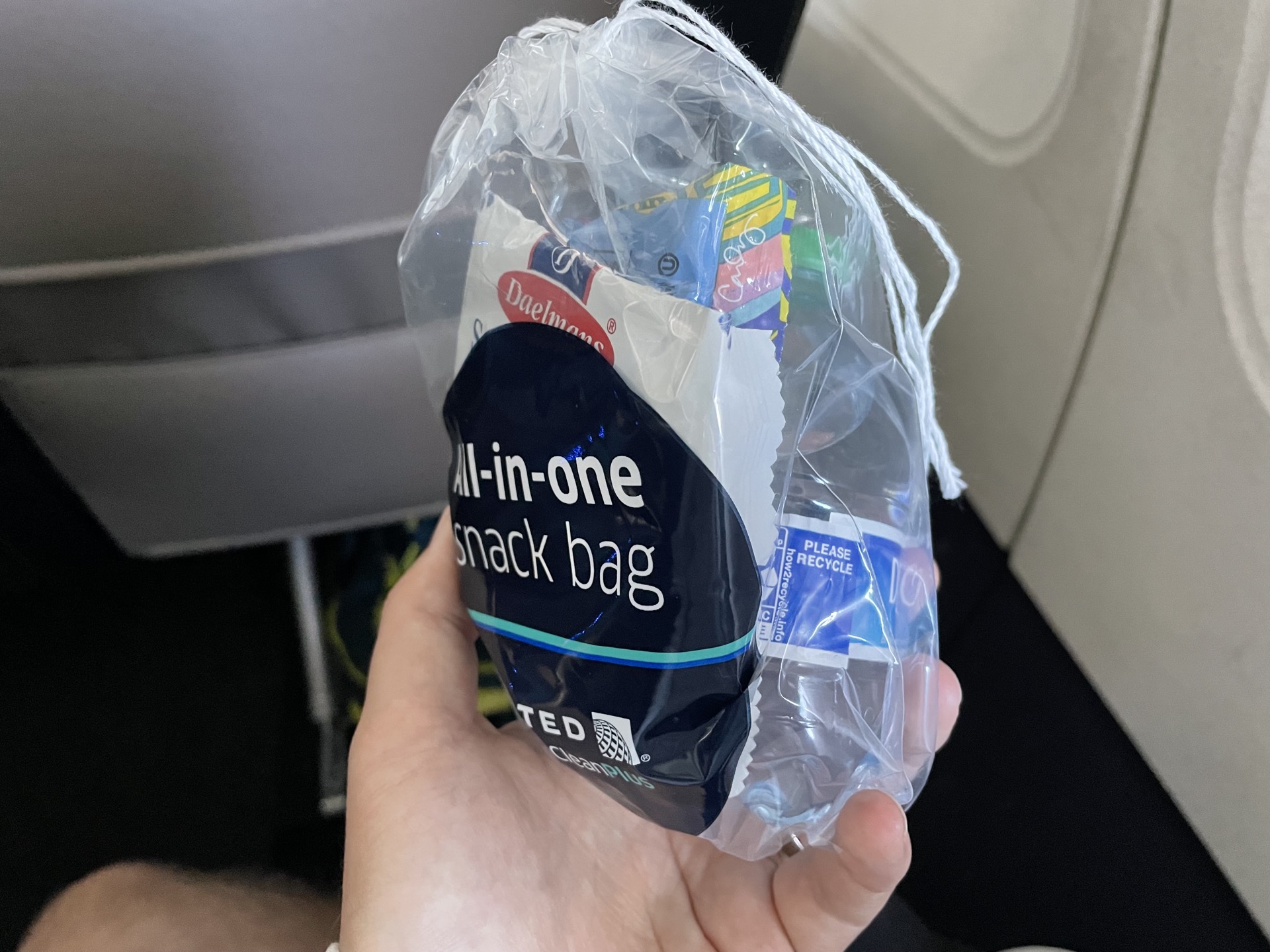 Conclusions
Maybe there was a time when Domestic First Class was a good splurge, and I'm sure on some long routes (say, LA – NYC) it still might be. For a short flight, the upgrade is mostly about comfort. You get more space, slightly better service, a quieter cabin, and an easier boarding/deplaning process. This is partly why it isn't surprising that half the first class cabin was full when I finally boarded—a large share of the seats are going to super-frequent fliers with status to help them secure upgrades or for whom $150/flight is insignificant.
For a casual traveler who can easily survive a two-hour flight in most any conditions, the upgrade isn't going to make sense. $150 is more than I paid for my original economy seat. That $150 is a relatively low premium for First Class and puts the pricing more in line with something like Delta Comfort Plus. I mention Delta particularly because Comfort Plus fills a nice gap between economy and Delta's First Class. We're hesitant to all domestic upgrades, but I appreciate having a variety of options, something United doesn't really offer.
But while the bulk of this review focused on my solo flight from LGA to ORD, the flight from ORD to LGA with Zoe was a bit different. In that case, I made the choice to book first class for about $500 for two seats because there were no full rows available in the economy cabin. Economy for three would have cost about $300.
Zoe can still be a lap infant, but our preference is to have an entire row. That can mean three seats with a car seat, or it can mean two premium seats (whether it's United First Class or Spirit Big Front Seats) with a lap infant. In that case the calculus is just a bit different, and I felt like the upgrade was worth it.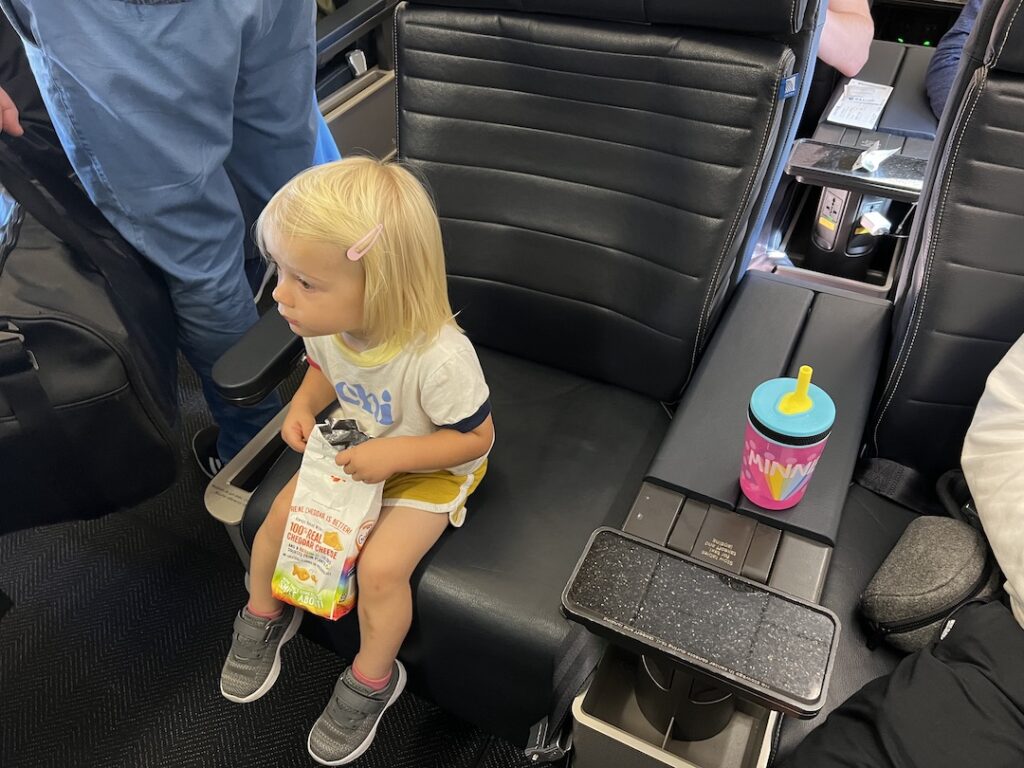 Other United Flight Reviews
If you are interested in other experiences with United, check out some of our other United reviews.