From the start of our points journey, the Etihad Apartments have called to us. Just the name "Apartment" makes it sound like a flight experience unlike any other. The Apartment brings things to the air that you'd only expect to find on the ground: a lobby, a shower, a space to invite your friends over. Getting to fly Etihad Apartments from Sydney Abu Dhabi was an incredible experience, and we'll be sharing every detail of it in this post. Let's step inside our Apartment on the A380 as we fly Etihad Apartments from Sydney Abu Dhabi.
Other Long-Haul Premium Cabins
If you're interested in building your bucket list or seeing what we think of other long-haul premium cabins, check out some of these reviews:
Booking the Etihad Apartments with American Miles
A single ticket on the Etihad Apartments from Sydney to Abu Dhabi is valued at $9,627 USD. Booking this trip with points is a travel hacker's dream that requires not only points, but a good amount of creativity and ingenuity. I won't try to tell you about the complexities involved here, but Kenny walks you through the details of how we booked the Etihad Apartments from Sydney to Abu Dhabi using American miles in a separate post. There were some nerve-racking waiting periods, but we ultimately got our seats confirmed.
The total cost for our two tickets came out to 200,000 miles + $150 cash for taxes and fees. As holders of AAdvantage credit cards, we also each got 10% of our miles refunded, so the booking actually only cost us 180,000 miles. Not bad, right?
Flight Stats
Origin: Sydney, Australia (SYD)
Destination: Abu Dhabi (AUH)
Flight Cost: 180,000 American miles + $150 cash
Payment Method: Cash + Points
Value per Point: $0.10 (our best yet!)
Flight Date: 4/20/18
Flight Time: 14 Hours 28 Minutes
Flight Delay: 0 (5 minutes early actually)
Miles Covered: 7,565
Airline: Etihad Airways
Plane: Airbus A380
Class: Apartments
Entertainment: Modern Family, Friends, Inception, Family Guy
Amenity Kit: Pajamas, slippers, eye mask, plane socks, tooth brush, tooth paste, pillow spray, pulse point oil, lip balm, lotion, and face cream
Food: Details below.
Drink: Champagne (Charles Heidsieck), Rosé (Charles Heidsieck), red wine (Bordeaux Blend by Château Magnan La Gaffeliere), fruit smoothie, latte, Arabic coffee
Primary Language: English
Airport Lounge in Sydney
When we flew Singapore Suites out of their home airport, Singapore's Changi Airport, a month earlier, the lounge was almost half the fun. Because we weren't flying out of the Etihad's home airport in Abu Dhabi, we did not get the same red carpet treatment flying out of Sydney.
Our ticket granted us access to the Etihad Business & First Class Lounge at Sydney Airport. The lounge had a dining area with a small table service menu and a small buffet of hot and cold snacks and desserts. We ordered the marinated halloumi cheese and the sweet potato soup from the menu and both were incredible. There was also a lounge area and a full-service bar. Good as far as airport lounges go, but nothing special as far as premium flight experiences go.
After a couple hours in the lounge, our flight began boarding and we made our way to the gate. First Class boarding is always quick, and we were soon inside our Apartment where we'd spend the next 15 hours.
The Apartment
If your only experience with First Class is what you've seen on domestic flights by the likes of United or Delta, prepare to be wowed…
The Apartment was the largest amount of personal space that I've ever had on an airplane. It was absurdly spacious, making even the Singapore Suites feel small. The Apartment feels like — you guessed it — a small apartment in the sky.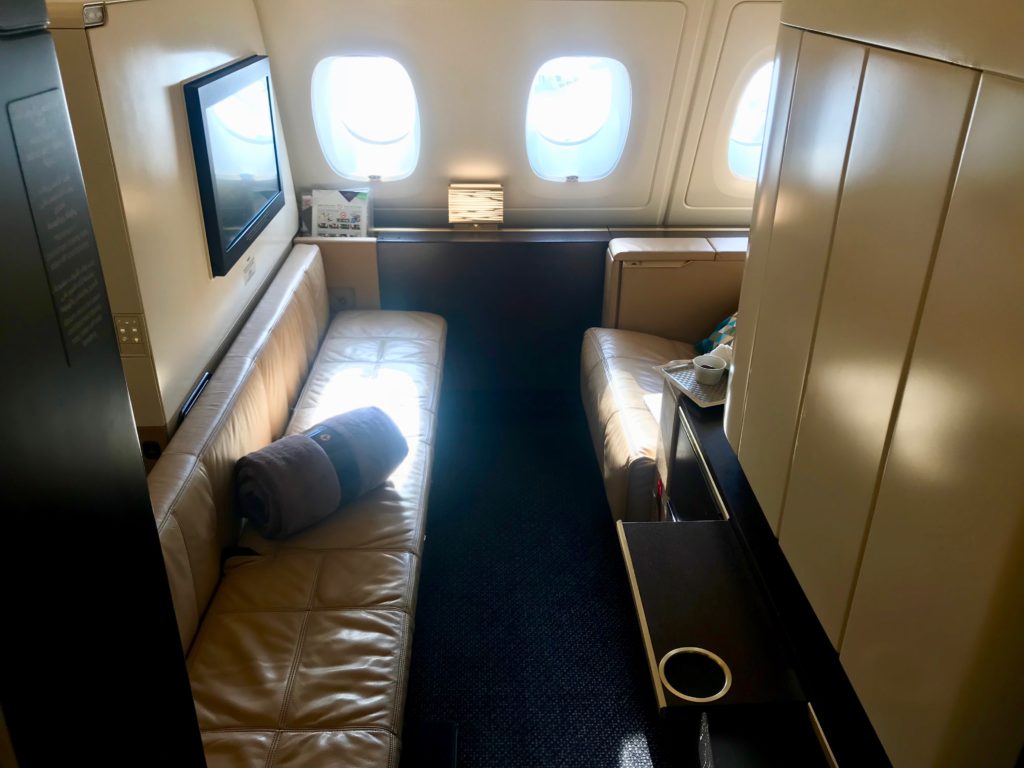 Some of the Apartment features include:
Oversized leather chair (which obviously has built in massage functionality)
Personal minibar stocked with cold soft drinks
Lighted vanity space filled with amenity kit essentials
Seats for two additional guests (only to be used by other Apartment flyers), which convert to a lay-flat bed
24″ flatscreen TV, which shifted positions to be visible from the seat or bed
Three (that's right, THREE!) windows
Tray table large enough for two to eat together or to have a meeting between two people with laptops
Noise-canceling headphones
Storage space for your carry-on, personal item, and lots of other hidden cupboards for all your other goodies
We found the hard-product onboard the Etihad Apartment to be in a league of its own. While the minibar and the vanity were more of a "wow" factor than they were actually necessary, we got a lot of use out of most everything else. We loved having so much space to walk around and spent a lot of time bouncing back and forth between each other's Apartments.
The only downside we could find with the actual Apartment set up was for couples traveling together. We loved that onboard the Singapore Suites, the two Suites completely opened up to feel like one large Suite. In the Apartment, only half the wall opens up to the neighboring Apartment, and it's the side opposite of the primary seat. So unless we physically moved into the other's apartment, it was not possible to sit beside or across from the person you're traveling with. This was only an issue during takeoff and landing. When the beds were made up, you were able to lay side by side (with the wall divider half the way), each with visibility to your own TV.
Service On Board
The Good
For the most part, the service on board was impeccable. When we boarded, we were immediately greeted with the standard offerings of champagne, light snacks and magazines. Included on our tray with our champagne was a voucher for free wifi on board; a nice touch. Two flight attendants, the in-flight chef, and chief steward all came by to introduce themselves. We don't love how many people you interact with on premium flights, but they were all very polite. We were given a tour of our apartment and they pointed out all the hidden storage places and bells and whistles of the Apartment, which was definitely a unique experience.
One of the flight attendants, a sweet young woman from Abu Dhabi, was notably great and I wanted to be her friend. She was my primary flight attendant and we chatted a lot about travel and life. She was always checking to be sure everything was going well and I had everything I needed.
Drink service was not as bottomless as we've seen on other flights, but if we buzzed, they were always more than willing to top off our glasses. The turndown service was great, and we loved being woken up to fresh juice smoothies. Nothing too specific stands out, but the team exuded all the elevated customer service skills that you'd expect by a First Class flight attendant or at a nice hotel. Most of the time.
The Bad
The Lobby is the inflight lounge area, where six people across Business and First Class can sit together around a small table and socialize. It's modeled after a hotel lobby and is Etihad's answer to services like The Celestial Bar on board the Korean Air A380 Business Class product. We don't think The Lobby even holds a candle The Celestial Bar as a hard product, but when it comes to service, The Lobby drops even lower on the list.
The service in The Lobby was bad by any standard. There was no proactive service in the area, and it wasn't really clear if there was supposed to be. There was also a bar with glasses provided that appeared to be for helping yourself, but that was not the case. The Business Class flight attendants were constantly walking through the area, so occasionally we'd get their attention and get a drink order in. The flight attendant had no interest in serving us, though. He frequently got orders wrong, he was very short with us and at times rude, and he clearly did not want to be dealing with us.
I will say that we were sharing the lobby with some relatively rowdy Australians from Business Class, but that is no excuse for the poor customer service.
And The Awkward
Before takeoff, the in-flight chef came around asking what drink we would like to have brought to us after takeoff. "What a great touch," I thought. Alas, the plane took off, and the flight attendant came by to take my drink oder … again. While this is not a big deal to me, this lack of communication between the chef and the flight attendants continued throughout the flight. I was frequently asked about things twice and things were brought to me twice, both by the flight attendant and the chef.
No, I don't really care if I have to order a drink twice. It was just a service I've never seen before, and it was just weird that they didn't doing anything with the information they solicited. Throughout the flight, this was just more awkward than anything.
Meal Service & In-Flight Chef
The in-flight chef is a service Etihad provides to its First Class passengers that gives them the opportunity to create and customize their meal on board. You can order anytime and build your meal from the a la carte menu or the Lounge & Grill menu (which included meats cooked to order and other "sophisticated yet familiar favorites"). The chef can even create a custom meal for you based on your dietary and taste preferences.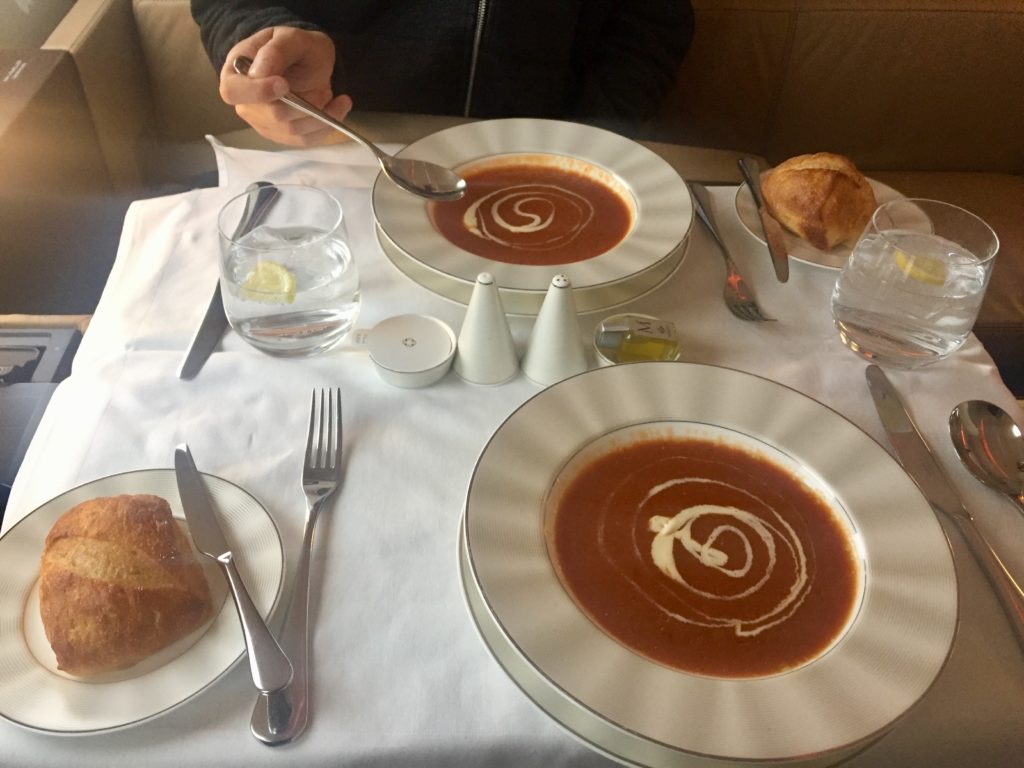 The in-flight chef was one of the many people who introduced themselves to us before takeoff. He gave us our menus to look over and explained how this whole in-flight chef situation was going to work. The in-flight chef is also apparently in charge of scheduling for the onboard showers, so he asked us if we'd like to schedule one. Of course we would, but more on that later.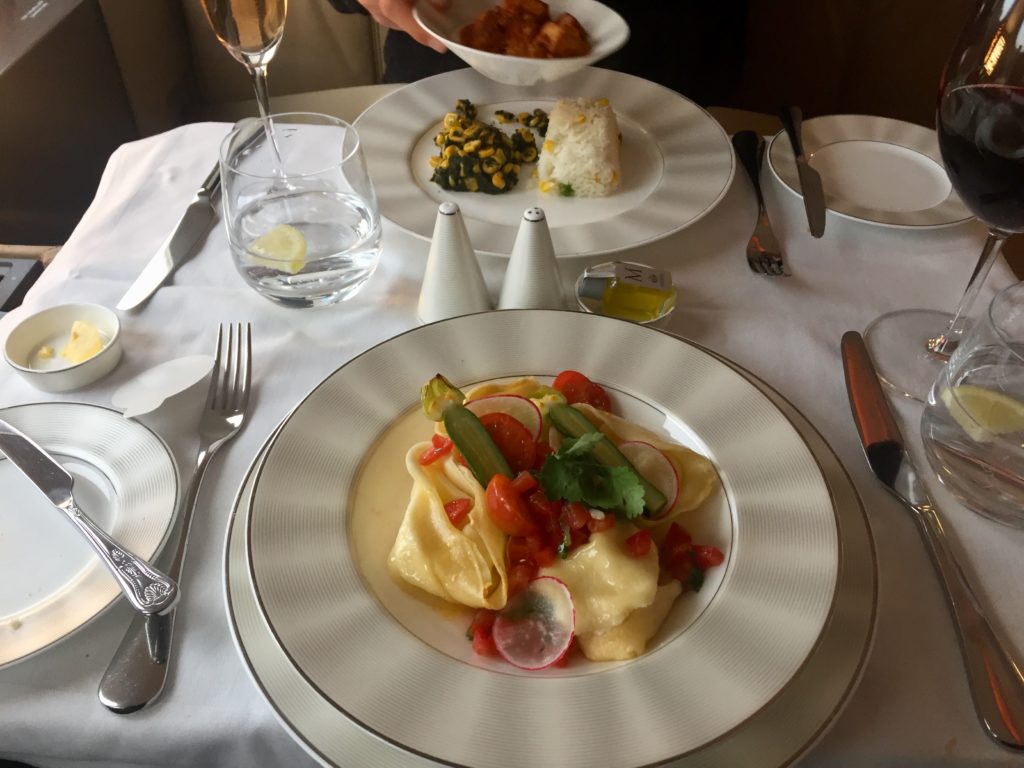 When it came time to order, we chatted a bit, and I told him that we pre-selected the vegetarian meal option. He said he could give me the standard vegetarian option, or I was able to order from the provided menu, which had vegetarian options. I opted to order off the menu and selected the tomato basil soup, goat cheese ravioli and treacle cake with apple galette. Kenny had pre-selected the Asian vegetarian meal, and asked if the chef could explain what that would include. When the chef said "Indian" and "Spicy", Kenny was sold, and went with that. He also ordered the tomato soup and the raspberry ricotta cheesecake.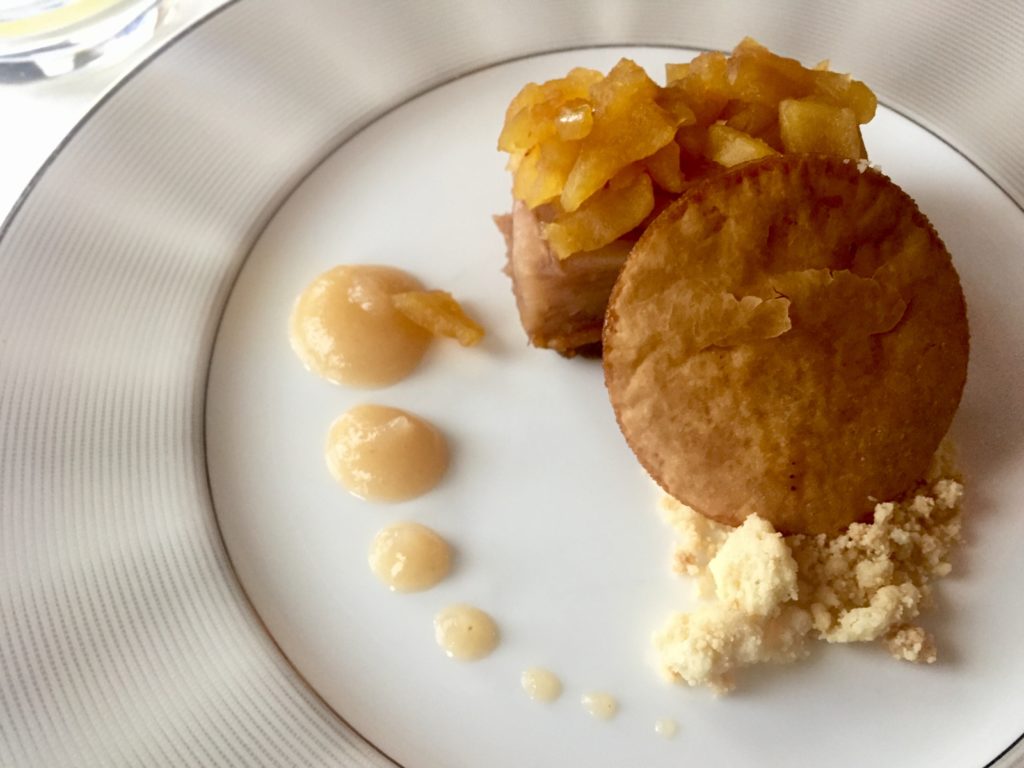 Breakfast was less eventful. We were delivered smoothies upon wakeup call, and I ordered eggs sunny-side-up. My breakfast came and it was exactly as I'd expect from any breakfast I'd order at a regular restaurant. Kenny wasn't hungry and opted to order just the fruit smoothie from the menu. What came out was more of a juice, but Kenny said it was fine.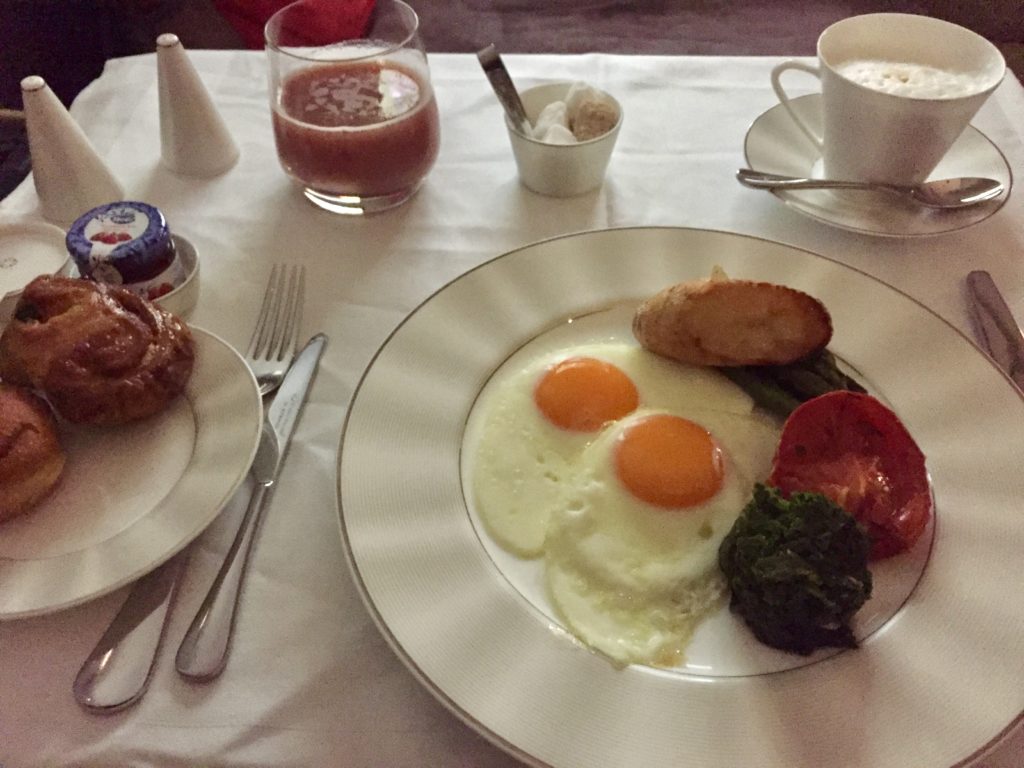 We found the food to be really good, especially the dessert, and we have no complaints. We're not foodies, but we liked the variety and everything tasted really fresh (as in not just reheated in a foil tray). The drinks were top shelf, of course, but we didn't recognize the champagne or wine brands. This is not shocking, as we're not big into either, but there weren't names like Dom Pérignon.
Turndown Service
The two extra guest seats in each Apartment convert into a lay-flat bed, which runs perpendicular to the windows. This is different than most cabins in which the main seat converts to the bed. At over 6-feet in length, the bed is perfect for taller travelers. Unfortunately, it is not very wide at all. It is no where near the width you would have if the main seat converted to the bed. We're small people, so we got along fine, but flight reviews from full-size travelers report this to be a real issue.
We were away from our Apartment during turndown service. We had stepped into the Lobby, and by the time we came back to our Apartments, our beds had been made up. This was great for us, and we were happy to pour ourselves into our cozy beds right away. Though if you do happen to be in your seat during turndown, it should not be a disruption at all since the seat and the bed are completely separate units.
The bed was comfortable. It included an additional mattress pad on top of the already padded leather seats. Etihad highlights their all-natural luxury cotton bedding. We're no bedding connoisseurs, but we were quite comfy. The TV's pop out, perpendicular to the wall, allowing you to watch TV from bed. My TV though never quite stayed popped back in after that though, so I had trouble keeping my TV visible from my seat the rest of the flight.
Arrivals Lounge
Typically, your ticket only gets you into the airport lounge at your departing airport. This is true for all flight classes. When you fly Etihad into Abu Dhabi though, your First or Business Class ticket gets you into a lounge on the arrivals side. Kind of a fun perk.
The lounge is small. It just has a few snacks, drinks and comfy chairs. It is presumably most useful for its shower room so you can freshen up before taking Abu Dhabi by storm. We popped in and had a few Madeleines, but it was 1AM and we were ready to get to our hotel.
What We Missed
I've mentioned the showers on board a couple times, and we were really excited about them. This amenity is only available on Etihad and Emirates First Class A380 products, and it seems to be on the way out as far as premium cabin amenities go (probably because it's outrageous). We scheduled our time with the in-flight chef (still weird) before takeoff, and waited patiently for the most exciting shower of our lives. As you can tell by the header, that time never came.
Two hours before landing, our flight attendant came by and let us know that the showers were broken and unfortunately would not be available on the flight. Heart. Broken. I can't help but feel like this was a lie and they were holding a grudge against us for the rowdy lobby mates. Kidding (kind of). I've actually read that the shower has been broken in a few other reviews. It was a bummer as this was kind of a once-in-a-lifetime flight for us, but that's how things go sometimes.
The other indulgent perk that comes with the Etihad Apartments is the chauffeur service. This service offers transportation to/from the airport to/from anywhere in the UAE. This would have been awesome for us to arrive in Abu Dhabi after midnight and be able to just hop right into a car to the hotel. Unfortunately, Etihad has been pulling back on amenities for passengers who book with points, and this was one of those perks. So we did not qualiiy for the chauffeur and took a taxi.
But chin up! We flew the Etihad Apartments, and that's awesome even without a shower and chauffeur.
Closing thoughts
The Etihad Apartments hard product is hard to beat. We loved the spacious quarters and are willing to forgive the separation for couples in joining Apartments. The minibar, vanity and showers are fun touches that help set the Apartments apart. However, their soft product fell a little flat for us. There were enough gaps in the customer service that we can't get past, so we have to give Singapore Suites the lead in that category. (Plus they had better pajamas than Etihad.)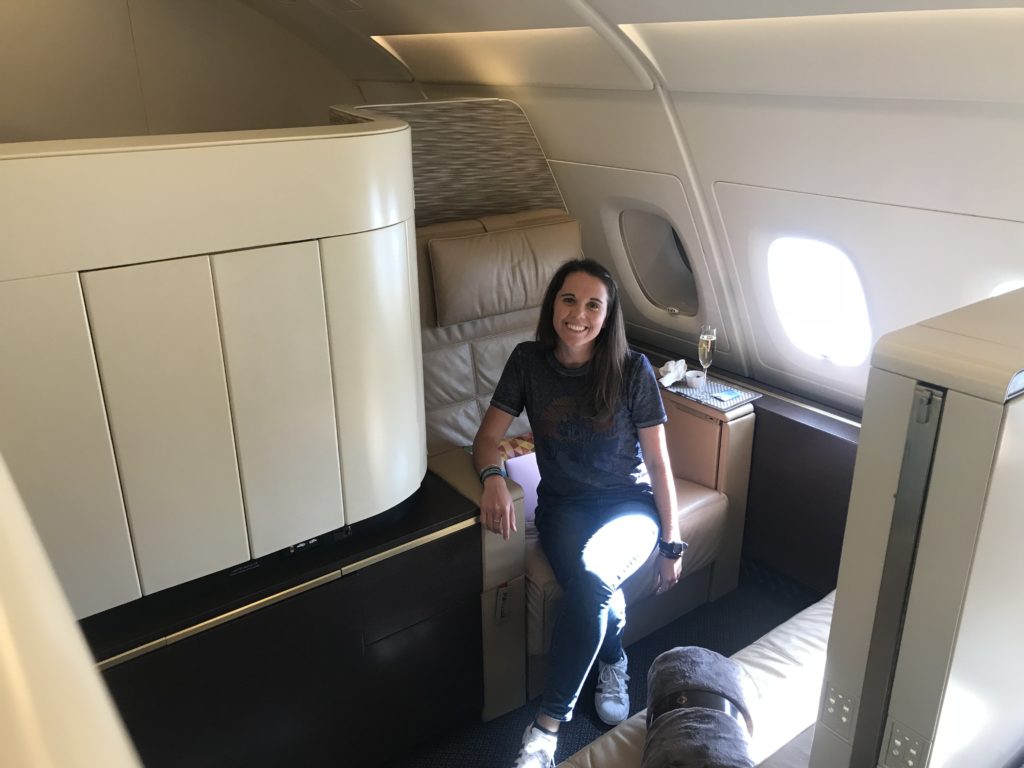 Despite being 14 hours, this flight went to fast. I didn't feel like I ever had enough time to really take it all in. Believe it or not, the Apartments are not Etihad's top flight experience. The Etihad Residences are their premier product, and you know we're already saving points to get ourselves on board. So maybe on that flight I'll be able to fully appreciate everything that Etihad has to offer. But until then, that's a wrap on our flight review of the Etihad Apartments from Sydney Abu Dhabi.
Have you flown any really cool flights? Tell us about your favorite flight in the comments below.