Nothing makes me feel more undeservingly cool like flying in upper cabins on huge airplanes for long-haul flights. I clearly don't belong there. I've constantly got Fergie's "Glamorous" stuck in my head, I'm wearing the same shirt I've worn for the past three days, and I take more pictures on the plane than in most cities I travel to. I would never pay the $5,000+ to actually purchase tickets like this, but alas, my husband is a points boss and scored us these tickets for only $100 cash.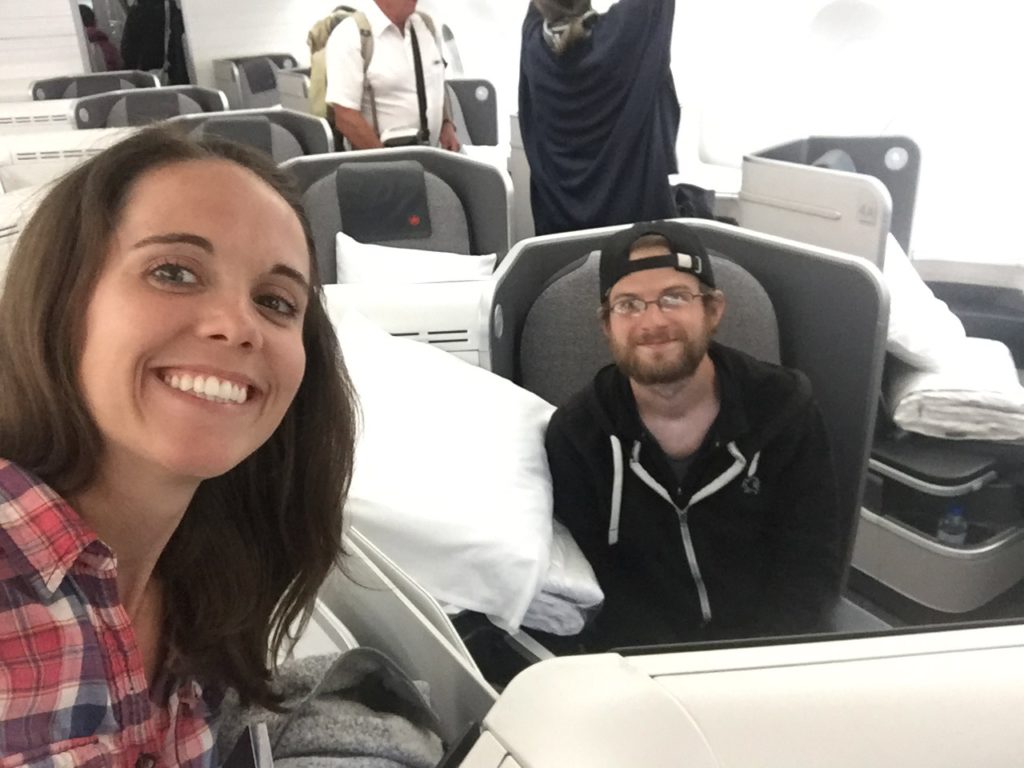 This was the most amazing flight experience I've had to date. This isn't really surprising considering the only other time I've flown first class was on United from Orlando to Chicago (which was awesome at the time, but domestic flights on airlines like United or Delta don't really go over-the-top like international carriers) and the business class flights we took on Avianca in South America were usually no more than two hours.
Jump on the plane with me as we flyBusiness Class from Santiago to Toronto on Air Canada.
Other Long-Haul Premium Cabins
Before we go on, if you're interested in building your bucket list or seeing what we think of other long-haul premium cabins, check out some of these reviews:
Flight Stats
Origin: Santiago, Chile (SCL)
Destination: Toronto, Canada (YYZ)
Flight Cost: $99.72 +110,000 United miles for two (United miles were transferred from Chase Ultimate Rewards points)
Payment Method: Cash + Points
Value per Point: $0.05
Flight Date: 9/19/17
Flight Time: 10 Hour 15 Minutes
Total Travel Time: 17 Hours 2 Minutes (includes a connection to Chicago)
Flight Delay: 0
Miles Covered: 5,332
Airline: Air Canada
Plane: Boeing 787
Class: Business
Entertainment: Cars and Moana (because we're adults.)
Amenity Kit: Socks, eye mask, toothbrush, toothpaste, floss stick, chapstick, lotion, cleansing cloth, earplugs, mint.
Food: So much food! Details below.
Drink: Champagne, Port, Bailey's, Orange Juice, Coffee
Primary Language: English, French, Spanish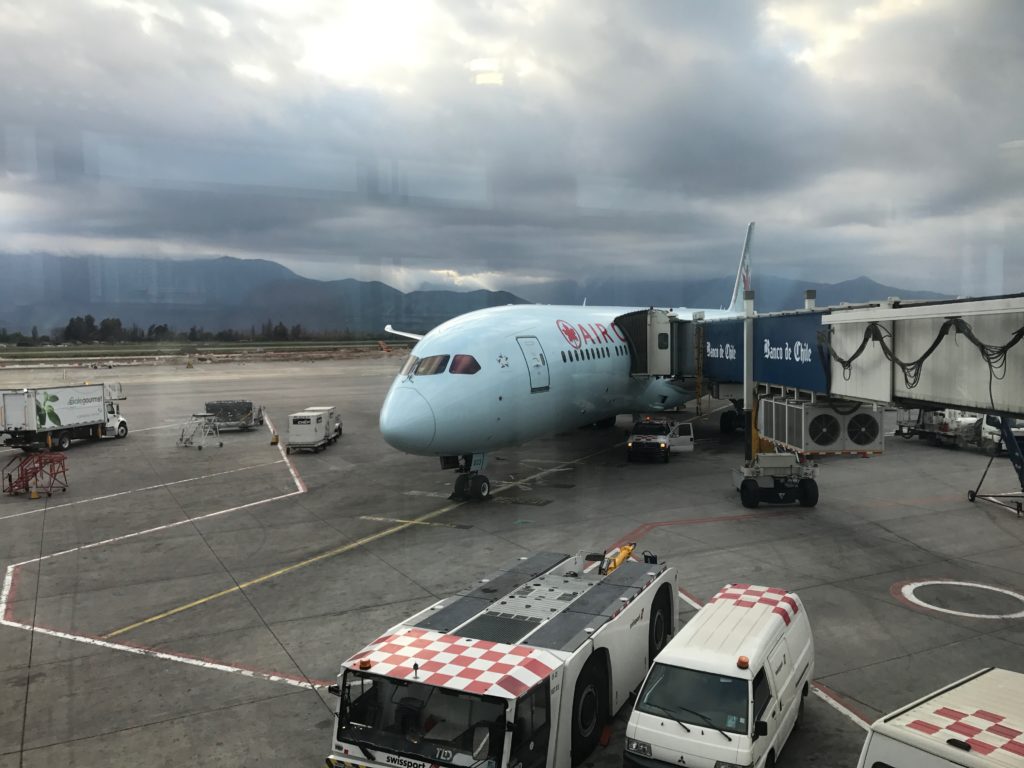 The Lounge
Business Class usually entitles you to lounge access (varies by airline and airport). Air Canada does not have a lounge in Santiago, so they permit you access to the Avianca lounge. Instead of using the lounge that we were entitled to with our tickets, we ended up using our Priority Pass membership (thank you, Chase Sapphire Reserve) for entry into The Lounge.
It was one of the better lounges we'd been to in South America and had a full DIY bar with a range of liquors, wines, champagne, and beers. The non-alcoholic beverages were limited to Coke, Fanta and juices. Even though I was kind of sick at the time, I jumped right into to my fancy flight experience and made myself a mimosa.
The food was surprisingly vegetarian friendly, offering vegetarian sushi, sandwiches and soup, among other non-vegetarian options. I really loved the sweets section which included mini donuts, a variety of cookies, and the most amazing cake (that I had several slices of) which tasted like anise angel food cake. I also ate plenty of mixed nuts and olives, and of course, had another mimosa.
This was all before we even boarded. Looking back, I actually should not have done this because of all the food and drinks I would get shortly after on the plane.
The Amenities
We boarded the plane quickly and easily and made our way into the business class section of the plane. The seats were arranged in a 1-2-1 pattern, so we had seats next to each other in the middle section. It was nearly empty so I had plenty of space to get situated, and put my baggage in the overhead bins.
Note: The center overhead bins are much higher than the window-side overhead bins on a 787. I struggled to get my backpack into the big above my center aisle seat before the flight attendant pointed out I should try the ones on the other side. "Us shorties need to stick together," she said. That's the moment I knew we'd be friends.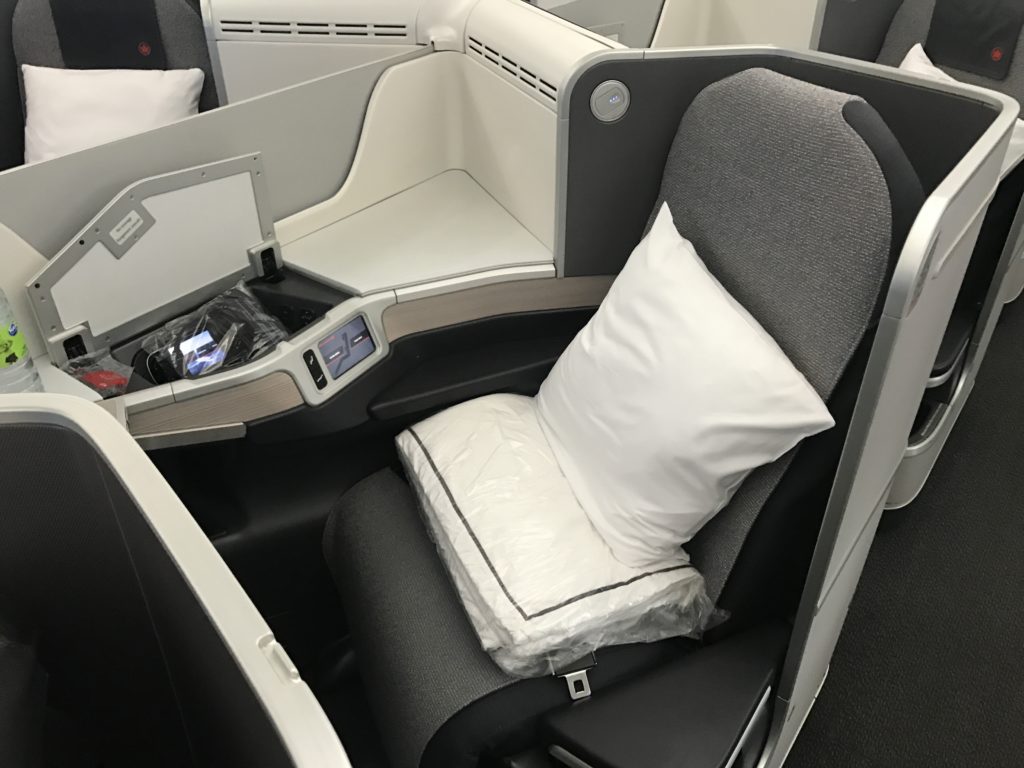 I immediately started checking everything out and playing with everything. We had a nice down blanket and a pillow, perfect for our lay-flat seats. There was a bottle of water waiting for us, which was actually really nice to have overnight instead of cups of water. There was a storage compartment that housed the remote control, regular headphones, and noise-cancelling headphones to use during the flight. There were several other compartments around my seat to stash a computer or other quick-access items.
The flight attendant quickly came around with our amenity kit. The case was quite nice, and included all the basic, over-night flight essentials: socks, eye mask, toothbrush, toothpaste, floss stick, chapstick, lotion, cleansing cloth, earplugs, mint. I was not blown away, but I wasn't disappointed. A very standard amenity kit as far as I can tell.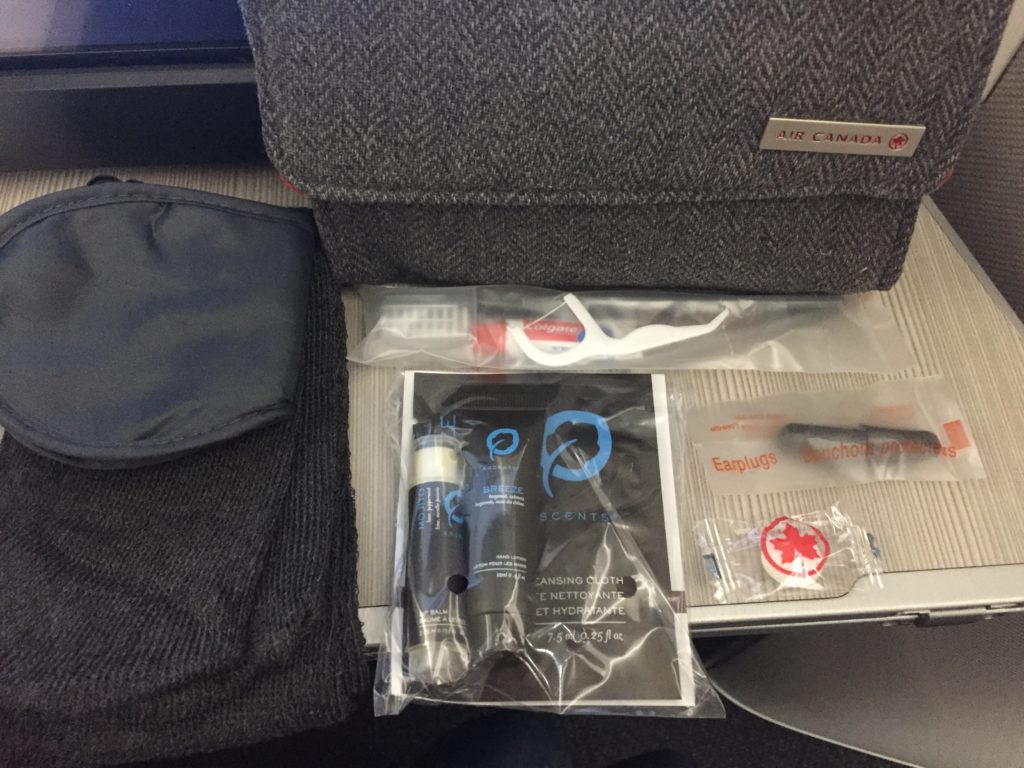 The TV was quite large, especially for an airplane, and the entertainment options were pretty great. They had a huge variety of TV shows and movies in a variety of languages, including all the basics you would expect (or I expect), like Modern Family and Big Bang Theory, and good pick of Disney movies and romantic comedies.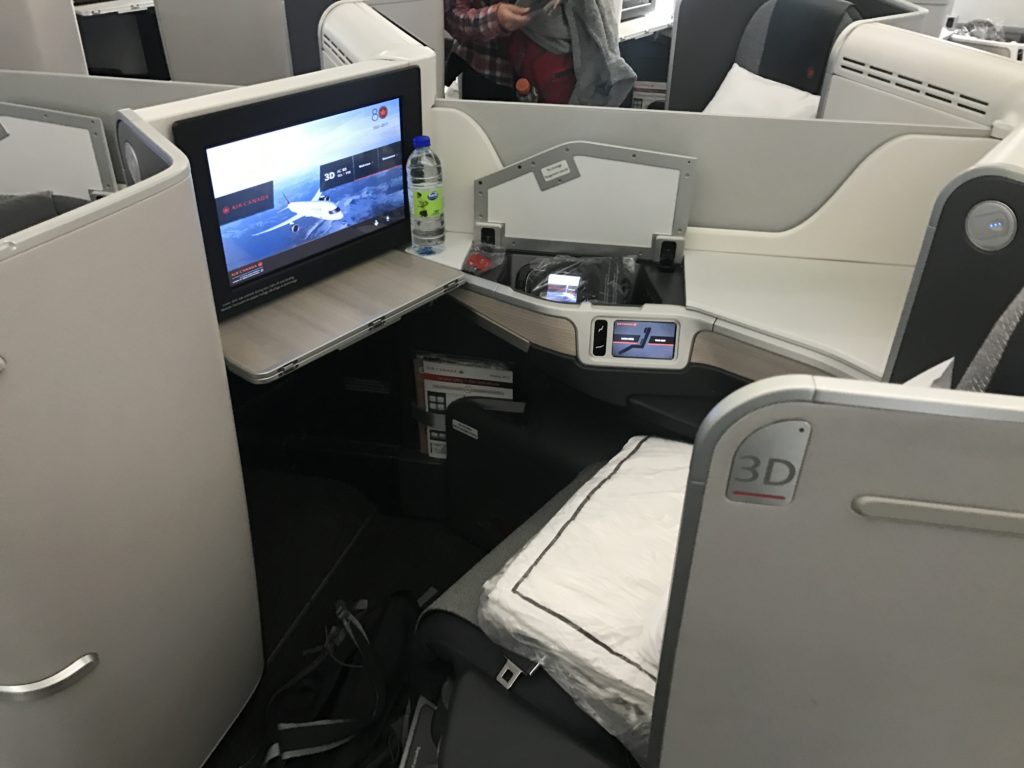 The Service
The service was exceptional. I don't know if this is because it was super obvious that I wanted to be my flight attendant's best friend or because the cabin only had about eight people in it or if they're just always that nice, but I was beyond impressed. The flight attendants were perfectly multi-lingual, and my flight attendant flipped seamlessly between Spanish, French and English as she moved between the four people in my aisle.
Before takeoff, they offered us newspapers in a variety of languages (Does anyone every read those? There's like, five different news channels on your TV right there.), and a choice of beverages including sparkling water, champagne and orange juice. We took the champagne, obviously. They handed out menus, but assured us that they had our special vegetarian meal already on board and we would not need to order.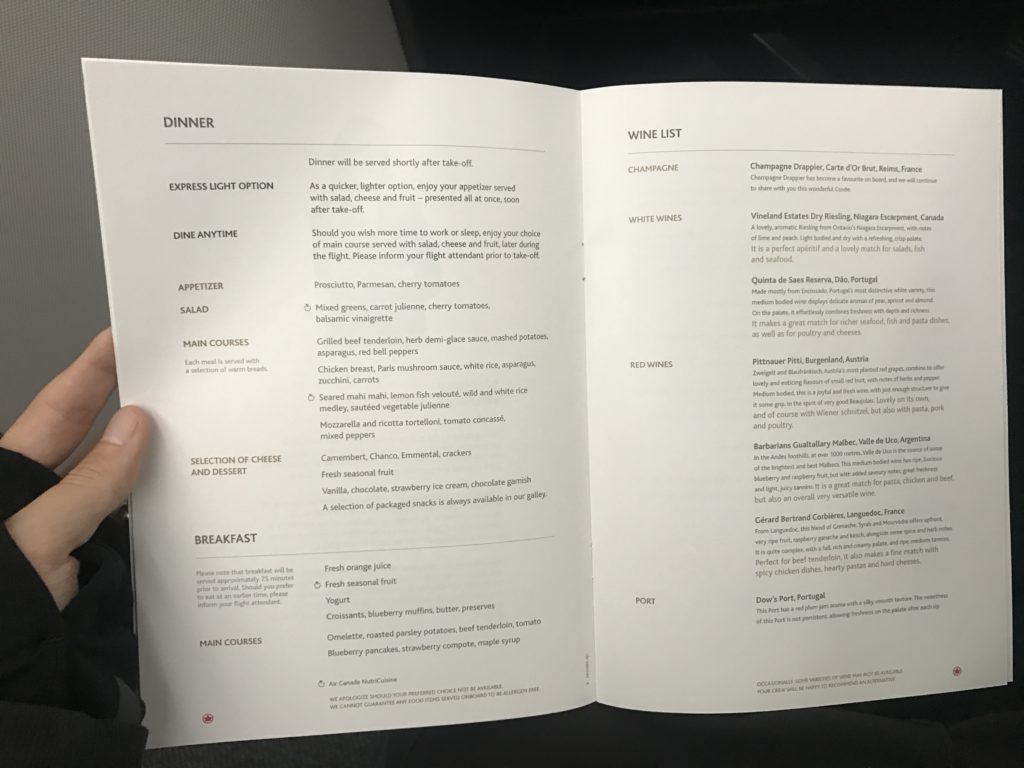 I couldn't drink my champagne fast enough. I was barely halfway through when she came back offering more and this happened consistently until the cheese course (yeah, that's a thing). I must have hesitated thinking about how this was now my fourth (or maybe fifth considering the hefty pour) champagne of the day, but she smiled while pouring it and said, "the bottle is already open, no sense in letting it go to waste." She was my spirit animal.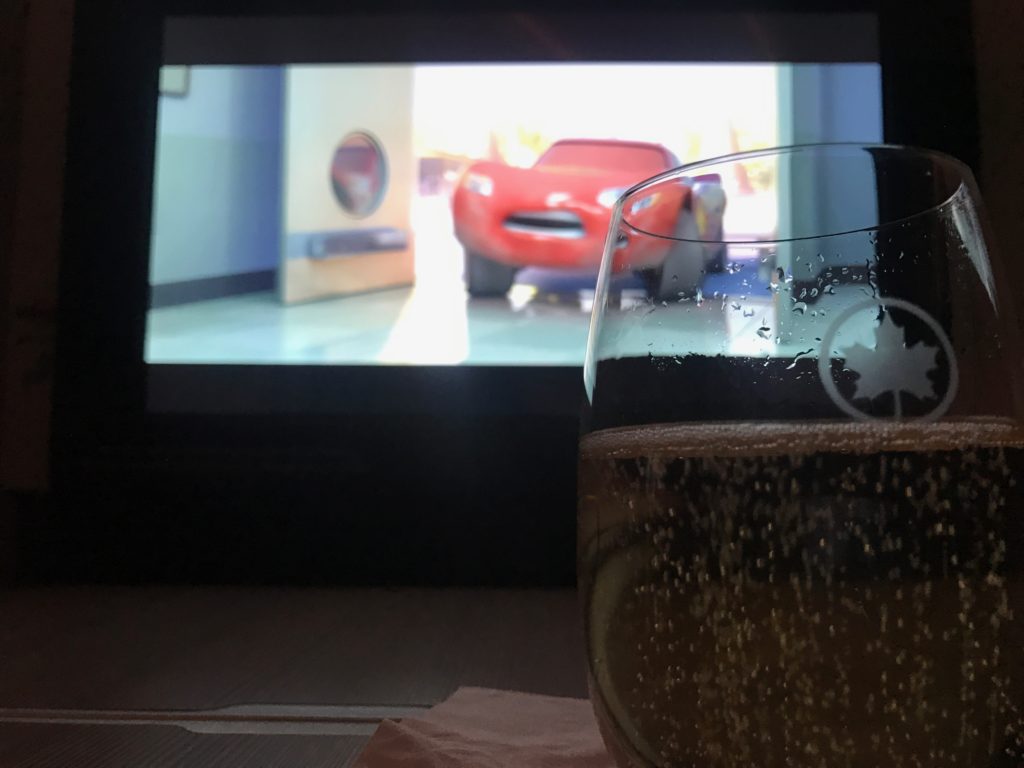 The Food
Dinner service began about an hour after takeoff. Kenny pre-ordered the Oriental vegetarian* meal and I pre-ordered the lacto-ovo vegetarian meal. Our meals got flipped for some menu items, but it was vegetarian either way so it was fine.
(*This refers to Air Canada's official meal option name during the booking process at the time the flight was booked. We will refer to this meal type as "Asian" for the rest of this post.)
The Asian appetizer included a mixed salad, roll with olive oil, rice cakes and another plate of mixed vegetables. The lacto-ovo meal subbed a different type of bread and the plate of vegetables included cheese.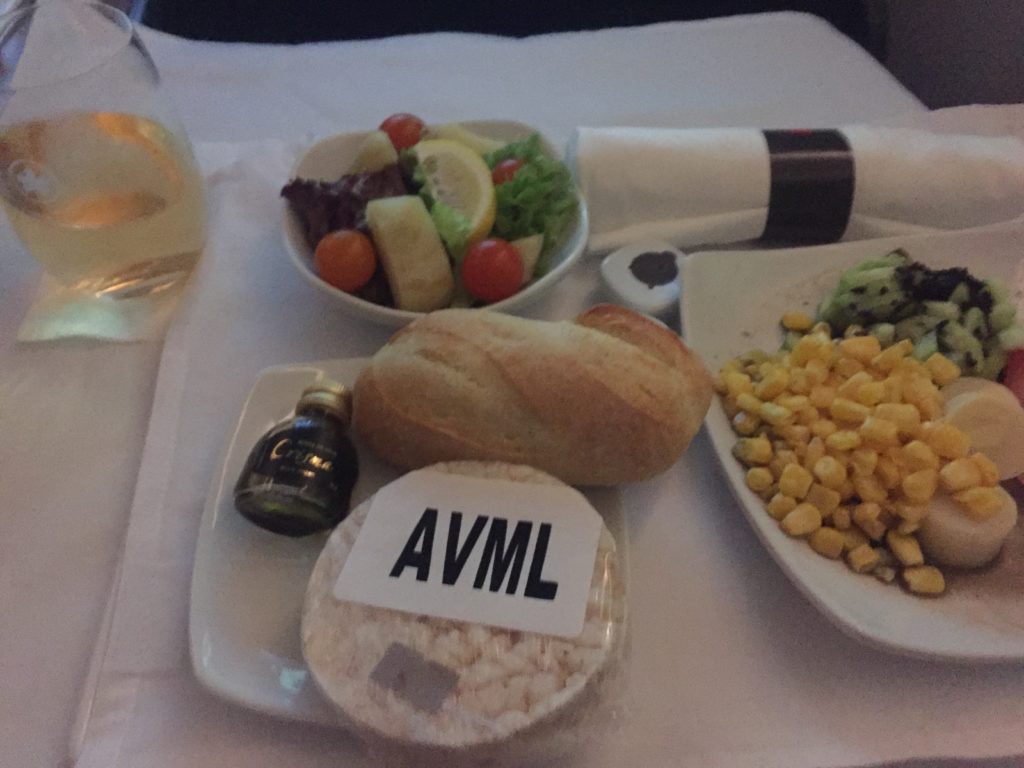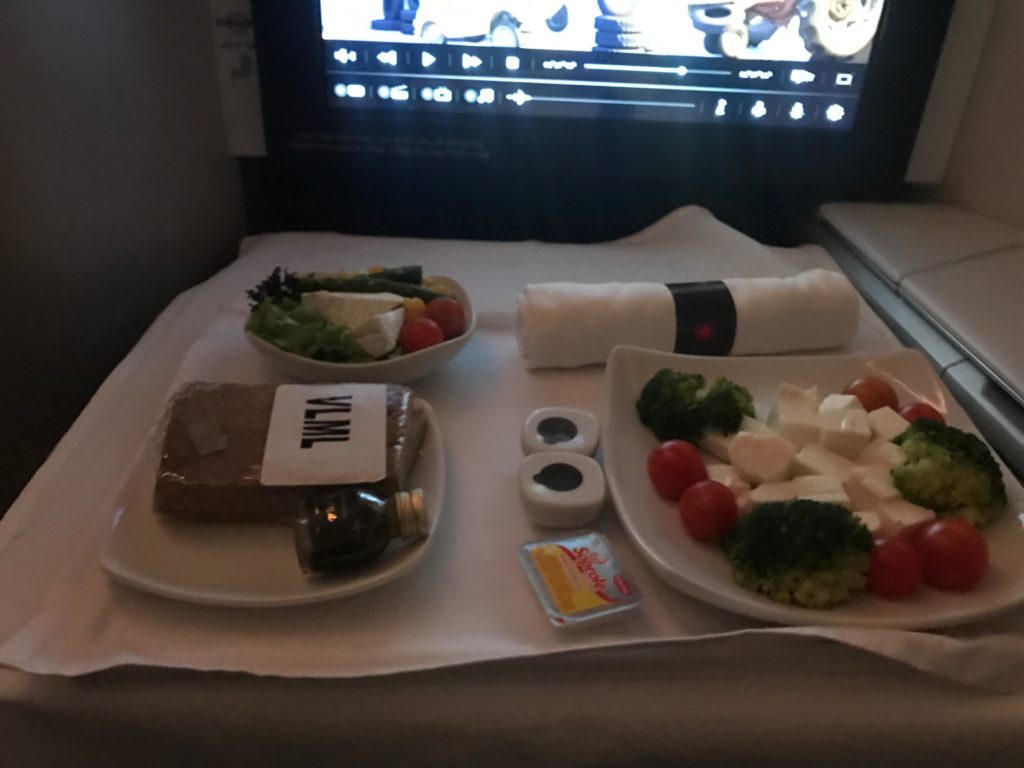 Our main course for both of us was whole wheat pasta with roasted vegetables and red sauce. Not super creative, but filling and tasty.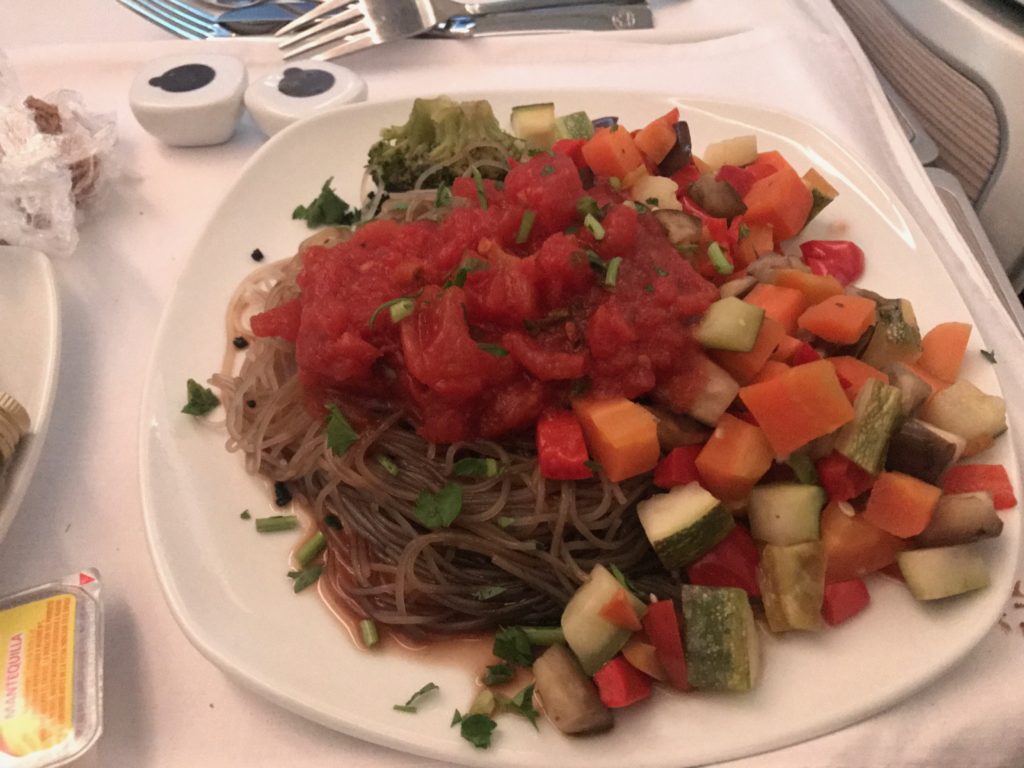 Next was the cheese course, AKA my favorite course. She offered me my plate, which I obviously accepted, and offered me another drink. She says, "I know you've been drinking champagne, shall I pour you more or would you like to switch to port to pair with your cheese?" She's the best, right?! I've never had port, but of course I'd love port with my cheese!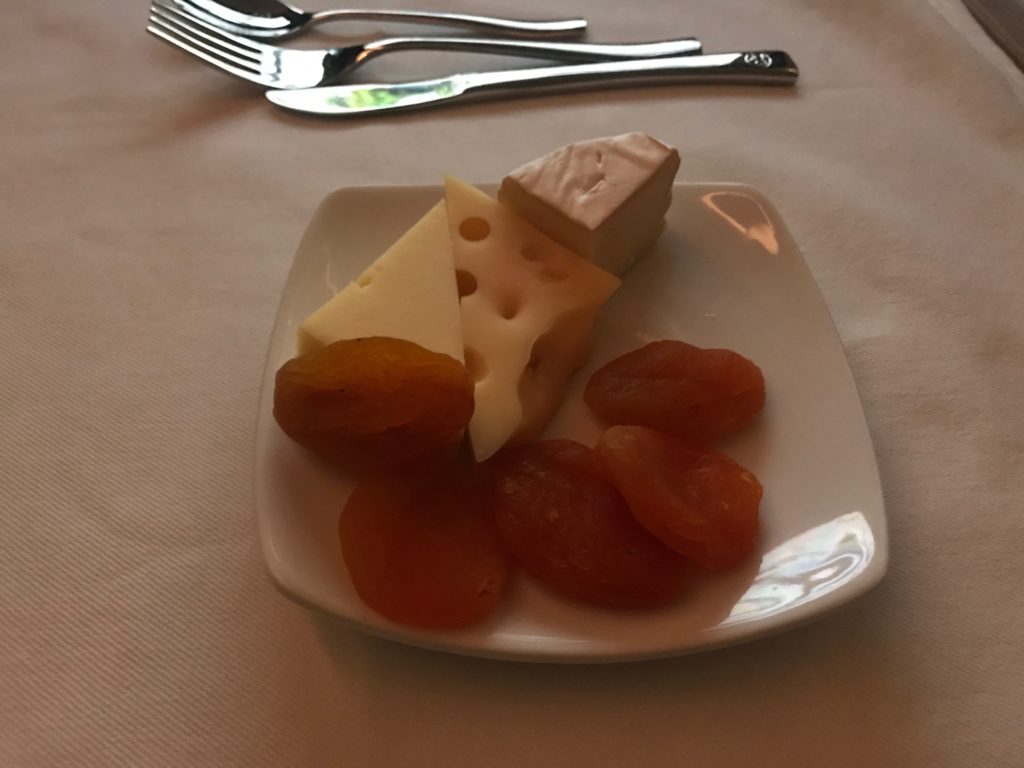 As I'm eating the last of the brie, she's back again offering me dessert of fresh fruit or ice cream. I obviously chose ice cream, and selected Baileys as my drink. As she's pouring my glass, she says, "Would you like some Baileys on your ice cream?" Heck yes I would! I would later continue pouring Baileys from my glass onto my ice cream when no one was looking.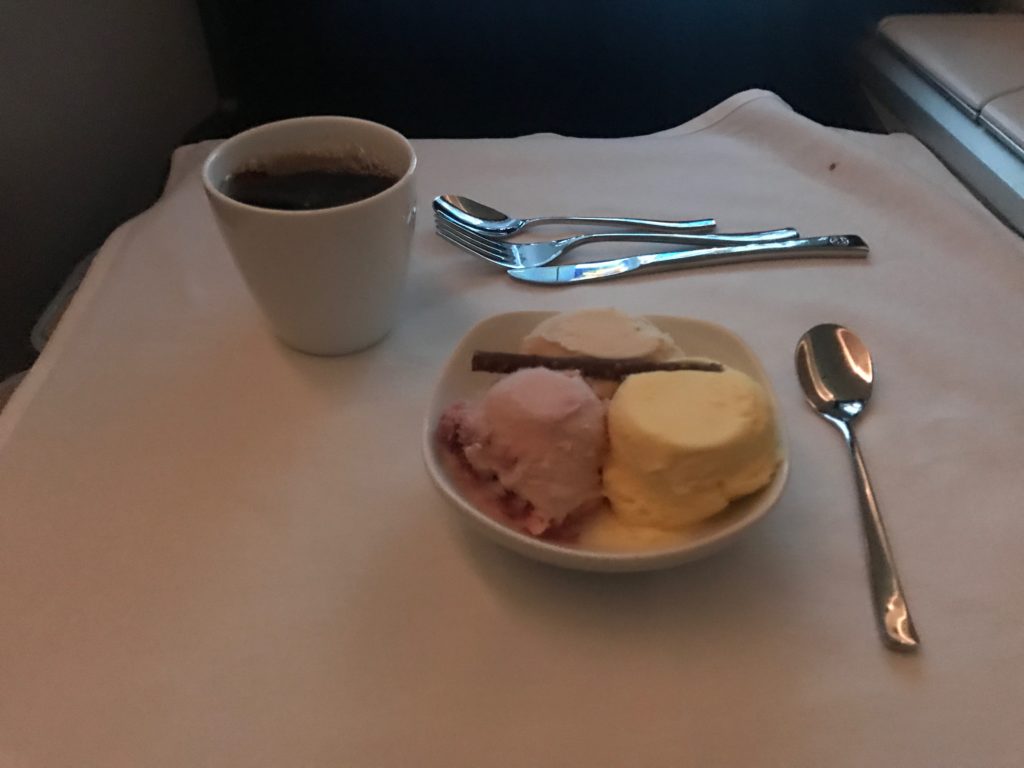 About an hour and a half before we landed, breakfast service began. I wasn't at all hungry, but of course took breakfast. The lacto-ovo version included bread, fruit, yogurt, an omelet and roasted vegetables, while the Asian version included fruit, rice cakes, juice, and a roasted vegetable stew. She brought me a much needed coffee and glass of orange juice to go with my meal, which I barely finished because I was still full from dinner!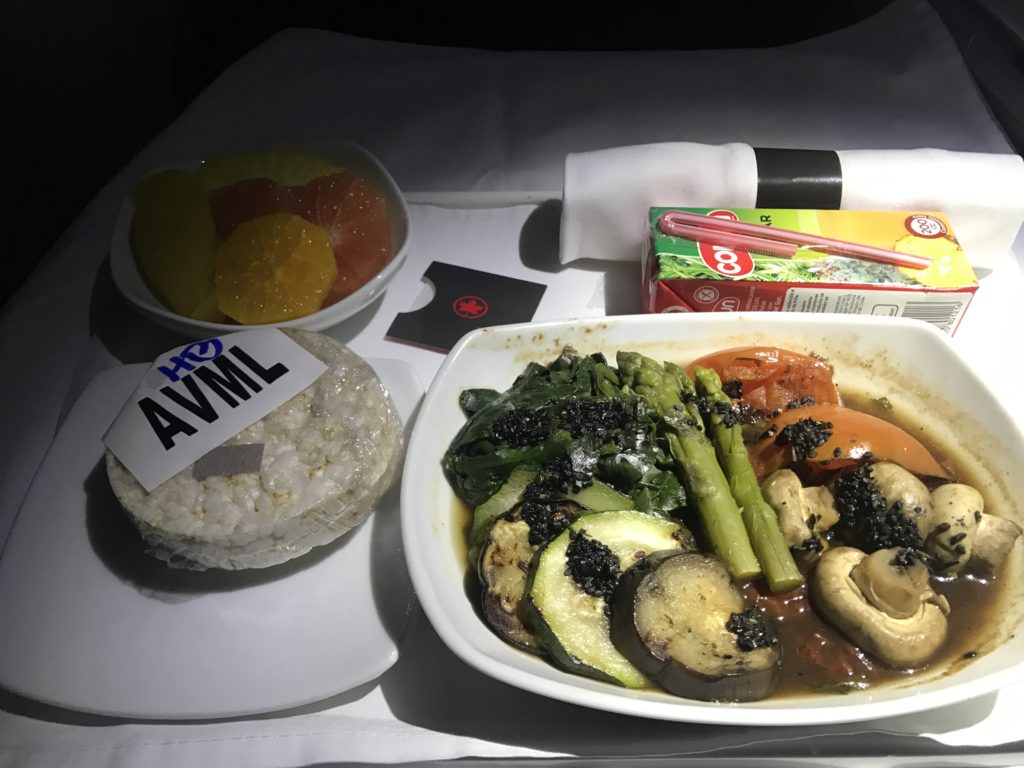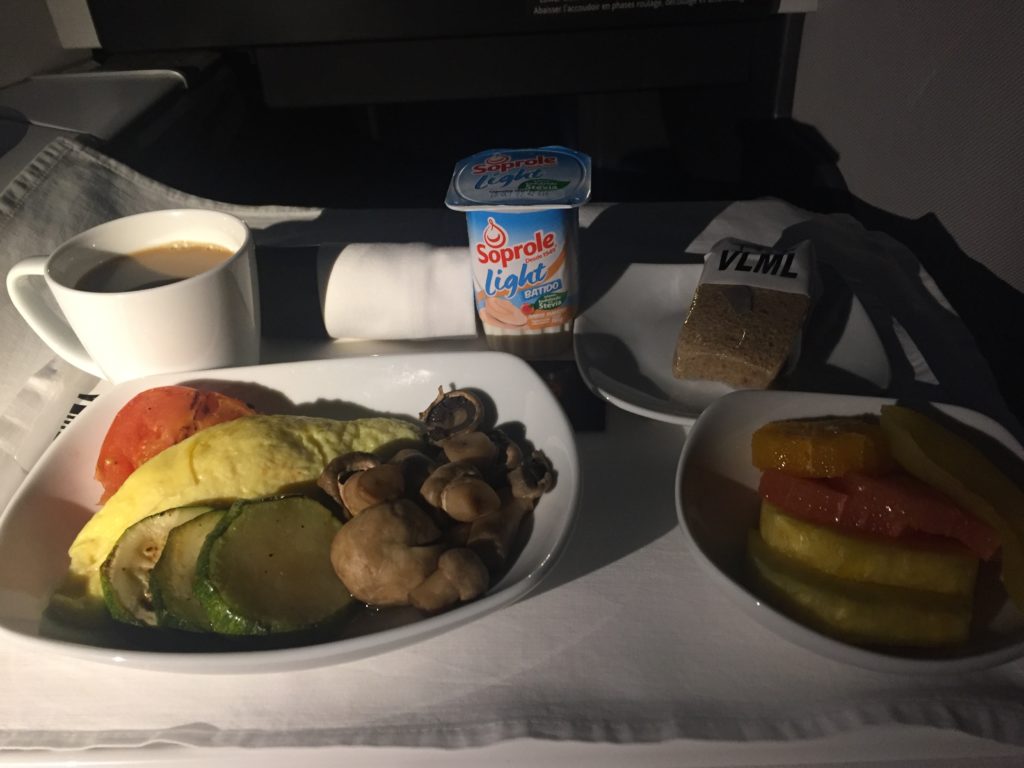 In case you were wondering, after we got off this flight, we immediately went to breakfast at Baker's Square with Kenny's parents and I ate another full breakfast because I'm a champion.
The Sleep
We were on a redeye flight and had a really busy day planned for when we landed, so we were really looking forward to the lay-flat seats. Let me tell you, they did not disappoint. The seats were angled in such a way that you could have your seat in any direction and it would not effect the person in front or behind you at all.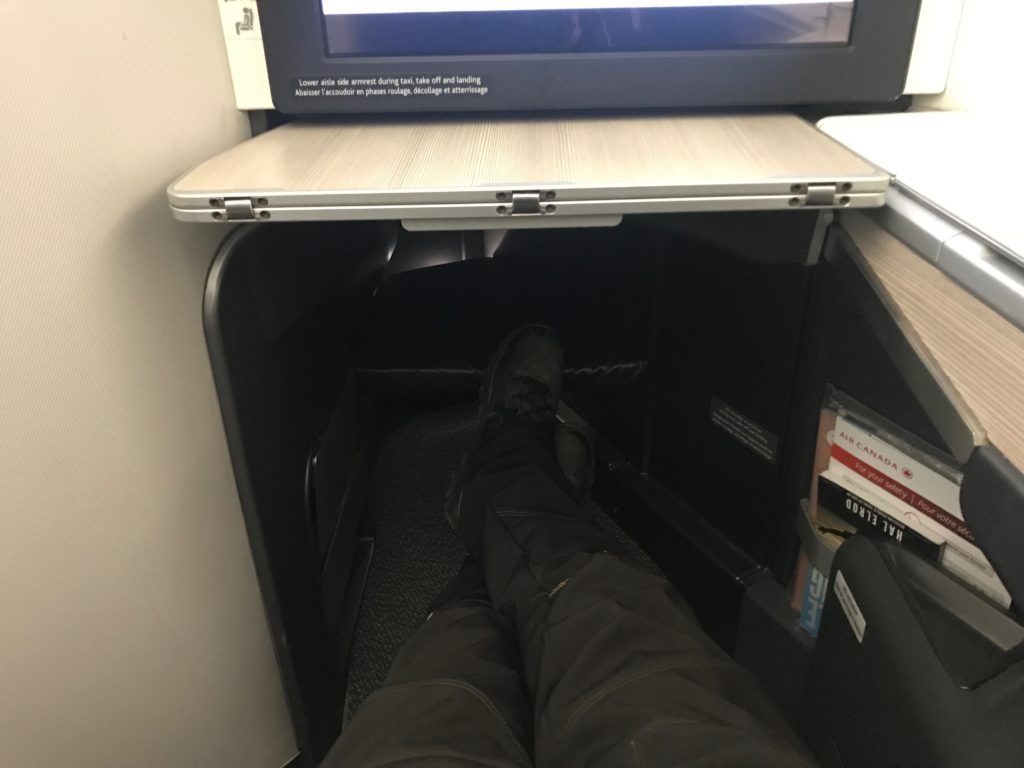 After dinner, we laid our seats flat and nestled in for the night. Being able to stretch out while sleeping combined with the cozy blanket and fluffy pillow made for the best sleep I'd ever had on an airplane. And while that's still not great sleep, it's much better than sleeping sitting up. I kept on my noice cancelling headphones as I feel asleep to Moana. They were great headphones actually and served the purpose of ear plugs just fine.
The Summary
I was super impressed with this Air Canada flight! The seats were amazing, the service was top-notch, and the food was great. We actually chose to visit Santiago because the value of this Air Canada business class was impossible to beat (we just lot lucky that we happened to be in Santiago for Fiestas Patrias). If you find yourself in South America, it's absolutely worth tacking on a stop in Santiago to fly business on Air Canada, and then connecting to your US destination (which we did to Chicago).