In this post I explain our experience flying Air Canada Business Class in the A321 from Vancouver to Toronto. I have flown (and adored) Air Canada Business Class once before, but that was an overnight international flight. I was excited to see what the product looks more recently and on a domestic Canadian route.
Keep reading to learn more about our experience flying Air Canada on the A321 in Business Class!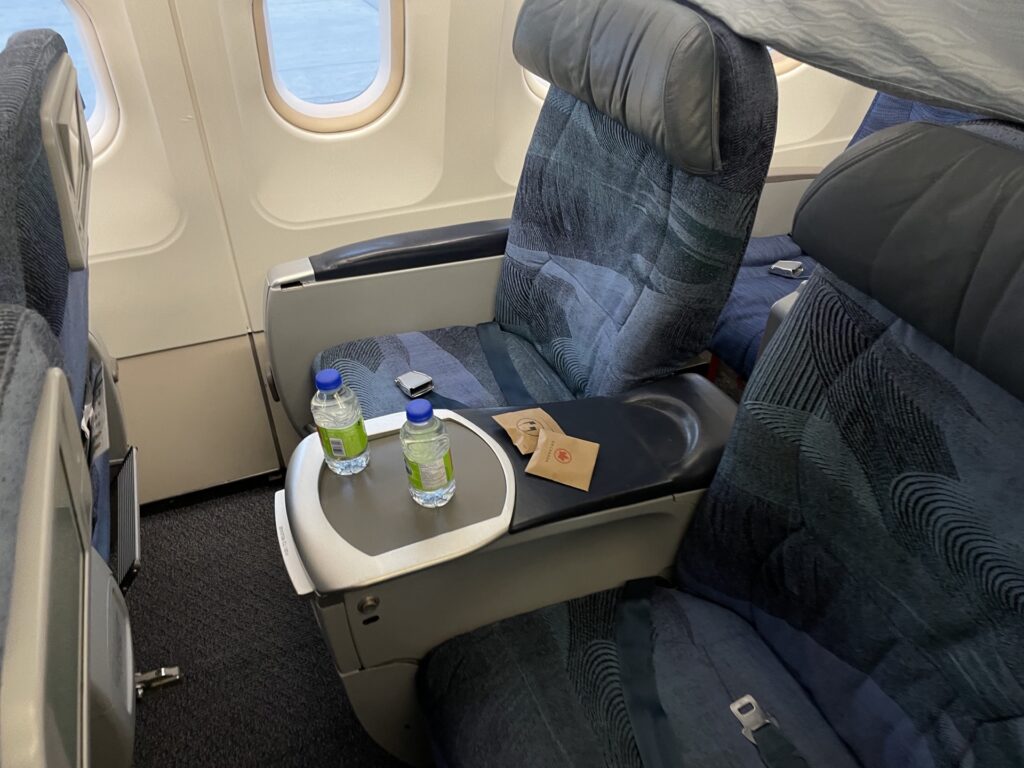 About Air Canada Business Class
Air Canada is the largest airline in Canada and is the country's flag carrier airline. Air Canada has two business class products.
The first — simply called Business Class — is their premium product for most domestic routes. Air Canada also has a higher level product — called Signature Class — which is available on international and longer domestic routes. The most notable difference is that Signature Class has lie-flat seats and Business Class doesn't.
In this post, we are covering Air Canada Business Class and not Signature Class.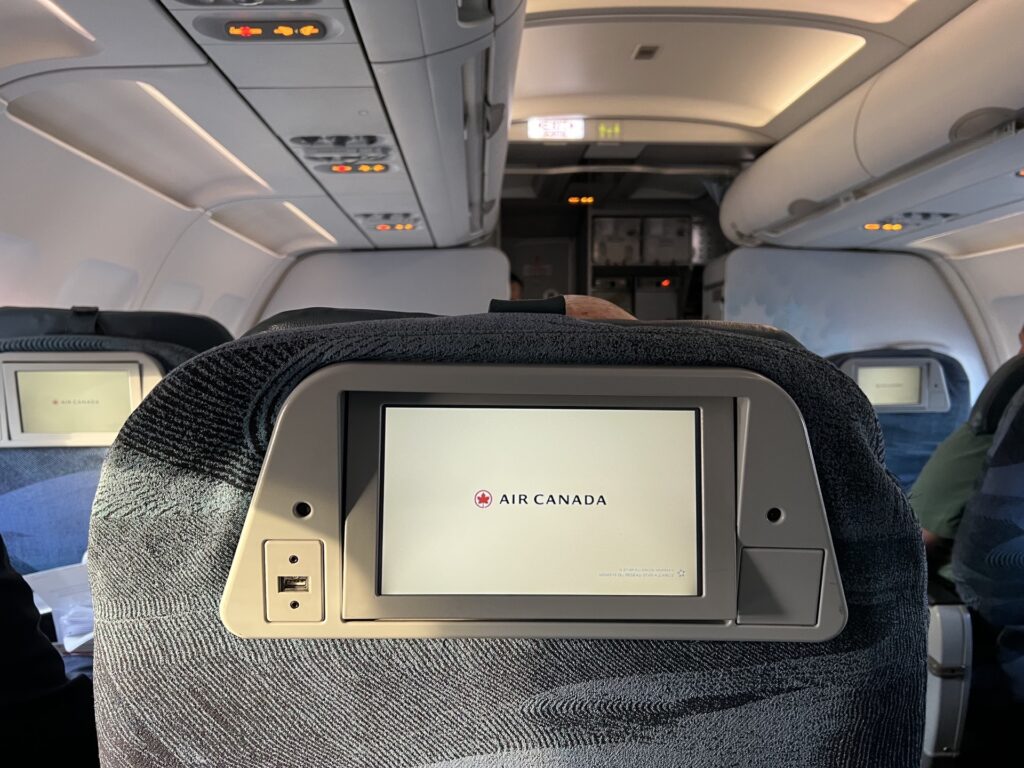 What's Included with Air Canada Business Class
Air Canada Business Class includes a handful of perks that streamline the airport experience and provide added comfort in the air. Here's what you'll get with Air Canada Business Class.
Dedicated Check-In Counter. Skip the lines and check in and check your bags quicker at a priority service desk.
Expedited Security Lane (select airports). This perk means a shorter wait for security. It is not the same as Verified Traveler (Canada's version of TSA PreCheck) though, so you will still have to remove items like liquids and laptops.
Added Baggage Allowance. Business Class passengers will be allowed two complimentary checked bags (versus no free bags in Economy), plus a carry-on and personal item.
Lounge access at Departure Airport. Business Class passengers have access to Air Canada's Maple Leaf Lounge (or partner lounges if there's no Maple Leaf Lounge). Lounges include complimentary food and beverages, showers (at some) and other light amenities.
Priority Boarding. Business Class passengers board with Zone 1, which is the first group to board the plane after Pre-Boarders (which includes wheelchair assistance and those who need more time to board).
Comfortable and Spacious Seats. Business class seats are wider, have more legroom and recline, and are overall more comfortable than main cabin seats.
Complimentary Food & Beverages. All flights include complimentary hard and soft drinks and light snacks. Full hot meals are provided on flights longer than 2 hours.
Priority Baggage Claim. Your bag will be one of the first off the plane and onto the carousel, so you can move on with your travels quicker.
*Services may vary based on location and route. Always confirm with the airline for exact details for your specific trip.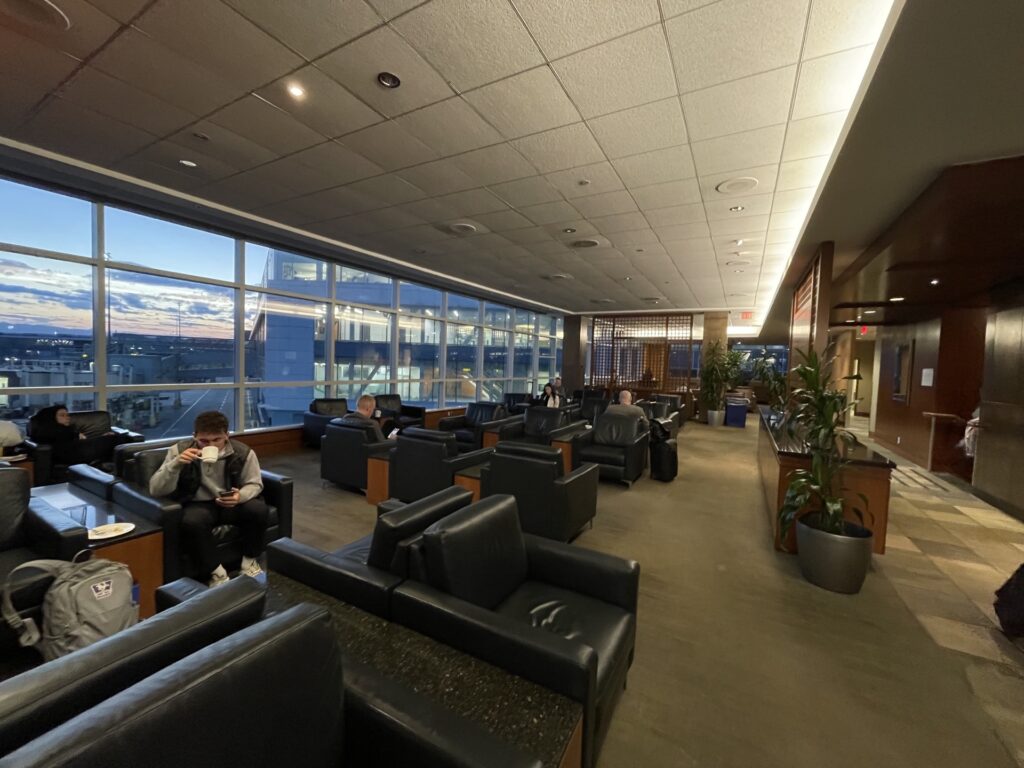 What's not included?
Air Canada's Business Class is pretty solid as far as industry standards go. However, there are a few things that Business Class doesn't include that you should be aware of.
Lie-flat Seats. Business Class seats only recline. The lie-flat seats are only available in Signature Class, and it will be noted as such when you select your ticket. (See screenshot below.)
Complimentary WiFi. There is WiFi available for purchase, but it's not free for Business Class.
Arrivals Lounge Access. Even if there is a lounge at your destination airport, your Business Class ticket does not get you in. You will only have access to the lounge at your departure airport.
Booking Air Canada Business Class
The easiest way to book Air Canada Business Class is direct through the Air Canada website. After you search for your specific date and route, you will see a list of fare options by class. In the Business Class column, there is a flag to indicate lie-flat seats (which means Signature Class). You can also click the "Details" button to view the type of plane that will be used for the route.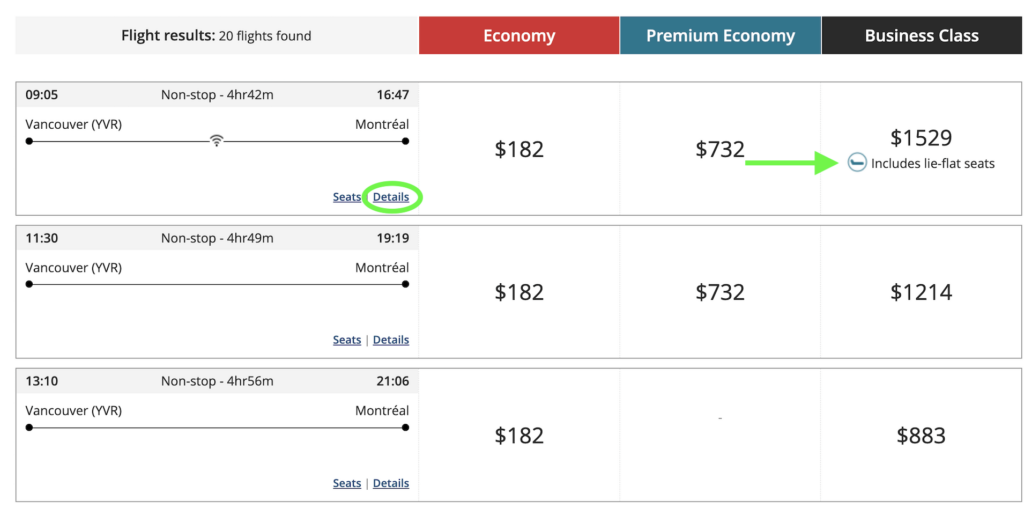 We booked our August weekday flight two months in advance and paid $2,179.95 for three seats (two adults and one 3-year old, with no price break for the child). We paid for our flight in full and it was not comped or sponsored.
One interesting thing to note about this booking is that we didn't initially plan to fly this route. We originally booked our flight from Vancouver home to Newark in Air Canada Signature Class on the 787. A few weeks later, we got an email that they switched the plane to a 737MAX and rebooked us in Economy.
The 787 had 30 Signature Class seats and the 737MAX only had 16 Business Class, so it's not surprising we got bumped to Economy. However, even if they moved us to Business Class on the new plane, it would still have been a substantially different product. This is just a good reminder to always review all the details if your flight plans get modified by the airline.
The switch to Economy caught our attention, though. Between that and an unrelated school schedule change, we decided to modify our plans and combine two closely scheduled trips into one. We used our flight credit from original booking to book two shorter flights in Air Canada Business Class; Vancouver to Toronto and then Toronto to Chicago. (We'd later fly from Chicago to New York in the new United First Class.)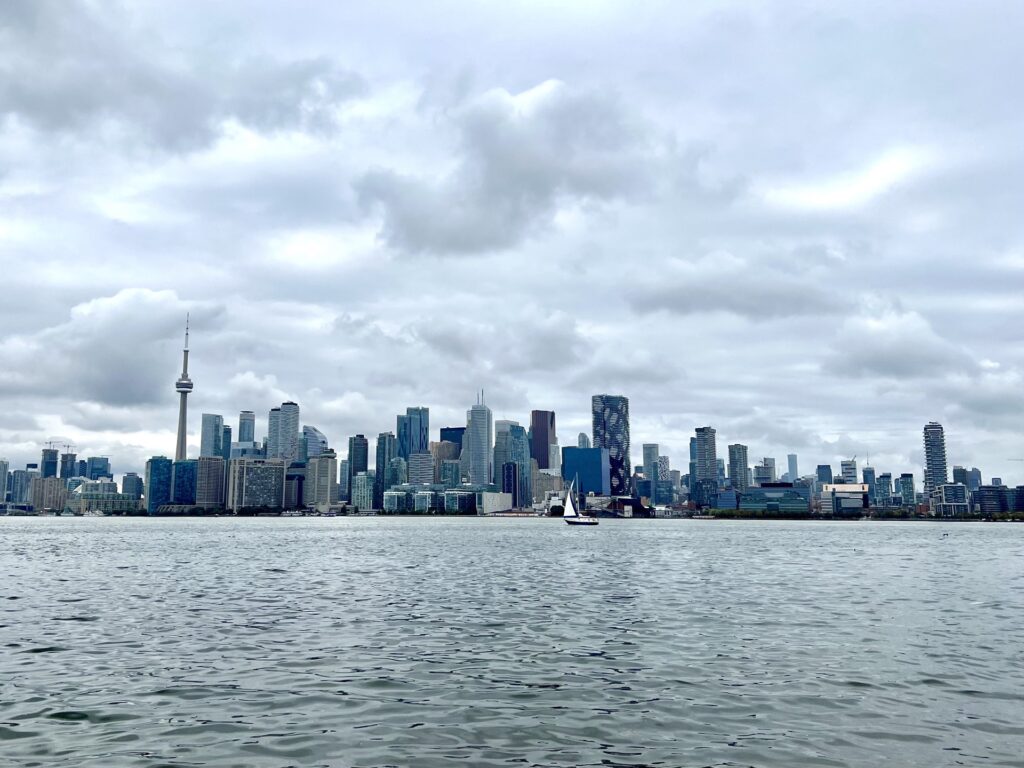 Arrival & Boarding at YVR
We had an early morning flight, so we stayed at the Fairmont Vancouver Airport Hotel the night before. The hotel is in the terminal, so we took the escalator down from the lobby and were in the check-in area.
Our flight was domestic, so we left the hotel about one hour before our scheduled boarding. It took five minutes to walk from the hotel near the E gates to the C gates for our flight.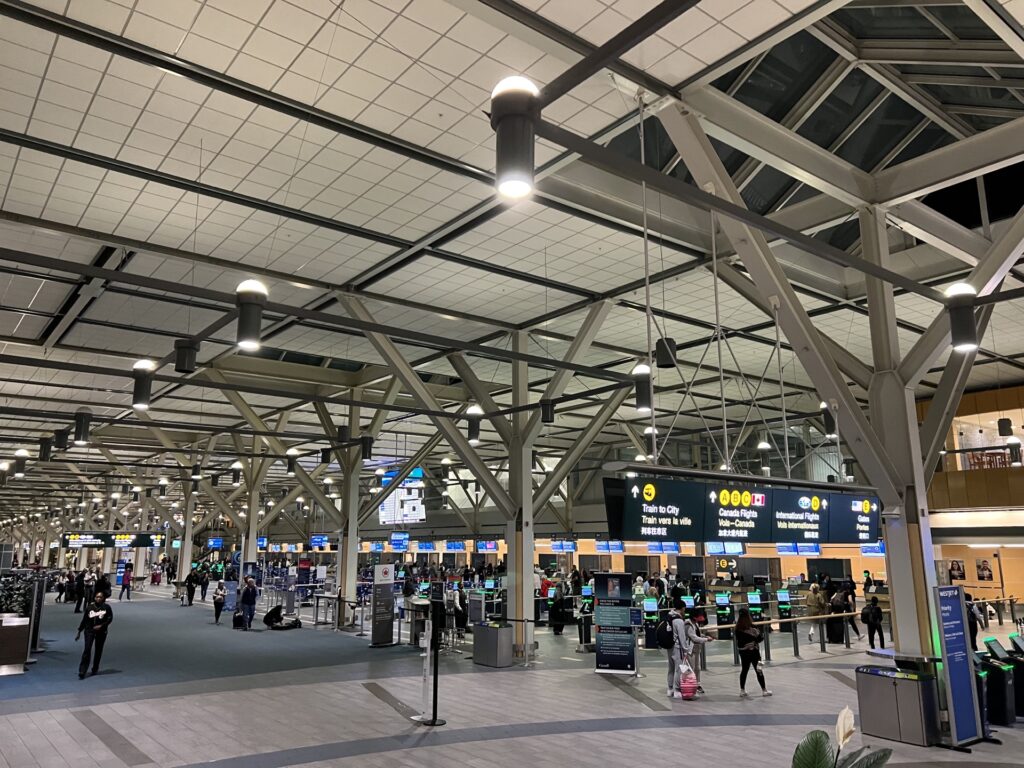 Since we didn't have bags to check, we went straight to the security checkpoint. The priority security line was right next to the standard one, but was much shorter. We were through it in less than 15 minutes, which included handling two of our bags that got flagged for an extra security screen. (I was flagged for having my liquids in a zipper pouch instead of the airline issued plastic bag, but she quickly approved it. My husband's bag got flagged for chargers, which were also quickly approved.)
We didn't expect to have time to visit the lounge, but we passed a Maple Leaf Lounge on our way to our gate and decided to pop in. It was a nice lounge with a tarmac view and a small continental breakfast offering including fruit, pastries, and oatmeal. Most importantly though, they had coffee.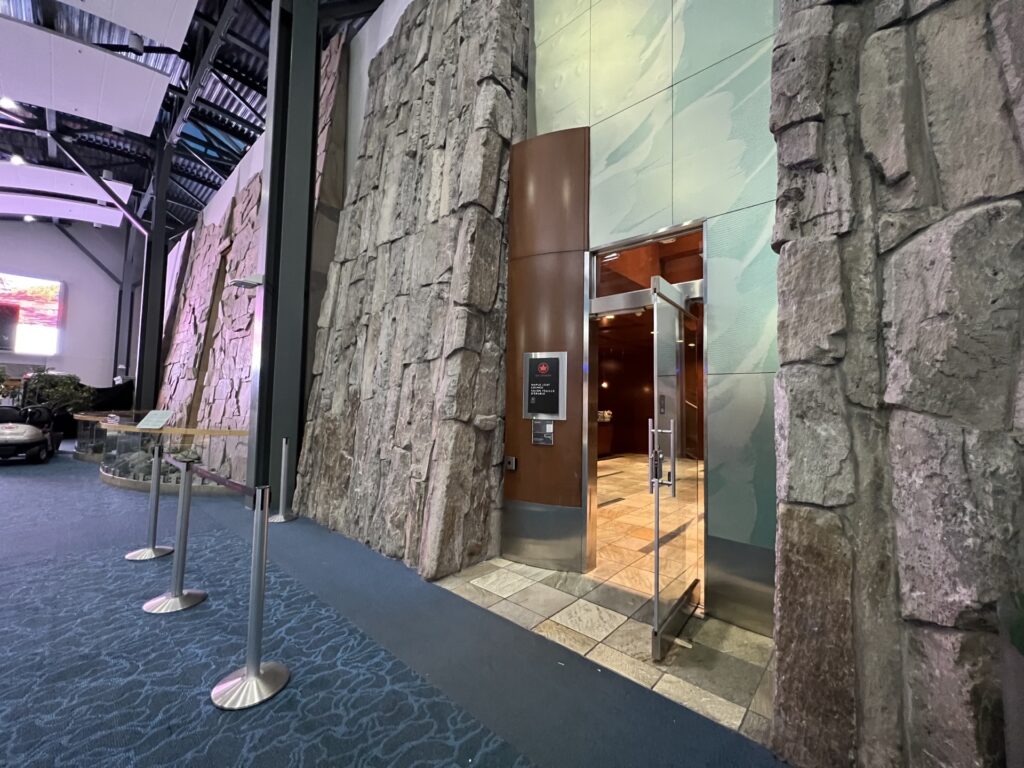 After a quick bite, we made our way to the gate. They started boarding almost immediately after we arrived, and we quickly found our seats.
Air Canada Business Class Seat on the A321
The Business Class seats on Air Canada's A321 are noticeably dated. The blue upholstery immediately makes them feel old, especially compared to the more modern vegan leather seats that dominate the industry today. That said, the seats are large and plush and cozy, just in a way that reminds you of your favorite couch in your parents' basement.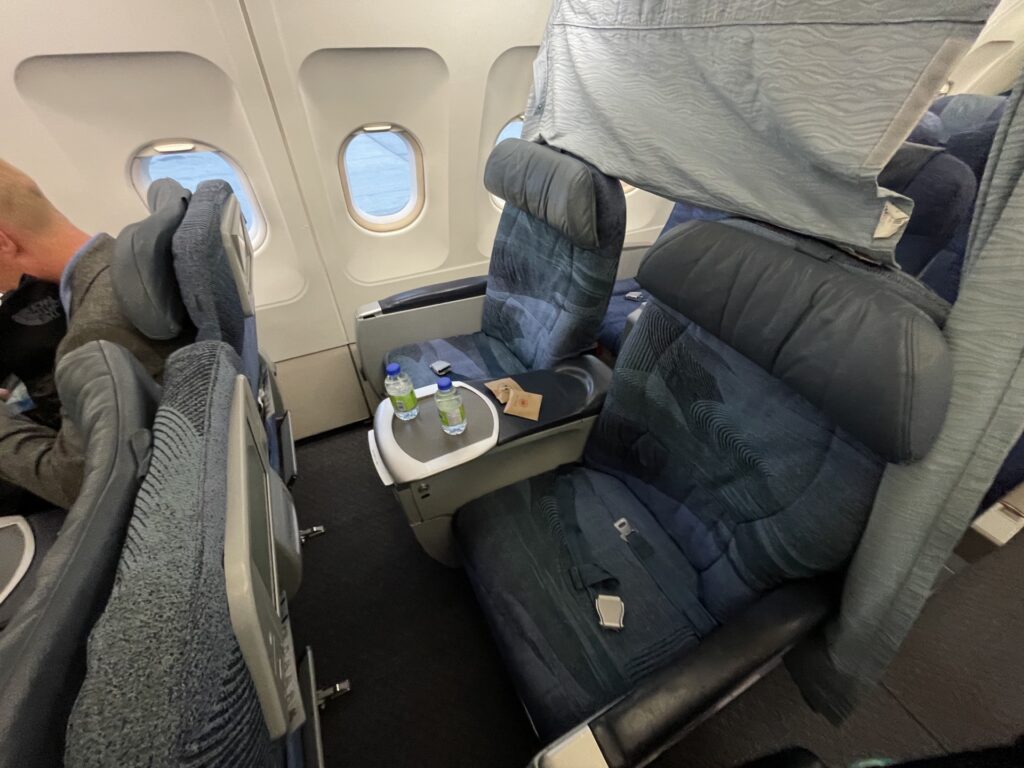 All jokes aside, even though the seats aren't flashy and new, they are still very comfortable. The Business Class seats on the A321 are 21 inches wide (3 inches wider than Economy) with a pitch of 37 inches (6 more inches of legroom than Economy). They also recline 5 inches (compared to 4 inches in Economy), and have a footrest and an adjustable faux leather headrest. All together, the seat positioning gets quite comfy.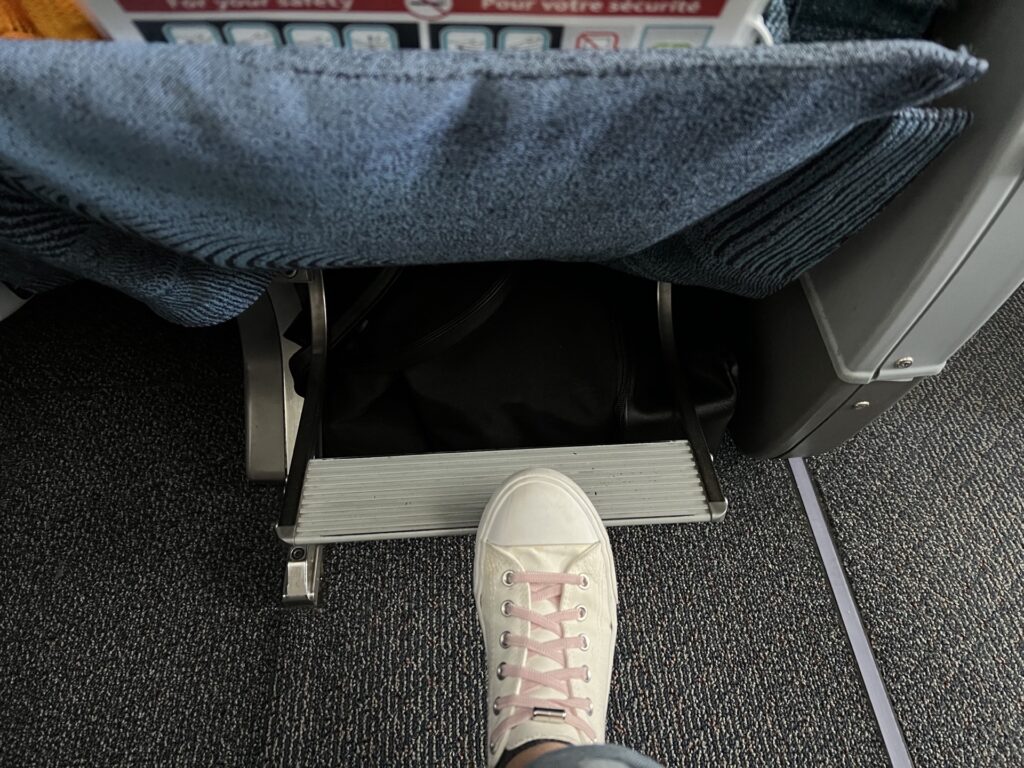 The seats are placed in a 2-2 configuration, and there is no privacy divider between the seats. This is great if you're traveling with someone you know, as you can easily see and talk to them. (It's less great if you're seated next to a stranger who took off his shoes for the entire flight.) There is a large center console between the seats, which acts as a shared table and arm rest.
The 2-2 configuration does mean that passengers in the window seat do not have direct aisle access. If the aisle seat in front of you is reclined and/or if the passenger next to you is using their tray table, it can be difficult to exit the window seat without asking someone to move. If you're traveling solo and expect to need to use the bathroom, I'd suggest prioritizing an aisle seat.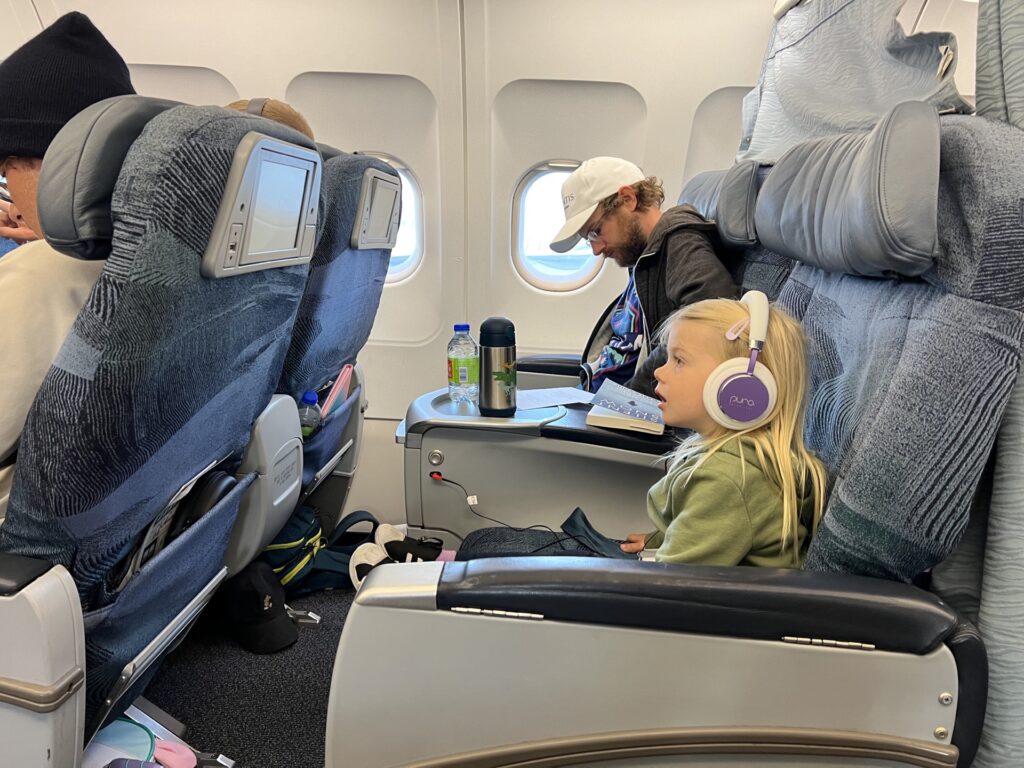 Storage Space in Business Class
There is plenty of room to keep all of your stuff in Business Class on the A321. Business Class boards first and has dedicated overhead bin space. We had no problem storing our three carry-on items in the overhead bins.
The seats are two per side, but the storage space under the seat is divided into thirds. That can be a bit awkward if you're seated by a stranger and one of you needs to use that third space. We had no problem with this though, and each of our bags easily fit into one of the spaces. (I started using the Béis Mini Weekender bag, and it fit perfectly into the seemingly small space.)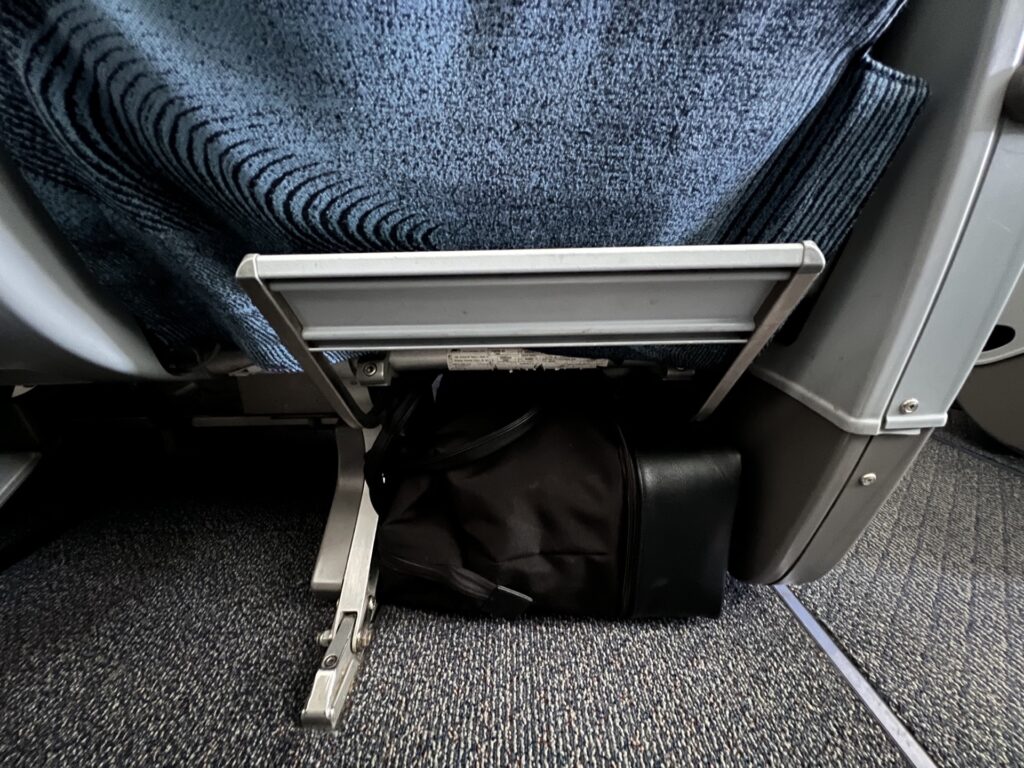 There wasn't a ton of ancillary storage space, though. There was the center console table and the seatback pocket, but no additional cubbies or storage bins for smaller items.
Food & Drink Service on Air Canada Business Class
There was no pre-departure drink in Air Canada Business Class. Instead, there was a bottle of water beside each seat when we boarded. (This is pretty standard for domestic business class.)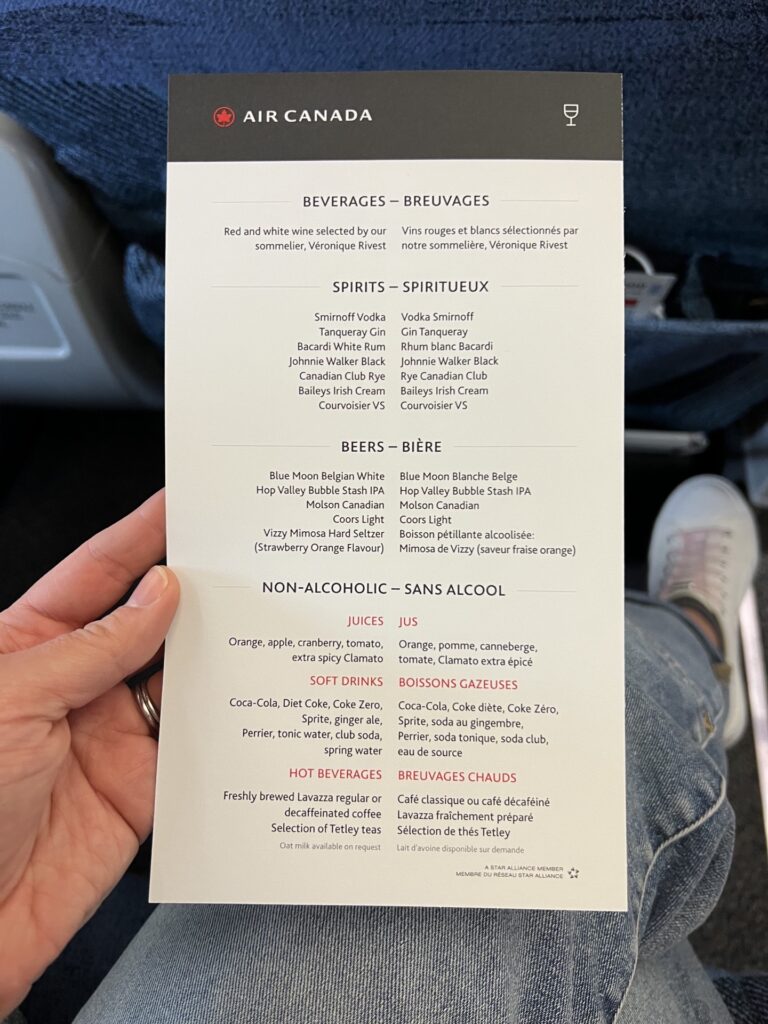 Soon after, the flight attendant introduced herself and brought around a menu card, which was written in both English and French. On one side was the breakfast options and the other was a full list of beverages including wine, beer, liquor and soft drinks. After departure, we placed our food and drink orders.
The food was fantastic and the highlight of the flight for me. I ordered the pancakes, which tasted so much better than they look here. They were perfectly light and fluffy and covered in a sweet caramel sauce (they called it maple butter) and a delightfully tart berry compote. It was served with a tray of sides which included bread and jam, fresh fruit and yogurt.
I ordered a coffee and a club soda, which was served with ice and lemon. The flight attendant refilled both throughout the flight.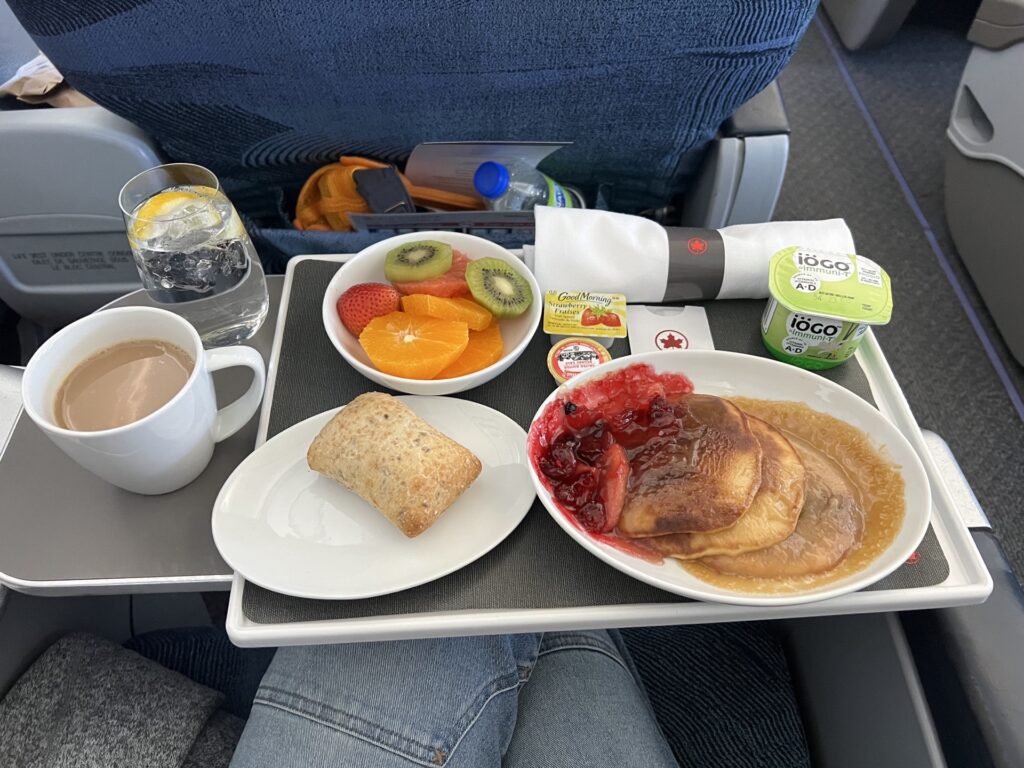 My only complaint about the food and beverage experience was that the food trays were larger than the tray tables. In the photo above, you can see the tray hangs off the table on both sides. This was strange and made eating with a toddler extra stressful.
After the meal, there was a second beverage service. This time, I ordered a Bloody Mary which came with a side of almonds. She made it with plain tomato juice instead of the spicy kind listed on the menu card, so it wasn't very good. I'm sure I could have clarified or asked her to remake it without much fuss, but I didn't want to waste the drink already served to me.
Finally, there was a snack service with a selection of packaged goods including full size candy bars.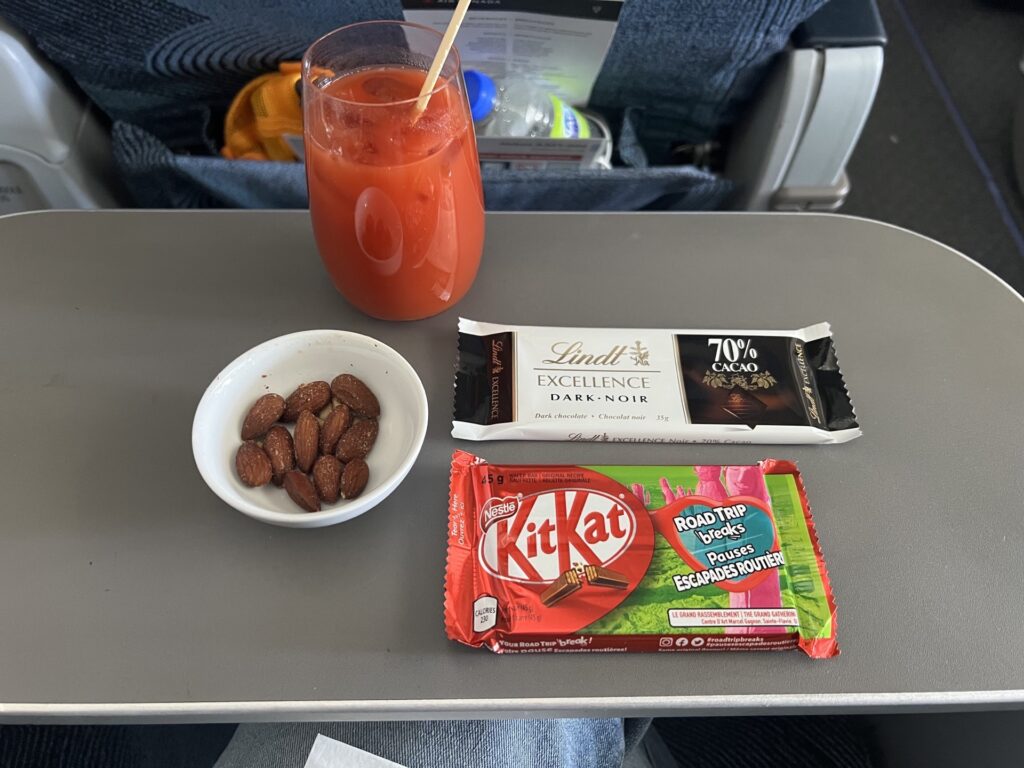 Technology in Air Canada Business Class on the A321
The technology in Business Class on the A321 was about as dated as the seats.
Let's start with the seatback entertainment devices. The screens were very small, and I believe the same size as (or not much bigger than) the screens in Economy. More painful than the size was the speed. They were very slow to load and navigate, and I was constantly getting the old Windows era hourglass icon.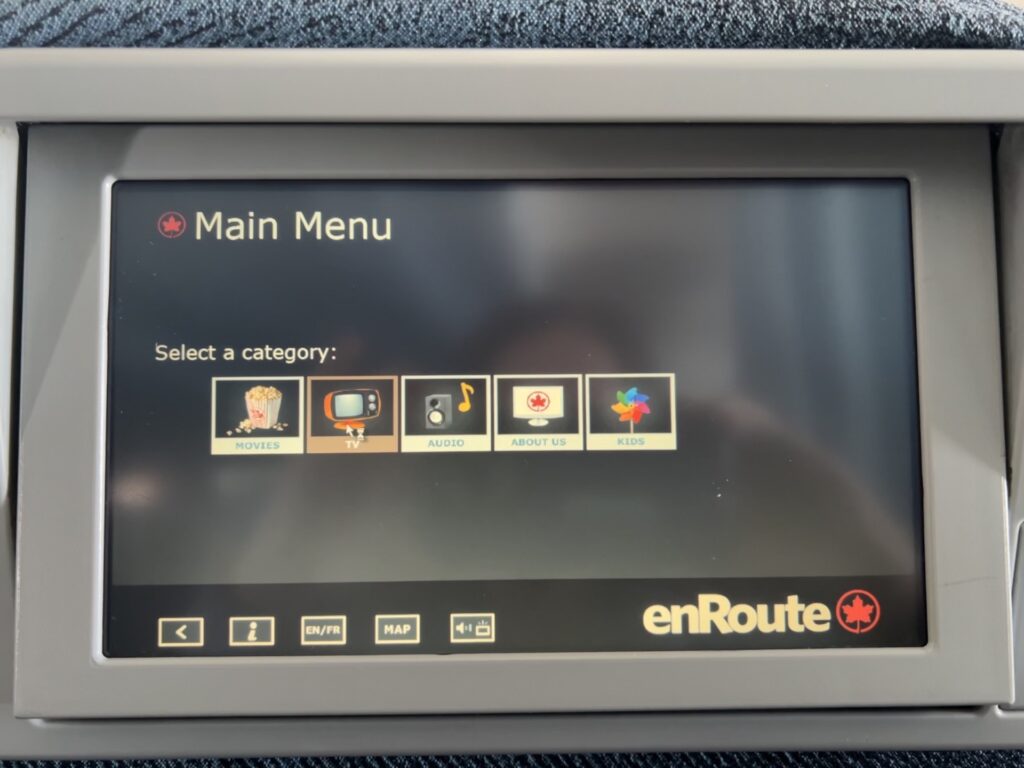 The slow speed didn't end up mattering much in my case because the entertainment selection was light and nothing was of interest to me. (My 3-year-old did approve of the kids selection, though.) I tried to flip over the flight information screen instead, but that page didn't work on my device. I was still better off than my barefoot seat mate though, because his screen didn't work at all the entire flight, even after a reset.
If you did find something to watch though, there were complimentary earbuds provided at each seat. There was a headphone jack and AC adaptor in the center console and a USB port beside the seatback screen. All of this worked as expected, so it was a good setup for charging.
Wifi was available for purchase and complimentary texting was available for all Aeroplan Members.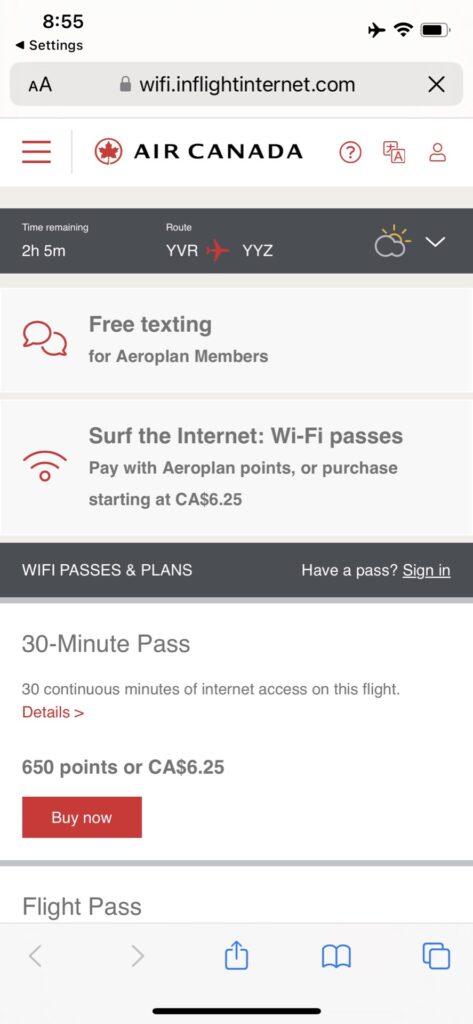 Air Canada Business Class Service
When I think back to my last Air Canada Business Class flight, what I remember the most is the service. That flight was very different (it was international, Signature Class and overnight), but I still found the service on this shorter, domestic flight to be just as good. The crew on this flight was attentive and professional, and the offerings were abundant.
It started with hot towel service. I never actually want or need a hot towel, but it instantly elevates the experience. I actually missed the initial service because I popped into the bathroom, but she still offered me a towel as soon as I came out.
There were multiple food and beverage offerings, and the flight attendants were kind and helpful throughout all of it. My husband and I both requested coffee refills between services, and she happily refilled my sparkling water as needed.
My only complaint on the service was that they cleared the food trays really quickly. In two instances, people around me were actively eating and she asked to take their trays. One person had to send her away twice before finally conceding with food still on his plate.
Overall though, the crew was delightful and I was very impressed by the friendly and responsive service.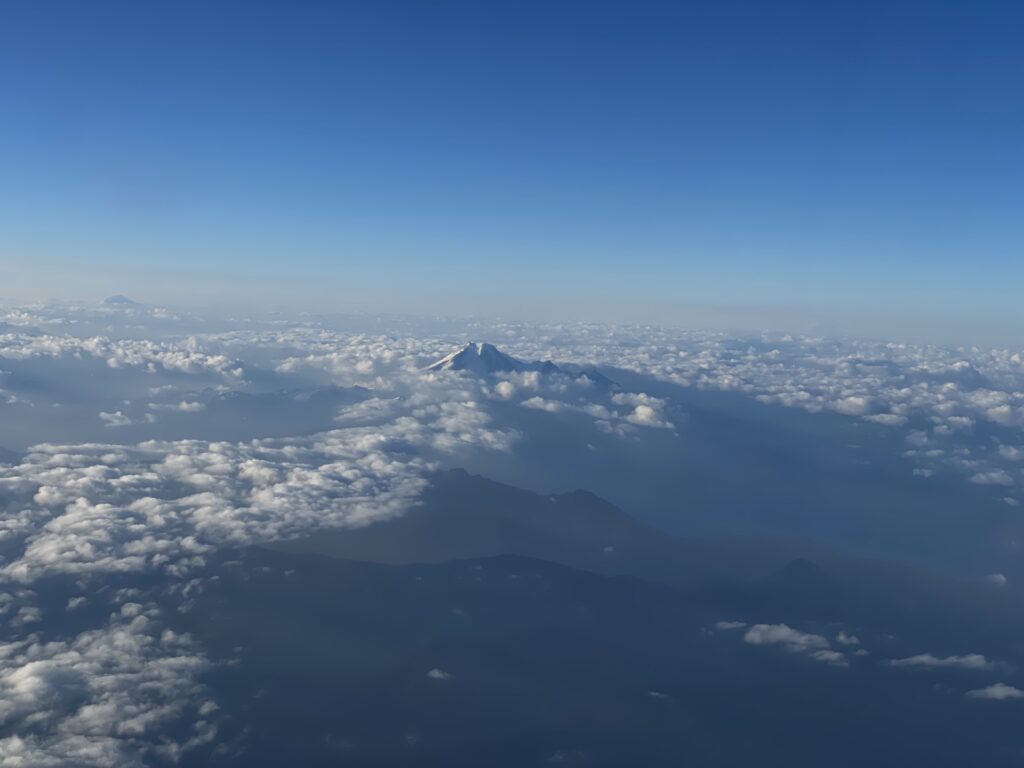 Overall Thoughts on Air Canada Domestic Business Class
Despite some criticism throughout this post, I actually really enjoyed this experience. The hard product is definitely dated, but the service and food go a long way in making up for that. And for a domestic product, it's actually pretty solid.
The most frustrating part of this experience was the seatback screens, which constantly lagged and had many technical issues. I quickly saw past this because I had a good podcast and a few crosswords downloaded to my personal device. The small tray table was also awkward, but it worked out fine.
Though worn, the seats were still spacious and comfortable. The footrest was a nice addition for a seat that doesn't lie flat. The hot meal was delicious and substantial and the second snack offering of name brand full-size snacks was a nice addition.
When it comes to any premium cabin, it's important to set appropriate expectations. Emirates Business Class is going to be more lavish than Air India Business Class. A long-haul international flight in Business Class is (usually) going to have a better seat set-up than a quick domestic flight. When you understand what you're getting and what the experience is going to be like, you can better decide if it's worth the extra fare for that particular product.
And as far as domestic premium cabins go, this is definitely one of the better ones. I would most closely compare this experience to flying Delta First Class domestic in the US, which also had dated seats and an equivalent meal schedule. However, the quality of food and friendly service was substantially better on Air Canada.
My first Business Class flight on Air Canada (which would now be considered Signature Class) is still one of my favorite premium cabin experiences of all time. This flight did prove to me that every Air Canada Business Class isn't quite that perfect, but that I'd still trust Air Canada to do Business Class better than most in just about any scenario.