If you're heading to Vancouver, you are in for a treat. It's a vibrant, diverse and beautiful city that seamlessly balances nature, culture, and urbanism. In this post, we'll share ten great things to do in Vancouver. These are some of the best and most popular things to do, so they're perfect for your first time in town.
If you string everything together in order, you can perfectly fill two days in Vancouver. We've outlined what that could look like in a sample itinerary at the end of this post. This itinerary is perfect for a weekend trip, and it's a great way to spend a few days in Vancouver before sailing out on a cruise. Either way, here's ten great things to do in Vancouver!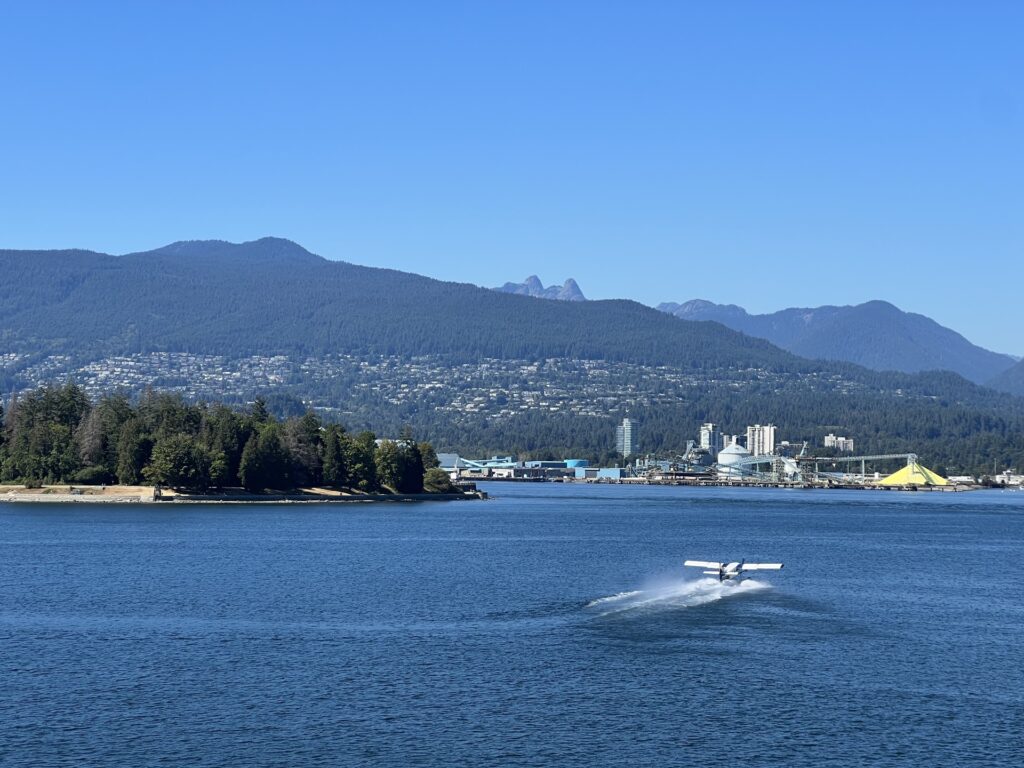 1. Soak Up the Scenery at Stanley Park
Stanley Park is the first thing you'll see on just about every Vancouver itinerary, and for good reason. The park is packed with epic views, towering trees, manicured gardens and quiet walking trails. The park is also home to a handful of other attractions like the Vancouver Aquarium, a public swimming pool and small music venue.
The city park is adjacent to downtown, so it's really easy to get to on foot or via public transportation. Once you get there, you'll want to have a plan. The park is huge (larger than New York's Central Park), so it's hard to see it all in one go.
If you're exploring on foot, here are some great spots in Stanley Park that are walkable from the south end of the park.
For everything you need to know about the park, be sure to check out our full guide to spending a day in Stanley Park.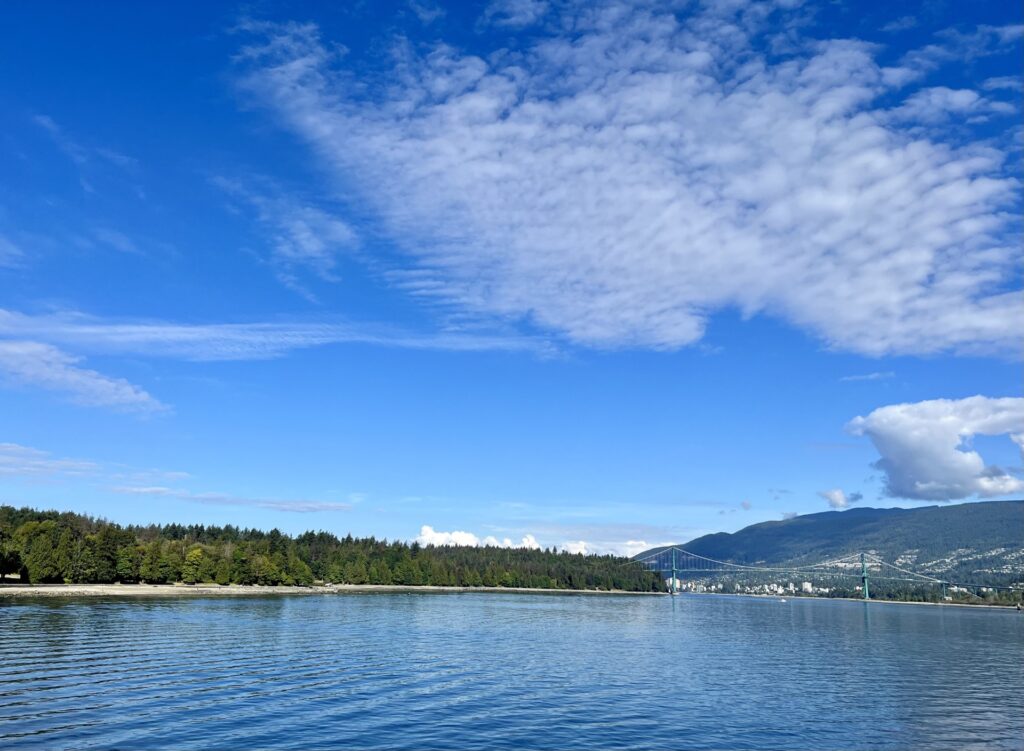 2. Bike the Seawall
The Seawall refers to a bike and pedestrian path that follows the shoreline around Stanley Park. Even though the Seawall is technically part of Stanley Park, I listed this as a separate item because biking the Seawall feels like its own unique adventure.
There are lots of places to rent bikes near Stanley Park, but I'd recommend Spokes. You don't need to make reservations in advance, the rental process is pretty quick, and they offer a half-day discount so you don't have to stress about getting back at a specific time. (Our Stanley Park Itinerary has a pretty through bike rental section, too.)
The Seawall is roughly 10k long (or about 6 miles) and takes about an hour to bike straight through. However, you'll want to budget some extra time for stops along the way. (I'd plan for 3-4 hours.) It's not a particularly challenging ride, as it is a paved path that is mostly flat. The path does get narrow and windy in places, though, which can be stressful for a novice rider like myself.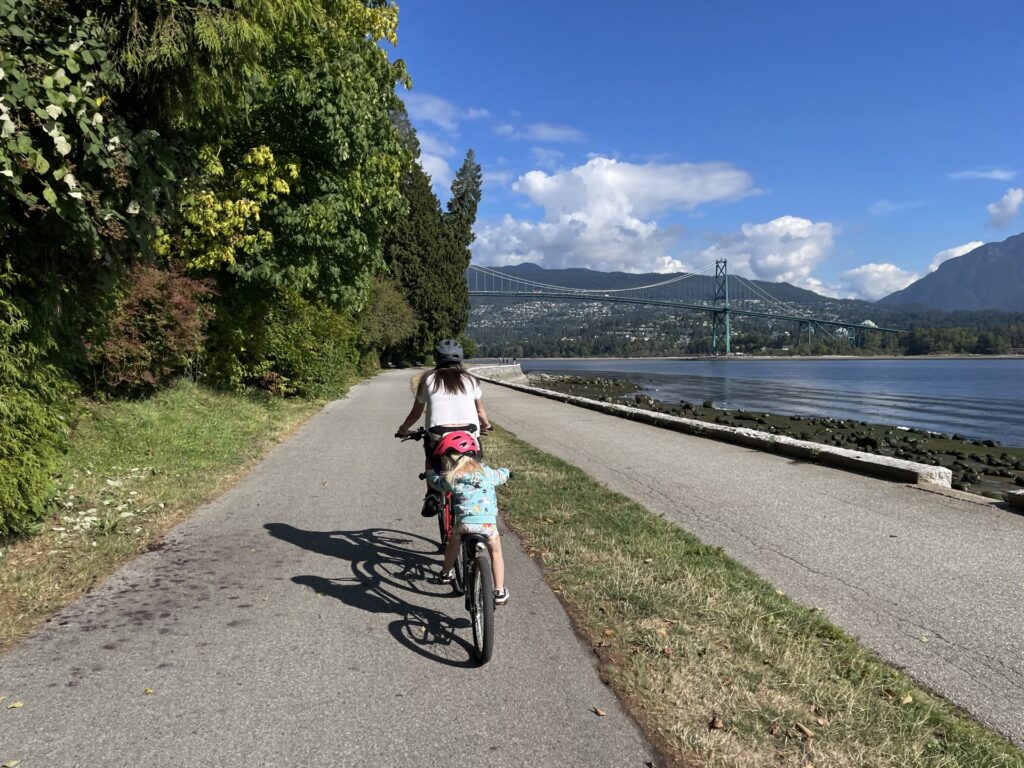 NOTE: The Seawall path must be biked counter-clockwise. Be sure to obey all posted signs and be respectful of other bikers and pedestrians.
3. Walk Robson Street
Robson Street between Broughton Street and Burrard Street is probably the best walking street in Vancouver. (It was my favorite by far, but I haven't walked all of Vancouver.) If you're looking for a stroll through the city, this is it.
It's a bustling strip that is full of boutique shops, middle-end retail stores and delicious restaurants. The best time to visit is in the afternoon, but we also enjoyed the walk in the early morning before the stores opened for the day.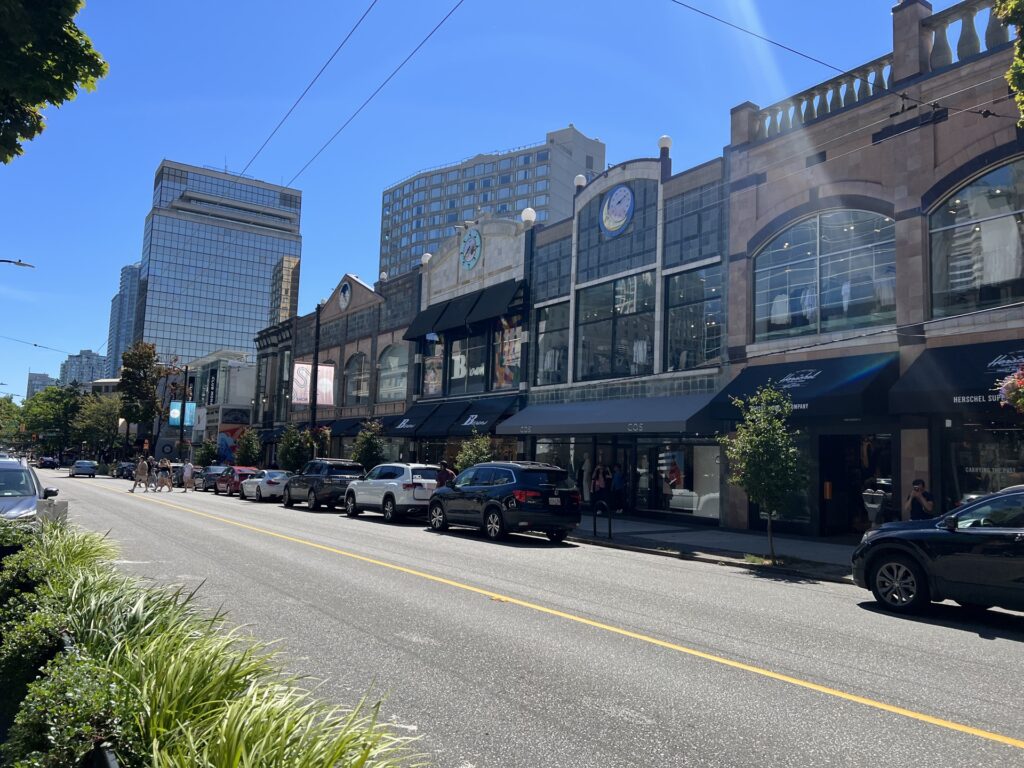 Here are some of our favorite spots on Robson Street:
Good Dogs Plant Foods: This is a vegan restaurant that does amazing hot dogs topped with a wide and wild selection of toppings. (The "Feeling Corny, dog" was out of this world.)
Ramen Danbo: This hot spot is located right next to Good Dogs. We didn't actually eat here, but every time we passed it there was a line out the door, so I'm pretty sure it's amazing.
Petit Pont Robson: This little shop sold wildly expensive designer children's clothing, but they also had a small collection or darling kids toys and accessories.
Indigo: This book store has so much more than books! They have a great selection of stationary supplies, home decor and a huge kids/toy section. Our family spent a full hour in here.
Ladurée: I know this Paris-based macaron chain is in a lot of major cities, but I still love to go any time I see it. If you've never been, I'd recommend the lemon, pistachio and Marie-Antoinette macaron flavors.
4. Relax (or Play!) at Kitsilano Beach
Depending on where you're staying, Kitsilano Beach (aka Kits Beach) might look like a hike to go to. Trust me, it's worth it! (And the transit isn't so bad, I promise.)
Kits Beach is much more of a beach beach than Second Beach at Stanley Park. It's much bigger, less rocky, and filled with people actually swimming and sunbathing. The beach itself is surrounded by a park, which has tennis and basketball courts, a pubic pool, large playground and waterfront restaurant. During a late August Saturday afternoon, this entire area was so alive! It was such a fun place to be.
You can take the bus (002 or N22) from Downtown Vancouver to Kits Beach, which takes about 20 minutes. Buses run pretty frequently and you can tap-to-pay with a credit card onboard. (No special ticket required.) You can also take a ferry from the Vancouver Aquatic Center or Granville Island to the Maritime Museum, which is only a 10 minute walk to Kits Beach.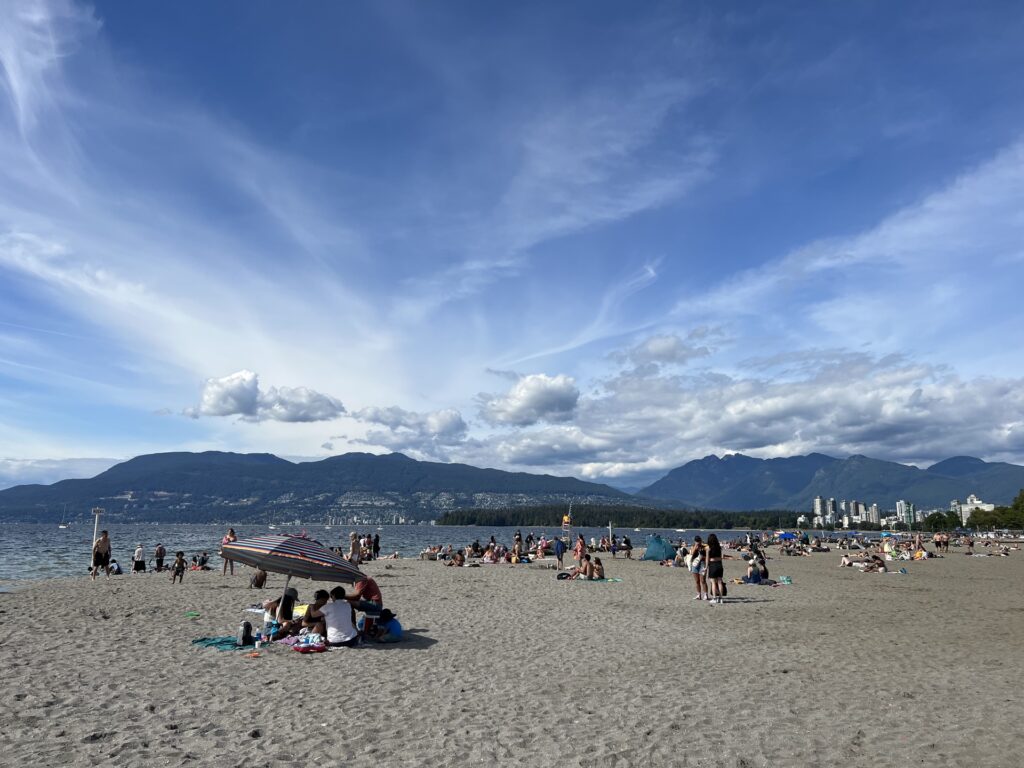 5. Sample Some Local Cider
Just up the road from Kits Beach is The Cider House, which we can't recommend enough. They have a rotating tap of 15 ciders, all made in British Columbia, in a wide variety of interesting flavor combinations. I personally loved the Earl Grey variety, but the seasonal Mulled Cider sounds amazing.
The food menu is entirely plant based, sourced locally, and not boring. The 'Fish' and Chips were a fun twist and our toddler didn't even notice that the Mac + Cheese was vegan.
You can even get drinks and food to go, which is perfect for a picnic at Kits Beach. If you choose to dine in, the indoor/outdoor space is lovely. It's beautifully decorated with fairy lights and hanging plants. A real gem.
We visited on a Friday evening, arriving just before 6 PM. They had just filled up, but we were quickly seated after a short wait (5-10 minutes). Children are allowed, and our toddler really enjoyed it. They don't have high chairs, though, and most of the tables only have bar stools.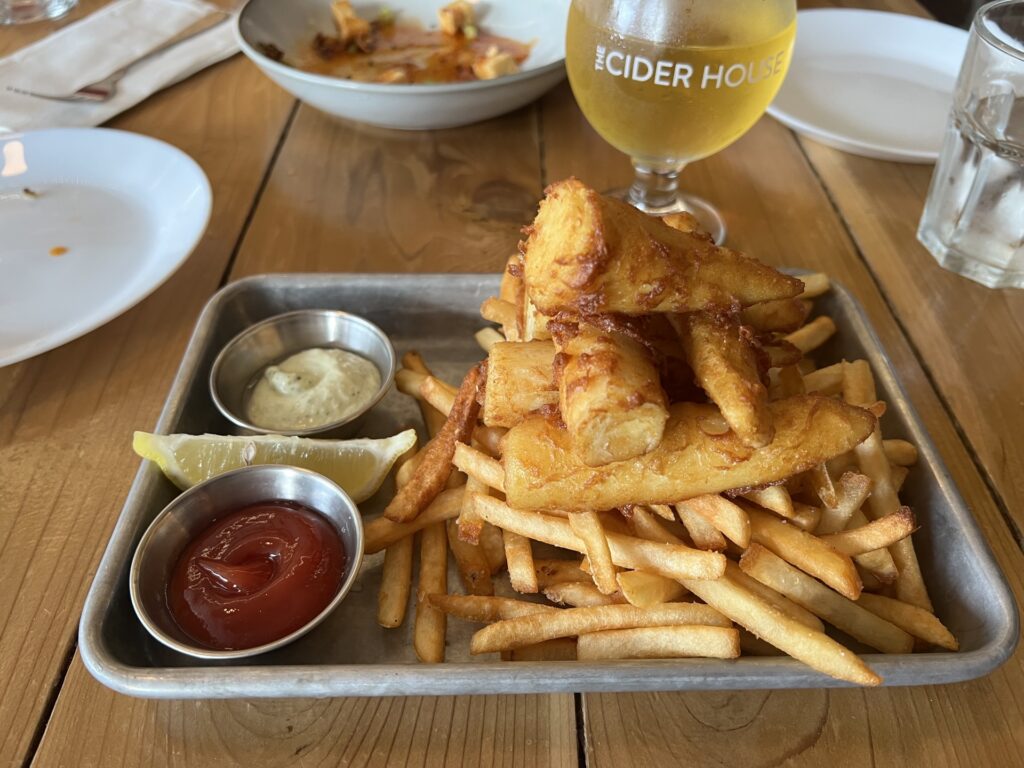 6. Take a Ferry Ride
Vancouver is right on the water, with False Creek separating Downtown from the southern portion of the city. There are a handful of ferry routes along the creek, which can be a really fun and pretty way to get around.
One short and easy route is from Hornby Pier (a straight shot down Burrard Street from Downtown) to Granville Island. This route is served by the Aquabus. The ride only takes about 5 minutes, and ferries run continuously from 7 AM to 9 PM daily. Tickets cost $3.75 CAD per person, per way and can be purchased online in advance or onboard by cash or card.
Another great ferry route is from the Aquatic Centre Ferry Dock (also down Burrard Street, just on the other side) to the Maritime Museum dock (a short walk from Kitsilano Beach). This route is served by False Creek Ferries. This ride is a bit longer and runs on a fixed schedule, departing every 15 minutes from 10 AM to 7 PM. Tickets cost $6 CAD for one way or $9.50 CAD roundtrip, and you can tap-to-pay by credit card onboard.
Both ferry options feel a bit pricy, but they're not significantly more expensive than the $3.15 CAD bus or train fare. The ferries are pretty convenient and efficient, plus they offer the chance to see Vancouver from the water, which is really special.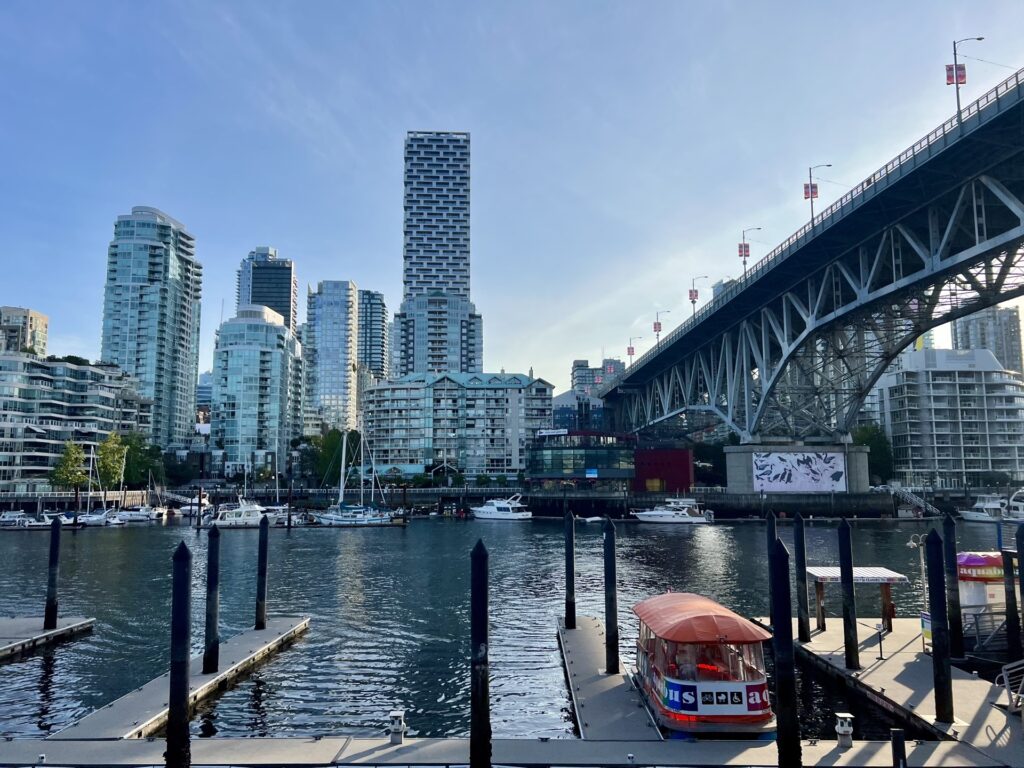 7. Explore Granville Island
Granville Island is primarily a shopping and dining destination. It's called an island, but it's more of a peninsula with easy street access (read: lots of cars). The island has a few things to do, but there are three main components.
Granville Island public Market: This large market is half food hall (serving prepared foods) and half farmer's market (selling fresh produce, meat and seafood, flowers, etc.). Most of the stalls open at 9 AM, with a handful opening earlier. Outside the market is a large outdoor seating space which often has live music or street performers.
Shops & Galleries: Duranleau Street is the main shopping street on the island. Along both sides of the street you'll find boutiques, souvenir shops and small art galleries. Most of these stores open at 10 AM.
Kids Attractions: Most of the kids attractions are located on the southeast side of the island. There's a Kids Market, which is basically a mall full of toy stores. On the second floor is a small arcade and ticketed (paid) indoor playground. The Kids Market opens at 10 AM. There is also a splash pad and playground nearby.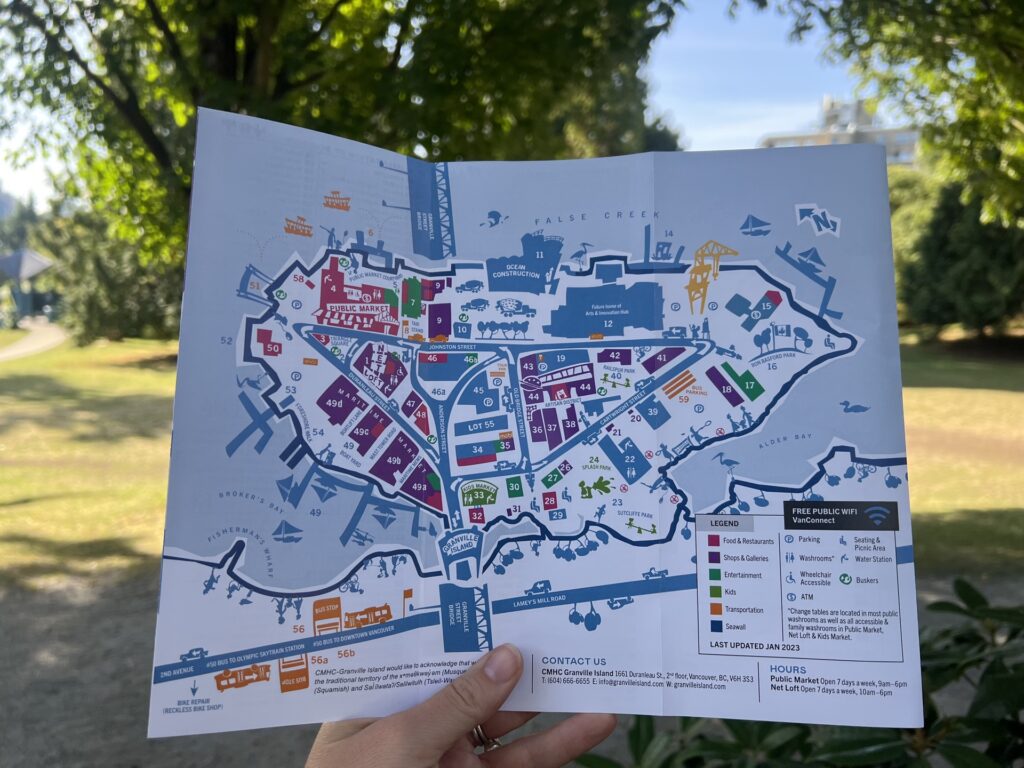 Granville Island is very popular. If you want to eat and beat the crowds, I'd suggest getting there right when they open. (Just be sure you don't get there too early. We arrived at 8 and ended up with a whole lot of time to kill on the playground before anything got going.)
Honestly, I liked Granville Island but didn't love it. However, I seem to be the minority. Most people really love it, and we did have a good time, so it deserves a spot on this list.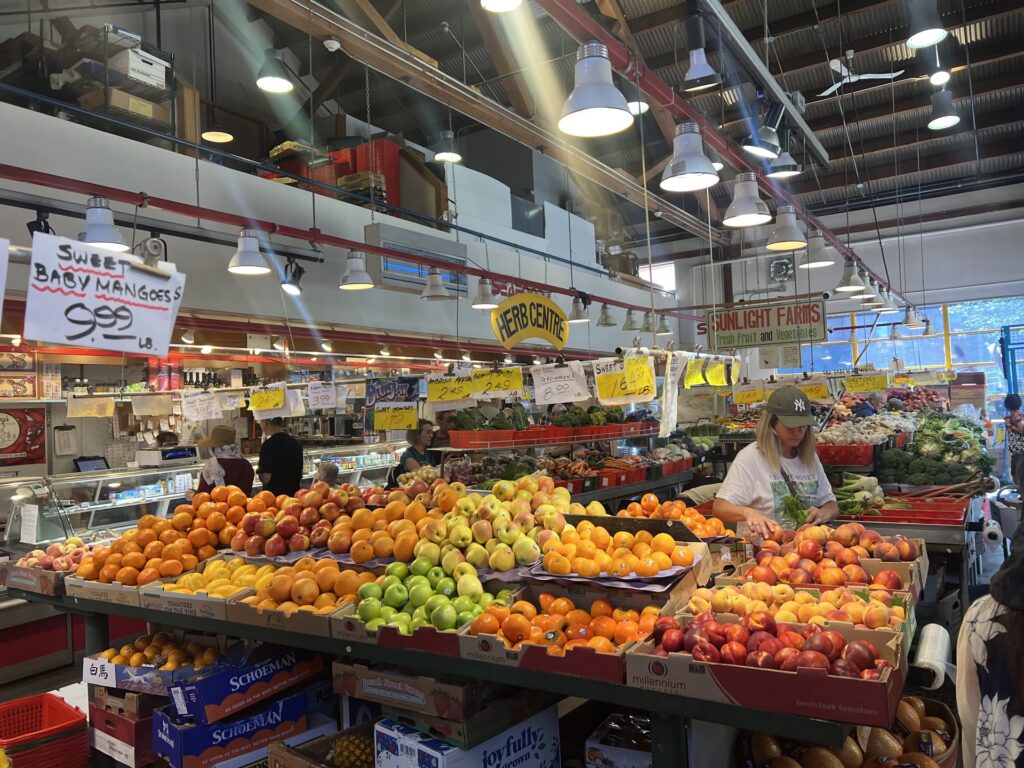 8. Head to the Top of Vancouver Lookout
The only observation deck in Vancouver is the Vancouver Lookout. It's not the most impressive observation deck of all time — located on the 40th floor of the city's 6th tallest building — but it's the best view you'll get from downtown Vancouver. And the view is quite beautiful!
Tickets to the top are very reasonable, costing $18.25 CAD per adult. That's much cheaper that many larger observation decks in bigger cities, which can easily be double or triple that. So if you're in Vancouver on a nice day and have an extra hour, I'd suggest taking a quick visit to the top!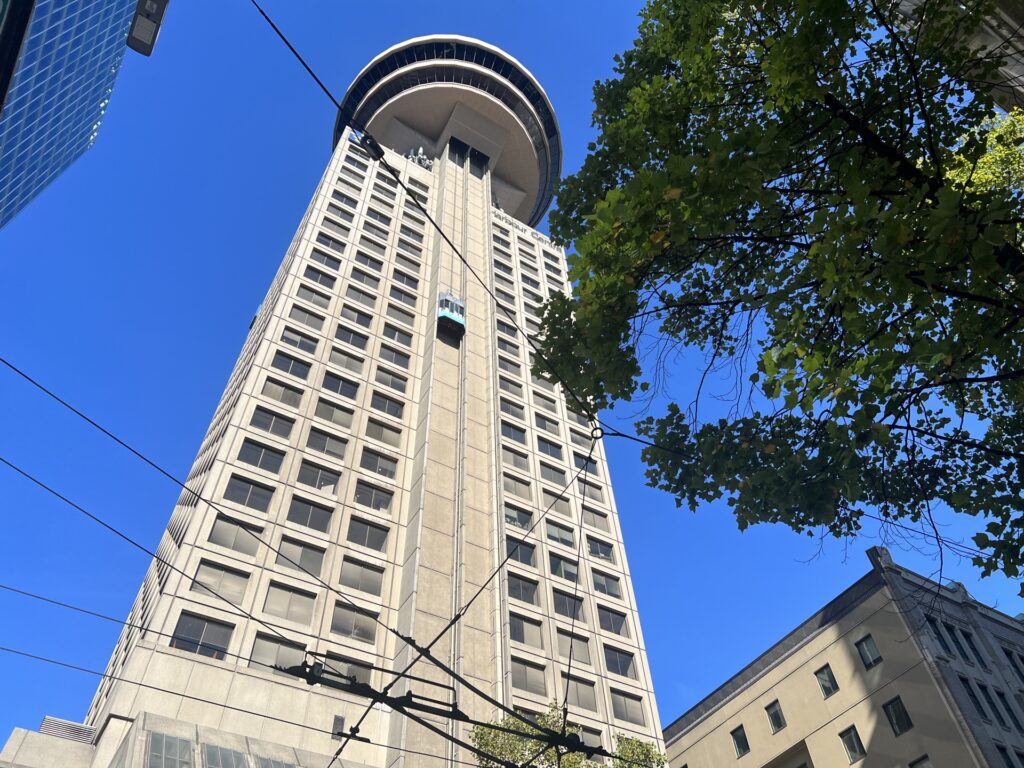 9. Stroll Through Gastown
Gastown is a small neighborhood just east of the Vancouver Lookout. It's a very trendy area, with plenty of hip clothing boutiques and chic restaurants and bars, but it's equally touristy with its fair share of souvenir shops and overpriced patio restaurants. Overall, it's a great mix and makes for a really fun stroll before and after a dinner out.
I'd suggest starting on the west side, at the intersection of Water Street and Cordova Street. Then walk Water Street east to Maple Tree Square. This is really the heart of the neighborhood. If you want to walk a bit further, you can turn south on Carrall Street and then head up Cordova to complete a loop.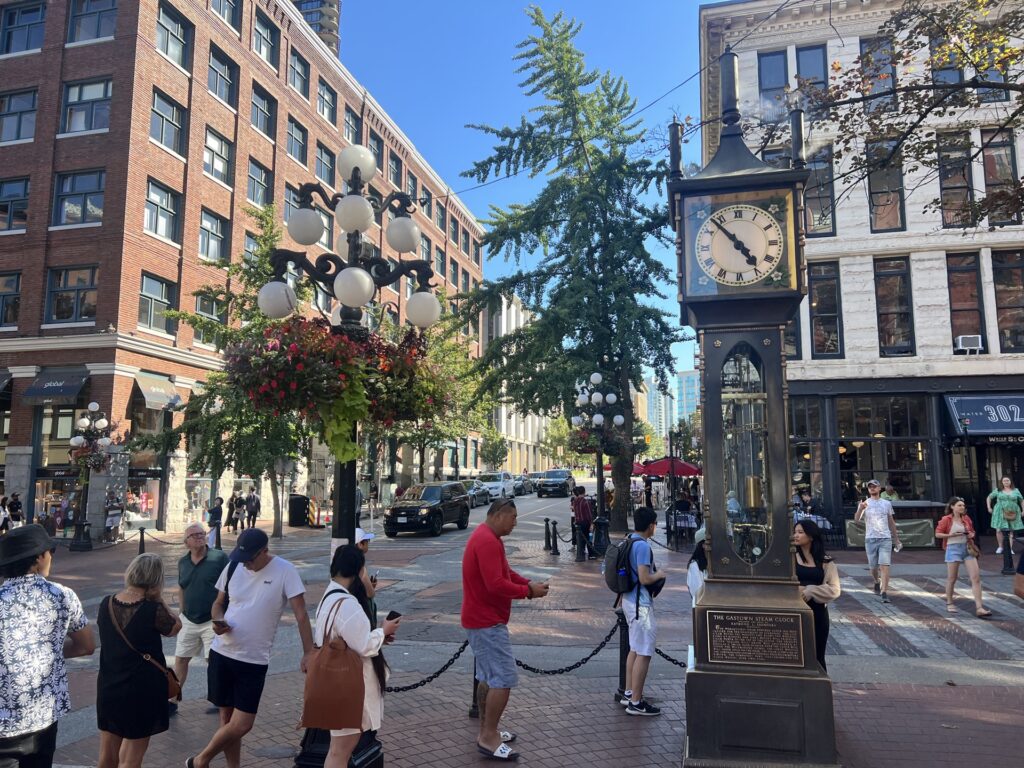 Be sure to stop and see the neighborhood's iconic steam clock, which puffs and sings every 15 minutes. And if you're interested in women's fashion, pop into The Latest Scoop, which is right next to the clock. If you're here with kids, be sure to check out Olde Tyme Candy Shoppe or Monaco Cafe for gelato.
I'd suggest planning a meal or drink stop in Gastown to make an evening out of it. Alibi Room is a really popular beer bar and Guilt & Co is a great spot to see live music. We're not foodies, but some of the most highly recommended restaurants in the area include L'Abattoir and Pourhouse, and the patio at Local was always packed. Personally, we ate at MeeT in Gastown, which leads me to …
10. Try Some Vegetarian Food
As a vegetarian, it's easy to feel like every restaurant adds an Impossible burger and calls it a day. (Don't get me wrong! Keep the Impossible burgers on the menus!) Vancouver proved that vegetarian food doesn't have to be boring. This city was packed with some of the best and most interesting plant-based options that we've seen in a while.
Here are some Vancouver restaurants that had amazing vegetarian food. I'm sure there are plenty more that we didn't make it to, too!
Good Dogs Plant Food: Here you'll find a lineup of gourmet hot dogs with a slew of creative toppings. We loved the one that was topped with Mexican Street Corn!
MeeT: This menu changes a bit by location and season, but focuses on vegan takes on restaurant staples like burgers, mac & cheese and poutine. We loved the buffalo cauliflower mac & cheese!
The Cider House: You don't see a lot of bars with a vegan food menu, but this one is changing the game in the best way. They make elevated, good pub food that happens to be vegan. We loved the 'fish' and chips!
The Templeton: This classic 1950s-style diner is not exclusively vegetarian, but it does have a handful of plant-based diner classics. We loved the veggie take on a BLT, plus the key lime milkshake was 10/10! (Milkshakes are not diary-free.)
Whether you're vegetarian, vegan or just dabbling in adding more plant-based meals to your diet, these spots will not disappoint.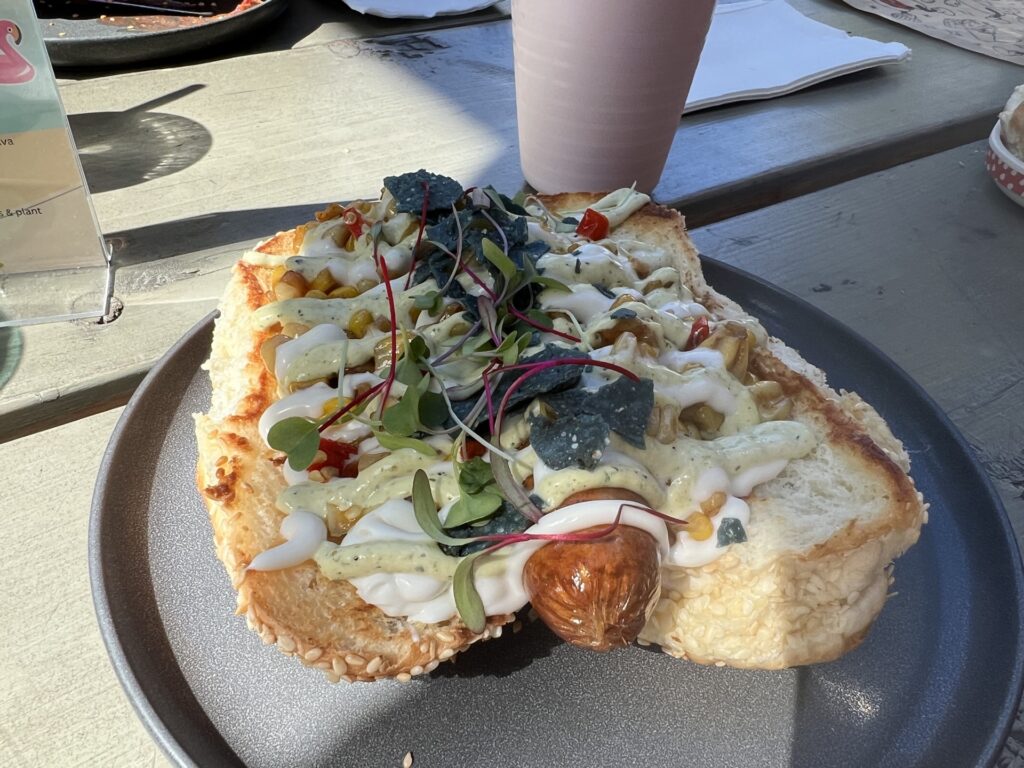 Sample 2-Day Vancouver Itinerary
The 10 things we've listed above fit together nicely to create a perfect 2-day Vancouver itinerary. Here's how how that schedule could look.
Day 1: Stanley Park & Kitsilano Beach
8:30 AM: Start your day at Tim Hortons, a staple Canadian chain for coffee and breakfast.
9 AM: Rent a bike at Spokes and ride along the Seawall. Make frequent stops along the way to enjoy all that Stanley Park has to offer. We suggest stopping at the Totem Poles, Second Beach, Lost Lagoon and finishing at Devonian Harbour Park.
12 PM: Lunch at Good Dogs Plant Food.
1 PM: Shop and stroll down Robson Street.
3 PM: Take the 002 bus to Kitsilano Beach.
3:30 PM: Relax and enjoy the views at Kitsilano Beach.
5:30 PM: Walk over to The Cider House for dinner and drinks.
Day 2: Granville Island & Gastown
8:30 AM: Head to the ferry stop at Hornby and take the Aquabus to Granville Island.
9 AM: Enjoy coffee, breakfast and a stroll through Granville Island Public Market before the crowds hit.
10 AM: Walk through the shops and galleries along Duranleau Street.
11 AM: If you have kids, head over to the Kids Market, playground and/or splash pad. If you don't have kids, head back to the outdoor seating area in front of Public Market to enjoy a drink and some live music.
12 PM: If you're fine with crowds, you can grab lunch at the market. If you're over it, I'd suggest hopping on the ferry or bus back to downtown and grabbing something there. The Templeton on Granville Street is a good option if you're heading that way.
2 PM: Head over to the Vancouver Lookout to enjoy the views.
4 PM: Visit Gastown for some late afternoon shopping and/or a patio drink. If you cover Gastown and still have time to kill before dinner, head south to Chinatown. The main gate is only a five minute walk from Maple Tree Square in Gastown.
6 PM: Pick a spot for dinner in either Gastown or Chinatown. We'd recommend MeeT in Gastown, but there are tons of great options in the area.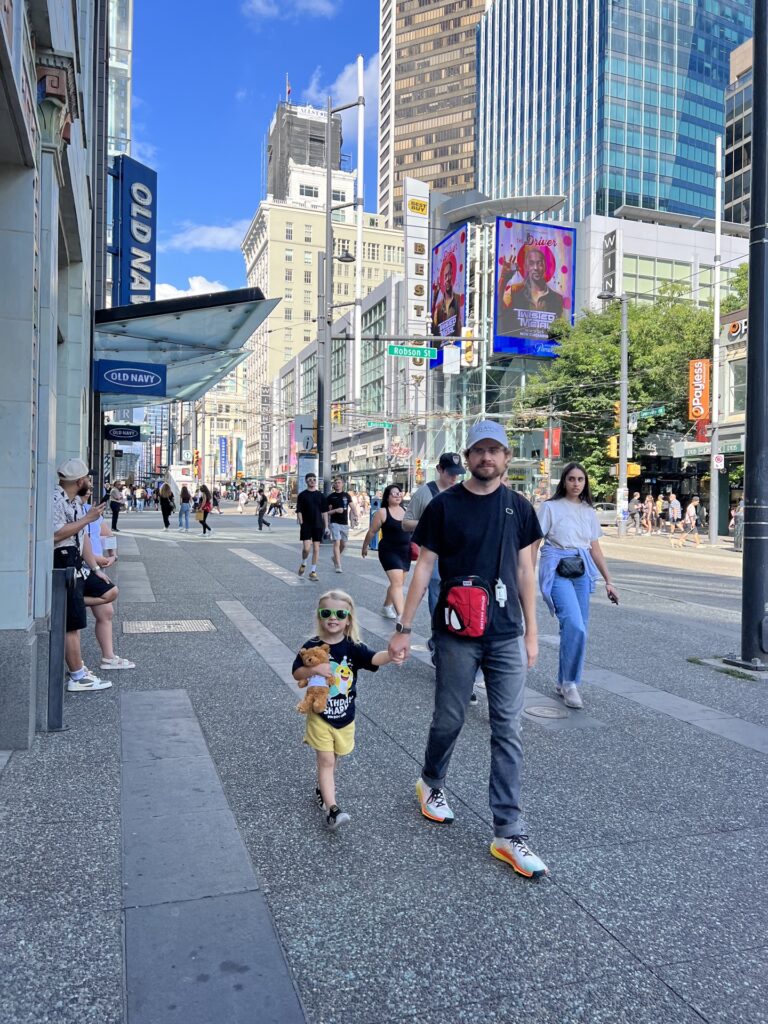 I hope you enjoy Vancouver as much as we did!