We flew American Airlines in Main Cabin Extra on a 737-800 for a trip from Chicago (ORD) to Vancouver (YVR). We previously had a great experience flying Main Cabin Extra on a transcontinental route, so we were excited to see if the quality held on a shorter route. In this post, we'll explain Main Cabin Extra, share our specific experience on this flight, and wrap up with our thoughts on whether Main Cabin Extra is worth the extra cost.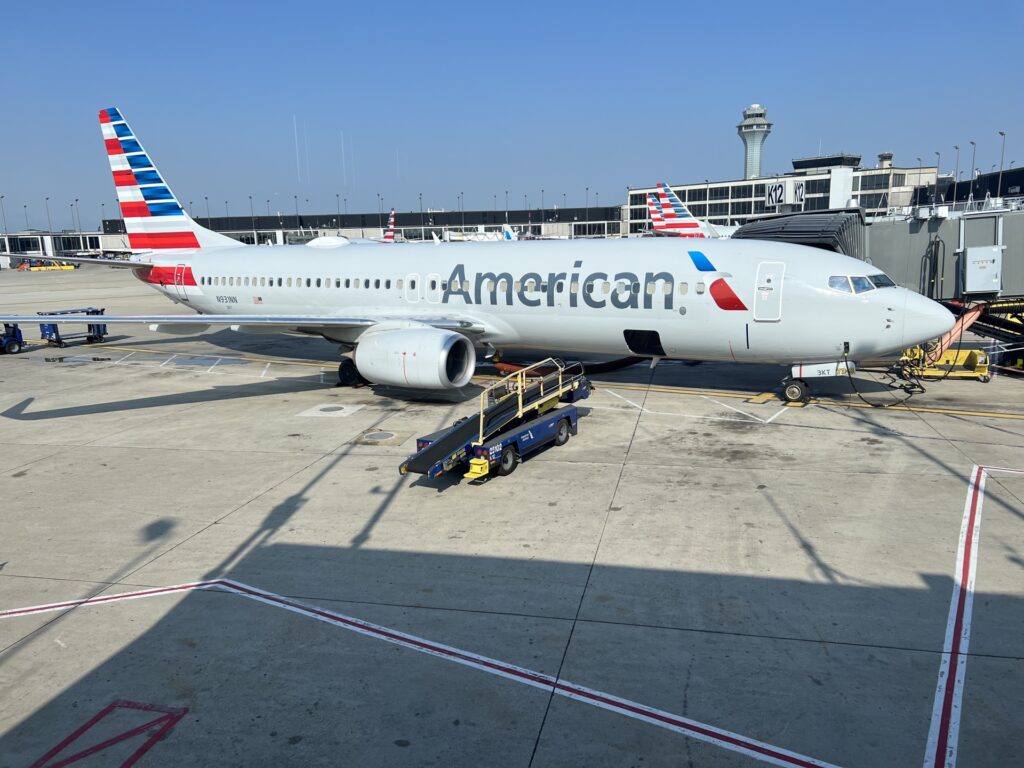 Other Flight Reviews
If you're comparing American Airlines products or are doing some general research on premium domestic flight options, we have a few other reviews that might be helpful.
What is American Airlines Main Cabin Extra
Let's start by explaining Main Cabin, then we'll get into the "Extra." Most domestic American Airlines flights have two cabins: Main Cabin (economy) and a Business or First Class Cabin (some transcon flights have both Business and First.) The Main Cabin is broken into three fare categories: Main Cabin Extra, Main Cabin and Basic Economy.
Here's a look at what's included for all Main Cabin passengers, across all three fare categories.
Complimentary snacks and non-alcoholic drinks. This is usually pretzels or Biscoff cookies, and drinks like soda, juice and coffee.
Free onboard entertainment. This will either be a seatback screen or free access to entertainment on your personal device via the American Airlines app.
One free carry-on bag and personal item. The carry-on size for American Airlines is 22x14x9 inches and the personal item size is 18x14x8 inches.
Advanced seat selection. You will have the option to select your seat at the time of booking. However, fees may apply based on your fare category and selection.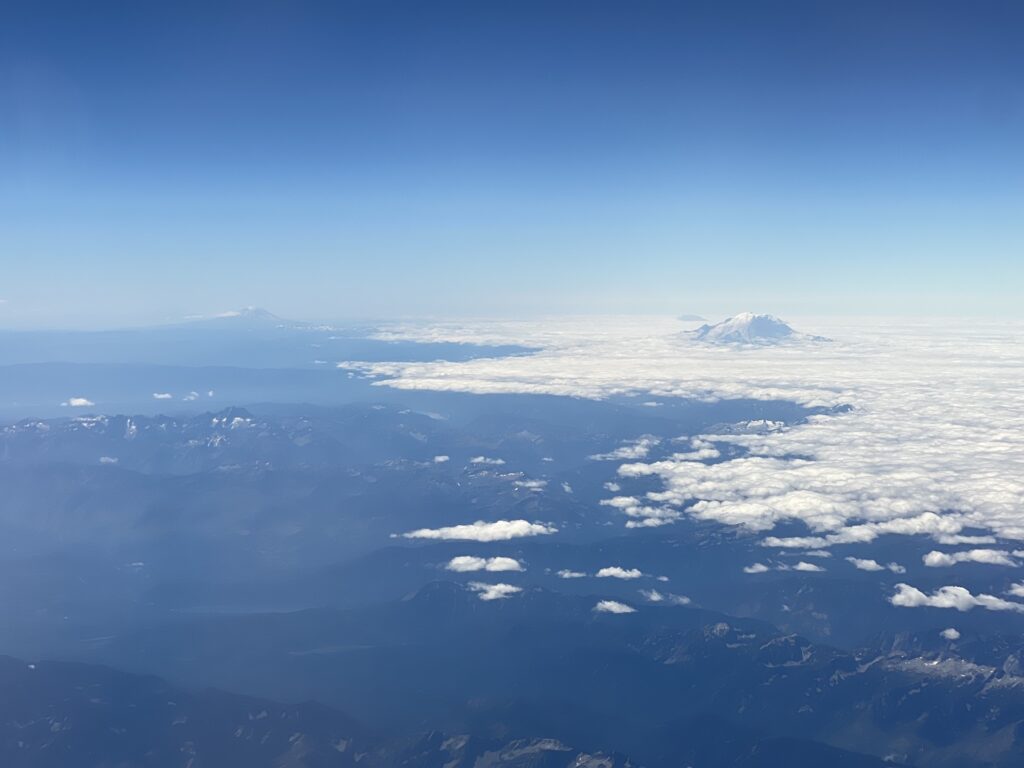 Added Benefits of Main Cabin Extra
Main Cabin Extra is the most premium flying experience in Main Cabin. It is tied to a specific seat selection. Main Cabin Extra seats are located at the front of the cabin and in emergency exit rows. They are basically the same seats as other Main Cabin seats, but they have more leg room (up to 6 inches more.)
In addition to the better seat location and more space, Main Cabin Extra passengers also enjoy a handful of other perks, including the following:
Free Checked Bag (1)
Priority Boarding
Complimentary alcoholic beverages
Dedicated overhead bin space
Comparing American Airlines Main Cabin Flight Experiences
Just for added context, let's look at how Main Cabin Extra compares to other Main Cabin experiences.
Main Cabin Extra: This is the best Main Cabin experience that American Airlines offers. It refers to a specific premium seat selection that includes a handful of added benefits, covered above.
Main Cabin: This is the standard economy seat and flight experience. You can select a basic seat in advance for free (or a premium location for an added fee), there are no change fees, and you'll get general boarding.
Basic Economy: This reduced fare comes with the same seat and onboard experience as Main Cabin, but has a fee for advance seat selection, does not allow changes, boards last and does not come with a free checked bag.
If you're a visual person, here's a chart that breaks down the differences between American Airlines Main Cabin options.
Basic Economy

Main Cabin

Main Cabin Extra

Complimentary Snacks & Non-Alcoholic Drinks

Yes

Yes

Yes

Onboard Entertainment

Yes

Yes

Yes

Personal Item

Yes

Yes

Yes

Free Carry-on

Yes

Yes

Yes

Free Checked Bag

No

Yes*

Yes

Free Changes

No

Yes

Yes

Free Advance Basic Seat Selection

No

Yes

Yes

Premium Seat Selection

No

No

Yes

Complimentary Alcoholic Beverage

No

No

Yes

Priority Boarding

No (last)

No (general)

Yes (group 4 or 5)

*Select transcon flights



Main Cabin Extra Booking & Seat Selection
Unless we're buying flights with points, we almost always book our flights directly through the airline. American Airlines' website isn't my favorite, but it's intuitive enough. Main Cabin Extra refers to a specific seat selection within Main Cabin, so you'll start by selecting Main Cabin.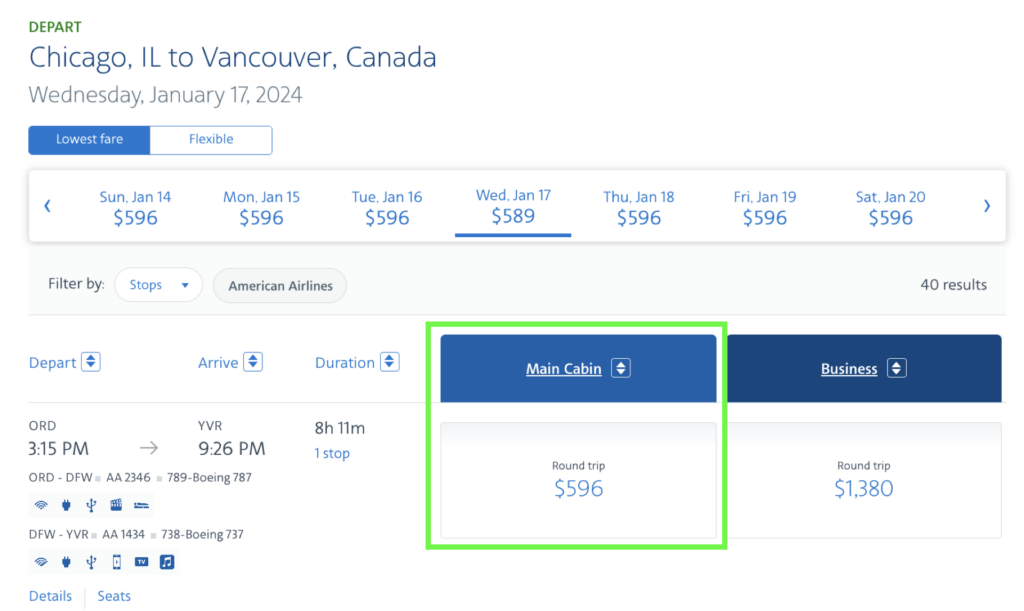 This is where things start to get confusing because American Airlines uses different words to refer to the same thing. After you select your flights, you will get a pop-up asking to upgrade to Main Plus. Main Plus refers to the fare category that includes complimentary Main Cabin Extra seat selection. The price of this upgrade will vary based on your route.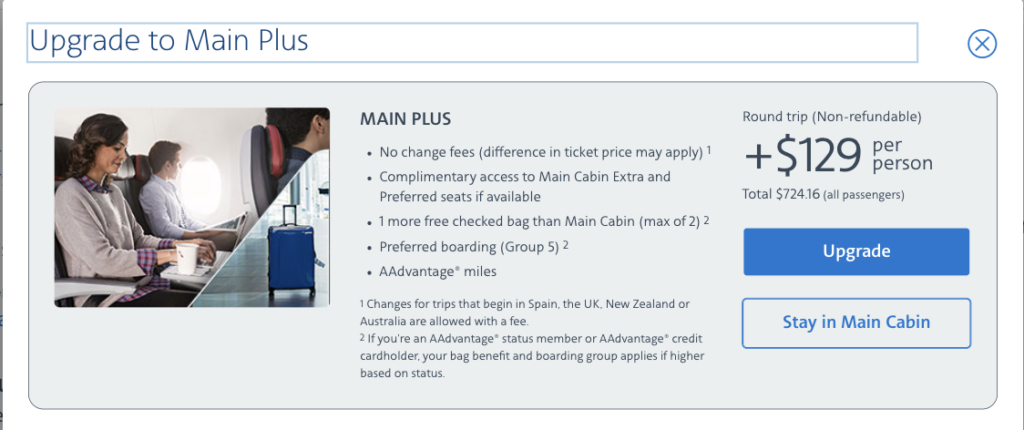 It's important to note that you have to actually select a Main Cabin Extra seat in order to get the benefits of Main Cabin Extra. If you upgrade to Main Plus, and there are no Main Cabin Extra seats available or you just choose a different seat, you are not getting the full value and are basically wasting your money.
If you decline the upgrade to Main Plus initially, you will still be able to purchase a Main Cabin Extra seat when you get to the seat selection page. The Main Cabin Extra seat prices vary based on the row and location. You will need to pay for a Main Cabin Extra seat for each leg that you wish to enjoy the benefits.
It is usually cheaper to upgrade to Main Plus, than to book the Main Cabin fare and pay for the Main Cabin Extra seats separately. However, paying for the individual Main Cabin Extra seat at seat selection makes sense if you only want to upgrade for one leg of the flight.
Let's look at an example of this price difference. (FYI, these prices are all in USD, since I'm booking from the US on American Airlines.) I looked at a sample flight from Chicago to Vancouver. The price to upgrade to Main Plus was $129, which included Main Cabin Extra seat selection on both legs.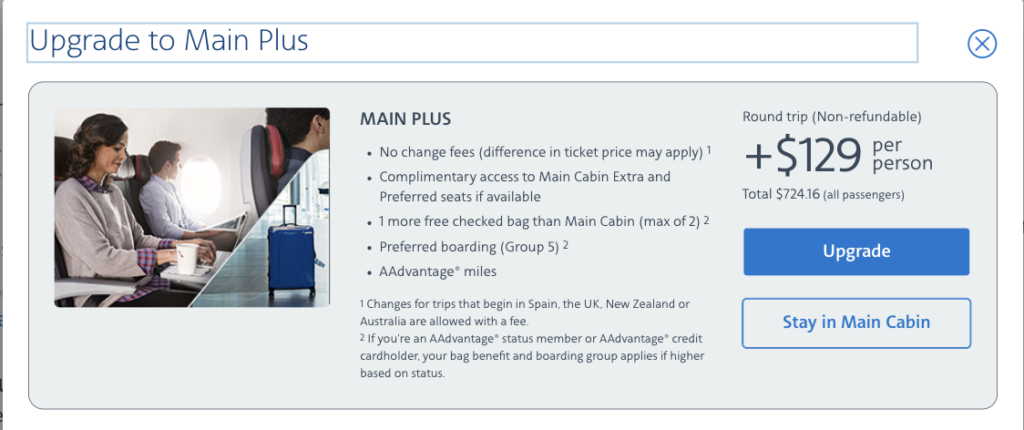 If I declined the upgrade and paid to select a Main Cabin Extra seat for both legs at the seat selection page, the cost was $150. Since individual seat prices vary, it could have cost up to $170. That's $21 – $41 more to upgrade at seat selection versus Main Plus.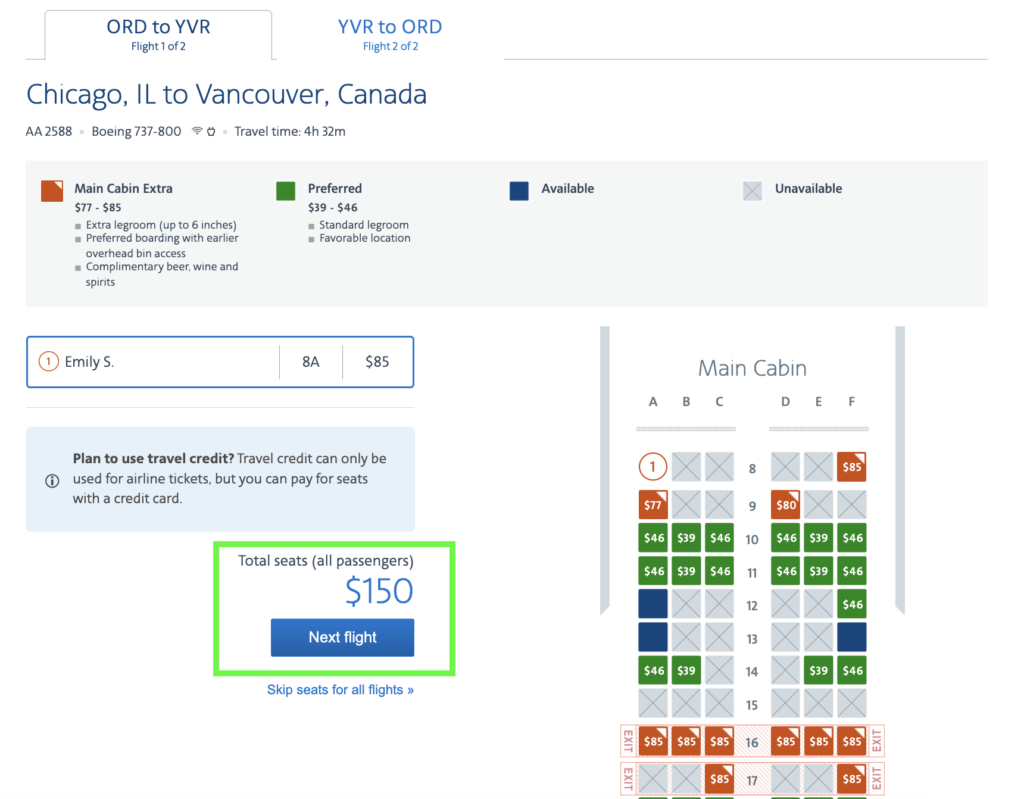 If you forgo Main Cabin Extra entirely at booking, you can still add it after the fact. If Main Cabin Extra seats are available, you can change your seat selection and pay for the upgrade at anytime. You will only be able to pay the seat selection price at this point.
Our Flight Costs
We booked our August flight in October — 10 months in advance. This trip was a bit clunky, and this particular booking was one way from New York to Vancouver, with an intentional 1-night layover in Chicago to visit family. We decided to fly in Main Cabin from New York to Chicago and Main Cabin Extra from Chicago to Vancouver.
The total price for our three tickets on this route (including Main Cabin Extra seats for the ORD-YVR leg at $65 each) was $1,576.63. We paid in cash and did not use points for this booking.
In this post, I will only be focusing on the Chicago to Vancouver leg in Main Cabin Extra.
ORD Airport Experience
Our flight was scheduled for 9:58 AM out of O'Hare. That's not that early, but it was early enough that we chose to stay at the airport hotel. We've stayed at the Marriott Chicago O'Hare a handful of times, and it is always incredibly convenient. We particularly love splurging on a room with runway views.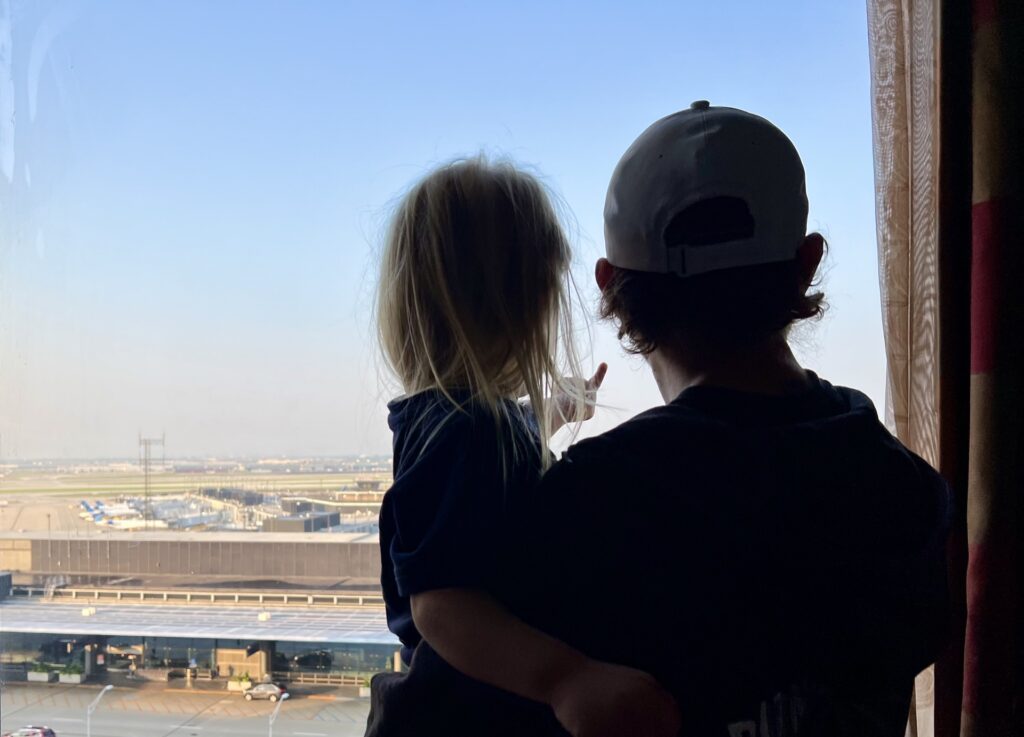 The Marriott connects to O'Hare from inside on the lower level, right across from the O'Hare Blue Line station. It's just a short walk to terminals 1, 2 and 3 from the hotel. (To get to Terminal 5, you'll need to take a shuttle bus or the train, if it's operating.) We left our room at 7:15 AM and were through security and at our gate in Terminal 3 by about 8 AM.
Main Cabin Extra does not include lounge access. We have Priority Pass, but their only lounge at ORD is in Terminal 5. We opted for breakfast at one of our favorite eateries, Tortas Frontera by Rick Bayless. After picking up some Chicago-style popcorn, we were at our gate with plenty of time to spare.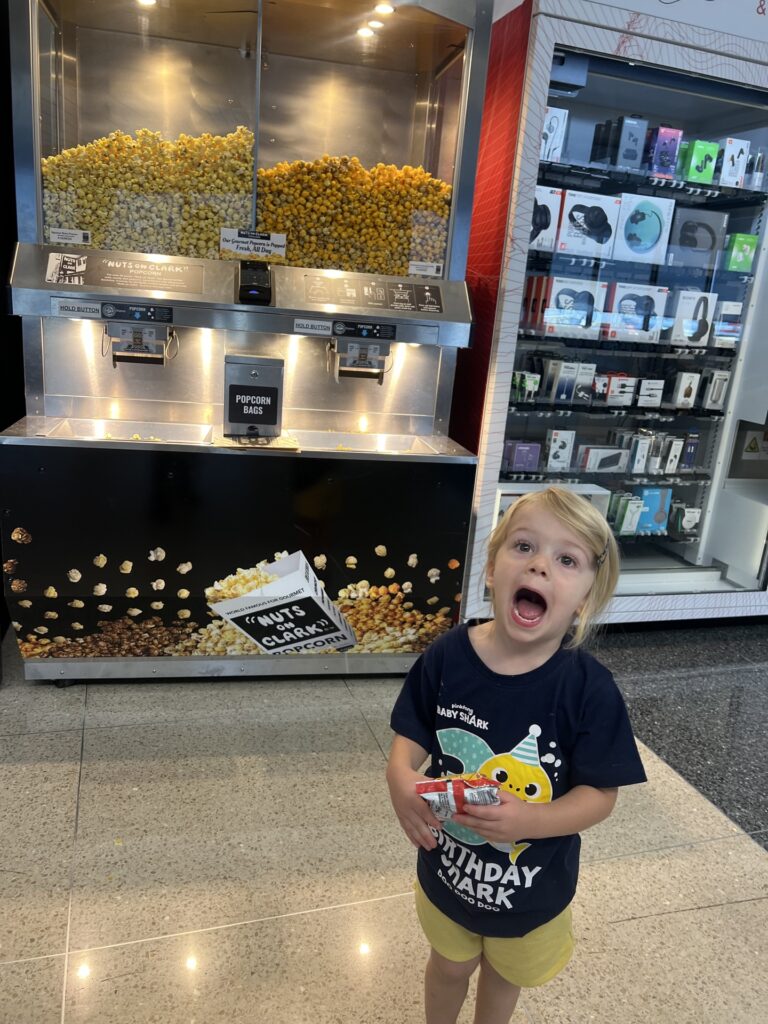 Since we were flying Main Cabin Extra on this leg, we got to board with Group 5. This is considered preferred boarding, but there were still plenty of people who qualify for earlier boarding via loyalty programs and more premium seats. You can view the full boarding order here.
The boarding process was pretty well organized. This particular boarding experience was noteworthy because the boarding agent was more vocal than usual. She made repeated announcements about boarding and baggage rules, and was strictly enforcing them. We decided to get in the longer line just so we could go through the other agent, instead of her.
Once we boarded through, we easily found our Main Cabin Extra seats in row 9.
American Airlines Main Cabin Extra Seats on the 737
The Main Cabin Extra seats on the 737 are comfortable for an economy seat. They are placed in a 3-3 configuration, just like Main Cabin, so they are not substantially wider or more comfortable. In fact, the Main Cabin Extra seats themselves are basically the same as the regular Main Cabin seats. The only difference is the pitch, which we discuss in the next section .
Each seat is covered in soft faux leather and has an adjustable headrest. The seats recline a few inches, and there is no footrest. As far as comfort goes, the Main Cabin Extra Seat is equal to the Main Cabin. It's also on par with other legacy carrier economy seats, like United, Delta or JetBlue. And as such, it's a step above seats on low-cost carriers to the likes of Spirit or Frontier.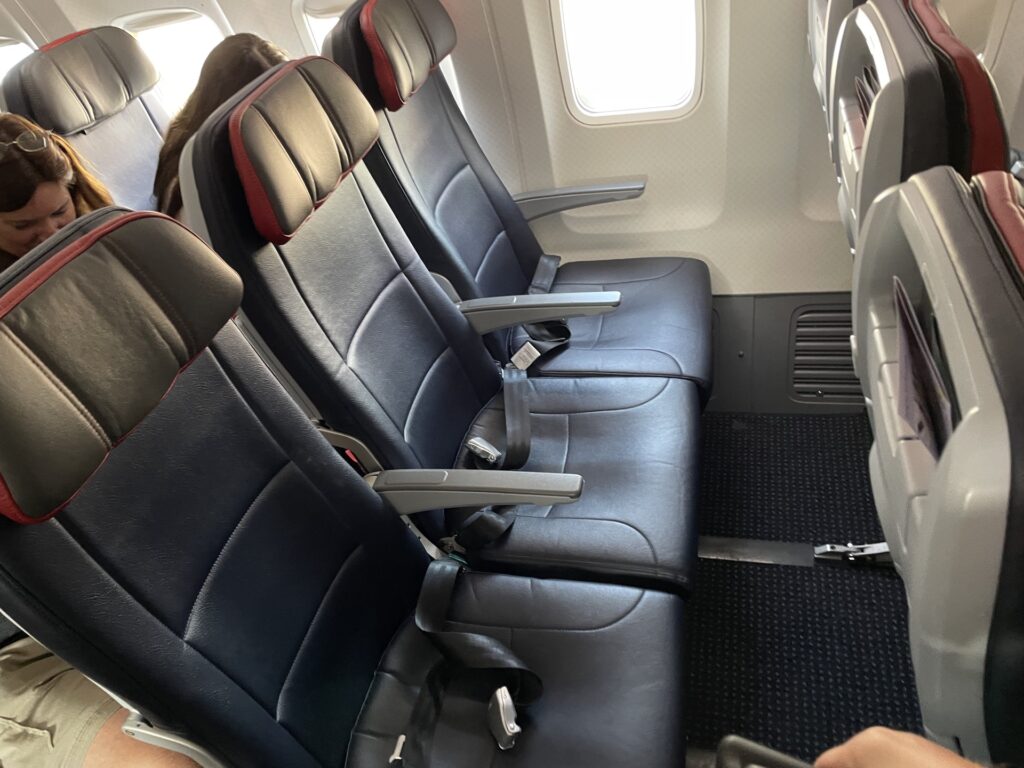 Main Cabin Extra seats have a standard size tray table that folds down from the back of the seat. Again, this is the same size and functionality as main cabin.
Space & Storage
In addition to their preferred location on the plane, the real selling point of Main Cabin Extra comes in the form of space and storage.
As you can see in the photos above, Main Cabin Extra seats have quite a bit more leg room than standard Main Cabin Seats. The pitch (distance between seat backs) is 30-31 inches in Main Cabin versus 33-40 inches in Main Cabin Extra. The exact pitch varies based on the row and layout of the specific plane.
Another Main Cabin Extra perk is dedicated storage space. The bins above Main Cabin Extra have signs stating that they're reserved for Main Cabin Extra passengers. This is nice, but honestly it's not as helpful as you think.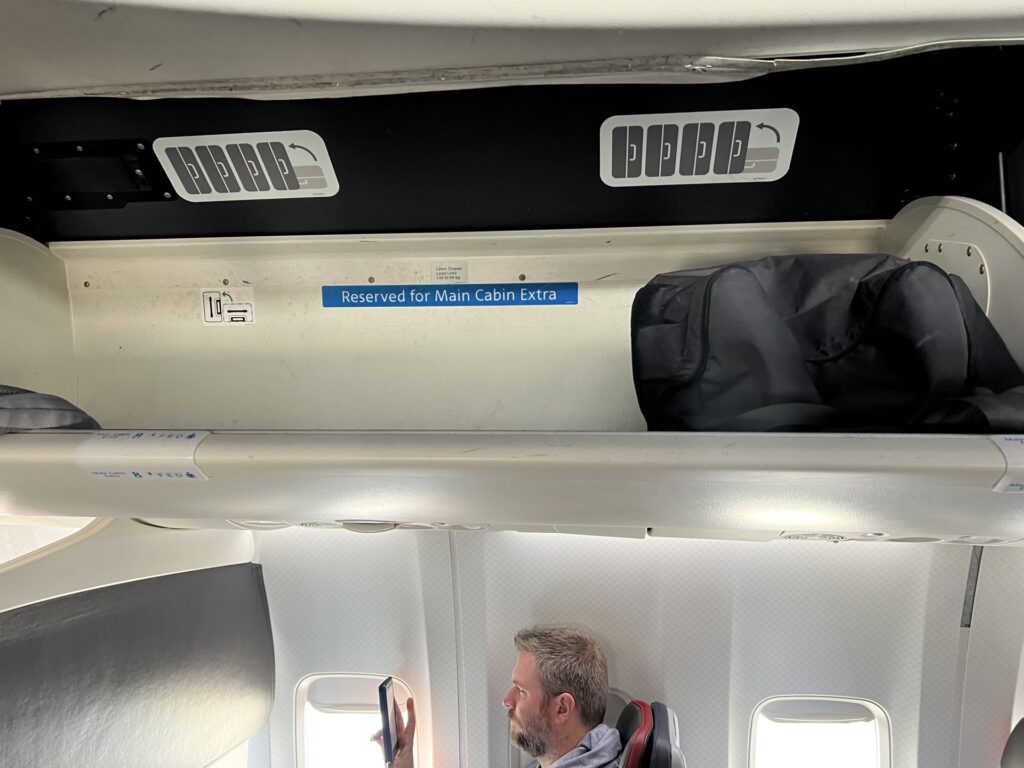 Main Cabin Extra passengers board early, so they're not likely to be fighting for bin space anyway. And once the rest of the Main Cabin bin space fills up, Main Cabin passengers will utilize this space — often at the instruction of the flight attendants. So if you're someone who likes to board last, you aren't guaranteed that this space is still going to be available, which kind of defeats the purpose of it being reserved.
In addition to the bin space, there is also standard storage under the seat in front (bulkhead seats excluded). This space is the same size as Main Cabin, but it's a little easier to access it in Main Cabin Extra because of the added pitch.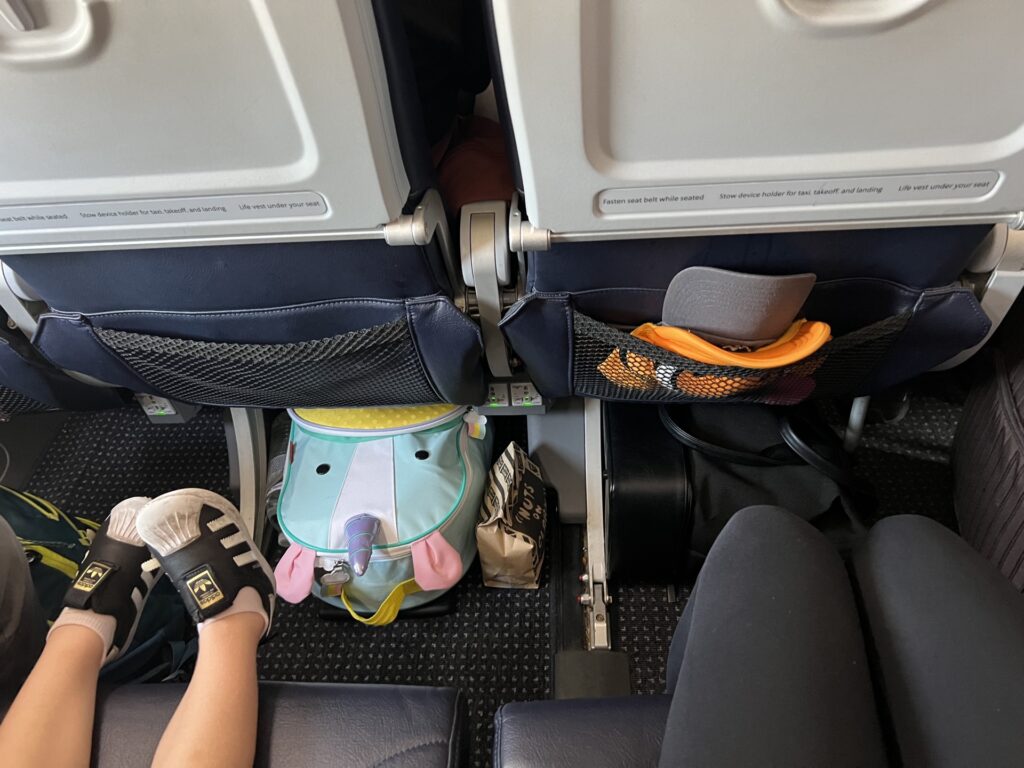 Entertainment & Technology
One thing you won't find on a lot of American Airlines planes is seatback screens. This is true for all cabins, from Main Cabin to First Class. Instead, American Airlines allows passengers to stream TV shows, movies and music on their personal devices in their app for free. (This is true for flights equipped with wifi that is operational during your specific flight.)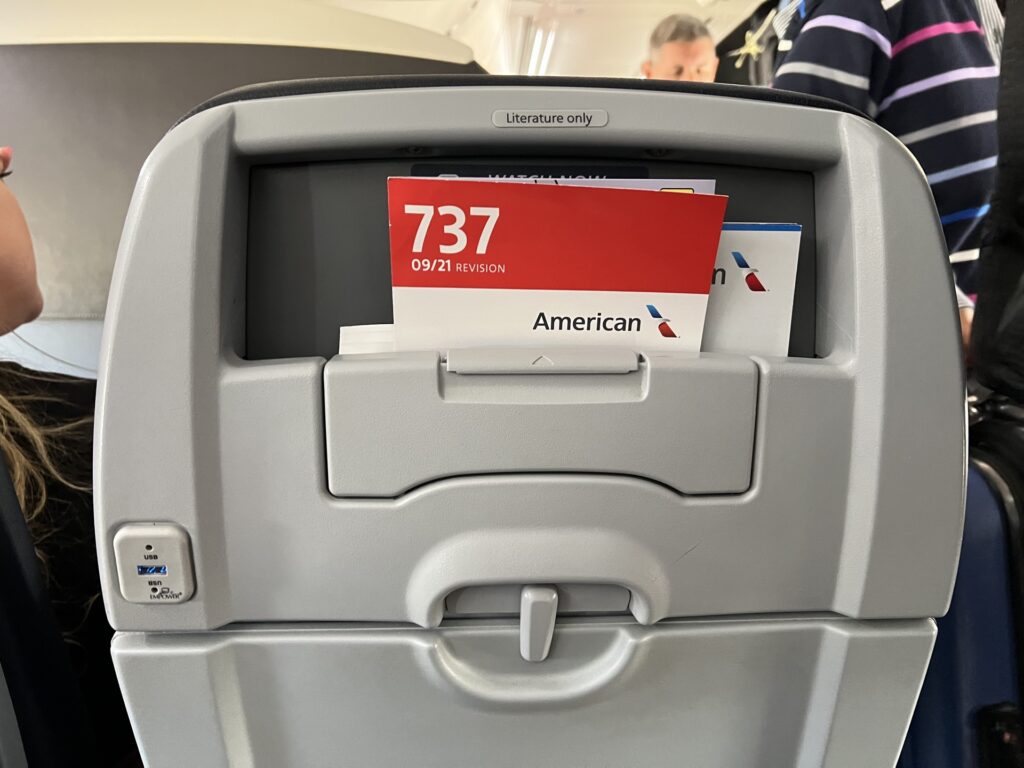 On planes that don't have screens — like this 737 — there is a device holder in the seatback where the screen would usually be. It holds tablets and phones in a variety of sizes. There was no tablet stand built into the tray table. And because there were no screens, they also did not pass out complimentary headphones.
I used to think that seatback screens were trending toward obsolete. But now that they're disappearing, I miss them. I bring a tablet for my toddler, but not for myself. That leaves me with my phone, which is a tiny screen. I also prefer to do other things on my phone (primarily crossword puzzles), so I don't like to have to choose between that and TV. That problem is not unique to Main Cabin Extra, so I'll move on.
Each seat has access to both USB charging in the seatback and a standard AC power socket below.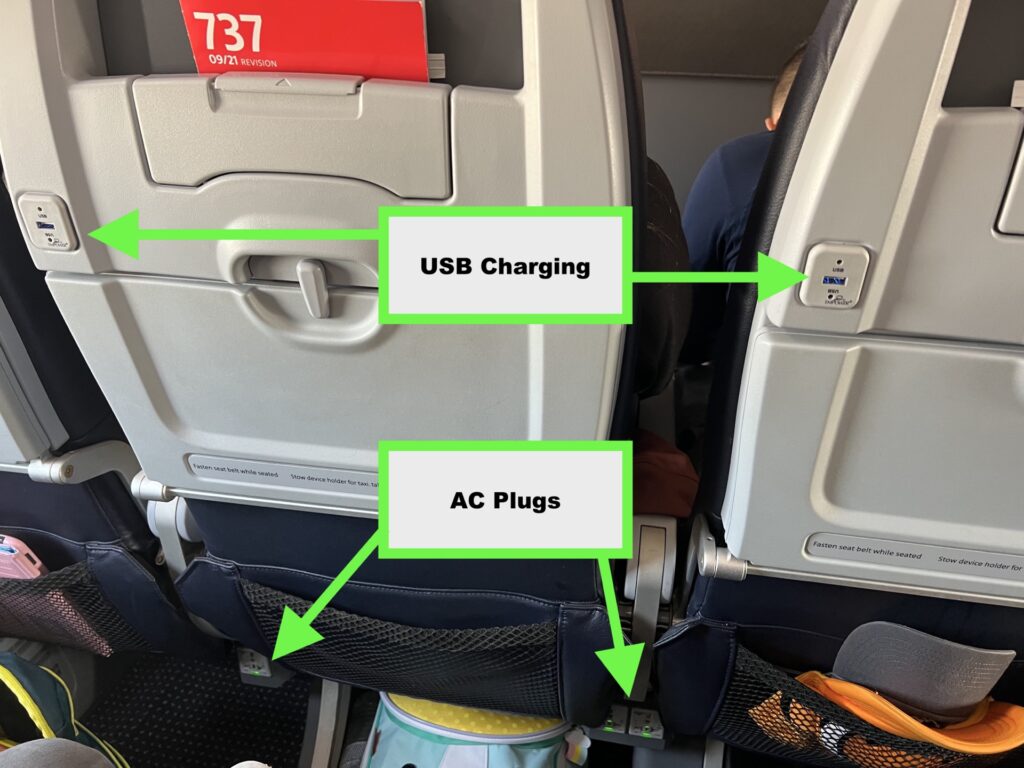 Food & Beverage Service in American Airlines Main Cabin Extra
The service in Main Cabin Extra is the same service that you receive in Main Cabin, you just get served earlier (depending on your seat location) and some things are free.
Our flight from Chicago to Vancouver was about 4.5 hours. Service begin a little later than usual, due to some light turbulence. (Nothing drives me bonkers quite like pilots in the US with a heavy hand on the seatbelt sign.) However, once drink service began we were among the first to be served.
In my experience, most people in Main Cabin Extra don't realize that alcohol is complimentary. Someone in the first row of Main Cabin Extra ordered a cocktail and was surprised to hear it was free. Someone in the second row overheard that, and she was thrilled to hear that her drinks were also complimentary. I feel like they don't really promote it, and it's definitely something you have to know to ask for.
It was early, so we personally started with coffees. I also recently built up the courage to order two drinks at the same time, so I also ordered a club soda. Our drinks were served with a complimentary snack selection — the same "cookies or pretzels" offering that Main Cabin passengers receive. Additional food was available for purchase, but there was no additional snack or food service for Main Cabin Extra.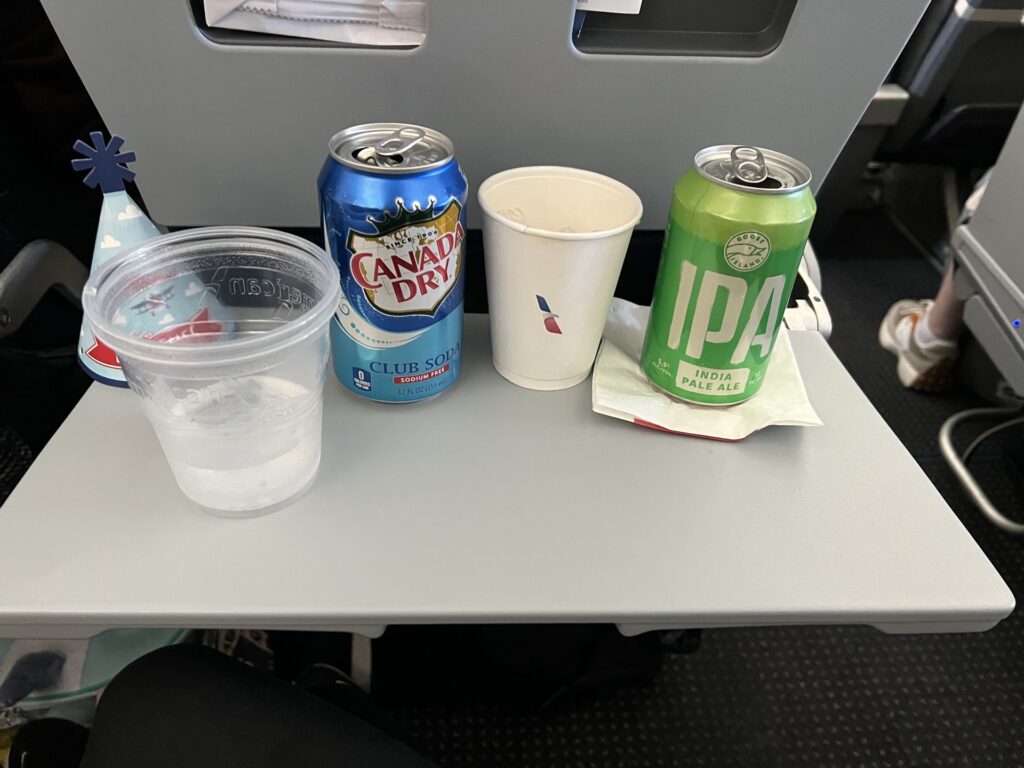 Since it was a longer flight, there was a second round of drink service offered a few hours later. This time I ordered a Goose Island beer. For context on just how many drinks you can get, I'll just say that the couple across the aisle from us ordered two rounds of double cocktails and they were all complimentary.
I could have stood for a second snack offering, but two rounds of drinks on a 4.5 hour flight is respectable.
Birthday Party on a Plane
This isn't actually important to this flight review, but it was so cute I have to share.
This flight was extra special for us because it was on our child's third birthday! Fortunately, our kid really loves planes, so this wasn't a bad way to spend their day. We celebrated by having a little birthday party on the plane!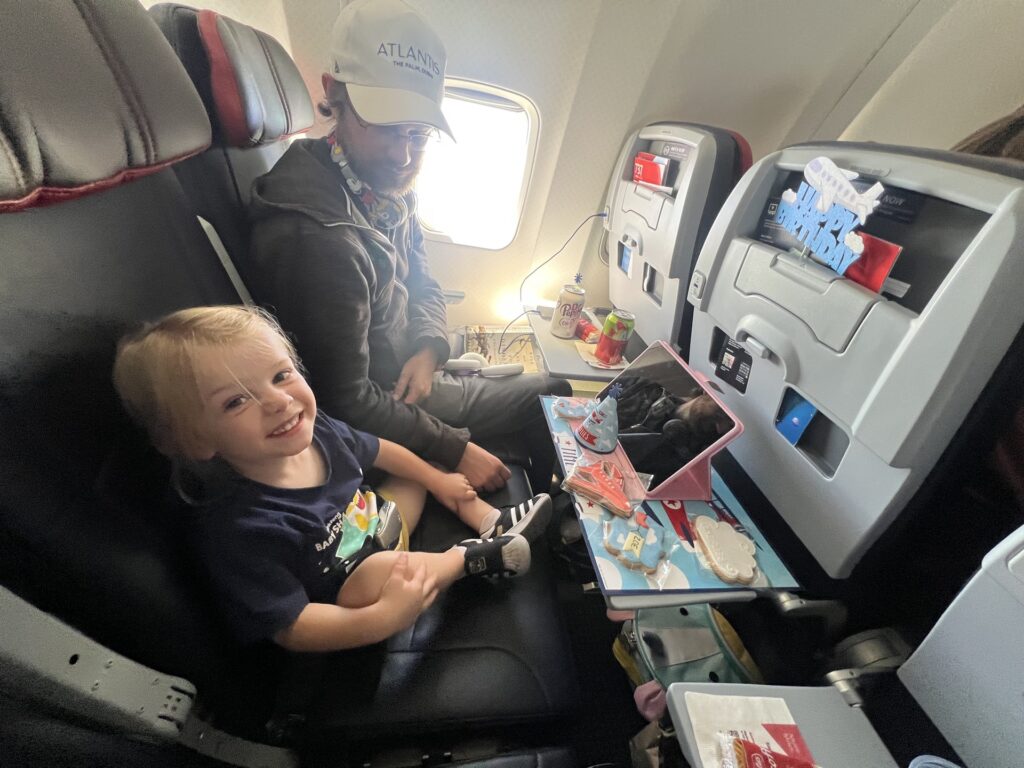 I picked up these cute little placemats, which had a coloring page and activities on the back. I had intended to wear matching party hats, but had some trouble with the Amazon listing. I accidentally ordered miniature hats, and on top of that, I forgot to pack the strings for them. So these just made a brief appearance for a photo op.
And what is a birthday party without treats? I made and decorate these sugar cookies, and was so proud of how they turned out! Despite wrapping them in bubble wrap and delicately packing them at the top of my carry on, they all still managed to break. They were still delicious though!
I just wanted to share this quick story as an example of how you can make a birthday special, even if it's on a plane!
Arrival at YVR & Train to the City
Our flight landed a few minutes later than scheduled, but it was overall a smooth flight. The walk from the plane to passport control was along an elevated walkway above the main terminal. The Toronto Airport is beautiful, with lots of beautiful water features and indigenous art, so this walk was really pleasant.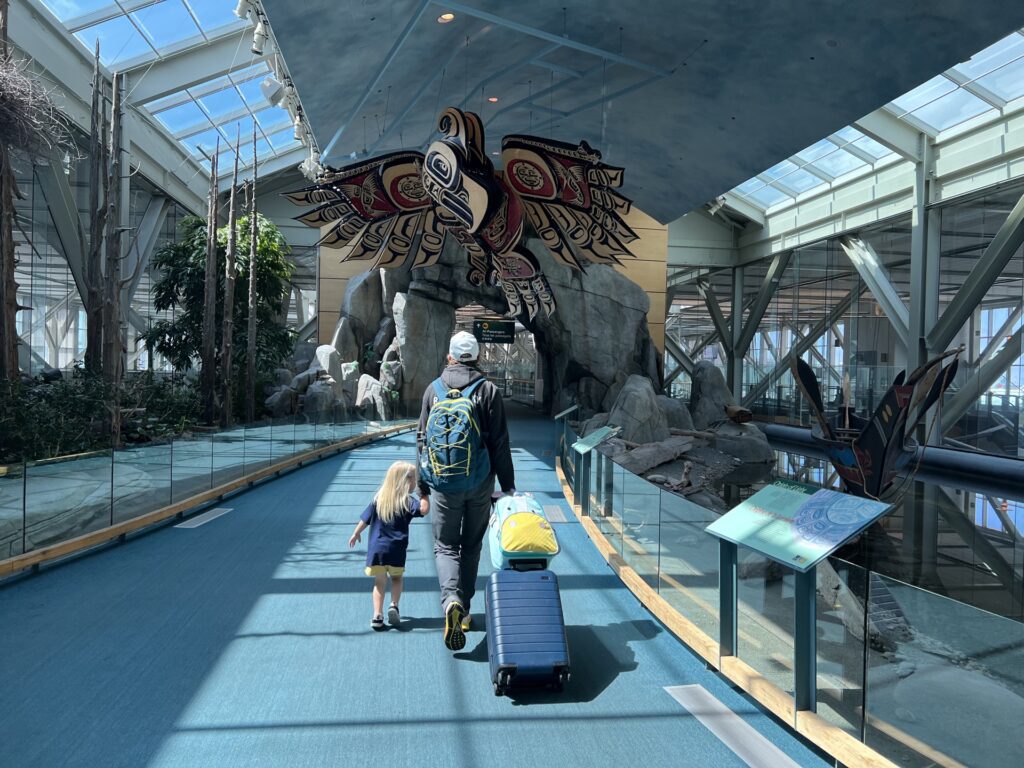 Passport control at YVR was also a breeze. There was no queue around 1 PM on a Thursday. There were individual kiosks and we easily scanned our passports, took a quick photo and were on our way.
Getting to the City from YVR
It is easy to get from YVR to downtown Vancouver on public transportation. The Canada Line will get you from the airport to downtown in about 30 minutes. The train station is located just across the street from the terminal. You can easily follow the many posted signs to the Canada Line.
You cannot tap-to-pay on the Canada Line, so you need to first buy a ticket from the kiosk at the station. Tickets cost $9 CAD. YVR is the end of the line, so you don't have to worry about which direction you're going. Trains run frequently, usually every 5-10 minutes, between roughly 5 AM and 1 AM daily.
We had a very pleasant ride on the Canada line, which we took to Vancouver City Center station. From there, it was a 5 minute walk to our hotel, Rosewood Hotel Georgia. We were now ready to spend a few days exploring the best of what Vancouver had to offer!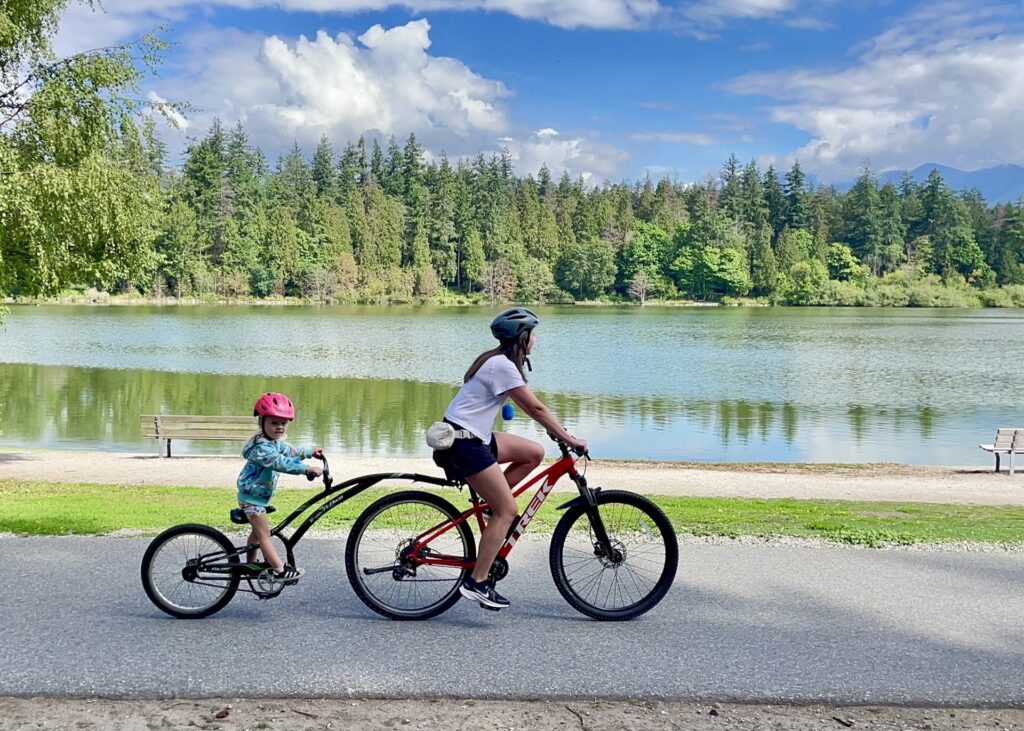 Is Main Cabin Extra worth it?
Main Cabin Extra is the most expensive ticket option in American Airlines' Main Cabin. The exact price of the upgrade varies based on the route, which seat you select and how you book the upgrade.
For the sake of analysis, let's focus on flights longer than 3 hours. The upgrade for this flight duration is usually ~$100 – $150 more per ticket than Main Cabin. Flights shorter than 3 hours will be even cheaper to upgrade, but you often won't get as much value out of a shorter flight.
As a reminder, let's recap the advantages of Main Cabin Extra.
More legroom
Premium seat location (front of the cabin and exit rows)
Free Checked Bag ($30 USD value)
Priority Boarding
Complimentary alcoholic beverages ($9 – $10 USD per drink)
Dedicated overhead bin space
If you check a bag and drink two cocktails, you've already gotten $50 of value right there. That's almost half the price of the upgrade in some cases. The worth of the upgrade is never tied 1:1 with monetary value, but it's a good place to start.
In order to fully appreciate Main Cabin Extra, I think it's important to compare it to similar upgrades in the industry. I would most closely compare Main Cabin Extra to Delta Comfort Plus. Both products give you slightly more legroom and offer comparable perks. Comfort Plus is a little better and provides an extra premium snack, but they also charge more for the upgrade.
On comparable flights between New York and Chicago, the price to upgrade is $66 more expensive on Delta than American Airlines. (Comfort Plus is $160 more than Main Cabin on Delta and Main Cabin Extra is $94 more than Main Cabin on American Airlines.) And if you compare the total fares, American Airlines ends up being $56 cheaper overall.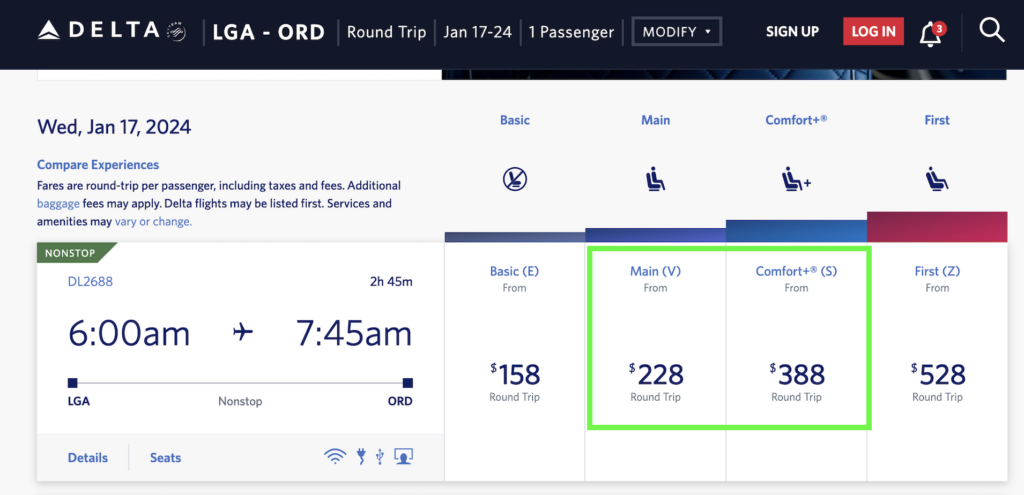 Now, this is just one example. The details will vary based on the route, how far in advance you book, etc. The point though, is that compared to competitors, Main Cabin Extra is a relatively low upgrade cost for a very comparable product. It's nice to have a reasonably priced upgrade option available.
As one of the more affordable Main Cabin upgrades in the industry, I think Main Cabin Extra provides substantial value. Tall travelers, parents traveling with children (especially parents with a lap infant), elderly travelers, people checking a bag — basically anyone who wants to generally improve their travel experience — can benefit greatly from this upgrade at a relatively reasonable price.
All this to say, yes. I believe that Main Cabin Extra is worth the upgrade. It's a good product that offers a lot of value for a relatively low up-charge.