I flew American Airlines domestic First class on a Boeing 737-800 roundtrip between New York (LGA) and Miami (MIA). It was my first time flying American's premium cabins, and I was looking forward to see how it compared to Delta First Class, which I fly often to Orlando.
In this post, I'll explain what American Airlines First class includes, and a few things it doesn't. We'll take a detailed look at the First class seat on the Boeing 737 and then go over the service offers on board. At the end, I'll wrap up with my take on whether American Airlines First class is worth it.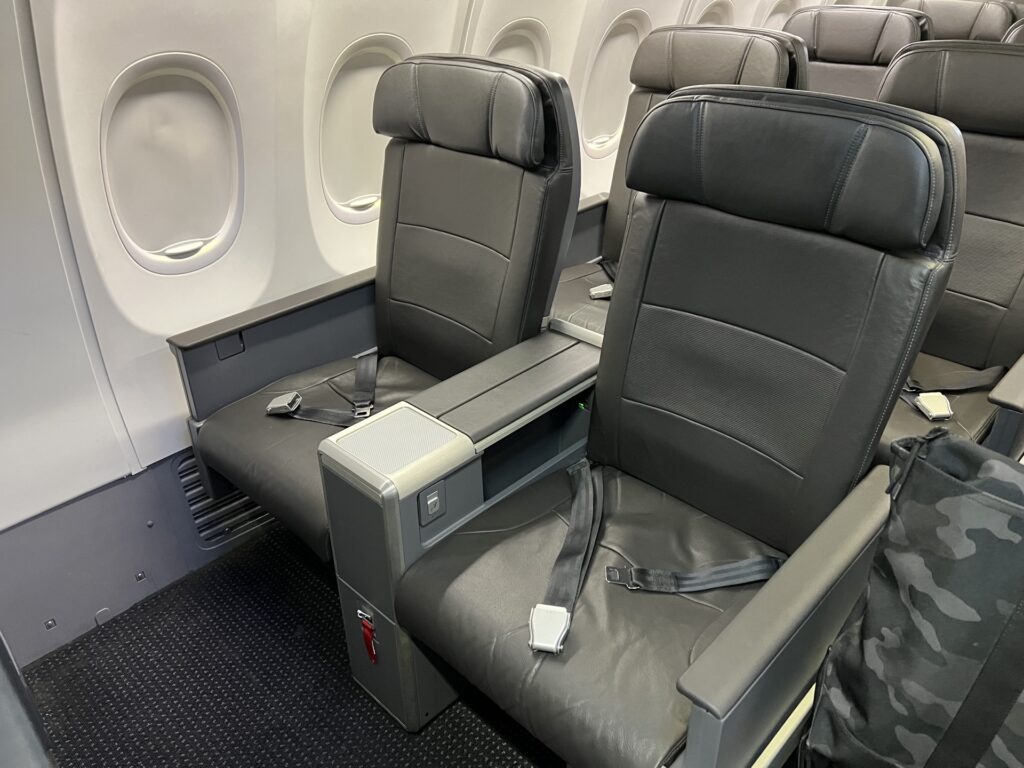 Please note, this post is about American Airlines domestic First class. Do not confuse that with American Airlines Flagship First, which is only available on select long-haul transcontinental and international routes.
American Airlines Domestic Flight Experiences
American Airlines has a handful of different flight experiences based on the route, duration and plane. On most domestic short- and medium-distance flights, American Airlines has the main categories.
First: This is the most expensive option with the highest level of service and the best seats, and is the focus of this post.
Main Cabin Extra: These seats have a bit more leg room than Main Cabin, but are not quite as spacious as First. These passengers receive perks like earlier boarding and extra snacks and drinks.
Main Cabin: This is the standard economy flight experience. These are the most compact seats with basic service. Main Cabin does include complimentary non-alcoholic beverage service.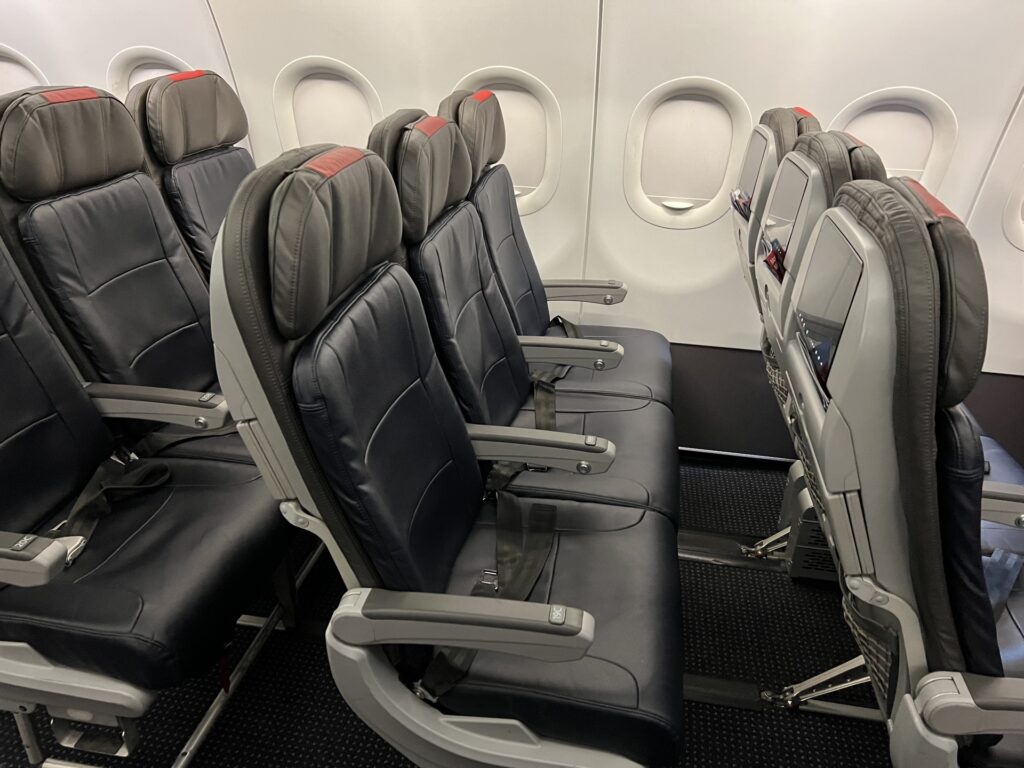 American Airlines also offers Basic Economy, but that ticket category only impacts the experience prior to boarding. Basic Economy fares are cheaper and come with more baggage restrictions, no seat selection and later boarding groups. However, once you've boarded the plane, the Basic Economy experience is the same as the Main Cabin experience in terms of seat and service.
On transcontinental and international flights, American Airlines has a few additional offerings, including Flagship First (American's most premium service offering), Flagship Business (somewhere between domestic first and Flagship First) and Premium Economy (somewhere between Main Cabin Extra and domestic First).
About American Airlines Domestic First Class
First class is American Airlines' most premium service offering on most domestic flights. These passengers receive a handful of benefits including larger seats, priority boarding, and complimentary food and beverages onboard.
First class seats are always located at the front of the plane. The exact seats and configuration vary based on the plane and route, but they're typically placed in a 2-2 configuration (versus 3-3 in Main Cabin).
American Airlines First class product on domestic routes is similar in quality to first class cabins on other US carriers. It's an elevated flight experience, but it's not the luxury first class experience you'd get on a long-haul international flight. Expectations are everything, and this post will set them appropriately.
Let's take a look at exactly what you get (and don't get) with American Airlines domestic First.
What does American Airlines Domestic First class include?
Flying First with American Airlines on a domestic flight will get you a handful of perks to make your flying experience relaxing and comfortable. Here's what you'll get.
Large, spacious seats: First class seats are the comfiest on the plane. On the 737 covered here, the First class seats are 20.4 inches wide (compared to ~17″ in economy) with a pitch of 40 inches (compared to 31″ in economy.)
Priority Check-in & Boarding: Skip the long lines at baggage check and head straight to the Priority check-in counter. First Class passengers also receive priority boarding from a dedicated queue. (You won't quite be first to board, but you'll be close.)
Complimentary food & beverages: The details of this vary, but meals are technically included on flights longer than 900 miles. First Class also typically includes a light snack offering, which can ran from packaged chips to a bowl of mixed nuts. All beverages, including alcohol, are always complimentary in First class.
Pre-order Meals: American Airlines offers First class passengers the option to pre-order meals from 30 days to 24-hours before your flight. Not only does this lock in your meal preference, but you'll get to choose from items that are not otherwise available to order onboard.
Free checked bags & priority retrieval: Passengers flying in First class are able to check up to two bags for free. (American typically charges $30 for each checked bag.) First Class passengers' bags will also be tagged Priority, so they'll be among the first bags onto the carousel when you land.
Dedicated Flight Attendant: A top-tier flight attendant will be focused solely on serving the First class cabin, which ensures quality and expedited service.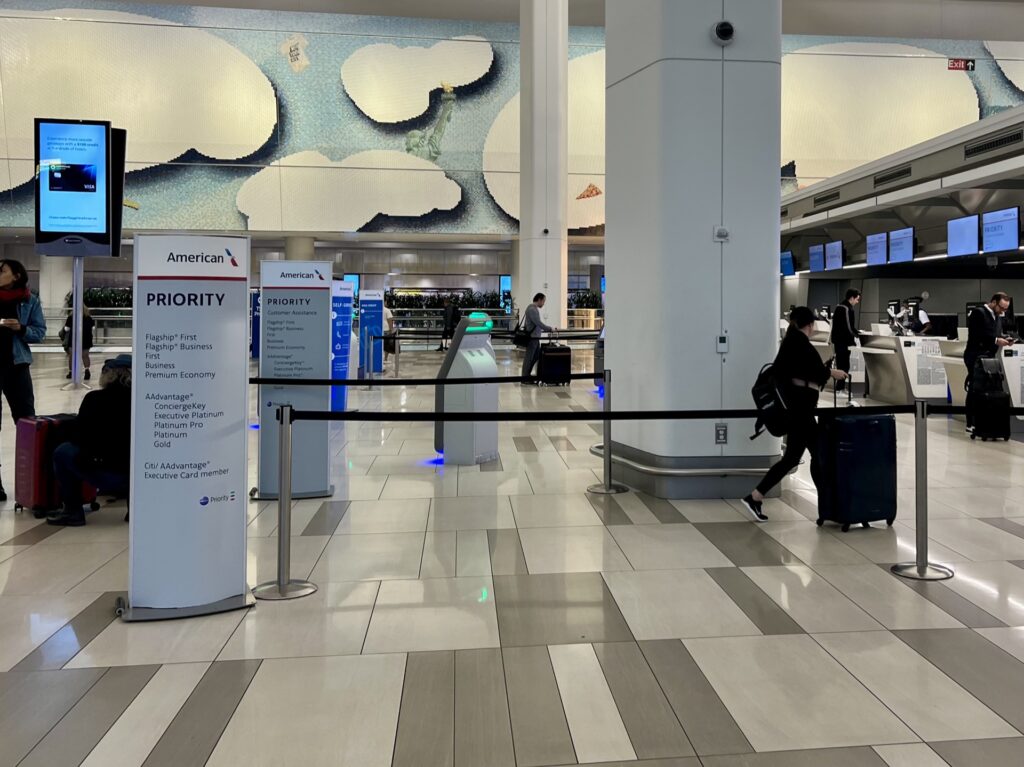 What doesn't American Airlines Domestic First class include?
American Airlines First class on domestic routes is an elevated experience, but not a luxury one. Here are a few things that are not included.
Lounge access. Flying First on a domestic route isn't enough to get you into a lounge, unfortunately. If you wish to access a lounge, you'll need to find another way in, such as Priority Pass, AAdvantage status or credit card status.
Wifi. Some planes are equipped with wifi, but it is never free for First class. You can purchase wifi on select routes.
Lie-flat seats. Domestic First and Flagship First have very different seats. The seats in First class on American Airlines domestic routes recline, but do not lie flat.
Expedited security. First Class does not include any priority security access. You will need to have TSA PreCheck and/or CLEAR if you want to skip any of the security lines at the airport.
Seat-back entertainment (on some planes.) American Airlines is removing seat-back entertainment from many of their planes. Instead, you can access free entertainment on your personal device.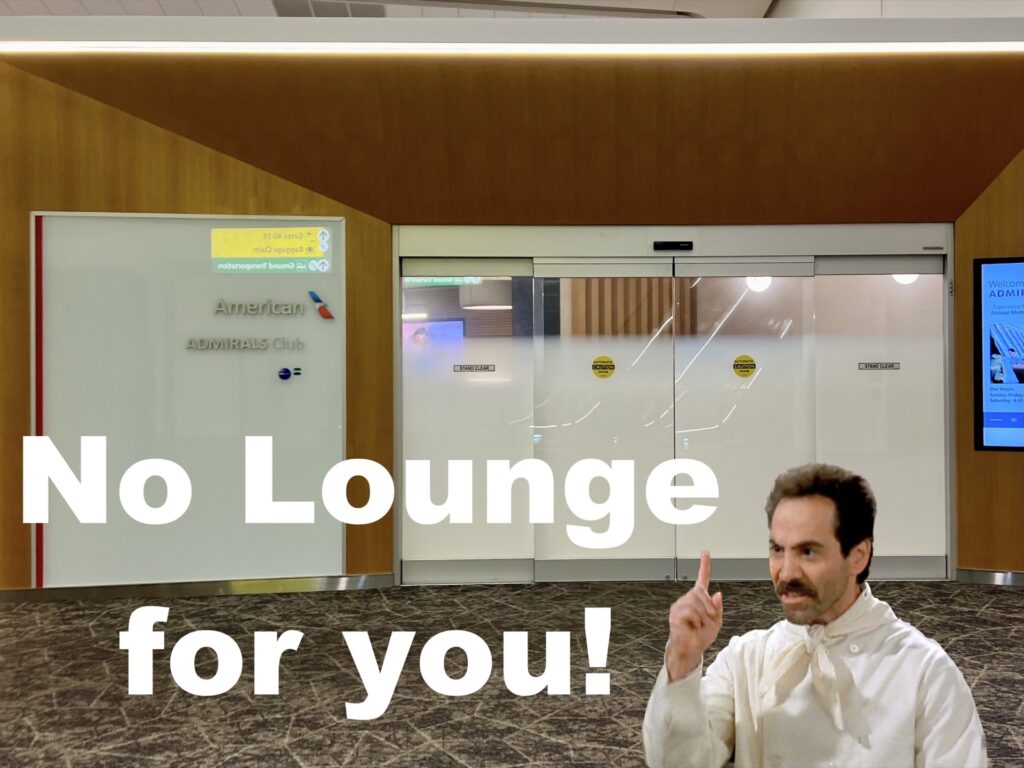 Booking my American Airlines First Class Ticket
I was planning a solo trip to Miami, where I would be meeting up with some friends for a Virgin Voyages cruise. I typically fly from New York (LGA) to Orlando (MCO) for Disney-related travel, and have grown quite fond of flying Delta First Class on that route. However, having flown that product a few times now, I was interested in trying something new.
I haven't had a ton of experience flying American Airlines in recent years. However, we did fly American Airlines transcontinental in Main Cabin and Main Cabin Extra to LA earlier this year. Though the transcontinental product is very different than the short-haul product, the experience was good enough to convince me to give American Airlines another shot.
I booked my flight direct on the American Airlines website. Their website is really ugly, but functional. It was easy to search for the route I needed, and select the First class option. The round-trip flight from LGA to MIA in First cost $1,030 (more than the Delta First Class flight I was looking at.) I paid in cash and did not use credit card points.
I booked my flight approximately five months in advance, so there were plenty of First class seats to choose from. By the time I checked in, all of the First class seats were booked.
Departure Experience at LGA
American Airlines flies out of Terminal B at New York LaGuardia Airport. A renovation of Terminal B was completed in 2022, and since then it's always been a breeze to travel through.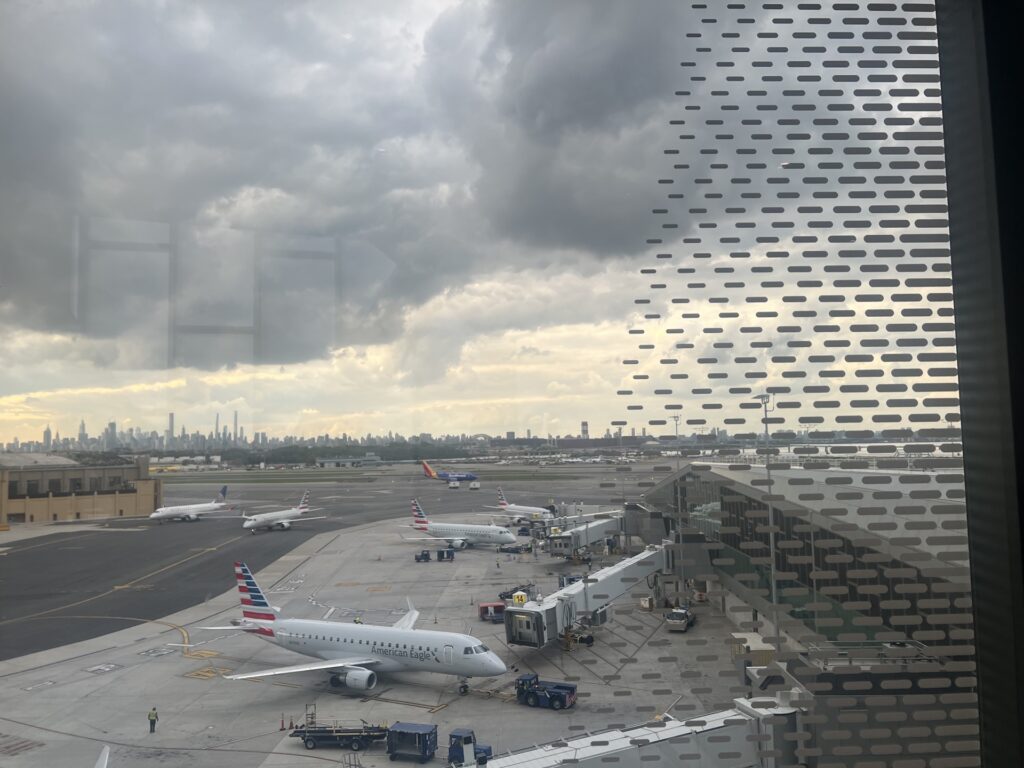 My flight was scheduled for 8 PM on a Thursday. I have TSA PreCheck, so I typically aim to get to the airport approximately one hour before boarding, especially if I don't have lounge access. (Terminal B at LGA does not have CLEAR.) I arrived via Uber at 6:15 PM. There was no line at the Priority counter when I passed by, but I didn't need to check a bag. By 6:30 PM, I was through security and headed to my gate.
Making a visit to New York City? Start planning your trip with our New York City Three Day Itinerary!
I passed the American Airlines lounge and waved from the outside, knowing my First class ticket wasn't enough to get me inside. I have Priority Pass as well, but that's no use either at LGA. Luckily for me, I would be getting dinner on the plane, so it wasn't that big of a deal.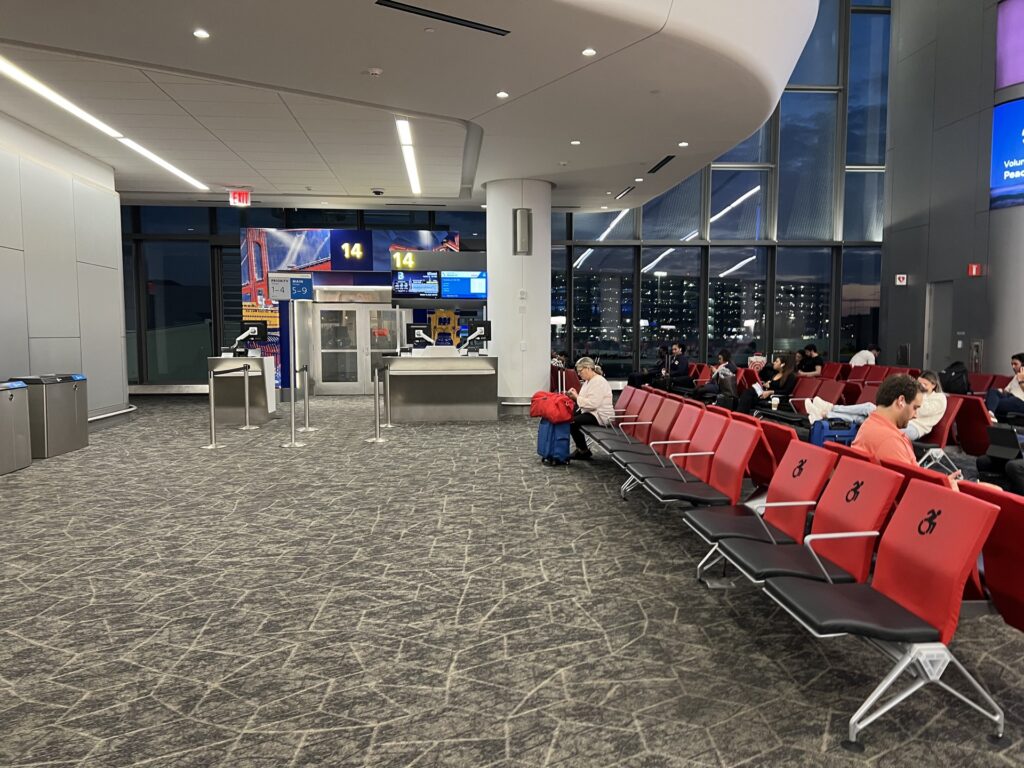 I got to my gate at 6:45 PM and just caught word that my flight was delayed by about 30 minutes. With an hour to kill now, I decided to grab a drink at the Mexican place nearby. Most of the dining options in Terminal B are centrally located just past security, but there are a handful of snack shops and bars near the gates.
Boarding began just before 8 PM. They began with pre-boarding passengers who needed assistance, followed by Concierge Key members. I was fascinated to see the flight attendants come out to the gate area and ask for these passengers by name! How elite! First class boarded next with Group 1.
Seats, Space & Storage in First Class on the Boeing 737
From first glance, the American Airlines First class seats looked new and sleek. There were 16 total seats in the First class cabin in a 2-2 configuration (again, on the 737-800).
The seats were plush, but not overly so, and covered in vegan leather. Between each seat was a pair of armrests and a small drink tray, but no overly large center console. There was also no divider of any kind between pairs of seats, which is convenient for passengers traveling together. The seats do not lie flat, but they did recline approximately 5 inches. There was an adjustable headrest, but no footrest.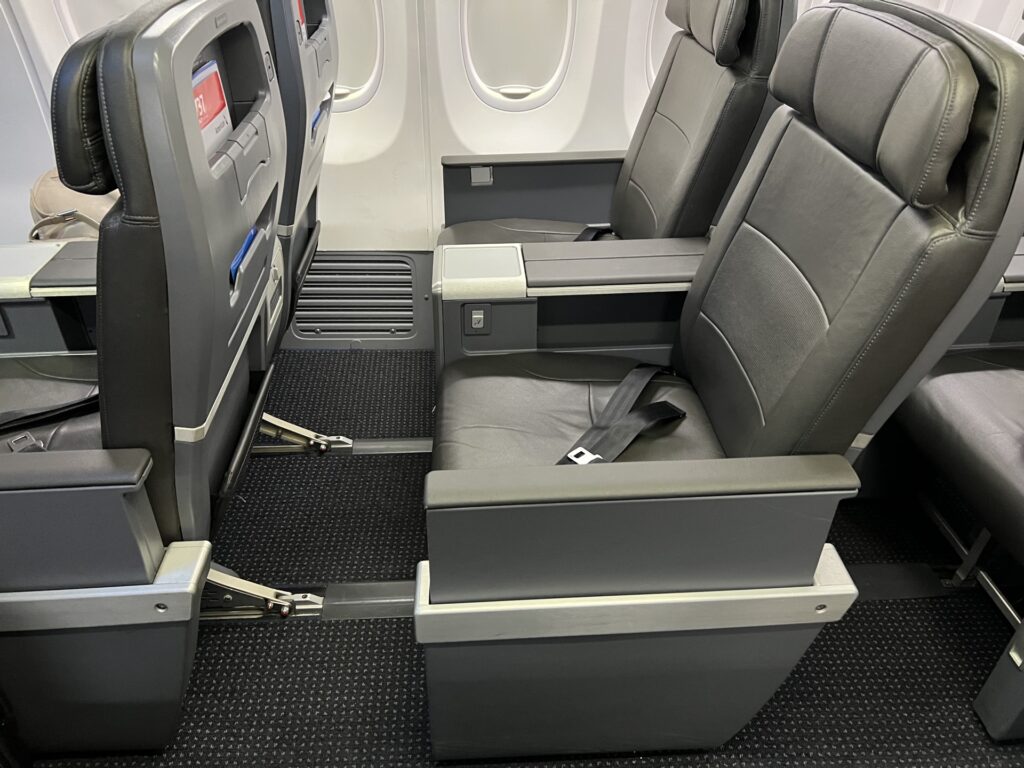 The pitch in first class was generous, with approximately 40 inches between seat backs. This was much more spacious than economy. However, the person sitting in the aisle seat still had to stand up to let the person in the window seat pass.
The overhead bins above the First class seats were reserved for first class. (They did start to use this space for Main Cabin passengers' bags as bin space filled up, though, so don't bank on that space if you board late.)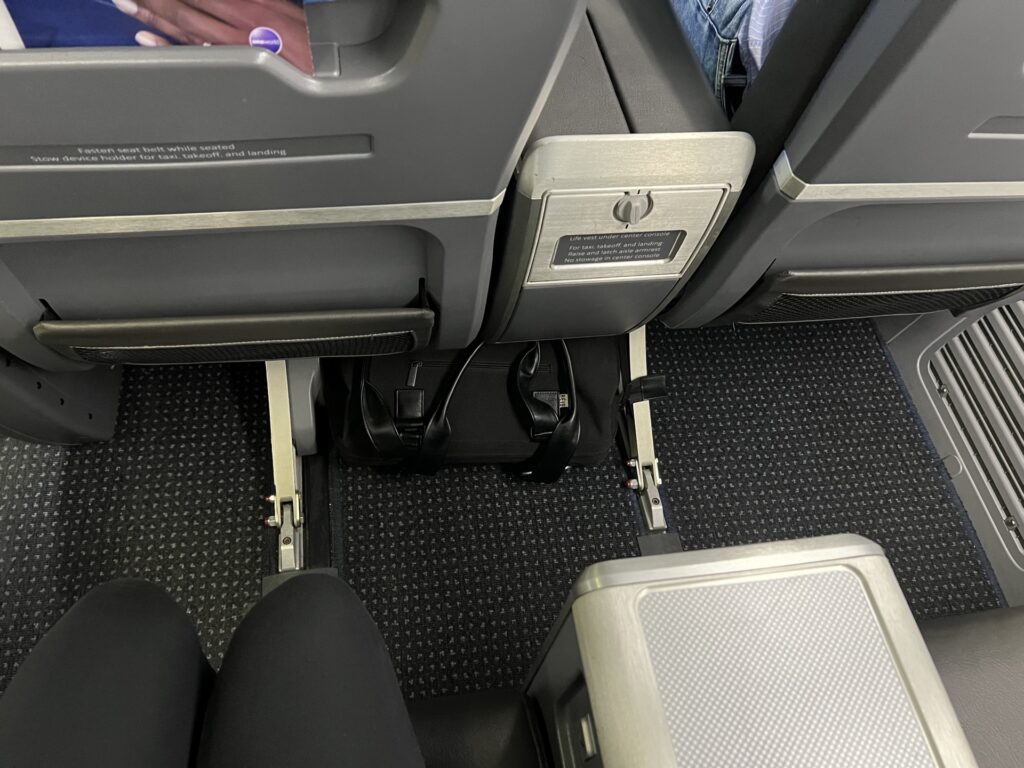 There was additional storage underneath the seat in front (except for the bulkhead seats). While the seats were in groups of two, the storage under the seats was split into thirds. Only two of those spaces were big enough to fit a full-size personal item (the middle and window space).
I had the aisle seat, so I had to place my personal item in the center storage space. This isn't a big deal when you're traveling with someone you know, but I was by a stranger and it felt like I was encroaching on their space. (They didn't seam to mind, though.)
There was another small storage space in the center console, which was big enough to store headphones, books or a tablet. It would have also fit a smaller laptop during the flight, but you can't store one there during take-off and landing.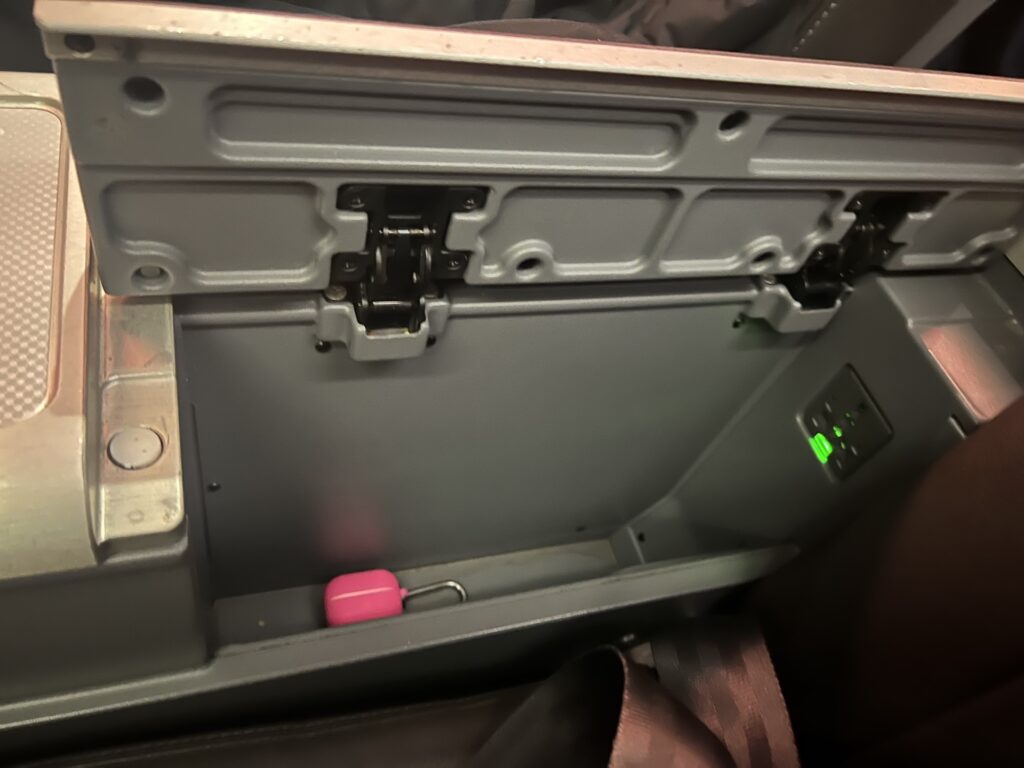 The tray table was stowed in the armrest opposite the center console. It was a large table that could easily fit a laptop. It was also raised a few inches, so I could easily cross my legs without bumping the table.
Entertainment & Technology
The most notable thing missing from the American Airlines First class seats on the 737 was a seat-back screen. This was the first time I've ever had a First class seat that did not include a seat-back screen. (They don't always work — like the time I flew Air India Business Class — but they were there!) I generally don't care about the seat-back screen in economy, but it was jarring in First.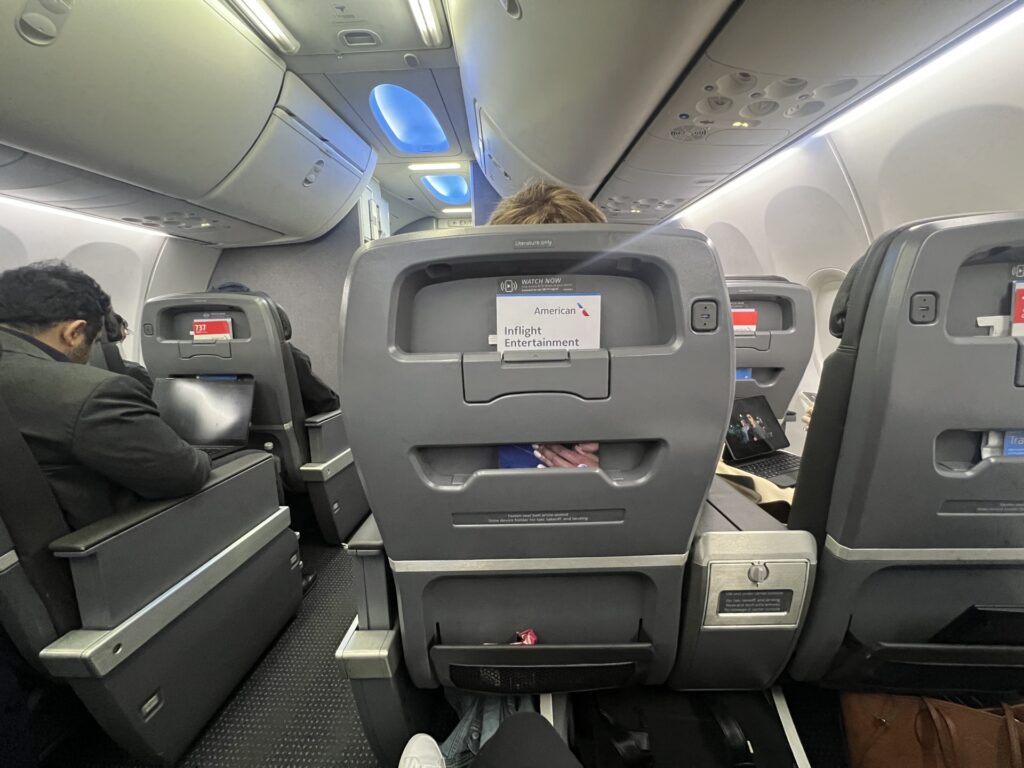 Instead, American Airlines provides access to entertainment on your personal device.
Maybe this is just me, but I don't bring a tablet unless I'm traveling with my toddler. I only had my phone, which is small, and I like to use it for other things (aka crossword puzzles.) I very much prefer having a seat-back screen to watch something and then using my personal device for whatever I want. End rant.
They did add some features to make it easier for passengers to use their personal devices. There was a device stand built into the seat back which could hold a cell phone or tablet, as well as a stand that folded out of the tray table.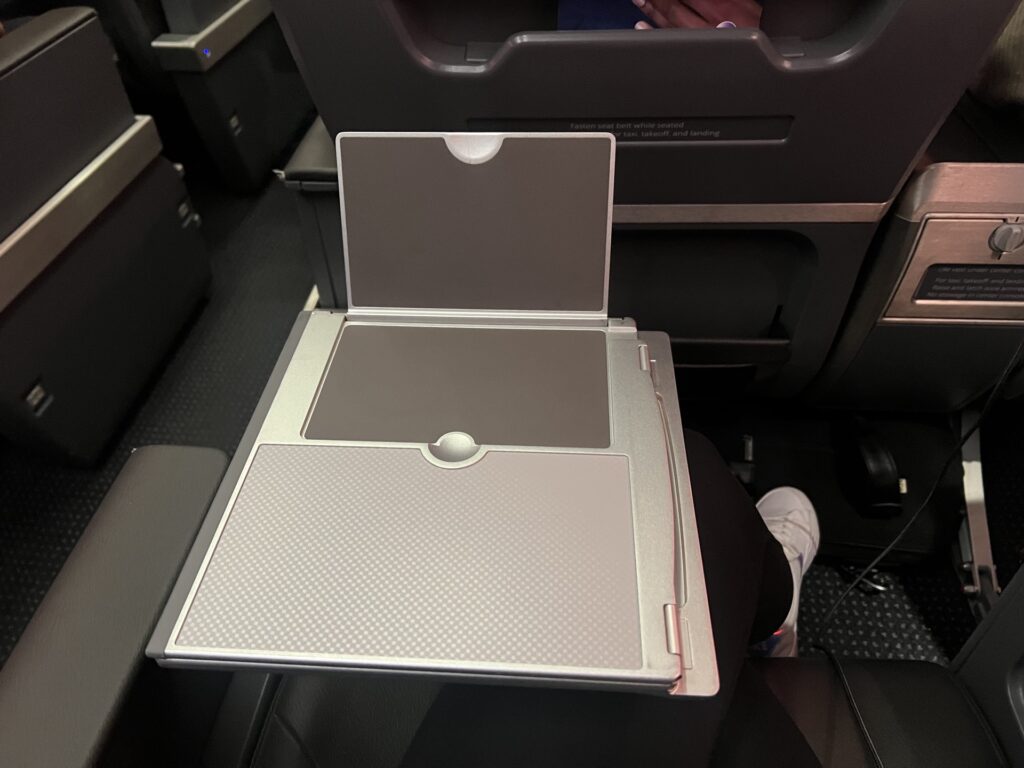 Each seat had two charging ports. There was a USB plug in the seat back and a standard outlet in the storage space in the center console.
Because there was no seat-back entertainment, First class passengers were not offered any form of headphones.
American Airlines First Class Service
There was no pre-departure drink offered, nor was there bottled water at the seat. I think it's pretty important to have one of the two. Pre-departure drinks are pretty rare on domestic first class, but water is pretty standard.
Service commenced shortly after takeoff, and began with hot towel service. I personally don't care about hot towels, but it's a nice touch.
Next, the flight attendant came to take drink and food orders. I pre-ordered my meal in advance, so he just confirmed it. I'm glad I pre-ordered, too! There was a decent selection of meals online, but there was only one option on board. It was chicken, and I'm vegetarian. Crisis averted.
He also took my drink order. First class includes complimentary alcohol, so I ordered a Bacardi and sparkling water. I mentioned that I was going to add a mojito drink mix that I brought, and he offered to add some fresh limes. It doesn't take much to impress me, and I really appreciated that.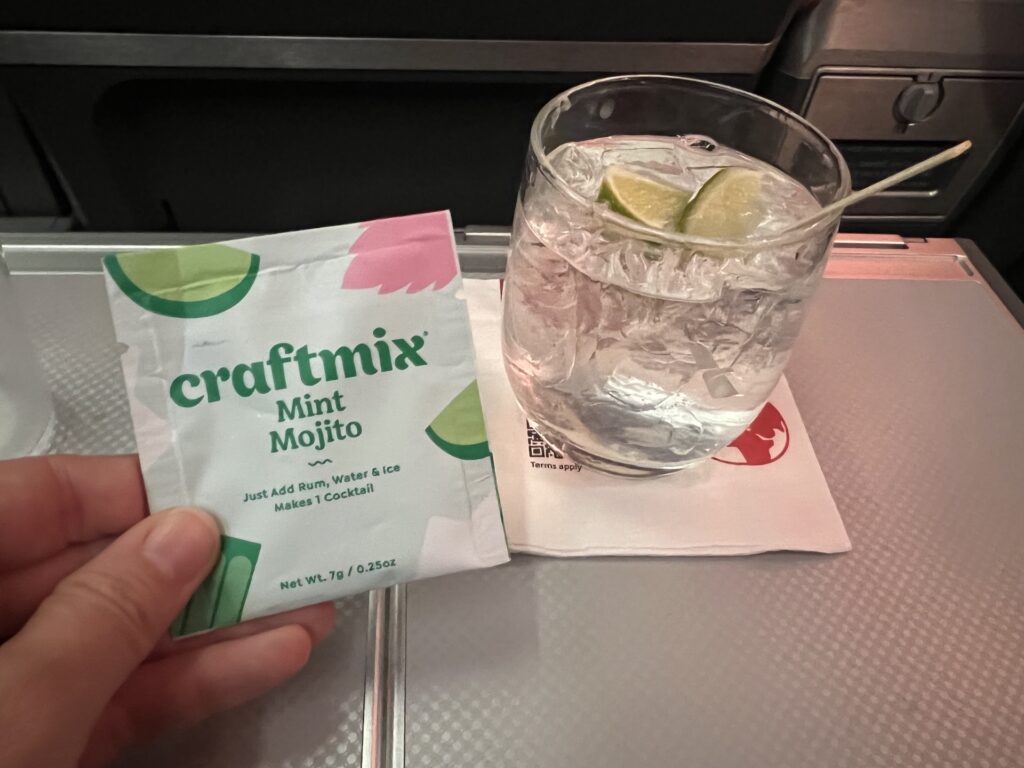 My drink came quickly, with a generous side of warm nuts. A few minutes later, my meal arrived. I had ordered the spicy vegetarian Asian meal, and it was delicious. The flight attendant even made a comment about how good it smelled!
My dinner included Indian style chickpeas and lentils served with rice, a garden salad, mini pita breads, and a baklava square. The entree was very flavorful and a little spicy, the tomatoes in my salad were noticeably fresh, and my baklava, though pre-packaged, was incredibly crispy.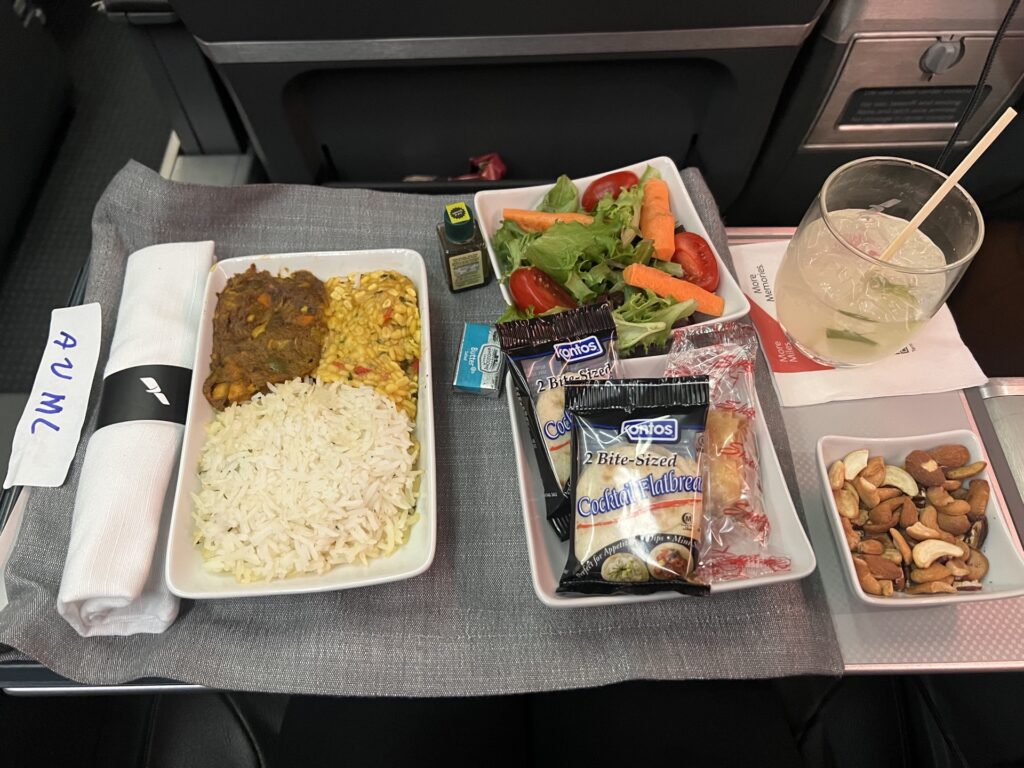 When the flight attendant cleared my tray, he asked if I needed anything else and I ordered beer. Beyond that though, there was no additional proactive drink service or coffee service.
I thought the quality and quantity of service on this flight was great. The flight attendant was kind, speedy and responsive. There was a full drink and meal service, plus the opportunity to order a second drink. (You can always ring your call button if you need more, but I am covering proactive service.) I think the meal options onboard were light, but the pre-order menu was solid. I did miss the pre-departure drink, but that's not surprising. For a 2.5 hour flight, it was a good service experience.
Return Flight — MIA to LGA in American Airlines Domestic First
I also flew American Airlines First class on the 737 for my return flight from Miami to New York. I like when I can fly the same product in both directions so I have a better sense of what is consistent and what is a one-off.
Let's start at the Miami Airport, though. American Airlines primarily flies out of Concourse D in Miami. I arrived at 8 AM for a 10:57 AM scheduled flight. It was earlier than I'd like, but I was coming from a cruise and wasn't sure how long debarkation was going to take. Plus, I wasn't familiar with Miami traffic or the airport crowds.
I immediately spotted the American Airlines Priority check-in lane. It again had no line, but I still wasn't checking a bag so I went straight to security. Concourse D has PreCheck but not CLEAR. The PreCheck line was really long, but moved quickly. It was a long walk to my gate, but I had plenty of time. I stopped for coffee, breakfast and some light shopping. (The Miami airport has so many toy stores! My toddler would have loved it!)
Boarding at MIA was incredibly calm and easy. There was tons of seating nearby, and hardly anyone crowded the gates. There were no Concierge Key members on this flight, so I boarded with Group 1 as soon as they finished pre-boarding.
For the most part, the flight experience was the same. The seats were identical, the flight attendants were of equal quality, and I received roughly the same service offerings.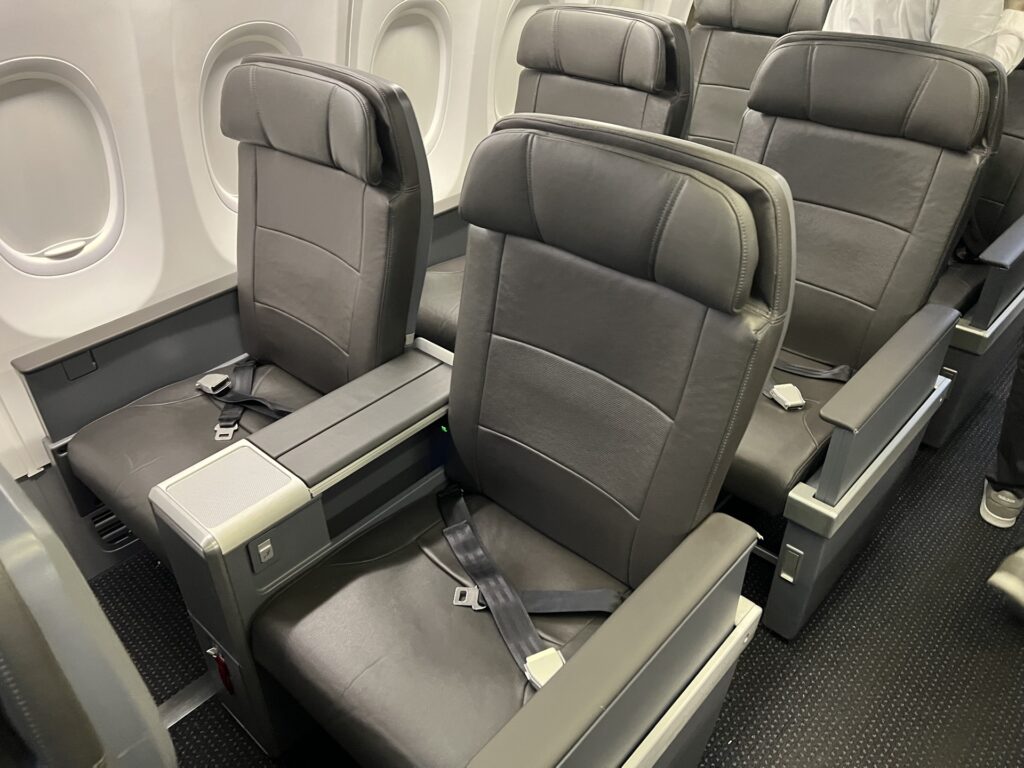 The only real difference I noticed was that I did not receive a snack with my first beverage. (I got nuts on my previous flight.) I'll chalk this up to the time of day. They probably assume most people are getting coffee in the morning, and the extra snack is more important later in the day when more people are ordering alcohol.
Again, I pre-ordered my meal, and again, I was thankful I did so. This time, there was at least two different meals offered onboard: chicken or a cheese plate. The advance options were still much better. The pre-order menu selection was the same for both of my flights (one over lunch, one over dinner.) There is a separate menu for breakfast on morning flights.
This time I ordered one of the "Health-forward dishes with Ellie Krieger." It was a quinoa, lentil and roasted vegetable salad with a zippy dressing, served with raw veggies and dips, crackers, and a dark chocolate square. It was good but healthy … so kind of boring.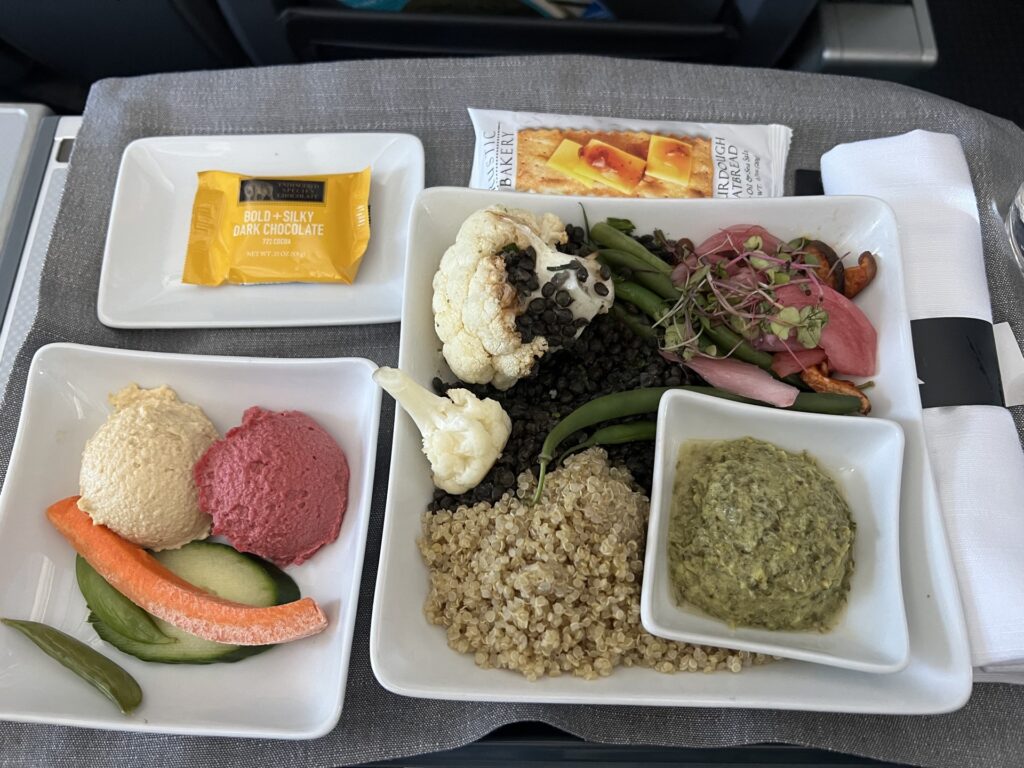 Overall though, the flight in both directions was very similar.
Is American Airlines Domestic First Class Worth It?
Generally speaking, domestic first class is rarely amazing, and American Airlines is par for the course.
The service is essentially the same quality that you'll get in Main Cabin; it's just faster. The complimentary food and drinks are good, but alone are not enough to justify the price. First class seats are much nicer and more spacious than in economy, but on a short flight you don't always have time to appreciate that. For these reasons, I'd say that American Airlines First class isn't usually worth the extra price in most cases.
However … we have started upgrading to first class on domestic flights more and more. Even though the experience isn't luxury, it's still much more enjoyable than economy. So if you are going to upgrade to first class, how does American Airlines stack up against other domestic first class experiences?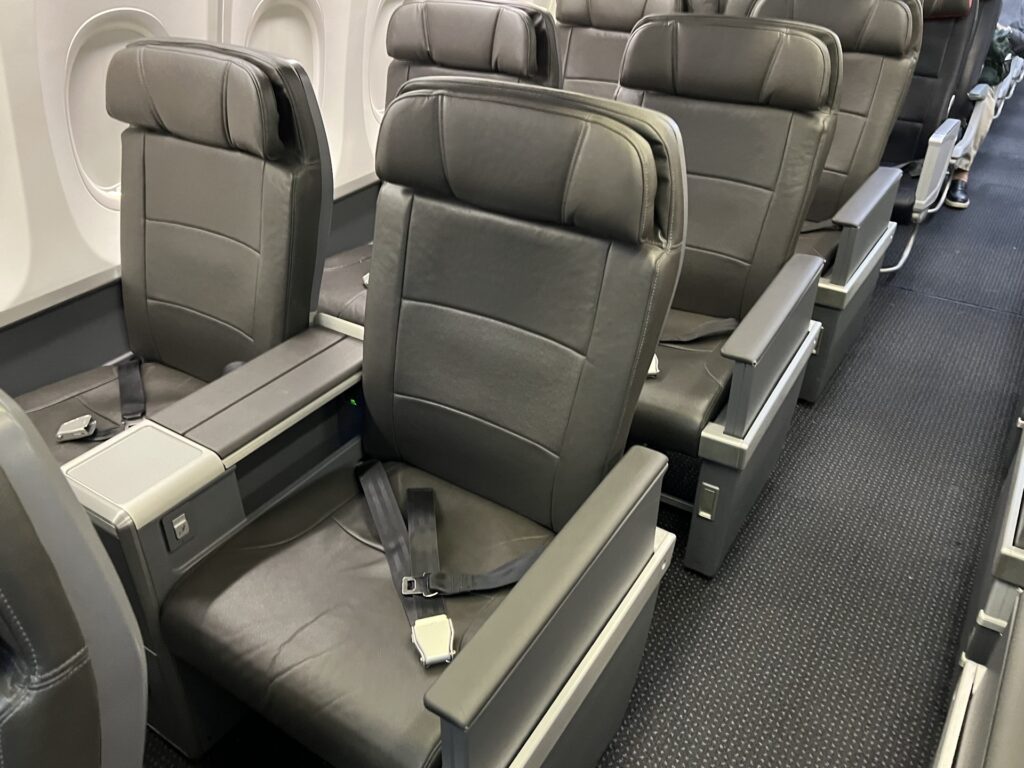 Honestly? They're all pretty similar. On this particular flight, the interiors were nicer on American Airlines First than my last experience on Delta First Class, but not quite as nice as my most recent experience in the new United First Class. I occasionally get pre-departure drinks in Delta Fist Class, but not consistently enough to bank on it. The flight attendants on all three airlines have been mostly good, most of the time.
The thing is, planes, routes and flew crews vary. It's not always even possible to tell which product you're going to get, and it can always change last minute. A mediocre flight attendant or an older plane can easily tip the scales between the these three products.
When I flew Main Cabin Extra transcontinental with American Airlines, I had a fantastic experience. I would seek out that specific flight again, even if it was more expensive than the competition. However, I did not have that same reaction to their First class product. I had a good experience, but there was nothing specific that would make me go out of my way to book it again. In the future, I would be likely to check the prices for first class on American Airlines, Delta and United, and I'd probably just book whichever one was cheaper.
Pros & Cons of American Airlines domestic First Class
Pros:
Pre-order meal service is available.
The food was really good, especially if you pre-ordered a special meal.
The seats were modern and very comfortable (on the 737-800).
Live TV was available, in addition to on-demand entertainment. (Great during football season!)
Cons:
No seat-back entertainment on some of the planes, including the 737.
No lounge access.
No pre-departure drinks or water.
Inconsistent snack service.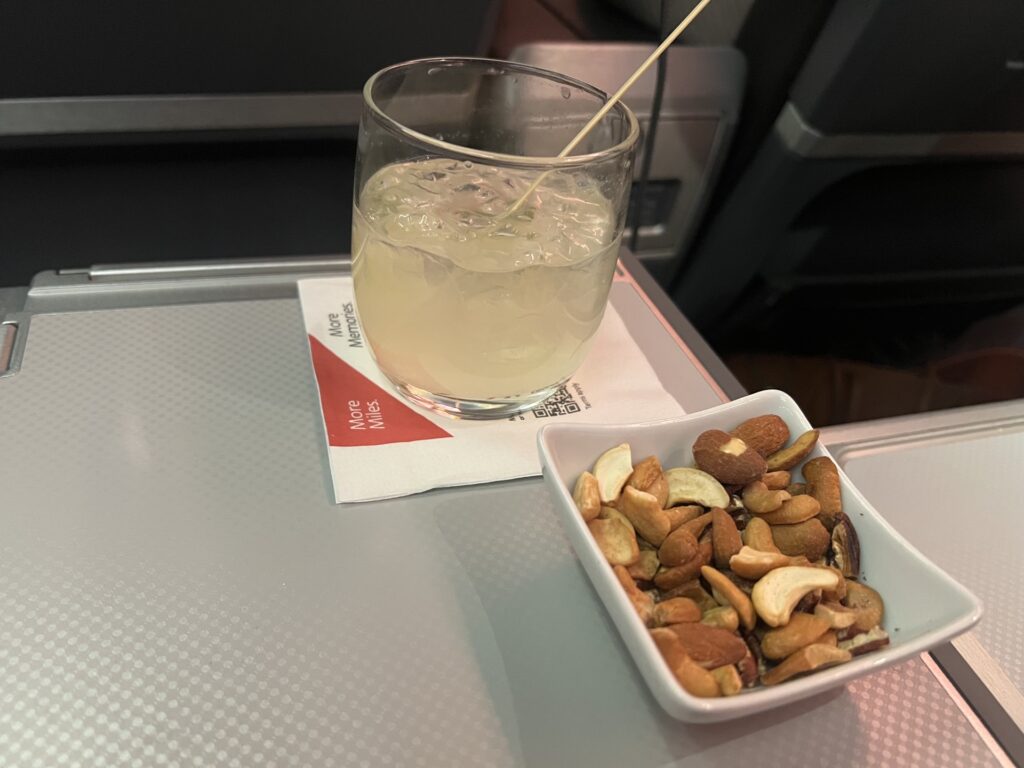 Other Flight Reviews
If you're looking at premium domestic flights, check out some of our other flight reviews.
If you want to save up for a true first class experience or just want to want built up your bucket list, here are some of the coolest first class flights we've been on.