I was flying to London solo for a short weekend trip to run the London Marathon. That seemed like a perfect excuse to indulge on a premium cabin. Based on a combination of factors including flight time, price and product, I settled on Virgin Atlantic Upper Class.
In this post, I'll detail my experience flying Virgin Atlantic Upper Class on the A350 from New York City (JFK) to London (LHR). I'll cover booking, airport lounges on both ends, and the actual experience on board.
On my return flight back to New York, I flew Virgin Atlantic Upper Class on the A330-300, and I have a full review of that flight experience, too. Overall, I think I liked the A350 better, but I compare both products at the end of the other post.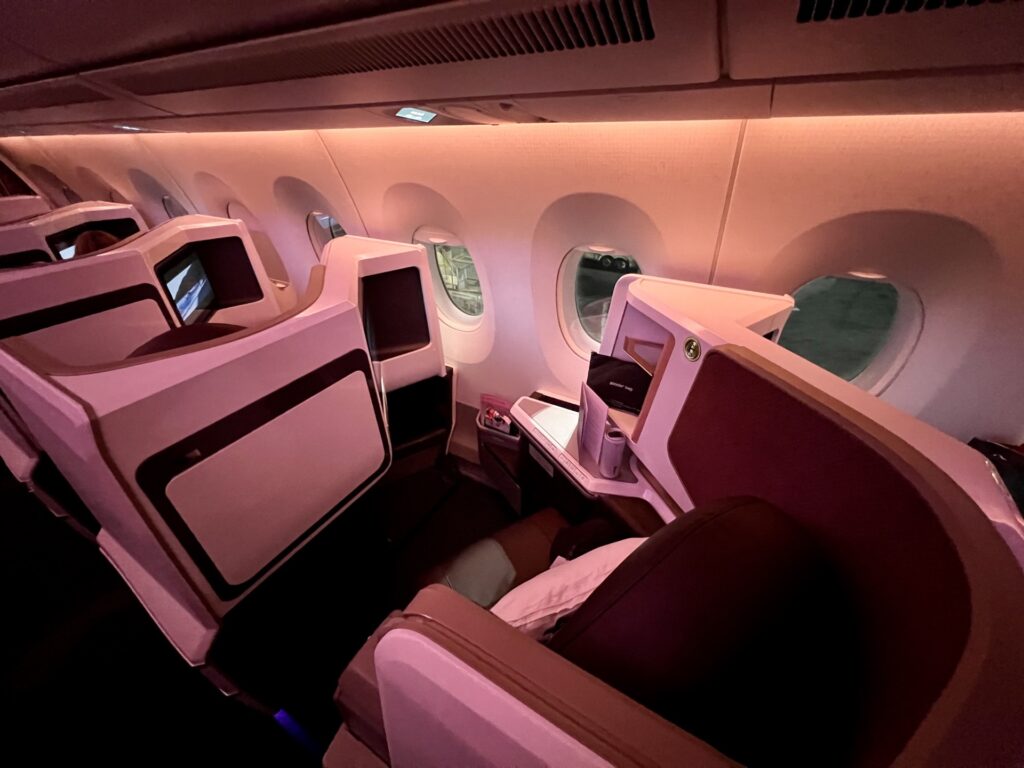 Other long-haul premium cabins
Before we go on, if you're interested in building your bucket list or seeing what we think of other long-haul premium cabins, check out some of these reviews.
In this post
Here's what we're covering in this flight review.
About Virgin Atlantic
Virgin Atlantic a British airline with hubs at London Heathrow and Manchester Airport. They primarily operate transatlantic routes between the UK and the US and Caribbean, but they also serve a few routes to Asia and Africa plus domestic UK routes. In 2023, Virgin Atlantic joined the SkyTeam alliance, which puts them in the same network as Delta, Air France, Korean Air and more.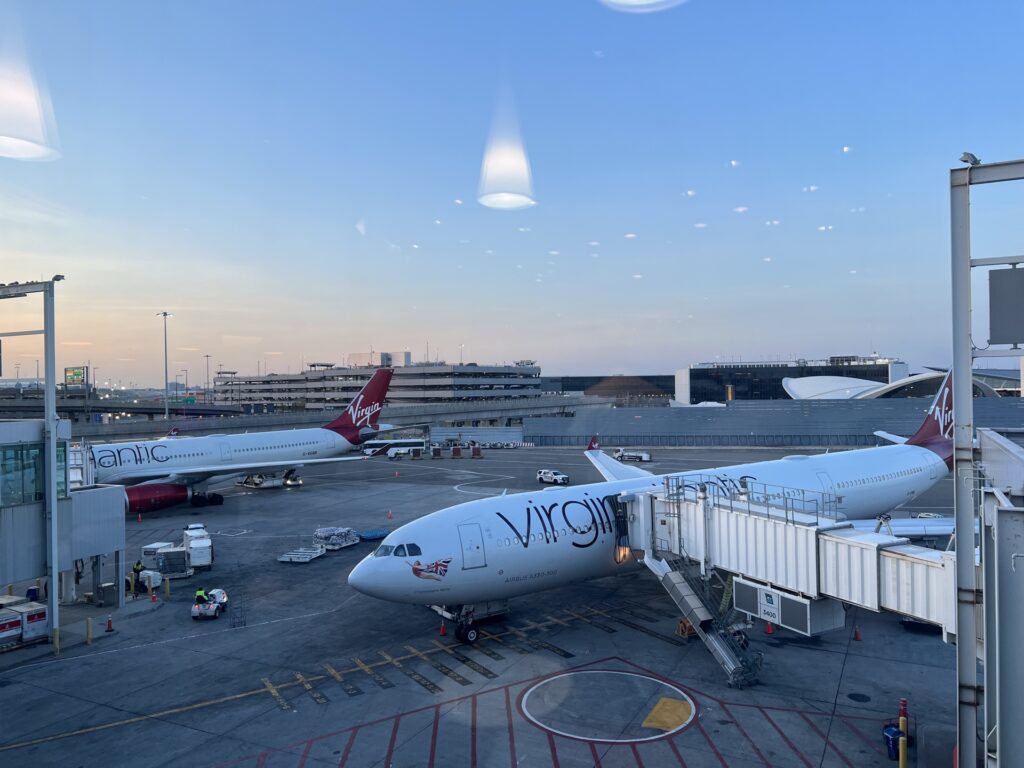 Having been around since since 1984, Virgin Atlantic is a well known and well regarded brand. Virgin Atlantic is generally considered to be a good or slightly above average airline, earning a solid 4-star (out of 5) rating by industry leader Skytrax.
Virgin Atlantic has three classes: Economy, Premium (premium economy) and Upper Class (business class). Economy class is further divided into three fare categories, which differ by legroom and if/when you can select a seat.
In case you were wondering (like I was), Virgin Atlantic is in fact tangentially related to Virgin Records. I flagged this after hearing the bops they were playing during boarding. Virgin Group, who licenses Virgin Records, also owns 51% of Virgin Atlantic. Delta Airlines actually owns the other 49%, just FYI.
What is included with Virgin Atlantic Upper Class
Upper Class is Virgin Atlantic's business class product. The details of the Upper Class product varies pretty greatly based on the specific plane model. This specific review focuses on the features of the A350.
Here's a look at what is included with Virgin Atlantic Upper Class on the A350 on a long-haul overnight flight from New York to London.
Priority Check-in: Skip the long queue and quickly check in or check your bags at a dedicated Upper Class desk.
Extra baggage allowance: You'll be allowed two carry-on bags with a combined total weight of 35 pounds and two complimentary checked bags weighing 70 pounds each (compared to one carry-on and one checked bag in Economy).
Lounge access at JFK: Upper Class passengers can access the Virgin Atlantic Clubhouse which is located in JFK Terminal 3 above gate A5. The lounge has a variety of complimentary snacks, meals and beverages, as well as airport views, a pool table, and plenty of seating.
Spacious, lie-flat seats: On the A350, the Upper Class seats are 20 inches wide with a pitch of 44 inches and recline to create an 82 inch bed.
Complimentary drinks and meals: A three-course dinner including bread and salad, entree and dessert was served shortly after takeoff. Breakfast was offered 90 minutes before landing and included an entree, side and fresh fruit. A collection of hard and soft drinks were available throughout the flight.
Access to the Social Space: Different planes have different Social Spaces, which is a place where you can sit outside of your seat. On the A350, the Social Space is a 4-seat lounge with a TV and small table.
Pajamas: A sleep suit including drawstring pants and a long sleeve shirt was offered before takeoff. Sizes included S/M, M/L and L/XL.
Priority baggage claim: After your flight, Upper Class bags will be among the first off the plane and onto the carrousel.
Arrival lounge access at LHR: Virgin Atlantic has an arrivals lounge at London Heathrow after customs and baggage claim. The lounge has shower facilities as well as complimentary breakfast, snacks and beverages. It's open from 5:30 AM to 12:30 PM.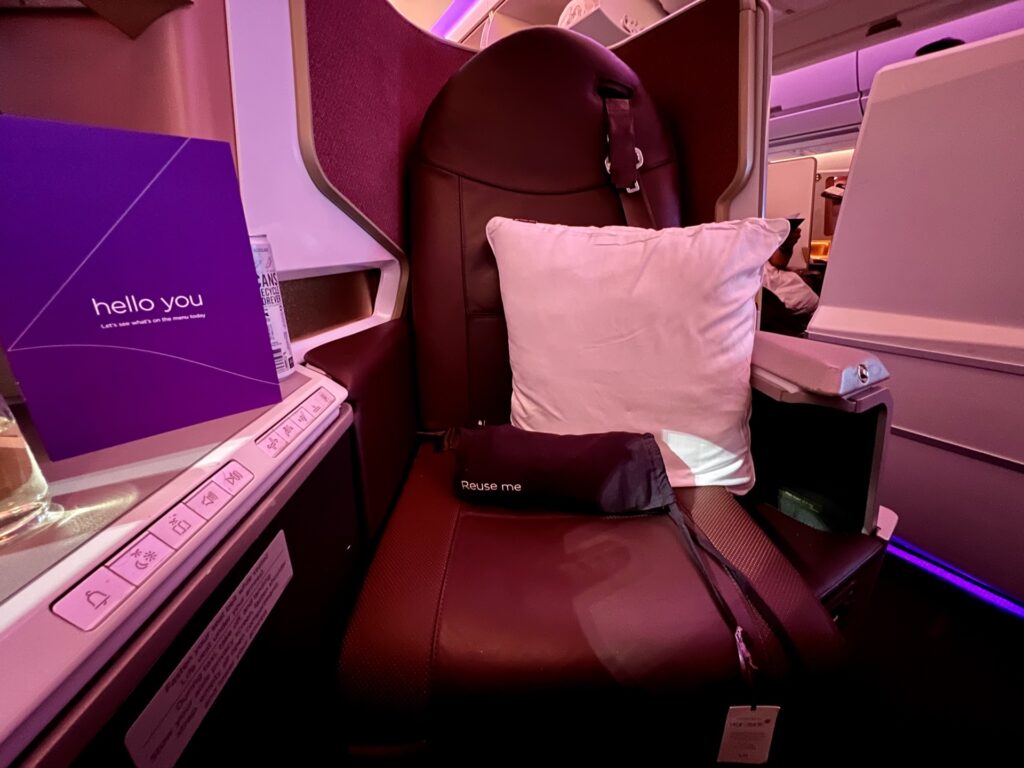 Note: Virgin Atlantic's newest and best Upper Class product is on the A330neo, which is currently available on select routes to New York, Boston, Tampa and Atlanta. I wasn't able to get on this specific product, but One Mile At A Time has detailed review of that product.
What is not included with Virgin Atlantic Upper Class
Virgin Atlantic's Upper Class product is a good (not great) business class product. They include most everything you'd expect from a transatlantic business class experience, but there are a few notable things that you won't get.
Here are a few things that are not included with Virgin Atlantic Upper Class.
Expedited Security at JFK: Passengers flying in Upper Class do not receive TSA PreCheck, CLEAR or any enhanced security access. If you have access to those services separately, the entrance is just past the priority check-in desks. Otherwise, you will have to walk to standard security. This is notable because Upper Class does have access to expedited security when departing from LHR.
Doors: Virgin Atlantic Upper Class on the A350 does not have closing doors. There is a partially closing panel, but it is by no means fully enclosed.
Wifi: Just like most business class products, complimentary wifi is not included with Virgin Atlantic Upper Class. Most planes are equipped with wifi for purchase.
Booking Virgin Atlantic Upper Class
The best way to book Virgin Airlines Upper Class is directly through the Virgin website. When you start your search, select Upper Class as your fare category. Then you'll see a list of flights, including ones that may be operated by partner airlines. The operating airline and product name (e.g. Upper Class) will be displayed for each flight.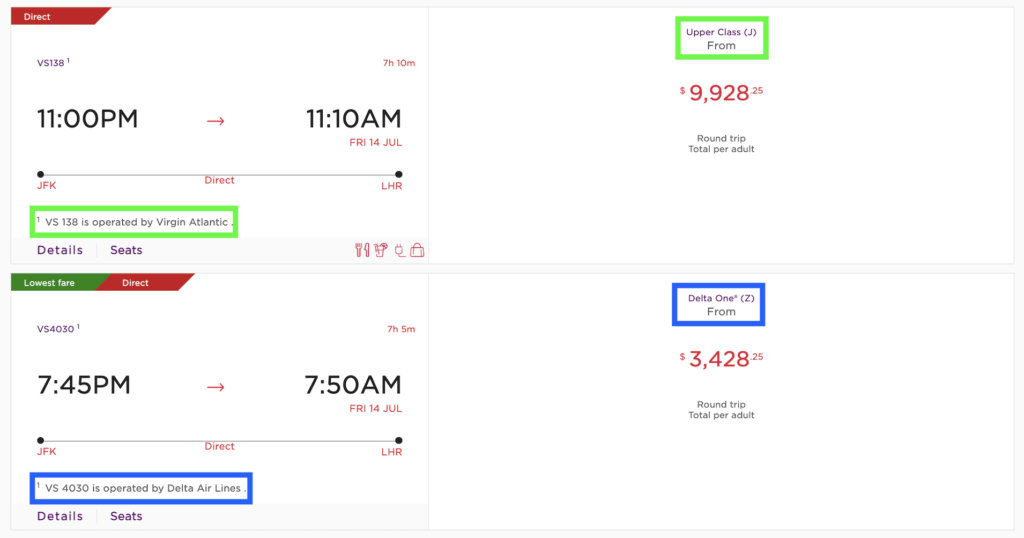 Upper Class products vary greatly by plane, so it's important to pay attention to what plane you're booking.
You won't see the plane information displayed in the main list view, but you will see fare class indicators which will help give you a rough idea of what you're looking at. This code specifically refers to the fare class, not the plane model, but it will help give you a rough idea of what you're looking at. For example, the top-tier A330neo will usually be coded as (J), the highest fare class.
You can then confirm the specific plane for the route by clicking the details button.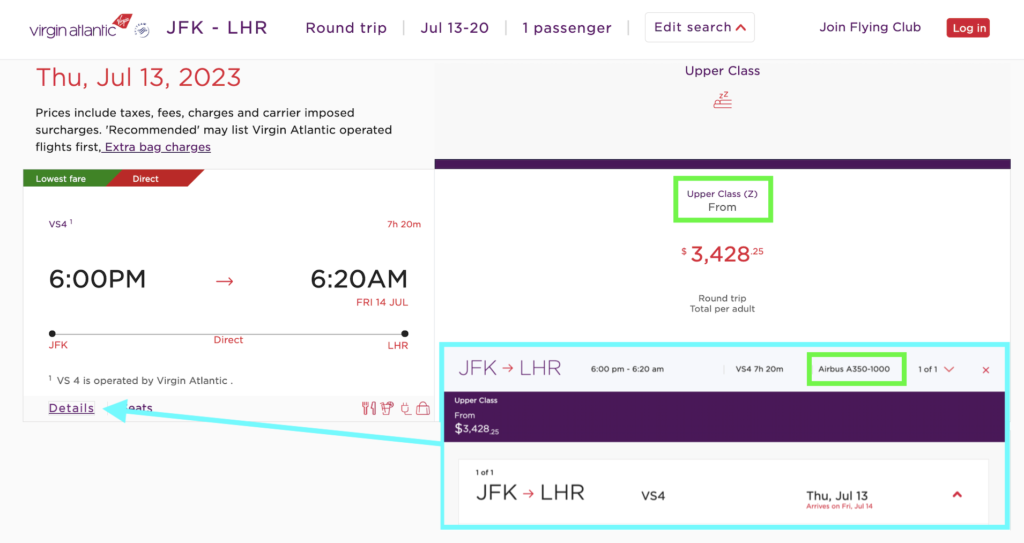 Price is also often a good indicator of the product. For example, if I look at the flight options for a random week in July (three months from now), Upper Class (Z) on the A350 is available for $3,428 while the more premier Upper Class (J) on the A330neo costs $9,928.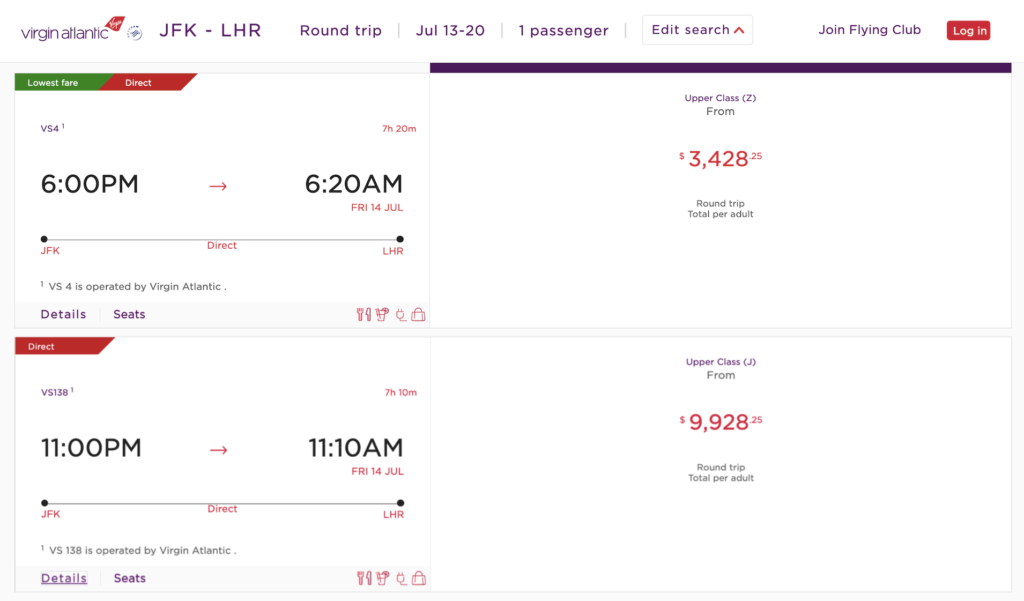 If you have already booked Economy (Class or Delight) or Premium, you can upgrade to Upper Class at anytime as long as seats are available. You cannot upgrade from Economy Light.
You can also book Upper Class using points — though it's worth noting that fees at Heathrow are outrageous.
The easiest way to book with points is through the Virgin Atlantic Flying Club program, which allows you to use to use Virgin Points and/or transfer points from the top rewards programs including Chase Ultimate Rewards, American Express Membership Rewards and Citi ThankYou Points. You can also save on certain fees and charges by booking through Delta SkyMiles. You can learn more about booking Virgin Atlantic Upper Class with points here.
Virgin Atlantic Upper Class seat selection on the A350
The seat configuration for Upper Class is different on each plane, because the product is different on each plane.
On the A350, Upper Class seats are placed in a 1-2-1 configuration. There are two aisles separating the seats, so every seat has direct aisle access. Each seat is angled toward the window and the foot rest (which becomes the foot of the bed) is located below the console of the seat in front. The seats are all basically the same, just angled one of two directions. You can see the seat map here.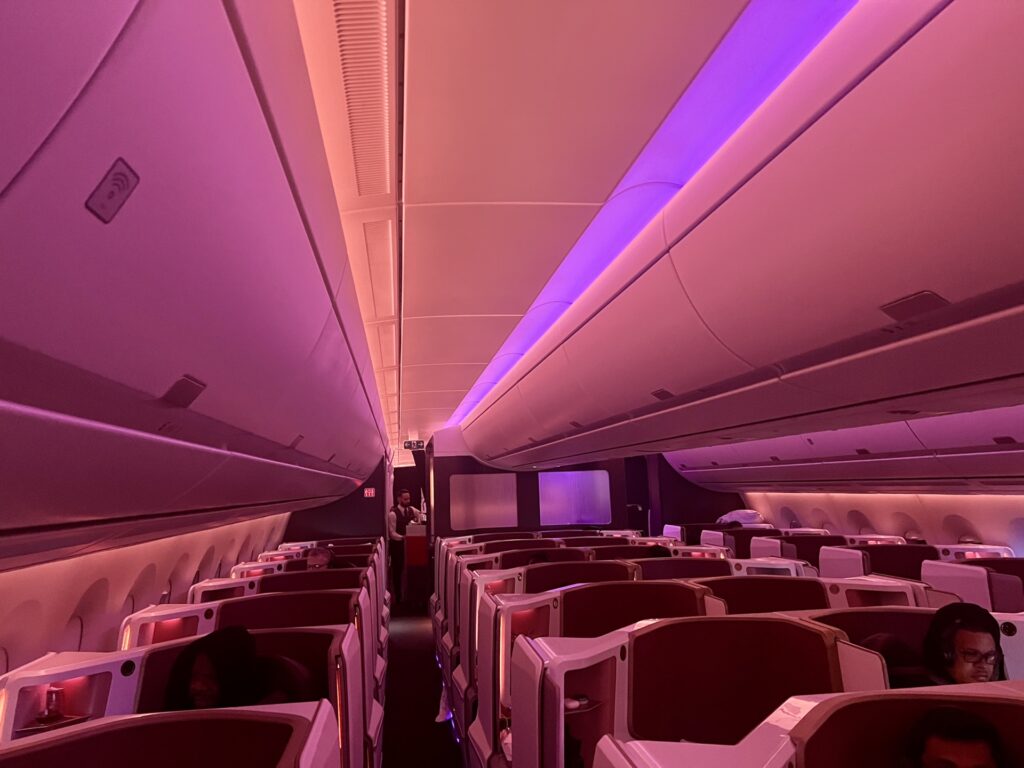 None of the Upper Class seats on the A350 are designed to allow passengers to easily see or talk to someone in another seat. The two middle seats do have a small partial sliding divider, but the seats are angled in opposite directions so it's still not ideal. In fact, if you're flying with a partner, it might be slightly more convenient to be across the aisle from one another instead.
For this reason, Upper Class on the A350 is not ideal for parents traveling with young children who need their own seat but still require parental supervision. You could not easily monitor or reach your child from another seat. Car seats cannot be used in Upper Class on the A350 because the seats are equipped with inflatable seatbelts.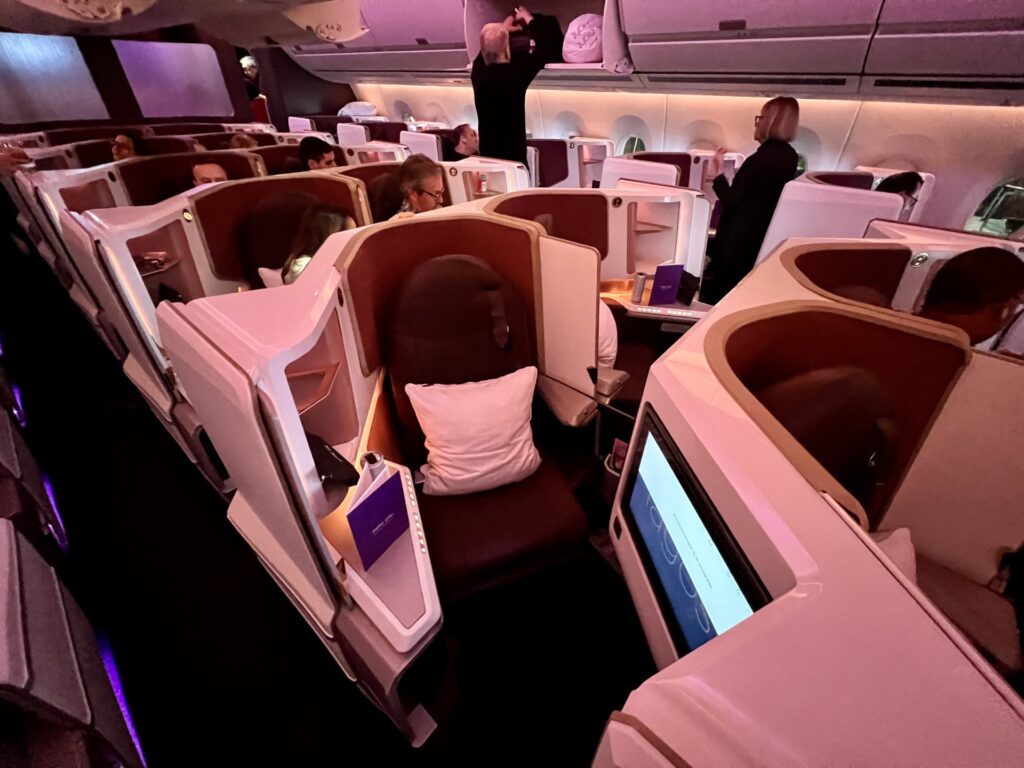 Otherwise, the standard principals of seat selection apply. Window seats are generally better, though to be honest the view out the window from the seat is not great because of the angle and placement of the actual seat. You may also want to avoid seats near the bathrooms, galley and Social Space for a quieter experience.
Flight Details
Let's start by taking a quick look at the specific details for my flight and booking.
Origin: New York City, USA (JFK)
Destination: London, England (LHR)
Flight number: VS154
Plane: Airbus A350-1000
Airline & cabin: Virgin Atlantic Upper Class (business class)
Seat: 4K
Departure time: 9:52 PM local New York time
Arrival time: 9:31 AM local London time
Total Flight Time: 6 hours, 39 minutes
Distance: 3,451 miles
Cost (1 adult): $3271.25 round trip (including the return flight from LHR to JFK)
New York JFK Airport Experience
I arrived at JFK at 7:09 PM, roughly two hours before my scheduled departure at 9 PM.
Fun fact! I actually got from the door of my apartment in Astoria, Queens to JFK on public transportation and through security in a total of 1 hour and 7 minutes, which has to be some sort of record.
Upper Class check-in at JFK
Virgin Atlantic flies out of terminal 4 at JFK. The check-in desks are organized by numbered zones. The main Virgin Atlantic desk for Economy is Zone 5, but Upper Class desk is located at the end of Zone 1.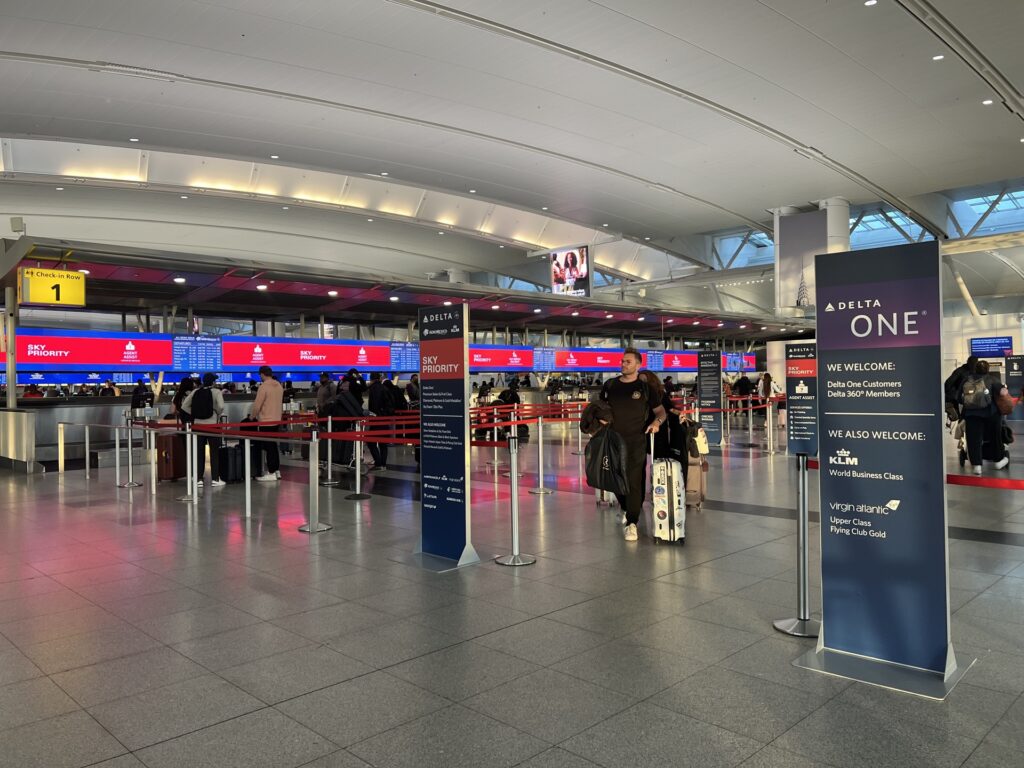 Zone 1 has two sides, with Sky Priority immediately on the left and Delta One and Virgin Atlantic further down and on the right in a separate room. Even though your ticket says Sky Priority on it, pass that desk. Keep going until you see the sign for Virgin Atlantic all the way down and on the right, just before security.
I personally found the signs confusing and ended up in the Sky Priority queue The agent there was incredibly rude and just kept telling me he couldn't help me and to "keep going" with no additional information. If you don't know the Virgin Atlantic area is off in a corner, it's easy to miss.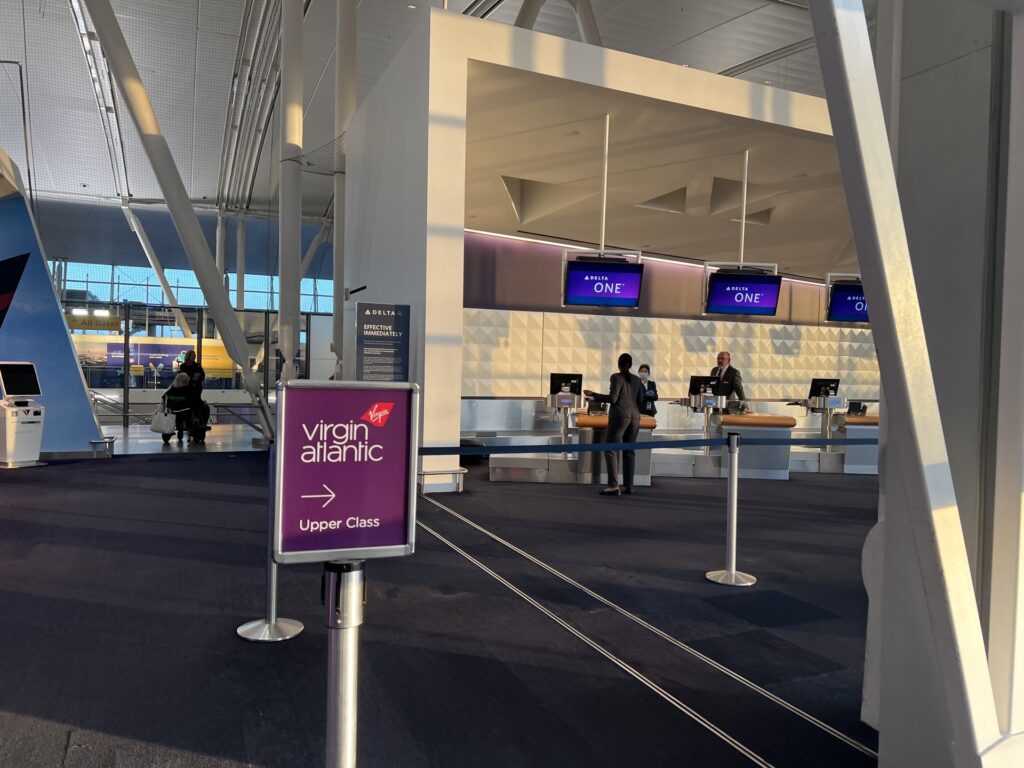 Once I found the Virgin Atlantic Upper Class desk, it was smooth sailing. I had already checked in online and had my boarding pass, but I needed to get my PreCheck information added. The agent was able to check me in, add my KTN and print me a new boarding pass with PreCheck in under three minutes.
Upper Class security at JFK
Just beyond the Upper Class check-in desk is the CLEAR + PreCheck security queue, with regular PreCheck and standard security a little further down. Upper Class passengers do not receive any special security access. If you don't otherwise have PreCheck and/or CLEAR you will need to use the standard queue.
I personally have CLEAR and PreCheck and was about to get through the ID check and security in under 10 minutes. I generally have mixed feelings on CLEAR, but today I think it actually saved me some time since the PreCheck line was a bit long.
After security, I followed posted signs to the airport lounge above gate A5.
Virgin Atlantic Clubhouse at JFK
As an Upper Class passenger, I had access to the Virgin Atlantic Clubhouse at JFK. The lounge is located airside above gate A5. The lounge is actually located right next to the Emirates lounge, which I just visited a few months ago (and is quite a bit nicer if we're being honest).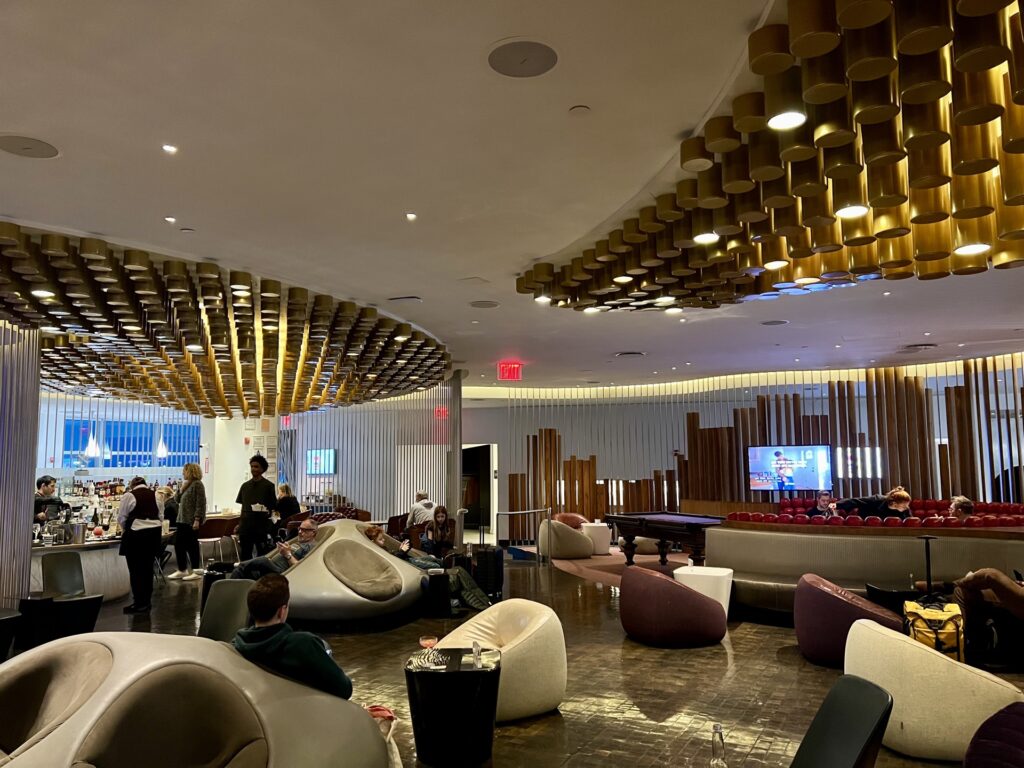 The Clubhouse at JFK is a nice looking lounge. There is a wide variety of seating including lounge chairs, couches, tables, and semi-private pods. Most of the seats had outlets accessible. The seating surrounds the main bar in the center and there is runway views on both sides. There's a pool table, but no other unique features or amenities.
There is no food buffet or self-service bars. Instead, all of the ordering was done digitally via QR code. My first experience with QR code ordering was with rival British Airways, and I raved about it at the time (though the specific lounge I visited has since closed). Virgin Atlantic's mobile ordering tool was … not good.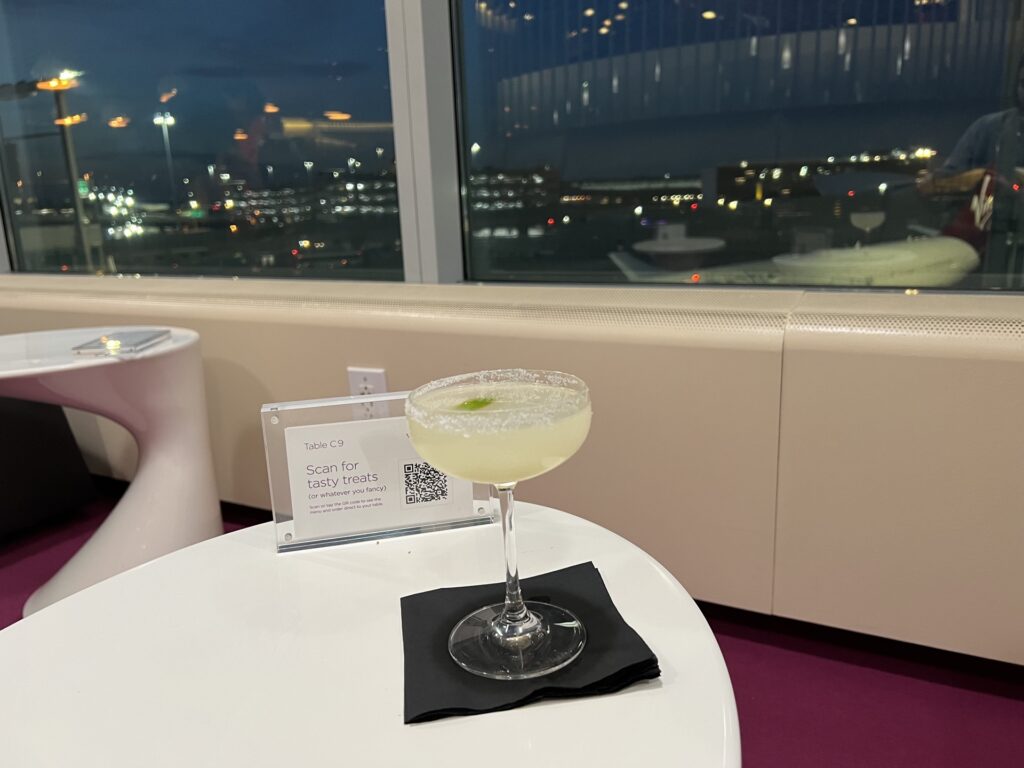 On my first attempt, I ordered a cookie and one of their featured cocktails. My cookie was delivered in about 10 minutes, but after 30 minutes I decided my cocktail was not coming. I placed another order for a different cocktail, and that one came about 10 minutes later. That means I waited a total of 40 minutes for my drink.
I was not alone. I overheard two other guests nearby complaining to the server about missing orders. They were extra frustrated because the waitress was not easily able to override the system. She couldn't manually place the order herself and had to walk the guests through doing it multiple times from their phones. If you want quick drink service, I'd suggest sitting at the bar.
The food and beverage menu was good though. You can view the menus online here.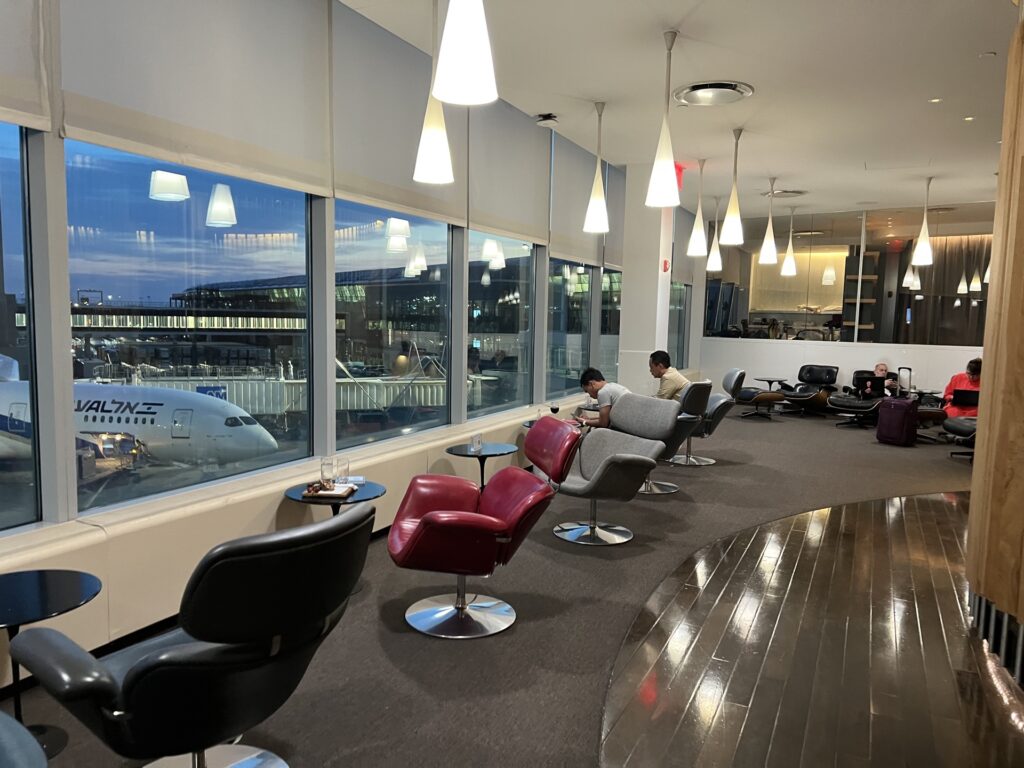 Upper Class boarding
There was a flight board in the lounge, but my scheduled boarding time came and went and my gate information still wasn't posted. They were also making boarding announcements in the lounge, but not until boarding actually commenced and I wanted to be at the gate when boarding started.
I did a quick Google search and saw that my gate was listed as B23, which was a hike from my current location near A5. After double checking the flight boards in the main terminal outside the lounge and still finding that a gate wasn't announced, I decided I'd risk it and head to the gate.
When I arrived at the gate, I discovered that the information sign at the gate was off. That might have been why the gate information wasn't populating. I confirmed with the agent that I was in fact at the right place, and then boarding began shortly after.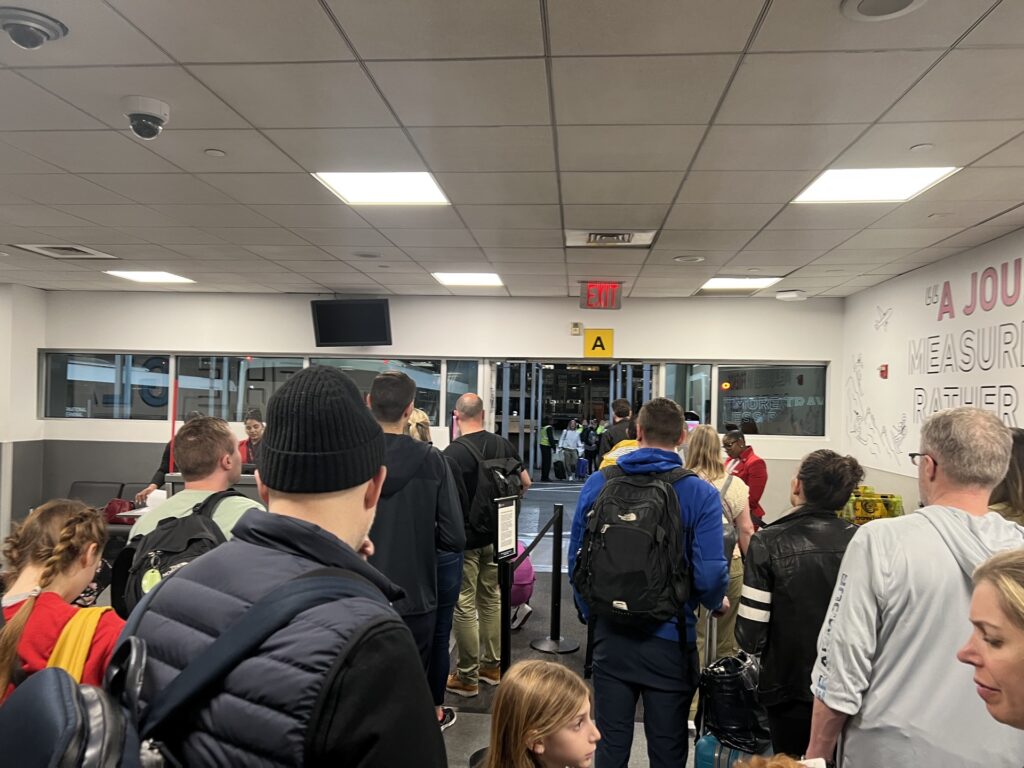 Upper Class boards first, along with "guests who need more time to board." They didn't state any specific rules like passengers with wheelchairs or parents with children under two. It seemed like people may have took some liberties with that, but I was still able to scan through quick enough.
Ultimately, it didn't really end up mattering because it turned out we were at a bus gate. They loaded up two buses, and the one I was on departed second. On top of that, the doors I was seated by didn't open, so I was the last person to board out of two whole busloads of people.
Once I made my way through the queue and up the ramp to the plane, I was kindly greeted and directed to the right aisle for my seat.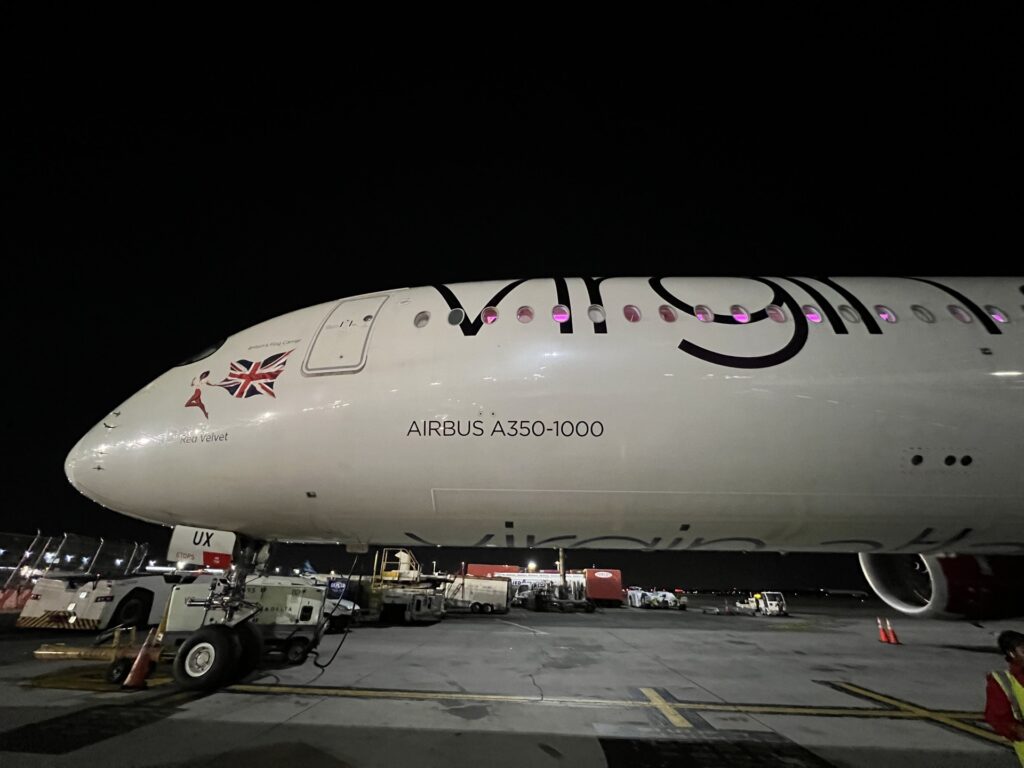 Onboard Experience
My experience in Upper Class with Virgin Atlantic was delightful. What stood out the most was the cheerful service and the refreshingly unique vegetarian meal options. This is a detailed account of my experience onboard.
Storage
As soon as I boarded, I popped my backpack into the overhead bin. I noticed that my bedding was stored up there, too. Even though each passenger was allowed two carry-on items, there was no shortage of bin space.
Then I stuck my tote bag in the storage space over the footrest. This was the main storage space at my seat and could easily fit an average sized backpack. There was a vent beneath the footrest, so there was no extra storage below. This space doubled as the foot of the bed though, so anything stored in this space had to be moved to the floor or overhead bin when I went to sleep.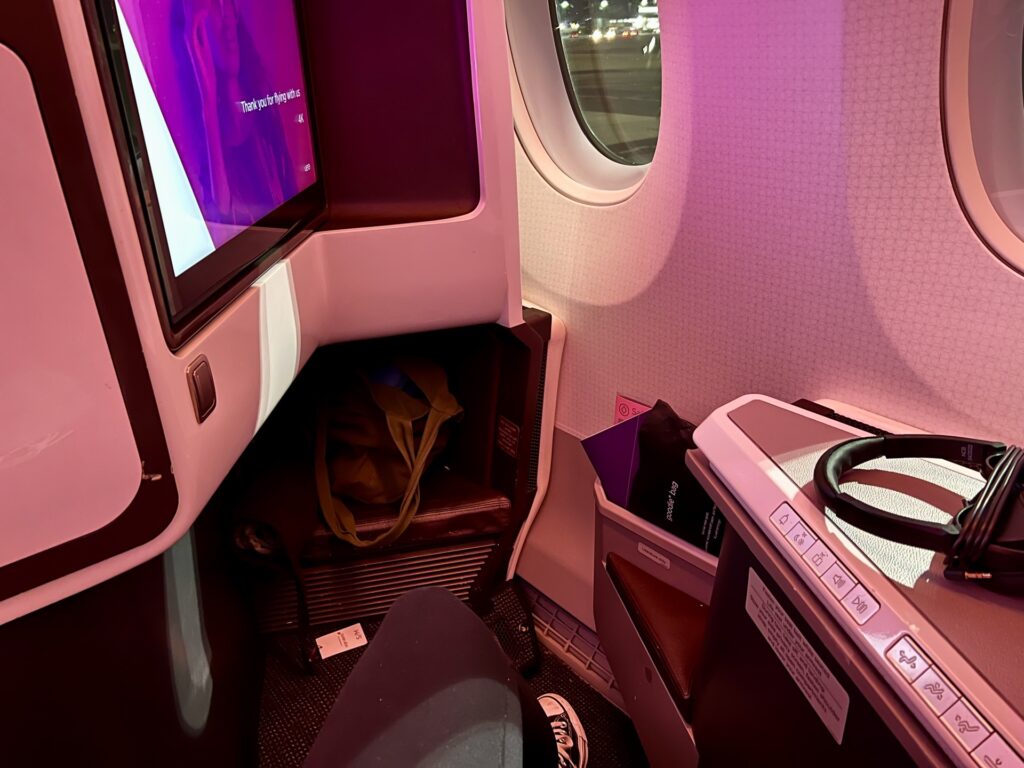 There was a small table atop the console, with two smaller shelves above that. This space was great for storing headphones, a cell phone, and maybe a small tablet. There was not a good place to store anything larger, like a laptop.
The safety cards and other media were stowed in a small compartment near the floor, which also was big enough to fit the provided noise-reducing headphones.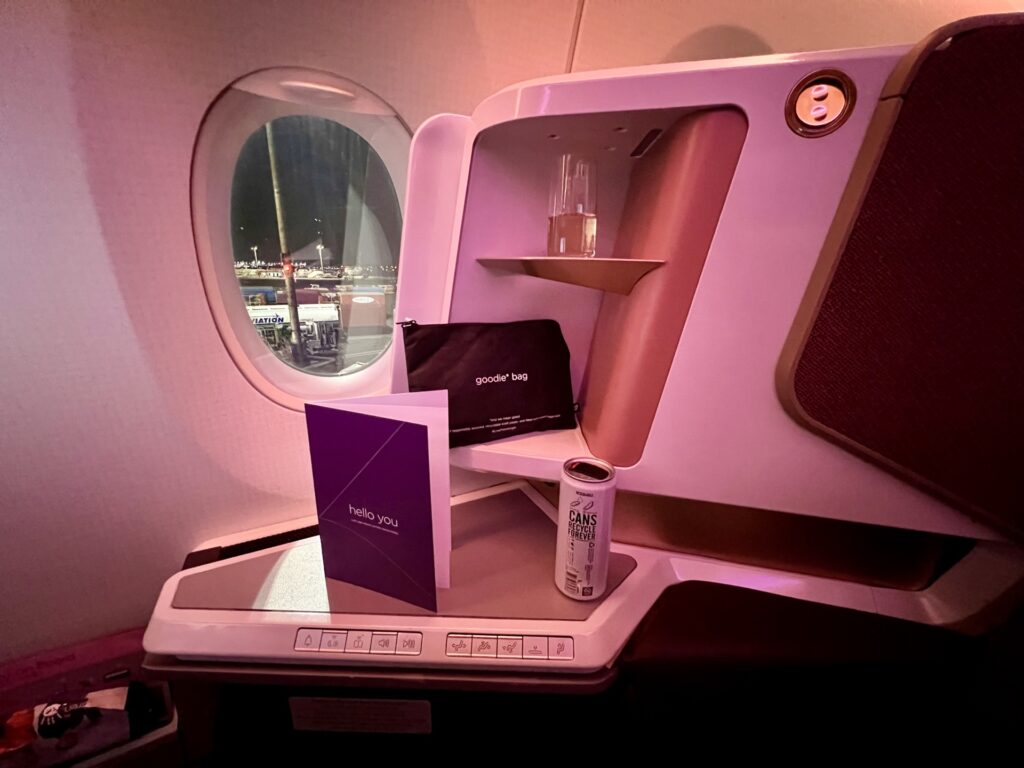 Upper Class Amenities
I immediately noticed a can of water and an amenity kit on the shelves by my seat. I love having water at my seat on long flights, especially overnight ones, because I always wake up thirsty!
The amenity kit or "goodie bag" was inside a zipper pouch made of recycled materials. Inside was a collection of typical items including a bamboo toothbrush, toothpaste, lip balm, face cream, hand cream, socks, eye mask, ear plugs and a pen.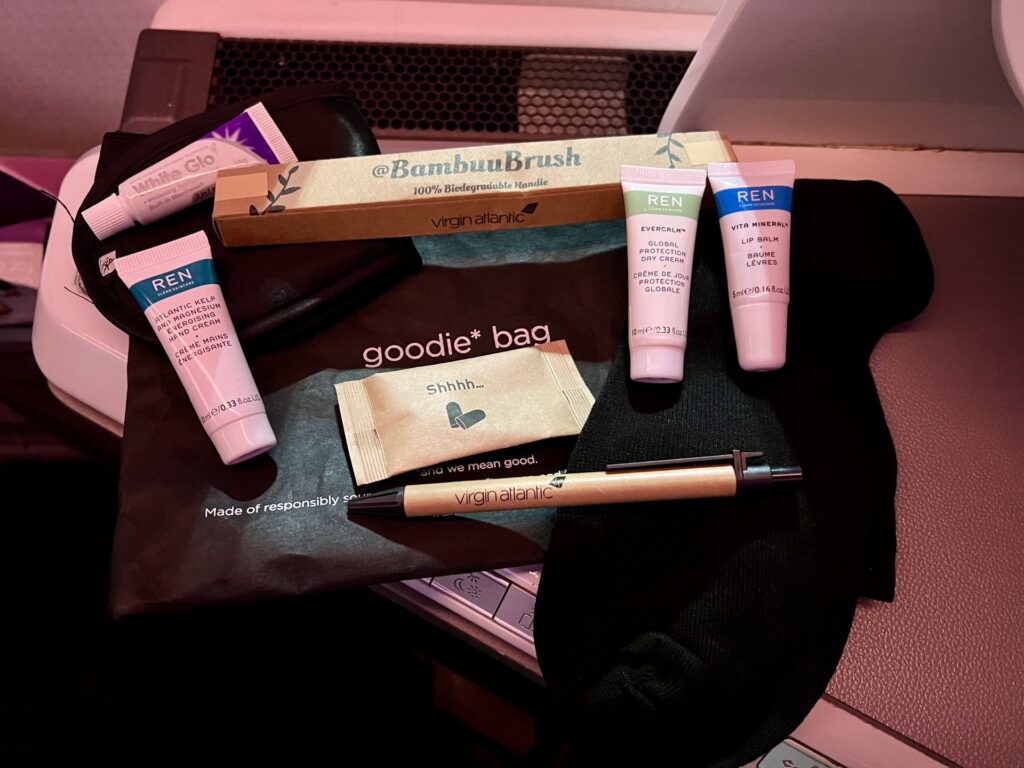 While I love the push toward sustainable, what would be more sustainable is giving people the chance to opt out of the kit entirely. I ended up throwing most of my items away.
I wish they handled amenity kits like they did pajamas, which were offered next. The flight attendant came around and offered everyone pajamas in a variety of sizes. The pajamas included drawstring cotton pants and a long sleeve shirt. Both were actually quite comfortable.
TIP: If you happen to by flying in for the London Marathon like me, these pajamas make a great outer layer before the race if it's chilly. You can leave them behind when you start and they will donate it for you.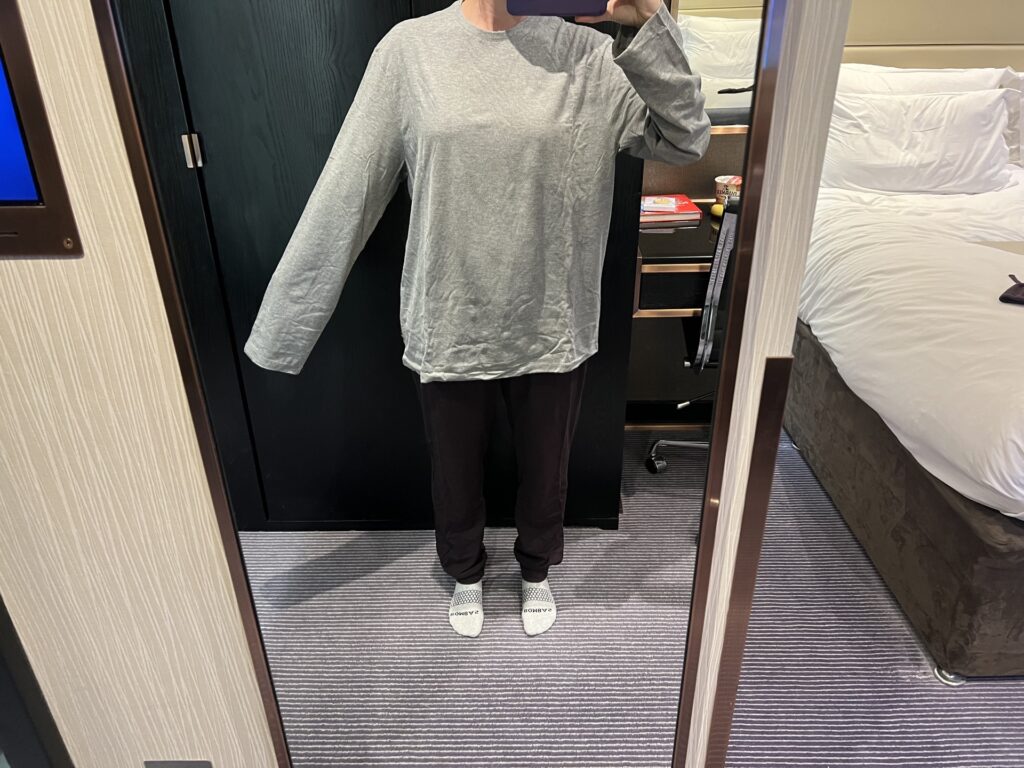 A350 Upper Class Seat
Then I settled into my seat. Overall, I found the seat to be comfortable and spacious enough, but the angle of the seat did create a few frustrations.
The seat itself was plush but firm and very comfy. It was made of leather and adequately wide at 20 inches. The position of the seat was controlled by buttons on the console and could be upright, reclined, or fully flat. It could also be moved forward or backward.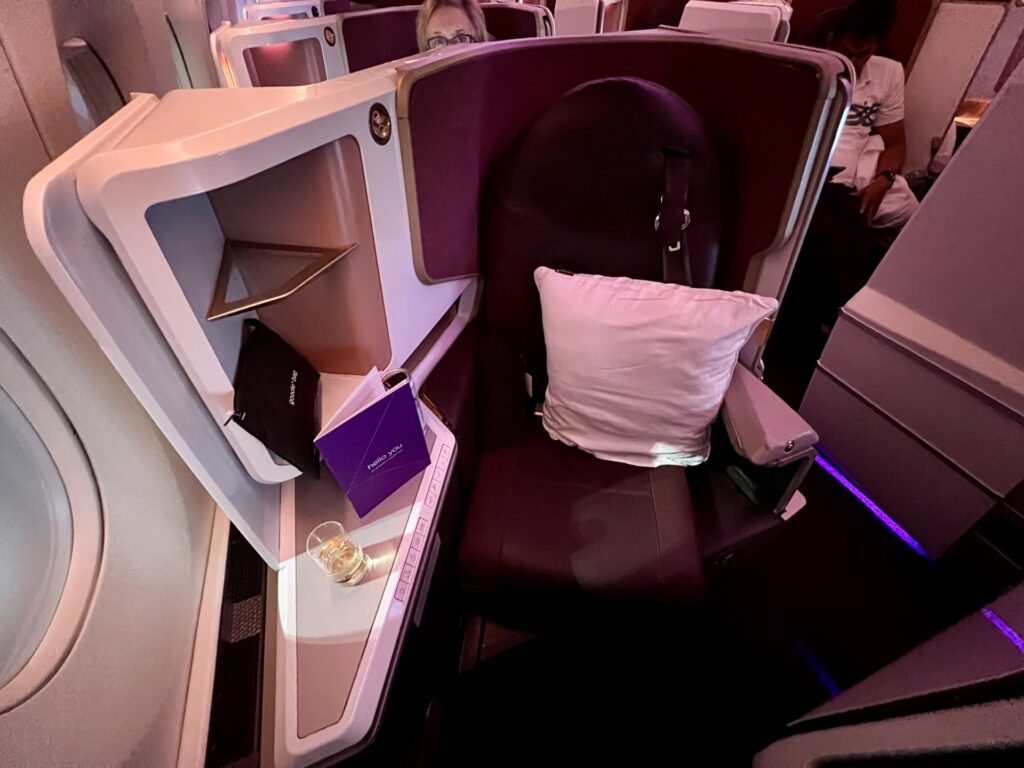 There was a small armrest on each side, but no substantial console area. That made the seat feel less spacious than a typical forward-facing pod. (For a visual, instead of having a full square of space, I only had a triangle because of the angle.) The footrest was a comfortable distance, though, and I had plenty of leg room.
The entertainment screen was stowed in the back of the seat in front of me, and then popped out for better viewing. In the stowed position, it was really difficult to see because of the steep angle. That meant that I couldn't easily watch TV for about 90 minutes of the flight during take off and landing, which isn't ideal for a premium cabin.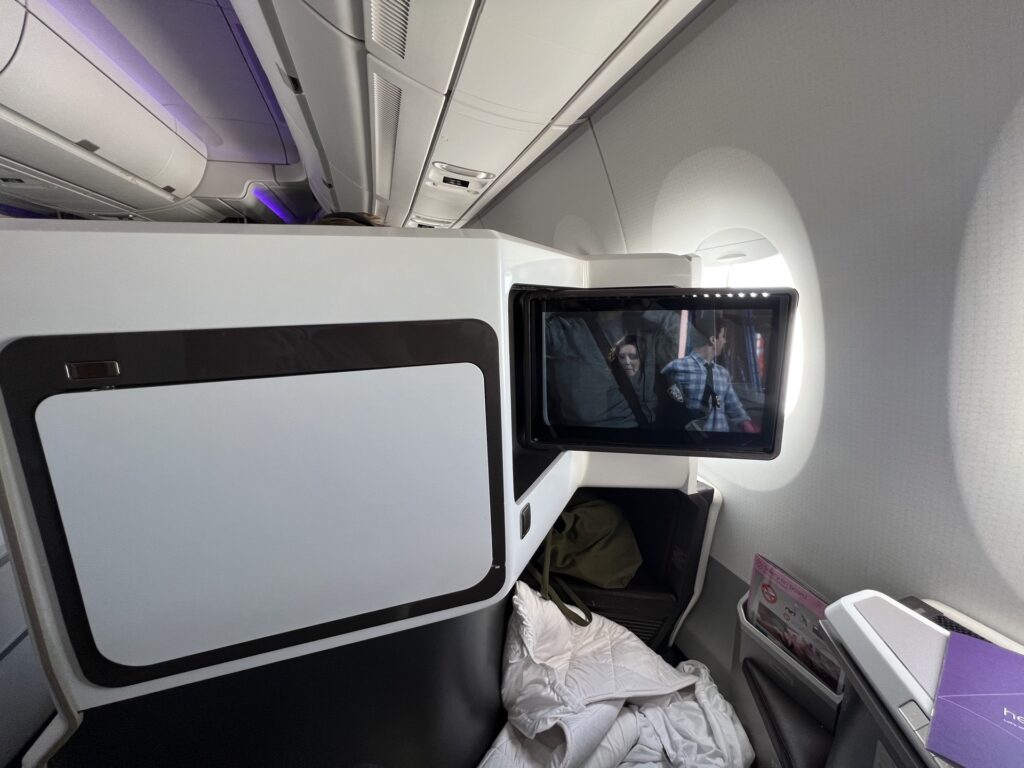 Another awkward position was the tray table. The table itself folded down straight, but my seat was at an angle. This made eating meals a bit awkward because I wasn't square to the table. I also quickly discovered that the tray table blocked my access to the aisle. It was really difficult (and impossible at times) to get up to go to the bathroom in the middle of my meal or before my dishes were cleared.
A short ways into the flight, I noticed that buttons for my seat didn't work. I briefly panicked, because I had previously noticed another passenger experiencing issues and they had to reseat him in Economy (Upper Class was fully booked). Fortunately for me, the flight attendants were able to reset the power to my seat and get the controls working again within minutes.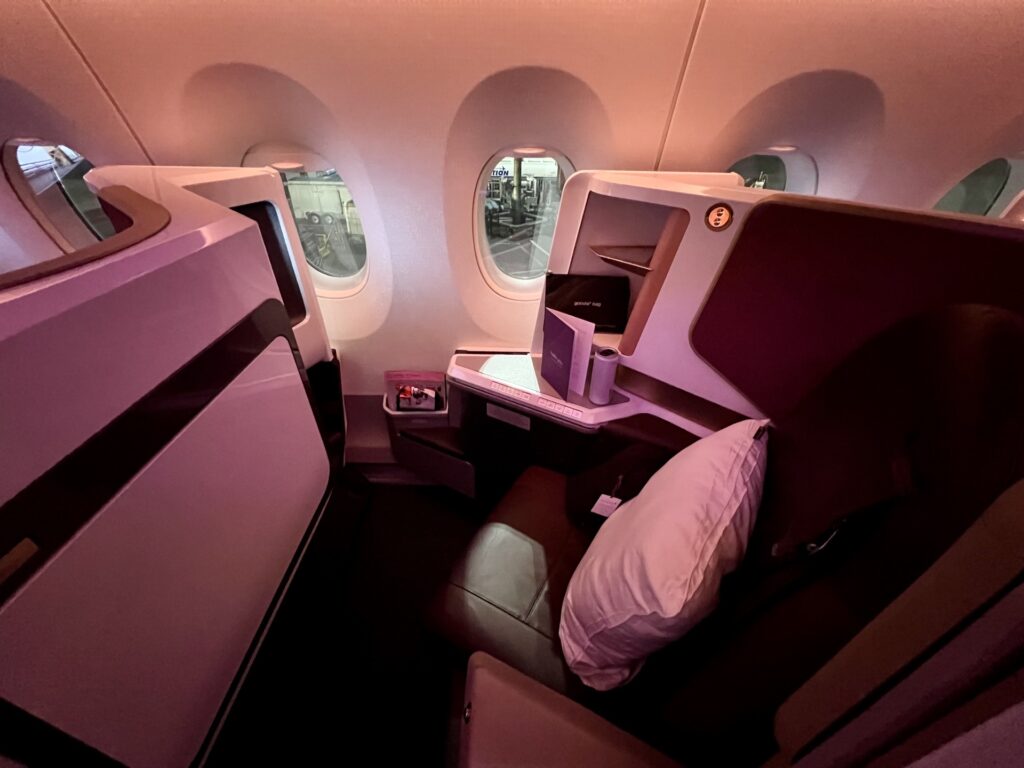 Upper Class entertainment & technology on the A350
Speaking of technology, let's go over a bit more of that.
As I mentioned, the entertainment screen was stowed in the seatback. There was a latch/button just below it that disengaged the latch and allowed the TV to be positioned at a better angle. In Upper Class on the A350, the screen is 18.5 inches. That's not small, but it's not the biggest in the industry.
I found the selection of TV and movie options to be pretty light. In fact, there wasn't actually a single movie or TV show that I actually wanted to watch, which is rare. I settled on Stanley Tucci: Searching for Italy, which was one of the best options.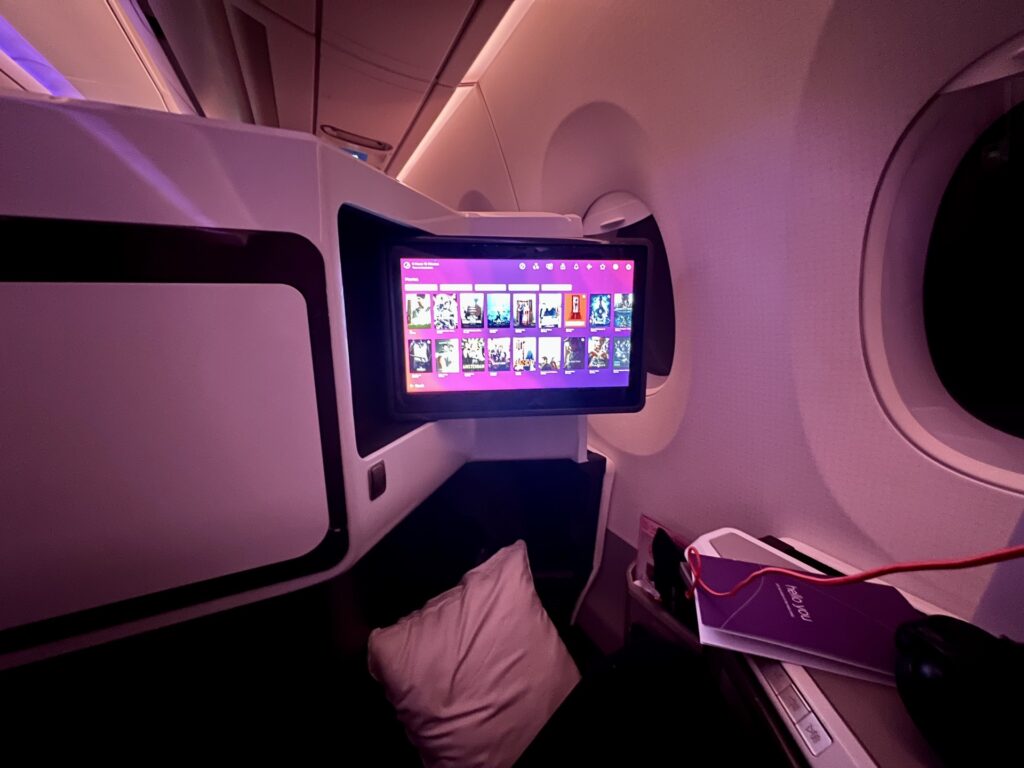 The TV was primarily controlled by touchscreen, but you could also control the volume and play/pause using buttons on the console. There was also an option to pair your mobile device with the TV so you could use your device as the remote, but that didn't work for me. (Possibly because the wifi wasn't working?)
There was also buttons on the console to ring the flight attendant, adjust the lighting, and control the seat positioning. The mood lighting was fun and had different color options, but I didn't use it.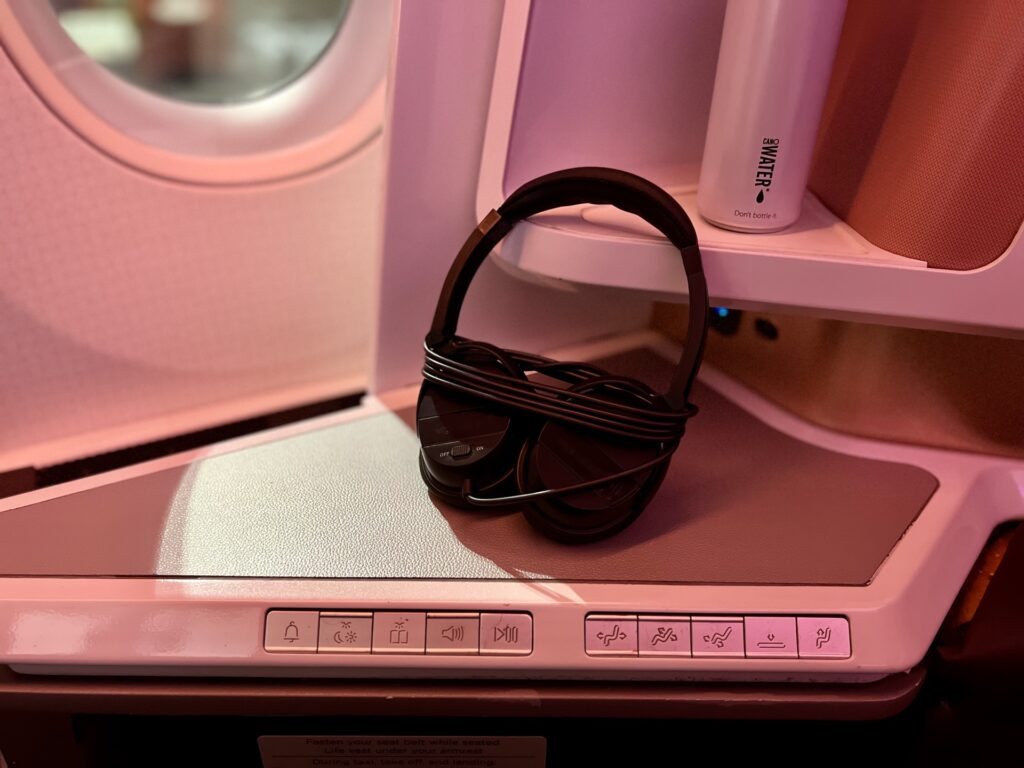 Noise-reducing headphones were provided and stored in the media compartment. Surprisingly, these headphones were single prong and fit right into a standard headphone jack in the console.
There were two charging options at the seat. A USB port was located right below the headphone jack on the main console. My USB wasn't working originally, but this ended up being connected to my seat power issue. Once they fixed my seat, my USB worked. There was also an AC outlet on the front of the console closer the floor, which supported US plugs and also had a second USB port.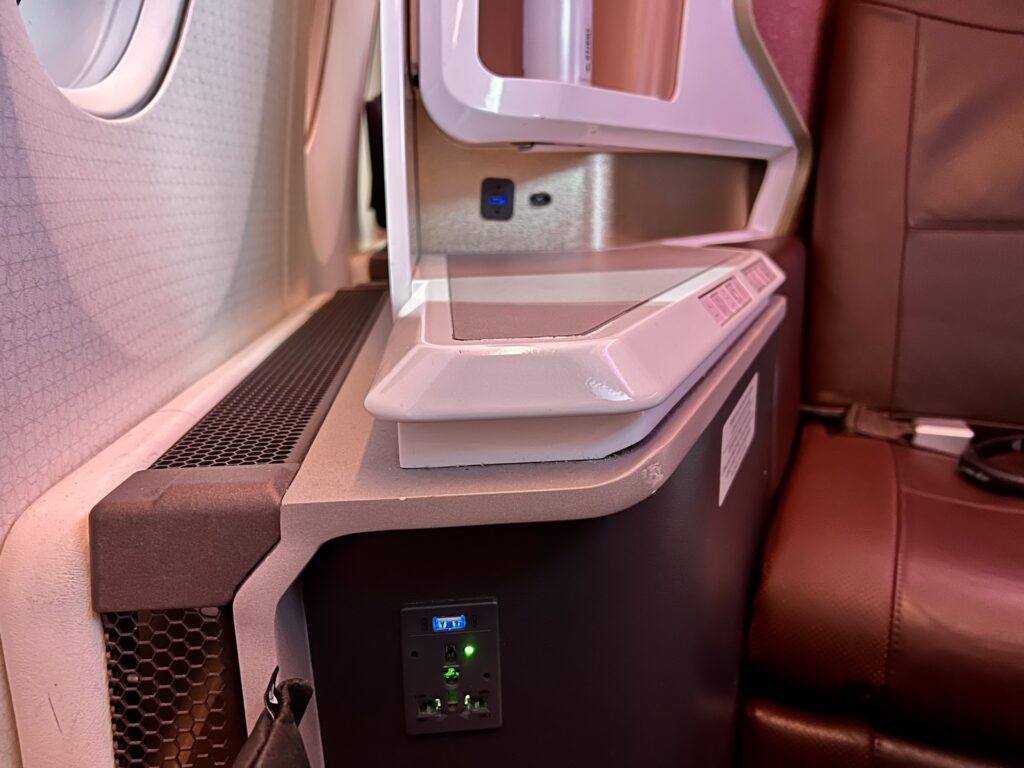 Typically, Virgin Atlantic's A350 is equipped with wifi. Unfortunately, the wifi was not available during my specific flight. I never recommend banking on airplane wifi anyway, because this tends to happen a lot regardless of airline or class.
Upper Class food & beverage
I was offered my first drink shortly offered boarding and happily enjoyed my glass of Champagne. I later confirmed that they were serving a brut Champagne by Chanoine Freres which retails for about $45 USD per bottle. They were happily offering refills to anyone who finished their first glass right up until we pulled away from the gate.
On my nighttime flight, they were server dinner shortly after takeoff. The menu featured a choice of two starters, three entrees and three desserts. There was also an option for a speedy supper.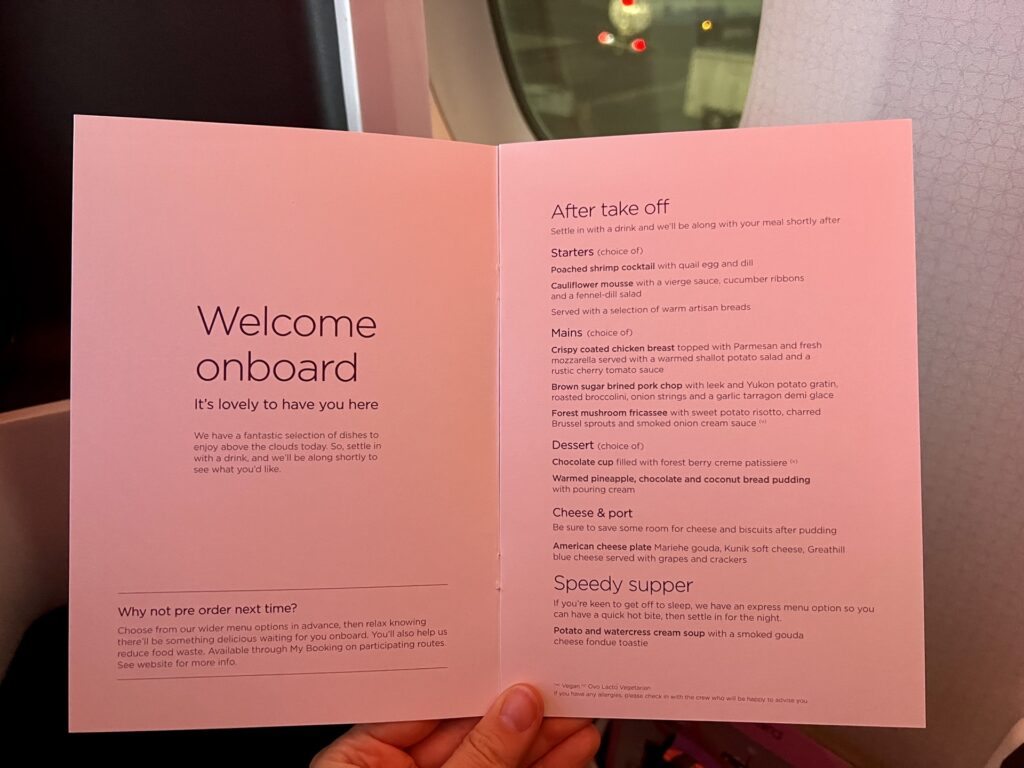 Virgin Atlantic doesn't give you the chance to pre-select a specific menu item, but you can pre-order a special meal such as gluten free or kosher. I pre-ordered lacto-ovo vegetarian, because it's never guaranteed that there will be a vegetarian option on the menu or that it will still be available by the time they get to you.
Thirty minutes after take off, the flight attendant came around to take drink and meal orders. He immediately knew that I had pre-ordered my meal and confirmed that it would be the same as the vegetarian selection on the menu. Perfect, because that sounded delicious. He also asked if I wanted to be woken for breakfast, and my answer to that is always yes.
The beverage menu was okay, but not great. They had an average selection of beer, wine and liquor, including a few non-alcoholic options. There was only three basic cocktail options and one pretty boring mocktail. The coffee selection was good though, and included espresso beverages, and of course a lengthy tea menu.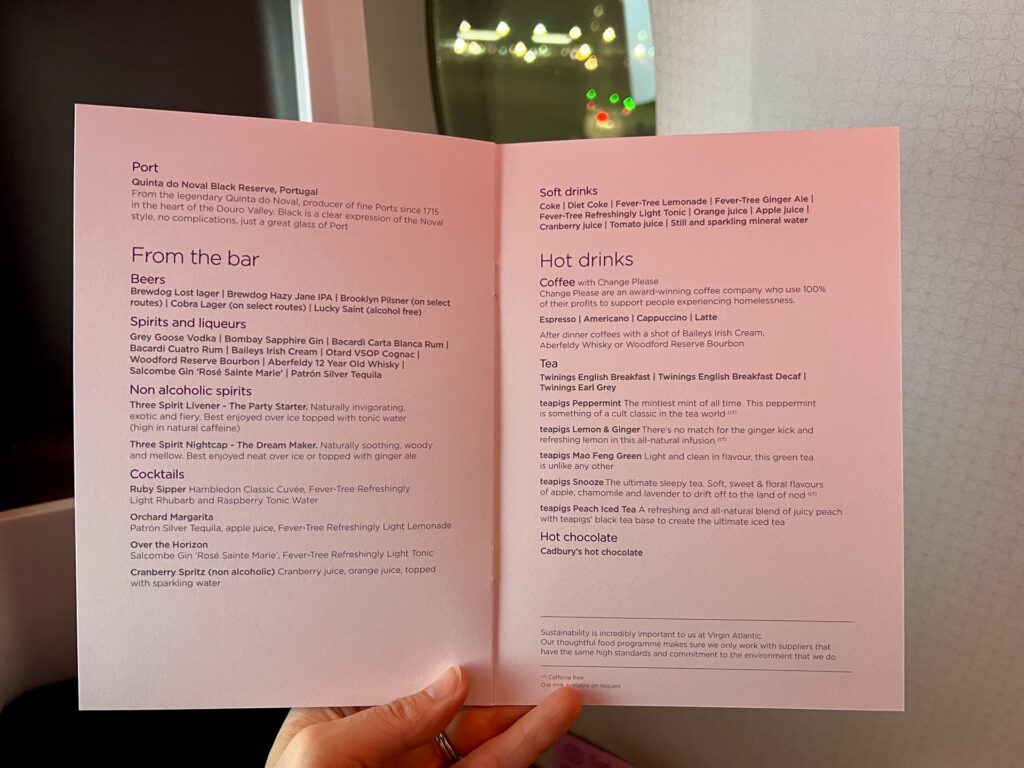 I received my first drink quickly, and it was served with a bowl of the most delicious salt and vinegar chips. The flight attendant offered me refills on both, so I was on my second drink before the meal was served. (I love proactive drink service!)
Shortly after I was given my appetizer, a selection of bread and wine offering, followed by my entree and then dessert. The food onboard was notably delicious and a creative take on boring vegetarian meals that I often get on planes. It's probably worth noting that I was pretty starving at this point because it was 11:30 PM and this was my only dinner, so that might be why I loved it so much.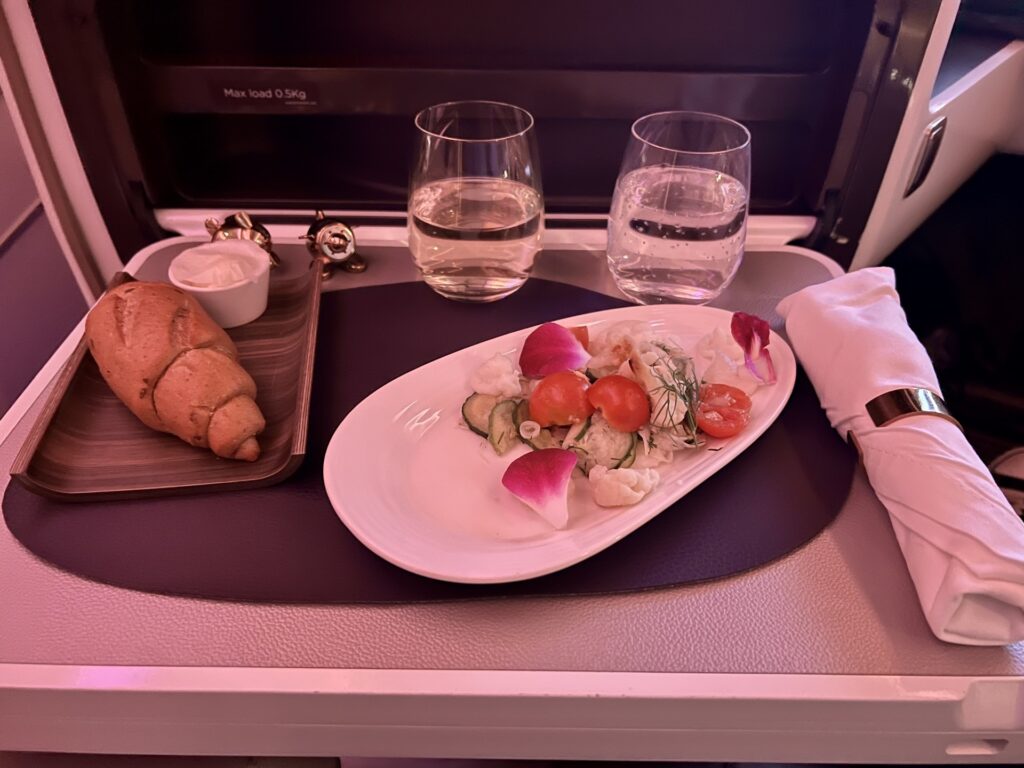 They began taking breakfast orders 1 hour 45 minutes prior to landing. I ordered a coffee and confirmed that I'd like the vegetarian meal I'd preordered. (For breakfast, there was actually one other vegetarian menu item I could have selected.) Breakfast included an entree selection, side of fruit and a pastry. Again, the food was delicious.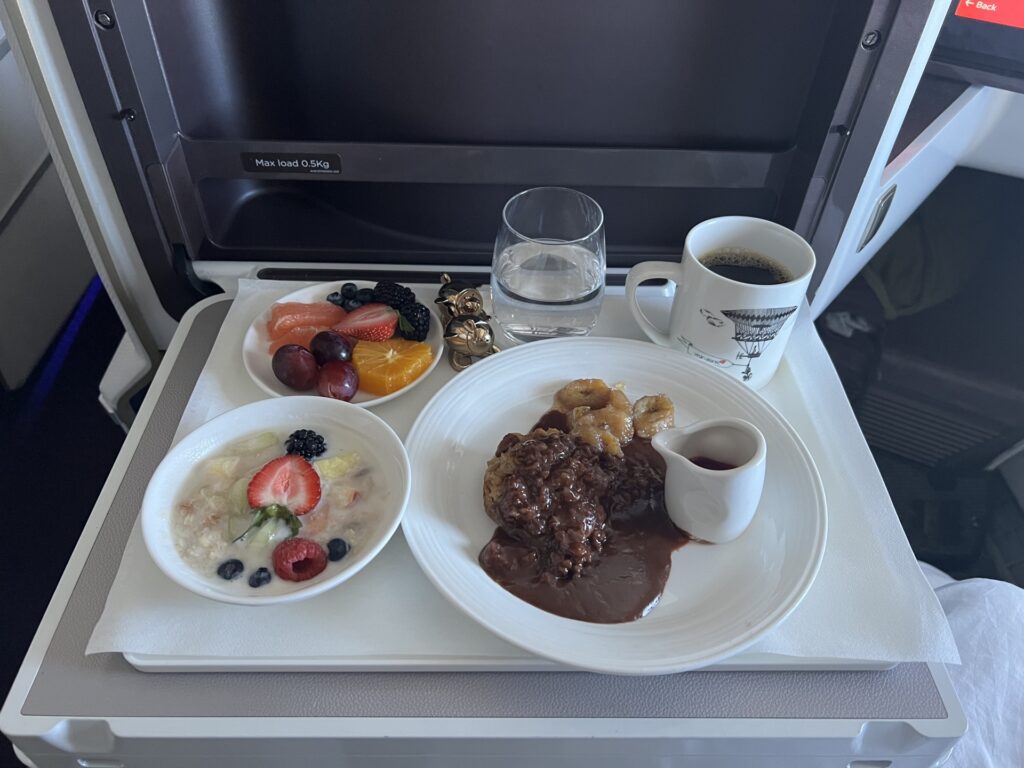 Social Space
But let's back up a minute and cover what happened between dinner and breakfast.
All of Virgin Atlantic's planes have a Social Space available for Upper Class passengers. This is something that several premium cabins offer, including Emirate's Business Class and Etihad Apartments. The Virgin Atlantic version is by no means that luxurious, but I do absolutely love anytime there is a space to sit that isn't my seat.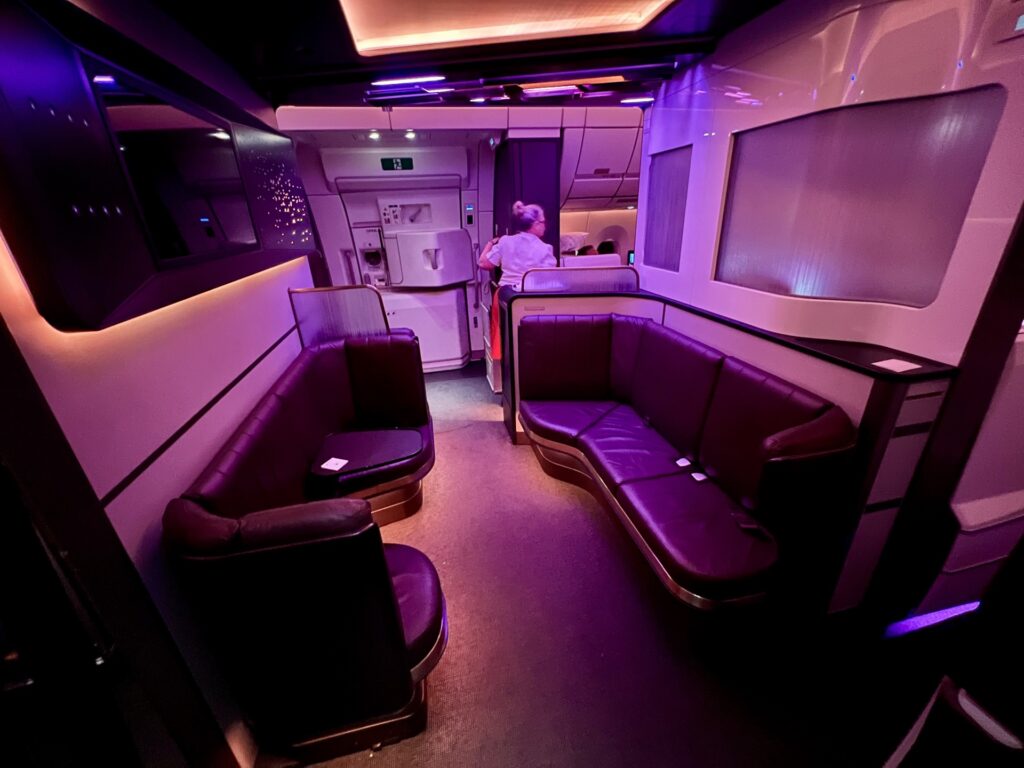 On the A350, the Social Space is called The Loft and is located between the Upper Class and Premium cabins. It's basically a repurposed galley that has been fit with lounge seating. The Loft has seating for four (though five could comfortably fit) and has a large 32-inch TV screen.
There was no proactive food or beverage service in The Loft during my visit, but the flight attendants were active in the area and could have certainly grabbed something for me had I asked.
During my visit, I sat on the couch doing a crossword while two other guests set at the booth.
Sleeping in Upper Class on the A350
By now, most of the other passengers had taken to their beds and it was time I did the same. I returned to my seat and pressed the button on my seat to flatten it into the bed. The seat lowered and then reclined, eventually lining up with the footrest and forming an 82-inch bed.
I grabbed my bedding from the overhead bin and made up the bed myself. Flight attendants were helping other passengers who asked, but I was capable.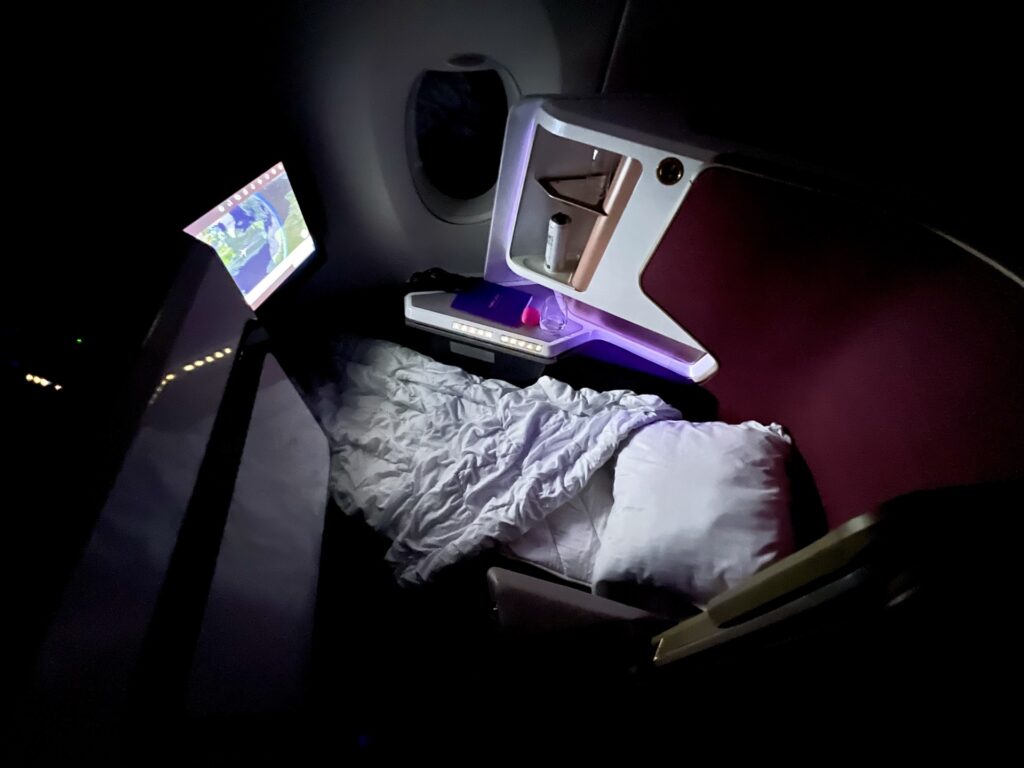 The mattress pad attached to the seat with elastic edges, so it works best if you put that on before you fully recline the seat. The pad was thin, but did a fine job. The blanket was a light cotton duvet and nothing to write home about, but it got the job done. I also had a small pillow, which had been at my seat since I boarded.
I thought the bed was really comfortable. Even though the mattress pad was thin, I didn't notice any lumps or bumps from the seat. At 5'3″, I was able to fully stretch out or sleep on my side without a problem. To my surprise, I feel asleep easily and rested until I heard the sound of breakfast service.
Virgin Atlantic Upper Class Service
Throughout my flight, I had numerous encounters with the Virgin Atlantic flight attendants. I always found them to be notably cheerful, proactive and efficient. In fact, the service I received in Upper Class on Virgin Atlantic is probably the main reason I enjoyed my flight so much.
I loved how approachable and friendly the service was, and not at all stuffy. I've had the privilege of flying in some really nice business and first class products. And while there is something to be said for the formal, professional, classically "good service," it can be exhausting at times. The service in Upper Class was more casual, but no less effective, and I enjoyed that.
And while I've started to feel more comfortable pressing my call button for service in premium cabins, I appreciate it when I don't have to. The Virgin Atlantic service was more proactive than others, and I was frequently offered another drink and more snacks. I personally prefer overly attentive service that I may occasionally turn down over having to ask every time I want something.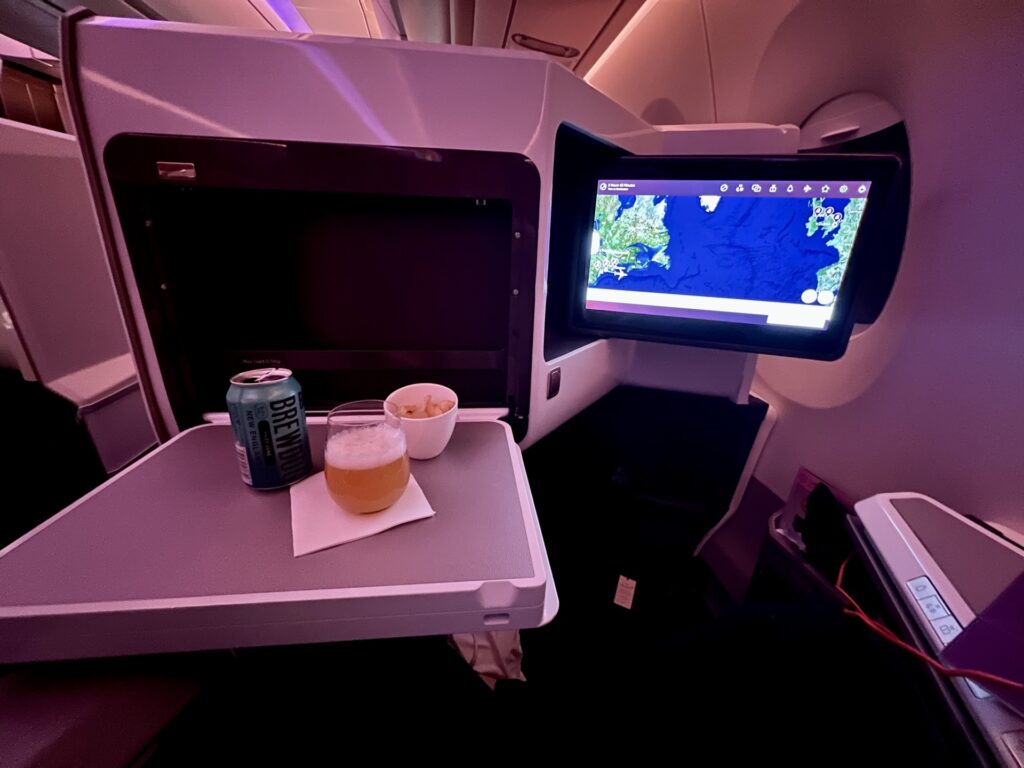 I also tend to judge service based on how they act at the end of the flight. Everyone is always a delight at the start of the flight, but it says a lot about the crew when they can maintain that all the way to the end. And though I would never fault someone for being tired at the end of their shift, I have to commend the staff who continue to shine all the way until landing. And that was my experience with the Upper Class flight attendants.
LHR Arrivals Experience
We arrived at London Heathrow on time and were at our gate an impressive 6 minutes later. (We've had some painfully long taxis at O'Hare and JFK recently, so I was stunned by how quick this was.)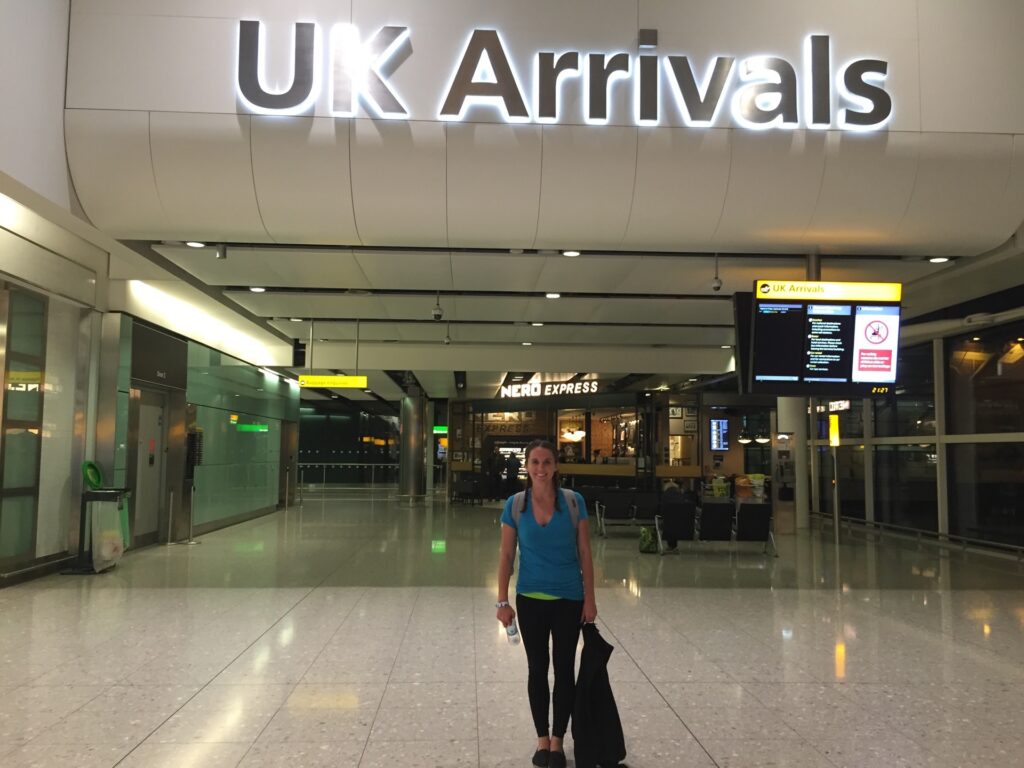 Immigration at LHR
I followed signs to immigration, which was a long walk from the gate. (As is typical.) There is no expedited immigration for premium cabin passengers, so I hopped in the main queue, which served Americans along with a handful of other passport types including UK and EU.
The queue was long, but moved steadily and I reached the e-gates pretty quickly. The e-gates replaced human agents and are fully automatic. You scan your passport, place your fingers on a touch pad, it scans your face, and then should allow you through. Unfortunately, the system isn't perfect and my scan didn't work. I got to try one more time at a different gate before being sent to the dreaded agent queue.
There was exactly one agent serving everyone who had e-gate errors, and there were a lot of us. One woman got held up and the agent spent 30 minutes with her while we all stood there, making no progress, and watching the line stack up behind us. It was infuriating that there was only one agent and he wasn't helping anyone else until this woman's issue was resolved.
Finally, the woman was escorted away, a new agent came and he got through the rest of us quickly. I don't know what caused my error at the e-gate, but I had no issue with the actual agent.
Revivals Arrivals Lounge
I saw on the inflight menu that Virgin Atlantic had an arrivals at Heathrow. Arrivals lounges aren't super common, but they can be a really nice touch after long-haul flights.
I was already later than I expected thanks to my massive delay at immigration, but I was feeling grubby and needed a coffee so off to the lounge I went.
The Virgin Atlantic arrivals lounge — named Revivals — is located at London Heathrow in Terminal 3 after immigration and baggage claim. The Revivals lounge is open daily from 5:30 AM to 12:30 PM.
After you collect your bags, follow the signs that say "Airline Lounge" to the elevators just to the right of the exit doors and go up to the second floor (or first floor as they call it there).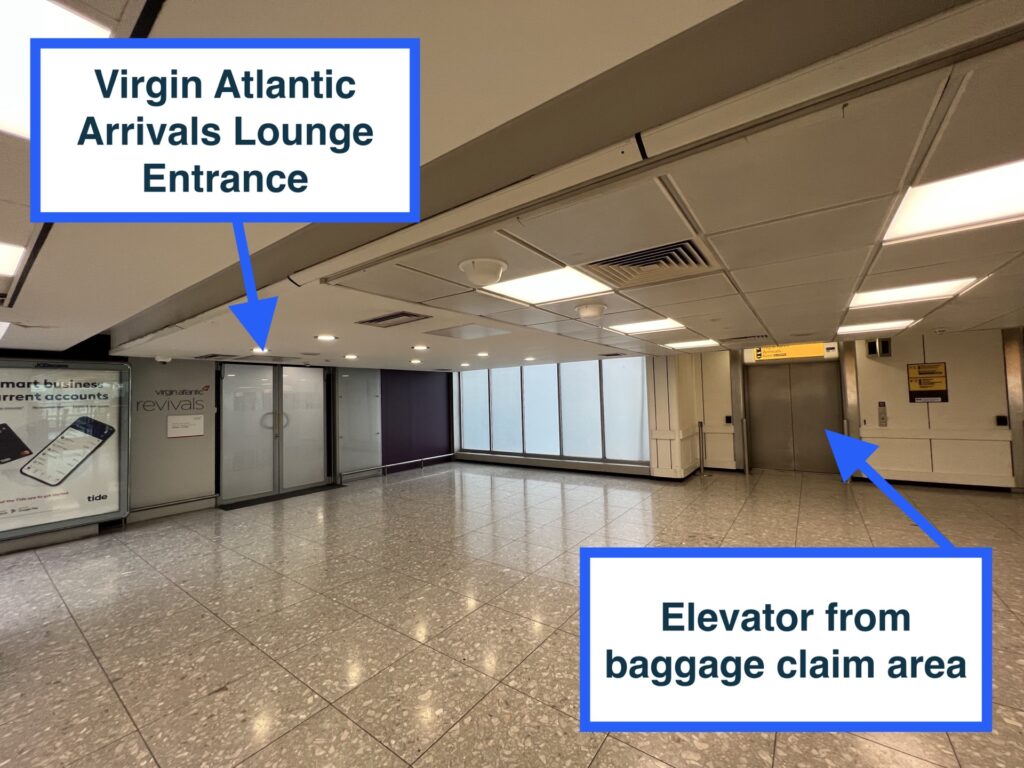 There is another arrivals lounge further down on this floor, so the signs above will continue to point down the hall. You can disregard those signs and just look for the Virgin Atlantic entrance which is immediately to the right as you exit the elevator.
The lounge itself is a small room with a variety of seating options and a bar. They offered a decent selection of food and beverages options available for order via QR code. (There is no food buffet or self-service bar.) Having just eaten breakfast on the plane, I ordered a coffee, a smoothie and a water. I received all of my items almost immediately.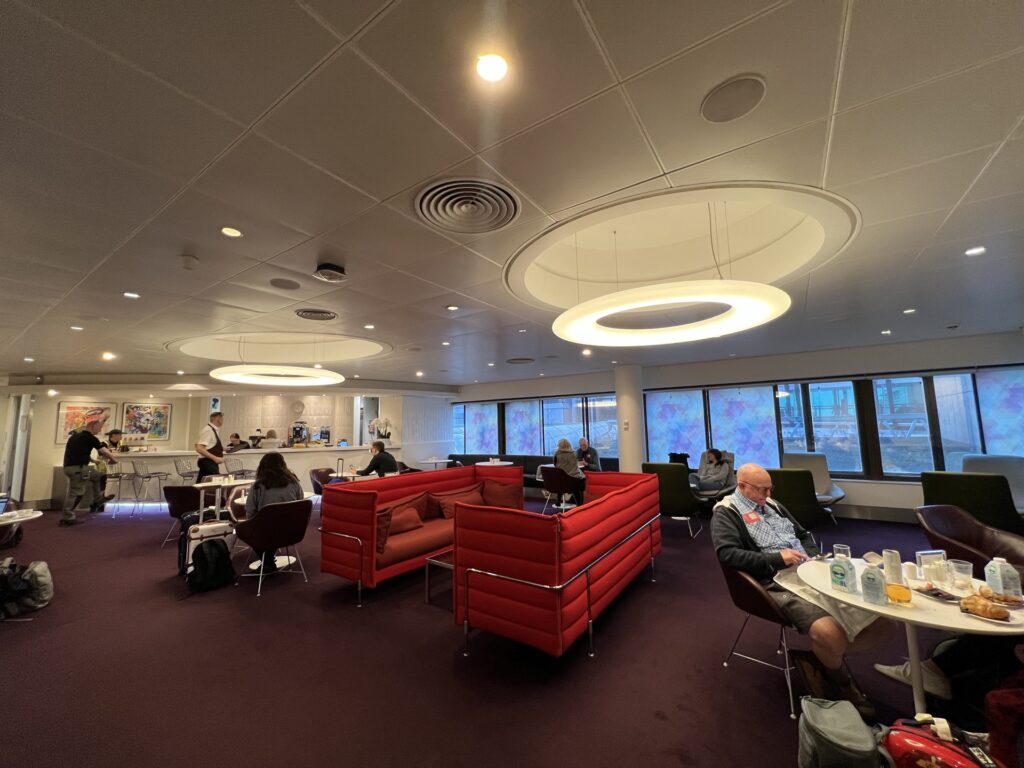 The best perk to the lounge is that they have showers available if you'd like to freshen up before you head to central London. I didn't shower, but I did wash my face and redo my makeup in the spacious private bathroom stalls.
After that, I jumped on the Elizabeth Line and was off to packet pickup for the London Marathon. (If it's your first time in the city, be sure to check out our London Travel Guide for all of our best tips and info.)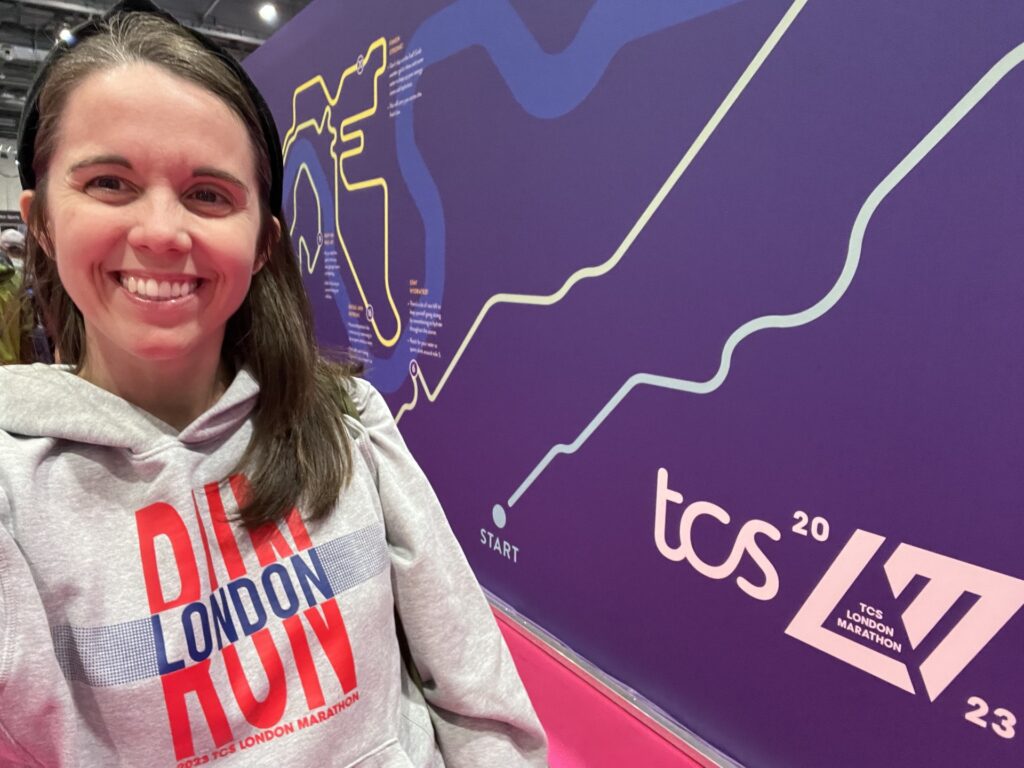 Closing thoughts
I really enjoyed my experience flying Virgin Atlantic Upper Class on the A350. Even though this particular product is not the airline's premier offering, it's still a high quality product that can handily compete with some of the other transatlantic premium cabin experiences.
Virgin Atlantic Upper Class has a lot going for it. I loved having the Social Space onboard, the food was interesting and delicious, and it was really nice to have an arrivals lounge. Plus, the friendly and cheerful service made the experience extremely pleasant.
The biggest downside to Virgin Atlantic Upper Class on the A350 specifically was the seat formation. The angle of the seat complicated some of the features and made the pod feel smaller than other forward facing products.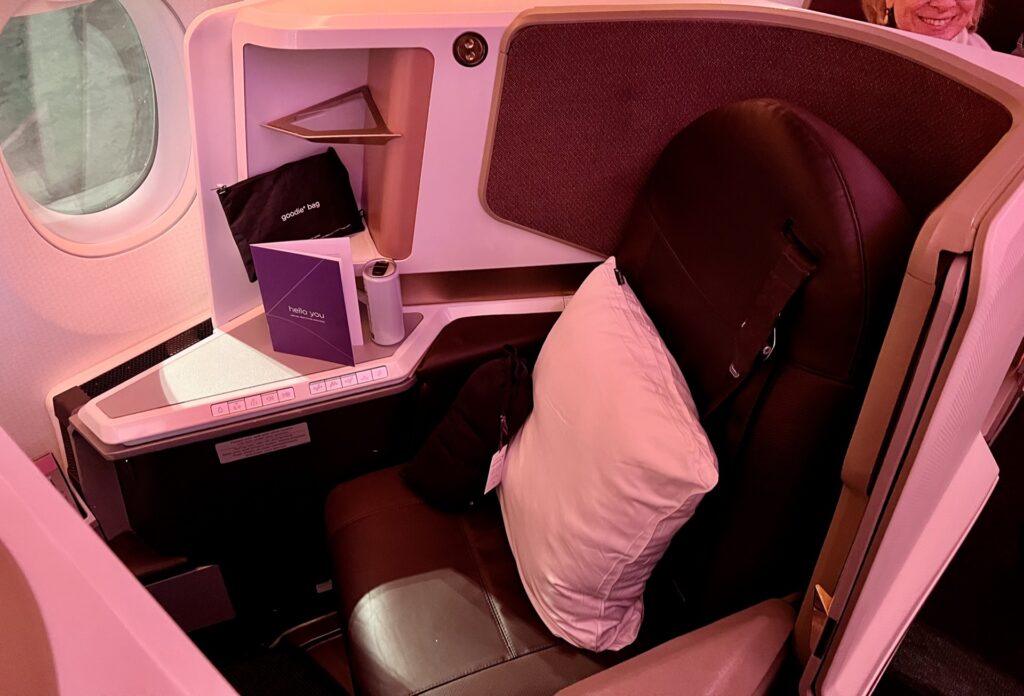 I also have flown British Airways Business Class on the 777 from New York to London. I would say that the hard product on British Airways was better, but I enjoyed my experience on Virgin Atlantic more, in large part due to the service. It was also really nice to have the social space and the arrivals lounge, which are two things British Airways Business Class on the 777 doesn't have.
All things considered, I enjoyed my experience with Virgin Atlantic Upper Class. I would definitely fly it again, but I wouldn't pay a premium for it. If British Airways or Delta One was cheaper, I would probably choose one of those instead.