I decided to fly business class on a solo trip to London for the London Marathon. For this trip, I wanted to try out Virgin Atlantic's Upper Class product. The way the times and prices worked out, I got to experience the product on different planes in each direction. In this post, I'll detail my experience flying Virgin Atlantic Upper Class on the A330-300 from London to New York. We'll cover booking, the LHR airport experience, and a detailed look at the actual flight experience.
I started my journey in Upper Class on the A350 from New York to London, which I cover in a separate post. If you read both reviews, you'll notice that some of the general content about Virgin Atlantic and Upper Class is similar in the two posts, but the actual flight experience is different in each.
It's also important to note right off the bat that I did not fly the A330neo. I flew the A330-300, which is a different plane with a completely different seat. The A330neo features Virgin Atlantic's newest and best business class product, and is currently available on select routes to New York, Boston, Tampa and Atlanta. I wasn't able to get on this specific product, but One Mile At A Time has detailed review if you're interested in that one.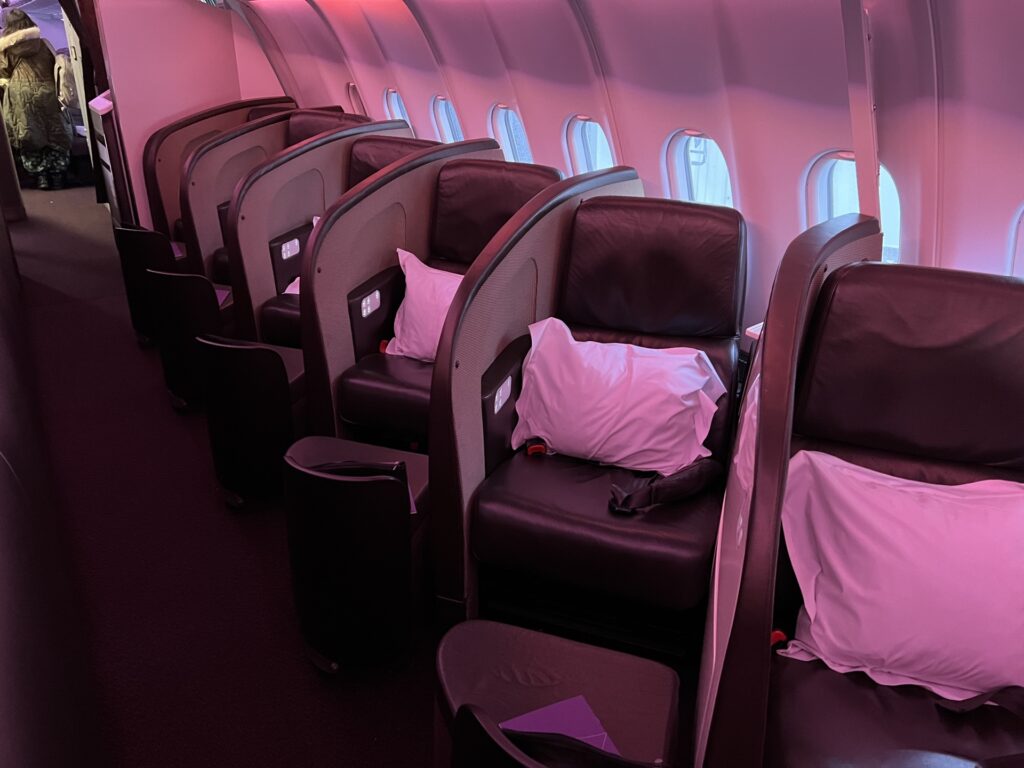 Other long-haul premium cabins
Before we go on, if you're interested in building your bucket list or seeing what we think of other long-haul premium cabins, check out some of these reviews.
In this post
Here's what we'll be covering in this post. Feel free to read the straight through or jump to the section you're most interested in.
About Virgin Atlantic
Virgin Atlantic is a British airline with hubs at London Heathrow and Manchester Airport. They primarily operate transatlantic routes between the UK and the US and Caribbean, but they also serve a few routes to Asia and Africa plus domestic UK routes.
In 2023, Virgin Atlantic joined the SkyTeam alliance, which puts them in the same network as Delta, Air France, Korean Air and more. They also partner with IndiGo for Asia flights.
Having been around since since 1984, Virgin Atlantic is a well known and well regarded brand. Virgin Atlantic is generally considered to be a good or slightly above average airline, earning a solid 4-star rating (out of 5) by industry leader Skytrax.
Virgin Atlantic has three classes: Economy, Premium (premium economy) and Upper Class (business class). Economy class is further divided into three fare categories, which differ by legroom and if/when you can select a seat.
In case you were wondering (like I was), Virgin Atlantic is in fact tangentially related to Virgin Records. I flagged this after hearing the bops they were playing during boarding. Virgin Group, who licenses Virgin Records, also owns 51% of Virgin Atlantic. Delta Airlines actually owns the other 49%, just FYI.
What is included with Virgin Atlantic Upper Class
The details of Upper Class varies slightly based on the specific plane model and route. Here's a look at what is included with Virgin Atlantic Upper Class on the A330-300 on a long-haul evening flight from London to New York.
Priority Check-in: Skip the long queue and quickly check in or check your bags at a dedicated Upper Class desk.
Priority Security: Upper Class passengers can also enjoy a dedicated security area reserved for business class passengers.
Extra baggage allowance: You'll be allowed two carry-on bags with a combined total weight of 35 pounds and two complimentary checked bags weighing 70 pounds each (compared to one carry-on and one checked bag in Economy).
Lounge access at LHR: Upper Class passengers have access to the Virgin Atlantic Clubhouse at Heathrow. It is the airline's flagship location and is often considered one of the best airport lounges in the world.
Lie-flat seats: On the A330-300, the Upper Class seats are a generous 22 inches wide and convert into a 78-inch bed.
Complimentary drinks and meals: A three-course dinner was served shortly after takeoff with an additional light meal available on demand. A collection of hard and soft drinks were available throughout the flight.
Access to the Social Space: Different planes have different Social Spaces, which is a place where you can sit outside of your seat. On the A330-300, the Social Space is a 3-seat bar called The Bar.
Pajamas: A sleep suit including drawstring pants and a long sleeve shirt was offered before takeoff. Sizes included S/M, M/L and L/XL.
Priority baggage claim: After your flight, Upper Class bags will be among the first off the plane and onto the carrousel.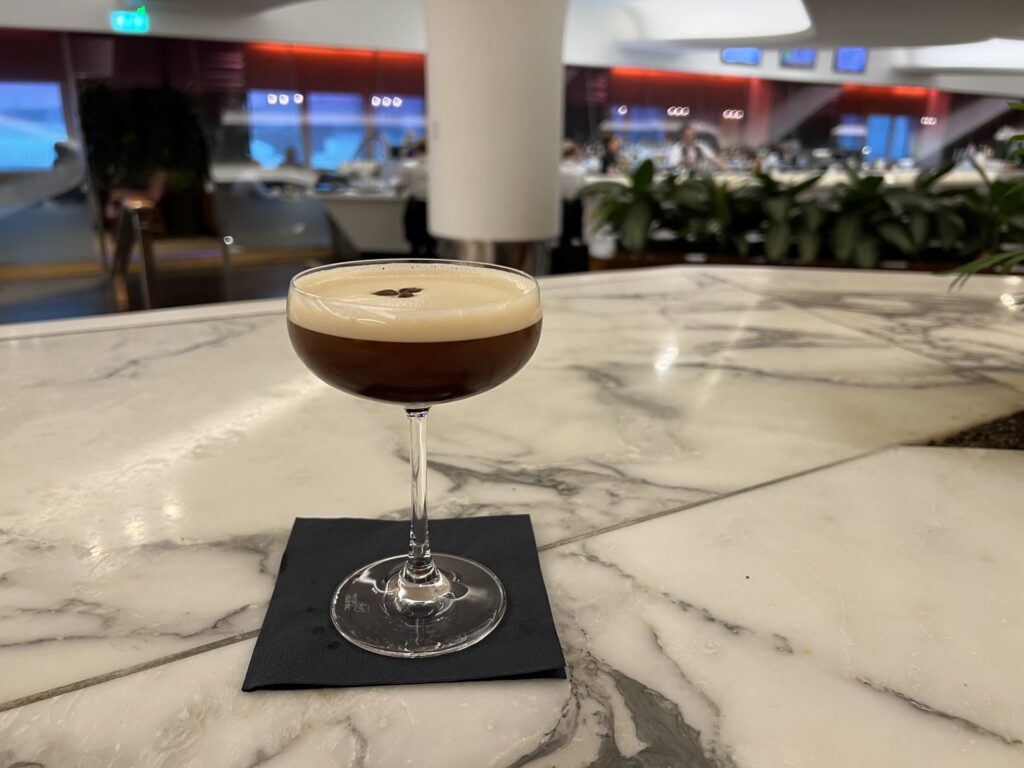 What's not included with Virgin Atlantic Upper Class
Virgin Atlantic's Upper Class product is a good business class product. They include most everything you'd expect from a transatlantic business class experience, but there are a few notable things that you won't get.
Here are a few things that are not included with Virgin Atlantic Upper Class from London to New York.
Arrivals Lounge: There is not a Virgin Atlantic arrivals lounge at JFK. When you fly Virgin Atlantic to London, there is an arrivals lounge at LHR, but not at other destinations.
Doors: Virgin Atlantic Upper Class on the A330-300 does not have closing doors. In fact, the seating configuration on this plane is very open.
Wifi: Complimentary wifi is not included with Virgin Atlantic Upper Class. Most planes are equipped with wifi for purchase.
Booking & seat selection
The best way to book Virgin Airlines Upper Class is directly through the Virgin Atlantic website. When you start your search, select Upper Class as your fare category. Then you'll see a list of flights, including ones that may be operated by partner airlines. The operating airline and product name (e.g. Upper Class) will be displayed for each flight.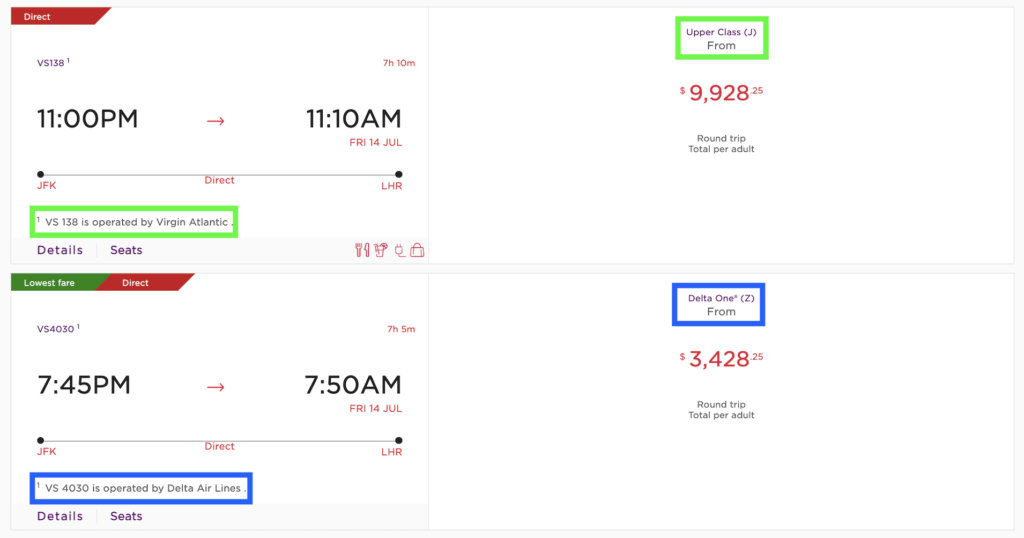 Upper Class products vary greatly by plane, so it's important to pay attention to what plane you're booking.
You won't see the plane information displayed in the main list view, but you will see fare class indicators. This code specifically refers to the fare class, not the plane model, but it will help give you a rough idea of what you're looking at. For example, the top-tier A330neo will usually be coded as (J), the highest fare class.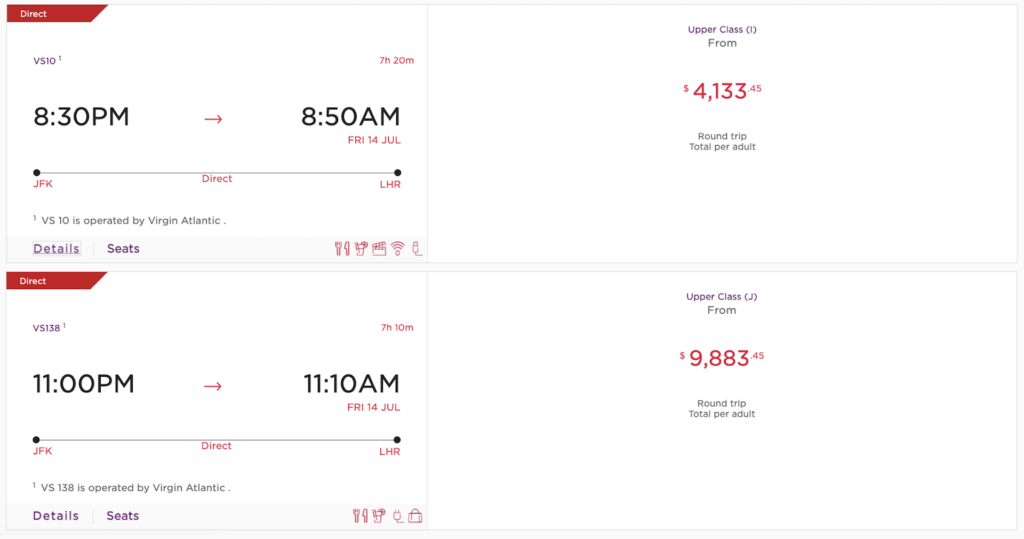 Price is also a good indicator of the product at first glance. For example, if I look at the flight options for a random week three months from now, Upper Class on the A330-300 is available for $4,133 while the more premier Upper Class on the A330neo costs $9,883.
To view the exact plane for each route, click the details button.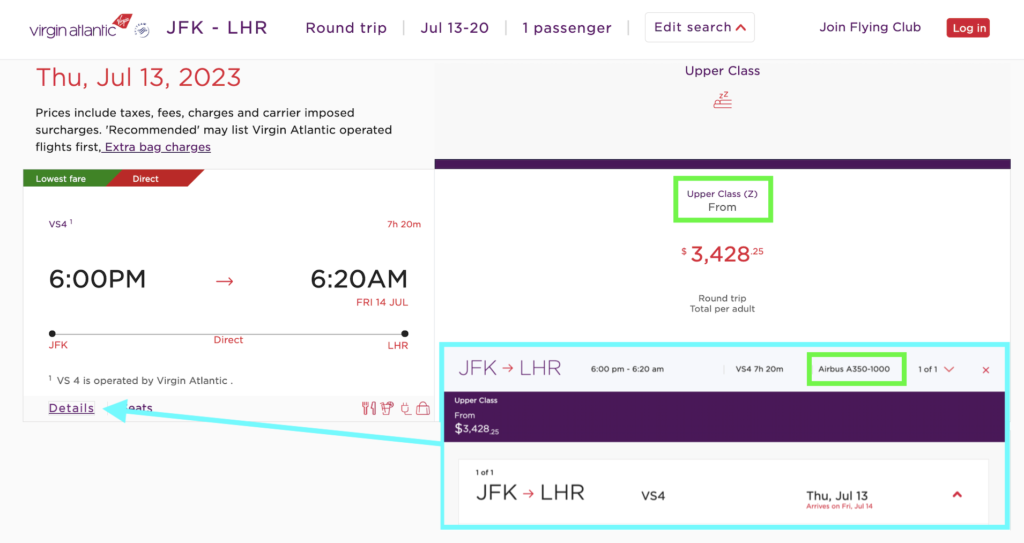 If you have already booked Economy (Class or Delight) or Premium, you can upgrade to Upper Class at anytime as long as seats are available. You cannot upgrade from Economy Light.
Booking Virgin Atlantic Upper Class with Points
You can also book Upper Class using points — though it's worth noting that fees at Heathrow are pretty outrageous. You can sometimes save on some of these fees and charges by booking through Delta SkyMiles.
The easiest way to book with points, though, is through the Virgin Atlantic Flying Club program. This program allows you to use to use Virgin Points and/or transfer points from the top rewards programs including Chase Ultimate Rewards, American Express Membership Rewards and Citi ThankYou Points.
You can learn more about booking Virgin Atlantic Upper Class with points here.
Virgin Atlantic Upper Class seat selection on the A330-300
The Upper Class seats on the A330-300 are in a compact 1-1-1 configuration. The seats are not the typical pod-style seats that you often find in business class. Instead, each seat faces out toward the aisle at an angle with small dividers on either side.
All of the seats are basically the same, just facing different directions. Because of the angle, even the window seats do not have a view. It's a rare case where window and middle seats are all created pretty equally. I would pick just about any row or seat, but general rules of avoiding seats by the bathroom and galley apply.
The seating configuration is not ideal for groups or families traveling together. None of the seats connect to each other, and the divider blocks the view of neighboring seats pretty fully. However, since it's not a full pod, the seats are actually really close together. So if you did have a campion, you could easily stand up and communicate as needed when the seatbelt sign was off.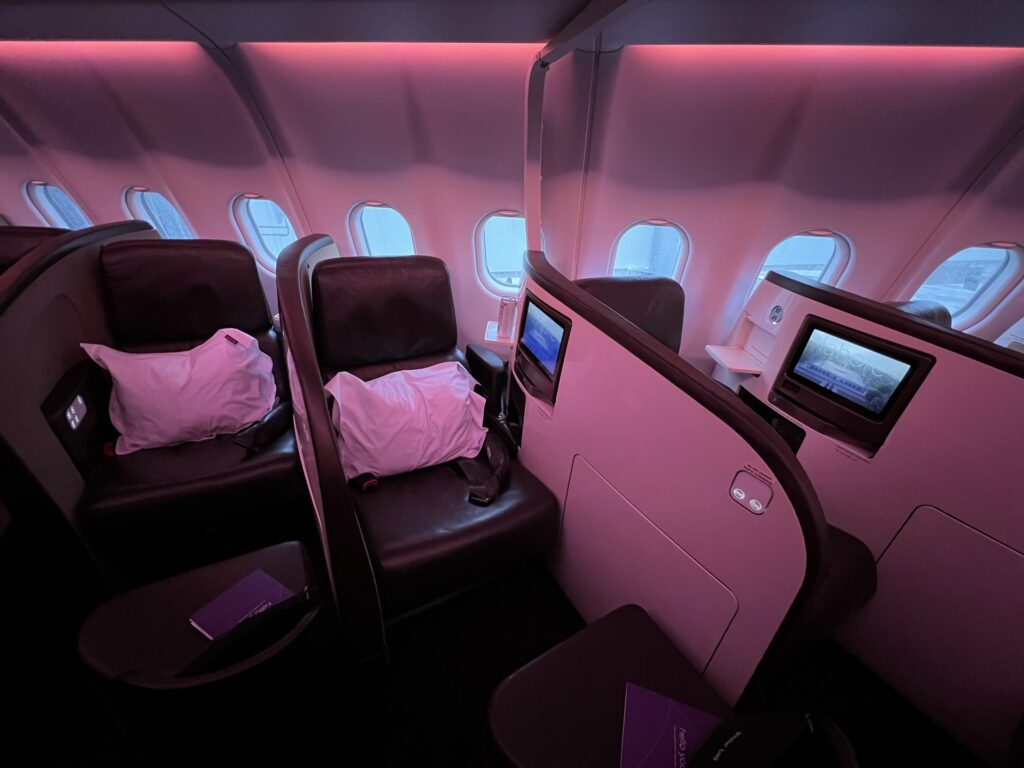 The Upper Class seat configuration on the A330-300 is also not ideal for babies or young children. According to the Virgin Atlantic website, car seats are not allowed in Upper Class because of the inflatable seat belts. I also wouldn't recommend these seats for young flyers who need their own seat but can't yet be left unsupervised. You cannot easily see or reach a neighboring seat while buckled. Personally, I would not travel with my almost-3-year-old in their own seat with this set up.
These seats would be okay with a lap infant, though to be honest it's not the most spacious option out there. We flew British Airways business class with a lap child and that was much more comfortable.
Flight Details
Origin: London, England (LHR)
Destination: New York City, USA (JFK)
Flight number: VS25
Plane: Airbus A330-300
Airline & cabin: Virgin Atlantic Upper Class (business class)
Seat: 6A
Departure time: 8:45 PM local London time
Arrival time: 10:45 PM local New York time
Total Flight Time: 7 hours
Distance: 3,451 miles
Cost (1 adult): $3271.25 round trip (including the outbound flight from JFK to LHR)
London Heathrow Airport Experience
So picture this. I ran the London Marathon yesterday and spent the morning walking all over central London. I find a window seat at a pub, order a pint and some fried halloumi — a dish I've fallen in love with and ordered multiple times during my short trip.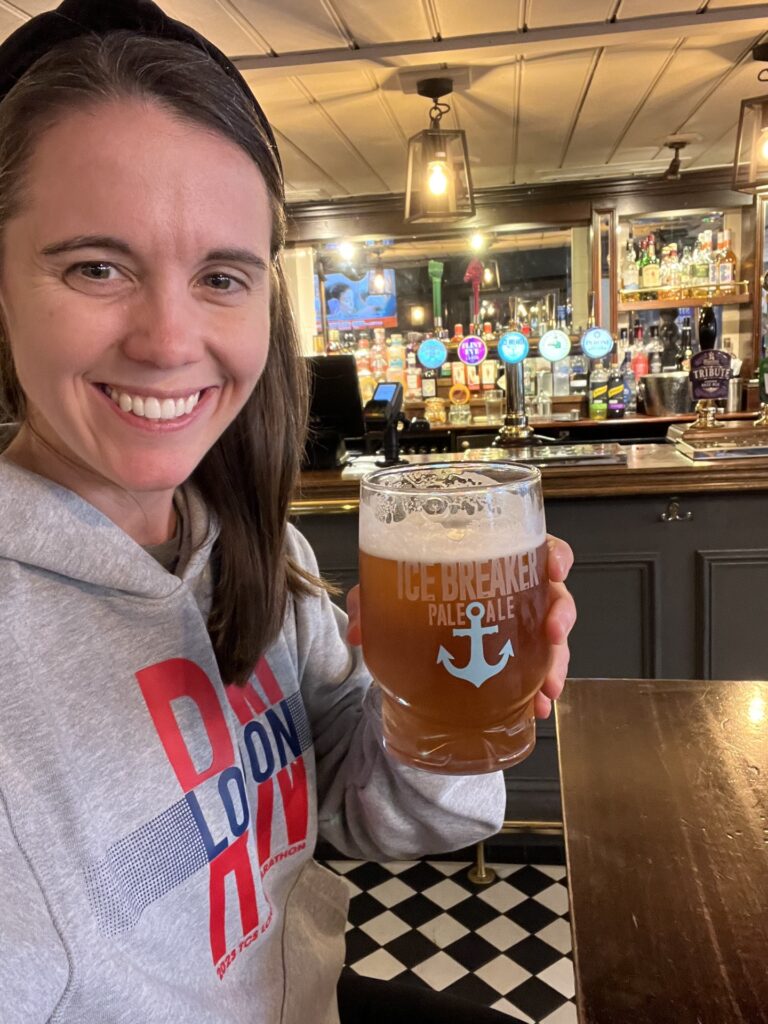 It starts pouring and I text my husband, "Is there anything better than being inside a cozy pub when it's raining outside?" (Answer: No, there is not.)
No more than 5 minutes later, I get an alert on my phone saying something about my flight at 8:15. I think to myself … that must be boarding time because my flight's not till 10:15. Right? Wrong.
I didn't properly convert my 20:15 departure time to standard time and my flight was actually 2 hours earlier than I thought. Now, instead of watching the rain blow over from my cozy pub stool for the next hour, I had to run through it to grab my bags from the hotel and then book it to Heathrow.
Luckily for me, my sneakers were waterproof, my hotel was close, and I could navigate to the Elizabeth Line in my sleep at this point. I switched to the Heathrow Express at Paddington to be extra safe on time and was at Heathrow 2 hours and change before my scheduled departure. (In my defense, I was extra worried because my email said to be there 3-4 hours early.)
That story isn't actually important to this review, but it's a fun lesson in paying attention to your flight time. Anyway! Here's what the LHR experience was like.
Upper Class check-in at LHR
Virgin Atlantic flies out of Terminal 3 at London Heathrow. The Heathrow Express and the Elizabeth Line both stop here and the station is a short 3-minute walk to the check-in area.
Upper Class has a dedicated check-in desk which is located on the right side when you walk in the door. It's clearly labeled with several signs along the way.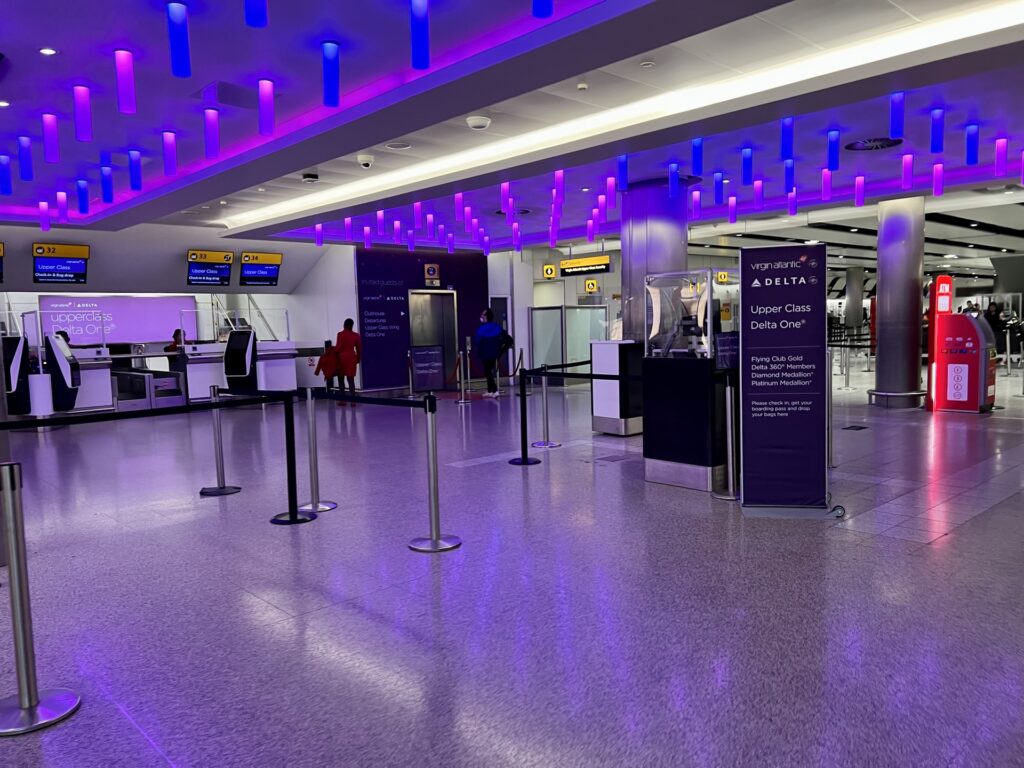 When I arrived 2 hours and 15 minutes before my scheduled departure time, there was no one else in line. I already had my boarding pass and didn't have any bags to check, but I like to go to desk for international flights because they usually have to check your passport before you can board.
I mentioned to the agent that I had the flight time wrong and was worried that I was late. She assured me that I had plenty of time and she was absolutely right.
After I received my boarding pass, she pointed me toward an elevator that was right next to the desk. This elevator went directly to the priority security screening area.
Upper Class security at LHR
Passengers flying premium cabins with Virgin Atlantic or Delta have access to a priority security queue. To get there, you need to take the elevator that is located beside the Virgin Atlantic priority check-in desk. Press the button for the first floor (which is the second floor to Americans) for departures.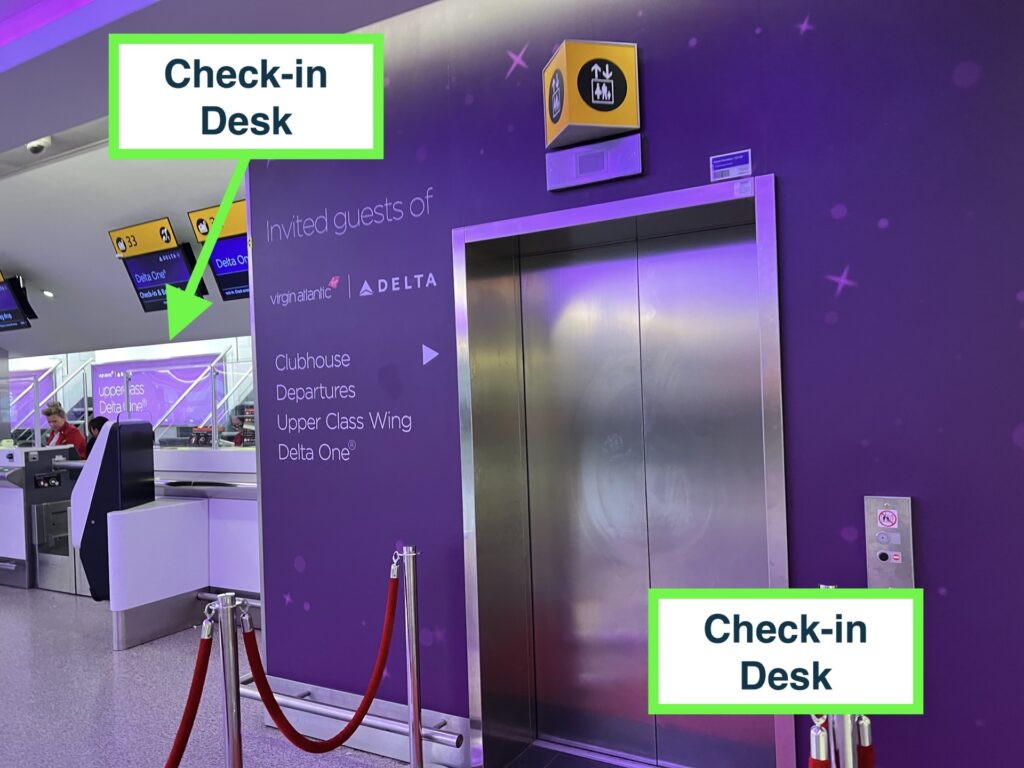 When you exit the elevator, you'll head into a special area where you can prepare for the security screen. They have plastic bags available for your liquids and tables in case you need to rearrange anything or take anything out of your bag. There's also an agent there to answer any questions.
Then you scan your boarding pass at an automated gate to enter the security queue. You need to have an Upper Class or Delta One boarding pass to move through.
From here, there are a few different queues for the actual security check. The check itself is the same as standard security, so you still need to take out liquids, large electronics and jackets and place them in the bin. This is not like TSA PreCheck where you are exempt from certain protocols, it's simply a shorter line.
This expedited security check was great! I left the check-in desk and was completely through security in 12 minutes flat.
Virgin Atlantic Clubhouse at London Heathrow
The airport lounges at LHR Terminal 3 are coded by letter, and the Virgin Atlantic Clubhouse is Lounge H. (The agent told me that when I checked in.) There were plenty of signs around the airport and I was easily able to make my way to Lounge H. The final sign pointed up a marble staircase which led me to the check-in desk for the Virgin Atlantic Clubhouse. I was pleasantly greeted and quickly allowed inside.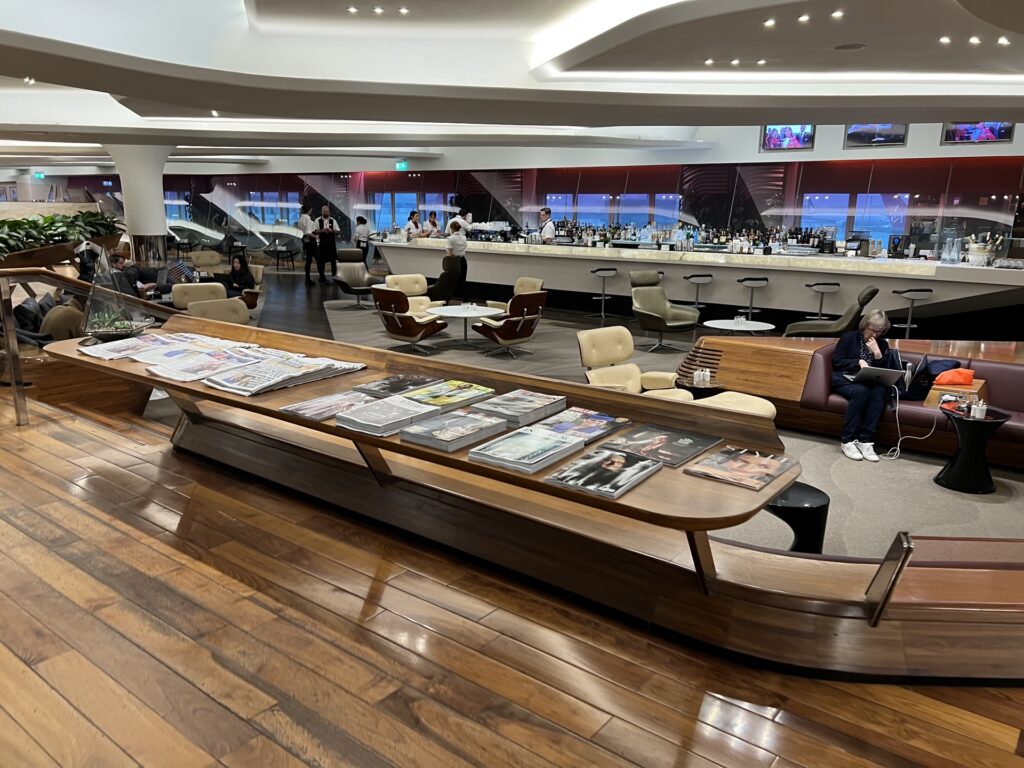 I didn't do any research on this lounge in advance and was immediately taken back by the size of the lounge. It was beautiful and had so many different levels and rooms to explore.
Whatever your mood or lounge activity of choice, there was a space for you. You could enjoy a meal at cafe style tables, snag a seat at the bar, cozy up on the comfy chairs in the quiet area or get some work done in the semi-private work spaces. The seating areas were scattered across different levels and separated by a variety of walls and dividers, creating a different environment and feel at every turn.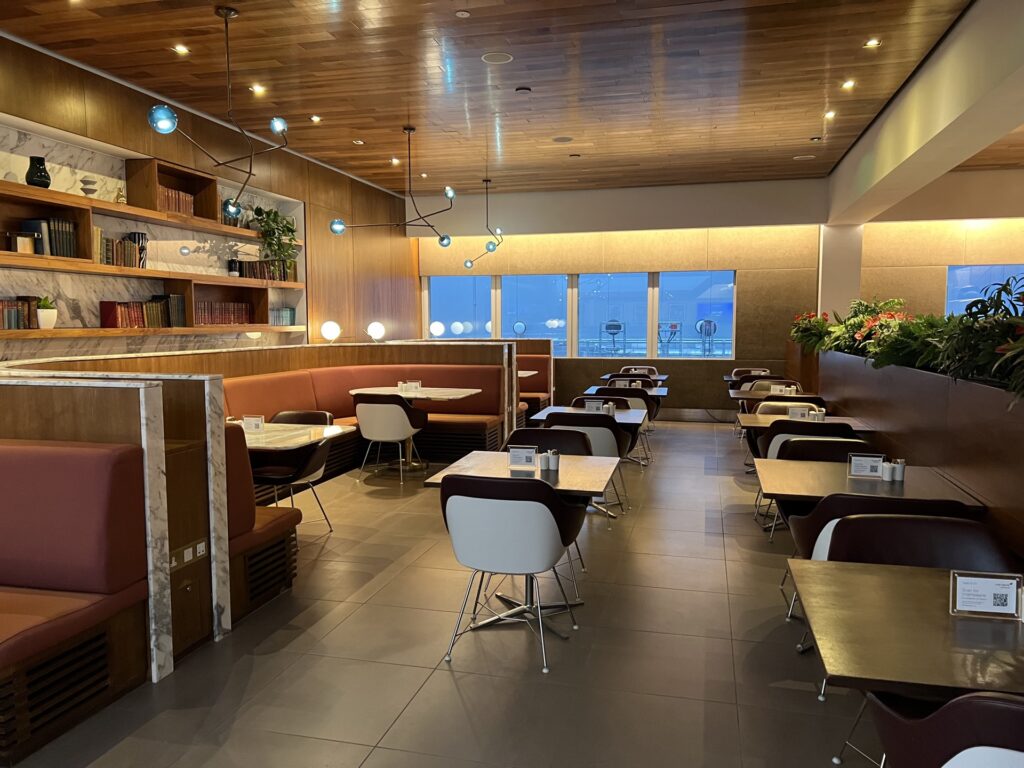 There were cell phone chargers, outlets (US and UK style) and USB ports all around. The charging options varied based on the seat type, with a bulk of the outlets located in working areas while the phone chargers were scattered more throughout the seating areas.
Food wise, most everything is available for mobile ordering. You scan the QR codes that are placed throughout the lounge to view the menu and place your order. While the system seemed flawed at the Virgin Atlantic Lounge at JFK, it seemed to work quite well here.
They had a wide section of food items ranging from snacks to complete meals, as well as a deep drink menu featuring cocktails, mocktails, and all the hard and soft drink basics. All complimentary of course.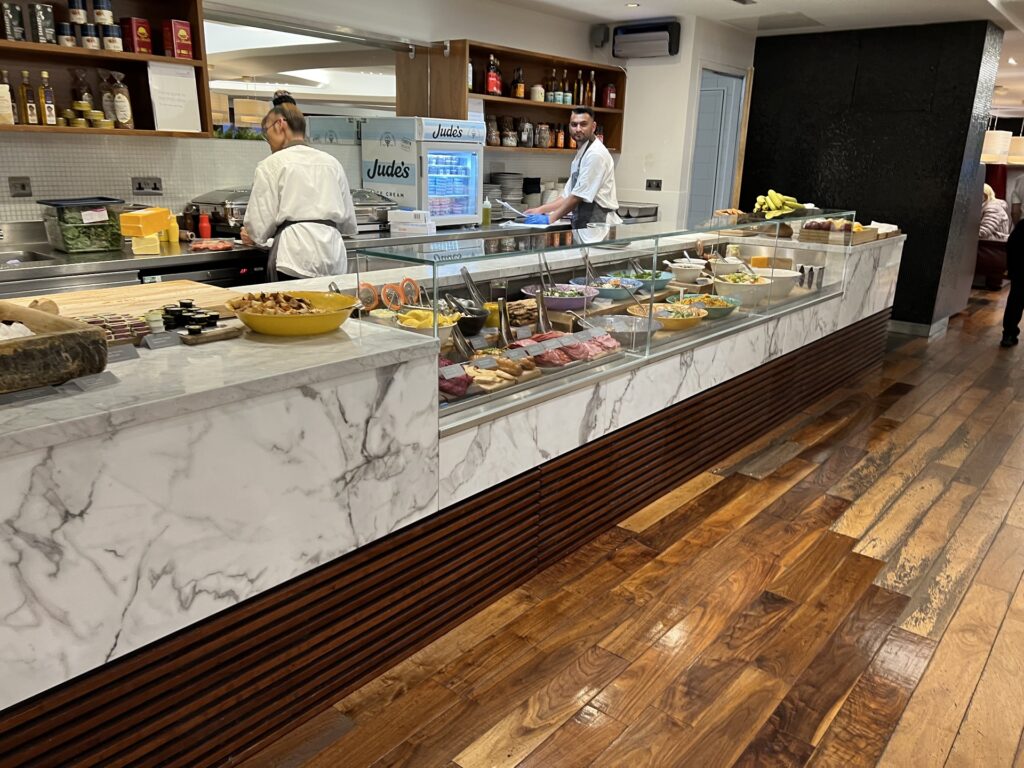 If you were in a hurry or just fancied a bit of in-person interactions, you could also pick up some snack items and appetizers from the buffet (served by an attendant) or order a drink at the bar.
And somehow I got all way to the end of the section before even mentioning the lounge also has a room with Pelotons, showers, a loft space with a pool table, and an outdoor garden area. It is truly a next-level lounge that is perfect for work, play, dining or relaxing.
Overall, I was really impressed by this lounge and was happy I was able to spend some time here. (Something I wasn't sure I was going to be able to do in the heat of my flight time debacle.)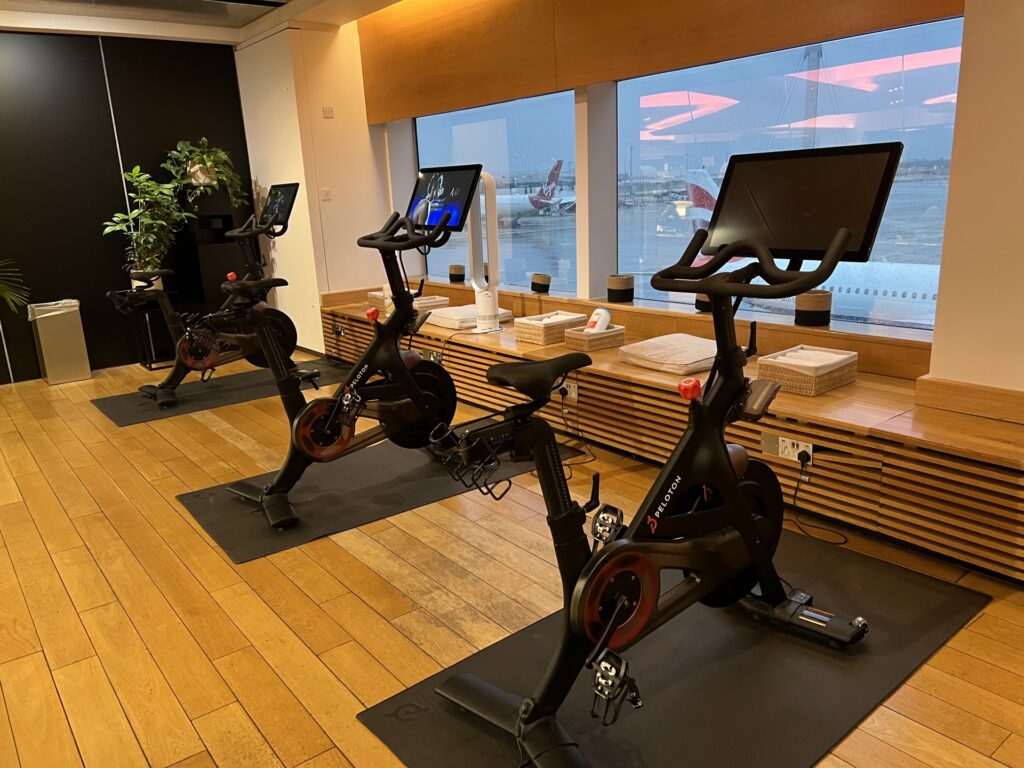 Upper Class Boarding at LHR
Upper Class Boarding at LHR was very smooth and uneventful.
I was told when I entered the lounge that they make announcements for boarding. My gate information was posted at 7:15 and boarding began at 7:20. However, by 7:18 they hadn't made the announcement in the lounge, so I just decided to head out.
It was about a 5 minute walk to the gate, and boarding started right as I arrived. I quickly boarded and was one of the first ones in the cabin.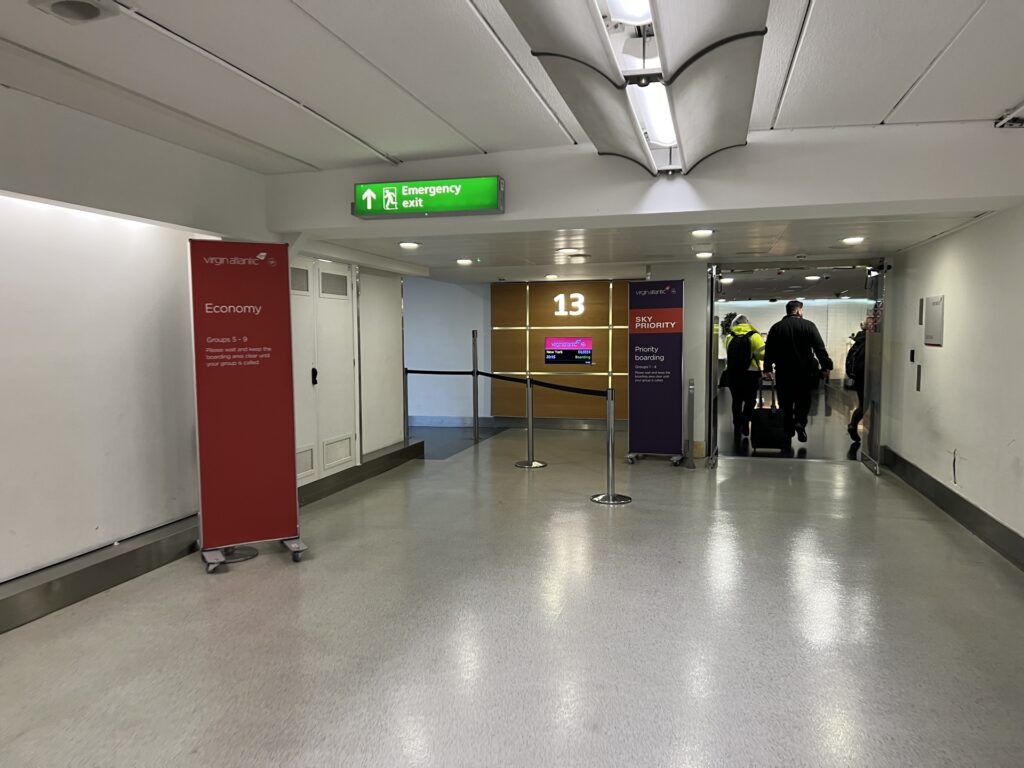 My guess is that they made the boarding announcement in the lounge when boarding began, because the bulk of the cabin showed up about five minutes later.
The moral of the story here is that if you want to board first, I'd recommend heading to the gate as soon as its posted, which is usually five minutes before boarding. Or you can Google the gate information and get there even earlier.
NOTE: Google has the right gate information most of the time, but things can change so always double check the boards and the signage at the gate when you arrive.
Upper Class A330-300 Onboard Experience
As soon as I boarded, I texted my husband to say how cute the seats were. Looking back, "cute" is not the adjective you necessarily want to hear about a business class seat, but I meant it in a good way and I stand by that.
While the seat configuration was definitely striking at first glance, I adjusted to the idea quickly. I was excited to settle in and see what the night would bring.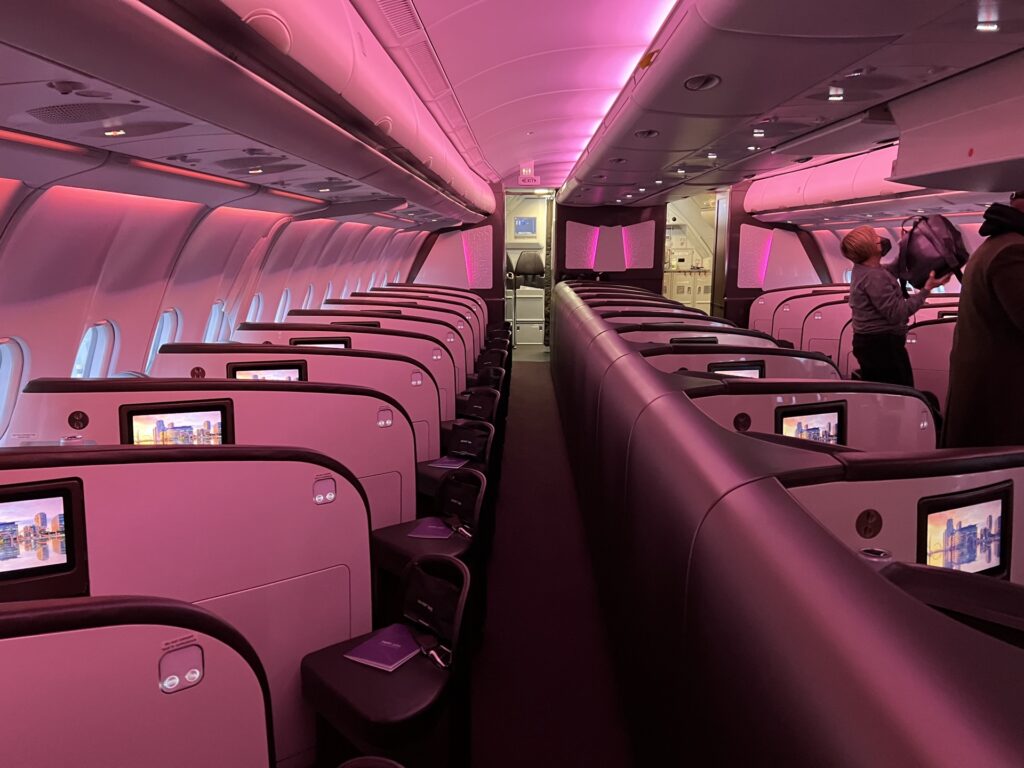 Storage in Upper Class on the A330-300
First things first. I was traveling with a backpack and a tote. After I took out my phone and AirPods, I decided to stick both in the overhead bin.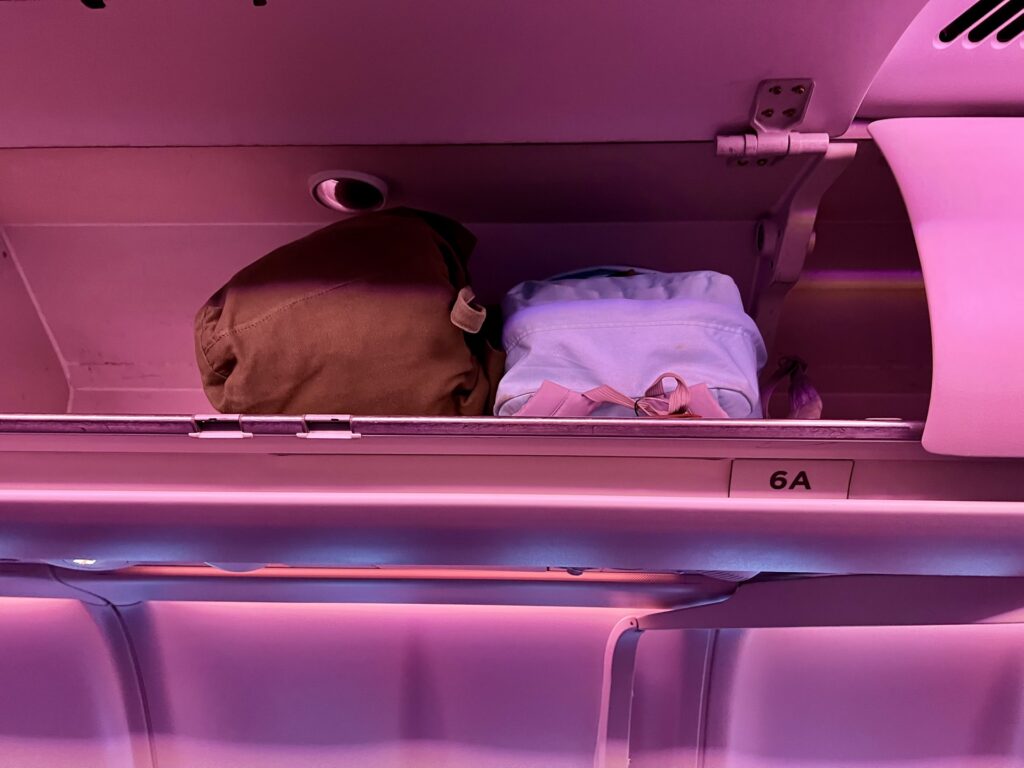 The overhead bin was surprisingly small on the A330-300. My backpack and tote fit, but the bin was narrow in height and depth. Roller boards could only fit the long ways, which meant several people had to shuffle things around to fit everything.
I ended up stowing my tote in the storage space below my footrest to make space for larger bags in the overhead bin. This was the main storage space for the seat, and it was large enough to fit my mostly full tote. I could access my items from here regardless of my seat position, and since it was under the footrest it did not impose on the bed space.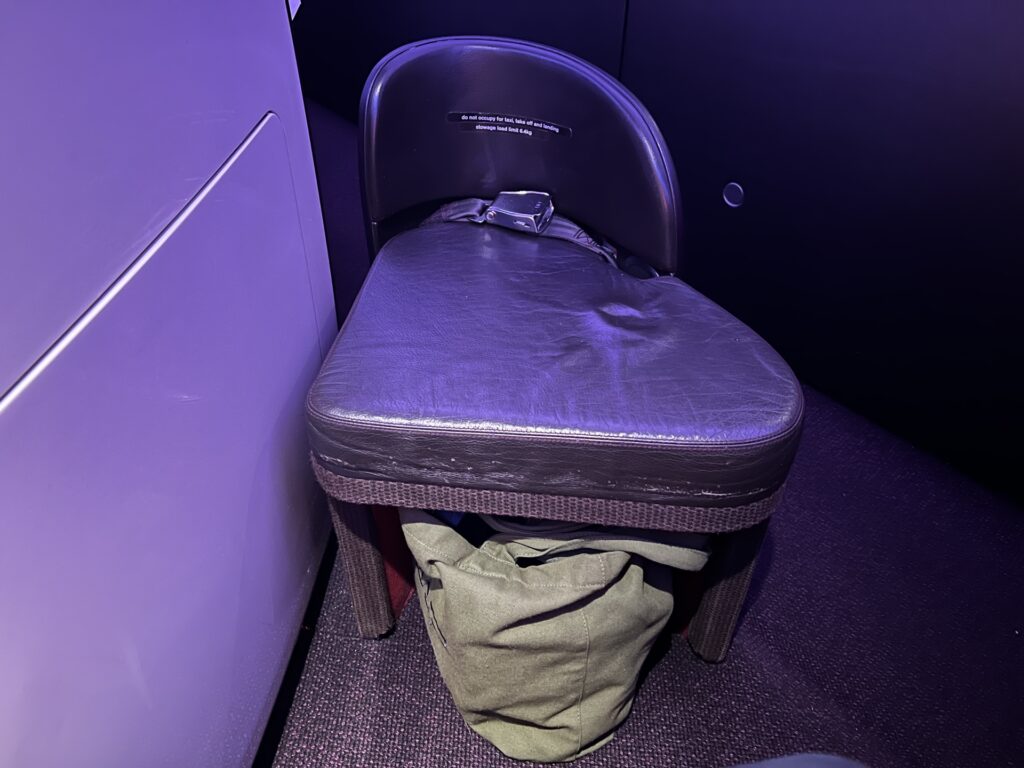 Other than that, there was very little storage space at the seat. There was only one small table that fit two beverages or a cell phone, but it had to be stowed for takeoff and landing. There was also a small cubby on one side, but that was quickly filled with the provided headphones and amenity kit. A small tablet without a case or a small book could maybe fit in there, but definitely not a laptop. There was no console on which to set or store anything else.
I only had my cell phone and AirPods out, but I still struggled to find places to set them. Luckily my leggings had pockets, because that's where I stored my things most of the time.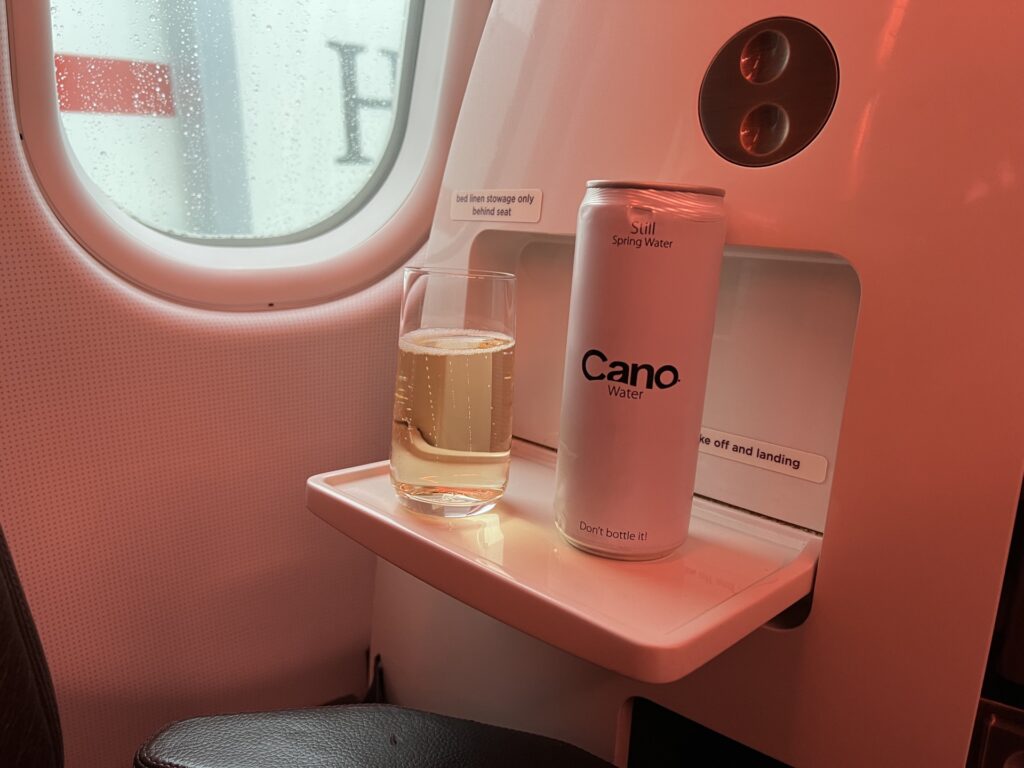 Virgin Atlantic Upper Class Amenities
Sitting on my seat when I arrived was a sustainable amenity kit. It was the same amenity kit that I received on my previous Virgin Atlantic flight a few days ago. The goodies were basic and anti-climatic, but included the following items:
bamboo toothbrush
toothpaste
lip balm
face cream
hand cream
socks
eye mask
ear plugs
pen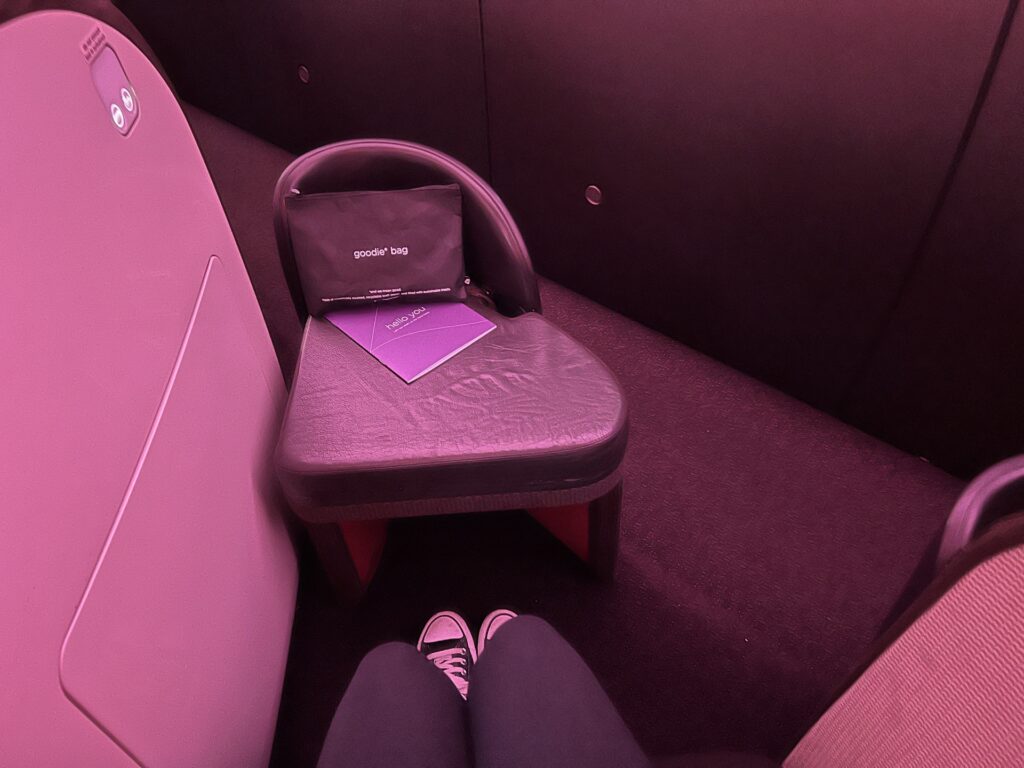 I liked that they utilized recycled materials, but an even more eco option would have been offering them to each passenger and giving them a chance to decline the kit all together. (Mine is still sitting unopened and unused in my bathroom.)
To my liking, this is how they handled the pajama distribution. Flight attendants came through offering pajamas to each passenger. You could choose your size or decline all together.
I opted out of the pajamas on this leg. Partly because I didn't actually want to sleep and partly because I got the pajamas on my last Virgin Atlantic flight and already had the same bottoms packed in my bag. (I wore the top to the London Marathon to stay warm before the race and then donated it before the start.)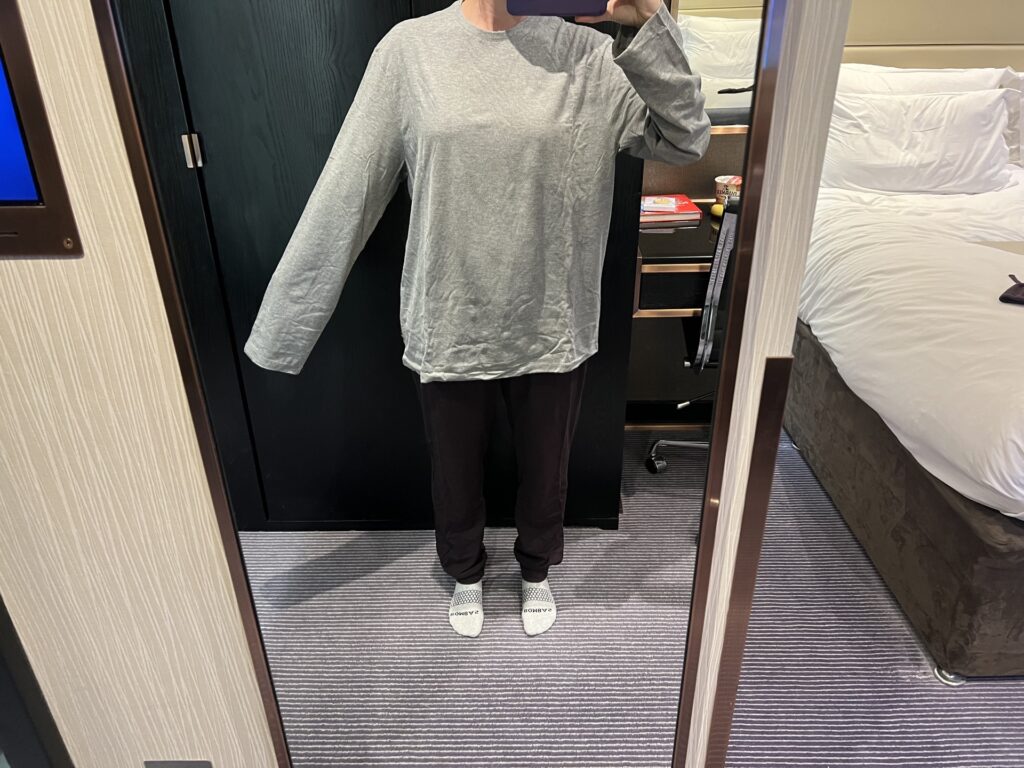 Virgin Atlantic A330-300 Upper Class seat
The Upper Class seats on the A330-300 feel very utilitarian. They are compact and efficiently placed in a way that feels like it would be a trendy new premium economy option instead of a competitive business class product.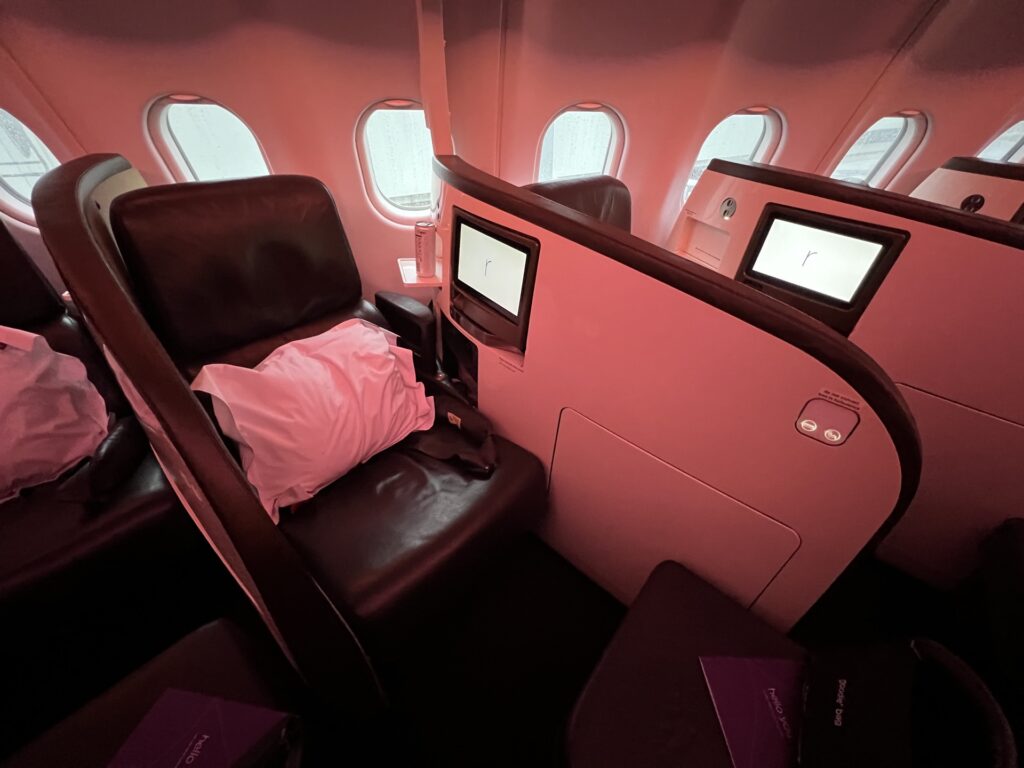 The seats aren't bad, but they definitely are not as spacious as other business class options. The seat width is objectively wide at 22 inches (2 inches wider than the Upper Class seats on the A350), but they felt smaller because there was no console. I didn't realize how much I valued a console until I didn't have one, and I definitely missed the extra breathing room it creates (and the table space).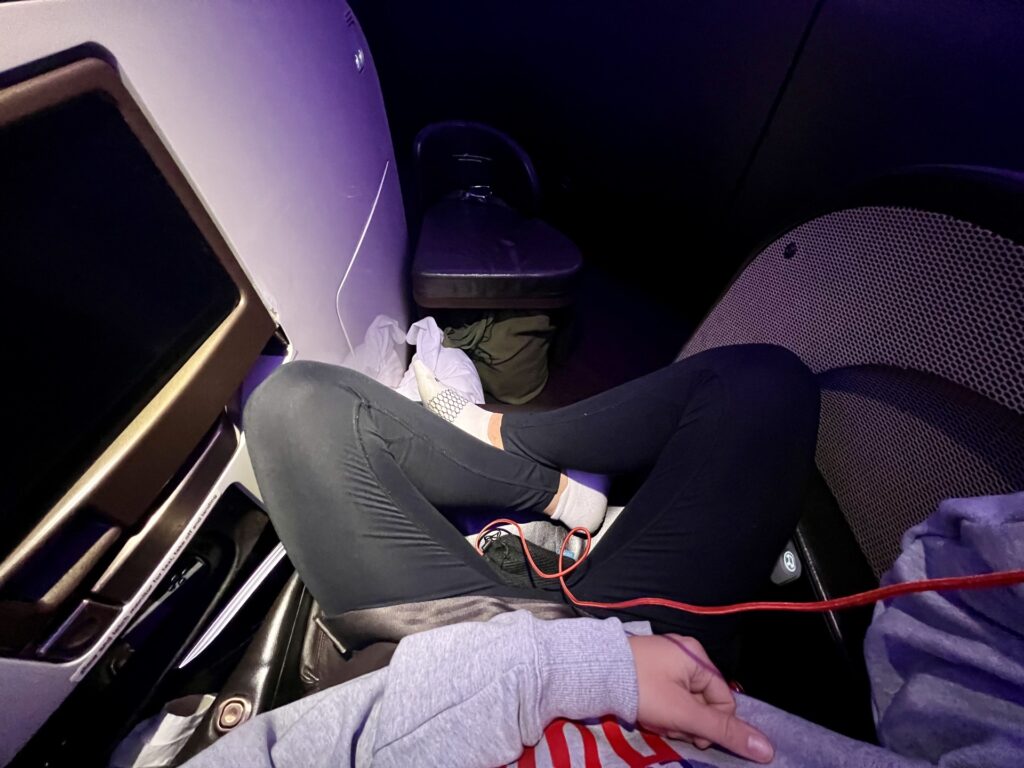 The seat itself was actually quite comfortable. It was a plush, soft leather with small armrests on either side and a pillow waiting for me when I arrived. There was a triangular, padded footrest that stayed in a set position along the aisle.
The seat could be reclined or moved forward and backward using the controls near the armrest. This same touchpad also had a button to release the tray table, which is sneakily stowed in the panel above the footrest. The tray table folds straight out from the wall and can be slid forward and backward.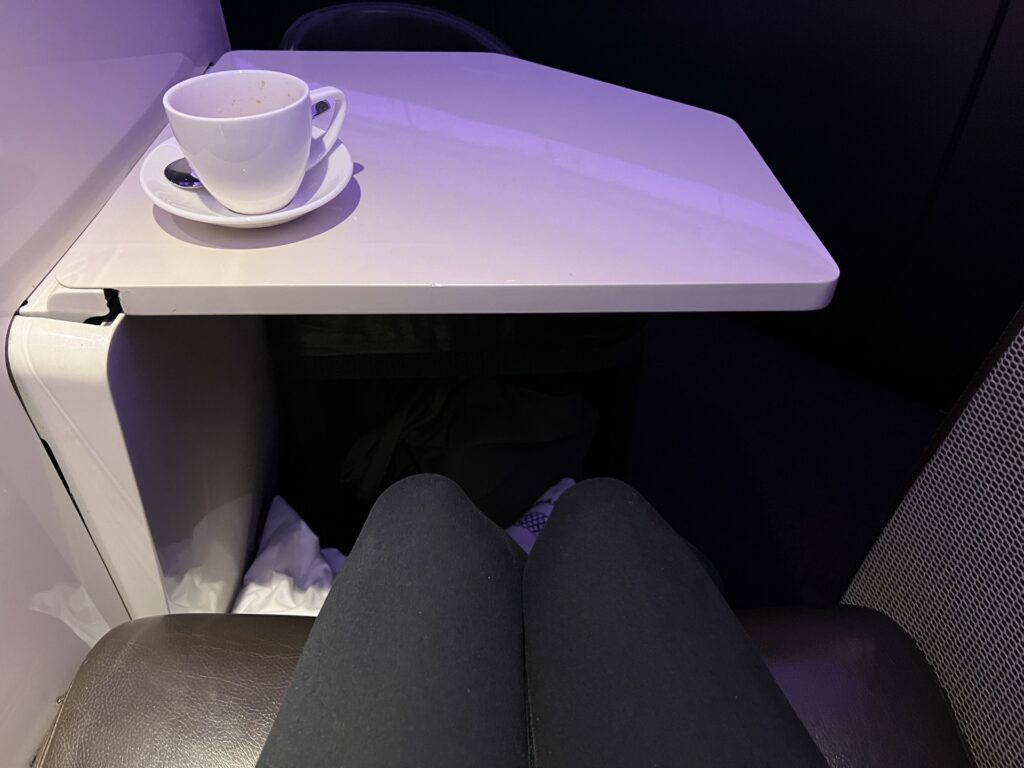 To convert the seat to a bed, you actually have to get out of the seat and use the buttons above the footrest. The seat back folds all the way forward (instead of reclining backward) and the back side of the seat actually becomes the top of the bed. This is a bit clunky because you cannot seamlessly go from bed to seat or vise versa without standing up.
And lastly, the seat was a smidge beat up. This is an older product and you could definitely see some signs of wear. The footrest was marked up a bit and some of the panel around my tv screen was chipped. Everything worked fine, but just noting these small details.
Upper Class entertainment & technology
Upper Class seats on the A330-300 have a 11.1 inch screen built into the side panel. The TV is touchscreen, but there is also a detachable remote in the side panel.
The screen has to be stowed during takeoff and landing. It's at an awkward angle while stowed, but since you're so close to the screen, you can actually still see pretty well. During the flight, you can then pop out the screen to better see it straight on.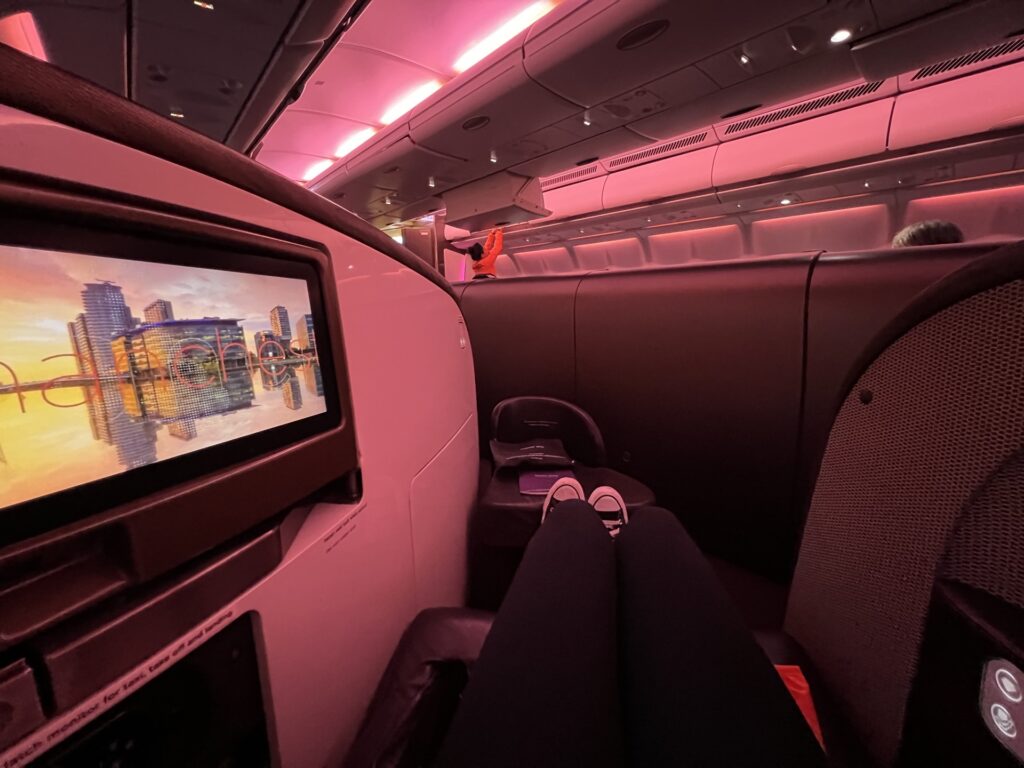 Unfortunately, you can't have the TV popped out for viewing and have your tray table down at the same time. This means you'll have to watch TV at the side angle while you're eating and until your table is cleared, which can be frustrating.
Virgin Atlantic offers a moderate selection of TV shows, movies and audio, as well as a kids entertainment section. You can preview the entertainment selection here. I personally wasn't impressed by the selection and nothing seemed more appealing than Season 1 of Schitt's Creek which I'd downloaded to my phone for the flight.
Noise reducing headphones were provided and had a standard headphone jack. The headphone input, along with a USB port for charging, was located just below the TV screen.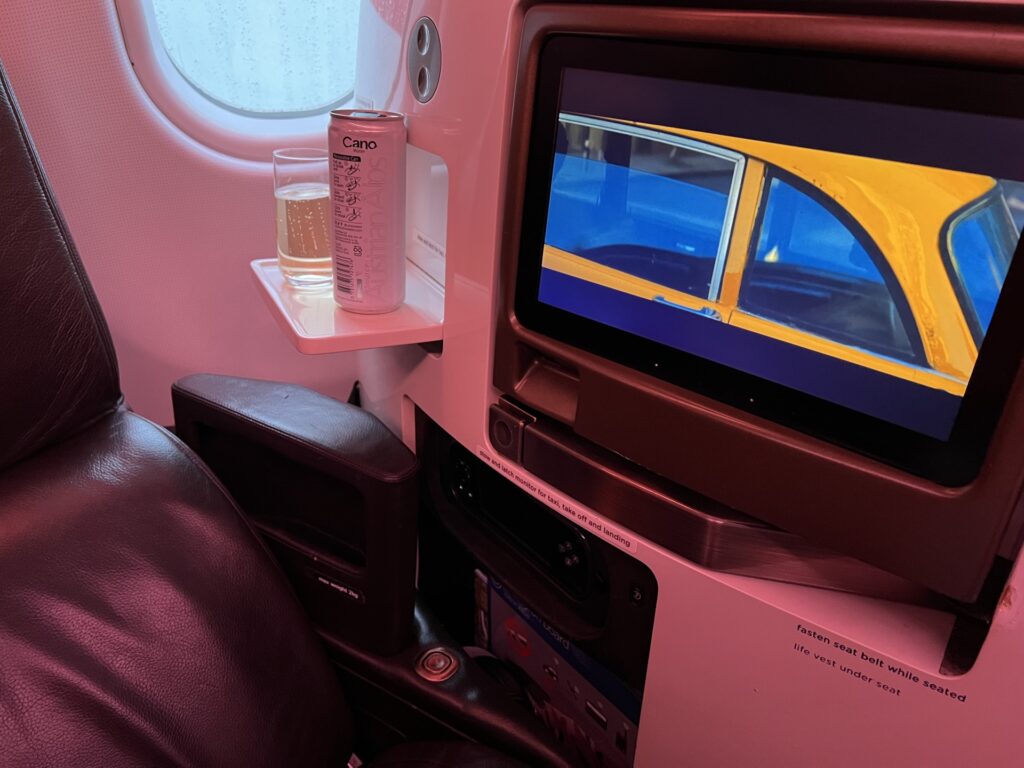 While the Virgin Atlantic website states that there is also proper outlets available, I did not see one anywhere in my seat. It seems like Traveling for Miles also had issues finding it and the flight attendant on that flight said it didn't exist. So I would not bank on a proper AC outlet for something like a laptop.
Wifi was available for purchase and was working during my flight. I purchased the messaging option and used my Ritz Visa Travel Credit.
The page to purchase wifi was very glitchy in my experience. I had to type my information into a note and then paste into the form. That could have been a phone issue though, I'm not 100% sure, but worth noting.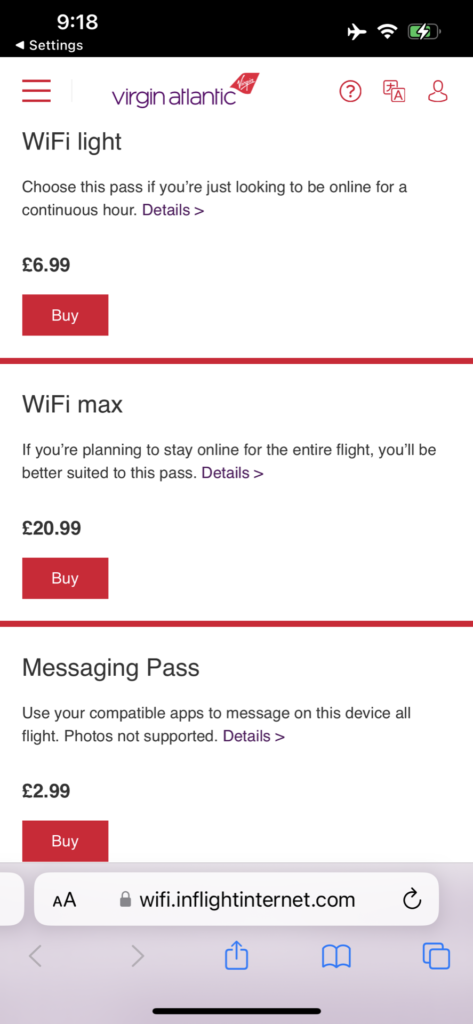 Virgin Atlantic Upper Class food & beverage
As soon as I boarded, I noted a can of water set at my seat. Something I've grown to love mid-flight. Shortly after, I was offered a pre-departure beverage.
I asked for Champagne because that's my ritual, but I could have picked anything. After everyone had placed their initial drink orders, flight attendants continued to walk through the cabin with an offering juice, Champagne and a specialty raspberry cocktail. I'm always impressed when I'm offered more than one pre-departure drink.
Shortly after take off, they came around with hot towels. I didn't have hot towel service on my last Upper Class flight, so this was nice.
Immediately after that was our first drink service. The beverage selection was average. There were a handful of wine and bubbly options, beers, and your standard onboard liquors. The cocktail selection was light, and didn't have anything interesting. They did really thrive on non-alcoholic options though and offered non-alcoholic beer, spirits and a mocktail. As to be expected, this British airline also had a deep tea menu.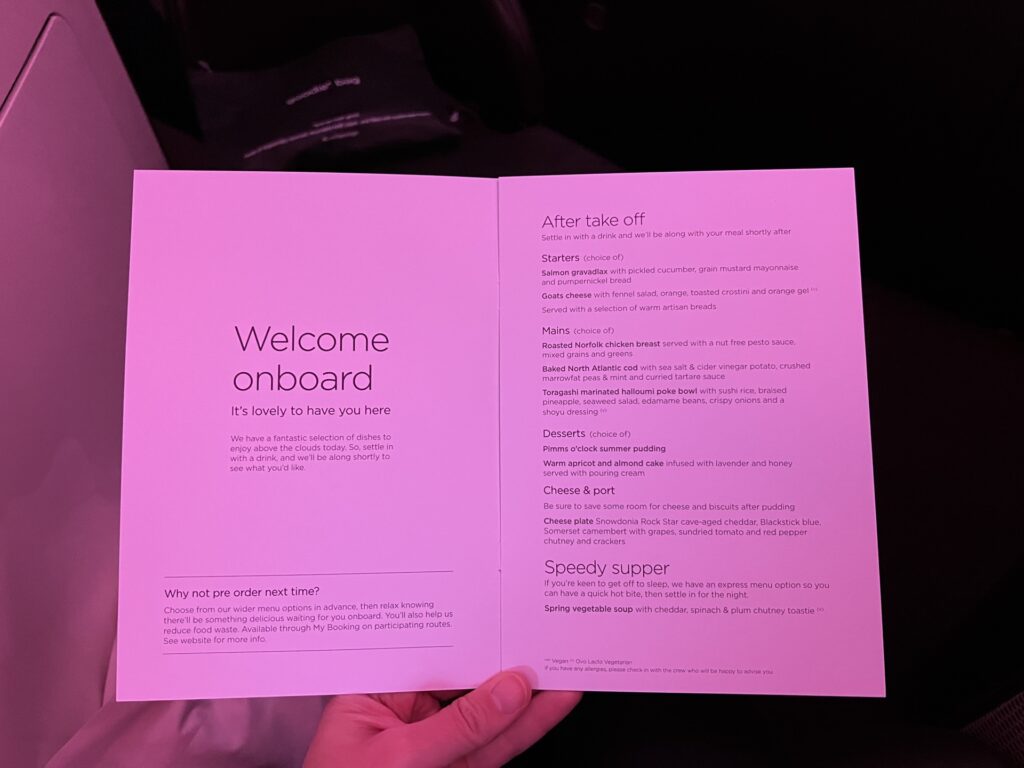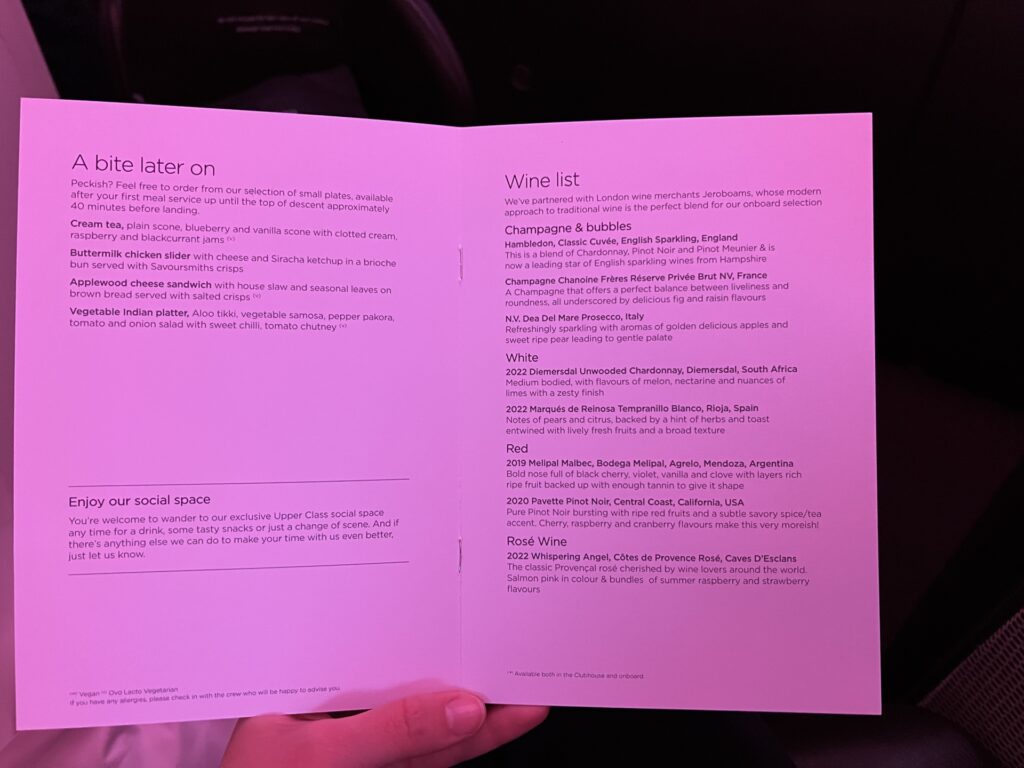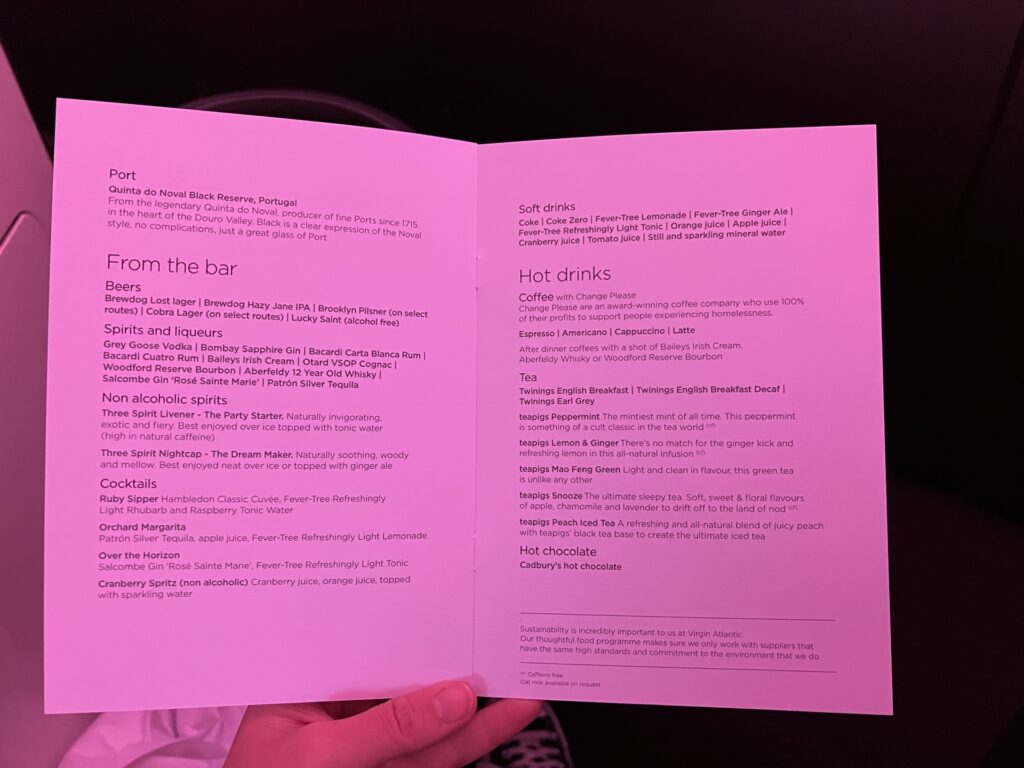 I ordered a double espresso and another glass of Champagne — I didn't know how my night was going to go. The champagne was a brut by Chanoine Freres which retails for about $45 USD per bottle. The espresso was fine, but came an in awkwardly large coffee cup. My drinks were served with potato chips, which were fine but not as good as the salt and vinegar ones I got on my last Upper Class flight.
Then they came around to take meal orders. I had pre-ordered a lacto-ovo vegetarian meal, which the flight attendant immediately noted and confirmed with me. My preorder was the same as the vegetarian option on the menu, which was great because it sounded delicious.
There was also an option for a "speedy supper" if you wanted to eat quickly and go to sleep. The offering on this flight was a vegetable soup with a toastie.
To prepare for the meal, they first came around and set my table with a table cloth and the cutest salt and pepper shakers. I received my appetizer along with an offering of bread and wine selection.
The appetizer was a beautifully plated goat cheese and orange crostini. The flavor was great but the toast was a bit stale. Then I received my entree, which was a halloumi poke bowl. It was so good that I am planning to recreate the meal for dinner at home this week.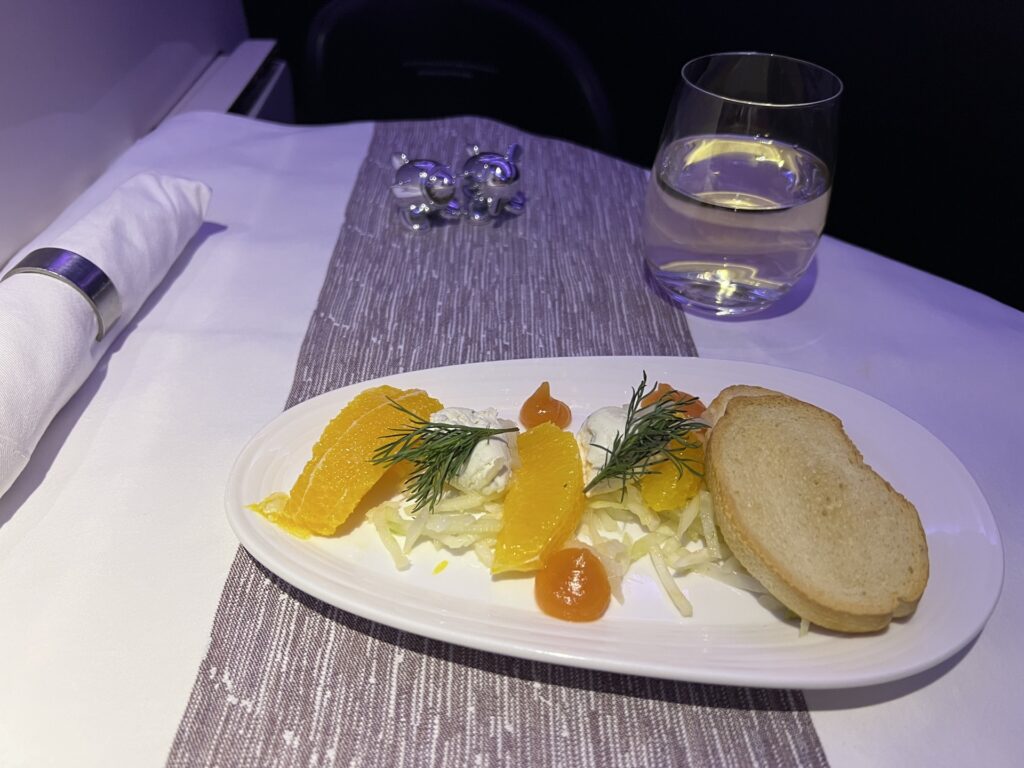 What I loved about this meal too was that it was a reasonable portion. Sometimes I feel like they give you so much and I feel guilty not eating it all. This was a perfect amount for me.
After dinner, I was offered dessert. I selected the almond and apricot cake, which again was so delicious. After eating every last bite I honestly could have had a second. (I didn't think of that until now, but I'd bet they'd have given me another if I asked.)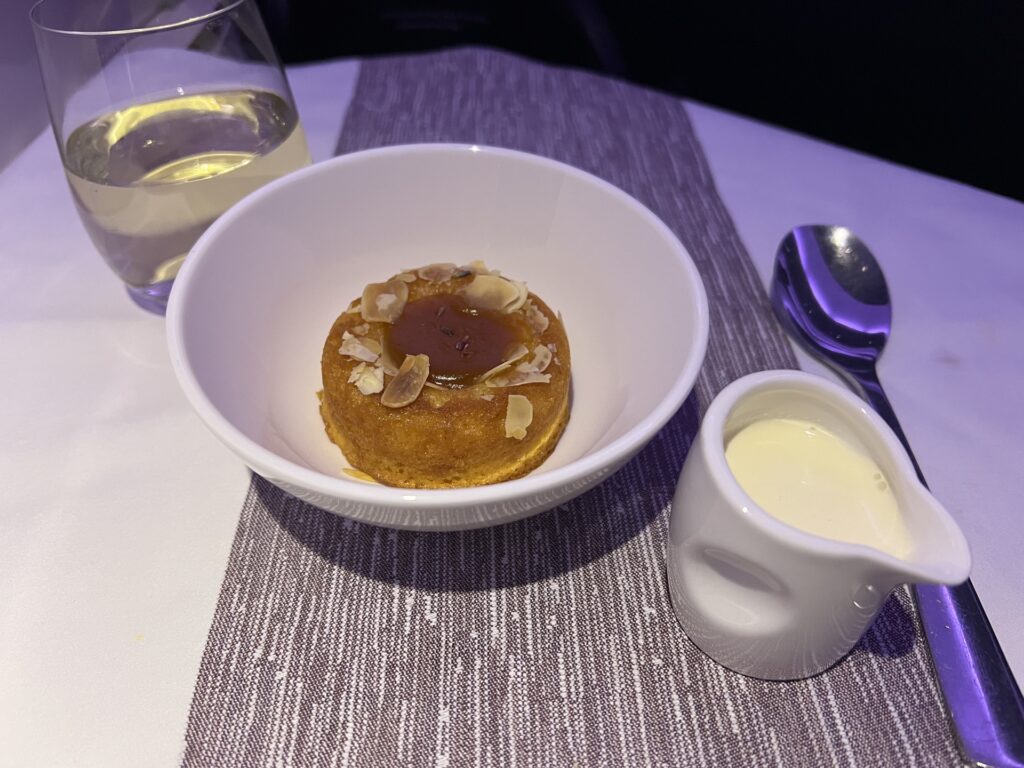 A second light meal was available on demand at anytime. The menu options all sounded delicious and included a cream tea spread, chicken or cheese sandwich and a vegetarian Indian platter. I really wanted to try the cream tea, but I just never got hungry enough.
The Bar on Virgin Atlantic A330-300
After dinner, I decided to hang out in The Bar to work on my crossword. This is the onboard social space where you can enjoy a drink, snack or chat with friends at anytime during the flight. I love a social space.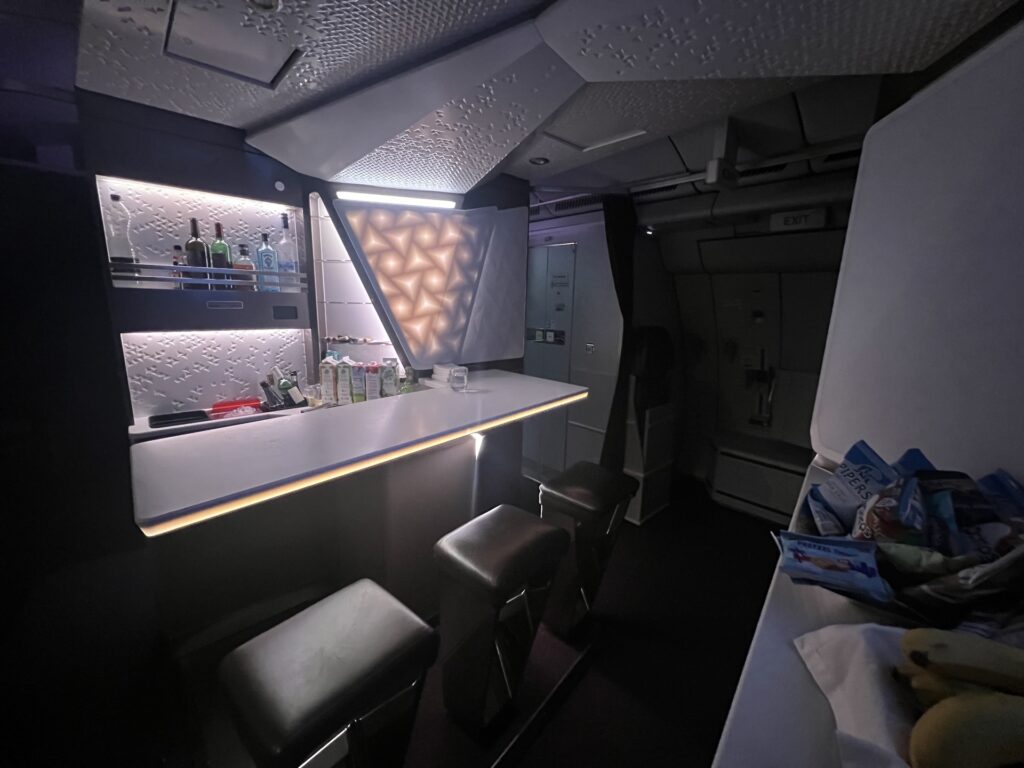 The Bar on the A330-300 is a great option, though it is notably small. The social space only has 3 seats at the bar, which isn't many for a cabin that seats 31. While I was there, I sat next to the same other two people for almost an hour, which left no room for new guests.
The bar isn't manned with a bartender at all times, but we had no problem getting served. Every time a flight attendant passed, they checked on us and asked if we needed anything. It is worth noting that two of us were just chugging sparkling waters, so they had no problem keeping our glasses bottomless.
There was also a nice spread of snacks in The Bar, which were available throughout the flight. Options included a variety of chips, nuts, candies and fruits. Lastly, there was a TV in The Bar, but it was behind the seats.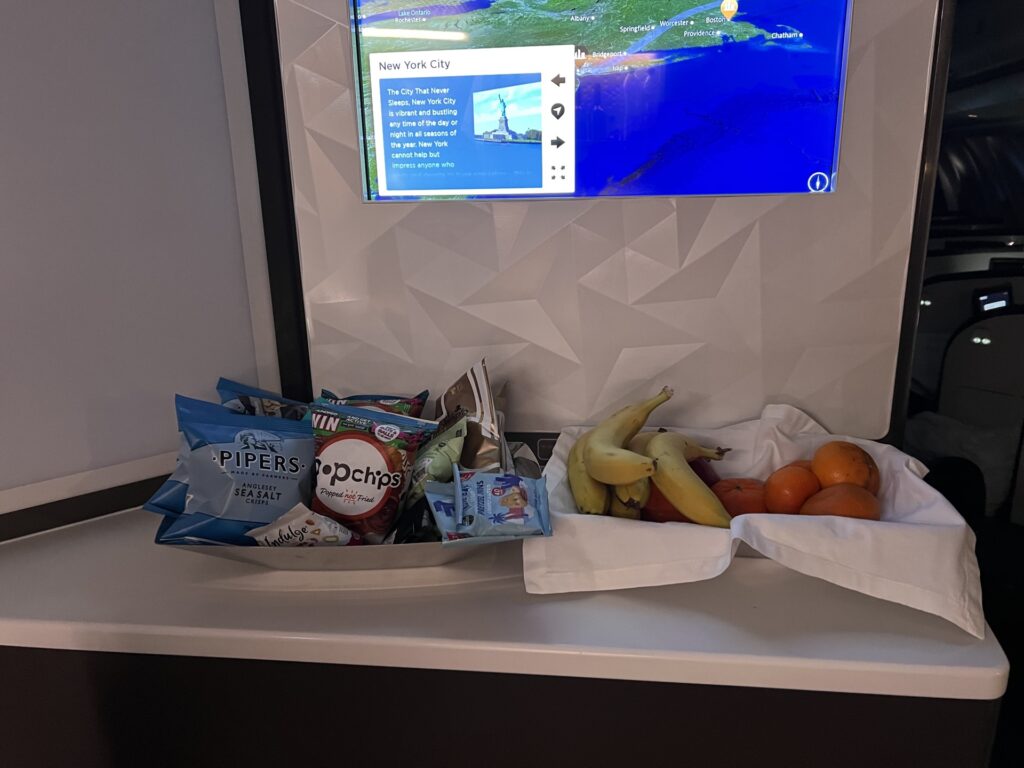 Sleeping in Upper Class on the A330-300
I wasn't particularly interested in sleeping on this flight. I left London at 8:15 PM local time and was arriving in New York around 11 PM local time, so I wanted to stay up during the flight so I could sleep all night on NY time. If you did want to sleep though, they dimmed the lights before dinner was even served and they were off for most of the flight.
That said, I wasn't opposed to getting extra comfortable so I decided to make up the bed anyway. Flight attendants were happy to assist with this, but I decided to do it myself.
As I mentioned above, I had to stand up in order to lay the seat down. The back of the seat folds forward to create a 78″ (6.5 feet) bed. There was a separate seatbelt on the bed side of the seat, as well as a seatbelt near the footrest.
I found the provided bedding behind my seat. It included a light mattress pad and duvet blanket, plus the pillow which was at my seat when I boarded. The pad was thin, but since the bed didn't have many breaks in the cushion, it didn't need to be much thicker.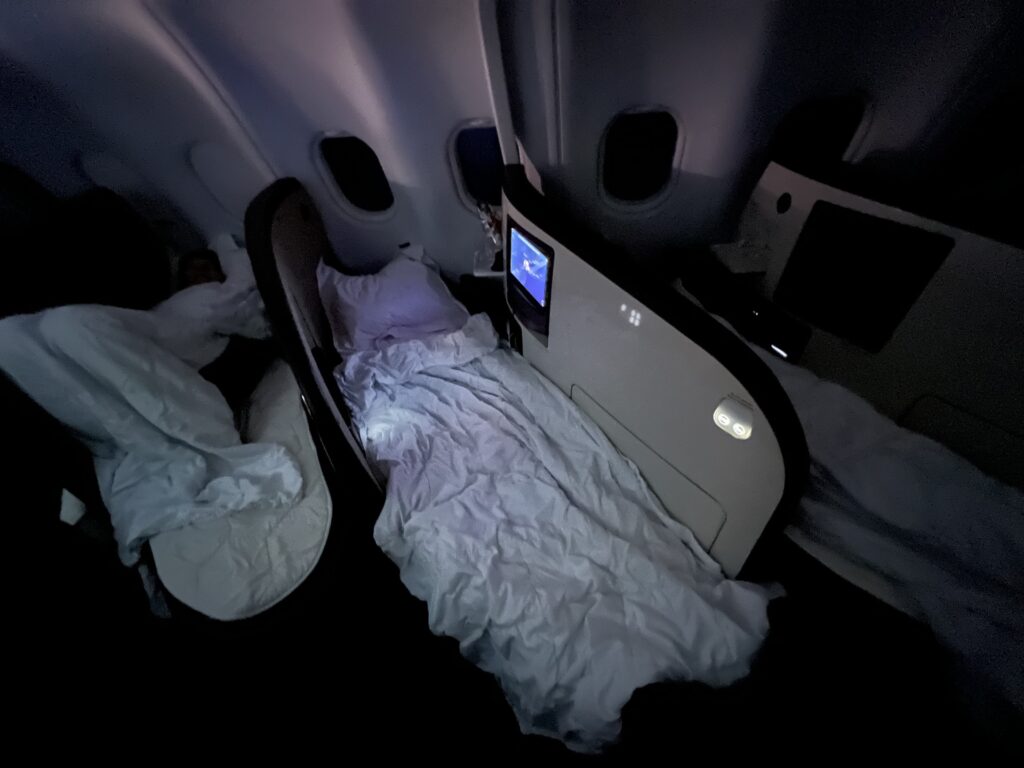 I thought the bed itself was comfortable and plenty large in the length department. However, it definitely had some downsides.
For one, it felt really narrow. There wasn't any extra space to the bed beyond the 22-inch seat width. This made it a tight fit for me (at 5′ 3″) to sleep with my knees bent. The bed is most comfortable if you lay out fully stretched. I probably could have slept in this seat, but chose not to.
Another downside is that you can't really see the TV from here. If you have it stowed, it's too high and at a hard angle. If you pop it out, you can see it, but only if you have your head propped up on the pillow. I personally was watching on my phone, which was okay, but I didn't really have anywhere to put my phone.
As we got close to New York, they turned on the lights. I found the light change to be pretty aggressive. This was not a gradual change, it was a flip-of-the-switch change which was intense.
Upper Class flight attendant service
The flight attendant service on this Virgin Atlantic Upper Class flight was some of the best I've experienced. It was so light and friendly, and professional without feeling stuffy. I don't often leave flights wanting to be friends with the flight attendants, but that's how I felt after this flight.
From the moment I boarded, I knew I was with a great crew. I was talking lots of photos for this post, and a flight attendant came over and offered to take photos of me. I would never ask for that, but I truly love when flight attendants offer.
Later, when I ordered my espresso and champagne, another flight attendant got a kick out of me saying I didn't know how my flight was going to go. She told me to let her know what I decided and she'd bring more of either (or both!). Later, she chatted with me about the show I was watching and happily hooked me up with water when I popped into the galley, even though it was her meal break.
When we landed in New York, this crew was just as pleasant as they were when we boarded. I often feel like the service peters out as we approach landing. And while I'd never blame a crew for being tired at the end of their shift, I definitely appreciate when they thrive through the waning moments of the flight.
I also found the service to be very proactive. Lately, I've felt like a lot of premium flight experiences tend to me more reactive — I can always get what I want, but I have to ask for it. In Upper Class, I felt like the flight attendants were always a step ahead. They were offering me things the entire flight without being annoying at all.
Overall, everyone on this flight was just delightful.
New York JFK arrivals experience
Our arrival at JFK was pretty uneventful. We landed and made it to our gate pretty quickly. It was a short hike to passport control, but not as long as I've had before.
I was one of the first people off the plane, so there was no line at the Global Entry kiosks. Unfortunately for me, my Global Entry scan didn't work and I had to go to an agent. This is happening to me a lot lately and it's so frustrating. Luckily it didn't take too long.
The agent first asked skeptically if I had global entry, and I assured him that I did. He said it didn't recognize my face and he'd rescan my passport which should help next time. We'll see.
There is no arrivals lounge at JFK so I was heading straight home. JFK is really well labeled for rideshare, and I followed the signs toward Uber pickup. I found my driver and was on my way to Queens.
Virgin Atlantic Upper Class on A330-300 vs A350
I flew Virgin Atlantic Upper Class on two different planes. I flew in the A350 from New York to London and the A330-300 from London to New York, which I covered here.
Some things were similar across both experiences. The service was exceptional and the food was delicious on both flights. (Though I definitely liked the salt & vinegar chips on the A350 more than the regular ones on the A330. I'm a little salty about that.) The big difference was in the seating configurations. Each seat style had some perks and some quirks.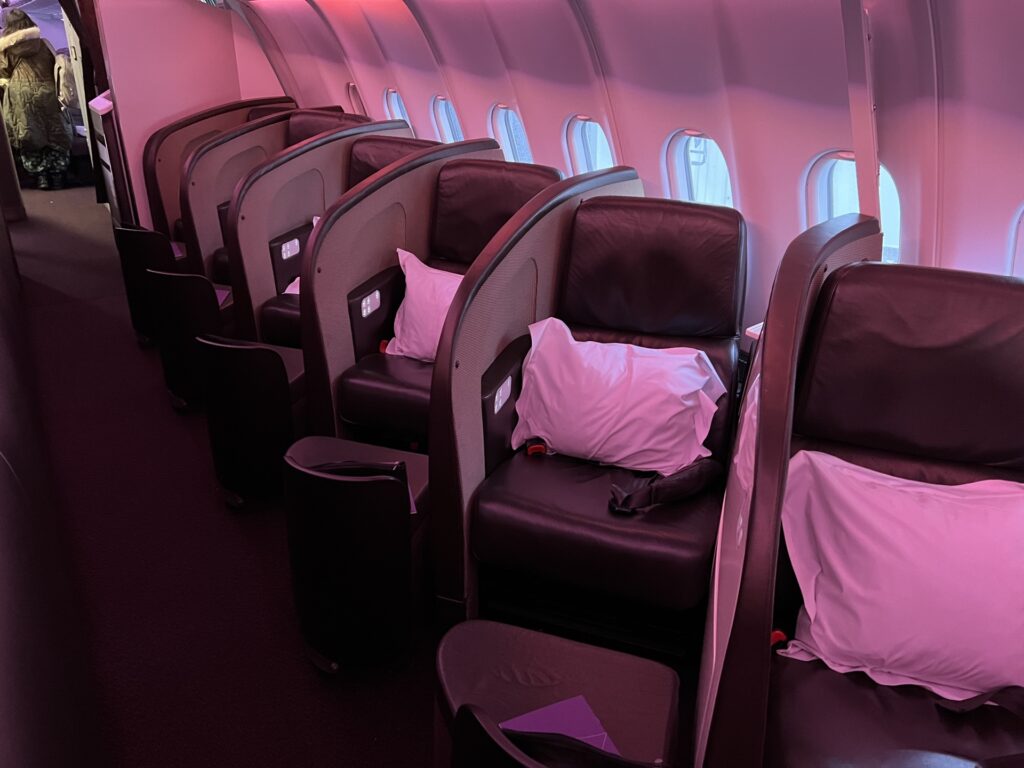 Overall, I liked the seats on the A350 better. Even though the seat was technically 2 inches narrower than the A330-300, it felt like a bigger space overall. The A330-300 seat area felt tighter and was also more exposed/open. The A350 had the console and shelves, which created substantially more in-seat storage than on the A330-300.
However, the tray table configuration was better on the A330-300. I really liked that I could get in and out of my seat while the tray table was down. That is something I could not do on the A350.
The TV placement was tricky on both. On the A350, the screen was harder to see when it was stowed because it was at a steeper angle and it was further away, but you could have the TV popped out while you ate. On the A330, the TV had to be stowed while the tray table was out, but it was easier to see from the stowed position.
The social space on the A350 had seating for a few more people, but I liked the bar seat style on the A330-300 more. I personally didn't have trouble finding a seat in either social space, but I could definitely see that being an issue on the A330-300.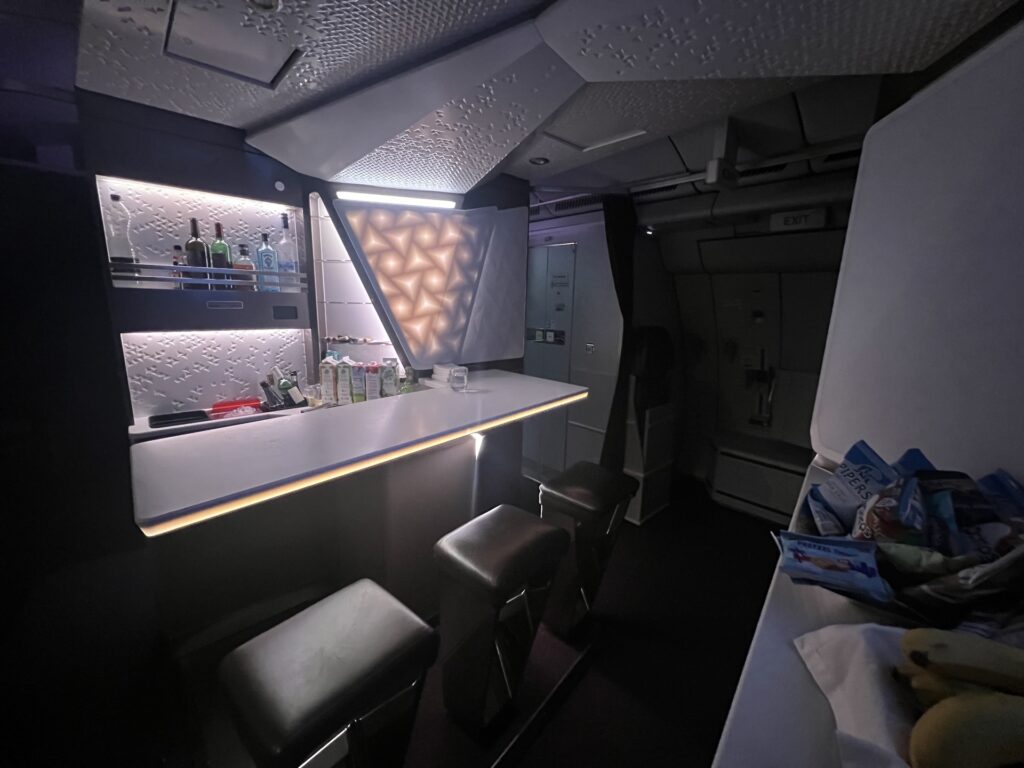 So which Upper Class product is better? If I had to pick one, I'd say Upper Class on the A350 is better than the A330-300. I just think the A330 seat configuration felt too utilitarian for me, and I prefer the semi-privacy of the pod style seating versus the more open concept of the A330-300 seats. If I were to fly Upper Class again, though, I'd be really tempted to splurge on the A330neo.
Closing thoughts on Virgin Atlantic Upper Class on the A330-300
Overall, I had a wonderful time flying Upper Class on the A330-300. What stands out the most is the friendly, proactive service and the delicious food. The low points were the seat style and TV placement.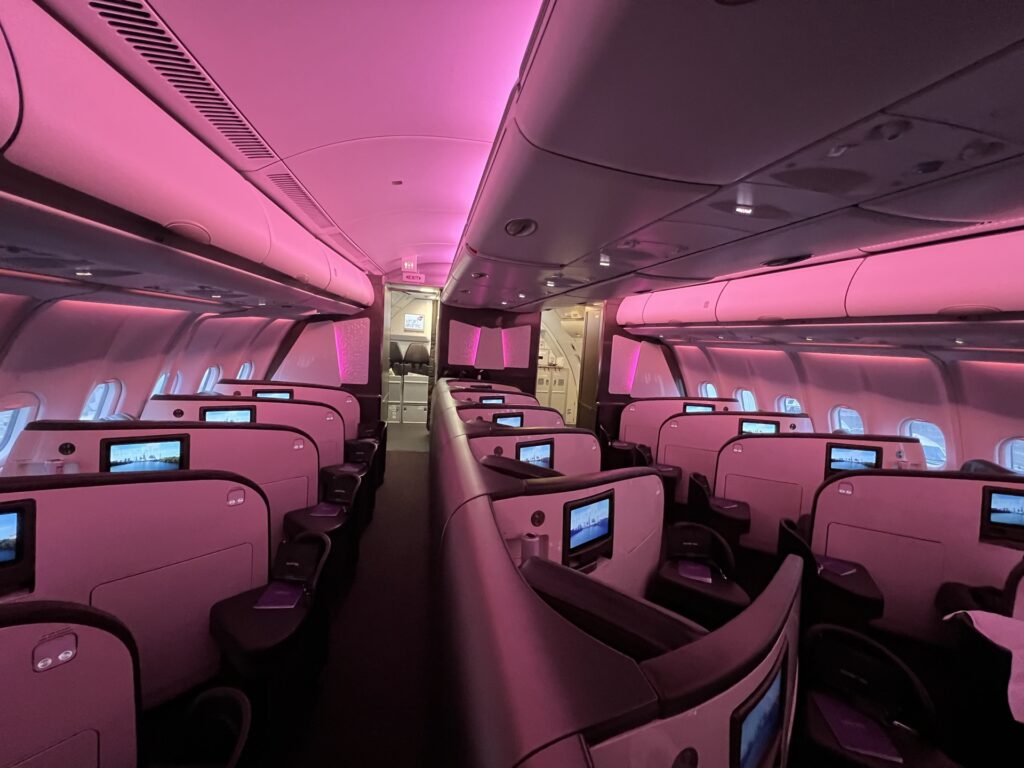 I really loved how light and breezy my entire flying experience felt. Don't get me wrong, I love the white-glove service you get flying something like Qsuites or Emirates Business Class, but there is just something to be said about enjoying all the amenities of a premium experience without feeling like you need to be so polished. I felt similarly about Air India's Business Class, though that product as a whole was not nearly as nice as Virgin Atlantic Upper Class.
I wasn't a fan of the seating on the A330-300. It just felt too cramped and open. It reminded me in concept a bit of the Air New Zealand Skycouch — like it should be an economical option to fit more people into a lie-flat seat. The service onboard the A330 definitely made it feel like a business class product, but the seats alone did not.
While I enjoyed my flight a lot, I will not go out of my way to book this particular product again. I think it's fine, but not great.