We recently flew British Airways Business class round trip between New York and London. Our British Airways Boeing 777 was equipped with the new Club Suites seats. We've flown British Airways in the past, but this is our first time experiencing one of their premium Club World Business class products.
In this post, we'll review the full flight experience to help you decide whether the British Airways Business class product is right for you. If you're interested in a relaxing and comfortable flight from JFK to LHR, I think you'll want to keep reading.
In this Post
Here's what we're covering in this post. We invite you to read the full guide or jump ahead to the section you're most interested in.
Other Long-Haul Premium Cabins
Before we go on, if you're interested in building your bucket list or seeing what we think of other long-haul premium cabins, check out some of these reviews:
About British Airways Business Class
British Airways has four travel classes. Business Class falls below First Class and above Premium Economy and Economy, in terms of cost and comfort.
British Airways calls their Business class product different names based on the route. Club World is the term for British Airways Business class service on most international and long-haul flights, while Club Europe is the name for their more limited service around the UK and Europe.
Club Suites refers to a specific Club World product that was rolled out between 2019 and 2022. The British Airways Club Suite is their best Business class product and earns its "suite" name by the sliding doors that create semi-private pods for each passenger.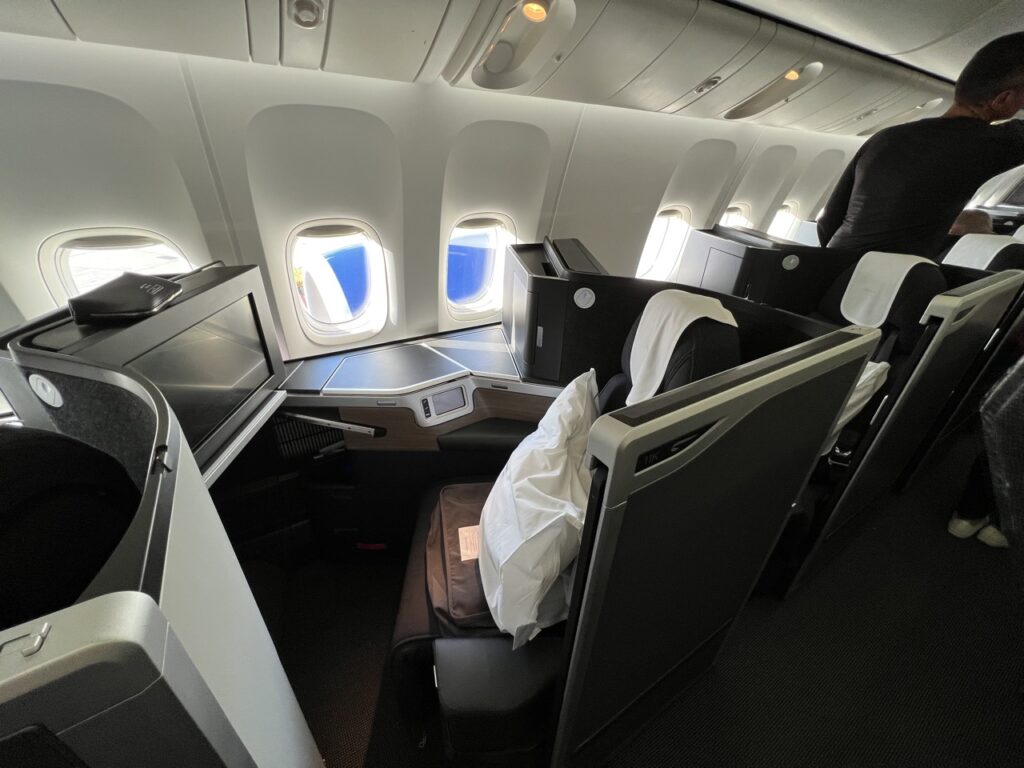 While not all Club World seats are Club Suites, all flights between JFK and LHR are scheduled to have Club Suites by the end of 2022. An easy way to confirm the product available on a specific flight is to check the seat configuration. All British Airways Boeing 777s with a 1-2-1 Business class seating configuration have the new Club Suites.
At a glance, British Airways Business class includes the following benefits:
Large, lie-flat seats with premium bedding and amenity kits
Lounge access at the departure airport and arrivals lounge access at LHR
Complimentary premium beverage options including beer, wine, champagne, cocktails and soft drinks (including alcohol-free mocktails)
Large seat-back screens with in-flight entertainment
Expedited priority lanes for checkin-in, security & boarding
Our Flight Details
We flew British Airways Club World Business class in a Club Suite aboard a Boeing 777 round trip between New York and London. Specifically, we flew on a 777-300 to London and a 777-200 on our return to New York.
The flight time between JFK and LHR is about 7 hours. Our outbound flight departed New York at 6:30 PM local time and arrived in London at 6:30 AM local time. Our return flight departed London at 8:25 AM local time and arrived in New York at 11:05 AM local time.
We paid $1,968.47 USD per adult ticket for this round-trip Business class flight, which included all taxes and fees. We purchased two tickets at this price, and paid an additional $158.27 USD in fees for our lap child. Children under 2 years of age do not need their own ticket and can sit with an adult in Business class.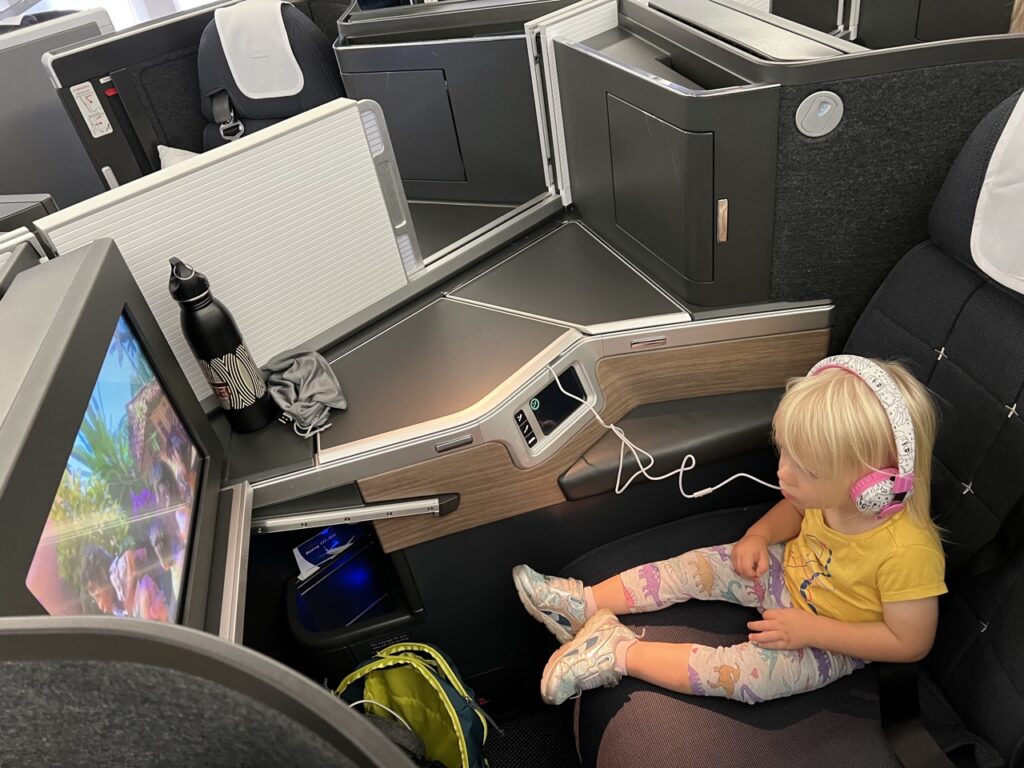 We paid for this flight with cash and did not use credit card points. Even though we are sitting on a large stockpile of points, this price was actually really good. Business Class tickets for this route can be double or triple what we paid at other times of the year. We opted to save our points for a later splurge when we were not likely to find such a good deal.
It's hard to choose whether Business class is better at night when you need the bed most or during the day when you can stay awake to enjoy the amenities longer. It was really nice to do both. I personally enjoyed the daytime flight more with British Airways Club World — and so did my little one who screamed the entire redeye and not once during the daytime return.
New York to London Travel Day Details
Since we flew British Airways Business class round trip between JFK and LHR, we can report on the departure airport experience at both New York JFK and London Heathrow.
In our personal experience, we found the JFK airport experience to be overall more disorganized and chaotic than our experience at Heathrow. This could easily be chalked up to time of day or day of the week for our specific flights.
In either case, we'll start by breaking down our JFK travel day experience. You can find our LHR travel day experience later in this post.
NOTE: There is also an arrivals lounge at London Heathrow which is available to British Airways Business class passengers. We had a toddler running on fumes, so we were unable to stop there on this trip. One Mile At a Time has a great review of the arrivals lounge if you're looking for more details on that.
British Airways Club World Check-in at JFK
NOTE: During our trip, British Airways was operating out of Terminal 7 at JFK. British Airways has since moved to Terminal 8 at JFK (as of December 1, 2022). Your experiences in Terminal 8 may be different than our experiences noted in this section.
Terminal 7 is accessible via car from the drop-off lane or via Sky Train for travelers arriving via public transportation or long term parking.
There is a priority check-in lane for British Airways Club World passengers, which had no queue when we arrived. This lane is located on the far left side of terminal (facing the terminal from the entrance doors). Passengers can check their bags and/or print their tickets here.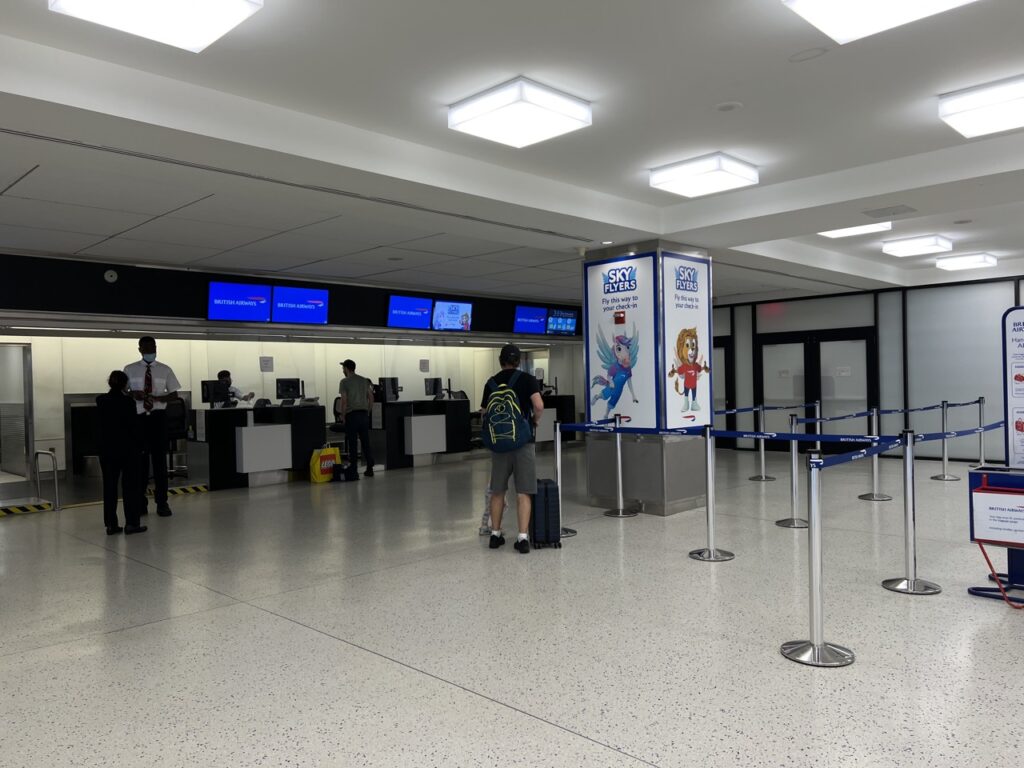 Even if you are not checking bags, all passengers traveling to the UK aboard British Airways must go through a passport check at the check-in desk. If you do not go through this check landside, they will call your name at the gate and will need to check your passport there before you can board. This may delay your boarding.
There is a Fast Track security line for British Airways Club World passengers located just past the priority check-in lane. While the wait for this security line may be shorter, it is standard security and does not have TSA PreCheck.
The British Airways gate agent suggested that it would be faster for us to walk to the main TSA PreCheck line instead. While PreCheck was more convenient, the queue was definitely not faster. With only one agent checking boarding passes, the TSA PreCheck line was moving slower than the standard security queue.
British Airways Club Lounge at JFK Terminal 7
NOTE: The specific lounge we review in this section is now closed. British Airways has three new club lounges at their new location in Terminal 8. Passengers flying British Airways oneworld Business class will now have access to the Greenwich Lounge, which you can read a review of here.
Passengers flying Business class with British Airways from JFK will have access to the British Airways Club lounge. Just past Terminal 7 security is an escalator up to the second floor. This escalator leads straight to the British Airways Club lounge.
The lounge is large, comprising several rooms with different aesthetics and offerings. Most rooms are equipped with a bar or some sort of drink station and a selection of snacks. You'll be able to choose between a variety of seating arrangements including tables, lounge chairs or bench-style seating.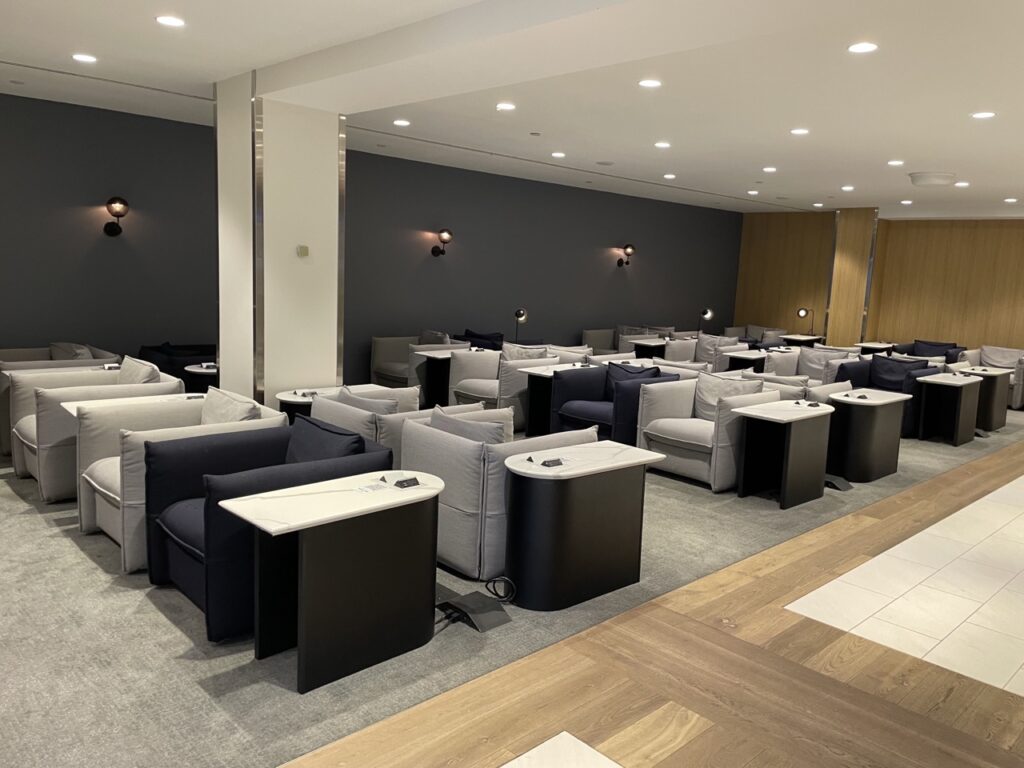 Each seat in the lounge is numbered and has its own QR code. Guests can scan the QR code and place food or beverage orders. The online menu includes beer, wine, cocktails and soft drinks, as well as vitamins, full hot meals and desserts.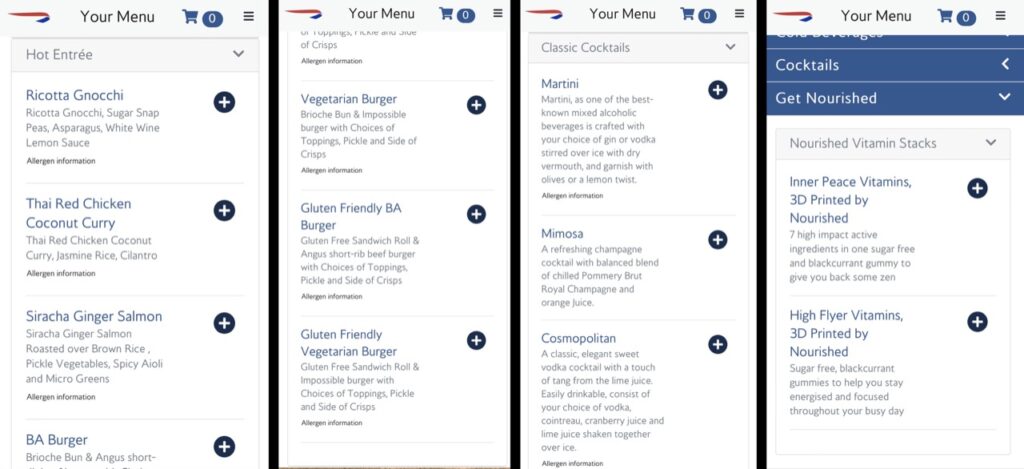 We utilized the online ordering functionality a couple times. Each time, we received our drinks or food items within minutes. It was definitely as fast as walking up to the bar and placing your order, maybe faster.
If you prefer to serve yourself or are looking for different options, there is also a large buffet with a sandwich station, salad bar and dessert selection located in the brasserie section. There are smaller salad bars and snack stations scattered around the other rooms. Beer, wine and soft drinks are also available in coolers and carts around the lounge.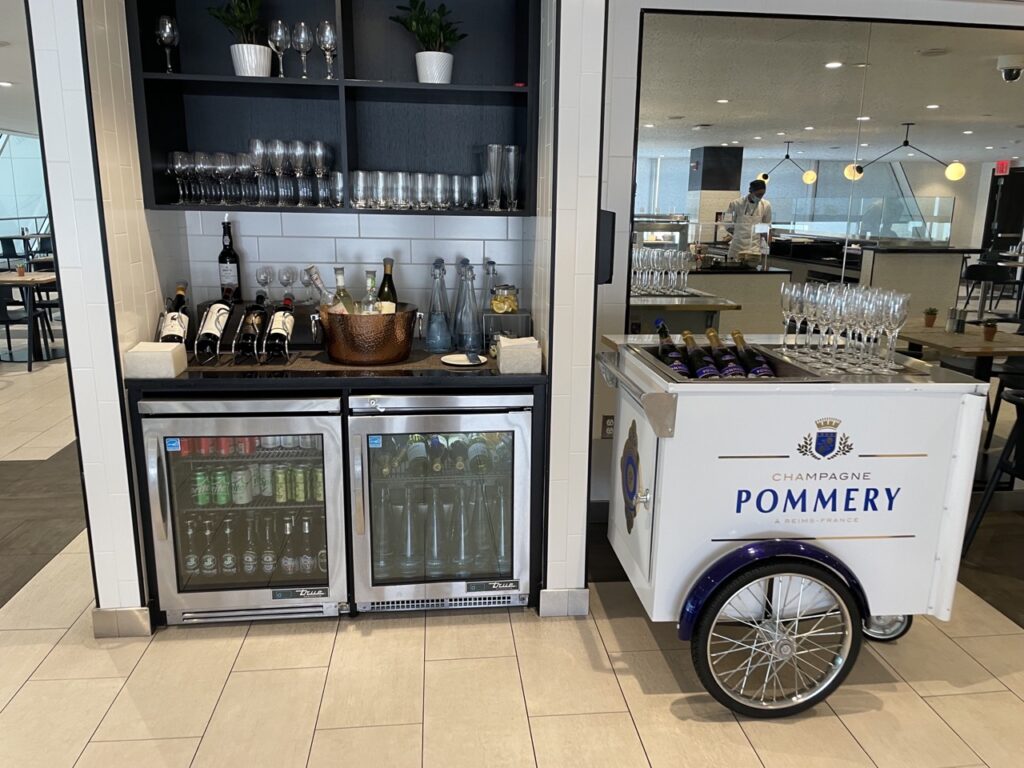 I'm disappointed to hear this lounge is closing. I found it to be delightful. It was well stocked, very spacious, and the service was impeccable. This was probably one of my top three favorite airport lounge experiences.
Boarding British Airways Club Suites at JFK
We arrived at our gate about 20 minutes before our scheduled boarding time. By that time, a large crowd had already gathered around the gate area. There was an announcement over the speaker that our boarding was delayed by 10 minutes.
There was no announcement stating that pre-boarding had began, but we looked up and noticed that other families had started to board. We were traveling with a toddler and slowly pushed our way to the front. We got through just before they announced over speaker that First Class could begin boarding.
First and Business class passengers who were not already at the front had to push their way through the crowds a bit to get to the gate. The gate agents did not make an attempt to clear the boarding lanes, which made it feel very chaotic.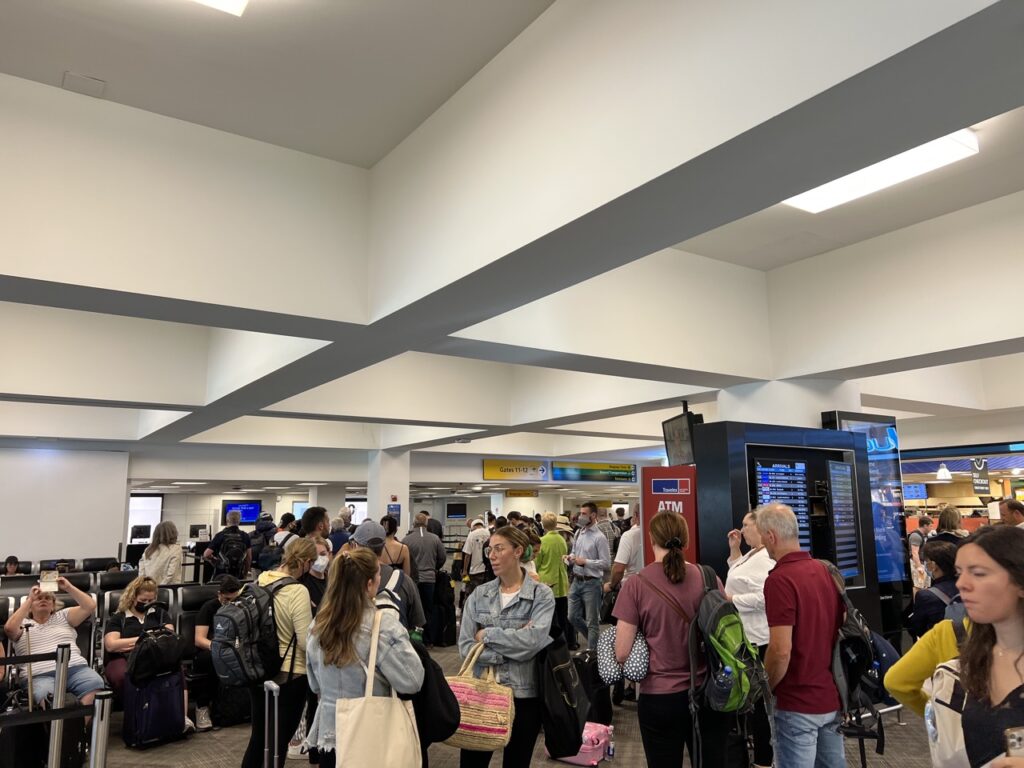 Once we made our way down the jet bridge and boarded the plane, we were cheerfully greeted by the British Airways flight attendants. They are a UK-based crew so their accents immediately triggered the start of our London vacation.
The Club Suites seats on the 777 are in a 1-2-1 configuration, meaning there are two aisles. Flight attendants were directing passengers to the correct aisle based on their seat number when they boarded.
I wasn't paying attention and I ended up going down the wrong aisle. You can't cut through the two middle seats, so I had to walk to the end of the section, cut over, and then come back up the other aisle. Just looking at the cabin should remind you that international Business class is far superior to even the First Class cabins you might encounter on domestic trips with airlines like United or Delta.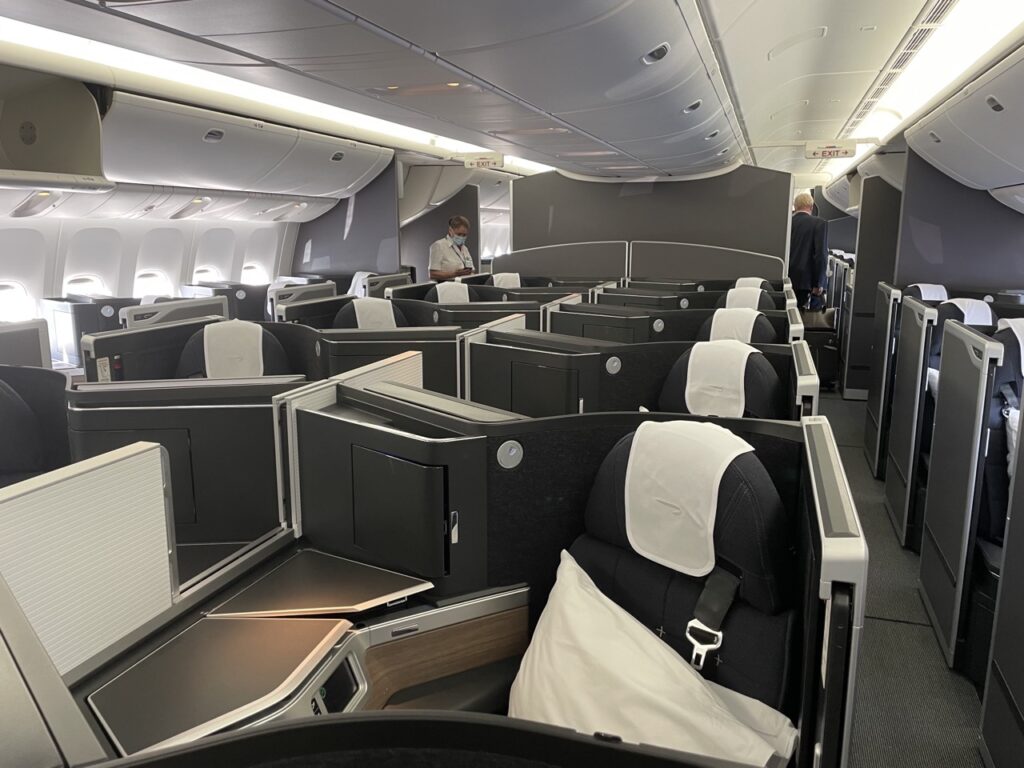 British Airways Business Class Club Suites Seats
The British Airways 777 Business class Club Suites are semi-private pods, complete with lie-flat seats and a sliding door. Each seat has direct aisle access.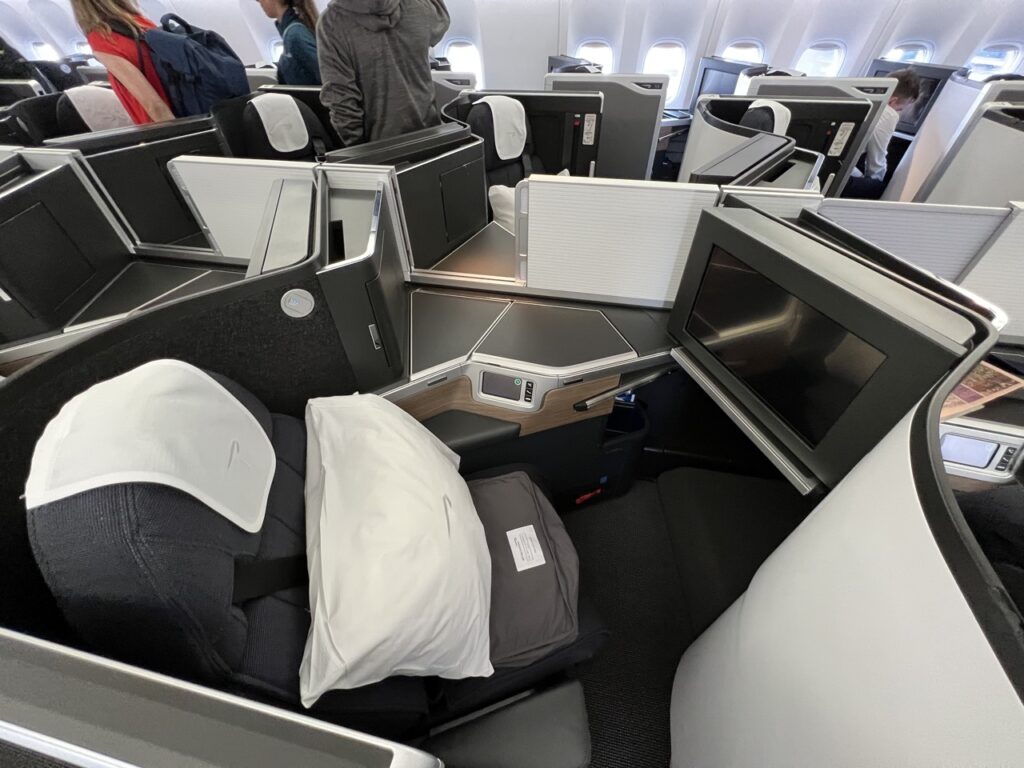 The sliding door is about 4 feet high. It's tall enough to limit the view from other sitting passengers, but anyone standing can easily see in the pod. The two seats in the center row are also separated by a sliding privacy door.
The Business class seats are large, plush and very comfortable. They can be positioned upright, reclined or a fully flat as a bed. The seat position is controlled by a touch pad to the side of the seat.
There is abundant leg room and the space would be comfortable for travelers of all heights. In addition to the leg room immediately in front of the seat, there is more space under the console of the seat in front. This space is also used for the leg portion of the bed.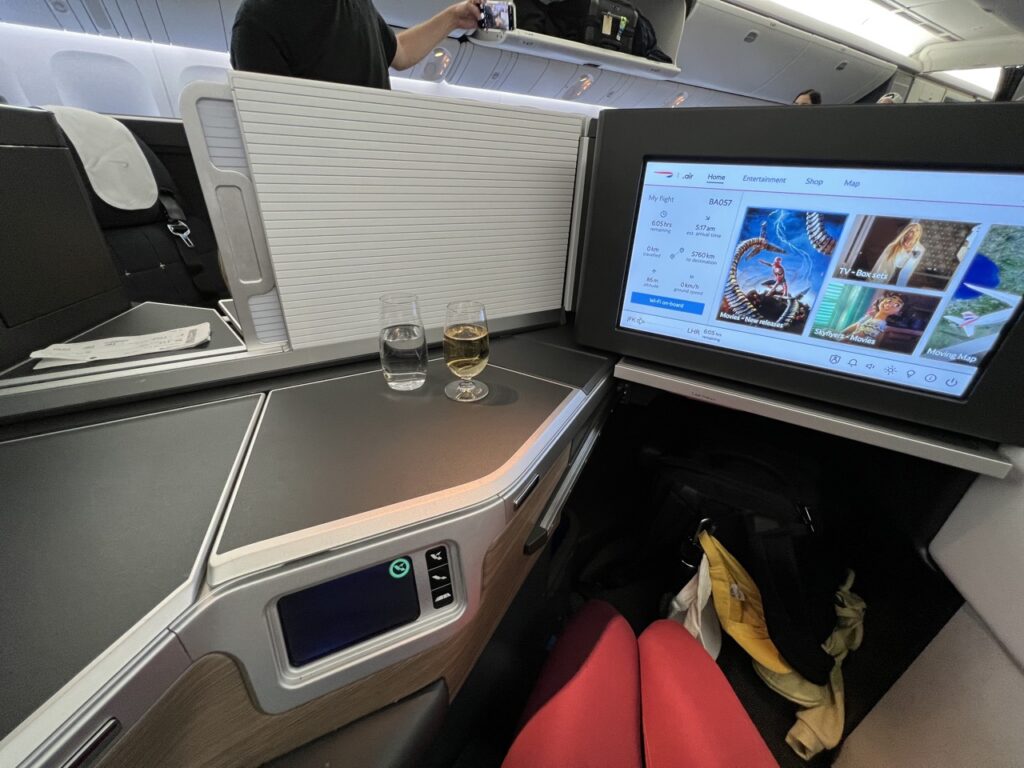 The Club Suite seats convert to a 79″ flat bed. A mattress cover, duvet blanket and pillow were provided. The bed was overall very comfortable. On the bare bed, you could feel each of the breaks in the cushions. This was lumpy, but the provided mattress pad would have resolved this issue.
My biggest complaint about the comfort of the seat was the seatbelt. The Club Suites seats have seatbelts with shoulder straps which needed to be used during takeoff and landing.
The shoulder straps had very little give. I found it impossible to reach down to get anything from the floor or out of my backpack when the shoulder strap was engaged. Fortunately shoulder straps were not required for the cruising portion of the flight.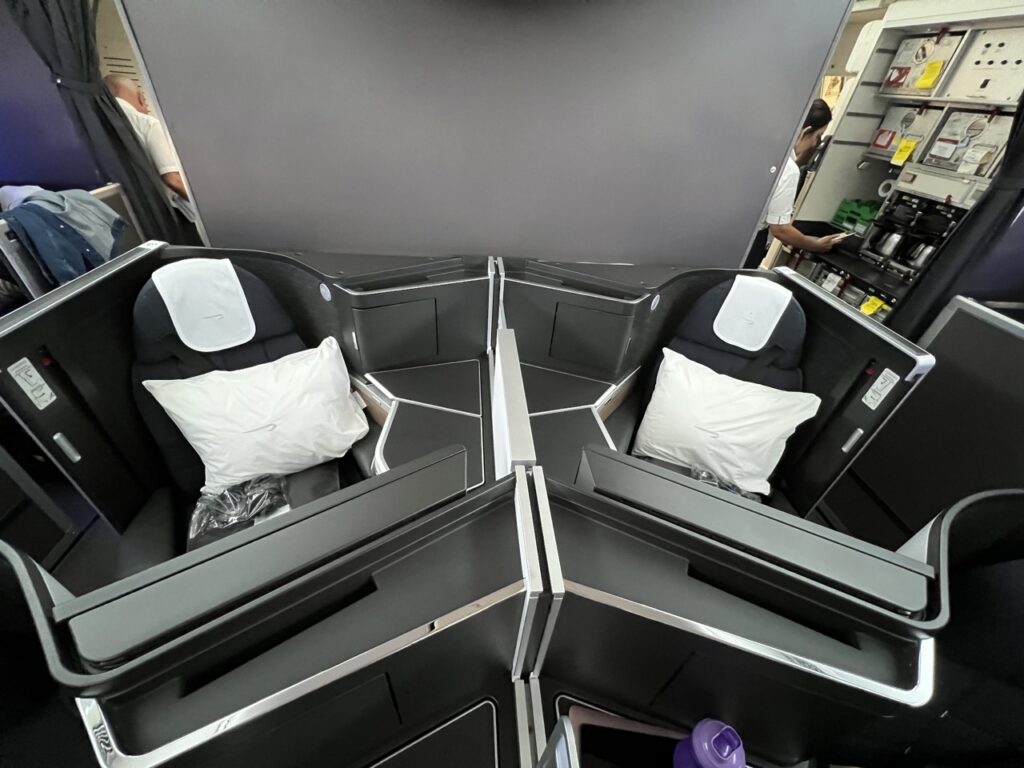 Club Suites Storage
There is sufficient storage space for passengers traveling in the Club Suites. That said, I didn't find the storage locations convenient for keeping my larger belongings accessible during the duration of the flight.
The console has two small storage compartments, a lit mirror and a cupholder. These compartments could hold headphones and a couple small handheld devices. They were not large enough for a laptop or purse of any substance.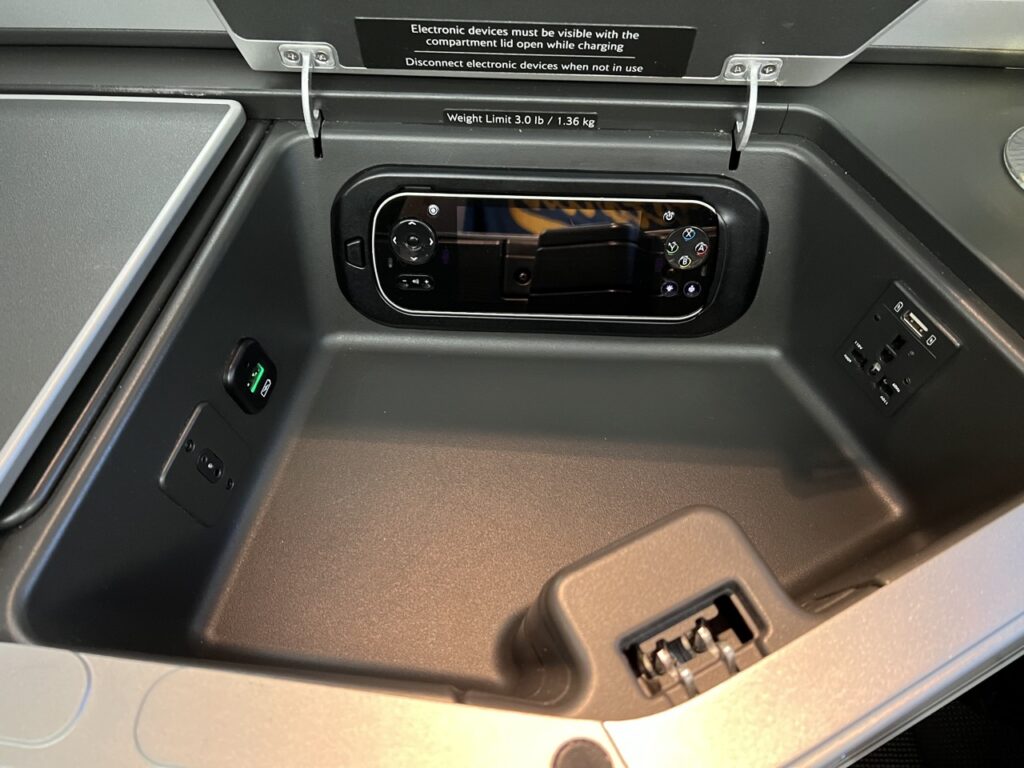 The primary storage space was located under the console of the seat in front. This space could store a standard sized backpack, but it must fit inside completely. I was able to keep my backpack in this space for takeoff, but a different flight attendant told me I needed to put it in the overhead bin for landing.
This storage space was only useful part of the time. When the seat was in the lie-flat position, all bags needed to be moved to the smaller space between the sliding door and the seat or into the overhead bin.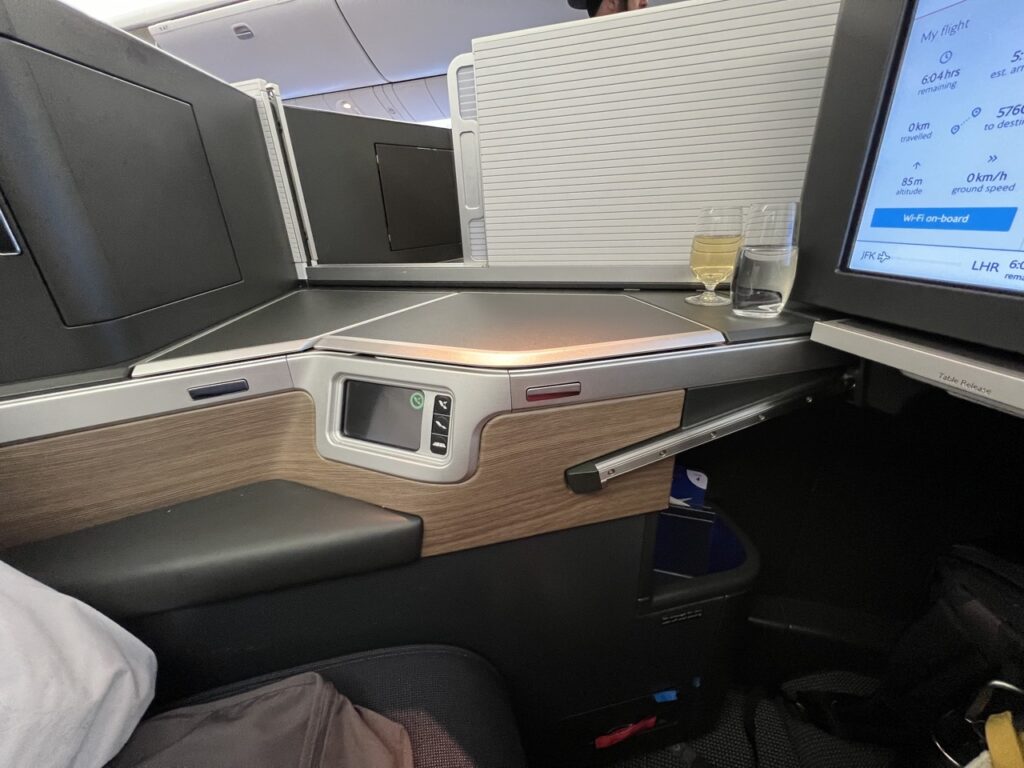 This leads us to the overhead bin space. Each seat had a dedicated overhead bin which was labeled with the corresponding seat number. The bin was large enough to store a carry-on and personal item with room to spare.
The overhead bins on the Boeing 777-300 were incredibly difficult to reach. I'm 5'3 and had a really hard time reaching the latch to open them. Once they were open, they were a standard height to place the bags in, but then it was also difficult to shut them.
Our return flight from LHR to JFK was on a Boeing 777-200. The overhead bins on the 200 were much easier to reach.
Entertainment & Technology
Club Suites on British Airways are equipped with a 17-inch, high-resolution seat-back screen. The entertainment system is loaded with a good selection of modern and classic TV shows and movies. The selection was slightly different on the two legs of our journey (aka there was no Frozen on our second leg).
The screen was touchscreen, which worked okay. However, I found myself having to use the physical remote control to complete certain actions.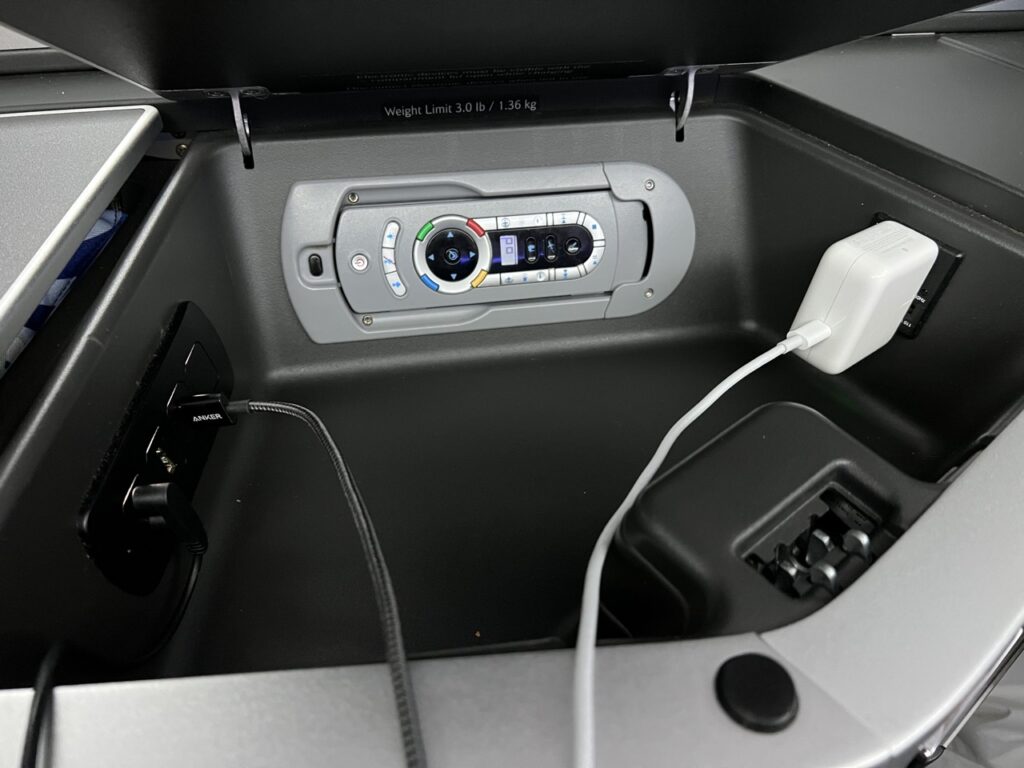 The remote was located inside the console compartment. This same compartment housed the headphone jack, which supported the double-pronged provided headphones or any standard wired headphones.
The provided headphones were noise-reducing, but not noise cancelling. They were comfortable enough, but over time the pressure starts to make my head hurt. I prefer ear buds so I didn't use them long.
Inside the same console compartment was a collection of charging inputs. There was one outlet that supported standard US and UK adaptors and two USB ports in the 777 Club Suite.
British Airways Business Class Amenity Kits
Before takeoff, amenity kits were distributed to Business class passengers. All items came inside a small, faux leather zippered storage bag.
The kit included the following items:
Eye mask
Ear plugs
Socks
Toothbrush & toothpaste
Pen
Lib Balm
Lotion
Relaxing pulse point oil
The liquid items were The White House brand and smelled nice. These are pretty standard amenity kit items. I appreciate a good amenity kit, though to be honest, I never actually use any of it.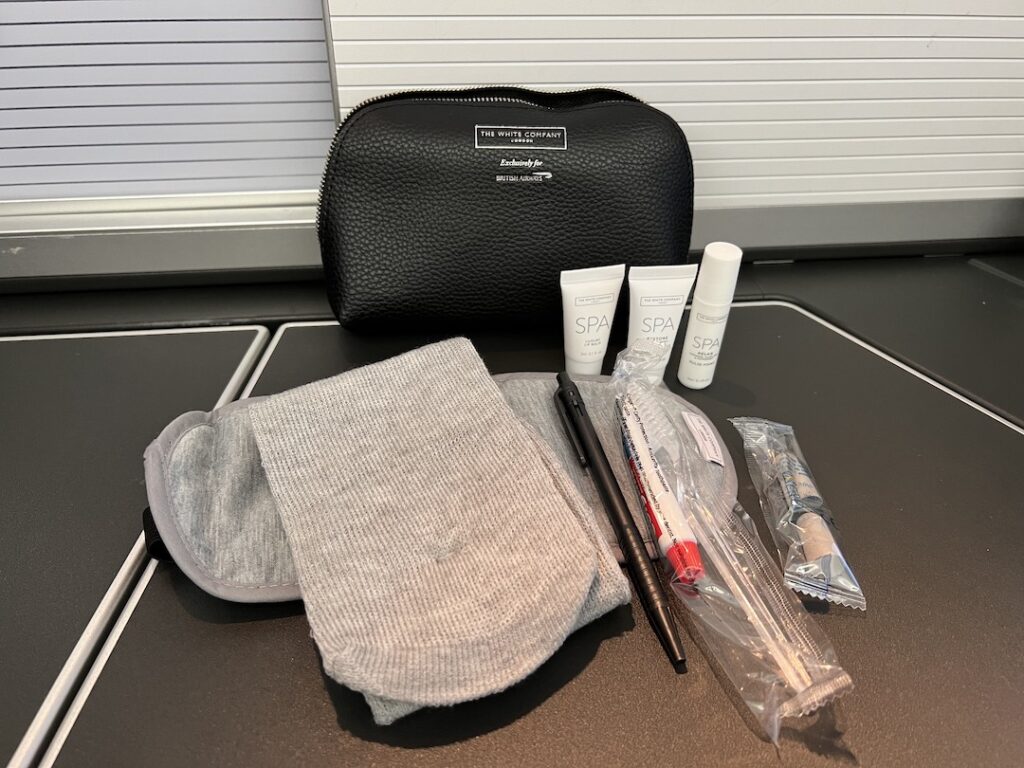 British Airways Business Class Service
We flew from New York to London overnight and from London to New York during the day. This gave us the chance to experience different crews, plane models and menu offerings.
In this section, we'll cover the food and beverage service in both directions, as well as feedback on general flight attendant service.
Club Suites Food & Beverage Service from New York to London
Before departure, flight attendants came by with an offering of champagne and/or water. The champagne served on board is Canard Duchêne Cuvée Léonie Brut. (For those of us who can only tell Champagne quality by the price tag, this particular bottle retails for about $40 USD.)
After takeoff, we were offed a small bottle of water along with our amenity kit. Other than the water, it was almost 45 minutes after takeoff before I was offered another beverage. When I did finally receive my beverage, it was a healthy pour of red wine served with a mixed nut selection.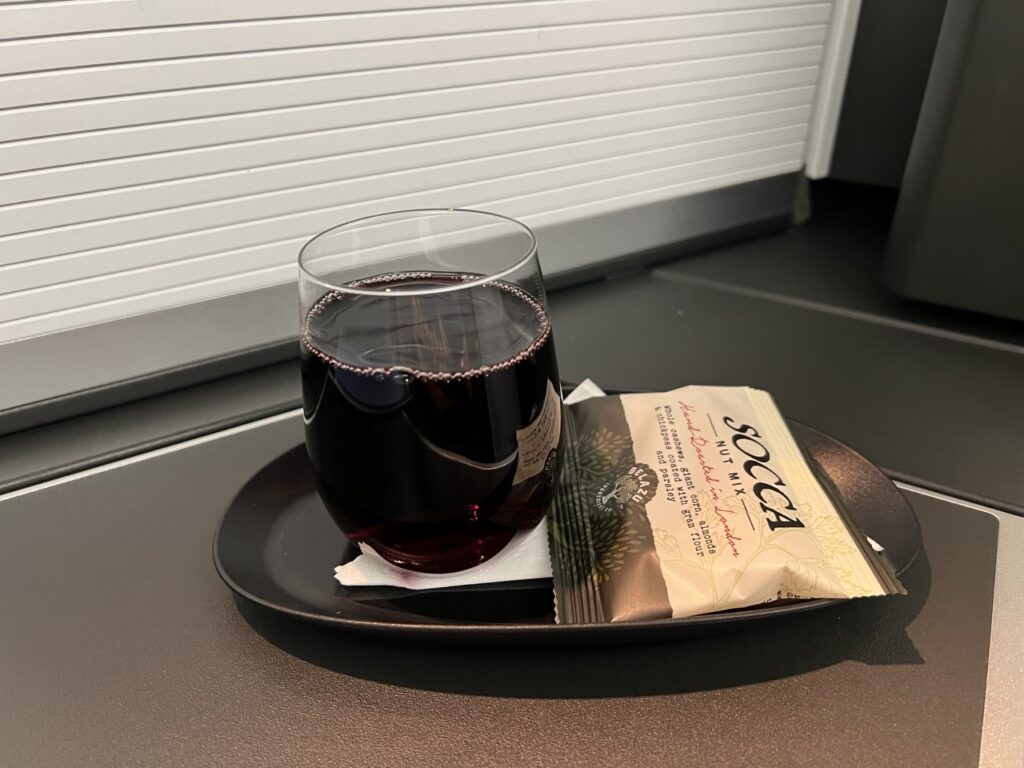 Then it was time to place our dinner meal orders. My husband and I had both pre-ordered special vegetarian meals. Kenny's flight attendant approached, saw that he had a special meal and confirmed his selection.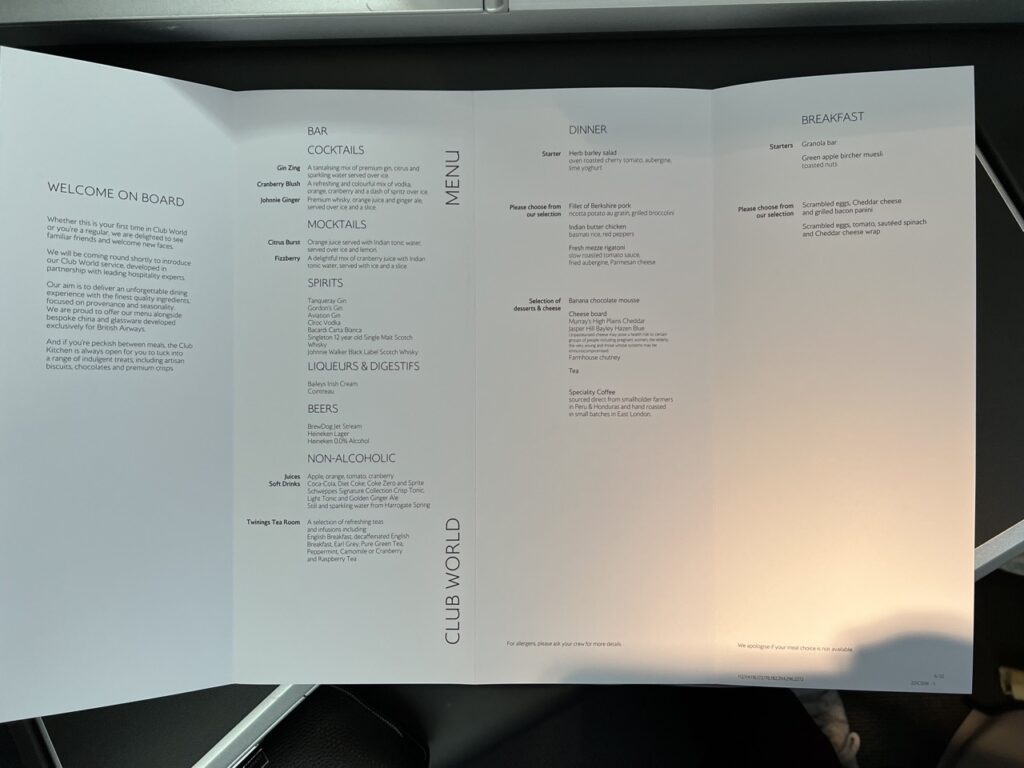 The flight attendant in my aisle did not see that I had a pre-selected a meal and asked for my order. When I told her about my pre-order, she seemed to be able to confirm it. The lacto-ovo vegetarian meal was the same entree as the vegetarian option listed on the menu.
The food itself was good, but basic. Dinner was a standard pasta with red sauce and eggplant. The entree was served with bread and salad. (Why is the salad dressing on planes always so weird, though?) Dessert was graham crackers, fruit compote and fresh fruit. I was also offered a choice of sparkling or flat water and the beverage of my choice (pinot noir, today).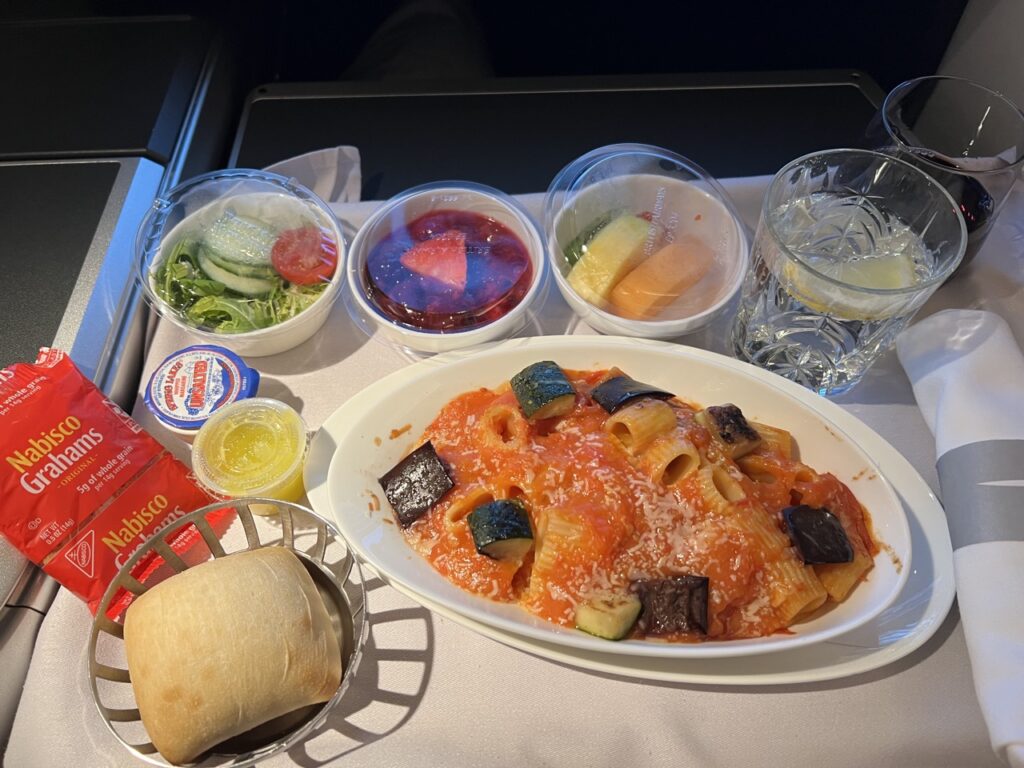 Breakfast service began about 90 minutes before landing. There were two breakfast options, each served with a granola bar, fresh fruit and green apple muesli. I wasn't overly hungry and just opted for the sides, which is always an option.
Club Suites Food & Beverage Service from London to New York
The food and beverage service on our daytime flight from London to New York was very similar to our previous flight, just with different meals. Our main meal was breakfast, followed by a light lunch before landing.
Again, we were offered a pre-flight beverage of champagne and/or water and received a bottle water immediately after takeoff with our amenity kit. However, there was not another proactive beverage service for the remainder of the flight.
The breakfast menu featured a meat option and two vegetarian options. I choose the pancakes, forgetting that I pre-ordered a meal. I also ordered a coffee.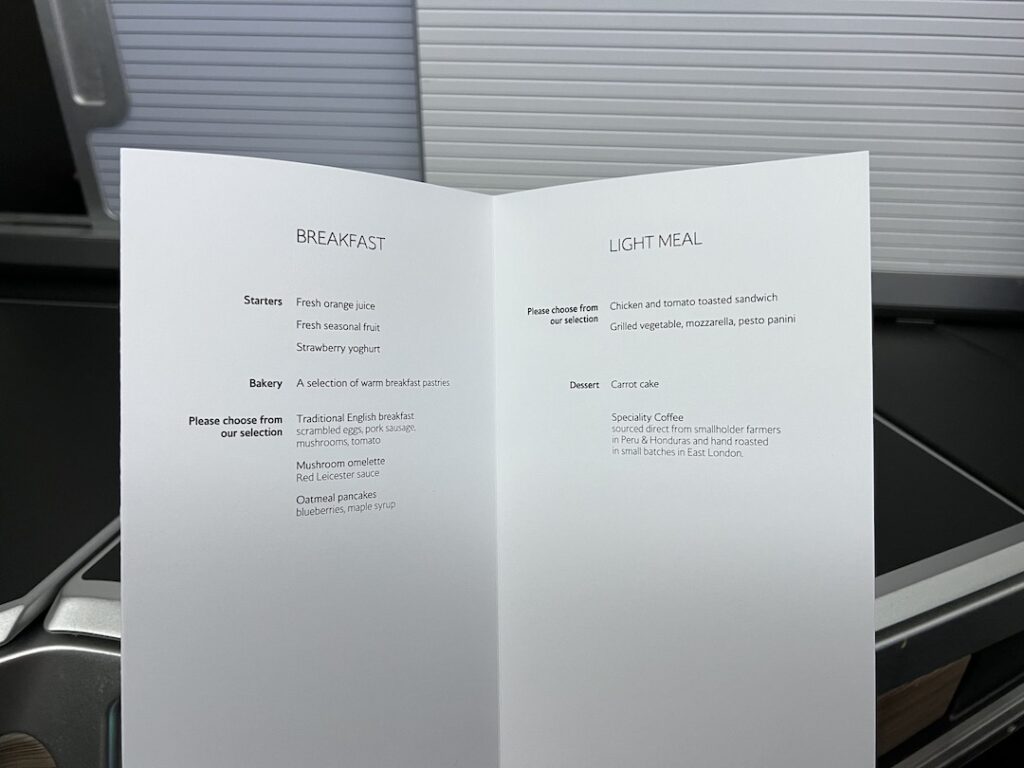 The flight attendant came back and nicely explained that since I pre-ordered, my allotted meal was the other vegetarian menu item which was a mushroom omelette. She said if I wanted the pancakes, I would need to wait and see if there were any left after everyone else had ordered.
It was honestly a blessing in disguise because the omelette was fantastic. The omelette was served with roasted tomatoes and a delicious sauce. It was accompanied by strawberry yogurt, fresh fruit and a croissant with butter and jam.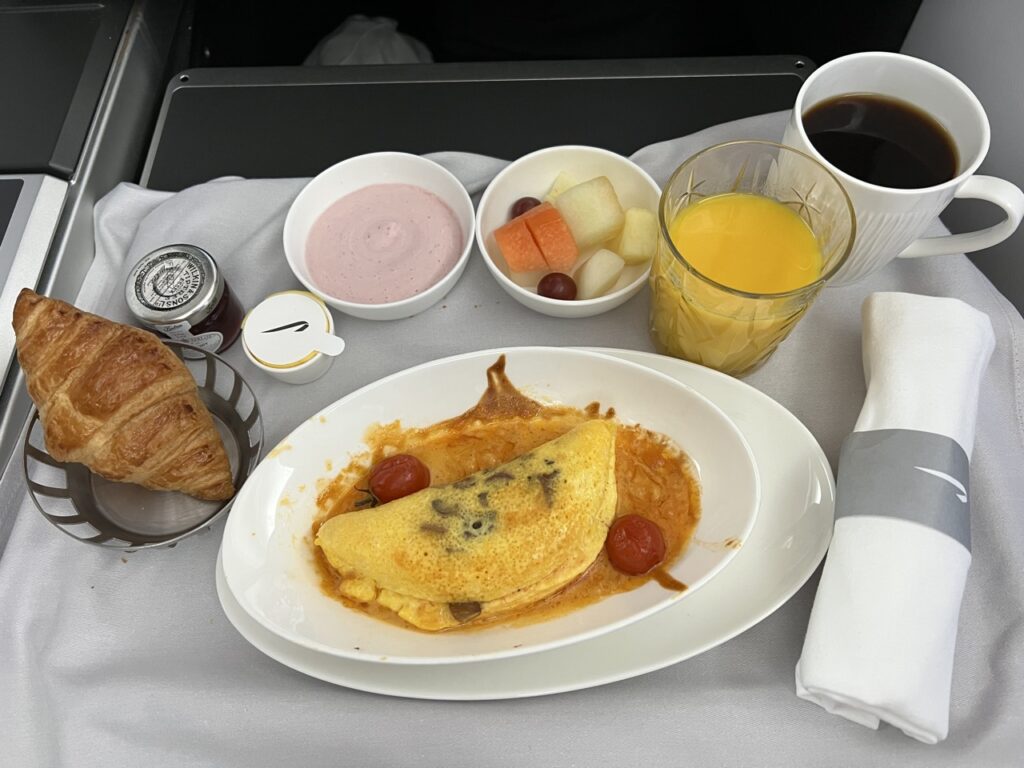 Even though there was no proactive beverage service offered, I was able to order drinks by pressing my call button. I did this twice to place orders for the Rose Champagne and later for a cosmo-inspired cocktail. Both were delicious.
Our second meal was again offered about 90 minutes before landing. The flight attendant remembered that I'd placed the lacto-ovo meal order, and brought me the vegetarian menu item.
Lunch was a grilled vegetable sandwich, slaw, chips and carrot cake. The sandwich was a bit hard to eat (messy), but very tasty. The slaw was very mayonnaise-y, and wasn't good on its own. When I put it on my sandwich though, it was delicious. The carrot cake paired with my coffee perfectly.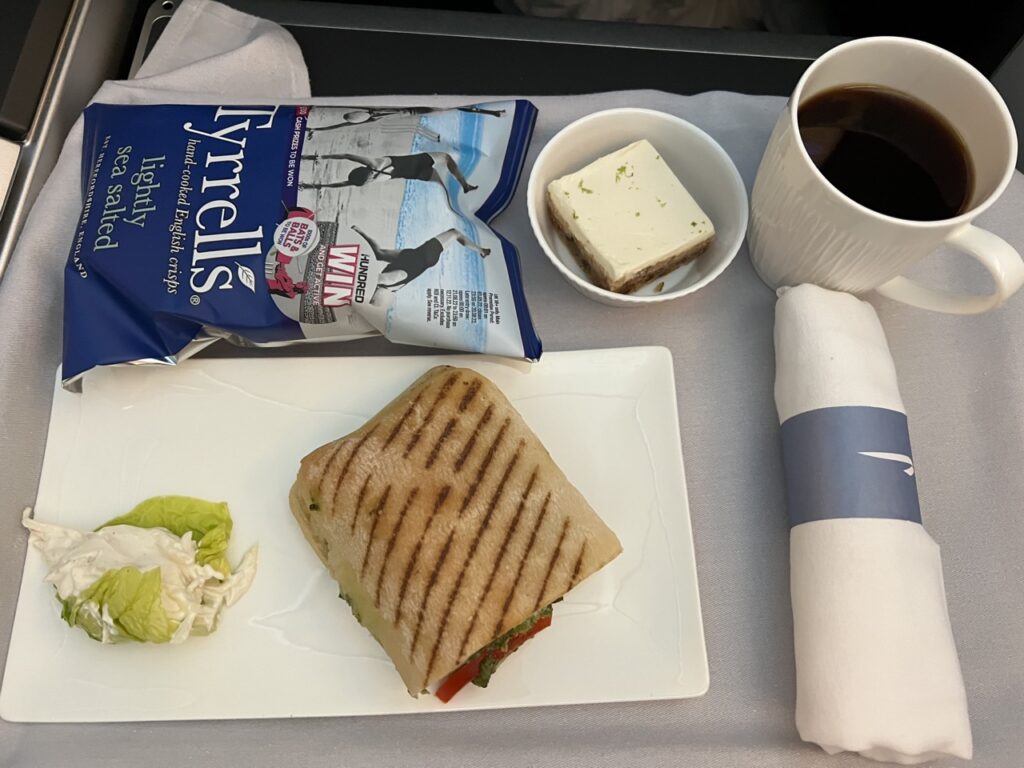 Flight Attendant Service on British Airways Business Class
The flight attendants on British Airways were all incredibly kind, accommodating, and good at their jobs. The service was efficient, and I never had any trouble getting what I needed.
The service experience can vary based on the crew. Kenny's experience with his flight attendants was much better on the flight to New York, while I was much more impressed by the crew on our return flight.
We were traveling with a toddler who had a really hard time on the overnight flight. The flight attendants were so patient and understanding. They chatted with them, offered us milk and let them watch them prepare breakfast. This all helped in keeping our little one calm, and their kindness did not go unnoticed.
On our return flight from LHR to JFK, the flight manager came around and introduced herself to everyone. She chatted with me and my toddler a bit, and then said to be sure to ring if either of us needed anything. This gesture goes a long way in my opinion.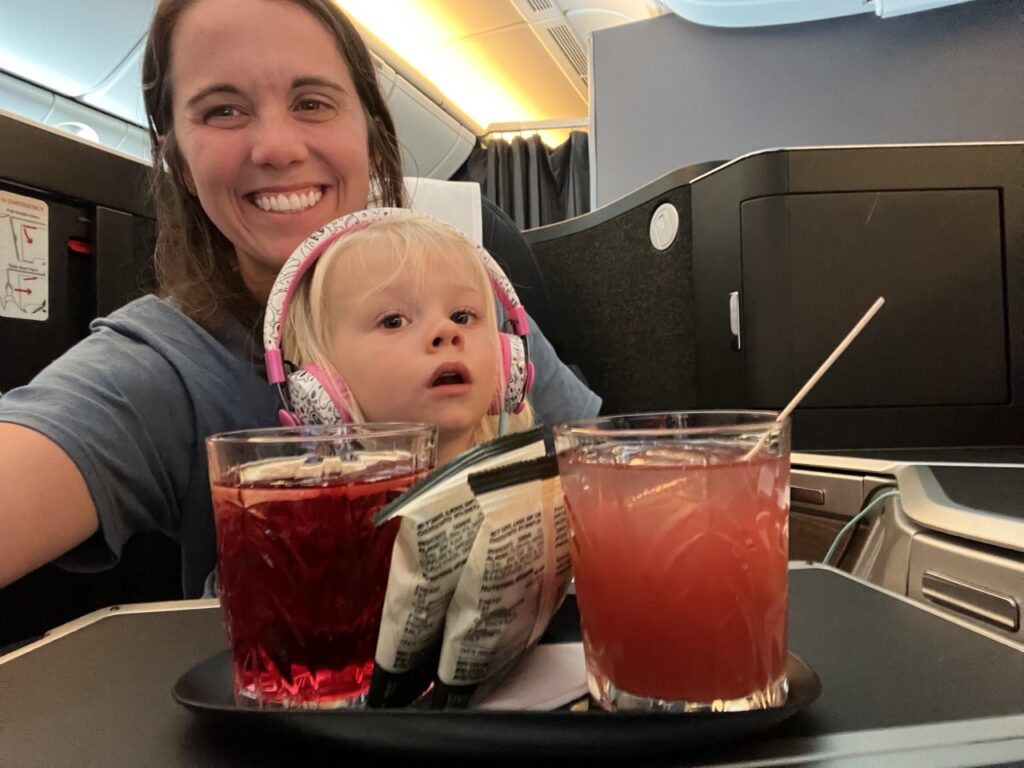 If I had any complaints, it would be that the service was reactive instead of proactive. I found myself pressing the call button more that I'd expect to in a premium cabin. There was not frequent checkins or drink service, but I was able to get anything I needed if I asked.
The service also felt a bit slow and was at times inconsistent. The flight attendants serving the two different aisles did so at different speeds. I also found that they enforced rules differently, specifically around what items could be stored in my seat area.
None of these infractions were severe, and would go unnoticed by most passengers. It is my job to note and flag these things, though.
Sleeping in the British Airways Club Suites
We like to fly from the US to Europe overnight and then fly back during the day. This is the best way to adjust to the time change as quickly as possible.
The flight from New York to London is about 7 hours. When you account for the taxi time, meal service and time change, you only end up with about 5 hours for sleeping. A comfortable seat/bed can make a huge difference in how much of that 5 hours you actually spend sleeping.
The British Airways individual suites are equipped with seats that convert into a 79″ lie-flat bed. The seat is controlled by a touchpad, and when fully engaged, consumes nearly the entire pod.
Each passenger is provided a mattress pad, duvet blanket and pillow to make up their bed. The bed was very comfortable and quite spacious. I'm 5'3″ and was able to stretch out in a variety of positions with no restriction. I've read reports of passengers up to 6 feet who were equally comfortable.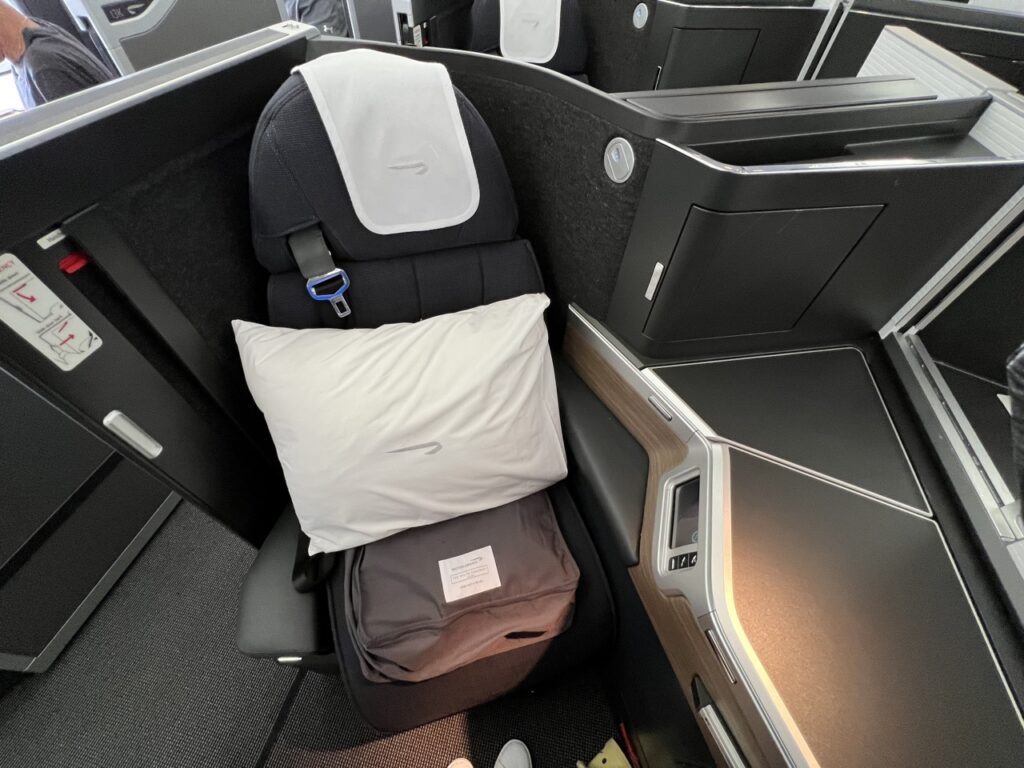 Lights were dimmed 1 hour into the flight, but meals were still being served at that time. Even at its dimmest lighting, the cabin was still quite bright.
I believe the brightness was in part because the overhead reading lights were controlled by buttons on the seat-back screen. I think several people didn't realize this (myself included) and many lights were kept on during the flight.
The only downside to this bed configuration, in my opinion, is that there isn't enough storage space when the bed is engaged. I struggled to keep my backpack at my seat without having to sacrifice bed space.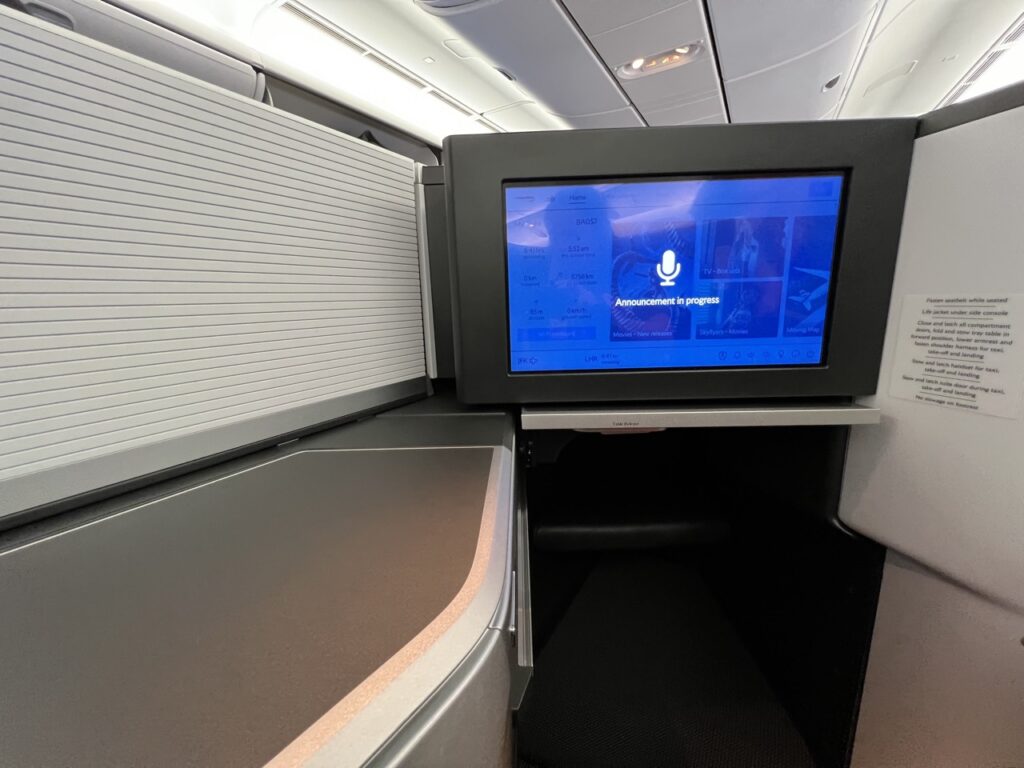 London to New York Travel Day Details
After a whirlwind 16 days in London, Paris and Amsterdam, we were more than ready to get back home to New York. We chose a daytime flight and planned to stay awake for the full 7 hours.
Since we had an early morning flight, we stayed the night before at the Hotel Sofitel at London Heathrow. We arrived at Terminal 5 just over an hour before our scheduled boarding time.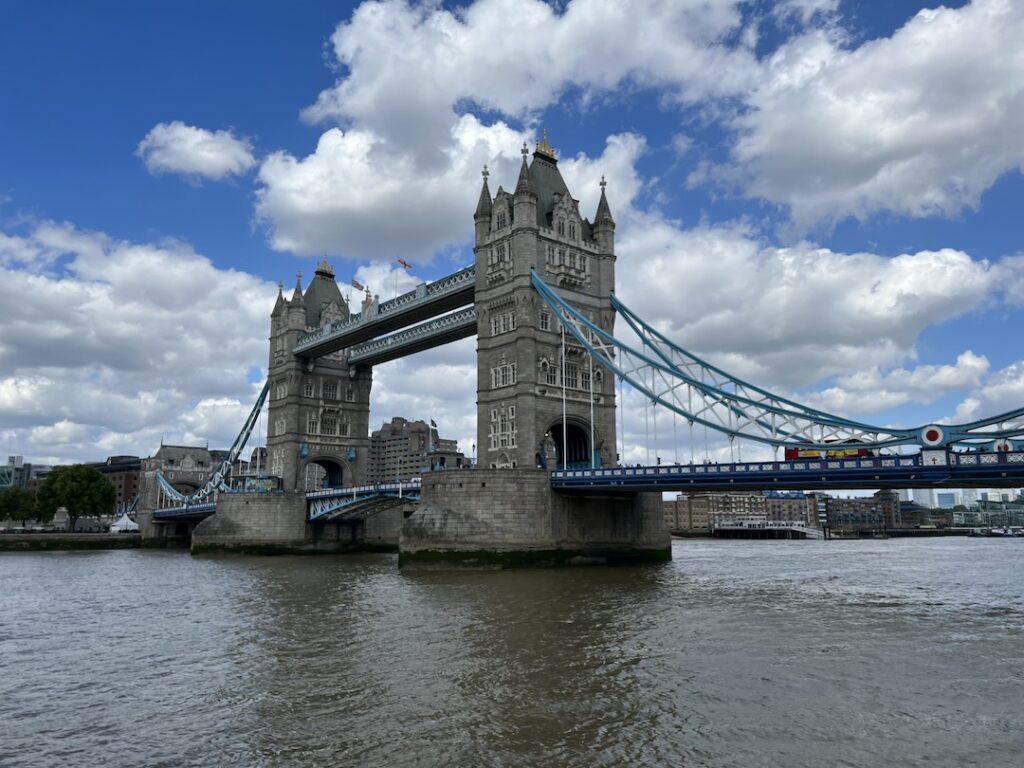 Club World Check-In at LHR
There are three British Airways check-in queues in Terminal 5 at London Heathrow. There is a standard check-in queue, a queue for families traveling with young children and a Club World priority queue.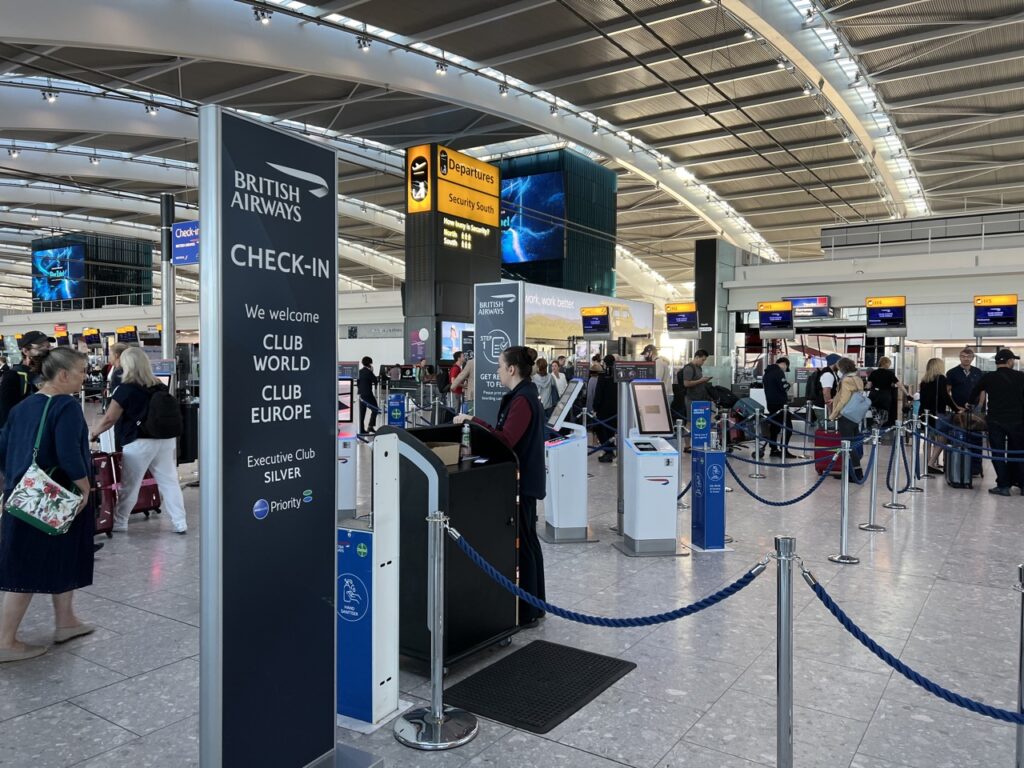 Passengers flying Business class should generally head to the Club World priority queue which usually has a shorter line than the standard check-in. If you're also traveling with a family, you can go through either the family queue or the Club World queue.
TIP: The Sky Flyers family queue has a really cute amenity kit for kids. It's free and available for all kids, even if you don't end up waiting in that queue.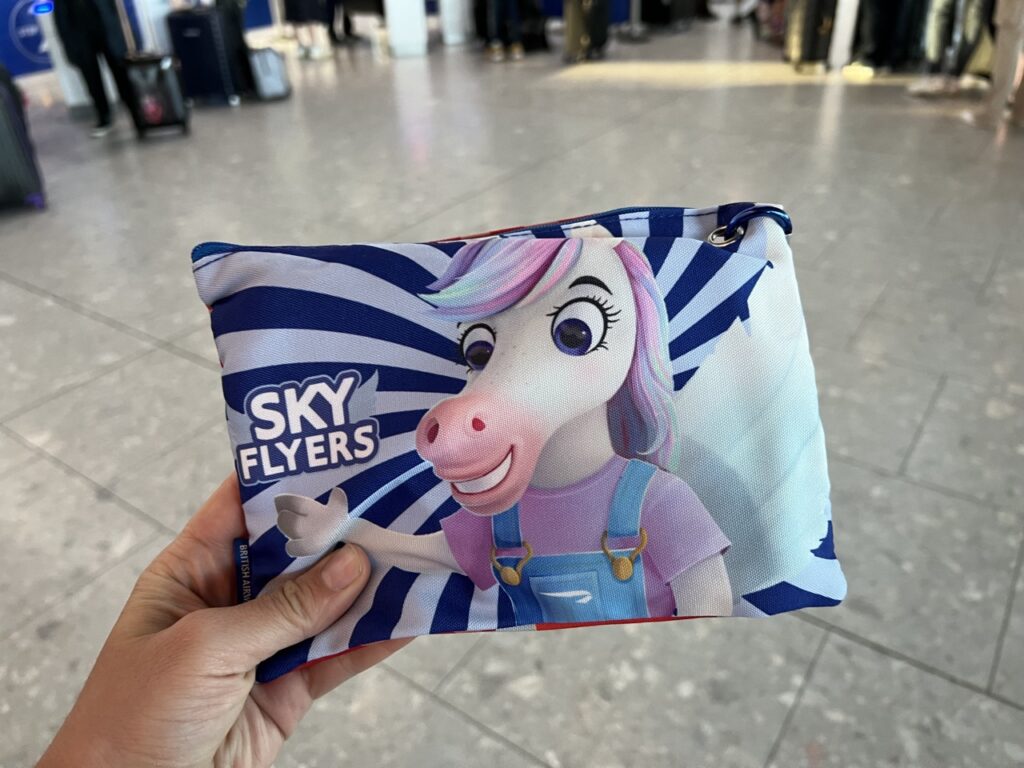 Club World passengers are also able to go through the fast track security line, located just past the Club World check-in desks.
We went through fast track security, but it still took a while because there was only one lane. The standard security line had a longer queue, but more lanes. It's hard to know which would have been faster. It sure didn't feel like ours.
It's also worth noting that travelers with connecting flights are often directed through this fast track security line. The security agent told us that sometimes they get hit with big bursts of connecting passengers, which can make this fast track line take longer than the standard line.
After security, you will be near the 5A gates.
Galleries Club Lounge at London Heathrow
British Airways has several lounges at LHR. If you're flying Club World Business class out of Terminal 5, you'll want to go to the Galleries Club Lounge in 5B. This requires taking a short tram after security.
The Club World Lounge is located near gate B36. There is signage directing to the lounge on the upper level.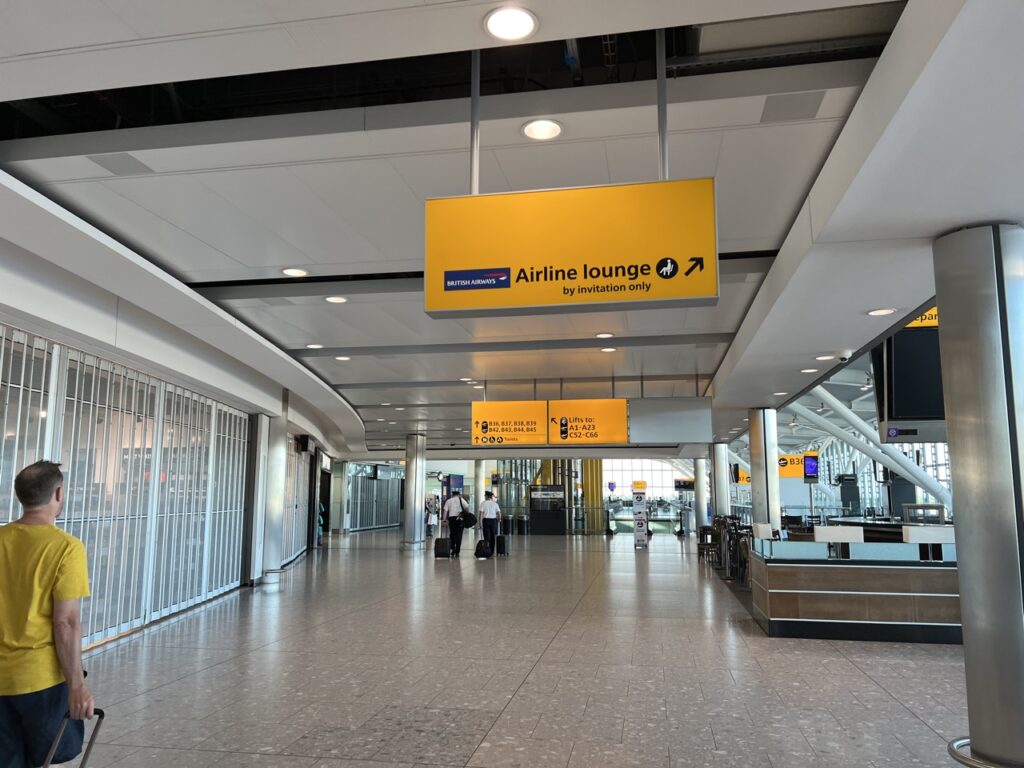 The lounge is spacious and open, with plenty of seating. There was lounge seating and several long tables. Galleries Club Lounge also has a kids room outfitted with gaming systems, cartoons and comfy kids chairs.
The lounge offered a good selection of self-serve food items, including the standard breakfast fare during our morning visit. There was a coffee station that served drip coffee and espresso beverages, as well as tea.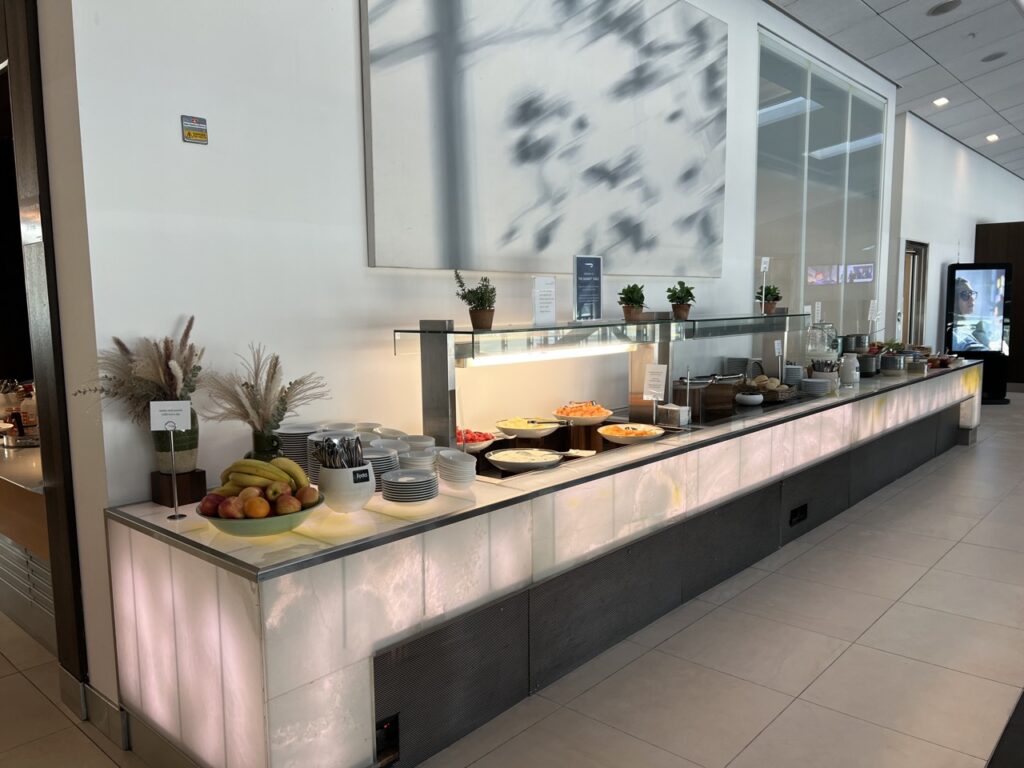 The bar set-up was the most impressive. In the morning, there was a DIY Bloody Mary bar and a cocktail station, both with a selection of fresh fruit, vegetable and herb garnishes. There was also a wine bar, hard liquor selection and fully stocked fridge with mixers and beer.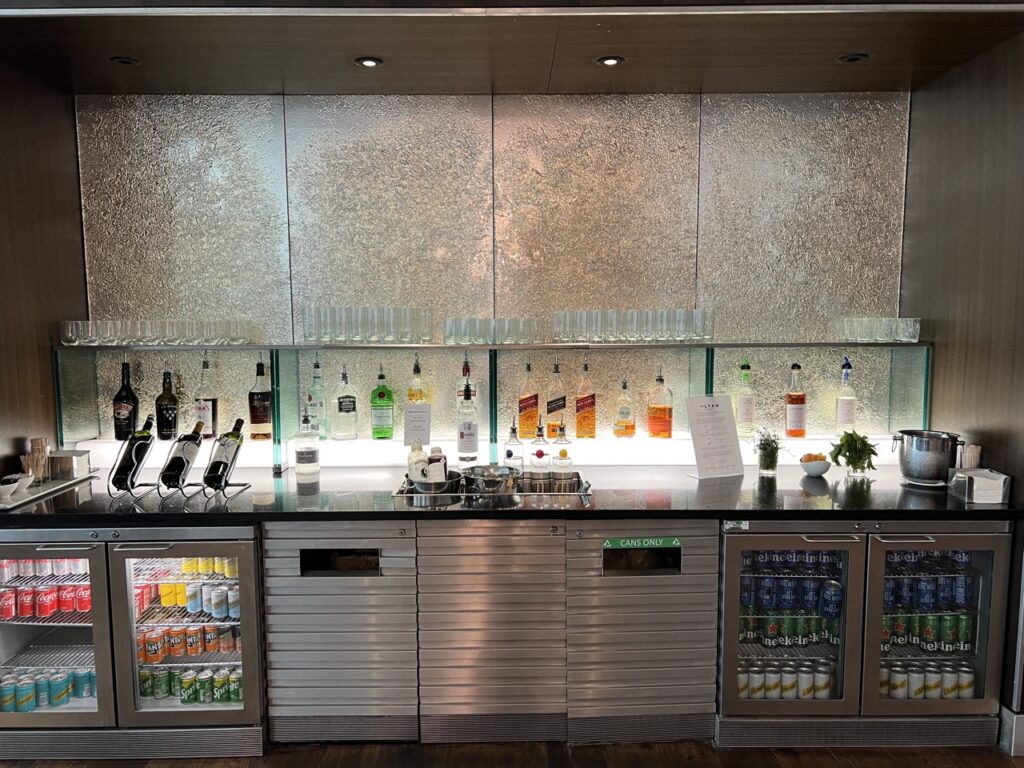 The lounge has screens with gate information, so you can monitor when you need to leave to catch your flight. It was a great lounge, and I wish we could have spent more time there.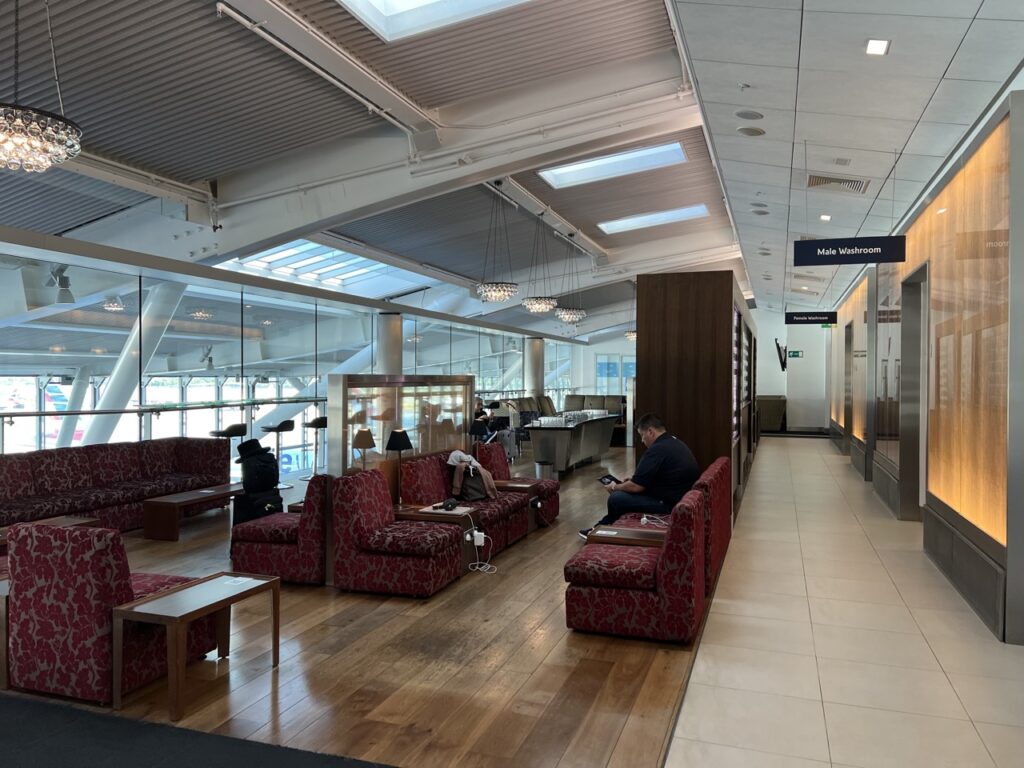 Club World Boarding at LHR
The boarding process for British Airways at Heathrow was much more pleasant and organized than the boarding at JFK. This could have been the result of our travel time/day, or we might have just lucked into a light travel day.
Even though the board at the gate said boarding had begun, it hadn't actually started when we arrived. Much to my surprise, every single passenger was still in their seat and were not forming lines or crowding the gate.
Shortly after our scheduled boarding time, a gate agent saw that we were traveling with a child and invited us through the gate. They checked our passport again, scanned our boarding pass and let us into the waiting area on the other side of the gate.
The agent proceeded to usher families and guests needing assistance individually through to the holding area before opening boarding for First Class. At that point, everyone was lead down an escalator, along a lengthy jet bridge and onto the aircraft.
It was probably the most pleasant airplane boarding experience I've ever had.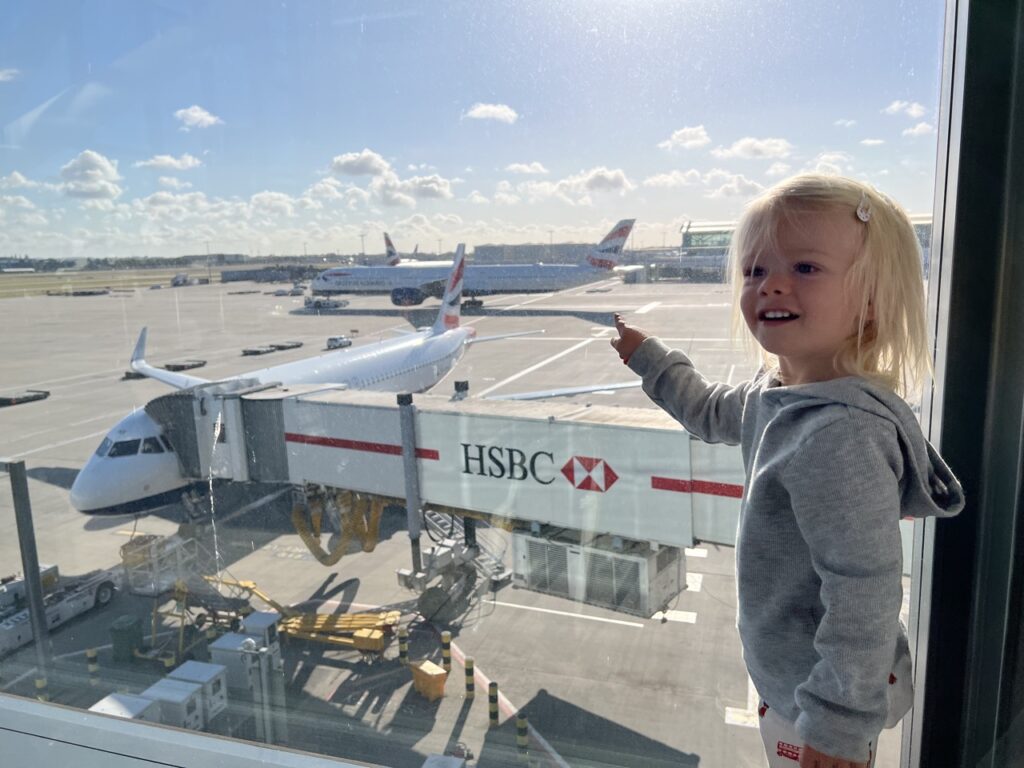 British Airways Business Class with a Toddler
As I've mentioned a few times throughout this post, we flew British Airways Business class with our toddler, who was almost 2 at the time. This was our first time flying any business class with a baby.
On British Airways, children under two do not need their own ticket if they sit on the lap of a parent. This same rule applies for Business class. (They are still subject to some taxes and fees, though.)
When flying economy, we typically buy our child a seat so we have a full row. For Business class, we opted out of that for obvious reasons. We didn't need the extra space, nor did we want to spend Business class money on a third seat that they'd spend no time in because they can't be left alone.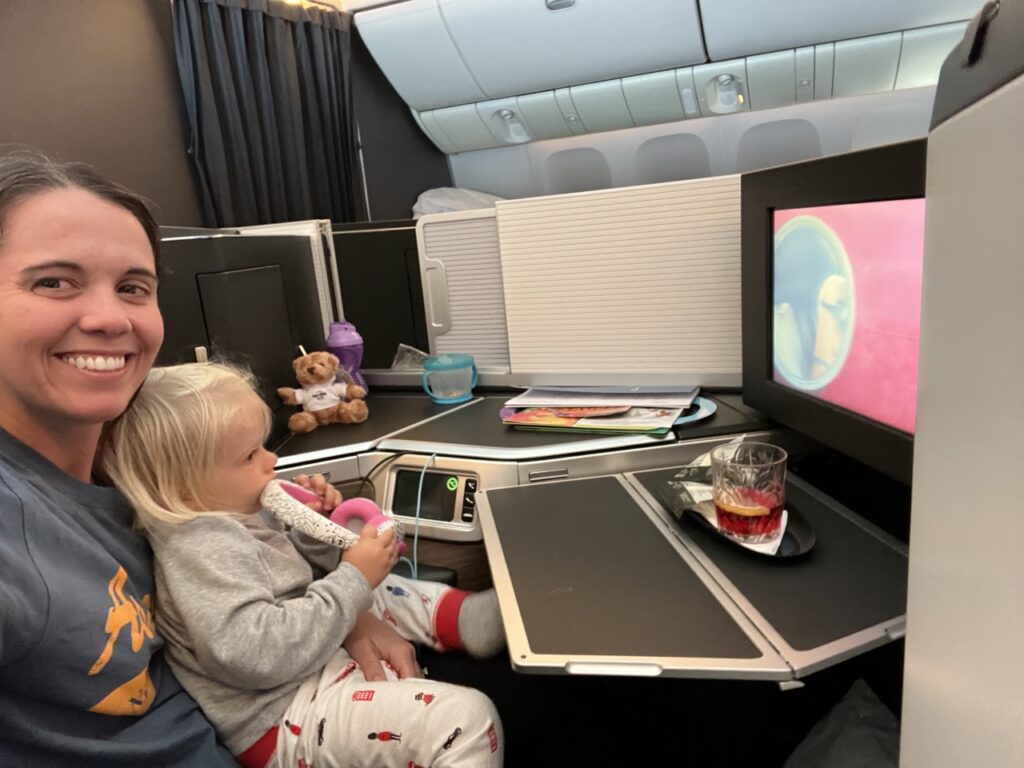 There are a lot of opinions out there on whether you "should" fly Business class with a baby. Even before we had our own kid, we've always remained steadfast in our feelings that babies are people who should be allowed to exist in this world. If parents choose to fly Business class, they should not feel bad bringing their child.
Flying Business class with a toddler is certainly a luxury. Was it amazing to have that much space and comfort on a seven hour flight for a young child? Absolutely. But it's not a luxury that all parents can or want to spend their money on.
I added this section for parents actively considering flying British Airways Business class with a baby. This is not to convince anyone to spend money they don't have on a Business class experience, nor to imply that Business class is the only way to travel with a toddler. I certainly understand what a privilege it is to be able to enjoy this experience with our young child.
In our experience, flying British Airlines Business class with at toddler went mostly well. I want to elaborate more on this topic one day, but for now I'll just breeze through some pros and cons from our experience.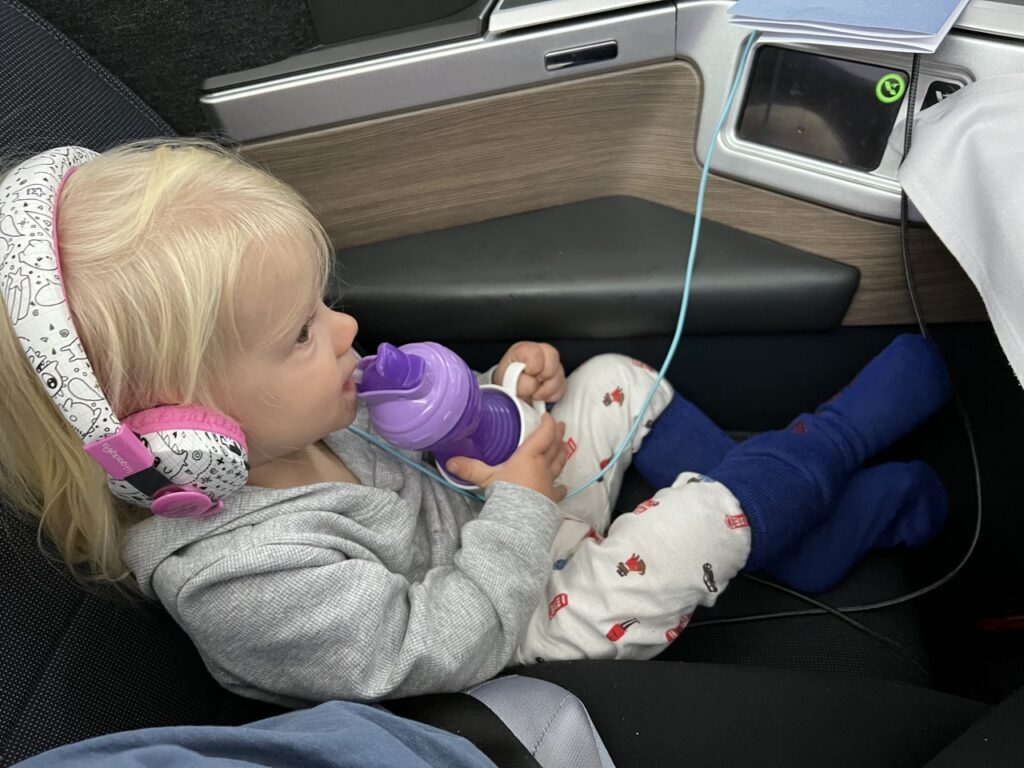 Pros of flying British Airways Business Class with a Baby
Lots of space. The Club Suites are huge for a tiny human! They can comfortably sit on or next to a parent in the oversized seat, and there's also plenty of space for them to stand in the pod, too. If you flatten the bed, they have even more space to crawl around and explore.
Fewer distractions that bother others. When we fly economy, it's a battle to keep our child from banging the seat in front of us or fidgeting with the tray table. It's so nice that there are things for them to touch and do that doesn't come at the annoyance of other passengers.
Sleep potential. If you have a good sleeper, the lie-flat seats might be a game changer in getting your toddler to sleep on a red-eye flight. Our kid didn't sleep, but thinking they might was the reason we splurged on Business class in the first place.
Lots of food and drinks. Unless your child has their own seat, you'll need to split a meal with them. However, the meals are pretty substantial and you can also order more snacks. There's a great selection of soft drinks and mocktails, and our little one loved trying all the drinks. Nursing mothers would also have great privacy.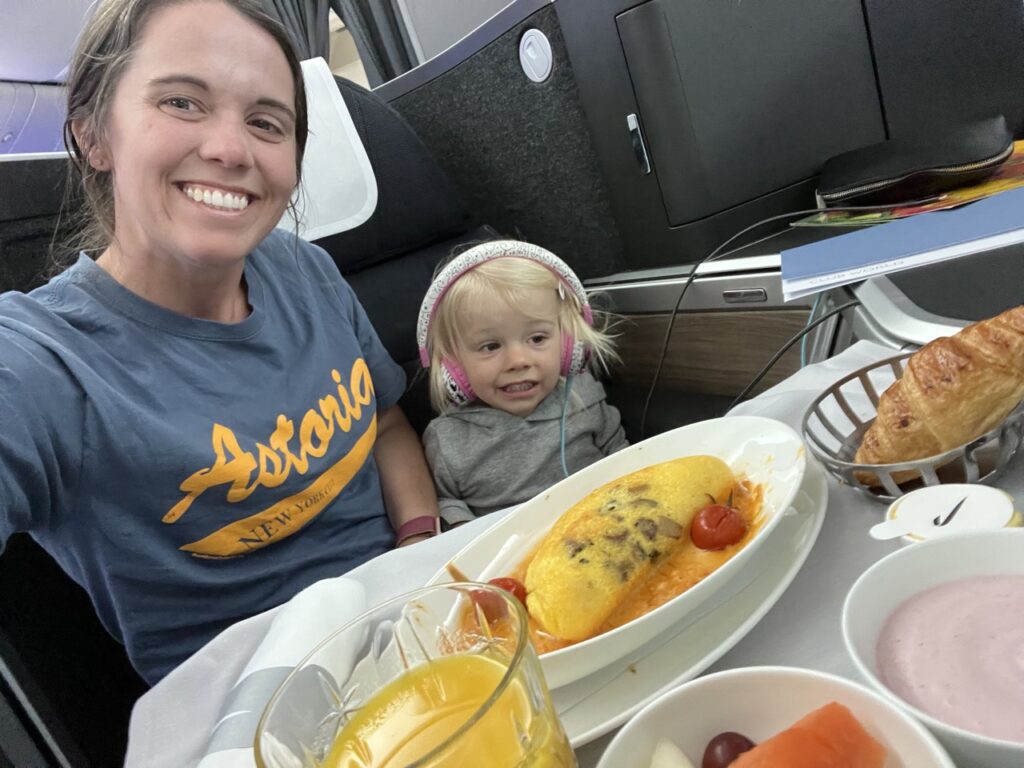 Cons of flying British Airways Business Class with a Baby
Children over 2 need their own seat. If you're flying with a child over two, flying Business class can get expensive quick. The Club Suites are also pretty secluded pods, so your child ends up pretty far from you if they're in a separate seat. This would not be ideal for a child over two who still needs heavy parental supervision.
Club Suite configuration is not idea for families. The British Airways 777 has a 1-2-1 configuration for Business class. Parents traveling together with a lap child will probably want to choose the 2 middle seats and slide the privacy divider open to be as "together" as possible. However, to move the child between the seats, you have to walk all the way to the end of the section, cut through the galley and come up the other aisle. Alternatively, you could do a middle and aisle seat, but then you would not be able to see each other.
Parent guilt. Our toddler didn't sleep. We did everything we could, but they screamed the entire redeye flight. We felt like garbage knowing everyone around us might not be able to sleep. But the truth is that we'd have felt bad regardless of what class we were in. I guess that's why the amenity kits come with ear plugs.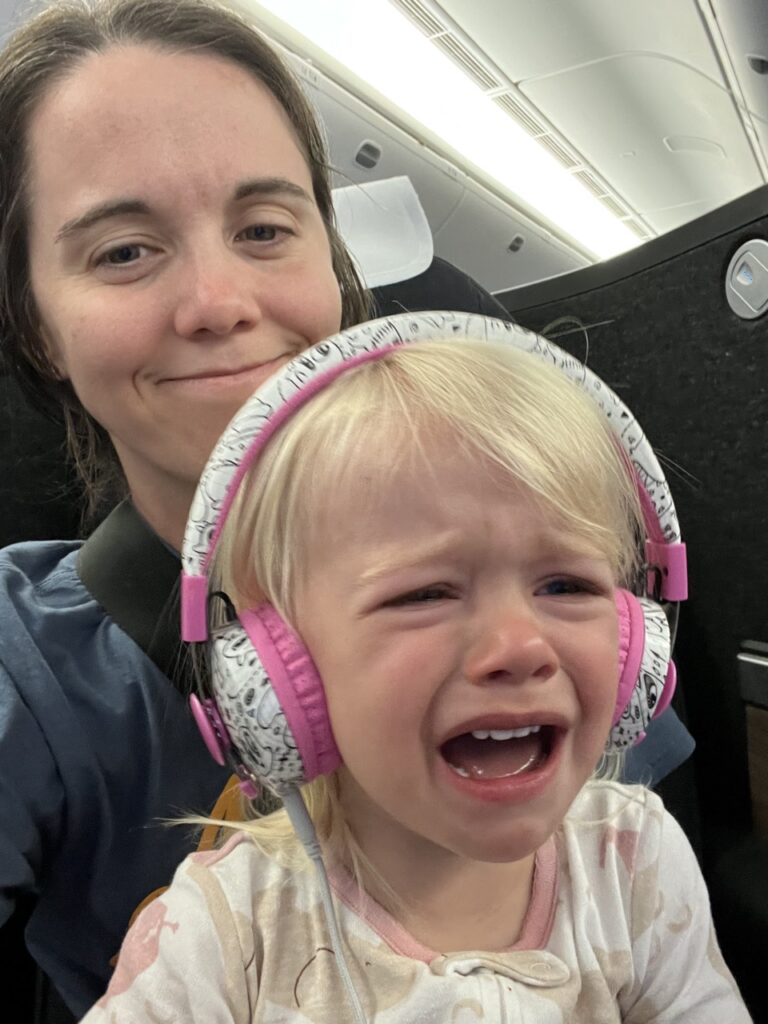 Final thoughts on British Airways Business Class
British Airways Business class is a solid product and a great option for flying between New York and London.
The new Club Suite seats on the Boeing 777 by British Airways are sleek, spacious and comfortable. The 1-2-1 layout makes for a private, comfortable, aisle-accessible pod for each traveler. The pods aren't ideal for parties of two or more traveling together, but the sliding divider between the middle seats helps.
The British Airways lounges in both JFK and Heathrow were phenomenal. I'm particularly disappointed that the British Airways lounge in Terminal 7 at JFK is closing in December. I hope the new one in Terminal 8 is of the same quality.
Personally, we were very pleased with the product and would happily fly British Airways between New York and London again.