We had the pleasure of flying Emirates Business Class from New York to Dubai as part of a larger trip to the UAE, India and Qatar. This is not the first time we've flown on Emirates, but it was our first time flying the Business Class product on the A380.
In this post, we'll provide a detailed look at our experience from booking the flight with points to which specific seats are best for different types of travelers. Read on to learn more about Emirates Business Class on the A380!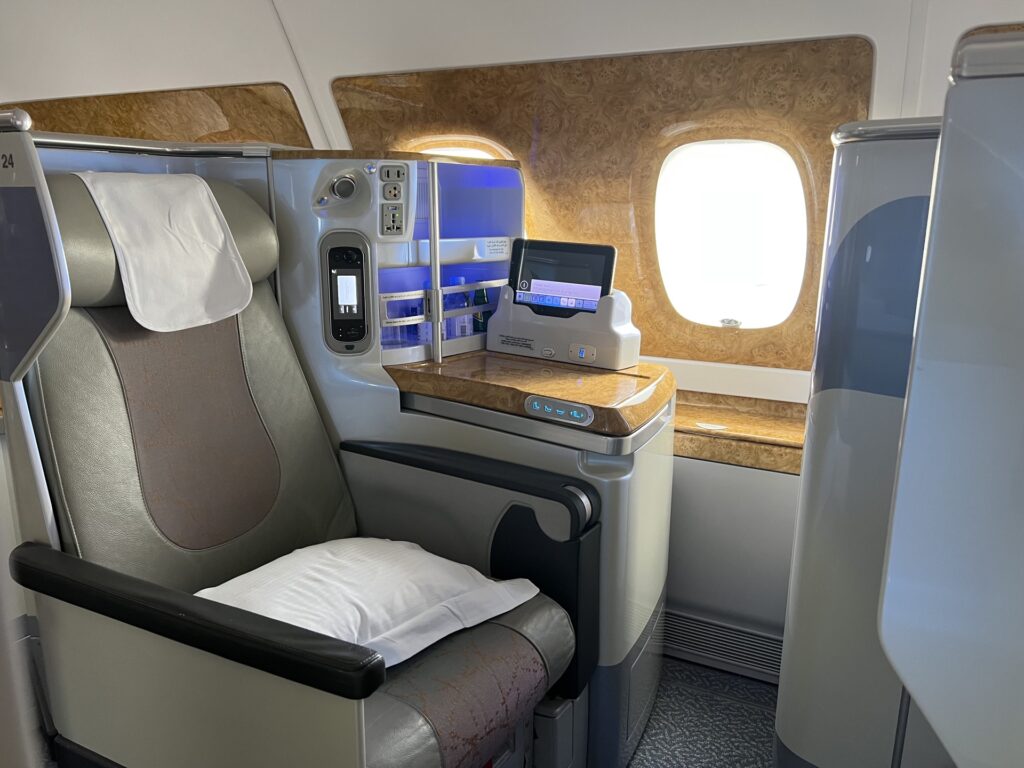 In this Post
Here's what we're covering in this post. We invite you to read the full guide or jump ahead to the section you're most interested in.
Other long-haul premium cabins
Before we go on, if you're interested in building your bucket list or seeing what we think of other long-haul premium cabins, check out some of these reviews:
Our Flight Details
For quick reference, here's a look at the details for our specific flight and booking.
Origin: New York, USA (JFK)
Destination: Dubai, UAE (DXB)
Flight number: EK204
Plane: Airbus A380-800
Airline & cabin: Emirates Business Class
Seats: 14E, 14F, 14K
Departure time: 10:56 AM NYC local time
Arrival time: 7:48 AM Dubai local time
Total Flight Time: 11 hours 52 minutes
Distance: 6,849 miles
Cost (2 adults, 1 child age 2): 345,000 Emirates Skyward Miles + $2,509 USD (carrier changes, taxes & fees)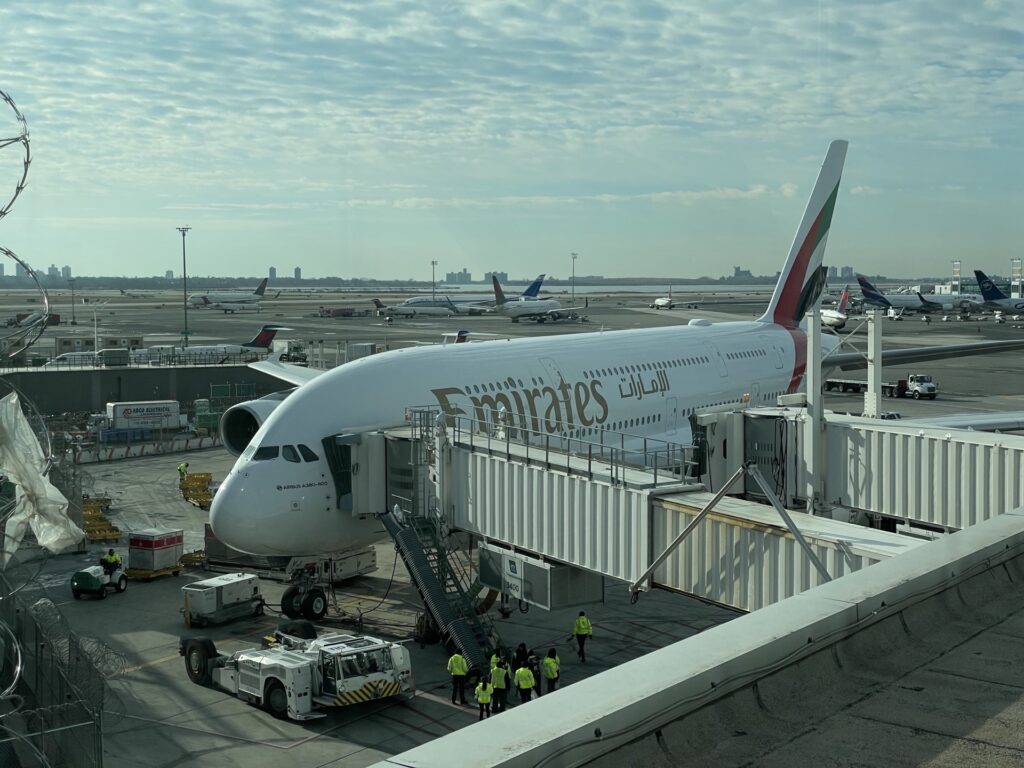 About Emirates Business Class
Emirates sets a high bar for a Business Class product. It is a luxurious, comfortable and delicious experience which — depending on how you travel — may far exceed the indulgence of your final destination. If your idea of Business class involves fancy cocktails, spacious seats and service that rivals that of a 5-star hotel, you are probably picturing Emirates.
Let's take a look at some of the things you'll get when you fly Business Class on Emirates.
What's included with Emirates Business Class
Expedited check-in. The dedicated Business Class queue means you can check-in, check your bags and take care of any other tasks quickly instead of waiting in the longer economy queue.
Checked Bags. Business Class passengers are allowed two free checked bags. Each bag must weigh less than 70 pounds and not exceed 59 inches in combined measure (L x W x H).
Extra carry-on. You're also allowed two carry-ons, which is one more than is allowed in Economy. The carry-on measurement is pretty standard (21″ x 15″ x 7.5″), but each carry-on must also weigh less than 15 pounds.
Airport lounge Access. You will receive access to the Emirates (or partner) lounge at your departure airport.
Premium lie-flat seats. The sofa-style seats lie completely flat to create a personal bed in the sky. In any position, the seats are ultra comfortable and surrounded by ample personal space to stretch out and get comfy.
Complimentary multi-course meals & premium beverage options. From Veuve Clicquot Champagne to an espresso martini, spicy tofu poke bowls to decadent chocolate cheesecake, there is something delicious available throughout the entire flight. There's a creative and deep bar menu, beautifully plated meals, plus food and snacks available to order anytime.
Onboard Lounge. The A380 has a bar onboard where you can order drinks at any time, enjoy additional snacks, and sit together with your travel companions away from your seat.
Premium amenity kit. The amenity kit features the standard items like lotion and lip balm, but elevated to the Bvlgari brand.
Chauffeur Service. Some Business Class bookings come with complimentary chauffeur service to and from the airport. There are passenger, baggage and mileage limitations with this service. Tickets booked with the Special fare category (the cheapest fare) and rewards fare bookings are not eligible for this service.
Expedited baggage claim. Any bags you check will be tagged as Business Class. That means that they'll be the first bags to come down the carousel at baggage claim. After a long flight and then a potentially long trek through the airport and through immigration, the last thing you want is to have to wait for your bags. And you (probably) won't have to.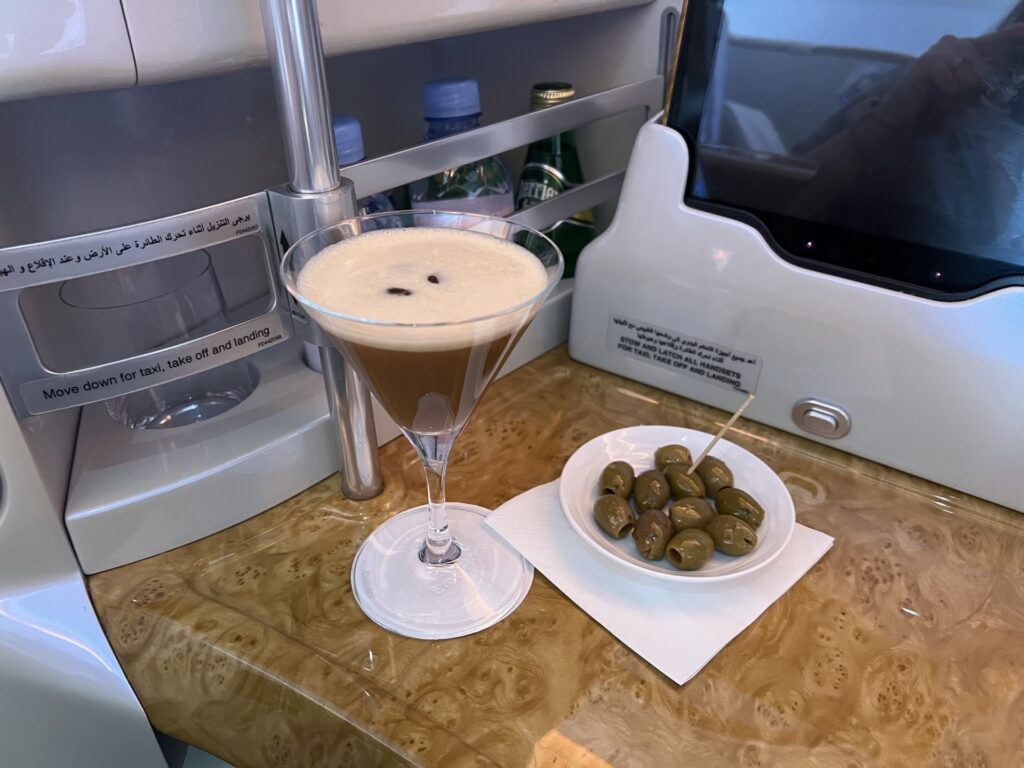 What's not included with Emirates Business Class
Emirates is a good airline with a solid Business Class offering. Their Business Class rivals the First Class product on many international carriers and exceeds that of First Class on most USA domestic carriers (like United First Class or Delta First Class).
For that reason, there are very few things not included. But there are a few items that you do NOT get with Emirates Business Class that are worth noting.
Expedited security. To skip the security queue, you'll need to have separately secured TSA Pre-Check and/or CLEAR.
Free wifi. Wifi is available for purchase on the flight, but it is not free for Business Class passengers. Skywards members in the Gold, Silver or Platinum are eligible for free wifi in Business Class, though.
Showers. The Emirates A380 is actually equipped with two shower spas, but they are reserved for First Class passengers only.
Doors. The Emirates A380 Business Class seats are not private suites and do not have closing doors.
Arrivals lounge in Dubai. Some premium products (including rival UAE airline's Etihad Apartments) include access to an arrivals lounge at their home location. Emirates does not offer this, and there is not an Emirates arrivals lounge in Dubai for any travel class.
Pajamas. Sleepwear was not provided.
Booking & seat selection
There are a few different ways to book Business Class tickets on Emirates. Paying cash is the easiest and most obvious. For those savvy with credit card points, Emirates is also a transfer parter for many rewards programs. We'll go into a few different ways to book, including how we specifically did it in the section below.
Booking is also when you'll select your seat, which is an important decision for Emirates Business Class on the A380. In the next section we'll look at some of the different seat options, and the pros and cons of each. You can of course change your seat at a later time pending availability.
Why we chose to fly to Dubai for a trip to India
Getting to this part of the world was always going to be a one-way booking for us. It was part of a larger, multi-leg trip and we want to try different products whenever we can.
A lot of times—particularly on international routes in premium cabins—round-trip fares aren't much more expensive than one-way prices. For example, on this trip the one way cash fare was $4,875 per person but the round-trip for a 12-night stay was only $5,455 per person.
We were pretty set on our return flight being out of Doha (to fly Q Suites), and roundtrip itineraries on Qatar weren't super appealing (around $12,000 per person vs. $3,000 per person one way DOH to JFK), so we looked at other options.
The other main candidate was flying directly to India. We decided a 14-hour flight was enough stress on all of us without having to jump right into what we expected to be a very intense experience in Delhi.
This left Dubai, a destination which we were very familiar with, as a natural place to start our trip. Conveniently, Emirates A380 also has a business class setup with some pairs of seats immediately adjacent (separated only by a movable divider). This is essential for traveling with our two year old, who, while overall a fine flier, shouldn't be trusted to remain seated without one of us right there.
Booking Emirates Business Class
We considered flying economy. Emirates A380 has a 3-4-3 economy cabin, so either of the blocks of 3 seats would work for our family. Alternatively, we might take three seats in a block of four, hoping the fourth seat remains empty.
The price for the economy ticket was $843, and the price for an award ticket in business was 115,000 points + $836.20 in surcharges / fees. That's an absolutely ridiculous amount for surcharges, but it made the question pretty straightforward: did we want to spend 115,000 points per person upgrading from economy to business?
The answer was an easy "yes." While 345,000 miles are worth at least $5175 to us, we collect them for trips like this. As Zoe gets older, we'll be more inclined to endure ultra long haul flights in economy, so now feels like the right time to use these miles.
For the record, there was not a better option for, say, buying an economy fare and then using points to upgrade.
Emirates has a long list of transfer partners, including the big three, American Express Membership Rewards, Chase Ultimate Rewards, and Citi Thank You. We were particularly heavy on Chase miles, so we opted to use 345,000 of those for this trip. (In hindsight we probably should have spread it a bit more.)
Transferring miles from Chase to Emirates is instantaneous. In this case I encountered one small hiccup. Prior to transferring the points, the Emirates Website was very clear that I didn't have enough points to book the flight and wouldn't let me proceed past the search page or even click into the fares within that page. Once I transferred the points, we were good to go.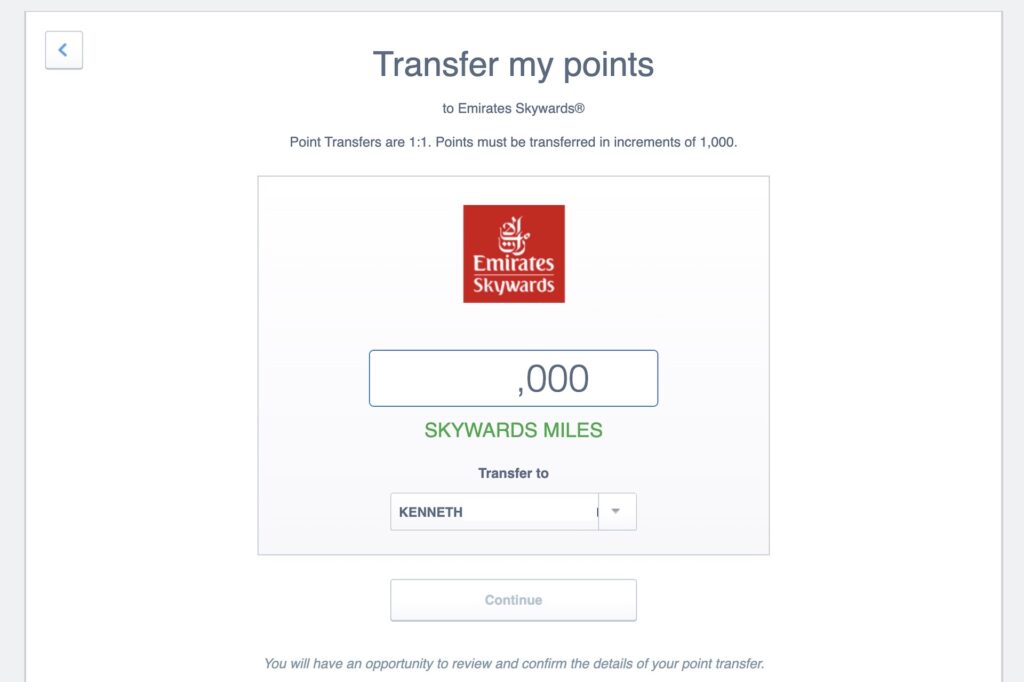 Seat selection for Emirates Business Class on the A380
Every Business Class seat on the A380 is not the same. They all offer similar designer and functionality, but the exact configuration and measurements vary. Seats are in a 1-2-1 configuration, with alternating rows of seat types. That makes for four different seat options, plus differences for bulkhead and exit rows.
Middle Seats E & F: Two seats nearest each other, with the two consoles along the aisles. Seats are separated by a sliding divider.
Middle Seats D & G: Each seat is nearest the aisle, with the the consoles next to each other in the middle. Consoles separated by a sliding divider.
Window Seats A & K: Seat is nearest the window with the console along to the aisle.
Window Seats B & J: Seat is nearest the aisle, with the console along the window.
The window seats are ideal for solo travelers, with A or K being the best because they're nearest the window. Middle seats are better for couples and families, with E & F being the best because the seats are closest together.
The bed size also varies by seat selection. This review points out that the lie-flat beds on seats A, E, F & K are actually longer than the other seats at 79 inches versus 70 inches.
The other thing to consider is the location of your seat. Business Class on the A380 is separated into two main sections, the front being much larger (~14 rows) than the back (~5 rows). The back section is closer to the lounge and the main bathrooms, which can be a good or bad thing.
As a family of three, we liked sitting in the smaller back section. There was more foot traffic, but we didn't find it to be a disturbance. We liked being close to the bathrooms and lounge. It was also nice to have have fewer people in our direct vicinity to worry about disturbing if our toddler got loud (fortunately they didn't).
New York JFK airport experience
Emirates flies out of Terminal 4 at JFK. This was our airport experience with a 7:30 AM airport arrival for a 10:56 departure.
Getting to JFK
We choose to stay at the TWA Hotel at JFK the night before our flight. It is the only on-airport hotel at JFK, and we liked the idea of being steps away from the AirTrain for our required early morning arrival.
We had previously stayed there before a trip to Santo Domingo, and it worked out great. We were optimistic that it would be just as helpful this time around. The big difference though was that last time, we were flying out of Terminal 5, the same terminal that TWA is located. This time, we had to get to Terminal 4 which was not as convenient.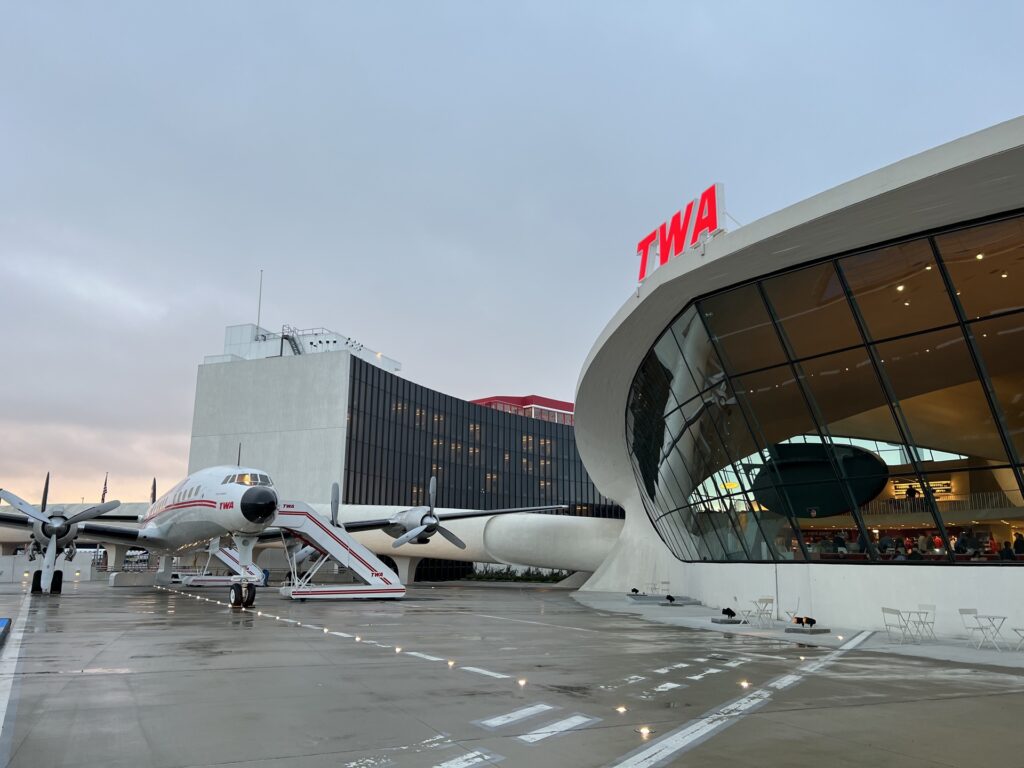 The SkyTrain wasn't running in both directions in the early morning hours. We had to take it the opposite direction to a different station and then switch trains to head to the right terminal. It ended up taking us a little over half an hour to get from the hotel to the terminal. Or in other words, the same amount of time that it takes to drive from our home to JFK.
In hindsight, it would have been cheaper and the same amount of time to hire a car through Kidmoto to drive us to the airport the morning of our flight. Plus we'd have avoided the complete and utter disaster of our child not sleeping at the hotel that night. Live and learn!
Check-in and Security
Emirates has a dedicated queue for Business Class and Gold and Silver Skywards members. When we arrived at 7:45 AM (2.5 hours before boarding), we walked right up to the desk instead of waiting in the long Economy queue. It was an easy check-in and we were off to security.
For expedited security options, JFK Terminal 4 has queues for CLEAR, CLEAR Reserve, and TSA PreCheck.
Both Pre-Check and CLEAR lines were short when we arrived, but we chose the CLEAR line. In what seems to be a pattern lately, the CLEAR queue probably took longer the standard Pre-Check queue because of technology and attendant issues.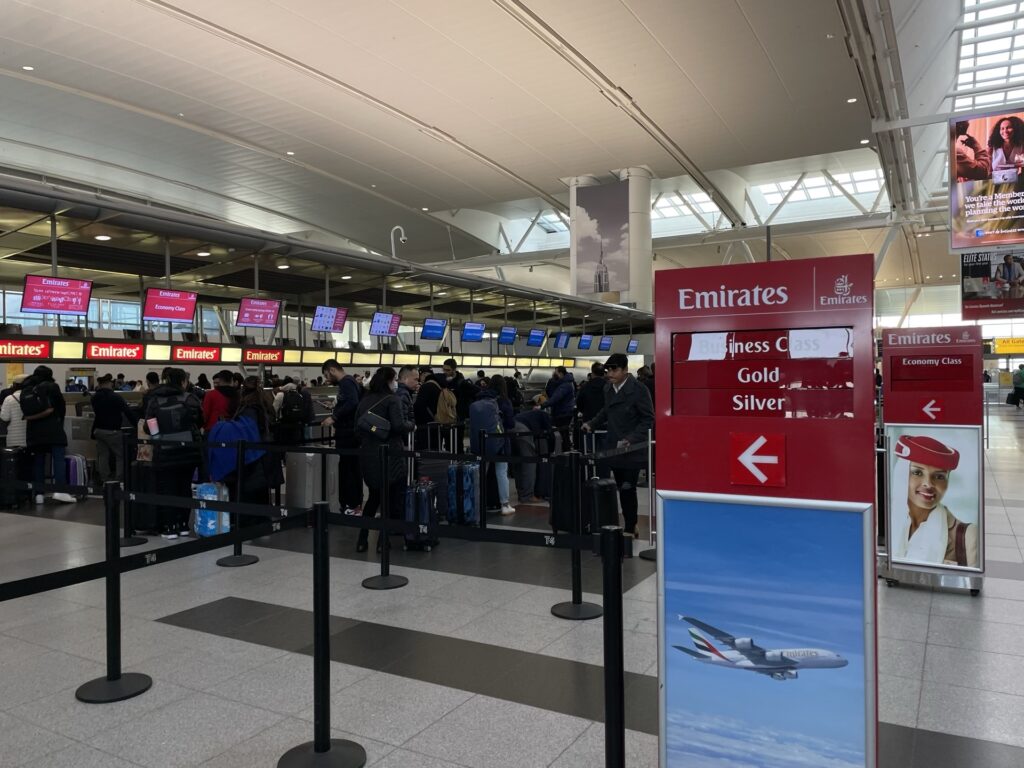 Emirates Business Class Lounge at JFK
The Emirates lounge, which serves both Business class and First Class passengers, is located near gate A6 and A7. Following posted signs, we arrived roughly 10 minutes after leaving security. There was no line to check-in, and they immediately gifted a stuffed toy/blanket to our toddler. (The first of many gifts this child would receive in the Middle East and India.)
The lounge was nice, albeit basic. It's a mostly square space divided into a few different sections by seat type. The lounge was very spacious though, with plenty of open seats in the morning hours of our visit.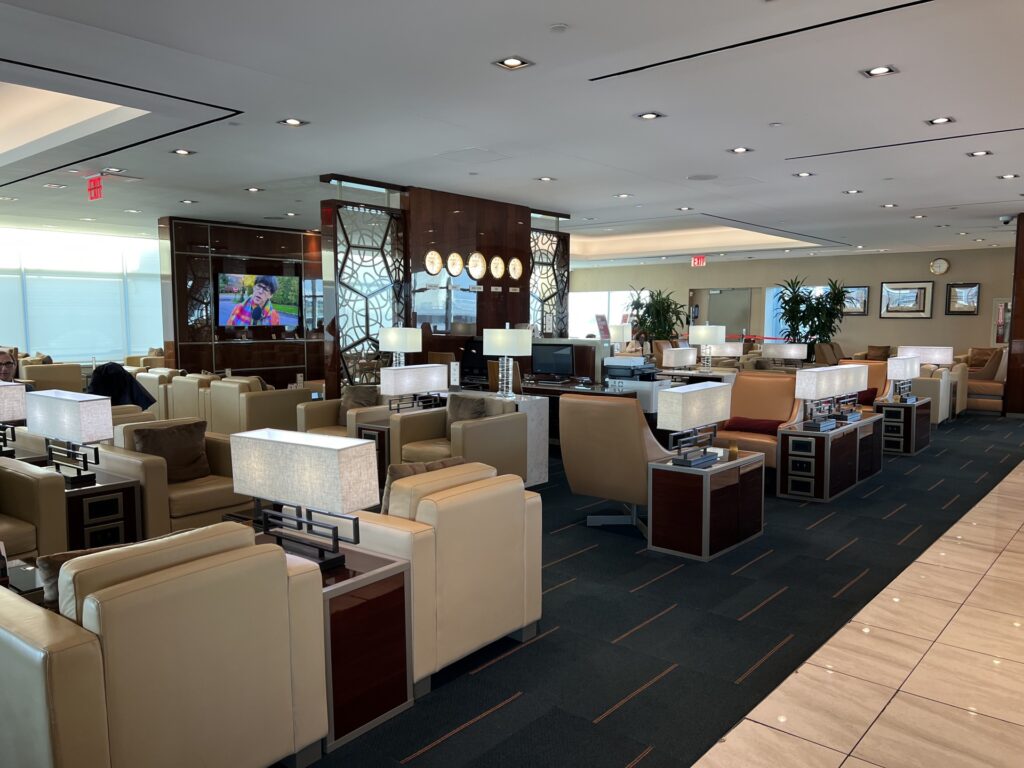 To one side was the dining area, which had tables and chairs. A high chair was also available. There was a solid breakfast spread with hot items (like shakshuka and french toast), pre-portioned cold items (like parfaits and fruit smoothies), as well as basics like oatmeal, pastries, cold cuts and cereals. There were plenty of options and they were all tasty.
Beverage coolers were filled with soft drinks, mixers, beer and wine. The self-service bar was stocked with hard liquor (including Johnnie Walker Black Label, Hennessy V.S.O.P and Maker's Mark), non-alcoholic spirits (Seedlip), wine and champagne (Veuve Clicquot). There was a touch-screen automated coffee maker that offered espresso beverages like lattes and americanos, as well as hot water for tea.
The rest of the lounge was mainly sofa chairs, as well as a small business center in the middle with available computers and a printer. Power outlets were available in the main seating area and supported both US and UAE plugs.
The bathrooms inside the lounge were nice and had showers available.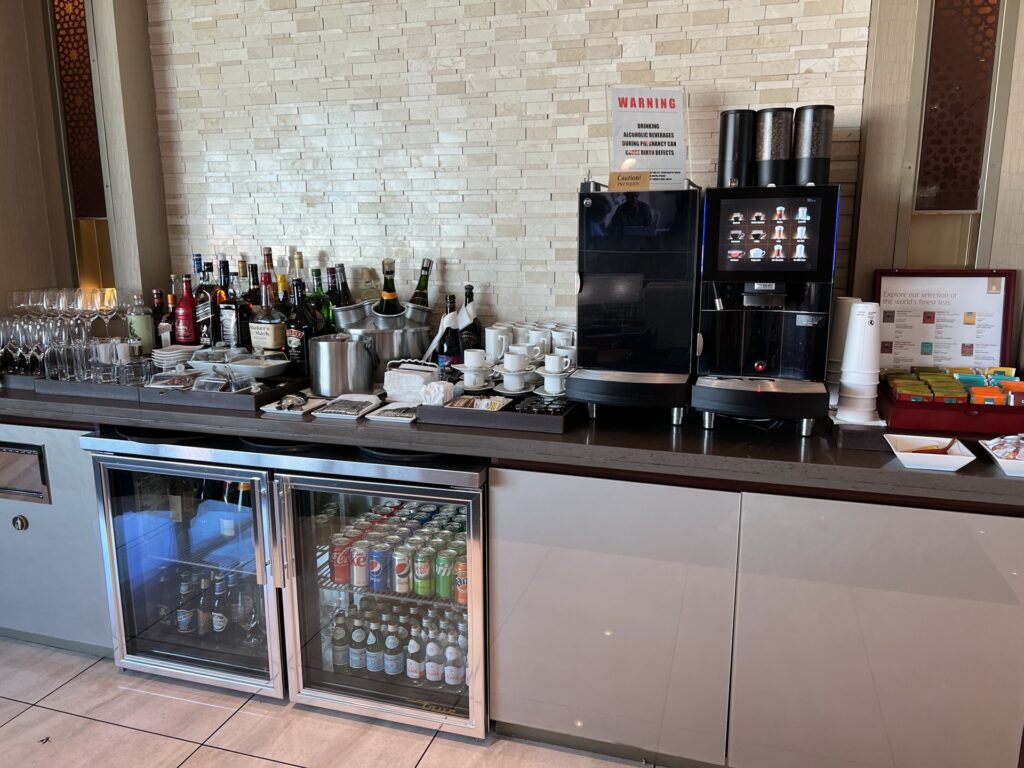 The most amazing thing about this lounge though was that you could board the plane right from the lounge! Which leads us to …
Boarding Emirates Business Class at JFK
They made an announcement in the lounge when our flight began boarding. The boarding gate is located in the back corner of the lounge and lead right to the jet bridge.
Emirates only services one flight out of JFK in the morning (two in the evening), so everyone in the lounge would be boarding our flight. That said, there was no crowding or long lines at the gate when boarding began. It took only five minutes from the time they began boarding to when we were on the plane and at our seat.
Boarding right from the lounge alleviated the stress and friction that typically comes with getting from the lounge to the gate. We didn't have to worry about timing our lounge exit, tracking our flight status or navigating a large and crowded airport to get to our gate. It was probably one of the best Business Class perks we've experienced.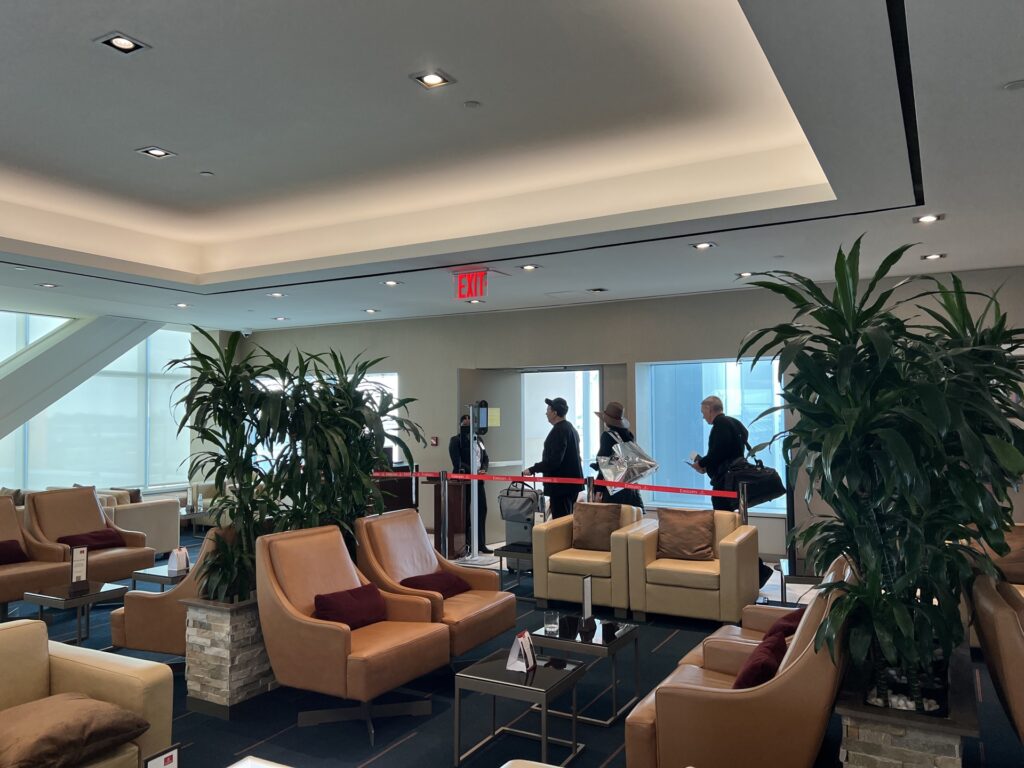 Emirates Business Class A380 seat review
Emirates Business Class seats on the A380 are very spacious and comfortable with many useful features and amenities. In this section we'll explore the seats and features in detail.
NOTE: Starting in 2023, some of Emirates A380s are being updated. This retrofit which will include a color palette change to the seats shown below. However, the bones of the Business Class experience will stay the same.
Emirates Business Class Seats on the A380
Business Class seats on the Emirates A380 include a lie-flat seat with footrest, spacious console, personal stocked minibar (non-alcoholic, not chilled) and varied personal storage spaces. The seats are not enclosed suites and do not feature any sliding doors, however the center two seats have a sliding privacy divider.
The seats themselves are plush but firm and very comfortable. Each seat is 18.5 inches wide with a pitch of 48 inches (compared to 32-34 inches in Economy and 86 inches in First Class). The beds lie flat to a length of 70 inches (B, D, G & J) or 79 inches (A, E, F & K).
Seats can be positioned upright, reclined or fully flat and are could trolled by buttons on the console. The seats can also move forward and backward to bring yourself closer to the tray table. This was actually incredibly useful when flying with a small child.
The generous pitch leaves plenty of leg room. There is a built-in root rest below the entertainment console, which doubles as the foot of the bed when in the flat position. There's also an adjustable leg rest as part of the seat.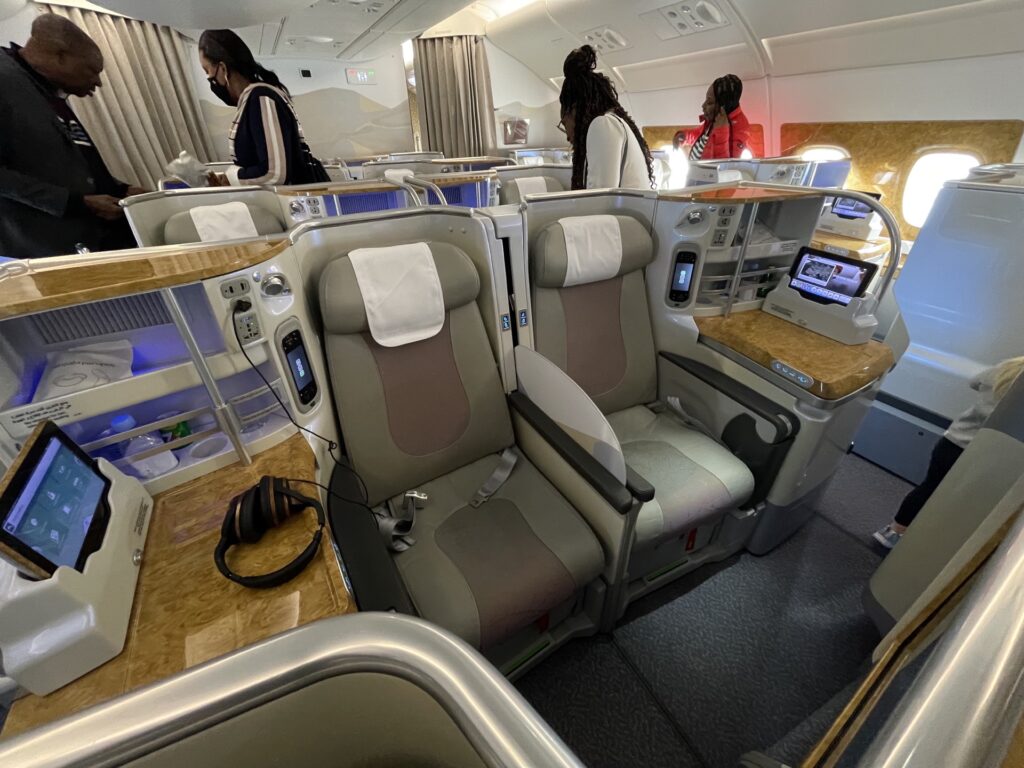 Sleeping in Emirates Business Class on the A380
On a long-haul flight like NYC to Dubai, sleep is important. The Business Class seats on the A380 lie completely flat and transform into a pretty comfortable bed, giving you the best chance for shut eye at 40,000 feet.
On our flight (which departed at 10:56 AM New York time and landed at 7:48 AM Dubai time), the cabin lights were dimmed after the first meal service and remained low until about two hours prior to landing. There were even stars projected onto the ceiling which was a nice touch.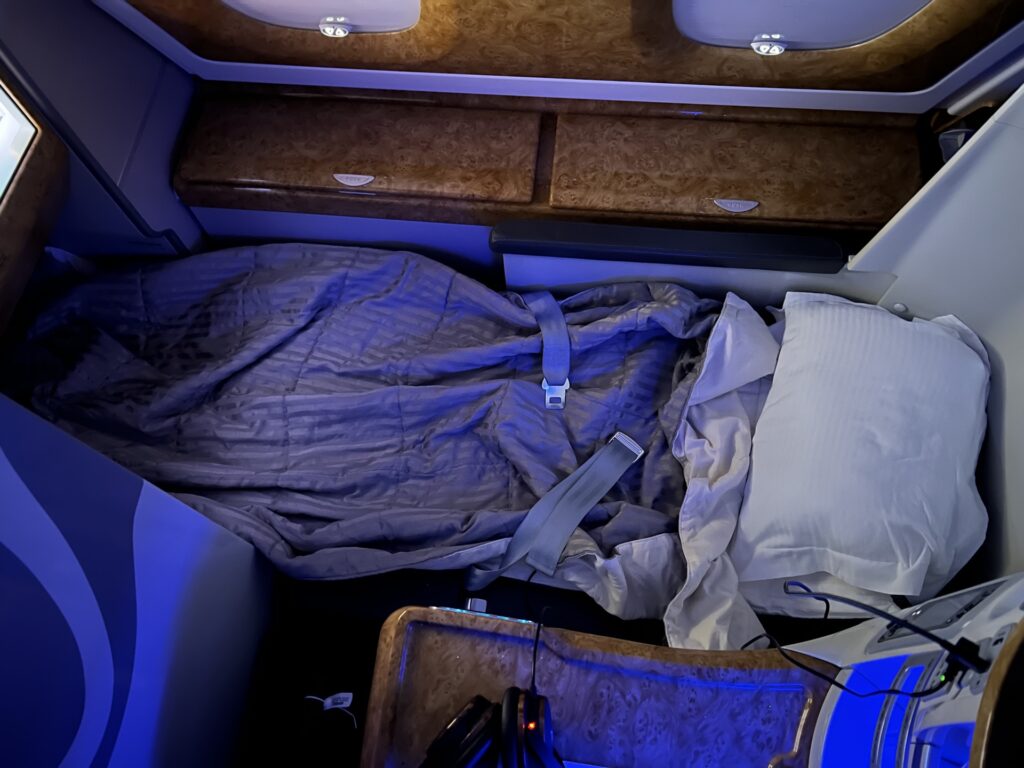 It seemed that most people on our flight attempted to sleep, so the cabin remained mostly quiet. If you chose not to sleep, you would have benefited from spending time in the lounge which had the window shades open for full daylight.
A blanket and pillow was provided at the start of the flight, and then an additional mattress pad was offered as most people prepared for sleep.
With the mattress pad on, the bed was very comfortable. At 5'3″, I was able to fully and comfortably stretch out on the bed. The head portion of the bed sinks well below the console, so it creates a darkened and semi-private experience even without actual doors.
For passengers in the center two seats, the beds were close together but not touching. Even in its lowest setting, the privacy divider and arm rest was about a foot higher than the bed itself.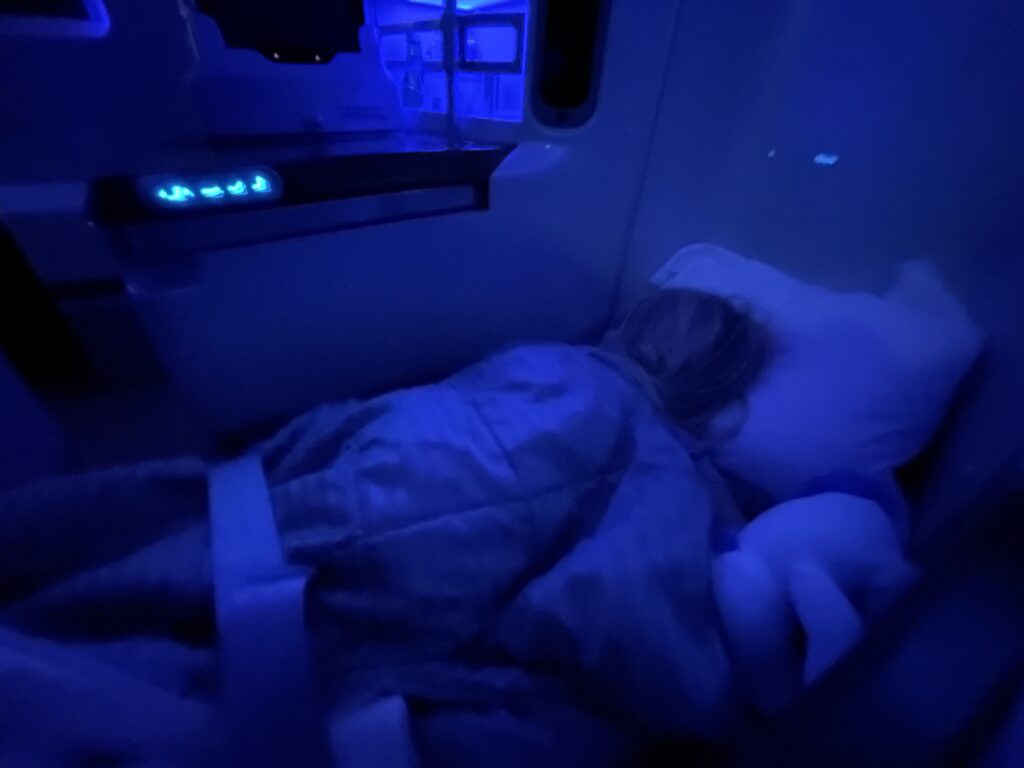 Storage
If I had one complaint about this flight, it would be the inconsistency of storage across the different seats. And specifically, the lack of storage in the middle seats.
The two center seats (E & F) had very little in-seat storage. The primary storage space was in and below the foot rest area, which could fit a small backpack and/or the provided pillows and blankets. There was then small spaces for media (magazines, menus or a very small book) between the screens and a small shelf above the minibar. However, there was no space to store things like a laptop, larger books or a tablet other than just sitting freely on the console.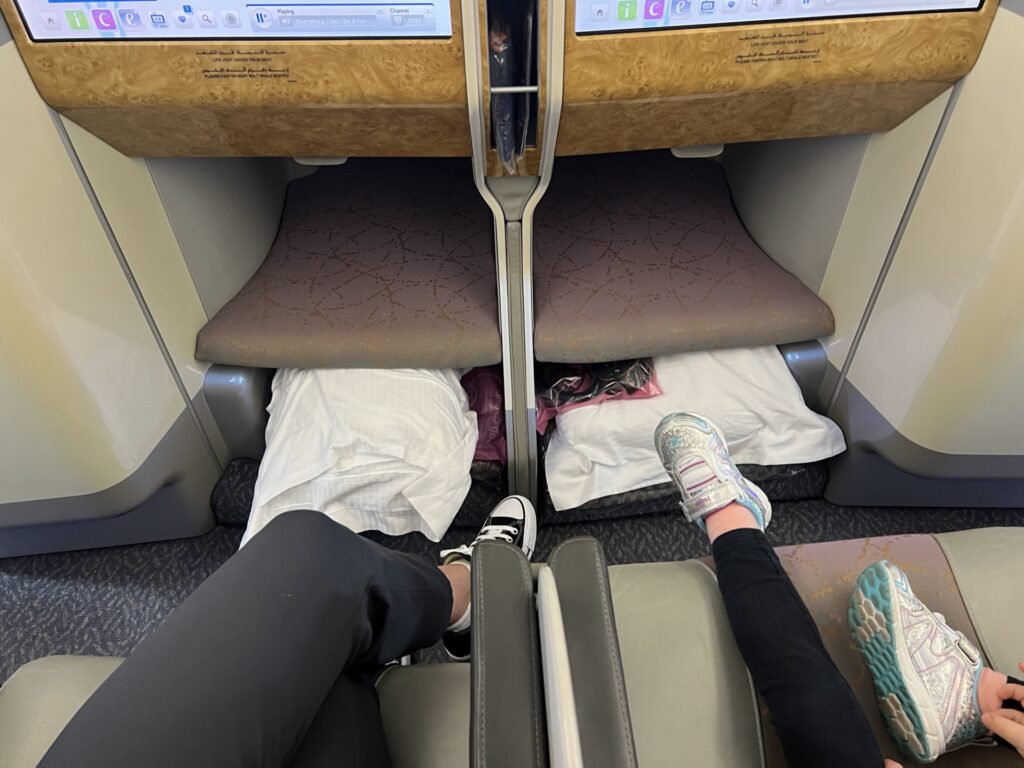 Meanwhile, the aisle seat (K) had substantially more storage. In addition to the same storage space as the middle seats, the window seat also had two full compartments along the window side that could hold a substantial amount of stuff. Kenny fit the provided pillow and blanket in one side, and stored his tech (laptop, head phones) in the the other for easy access.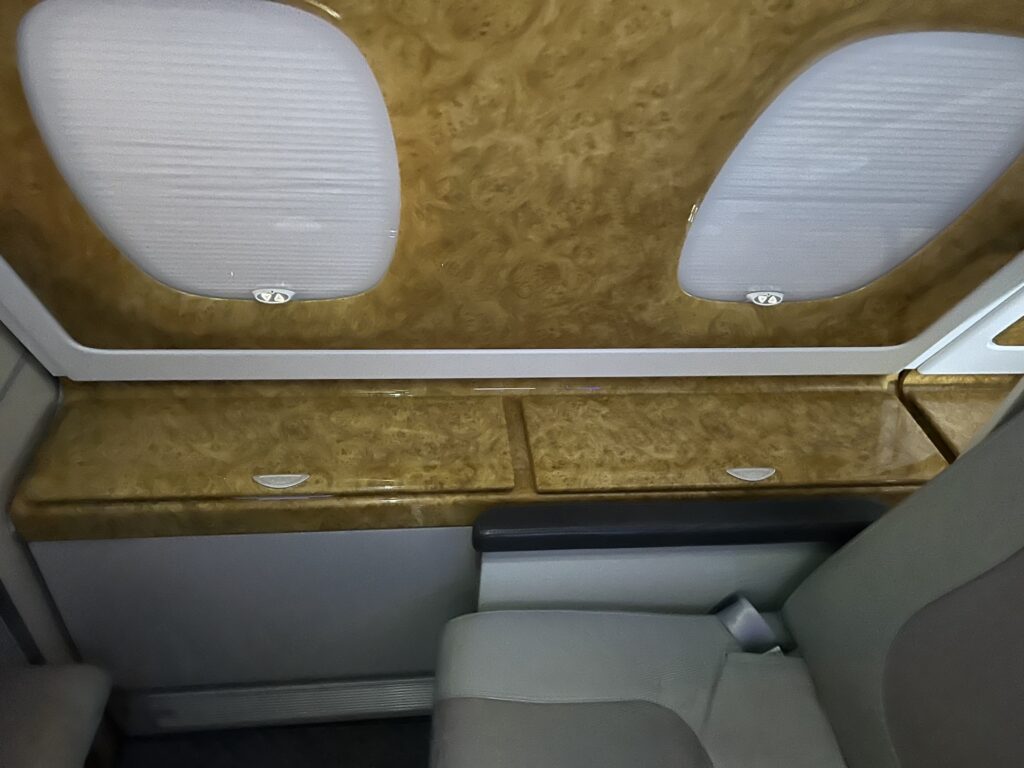 In all seat types, when the seat is in the lie-flat position, the storage space above the footrest is used for the foot of the bed. You can still store things under the footrest and could also fit a small backpack in the space in front of the side console.
While the in-seat storage felt limited, I was never actually pressed for storage space. Each seat has a dedicated overhead bin, which had more than enough space for all of our carry-ons, jackets, etc.
Entertainment and Technology
The technology on Emirates Business Class goes a long way in creating the frictionless flying experience that it is.
Let's start with the controls. All seat movements and the privacy divider in the middle seats are automatic and controlled by buttons on the seat. There's then two additional controllers: a wired remote and wireless tablet.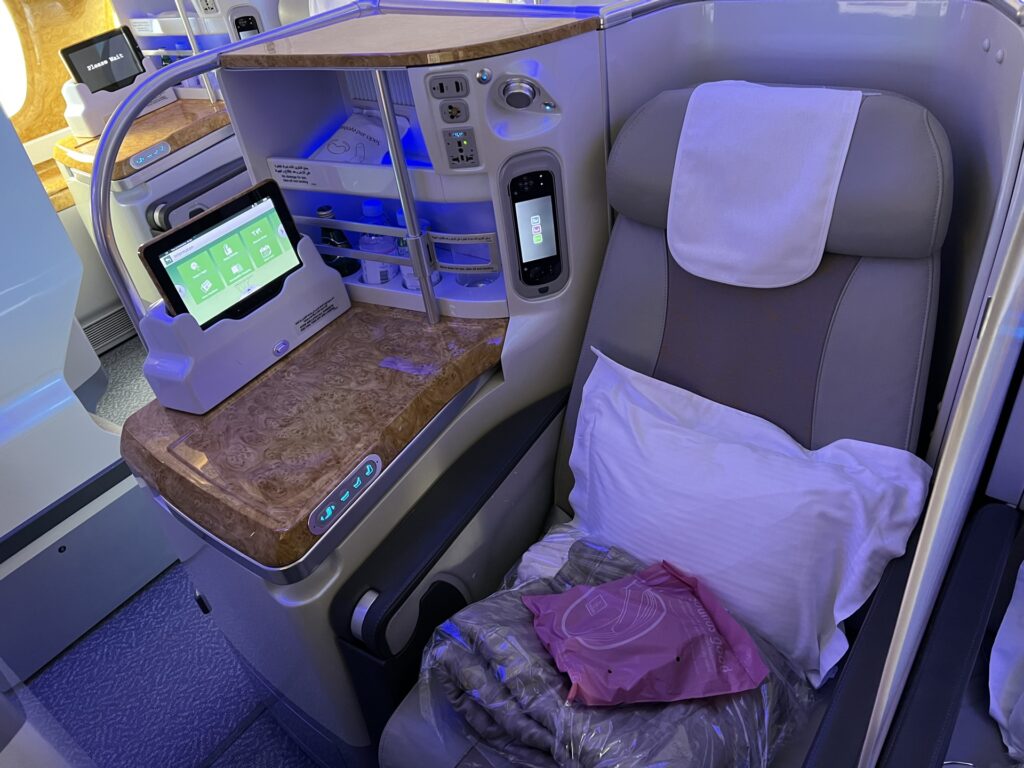 The wired remote controls the overhead light and the flight attendant call button. It also can be used to navigate the entertainment system or as a remote for the inflight games. The tablet controls the entertainment on the main screen, or it can display a separate screen. For example, you can keep the flight map up on the tablet while watching a show on the main screen.
In addition to the overhead lighting, each seat also has a reading light. Next to the light is the charging console, which has USB ports and an outlet that accommodates a variety of plug types including US and UAE.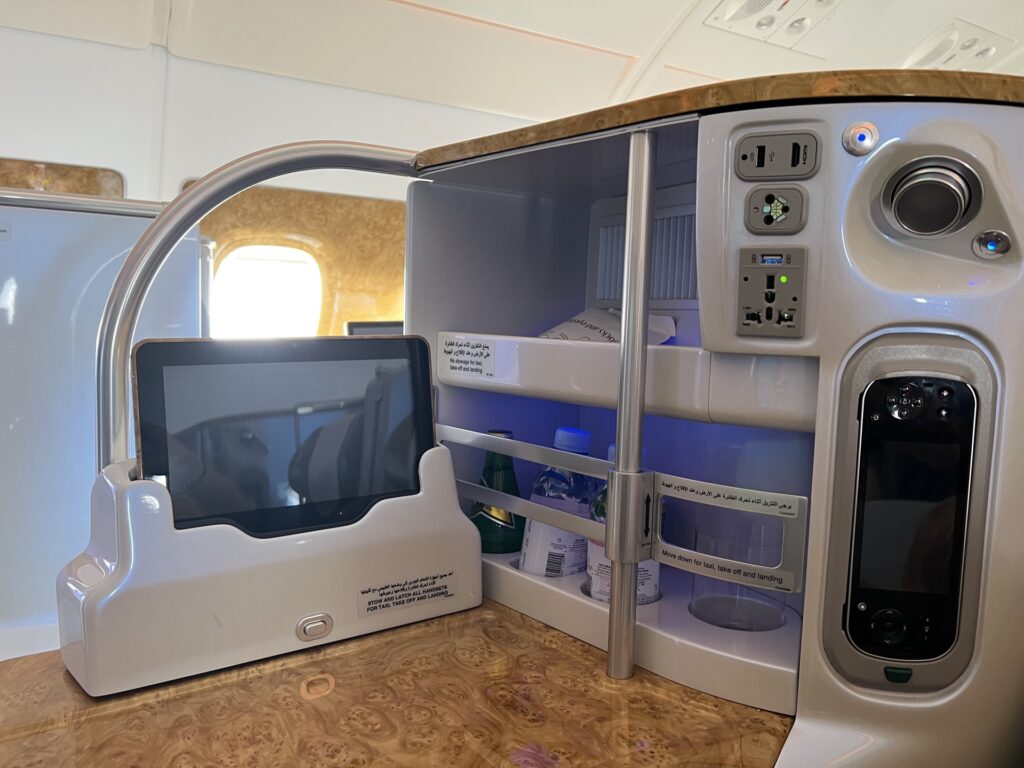 The TV screen has a large 17-inch display. It's touch screen, but it can also be controlled by the remote or tablet. The entertainment selection on Emirates is one of the best in the business and had a wide range of TV shows, movies, games and music.
Noise reducing headphones were provided. They worked well and were very comfortable for both adults and our 2-year-old. The provided headphones have a custom 3-prong plug and matching socket in the console. You can use your own headphones with a standard jack as well, but the sound doesn't always come through right. On most of Emirates' A380s, you can also pair your personal bluetooth device.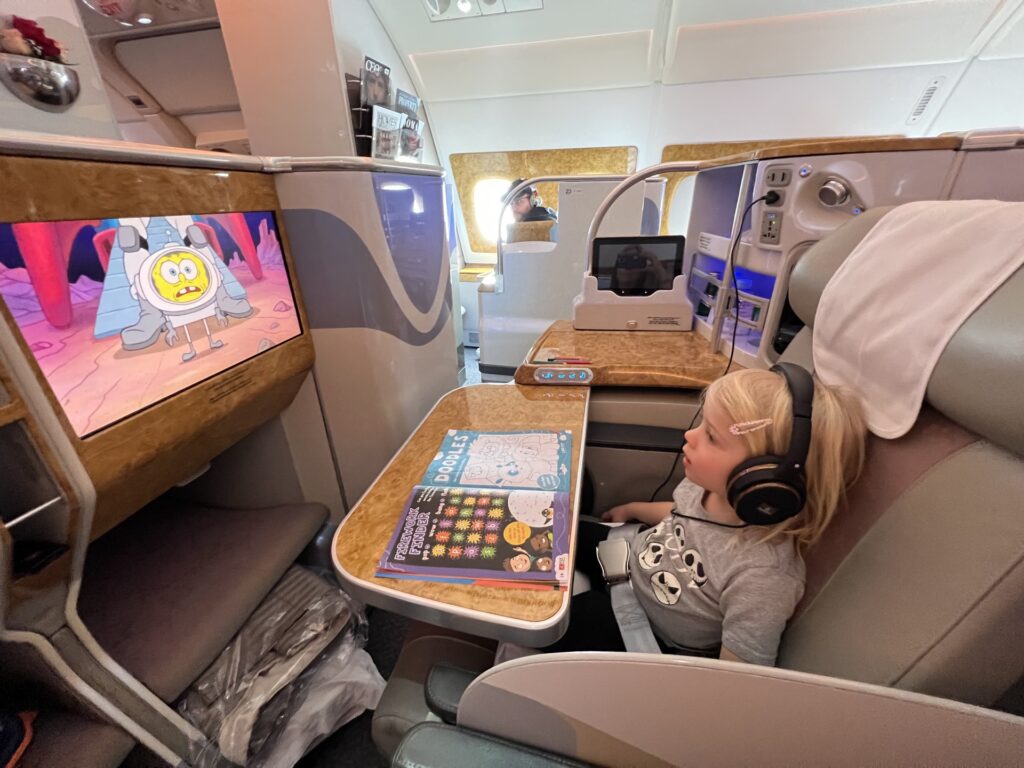 Amenities
Amenity kits were distributed before takeoff. I somehow got missed and didn't receive my amenity kit. However, I flagged down a flight attendant at a later time and was given one with no problem.
Emirates offers both a male and female kit, which has different items and scents. The woman's kit contained the following items in a cream colored zippered pouch.
Bvlgari lotion
Bvlgari face moisturizer
Bvlgari perfume
Bvlgari lip balm
Rexona deodorant
Tissue pack
Folding mirror
Folding hairbrush
Dental kit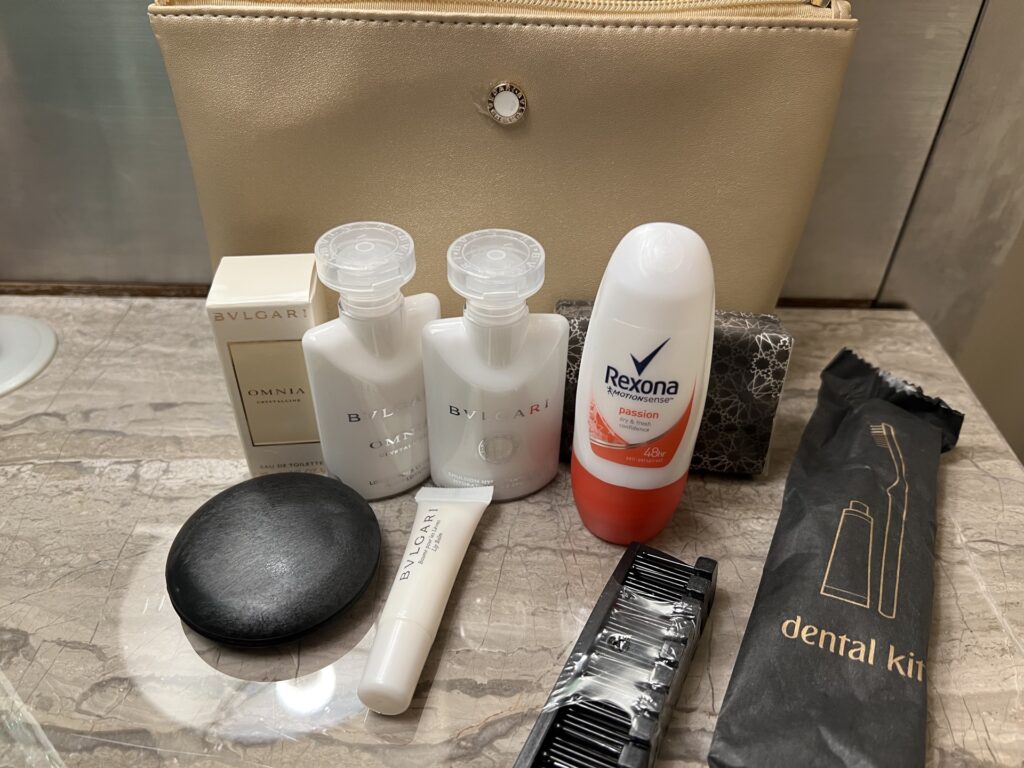 The men's kit was a plain black zipper pouch that contained similar items. Pajamas and slippers were not provided on Emirates Business Class.
They also have some special goodies for kids. Before take-off, they brought us an activity booklet, folding backpack, travel blanket, and a stuffed toy.
Bathrooms
There were five bathrooms accessible to Business Class passengers — four in the rear just past the Onboard Lounge and one at the front of the Business Class section. In our experience, the bathrooms were always clean.
The bathrooms were stocked with dental kits, men's and women's fragrances, sanitary napkins and individual lotion bottles. They were also equipped with infant changing tables.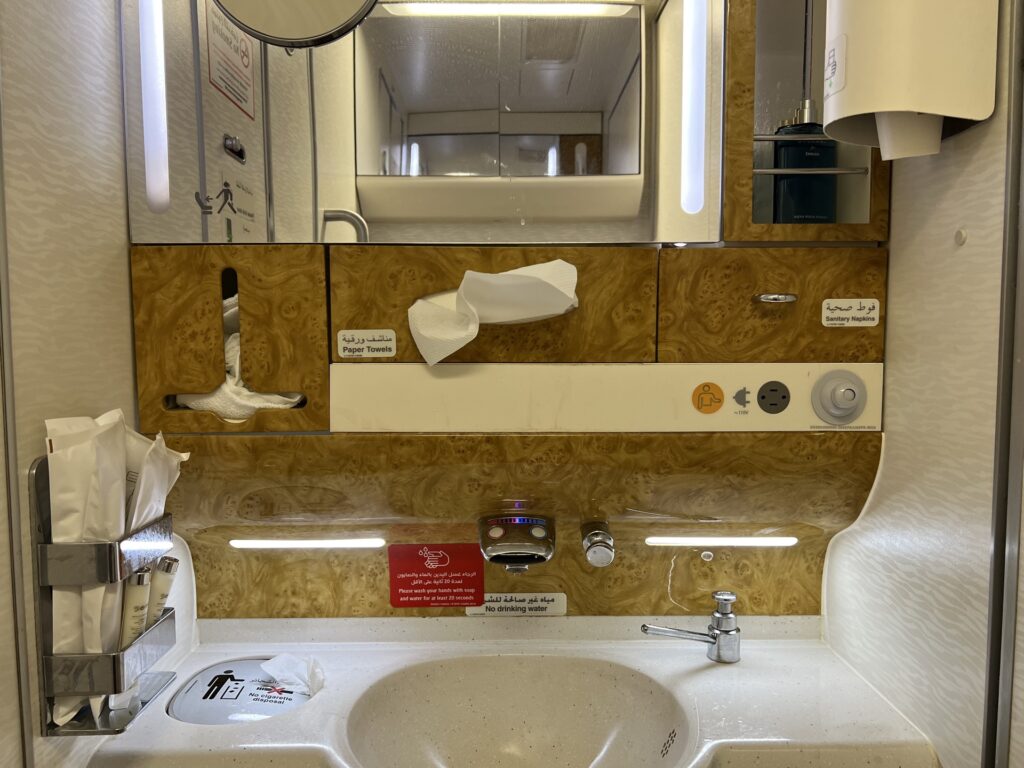 Onboard dining and lounge
The food in Emirates Business Class is pretty incredible. We're admittedly not foodies, but we've enjoyed some of the best airline food (and actually just food in general) on Emirates premium cabins.
Our particular flight offered two full meals, plus there were options for getting more food and snacks at anytime. Here's a look at the food and beverage options and experiences on Emirates Business Class.
Beverage selection & service
Our journey began with a pre-departure drink offering of Champagne ( Veuve Clicquot), juice or water. We were then offered our first in-flight beverage shortly after takeoff.
The cocktail offerings on this flight were really impressive! They had the standard highballs and classic cocktails, but also an interesting list of creative cocktails and mocktails. I've never seen an espresso martini on an airplane before, but you bet I ordered one the second I saw it! My cocktail was served with a side of either nuts or olives.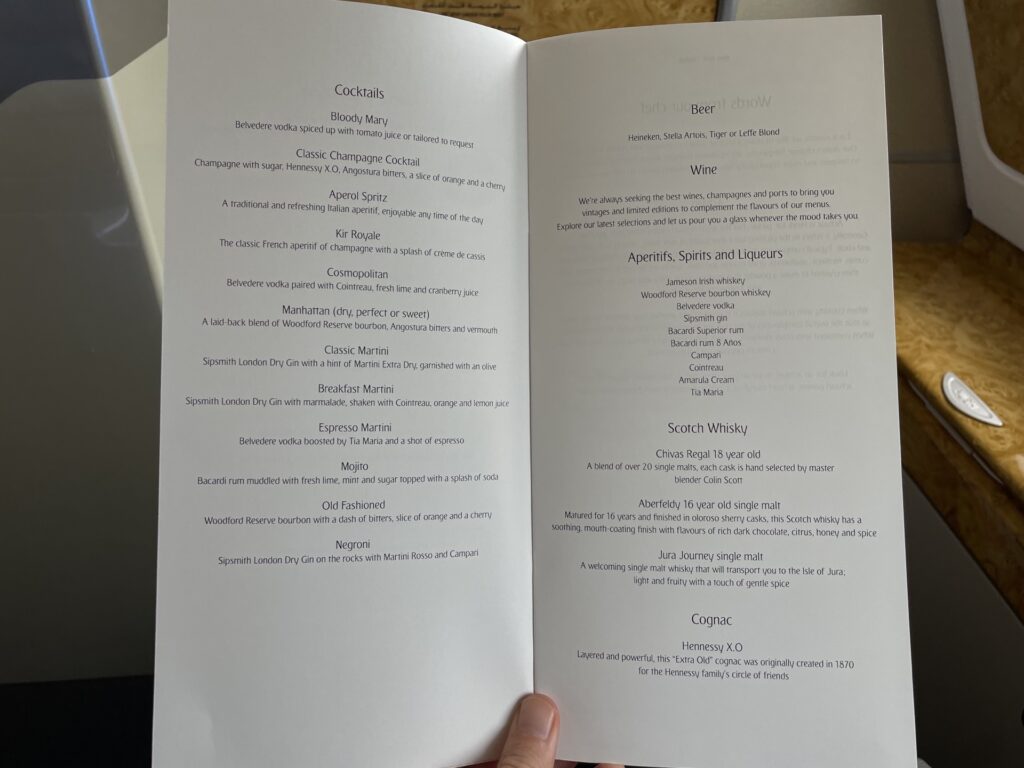 This was the only proactive drink service offered throughout the flight. I can't complain about that, though. The flight attendants took drink orders with each meal, there was a bar in the lounge that you could go to any time, and you could also hit the call button for a drink on demand anytime.
Meal Service
Our flight included two full meals, with light bites available in between.
Lunch was the largest meal and served shortly after takeoff. Breakfast was served about two hours before landing. Meals were scheduled for a set time, but they accommodated meal requests at any time.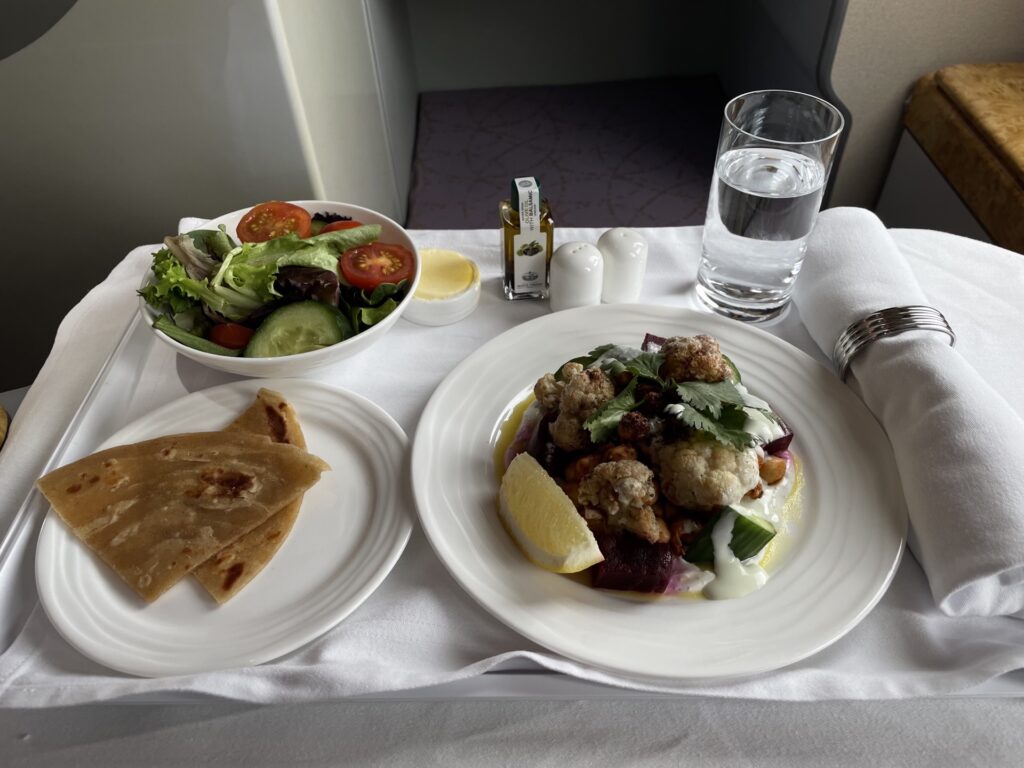 The flight attendants took meal orders before each meal. We are vegetarian, so we pre-ordered special meals. The flight attendants confirmed our pre-order selection at the start of the flight. For each meal the rest of the flight, they brought us our correct special meals without any confusion or extra discussion.
The only exception to that was when I ordered something from the light bites menu. I didn't expect our pre-order to cover a special selection of light bites, but it did. She gave me the option to select the ravioli from the standard menu which was already heated, or I could get the snack from my special order that would take 20 minutes to heat up. I happily took the option that was already ready.
All of the food we had was substantial, beautifully plated, fresh and delicious. Take a look at the menu for an example of the decadence offered in these meals. Each meal had multiple courses and came with a selection of still or sparkling water, a beverage of my choice and bread service.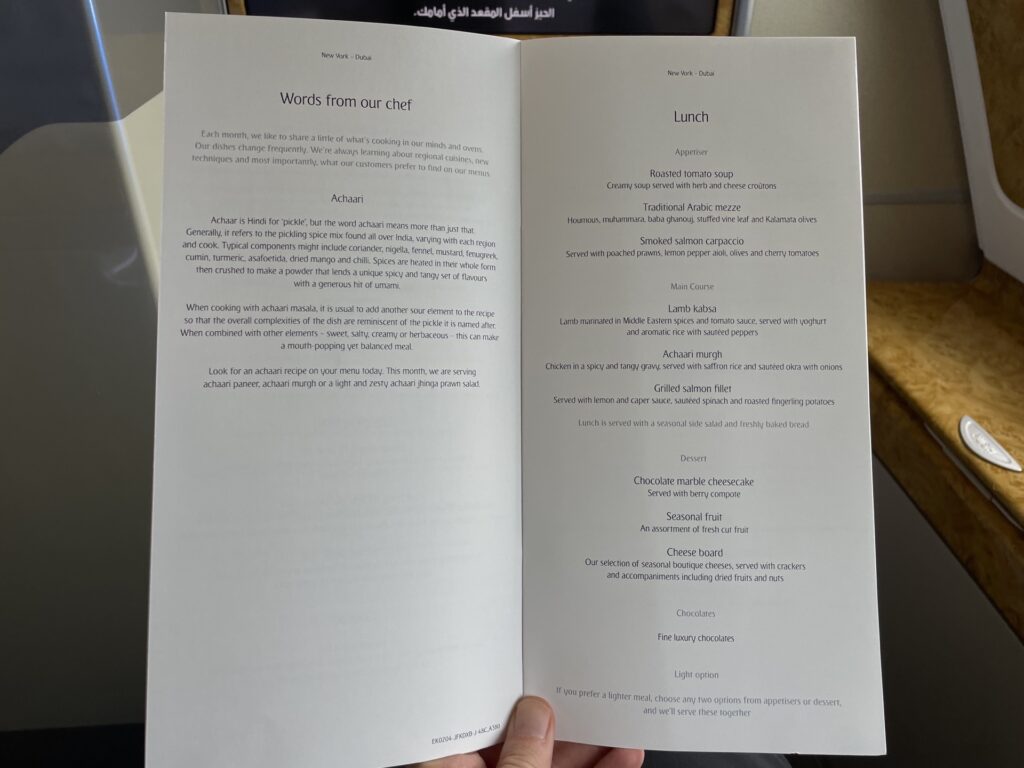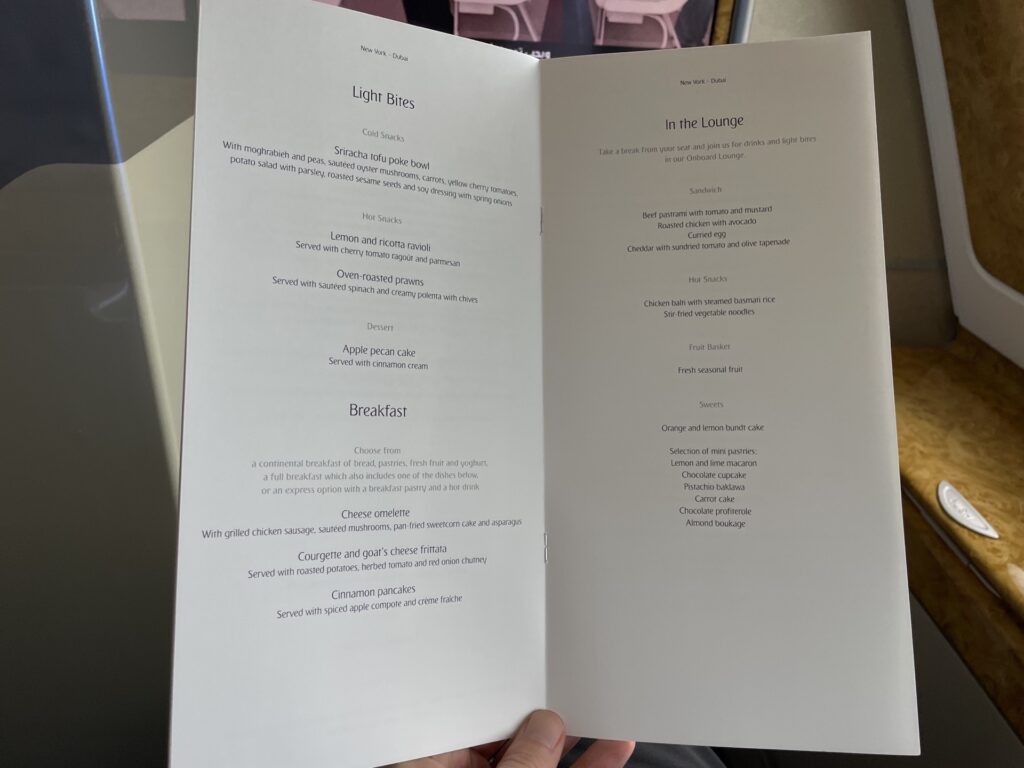 They even gave us a small box of chocolates toward the end of the flight.
Onboard Lounge
Imagine you're a few hours into a long-haul flight. You could order a cocktail to your seat, but what you really want is a change of scenery. Wouldn't it be nice to sit across the table from your travel companion instead of constantly looking sideways at them? Maybe you just need to stretch your legs but don't want to stand in the galley for 10 minutes.
Enter the Emirates Onboard Lounge and enjoy going to a bar at 40,000 feet! It's truly one of the coolest and unique features of Emirates Business Class on the A380.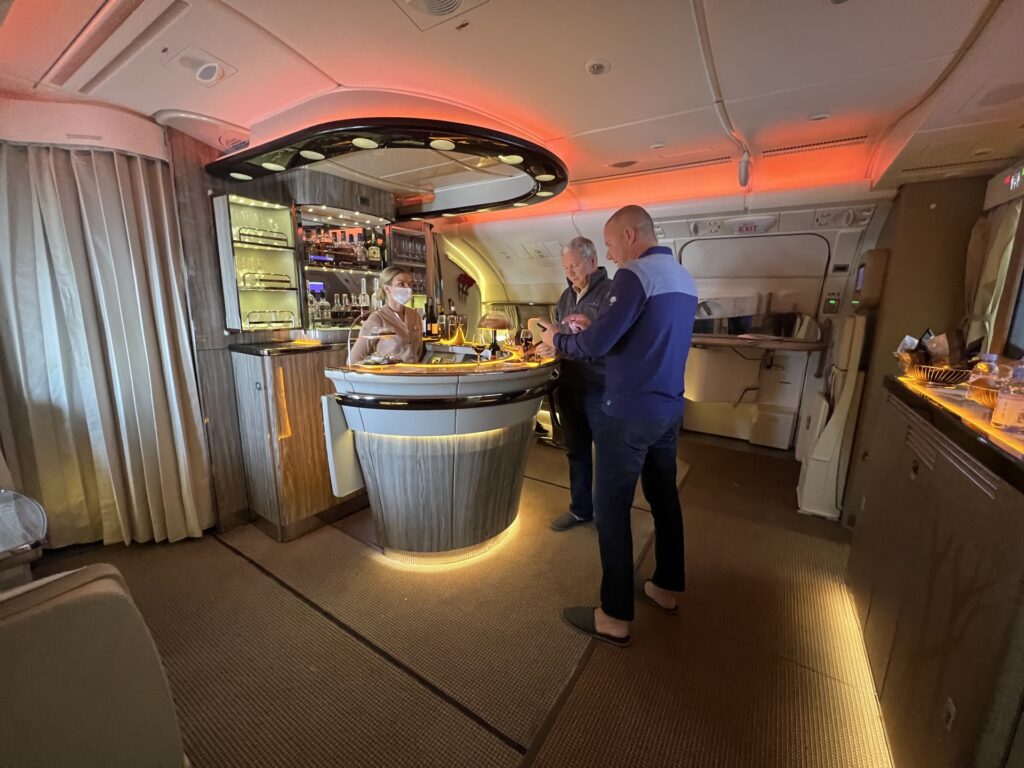 The Onboard Lounge is located at the back of the plane. There is a full-service bar where you can order drinks anytime during the flight. There's also a selection of treats and snacks that you can enjoy in the lounge or take back to your seat. (The lemon lime macaron was one of the best macarons I've ever had!)
The window shades in the lounge remained up during the flight, which meant it felt like daytime while the cabin was set for nighttime. This was really helpful for us, because we didn't actually want to sleep the entire flight.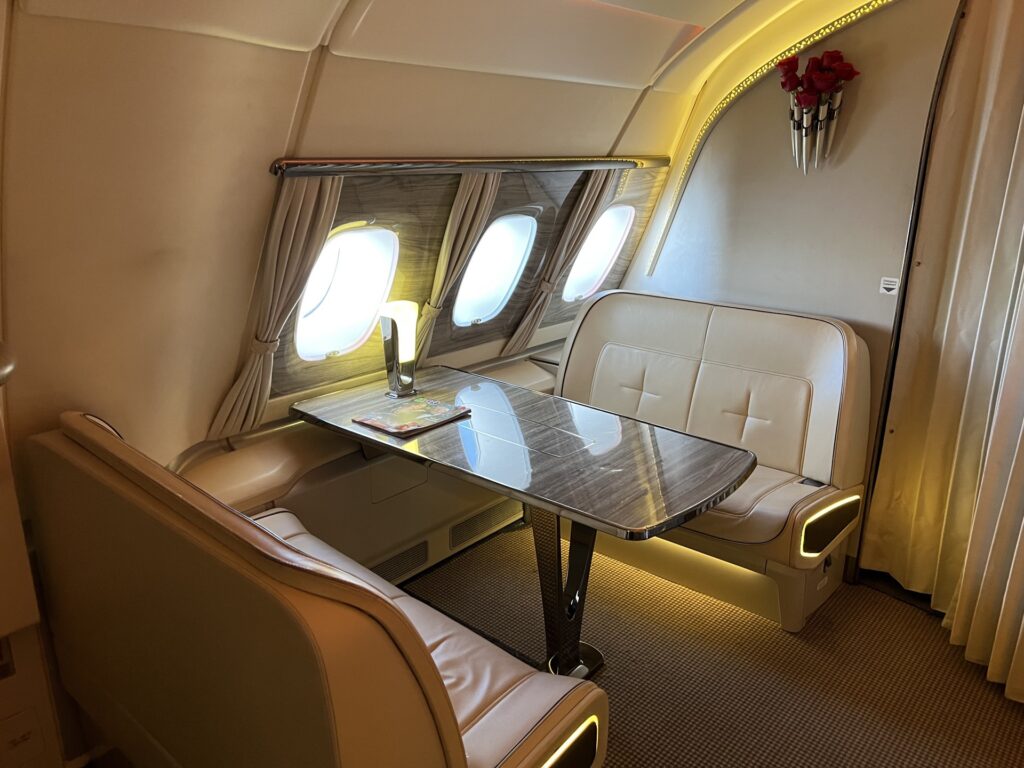 The lounge is popular, but in our experience it was never too crowded. Early in the flight, the tables were mostly taken but there was plenty of standing room. When the cabin lights were dimmed and most people were sleeping, we had no problem finding space in the lounge.
When I stopped by for a glass of Champagne at one point, the lounge was empty. The flight attendant was a delight and he let me jump back behind the bar and did a full photo shoot with me.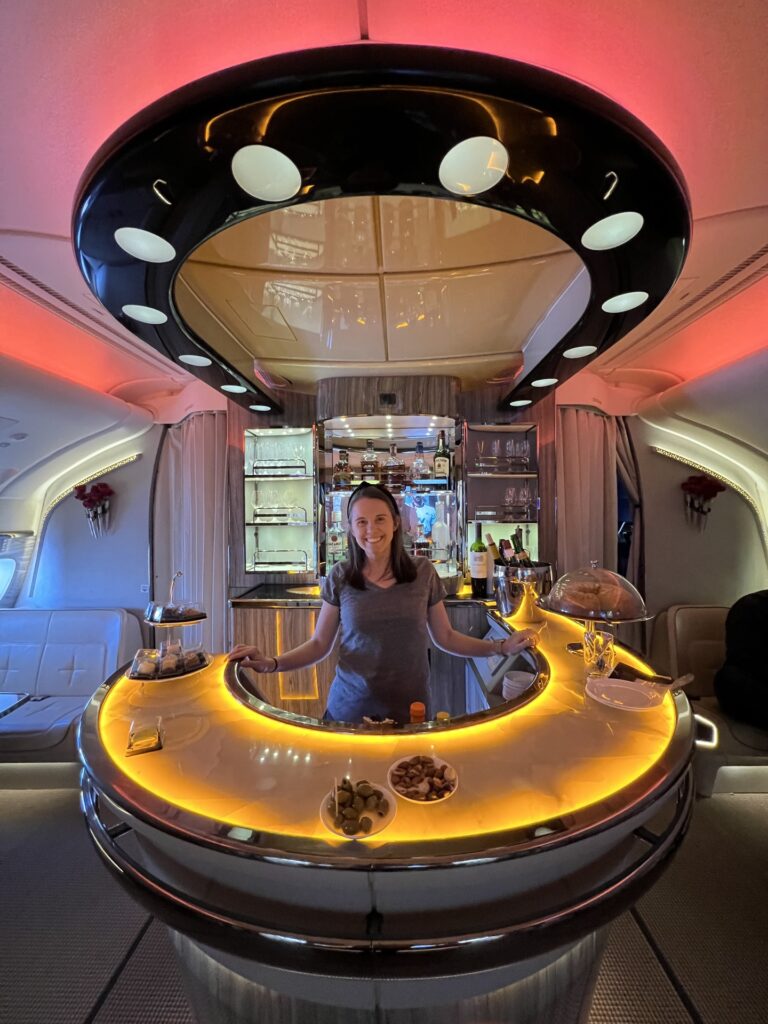 Service
Emirates service is some of the best in the business. Each flight attendant was courteous, professional and prompt. When I think back on this flight, it's the flight attendant interactions that stand out the most. I think of the bartender in the lounge who did my photo shoot, the flight attendant who took the Poloroid of our family as a special keepsake, or the countless times that people stopped to chat with our little one.
Sometimes I find flight attendants on Business Class flights to feel too stuffy or that they (understandably) tire by the end of the flight. That wasn't the case with this crew. They always made me feel welcomed and like nothing I asked for was ever a bother.
As I mentioned above, there was only one proactive drink service. I'm some cases, this is something I'd ding them for. However, the fact that there's an onboard lounge really gives them a pass on that. Giving passengers a place to get their own drinks whenever they want honestly makes things easier on everyone.
The service on Emirates is top tier and exactly what you'd expect from a premium cabin experience.
Emirates Business Class with a toddler
Let me tell you — they love kids in the Middle East. When we traveled to Dubai before Zoe, it was almost comical how many people asked us why we didn't have kids. Children are just so integrated and welcomed in the culture there, so it is no surprise that our child was welcomed whole heartedly on Emirates Business Class.
If you're traveling Emirates Business Class with a toddler, here are a few things you have to know. You can also find the official airline policy for traveling with children here.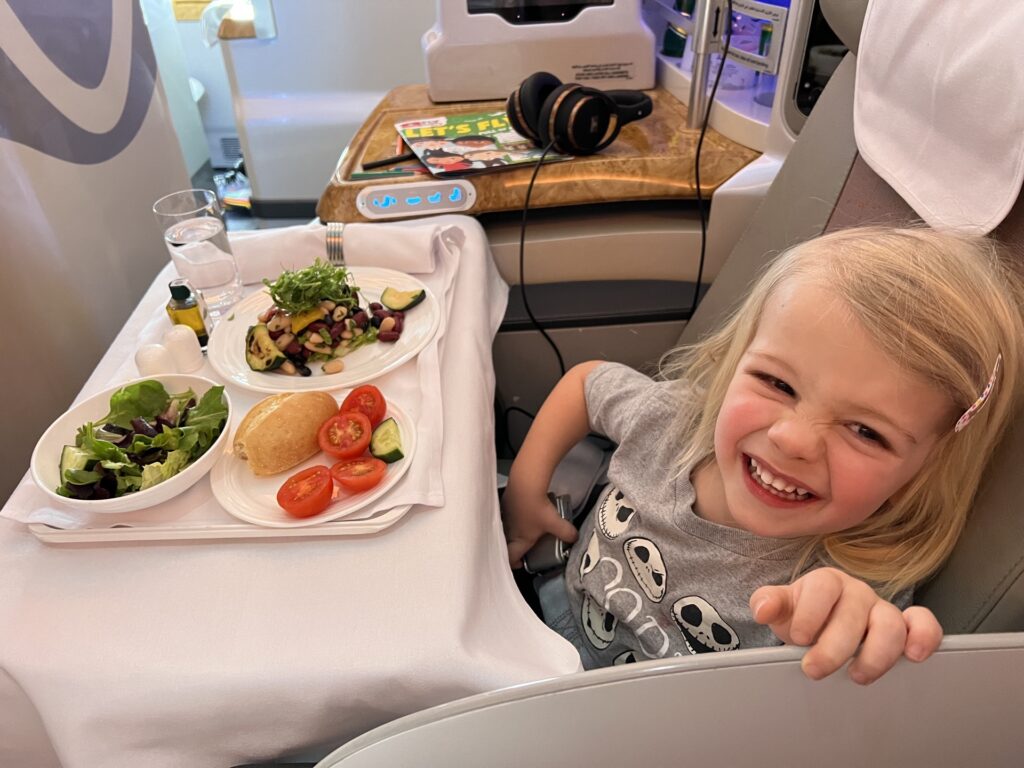 1. Buying Business Class tickets for children
All children flying on Emirates will need to purchase a ticket, whether they have their own seat or not. These rules apply to all cabins, including Business Class.
Infants ages 7 days to 1 year can be seated on a parent's lap or in an airline-provided bassinet. Infant tickets are discounted to about 10% of the adult fare.
If you'd like to seat your infant in a car seat, you will need to purchase a seat for them at the children's rate. On Business Class on the A380, this probably isn't necessary and may be more inconvenient due to the seat configuration.
All children ages 2-11 require their own seat, but receive a discounted fare. Children's tickets go for 75% of the adult fare (or in other words, they are 25% off).
All children 12 and older require a standard ticket at the full-price adult fare.
2. Choose the right seats
If you're flying Emirates Business Class with a child, it's very important that you choose the right seats.
The best seats for a parent and child to sit together are middle seats E and F. These two seats are divided by only an arm rest and moveable divider. With the divider down, a parent can easily see and reach a child in the other seat, whether they're in a car seat or sitting on their own.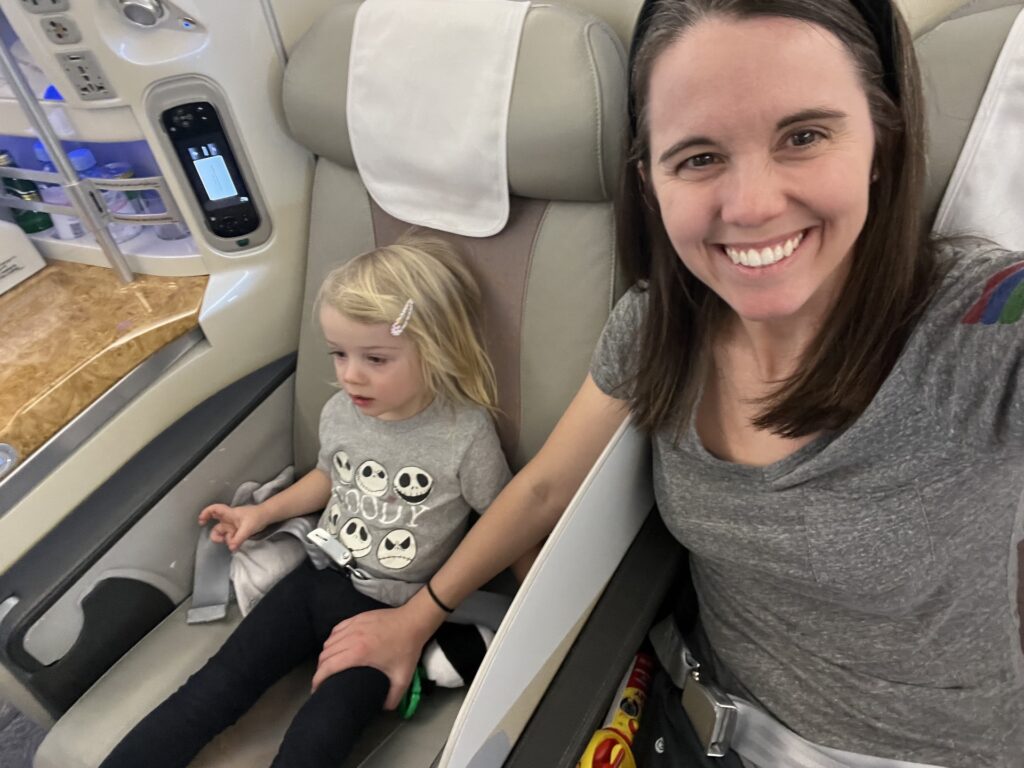 Middle seats D and G would be appropriate for a parent and an older child. These two seats are separated by a wide console. A parent can see into the other seat, but it would be difficult to reach and assist a younger child from this distance.
If you're traveling with an infant, bassinets are available in select seats in Business Class on the A380 (typically 6D, 6G, 22D and 22G). You can request a bassinet when you book an infant fare in the Passenger Details section. Bassinets in business class measure 29.5 in x 13 in x 5 in and the child must be under 2 years of age, weigh less than 24.2 pounds and safely fit in bassinet.
3. Safety regulations for children in Emirates Business Class
If you've ever flown with a child, you probably know that many of the safety rules are often inconsistent and vary across airlines, plane types and even just by flight crew. Here are few key callouts from the official Emirates policy.
Car seats. Car seats are allowed but not required. If a car seat is used, you must purchase a seat at the children's fare price. Car seats must be approved for aircraft use and may only be used in the forward facing position. Rear-facing car seats may only be used by children under 6 months old and only in the bulkhead seats.
Seatbelts. Lap children must be secured in a provided seatbelt extension. Children with their own seat and not using a car seat must wear their seatbelt as instructed by the crew. Most approved CARES child safety harnesses are allowed.
Ride-on suitcases and leg rests: Most of these types of seat extenders like the Bedbox, Fly Legs‑up, and FLY‑Tot are not allowed to be used on Emirates flights in any cabin. These would not typically be necessary in business class anyway.
Bassinet covers: The only approved bassinet sunshade/cover allowed on Emirates is the CoziGo.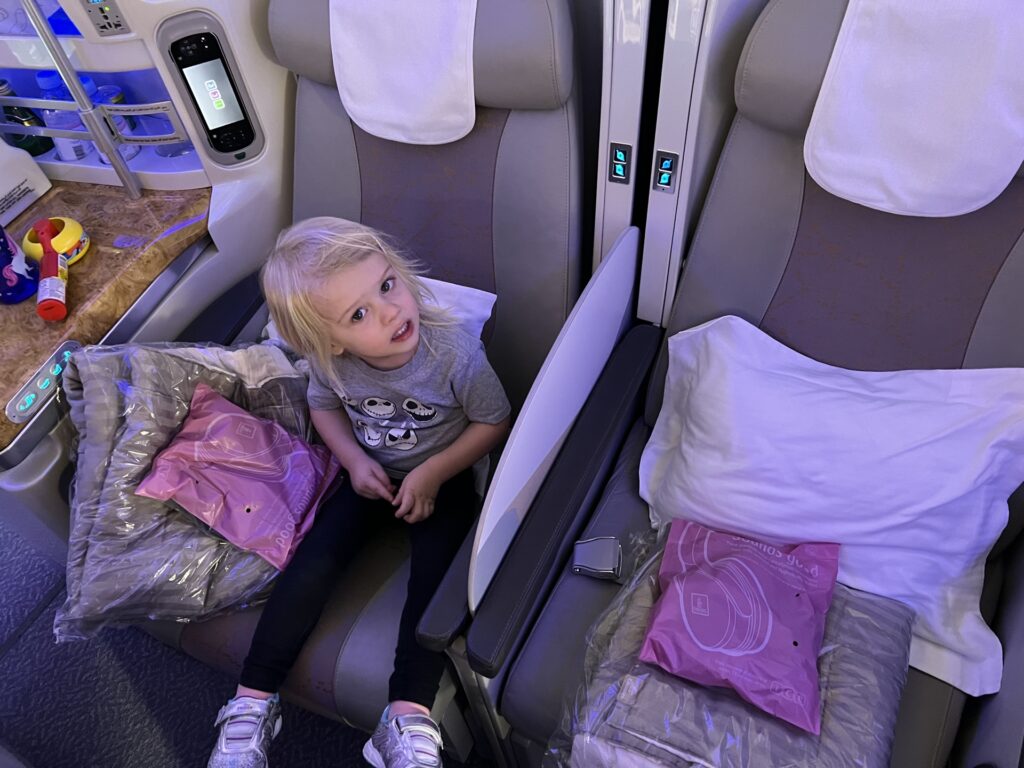 4. Sleeping with a child on Emirates Business Class
Getting a child to sleep on a plane is not always the easiest task, but a Business Class seat sets you up for the best possible chance.
Lap children will need to sleep on a parent's lap, in the provided bassinet or — if you're both small enough — next to each other on the lie-flat bed.
We personally didn't fly Emirates Business Class with a lap infant, but we did fly British Airways Business Class and shared a seat with our little one. That seat was comparable in size and our child was almost 2 at the time (older than they'd be allowed as a lap child on Emirates). I found it to be perfectly comfortable to cuddle up together in the lie-flat position.
Children over 1 year of age on Emirates will need to sleep in their own seat. Business Class middle seats E and F are great for this. The parent can be close enough to monitor them, but the armrest will block them from actually seeing the parent's face. This creates a distraction free space (for the most part), that hopefully helps the child fall asleep.
5. Keeping children busy in Business Class
Honestly, children flying Business class don't know how lucky they are. Trust me, I realize and appreciate the privilege of getting to fly Business Class with my 2-year-old. There are so many perks to flying Business Class with a child that I don't need to point out, but here are the ones that immediately come to mind.
Gifts & goodies: Our little one received a toy in the Emirates lounge and a whole backpack worth of goodies on the plane. They now can't sleep with blanket they got on this flight.
Onboard Lounge: Having the Onboard Lounge is so incredibly great if you're flying with a child. It's just so nice to have a different space to go to help pass the time. It helps that there are snacks and goodies there, plus a large table that's great for introducing a new activity like coloring or a family game.
Seat-back Entertainment: We travel with a tablet loaded with our child's favorite shows, but nothing beats the excitement of picking out a new show from the kids entertainment menu. Our kid learned that they love SpongeBob on this flight and watched it the entire time.
Snacks and meals: Every parent knows that snacks are key to surviving any flight. The fact that we got unlimited snacks on demand and I didn't have to bring them was a dream.
Happy hour: I love doing happy hour with my little towards the end of the flight. I order them a mocktail and they're always so excited to get a special drink.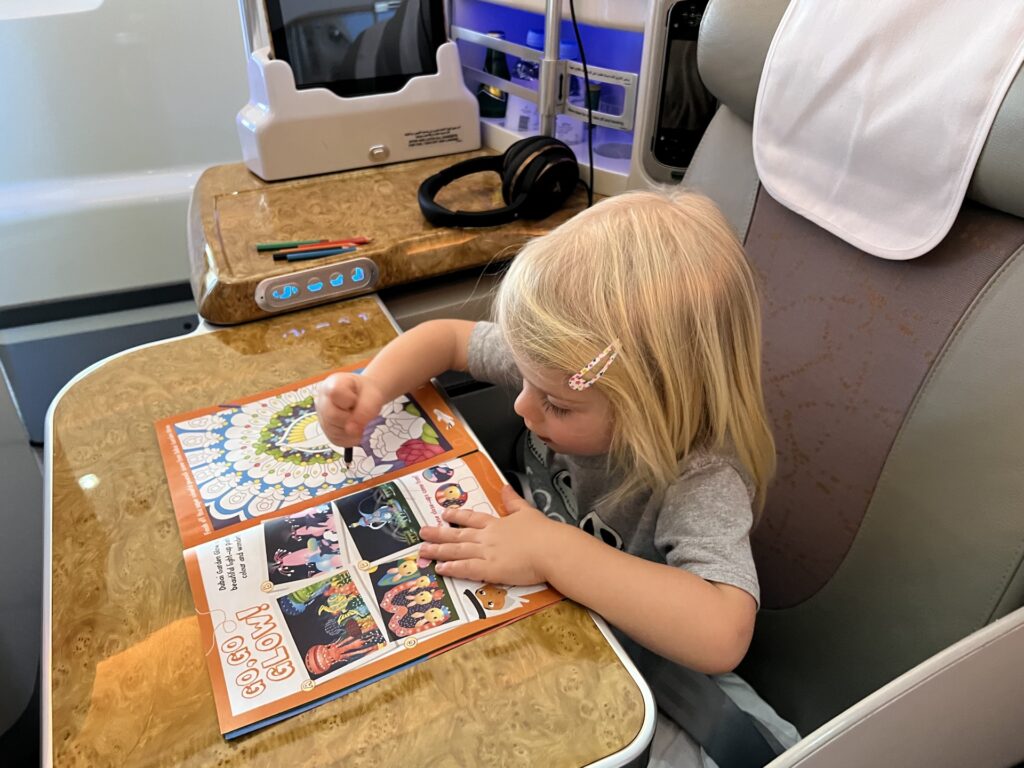 Closing thoughts on Emirates Business Class
We had an absolutely wonderful flight on Emirates Business Class from New York to Dubai. It was our longest flight to date with our young toddler and we weren't sure how it was going to go. They flew Business Class overnight one other time and it didn't go well (they literally screamed the whole time), so we truly didn't know what we were in for.
This flight couldn't have gone any better. From the moment we arrived at the terminal, everything within Emirates' control went smoothly. Check-in was quick, boarding from the lounge couldn't have be easier, and the flight was luxurious and comfortable.
Our little one managed to take one long nap on the flight and otherwise kept busy eating all the snacks and watching SpongeBob on repeat. We arrived in Dubai tired but happy.
We couldn't have asked for a better experience, and we look forward to flying Emirates Business Class again one day (as long as they keep their rewards availability, ha!).