In this post, we'll review our experience flying Air India Business Class on a Boeing 787 from Dubai to Delhi. We had spent a few days in Dubai recovering from a 12 hour flight from New York and adjusting to an 8 hour time change. Now we were ready to take on two weeks in India, and kicking that off with a Business Class flight on Air India felt like the right way to do that.
It was our first time flying Air India, but overall we had a really pleasant experience. (Well, you know, other than leaving a laptop onboard.) In this post, we'll share how we booked this flight, review the Business Class seating and service on board, and document our full flight experience. Keep reading to learn about Business Class on Air India!
Our Flight Details
Before we get too far, let's start by taking a quick look at the specific details for our flight and booking.
Origin: Dubai, UAE (DXB)
Destination: Delhi, India (DEL)
Flight number: AI930
Plane: Boeing 787-800
Airline & cabin: Air India Business Class (aka Executive Class on Air India)
Seats: 2F, 2H, 2J
Departure time: 10:23 AM Dubai time
Arrival time: 2:46 PM Delhi time
Total Flight Time: 2 hours 53 minutes
Distance: 1,360
Cost (2 adults, 1 child age 2): $1,530 USD
About Air India Business Class
Let's get this out of the way first. Air India is not usually a very highly regarded carrier. The airline often gets negative reviews — particularly in economy — for having worn down planes, poor service, frequent delays and just generally being a bit chaotic, to say this least.
When considering Business Class on Air India, think of it as an upgrade over Economy. Business Class on Air India isn't something that you need to put on your flying bucket list for an experience on its own. It's a product you might find yourself splurging on because you don't want to have a bad experience in Economy.
I point this out early because it's important to have the right expectations. I don't want anyone going into this flight thinking they're going to have the same experience on Air India Business Class that they had on Emirates Business Class.
That said, if you set your bar low, you might be pleasantly surprised! I found the Air India Business Class experience to be quite pleasant, comfortable and relaxing.
What does Business Class on Air India include?
Now's a good time to clarify some terminology. Air India uses the term "Executive Class" for their Business Class product. In this post, we'll continue to refer to this product as Business Class because it's the more general term. But just to avoid any confusion when you're booking, we're referring to Air India Executive Class.
Passengers flying Business Class will receive a premium and expedited experience from check-in to baggage claim. Here are a few of the main selling points for Business Class on Air India.
Dedicated check-in queue. There is a separate queue for Business Class passengers at the Air India check-in desk. You can check in and check your bags without waiting in the long Economy line.
Higher checked bag and carry-on bag weight limits. Business Class passengers are allowed one carry-on bag measuring less than 22″ x 14″ x 10″ and weighing up to 36 pounds (vs 17.5 in Economy). They're also allowed one checked bag weighing up to 77 pounds (vs 55 in Economy).
Airport lounge access. Business Class passengers will receive access to the Air India (or partner) lounge at their departure airport.
Spacious, lie-flat seats. On the 787, Air India Business Class seats lie completely flat. Seats are a generous 22 inches wide with a pitch of 74 inches.
Complimentary meals and beverages. A full meal complete with an appetizer, entree and dessert is included, in addition to a selection of drinks including soft drinks, coffee, tea and wine.
Priority immigration queue in Delhi. There is a dedicated queue for Business and First Class passengers at Immigration in Delhi. In our experience though, this line was still long and painfully slow.
Booking Air India Business Class DXB to DEL
There are several decent options for the flight between Dubai and Delhi. Both SpiceJet and IndiGo, low-cost Indian airlines, fly the route for rates around $100 to $200 (Economy only).
Emirates and Air India also fly between Dubai and Delhi, and both have Business Class options typically priced in the $500 to $1000 range. Since we already had an Emirates Business Class flight on this trip, and since Air India was cheaper (along with being the flag carrier of our main destination this trip), we decided to go ahead with that booking.
We paid $1,530 for three business class seats on Air India's 787-800 (including a $180 discount for one child ticket). Booking directly with the airline on our Amex Platinum earned 5X Membership Rewards points, or 7650 points.
Air India check-in at DXB
When we arrived at the Air India Business Class check-in desk, we were the only ones there. This isn't super surprising as there are only 18 Business Class seats on the 787. We were quickly and easily able to to check our bags get our boarding pass.
Next was immigration and security, which was also pretty painless. There were short waits for both, but the security screen at DXB was quick and efficient.
Dubai International Airport is huge, so it can take a while to get to where you need to be. It took us about 25 minutes to go through immigration, security and then arrive at the lounge. There were posted signs around the airport leading to the lounge location.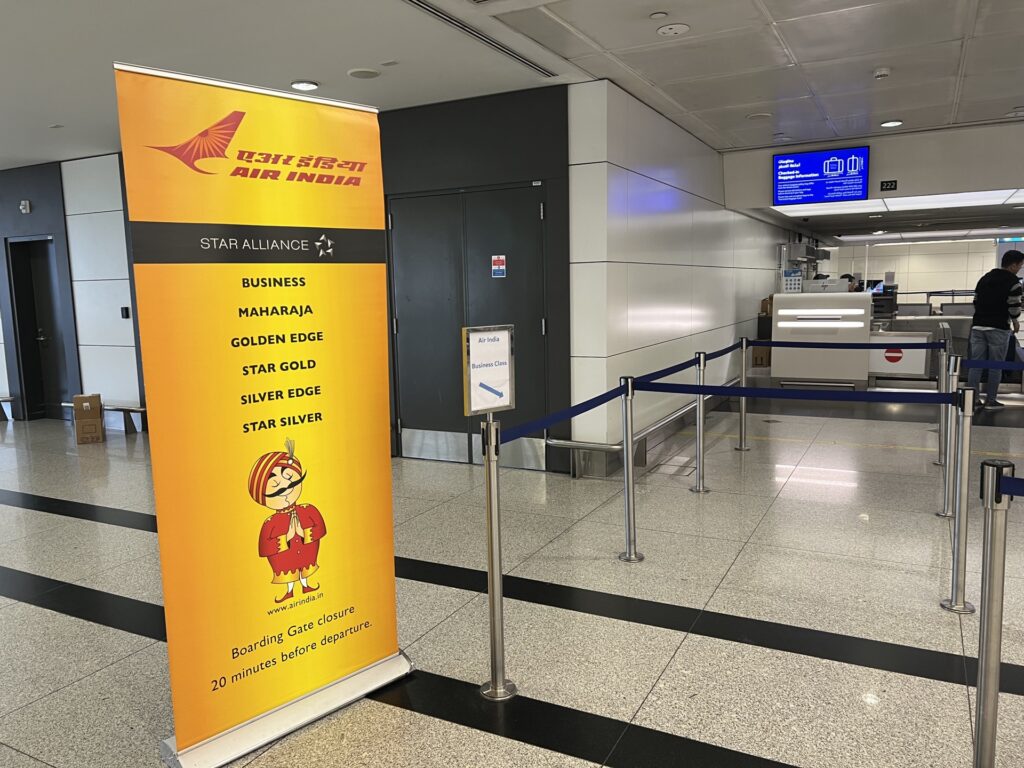 Ahlan Business Class Lounge at DXB
The Ahlan Business Class Lounge is a fine lounge for a short stay. It was pretty small, but not very crowded during our visit. It had plenty of comfortable seating including lounge chairs and dining tables, with plenty of outlets available.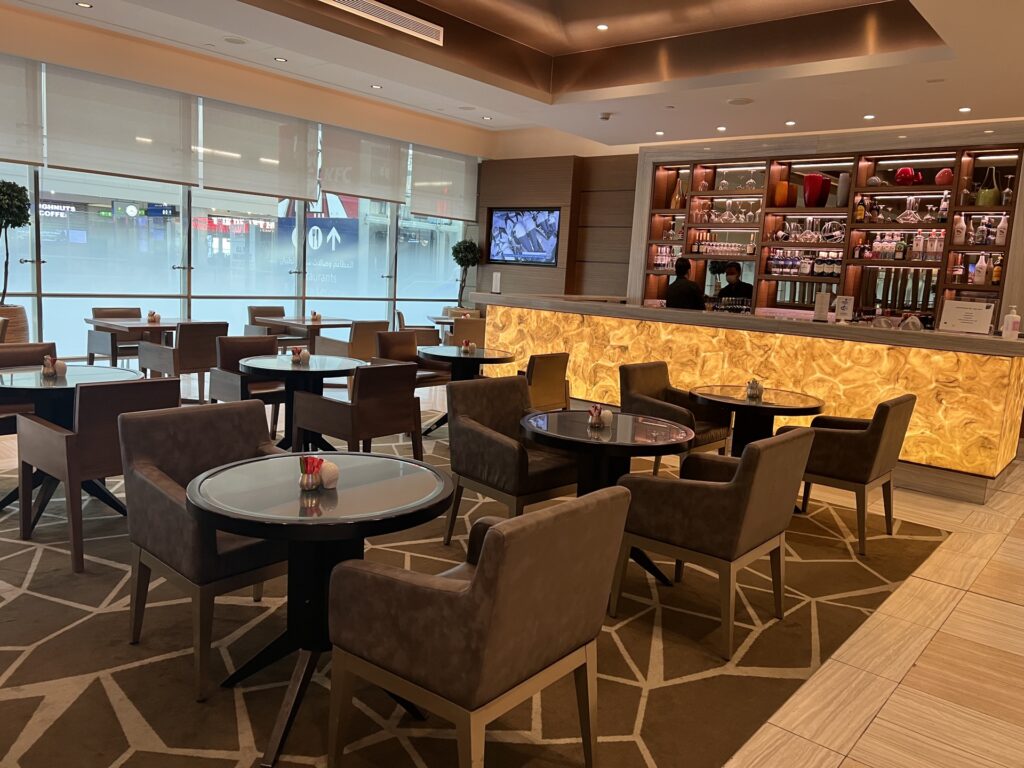 The lounge had a breakfast buffet with hot and cold, Indian and western specialties. Some of the hot items included dal, shakshuka, scrambled eggs and waffles. They also had a selection of pastries, cold cuts, yogurts and fruit.
There was a wide selection of beverages including soft drinks, juice, coffee and even the first slushy maker I've ever seen in an airport lounge. There was a full service bar with a posted cocktail menu, plus beers were available to grab from the fridge.
The real highlight of this lounge for our family was the kids room. The entire room was padded with soft mats and had lots of plush items for kids to climb on and jump off of. Our little one made a friend and the two of them played and laughed together in the kids room for as long as we'd let them. (Weeks later, Zoe is still requesting the kids room and "that funny kid.")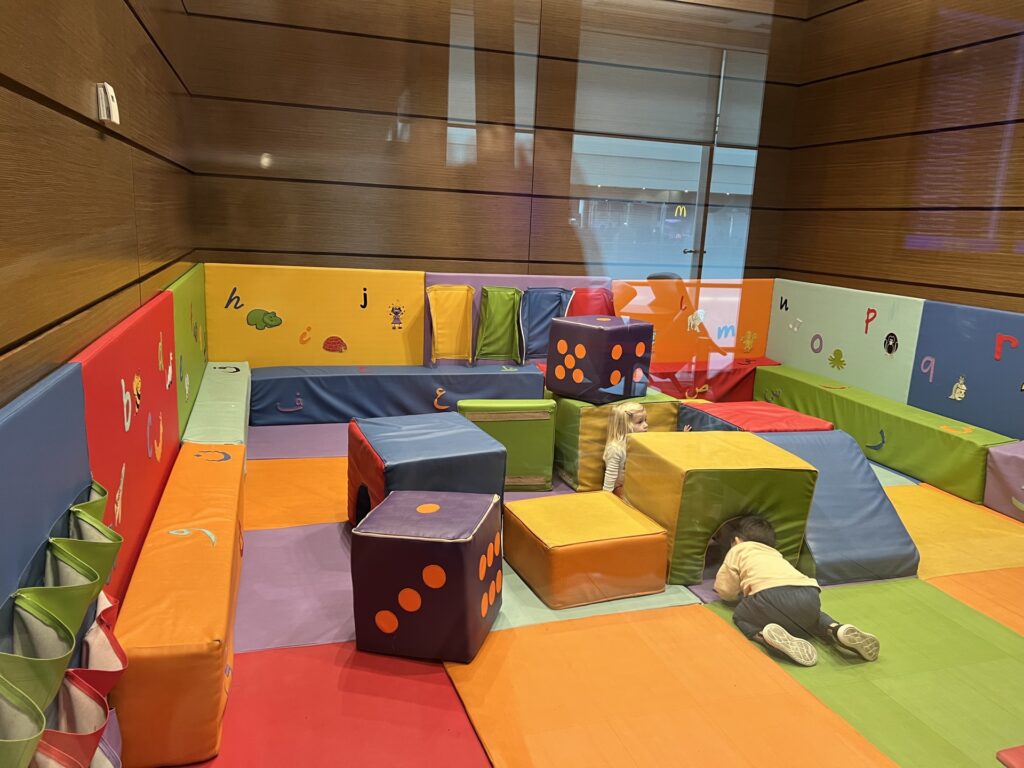 Air India Business Class 787 seat review
There are 18 Business Class seats in a 2-2-2 configuration on Air India's 787. Each pair of seats is separated by a console, plus the armrest could be lifted to create a partial divider. Other than that, there was no full privacy barriers between seats or along the aisle.
Between the daytime lighting, lack of partitions and generous pitch, the business class cabin felt incredibly spacious and airy. In a world where premium cabins prioritize privacy, we actually enjoyed being able to see the full cabin.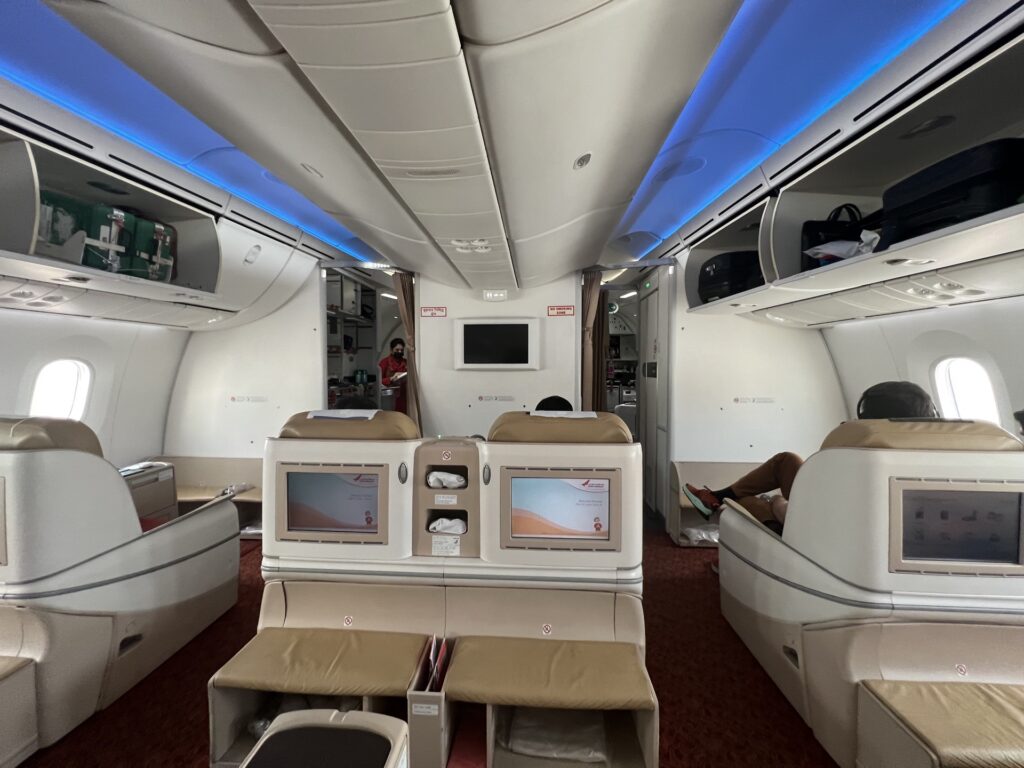 The seats were a comfortable 22 inches wide with padded upholstery and a leather head rest. With 74 inches between seats, there was ample leg room for even tall travelers. Seats were controlled by a touch pad and could be positioned upright, reclined or fully flat. The stationary footrest doubled as the foot of the bed.
Each seat had an outlet that accommodated multiple plug types (including US, UAE and India plugs), plus a reading light in addition to the overhead lighting. The seatback screen was relatively small, but had a fine selection of Hollywood and Bollywood content. The tv screen was controlled by a wired remote in the console. Headphones were not provided, but there was a standard headphone jack to use your own.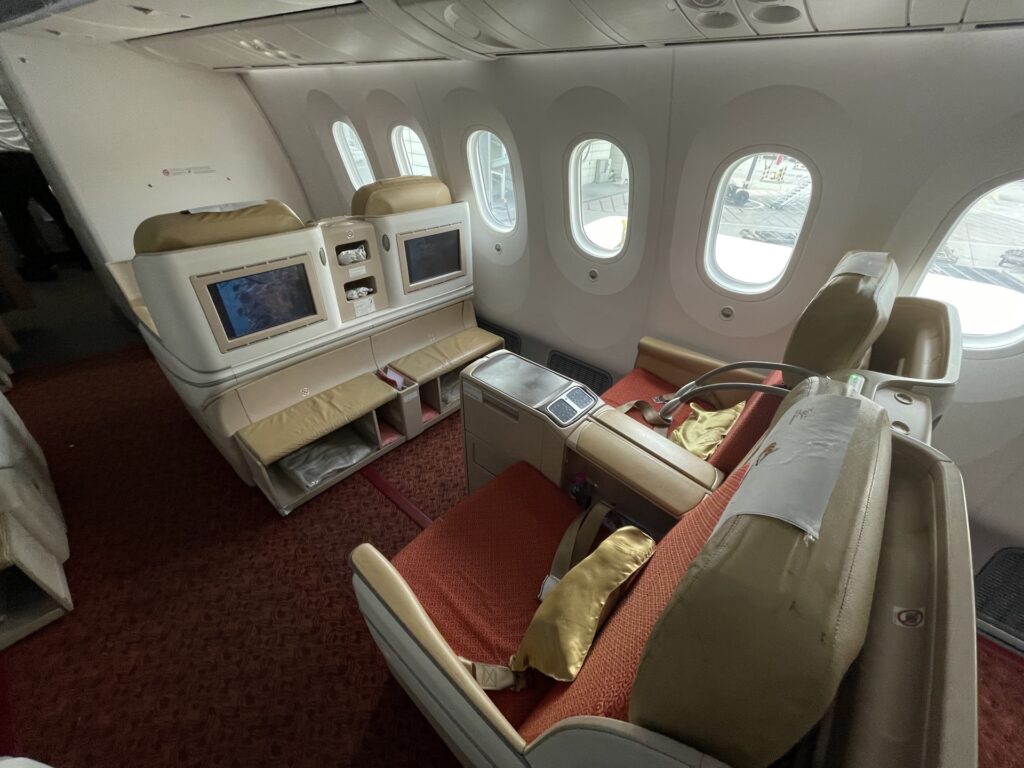 In addition to the overhead bin, the primary storage space was below the footrest. There was also small vertical storage spaces beside the footrest and in the armrest for something like a book, tablet or laptop (just don't forget it).
One noticeable down side to the 2-2-2 configuration is that travelers in window seats do not have direct aisle access. If the aisle seat passenger has their seat laid flat, the window seat passenger is trapped.
Now let's go ahead and acknowledge the elephant in the room. The seats were definitely dated and pretty well worn. The entire cabin felt old, from the tired fabrics to the small (for Business Class) TV. The age definitely showed when it came to functionality, too, which we get into a bit below.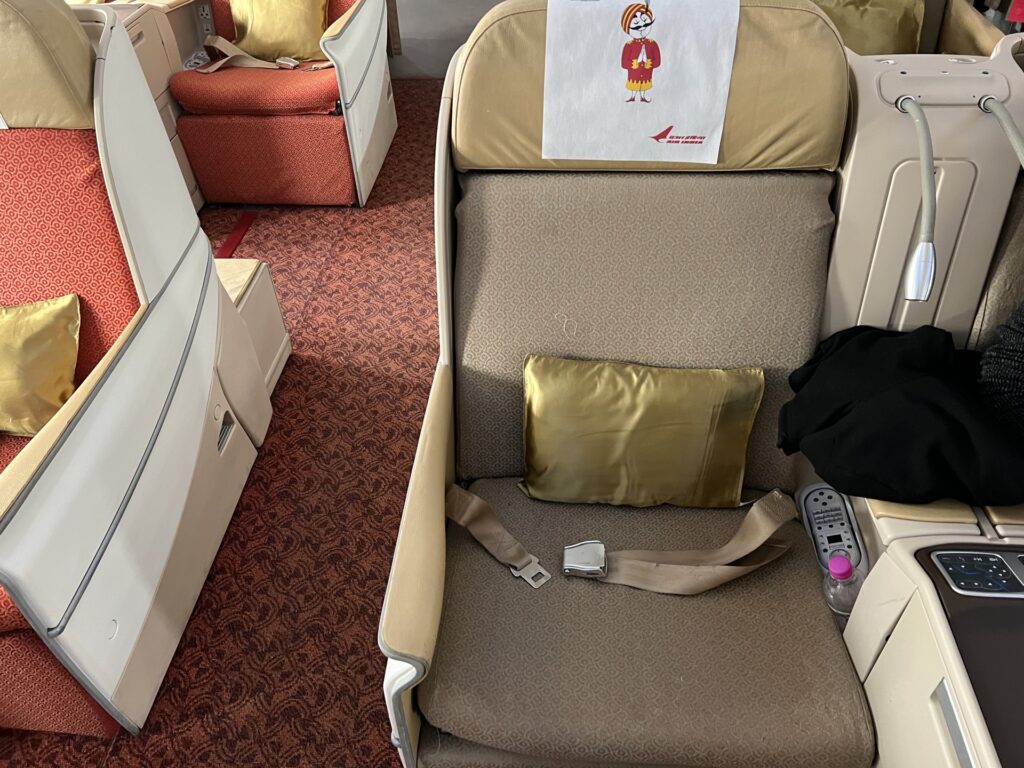 Our flight experience on Air India Business Class
As Business Class passengers, we were among the first to board the plane. We quickly found our seats, which had a pillow, blanket and slippers waiting for us.
As we were settling in, we were offered a pre-flight drink selection of juice, water or Champagne (I'd wager this was actually sparkling wine, but I'm no wine snob). In a delightful first for me, they actually offered me a second pre-departure beverage once I'd finished my first.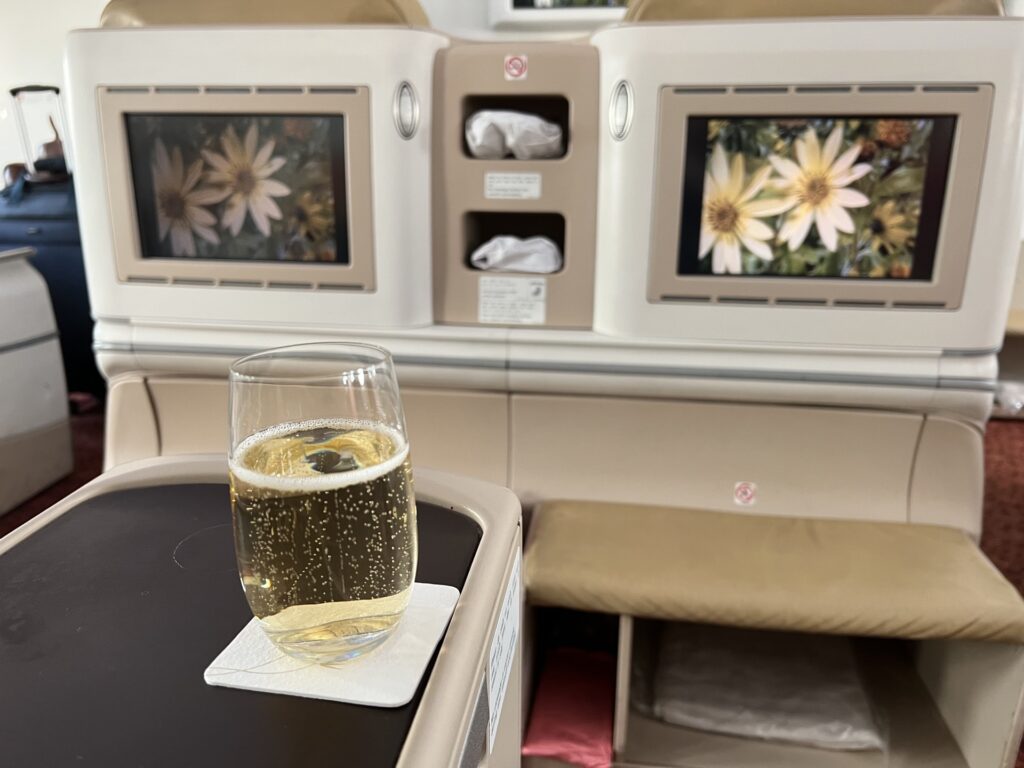 Before takeoff, the flight attendants distributed the menu, offered a selection of newspapers and magazines, then provided hot and cool towels. They also gave a little sticker pack, activity book and colored pencils to our little one.
The plane's aged interiors were exposed when it came to functionality. I immediately discovered that my tv screen didn't work and a passenger behind me had to move because his seat didn't recline properly. He also seemed to have had a similar broken seat experience in the past.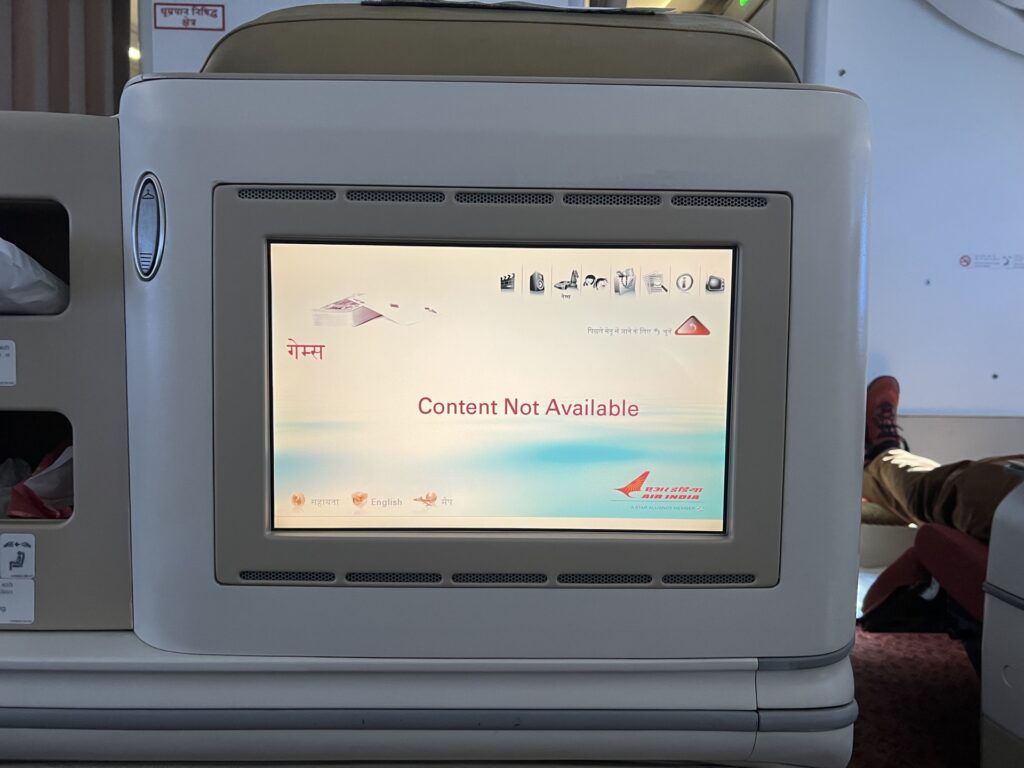 After takeoff, we were offered an additional round of drinks. I again ordered Champagne, and this time it was served with chips and nuts. We then placed our food order. Since we pre-ordered a special meal, they simply confirmed our selection.
The meal was served pretty quickly. It came with a hearty appetizer course followed by the entree and dessert. Maybe we were just excited to eating Indian food, but we thought the food was delicious.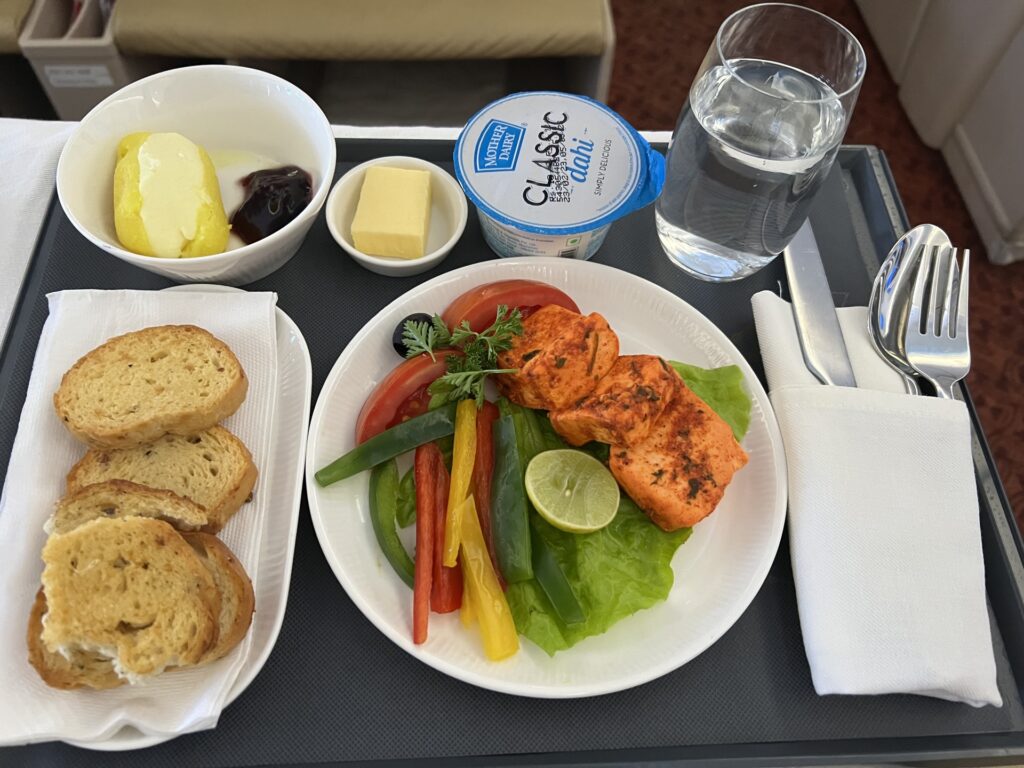 After the meal, there was an additional beverage service with soft drinks and wine. (They didn't have coffee during this service.) Shortly after that, they came by with a final food offering of a fruit and cheese tray, followed by a coffee and tea service.
The menu listed a cappuccino, which I decided to order (mostly just because I was curious). It ended up being an instant Nescafe cappuccino packet. I've spent enough time in Asia to appreciate Nescafe, so I didn't complain. But anyone expecting espresso and steamed milk should consider themself warned.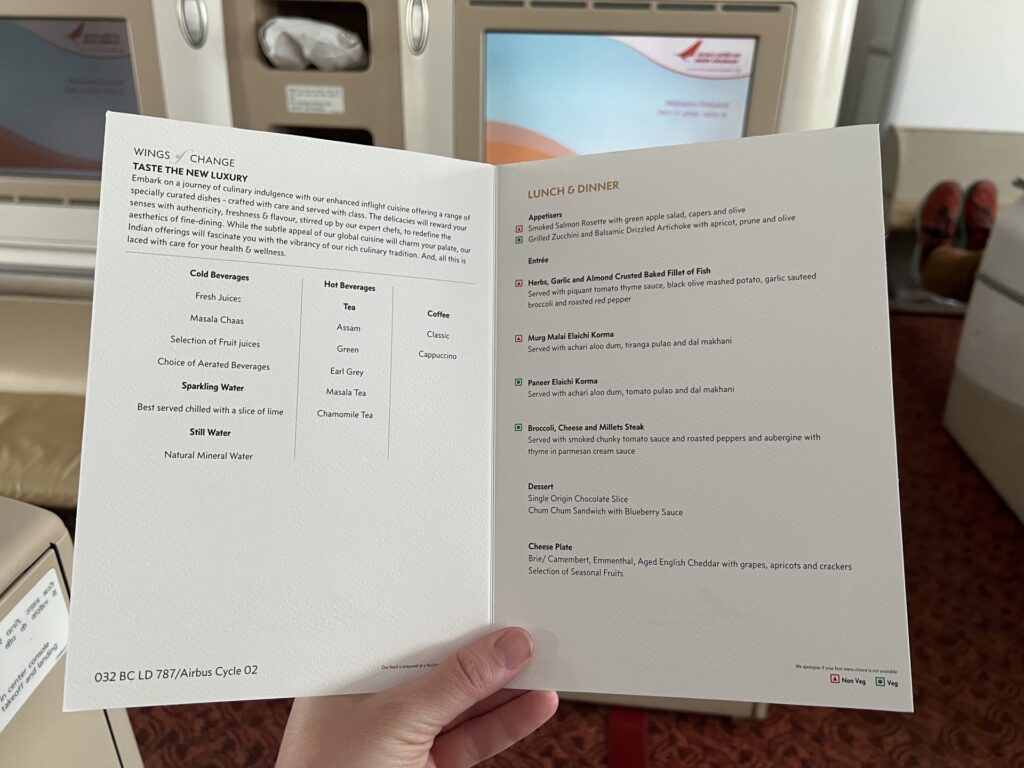 Shortly later, we began our decent and landed roughly on time into Delhi.
Arrival and Immigrations at DEL
One of the less talked about perks of flying Business Class internationally is that getting off the plane first usually means that you're at the font of the line at immigration. This was not the case for us on this flight. In fact, it was probably one of the worst immigrations waits we have ever had.
After a long journey from our gate to immigrations, we were presented with a handful of lines to choose from. Not seeing that the the first line we passed was for Business Class, we asked for directions to the family line. Naturally, that line was at the complete opposite end of the room.
We found the line, but it was not short. We asked about a Business Class line, and they pointed us right back where we came from. The employee we talked to said that the Business Class line would surely be faster than the family line.
I can't say how fast the family line moved, but we waited over an hour in the Business Class queue. If your'e traveling Business Class, definitely check for a shorter standard queue or consider rolling the dice on the family queue if you're with little ones.
Closing thoughts on Air India Business Class
I had low expectations for Air India Business Class, but I have to say I was pleasantly surprised by our experience. The flight was relaxing, comfortable and not stuffy at all.
It was nice to enjoy the comfort and space of a Business Class seat without any of the pressure of a more premium product. No one was waiting on me hand and foot, I didn't feel the need to impress anyone, and I didn't feel the pressure to appreciate every moment.
I would say our experience in the air was on par with a US domestic First Class experience (along the lines of Delta First Class or United First Class). We were provided tasty food and beverages in a reasonable time, the service was professional and courteous, and I was able to enjoy the comfort of my extra large seat.
Air India Business Class is not of the same quality as Emirates Business Class or even British Airways Business Class. If you go into it expecting to be wined and dined (and for everything to work properly, ha!), then you might want to fly another airline.
If you want to try Air India but don't want to risk the stress of Economy, Business class is a good upgrade. It's a little bit more expensive, but a lot more comfortable even if it's not as comfortable as it's flashy competitors.