I've got a new credit card for the first time in years! We're clearly not professional churners, but I've had my eye on one card—the Amex Platinum—for a long, long time. Read on to see why I finally decided to make the switch to this card, how the upgrade went, and what I did immediately after upgrading to squeeze maximum value out of my new Amex Platinum!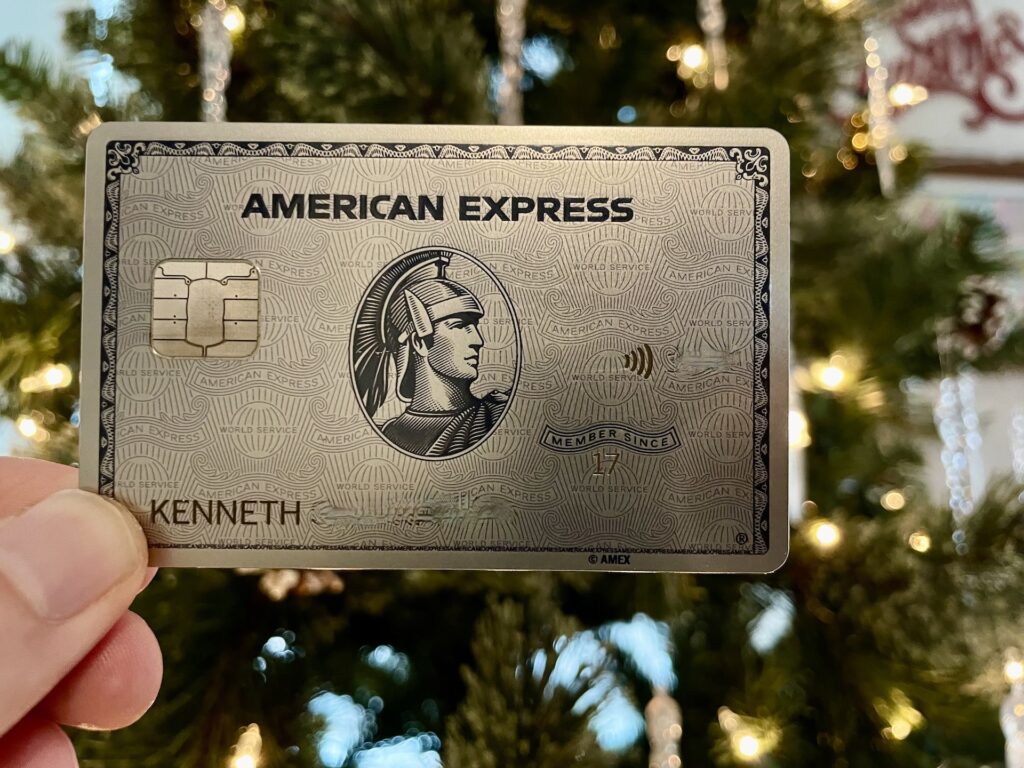 Why I Upgraded to Amex Platinum
For several years we've been pretty utilitarian when it comes to our Amex cards. They mostly get used for things that come with explicit credits (CLEAR, Uber, Grubhub). Other cards (Chase, primarily) are our go-to for everyday spend.
In fact, as recently as a few weeks ago I was considering abandoning Amex altogether. I have a soapbox mentality when it comes to kids and travel, so I'm disappointed with the upcoming anti-family changes at Centurion Lounges. (I'm sparing you my soapbox rant here, spare me yours and we can both move on.)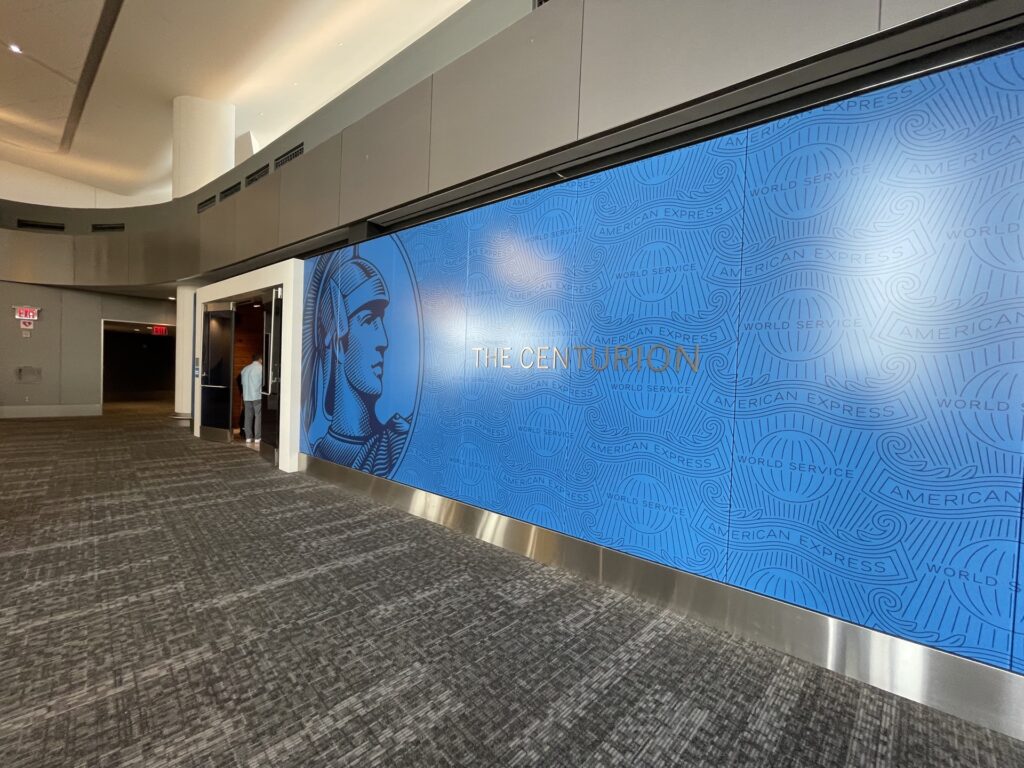 But cooler heads prevailed, and I've decided to actually lean into Amex this coming year. I'm not going to go into all the perks of the Amex Platinum here. I'll talk about the major ones, all of which I expect to use, but for all the details you should visit Amex itself.
Amex Platinum Lounges and Credits
We're frequent flyers out of LaGuardia now. We're planning to fly Delta more in the coming years. Since LaGuardia has both a Centurion Lounge and a Delta Sky Club, the Amex Platinum lounge access will have some value (except, you know, guest policies).
The other big factor is that the Amex Platinum has pretty sturdy cash value for us. The $200 incidental airline credit will be easy to use. The annual $200 credit for Fine Hotels + Resorts or The Hotel Collection bookings is easy to use, but, for reasons I'll get to below, I'm willing to peg that closer to $100 cash value. And the $200 Uber Cash is easily $200 cash value for us. That's $500 of annual value, no questions asked.
Then there's the $189 CLEAR credit. We use our (free!) United MileagePlus membership to get a CLEAR discount that gets our annual cost for two down to $179. The CLEAR credit is also available on the Amex Green ($150 annual fee), which we previously had. As part of our revamp, we'll be abandoning that card (in favor of a Gold card). This brings our annual value for the Amex Platinum to $679, just shy of the $695 annual fee.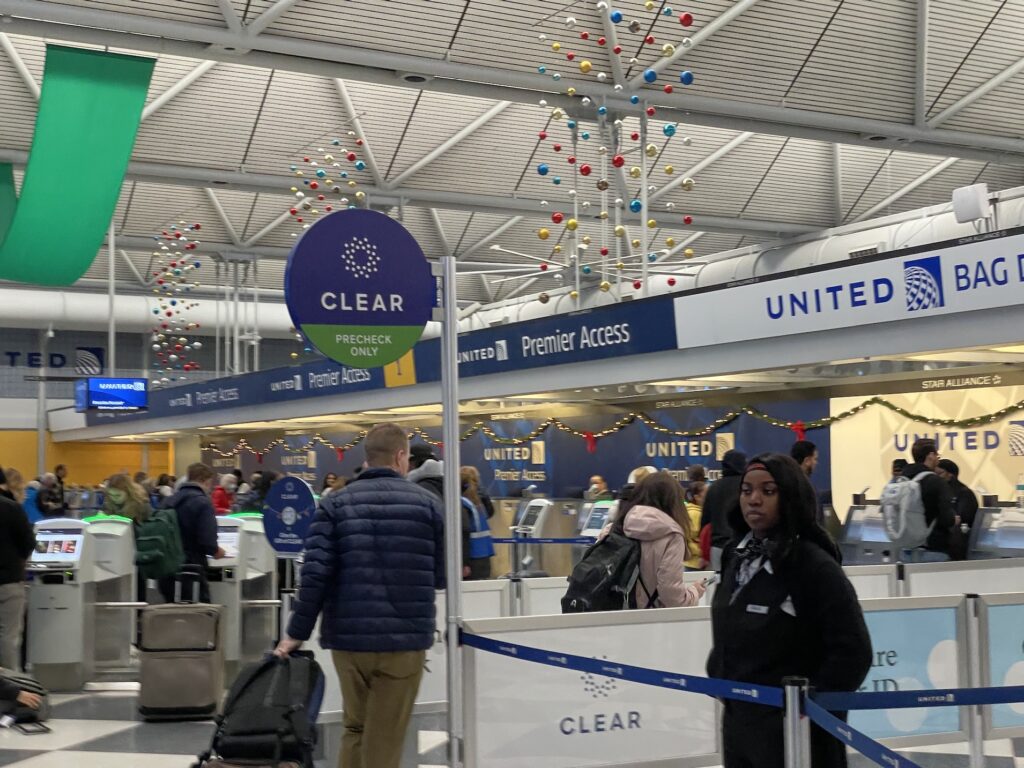 There are a few other credits we'll use, but they aren't quite cash in our pocket.
The $155 Walmart+ credit covers the annual cost of Walmart+, which includes Paramount+. Those are new services to us, so I can't quite call it $155 of cash value. Similarly, the $240 Digital Entertainment Credit actually isn't cash in hand for us because we only use two of the included services (Disney+ and Hulu) and they're covered in other ways.
The Saks $100 credit is sort of cash in hand, though, because we're just going to use it twice a year ($50 each half) to offset birthday gift costs. Would we necessarily buy gifts from Saks? No. Would we spend over $50 each on some cliche birthday item that wasn't really needed? Definitely.
Upgrading from Amex Gold to Amex Platinum
I'd been bombarded by marketing asking me to make this upgrade for the last year. I can't authoritatively speak to whether I was "pre-approved," but my account pages had numerous upgrade links. Clicking one took me to an offer screen: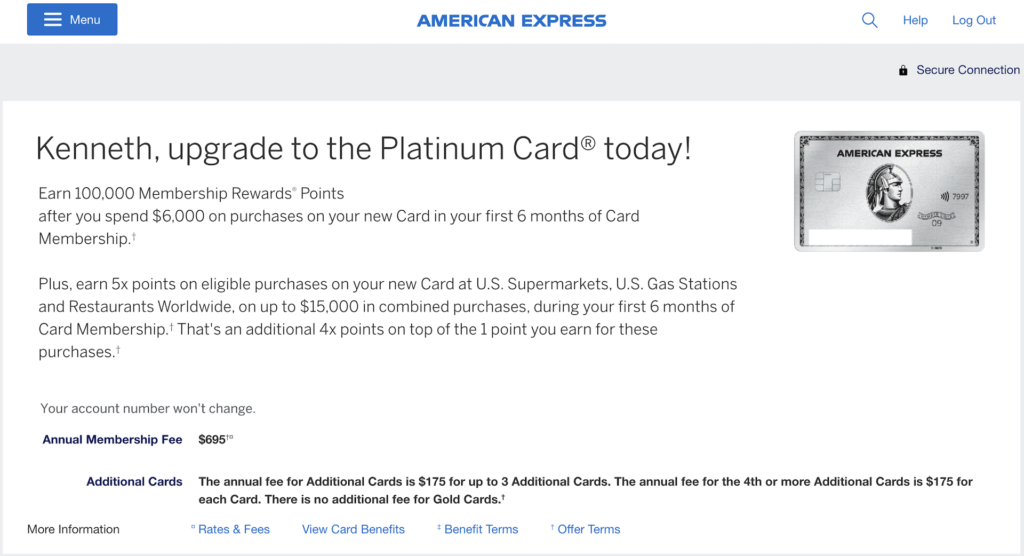 100,000 points for $6000 spent in 6 months isn't the best offer but it isn't bad. The standard public offer on the card right now is something like 80,000 for $6000 spend in 6 months. Offers of 125,000 (I'm looking at one right now incognito) and 150,000 are rumored to be available, too. Since I was upgrading an existing account rather than opening a new account, I was happy with the terms.
Clicking an upgrade button down the page took me to a short wait followed by this weirdly ambiguous screen: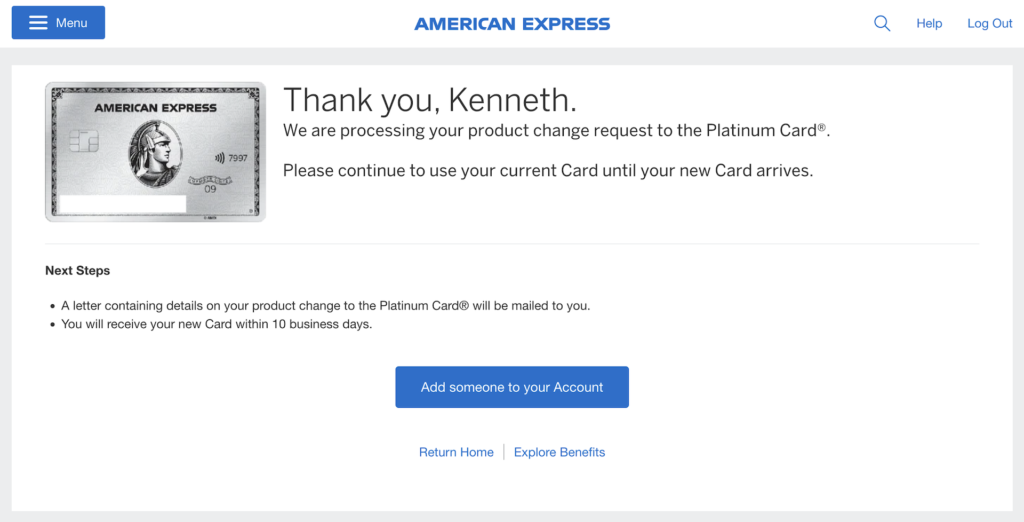 My Amex account was still showing me as having a Gold card, so I went ahead and decided I'd wait and see what happened. Later that night, I received an email from Amex telling me my Platinum card was linked to my Uber account (my Gold card had previously been linked). Sure enough, logging in to Amex I saw that I now had a Platinum card.
What I Did Immediately After Upgrading
Since this was an upgrade, I was able to use my existing card information to start taking advantage of my new perks. I started off by making sure anything I was expecting to get monthly was up and running.
Monthly Credits
My Amex Platinum was already linked to my Uber account because the Amex Gold I upgraded from was linked there. We're frequent users of Uber, and if a month goes by without one we'll use Uber Eats. [Note: Despite getting this email, I actually had to remove and re-add my card to my account to get the credit to increase from $10 each month to $15.]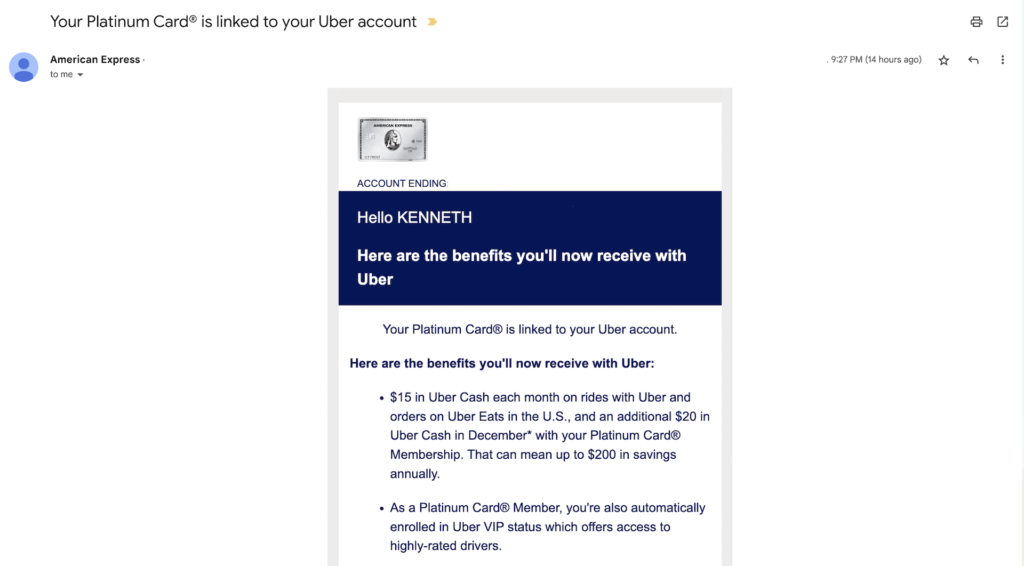 I signed up for Walmart+ (and then Paramount+). For Walmart+, I followed the link from the Amex site, which took me to a dedicated Platinum signup page. Then I followed the link from Walmart+ to their dedicated Paramount+ setup.
Unfortunately I haven't quite figured out how to use the Digital Entertainment Credit yet. That credit is good for $20 per month at "Disney Bundle, Disney+, Hulu, ESPN+, Peacock, The New York Times, Audible, and SiriusXM." (Read about how I wound up using the Digital Entertainment Credit here.)
Our Disney+ and Hulu memberships are otherwise covered. I've had ESPN+ in the past and didn't get much value out of it. SiriusXM and the New York Times don't appeal to us. This leaves Peacock and Audible as the spots we're mostly likely to use this for.
The other Amex Platinum credits are a mix of annual / semi-annual credits. Since I upgraded in December, I wanted to squeeze the value out of the annual and semi-annual credits immediately.
The Saks Semi-Annual Credit
There's some risk in this. While the various services and the Amex site itself are clear I have the Platinum now, you can never be sure every system will have the upgrade processed. I've run into issues, specifically at Amex, where a product change isn't immediately recognized for things like this. That said, I'm willing to bet customer support will help me out if things don't go as expected.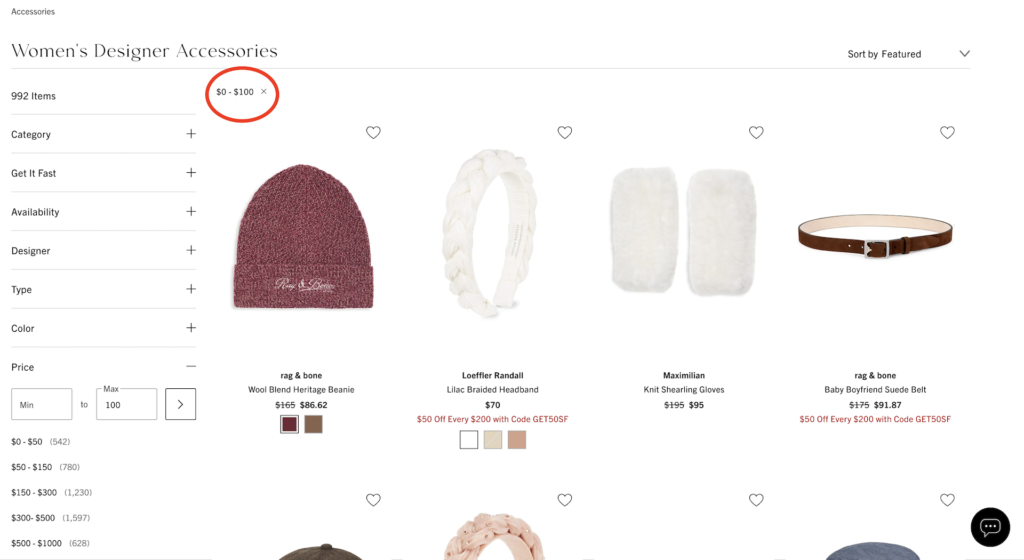 For the Saks credit, I went and bought a holiday gift for $90 on Saks.com. I know, I know—they got me for $40. But realistically I was going to spend $100 on this gift anyways, so this really is cash in my pocket.
The Annual Hotel Credit
For the Fine Hotels + Resorts or The Hotel Collection credit I had to be a bit creative. I don't expect to book any new trips between now and the end of the year. I had previously booked a stay in India at a hotel that is part of Fine Hotels + Resorts, though.
My old booking was done via Booking.com. We can overlook the fact that I probably should have booked it for 10X points via Chase Travel with my Chase Sapphire Reserve. Maybe I should have done that this time around, too (but I got 5X via Amex so the math gets…messy.)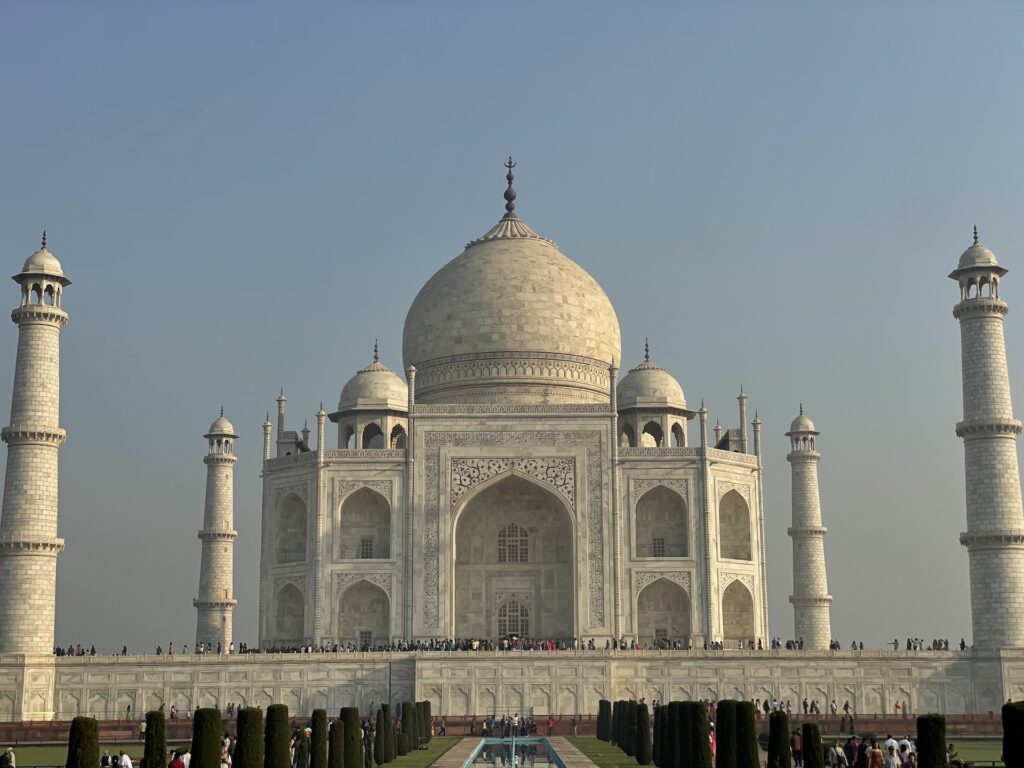 The total stay cost was $100 more switching from Booking to Amex, so the credit only netted me $100. That said, we also get daily breakfast for two, late check out, and a complimentary dinner (for the $100 experience credit) as part of our Fine Hotels + Resorts booking.
Realistically, this is going to be a problem every year with this credit. Better hotel prices are going to be available outside the Amex Travel portal. It'll be a dance of how much the Fine Hotels + Resorts / The Hotel Collection perks are worth. For us, I'm willing to say this credit is actually worth about $100 per year.
Incidental Airline Fee Credit
This leaves the incidental airline credit. Unfortunately it's a bit tough for me to find a good way to use this. I've got six trips booked in 2023 already, but all of them have seat assignments or any other relevant upgrades already paid for. It's looking as if my best option will be three day passes for the Admirals Club. This would give us another lounge option at LGA when flying American or JetBlue once this year.
Importantly, you must choose the airline you'll use this credit on before using the credit. Then you can change the airline once each year, in January. With three of us flying, it's usually easy to use all $200 in one go, so it's just a matter of have the foresight every January to pick the right airline.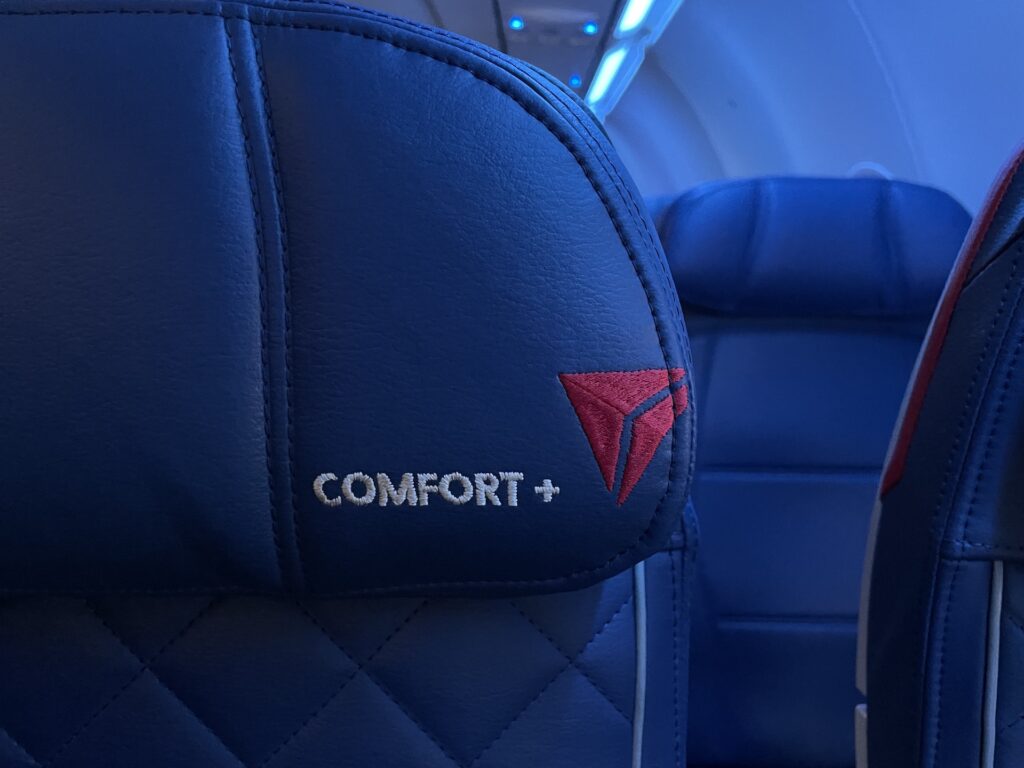 Will I Add Authorized Users?
Now, should I add authorized users to this card? The fee is $175 for up to three additional users, then $175 for each thereafter. American Express also requires authorized users to be 13 or older, which means I can't add Zoe (hey, this seems relevant to that rant I skipped earlier). This might seem innocuous, except the main reason I'd want authorized users is because they'd get the same Centurion and Delta lounge access as me.
As it stands, visiting with Emily and Zoe will cost an extra $80 ($50+$30) per visit beginning in February. If I could add them both as authorized users, the $175 additional cost would be almost covered in 2 visits. As it stands, it will take 3.5 visits by Emily to justify the $175 cost, and that's still going to take $30 for Zoe out of our pocket each trip.
Adding Emily as an authorized user would have the benefit of her having lounge access on her own. If the roles were reversed…well I was going to say I'd skip being an authorized user, but maybe that's a lie. It's a close call, though, because we fly solo so rarely. Plus, solo trips are much more efficient, which cuts down for the need for lounge access.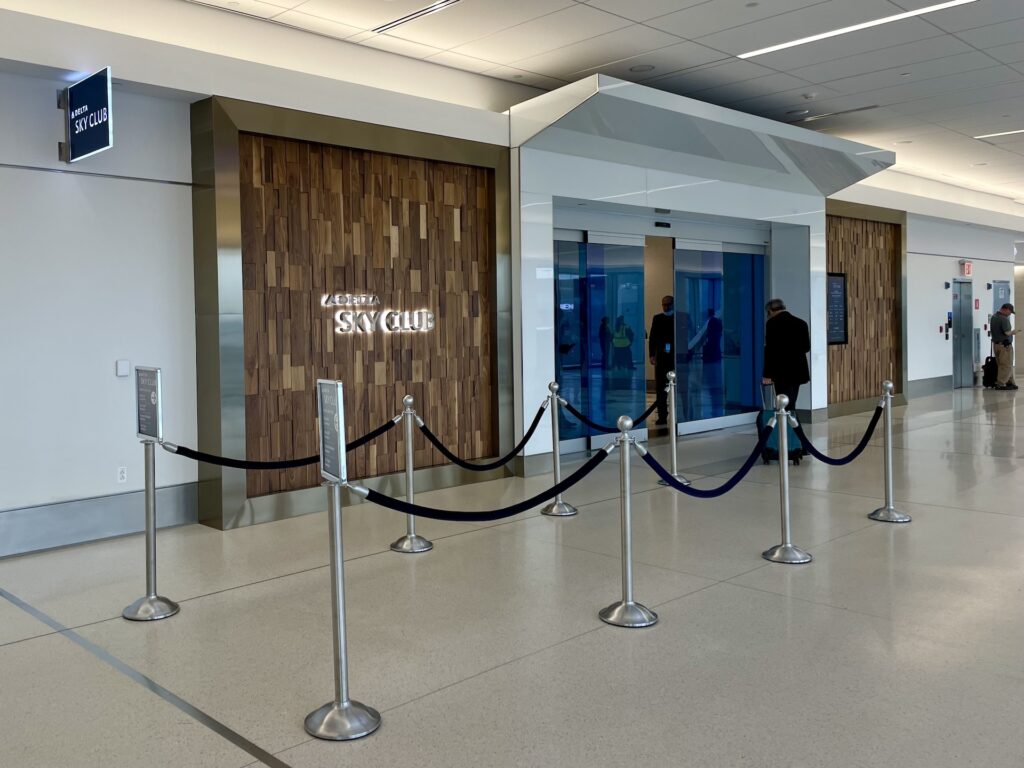 What I'm Looking Forward To
Most of all, I'm looking forward to setting foot in a Centurion Lounge or two. As a longtime Priority Pass user and a relatively frequent premium cabin flyer, I've been to my fair share of lounges. But I've never felt the Centurion Lounge alone was enough to justify the Amex Platinum.
This is partly because most of my flying used to be out of O'Hare or Orlando, which don't have Centurion Lounges. Now I've got LaGuardia and JFK as my top airports, both of which have Centurion Lounges.
I'm interested to see how the Fine Hotels + Resorts / The Hotel Collection bookings go. I've had a pretty sour relationship with my Marriott Platinum status the last year (I won't have it next year). I'm interested to see how getting perks this way works out. That said, I'm not expecting any consistency. Maybe I'll be surprised.
Finally, there's the welcome bonus! How, oh how, will I spend those sweet, sweet points? Zoe has changed our travel approach quite a bit. I used to be able to search high and low for whatever product I wanted to book. Now, I have to be more selective in terms of destination, flight time, and even seat configuration. I've gone so far as to pay cash for Qatar's Q Suites for an upcoming trip.
But with every day, our little one gets a little more flexible. We won't be doing solo first class pods any time soon, but I'm sure I'll find some fun way to make use of 100,000 points.
Check out this post for a mid-year update on how I'm using my AmEx Platinum and whether it has been worth it.