In this post we discuss everything you need to know about visiting Top of the Rock, the observation deck at the top of Rockefeller Center. We'll start with the basics of visiting before discussing our visit and whether or not we feel Top of the Rock is worth the price. Keep reading to learn all about Top of the Rock!
Basics of Visiting Top of the Rock Observation Deck
Let's start with some of the practical information you'll need to know for your visit to Top of the Rock.
Where is Top of the Rock located in New York City?
Top of the Rock is located on the 67, 69 and 70th floors of Rockefeller Center. The skyscraper's address is 30 Rockefeller Plaza, New York, NY 10112, which puts it right in the heart of Midtown Manhattan.
Top of the Rock is most easily accessible via subway. The closest station is 47-50th Streets Rockefeller Center, which serves the B, D, E, F & M trains. After you exit Top of the Rock, you can actually access this station without having to go outside. If that train line isn't convenient, there are plenty of other stations nearby. You can just as easily take the 1 or 2 train to 50th Street Station or the N/Q/R/W to 49th Street. From any of these stations, you'll need to exit to street level and walk outside to the entrance to Top of the Rock.
There are several entrances to Rockefeller Center, but the entrance for Top of the Rock observation deck is on 50th Street between Fifth and Sixth Avenues — across from Radio City Music Hall. The entrance is marked with an awning and sign that clearly states "Observation Deck." There are two queues — one for guests with tickets and one for guests who need to buy tickets on arrival.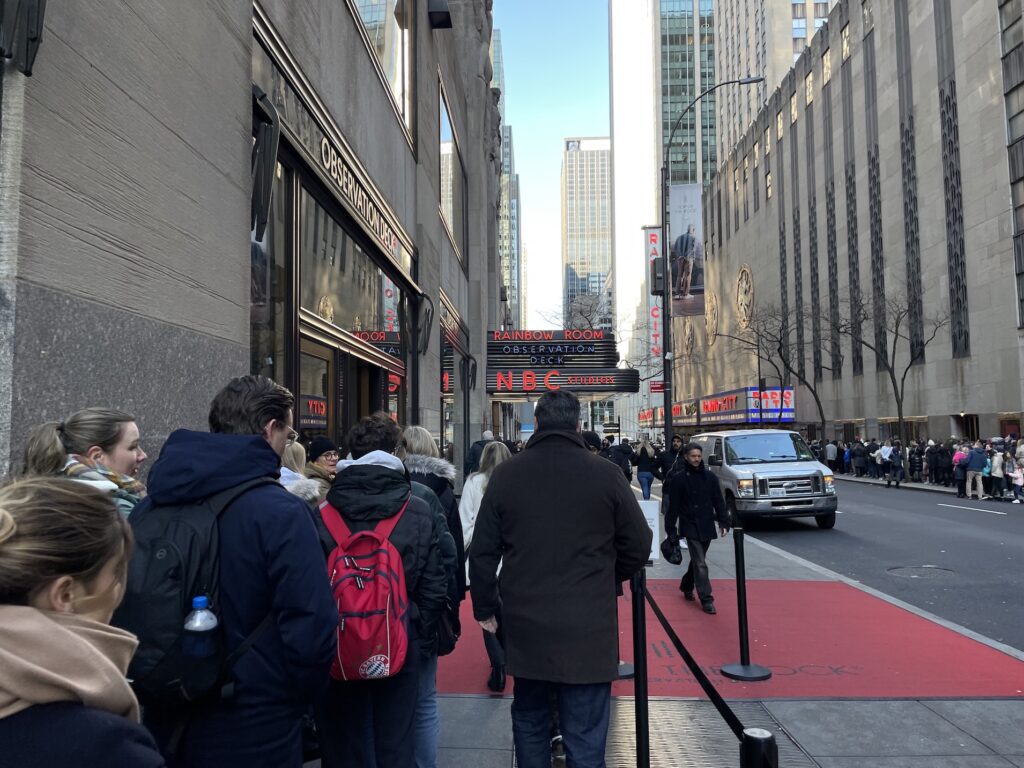 How much are tickets for Top of the Rock?
As of this update, general admission tickets for Top of the Rock cost $40 per adult. Tickets for children (ages 6 through 12) cost $34 and seniors (age 61 and up) cost $38. You must select a specific date and time for your visit when you book your ticket. Ticket prices do not fluctuate by date, but there is a $10 surcharge during sunset entry times.
There is also an Express Pass ticket option for $85 each — more than double the price of an adult standard ticket with no discounts by age. Express Pass allows you to book a full day and enter once anytime during that day. This ticket is probably most useful if sunset times are fully booked. It also gives you expedited entry, expedited security and the opportunity to skip the exit elevator queue.
There is also a VIP Tour option for $125, which includes the Rainbow Room (if available) and special Christmas tree viewing during the season. We did not take the VIP Tour and will not be covering that here.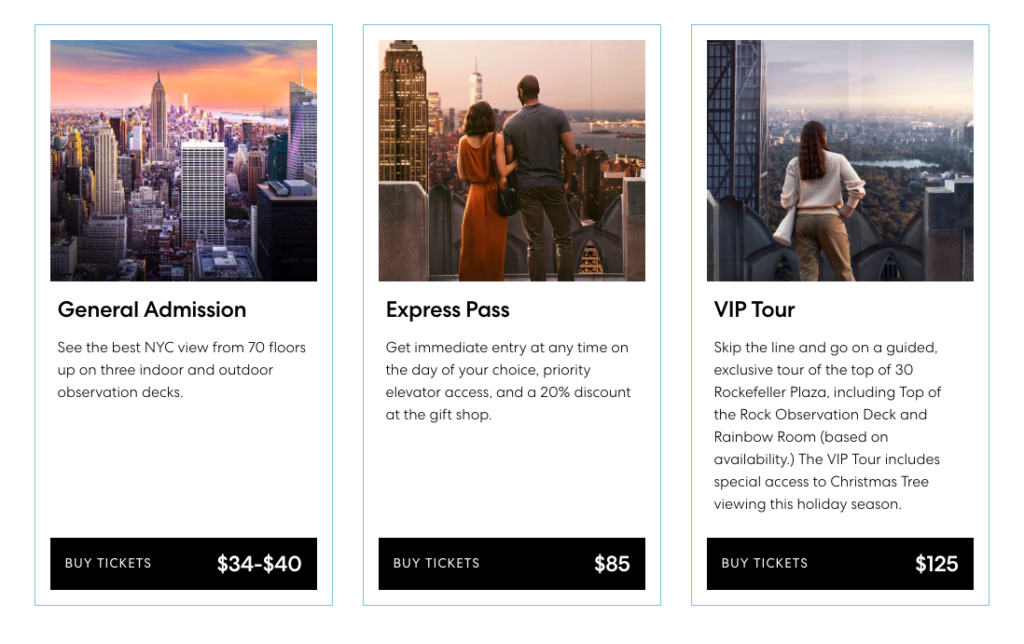 Where can I buy Top of the Rock tickets?
You can buy Top of the Rock tickets online or at the ticket booth near the entrance to Top of the Rock. There is a separate queue for guests who do not yet tickets.
We strongly recommend buying Top of the Rock tickets online. Sunset is the the most popular time to visit Top of the Rock, and prime sunset times can book up days in advance. If you're looking for a morning or evening time, some same-day selection is usually available.
Are reservations required for Top of the Rock?
Yes. When you buy your tickets for Top of the Rock you'll pick your specific entry time. Because they manage entry by a specific time and not a wider time frame, the entry process is general quite quick.
While there is a general line to enter, the current time slots are prioritized. For example, at 12:30 they'll call all 12:30 ticket holders to come in, regardless of their place in line. Even if you're at the front of the line, if you have 12:45 ticket you'll have to wait. For that reason, there's no real advantage to arriving substantially early.
The more expensive Express Pass tickets require you only to pick a day. Then you can enter once anytime on that date.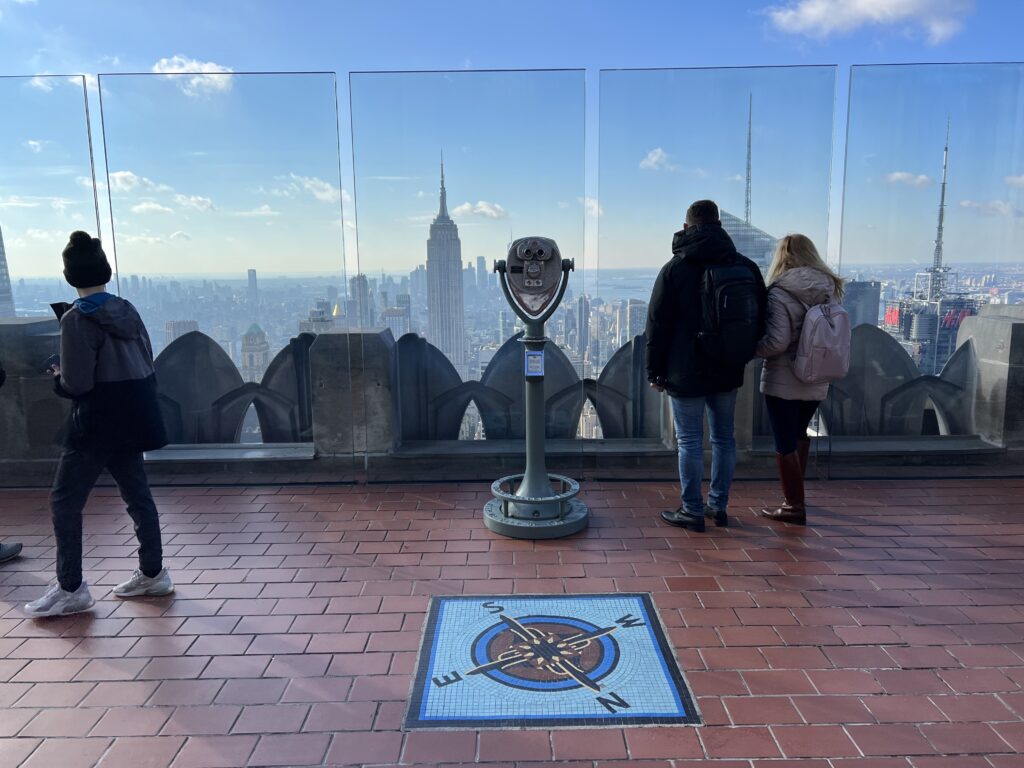 Is Top of the Rock a part of CityPass New York?
CityPass allows you to see some of NYC's top tourist attractions at a reduced rate when you bundle seeral together. Top of the Rock is included on all three CityPass New York options (standard New York, New York C3 and New York C-All.)
Is Top of the Rock inside or outside?
Top of the Rock comprises three floors of observation decks. All three floors include outdoor observation decks, with only one floor having substantial indoor space.
You'll start your visit on the 67th floor, which is where all elevators from the ground floor terminate. This is the largest floor in terms of square footage and includes the largest indoor viewing space, plus two smaller outdoor viewing areas. The outdoor spaces on the 67th floor face north/northeast and south/southeast. The indoor spaces primarily face north and south.
The 69th floor is then accessible via escalator. This floor is nearly entirely outdoors and lines the north, west and south edges of the building. There is a small indoor space and a gift shop on the 69th floor.
Then you can take a flight of stairs up to the 70th floor. (There is a single elevator available for guests who need assistance.) The 70th floor is the literal top of the building. It's the smallest floor and is entirely outdoors.
How long do you need to visit Top of the Rock?
Since there can be waits throughout the experience (getting in, obligatory photo, elevator queues), budget for at least 90 minutes. There are a few different bottlenecks in the experience, which can take up some time. You'll want to have time to enjoy each of the three floors, though the view is roughly the same from every floor so the return is diminishing.
Two hours is probably going to be more than enough for most everyone. There are no bars or restaurants inside Top of the Rock, so other than the view and a small gift shop, there is not much to do to kill time. If you are big into photography / Instagram and don't want lines or crowds to cramp your style, you may budget for 2.5 hours.
We were in and out in just over an hour (thanks in large part to a toddler meltdown), so it's definitely possible but not ideal. Our time included a short wait to get in, a pretty long wait for the photo, and a short wait for elevators in both directions. We visited all three floors, albeit briefly, and did not stop in any gift shops.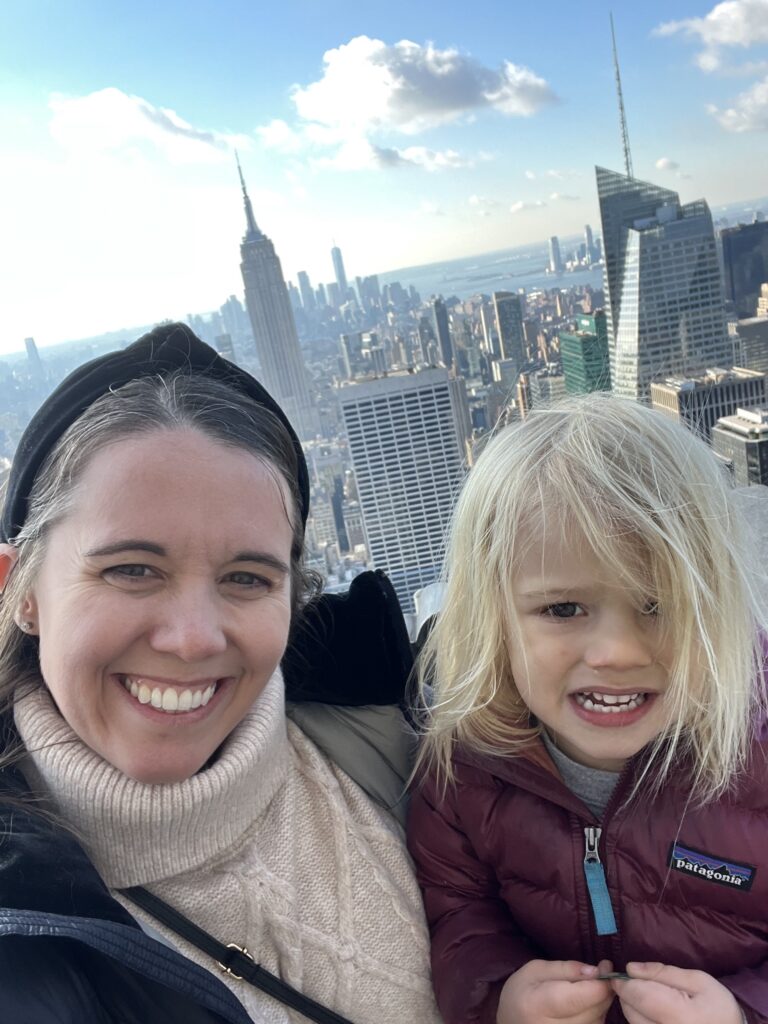 What happens at Top of the Rock in bad weather?
The outdoor observation decks at Top of the Rock can occasionally close in particularly bad weather. Personally, since two of the three floors are primarily outdoors, I'd be very cautious about planning a visit too far in advance.
Fortunately, Top of the Rock has a pretty generous policy in the case of poor weather. While they do not offer refunds, if the weather is bad they will reissue your ticket for a different date/time that hopefully has better visibility.
If you're planning a trip and have some flexibility (and aren't prioritizing sunset), I'd recommend keeping an eye on availability on the website in the weeks/days before your visit. If lots of times remain open same day or a day in advance, then you might want to wait until your trip to book your ticket on the day with the clearest skies.
Our Visit to Top of the Rock
Here's a recap of our personal experience visiting Top of the Rock.
Buying our tickets
On a recent Saturday, we decided to make an impromptu visit to Top of the Rock. There wasn't a cloud in the sky and temperatures were as high as they were going to be for the next couple weeks. All things considered, it was a perfect day for Top of the Rock.
We were a group of three, with two adults and our 2-year-old, Zoe. We booked our tickets in the morning around 8 AM and were able to secure a 9:45 time slot. At that time, there were plenty of other times available throughout the day, but the prime sunset times (3-6 PM) were sold out.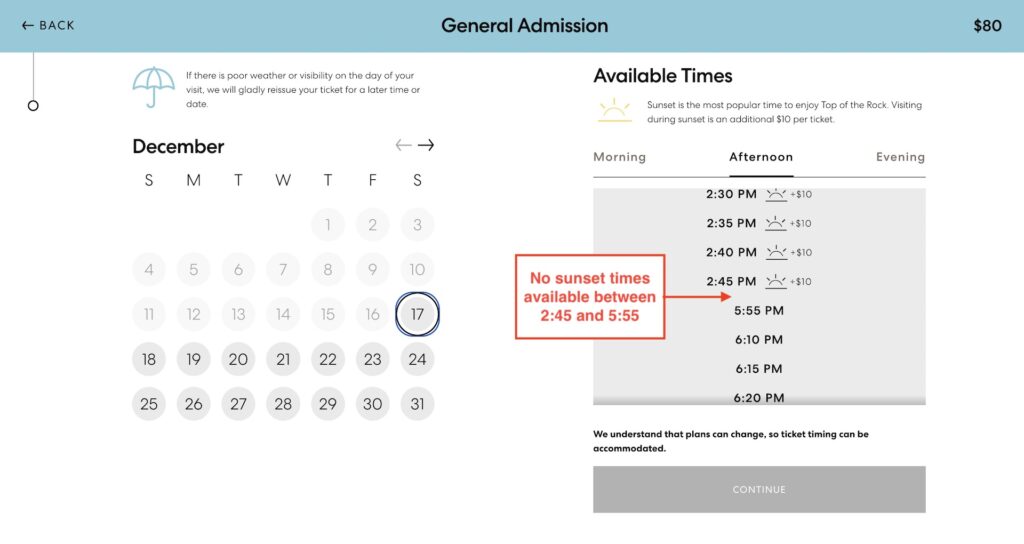 Buying our tickets online was easy and quick. If I had one complaint, it would be that the age requirements for children are buried in the FAQ and not clearly stated in the ticket selection for "Child." Children under 6 years old do not need a ticket, so I just purchased 2 full-price adult tickets. I immediately received an email with the scannable barcode.
Arrival
We took the N train from our home in Queens to the 49th Street station. We popped out just north of Times Square, walked one block north to 50th Street and then another block east to get to the entrance to Top of the Rock.
The entrance was clearly marked with an awning and lit sign for the Observation Deck. There was a smaller paper sign differentiating between two queues: one for those with tickets and another for guests who need to buy tickets. The line for guests with tickets was decently long when we got there, but there was an agent checking each person's ticket time when they entered the queue.
Our tickets were for 9:45. We got in line at 9:35 and waited five minutes. At 9:40 they called for guests with tickets for 9:45 to enter.
Security Check
We entered and were ushered up a flight of stairs. We then scanned our tickets and passed through a brief security check. There was an expedited security check line for guests with VIP Tours or Express Pass, but even without that we just walked right up.
Level 1 security was a walk-through metal detector which allowed you to pass through with your phone and bags still on you. A majority of guests, myself included, were able to quickly walkthrough the scanner and carry on.
Guests who triggered the first metal detector were sent off for Level 2 security This included sending bags through an airport-style scanner and then wanded for metal on your person. Kenny had a hefty metal wallet and a portable charger which probably tripped the first alarm. He passed through the additional screening in just a few short minutes.
Photo Op
Next up was the obligatory kitschy green screen photo. This is a thing at most every observation deck and there's no good way around it.
The line was long and they were constantly telling us to fill all available the space. This was particularly annoying because the bottleneck was because of the required photo op, not because we were dilly-dallying in line. There was frustratingly no way to bypass this line if you didn't want the photo, so we just waited about 10 minutes.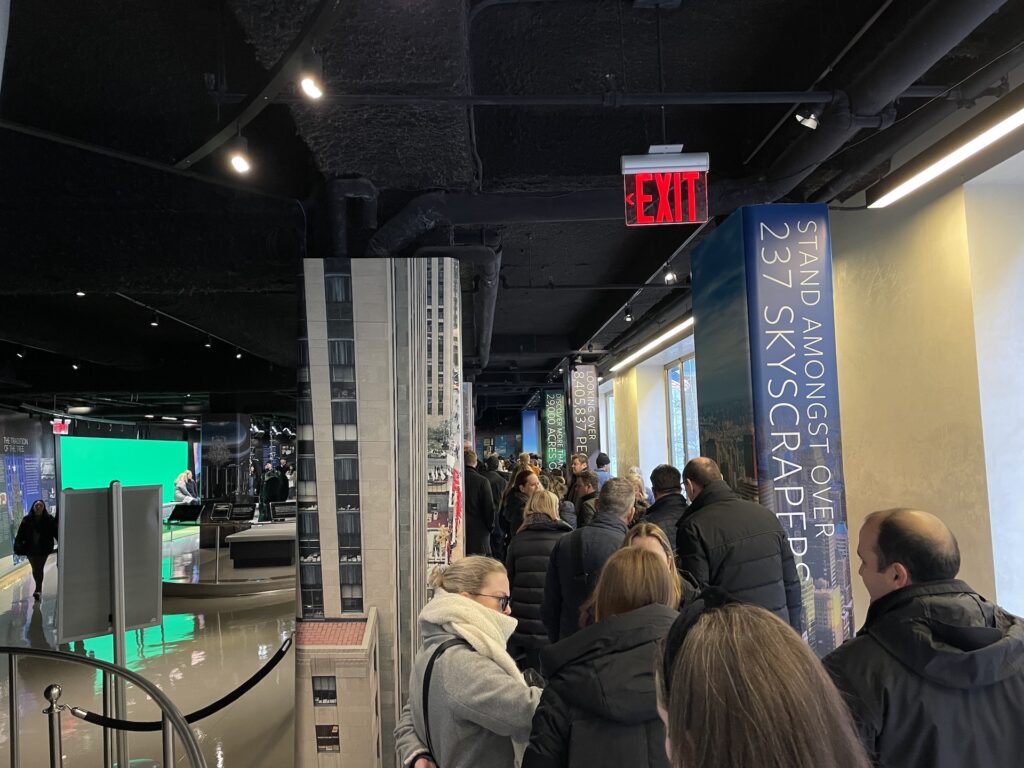 After the photo, we walked straight to the elevators and boarded almost immediately without any additional lines or wait. The elevators have a clear ceiling so you can watch as you zoom up the lit shaft. The ride was quick and had some minor audio-visual components but nothing particularly noteworthy.
Top of the Rock Observation Decks
We arrived on the 67th floor. This is the largest indoor floor and also includes two outdoor observation areas. We immediately noted a long queue and discovered it was for photos. (People actually buy these!) So if you want a photo, plan for a bit of wait.
We spent some time on this floor, enjoying the views from all directions and spending a few minutes outside on each of the decks. The outdoor decks had clear glass walls, but with gaps between each pane. This give you the chance to take a clear photo if you lined up your lens inside the gap. There were also binoculars on each outdoor deck, but we didn't have any cash on us.
Then we hopped on the escalator to the 69th floor. This floor was almost entirely outdoors, minus a small indoor space and an even smaller indoor gift shop. There were more binoculars and several benches. The walls on this floor were also clear glass with gaps for photos. For an outdoor observation deck, this floor felt very spacious. You could take in NYC in all four directions and it was pretty everywhere you looked.
Lastly, we took the stairs to the 70th floor. This was the smallest floor, entirely outdoors, but it it had the best 360 views since you were on the actual top of the building. It was also the only floor that didn't have glass barriers to your view. Since it's smaller and set back from the floor below it, there is only a small waist-high rail.
You can take your time exploring all the floors and can freely move around between them without any time limits. The outdoor observation decks are definitely the nicest spaces. They have the best views and the best photo opportunities. The 69th floor definitely stole the show because of how spacious it was.
Unlike other observation decks and monuments, Top of the Rock doesn't have much for historical information, interactive exhibits or even a skyline guide. Combined with the fact that there are no restaurants or bars at Top of the Rock, we felt like there wasn't much else to do to fill our time.
The View
We spent nearly all of our time at Top of the Rock soaking up the views from every angle. Between the three different floors, you get a true 360 view over all of Manhattan.
Looking north, we were immediately struck by the vastness of Central Park. Despite knowing how huge it is and spending lots of time there on the ground, it's nothing short of amazing to see just how much space it consumes. The view south is equally as impressive. You're hit in the head with the Empire State Building towering right in front of you, surrounded by the rest of Midtown and Lower Manhattan. You can even spot the Statue of Liberty in the far distance.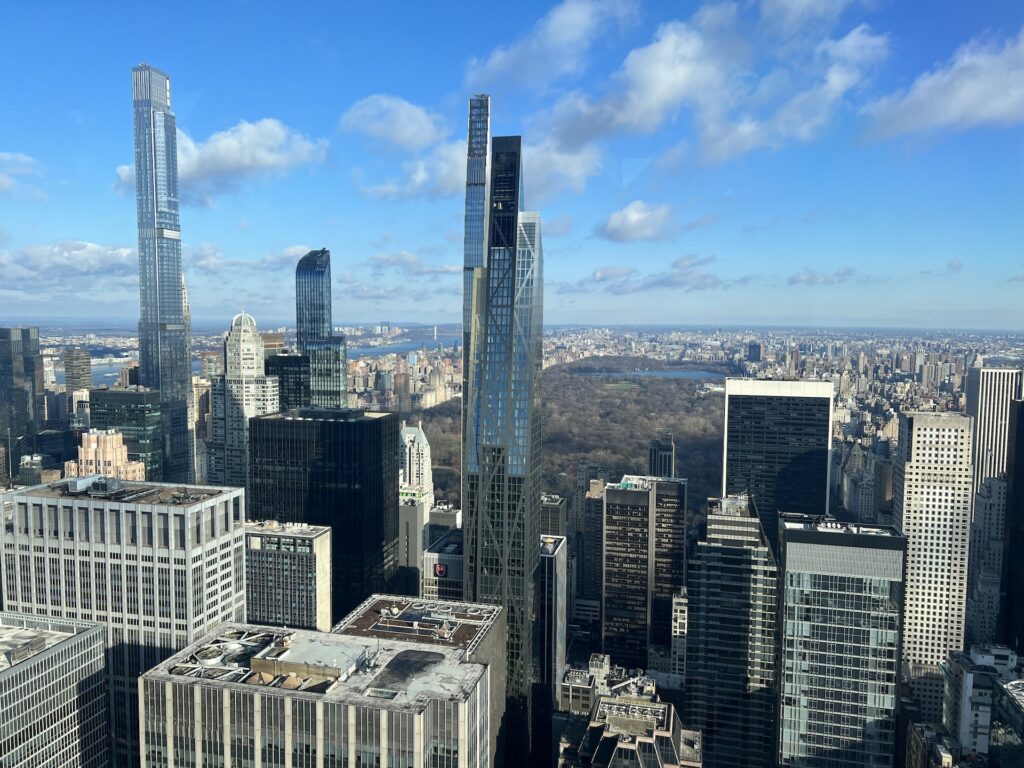 The most popular view was definitely facing south, so those decks/widows were the most crowded. However, on a Saturday morning, you could make your way to the front and get a clear photo without anyone else in it with just the smallest amount of patience.
Of the one hour we spent on the experience, we spent about 40 minutes on the actual observation decks. That felt a bit rushed for my liking. I would have ideally stayed up there an extra 30 minutes and spent more time soaking up the sights from all different angles and taking more photos. I did see everything, but I wanted more of it. I'd recommend giving yourself at least an hour or more on the actually observation decks. You could not likely have completed this whole experience much faster than 45 minutes.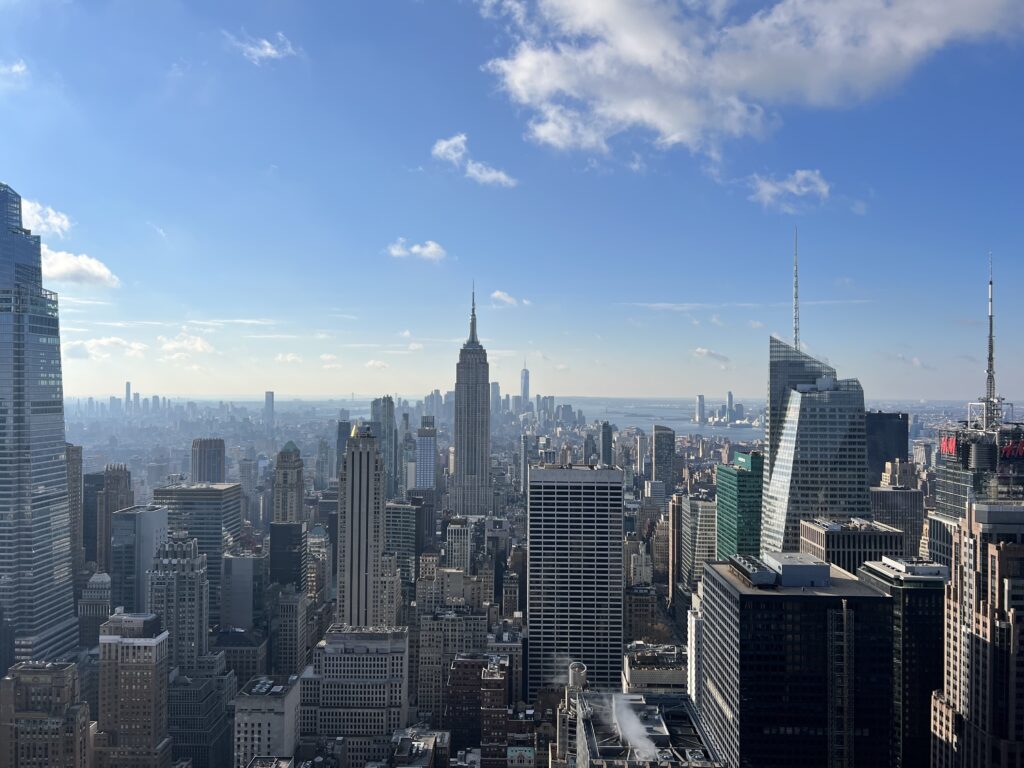 Exiting Top of the Rock
It became immediately clear to us that our 2-year-old doesn't love tall buildings. Something we'd started to suspect this after previous tall buildings. (So far they've been to Edge in NYC, also the Eiffel Tower and Montparnasse Tower in Paris). When we arrived at Top of the Rock they were immediately unsettled and then quickly deteriorated as we moved through the three floors. We ended up leaving pretty quickly, but sometimes that's how travel with a toddler goes.
The elevators to exit Top of the Rock are on the 67th floor. There is a general queue which starts on the east side of the building near the outdoor decks and an expedited queue for guests with VIP Tours or Express Pass. The elevator is the same one we used to enter Top of the Rock, but it dropped us off on a different floor.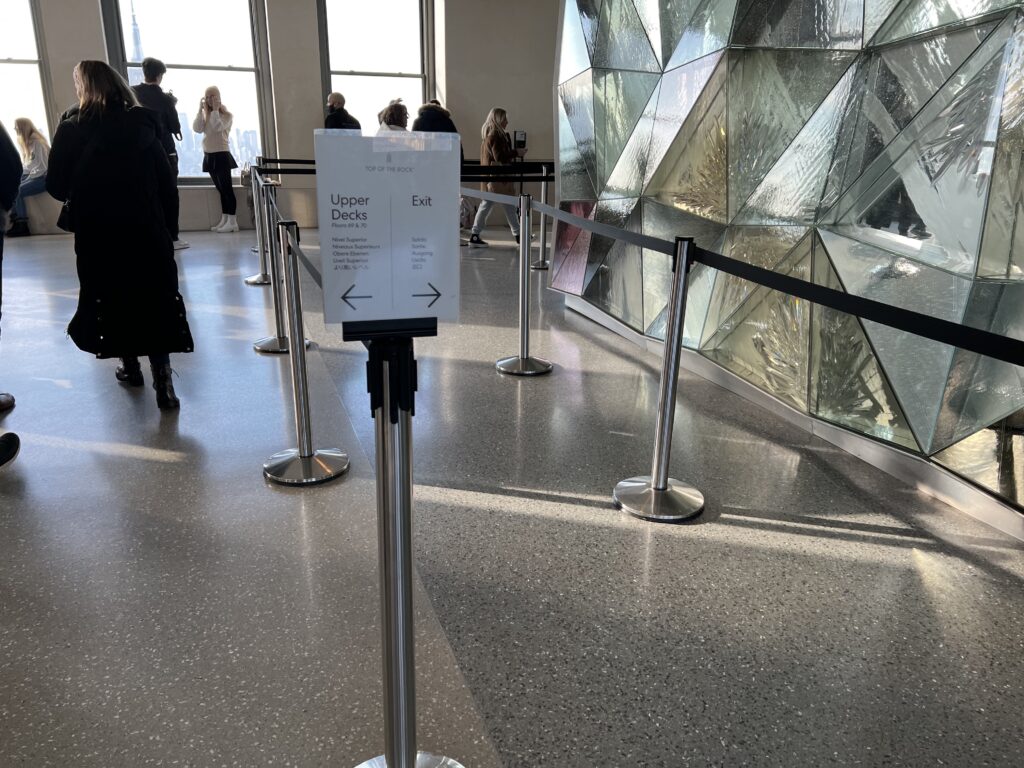 After we got off the elevator, we passed through another gift shop. It was much larger than the one on the 69th floor but seemed to have mostly the same items.
The exit then lead to the concourse level of Rockefeller Center, which is basically in indoor shopping mall. We were a bit discombobulated, but there was a sign with directions pointing us to Fifth Avenue (Rockefeller and skating rink) or Sixth Avenue (toward the Rockefeller subway station).
We continued out the Sixth Avenue exit and onto the N train from 50th Street station. As I mentioned, we were dealing with a toddler meltdown so we didn't get to stick around. However, if you weren't in a hurry, now would have been a great time see more of Midtown.
Times Square is just a few short blocks away, and while touristy it's often a necessary stop for anyone visiting NYC for the first time. If you're feeling inspired by the size of Central Park, take a walk up Fifth Avenue and onward to the park. And if you're visiting New York at Christmastime, you won't want to miss the Rockefeller tree or the Saks Fifth Avenue light display (which starts around 4:30 PM).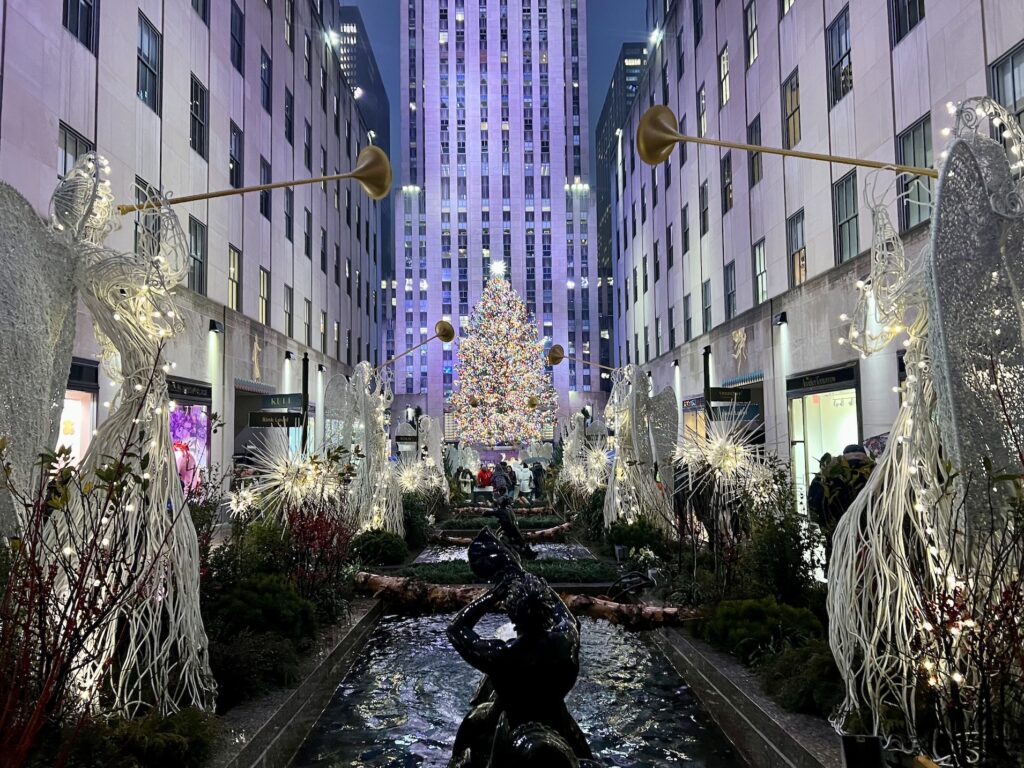 Is Top of the Rock really worth it?
On a clear day, I would say Top of the Rock is definitely worth the money. Especially if it's your first time in NYC and/or if you've not yet done any of the NYC observation decks before.
Top of the Rock boasts spacious indoor and outdoor viewing areas and the location is tough to beat. The view looks straight at the top of the Empire State Building, with sweeping views over the rest of lower Manhattan, including the Statue of Liberty. Plus, it's the only observation deck that offers a nearly unobscured view of Central Park.
One obvious ding for Top of the Rock is that it's the lowest of the five main observation decks in NYC. I honestly have no qualms about the height, but the thing I don't like about it is that it doesn't have a bar or cafe. Edge, located in the nearby neighborhood of Hudson Yards, offers a similar great view of NYC and has a cafe and bar available. That definitely gives it an "edge," if you will.
The other missed opportunity at Top of the Rock is a bit of history. For such an iconic building, there is very little emphasis placed on the history or facts around the building or neighborhood.
We recently visited the Hancock Building in Chicago, and you go through an entire mini Chicago history museum just on your way to the elevator. The Eiffel Tower, despite its super limited space, still has a really fun graphic that shows the history of the world's tallest monuments. Even having a few placards around would have gone a long way. But who knows. Maybe this is their way of getting you to also book the studio tour.
Those nits aside, I think Top of the Rock was a delightful experience. Despite having seen plenty of pictures of New York from above, nothing quite hits like seeing it for yourself. All of the observation decks have their perks, but Top of the Rock shines with its vast outdoor space and its prime location.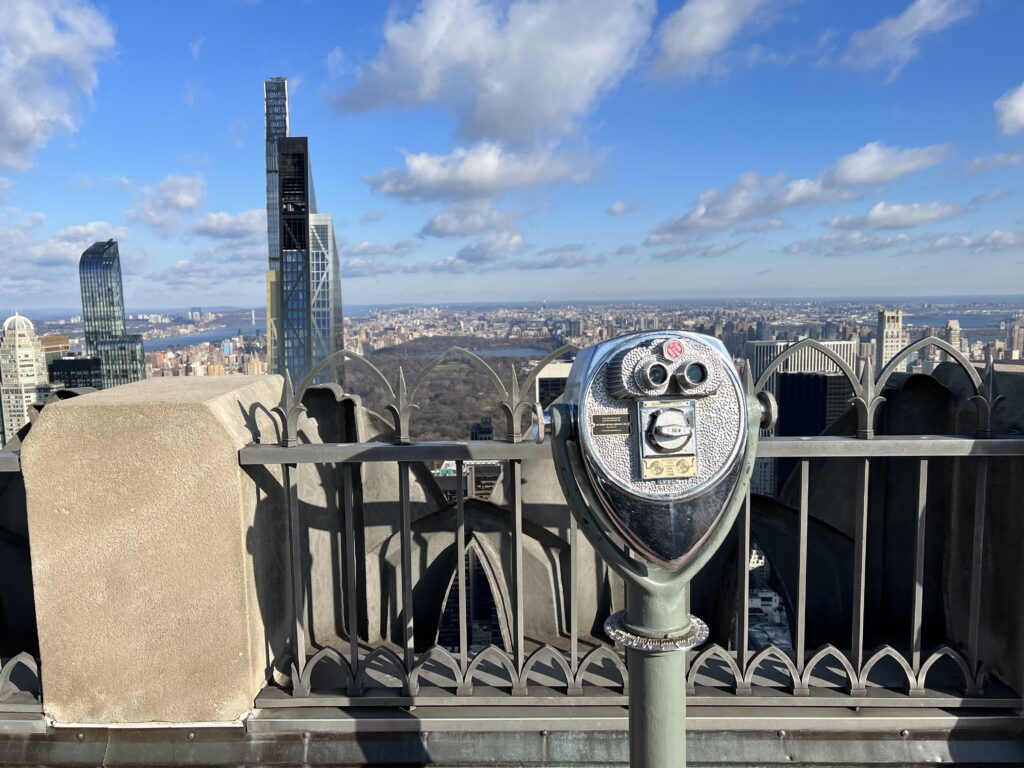 Tips for visiting Top of the Rock
Don't arrive too early. While there is a line at the entrance, they grant entrance priority to guests by ticketed entry time. If you arrive early, you'll likely end up getting in at the same time as everyone else that has your scheduled time slot
Eat before or after. There are no restaurants or bars inside Top of the Rock. The gift shop has a few bottled beverages, but don't expect to find anything substantial.
Book sunset tickets early. Sunset ticket times can sell out days in advance. If you're interested in this time frame, keep an eye on the website in advance to see how early sunset tickets for certain days are selling out.
Bring cash. The binoculars at Top of the Rock only take quarters. If you don't have quarters on you, there is a change machine inside the gift shop on the 69th floor that will break $1 and $5 bills.
Do your shopping after. If you're looking to purchase a keepsake from Top of the Rock, wait until the end of your visit. The elevator drops you off beside a gift shop that is much larger and less crowded than the one on the 69th floor.