In this post, we'll discuss the ins and outs of flying Delta Air Lines with a baby or toddler. Whether you've already booked a flight or you're considering Delta as the best option for your trip with a little one, we've got you covered with what you'll need to know to prepare for the experience. Read on to learn all about flying Delta Air Lines with a baby!
About This Post
This post is mostly concerned with infants (under 2) who either need a car seat or fly as lap infants. That said, much of what we'll have to say regarding seat selection and onboard experience will be relevant even once your little flyer can sit in their own seat unassisted.
You can find official policy from Delta here. You should always confirm details of policy directly with the airline. This post discusses not only those policies, but how they impact your planning and experiences. Delta's website has exceptionally detailed information on flying with babies, so take some time to browse those, too.
This post contains affiliate links, which means that we may receive a commission if you make a purchase using these links. As an Amazon Associate, this site earns from qualifying purchases.
Booking Delta Air Lines With a Baby
Let's start with a pretty basic question…
Can you bring a baby on Delta Air Lines?
Yes. As long as your baby is at least 7 days old they can fly on Delta. Babies under 7 days old require an "approval letter from a physician that gives permission" for the baby to fly.
Can my baby sit on my lap?
A child under two years of age can fly as a lap infant on Delta. Delta uses the term "infant-in-arms" to describe infants who don't have their own seats (and thus sit on an adult's lap).
Does my baby have to sit on my lap?
No. You can buy a seat for your baby when flying Delta Air Lines, even if the baby is under 2 years old. For safety reasons, small children should be restrained in an FAA approved safety seat (usually a car seat) when in their own seat.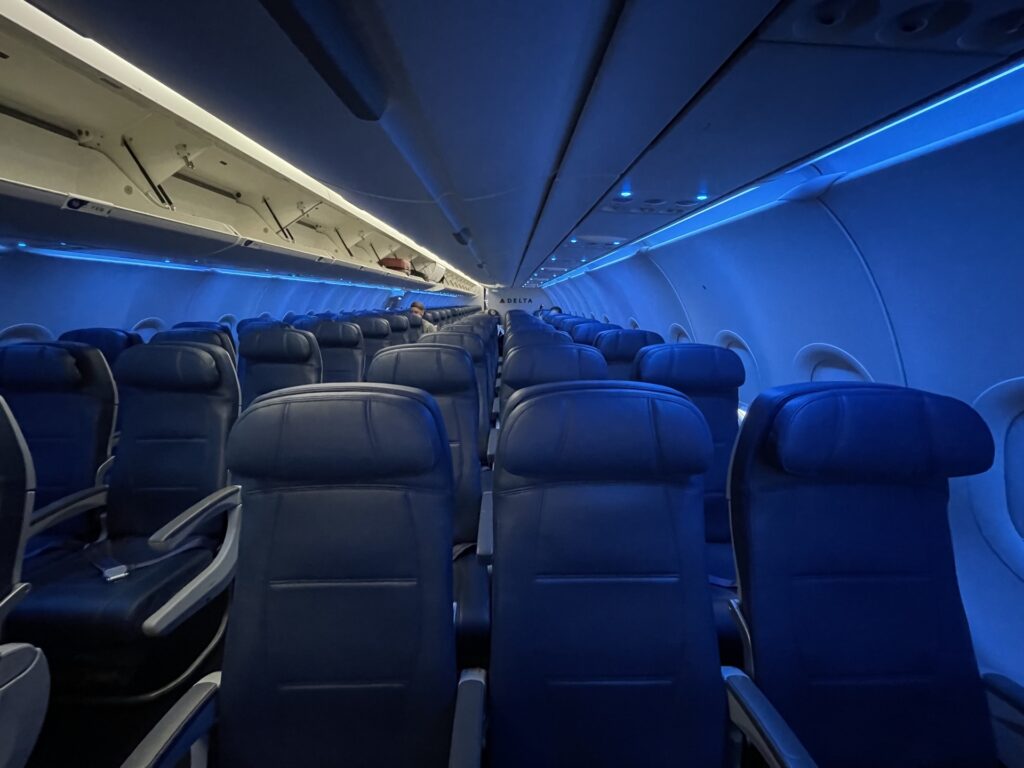 Do babies fly free on Delta?
Babies under 2 years old who fly on an adult's lap (i.e. without their own seat) fly for free within the United States on Delta. On international flights, they typically fly at 10% the rate of an adult ticket. Babies of any age who have their own seat will typically pay the full regular fare, though some destinations may have discounts.
How do I book a lap infant or a seat for my baby on Delta?
If you're booking a seat for a baby (i.e. not a lap infant), you'll book them just like any other passenger when booking your Delta flight. If you wish to fly with a lap infant ("infant in arms"), you'll go through an extra step to fly with them.
When flying within the US, the process for adding a lap infant on Delta is simple, but a little different from most airlines. Specifically, on Delta you don't add the lap infant when booking, you add them after booking.
First, book the flight without the infant in arms. After booking, you can go to "My Trips" and access your flight.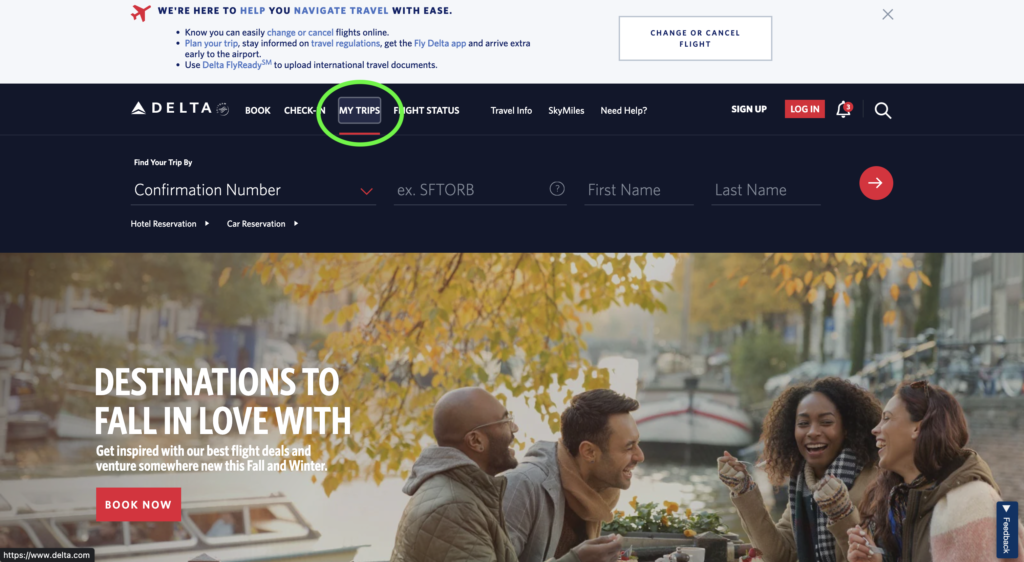 Scroll down to the passenger information, and you'll see an "Add Requests" option next to each traveler. Click that.

"Infant In Arms" is a special request, so click that.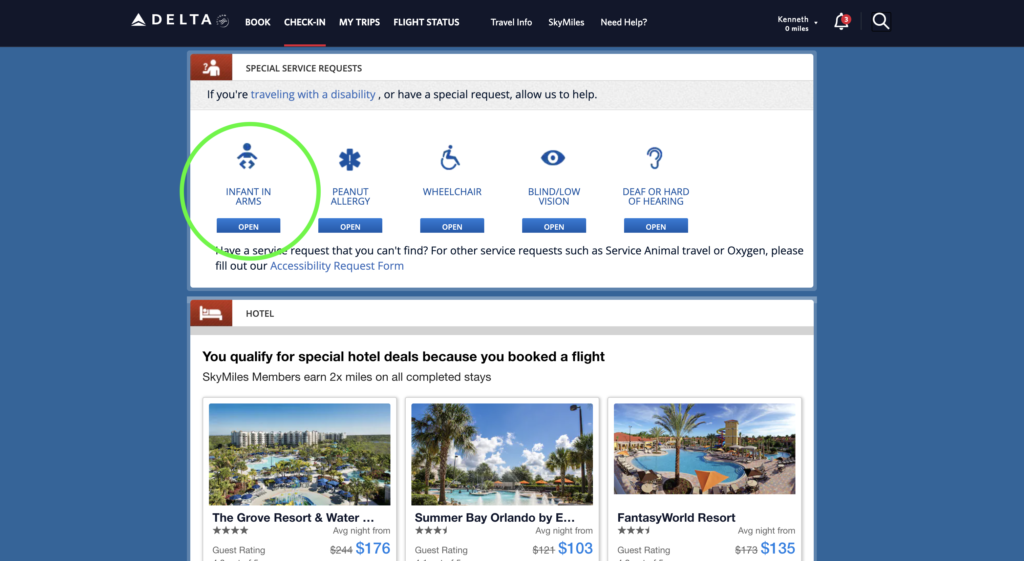 This will bring you to another passenger listing. Click "Request Infant In Arms" to open a form. Complete the form and click confirm.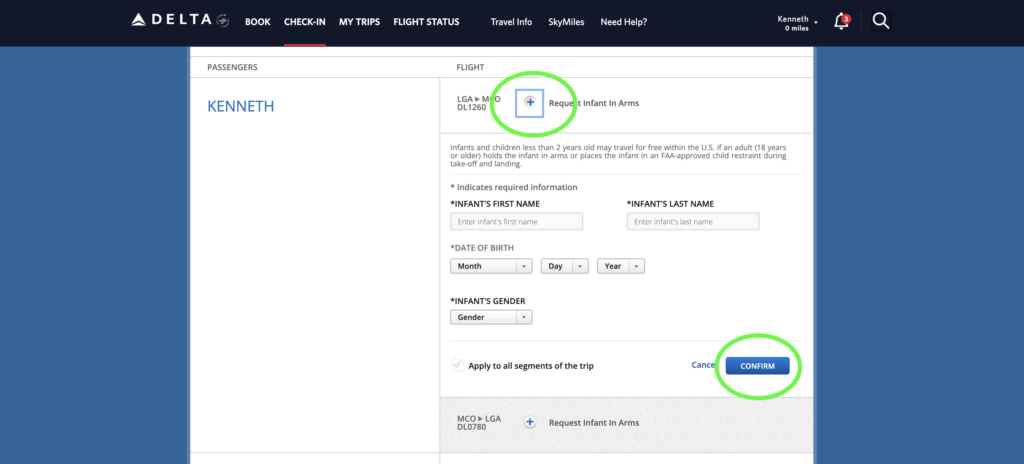 As of this update, adding an "Infant In Arms" to an international flight still requires contacting Delta customer service, and it may require additional payment. (Also, remember when flying internationally that your little one will require a passport.)
Can you bring a car seat onboard Delta Air Lines?
If you book a seat for your baby, you'll be able to bring an FAA approved car seat onboard for their seat (subject to restrictions about which seats can have car seats, discussed below). If you don't book a seat for your baby, or if they're old enough to not need the car seat, you can check (for free) one car seat per child. You typically won't be able to bring it onboard without purchasing a seat, although Delta does say you can bring one "if there is an open passenger seat in your row." You can check the car seat at the ticket counter (before security) or at the gate.
A collapsible car seat (affiliate link) that meets carry-on size limits could be brought onboard, but you should be prepared for the possibility that you're charged a carry-on fee for this.
Delta also provides this list of responsibilities that the accompanying adult has when traveling with a car seat:
Ensure that the child restraint seat meets FAA guidelines
Ensure that the child restraint seat functions properly and is free of obvious defects
Secure the child according to the manufacturer's instructions
Ensure the child does not exceed the restraint's weight limit
Ensure the child restraint is secured to the aircraft seat using the aircraft seat's safety belt
Can you bring a stroller onboard Delta Air Lines?
You cannot bring a stroller onboard Delta (unless it's some super cool compact stroller that folds into the size of a carry-on you purchased), but you can check one stroller per child for free at the ticket counter or the gate.
Delta does not specify a size restriction for gate-checking strollers, but I would recommend checking large strollers or double wides at the ticket counter before security (or at least asking them if you'll be able to gate check it).
Does Delta Air Lines have bassinets?
A few Delta planes have bulkhead seats with the option to have a bassinet, which Delta calls a "SkyCot." Unfortunately, there isn't a lot of publicly available information about these. SkyCots are fit for babies weighing up to 20 lbs. (9 kg) and up to 26 inches (66 cm) long. You can request them by contacting Delta before your flight and at the gate, but they can't be guaranteed.
That last clause is what's important—bassinets can't be guaranteed. Based on my research, they're few and far between. I wouldn't recommend going out of your way in pursuit of a Delta SkyCot (i.e. if another airline is cheaper, maybe do that instead), but if a Delta flight was the best option, it might be worth contacting the reservation team to see if a SkyCot is available on your flight.
Does Delta Air Lines allow Diaper Bags?
If your child has their own seat, they're entitled to the baggage allowance for their ticket, usually a carry on and personal item, which would include a diaper bag. If your baby is flying on your lap, Delta is a little ambiguous on this issue. They specify
passengers may bring the following infant items onto the plane as an additional free item Booster seat or other infant seat; Breast pump and associated cooler bag
It's pretty bizarre to me that they don't just say "diaper bag" here, but I assume a diaper bag falls under this policy. I can't imagine a situation in which there's a genuine dispute about that. To avoid any issue, throw a small handheld breast pump in your diaper bag, I guess.
Does my child need a birth certificate to fly Delta Air Lines?
You should always be prepared to prove the age of a child flying on your lap or on a discounted fare. In practice a scan of a birth certificate is probably enough, but personally we recommend getting your little one a passport as early as possible.
Delta Airlines With a Baby – Seat Selection
Delta includes seat selection on all fares except Basic Economy fares. The airline states a "Family Seating Policy":
Delta strives to seat family members together upon request. If you are unable to obtain seat assignments together for your family using delta.com or the Fly Delta mobile app, please contact Reservations to review available seating options.
While this is probably meant for situations when there aren't neighboring seats available by the time you get to seat selection, it might be worth trying to use it to get seats assigned ahead of time if you book a Basic Economy fare.
In case you don't book seats ahead of time, Delta will randomly assign seats at check in. If the system somehow erroneously separates your child from all adults, you should contact Delta customer service or visit an agent at the airport. Keep in mind that, the Family Seating Policy notwithstanding, Delta only has to make sure one parent is seated with a child. It's possible a random assignment results in one parent sitting with a child while the other parent is somewhere else on the plane.
Seats That Babies Can't Use
We're going to start with seats that lap infants and car seats cannot use because these restrictions apply to all the classes of seats we'll discuss below.
Neither lap infants nor car seats are permitted in exit rows or seats one row behind or in front of exit rows. Delta also asks that car seats not be used in bulkhead seats "when the safety seat is a combination car seat and stroller."
There are a few seats with airbag seat belts on Delta planes. Usually these are able to be deactivated via an extender, allowing them to be used by children and car seats.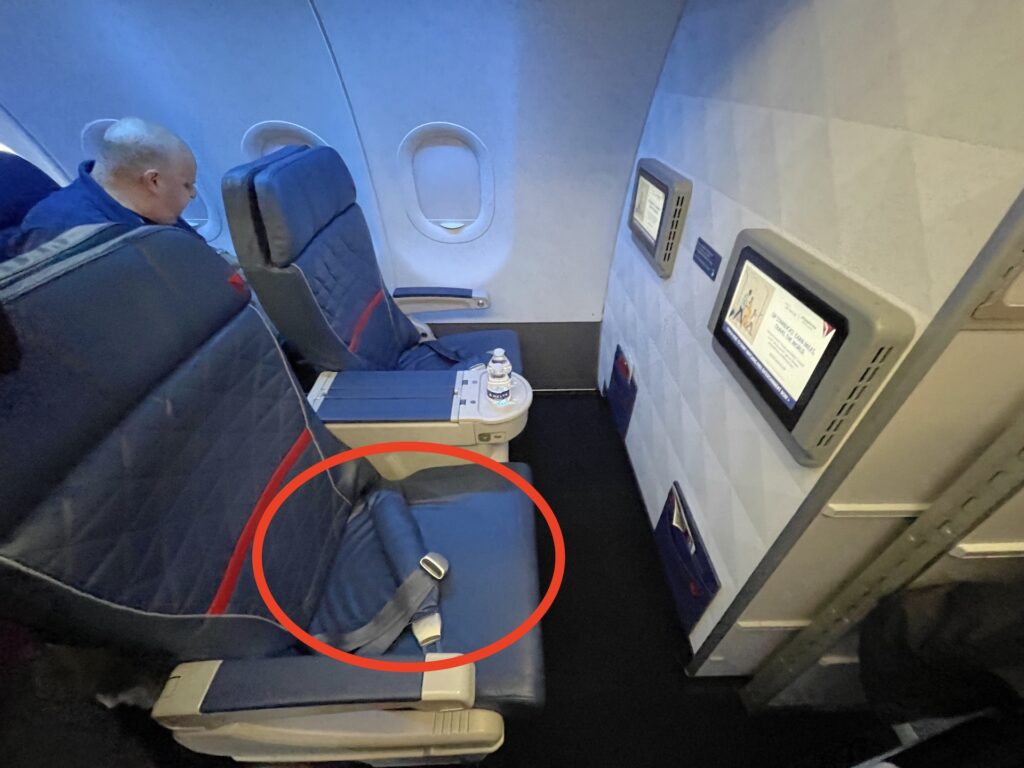 One slightly ambiguous area is the use of lie-flat Delta One seats. Delta specifies clearly that car seats cannot be used in these seats on the A330-200, A330-300, 777, 767 or 747 aircraft. Delta also specifies that this rule is because the airbag seat belts in these seats cannot be deactivated. And Delta mentions "children under 2 years of age are not allowed to sit in a seat equipped with an airbag seat belt."
This would lead one to reasonably conclude you can't have a lap infant (under 2) in these seats. However, at least one review shows this not to be the case (you can clearly see an inflatable belt in the photos, too).
Finally, I like to mention that if you're flying any sort of long-haul or transcontinental flight in a premium cabin like business or first class, you'll want to research the seat configuration beforehand. Seats labeled 2A and 2B could very well be separated by a wall. This makes them impracticable for a parent and child to use even when technically allowable.
Delta Main Cabin
Lap infants and car seats are allowed in most Main Cabin seats on Delta flights. We mentioned above the restrictions related to exit rows and bulkhead seats. Generally, car seats will go in the window seat (so they don't obstruct passengers exiting in case of an emergency). If the window seat is empty the middle seat is allowable.
Delta Main Cabin seats typically have around 30 inches of pitch (distance between seat backs) and 18 inches of width. These will fit most infant car seats. You can see more details about Delta seat sizes on SeatGuru.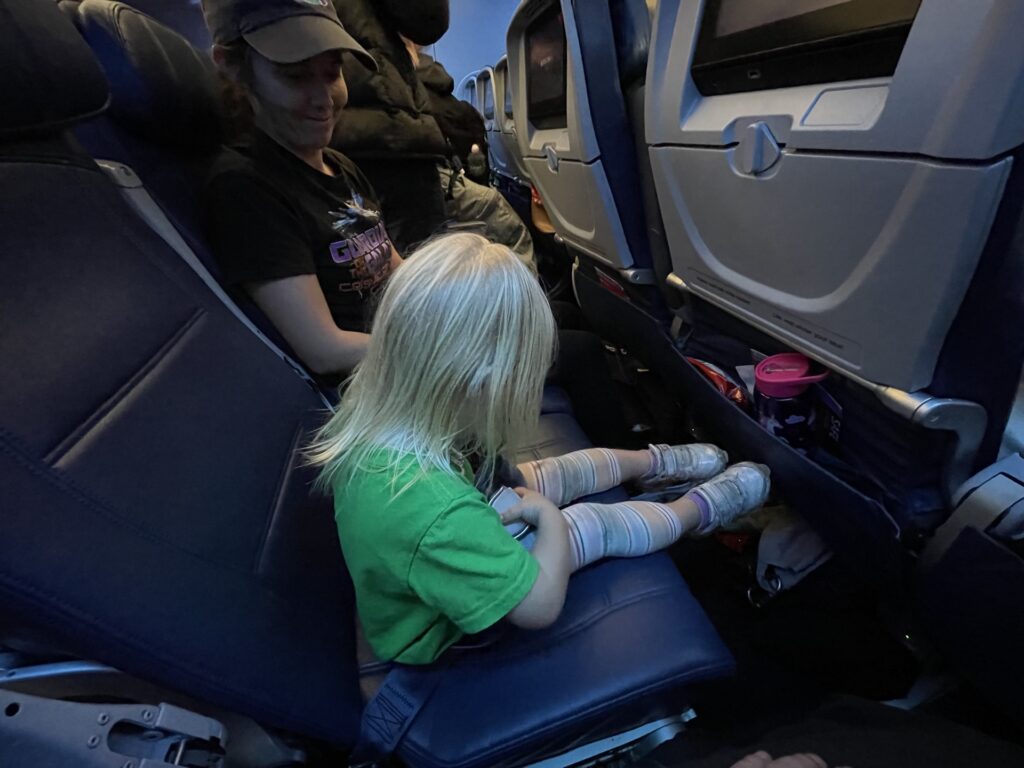 Delta Comfort Plus
Delta Comfort Plus seats can accommodate car seats and lap infants, subject to the restrictions already mentioned above. Because there are fewer Comfort Plus seats, you're more likely to come up against the restrictions related to exit rows and bulkhead seats mentioned above.
Comfort Plus is probably our favorite option for flying with babies and toddlers on Delta. The extra snacks (typically five total options) and legroom make the overall experience a lot more tolerable. While families with car seats or lap infants will generally be able to pre-board, Comfort Plus boarding is great for families with slightly older kids.
We have a review of Delta Comfort Plus on the A321 here.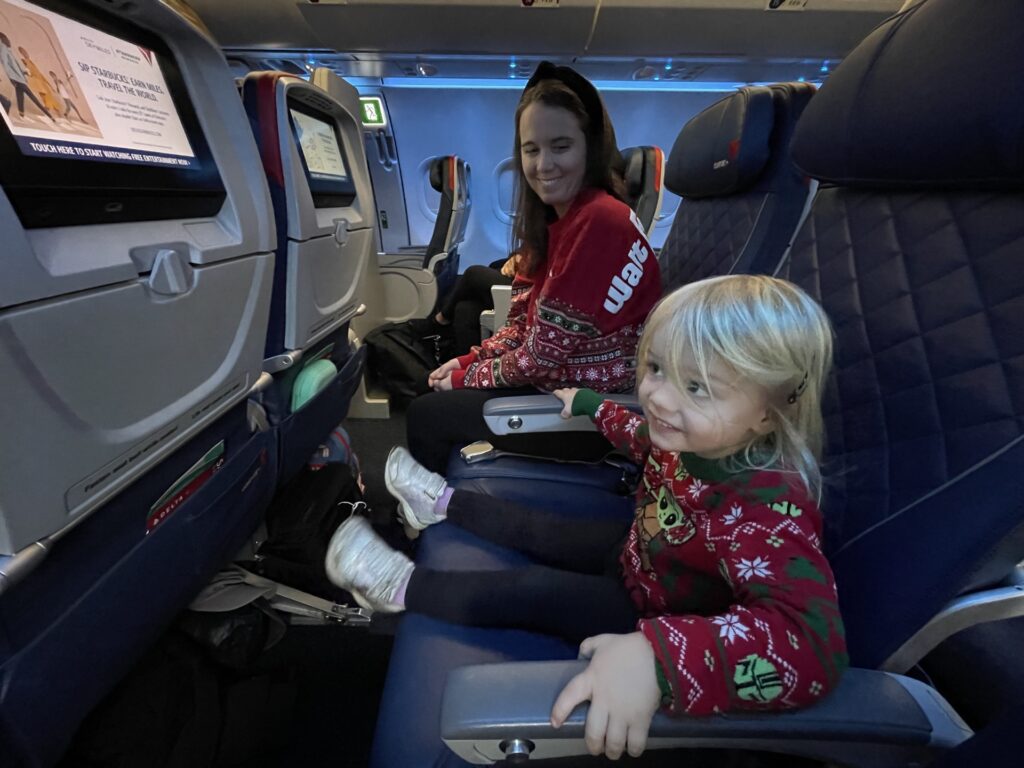 Delta First
Similar to the Comfort Plus seats, you can fly with a car seat or lap infant in some Delta First seats, but you're more likely to run up against the restrictions discussed above.
Most Delta First configurations are 2-2, which works well for two parents and a lap child but not two parents and a seated child. While the added space in First is great, we prefer to have three adjacent seats to ourselves. Beyond that, the added cost of First Class is hard to justify on most domestic trips.
We have a review of Delta First on the A321 here.
Delta Air Lines With a Baby – Luggage
Every passenger with an individual ticket (i.e. not lap infants) gets both a carry on and a personal item on Delta. As of this post, that includes Basic Economy tickets. The carry-on size limit is 22″ x 14″ x 9″. Best I can tell, Delta doesn't specify a personal item size limit. The personal item should, however, be able to fit under the seat in front of you.
Your checked baggage allowance will vary by your fare class and whether you pay an additional amount when booking. Car seats and strollers can be checked for free, however.
A car seat that is occupying a seat is not a carry on. A diaper bag shouldn't count against your baggage allowance (see above). Besides the diaper bag, lap infants generally don't get any baggage when flying Delta.
I say "generally" because Delta has a confusing baggage policy for cases where infants are not traveling for free. Specifically, if you're flying internationally on Delta, I recommend directly consulting their child baggage page. That page contains details for baggage allowances for kids flying on discounted fares.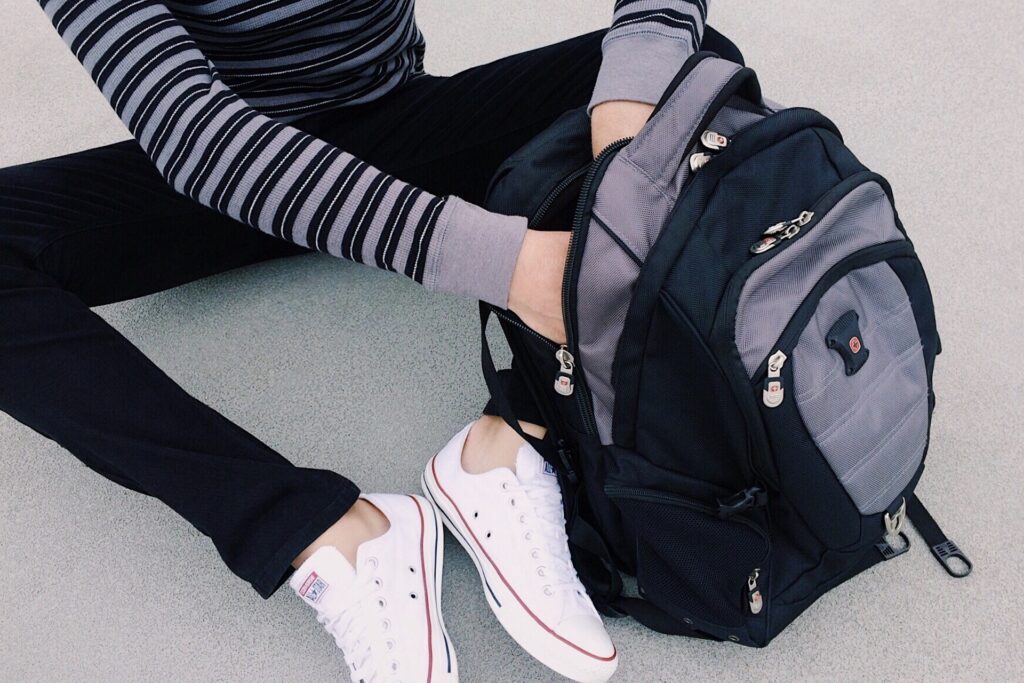 Online Check In
As always, when flying with a lap infant you should be prepared for online check-in to not work. This is because some airlines have a policy of confirming lap infant ages at the ticket desk before issuing boarding passes. We haven't flown with a lap infant on Delta recently, but you should keep this in mind any time you fly with a lap infant.
Delta Lounge Access With a Baby
You can view the comprehensive access rules for Delta Sky Club lounge access here, but I'll give an overview of the basic ways to gain access.
As is typical these days, you won't get lounge access simply for flying a premium cabin (Comfort Plus or First) on most domestic flights. If you're hoping for a ticket that grants you lounge access, you'll need to be flying Delta One, the premium cabin on international and select domestic routes. In that case, each ticketed passenger will have access.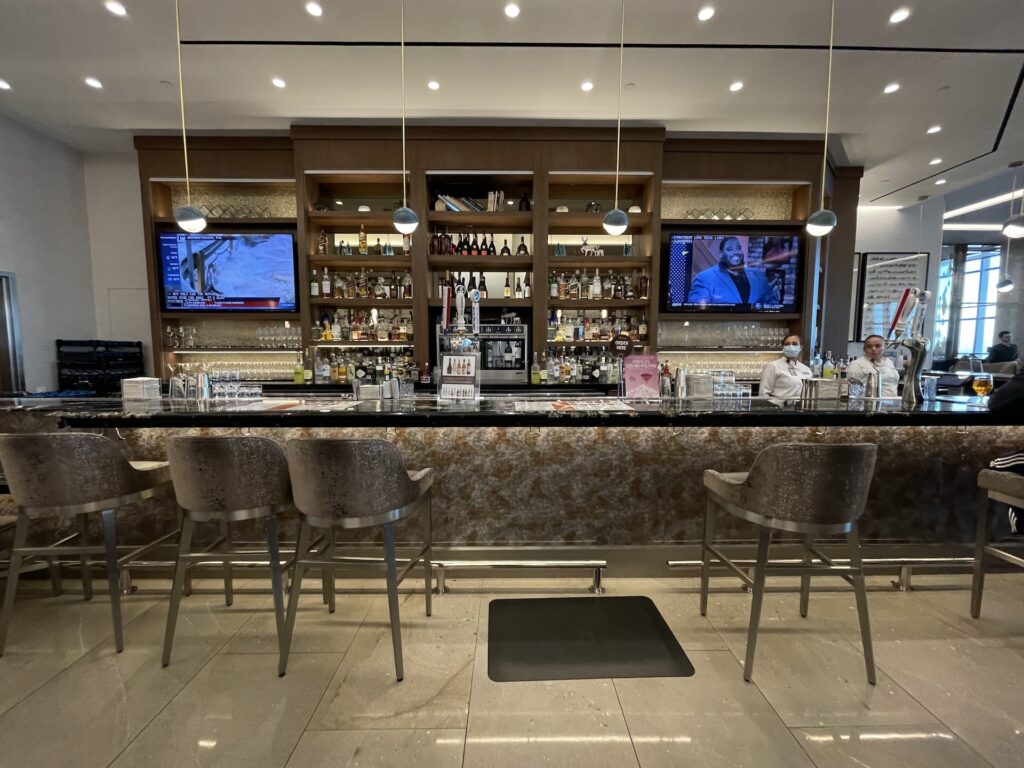 The main two alternative ways to access Delta lounges are with a Sky Club membership or access through select credit cards (primarily the Amex Platinum and the Delta Sky Miles Platinum from American Express). Unfortunately, all of these now require a $50 per guest fee be paid. For credit cardholders, the fee is waived for kids under 2. In general, this new fee renders paid access more or less useless for most family travelers, as lounge access will almost never be worth $50 for a kid.
If you can't get access to Delta lounges, you'll often find Priority Pass is the easiest way to get lounge access. Priority Pass memberships grant access to a network of lounges around the world.
Priority Pass is included as a benefit of several premium cards these days, including the Chase Sapphire Reserve and Amex Platinum. Guest policies for Priority Pass vary but typically include two guests, with additional guests allowed for a fee. A large family may want to find a way to have two Priority Pass accounts to maximize their guest count.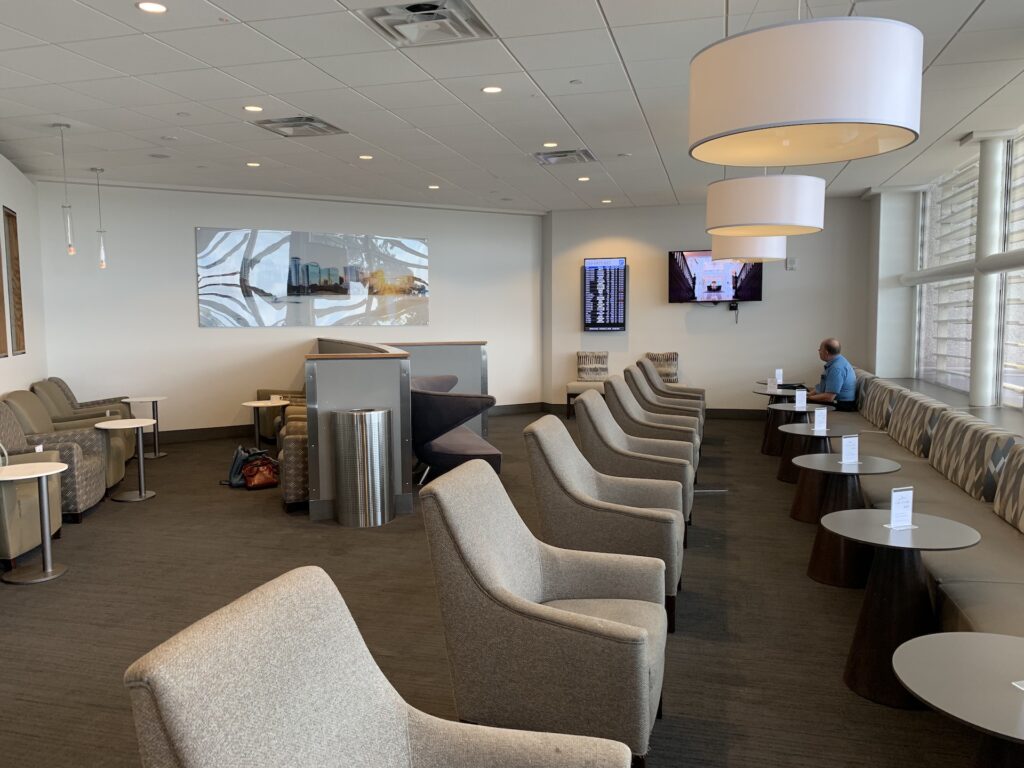 Finally, please keep basic etiquette in mind when visiting a lounge with a child. We fully support bringing kids into lounges, but finding a relatively isolated spot, not allowing your kid to run around, and leaving if they can't control themself are the minimum steps you should take as a courtesy to other people in the lounge.
Delta Boarding With a Baby
Delta does not provide a general policy for family boarding, and specific reports online vary. Generally, you can expect families with children under 2 to be called as part of pre-boarding. Because the website doesn't outline a specific policy, the details may vary (i.e. it could be "families with kids 2 and under" or "families with lap infants" and so on).
The lack of a fully transparent family boarding policy is a low-light for flying Delta with a baby. On a recent flight we even heard it emphasized that pre-boarding was "only" for parties that had "requested" it beforehand. For an airline that usually excels in service, this was an odd shortcoming.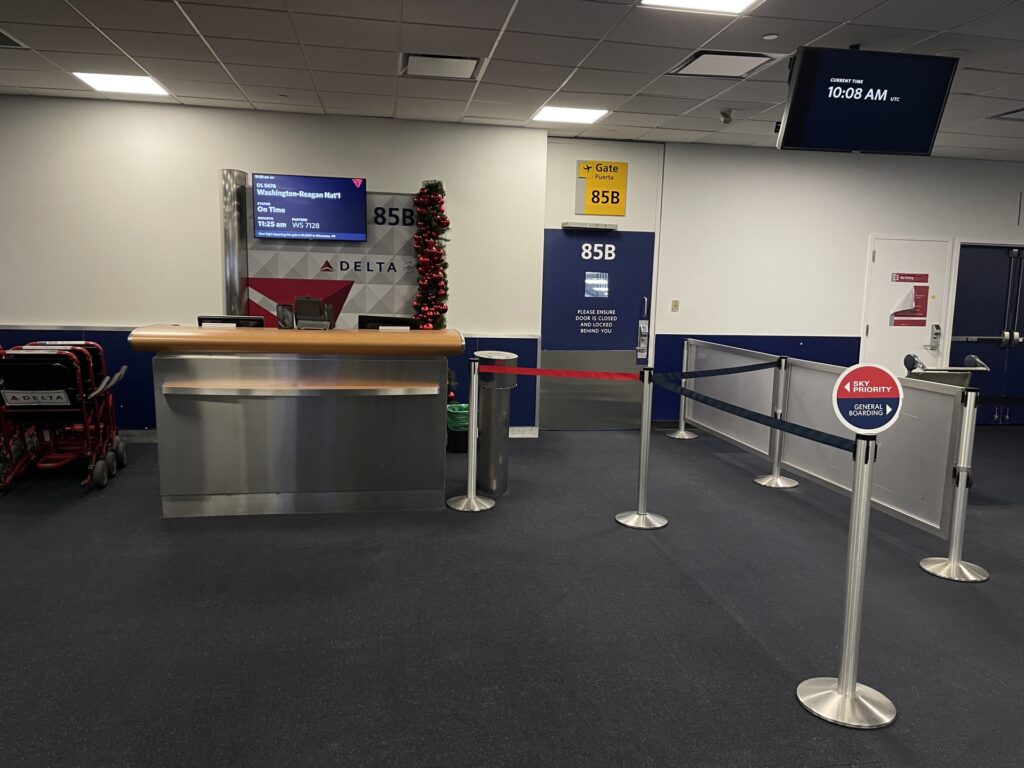 Onboard Delta With A Baby
Delta's onboard service is exceptional and makes traveling with a baby just a bit less stressful. Many flights have multiple snack options along with the standard beverage selection. We've also regularly had flight attendants provide water and coffee service a second time, which is nice in case you turned down coffee the first time around in the chaos of the moment.
We've primarily flown on Delta's A321 and found that the middle restroom had a changing table while the rear restroom didn't. Delta flies several smaller planes along short routes in the eastern half of the country, and I wouldn't be surprised if many of those didn't have changing tables.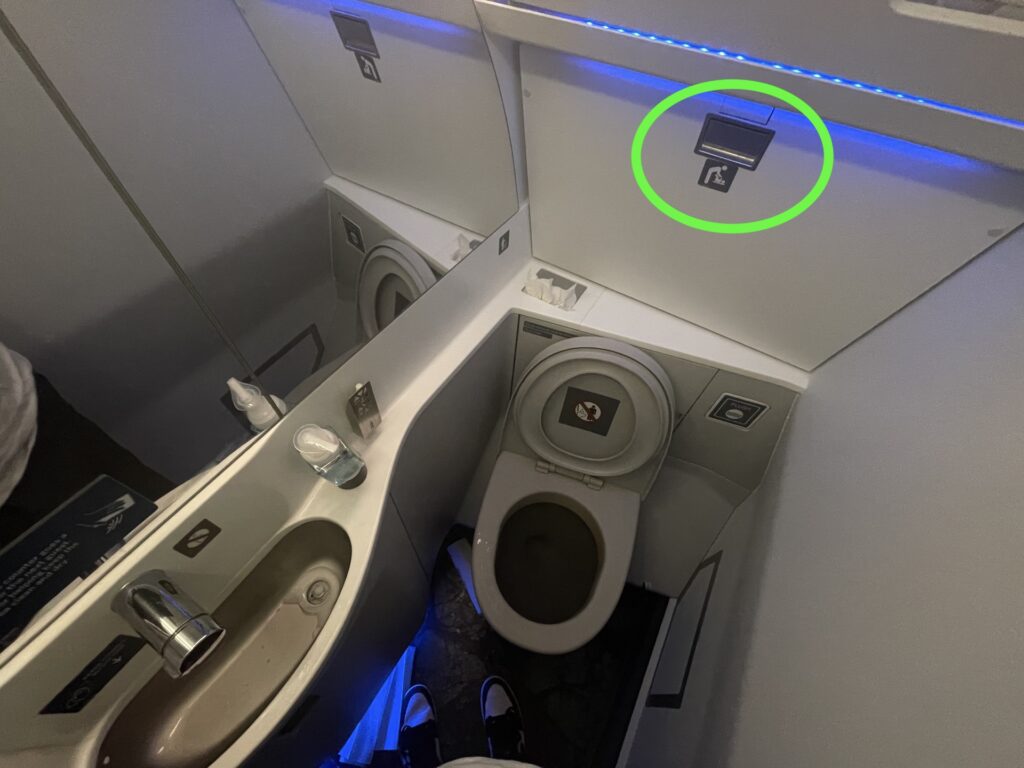 Onboard entertainment is another area where Delta excels. Most Delta planes have seat back entertainment, and it's usually a pretty large selection. I've written before that I don't find this to be necessary, but it is nice with a small child.
Usually we don't like to break out our own tablet—an Amazon Fire HD 10 (affiliate link)—until we're left with no other options. The variety offered by seat back entertainment helps in this pursuit, but we also never count on that and always bring that tablet.
Wifi is available for purchase on most flights. Delta also offers free wifi to SkyMiles (their free-to-join loyalty program) members on over 500 of their domestic planes. Frankly, we just never recommend counting on Wi-Fi for anything when flying. If nothing else, the inevitable lagging can send a toddler into a spiral.
Outlets are widespread on Delta planes but you might still find a few seats without a proper outlet. Beyond that, most seats also have USB charging as part of the seat back entertainment unit.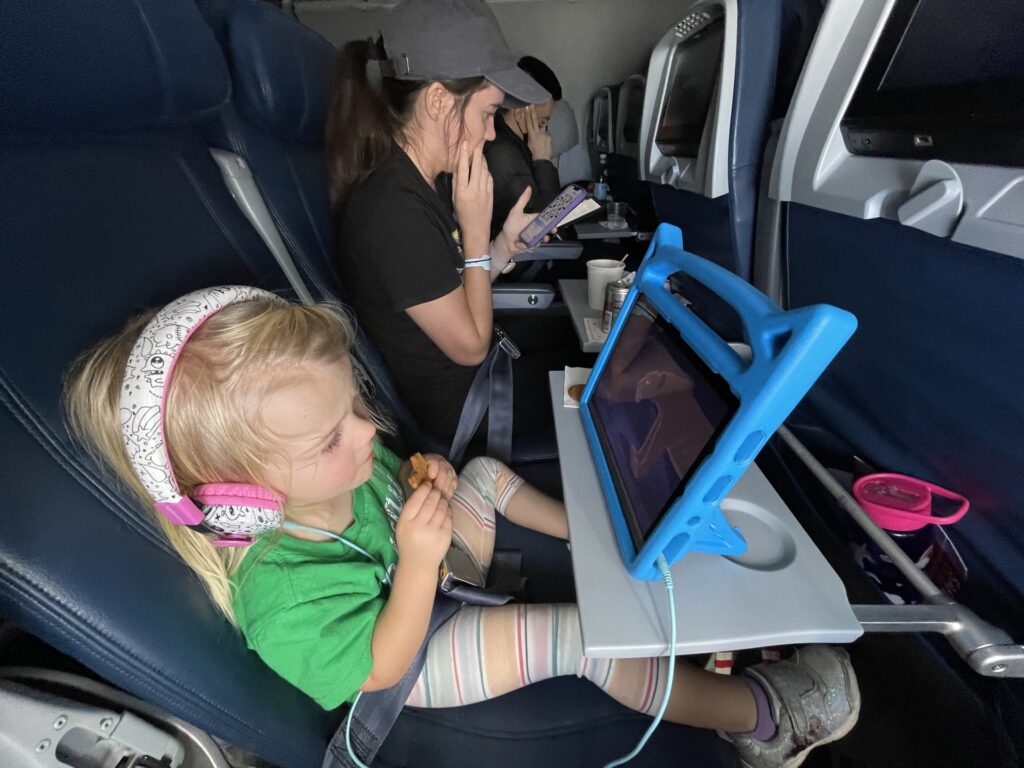 Delta Air Lines With a Baby – Conclusions
Delta is consistently ranked as one of the better domestic airlines in the US, and this holds true for flights with a baby, too. Like basically all economy cabins these days, the Main Cabin can feel cramped. This usually won't interfere with standard car seats, though, which is a step up from the worst products around. The ability to upgrade to Comfort Plus alleviates this issue a bit without completely breaking the bank.
Other hard product features—outlets, seat back entertainment, changing tables—aren't universal but are common enough that you'll rarely be without them when flying Delta.
But as we've emphasized, it's the service that really stands out. This starts with planning your trip. The Delta website is absurdly comprehensive when it comes to information on flying with children. Even their fleet information page is loaded.
Onboard service shines, too. Even on 2-hour trips we've had additional coffee and water service and a selection of three snacks. These aren't the sort of thing to have me running to book Delta at any cost, but the airline has become our go-to for flying out of LaGuardia.
Delta Flight Experiences
This post focused on flying Delta (generally) with a baby. We also have posts reviewing specific Delta offerings, many of which we flew with our baby.