I recently traveled to Orlando to cover a new ride opening at Walt Disney World. It was my first solo trip since having a baby almost 2 years ago. I decided to take advantage of the rare opportunity to travel with two free hands and try some new flight experiences. First up was Delta Comfort Plus aboard an Airbus A321 from New York (LGA) to Orlando (MCO).
Join me as we learn about flying domestic on Delta Comfort Plus, from purchasing your ticket to drinks at 30,000 feet.
What is Comfort Plus on Delta Airlines
Delta Comfort Plus (also written as Delta Comfort+) is an enhanced main cabin flight experience available on many Delta flights. The seats and service are better than the standard main cabin (economy) experience, but not as good (or expensive) as Delta's premium offerings. For comparison, we also have reviews of our Delta Main Cabin and Delta First Class experiences.
Most Delta flights have two cabins: premium and main. The premium cabin typically serves Delta One and Premium Select on international flights and First Class on domestic flights. The main cabin serves Comfort Plus, Main Cabin and Basic Economy.
Delta Comfort Plus is not a "business class" or "premium economy" experience. It is an elevated main cabin experience. This ticket option is for travelers who are content with economy level service, but are looking for premium features like more space and complimentary drinks. It's somewhere between the experience you might find in United Economy Plus or JetBlue "Even More Space," (mostly just extra legroom) and a true "premium economy."
Let's look at exactly what is included in the Delta Comfort Plus flight experience.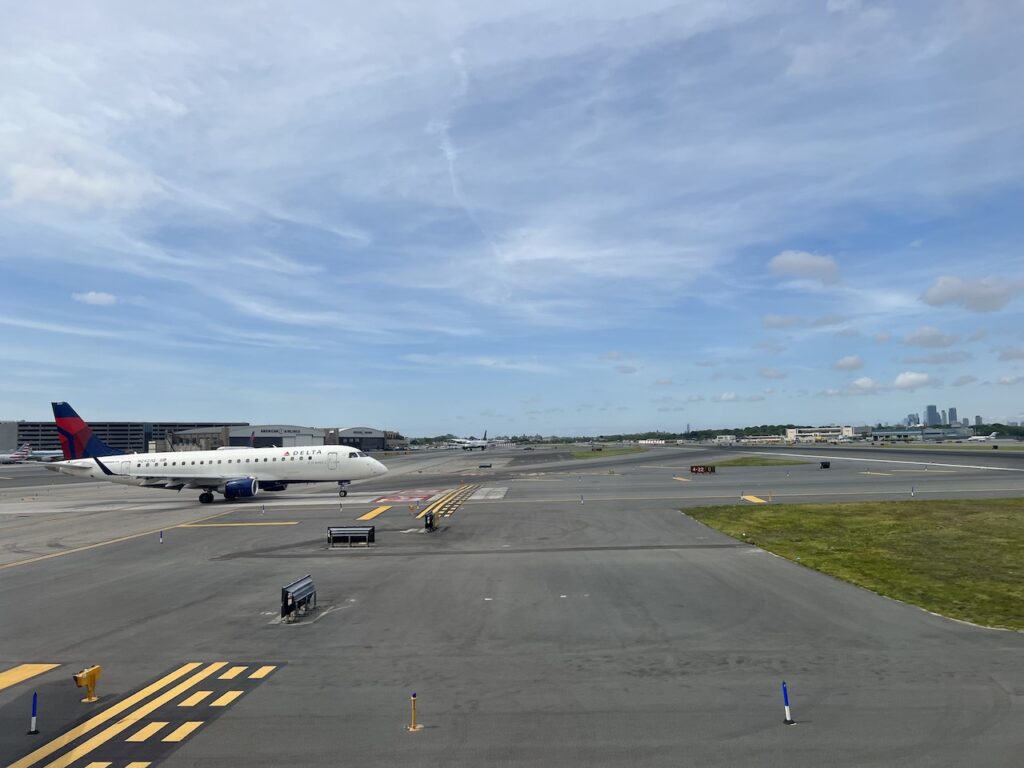 What Does Delta Comfort Plus Include?
Delta Comfort Plus is an elevated flight experience within the main cabin. These are the core benefits and amenities that you can expect when flying Delta Comfort Plus.
More Legroom & Recline: Depending on the aircraft, up to 4 extra inches of legroom and 50% more recline.
Complimentary Beer, Wine & Liquor: All beverages are complimentary, which includes all alcoholic and non-alcoholic drinks. (Only on flights longer than 250 miles.)
Snacks: A selection of premium snacks are available in addition to the complimentary basic snack that all passengers are offered. (On flights longer than 900 miles.) During my flight, this included full-size snack items such as kettle cooked potato chips, chocolate wafer cookies and roasted nuts.
Free Wifi for Messaging: Wifi for messaging services (iMessage, Whatsapp, etc) is complimentary for all Delta passengers on all wifi-equipped aircraft. Additional wifi options for streaming and social are available starting at $5. Delta also offers free wifi to SkyMiles (their free-to-join loyalty program) members on over 500 of their domestic planes.
Priority Boarding & Seating Placement: Comfort Plus passengers can board before general boarding groups. Comfort Plus seats are located near the front of the main cabin.
Dedicated Overhead Bin Space: The overhead bin space above Comfort Plus seats is reserved for Comfort Plus passengers only.
Free Carry-On & Personal Item: All Delta passengers, including Comfort Plus, are entitled to one free carry-on and one personal item.
What Doesn't Delta Comfort Plus Include?
Don't let the advertising or label sweep you up into setting your expectations too high for Delta Comfort Plus. There are several things that you will not get as a Delta Comfort Plus passenger.
No Lounge Access: Delta Comfort Plus does not include any lounge access at the airport.
No Free Checked Bag: Delta Comfort Plus passengers checking a bag will need to pay the standard fee to check a bag (typically $30 each way for bags <50 lbs).
Priority Boarding ≠ Premium Boarding: Delta has a lot of boarding groups. Delta Comfort Plus is the third boarding group called, which can be well after the first passengers enter the plane.
No Enhanced Service: You will experience Delta's standard "signature service." You will not be waited on hand and foot as you may in some first class experiences.
Buying a Delta Comfort Plus Ticket
To buy a Delta Comfort Plus ticket, it's easiest to book directly on Delta's website. Navigate to Delta.com and enter your destination and travel dates. The search results will give you the list of flights, and all of the available ticket options which will include Basic Economy, Main Cabin, Comfort+ and First Class.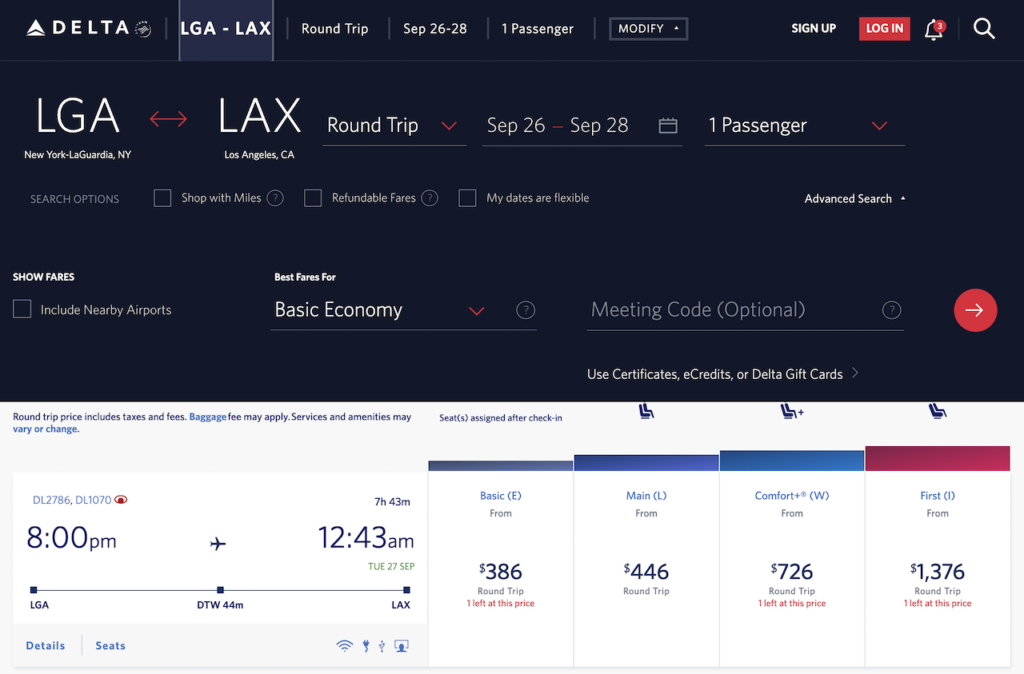 The displayed Comfort Plus price includes free changes but is not refundable. When you select your flight from the page above, you'll be given the opportunity to select a fare that is 100% refundable in the original form of payment. The refundable fare will be more expensive than the nonrefundable fare listed on the main page.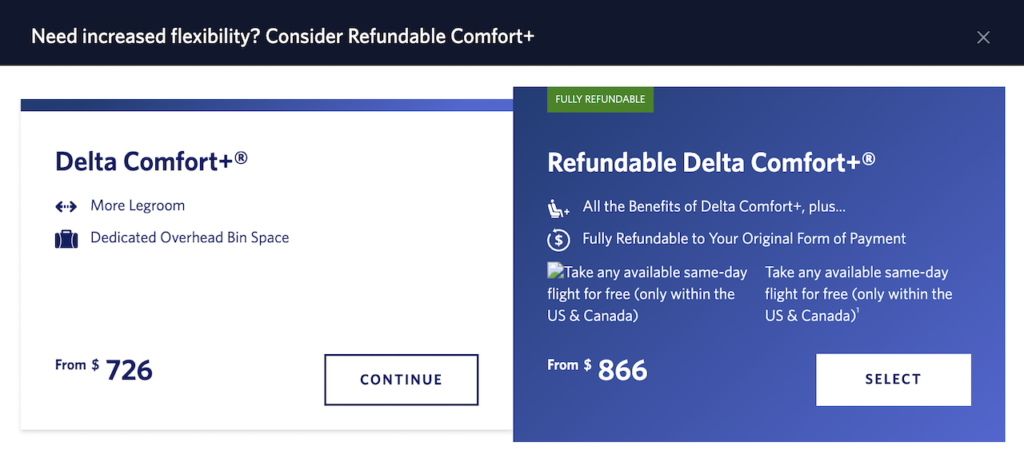 If you're flying roundtrip, you'll be able to select your return service on the next page. You will need to select your seat type for each leg of your journey and they do not need to be the same. Comfort Plus will not automatically be applied to later legs simply because you selected it for the first leg.
If you have already booked a Main Cabin seat, you can also upgrade to Comfort Plus, if seats are available, for an additional fee. You can do this online or in the app. You cannot upgrade to Comfort Plus from Basic Economy.
Departure Airport Experience with Delta Comfort Plus
I was flying Delta Comfort Plus out of New York's LaGuardia Airport (LGA). Delta operates out of LGA Terminal C.
I was traveling the Thursday before Memorial Day weekend and expected there to be a decent amount of crowds. I was wrong. There was no wait in TSA PreCheck, and it took me longer to scan through Clear than it would have to go straight through the main PreCheck line.
There is no lounge access included with a Delta Comfort Plus ticket and there is not a Priority Pass lounge in LGA Terminal C. So, I grabbed a coffee from World Bean (I highly recommend the brown sugar cinnamon latte) and headed to my gate.
Making a visit to New York City? Start planning your trip with our New York City Three Day Itinerary!
About a minute after our scheduled boarding time, I received a text that the flight had been delayed over 3 hours. The gate agents were surprised by this, and immediately announced that they were looking into it.
It turns out there was a storm along our original flight path that limited the number of flights that could pass through that area. They had to submit a new route avoiding that area to the FFA and it was quickly approved. Five minutes and three time change texts later, we were back on schedule and would be boarding immediately.
Delta Comfort Plus Boarding
Delta has a lot of priority boarding groups. Depending on the flight, there are 5 or 6 priority boarding groups before the standard main cabin boards. As a result, you end up with a lot of people who have priority and they all huddle around the gate to beat everyone else who has priority.
The gate area was extremely crowded and chaotic. Eventually, the gate agent lined up all the main cabin passengers to the side. All remaining priority passengers of different levels were still forming makeshift queues and hovering by the gate to be the first to pounce when their group was called.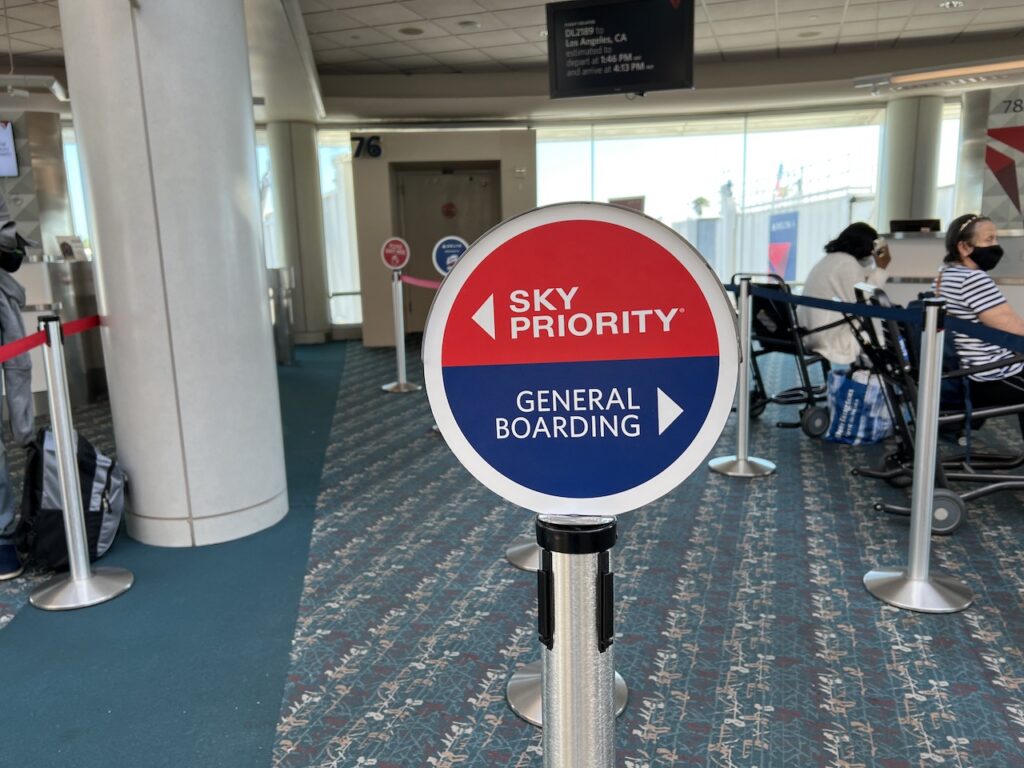 Comfort Plus is the fourth boarding group called on Domestic flights after Pre-Boarding (guests who need extra time or assistance to board and active military), First Class (and Diamond Medallion members) and passengers with strollers or car seats.
By the time I boarded the plane, there were already passengers seated in all rows of Comfort Plus, and several more passengers seated in the main cabin.
The overhead bins above the comfort plus section are labeled for Comfort Plus only. There was more than enough overhead bin space for all Comfort Plus passengers' items.
Delta Comfort Plus Seats
I flew Delta Comfort Plus aboard an Airbus A321. The main cabin has a basic 3-3 configuration and this includes economy and comfort plus seats. The Delta Comfort Plus seats have more leg room and more recline than main cabin seats, but are not wider or spaced further apart.
The seats were comfortable and spacious. I'm short (5'3″), and I had plenty of leg room. The seat reclined to a comfortable position. If it was 50% more than standard recline, it didn't seem notably better than my memory of standard recline.
I found the Comfort Plus Seats to be pleasantly comfortable. They aren't luxurious by any means, but they offer space to move and breathe. You can also easily lean forward to access any luggage you have stored under the seat in front of you, which after a bunch of Spirit flights feels like a luxury of its own.
Snacks & Beverages On Delta Comfort Plus
Some of the notable perks of flying Delta Comfort Plus come in the form of food and beverages.
As soon as we took off, the flight attendant came around offering us our "premium snacks." These additional and improved snack offerings are available on flights over 900 miles when meals are not provided. Premium snacks included full-size portions of kettle cooked potato chips, chocolate wafer cookies, nuts, chocolate bars, energy bars and a couple other things.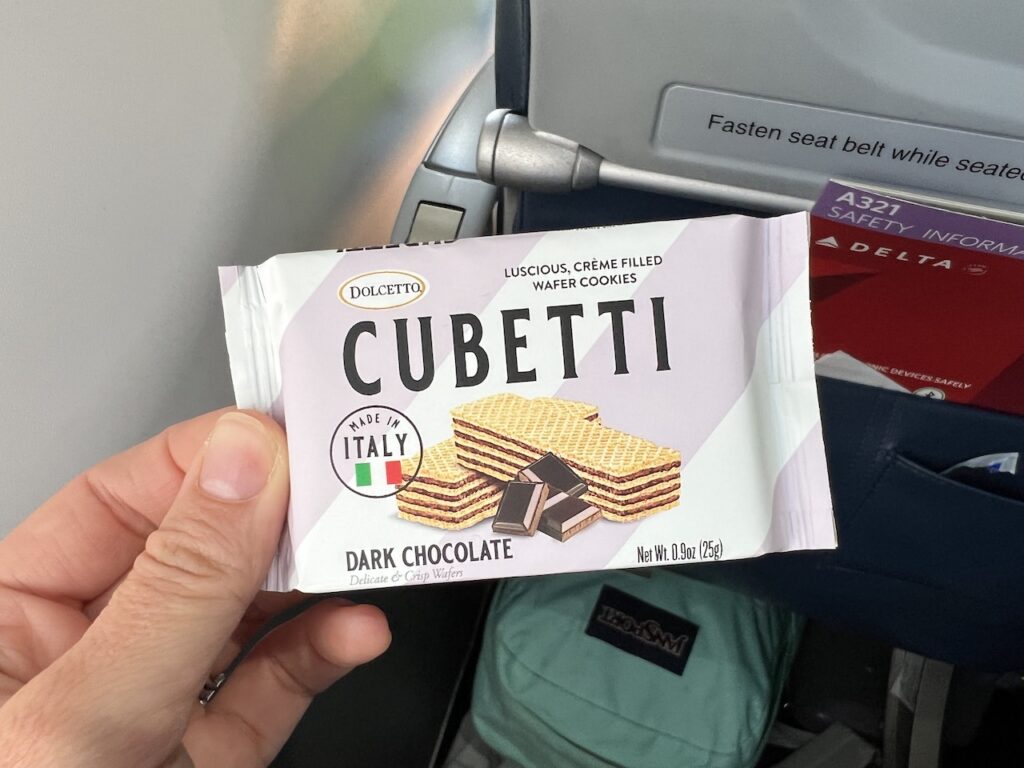 I panicked and chose the chocolate wafer cookies thinking I could only take one. However, the flight attendant encouraged the row behind me to take several because they were the last row of Comfort Plus.
Shortly after our snack, the flight attendant returned offering us a beverage. All drinks, including alcoholic and non-alcoholic beverages, are complimentary in Comfort Plus.
There was no paper menu in the seatback pocket, nor was the menu posted anywhere online. I did eventually find a QR code buried in the seatback entertainment device that directed me to the inflight drink menu. I saw there was a margarita available as the summer special and went for that. There was also your basic liquors, soft drinks, beer and wine (including sparkling) available.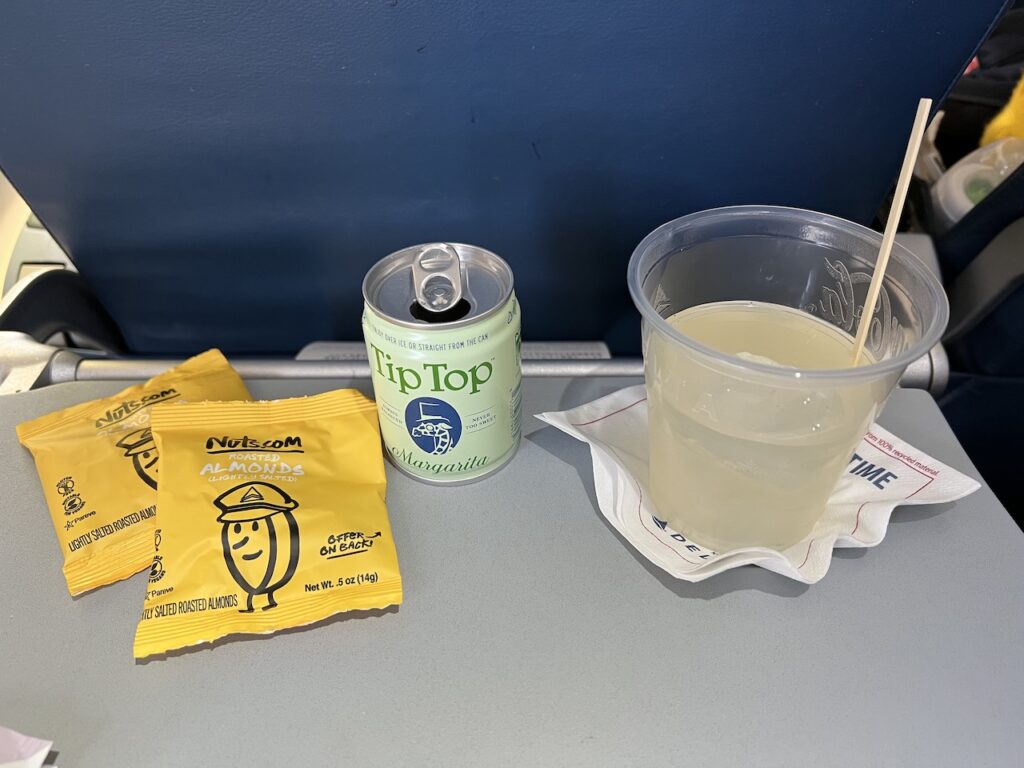 The standard snack offerings of Biscoff cookies, almonds or pretzels were also offered with my beverage.
About an hour into the flight, the flight attendant returned with an offering of coffee or water. I took the coffee, which is Starbucks on Delta flights. There was not a second round of full beverage service on my flight. If you wanted additional beverages or snacks other than coffee or water, you would need to ring the call button and request additional items.
Technology On Board with Delta Comfort Plus
Most Delta planes, including the A321, still have seatback entertainment systems with a variety of TV shows, movies and games available. This technology feels antiquated now that nearly all travelers have smart phones and most streaming services offer the ability to download shows to view offline.
The seatback entertainment system requires a wired headset and does not connect via bluetooth to wireless headphones. I was not proactively offered a free wired headset in Comfort Plus. Headsets are available for free in First Class and for Comfort Plus on international flights, but I unfortunately didn't think to ask if they were free on my domestic flight. I need to confirm that.
The same wifi services and pricing is available for all passengers regardless of class. Wifi is available for free for messaging services like iMessage or Whatsapp. Enhanced wifi for streaming services or social media was available for purchase onboard for $5.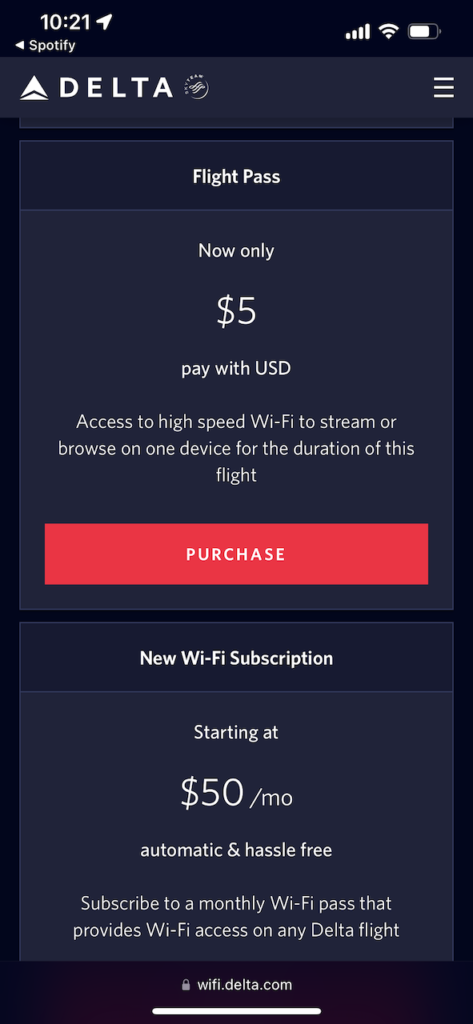 Connecting to the wifi was very simple. Once you selected the Delta network inflight, there was a popup to select your internet type (fee or paid). You didn't need to navigate to a separate website or jump through any hoops.
There were outlets and USB chargers available in each row. The outlets were located between each seat, meaning there were only two outlets/USBs available for each row of three seats.
Service on Delta Comfort Plus
The flight attendant that served the Comfort Plus section was very pleasant. She was kind and chatty, but not too chatty in a way that slowed her down.
Beverage and snack service was speedy and efficient. To the best of my knowledge, all items that passengers requested were available and were provided promptly.
The service was essentially the same for Comfort Plus as it was for the rest of the main cabin. Other than the premium snack offering, there was no additional rounds of service for Comfort Plus. I would have liked a second full drink service for a 2+ hour flight, but I was content with the additional coffee offering. If I really needed another beverage, I could have asked for one.
I'd say the service was as expected. I didn't feel wowed, but I felt taken care of.
Deplaning from Delta Comfort Plus
If you're the type of person who likes to hit the ground running as soon as you land, you'll be happy in Comfort Plus. Comfort Plus is located in the first few rows following First Class, so you will be among the first few passengers off the plane.
I personally didn't feel like priority boarding was that big of a lift, but priority deplaning definitely was. Even after a short flight, I'm ready to move as soon as I land. I was off the plane within minutes of arriving at our gate. The priority overhead bin space was also helpful because no one in my section was reaching over anyone else.
Is Delta Comfort Plus Worth It?
I found Delta Comfort Plus to be very pleasant. Other than a chaotic boarding experience, the flight was relaxing and comfortable. I had a cocktail at 11 AM — something I never spend the extra money on in economy. It was nice.
That said, I personally would not splurge on it again if I were traveling solo or even solo with a single child. I'm a smaller traveller who doesn't drink that much and packs light. So the main benefits of Delta Comfort Plus aren't of substantial value to me.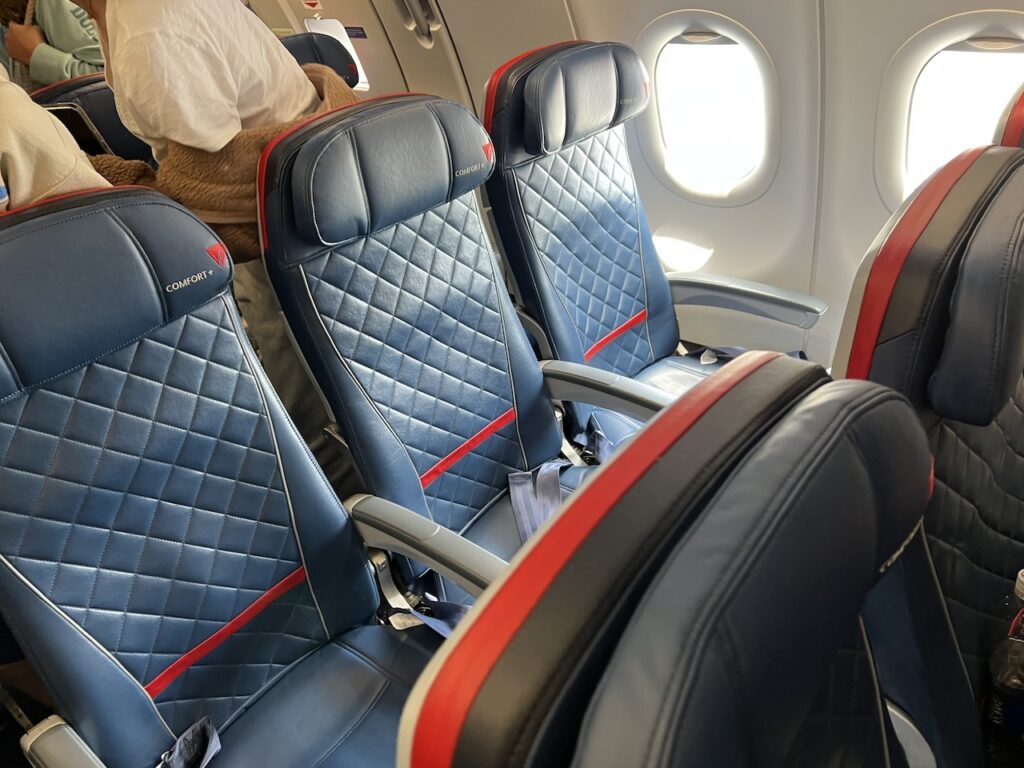 Then there's the fact that I often fly Spirit or another low-cost airline. Those seats are small, do not recline, and do not have in-seat charging or entertainment. There are no complimentary drinks or snacks, no free messaging wifi and no free carry-on bags. So even flying Main Cabin on Delta, which includes all of those things, feels pretty lux to me.
The price deference between Spirit and Delta Main Cabin is much smaller than the price difference between Delta Main Cabin and Delta Comfort Plus. If I wanted an upgrade, I'd probably go for Delta Main Cabin and pay extra for a few rounds of drinks.
I do think Delta Comfort Plus is worth the money for certain types of travelers.
Larger/taller travelers who aren't comfortable in economy
Travelers who have a carry on and don't want to worry about overhead bid space
Families of three*
*While I didn't value Delta Comfort Plus flying alone, I recent flew Delta Comfort Plus with my husband and toddler and it was amazing. I loved having the extra space and the ability to all sit together. And of course the extra snacks and early service is incredibly helpful with a little one.
My favorite alternative to Delta Comfort Plus
If I'm flying solo or just with my toddler, my preferred splurge is the Spirit Big Front Seats. The Big Front Seats are larger than Delta Comfort Plus and are only 2 across vs 3. (Though they notably do not recline.) The Big Front Seats give me the premium perks I crave when traveling with a child — plenty of room for the car seat, space for them to stand, and a quick exit — but without the premium price tag.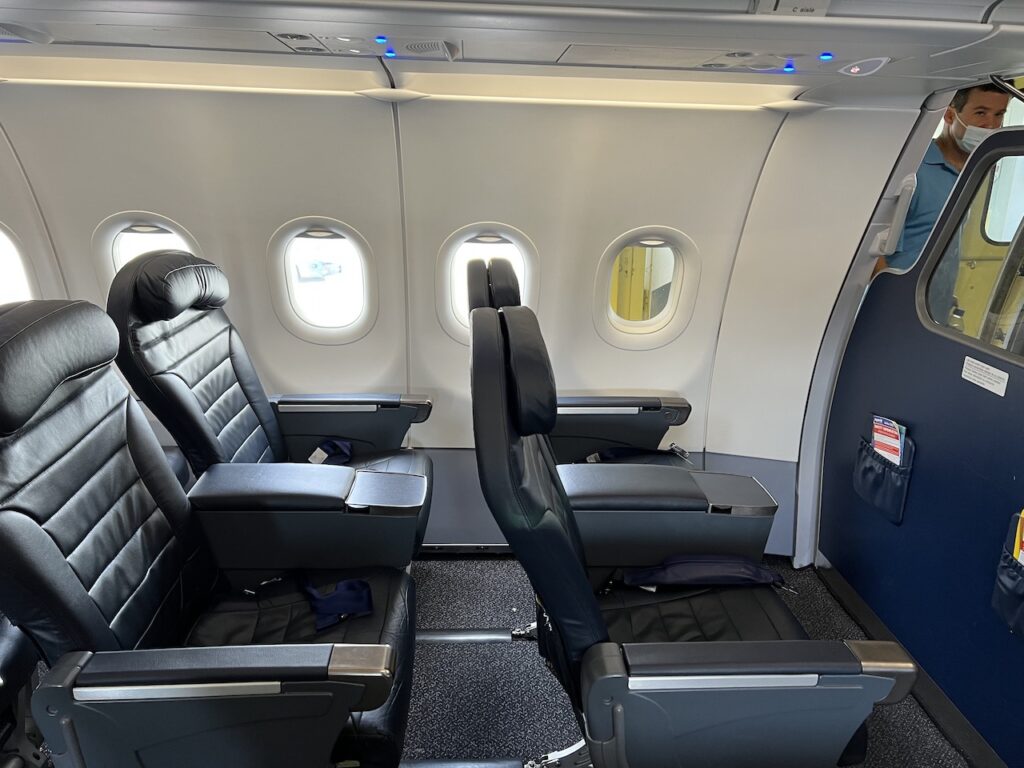 The price of a Spirit Big Front Seat is much higher than Spirit's main cabin, but often less than Delta Comfort Plus. I personally would prefer the more spacious seat arrangement in the Spirit Big Front Seats and pay the $10 for my cocktail, than pay the premium for Delta Comfort Plus.
However, I understand that Spirit is not necessarily a reasonable alternative for everyone. Lots of people travel with baggage or just don't want to deal with the hassle of a low-cost airline. (And sure, there are some things you should know before flying Spirit with a toddler.) I totally get it. In my case this time, the Big Front Seats were sold out. So Comfort Plus it was.
Delta Comfort Plus vs Delta First Class
A few days later, I flew Delta First Class on my return flight from MCO back to LGA. I was able to easily compare these two products in a short period of time.
Delta First Class was definitely a more premium experience than Comfort Plus. While flying Comfort Plus, I felt like I was having a mostly main cabin experience. I just had a more comfortable seat and didn't have to pay for my drink. While First Class felt like an actual premium cabin experience.
Delta's domestic First Class experience is nothing compared to the likes of some international carriers, like Etihad Apartments or my personal favorite Air Canada Business Class, but it covers the basic First Class requirements.
The seats in First Class were larger and more spaced apart in a 2-2 configuration. The Comfort Plus seats had extra leg room and recline, but still in a 3-3 setup so there was no extra width.
The service in First Class was more frequent and attentive than in Comfort Plus. For a flight the same distance, I received a full meal and multiple rounds of beverages in First Class versus only one round of drinks and snacks in Comfort Plus. Drinks in First Class were all served in glasses versus plastic cups.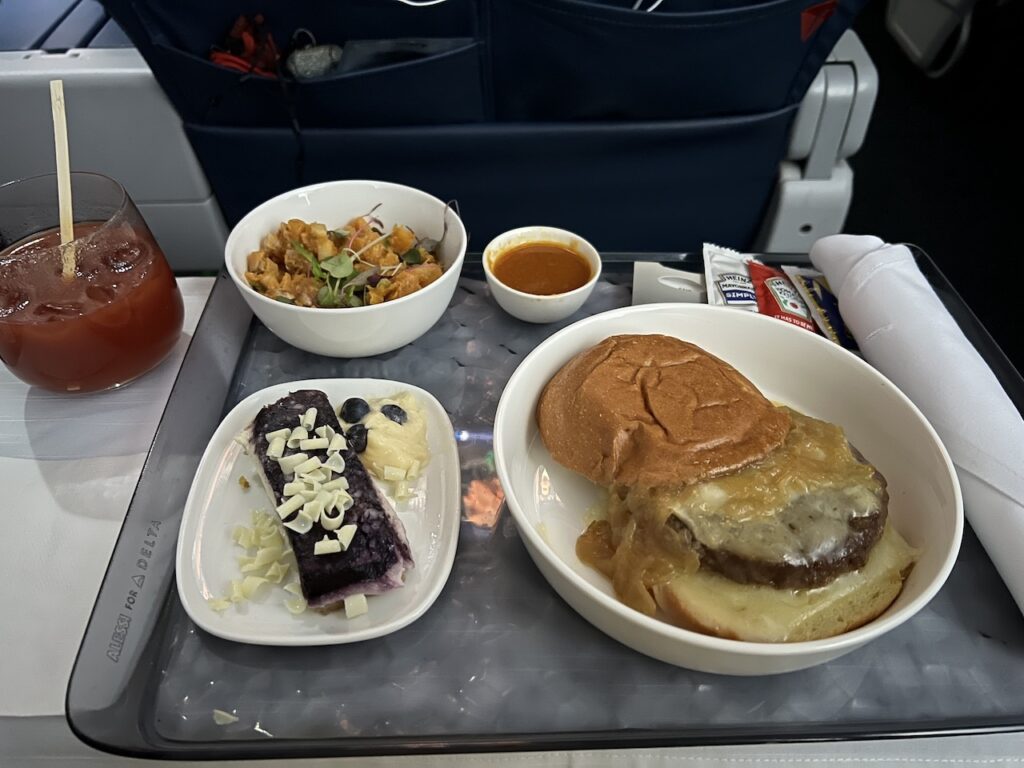 I'd definitely reiterate that Comfort Plus is an enhanced main cabin experience, not a premium flight experience.
Final Thoughts on Delta Comfort Plus
I had a pleasant time flying Delta Comfort Plus. I thought it was a good product, but I didn't think it was enough to warrant the price difference over Main Cabin as a solo traveler. Particularly because Delta's main cabin is pretty good compared to many other budget airlines.
I think taller travelers, especially those flying on longer flights, will benefit most from this enhanced main cabin experience. It's also a great option if you're flying Delta with a baby, because two parents and a child can share a row and enjoy the added space. Otherwise, if you're looking to splurge, I'd spend the money on Spirit Big Front Seats or go all in on Delta First Class.
I enjoy flying Delta in general, but I find their boarding process to be exhausting. If you don't need to board early to take photos or secure overhead bin space, I would definitely recommend sitting back and waiting for the crowds to settle before you board.
Otherwise, I had a great flight!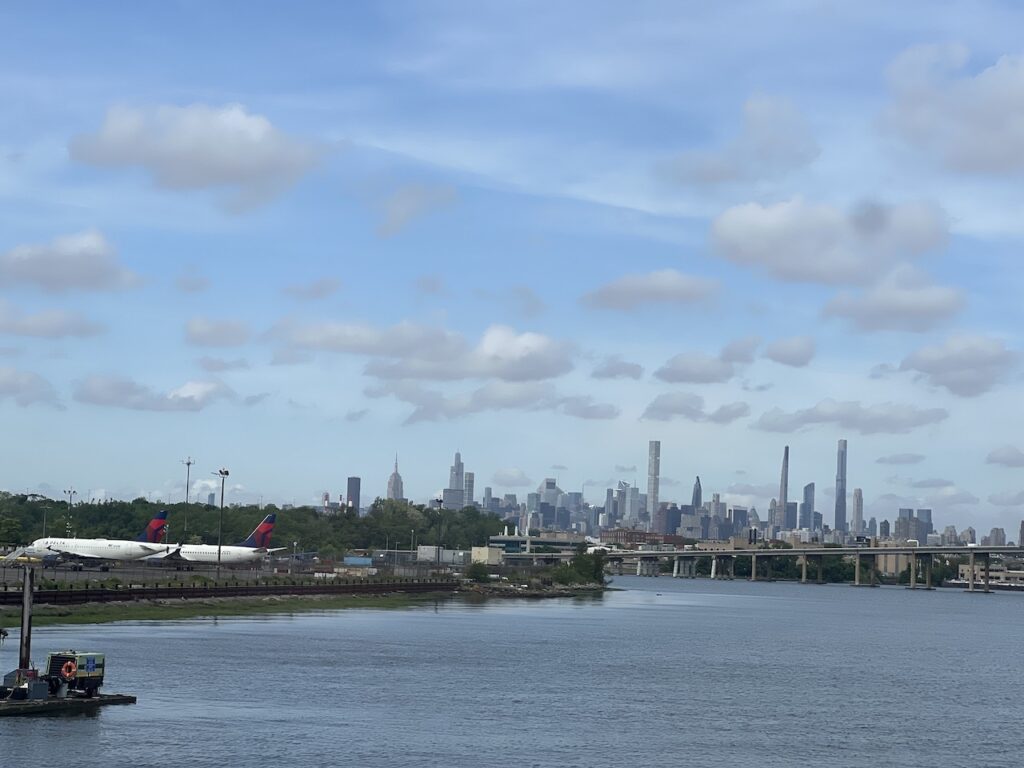 Have you flown Delta Comfort Plus? What are your thoughts? What did I miss? Let us know in the comments!