Spirit Airlines is a low-cost airline that offers a cheap bare-bones product, and then serves up multiple options to pay more for added services and conveniences. One of those upsells is the Big Front Seat. In this post, we'll explain exactly what these seats are, who they're best for, and whether we think they're worth the extra money. Read on to learn more about Spirit Big Front Seats!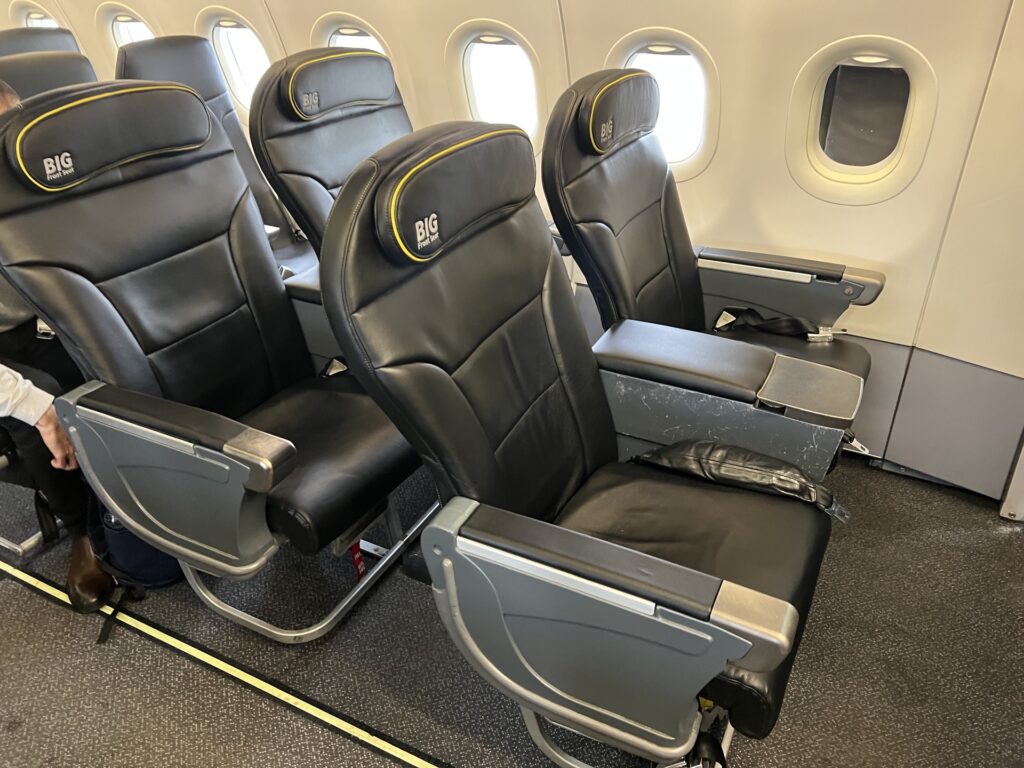 What exactly are Spirit Big Front Seats?
Big Front Seats are the best and most expensive seat selection that Spirit offers. These seats are larger, more comfortable, and have more legroom than the airline's standard seats, and are located at the front of the plane.
The Big Front Seats seats typically occupy the first two rows of the plane and are set in a 2-2 configuration — compared to the 3-3 setup of standard seats. This makes for a total of 8 Big Front Seats on most planes. (The exception being the Airbus A319-100 which oddly has 10 Big Front Seats.)
Big Front Seats are 18.5 inches wide. That is about an inch wider than most standard Spirit seats. While that doesn't sound much wider, the space between the seats is substantial. The seats are separated by a large center console and share the same width for two passengers that standard seats share between three.
These seats also offer significantly more legroom. These seats have a pitch (the distance between rows) of 36 inches, which is 6 more inches than standard seats. They also offer notably more cushioning and have substantially larger tray tables than standard Spirit seats.
Just like all seats on Spirit planes, the Big Front Seats do not recline.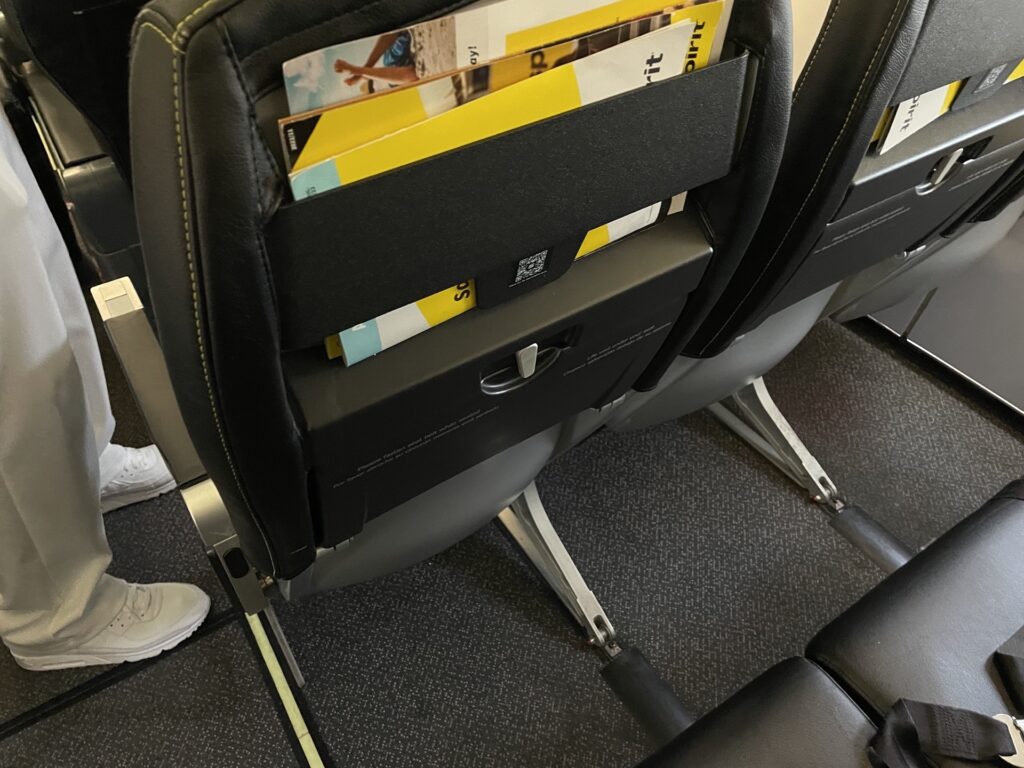 NOTE: Starting in 2023, Spirit will be rolling out improved seating for all passengers. The Big Front Seats specifically are getting even more comfortable, which we got to experience on our most recent flight. You can read more details about the new standard seats here.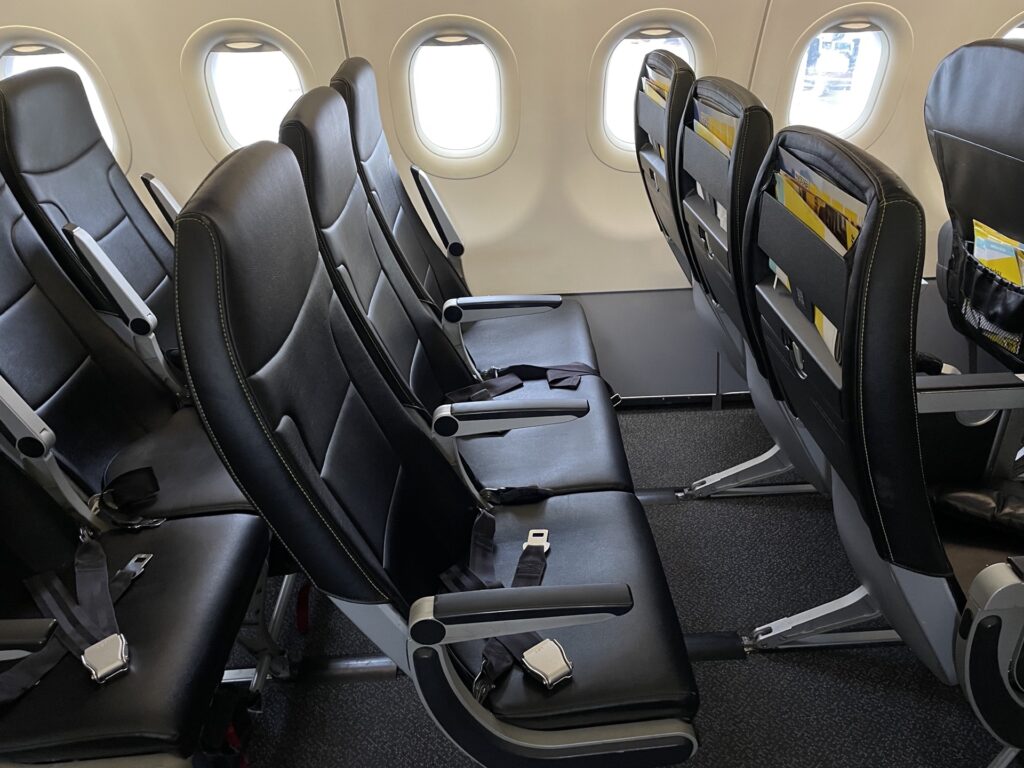 What else is included with Spirit Big Front Seats?
It's important to note that when you pay for Big Front Seats, you are only paying for a better physical seat. Passengers flying in Big Front Seats do not receive any enhanced service, complimentary food or beverage, or really any other benefits other than the seat itself.
Unlike some seat upgrades like JetBlue's Even More Space seats, Spirit's Big Front Seats do not come with an additional baggage allowance. Even if you book a Big Front Seat, the only free bag you get is a personal item that may not exceed 18 x 14 x 8 inches. You will still need to pay extra for a carry on or checked bag.
Passengers in Spirit's Big Front Seats also do not get expedited boarding based on their seat selection alone. To benefit from early boarding, you will need to purchase a carry on to board with Zone 1 or purchase Shortcut Boarding to board with Zone 2.
The only other perk, per se, is the general benefits that come with sitting at the front of the plane. That includes early food and beverage service and deplaning quickly.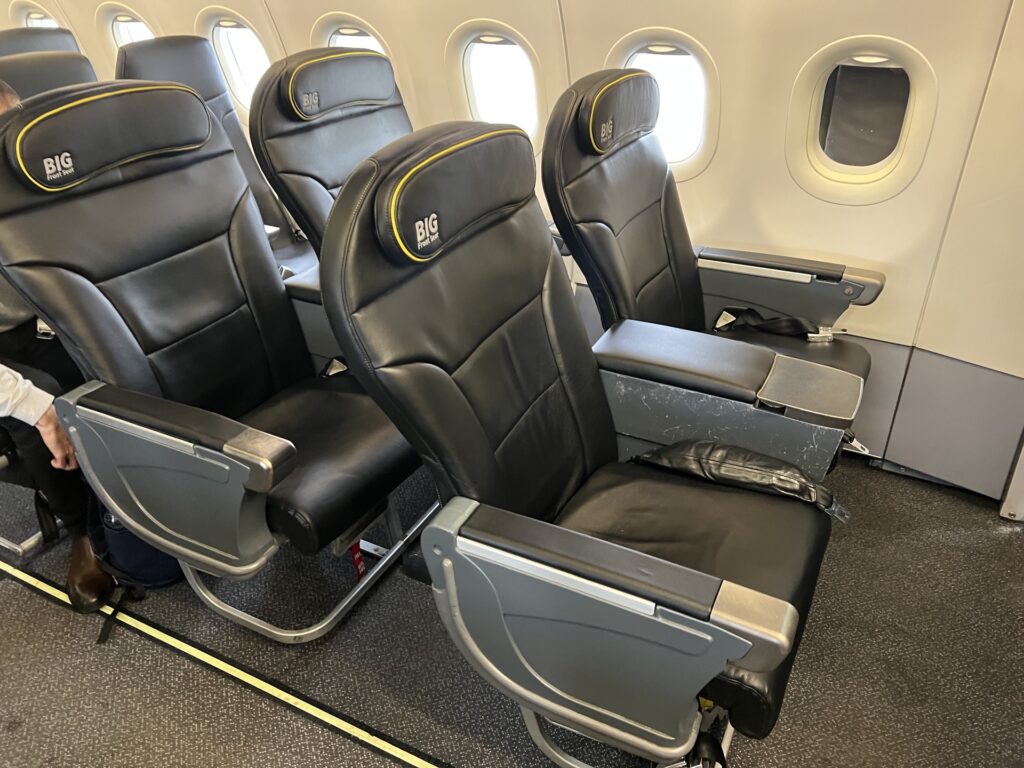 How much do Spirit Big Front Seats cost?
Big Front Seats are a seat selection category available for purchase for an additional fee on top of the base fare. The seats are sold per leg, not per itinerary. If you have a round trip flight and/or a connection, you'll have to pay for Big Front Seats for each individual leg of the journey that you want to enjoy them.
Officially, Big Front Seats cost between $12 and $750 in addition to the base fare when booked in advance. Now, that's a pretty big spread. Typically the price is going to be somewhere between $40 and $250, but let's look at some specific pricing examples in this next section.
Sample Pricing for Spirit Big Front Seats
To start, let's look at a flight from New York (LGA) to Orlando (MCO) about two months out. The first leg of the trip was listed at $88, with Big Front Seats available for an additional $61 and standard seats for around $29. The second leg of the trip was $118, with Big Front Seats available for $46 and standard seats for around $31.
Those total costs come out looking like this …
Base fare with no seat selection: $206
Base fare with standard seat selection: $266 ($60 more than no seat selection)
Base fare with Big Front Seats: $313 ($107 more than no seat selection and $47 more than basic seat selection)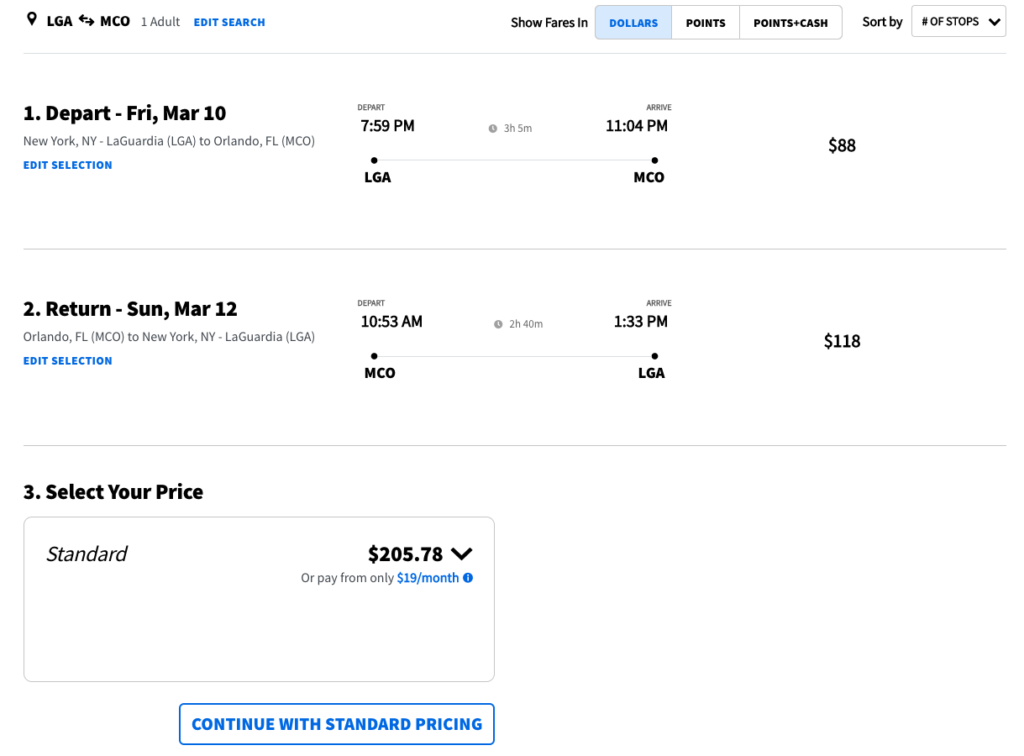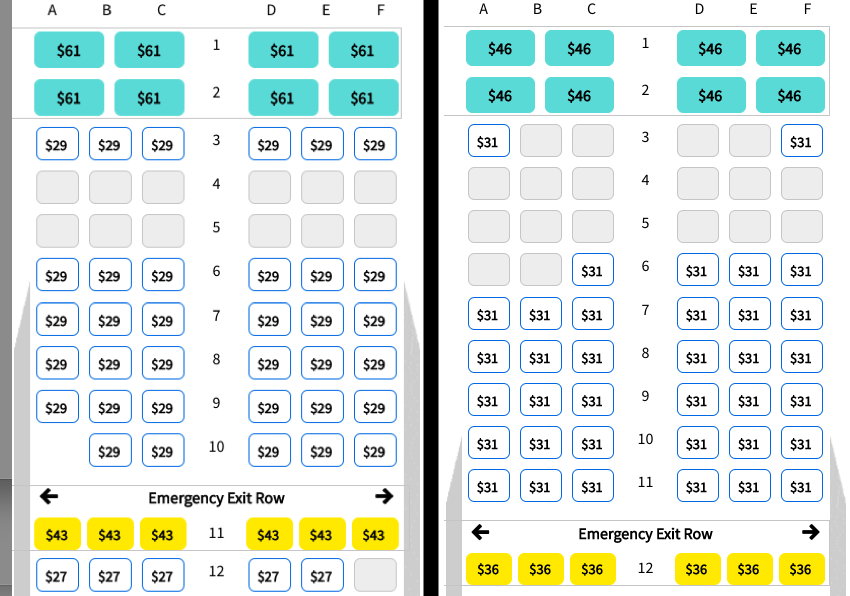 For the sake of comparison, I checked the same route but for only a few days in advance. This last minute flight was listed at $308 in each direction. While the base fare was nearly triple that of the previous flight, the added fee for the Big Front Seat was much lower ($35 there and $29 back). Even the price of standard seat selection was lower at around $19.
In this second example, the costs looked more like this …
Base fare with no seat selection: $616
Base fare with standard seat selection: $653 ($37 more than no seat selection)
Basic fare with Big Front Seats: $680 ($64 more than no seat selection and $27 more than basic seat selection)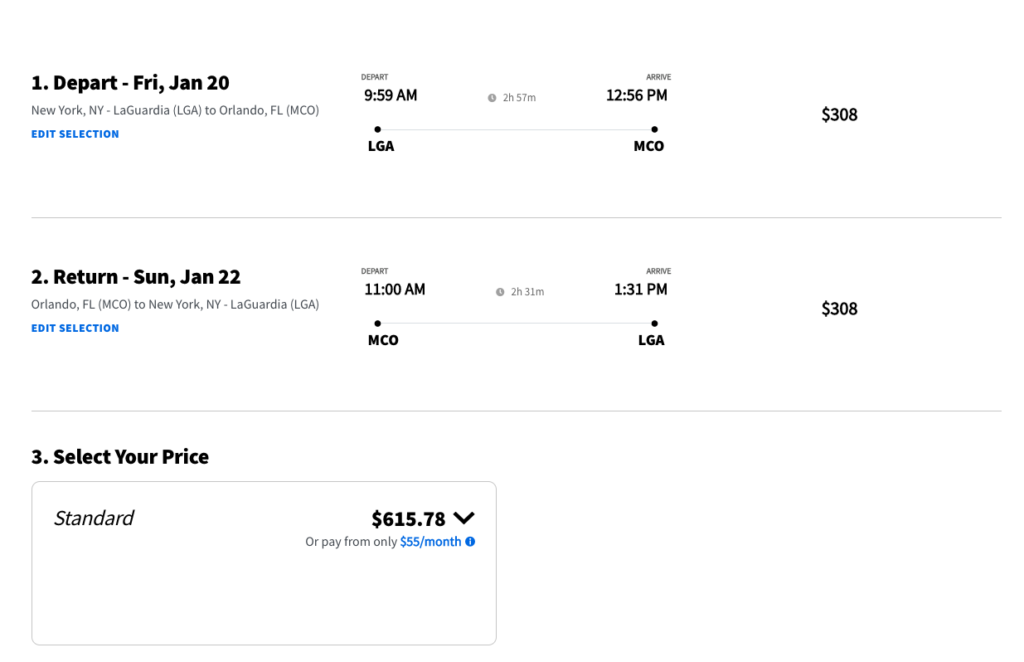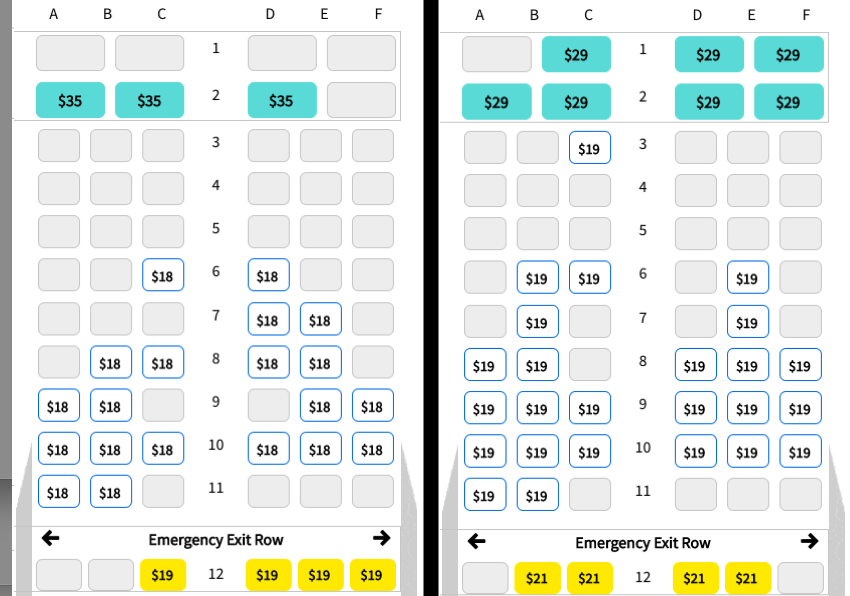 As a final example, I wanted to go the other direction and look at a really cheap flight. The cheapest flight I could find was a one-way flight from Atlanta (ATL) to Boston (BOS) for $48. This particular flight had a connection, so I was prompted to select a seat for each leg. Big Front Seats on this flight were listed at $52 and $58, for a total of $110 for a Big Front Seat the full one-way journey. Standard seats were priced at a more reasonable $16.
Base fare with no seat selection: $48
Base fare with standard seat selection: $80 ($32 more than no seat selection)
Basic fare with Big Front Seats: $158 ($110 more than no seat selection and $78 more than basic seat selection)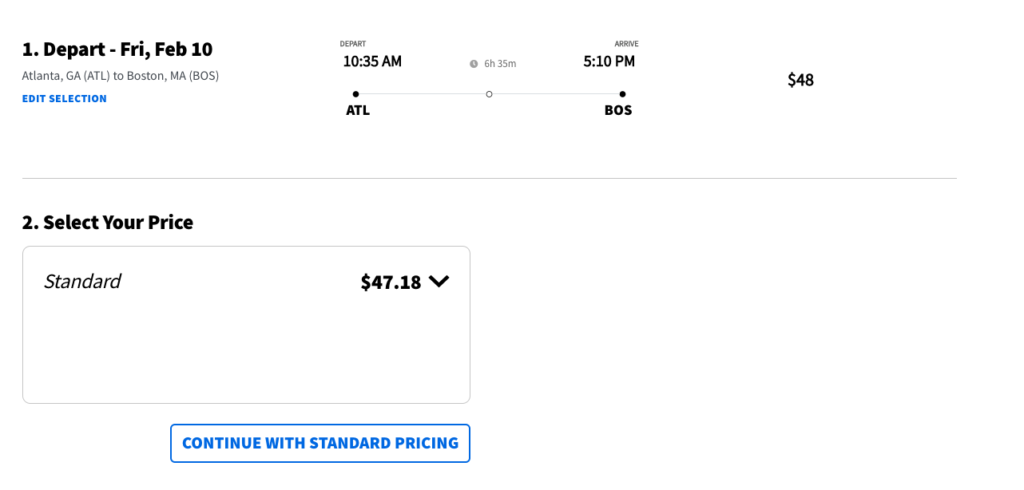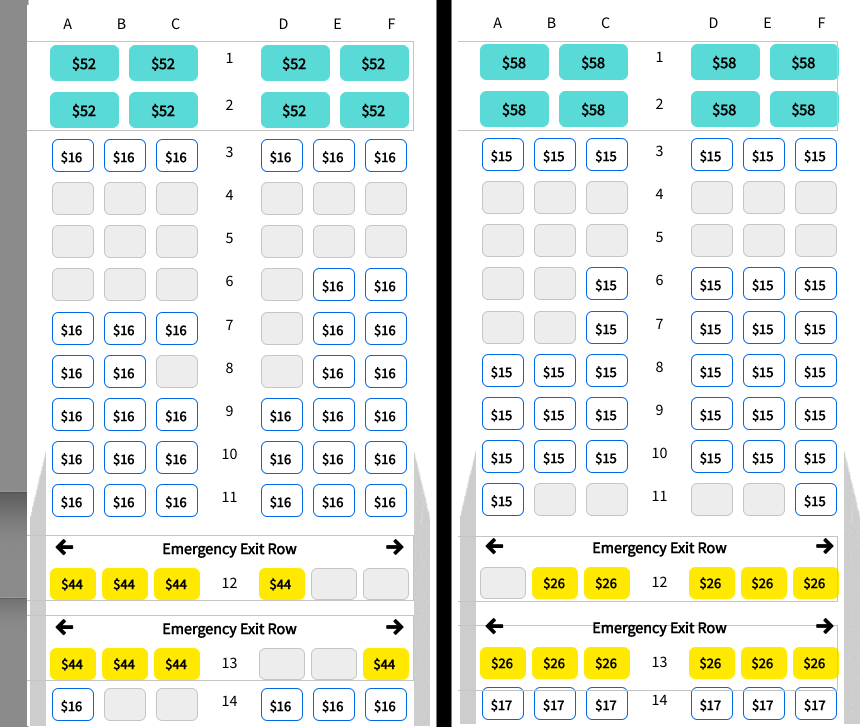 The takeaway from this exercise is that the base fare price and the additional cost of Big Front Seats are typically inversely correlated. As the base fare goes up, the added price of Big Front Seats goes down and vise versa.
Booking Spirit Big Front Seats
You can purchase Big Front Seats during the seat selection step of the booking process. You can also add Big Front Seats to your itinerary anytime after booking, as long as seats are still available. The price of Big Front Seats does typically go up in price the closer you get to your travel day, though.
On the seat selection page, you'll find seats are priced differently. Big Front Seats are the most expensive, followed by emergency exit rows, followed by seats closer to the front of the plane, with middle seats and seats in the rear being the cheapest. If you choose not to pay to select a seat at all, Spirit will automatically assign you a seat when you check in.
3 Tips for booking Big Front Seats on Spirit.
I have just a few quick tips for booking Spirit Big Front Seats.
1. Book through Spirit directly. This is the easiest way to clearly find and book a Big Front Seat. As you can see here, the Big Front Seats will be displayed in the seat selection window in a bright teal color.

You can also book Big Front Seats through third party websites like Expedia, but the Big Front Seats aren't always clearly marked. Prices and availability should be the same on either site, though.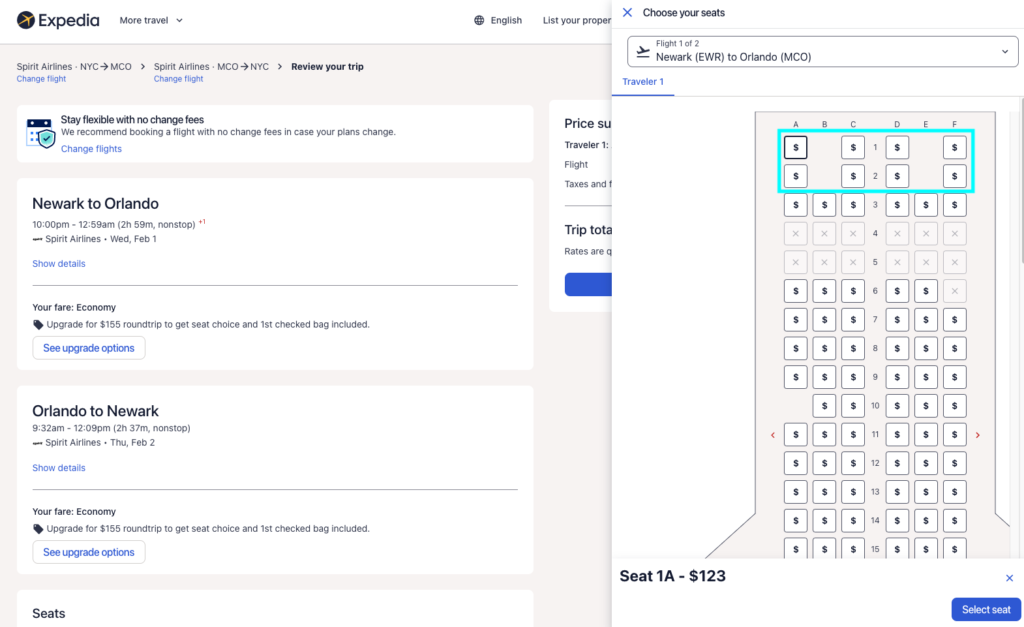 2. Check the seat map. If you know you want Big Front Seats, click the Seat Map for your preferred flight at the start of your search. This way you can make sure the Big Front Seats are available before you get too far in the process.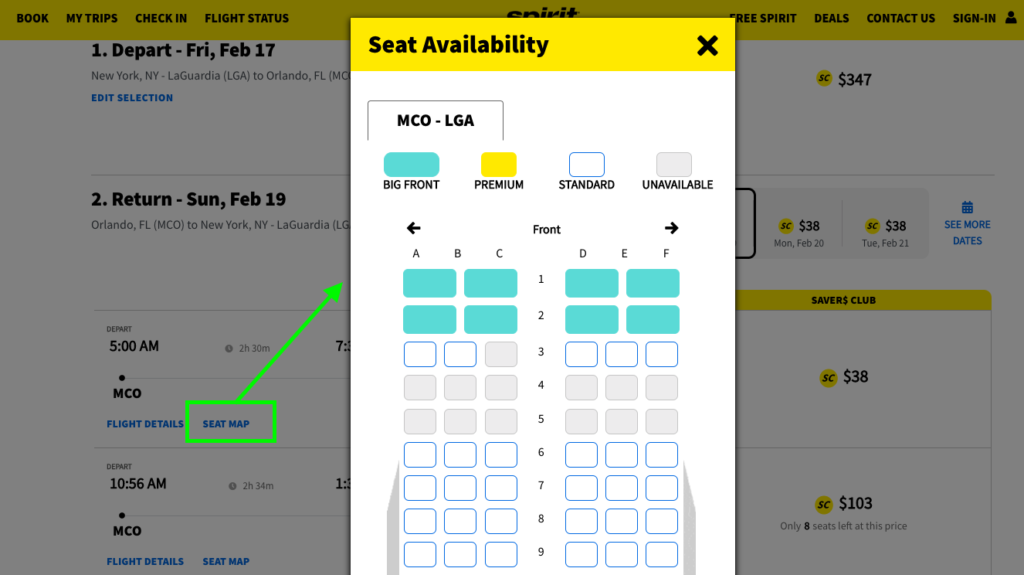 3. Don't bundle. If you're booking on Spirit.com, after you select your flight and enter your passenger info, you'll get a prompt for bundles. This allows you to purchase seat selections and bags together for a lower price. The Big Front Seats are excluded from bundles, so don't select that option.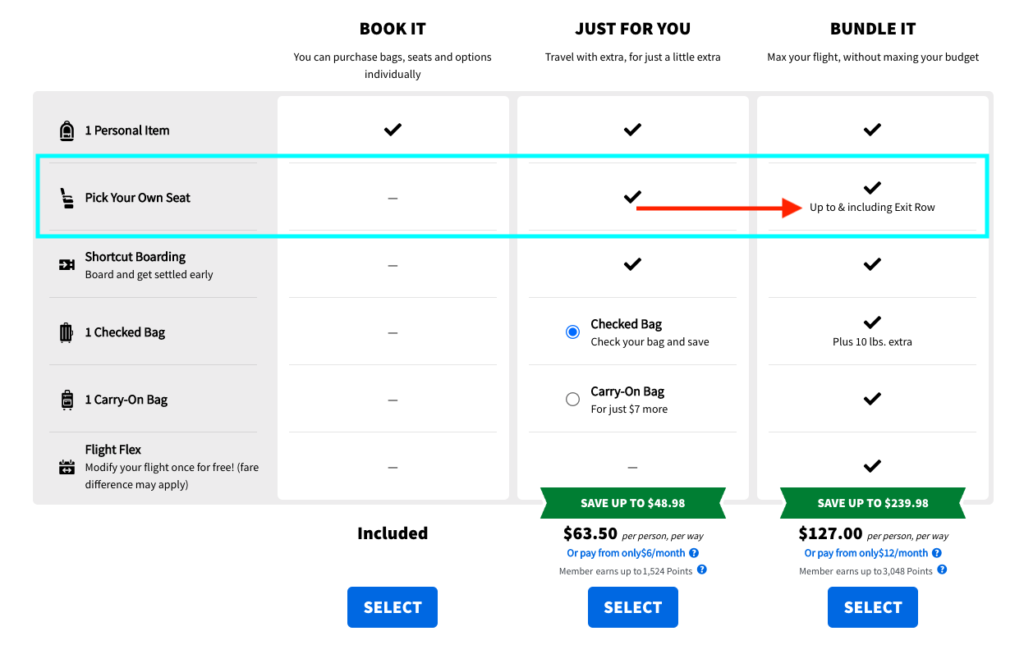 Big Front Seats for babies & families
While all sorts of travelers will appreciate Big Front Seats, we've found this product is particularly great for families. And it seems like we're not alone. On our most recent flight, three of the four pairs of Big Front Seats were occupied by a parent and a child.
There's a few reasons for this.
First and most importantly is space, which is helpful for children of all ages. Big Front Seats fit car seats more easily, provide ample space for lap babies (particularly if mom's nursing), and they provide plenty of space for a squirmy toddler to get their wiggles out without bumping into other passengers.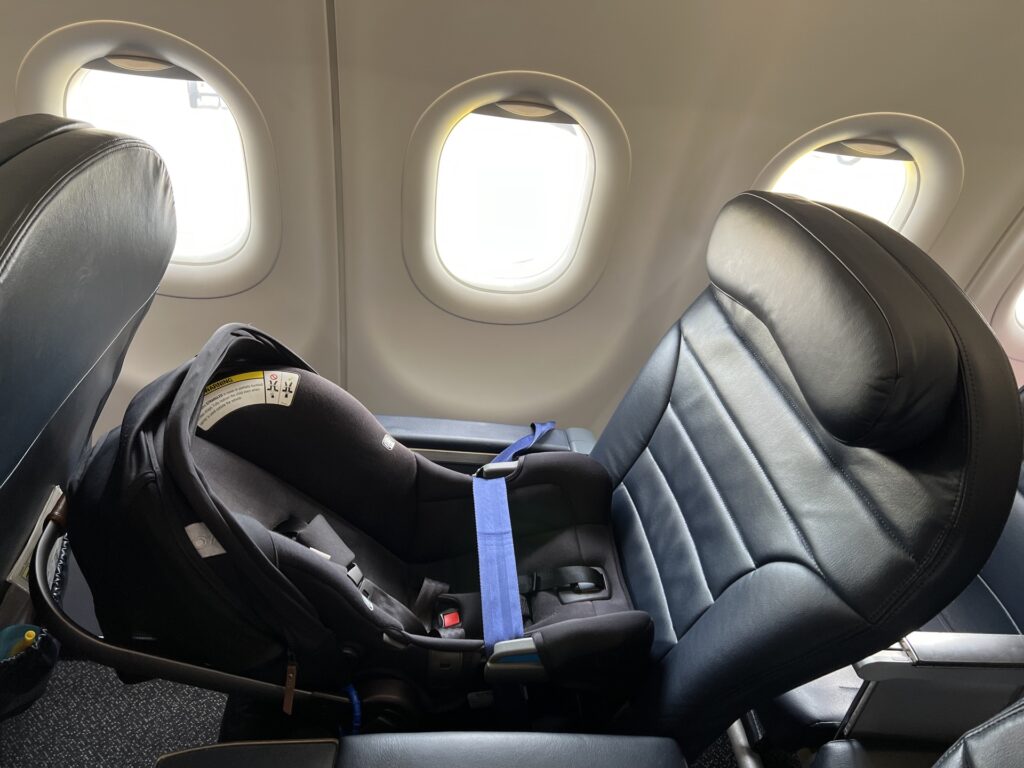 Next is the price. Big Front Seats are usually cheaper than any other premium seat on the market. That makes it a great way to get extra space little ones need without shelling out for a more inclusive product. (Lest I remind you that children aren't drinking that free alcohol offered in other premium cabins anyway.)
Big Front Seats are certainly more expensive than standard seats, but it can still make sense if you have a child under two. Children under two don't need their own seats, but with the small size of standard Spirit seats we would always buy one so we had the full row. It can sometimes be roughly the same price and more comfortable to book two adults in the Big Front Seats and keep your child under two on your lap instead.
Lastly, there's the location at the front of the plane. Don't underestimate the power of getting food and beverage service first — especially if you have a snacky toddler like we do. The front of the plane also means you're right next to the lavatory for quick diaper changes. And of course the front rows means you can get off the plane ASAP.
NOTE: You cannot travel with a lap infant or a car seat in row 1. You can read even more about flying Spirit with a baby or toddler in this post.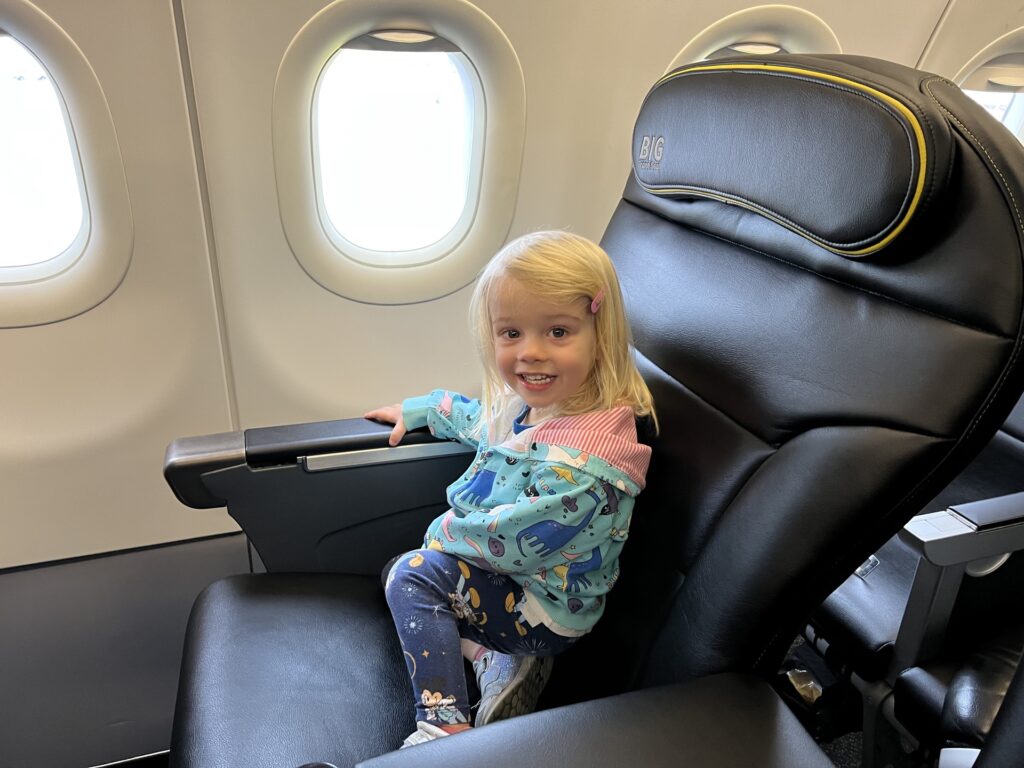 Our experience flying Spirit Big Front Seats
We most recently flew Spirit Big Front Seats round trip between New York (LGA) and Orlando (MCO). Prior to this trip, we've flown in these seats a handful of times, so we're quite familiar with the airline and this seat type specifically.
Booking
We booked this flight directly through Spirit. It cost $356 for two Big Front Seats and one standard seat. We paid with our Ritz Visa and were able to use the card's travel credit to pay for our seat selection costs. Unfortunately we forgot to purchase our carry on when we booked, and it ended up costing us an extra $62 each way to add last minute. (They got us!)
This set up is one of our favorite ways to fly on Spirit now that our child is over two and needs their own seat. One of us will parent the little one in the bigger seats while the other relaxes in more cramped quarters. Then we switch mid-flight or alternate each leg of the trip.
Boarding
Spirit Airlines boards in 4 zones, with pre-boarding available first for passengers who require extra assistance and family boarding (for families with children under 3) between zones 2 and 3.
We didn't get any expedited boarding with our seat selection, but we did get Zone 1 by purchasing a carry on.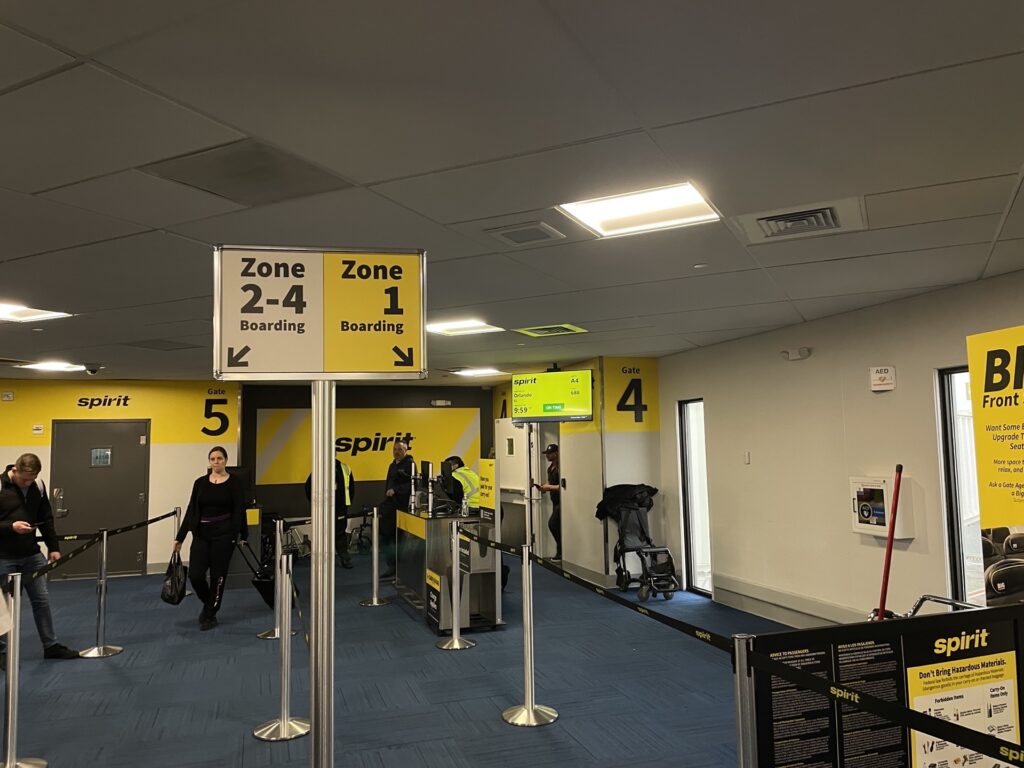 Our boarding experience at LGA was a breeze. Spirit flies out of Terminal A, which is really small and only serves a handful of gates. We could easily hear the announcements from across the Terminal, hopped in line for Zone 1, and were quickly in our second row seats.
MCO was not quite as organized. The sign by our gate did not reflect the status of our actual flight at all. Our scheduled departure time came and went with no update. Eventually, the sign updated to delayed 10 minutes … then 10 more.
When they did finally announce that we would begin boarding, there was seemingly no order. They didn't announce the zones and didn't seem to check or care who was boarding. It was one of the more chaotic boarding experiences I've ever had. But ultimately, we pushed our way through and eventually found our seats.
Big Front Seats
Spirit Airlines is in the process of upgrading their seats on all of their planes. For this trip, we had the new seats on our first leg and old seats on our return flight. Before we talk about what's different, let's talk about whats the same.
First is the storage. The Big Front Seats in the front row do not come with any storage space at your seat, and all bags will need to go in the overhead bin. Space is usually not an issue because fewer people bring carry ons when you have to pay for them.
Travelers in the second or sometimes third row of Big Front Seats have ample storage space under the seats in front of them. However, you are still not allowed any additional carry on bags without paying for them.
Big Front Seats also have tray tables built into the arm rest, instead of pulling down from behind the seat in front of you. The tray tables are also substantially larger than those in standard seats.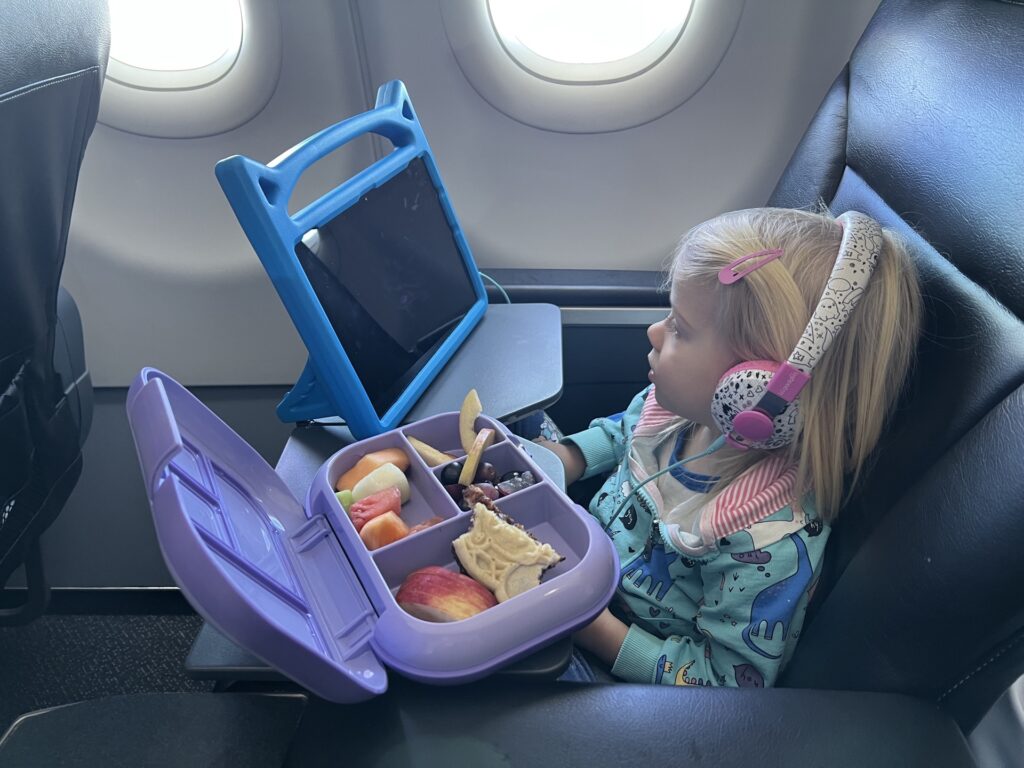 LGA to MCO (Refurbished Spirit Seats)
On our flight from LGA to MCO, we had the freshly upgraded Spirit seats. All seats have been upgraded to be more comfortable and even slightly larger in the case of the middle seat.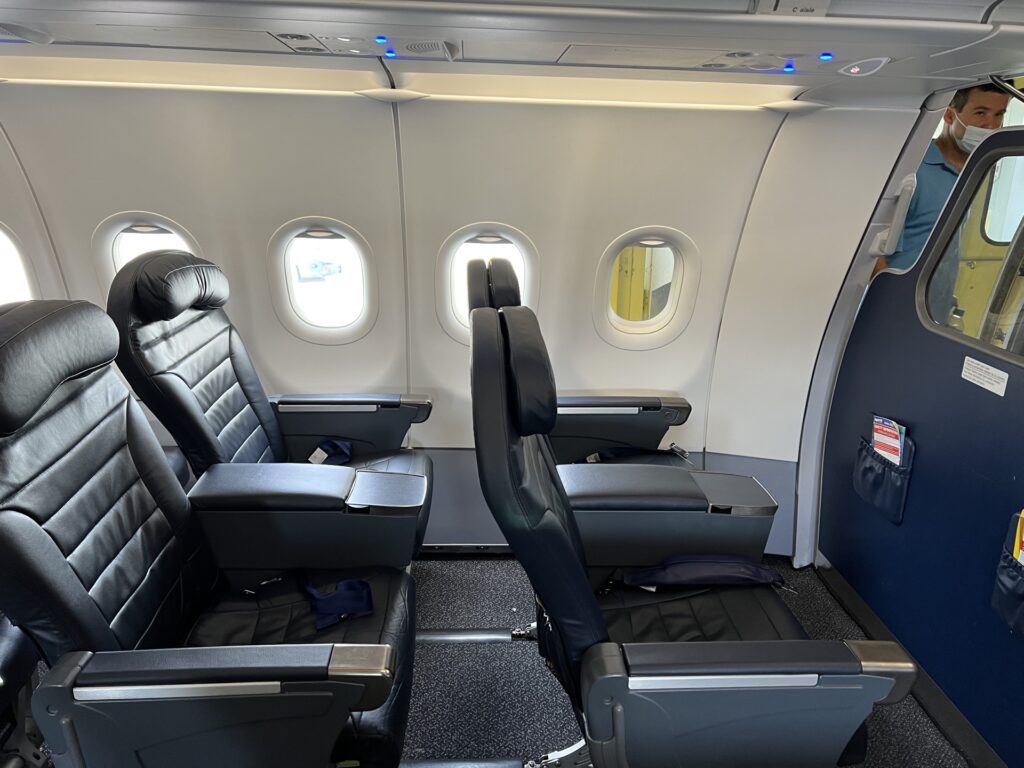 The new Big Front Seats were noticeably more comfortable. The cushioning was more substantial and firmer than the old seats, the seat backs were wider and the natural recline was about an inch greater. (Sidebar: The tray tables in the standard seats now lock, which they didn't used to. This is great for anyone traveling with or sitting in front of a toddler.)
I did have one complaint, though. There's a small table for a pair of drinks in the center console, which I often use. On this particular flight, the top plastic part of the center console was rolling up so I could not use it for beverages. This is disappointing for brand new seat construction.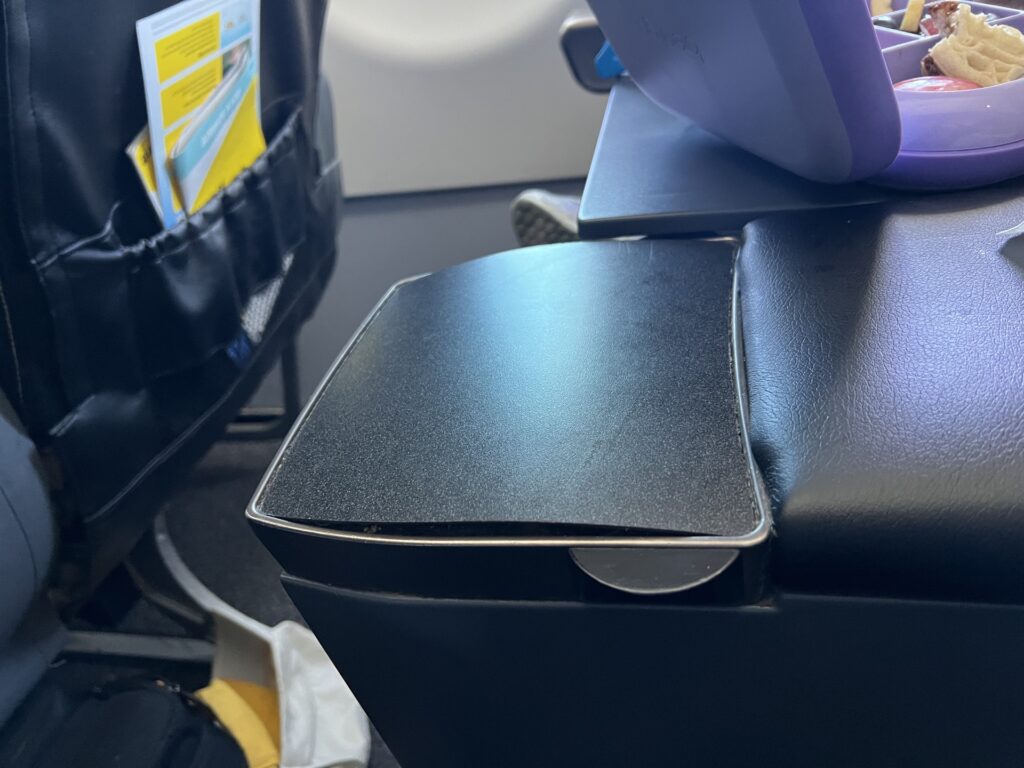 MCO to LGA (Older Spirit Seats)
On our return flight from MCO to LGA, we had the older seats. The seats are more padded than standard seats, and are comfortable without being overly plush. The added space between the seats and larger pitch really makes even the old Big Front Seats feel bigger than they are.
Our main complaint about the old seats has nothing to do with comfort. We ran into several issues this trip with a gap between the seat cushion and the center console. Several things slipped through the gap and onto the floor, including a cell phone, sanitizer wipes and nearly a water bottle. It was frustrating to not be able to set anything on the seat without risking it sliding through.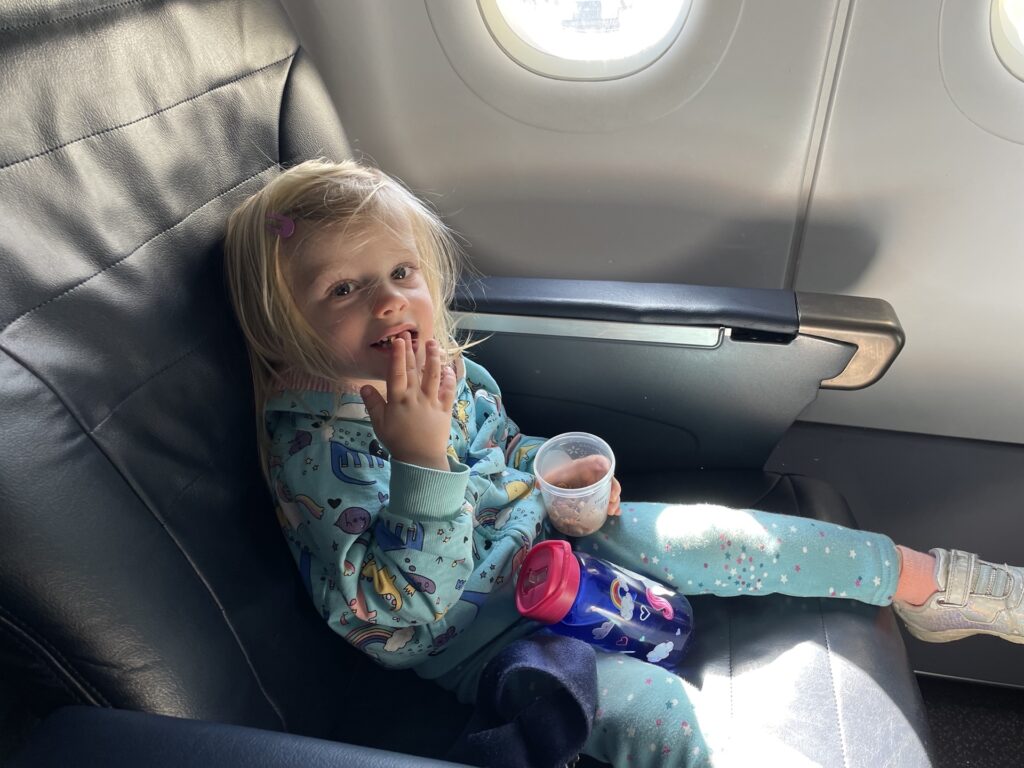 Onboard Service
As the saying goes, you get what you pay for. Spirit is not known for having particularly great service, so go in with proper expectations. However, I can personally say that I've always been pleasantly satisfied with the service I've received on Spirit, regardless of my seat location.
Big Front Seats are not intended to come with an expedited, improved or extra special service. Instead, you'll receive the same service quality and attention that every passenger will receive. I kind of like that, honestly; it doesn't feel stuffy or forced.
We love that being at the front of the plane give you first dibs at food and drinks, which can quickly run out on Spirit. We usually grab coffee and sparkling water for $4 a pop. This time we also snagged what seemed to be the last kids snack box on our return flight, which we really needed because we didn't pack enough snacks to account for our delayed flight.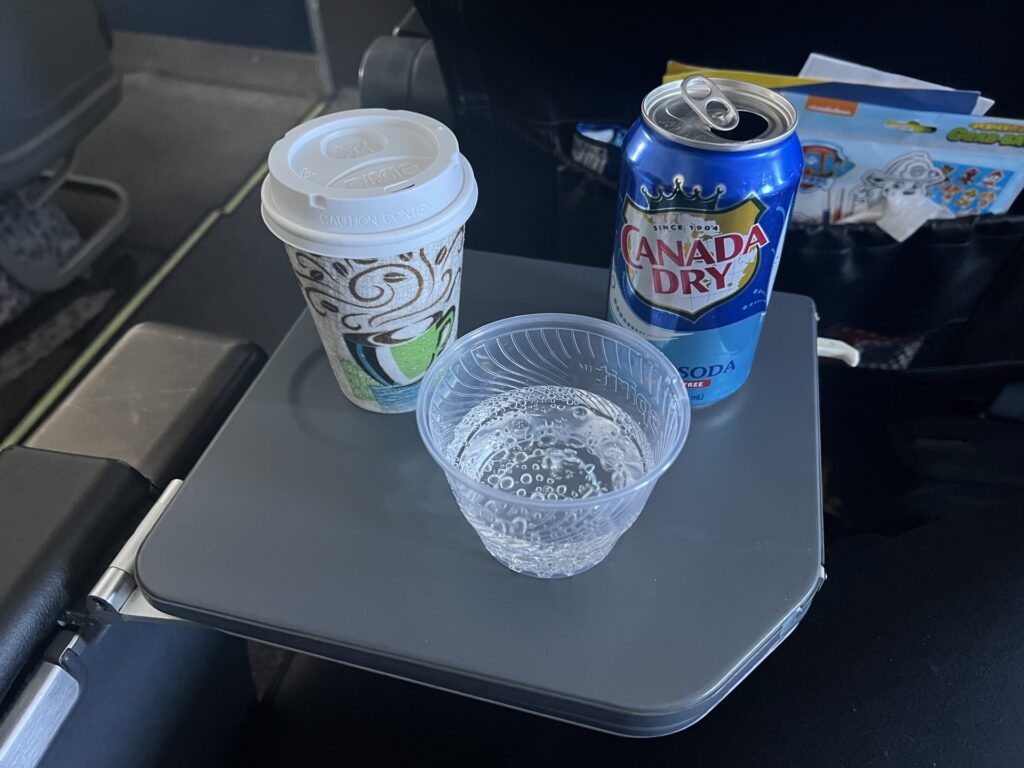 On one leg of our flight, the wifi cut out mid-flight. We didn't purchase wifi, but the flight attendants were apologetic and said that passengers who purchased it would be eligible for a refund.
Overall, I was perfectly content with the service we received on both legs of our Spirit flight. The flight attendant even gave Zoe a "Spirited Flyer" sticker, which made their day.
So are Spirit Big Front Seats worth it?
As a general statement, we really like flying Spirit Big Front Seats and think they're worth the price in many cases. However, because of the variable pricing and different people's preferences and needs, it might not always make sense.
So here's a breakdown of when we think they are worth it and when we don't.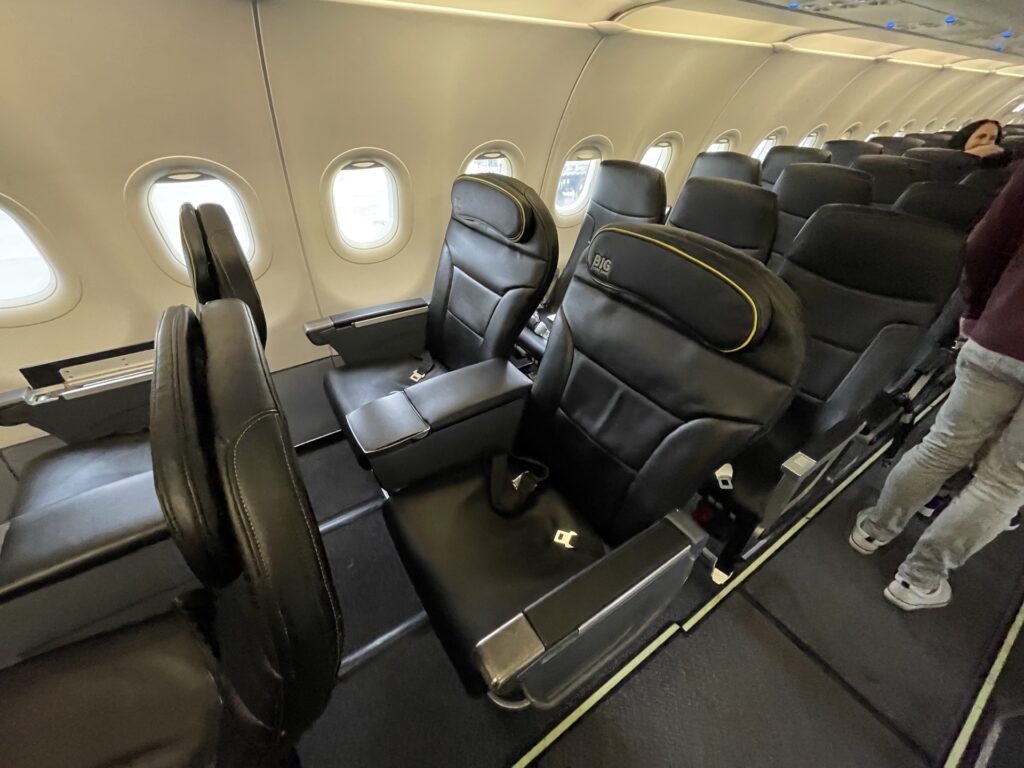 Big Front Seats are worth it if …
You are looking for an upgraded physical seat and don't care about enhanced service.
The price of Spirit Big Front Seats is comparable to the price of economy seats on a legacy carrier.
You want more space than a standard economy seat — whether that's because you're tall, a nursing mother, a wiggly toddler or just a regular human who wants some extra breathing room.
Sitting at the front of the plane is important to you for food/beverage service and/or deplaning.
You are traveling solo with a lap infant or with a child in car seat. (Just be sure to avoid row 1 if that's the case!)
Big Front Seats aren't worth it if …
You also plan to purchase baggage, snacks and alcoholic beverages. For the extra cost here, it might be worth it to go for a more inclusive upgraded experience like Delta Comfort Plus.
You have three people in your travel party and want to sit together. In this case, flying economy on a legacy carrier might be more pleasant. Maybe try something like Jet Blue Even More Space seats.
You have a connecting flight with multiple legs or your tickets were really cheap. This likely means Big Front Seats are going to be really expensive and not worth the extra money.
Closing thoughts on Spirit Big Front Seats
When given the choice between Spirit Big Front Seats and economy on a legacy carrier, I'll choose Big Front Seats almost every time. Premium cabins on those legacy carriers are all certainly better products, but at a significantly higher price point which doesn't always make them a valid option.
Spirit Airlines and other low-cost airlines get a lot of flak for nickle-and-diming passengers at every turn. We prefer to think about it as paying for what you actually need. And for that reason, we really like having the option to spend a little bit more on bigger seats without having to spend a lot more on a fully upgraded flight experience.
Sometimes we need to travel with a larger carry on, but sometimes we don't. Sometimes when we're indulging on a comfortable seat we want to do it with a free cocktail, but other times we don't plan on drinking. It's actually really convenient to be able to get a seat upgrade without having to pay a ton for a product that includes a bunch of bells and whistles we don't need.
The biggest thing about Spirit Big Front Seats is understanding what you're paying for. It's important to understand that other things like drinks, priority boarding and/or baggage will cost additional money. Do the math first, including all costs, before you make your final decision.
What about you? Have you flown Big Front Seats? Please let us know about your experience in the comments!