In this post, I'll be providing ongoing examples of how I'm using the Saks Fifth Avenue credit on my American Express Platinum Card. We'll start with some basics about the card and credit before diving into specifics. Read on to learn more about the Amex Platinum Saks credit!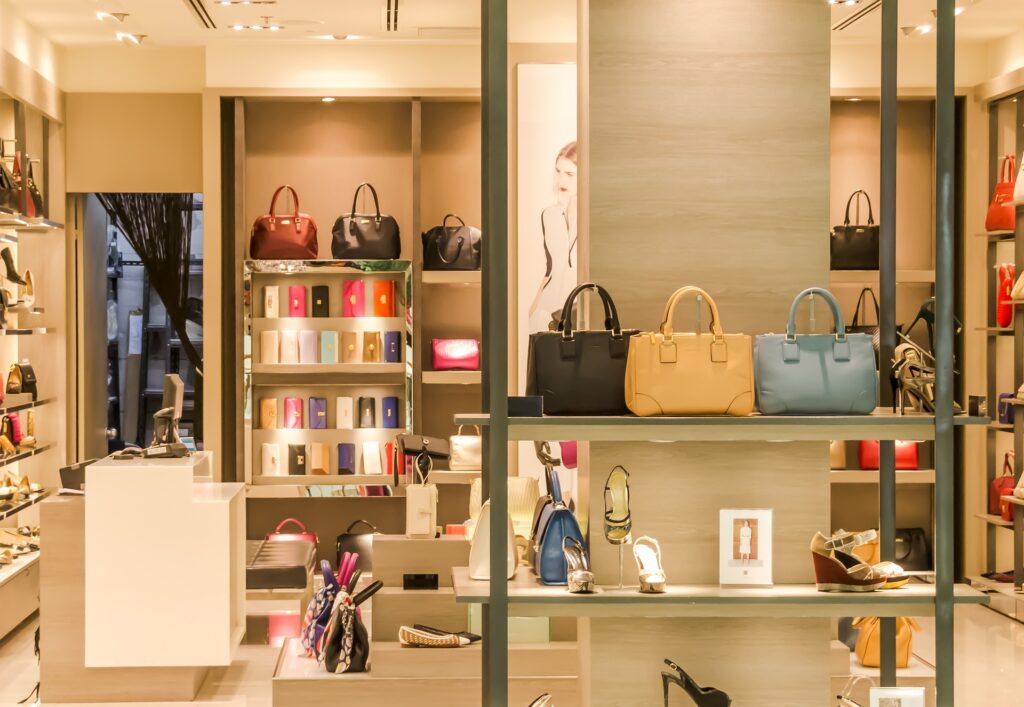 The Amex Platinum (Briefly)
The American Express Platinum personal card is a premium credit card with a hefty annual fee—$695. It makes up for this fee in part through a variety of credits. Including:
When you do the math, that adds up to nearly $1600 in credits, well more than the annual fee. Of course, math is often cleaner than reality, and this is such an instance. In particular, using credits for things you wouldn't have otherwise bought doesn't really offset the annual fee. This brings us to Saks.
How The Amex Platinum Saks Credit Works
Before getting to the specifics of how I'm using the credit, let's quickly cover how the credit works. You can review the official terms of the credit here.
The $100 annual credit is actually two $50 semi-annual credits. You can get one $50 credit during the months of January through June and one $50 credit for the months of July through December.
You have to enroll to use the credit. If you make a purchase before you enroll for the benefit, the benefit won't be applied. We cover how to enroll for the credit next.
The credit works for purchases at saksfifthavenue.com or Saks Fifth Avenue stores in the US and US territories. The credit cannot be used for the discount brand Saks Off 5th.
Authorized users do not get their own credit, but the credit can be applied to their purchases.
Enrolling for the Amex Platinum Saks Credit
Enrolling for the Amex Platinum Saks Credit is a straightforward process. Login to your americanexpress.com account and select your Platinum card (top right). Click "Rewards & Benefits":

Then "Benefits":

Then find the "Shop Saks With Platinum" box and click "Enroll Now":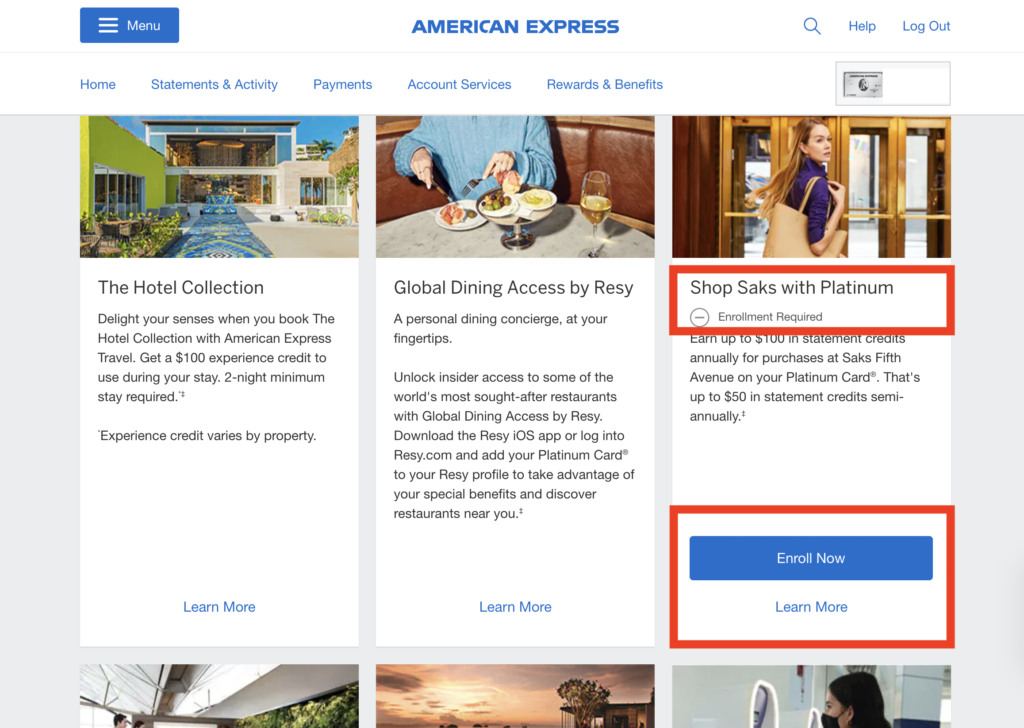 An enrollment page will pop up. Click "Enroll Now" there and you should see Benefits page now reflect that you are "Enrolled":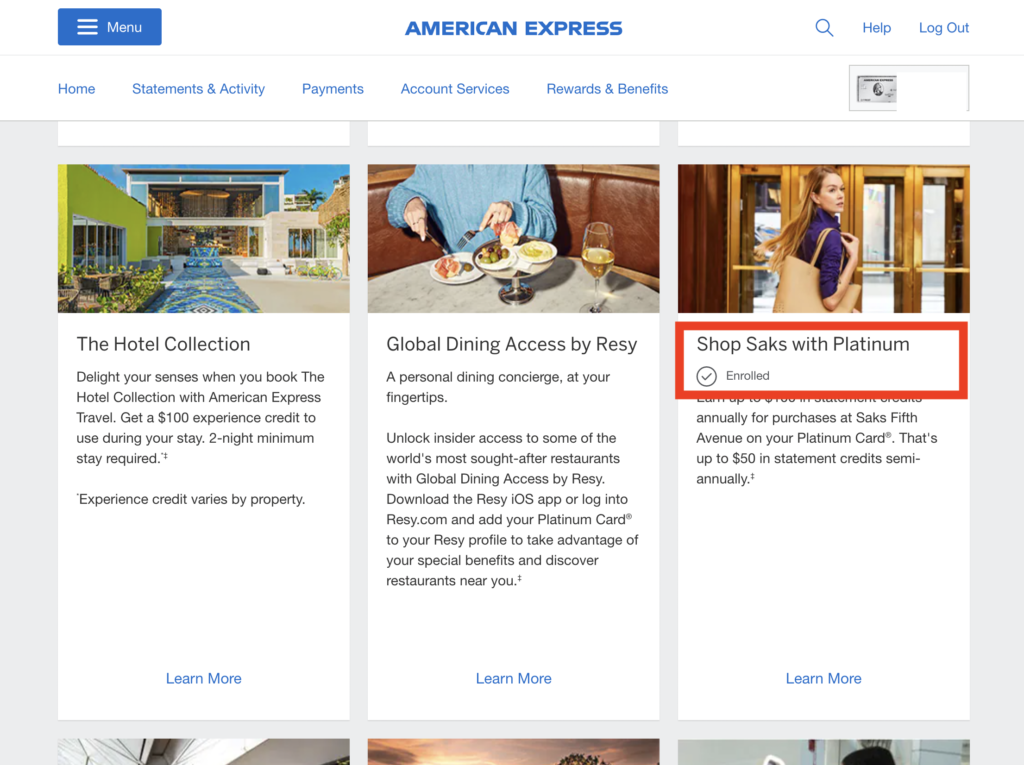 Figuring Out How to Use The Amex Platinum Saks Credit
Until I got the Amex Platinum, I'd never shopped at Saks. I own a few high end pieces of fashion (mostly shoes I don't even wear anymore), but these days I'm much more of the type to agonize over which $5 pack of t-shirts I'm going to buy on Amazon. In short, a $100 Saks didn't strike me as immediately super useful.
Certainly I didn't want to spend much more than $50 on an item. Spending $300 on a pair of jeans I don't need just to use a $50 credit doesn't make much sense. Conversely, if Saks sold, for example, toilet paper, that would be a great use of the credit. Sadly, they do not: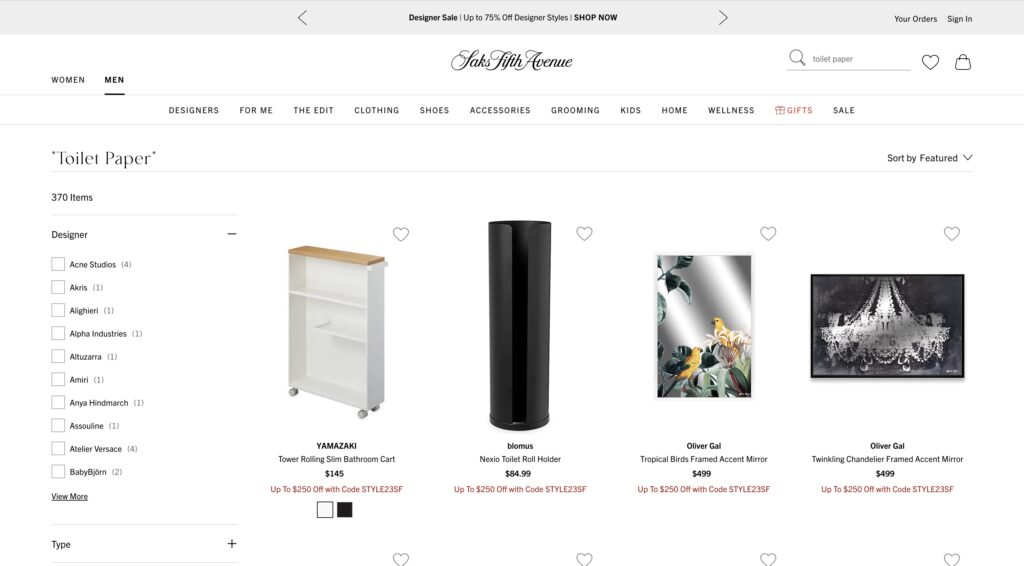 One option I want to quickly mention is that some people report success using the credit when purchasing gift cards in person at Saks Fifth Avenue. I'm not a fan of this option for a few reasons, one simply being that it's against the terms, but I'm mentioning it here for completeness.
If, like me, you're not fashionable, the best place to start looking for uses for your Saks credit is going to be the "Home" section.
Something like a $10 food container seems like a reasonable purchase for most households. Or $10 for 10 sturdy storage bags. The point is that if you go to "Home" and filter by "$0-$50" then you're likely to at least get a list of options…somewhat…more practical than $300 jeans: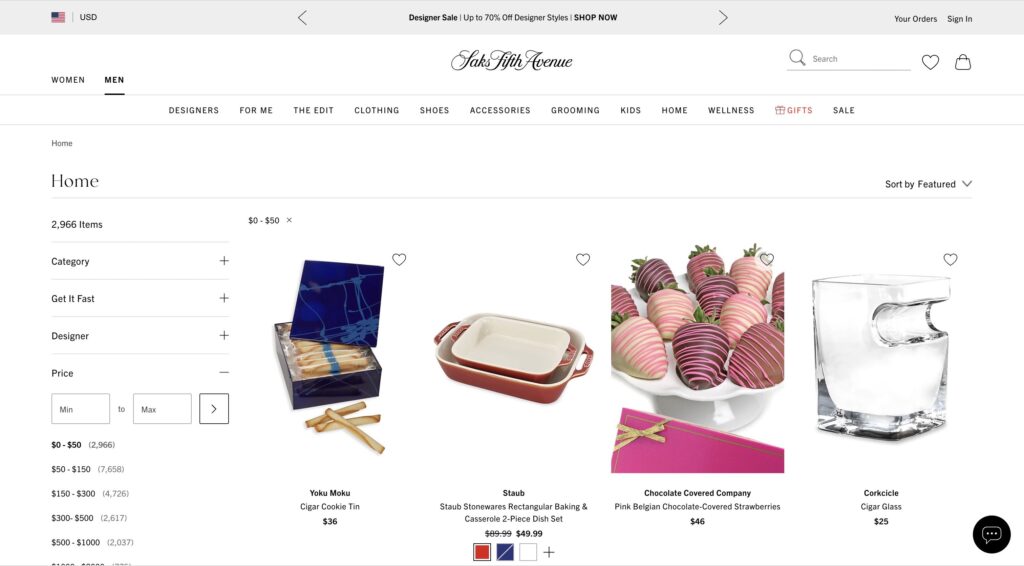 What I Bought With My Saks Credit [2023 First Half]
After a bit of a mediocre use last year (detailed below), we lucked into a good use for the first half of 2023. Emily had settled on a new pair of jean shorts for the summer, and remembered to check Saks.com. Prices were as good there as anywhere, and there was a free shipping deal available. Since this was on our shopping list anyways, we got a full $50 value from this credit (which posted about a week after the purchase).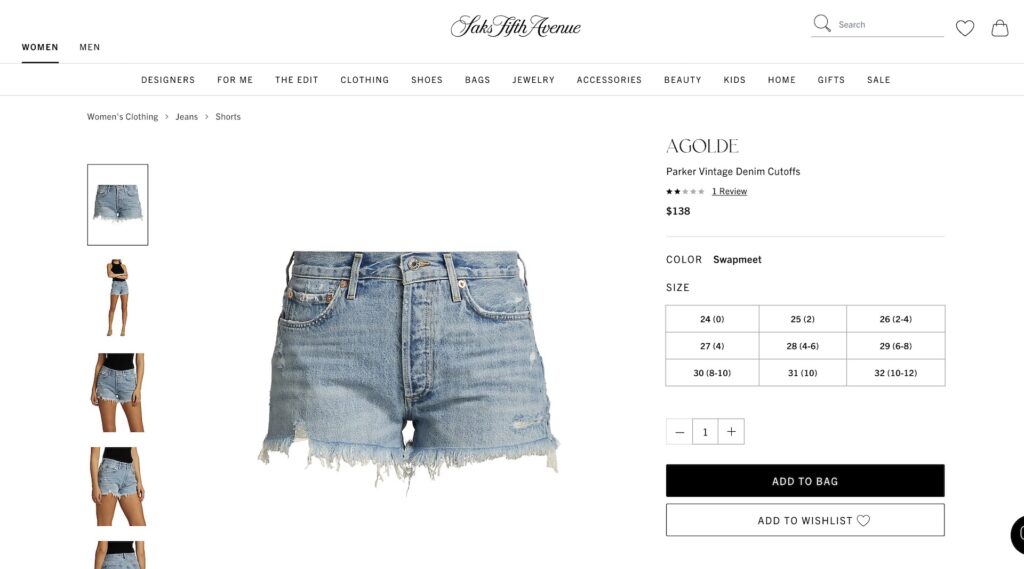 What I Bought With My Saks Credit [2022 Second Half]
Ultimately, for my first credit use, I settled on a compromise. I didn't want to "treat" myself to a pair of expensive jeans I didn't really want, but I also didn't want to waste time (anymore than the four hours I already had) straining to find some necessity in the depths of Saks.com.
Instead, I decided to use the credit to purchase a gift for Emily's birthday. Gifts are a nice use of a Saks credit because:
I had to spend the money anyways
I was probably going to spend more than the item was "worth" anyways
This isn't true for everyone. Some people are really good at buying gifts, I'm just not one of them (or at least, I buy good gifts when I'm inspired, but for set occasions I just pick something generic).
Knowing nothing about fashion I went with these cute gloves. I can't for the life of me understand when they're to be worn, but they look fun: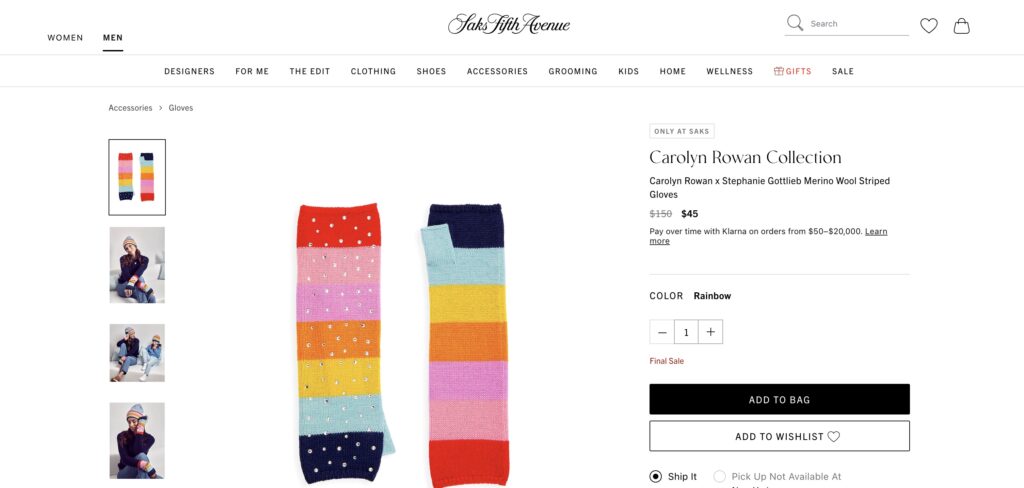 The real gut punch here is that, as I write this post two months later, you can see the gloves only cost $45. After taxes this would have been a near perfect use of the credit. Instead, when I bought them, I paid $90.
This purchase is on the margins of "things I would have bought anyways", which is the gold standard for using a credit card credit, but I'm overall happy with it.
The credit posted 6 days later with no action on my behalf: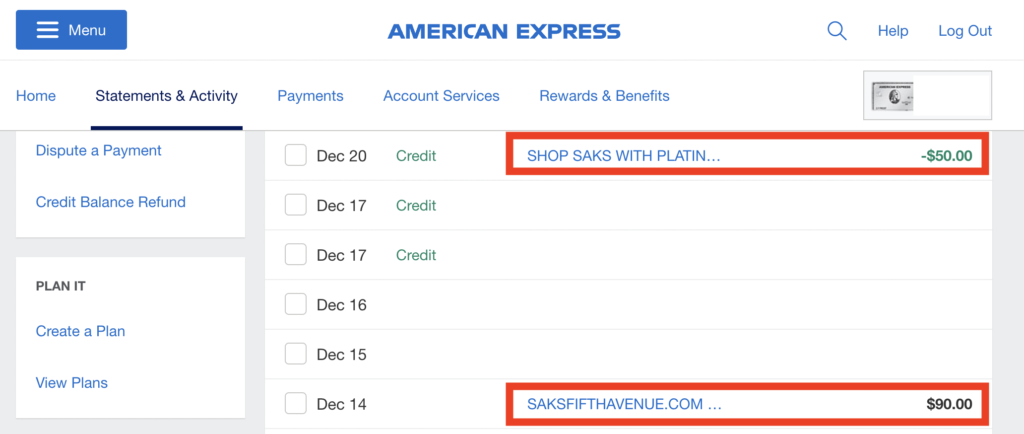 Amex Platinum Saks Credit Conclusions
The Saks credit isn't the most practical of the Amex Platinum credits for most people, including me. The goal of the partnership is of course to get people into Saks making purchases in excess of $50, which I did. That said, Saks has a variety of items that could be a good use of the credit if you know where to look. Or, sometimes, you just mentally write it off as "wasted gift money."