In this post, I'll talk through how to use the $200 airline incidentals credit on the American Express Platinum card. I'll start with an introduction to the credit, including what it covers and how to enroll in it, before discussing my experience using the credit. Read on to learn all about the Amex Platinum airline fee credit.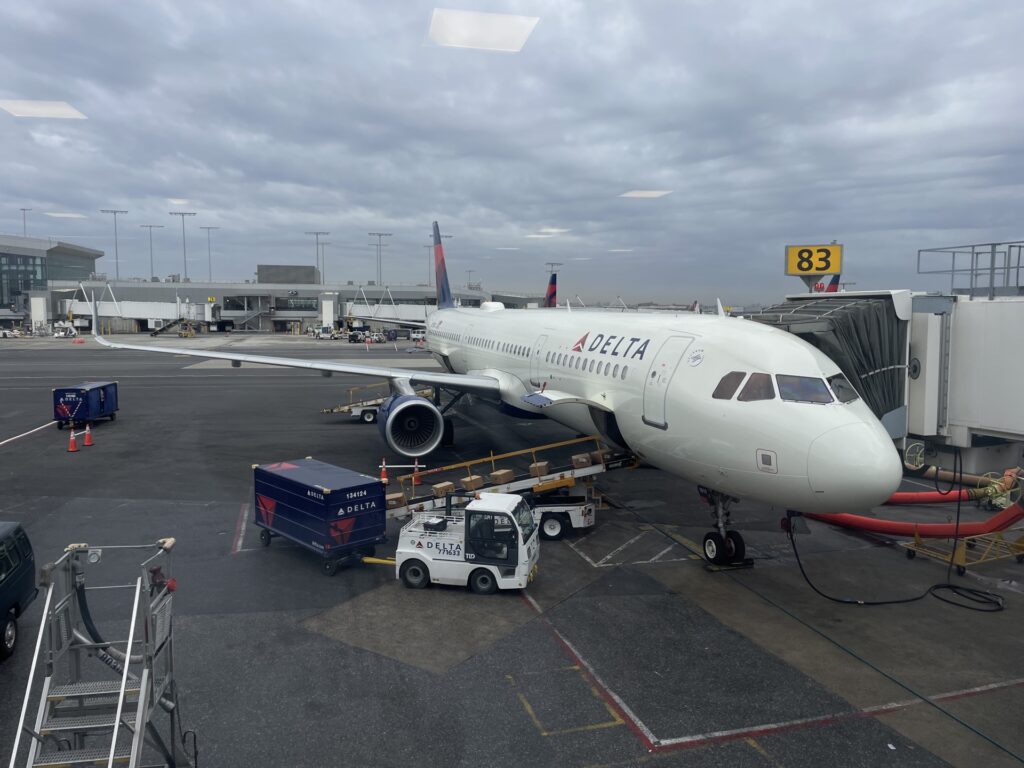 Basics of the Airline Fee Credit
The $200 airline fee credit is a perk of both the Amex Platinum Personal and Business cards. The credit is, without a doubt, one of the most complex travel credits in the industry. There are two big things to know about the credit, and we'll cover both.
The first thing to know is you have to opt into the credit and pre-select the airline (from Amex's list of eligible airlines) you'll use it at. This is a once-per-year thing (details below), so your $200 annual credit can only be used at one airline each year.
The other thing to know is that this is a fairly limited credit. It's not a broad "travel credit" like the Chase Sapphire Reserve travel credit. And not even all expenses on your selected airline will count for the credit (airfare isn't eligible, for example).
On the logistics end, the one good thing I can say about the credit is that it should apply to your account automatically and relatively quickly, assuming you've followed the necessary steps in selecting your airline and making an eligible expense.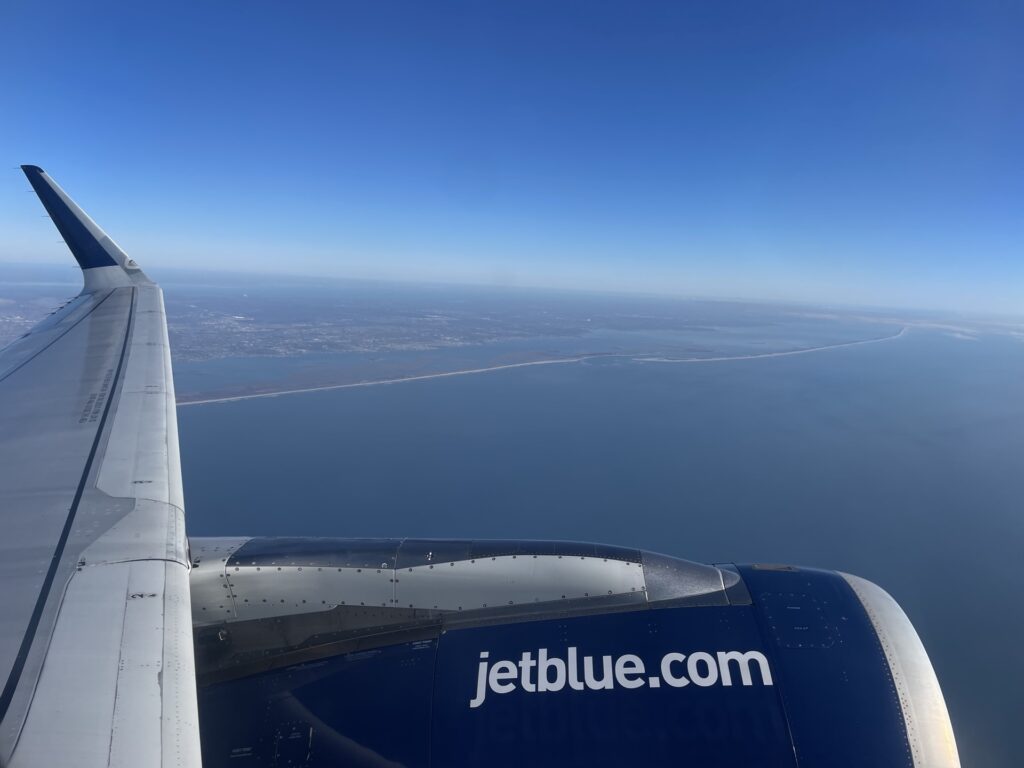 What the Airline Fee Credit Covers
American Express is relatively opaque when it comes to which charges are eligible for the credit. Generally, it's meant to be used for "incidentals."
The terms spell out some things that are excluded: Airline tickets, upgrades, mileage points purchases, mileage points transfer fees, gift cards, duty free purchases, and award tickets are not deemed to be incidental fees. Most expected here is "Airline tickets," as there's nothing "incidental" about airfare.
Luckily, there is one place Amex provided me with more explicit information on what's covered. Here's a list of some eligible charges that Amex provided by email once I activated the credit:
Checked baggage fees (including overweight/oversize)
Itinerary change fees
Phone reservation fees
Pet flight fees
Seat assignment fees
In-flight amenity fees (beverages, food, pillows/blankets, headphones)
In-flight entertainment fees (excluding wireless internet because it's not charged by the airline)
Airport lounge day passes & annual memberships
This list is…weird, and presumably incomplete. It includes "Checked baggage fees" without a mention of carry-on fees, which some airlines (like Spirit) have. The list also appears to exclude all wireless internet charges, but I imagine there might be cases where the airline itself does charge the fee.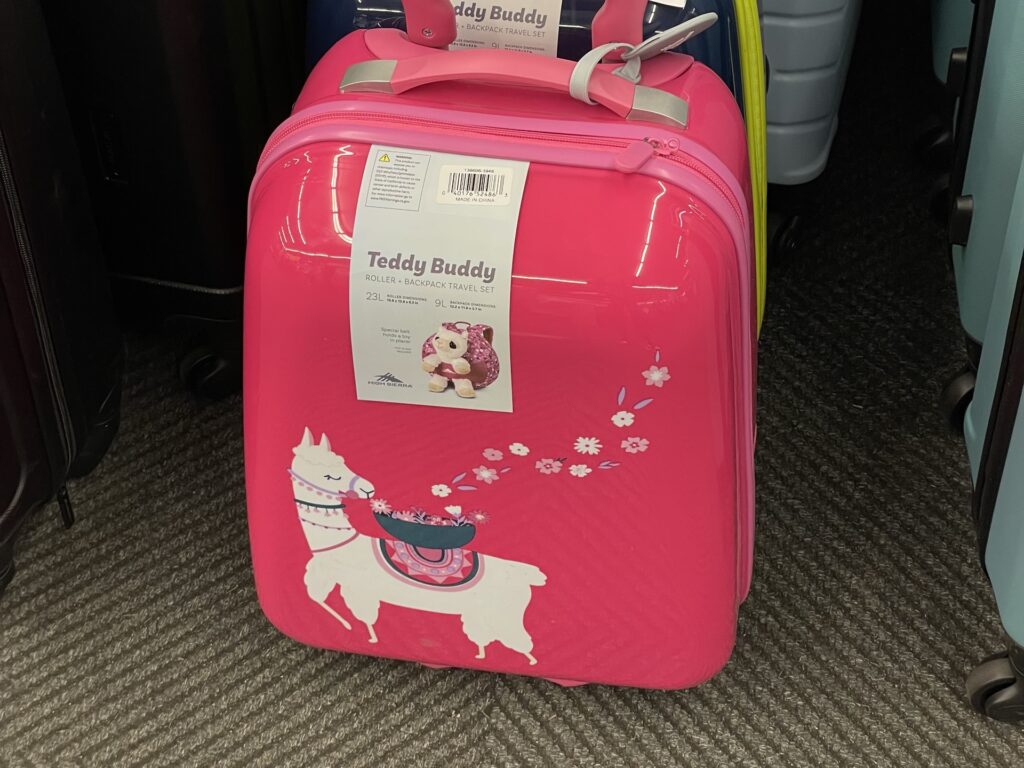 Upgrades vs. Seat Assignments
There's one issue I want to go on a quick tangent about. Amex specifically includes "seat assignment fees" while specifically excluding "upgrades."
In some cases this is cut and dry. If you book United economy, you can get reimbursed for the cost of selected a seat in the economy cabin. This should include "preferred" and "Economy Plus" seats. But you can't get reimbursed for an upgrade to first class. United generally allows upgrades up until shortly before departure if space is available. I even upgraded to United First Class less than an hour before boarding once.
Generally I can see how this makes some sense—people flying premium cabins could book a lower fare and then pay for the upgrade on their Amex Platinum, essentially "hacking" the credit to count for their airfare. (Still, this won't always be easy or cost effective to do, and it's probably a relatively small problem.)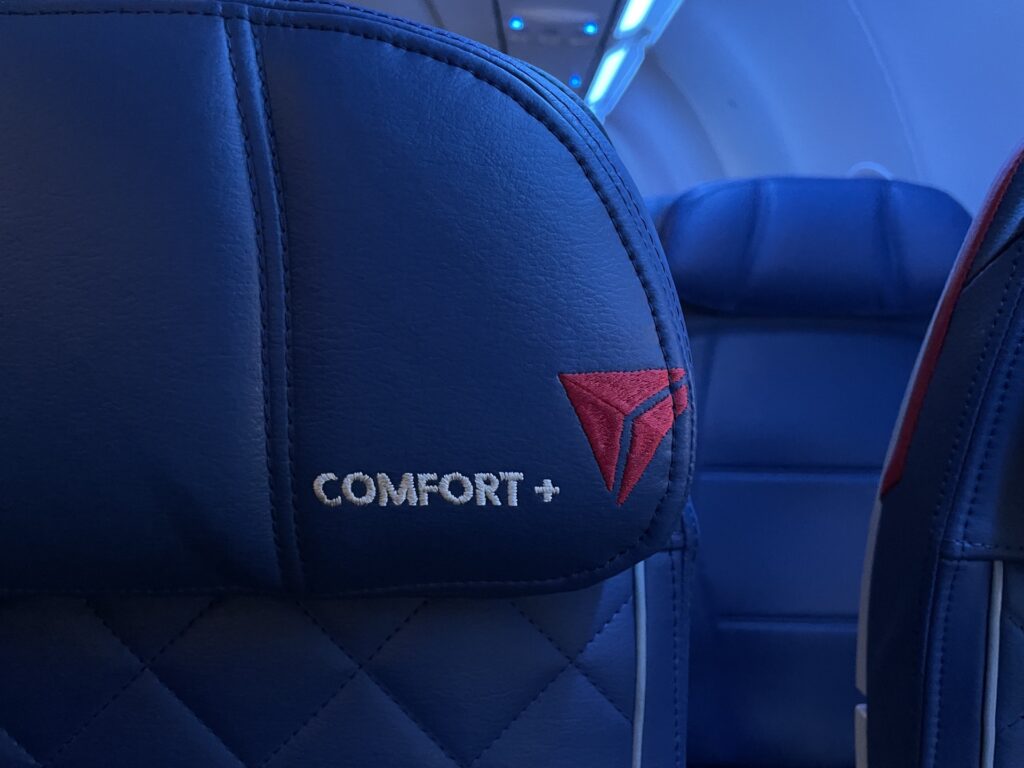 But not all cases are cut and dry. Delta Main Cabin and Delta Comfort Plus are treated as different classes by Google Flights, for example, and Comfort Plus has its own fare code. This would be treated by Amex as an "upgrade," I believe, though you might check some place like Reddit for more info.
JetBlue has its "Even More Space" seats, which are more spacious and come with a carry on even if you're flying Blue Basic. These would be, I believe, a seat assignment.
Then there's something like the Spirit Big Seat. This is a clear case of a seat assignment, as it comes with no other perks. But these seats are a huge improvement over Delta Comfort Plus or Jet Blue Even More Space.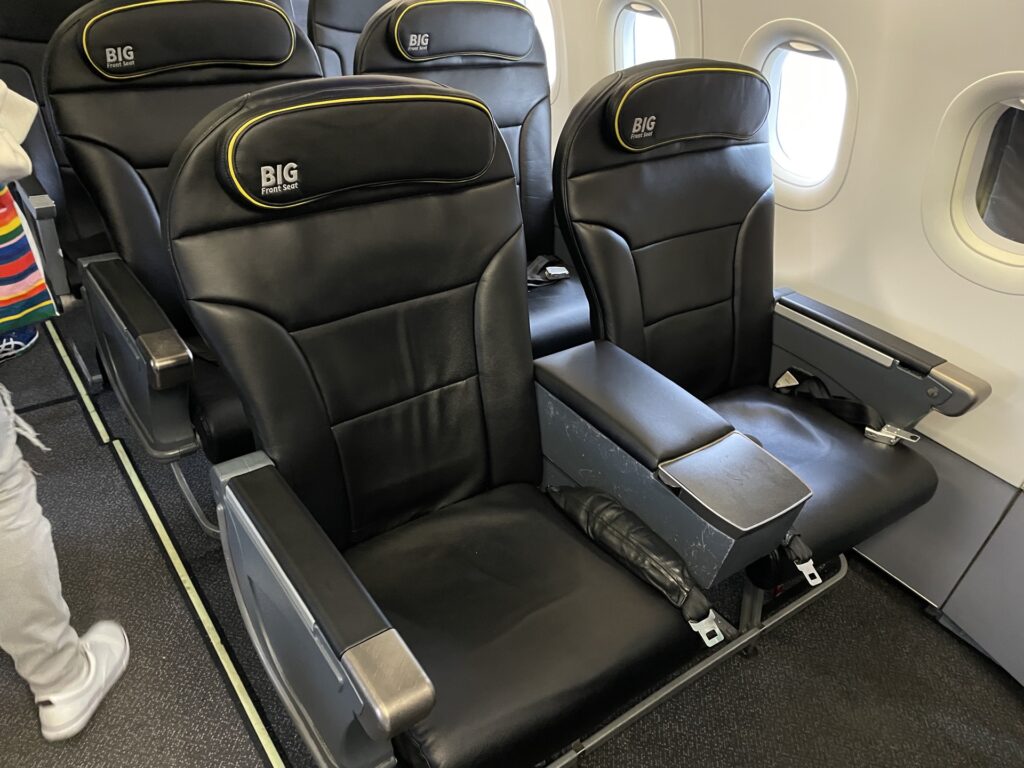 Best Ways to Use the Airline Fee Credit
Realistically, you're likely to use your airline incidental fee on one of three things:
Seat selection
Baggage fees
Onboard expenses (snacks / drinks)
Personally, seat selection for a family of three is going to be where I get most value. If no free seats on a flight are available, I always pay for three seats to keep us together. If free seats are available, I'm about 50/50 whether I take a free row or pay a bit more to be farther up. A few rows don't matter to us, but the difference between the front and back rows with a toddler can be significant.
That said, even with a family of three, it won't be easy to find full value in a single trip. Consider the below route from New York to Chicago. We'd typically pay for a preferred seat, and 22A, B & C costs $58 total. That's only $116 roundtrip. We could (and will, see below) instead buy Economy Plus seats. But once you're spending more than you would without the credit, you're not really getting full value from the credit (and you might be losing money overall).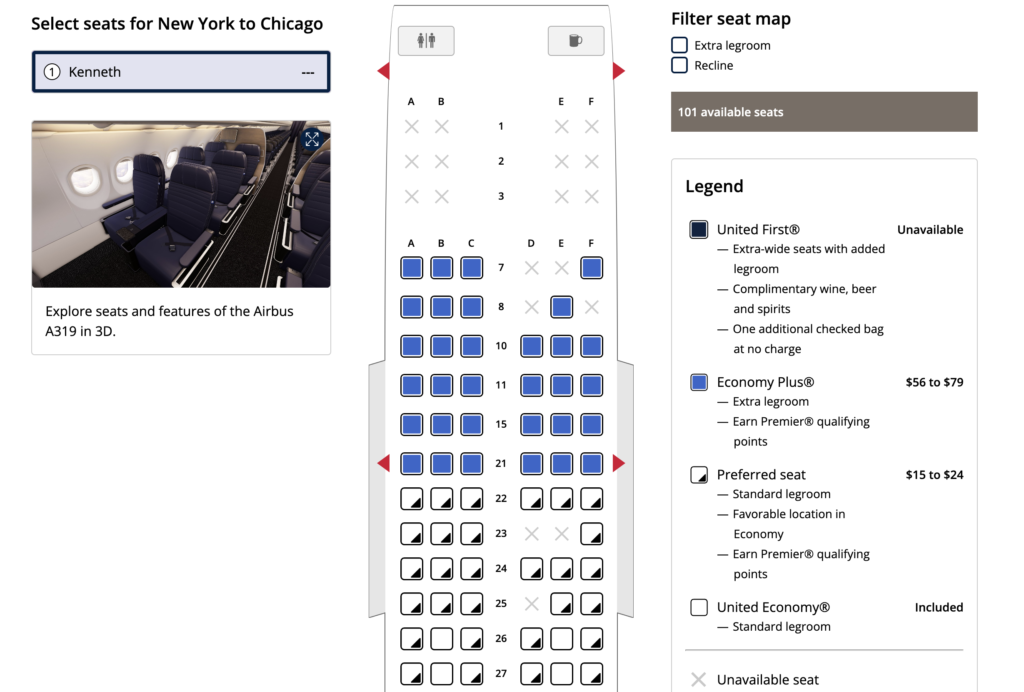 If you're flying mostly premium cabins (i.e. not economy / main cabin / coach) then seat selection, baggage fees, and onboard expenses probably aren't something you're paying for in any case. I've got two suggestions in this case.
Alternative Uses for the Credit
The first is to use Google, Reddit, and most importantly, FlyerTalk and see if you can find interesting ways people are using the credit (er, sorry if Google sent you here for that question). I don't want to mention specifics here because once things get "interesting" the rules can change quickly and won't always be clear. What works for Amy one day may not work for Beth the next.
My second suggestion is to consider lounge day passes. As an Amex Platinum cardholder, your Priority Pass, Centurion Lounge, and SkyClub access will serve you well in many cases. To get value out of the credit, you'll have to find an exception. One idea might be to use the credit for SkyClub guest fees ($50 each), which should be covered (note that Centurion Lounge guests fees would not be since they aren't affiliated with any airline).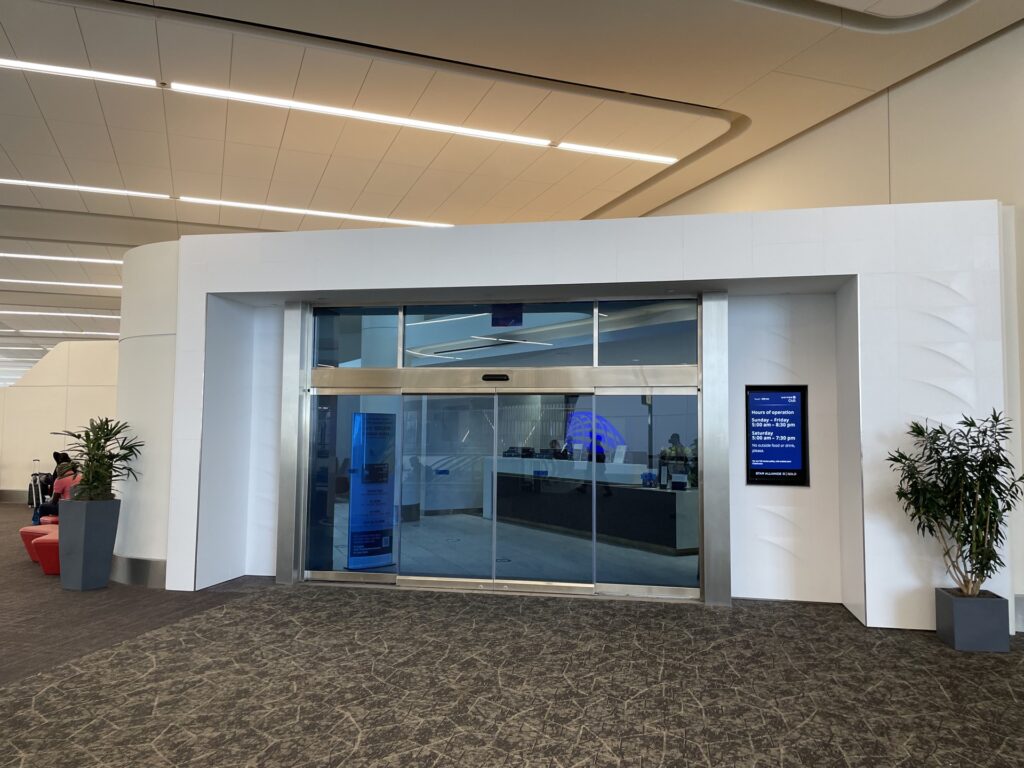 Opting In To The Amex Airline Fee Credit
Before you can use the credit, you have to logon to your account and select the airline you want it to apply to this year. The available airlines are:
United
Hawaiian
Spirit
American
JetBlue
Southwest
Delta
Alaska
You can make this selection after becoming a cardholder, and you can change it once a year in January. If you don't make a change and February 1 hits, you're stuck with whatever airline you selected last year.
This creates an obvious challenge for many cardholders, as you won't always know which airline makes the most sense for you by the end of January. Here are some thoughts on how to approach this.
Tips on Selecting Your Airline
Just Plan a Trip (Or Two). Chances are if you're reading this post you have some idea of what trips you'll be taking in the next year. So just make up your mind and book one already. Lots of us put off booking trips for too long because the planning can be frustrating, but the easiest way to start using your airline fee credit is to just book a trip you've been putting off.
Our personal example (discussed below) is just such a case. Between holidays and family events, I knew there were three trips I had to take this year that I hadn't booked. As I got frustrated having not used the airline fee credit, I finally sat down and planned those trips, identifying my chosen airline and using the credit in the process.
Be careful about Basic Economy or similar fares. "Basic Economy" fares were introduced by several airlines a few years back as a way of competing with low cost carriers. While you might think Basic Economy is a good way to weasel into using your credit, be careful. You might think, for example, "I'll fly basic economy and use my fee to pay for a carry on." Then you discover that United Basic Economy doesn't even allow you to pay for a carry on—they're just not allowed at all. Or you discover that American Basic Economy allows a carry-on for free (that's nice but not helpful in this case).
Two Specific Airlines to Be Aware Of
Be careful about Southwest. Southwest allows a lot of things for free on all fares (carry ons and your choice of seat, for example). You'll have to do a bit of work to use your credit with them (Upgraded Boarding is a good option, I think).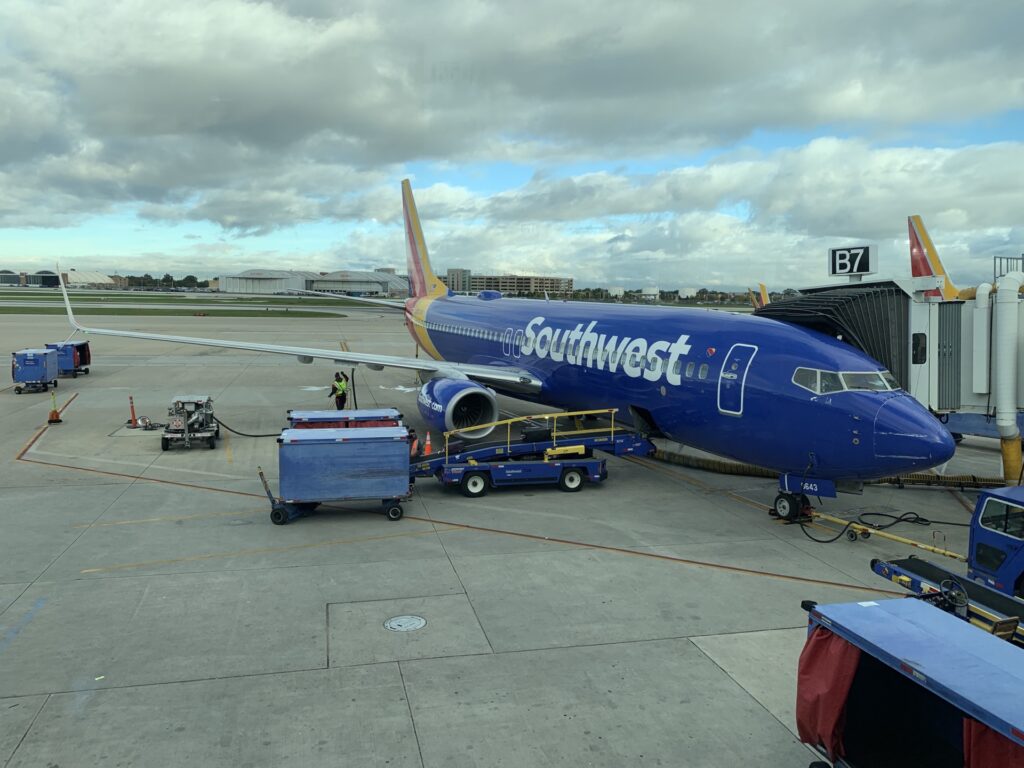 Consider Spirit. Spirit is sort of the opposite of Southwest. If you can find a good reason to fly Spirit (i.e. they fly your route at a reasonable fare), you'll probably have little problem using the credit. Between carry-on and seat fees, Spirit can eat through $200 pretty quickly. Worst case, you're a solo traveler without a carry-on who only flies Spirit once a year. In that case, you might just spring for a Big Front Seat.
Making Your Selection
To make your airline selection, log in to your American Express account and navigate to Rewards & Benefits -> Benefits for your Platinum card.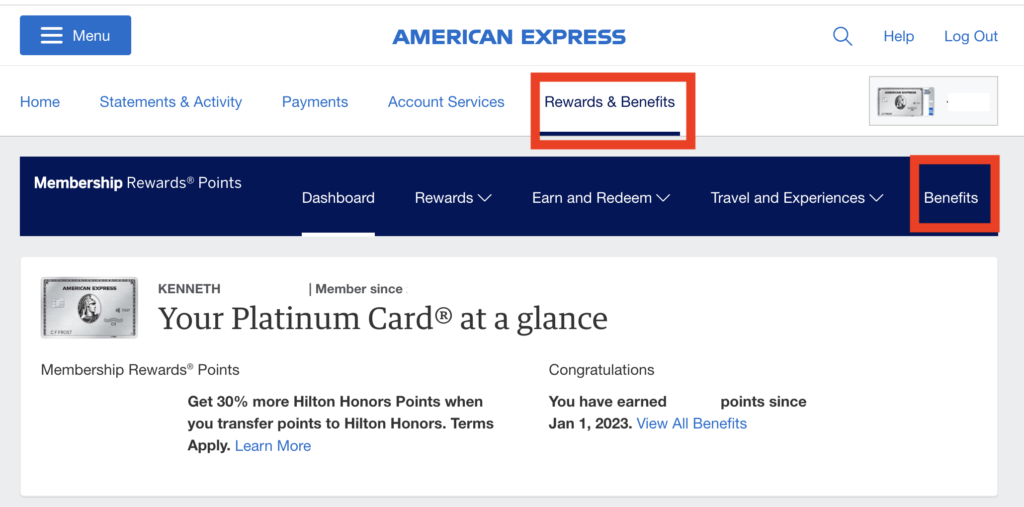 Scroll down to "$200 Airline Fee Credit". If you already selected an airline it will be noted. If you haven't (because you're a new cardholder), or if it's January (when all cardholders can change their selected airline), you'll see the option to "Change Selected Airline."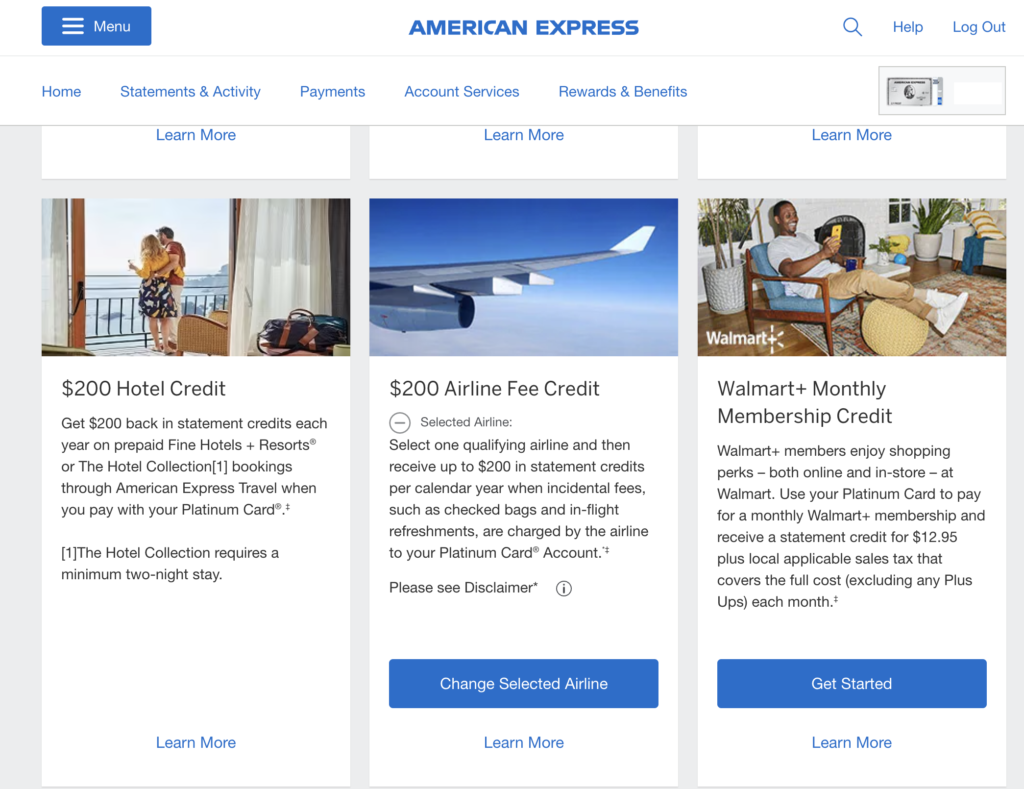 Click in and scroll down to the selection menu: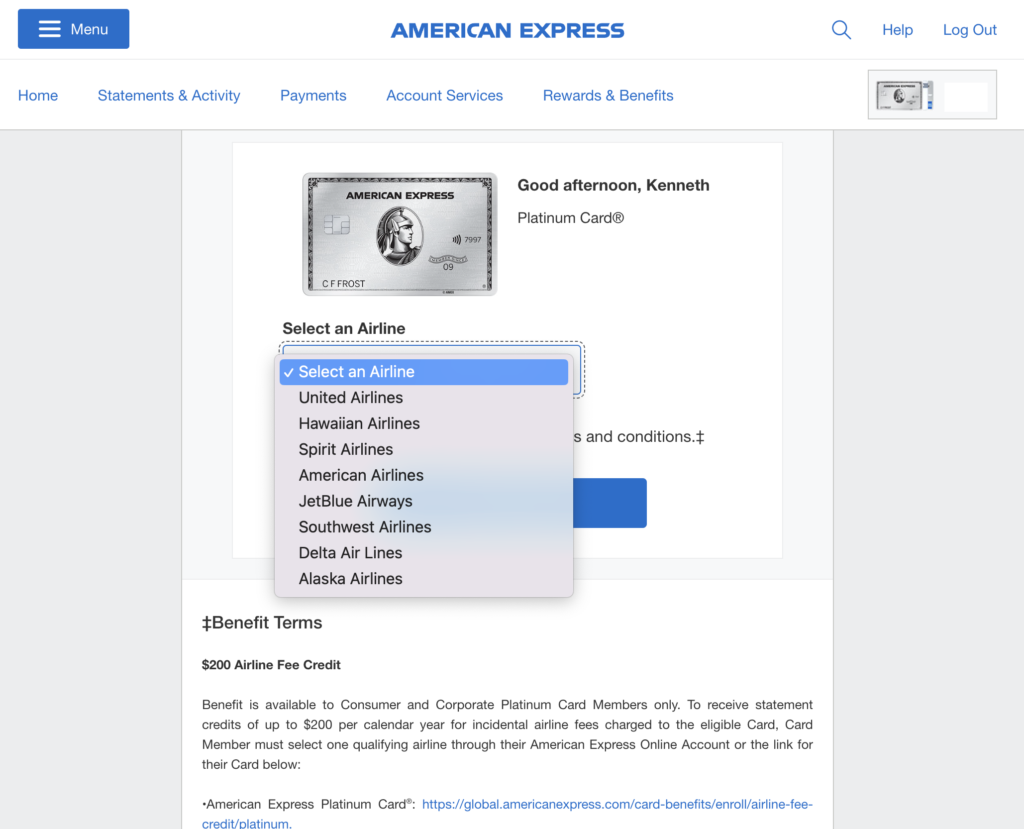 Pick your airline and click "Submit Selection", and you'll be brought to the confirmation screen: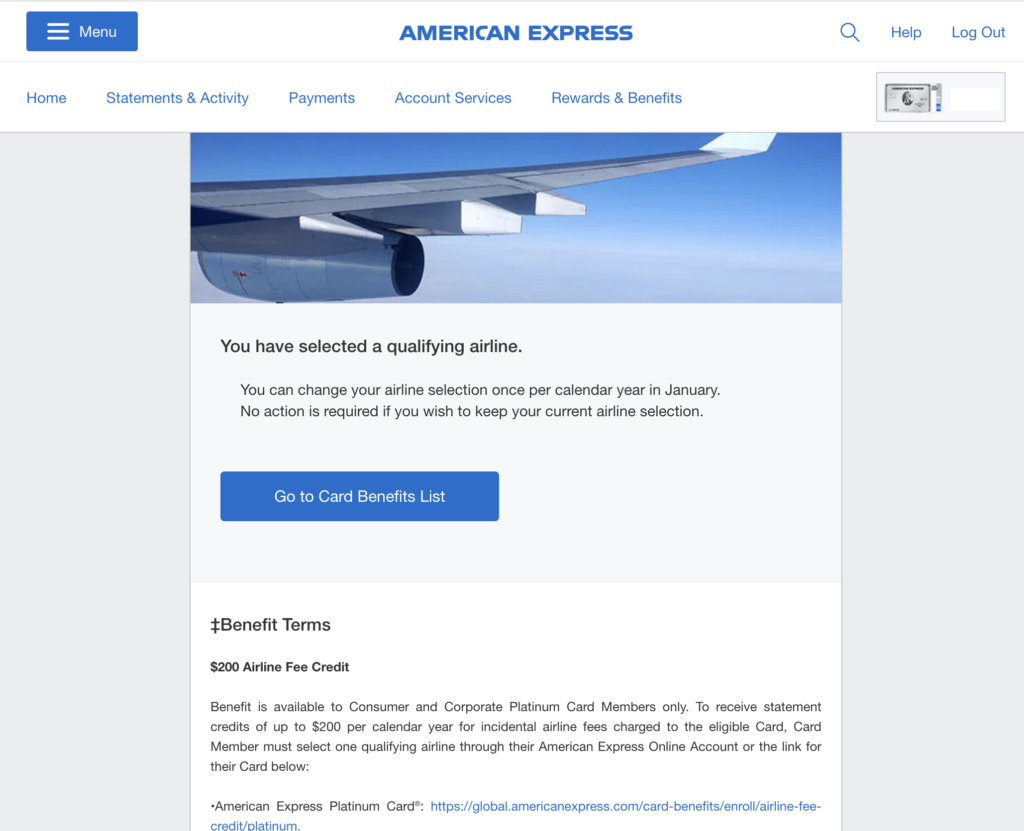 Using the Airline Fee Credit
There isn't much you need to do to "use" the credit, but there is one important point. You need to make sure your incidental purchase is separate from your airfare purchase. This means if you pay for seat selection at the time you buy your ticket, you shouldn't expect to get the credit. (It's sometimes technically possible for these items to charge separately but don't count on it.)
There might be cases where this means you're actually out a few dollars if the airline charges less for seat assignment or a carry on at the time of purchase. Unfortunately there's no real way around this. If your flight is covered by the 24-hour cancellation rule, you can at least avoid an outrageous upcharge by cancelling and rebooking with your incidentals. Then you've left your credit for another trip.
My Experience With the Airline Fee Credit
My most recent use of the credit was for seat selection on United. I paid $234 for three bulkhead seats in United Economy Plus (one way). This was more a "treat" than a typical selection we'd make, to be fair. But it will give us the opportunity to do a review of this specific offering. (I also decided to forego seat selection on some other trips I was booking, so it all balances out.)
This was actually my first use of the credit, so I made my airline selection just before purchasing. I wondered if it was prudent to wait a few minutes, or even a day, before making my purchase but ultimately decided I'd just give it a go.
The seat selections billed as three charges ($79, $79, $76). Six days later, the credit was applied in three amounts ($79, $79, and the remaining $42).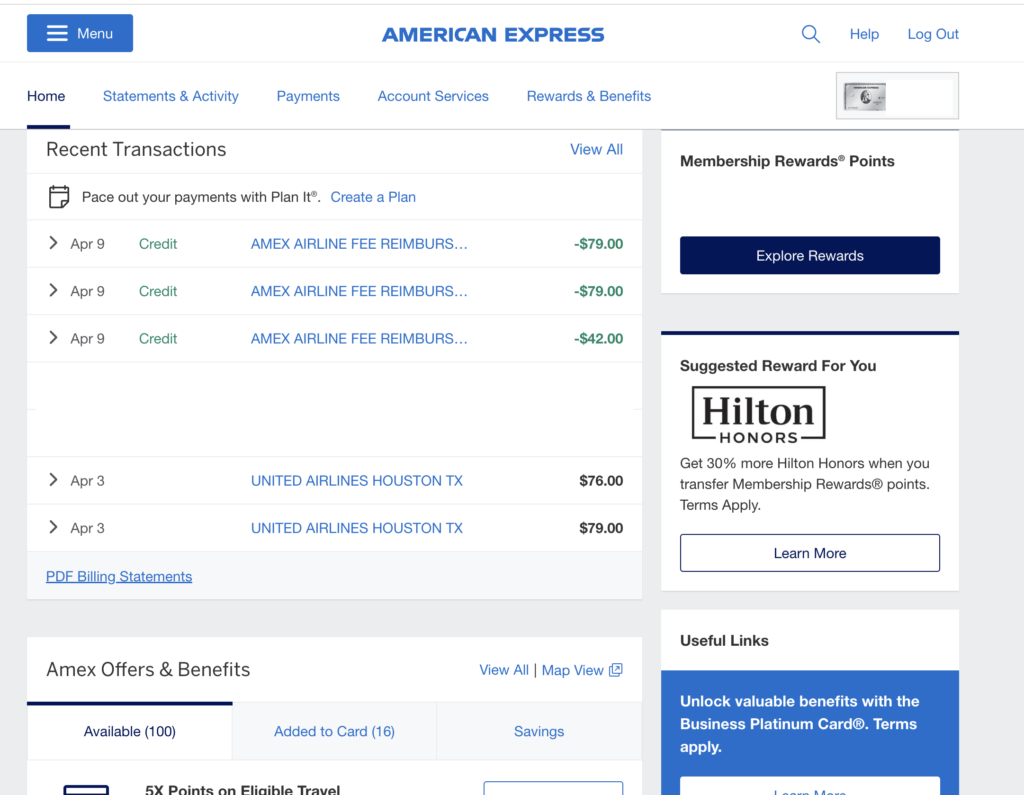 Conclusions
The Amex Platinum airline incidentals fee credit is like all the other Amex Platinum credits. It's nice on its face but a little complicated in the details.
If you're a Spirit airline regular, you'll have no problem using the credit. With a carrier like United, Delta, American, or JetBlue, you'll probably need a few flights or a pricey seat selection to get full value out of the credit. And if you're loyal to Southwest, you'll struggle to get real value.
We fly enough that getting good value out of the credit won't ever be a challenge. Getting optimal value will require rolling the dice a little. Next year, if I don't have anything to book in January I'll probably roll the dice and change my selection to Spirit. Then it's just a matter of remembering six months down the road that I have the credit to use…