In this post, we're going to discuss the "Basic Economy" fare class on Delta Airlines. We're going to explain how this differs from regular Main Cabin (what Delta calls its regular Economy fares), why you may or may not want to book it, and how you might use it to save on your trip without all the usual downsides. Read on to learn all about Delta Basic Economy!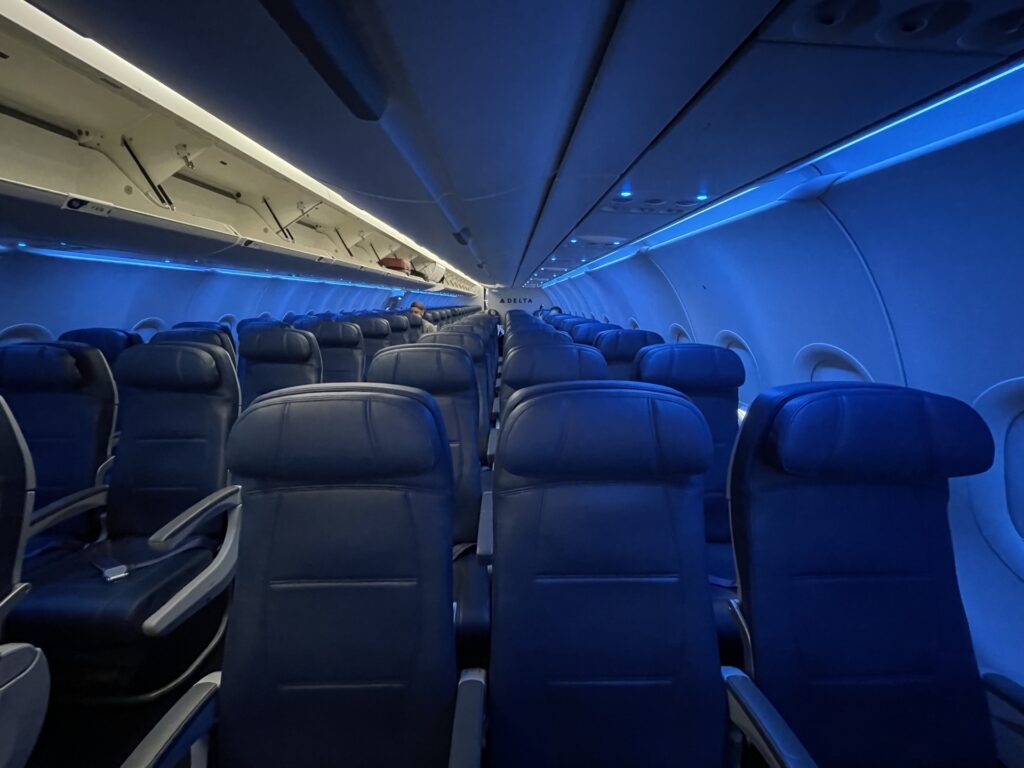 About This Post and Related Post
This post introduces the "Basic Economy" fare offering on Delta Airlines. We have posts reviewing other Delta offerings including:
We also have a post covering Flying Delta With a Baby.
My Example Flight
For the purpose of this post, I'm going to use an example itinerary to show you how you might compare Basic Economy and Main Cabin on a flight you're considering. I'll use a one-way flight from LGA to ORD, DL 1275, on May 8, 2024 (9 months out from when this post was written).
Searching via the Delta website, the results immediately show pricing for this flight is $159 in Basic Economy vs. $189 in Main Cabin: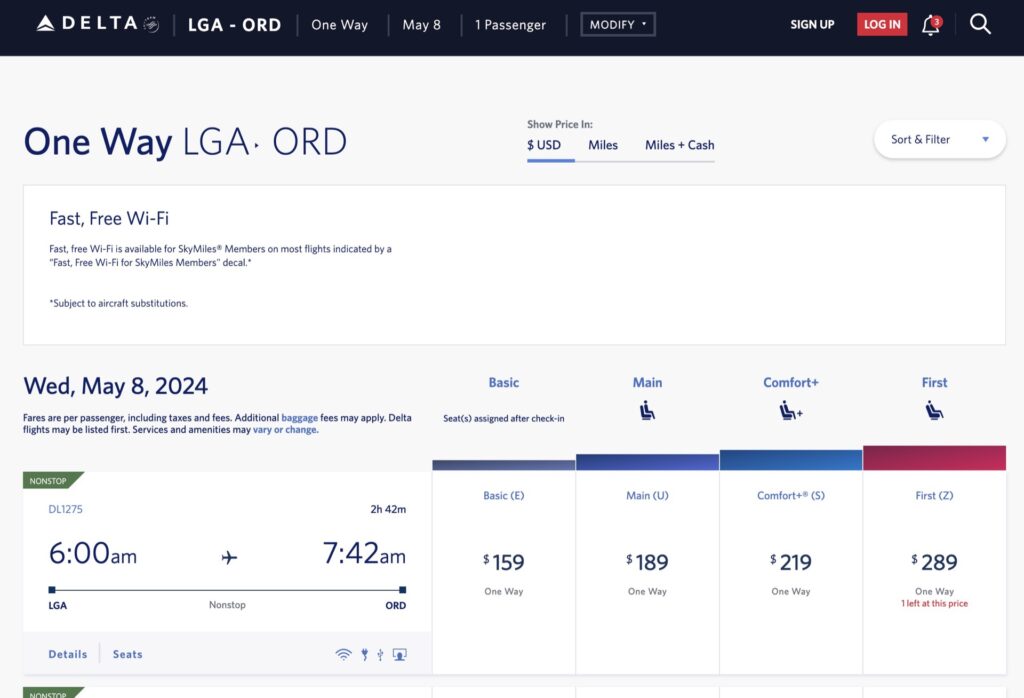 There are a few other points of interest in this screenshot. First, you can see at the top that Delta reminds you that your seat will be assigned after check-in with basic economy. This isn't the only important thing to know about Basic Economy, though.
Second, at the top of each price box you can see the fare class currently available for booking in parentheses, with Basic Economy coded as "E". This is a wonky note and not something you'll usually need, but sometimes searching out your fare code is the only way to tell whether you've booked Basic Economy or not. As of this post, "E" is the only Basic Economy fare class.
Third, you can click on the class names either at the top (i.e. where it says "Basic") or just above the price (i.e. where it says "Basic (E)") to get more details about the classes. These two different links actually bring up two different pop ups. But one handy thing is that if you click at the top ("Basic") you'll get the option on the popup to click "Compare Experiences", which gives you this handy chart: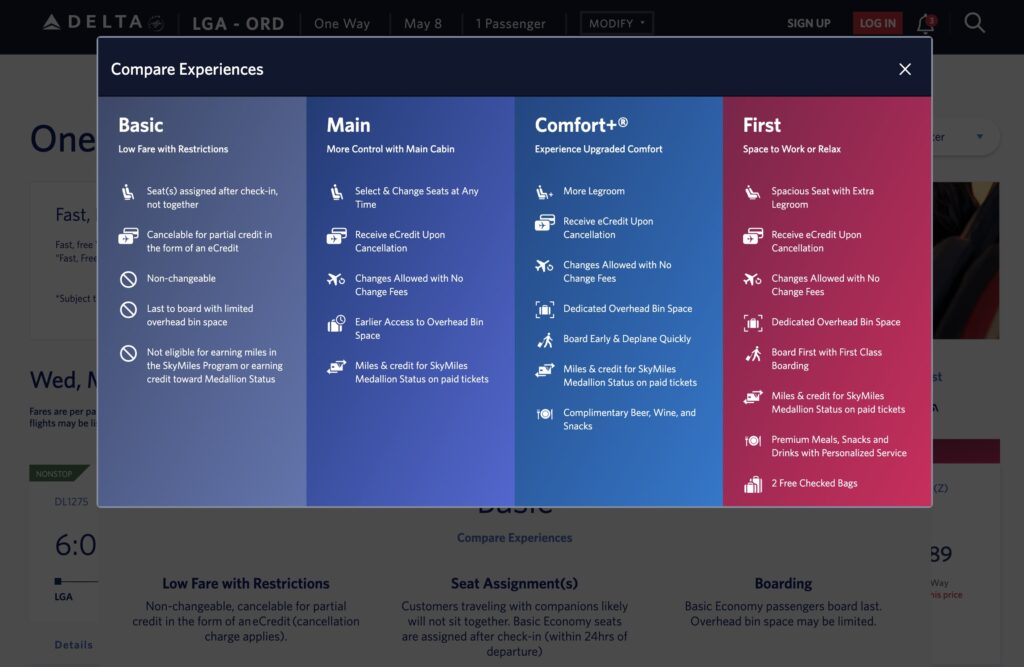 With this chart as a partial guide, we can begin comparing Basic Economy to Main Cabin.
Delta Main Cabin vs. Basic Economy
Besides this popup when booking, Delta has a page dedicated to explaining Basic Economy fares. Since these are always subject to change you should confirm things there, but I want to talk about the major differences as they stand now.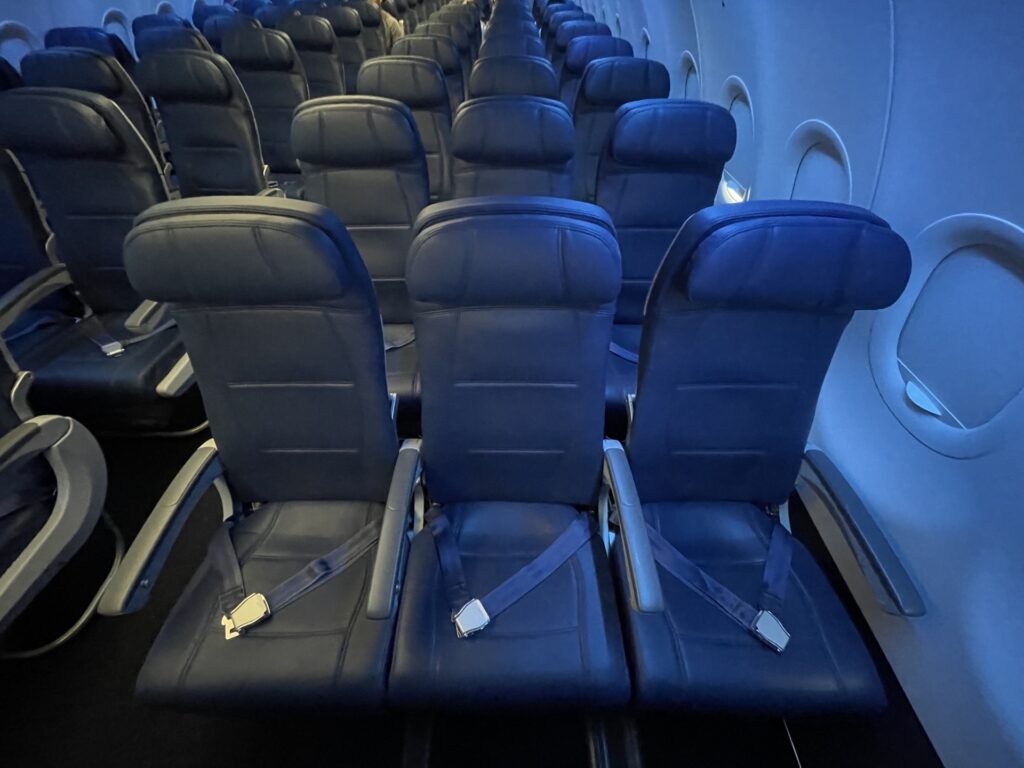 Delta Basic Economy gets Main Cabin Experience Onboard
Once you've boarded the plane, stowed your luggage, and found your seat, the onboard experience with Delta Basic Economy is the same as if you'd booked Economy. You'll have a regular seat in the Main Cabin, along with complimentary snacks and non-alcoholic beverages, and the same onboard wifi and entertainment as Main Cabin.
Domestic vs. International Basic Economy
This post is primarily focused on the domestic (within the United States) Basic Economy experience on Delta. While Delta may offer Basic Economy on some international flights, different laws, regulations, and practices mean you'll need to look a little deeper on your own to know what to expect.
Delta Basic Economy Doesn't Include Seat Selection
For most travelers, this is going to be the biggest downside to Delta Basic Economy. You don't get to select your seat—seats are assigned sometime after you check in, and Delta explicitly states "Customers traveling with companions likely will not sit together."
When booking a Basic Economy fare on Delta, you'll get asked plenty of times if you want to pay for seat selection…by upgrading to Main Cabin. Literally every page of the booking experience makes this offer. To proceed with a Basic Economy fare, you actually have to check a box and click a small link under the much more prominent "MOVE TO MAIN" button.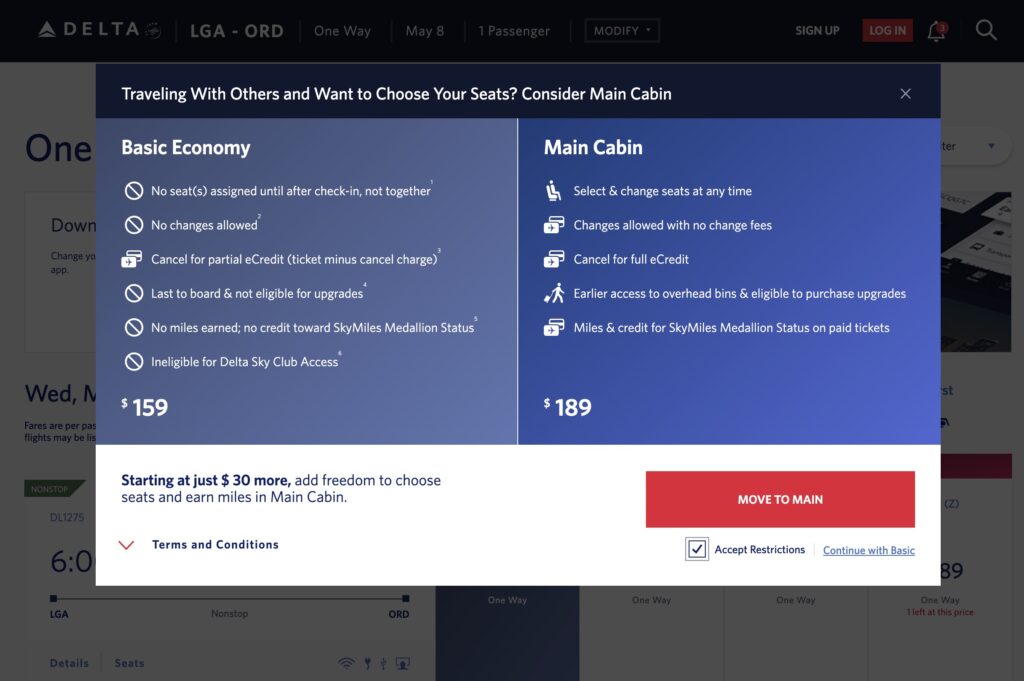 The subsequent screens also ask you if you want to upgrade: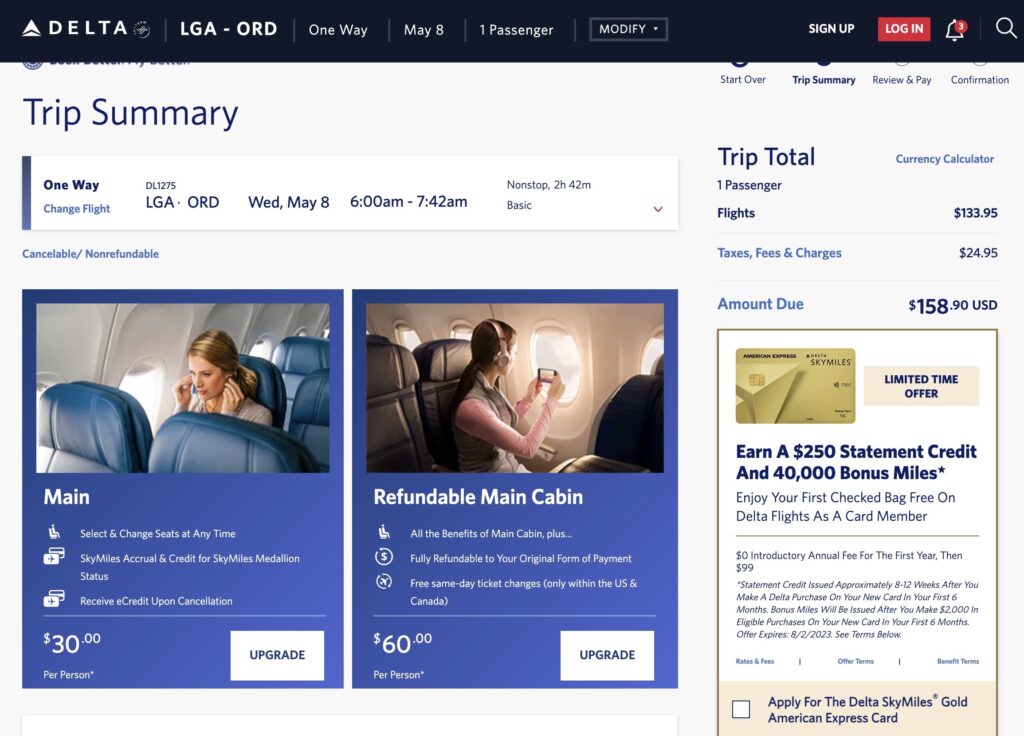 Will Delta Sit Families Together with Basic Economy?
Delta has no official policy stating that they'll sit families together unless those families have advanced seat assignments, which Basic Economy passengers don't get. On the topic of family seating generally, Delta says "Delta strives to seat family members together upon request." But, again, on the topic of Basic Economy seating, Delta says "Customers traveling with companions likely will not sit together."
Of course it's reasonable to assume if you show up with a newborn in a car seat (flying on a full fare ticket, not as a lap infant), an agent at the airport is going to make sure at least one parent sits next to the baby. Then again, if that's your situation, do you really want to risk having to deal with that? (No. The answer is no.)
But Delta's unaccompanied minors program allows children as young as five to fly without an adult at all, so I wouldn't expect much help if your child is over five. In between newborn and five year old…I mean…our advice is just always the same—don't risk it. If you want your party to sit together, buy Main Cabin seats and book seats together.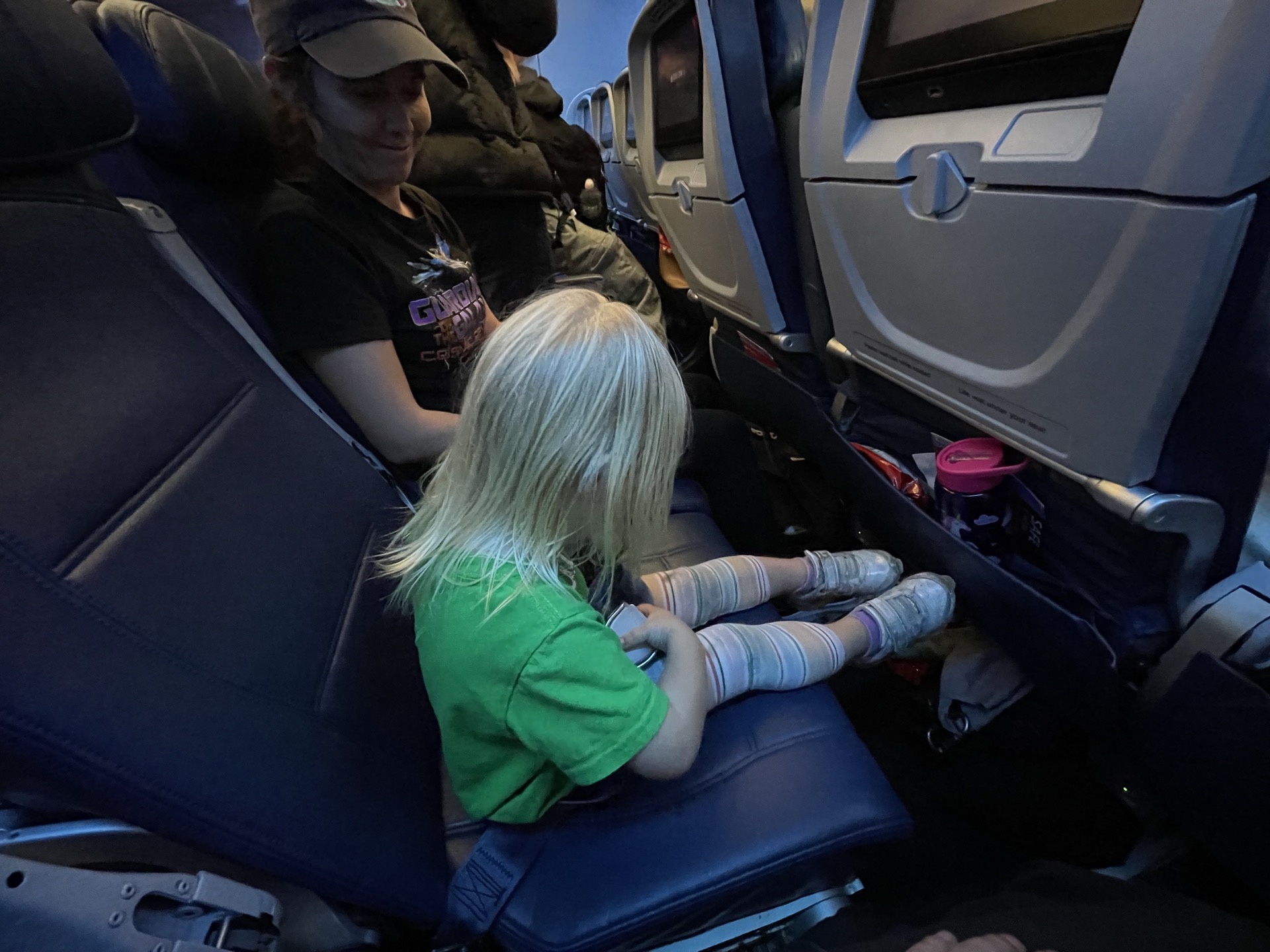 Does Delta Basic Economy Get a Carry On?
Yes. Passengers flying Delta Basic Economy can bring a carry on and a personal item. Delta actually doesn't go out of their way to remind you of this, but their site is very clear that "Each passenger flying with Delta can bring 1 carry-on bag and 1 personal item…"
This is a nice contrast to United Airlines Basic Economy, which doesn't include carry ons and doesn't even allow passengers to pay separately for them.
There is a caveat, though…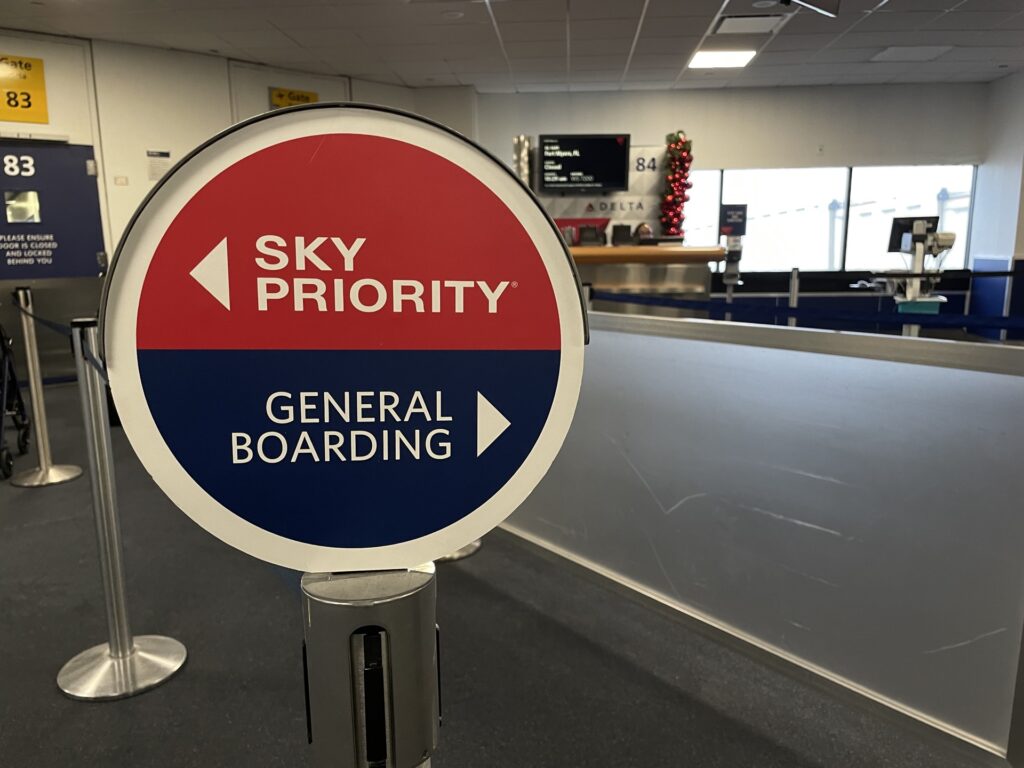 Delta Basic Economy Passengers Board Last
This isn't Southwest—you still have a seat assigned by the time you board, so who cares when you board? Well, people with carry on bags should care when they board. It's common on full or nearly full flights for airlines to request passengers to check bags once they deem the overhead bins are "full." (This starts out as a request, before it becomes a requirement.)
I'm not going to get into whether they're actually "full" or not, or why the airlines do this. The point is that if you have a carry on (i.e. anything other than a single bag that fits under your seat), the later you board the more likely the airline will force you to gate check it. This will usually mean you have to go pick it up from baggage claim after the flight lands.
When flying Delta Basic Economy, we recommend you either travel only with a personal item or make sure you are prepared to be separated from your carry on. This means essentials go in your personal item.
Finally, it's worth noting that you cannot purchase Priority Boarding when flying Basic Economy.
Do Delta Medallion members get Priority Boarding on Basic Economy?
My understanding, based on Delta's own materials, is that Medallion members will still get Priority Boarding when flying Basic Economy. That said, I just really, really advise you to rethink Basic Economy if you're a Medallion member since you won't earn miles, MQMs, etc in Basic Economy.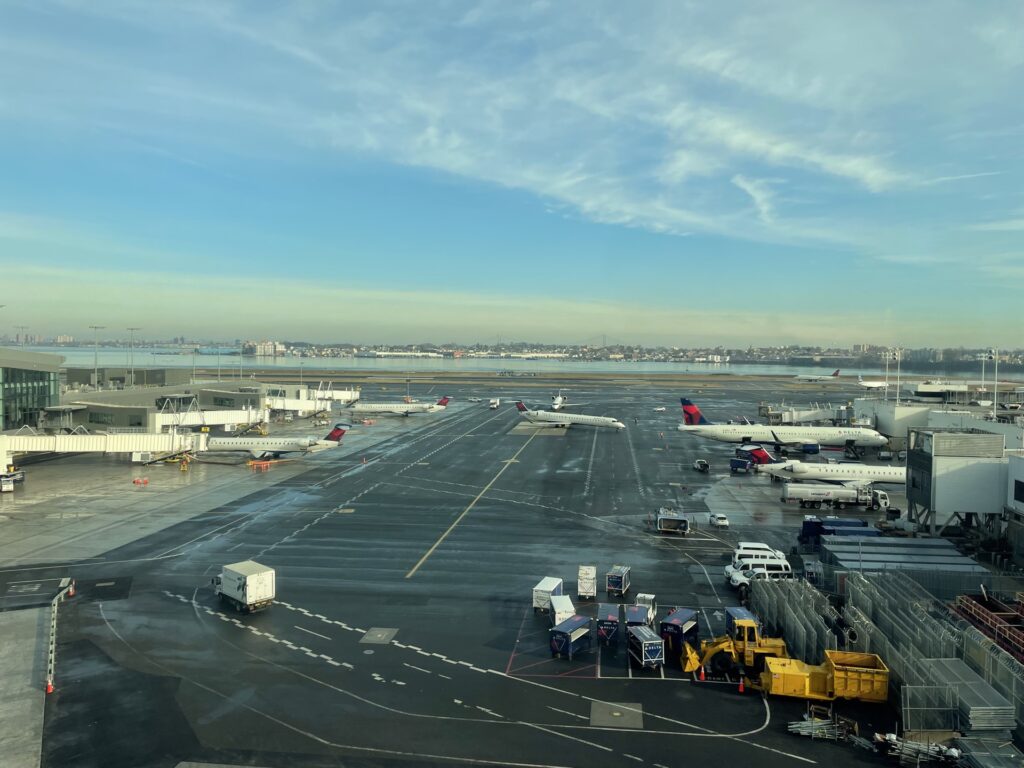 Checking Bags with Delta Basic Economy
The checked baggage policies for Delta Basic Economy are the same as Main Cabin. There's typically a fee for checked bags, and anyone entitled to a free checked bag (e.g. Medallion members, holders of select credit cards) should still enjoy that perk.
Delta Basic Economy Still Gets the 24 Hours Risk Free Cancellation
Delta's "24 Hour Risk Free" cancellation policy still applies to Basic Economy tickets. You can read the specifics here, but the basic idea is that you'll usually have 24 hours after purchasing to cancel your ticket and get a full refund to your original form of payment. After that…
Delta Basic Economy Cancellations have a Cancellation Charge
Delta Main Cabin passengers can cancel their ticket and receive an eCredit (for travel on Delta) for the full amount they paid. (If you pay even more for a "Refundable" fare, you can cancel and get a refund to you original form of payment.) This also means Main Cabin passengers can change flights by paying a fare difference.
By contrast, Basic Economy passengers cannot change flights and have to pay a cancellation fee, currently starting at $99. The remaining balance is refunded as an eCredit for travel on Delta.
Other Delta Basic Economy Differences
Your Delta Medallion status does not matter when you fly basic economy. There are no upgrades (paid or complimentary). You don't earn miles or MQMs, MQSs or MQDs.
Delta Sky Club Members also don't get lounge access when flying basic economy. As of this update, however, travelers who have access through the American Express Platinum, Centurion or select Delta-branded cards will still have access why flying Basic Economy. (Pro-tip: Always check Delta's byzantine lounge access policies before your trip if you think you have access.)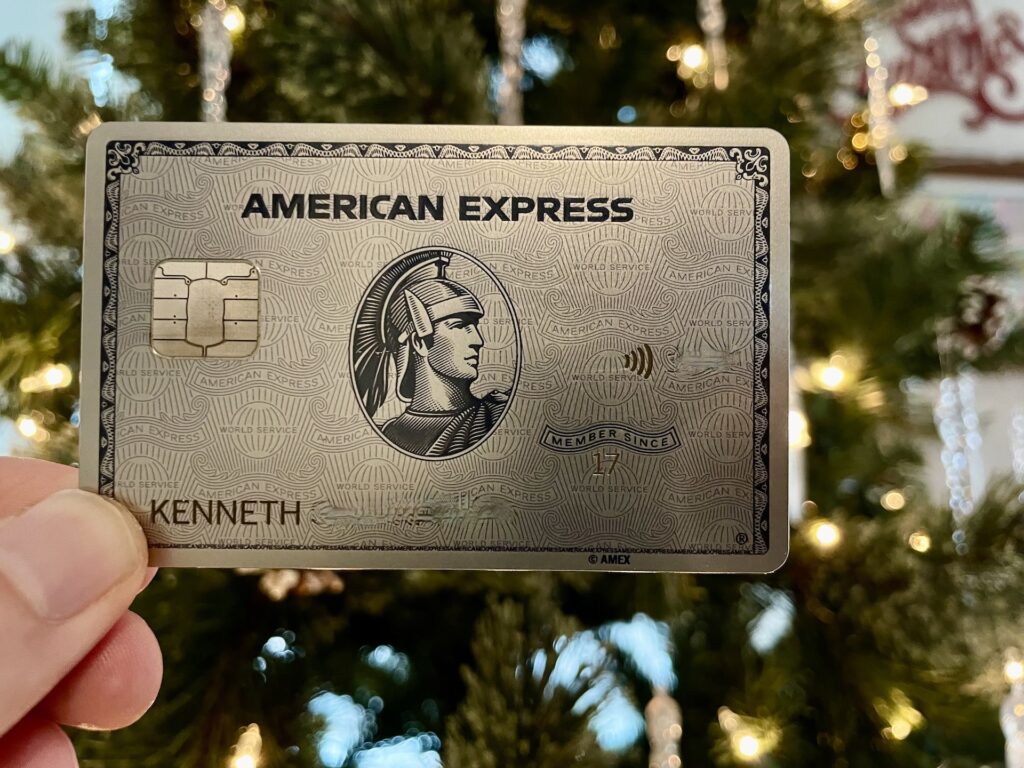 Getting Around Delta's Basic Economy Restrictions
Delta's Basic Economy product is actually pretty generous, including a carry on and the same onboard experience as Main Cabin travelers. That being the case, it's not shocking there isn't any way around these restrictions.
As noted above, Medallion Members still should get priority boarding, but I'd advise any Medallion Member seriously reconsider flying Basic Economy. Holders of select American Express credit cards can still get lounge access with a Basic Economy ticket.
The other restrictions—related to cancellations, changes, and upgrades apply unconditionally to all Basic Economy passengers.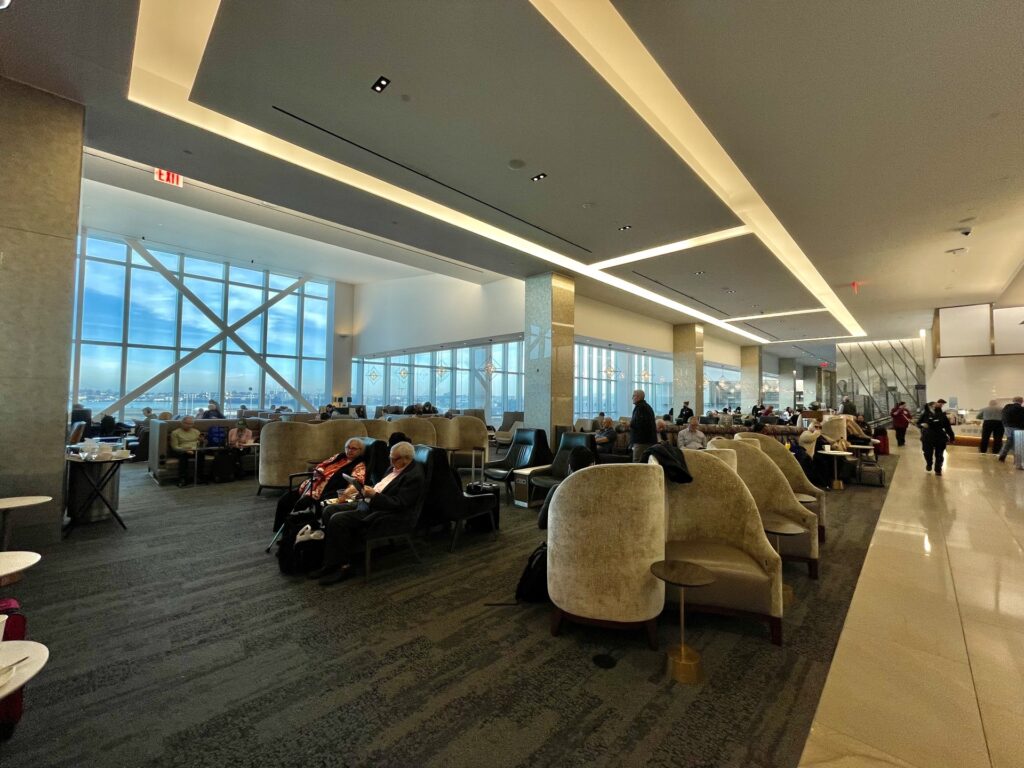 Choosing Basic Economy vs. Main Cabin on Delta
While choosing Basic Economy or Main Cabin is always going to depend on your specific circumstances and the price difference between those two fares, I'm happy to offer some general opinions on the matter.
Anyone with status or pursuing status at Delta probably shouldn't be considering Basic Economy. Medallion status can help you around one big drawback of Basic Economy—late boarding—but you're giving up earning miles and any chances at upgrades. This one is filed under "don't overthink it."
If you're bringing a carry on and not checking any other bags, probably don't fly Basic Economy. Your odds of having to gate check aren't high, but if you do have to gate check you'll have to deal with inconveniences that come with that. Paying ~$30 to avoid this situation and getting seat selection (plus all the other Main Cabin "perks") is a fine deal.
If you want your party to sit together, don't fly Basic Economy. We're typically family travelers, so Basic Economy is not for us for this reason alone.
But if you're a single traveler with a personal item just looking to get from point A to point B, maybe Basic Economy makes sense. You'll be hit with a cancellation fee in case you can't make the flight, so if you have any uncertainty about your schedule the upgrade to Main Cabin is probably sensible.
Overall I like that Delta includes a carry on for Basic Economy passengers, but you're still sort of left at the point that late boarding and a lack of seat selection make Basic Economy more trouble than it's worth in most cases. Delta is, overall, a good airline with a good onboard experience. Be happy they're flying the route you're shopping and probably take Main Cabin over Basic Economy.