I recently flew Delta First Class on a flight home from Orlando to New York. Between COVID and having a child, it's been a while since I've flown first class, and I was excited to indulge again. Join me as we board an A321 and fly Delta First Class from MCO to LGA. In this post, we'll break down Delta's First Class product in detail to help you decide if this premium flight experience is worth it.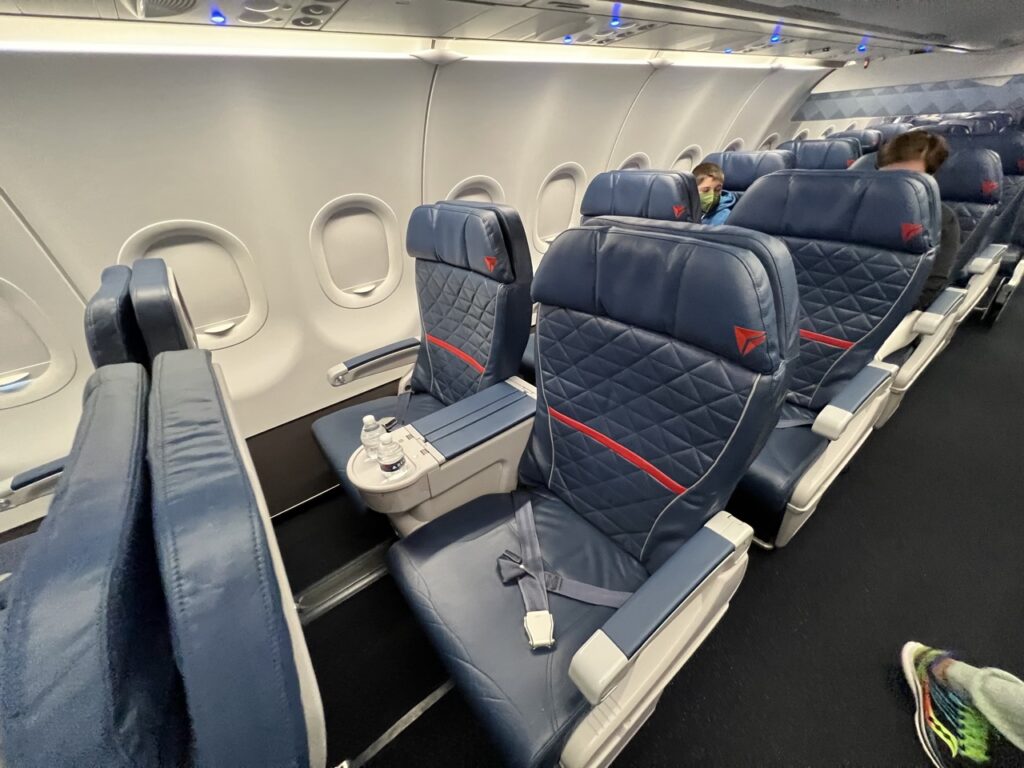 What is First Class on Delta?
Delta has three premium cabin flight experiences. These are three separate products and are not different names for the same thing. All three products are not offered on every flight and typically vary by flight duration and destination.
First Class: Delta's lower-end first class product available only on domestic and short flights
Premium Select: Delta's premium economy product available on international and long-haul flights
Delta One: Delta's top-tier first class product available on international and long-haul flights
First Class is Delta's only premium cabin product on most domestic and short flights. The First Class section is located at the front of the plane and includes perks like larger seats, complimentary food and beverages, and a higher level of service, among other things detailed below.
Be careful not to confuse First Class with Delta One. Delta One is the name of a specific first class product, but not all first class products on Delta are Delta One. Make sure to check which product you're getting when you book your flight. Two of the biggest differences between these products is that Delta One has lie-flat seats and lounge access, while First Class does not.
What Does Delta First Class Include?
First Class is the premium flight experience offered on most domestic and short flights with Delta. Here are a few of the perks you can expect when you fly Delta First Class.
Larger Seats & More Space: Depending on the aircraft, up to 8 extra inches of legroom as well as a wider seat with more space between seats.
Meal Service & Snacks: A full meal is included on flights longer than 900 miles. Snacks are also available throughout the flight.
Complimentary Beer, Wine & Liquor: All beverages are complimentary, which includes all alcoholic and non-alcoholic drinks. (On flights longer than 250 miles.)
Premium Boarding & Seating Placement: First Class is the second boarding group called and seats are located at the very front of the plane.
Free Checked Bags & Expedited Retrieval: First Class passengers are allowed up to two free checked bags, which will be among the first bags down the carrousel at baggage claim. A free carry on and personal item is also allowed.
Sky Priority Check In & Security: Separate, expedited lane to check your bags and breeze through security. (Security lane is not offered at all airports at all times.)
Dedicated Flight Attendant: A top-tier flight attendant will be focused solely on serving the first class cabin, which ensures quality and expedited service.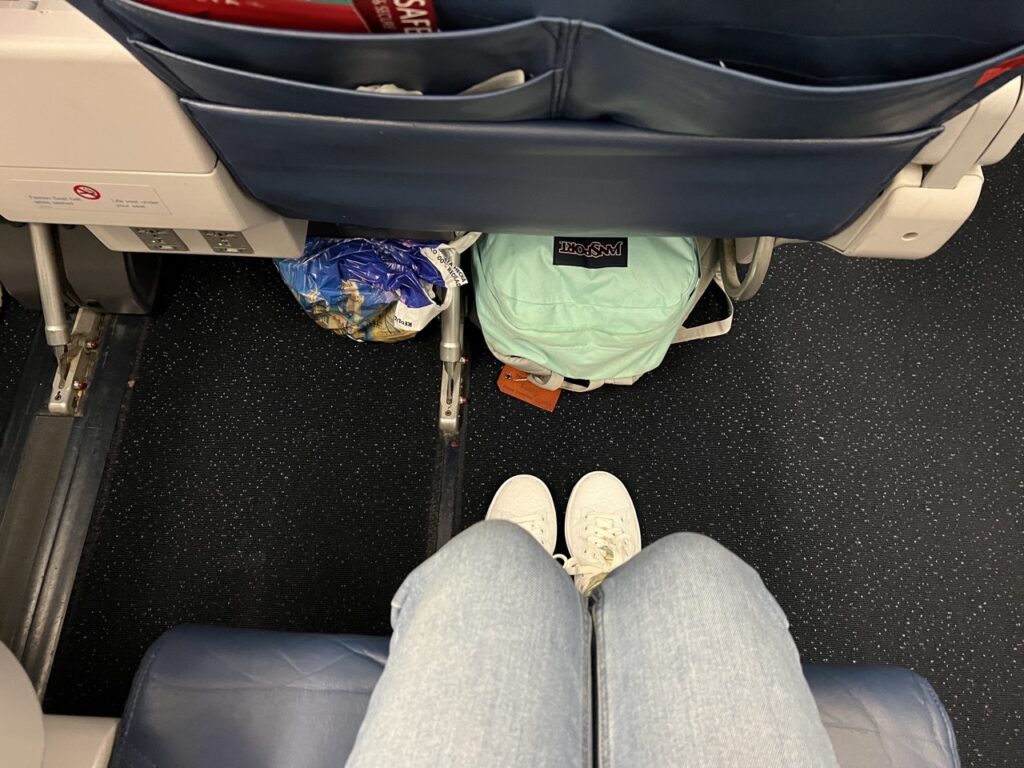 What Doesn't Delta First Class Include?
Delta First Class offers a lot of amenities for a domestic premium flight product. However, there are a few notable things that are not included with Delta First Class.
No Lounge Access. Delta First Class does not include airport lounge access. If you want to access the Delta Sky Club or another airport lounge before your flight, you will need to secure access through another member program or buy a day pass.
No Lie-Flat Seats. Delta's First Class product does not have lie-flat seats. The seats are large and recline, but do not lie flat. Nor is there a footrest or leg support. Lie-flat seats are only offered on Delta One. (Remember that domestic premium cabins won't, for the most part, compare to those on international routes. We've reviewed Etihad Apartments, Singapore Suites, and business class on Air Canada, Japan Airlines, and British Airways (with a toddler!) if you're interested in those. It isn't fair to compare 2 hours in domestic First to those experiences, though.)
No Free Wifi*. First Class does not get you free wifi on Delta. Like all other passengers, you will get free wifi for messaging apps (e.g. iMessage, Whatsapp, etc) or can purchase wifi starting at $5.
*While wifi is not included by way of First Class, starting in February 2023 Delta began offering free wifi to SkyMiles (their free-to-join loyalty program) members on over 500 of their domestic planes.
Buying a Delta First Class Ticket
If you are paying cash or with Delta SkyMiles, it's easiest to book your First Class ticket on Delta's website directly. If you're planning on using other credit card points or miles, you may need to book directly through those program portals.
To buy direct, navigate to Delta.com and enter your destination and travel dates. The search results will give you the list of flights, and all of the available ticket options which will include Main Cabin, Comfort+ and First Class.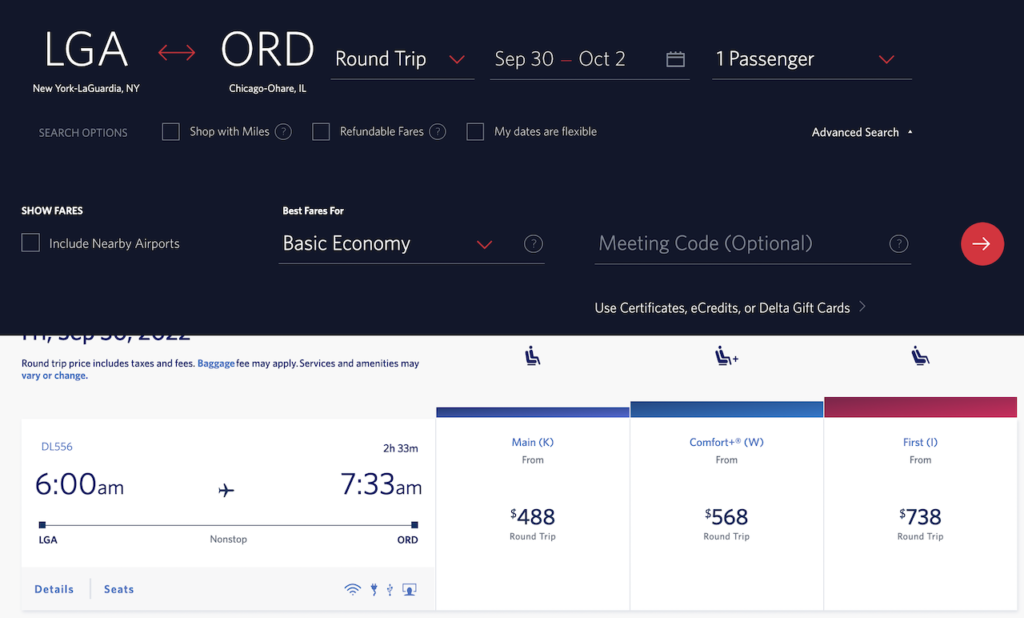 The displayed First Class price includes free changes but is not refundable. When you select your flight from the page above, you'll be given the opportunity to select a fare that is 100% refundable in the original form of payment. The refundable fare will be more expensive than the nonrefundable fare listed on the main page.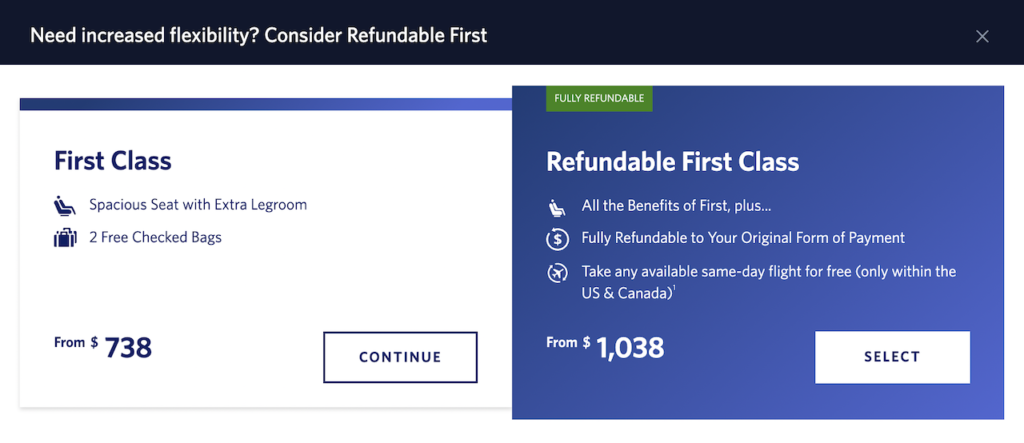 If you're flying roundtrip, you'll be able to select your return service on the next page. You will need to select your seat type for each leg of your journey and they do not need to be the same. First Class will not automatically be applied to later legs simply because you selected it for the first leg.
If you have already booked a Main Cabin seat, you can also upgrade to First Class, if seats are available. The cost for the change will be roughly the difference between the fare you paid and the current first class fare. You can do this online or in the app. You cannot upgrade to First Class from Basic Economy.
Note: We personally paid cash for this flight. We did not use points, we were not comped, and we did not receive a discount.
Departure Airport Experience with Delta First Class
I was flying Delta First Class out of Orlando International Airport (MCO). Delta flies out of terminal B at MCO. If you arrive at Terminal B departures gates via car, Delta will be the first airline you see when you approach the terminal.
Delta First Class includes Sky Priority, which is an expedited check-in and security service. At MCO, the Sky Priority lanes are located across from the standard Delta check-in desk.
Sky Priority lanes are reserved for First Class, Delta One and Premium Select passengers, so the lines are short or non-existent. Premium ticket passengers can go to this desk to check their bags, print boarding passes, or get any additional assistance quickly.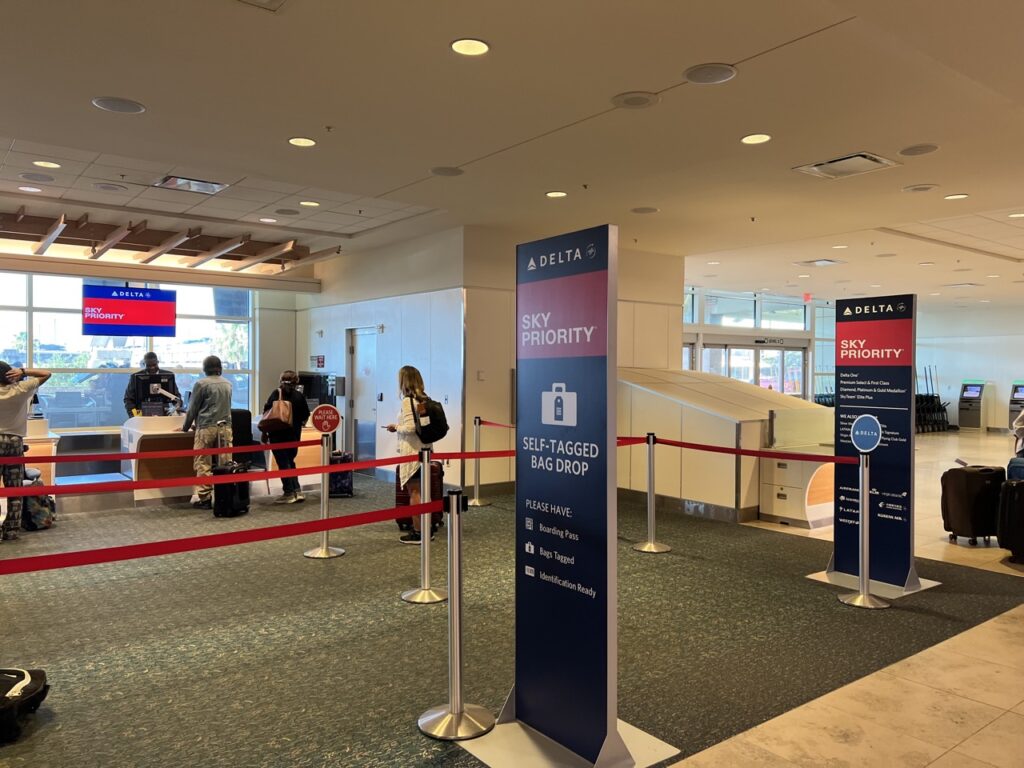 In some airports, there is a separate Sky Priority security lane reserved for premium cabin passengers. MCO does not have a separate Sky Priority security line. If you have TSA PreCheck and/or Clear, these are your fastest options to get through security.
I took the airport tram to Terminal B, and the first thing I saw was the Delta Sky Club lounge. I love starting a First Class travel day at an airport lounge. Unfortunately, Delta First Class does not includes Sky Club access. To access Sky Club, you'll need to buy a day pass or get access another way (e.g. airline status, credit card status, etc.).
Fortunately for me, there is a Priority Pass lounge at MCO in Terminal B. We have Priority Pass membership through our Chase Sapphire Reserve credit card, so I was able to pop in there for a quick coffee and breakfast instead of waiting in the always-long Starbucks line.
Delta First Class Boarding
Delta has a lot of priority boarding groups. Priority boarding is given based on ticket type, credit card status and frequent flier status. Pre-boarding is also available for travelers who need assistance, active military and families traveling with small children.
As a result, you have a lot of people with priority at the gate trying to get in front of everyone else with different priority. It all feels very entitled and judgy to me. Crowded gates aren't unique to Delta, but I find them to be the most frustrating.
All this to say the gate experience was very crowded and chaotic. On this particular flight, the gate agents did very little to clear space for those trying to board. They also did not announce that they were starting to pre-board, which created a lot of confusion and people rushing the gate.
First Class was the second boarding group after pre-boarders (guests who require assistance and active military). Diamond Medallion members (Delta's highest loyalty status level) also boarded with First Class.
Fortunately, I left the chaos behind quickly and made it down the jet bridge. I was pleasantly greeted and welcomed aboard the First Class cabin. There was a small bottle of water at my seat, but there was no pre-flight drink or snack service.
Delta First Class Seats
Delta First Class does not have lie-flat seats. The First Class seats are larger, more comfortable and recline further than main cabin seats, but don't lie flat.
Delta First Class seats on the A321 are placed in a 2-2 pattern, versus the 3-3 arrangement throughout the rest of the plane. As a result, the seats are wider and more spaced out. First Class seats also come with up to 8″ more legroom than the Main Cabin and recline further. There is no foot rests or leg support on Delta First Class seats.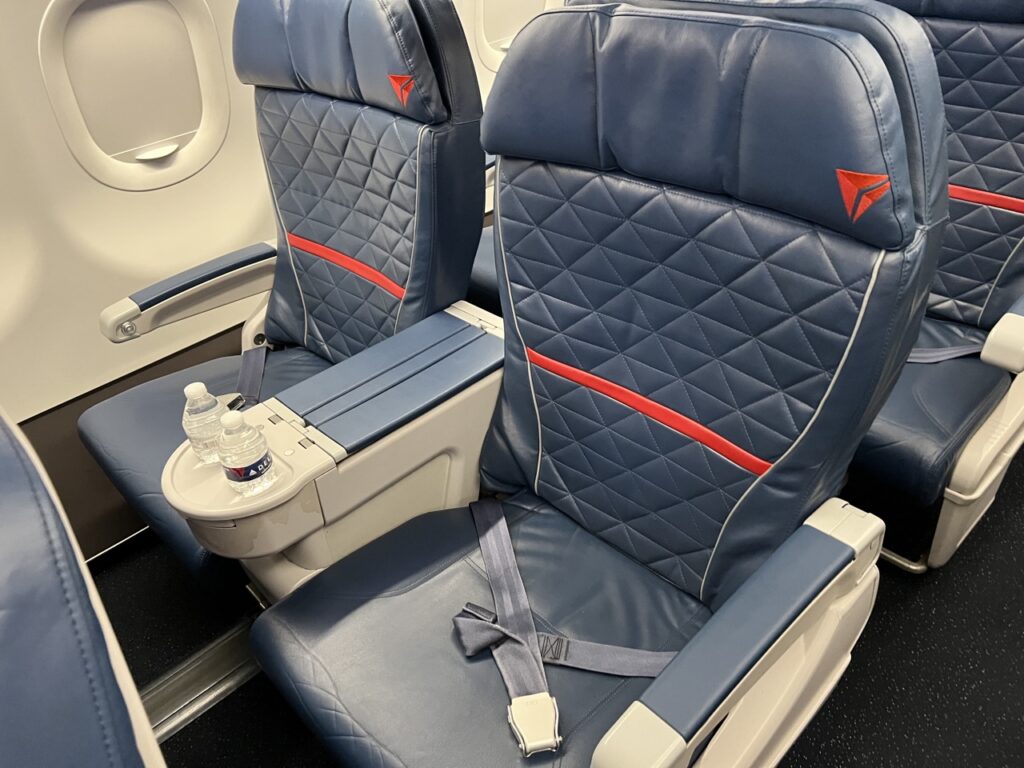 There is an oversized armrest / table between each pair of first class seats. This allows for each passenger to set down a drink and keep a reasonable amount of distance apart. Each seat also has a tray table built into the armrest. The table was quite large and would accomodate a moderately sized laptop.
My flight was midday, but I did recline my seat to test it out. I probably could have slept but not that well. I'm not someone who easily falls asleep on planes, though. My seatmate did sleep most of the flight though, so that's something.
The First Class seats have your typical in-seat storage options. There was a seatback pocket and storage under the seat in front of you (bulkhead excluded). Both of these storage spaces were larger than the Main Cabin as a result of the seats themselves being larger.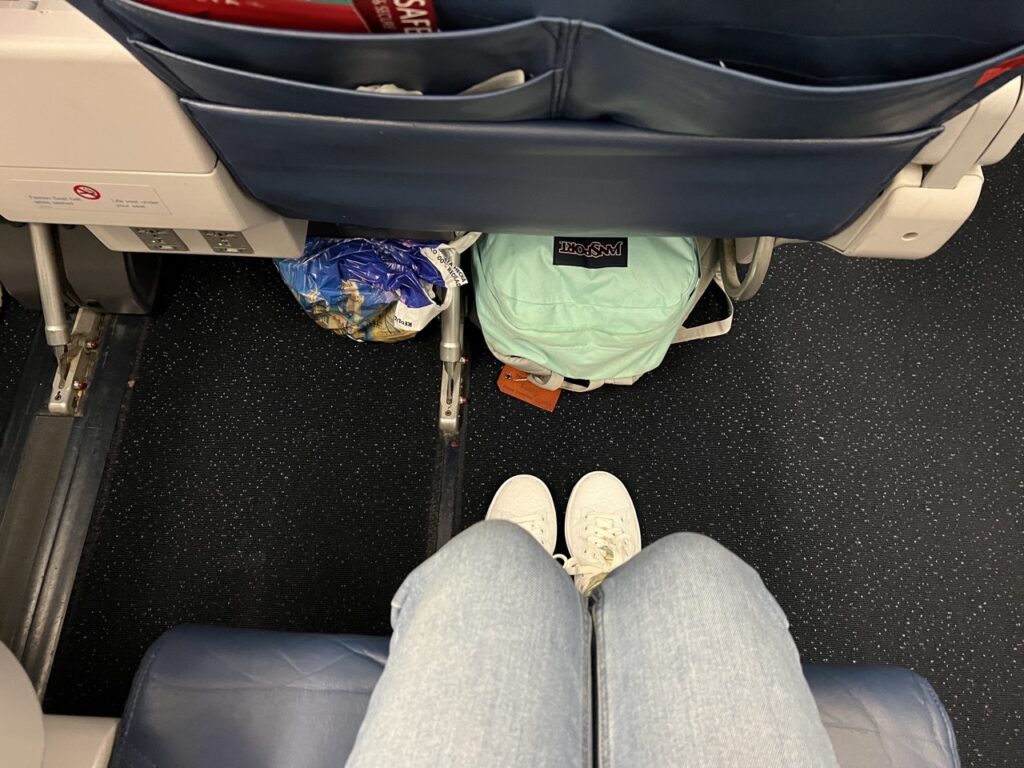 Overhead bin space above First Class is also reserved for First Class passengers. There was more than enough space for everyone in First Class to store all of their bags. Even with the extra storage space, First Class passengers are allowed one carry-on and one personal item just like all other passengers.
If you're flying Delta with a baby, the First Class seats can comfortably fit most any car seat (assuming you purchased a First Class seat for your child and were sitting in a row suitable for children). If you had a lap infant, the extra space would make things much more comfortable than the Main Cabin.
Food & Beverage Service on Delta First Class
Delta First Class includes complimentary snacks and beverages (alcoholic and non-alcoholic), as well as meal service on flights longer than 900 miles.
As I mentioned, there was a small bottle of water at each seat upon boarding. There was no additional beverage or snack service offered pre-flight. This was a bit surprising as I've had pre-flight beverages on every First Class flight I've ever flown, including domestic. I am not sure if this is a lingering Covid policy change or if this is just Delta's standard practice.
Beverage & Snack Service
There was no pre-departure drink offered on this flight. I've flown Delta First Class three times now, and I've only been offered a pre-departure drink on one of those flights. I'm not sure what the standard protocol is for that, which makes it frustrating. I don't think it's distance based, as two of my flights were the same route and only one had pre-flight service.
Anyway, on this flight, the first beverage service began shortly after takeoff. The flight attendant took orders by row, poured drinks in the galley, and then served beverages to each seat. Drinks in First Class are served in glassware versus plastic.
There was no paper menu in the seatback pocket, nor could I find the menu on the seatback screens. The flight attendant told me they had a selection of soda, juices, beer, wine and liquor, and kindly asked if there was something specific I was looking for. There wasn't, I just like to know all the options. I went for the Bloody Mary, which I knew would be a safe pick.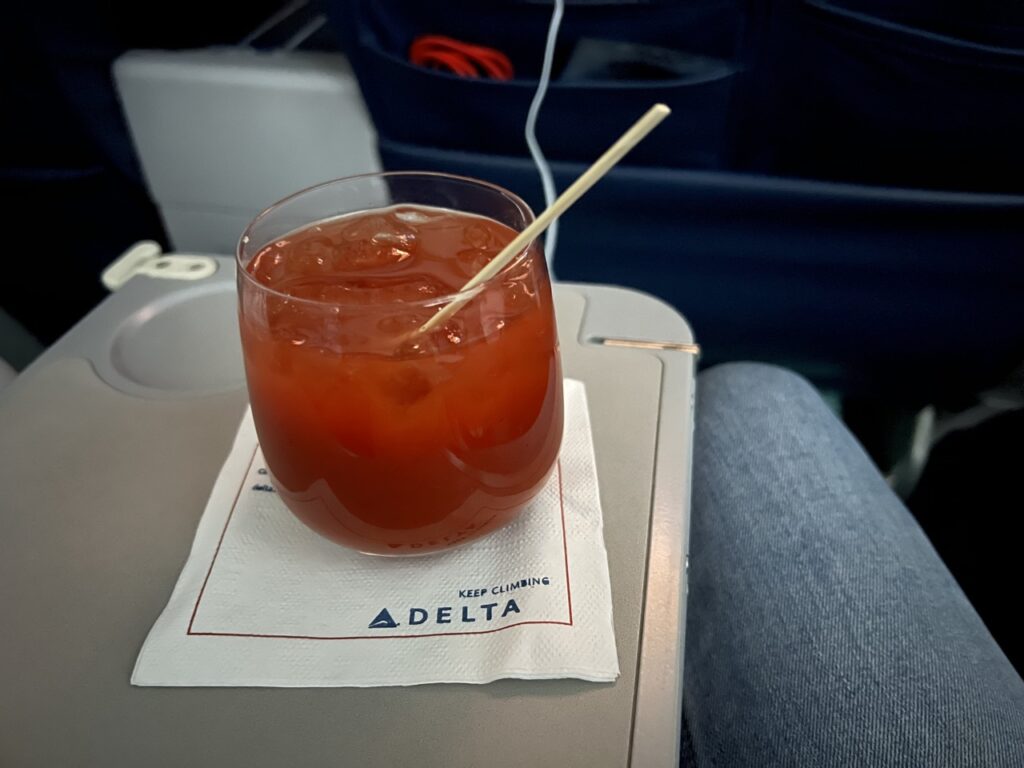 I was offered an additional beverage with my meal, and then there was a second full round of beverage service. My bottled water was also replaced as soon as I finished it. If needed, additional beverages were available by asking the flight attendant.
My biggest complaint about the beverage lineup is that they didn't have Baileys! I learned this when I tried to order a coffee with Baileys after my lunch. The flight attendant joked with me about it for the rest of the flight. I told him I'd put in a formal request for it, so we'll see how that goes. (The Baileys was pretty central to my absolute adoration of Air Canada Business Class, by the way.)
A selection of snacks were offered with the second drink service. This included the basic snack options of salted almonds, Biscoff cookies or pretzels. I was excited about the Biscoffs and the flight attendant insisted I took two. He knew the way to my heart.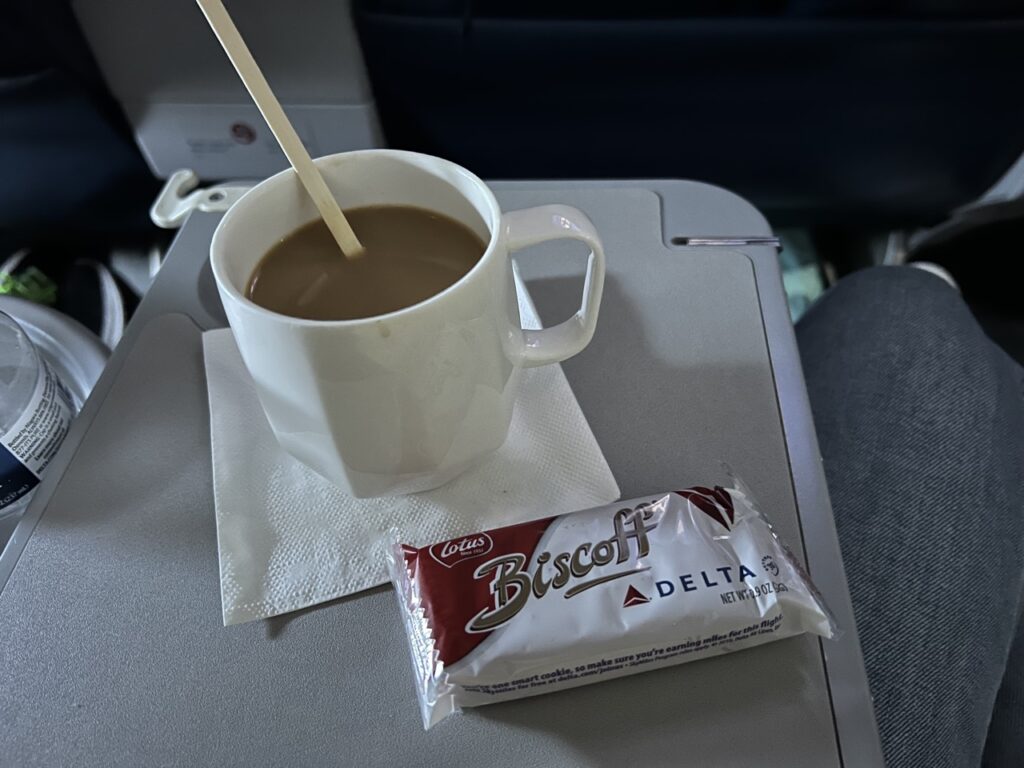 Meal Service
My flight from Orlando to New York was just barely over 900 miles, but it was enough to qualify for meal service.
After our first round of drinks, the flight attendant took meal orders. Again, there was no paper menu, but this time he showed us the meal options on a small tablet. During my flight, there were two vegetarian meal options (one warm, one cold) and one meat option (warm).
I opted for the Impossible burger. I was honestly just excited to not eat crappy plane pasta, which is the usual vegetarian option. The burger was served with a cold spiced cauliflower salad and blueberry cheesecake bar.
The meal was … fine. As a vegetarian, I eat a lot of impossible burgers. The burger itself was good, but the bun was soggy and the cheese was congealed. The cauliflower was bland, but a fine side dish. I'm never one to turn down dessert, so I happy inhaled the blueberry cheesecake. It was more like a no-bake cheesecake flavored pudding, but I won't complain.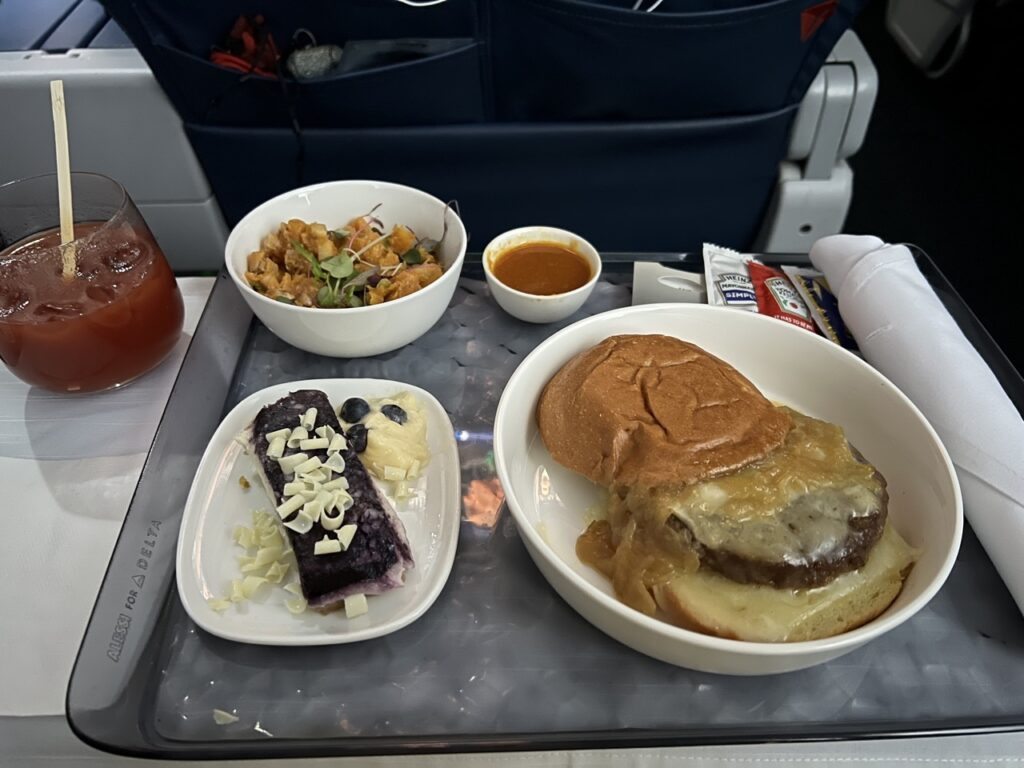 The biggest thing to note about the meal service is that they ran out of options pretty quickly. They took meal orders from back to front. By the time the flight attendant reached the front row, there was only one meal option left. This might be a good reason to choose a middle First Class row if it's available.
If you have specific dietary restrictions, you can sometimes request a special meal (e.g. vegetarian, kosher or gluten free). Special meals are only available on international flights and for First Class on certain routes listed here.
Technology on Board Delta First Class
Most Delta planes, including the A321, still have seatback entertainment systems with a variety of TV shows, movies and games available. This technology feels antiquated now that nearly all travelers have smart phones and most streaming services offer the ability to download shows to view offline.
The seatback entertainment system requires a wired headset and does not connect via bluetooth to wireless headphones. Before takeoff, the flight attendant came around offering complimentary wired headphones to all First Class passengers.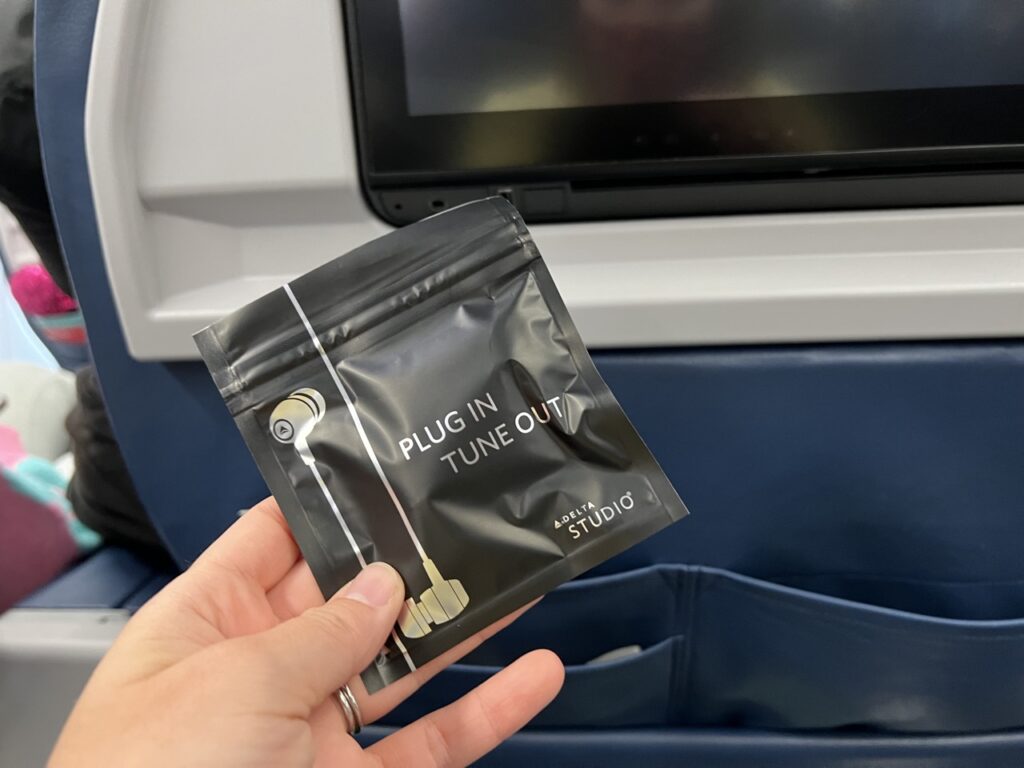 The complimentary headphones were the ones that fit inside your ear. These never fit me right and fell out the entire time. For that reason, I didn't end up watching anything on my seatback screen. Which is a bummer because the entertainment selection on Delta is actually really good.
There were outlets and USB chargers located behind each seat. There was one outlet available for each passenger, unlike Comfort Plus which only had two outlets for every three passengers.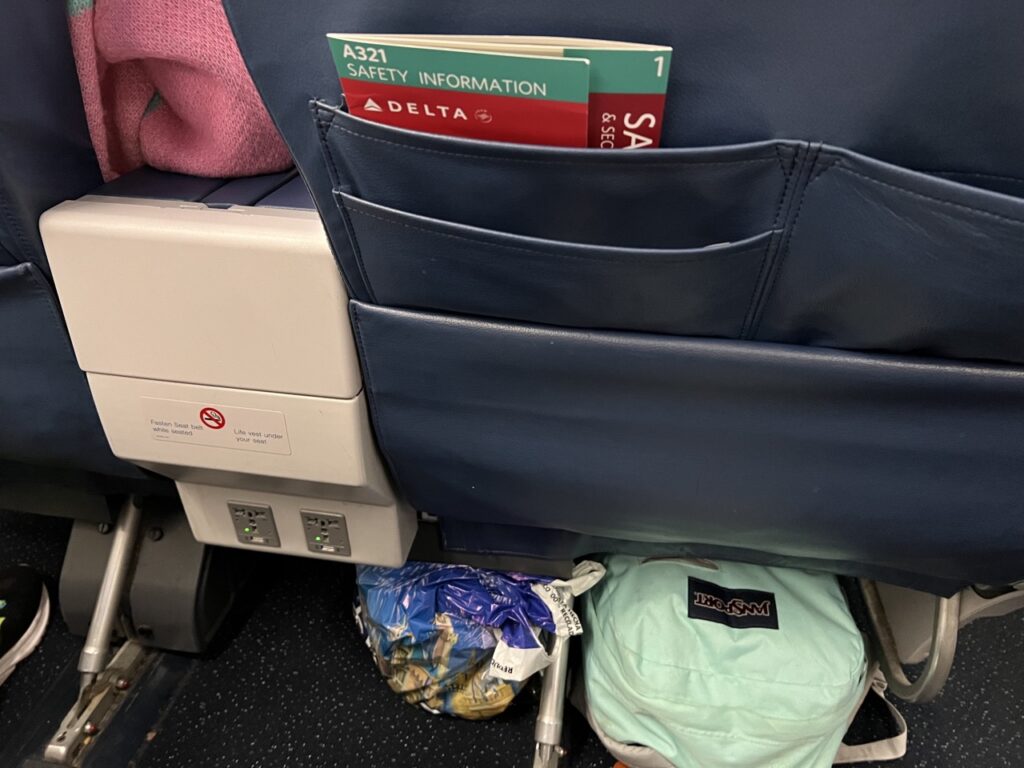 The same wifi services and pricing is available for all passengers regardless of class. Wifi is available for free for messaging services like iMessage or Whatsapp. Enhanced wifi for streaming services or social media was available for purchase onboard for $5.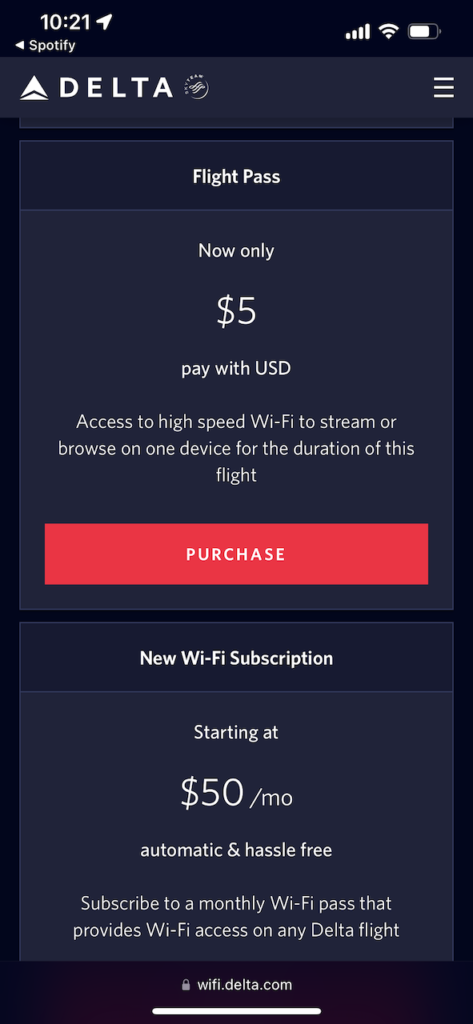 Connecting to the wifi was very simple. Once you selected the Delta network inflight, there was a popup to select your internet type (fee or paid). You didn't need to navigate to a separate website or jump through any hoops.
Service on Delta First Class
One of the perks that comes with First Class on Delta is enhanced service. This primarily comes in the form of a dedicated flight attendant.
The First Class cabin is small, for example there were only 20 First Class seats on the A321 plane. A dedicated flight attendant means passengers are served quicker and more efficiently. It also allows for a better quality of service and personal touches, because the flight attendant has more time to dedicate to each passenger.
In my experience, all flight attendants on Delta have been very pleasant. They're kind, speedy, and get their job done, which is all I can ask for. That said, I found my first class flight attendant took that up a notch.
Drinks and meals were served with impressive speed. I got all my items very quickly and correctly. I personally didn't need additional snacks or beverages beyond the standard service offerings, but many people around me did. He happily topped off wine glasses, replaced beverages people didn't like, and brought over additional snacks as requested.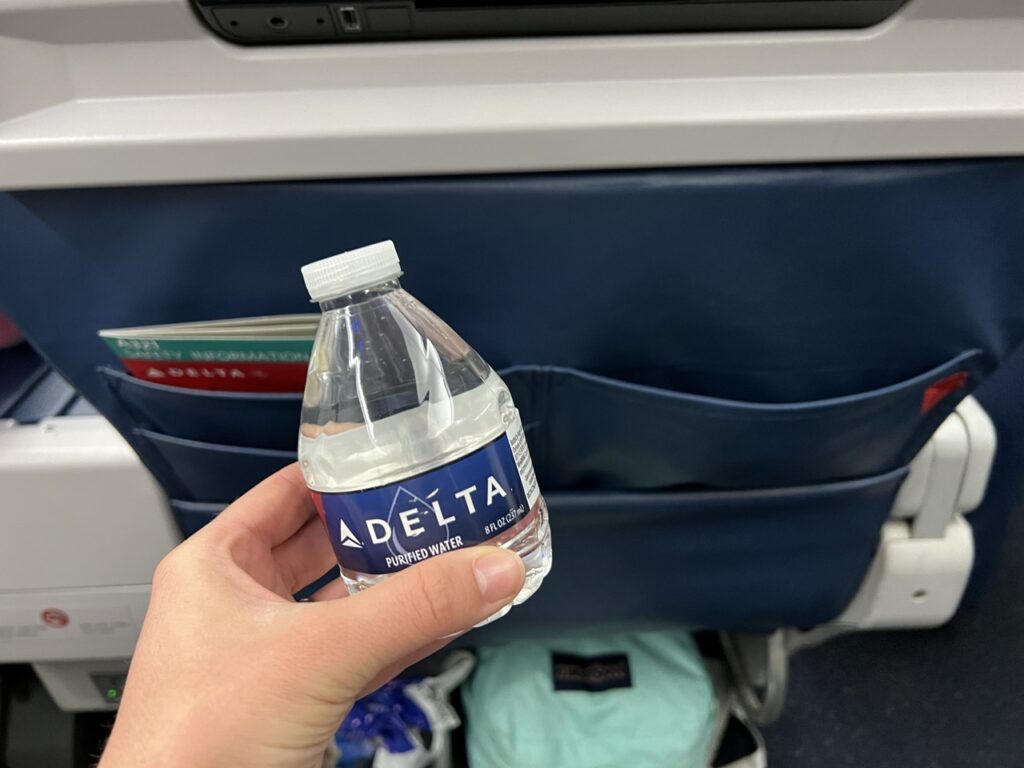 The flight attendant was chatty and friendly enough, but not so much that he overstayed his welcome. It was never so much that it interfered with his speed of service to other passengers.
The service was also more friendly than stuffy, which I appreciate. He joked with me about Impossible burgers and Baileys, and insisted I take multiple cookies because he could tell I was excited about them. These are little things that add up to a pleasant flight experience.
What I like about Domestic First Class on Delta is that it's not elite or over the top. This is not a butler situation. We're not flying Singapore Suites here. Instead, it's quality and friendly service offering you some low-key premium offerings.
Is Delta First Class Worth It
Delta First Class is a pleasant experience. The seats are substantially nicer than Main Cabin (which we review here), the service is good, and the complimentary food and beverage selection and quality is fine. There's nothing wrong with the product that is offered. The problem is that the product offered isn't enough to justify the ticket price.
First Class is considerably more expensive than other ticket options. Since First Class is only available on domestic and short flights, most flights are going to be under three or four hours. It's usually just not worth the extra money for a couple hours of added comfort.
To be fair, I don't think any domestic first class flight experiences are ever really worth it. The flights are relatively short, the product isn't that great, and the tickets are still really expensive. Sure, you can use points and miles, but it's rarely a good use of them. You can almost always get more value putting those points toward a higher quality, longer flight experience.
If you're looking for a slight upgrade from Main Cabin but don't want to commit to First Class, I'd suggest trying Delta Comfort Plus. This is an enhanced Main Cabin flight experience that offers a bit more leg room and also includes complimentary beverages and snacks.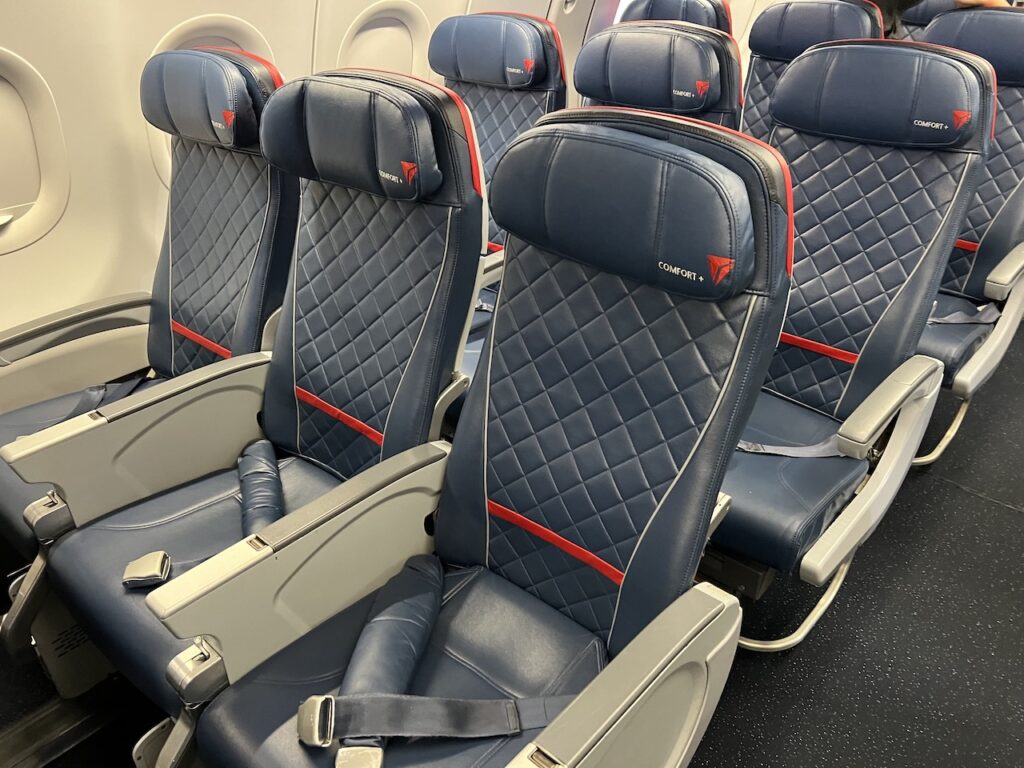 That said, there are a few scenarios in which First Class may be worth it. If you have points to burn and won't otherwise be taking an international or long-haul flight, there's no harm in using them on domestic First Class. It's also a nice spurge if you're traveling for a special occasion.
Otherwise, I would say save your money and skip First Class on Delta.
Final Thoughts on Delta First Class
Generally speaking, I really enjoyed my First Class flight experience on Delta. I was very comfortable, the flight attendant was a treat, and I love a free plane cocktail before 11 AM. Like I said, there was nothing wrong with the experience, there just wasn't enough offered to justify the price for me (we felt similarly about United's Domestic First Class).
I'm an everyday budget traveler at heart who likes to indulge on true luxury flight experiences (but only when I can book them strategically using points). Delta First Class just isn't an overly luxe flight experience. So for me, I'd rather fly Spirit Big Front Seats while I save up the points for my next flight in the Etihad Apartments.
What about you? Have you flown Delta First Class? If so, I'd love to know what you thought. Let us know in the comments!