Other than the ridiculous airline-issued pajamas I'm wearing, I've never felt more legit in my life. Right now, I'm cruising at 34,000 feet, above some country that doesn't allow me to use my free inflight wifi (India, I think?), sipping on Krug Champagne, marathoning the Batman trilogy (the Christopher Nolan version), with my feet propped up on the second seat I have available to me in my suite. That's right, I said suite. Today we're flying the elite Singapore Suites from Singapore to London, one of the premier flight products in the world.
This flight experience is dripping with luxury, from the expensive Champagne options (that's right, I could be drinking Krug or Dom Pérignon right now) to the absurdly spacious quarters to the impeccable service. There's a reason this ticket costs upwards of $7,000 USD. Us though? We prefer to pay with points. We booked our two tickets using a combination of 81K Chase Ultimate Rewards points, 52K American Express Membership Rewards points, 50K Citi ThankYou points, plus $409.99 cash for taxes and fees.
We've been thoroughly impressed by this flight experience (obviously). From the moment we got out of our Uber, we have been waited on hand-and-foot by some of the kindest and most efficient staff that we've engaged with on our 35 flights we've flown over seven months of travel. While that's not surprising — I mean, this is valued as the most expensive flight we've ever taken — it's worth noting just how great the service really is.
Join us onboard an Airbus A380 as we fly Singapore Suites from Singapore to London.
Other Long-Haul Premium Cabins
Before we go on, if you're interested in building your bucket list or seeing what we think of other long-haul premium cabins, check out some of these reviews:
Flight Stats
Origin: Singapore Changi Airport (SIN)
Destination: London Heathrow (LHR)
Flight Cost: 81,000 Chase Ultimate Rewards points + 52,000 American Express Membership Rewards points + 50,000 Citi ThankYou points + $409.99 cash for two tickets
Payment Method: Cash + Points
Value per Point: $0.08
Flight Date: 3/11/18
Flight Time: 13 Hours 52 Minutes
Flight Delay: 0
Miles Covered: 6,765
Airline: Singapore Airlines
Plane: Airbus A380
Class: Suites
Entertainment: Batman Begins, The Dark Knight, The Dark Knight Rises, Coco
Amenity Kit: Pajamas, slippers, eye mask, fragrance, body lotion, face cream and lip balm.
Food: So much food! Details below.
Drink: Champagne (Krug & Dom), Singapore Sling, Mocha, Hot Tea, Cappuccino
Primary Language: English
Singapore Suites vs First Class
Before I get started, I want to clarify the terminology. Singapore Suites is one of the premier products offered by Singapore Airlines, but they also have First Class. Suites passengers and First Class passengers share many of the same off-plane benefits, but the difference between the two has to do with the seat configuration and services available on the plane. Based on the plane and route, the top class will either be First or Suites. No plane has both Suites and First Class seats. I refer to the First Class benefits in this post, so I wanted to clarify. (And none of this should be confused as being remotely similar to what you'll see in domestic First Class by the likes of United or Delta.)
Let's get started.
Airport Check In
Did you know that First Class (which includes Suites) on Singapore Airlines has its own First Class entrance? It's insane, I know. But when you drive into Changi Airport in Singapore you'll see a turnoff for Singapore Airlines First Class. This will take you right to an exclusive First Class check in area.
If you're arriving at the airport via public transit, the First Class entrance is a bit of a hike. Don't worry, there is still a First Class desk at the regular check in the main departures area, which will still move you through at lightening speeds. We actually chose to take an Uber to the airport just so we'd get to experience the premier check-in entry without being all sweaty from walking there with our backpacks from the train.
When we got out of our Uber, we were promptly greeted and received help with our bags. (And by bags, I mean our totally backpacker Osprey backpacks, a surefire giveaway that we booked with points.) We entered a beautiful room with flowers and plush seating where we were escorted to a desk to check in. Here, we provided our passports and received our boarding passes and lounge entrance tickets. We turned over our backpacks to be checked and were pointed to expedited immigration in a matter of about five minutes.
First Class had a special immigration line, and thus there was no wait. We breezed through immigration and made our way to the lounge. If you provided fingerprints upon arrival into Singapore, you could scan your passport and go through the automated line. We didn't produce fingerprints at arrival, so we had to go to the agent and produce them at departure. Wait time: about two minutes.
Changi Airport has gate side security, so we headed straight to the land-side lounge.
Silver Kris Lounge
Silver Kris Lounge comprises three separate lounges: Business Class, First Class (for flyers on partner airlines) and The Private Room (for First Class and Suites passengers flying with Singapore Airlines specifically). We never saw the Business Class lounge, but we walked through the First Class lounge on our way to The Private Room, and it looked very nice as well. However, it's tough to compete with The Private Room.
When we arrived at the lounge, we presented our ticket for The Private Room. We were then escorted through to our lounge with the greatest host. He asked if it was our first time and was so excited to hear that it was. As we walked over, he mentioned that The Private Room was really quiet. When we got there I made a point to tell him how right he was. There was only a handful of other guests in the lounge when we arrived and it was eerily quiet! I felt like the entire lounge heard my breakfast order. Granted, it wasn't even 7 AM and it livened up a bit as time went on.
The Private Room offers table service dining as well as some self-service options including fruit and tea sandwiches. Drink service included top-shelf alcoholic beverages, fresh fruit juices, and a full coffee bar. We started our day with a glass of Dom Perignon champagne, Kenny ordered French French Toast and I opted for Eggs Benedict (with no meat). We appreciated that the meals were delicious and well portioned, as not to spoil our appetite for the upcoming inflight meals.
After our meal (and cheesing for a whole bunch of photos), we left the dining area and moved into the lounge area of The Private Room. From here, I ordered a cappuccino, we watched some planes and some soccer, and relaxed a bit before it was time to board our flight. The lounge also is equipped with showers, which I was really tempted to utilize but didn't end up using them.
When it was time to board, a delightful Singapore agent approached us and told us our flight was boarding and we could head down at our convenience. We headed down shortly after.
Security
Changi Airport has security check points at each gate, but there is not a priority line. We arrived at security at the time our plane was boarding, which meant that most of the flight's passengers had already gone through. Security was quick and we arrived at our gate about 15 minutes after departing from the lounge.
The Suite
Ah, the suite. It felt more like we were in a hotel room than we were on a plane. Between the two of us, our space on this plane was almost the size of our bedroom in our old apartment back in Chicago. Not only was there plenty of space in the suite, but everything was extremely comfortable.
The suites are set in a 1-2-1 pattern, so couples wanting to travel together will want to sit in the middle. The middle two suites are almost completely connected, making it feel like one huge suite.
Each suite has a main seat, which was oversized and extremely plush, plus an extra bench seat for a second passenger or if you just wanted a change of scenery. No non-Suites passengers are allowed in the Suite space, but if you were traveling with another Suites passenger, they could come sit with you. This is particularly useful for passengers traveling together who aren't sitting in the middle two Suites or odd-numbered parties. It would also be great to play a game or share a meal or snack.
Pulling out of the center console was an oversized tray table which made meals and work a breeze. Speaking of oversized things, the tv was gigantic. I can't even tell you if it was touchscreen or not because it was so far away, but the remote near my seat worked great.
There was no overhead bin space in the Suite cabin, so any carryon bags could be placed under the guest seat across from you. Other than that space, there was actually not a ton of storage spots in the suite. There was a magazine slot, where I stored my laptop, a small shelf near the armrest, and a tiny trash receptacle for anything you accumulated between service (aka not necessary).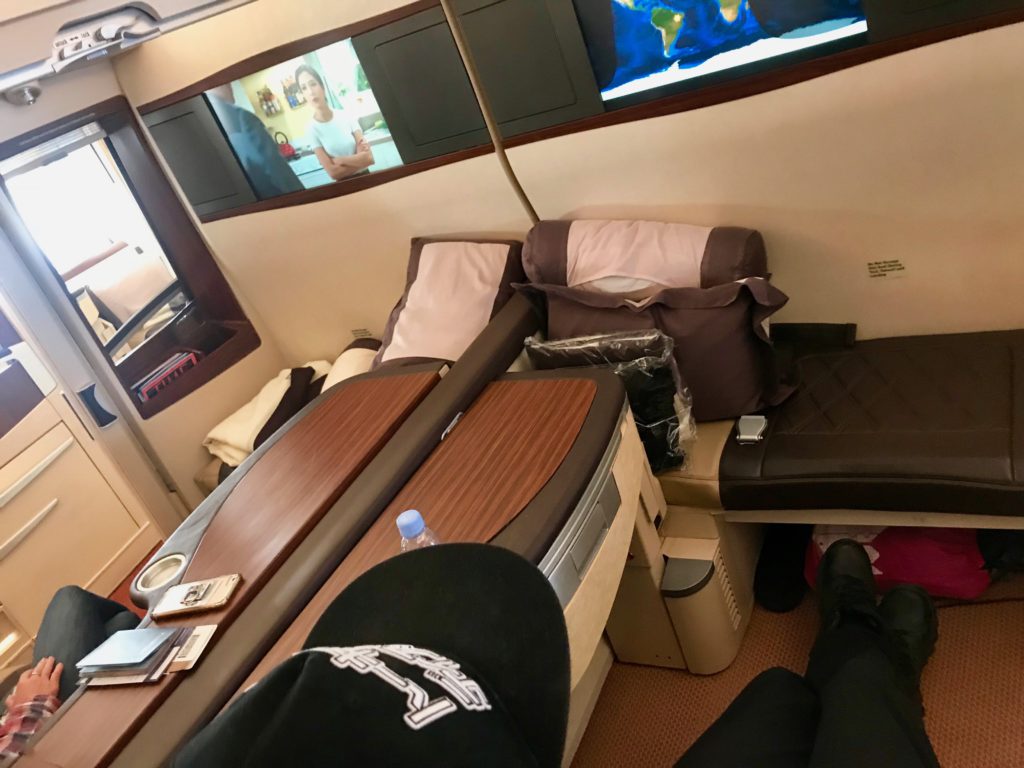 Amenities
Let's start with the pajamas. When I was researching this flight, I got weirdly excited about the inflight pajamas because that's not something I've ever had before. They were jogger pants and a henley long sleeve top made of a light cotton material. I found them to be very comfortable. They looked a little silly, but were worth wearing for such a long flight.
We also received a deluxe amenity kit by Lalique. There were different cases for men and women, and each included fragrance, body lotion, face cream and lip balm. They also included a quart-sized zip lock bag so you could pack your liquids on a later flight, which we ended up needing to do. We were also handed fuzzy eye masks and slippers.
We also had Bose noise-cancelling headphones, a slew of pillows, and a blanket to use on the plane. Other amenities such as razors, toothbrushes and combs were fully stocked in the bathroom (which was also extra spacious).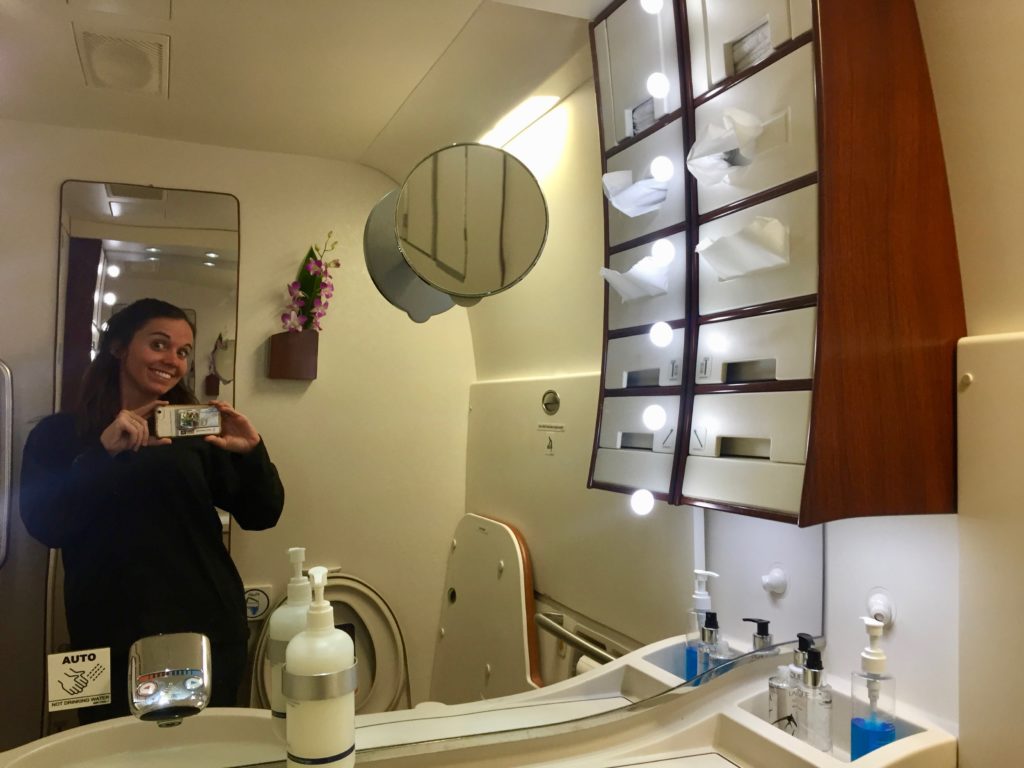 Food & Drinks
The drink service was on point. When you ordered a drink (which we obviously did), you got bottomless drink. We were drinking Krug and never had an empty glass. It is worth noting that about halfway through the flight, we were notified that they were actually on their last bottle of Krug. At this moment, the flight attendant profusely apologized and said he'd be happy to keep serving us Dom. Life is rough, but somehow we got by.
The drink menu also included a full wine list, top shelf liquor, cocktail menu, mocktails, illy coffee selection, espresso drink options and a whole slew of teas to choose from. Throughout the flight, we also tried a Singapore Sling, red wine, cappuccino, mocha and tea
Singapore Airlines offers a feature called "Book the Cook" for premium cabins (premium economy and above) on select flights. While most airlines allow passengers to select a meal based on dietary restrictions, Book the Cook allows guests to preselect specific meals from a full restaurant-style menu. Being vegetarians, this is awesome because our lacto-ovo vegetarian selection almost always gets us pasta and sauce.
Our flight included breakfast and lunch. For breakfast, Kenny chose to order off the menu, which we could see in advance included a vegetarian option of a green tea waffle with strawberry compote. I used Book the Cook to pre-order my meal, and opted for the regular waffle with fruit compote. Our breakfasts came with a choice of bread, yogurt and fruit plate. The waffles were just okay. They were really dense and overly sweet, but still good by airplane standards.
For lunch, we both utilized Book the Cook to preorder two different meals. We chose the Pistachio Crusted Paneer with Fruit Yoghurt Salsa and Mint Chutney and Grilled Herb Marinated Tofu with Potato, Boiled Eggs, Beets and Arugula Salad in Dijon Mustard Vinaigrette.
The pistachio paneer was incredible and was a full Indian-style meal. This was really good by ground food standards and amazing by plane standards. It was seriously so delicious. The garlic herb tofu was … not. It tasted like the healthy option, but was overall quite bland and the potatoes were nowhere near cooked.
Our lunch came with bread service, mushroom cream soup and salad. It was also followed up with dessert of ricotta cheesecake and a cheese plate. (If you read my last flight review of Japan Airlines' Business Class, you'll understand how happy I was to get real dessert instead of fruit!)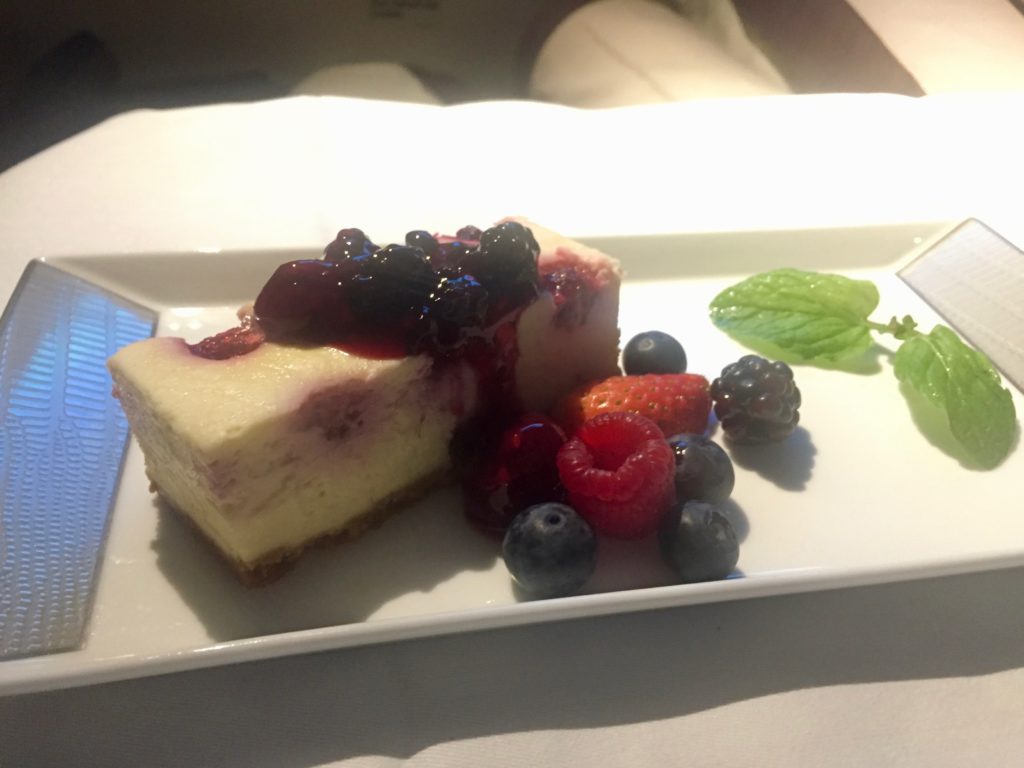 It's important to note that when you utilize Book the Cook it only refers to your entree, but does not flag you with a dietary restriction. This resulted in a bit of a hiccup because they brought us meat satay as our appetizer. Once we let the flight attendant know we were actually vegetarian, she was more than happy to accommodate and apologized profusely for the mixup. This only resulted in a slight delay with our meal.
In addition to the two full meals, there was also a "Delectables" menu, which you could order from anytime. This included snack items like cookies and trail mix, but also more substantial items such as a cheese plate or sandwiches.
Suite Beds
Our 14-hour flight was from 9:30 AM Singapore time to 2:30 PM London time. Not only was it a daytime flight, but we also usually try not to sleep on east-to-west flights so that the time change doesn't mess us up as much. While we didn't want to sleep, we definitely wanted to try out the full bed. After watching two Batman movies, we buzzed the call button and asked the flight attendants to make up our bed.
During our flight, there were several open suites, mostly the single suites along the windows. So while they were making up our bed, we popped into a nearby empty suite. We're not sure how the logistics of this would work on a nighttime flight that was fully booked, but making up the bed only took a few minutes so maybe it's not an issue.
When the beds were made up, they refilled our drinks and shut the doors behind us. And there we were, sitting on a full-size bed, drinking fancy champagne, on an airplane. Life was good.
In case you were getting any wild ideas of joining the Mile High Club, even though the doors are closed, it's still not a private room. There's not a closed ceiling and the blinds on the suite's "windows" have a sheer mesh at the bottom so flight attendants can ensure you're properly buckled even while sleeping.
Arriving in London
Sooner than we'd like, we were landing in London. It was the first time that getting to London wasn't the most exciting part of my day. The last perk of Singapore Suites was our ticket for expedited immigrations. While the regular line wasn't that bad when we arrived, both the regular and expedited lines were quite long by the time we were finished.
If you've gone through immigrations at Heathrow, you know it can be a nightmare. Last time we were in London, we waited in line for over an hour. While we didn't have to wait long getting to an agent this time, we did get quite the holdup while trying to pass through.
Our round-the-world trip seemed to flag our agent, and he asked to see our full itinerary from US to US. If you've been following along on our trip, that's quite the tall order for us. We weren't expecting to have to provide this documentation (it's not technically required for entry) so we weren't prepared at all. The agent was really nice as we struggled to connect to the wifi and search for all of our flights. After about 10 minutes, he finally eased up and said just our onward ticket from London to the US would work. About 15 minutes later, he let us through.
And just like that, our luxury trip was over and we were taking the Tube to our hostel in London. It was back to travel life for us.
Closing Thoughts
This flight experience was absolutely incredible. We were thrilled to be able to fly Singapore Suites and even more thrilled that it only cost us $400 cash. The hospitality of the Singapore flight attendants and airport staff made us feel spoiled, comfortable and appreciated, and they are the reason the experience was so memorable. If you ever find yourself in a position to fly on Singapore Suites, especially with points, I hope you jump at it because it is one you won't soon forget.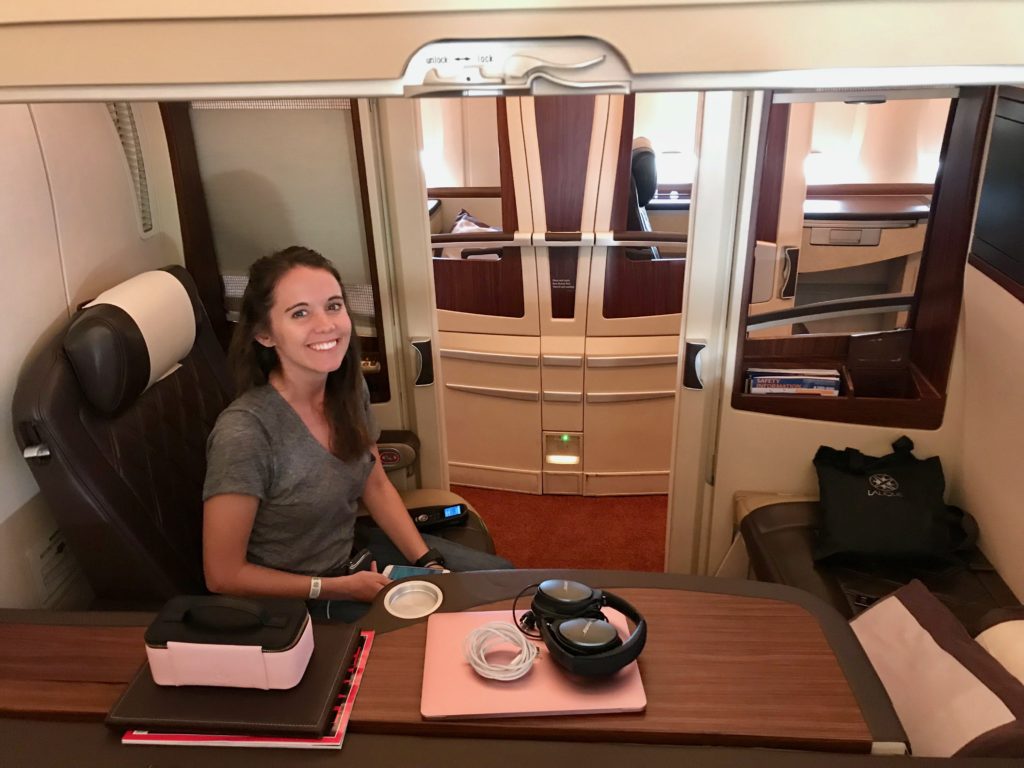 While we love these luxurious flight experiences, we can't get used to it. Just three days later, we boarded an 11-hour flight on low-cost airline, Norwegian.