In this post, we're going to discuss the "Basic Economy" fare class on United Airlines. We're going to explain how this differs from regular ol' Economy, why you may or may not want to book it, and how you might use it to save on your trip without all the usual downsides. Read on to learn all about United Basic Economy!
My Example Flight
For the purpose of this post, I'm going to use an example itinerary to show you how you might compare Basic Economy and Economy on a flight you're considering. I'll use a one-way flight from LGA to ORD, UA 623, on October 3, 2023.
Searching via the United website, the results immediately show pricing for this flight is $86 in Basic Economy vs. $116 in Economy: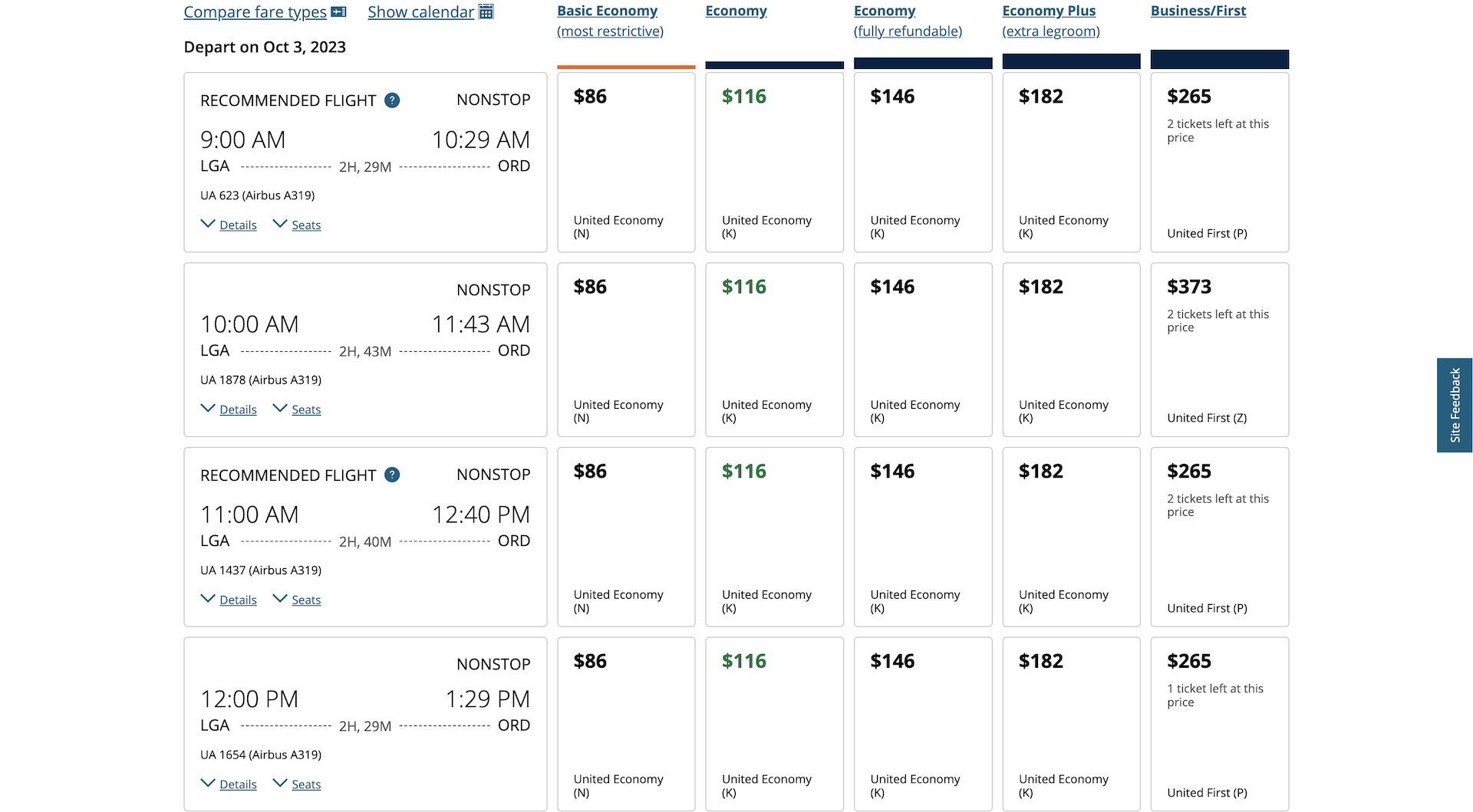 There are a few other points of interest in that screenshot. First, you can see at the top that United states Basic Economy is the most restrictive fare. We'll see exactly what this means in a little bit.
Second, at the bottom of each price box you can see the fare class currently available for booking, with Basic Economy coded as "N". This is a wonky note and not something you'll usually need, but sometimes searching out your fare code is the only way to tell whether you've booked Basic Economy or not. As of this post, "N" is the only Basic Economy fare class.
Third, there's a "Compare Fare Types" link that will immediately give you some important information about Basic Economy. Here's what that pop-up looks like: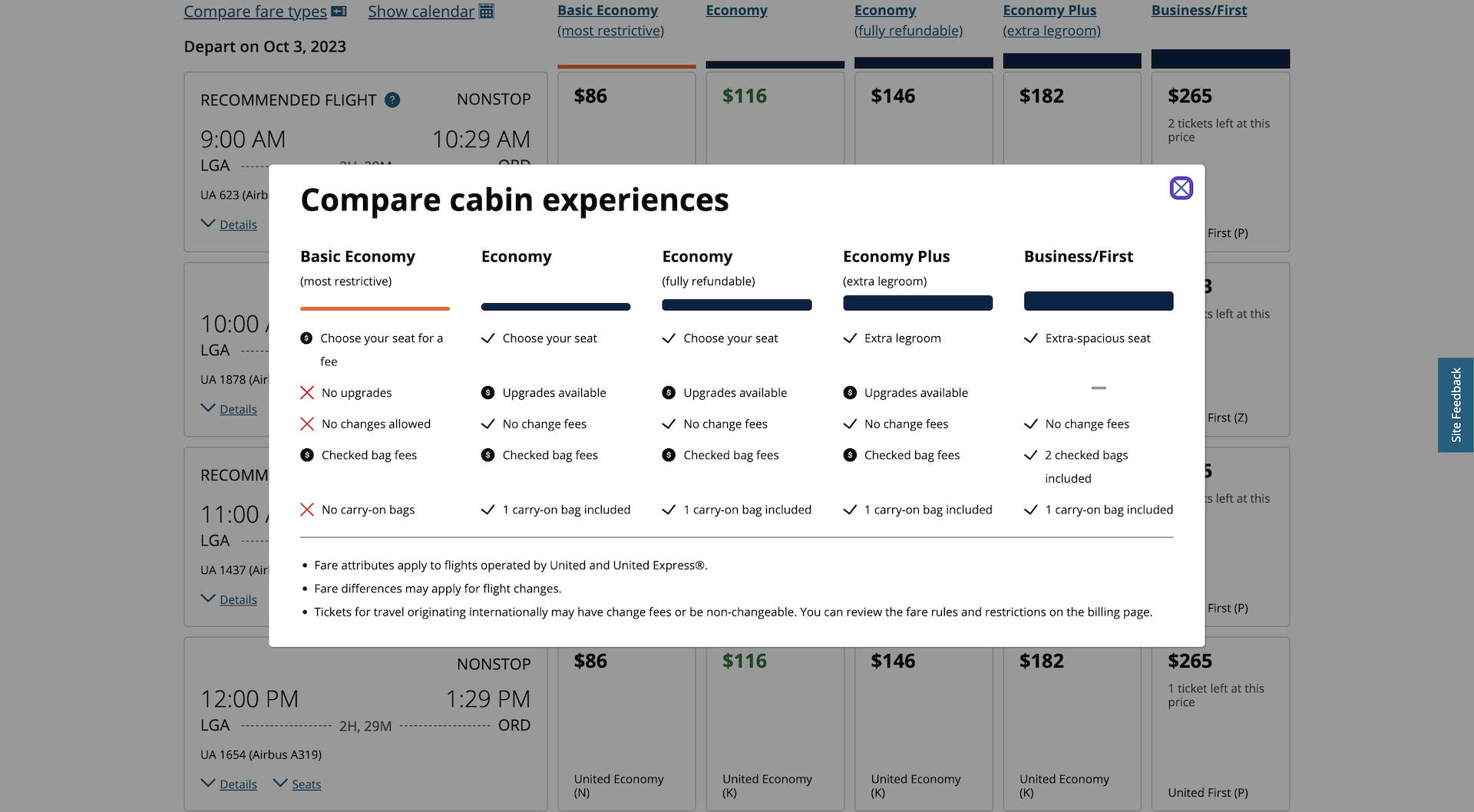 With that handy popup, let's start comparing United Economy to Basic Economy.
United Economy vs. Basic Economy
Besides this popup when booking, United has a page dedicated to explaining Basic Economy fares, and since these are always subject to change you should confirm things there, but I want to talk about the major differences as they stand now.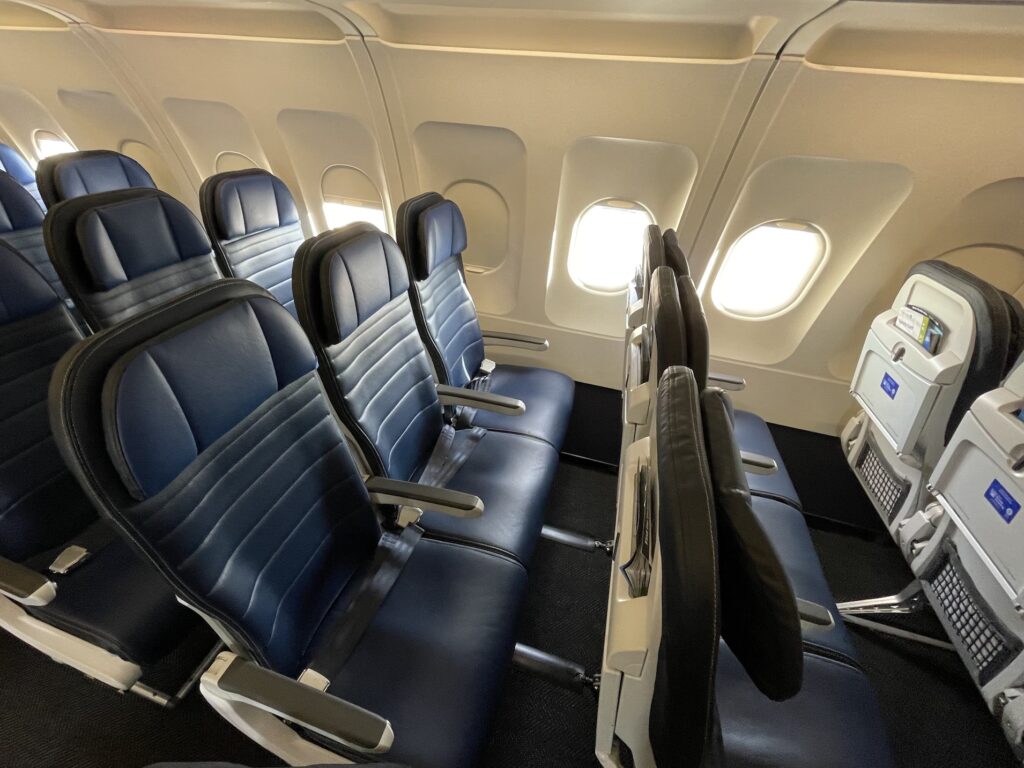 Does United Basic Economy Get a Carry On?
Basic Economy fares on domestic routes don't include a carry on. You're only allowed a personal item, sized up to 9 inches x 10 inches x 17 inches. This is one of the most restrictive personal item sizes I've seen, though in many United flights I've never had a regular sized backpack questioned. (If you want a basic economy fare that does include a carry on, consider Delta Basic Economy.)
You also cannot add a carry on to a Basic Economy fare. Your only option if you need more than a personal item is to check a bag (more on this next). When traveling solo I find a carry on unnecessary on trips of any length. With a toddler, I find a carry on necessary for trips of any length.
Checking a bag isn't something we do unless absolutely necessary (typically when an international carrier has some strange personal item / carry on policy that forces our carry on to be checked), so the carry on bag restriction is often enough to force us into an Economy fare.
On the plus side, traveling without a carry on makes security a breeze. With some combination of TSA PreCheck and CLEAR you'd have almost no reason to worry about delays at the airport.
Related to this restriction, Basic Economy Fares are the last to board. This allows the gate staff to easily identify who shouldn't have a carry on.
How much is a checked bag on United Basic Economy?
Happily, the checked bag policy is the same for Economy and Basic Economy, meaning you'll typically spend around $35 for a checked bag with a Basic Economy ticket. You can use the United bag fee calculator here for specifics.
How much is it to choose a seat on United Basic Economy?
Update: United is rolling out a feature for families traveling with children that will allow them complimentary seat selection for one adult and one child, even on basic economy fares. So far the feature seems to be partially rolled out (I hope), as the best I can get is this "if seats are available we'll put you together" notice: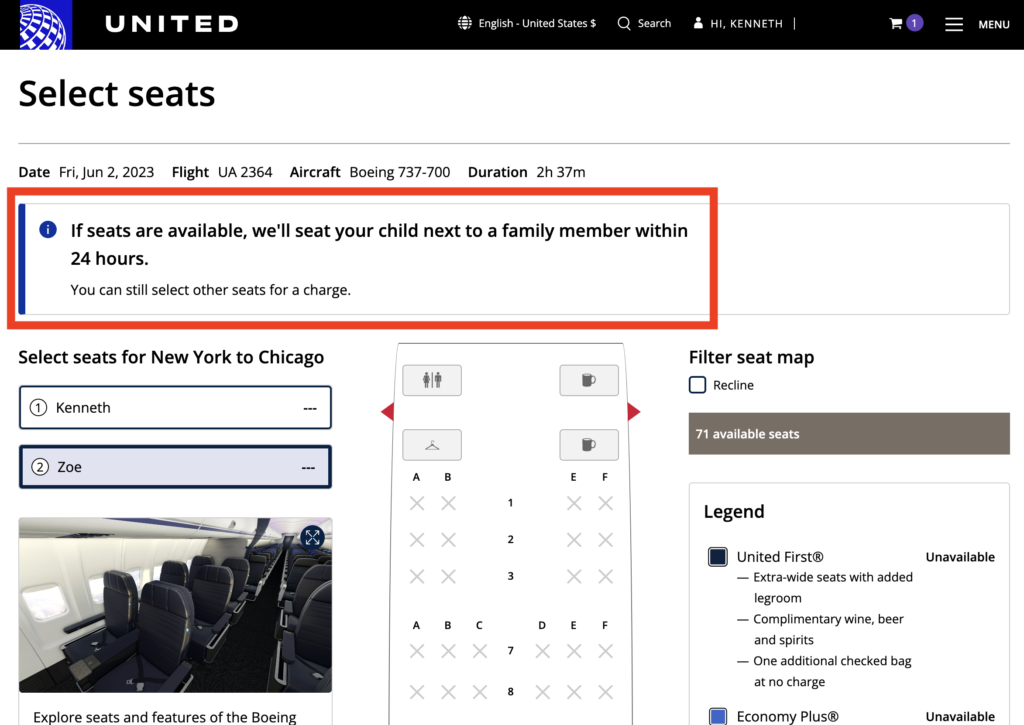 Basic Economy fares don't get complimentary seat selection. The exact price to pick a seat will vary by flight. In the example flight I'm using, prices range from $12 for a row 35 middle seat to $41 for a "preferred" aisle seat in row 22.
If you don't pay for a seat, most of the time your Basic Economy seat is going to be a middle seat. Economy Fares include seat selection, but some seats will cost extra. For my example flight, the seats that are free for Economy customers cost $12 to $24 for Basic Economy customers, and preferred seats cost $12 to $18 less for Economy customers than Basic Economy customers.
This also means your party may not be seated together if you don't pay for seat selection. If you're traveling with a child (as we usually are), you'll either have to pay for seat selection or visit the gate desk to make sure someone in your group is seated next to the child.
Can I upgrade my United Basic Economy seat?
No, and this is a pretty strong restriction. Not only are Basic Economy fares ineligible for all status upgrades, but you also cannot pay to upgrade to higher class. In fact, you can't even pay in advance for an Economy Plus seat. If they're available, you might be able to pay for one at check-in.
Here's a look at a seat map on an Economy fare, showing availability in Premium Economy and complimentary options in Economy: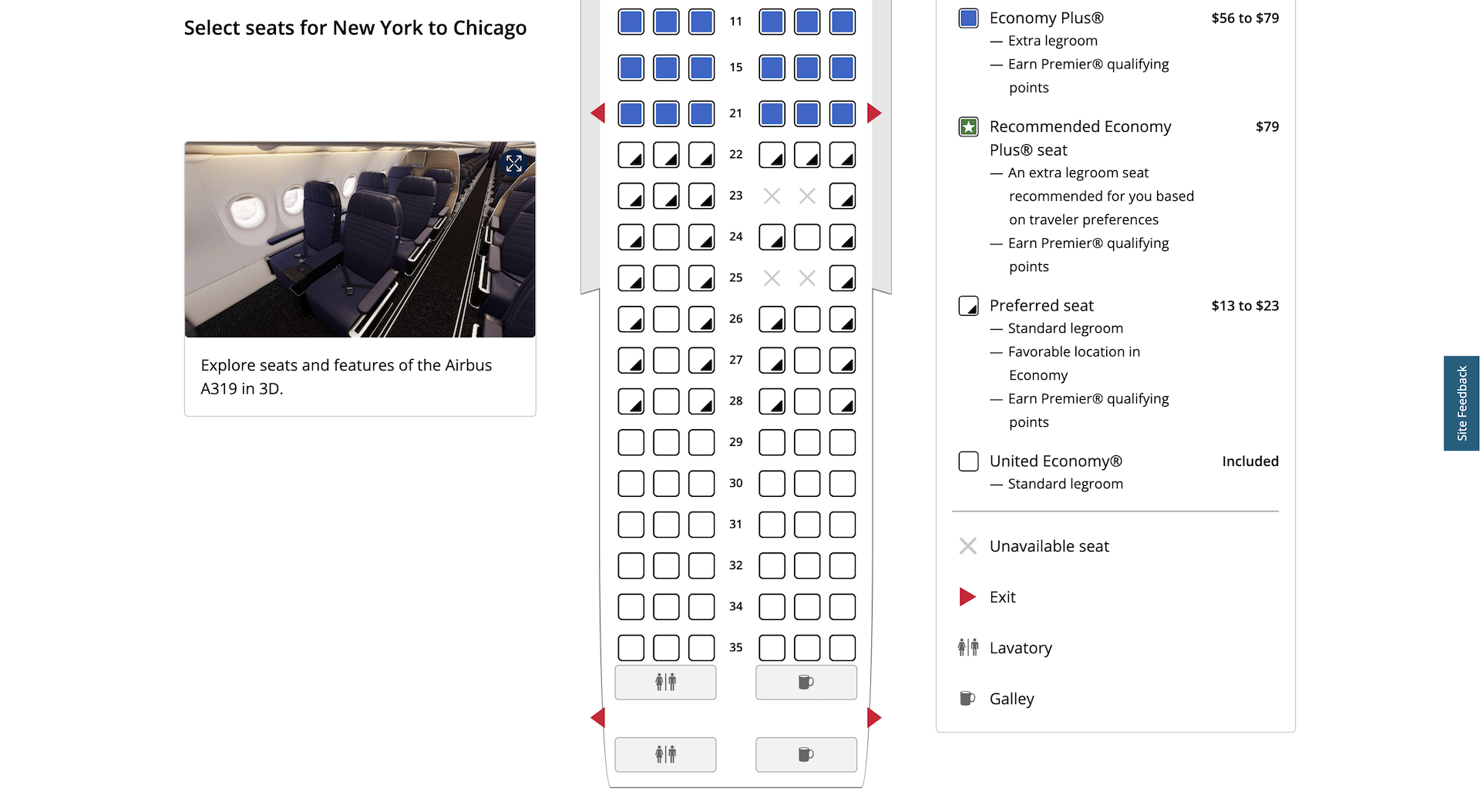 And here's a seat map for the same flight in Basic Economy, without any Economy Plus options, and with no complimentary seats: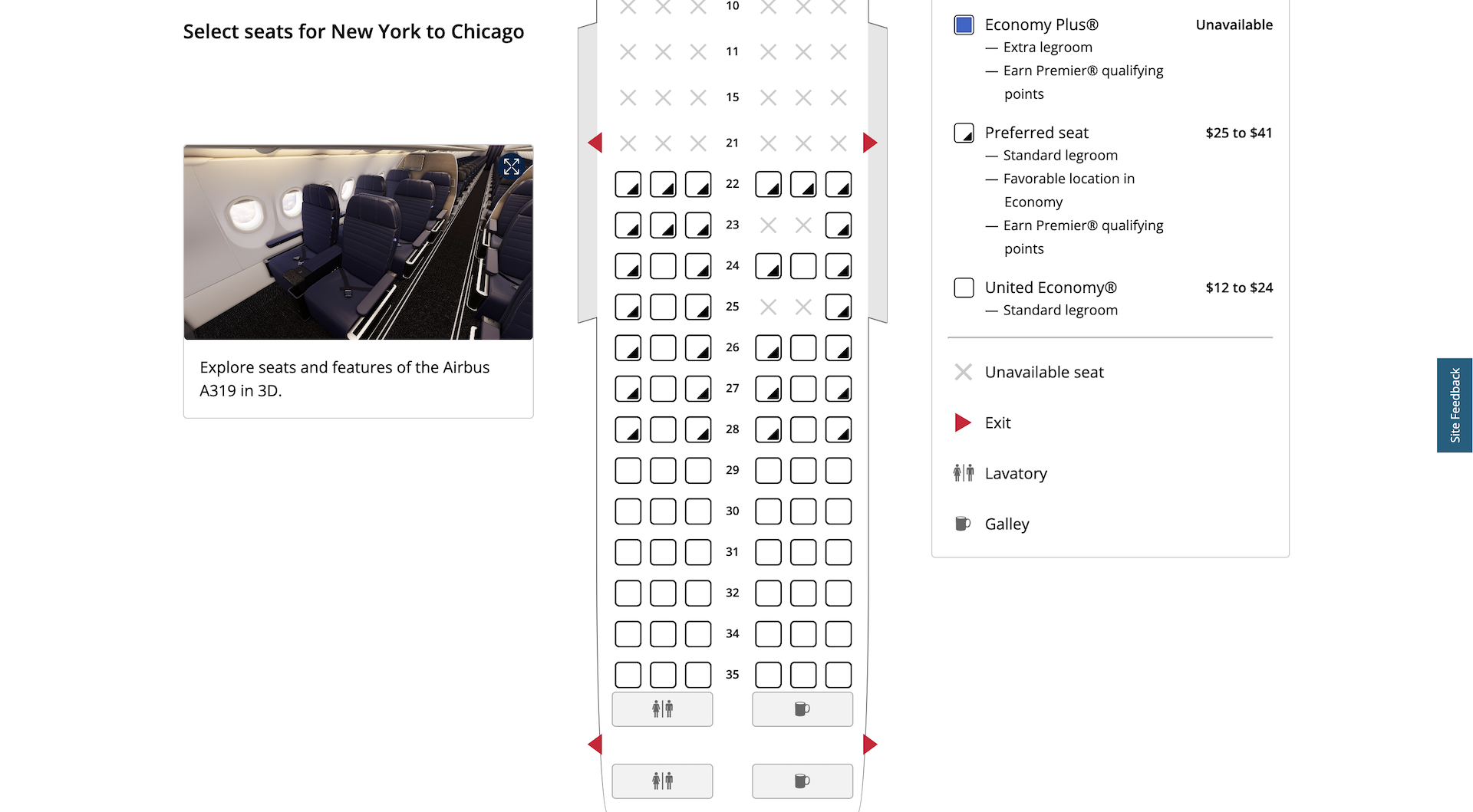 Can I modify a Basic Economy ticket?
No, changes are not allowed to Basic Economy Fares. While United eliminated change fees for most Economy fares, you cannot change Basic Economy tickets. United does say, however: "Basic Economy tickets may be eligible for a travel credit when canceled, less a Basic Economy cancellation charge starting at $99 for a roundtrip itinerary."
Getting Around United Basic Economy Restrictions
There are a few ways to get around some of the limitations of United Basic Economy fares. First, the United FAQ spells out the three ways (bolded) to get a carry on even when you book Basic Economy:
"You will not be allowed a full-sized carry-on bag unless you're a MileagePlus Premier member, a primary cardmember of a qualifying MileagePlus credit card or a Star Alliance™ Gold member.
Additionally, that same FAQ specifies that MileagePlus credit cardholders also retain their priority boarding with a Basic Economy fare. These two things work in tandem, as gate agents primarily using boarding groups to manage the carry on restrictions. The United Explorer Card ($95 annual fee) is the least expensive card to grant you access to these benefits.
Choosing Basic Economy vs. Economy on United
While I'm not a fan of how United handles these fares, it does make deciding between them pretty simple. Since Basic Economy fares cannot even pay to add a carry on, the biggest factor in choosing between these two fares, in our minds at least, is whether you need a carry on. If you need a carry on, you don't have any option except to pay for Economy (the above-noted exceptions aside).
If you care most about seat selection, you'll be fine with a Basic Economy fare since you can pay for seat selection. Note that in my earlier example some seats that were free to Economy customers cost $24, only $6 less than the cost to upgrade all the way to Economy. If you're buying one of these expensive seats, it might make sense to go with an Economy fare just in case your personal item is bigger than expected. Also remember you can't buy Economy Plus seats until check-in with a Basic Economy fare.
And then there's everything else. I grew up in an era with harsh change fees, so booking a fare without them isn't a huge deal for me. And how much your MileagePlus miles and perks matter to you is probably going to be very circumstantial (compare a long route where you've had success getting upgraded before to a short route where upgrades never happen anyways).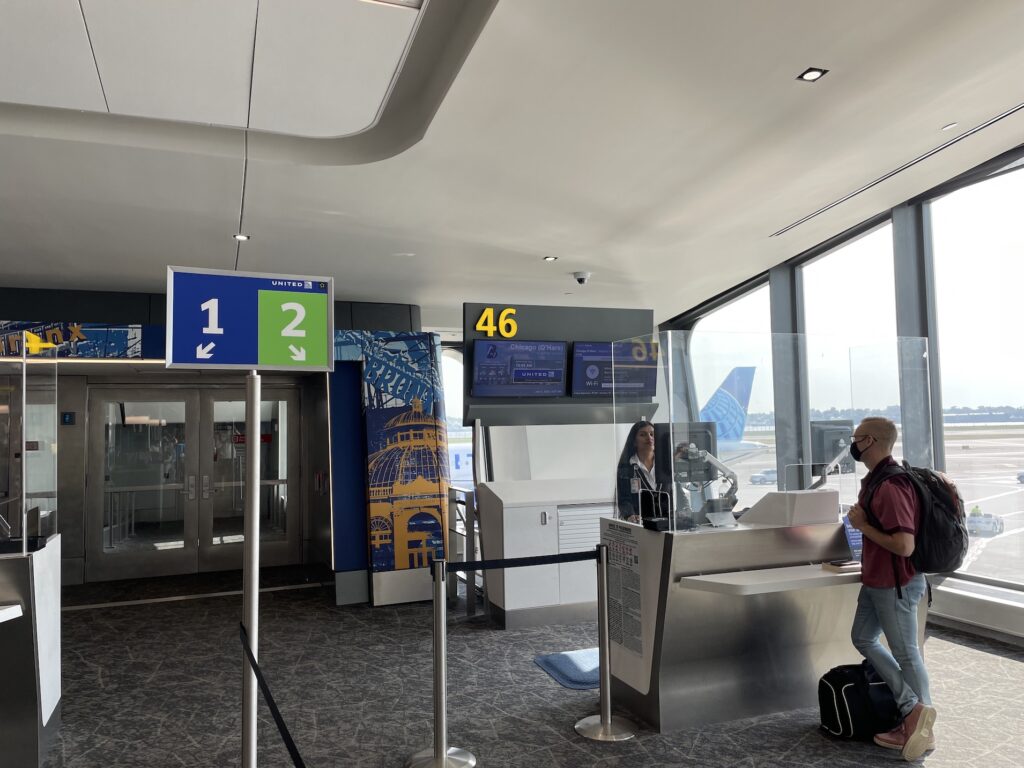 Travel Tip: Mixing Fares Within a Family
If, like us, you're a family that needs just one carry on, one option is to mix fares within a family. The way this would work, using this example flight, would be…
First, Parent A books a full economy fare for $116 and chooses a complimentary seat. Then, Parent B and Child book basic economy fares for $86 each, paying about $12 each for the two seats next to Parent A. The party then has three seats together and one carry on (Parent A's Economy ticket includes one) for a total of $312, versus $348 if they booked three Economy fares.
This is a one way flight; savings on the round trip would be $72. The downside to this approach is mostly just hassle. You'd have two separate bookings with two separate confirmation codes. You'd have to check in separately for each itinerary. Only one parent would be on the same itinerary as the child (a problem if, e.g., that parent was suddenly unable to travel, you might have some hoops to jump through to ensure the child can still travel).
United Basic Economy Conclusions
United's Basic Economy fare remains one of the most tedious options around, in our opinion. The complete lack of a carry on, even for purchase, makes it a poor option for most travelers. If you regularly use a checked bag, or if you can make do with only the smallest personal item, it might be worth saving a few bucks with United Basic Economy.
Otherwise, Basic Economy fares are probably a good reason for frequent United flyers to get the United Explorer Card from chase. The $95 annual fee relieves some of the pain of Basic Economy fares in addition to the card's usual benefits (like one-time United Club passes).
If you're a run of the mill traveler thinking "wow I didn't realize flying was so complicated" 1500 words into this review, then do yourself a favor and avoid Basic Economy.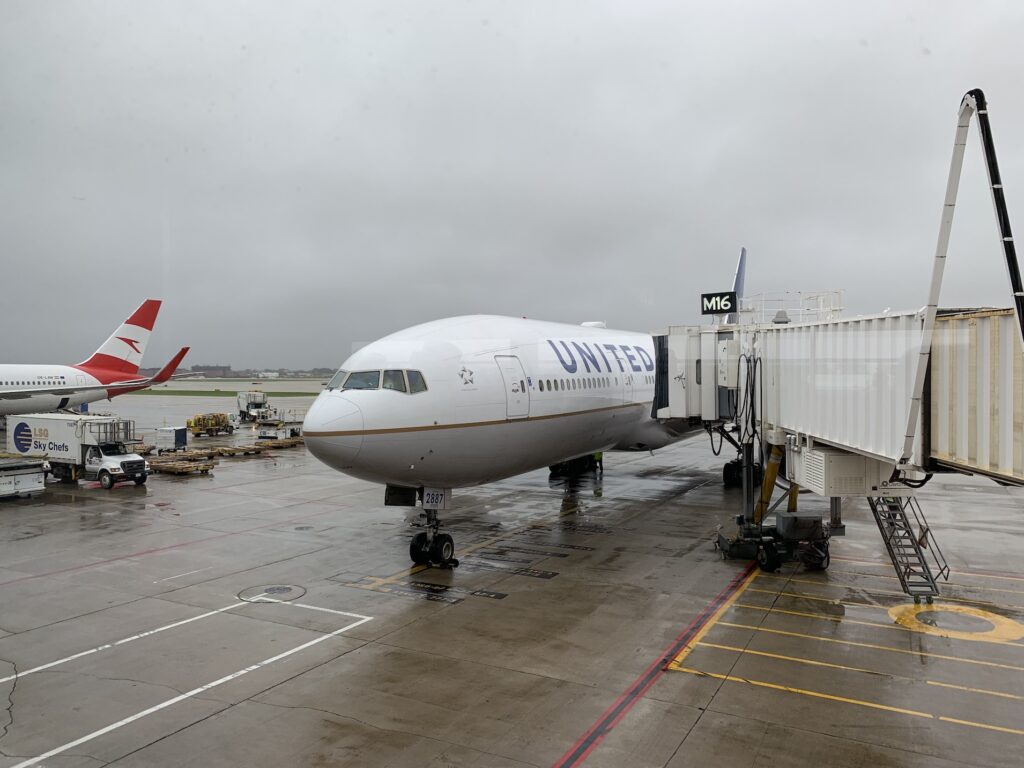 Other United Flight Reviews
If you are interested in other experiences with United, check out some of our other United reviews.