In this post I review a flight I took from ORD to LGA on United Airlines' Boeing 737 in the Economy Cabin. Having flown this same route in First (on the A320) just a few months ago (and in reverse on the A320, economy, two weeks ago), I was interested to see how the experience in economy would compare. Read on to learn about our flight in United Economy on the 737!
Booking United Economy
(Note: This flight was booked as a roundtrip ticket along with the A320 flight I reviewed two weeks ago. This section is the same as that review.)
I booked this flight directly on United.com and paid $801.60 for three seats (2 adults, one toddler, all priced equally) on the roundtrip flight between LGA and ORD.
Looking ahead some months, a typical price for this flight is $158 roundtrip in Basic Economy vs. $218 in Economy. In hindsight, I actually could have booked Basic Economy. As a United Explorer Card holder I'm permitted to bring a carry on even on a Basic Economy fare.
That said, I actually did change this flight once (not allowed on Basic Economy), so it's one of those circumstances where maybe paying the extra cost was worth it.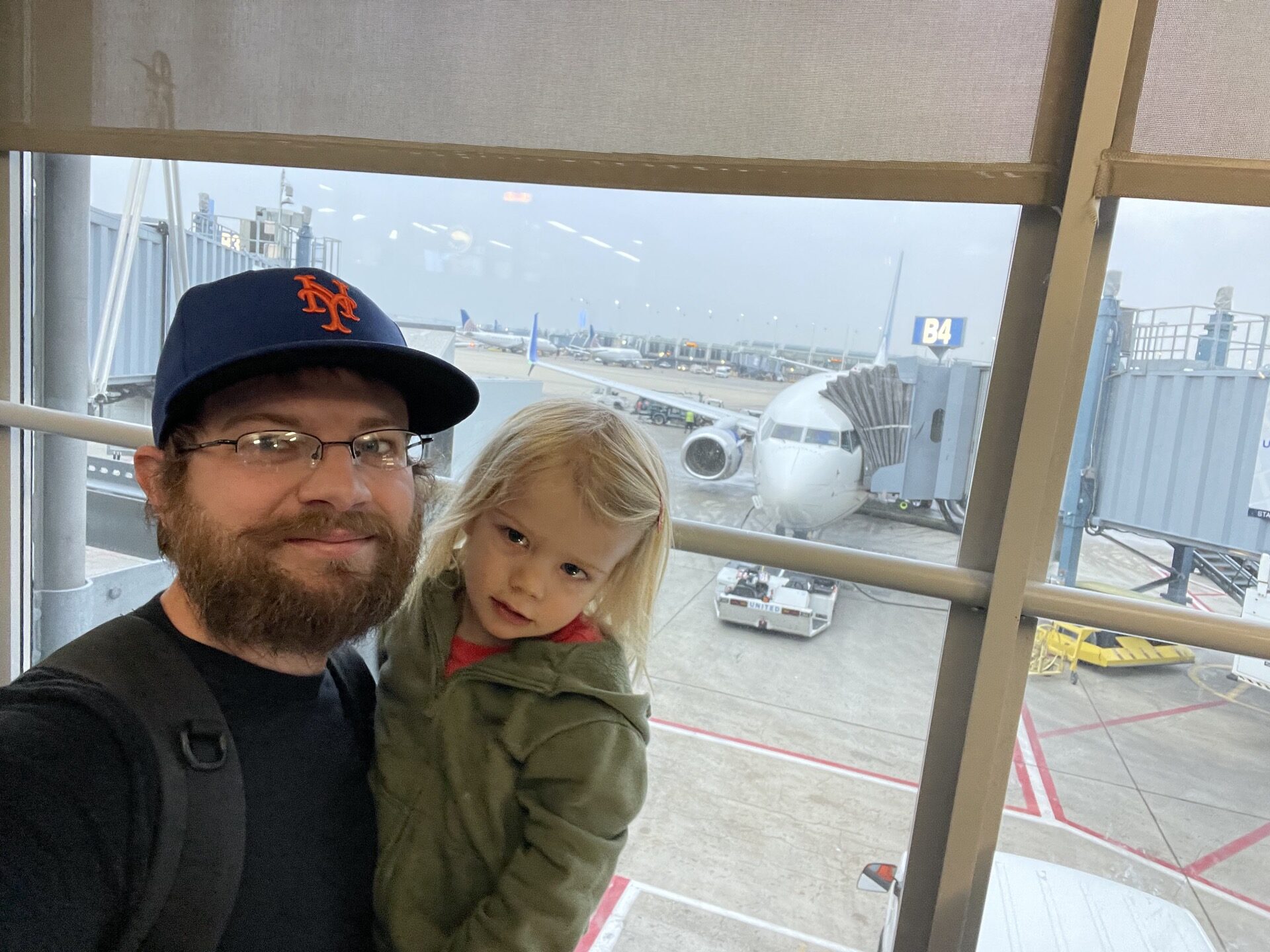 Check In at O'Hare
I've consistently found check-in via the United app to be a breeze, and this trip was no different. Since Zoe is under 13, they always get TSA PreCheck with us. We arrived at the airport at 7:02 AM, and we were through security at 7:10 AM.
We actually used CLEAR to bypass the ID check, but I think it actually cost us a small amount of time. That said, I'd still always use CLEAR anytime I can't see the security line because CLEAR is at most a minute or two slower than an empty line (which you'll rarely get anyways).
United flies primarily out of Terminal 1 at O'Hare. The "B" gates at O'Hare's Terminal 1 are immediately accessible after security, though B16 through 24 are a few minutes' walk away. Our gate was just about 30 seconds from security.
The downside of a "B" gate is you'll have to go out of your way to enjoy the fabulous tunnel connecting concourses B and C.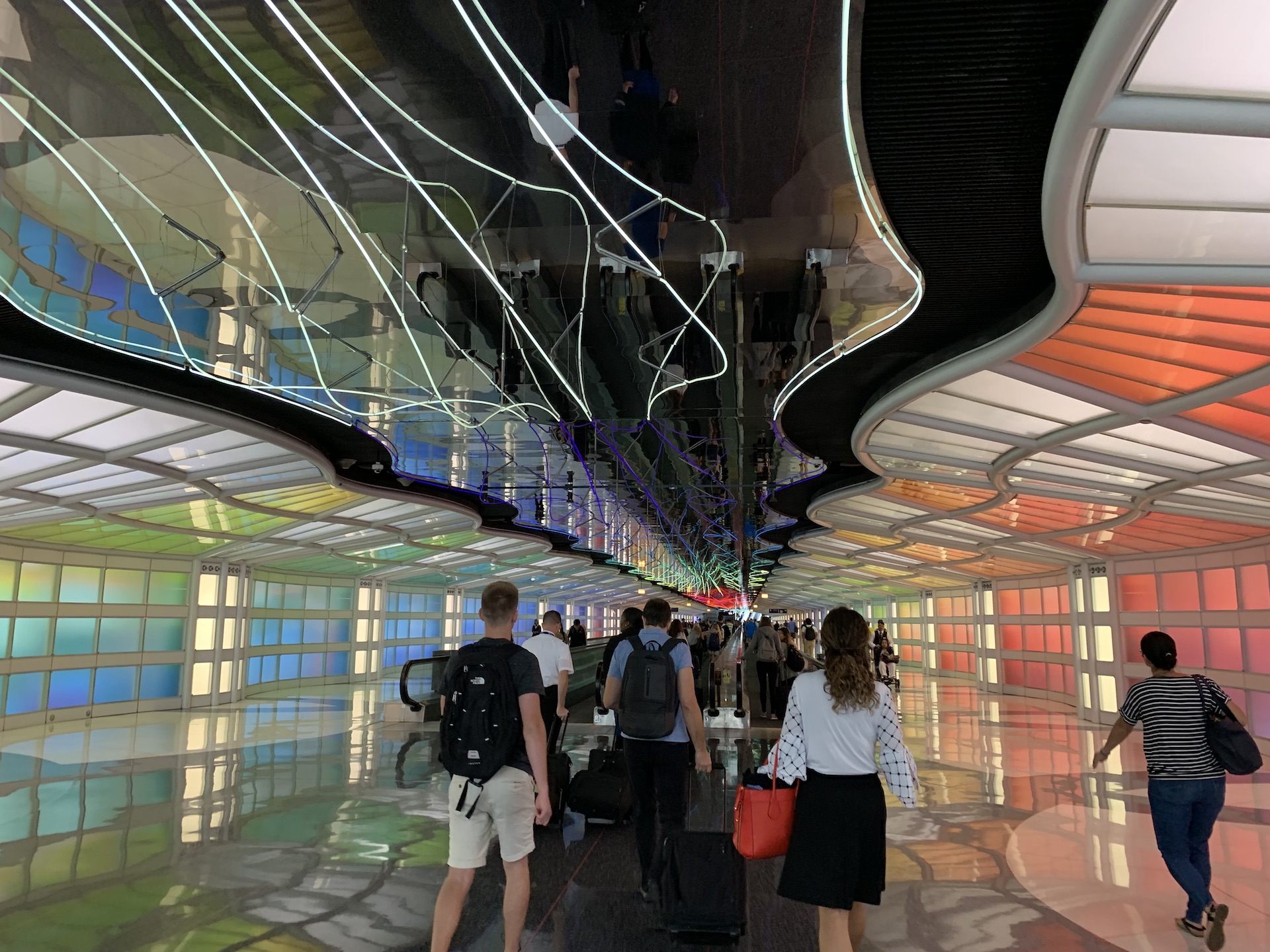 O'Hare is packed with United lounges, though we aren't frequent visitors to them. Terminal 1 in particular has four total United lounges:
Concourse B – United Club near gate B6
Concourse B – United Club near gate B18
Concourse C – United Club near gate C16
Concourse C – Polaris Lounge near gate C18
For completeness I'll just add United has a fifth lounge at the airport, a United Club in Terminal 2 near gate F9. My United Explorer card (Chase) includes 2 one-time use Club passes. Those would be good for a visit to any of the four United Clubs in the airport (NOT the Polaris Lounge) as long as I'm flying United. But with a partner and child over 2, the 2 passes aren't helpful unless we want to pay for one of us to visit the lounge.
Boarding United 737 Economy
Boarding began on time, right about 7:25 AM. United gates have two queues set up ahead of time, for groups 1 and 2. As United Explorer Cardholders, we were group 2.
The pre-boarding list includes "Families with children age 2 and under," which we were today: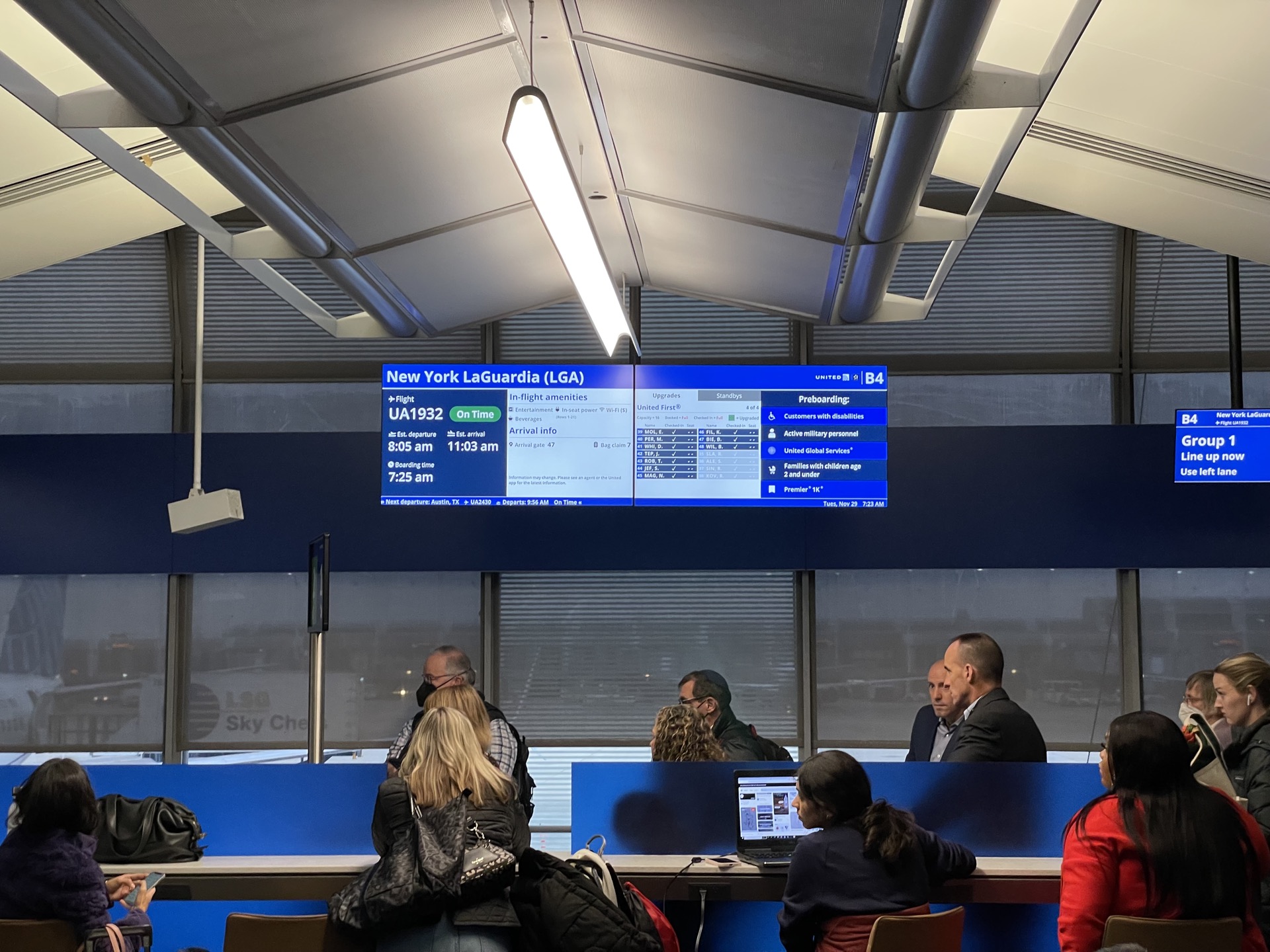 Notably, on our last United flight the gate agent called families with children "under 2," and I'm pretty sure today I heard "families with lap children under 2." Regardless, with the sign as my support (and having already made our way toward the pre-boarding area, away from the Group 2 queue), we opted to pre-board and did so without issue.
As I wrote in the last United review, we prefer to be on the plane early to give our family time to settle in. We grabbed a banana, a yogurt parfait, and milk before we boarded for Zoe to snack on after we were seated.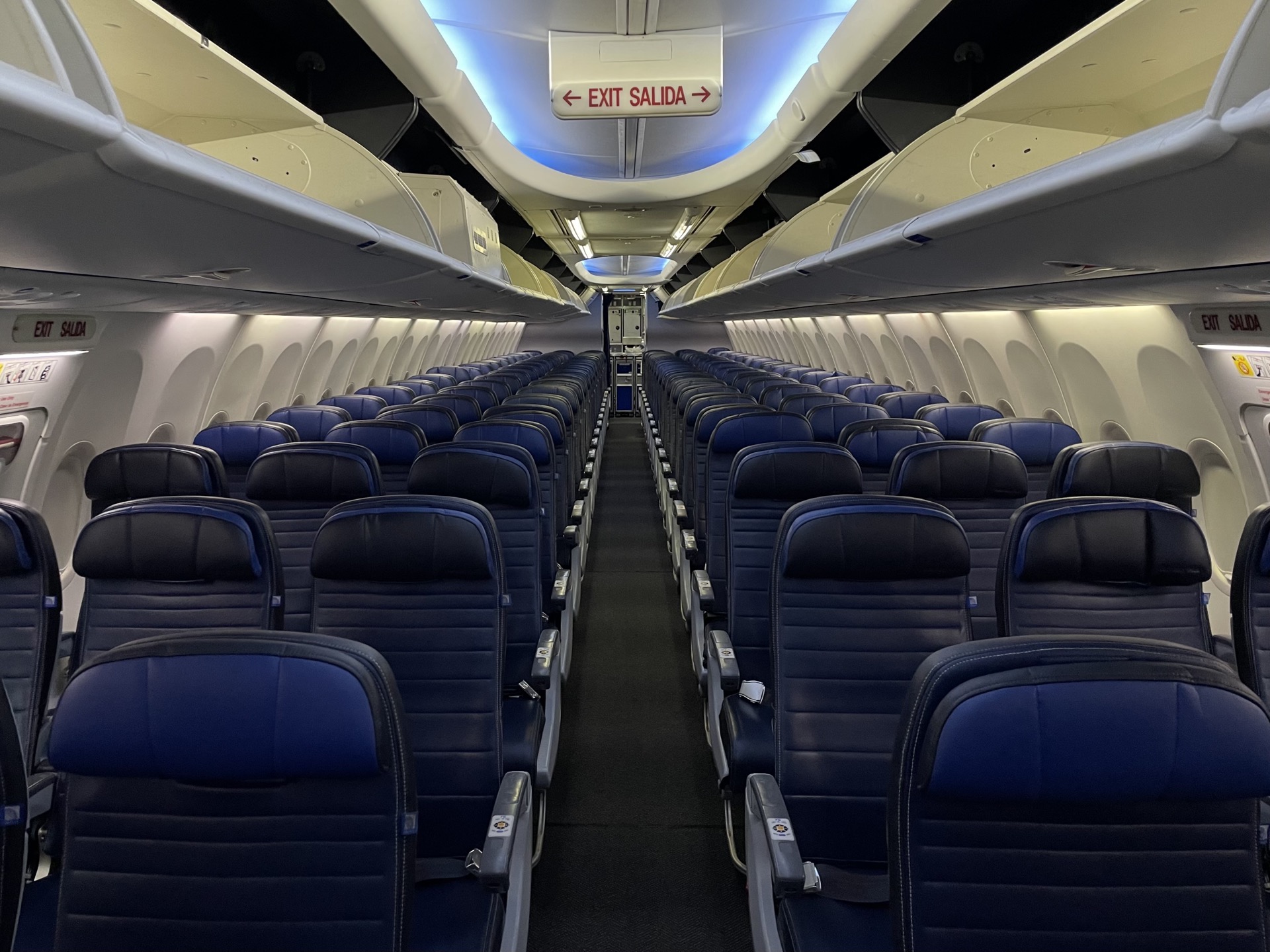 United 737 Economy Seats
The economy seats on our United 737 have 31″ of pitch. This is an inch more than our last flight, though I must say it didn't feel that way.
If I had to guess, I'd say the extra one inch of pitch on this seat is balanced by the bulkier seat design, which included a seat back screen and a more traditional seat back pocket. Compare a row on this flight: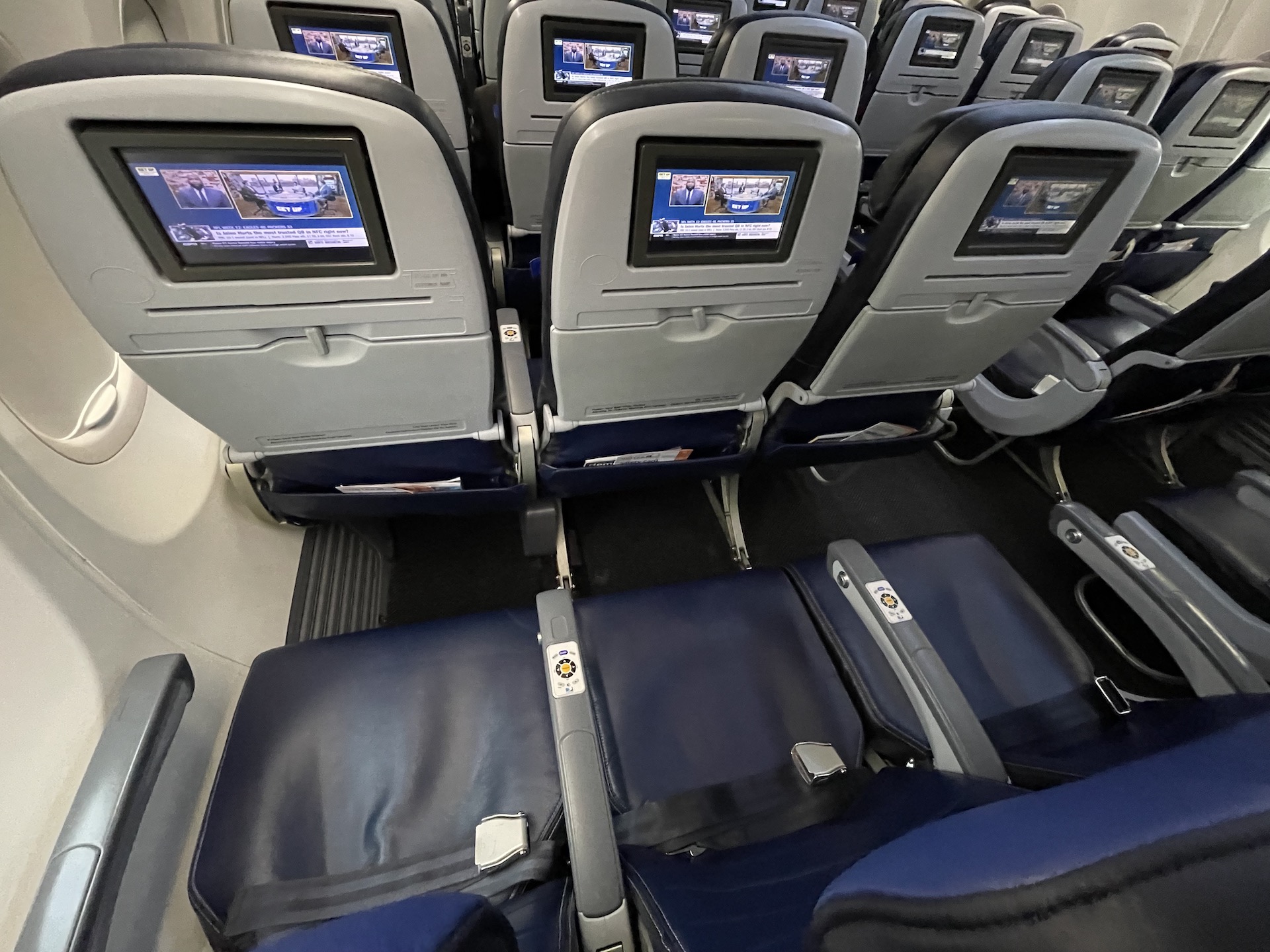 to a row on last trip's A320: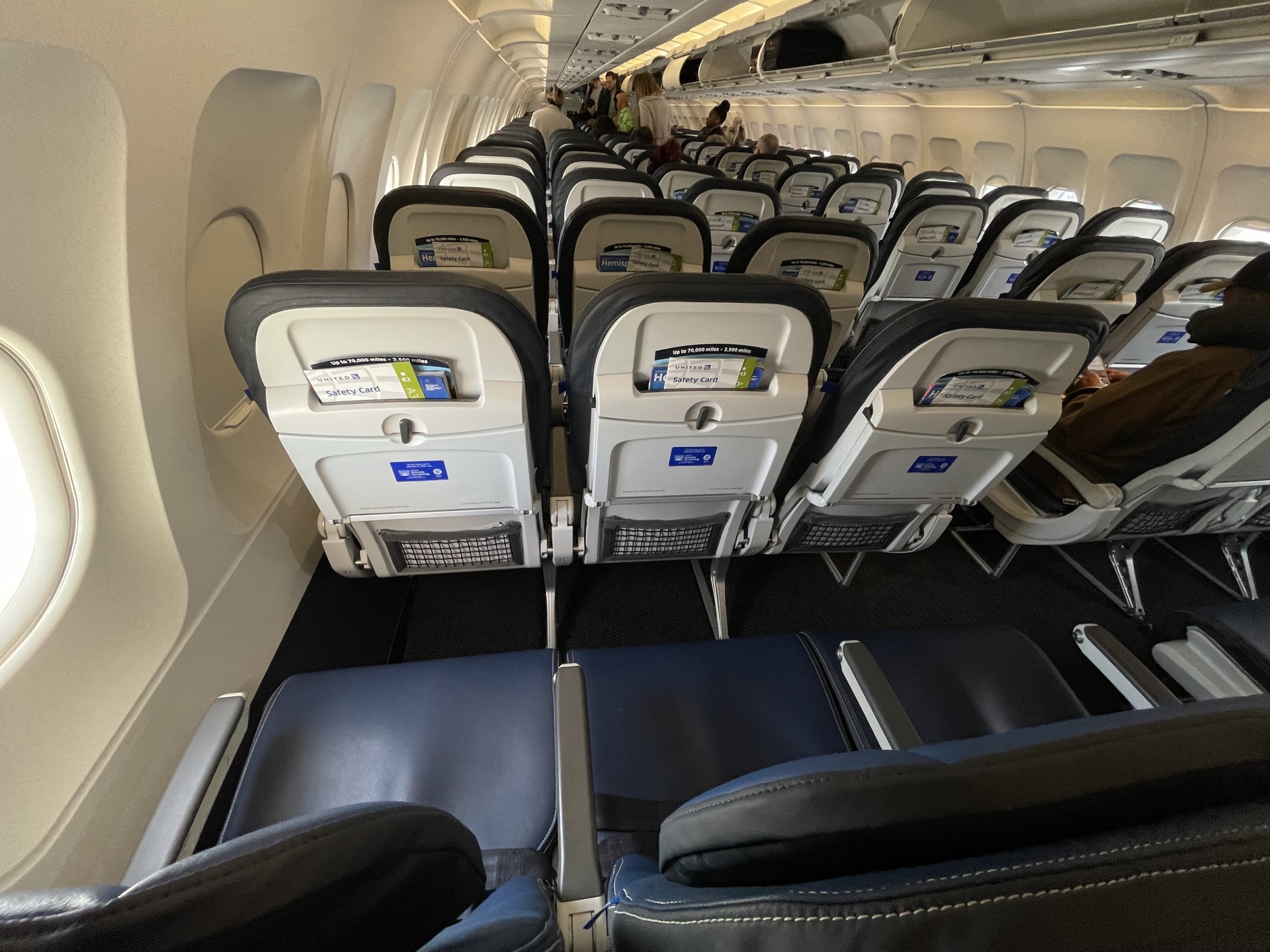 I've put on a few pounds these last few years, but I'm struck at how cramped I'm feeling in economy seats recently. Travel with a child (along with writing on this site) has pushed me to book extra legroom seats more often, so I guess I'm getting spoiled.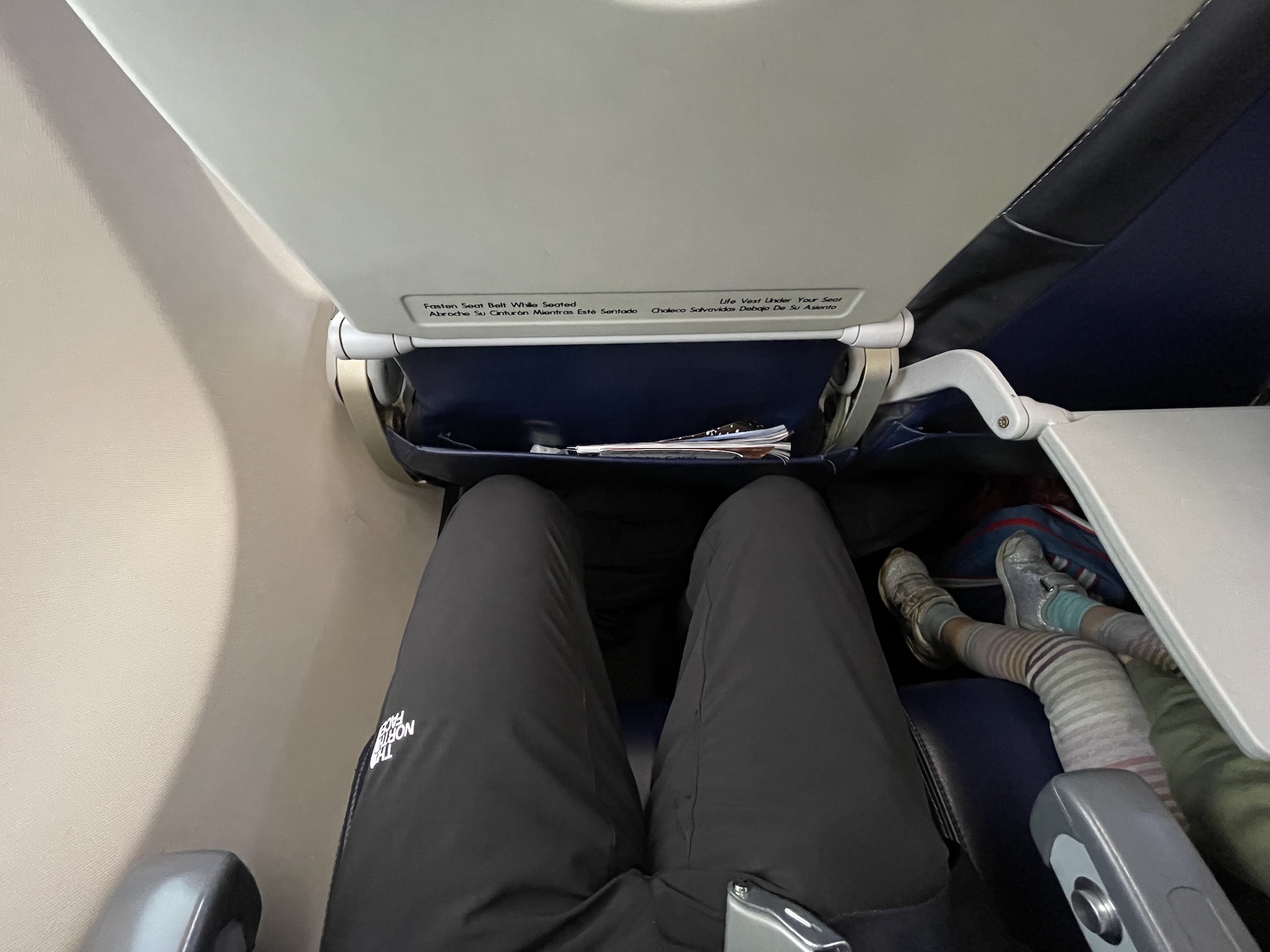 All seats have seat back televisions with live DirecTV. You can also watch entertainment for free through the United app. The economy seats don't have power outlets (Economy Plus and First Class do). An outlet would be nice, but they're hard to come by in United's domestic economy cabins. Overall, though, I'm fine without an outlet (I have a portable charger) or television (I have a phone / tablet / laptop).
Obligatory baby on a plane pic: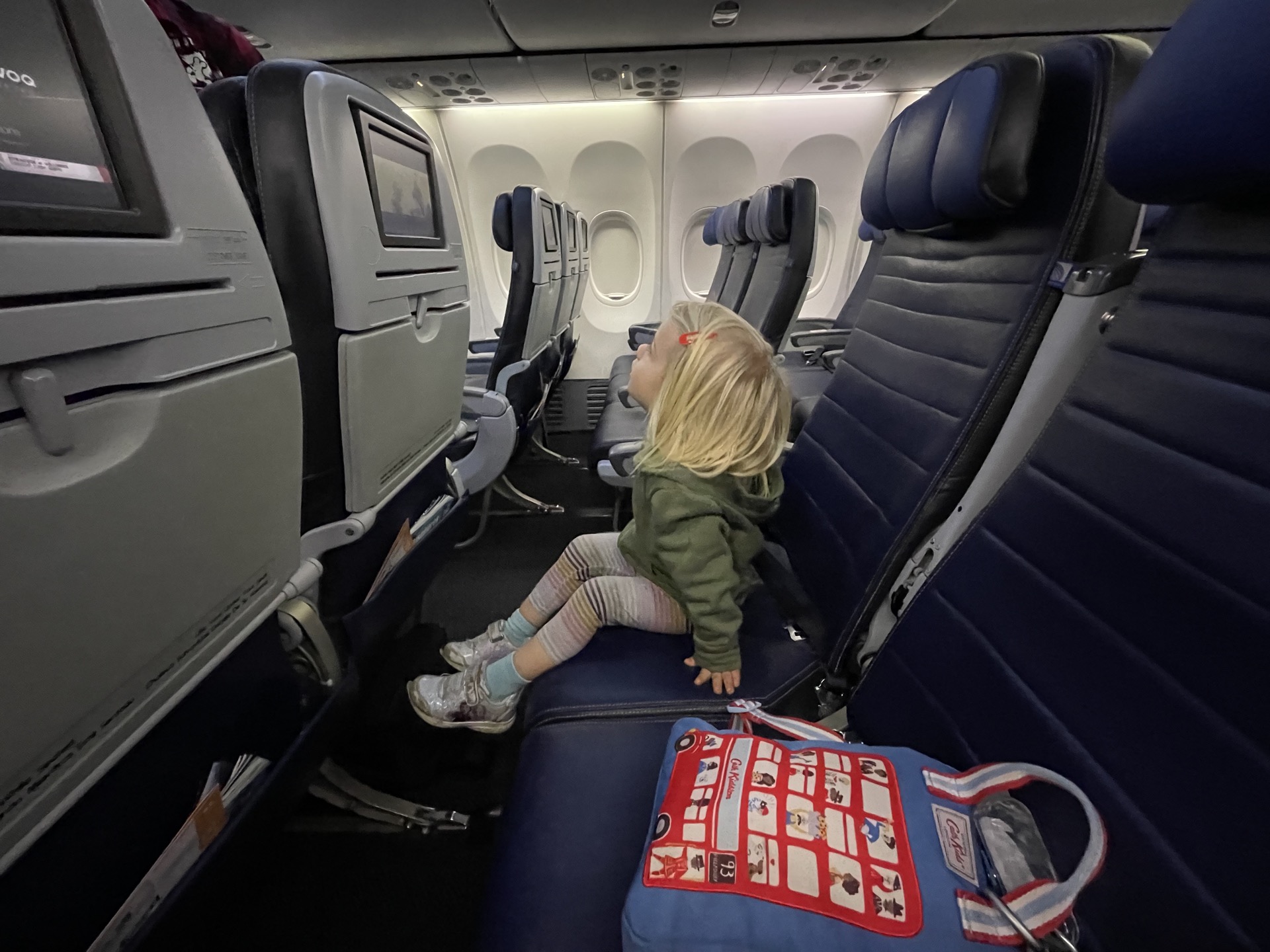 Entertainment, Service & Flight
The live DirecTV is fine, particularly for a short flight where those of us paralyzed by choice would never be able to pick a piece of entertainment in time. The remote (built into the armrest) was particularly useful as something to keep Zoe distracted. That only reinforces a common refrain, though, that the more bells and whistles you put on a plane, the more things there are to wear down and break.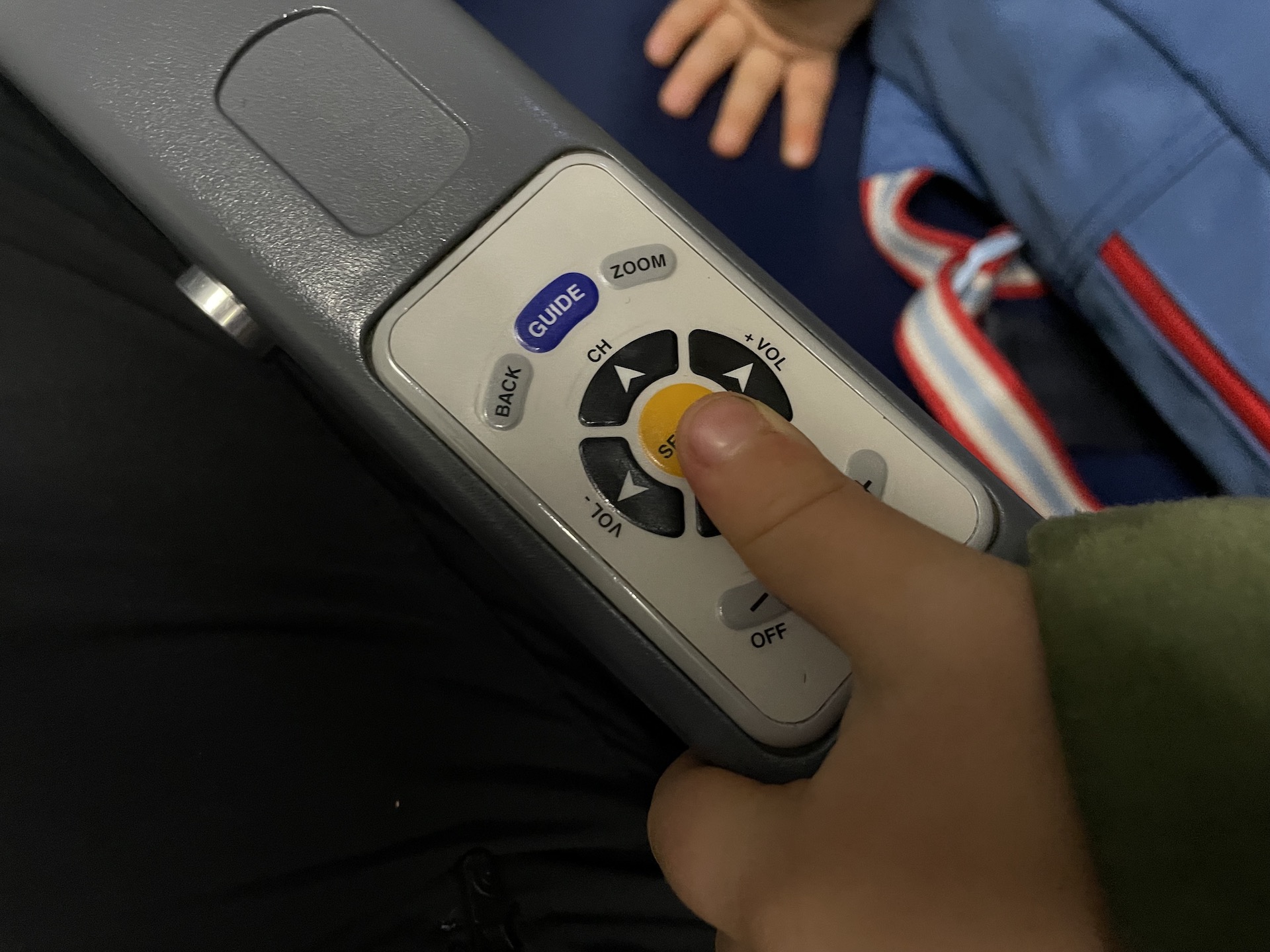 All that said, I'm still a fan of the alternative, in-app entertainment. Connect to the Wi-Fi, open your United app, and the "Wi-Fi and Entertainment" button will lead you to a selection of TV shows, movies, and games for your flight, all for no added cost.
Wi-Fi was available for $8 for MileagePlus members, but I had no need on such a short flight. IP-based messaging (i.e. any messaging besides SMS texting) was available for free and easy to set up.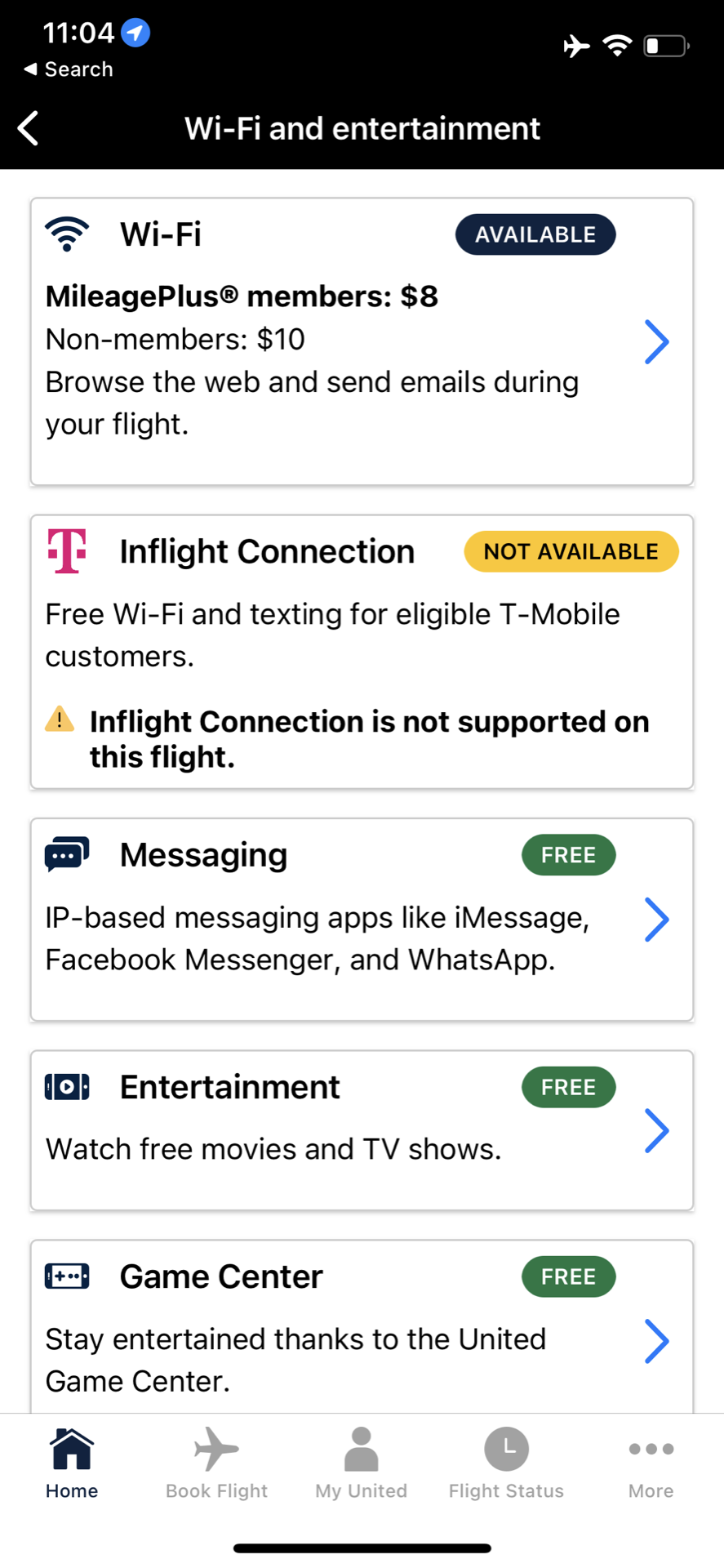 Service included an offering of complimentary snacks (cookies or stroopwafels, no pretzels this flight) and the standard beverage menu.
The flight itself was uneventful. From row 34 we didn't have any ill effects of proximity to the lavatory. The crew did a great job of collecting garbage throughout the flight, and all service was quick and courteous.
Before we landed at LaGuardia the pilot made an announcement about LaGuardia's short runways making landing a little more jarring experience. I'm a bad AV geek and had never heard of this. I've never noticed anything about landing at Laguardia, other than taxiing usually being short.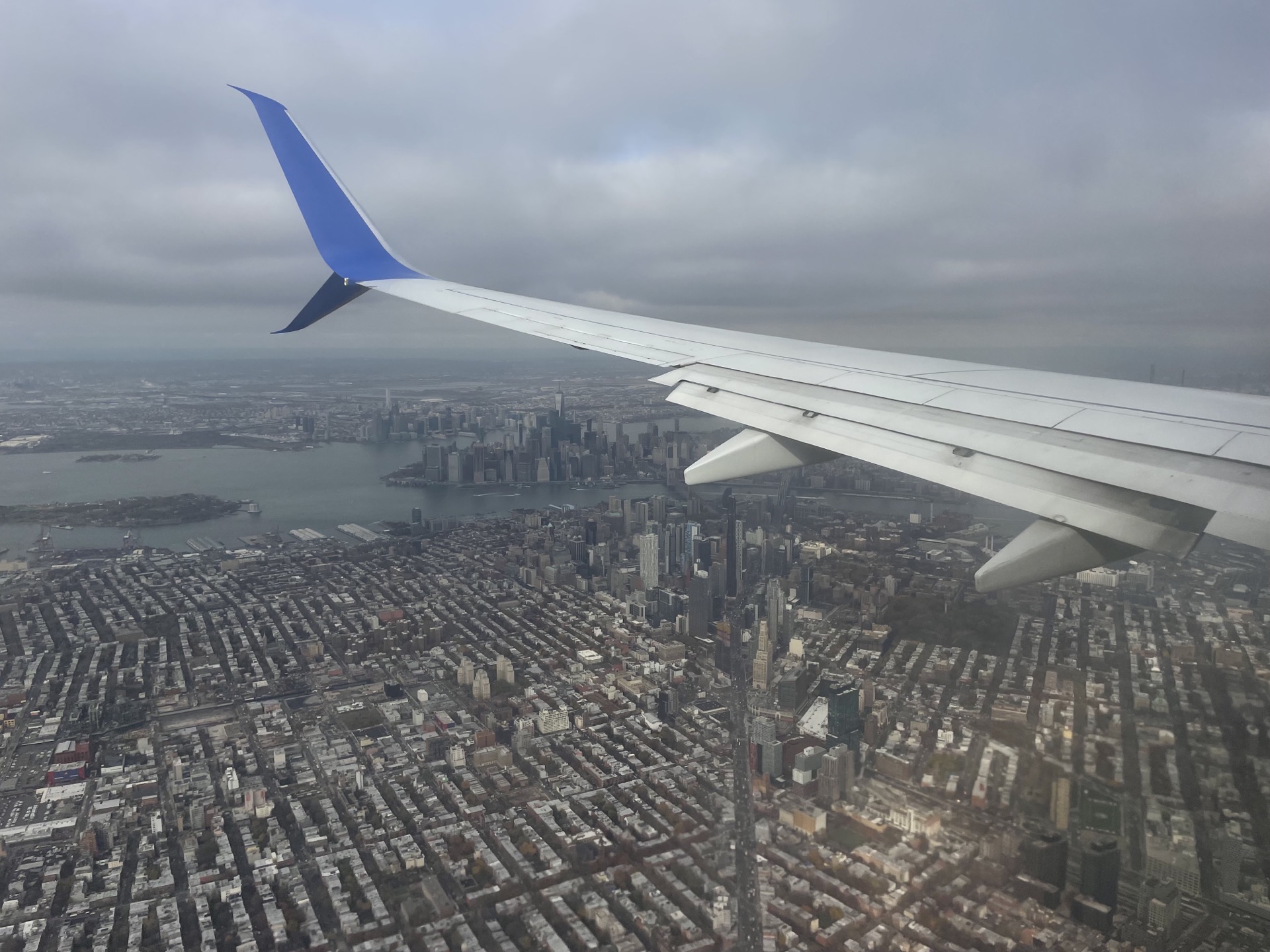 Conclusions
This was a nice flight with a toddler, though the "old" 737 was certainly a downside. I'm sure there are people who really love the live DirecTV. Heck, ten years ago I was probably one of them. But overall I feel the old seat design feels clunkier (c'mon, there's even a credit card slot!). The extra inch of legroom compared to my last flight didn't feel any more spacious. It maybe felt even tighter.
Overall, I'm looking forward to trying United Economy Plus along one of these routes next. I enjoyed First Class while traveling / working solo, but it won't be justified with a party of three. Along two-hour routes, United's economy product on either the A320 or 737 is fine for our family of three, but the extra comfort from Economy Plus might hit the sweet spot. One day we'll find out!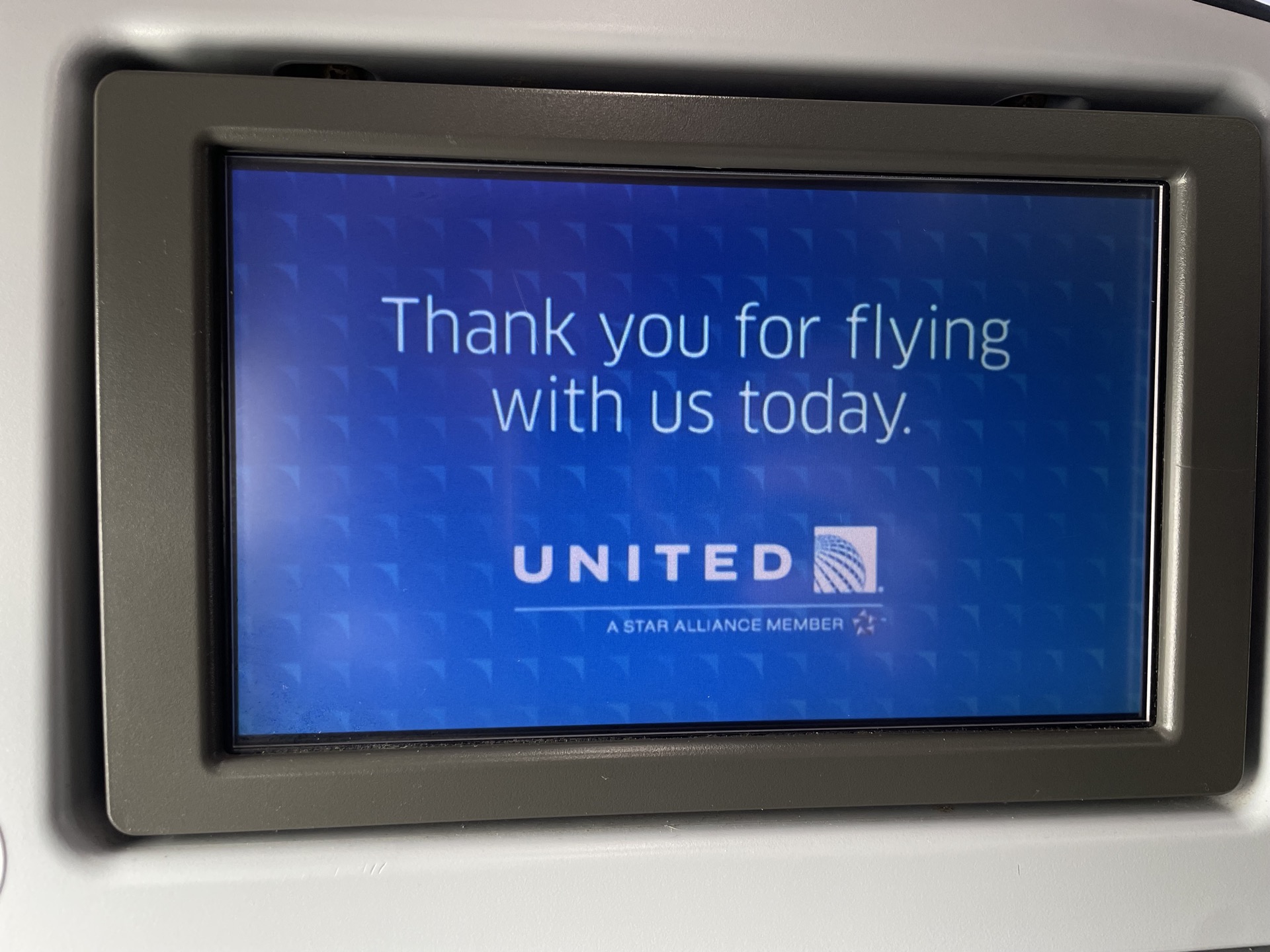 Other United Flight Reviews
If you are interested in other experiences with United, check out some of our other United reviews.