United Airlines started rolling out their newest domestic First Class product in July 2023. We had the chance to experience this new product on a flight from Chicago (ORD) to New York (LGA) and really enjoyed the upgrade. In this post, we'll walk through our experience flying in these new United First Class seats. We'll explain all of the upgraded features, how they worked, and what we thought of them.
Keep reading to learn all about United's newest First Class experience.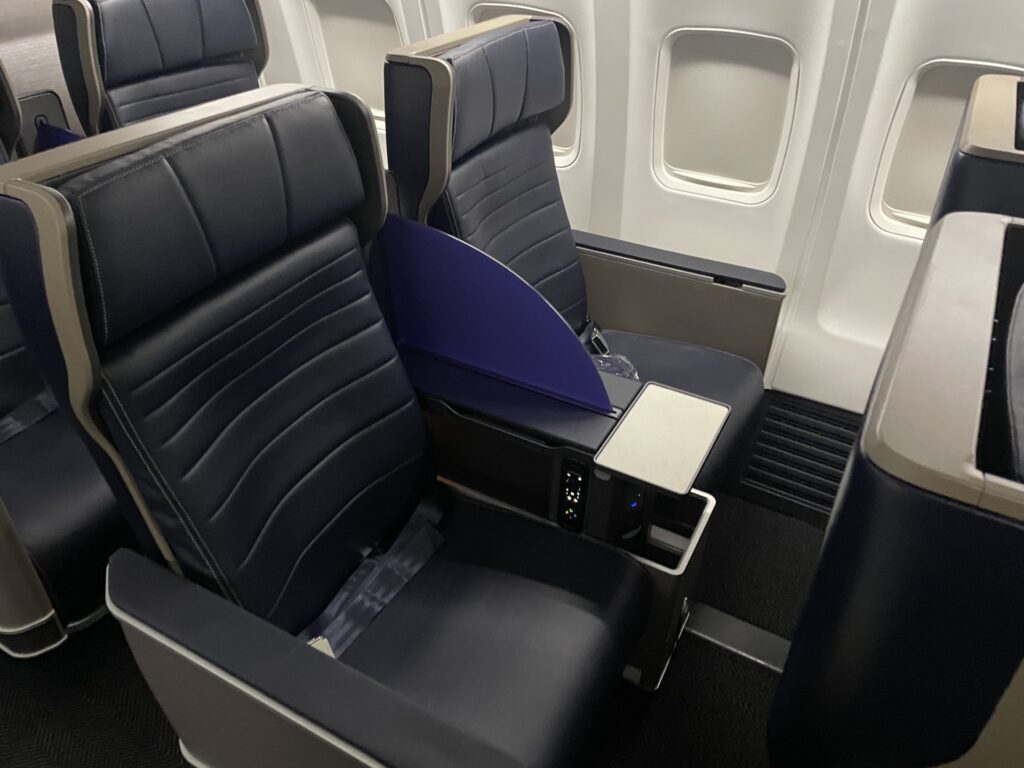 Booking the New United First Class
The new United First Class seats are not available on all flights and routes. According to United's press release, "the airline expects the new seat to be on 200 domestic planes by 2026, including 737 NGs, A321neos and 737 MAXs."
It goes on to note that some planes will receive a partial retrofit upgrade. "Select 737, A319 and A320 aircraft will be redesigned with new seat cushions, vegan leather upholstery and winged headrests," the press release says. These seats will not have the seat dividers or wireless charging, among other differences.
Identifying new or updated planes equipped with upgraded seats is not easy to do at this time. While you can see the plane model before booking your flight, there's no way to tell in advance if the plane scheduled for your route will have the new seats installed yet. It is just luck of the draw at this time, and we got lucky with our most recent flight.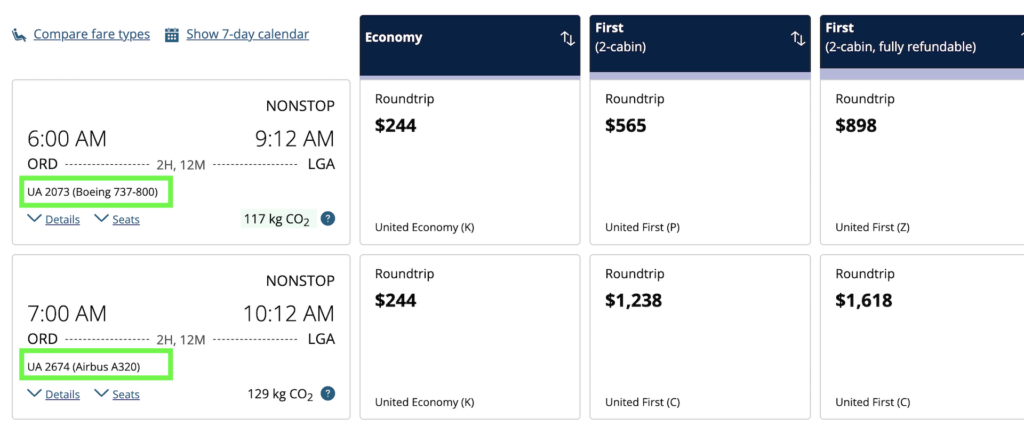 We booked our September flight directly through United about two months before our travel date. We paid $336.85 each for three First Class seats, for a total of $1,010.55. (This flight was not comped or sponsored.)
Arrival & Boarding at Chicago ORD
We arrived at O'Hare at 6:20 AM for our Sunday morning flight which was scheduled to board at 7:20 AM. With CLEAR and TSA PreCheck, an hour is usually pretty comfortable for a domestic flight, especially at our former home airport.
United First Class includes Premiere Access to dedicated check-in counters and a priority security queue at some airports. (NOTE: This is a shorter queue for standard security, but it is not the same as PreCheck. If you have PreCheck, you should use that line instead.) We didn't have any bags to check so we went straight to security.
Terminal 1 does have CLEAR, but we skipped it this time. If there's no line at the standard passport check, CLEAR can sometimes take even longer — especially if there is technical issues or if you get flagged for the added passport check.
Our gate was right on the other side of security, and we were there by 6:35 AM.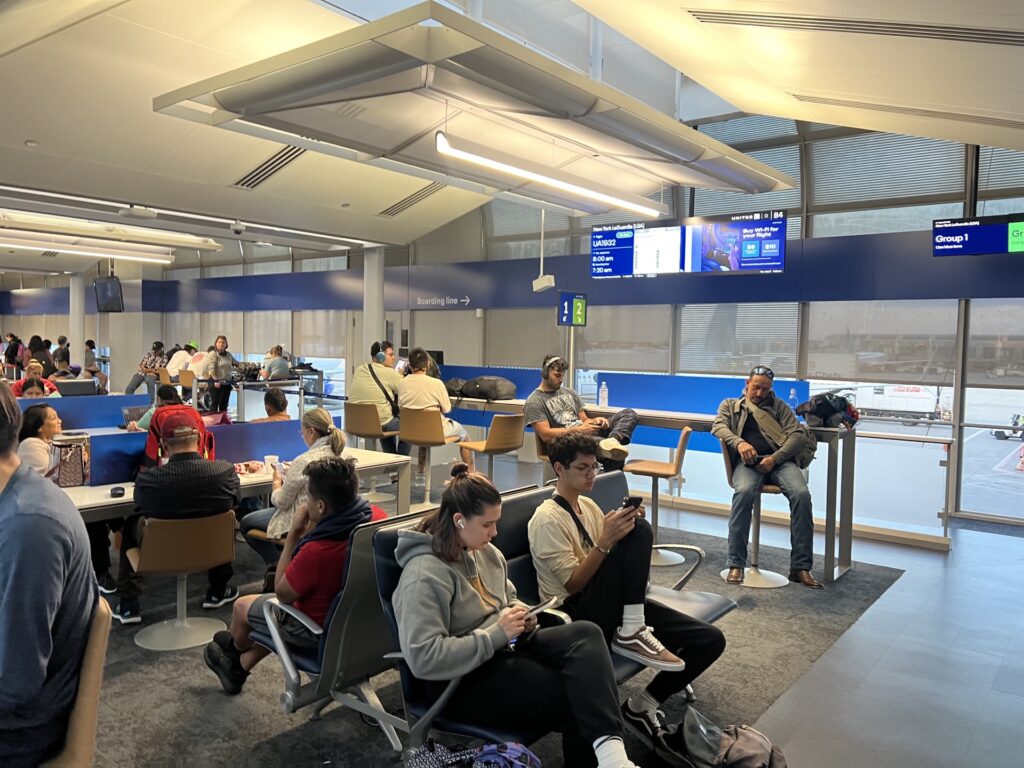 About 15 minutes before boarding, the gate agent said that groups 1 and 2 could line up in the dedicated queues. This was great because the queues were to the side of the gate along the window and separated with physical barriers. It felt very organized and there was no hovering or crowding of the queue from later boarding groups.
First Class is boarding group 1, but there are plenty of people who can board before that. They boarded travelers needing wheelchair assistance, active military, and families traveling with children under 2 first. Then they boarded Premier 1K level frequent flyers. These boarding groups didn't have dedicated queues, and that side of the gate did look a bit congested.
They then moved on to boarding group 1, which included First Class. We quickly boarded the aircraft and found our seats.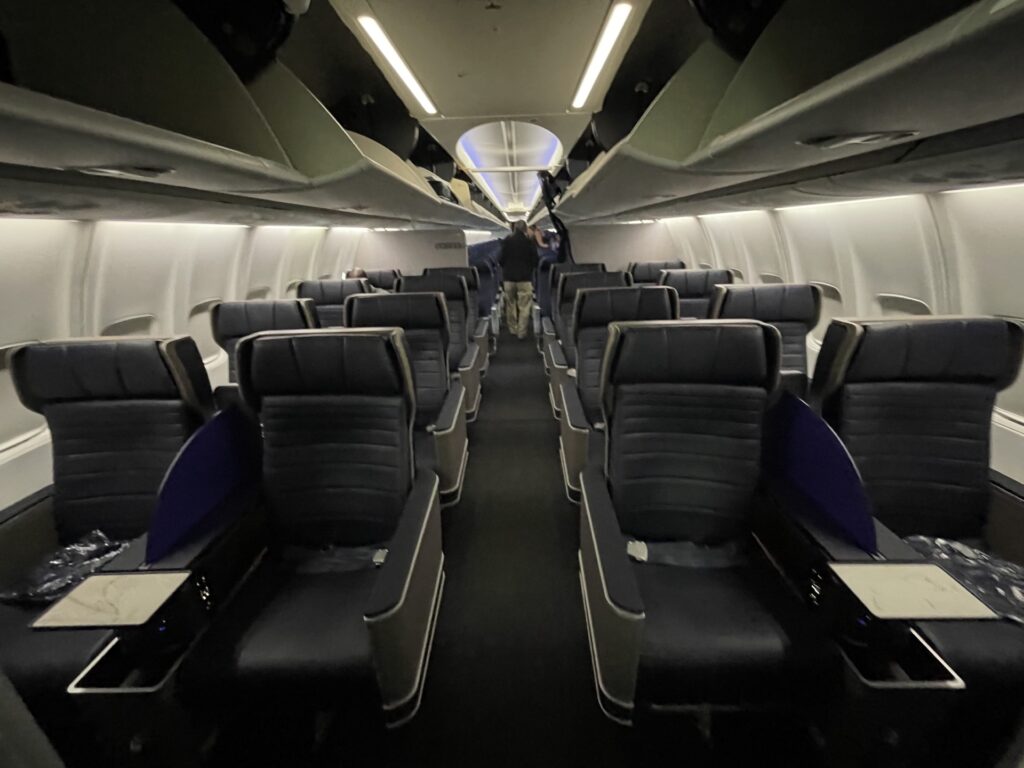 New United First Class Seats
The new United First Class seats are among the best — I'd maybe even say the best — in the industry for domestic premium cabins. They're also a huge improvement over United's existing First Class, which was last updated in 2015. (You can read our review of the older United First Class which we also flew between New York and Chicago.)
The seats themselves are roughly the same generous width (20.5 inches) and pitch (39 inches between seats) as the older First Class seats. However, the new seats actually feel a bit more spacious thanks to a new, wider center console (11 x 19-inch) and privacy divider. Very few domestic First Class products offer a privacy divider, and we really loved it, even flying as a family.
The privacy divider does not move. It's large enough to provide some privacy from the person beside you, but it's not so big that you can't see around it if needed. If you have a partner or child next to you, you can still easily talk to them and reach them if necessary.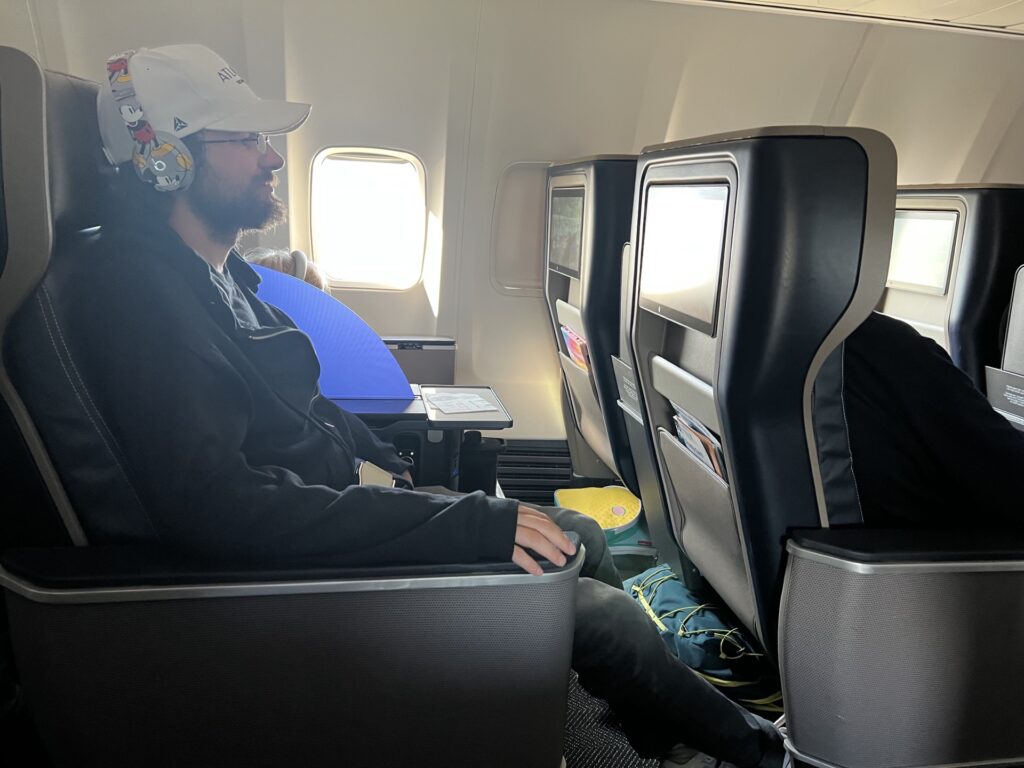 While the seats do not include any kind of footrest, they do have an improved recline function. The ergonomic seat is designed to "cradle" your back as you recline a max of 5 inches. Combined with a 1-inch lower seat cushion, these changes are intended to provide a more comfortable experience for taller fliers. Standing at 5'3″ with shoes on, I personally didn't notice much of a difference specific to these enhancements.
The seats are made of "vegan leather," which are very comfortable, though I find the rebranding of faux leather to be comical (even as a vegetarian). The seats also have an adjustable winged headrest with 6 different configurations, but none of which adjust vertically for height.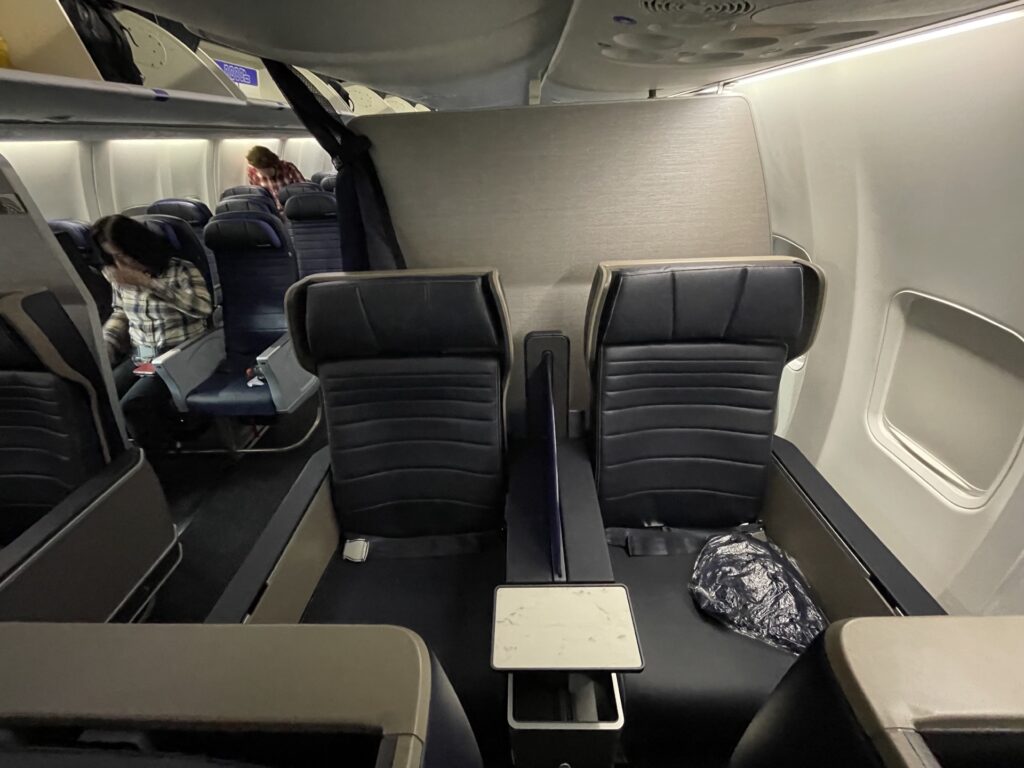 Technology Enhancements on the New United First Class Seats
There are some really cool technology features on United's new First Class product. Some things we loved, and some things fell flat.
The most interesting update is the wireless charger located under a flip-up panel on the center console. The charging panel is designed to support any device that is equipped with wireless charging technology and fits on the panel (including most iPhone models and sizes dating back to the 8 and most recent Samsung Galaxy models).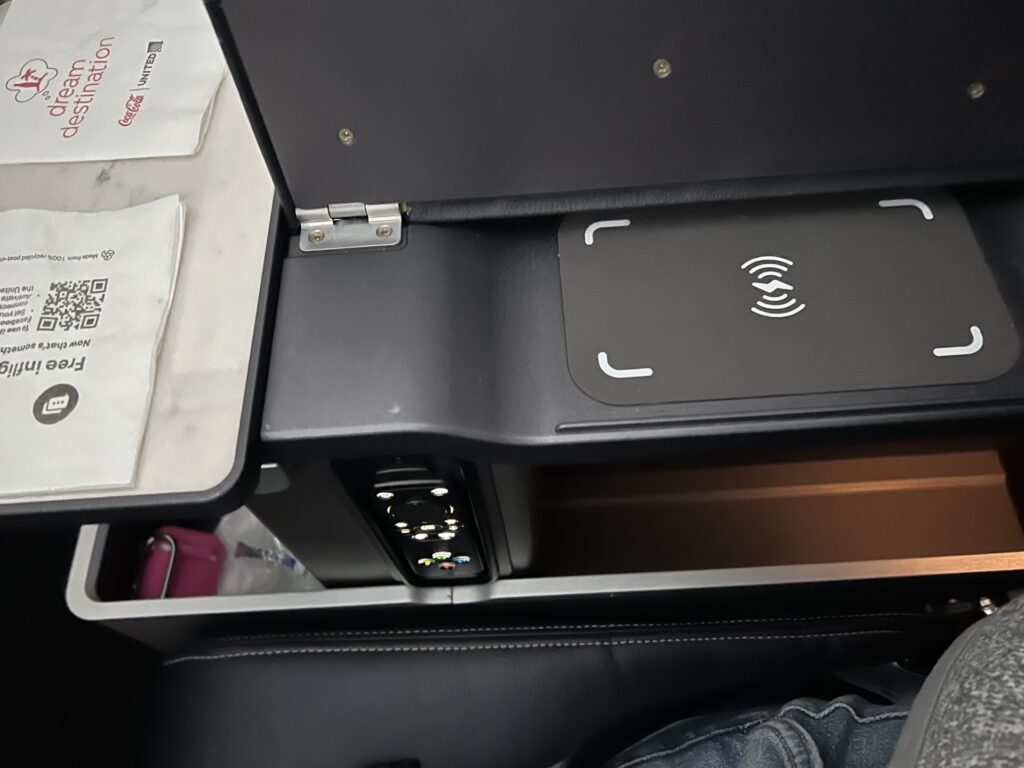 In our opinion, this flashy addition is a flop. We both tried to charge our iPhone devices on the wireless charger and had very little luck. In order to get it to charge at all, we had to remove the case. Even still, the charging kept going in and out, only charging our device a percent or two over the full flight. Plus, we were often using our phones, so charging with a cord was more efficient.
Speaking of cords, the new United planes no longer have USB plugs. The new United First Class seats now have a USB-C plug and an AC outlet that supports a variety of plug types. Both of these plugs are located in the center console.
The second flashy technology improvement is bluetooth. You can connect your personal wireless headphones to use with the seatback entertainment device.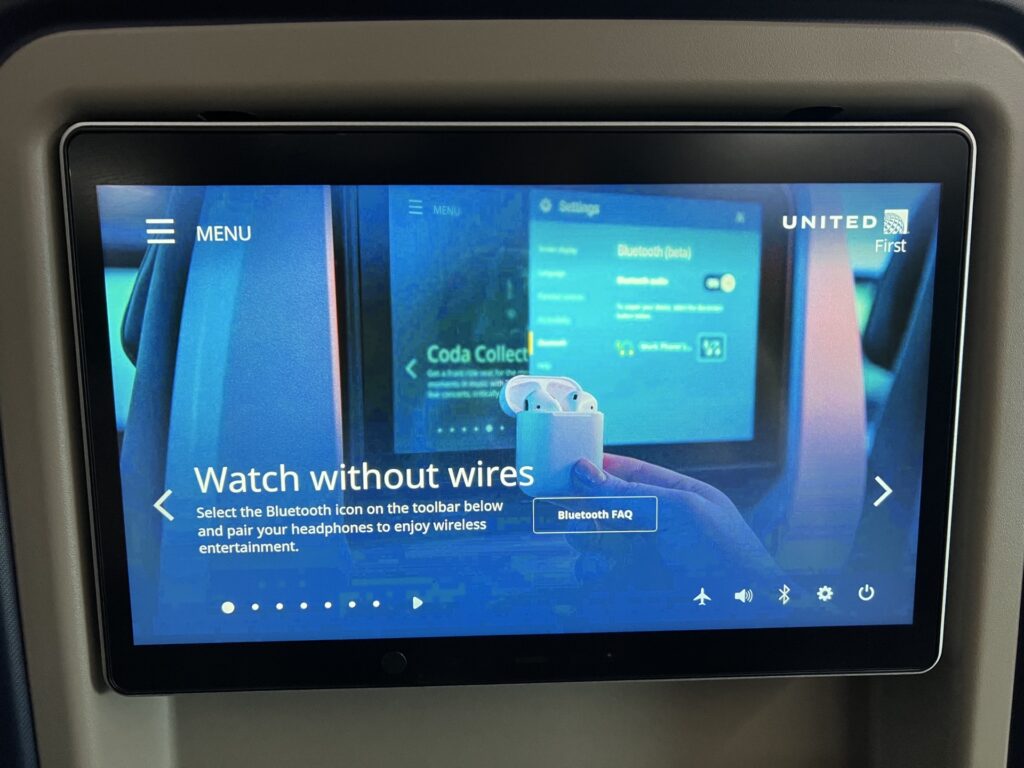 As an AirPod user who never remembers to bring wired headphones, this was very exciting for me! I quickly and easily paired my device and started a movie. Unfortunately, I was again disappointed in the tech. Even at full volume and both AirPods in, I could barely hear the movie at all.
Kenny had more luck with his Beats, which are noise cancelling and have a volume control on the headphones themselves. However, those headphones have a cord option anyway, so being wireless isn't a huge improvement.
If your bluetooth doesn't work and you don't have wired headphones, you're still covered. Before the flight, the flight attendant came around with a selection of complimentary wired headphones. They offered two options: earbuds or over-the-ear headphones. The jack is located in the center console.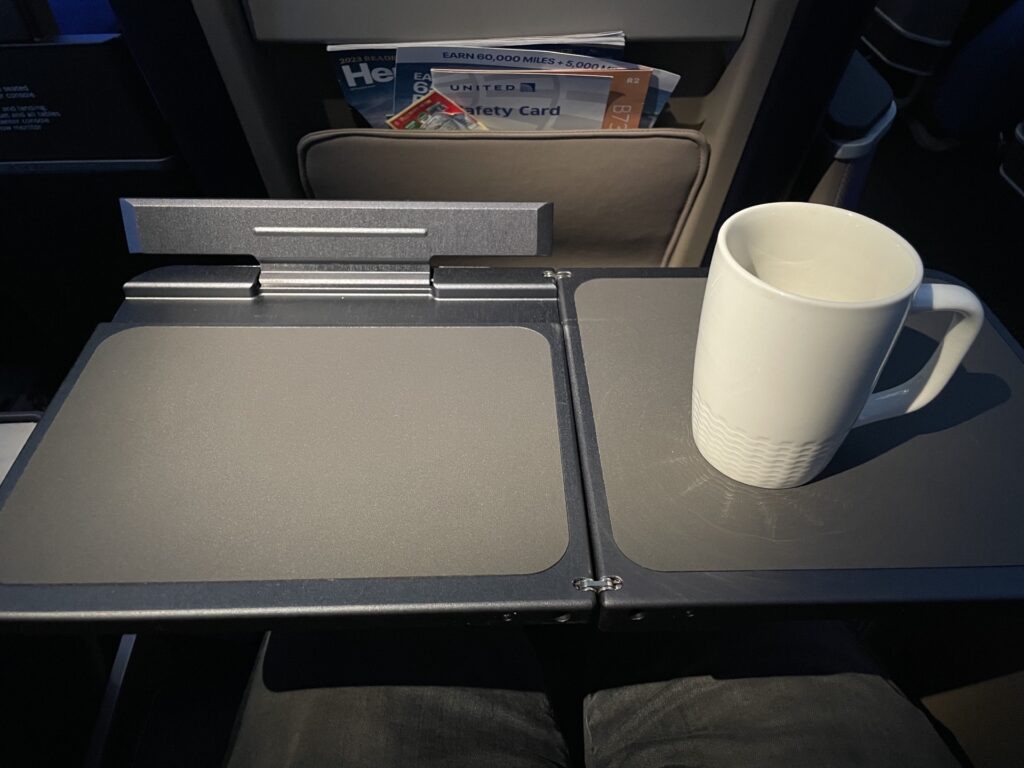 If you ask me, the best tech improvement is the tablet/phone stand built into the tray table. This makes it incredibly easy to watch something on your personal device instead of or in addition to the seatback entertainment.
The seatback screens are a respectable 13 inches. There's also an in-seat remote stowed in the center console. The entertainment options on our flight were impressive, with a wide selection of movies including some great older classics. (I picked Black Sheep which I hadn't seen or even thought about in ages!) The seatback screen also had picture-in-picture functionality, so you could watch the flight information page and a tv show or movie at the same time.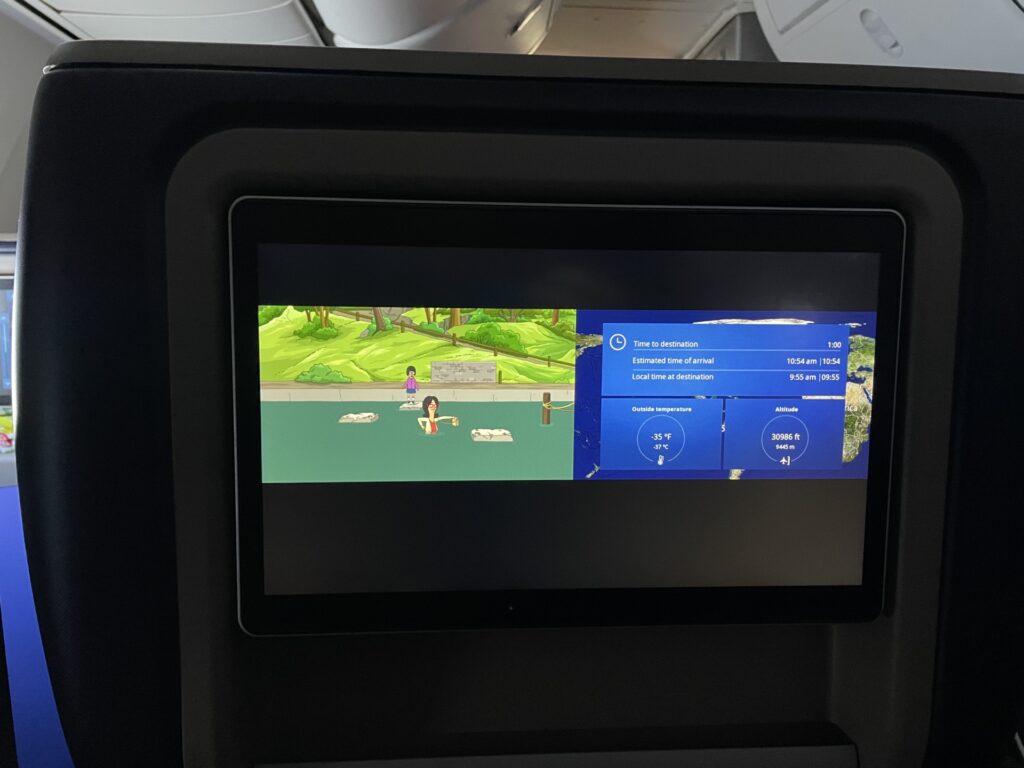 Wifi was available for purchase, but is not complimentary for First Class.
Storage in the New United First Class
United's newest 737NGs (including the upgraded 737-800 we flew) also have some new and (mostly) improved storage capabilities. The most notable enhancement on these planes is the overhead bin storage, which are the same for First Class and Economy cabins. The new bins are taller and fit most carry-on bags on their shorter side (like a library book), which fits substantially more bags in each bin.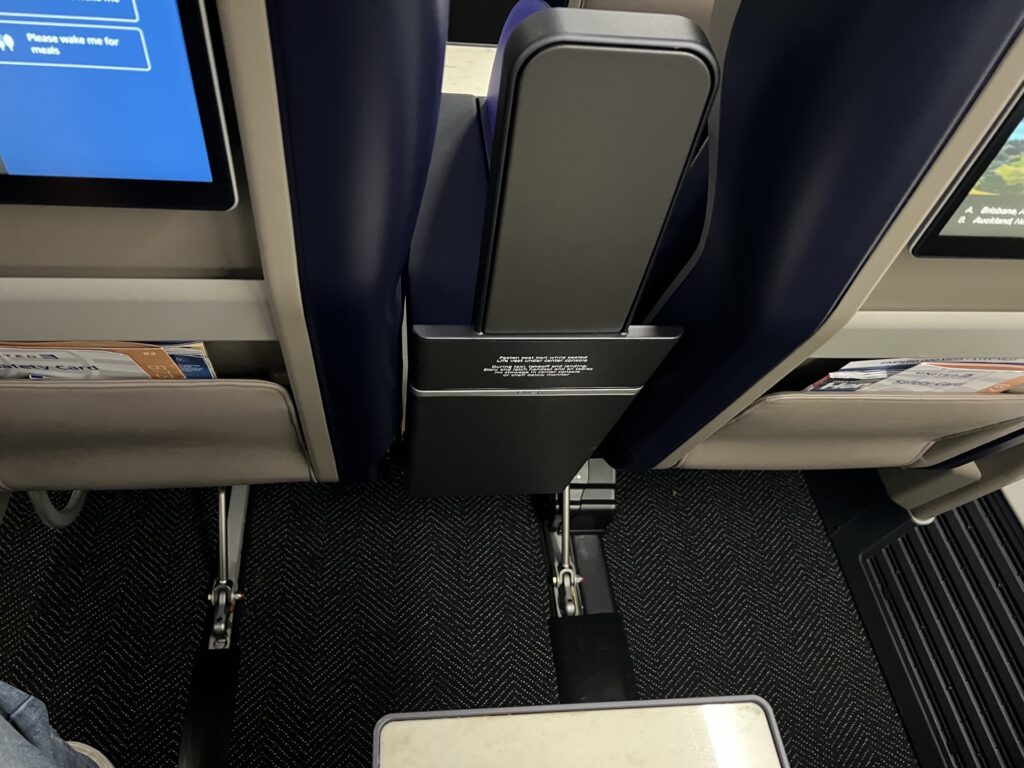 This was important because the storage under the new First Class seats is smaller. I'm not sure if it was the lower seat cushion or the added technology built into the seats, but this storage space was noticeably shorter than most. Kenny and Zoe had trouble, but squeezed their backpack and child's suitcase mostly under the seats.
I have the Béis Mini Weekender bag (which has fit under all premium and economy seats I've come across), and it did not fit under the seat. I hate to take up overhead bin space with a personal item, but I had no choice here. Fortunately, since the overhead bins were so spacious, there was still more than enough bin space left for everyone. Still, it's not ideal.
That said, there was great storage space around the seat for smaller items. The large center console meant plenty of space to set down drinks, phones, and headphones. For additional surface space, there was a small table that popped out from behind the center console in front. There was a cupholder and small storage space in the center console, plus a second seatback pocket for personal items (in addition to the one that stored the provided media.)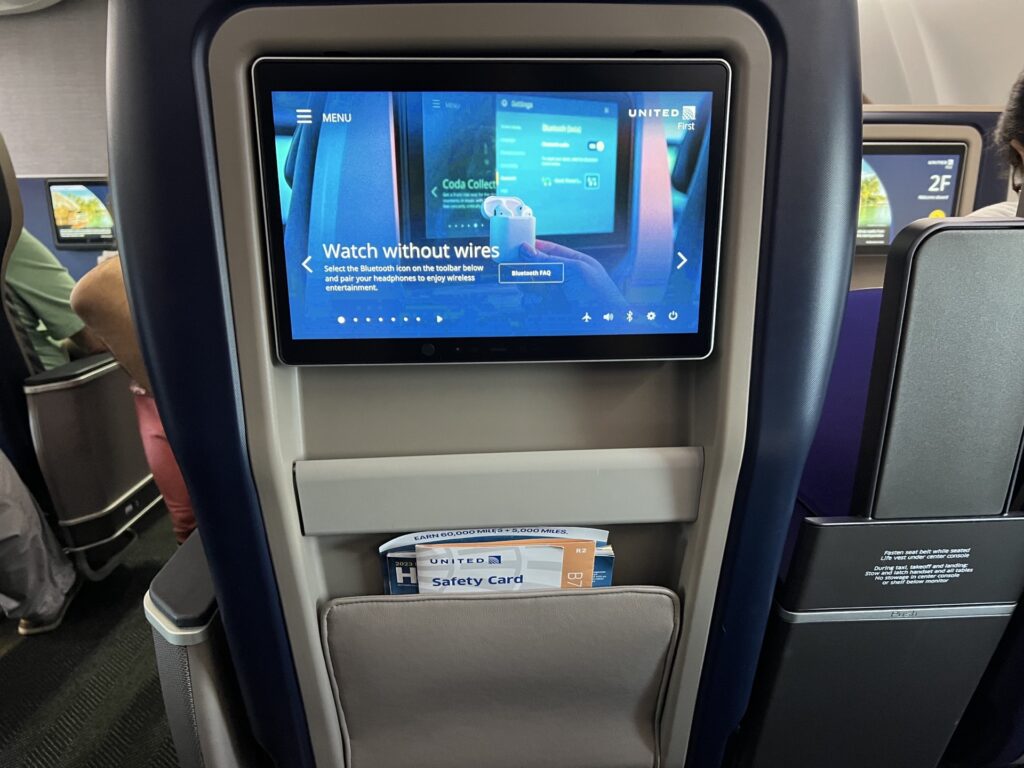 The tray table was also great. Not only was it large (18 x 8.5), but it was about an inch higher than the armrest itself. This gave me space to cross and uncross my legs without bumping it. It had plenty of space to hold a food tray or laptop, and it had the tablet/phone stand as mentioned above.
Food & Beverage in United First Class
Pre-departure drink service is not standard on most domestic first class flights, especially short ones. At best, there's a bottle of water at the seat. I was thrilled to be offered a selection of Champagne, orange juice or water while the plane was still boarding. I happily took a glass of bubbly and water.
Shortly after takeoff, the flight attendant took our drink orders. All drinks in First Class are complimentary, including alcohol. One glass of Champagne before 10 AM is about all I can handle these days, so I opted for coffee. They serve illy coffee on board, which was as good as anything. This was our only proactive drink service, but she happy refilled my coffee upon request. Other than the pre-departure drinks, all beverages during the flight were served in real cups (not plastic).
There was no meal service on our flight from Chicago to New York. United offers meals in premium cabins for flights over 800 miles and our route was just shy of that. Instead, they offered a selection of packaged snacks including Dots pretzels, dried fruit bar, popcorn and almonds.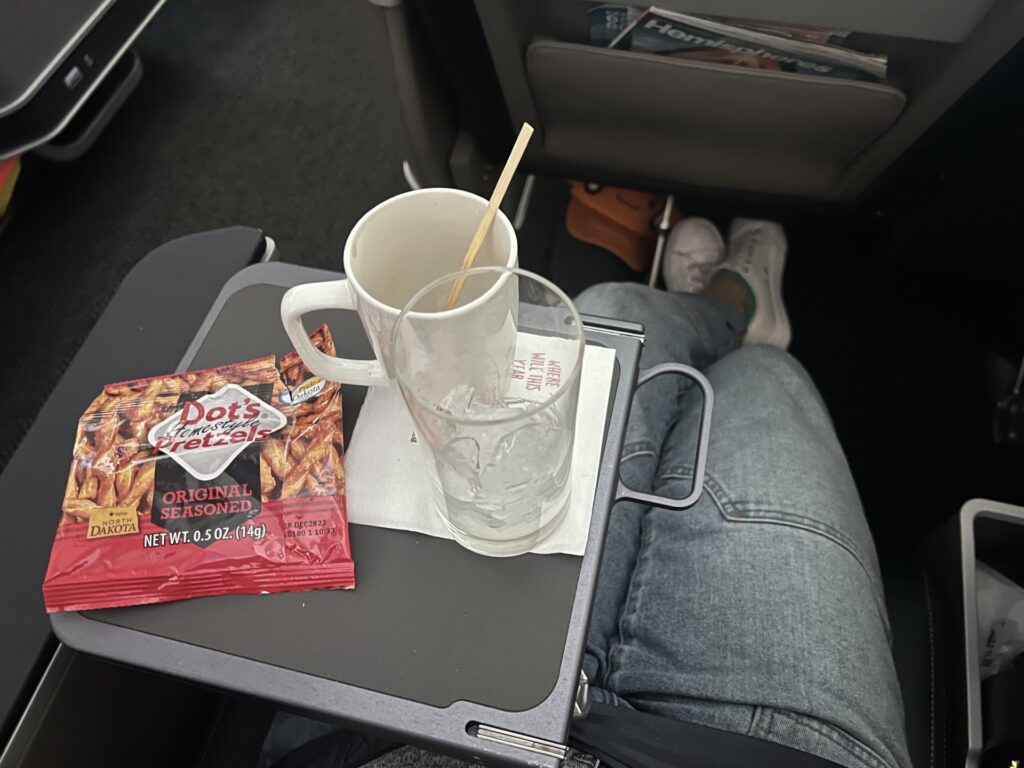 It could have just been our crew, but I found the United First Class flight attendants to be more professional and courteous than I often see in domestic premium cabins. They always addressed us by name and authentically thanked frequent fliers for their loyalty. They never seemed bothered or rushed, and were overly kind in the way you'd expect from long-haul international premium cabins.
Flying the New United First Class with a Toddler
We were flying with our toddler who just turned three. The United First Class seats are in a 2-2 configuration, so we put them in the window seat next to one parent, with the other parent across the aisle. Even with the seat dividers, this product worked well for our family.
Our child has flown many times in a variety of seats and cabins, and they're pretty comfortable on planes. They know that they need to stay seated and buckled during take-off and landing and can generally do that without much assistance. We could easily lean forward to see around the divider, and could reach them if we really needed to. If you were flying with a younger toddler who needed to constantly see you or had trouble sitting still, the dividers could make flying in this product tough.
Overall, our toddler had a great time on this flight! They used the bluetooth on their new toddler headphones to watch TV most of the time. They chose Bluey, but there were tons of great entertainment options for kids. The flight attendants also brought over a kids travel pack and their very own set of wings!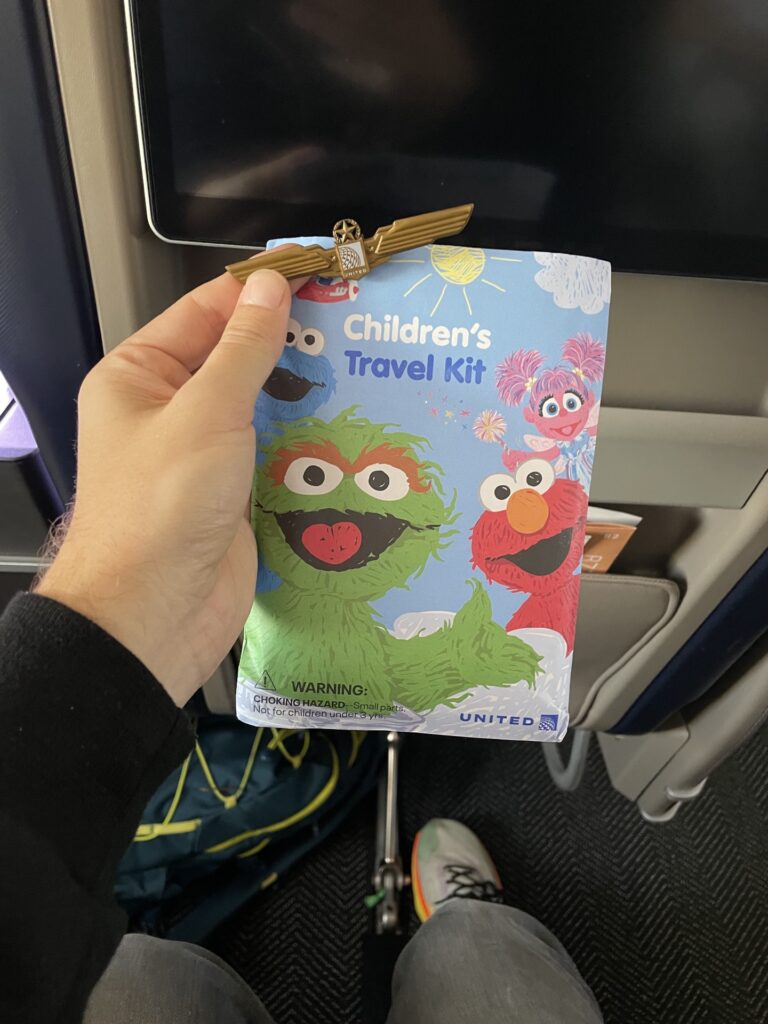 United First Class comes with a lot of perks that make flying with a toddler easier on everyone. For us, the most important perk is that everything is quicker. We can board quicker, get snacks and drinks quicker, and deplane quicker. Add to that the extra space and close proximity to the bathroom, and it starts to feel extremely luxurious as a parent.
If you're flying with kids, we have a few general guides by airline that you might find helpful.
Overall Thoughts on the New United First Class
We really loved the new United First Class product, but not for the reasons we expected. Some of the fancy features that are heavily marketed fell flat for us, while other features were improved in ways we didn't even know we needed.
Let's start with what we loved.
Privacy Dividers. The dividers made each seat somehow feel larger and more cozy. They were successful in improving privacy between travelers, but not so obtrusive that it's impossible to communicate with the person next to you if you're traveling together.
Tray tables. This is not something I typically care about or notice. However, the large size, built in media stand and raised height made them extremely practical.
Overhead storage. The larger overhead bins are available to all passengers, but they were extra useful in First Class where the under-the-seat-storage was smaller. Plus, if there's ample room to store bags, people can board quicker, we leave quicker, and everyone wins.
The seats. Most premium cabin seats are spacious and comfortable, so this is not necessarily unique to United. However, they were much more comfortable than the older product and the many small improvements added up to a lot.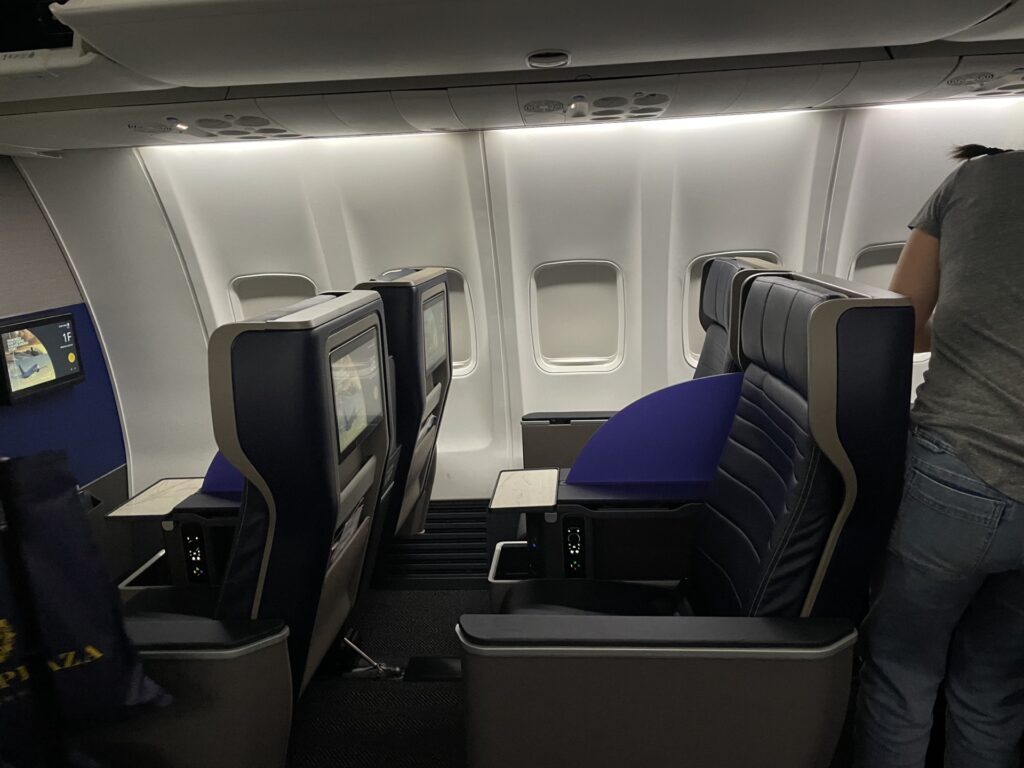 Overall, we loved the product. I think most people are giving it good reviews, and we'd largely agree with that. However, there were definitely a few things that missed the mark.
Wireless charging. This feature didn't work well enough to be useful. It was hard to connect, the connection kept going in and out, and it hardly charged our devices. Using a wired charger is just more efficient on a plane.
Bluetooth. I was so excited to use my AirPods with the seatback screen, but the volume was just way too low. It's better with noise-cancelling headphones that have added volume controls, but wired headphones are provided if needed.
USB-C plug. While some of our cords are USB-C, most of them are still standard USB. Maybe I'm wrong here, but I don't think most flyers are ready to ditch USB cables yet.
Under-the-seat storage. The nicer seats result in less storage under them. As much as I love the overhead bin storage, I really hate having to put my personal item (which typically fits under standard economy seats) in the overhead bin.
Like everything, the new United First Class has pros and cons, but I'd say that the scale tips in favor of the pros. Even with my complaints, I really love the direction United is going. I've generally considered most domestic First Class products to be pretty crummy and not worth the money. I love that United has given us a quality First Class experience for short-haul domestic flights.
Other Premium Domestic Flight Reviews
If you're weighing other domestic premium cabins or seat upgrades, check out some of our other reviews.