In this post, we'll discuss the ins and outs of flying JetBlue Airways with a baby. Whether you've already booked a flight or you're considering JetBlue as the best option for your trip with a little one, we've got you covered with what you'll need to know to prepare for the experience. Read on to learn all about flying JetBlue Airways with a baby.
About This Post
This post is mostly concerned with infants (under 2) who either need a car seat or fly as lap infants. That said, much of what we'll have to say regarding seat selection and onboard experience will be relevant even once your little flyer can sit in their own seat unassisted.
You can find official policy from JetBlue here and here. You should always confirm details of policy directly with the airline, but this post discusses not only those policies, but how they impact your planning and experiences.
This post contains affiliate links, which means that we may receive a commission if you make a purchase using these links. As an Amazon Associate, this site earns from qualifying purchases.
Booking JetBlue With a Baby
Let's start with a pretty important question…
Can you bring a baby on JetBlue?
Yes. As long as your baby is at least 3 days old, they can fly on JetBlue. Additionally: "Infants between three and 14 days old must also have, in the form of a letter, their doctor's approval to travel."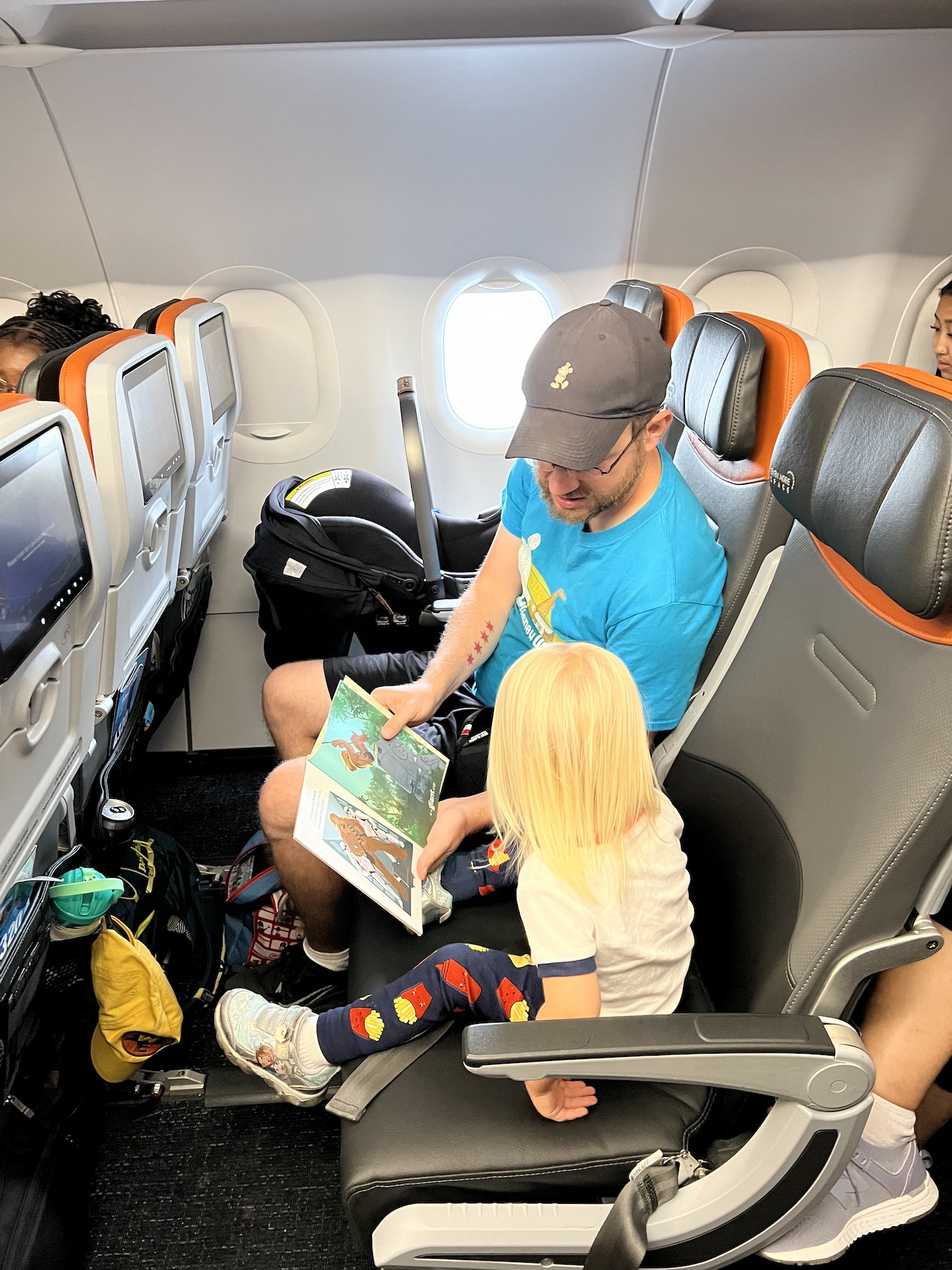 Can my baby sit on my lap?
A child under two years of age can fly as a "lap infant" when flying JetBlue. They don't need their own seat. Once they turn 2 years old, they need their own seat. This includes instances where you buy a round-trip ticket and the baby turns 2 during the trip—they need a seat on the second flight.
Every lap child has to be on the lap of a flyer 14 years or older.
Does my baby have to sit on my lap?
No. You can buy a seat for your baby when flying JetBlue, even if the baby is under 2 years old. Babies that cannot sit upright will need an FAA approved car seat if they have their own seat, though.
Do babies fly free on JetBlue?
JetBlue advertises that lap infants won't have to pay fares, but they may be charged taxes and fees on select routes outside the US. If you're booking a seat for your baby, then you'll have to pay for that seat at the same rate as a regular ticket.
Does JetBlue have bassinets?
To the best of my knowledge, JetBlue has no bassinets on any of its routes or planes.
How do I book a lap infant or a seat for my baby on JetBlue?
Whenever flying with a baby under 2, we recommend booking with the airline directly. This minimizes the chance of any dispute about whether they were properly included in the reservation etc. In the case of JetBlue, when you conduct a search on their website, you'll have the option of either adding:
a child (under 14, including under 2 who require a seat)
a lap infant (under 2 only)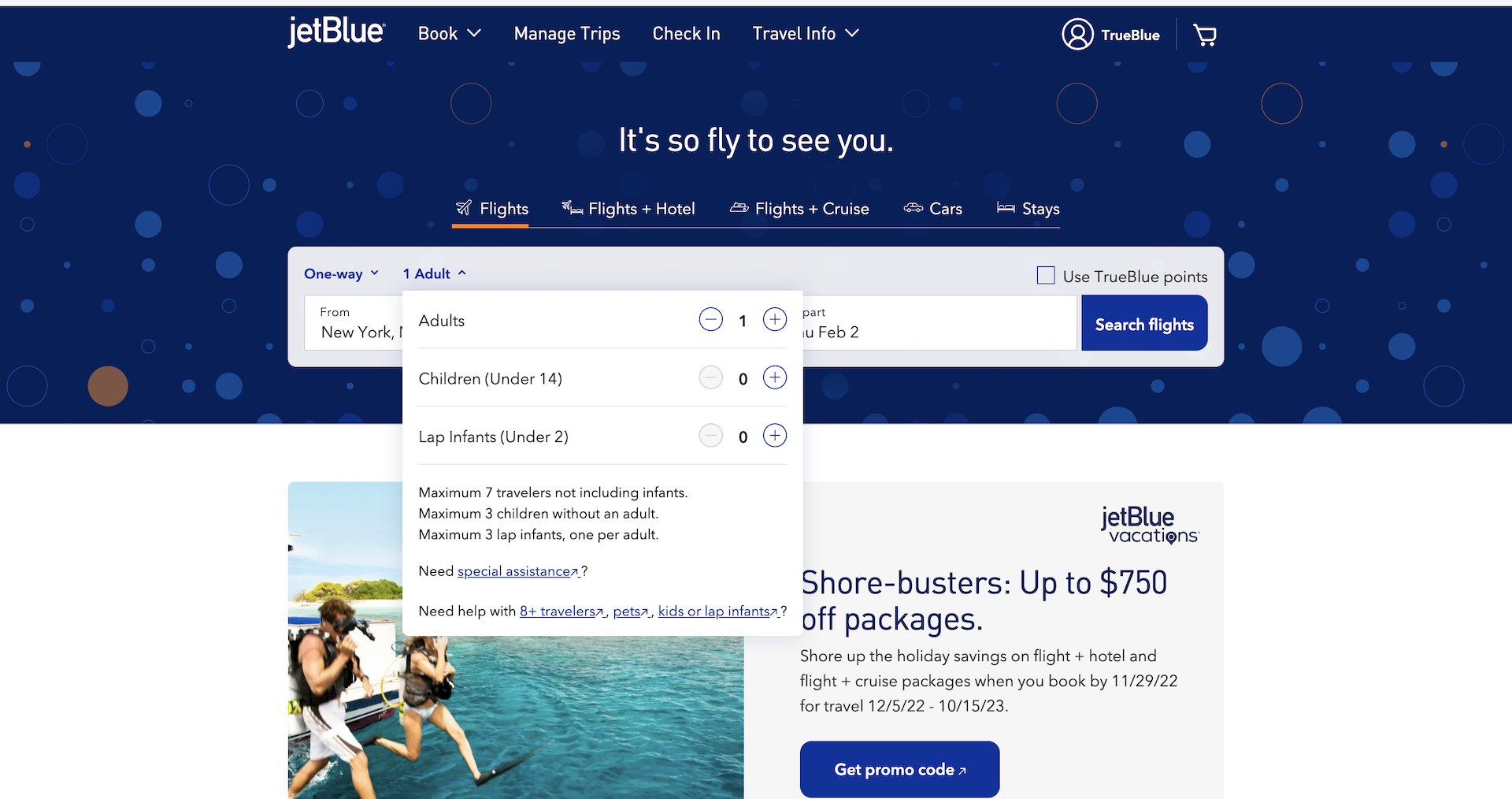 If your child turns 2 during the course of your trip, I'd recommend booking the flights separately. This comes with some inconveniences (i.e. if you have to change your trip you might have double change fees), but on balance I think it's the right approach for a once-in-a-lifetime (literally) issue.
Can you bring a car seat onboard JetBlue?
If you book a seat for your baby, you'll be able to bring an FAA approved car seat onboard for their seat (subject to restrictions about which seats can have car seats, discussed below). If you don't book a seat for your baby, or if they're old enough to not need the car seat, you can check (for free) one car seat per child. You can check the car seat at the ticket counter (before security) or at the gate.
A collapsible car seat (affiliate link) that meets carry-on size limits could be brought onboard, but you should be prepared for the possibility that you're charged a carry-on fee for this.
Most infant car seats should fit JetBlue seats with no trouble. We flew with the Nuna PIPA rx in "Even More Space" seats with absolutely no issue. You can find specifics about JetBlue seat sizes on SeatGuru, but below are some basics.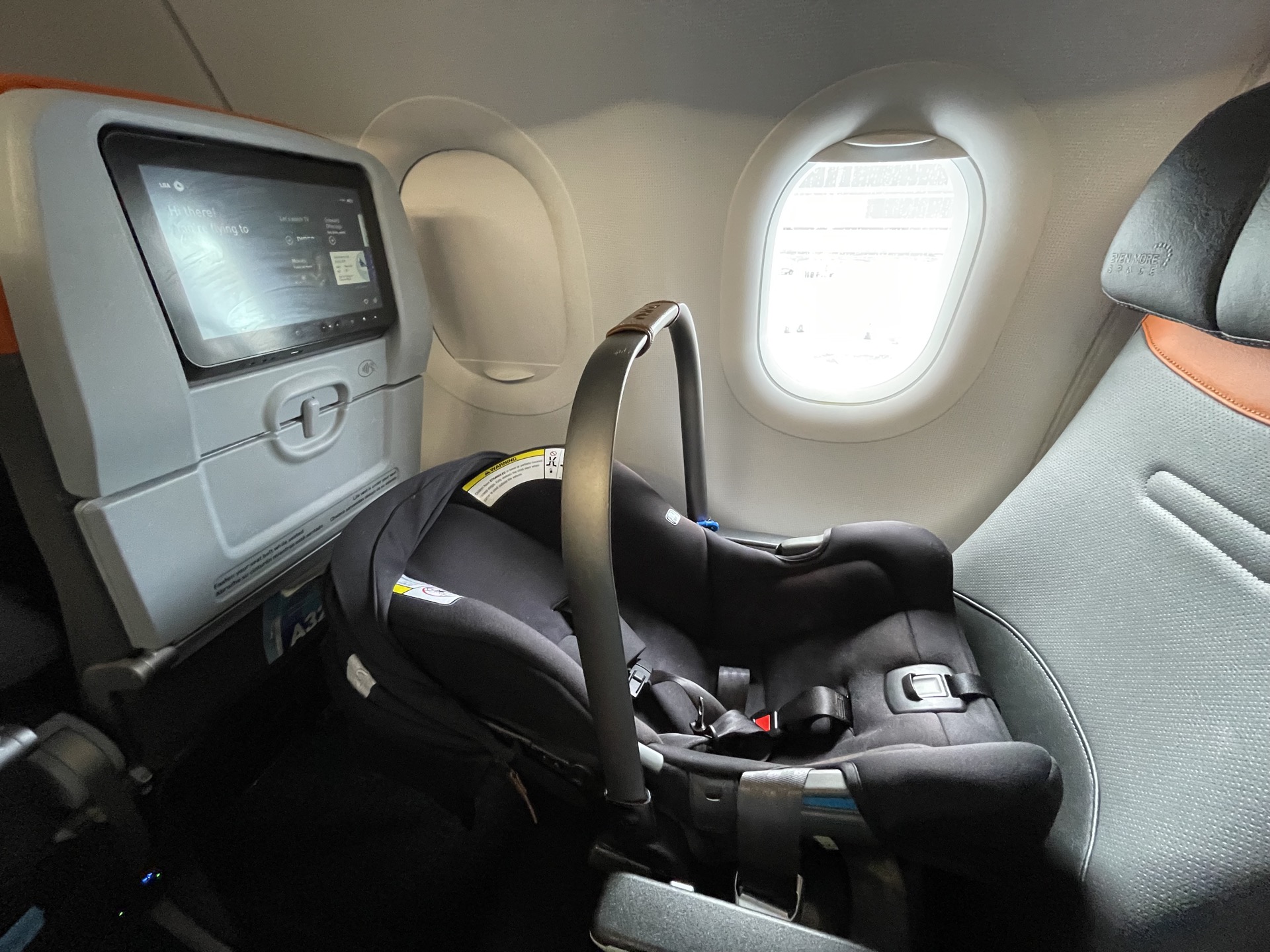 Most JetBlue seats are about 18 inches wide and have 32 inches of pitch (the distance between two seat backs). "Even More Space" seats, which we'll discuss more below, have additional pitch (3 inches or more). Even if they were technically allowed, the newer Mint Suites / Studios are not appropriate for car seats because they're individual, isolated pods.
Can you bring a stroller onboard JetBlue?
You cannot bring a stroller onboard JetBlue (unless it's some super cool compact stroller that folds into the size of a carry-on you paid for), but you can check one stroller per child for free at the ticket counter or the gate. JetBlue does not specify a size restriction for gate-checking strollers, but I would recommend checking large strollers or double wides at the ticket counter before security (or at least asking them if you'll be able to gate check it).
Does JetBlue allow Diaper Bags?
When flying JetBlue with a lap infant, you're allowed to bring one diaper bag per lap infant. Keep in mind that lap infants are not allowed a separate personal item. Also, the JetBlue website does not indicate that an infant with a seat would be allowed both a diaper bag and a personal item. Instead, the diaper bag would count as the personal item for that seat.
JetBlue personal items are limited to (43.2 cm) x 13″ W (33 cm) x 8″ H (20.32 cm), and that's a good rule of thumb for the size you should keep a diaper bag to, as well.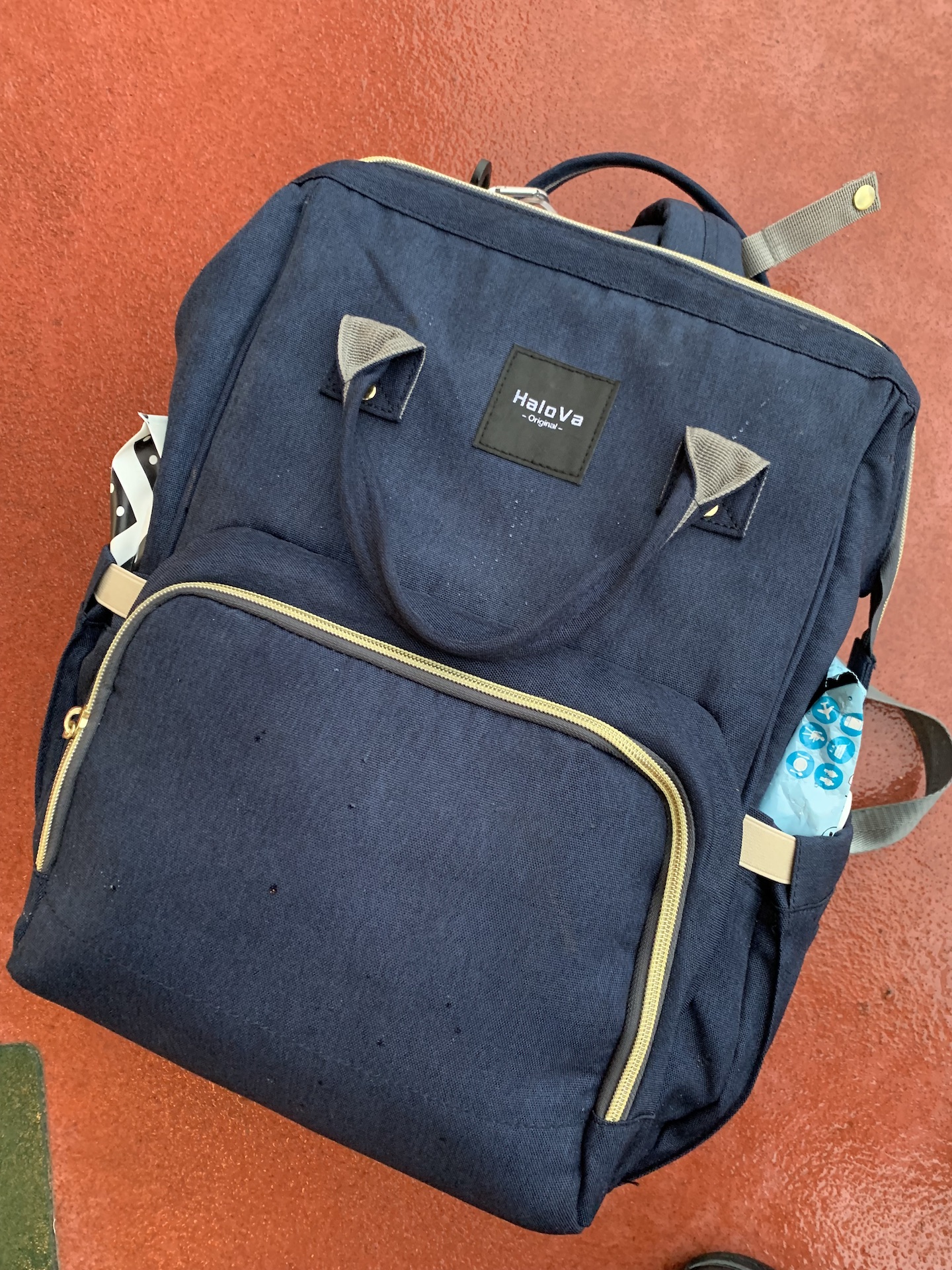 Does my child need a birth certificate to fly JetBlue?
You should expect to prove your child's age (under 2) if you're flying with them as a lap infant. JetBlue states that the following are acceptable forms of proof:
Passport
Birth Certificate (Copies are accepted on domestic travel)
Immunization Record
When flying domestic you should try to have a paper copy of a birth certificate. A scan should work (if for no other reason then it's a "Print" button away from being on paper), but this is probably a "better safe than sorry" situation. Ideally, you'll get a passport for your little one ASAP so you don't have to deal with any of these issues (and the passport is required for international travel in any case).
JetBlue With a Baby – Seat Selection
Most JetBlue fares include complimentary seat selections, but we'll start with what to expect if you don't select seats.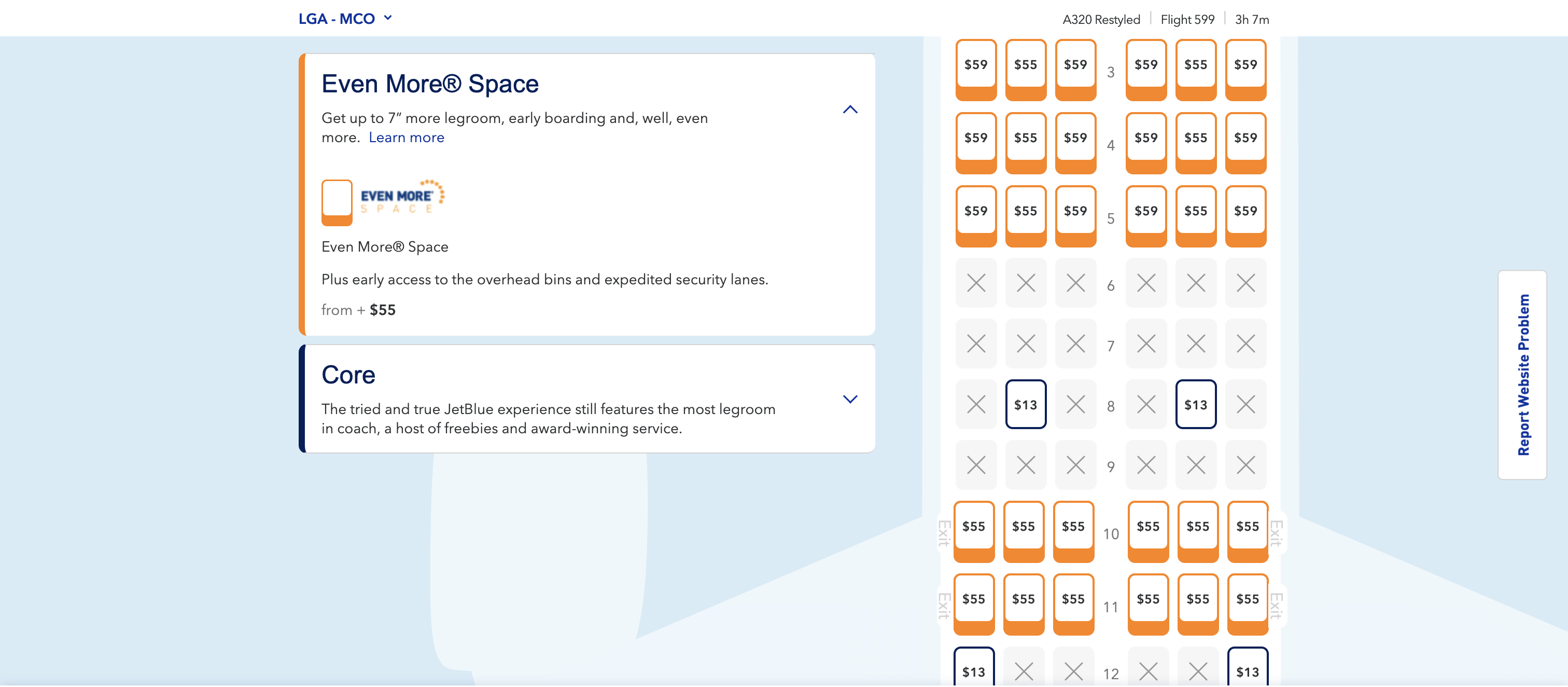 Skipping Seat Selection
If you book a Blue Basic fare—which doesn't have free seat selection—you might wonder what will happen when traveling with a baby.
When you don't select seats, JetBlue will (one way or another) wind up seating at least one parent next to each child. If you check in and notice any child is not seated next to a parent, you can visit either the ticketing desk or the gate and ask for this to be fixed.
Even so, your entire party might not be seated together. Specifically, one parent and a lap infant need not be seated with the other parent. The best option with kids is to book a fare class with seat selection or pay for seats.
Selecting Seats
When it comes to picking a seat with your baby on JetBlue, there are four types of seats to know about:
exit rows
regular seats
"Even More Space" seats
Mint Suites & Studios
Seats That Babies Can't Use
Neither lap infants nor car seats are permitted in exit rows. Even with a toddler in their own seat, the exit rows are not an option because you have to be at least 15 years old to sit in those rows.
There also are seats with inflatable seatbelts that cannot be used with car seats (and I believe lap infants wouldn't be allowed in these either). Unfortunately the JetBlue site doesn't seem to list these anymore, but you can find scattered reports about them online.
Regular Seats
As mentioned above, you can find specifics about JetBlue seat sizes on SeatGuru. Generally, expect seats to be 18 inches wide and have 32 inches of pitch. If you use a car seat, it must go in the window seat.
"Even More Space" Seats
JetBlue's "Even More Space" seats come with extra legroom, early boarding, and—in select cities—expedited security.
Read our review of JetBlue's Even More Space seats here.
JetBlue offers pre-boarding for families with kids under 2, so for most of you early boarding won't have much value. There is sometimes a small amount of value, though. If you book JetBlue's lowest "Blue Basic" fare, then the "Even More Space" seats come with a carry-on that you don't get with your Blue Basic fare.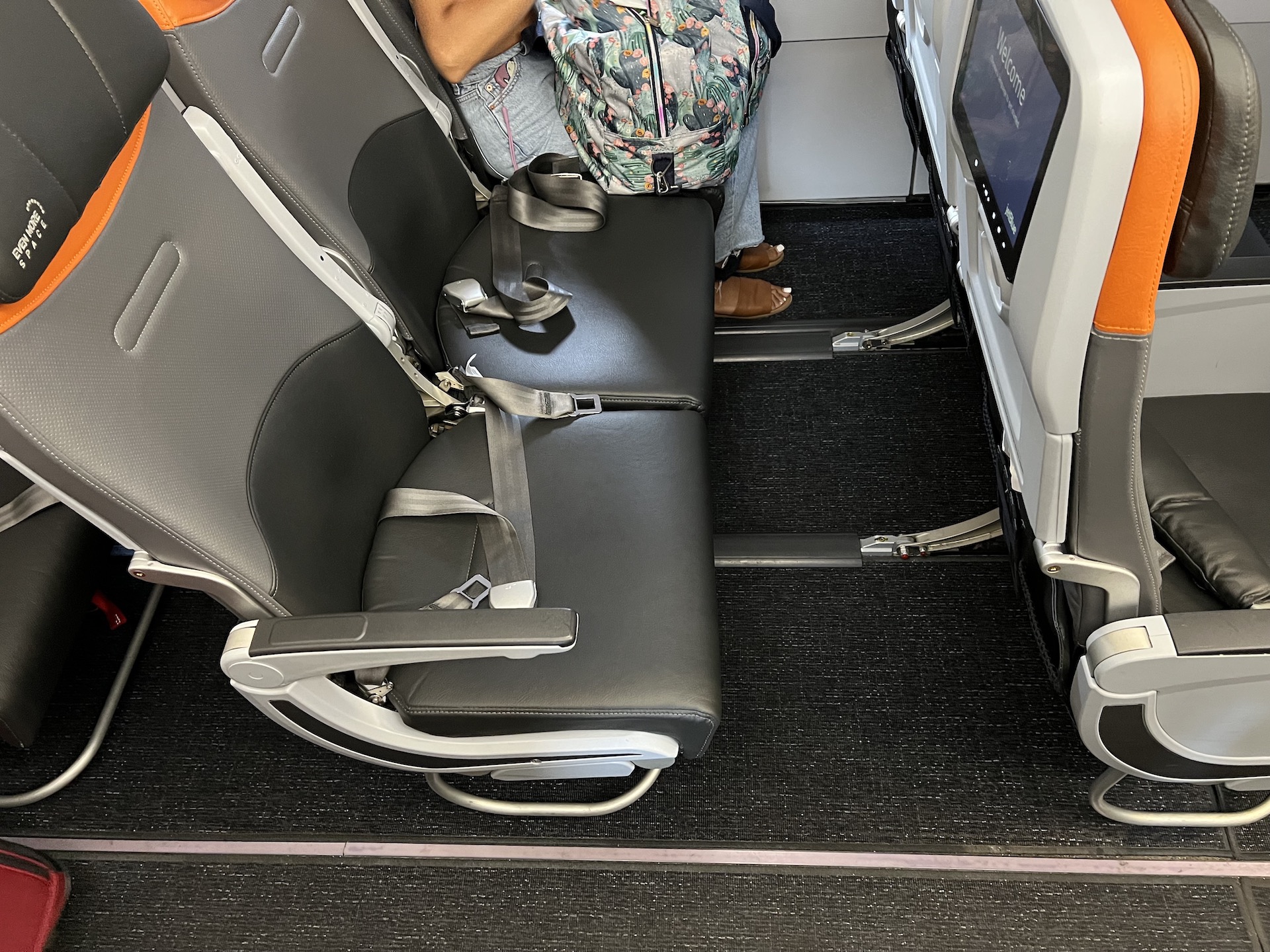 Expedited security is going to be of limited use and not always available, so we'll ignore that too. That leaves extra legroom to discuss.
The extra legroom you get with "Even More Space" seats varies greatly. Worst of all, it's the exit rows that get the most extra legroom. Those seats aren't available when you've got a child under 15, so your "Even More Space" options are a little less appealing.
The "Even More Space" seats near the front of the plane have a few extra inches of legroom (around 3 inches) and the added benefit of being near the front of the plane. This is good for families for a variety of reasons, including quick service from flight attendants, easy access to lavatories and quick deplaning.
JetBlue Mint Seats
JetBlue's "Mint" seats are their equivalent of First / Business class. There are two configurations of Mint seats. The older configuration alternates rows of 2-2 and 1-1. JetBlue doesn't discuss flying in these seats specifically with children, but a quick Google search confirms that generally they are acceptable for both lap infants and car seats.
If you're looking to book this configuration, I'd make two suggestions. First, check with JetBlue to confirm the seats you're interested in are acceptable for a car seat or lap infant. Second, when booking for a car seat, book a pair of seats in the 2-2 rows. You want to be next to your child when flying. (I'm unsure about legal requirements, but I can bet there's a flight crew out there that wouldn't let a car seat go without an adult immediately next to it.)
The newer Mint configurations is 1-1 throughout the cabin, with personally enclosed suites throughout and two larger studios at the front. It's been confirmed by one author that car seats cannot fly in these suites, but I see no reason to think lap infants would not be allowed (again, confirm with JetBlue before or within 24 hours of booking).
JetBlue With a Baby – Luggage
JetBlue baggage allowances vary depending on what fare type you book.
Diaper bags. Every lap infant is allowed one free diaper bag. This in addition to any luggage the accompanying adult is allowed.
Personal item. Every passenger (besides lap infants) gets one personal item. This should be a small bag that fits under your seat. The official size limit is 17″ L (43.2 cm) x 13″ W (33 cm) x 8″ H (20.32 cm).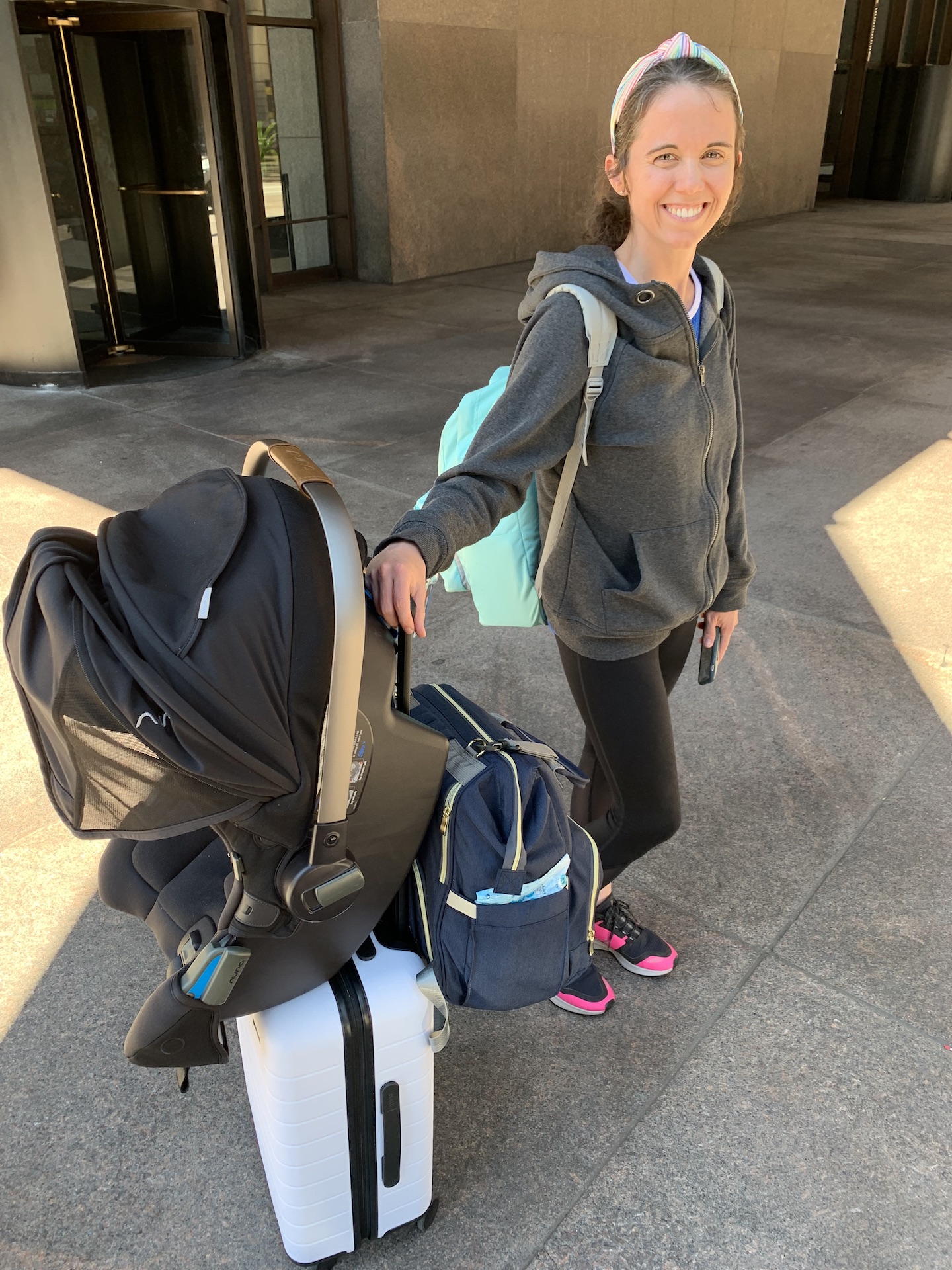 Carry on. A carry on is larger than a personal item, but should still fit in the overhead bin. The official size limit is 22″ L (55.88 cm) x 14″ W (35.56 cm) x 9″ H (22.86 cm). Customers who book Blue Basic fares do not get carry ons except:
Mosaic (JetBlue elite status) members
Travelers to/from London (including connecting flights)
Active U.S. military
Unaccompanied minors
You can also get a carry on by booking an "Even More Space" seat.
Importantly, Blue Basic fares cannot add a carry on, even for a fee. If you have a Blue Basic fare and try to board with a carry on, you'll have to pay for the bag to be checked, along with a penalty fee.
Checked bags. JetBlue passengers generally don't get free checked bags.
Check In
Because JetBlue sometimes confirms ages of lap infants, you should not expect to be able to check-in online. If you happen to successfully do this, it's important to make sure your boarding pass indicates that you have a lap infant. Otherwise, you'll want to swing by the ticket desk at the airport to make sure the lap child is properly included in the reservation.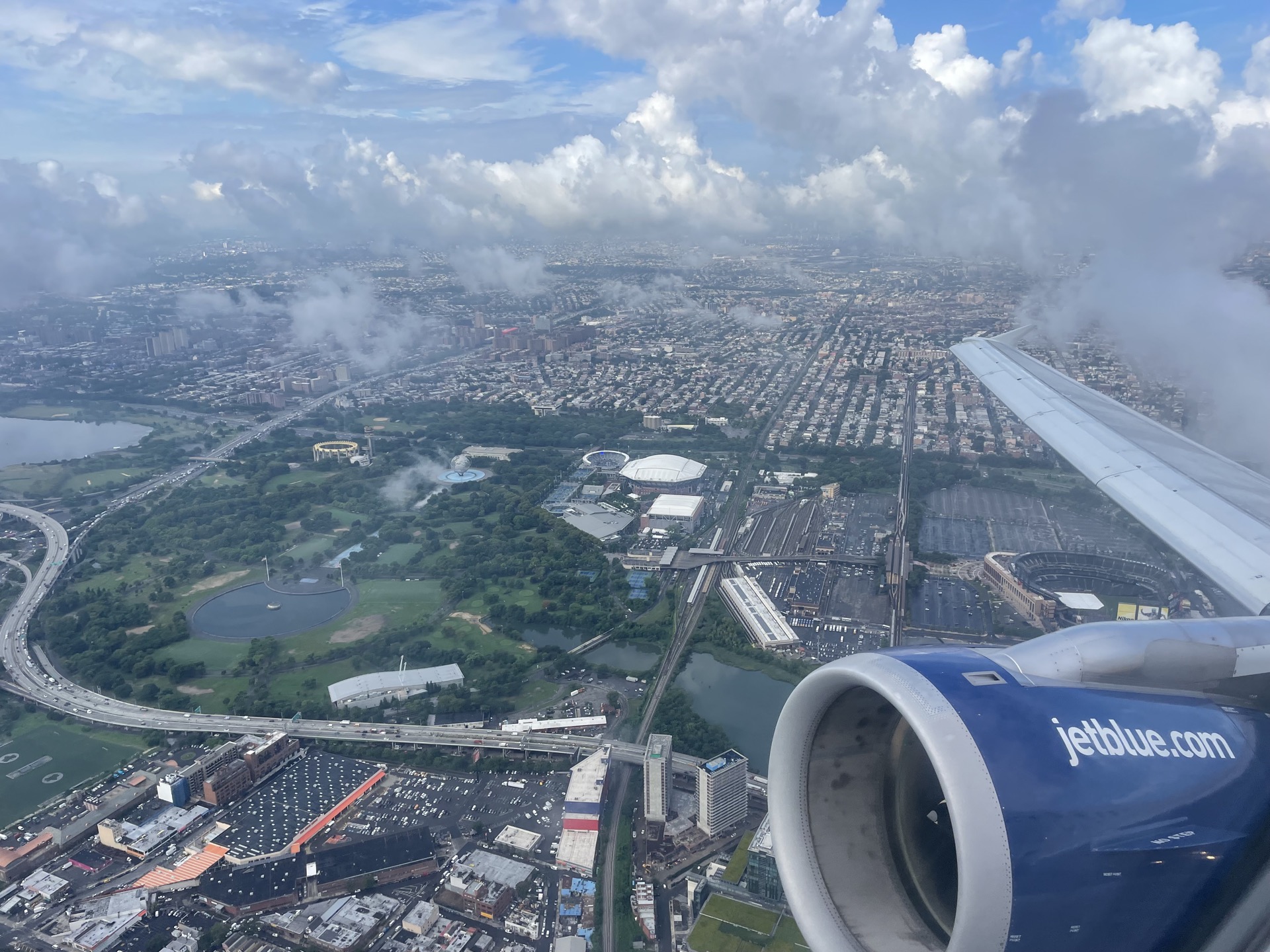 JetBlue Lounge Access With a Baby
JetBlue doesn't have any lounges of their own, but as of late 2022 there is a new option for some JetBlue flyers—American Airlines Admirals Clubs. If you have an Admirals Club Membership (also available as a perk on the Citi / AAdvantage Executive World Elite Mastercard) you can use that membership to access Admirals Clubs when flying JetBlue.
Admirals Club memberships include access for immediate family or up to two guests. The specific terms exclude flights to Europe (my guess it that this is because those routes compete with American oneworld partners).
This also works if you have one-day passes. Admirals Club one day passes come with guest access for up to 3 children under 18.
Moreover, there are situations where JetBlue markets and sells tickets for flights operating by American. In this case, you'll have the same lounge access you'd have as if you'd booked with American.
NOTE: With the end of the JetBlue and American Airlines Northeast Alliance partnership in July 2023, we expect this arrangement to change. However, nothing has been announced as of this update.
Whatever airline you're flying, you'll often find Priority Pass is the easiest way to get lounge access. Priority Pass memberships grant access to a network of lounges around the world.
Priority Pass is included as a benefit of several premium cards these days, including the Chase Sapphire Reserve and Amex Platinum. Guest policies for Priority Pass vary but typically include two guests, with additional guests allowed for a fee. A large family may want to find a way to have two Priority Pass accounts to maximize their guest count.
Finally, please keep basic etiquette in mind when visiting a lounge with a child. We fully support bringing kids into lounges, but finding a relatively isolated spot, not allowing your kid to run around, and leaving if they can't control themself are the minimum steps you should take as a courtesy to other people in the lounge.
JetBlue Boarding With a Baby
JetBlue boards families with kids under 2 as part of pre-boarding. This would include all lap infants, since they must be under 2 years old. If your child is 2 or older, you can purchase a more expensive "Blue Extra" fare or an "Even More Space" seat to get Early Boarding. You can review the specifics of boarding here.
Onboard JetBlue With A Baby
JetBlue has a decent selection of complimentary snacks. Besides the usual airplane beverage offerings, the standard lineup of complimentary snacks includes things like Cheez Its, cookies, and plantain chips. JetBlue also offers snack boxes for purchase (around $10) in case you need more substance for your little one during the flight.
Every JetBlue plane has a lavatory with a changing table. Note that not every bathroom on the plane will have a changing table.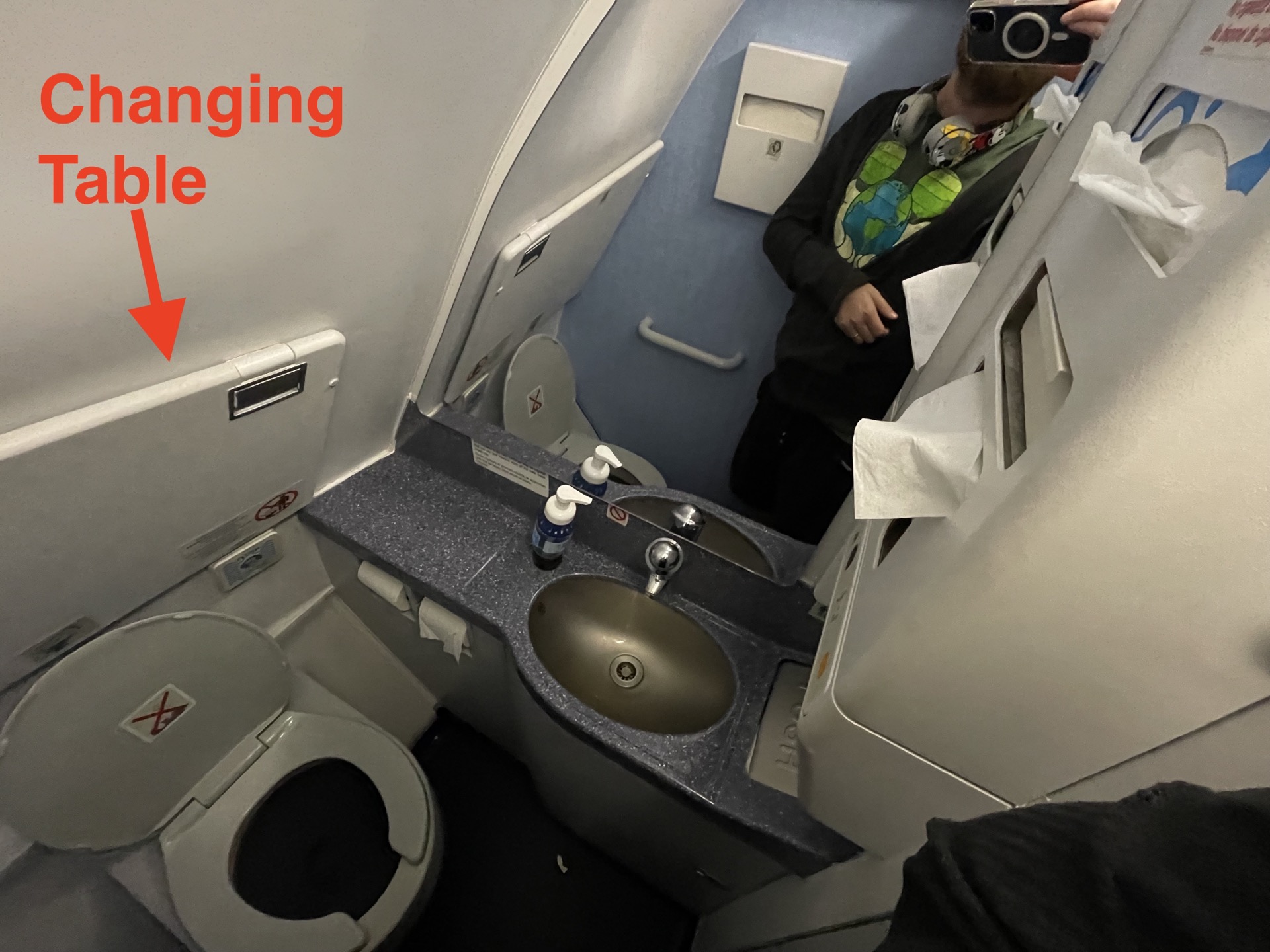 JetBlue has seat back entertainment at every seat. Our go-to is always to pack our own tablet—an Amazon Fire HD 10 (affiliate link)—loaded with downloaded entertainment, but to try and get Zoe to watch the unique offerings on the plane for a little while first.
JetBlue offers free wifi on every plane. Availability will vary by weather / route / whether the wifi is working that day. I'd never recommend counting on any airplane wifi if you need to stream for your little one. Instead, find a service that allows you to download some entertainment onto your device before the flight.
Most, but not all, JetBlue seats have outlets. While JetBlue's fleet is impressively modern, some seats don't have outlets. As always, never count on a plane seat having working power (charge your devices, bring a power block). You can see availability when booking: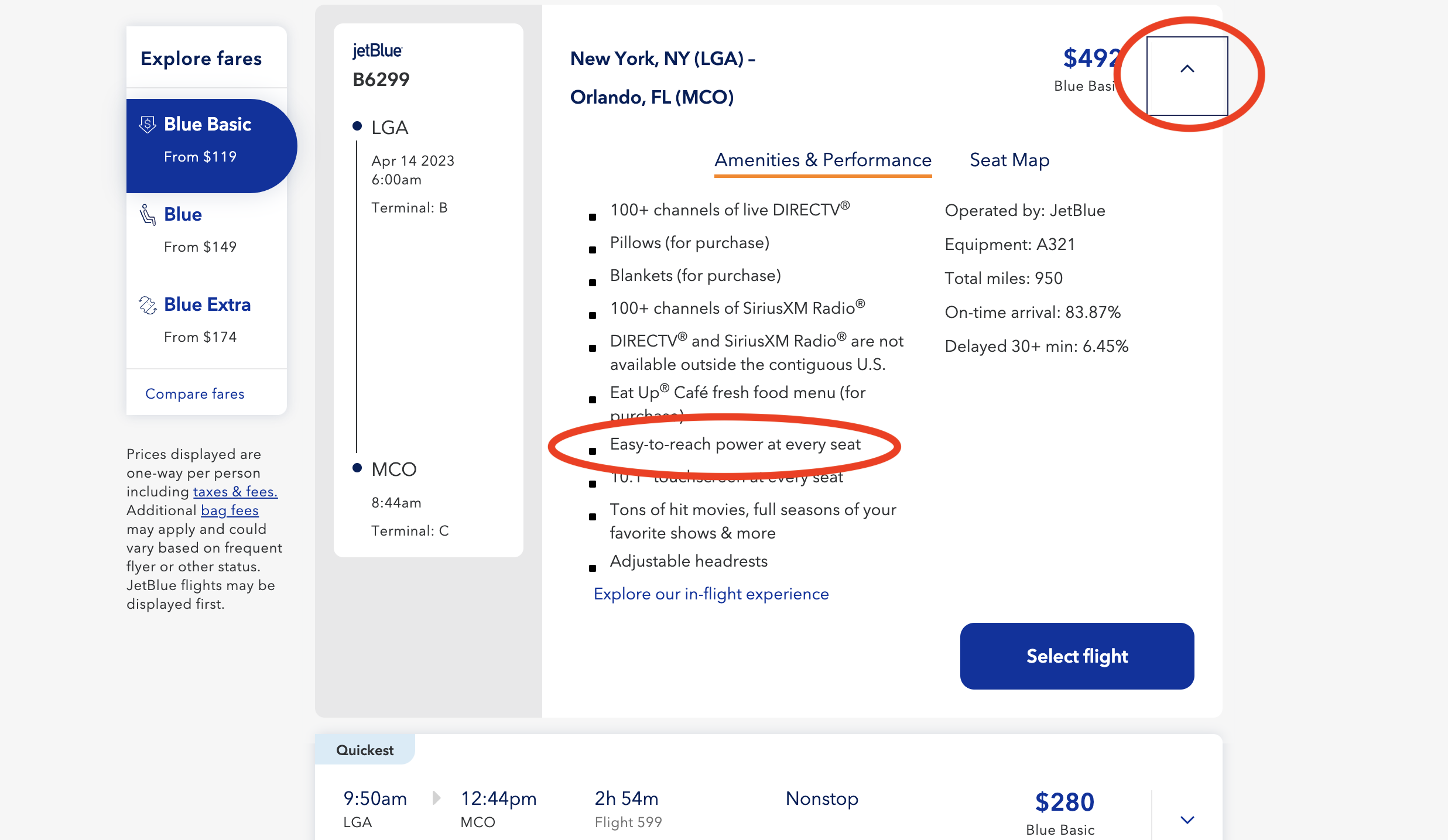 JetBlue With a Baby – Conclusions
JetBlue is one of the better airlines to fly with a baby. Their modern fleet does well with wifi, entertainment, and power. The seats are not too cramped. Their snack selection is scrumptious. The biggest things to flag are:
Blue Basic fares don't include a carry on
Kids can't sit in the exit rows, which are the best "Even More Space" seats
Altogether, the consistently good product makes JetBlue a great option when flying with babies or toddlers.