We flew from New York (JFK) to Orange County (SNA) with American Airlines for a family trip to Disneyland. We flew the Airbus A321 transcontinental in Main Cabin to California and Main Cabin Extra back to New York. In this post, we'll explore the differences and similarities between Main Cabin and Main Cabin Extra flying transcontinental with American Airlines. We'll conclude with our thoughts on whether Main Cabin Extra was worth the upgrade.
Keep reading to learn more about flying transcontinental in American Airlines Main Cabin and Main Cabin Extra!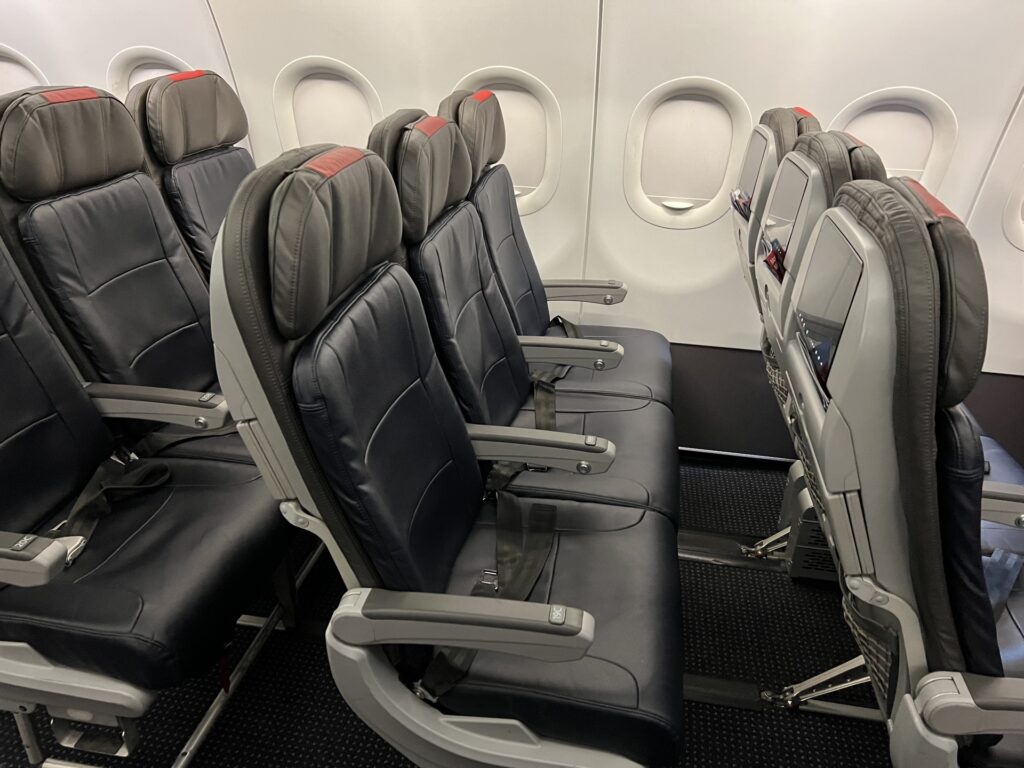 In This Post
Explaining American Airlines Economy
American Airlines offers a variety of flying experiences for transcontinental flights including First Class, Business Class and Main Cabin (economy). The Main Cabin is broken into three fare categories: Main Cabin, Main Cabin Extra and Basic Economy.
Here's a look at what's included for all Main Cabin passengers, including all three fare categories.
Complimentary snacks and non-alcoholic drinks. On transcon flights between JFK and California (LAX, SFO, SNA), this also includes a meal.
Free onboard entertainment. On the seatback screen or on your personal device via the American Airlines app.
One free carry-on bag and personal item. The carry-on size for American Airlines is 22x14x9 inches and the personal item size is 18x14x8 inches.
Advanced seat selection. You will have the option to select your seat at the time of booking, but fees may apply based on your fare category and seat selection.
And here's how the American Airlines Main Cabin fare options differ
Main Cabin: This is the standard economy flight experience. You can select a basic seat in advance for free (or select a premium seat for an added fee), there are no change fees, and you'll get general boarding. On transcontinental flights, you'll also get a free checked bag.
Main Cabin Extra: This refers to a specific premium seat selection and the perks that come with it. Main Cabin Extra seats include up to 6 inches more leg room (but most have 4 extra inches) and include perks like priority boarding, complimentary alcoholic beverages and an additional checked bag. Main Select and Main Plus are both fare categories that include complimentary Main Cabin Extra seat selection. Main Select is a refundable fare while Main Plus is not.
Basic Economy: This reduced fare comes with the same seat and onboard experience as Main Cabin, but has a fee for advance seat selection, does not allow changes, boards last and does not come with a free checked bag.
If you're a visual person, here's a chart that breaks down the differences between American Airlines Main Cabin options.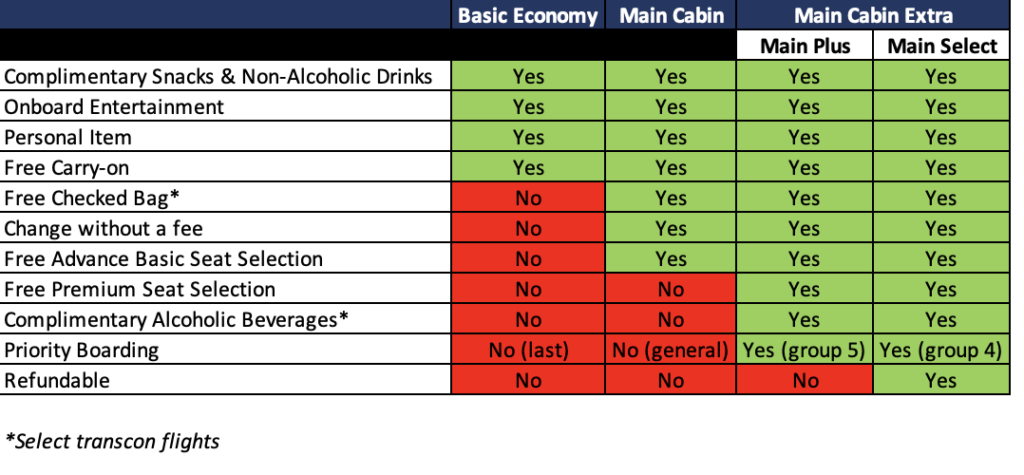 American Airlines Main Cabin Booking & Seat Selection
I don't love the American Airlines booking interface on their website. They make things complicated by offering the same product under different names and try to upgrade you at every click. However, it is still the easiest way to book American Airlines Main Cabin with the most transparent experience. So that's what we'll walk through here.
NOTE: If you have a Chase credit card with access to the Chase Ultimate Rewards travel portal, you may want to book your flight through there. We have the Chase Sapphire Reserve card and booked through the UR portal for 5x points.
From the American Airlines website, start by entering your flight information and click search. In the flight list, you will see fares by class including Basic Economy, Main Cabin, Business and First.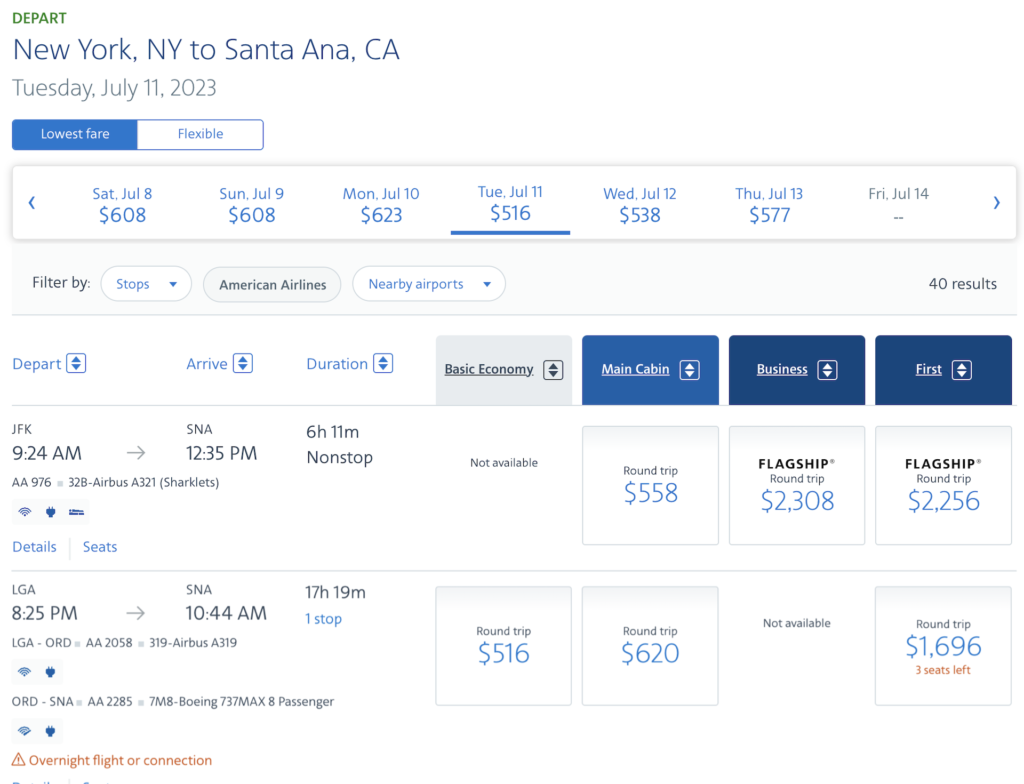 Booking Basic Economy
If you choose a Basic Economy fare, you will get a pop up explaining the difference between Main Cabin and Basic Economy. You will have to again confirm the fare category you want.
With basic Economy, you have to pay a fee to select your seat in advance. This might end up being more expensive than booking a Main Cabin fare which includes free basic advance seat selection, so be sure to price out both options.
If you don't select a seat in advance, you'll be assigned one when you check in. They cannot guarantee your party will be seated together unless you're traveling with a child under 15. At minimum, they will place every child under 15 next to at least one adult.
Booking Main Cabin and Main Cabin Extra
To book Main Cabin or Main Cabin Extra, select the Main Cabin fare. You'll then get a pop up asking if you want to continue to book Main Cabin or upgrade to Main Plus.
If you upgrade to Main Plus, you will be prompted to select a Main Cabin Extra seat at no added charge. If you choose Main Cabin, you can still select a Main Cabin Extra seat for a fee. However you book Main Cabin Extra seats, they come with the Main Cabin Extra benefits including priority boarding, alcoholic beverages and an extra checked bag.
It is usually cheaper to select the Main Plus fare that includes Main Cabin Extra seat selection than to book the Main Cabin fare and pay for the Main Cabin Extra seat.
For example, on this sample booking from JFK to SNA, it was $122 more to upgrade from Main Cabin to Main Plus which included Main Cabin Extra seat selection. If I stuck with Main Cabin, it cost $142 more to purchase Main Cabin Extra seats.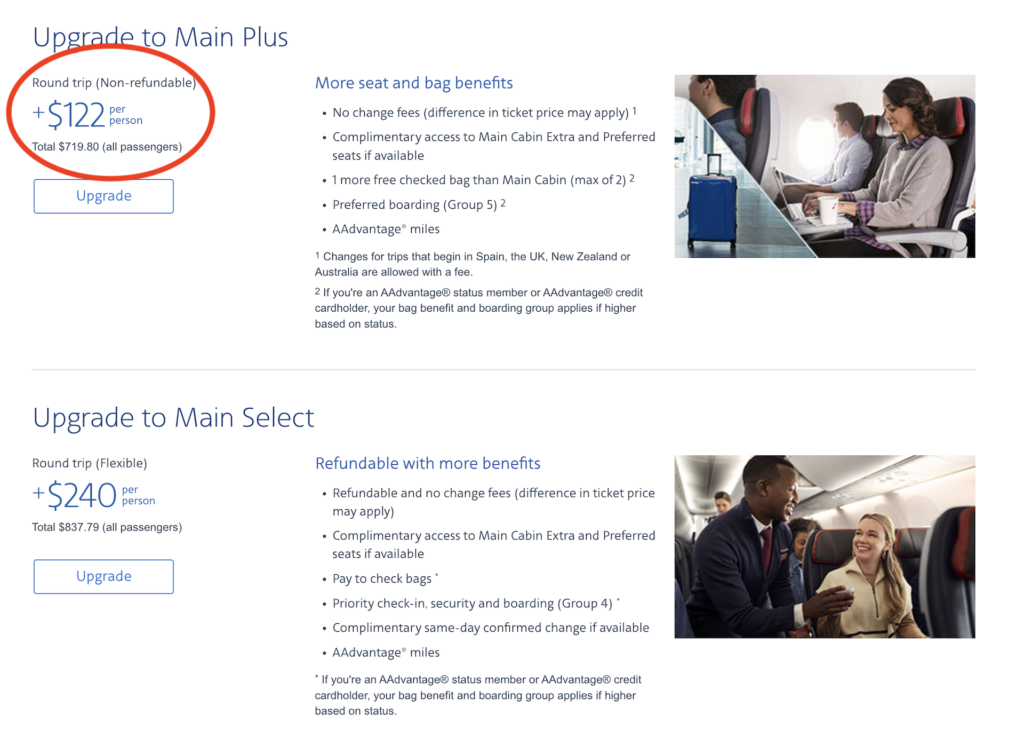 New York to Orange County on A321T in American Airlines Main Cabin
Let's start with our experience flying from New York (JFK) to Orange County (SNA). For this morning flight, we were flying American Airlines Main Cabin on the A321T.
JFK Airport Experience
Our flight was bright and early out of JFK. We took a rainy Uber ride and arrived at the terminal around 7:15 for our 9:30 AM flight.
American Airlines flies out of Terminal 8 at JFK. Terminal 8 does not have CLEAR, so we went to the regular TSA PreCheck line. It was early on a Saturday morning, and there was hardly anyone there. We basically walked right through security.
Our flight was out of gate 43, which was quite a hike from security. It took us about 15 minutes to walk to the gate, granted we were walking slowly with a toddler pulling their own suitcase for the first time.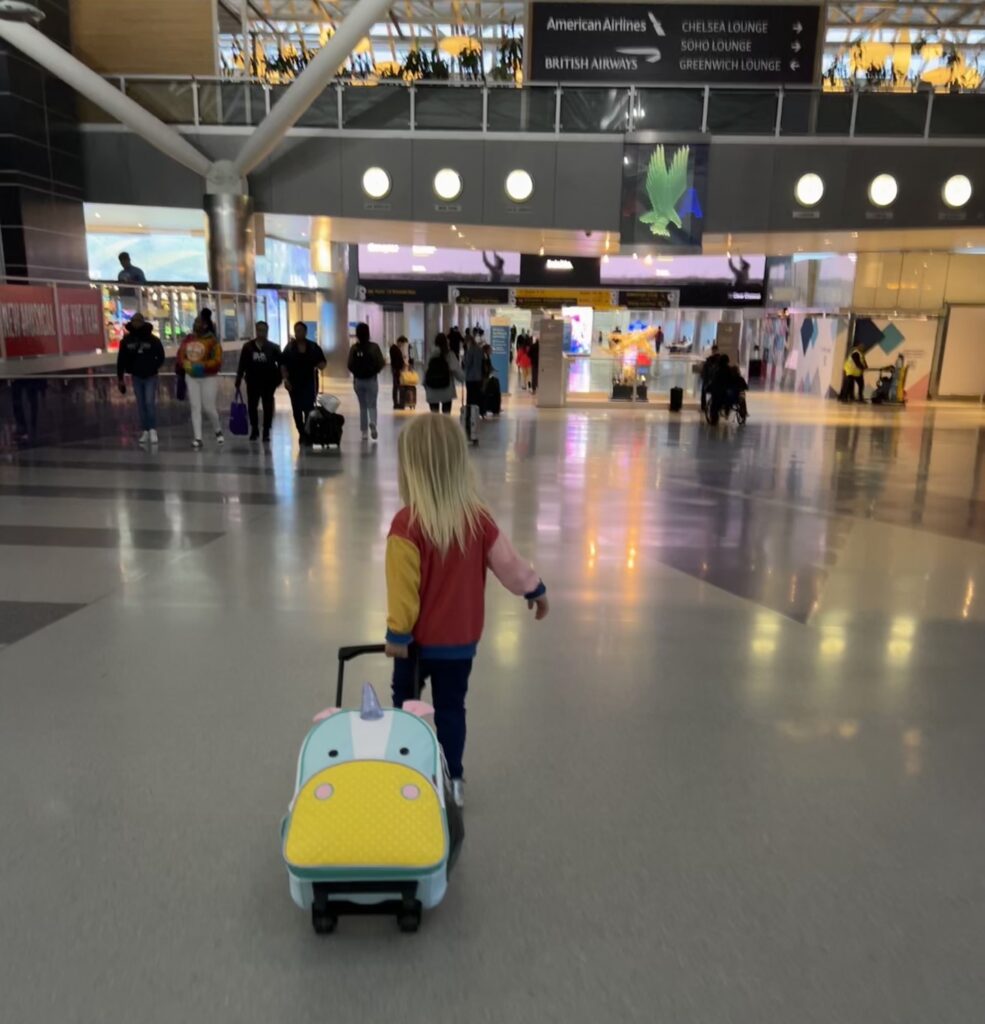 We have Priority Pass, but there is no lounge available in Terminal 8. Since we were flying Main Cabin, we didn't get any lounge access with our ticket either. Without a lounge, we headed straight to our gate.
The gate area was almost eerily empty. As always, our little one was keen to do some light Hudson shopping and I was pleasantly surprised to find no wait at the nearby Dunkin Donuts.
Boarding began on time and was very orderly. Main Cabin defaults to general boarding, but we got priority boarding with our Citi AAdvantage card. Even though we booked through Chase, our Citi AAdvantage card is tied to our American Airlines account and got us boarding group 4.
You can review the standard boarding order here.
American Airlines A321T Main Cabin Seats
There are only 6 rows (36 seats) in the Main Cabin section all the way at the rear of the plane. On our way to our seats, we passed through the distinct First and Business Class cabins and then the Main Cabin Extra seats before arriving in our section.
Despite passing through all of the extra luxurious seats on the way, I was actually pretty impressed with the looks of our Main Cabin seats. They were very heavily padded for an economy seat with a plush, flexible headrest and made of a soft faux leather. The seats are a respectable 17.3 or 17.7 inches wide with a pitch of 31 inches.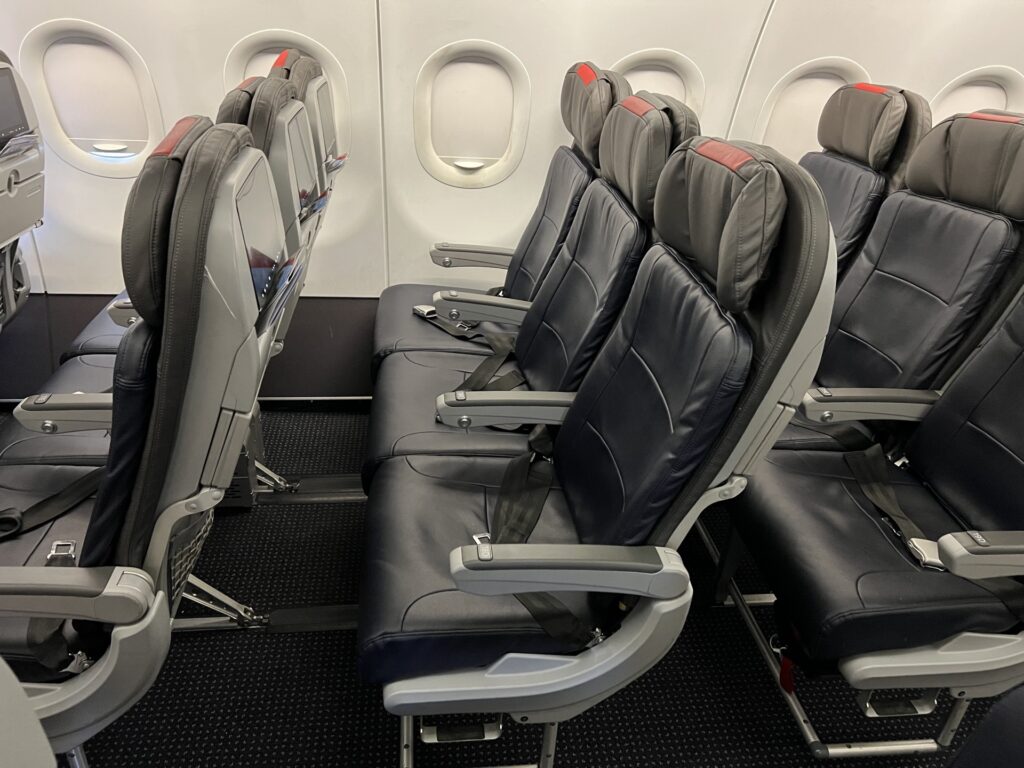 The pitch (distance between seats) is pretty standard for economy on a domestic legacy carrier. It felt a bit tight, but we fly low-cost carriers with more cramped quarters often so it felt fine to us. Neither of us are notably tall (5'3″ and 5'7″), and we fit comfortably and could easily move around as needed.
Storage under the seat and in the overhead bin was standard in size and quantity. There didn't appear to be any issues with bin space. The space below the seat was pretty spacious, without many intrusions. Our backpacks and our toddler's suitcase fit nicely in the spaces.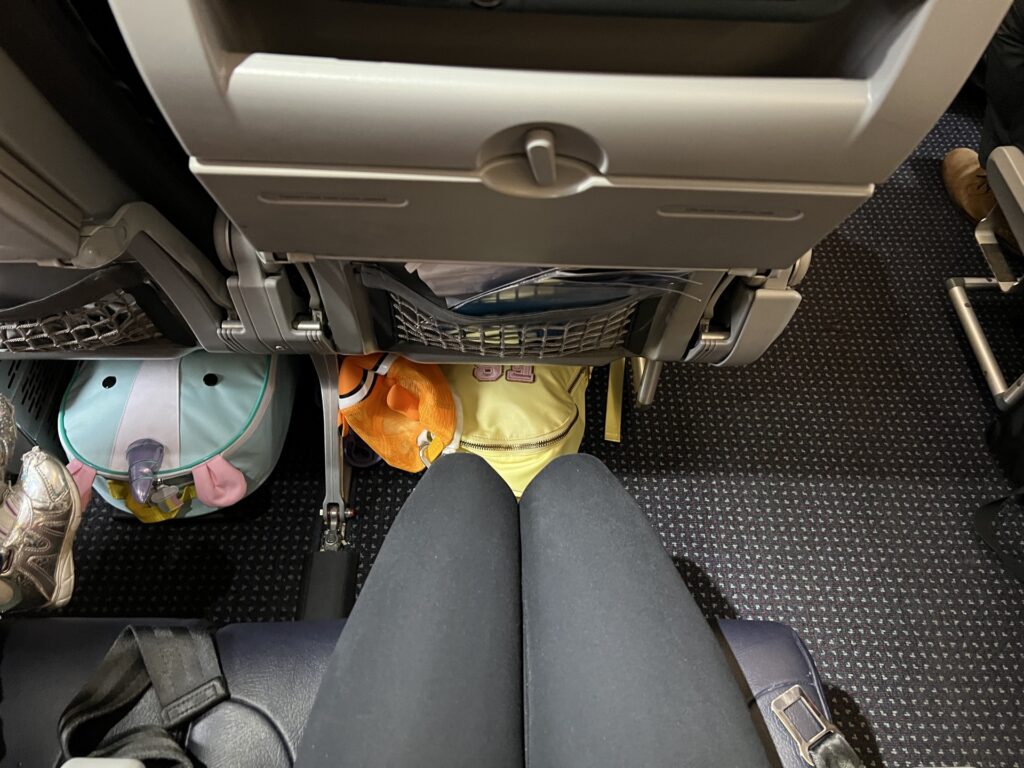 The Main Cabin seats had a moderate recline option of a few inches. I'm personally in the don't-recline-your-seat-in-economy camp, but I didn't actually find it to be too intrusive when the people in front of us reclined. We were still able to use our tray table and get in and out just fine.
Overall, I was impressed with these seats as a Main Cabin option, but also the 5.5 transcontinental flight is about as long as I'd want to sit in them.
Main Cabin Food and Beverage
The beverage and meal service was slow to start, but commenced about one hour after takeoff. The beverage selection included the basic soda and mixer selections, but also a few standouts like AHA Lime + Watermelon flavored sparkling water and Diet Dr. Pepper. Alcoholic beverages were available for purchase in Main Cabin.
Complimentary (light) meals are included in the Main Cabin on American Airlines transatlantic flights from JFK to SNA, LAX and SFO. Meals were distributed with the first beverage service. On our morning flight, we were offered a choice of a Belgian waffle with yogurt and apple slices, cheese and cracker tray or oatmeal (with toppings and sides, but I can't confirm the exact details because we didn't get that one).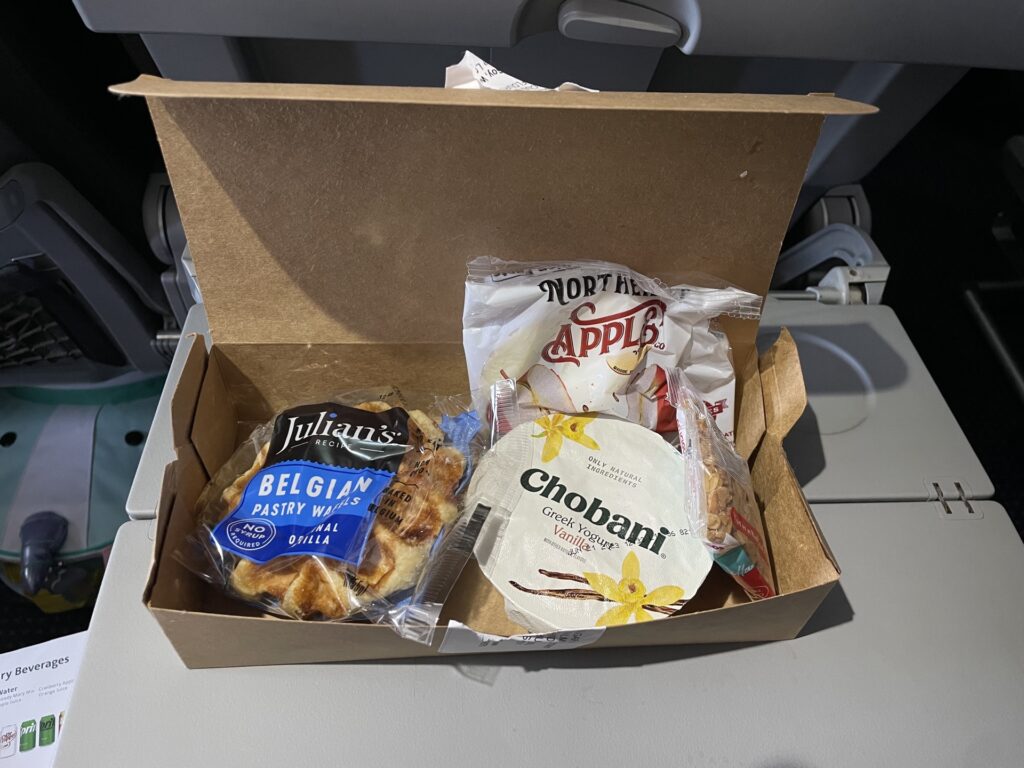 The food was a welcome and unexpected touch. (In an effort to keep my reviews free of bias, I actually very rarely read flight reviews in advance. The complimentary meal isn't very transparently noted on the American Airlines website, and I missed it.) They were not first class, multi-course meals, but they were substantial, fresh and tasted good. It was quality and quantity of food you'd expectable to be able to purchase on a flight, but for no extra fee.
A few hours later, a second beverage service and light snack (Biscoff cookies and/or pretzels) was offered. I noticed that a few passengers asked about food during the second service. The flight attendants happily provided additional food boxes upon request while supplies lasted.
Main Cabin Entertainment & Technology
There are small seatback screens that were loaded with a variety of free entertainment options like tv, movies, music and games. They also had a nice kids media selection. (I actually played a LOT of Sudoku, which was a fun diversion from my usual crosswords on my phone.)
The selection was average and you can view their current offerings here. You can also watch content for free on your personal device through the American Airlines app.
Before takeoff, the flight attendants offered complimentary wired headphones. I grabbed a pair because (like a lot of people) I only brought my wireless AirPods. Wireless headphones cannot be paired with the seatback entertainment in American Airlines Main Cabin.
Below the screen was a standard headphone jack and USB import, which could be used for charging. Each seat also had access to an AC outlet below the tray table, which fit standard US plugs.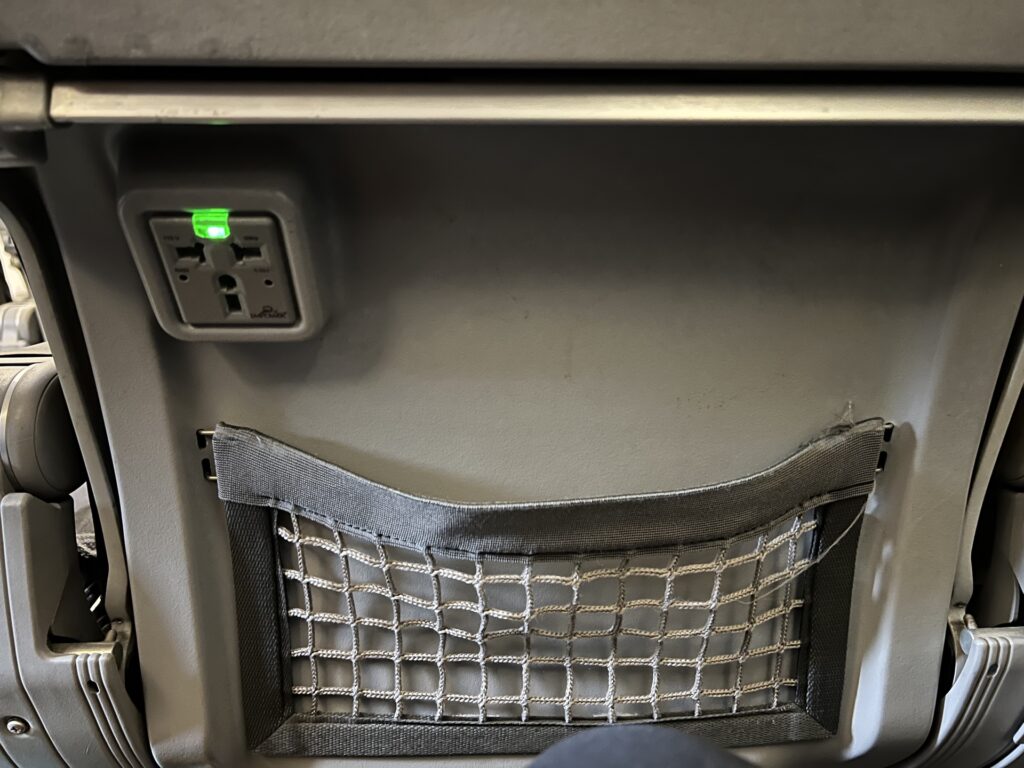 Arrival at SNA
This was my first time flying to SNA and I was oddly excited about it! I've previously only flown to LAX, which is obviously a much larger operation and much further from our usual SoCal destination — Disneyland.
We arrived at the gate just moments after landing. Even though we were at the rear of the plane, we still got off pretty quickly. (Most of the plane is First and Business so there's not as many people in front of you as there would be on a plane packed with economy seats.)
John Wayne Airport (SNA) is delightfully small and the exit was just steps from our gate. There was clear signage pointing toward the dedicated rideshare pickup area. We comfortably waited here for our driver and were on our way.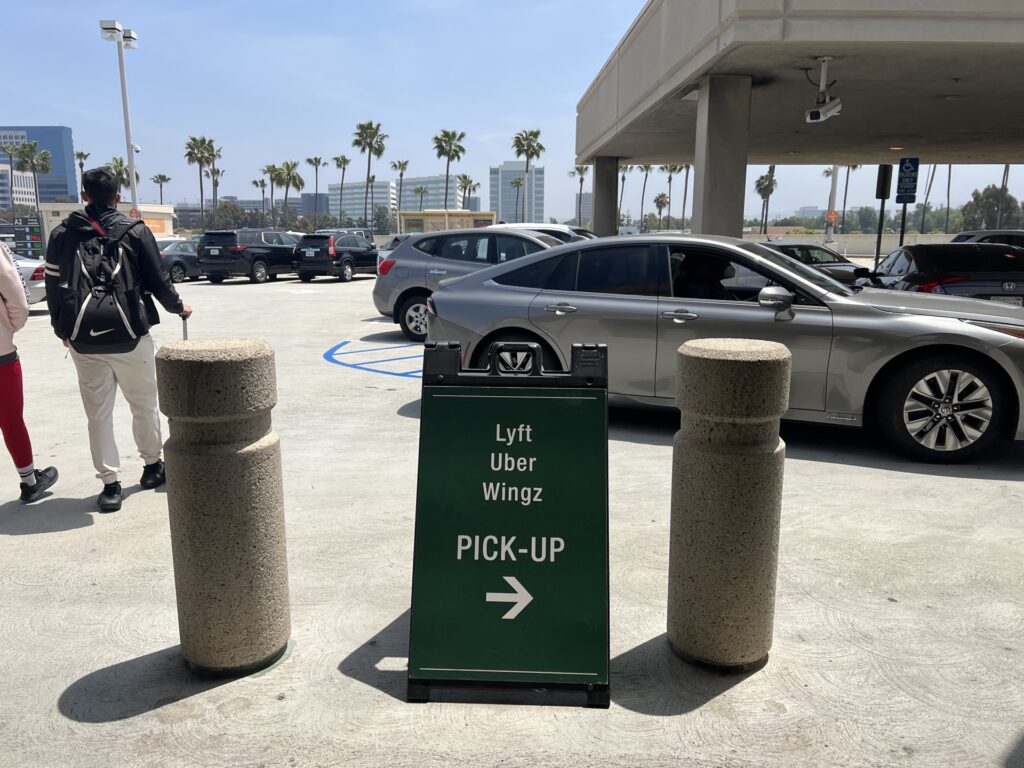 Overall thoughts on American Airlines Transcontinental Main Cabin
We had a perfectly fine flight in the Main Cabin on American Airlines from JFK to SNA. It was a long flight, but I was pleasantly surprised about how comfortable the seats were for an economy product. The service was great, and I was delighted by the included meals. It definitely felt like an elevated economy experience, even though it was the most basic flight experience offered on the plane.
American Airlines Main Cabin is a good option if you're traveling with a baby or toddler cross-country. A car seat would fit if needed. We flew with an almost-3-year-old who comfortably napped laying across the middle seat. Each of the bathrooms are also equipped with a changing table. If you're flying with a lap infant, this seat type would feel quite cramped for this long of a flight.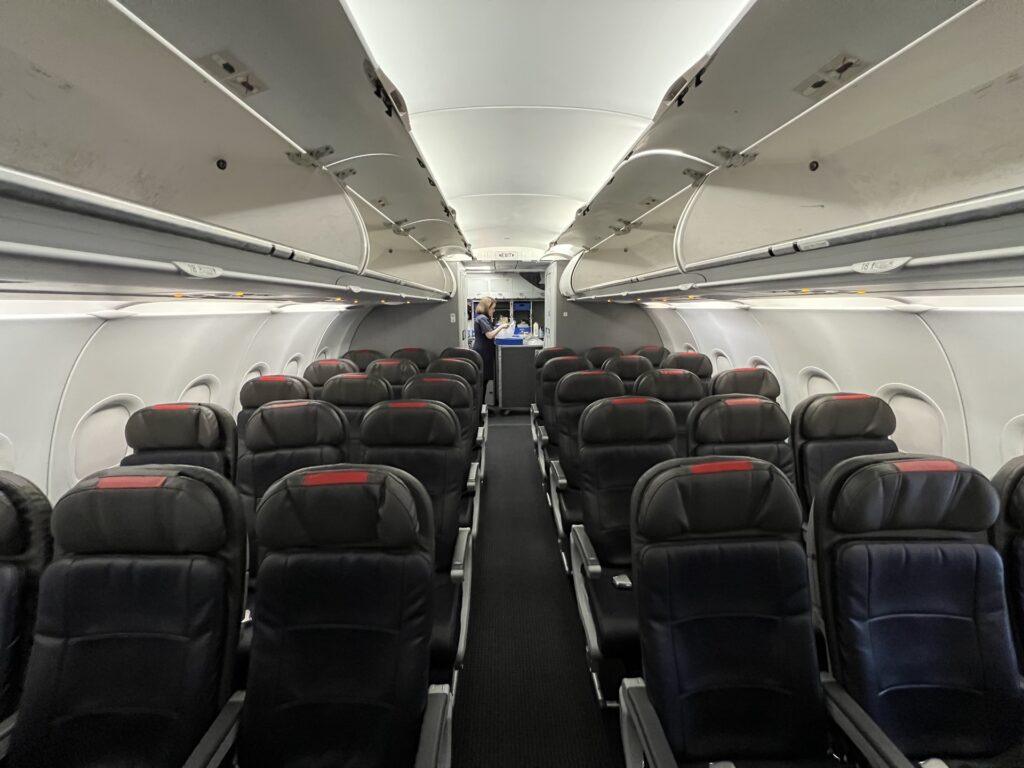 Orange County to New York in American Airlines A321T Main Cabin Extra
After a fun four days in Disneyland, it was time to head back to New York. For our return flight, we were flying Main Cabin Extra. Since we were only flying Main Cabin Extra one way, we booked Main Cabin and then paid for Main Cabin Extra seat selection for one leg.
Here's how our transcontinental Main Cabin Extra experience went.
SNA Airport Experience
We stayed at our hotel until checkout at 11 AM and then took an Uber to SNA. We actually had a bit of trouble finding a driver on a Thursday morning, but eventually connected with one and got to the airport about two hours before our scheduled departure.
Like I said, SNA is a delightfully small airport. Hardly anyone was in the TSA PreCheck queue when we arrived midday on a Thursday. We were through security in less than 10 minutes. Even the standard security check line was short and probably wouldn't have taken more than five minutes longer. As of May 2023, there was no CLEAR service at SNA, though it's projected to begin later this year.
We had plenty of time before our flight and needed lunch. We channeled our inner Michael Scott and decided to hit up our favorite local pizza joint, California Pizza Kitchen. Despite being told there'd be a 20 minute wait, we were seated almost immediately. They had online ordering with service to our table, which made for a quick and easy lunch.
Other than being charged $15 for two diapers (total highway robbery), things were going well. Zoe got to shop at all the stores and they even had storm troopers and R2D2 roaming the terminal for May The Fourth.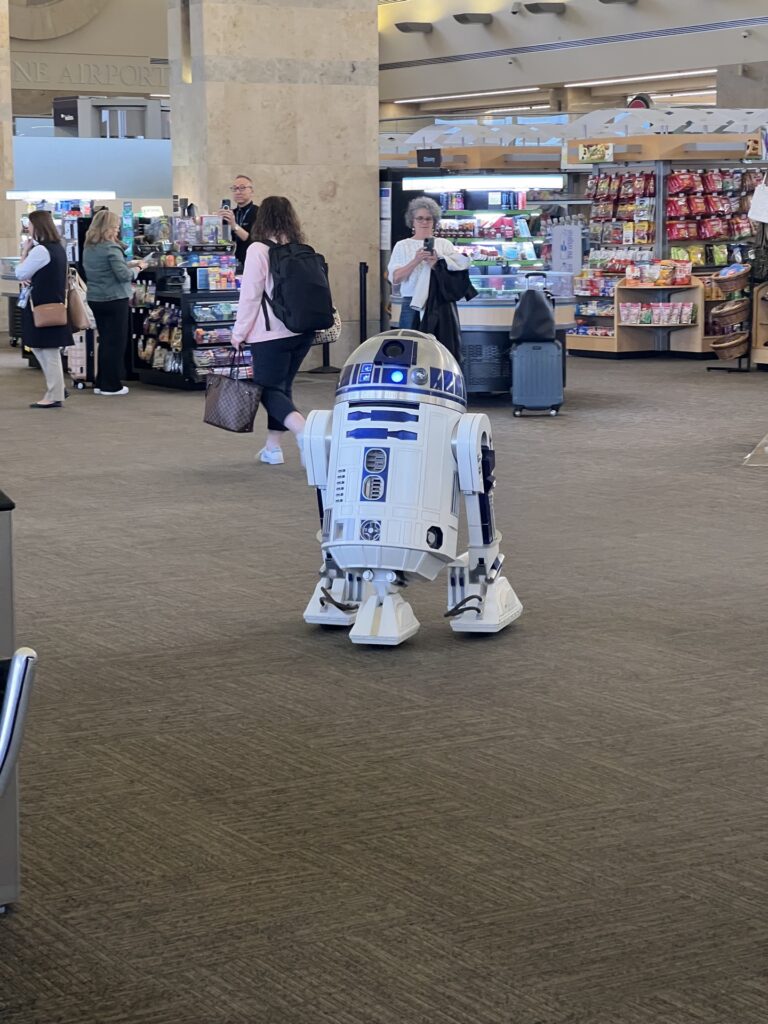 Unfortunately we discovered the downside to small airports. Shortly before boarding, they made an announcement that there was an issue with one of the seats on our plane. Apparently there was only one technician at the airport, so we had to wait our turn. This resulted in a one hour delay, which fortunately we mostly made up for in the air.
Airbus A321T Main Cabin Extra Seats
The American Airlines Main Cabin Extra seats are the same seats as Main Cabin. The rows are just further apart so you have more leg room. Main Cabin seats have a pitch of 31 inches, while most Main Cabin Extra seats have 35 inches. Main Cabin Extra seats in emergency exit rows have even more space at 37 inches. That means most Main Cabin Extra seats have 4 extra inches of space, with exit rows having 6.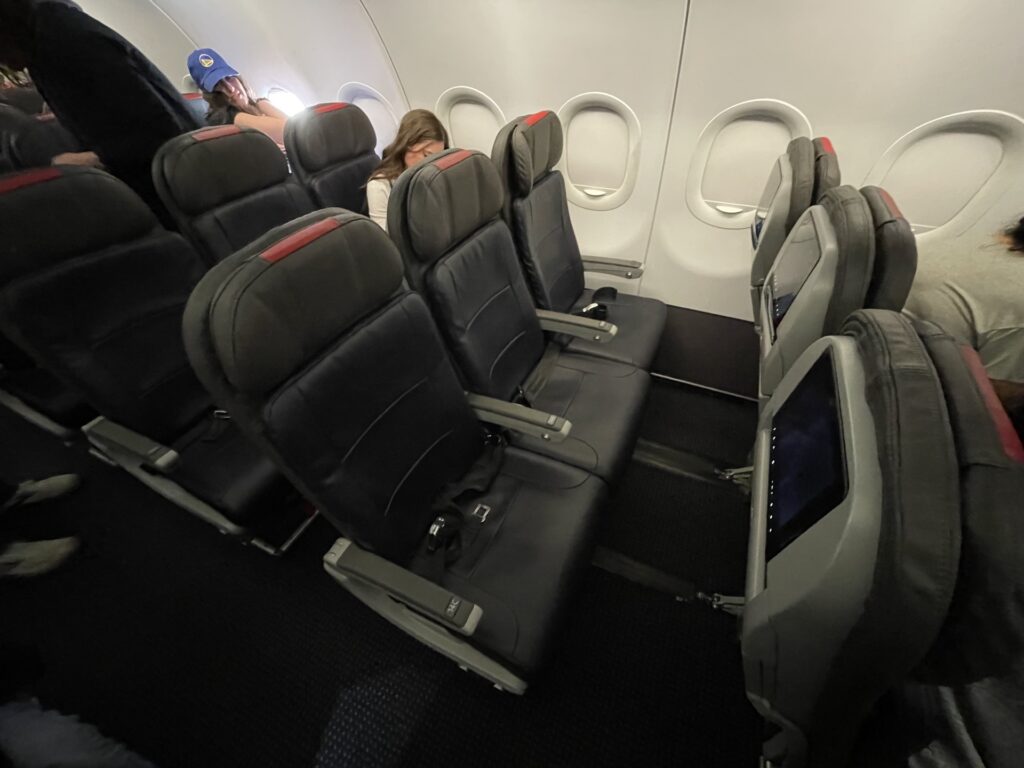 Since we were traveling with a toddler who can't sit in an exit row, we sat in a regular Main Cabin Extra seat. Four inches seems small, but it was noticeably more spacious. It wasn't a completely game-changing amount of space, but it did feel like a definite improvement over Main Cabin.
In Main Cabin Extra, we could easily reach down to get things out of our bag without taking it all the way out and we could comfortably keep our tray table down without feeling cramped. With the extra space, I hardly noticed when the people in front of me reclined their seat. For that reason, I was happy to let Zoe recline their seat before their nap (which is rare for me).
The seats themselves were the same, so for the most part I was equally happy with the size and comfort of the actual seat. They were plush, seemed very new, and were very comfortable for economy.
However, we did have one issue on this specific flight. The armrests can be positioned up or down, but one of ours wouldn't stay in the up position and kept falling. This would be annoying at best, but one of the times it fell, it bonked our sleeping toddler right on top of the head. That was not ideal.
Main Cabin Extra Food and Beverage
The food and beverage service and selection is basically the same for Main Cabin and Main Cabin Extra. The only difference being that Main Cabin Extra includes complimentary alcoholic beverages (on transcon flights), plus you're served first because you're at the front of the cabin.
It's easy to miss that Main Cabin Extra includes alcohol. We personally didn't realize it until writing this post, which is why we didn't take advantage of the offering onboard. The only reference to complimentary alcoholic beverages comes on the seat selection page. It's not even mentioned at the initial upgrade promo.
On our afternoon flight from Orange County to New York, the first round of food and beverage service began about 45 minutes after takeoff. The drink selection was the same, but the food options were different in the afternoon than our morning flight.
Our meal choices were a chicken sandwich (served with pea crisps and a brownie), hummus tray (served with veggies, pita and a dark chocolate square) or a cheese and cracker tray (served with grapes and a dark chocolate square). The cheese tray was the same as one of our breakfast options on our morning flight.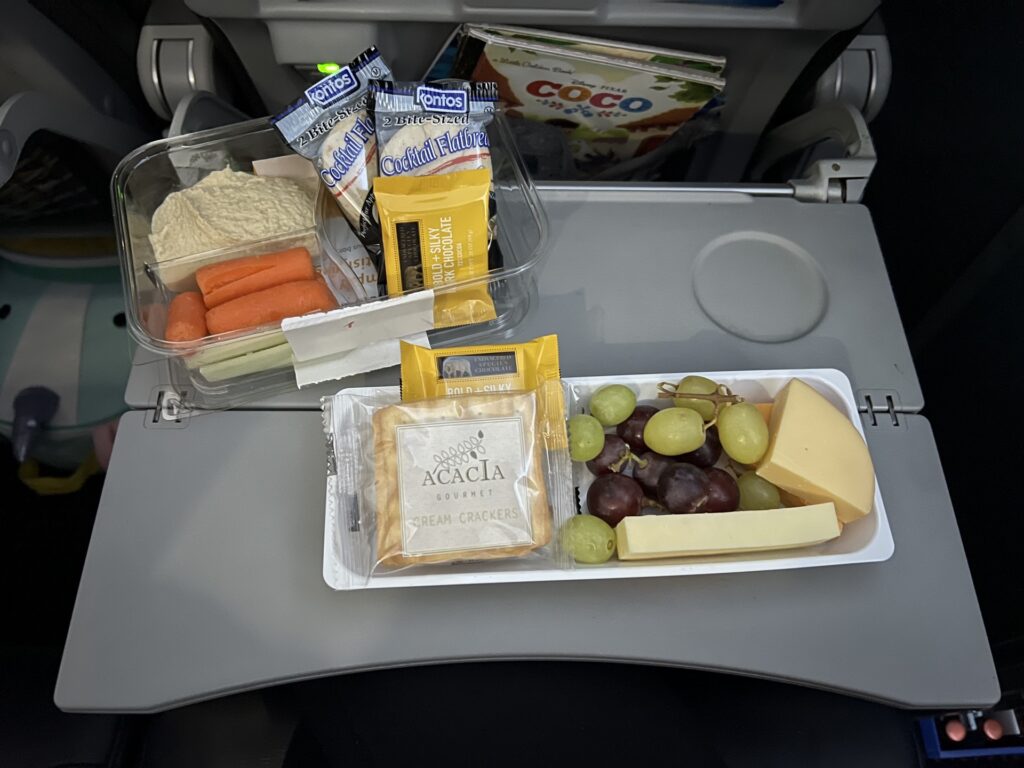 This time we expected the food, but we were still equally pleased with the quality and quantity of the items provided.
A few hours later, there was a second beverage service. With this round of drinks we were offered snacks of Biscoff cookies and/or pretzels. Same as our previous flight, passengers were able to ask for an additional food box at this time if they were still available.
Eating in Main Cabin Extra was a bit more comfortable than in Main Cabin because of the extra space. I didn't feel as rushed to finish my food because I could leave my tray table down without feeling too cramped.
Main Cabin Extra Entertainment and Technology
The onboard technology was the same in Main Cabin Extra as in Main Cabin. The screen size, entertainment selection, USB/AC outlet chargers and free headphones were all the same in both seats.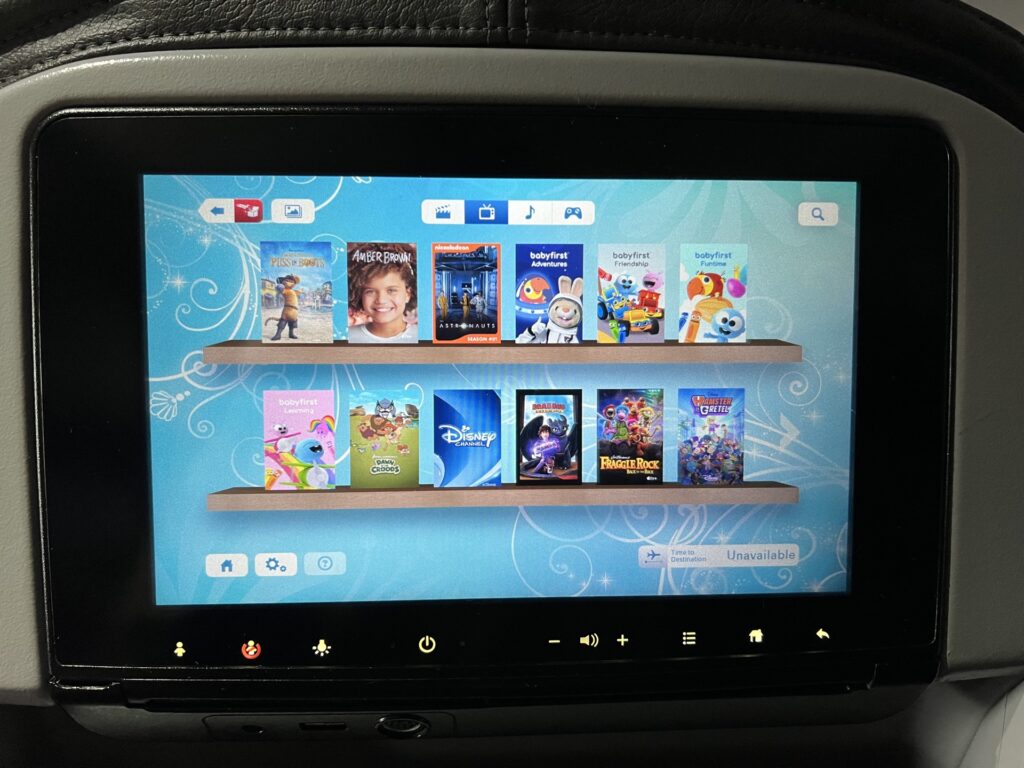 Arrival at JFK
Despite departing about 45 minutes late, we arrived at JFK only 17 minutes later than scheduled. We had a bit of a taxi and then a short wait at the gate, but nothing unreasonable.
Since we didn't check bags, we went straight to the Uber pick-up area. It was very congested, but we found it was much less crowded near the start of the pick-up zone. Without the crowds, we could easily find our driver and more comfortably take our time to install our car seat before heading out.
Overall thoughts on American Airlines Transcontinental Main Cabin Extra
Again, we were pleasantly surprised by our experience flying economy with American Airlines. The Main Cabin Extra seats on the A321T were comfortable and the little bit of extra room made a noticeable difference. The food and beverage service was great, but I wish it'd been a little more clear that alcohol was included.
The most frustrating thing about this flight was the broken armrest. I don't think that's something that is likely to be an issue in every seat on every plane, so I wouldn't let that impact my future thought process much.
Our little one did well on this flight and had plenty of room to use their new art kit on the tray table. They also could comfortably nap across the middle seat, but that was no different in Main Cabin Extra than Main Cabin.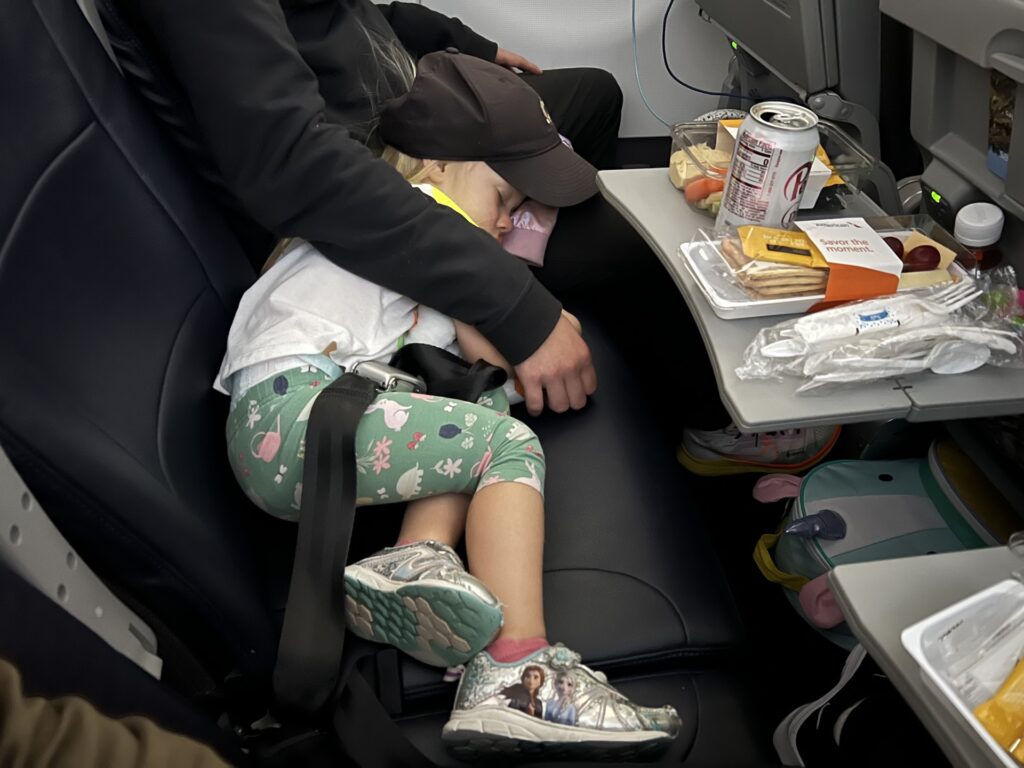 American Airlines Main Cabin vs Main Cabin Extra
Main Cabin and Main Cabin Extra are similar in some ways. Both have the same seat itself, which is impressively comfortable for an economy seat. Meals are included for both Main Cabin and Main Cabin Extra on transcontinental flights, which is a great perk. Main Cabin and Main Cabin Extra share the same cabin, so passengers in both will enjoy the same quality and quantity of service.
When you upgrade from Main Cabin to Main Cabin Extra, you get 4 to 6 inches of extra legroom, plus a few perks like complimentary alcoholic beverage(s), priority boarding and an extra checked bag.
Upgrading from Main Cabin to Main Cabin Extra on a transcontinental flight between JFK and SNA costs about $60 to $70 per person each way ($120 – $140 round trip). The exact amount varies based on the route and how you book (booking Main Plus or paying for the seat selection). That's on top of a fare that usually costs somewhere between $550-$750 round trip for Main Cabin (JFK to SNA).
So is it worth it?
Let's break down the perks. Personally, we don't put a lot of value in preferred boarding (we can get that from our Citi AAdvantage card) or checked bags (we don't check bags). Then there's the alcohol, but at $8-9 a drink, that doesn't do much to offset the cost.
So for us, it all comes down to space. After flying transcontinental with two adults and one child in both Main Cabin and Main Cabin Plus, we decided that Main Cabin Extra was worth the upgrade. For us in NYC, flying to California takes longer than flying to Iceland. It's not a short flight, and we definitely appreciated having the extra space to get a bit more comfortable.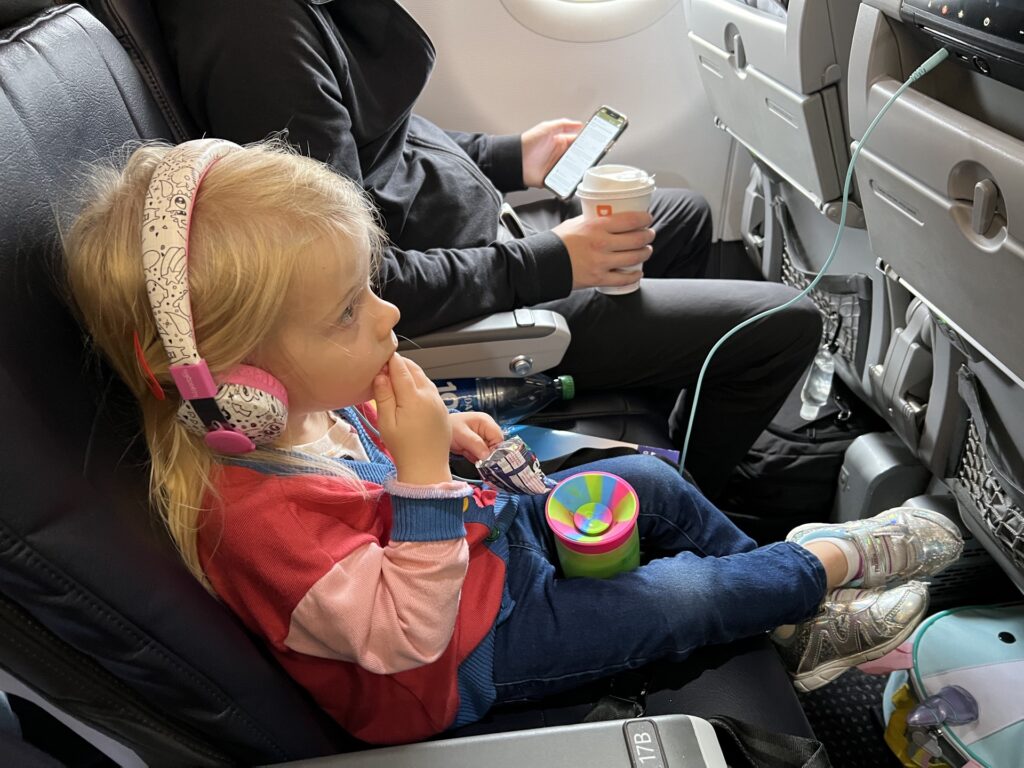 We're not that tall and fit fine in Main Cabin, but we were definitely more comfortable in Main Cabin Extra. With a wiggly toddler, it was also helpful to keep them that much further from banging the seat in front. I wouldn't say we needed it, but we appreciated it for the extra $70 each. (The cost per seat to upgrade to a Main Cabin Extra seat in one direction.)
For adult couples, solo travelers and small families (two adults and one child), we think it's worth it to pay for Main Cabin Extra. The upcharge isn't that much relative to the already high cost of the fare, and we think you'll get that much value from the added comfort on a long flight.
And for tall travelers sitting on plane for 4.5 – 5.5 hours, the extra $140 dollars for your comfort definitely seems worth it. And if you're able to sit in an exit row and get those two extra inches, even better. Similarly, parents with a lap infant will definitely benefit from the extra breathing room.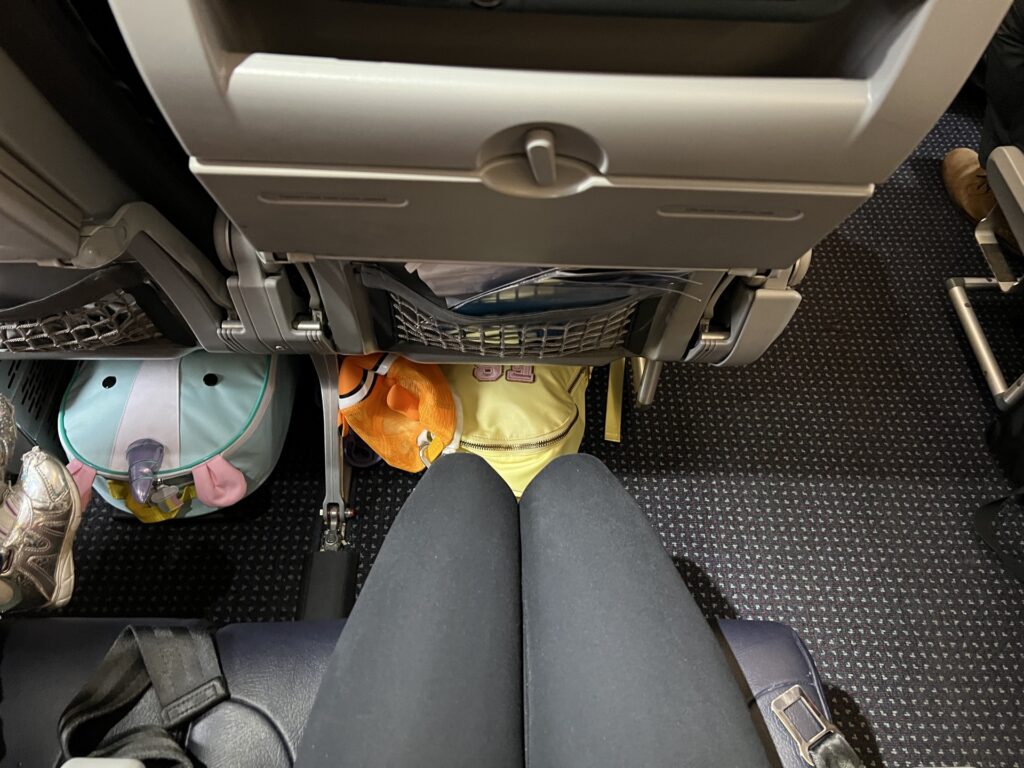 When is it not worth it to upgrade?
I'd start to second guess the upgrade if I was traveling with a larger party (more than 3) or if I had multiple children. The cost of the upgrade adds up quickly, and I wouldn't want to shell out the money for a bigger group. I definitely wouldn't want to be paying for multiple children to have extra space that their little legs don't require.
Also, if you're on the fence, don't forget that Main Cabin is still a really solid product. If you are hesitant about spending the extra money and are usually comfortable in a standard airline seat, I'd say it's okay to skip the upgrade. The Main Cabin seats themselves are the same, and you'll still get meals and the chance to purchase alcohol for less than the cost of the upgrade.
Lastly, don't upgrade Main Cabin Extra if you're expecting a true Premium Economy experience. This is not a premium cabin, it's basically just more legroom. If you're looking for an actual premium cabin, be sure to upgrade all the way to Business Class.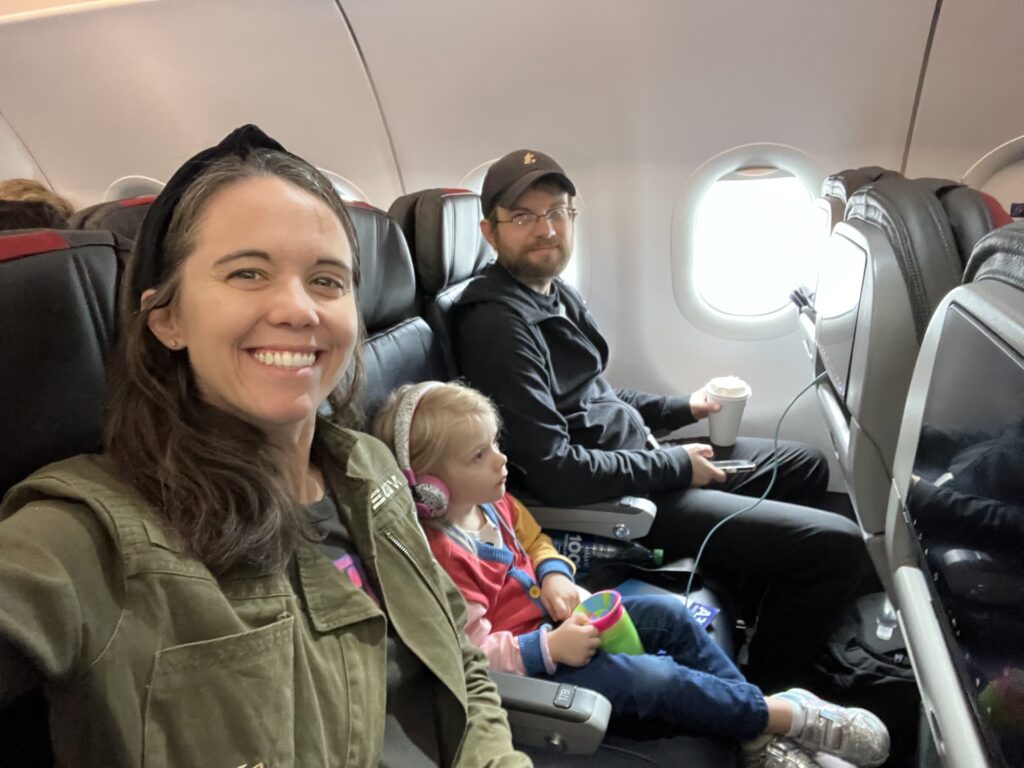 Closing Thoughts
Overall, I was really impressed by the American Airlines transcontinental economy experience in both Main Cabin and Main Cabin Extra. The seats were comfortable, meals were included, and the service was pleasant.
We ended up spending $220 on top of our Main Cabin fare to upgrade our seats to Main Cabin Extra in one direction. If we'd upgraded to Main Plus during our booking, it'd have cost about $360 more than the base fare. If we flew American Airlines transcon again, I'd expect us to dive right in and book Main Plus from the start.