In this post I review a flight I took from LGA to ORD on United Airlines' A320 in the Economy Cabin. Having flown this same route in First just a few months ago, I was interested to see how the experience in economy would compare. Read on to learn about our flight in United Economy on the A320!
Booking United Economy
I booked this flight directly on United.com and paid $801.60 for three seats (2 adults and one toddler, all priced equally) on the roundtrip flight between LGA and ORD.
Looking ahead some months, a typical price for this flight is $158 per person roundtrip in Basic Economy vs. $218 in Economy. In hindsight, I actually could have booked Basic Economy. As a United Explorer Card holder I'm permitted to bring a carry on even on a Basic Economy fare. That said, I actually did change this flight once (not allowed on Basic Economy), so it's one of those circumstances where maybe paying the extra cost was worth it.
Check In at LGA
I've consistently found check-in via the United app to be a breeze, and this trip was no different. Since we have TSA PreCheck and our toddler (Zoe) is under 13, they always get TSA PreCheck with us. We arrived at the airport (via public transit) at 8:39 AM, and we were through security at 8:48 AM.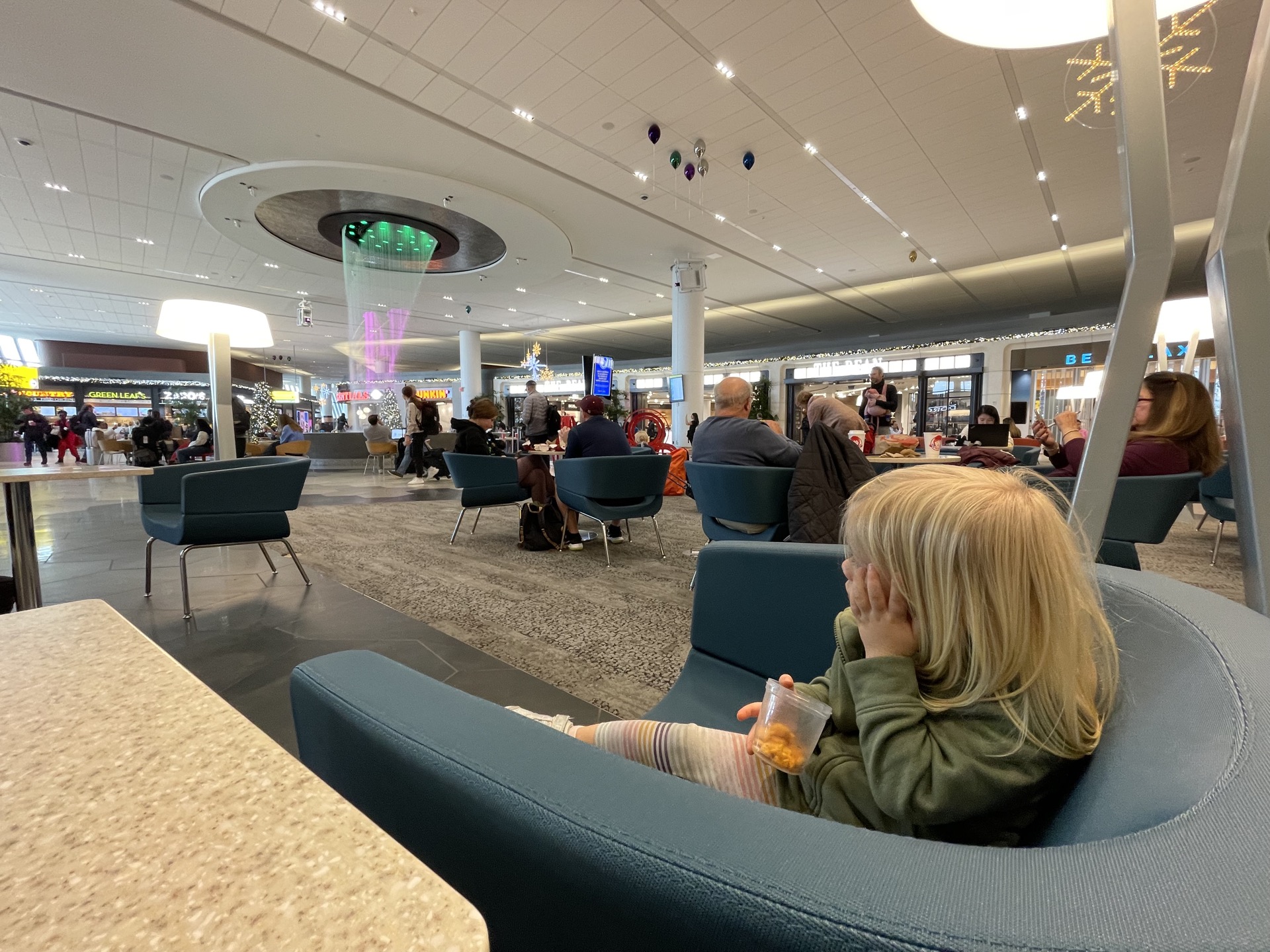 Laguardia's new Terminal B continues to be a treat. The main terminal area houses a variety of shops and restaurants, with the gates being about a five minute walk away. I prefer United's Terminal 1 at O'Hare, where you walk right through security and immediately start to encounter gates, but the more cushy, modern Laguardia has a certain appeal, I admit.
Laguardia Terminal B has a United Club, and my United Explorer Card includes two complimentary day passes for the club (when flying United), so you'd think it was a match made in heaven. Unfortunately, as these things are trending more and more, the passes are good for one person and children under two years old. Since Zoe is now two years old, the one time passes are effectively useless unless I'm flying solo.
You can see a video of the club here:
Boarding United A320 Economy
Boarding began on time, right about 9:30 AM. United gates have two queues set up ahead of time, for groups 1 and 2. As United Explorer Cardholders, we were group 2. Several groups pre-board before group 1, and this sometimes includes families with kids under 3. Today, the gate agent called families with kids under 2. I don't know (or care) enough about any "official" rules in this regard. Since he said under 2 and Zoe isn't under 2, we waited for our group.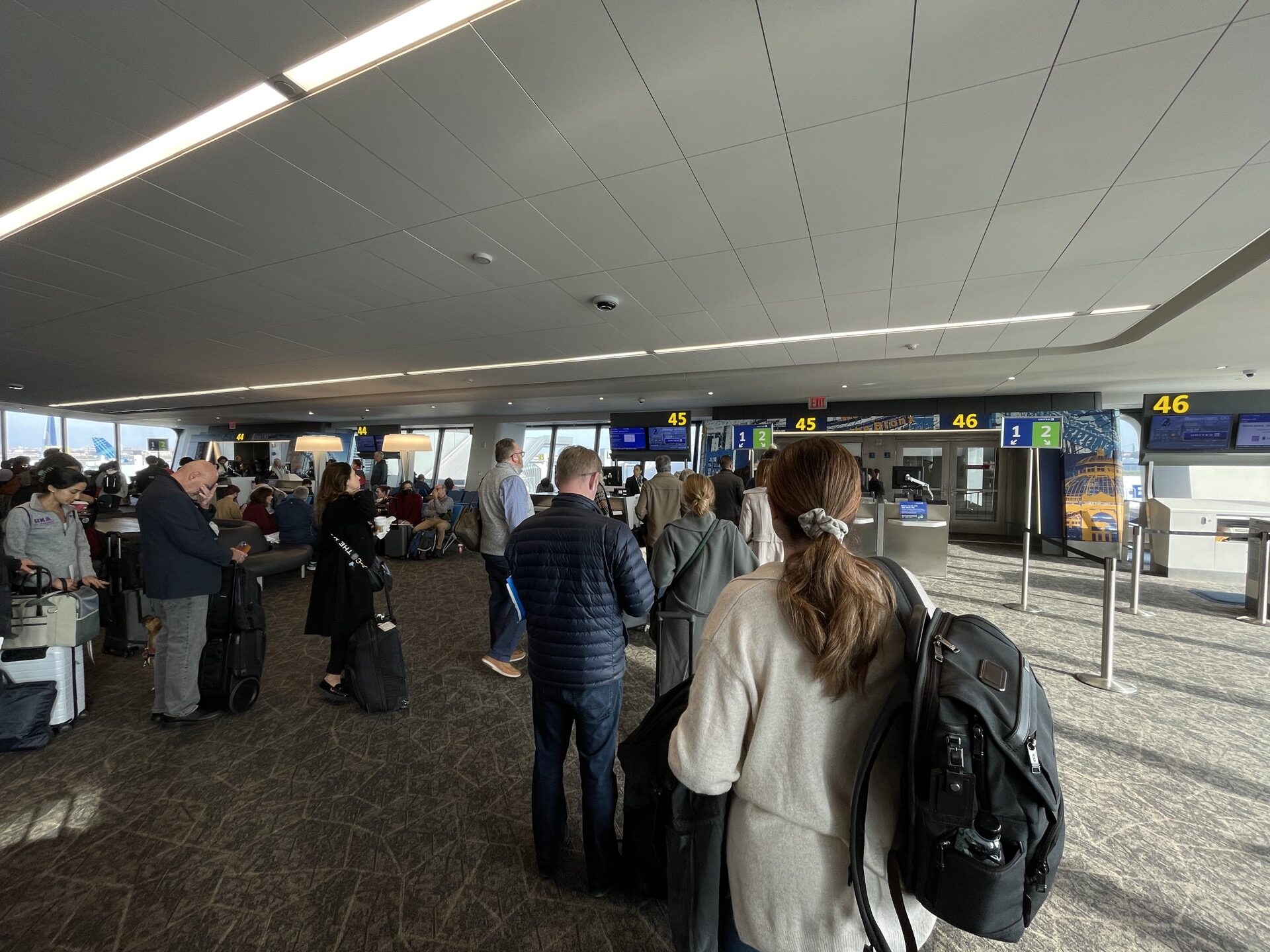 I've been last to board a flight, and I've been first to board a flight. Generally I think there's merits to both sides, even with a small child. Some people like to be on the plane as little as possible, some like to board early in order to settle in (or secure good overhead bin space).
We've always been more the type to "settle in" on the plane by boarding early. Zoe particularly needs time to adjust to a new space, so I don't suspect getting on a plane and immediately having the seatbelt sign on would go well for us. We were near the front of group 2 boarding and found the back of the plane nearly empty when we boarded.
United A320 Economy Seats
The economy seats on the United A320 have only 30″ of pitch. My last flight was in a JetBlue "Even More Space" seat. I bemoaned only having 35″ of pitch on that flight, but wow was the difference notable as soon as I sat in my economy seat on this flight.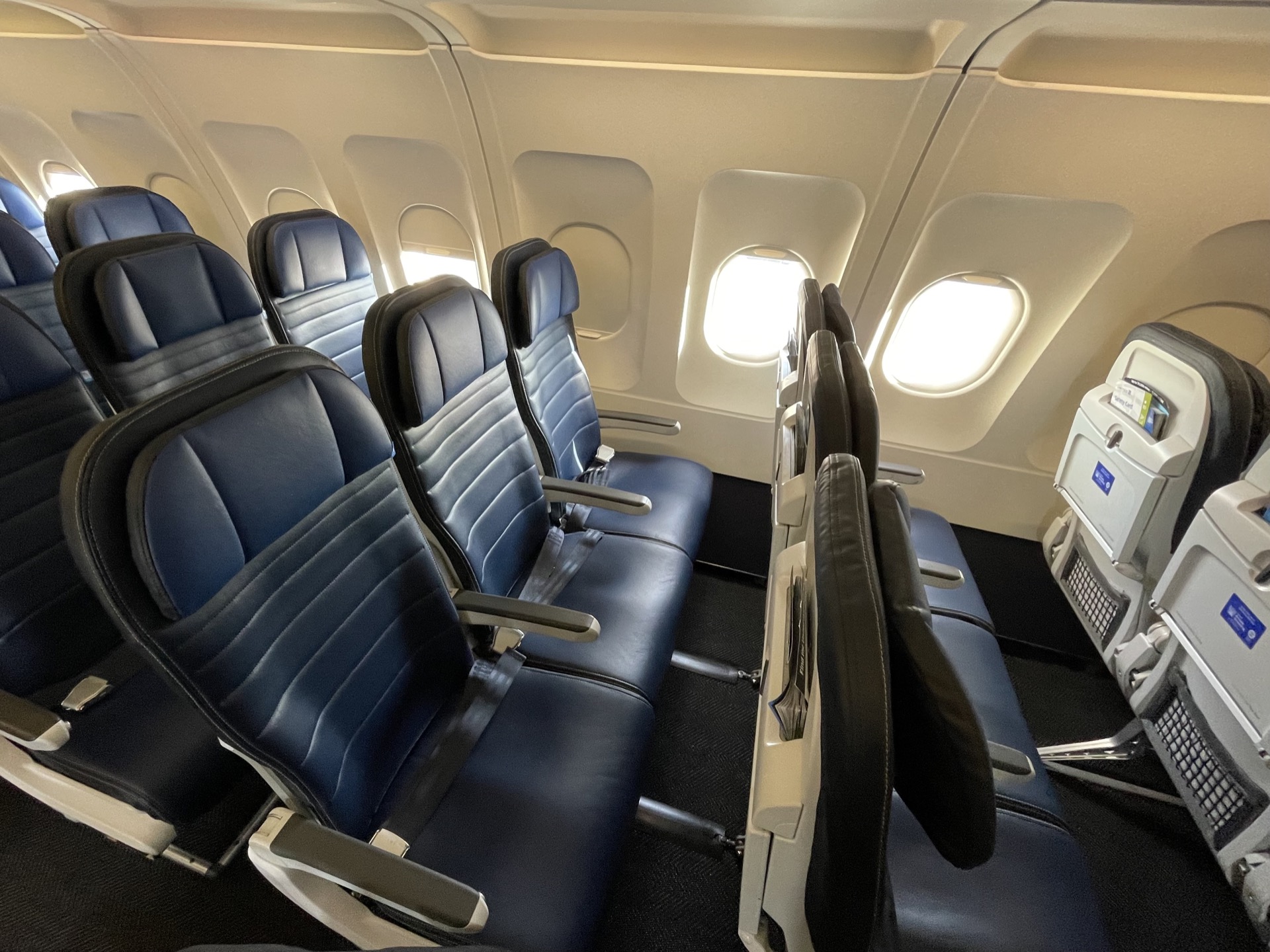 At a pretty slim 5'7″ I don't need much space, but I was surprised at how tight these seats felt. Economy Plus has 35″ of pitch, but upgrades to those seats started at over $50 per seat, which I couldn't justify for two hours in the air.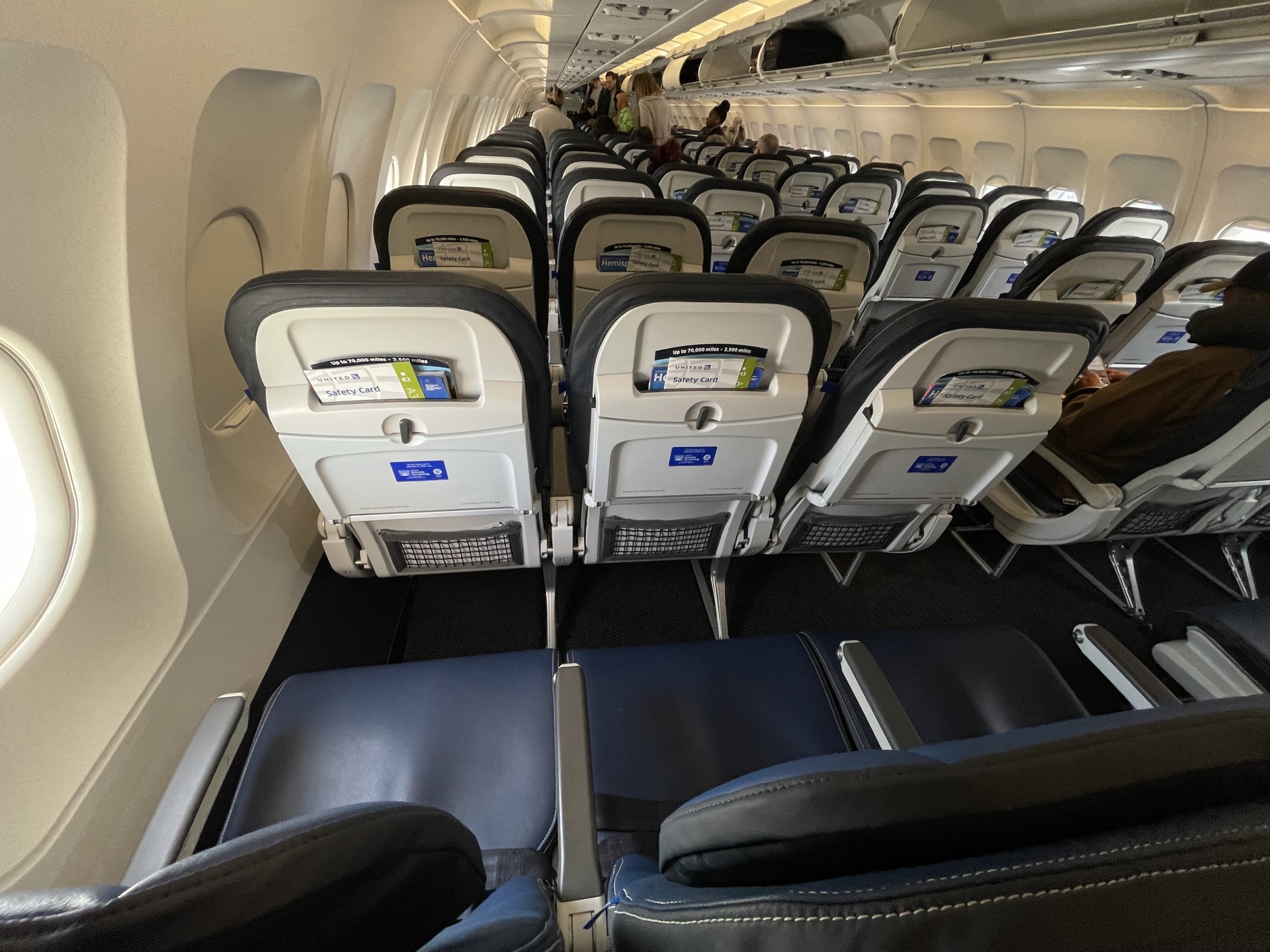 The economy seats also don't have power outlets (Economy Plus and First do), and no seats on this plane have seat back televisions. An outlet would be nice, but they're hard to come by in United's domestic economy cabins.
Overall, though, I'm fine without an outlet (I have a portable charger) or television (I have a phone / tablet / laptop). While I would like airlines to find a way to have comfortable seats with reasonable pitch, domestic fleets don't need outlets or seat back TVs in my opinion. They're costly to install and maintain, along with being unnecessary for all but the longest domestic flights (which most airlines should service with a better product anyways).
Our 3-foot travel companion didn't have any complaints about pitch.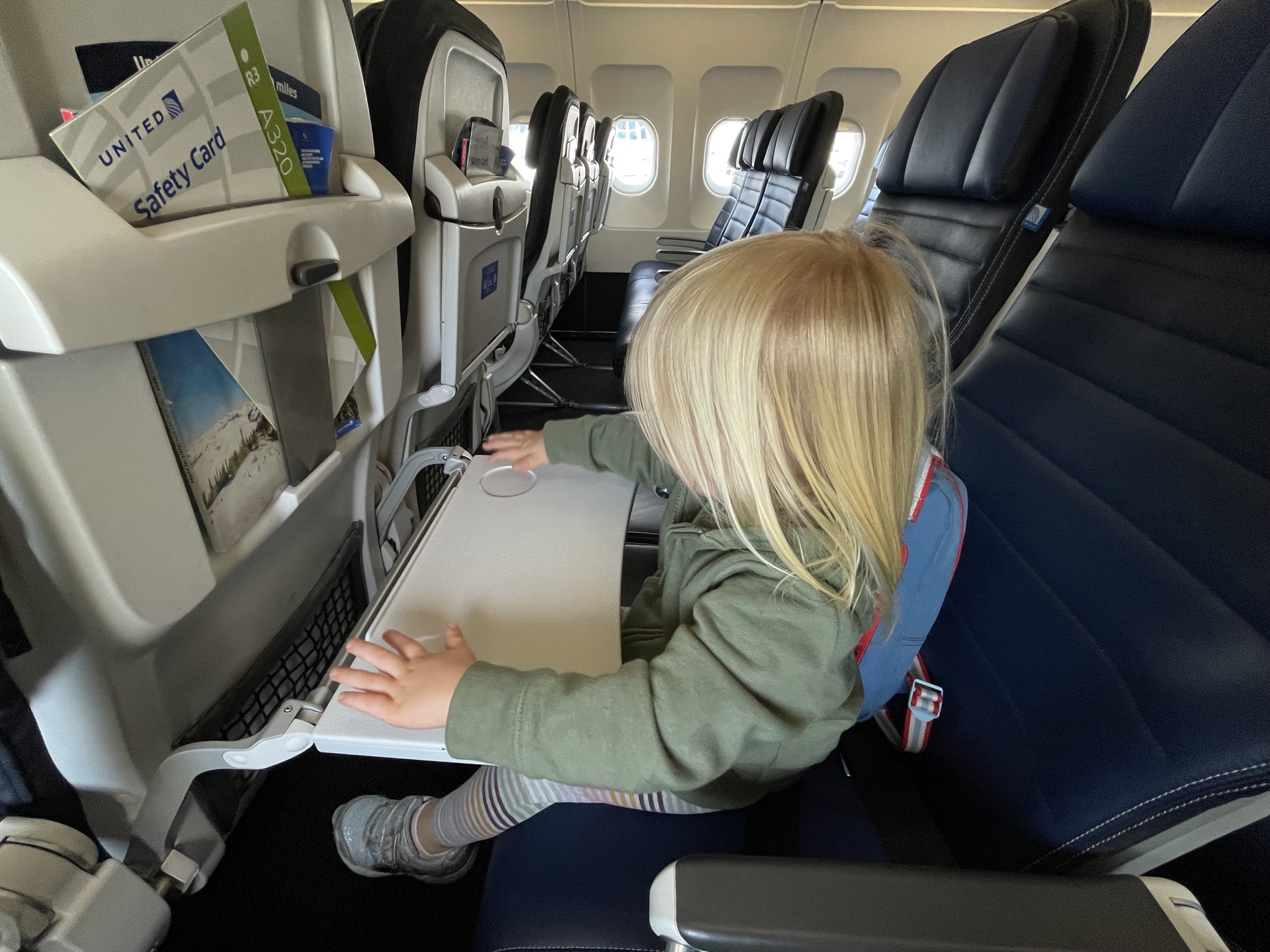 Flight, Entertainment and Service
United uses app-based entertainment for most domestic flights. Connect to the Wi-Fi, open your United app, and the "Wi-Fi and Entertainment" button will lead you to a selection of TV shows, movies, and games for your flight.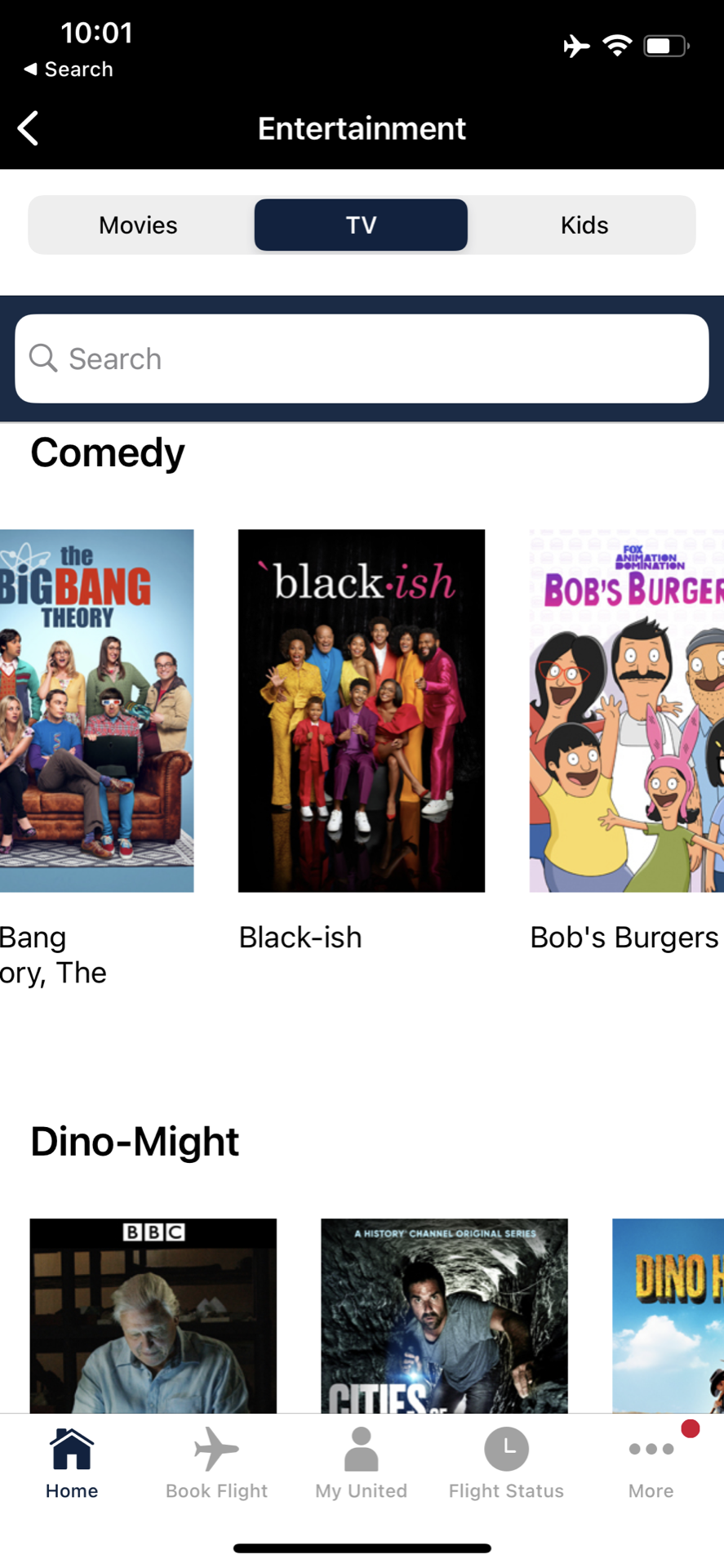 I instantly became obsessed with the game "Cleared to Land", which I happily found after the flight is based on the "Planes Control" app available on iOS. Unfortunately, the game burned through plenty of my phone's battery, forcing me to use my portable charger a bit.
Wi-Fi was available for $8 for MileagePlus members, but I had no need on such a short flight. IP-based messaging (i.e. any messaging besides SMS texting) was available for free and easy to set up.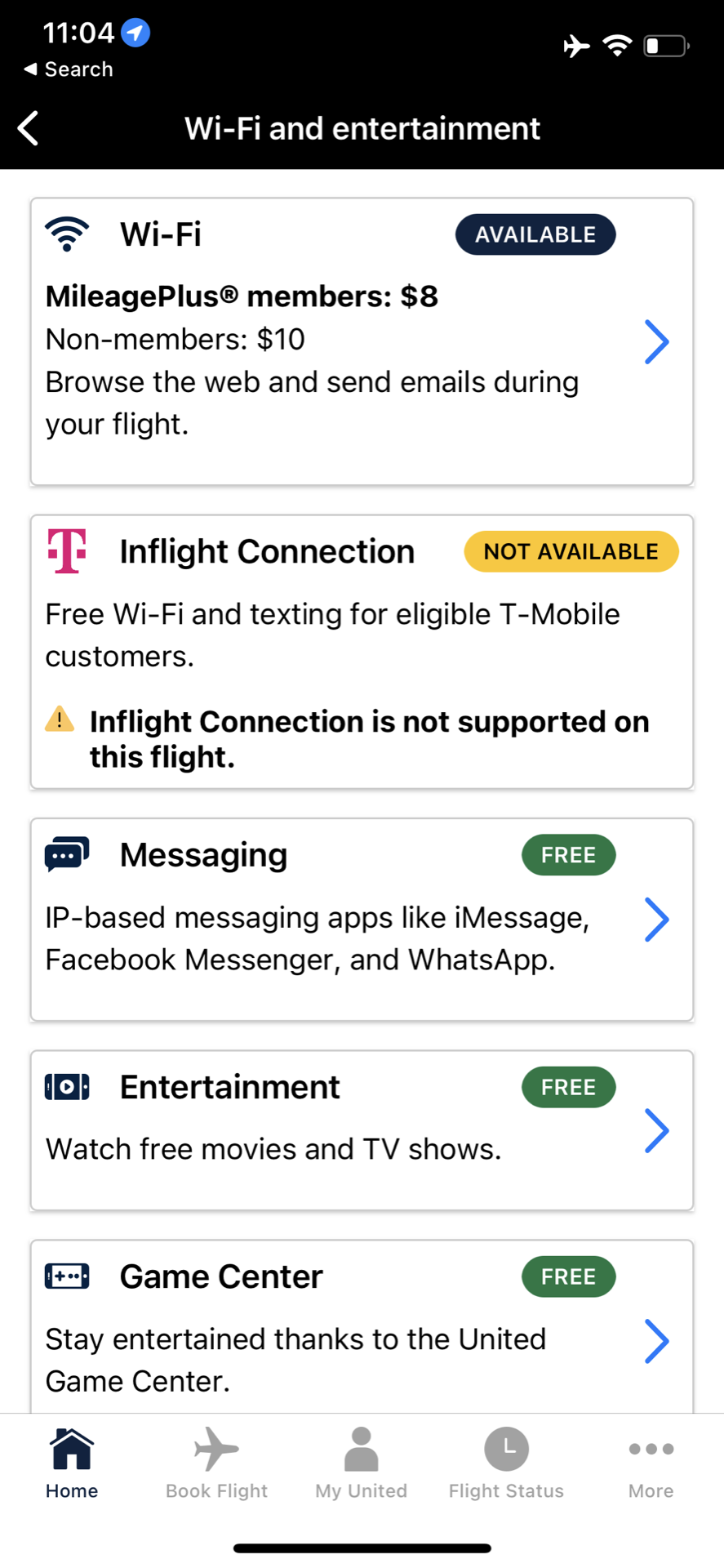 Our standard approach for flying with Zoe is to delay any screen time until after take off. It's a somewhat arbitrary deadline, but it does ensure that we won't waste our options during an unexpectedly long taxi. Nothing worse than a flight taking off just as Frozen ends.
Takeoff and landing were both choppy, but the flight was otherwise nice and included plenty of time with the seatbelt sign off. Zoe and I even found time for a walk up and down the aisle. Service included an offering of complimentary snacks (cookies, pretzels or stroopwafels) and the standard beverage menu.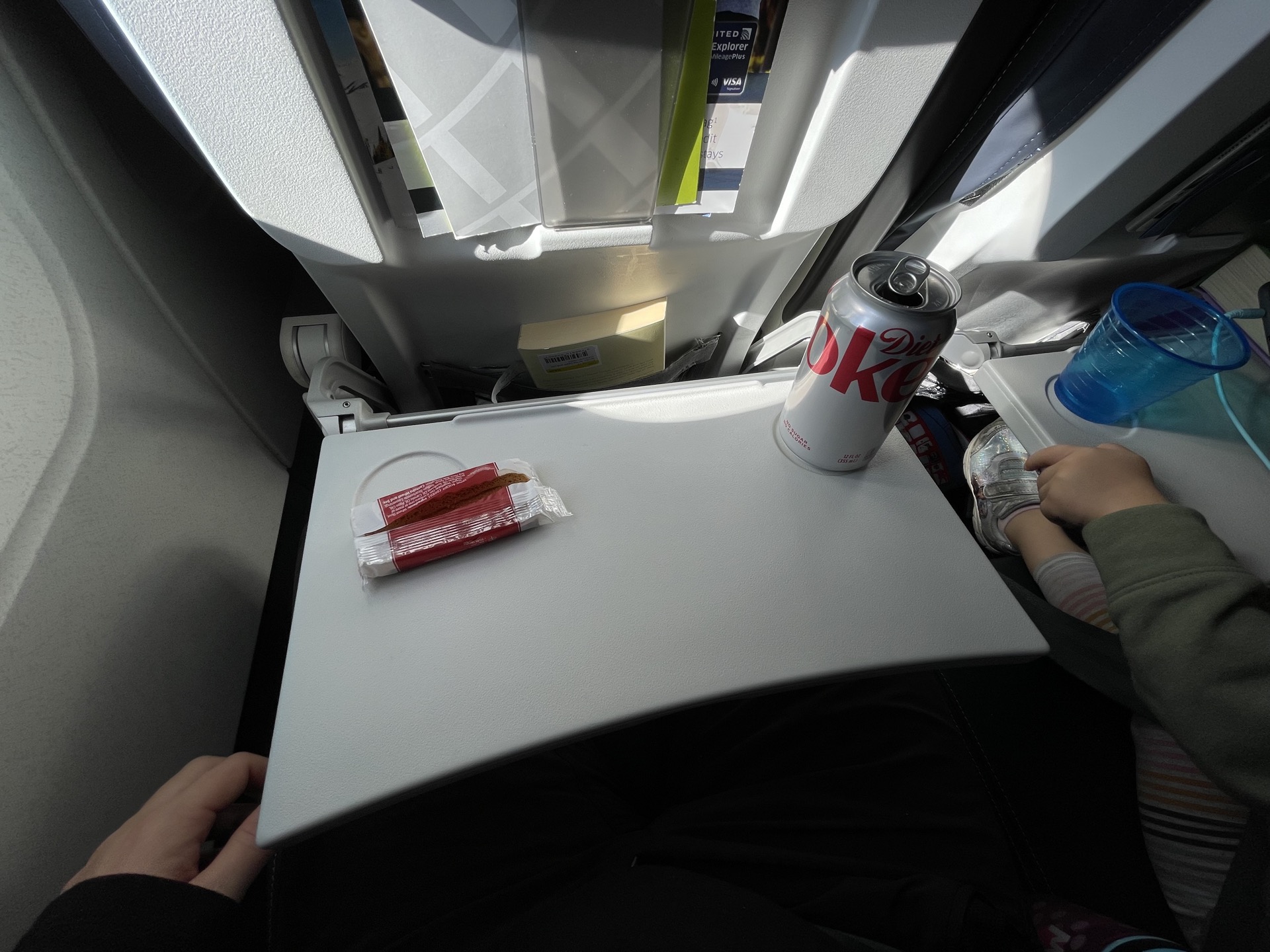 Conclusions
I have to say that in 25+ flights with a baby, this was one of our smoothest experiences yet. It's nice to have a flight board on time, depart on time and arrive early. Our experience was no doubt helped by the fact that our two-year old seems finally able to make it through a short flight without losing control.
That said I was a bit annoyed by my seat. The narrow pitch and the lack of an outlet—both things I keep saying I don't care about but also keep managing to bring up—are the sort of small differences that make me think twice about always just picking the airline with the lowest fare.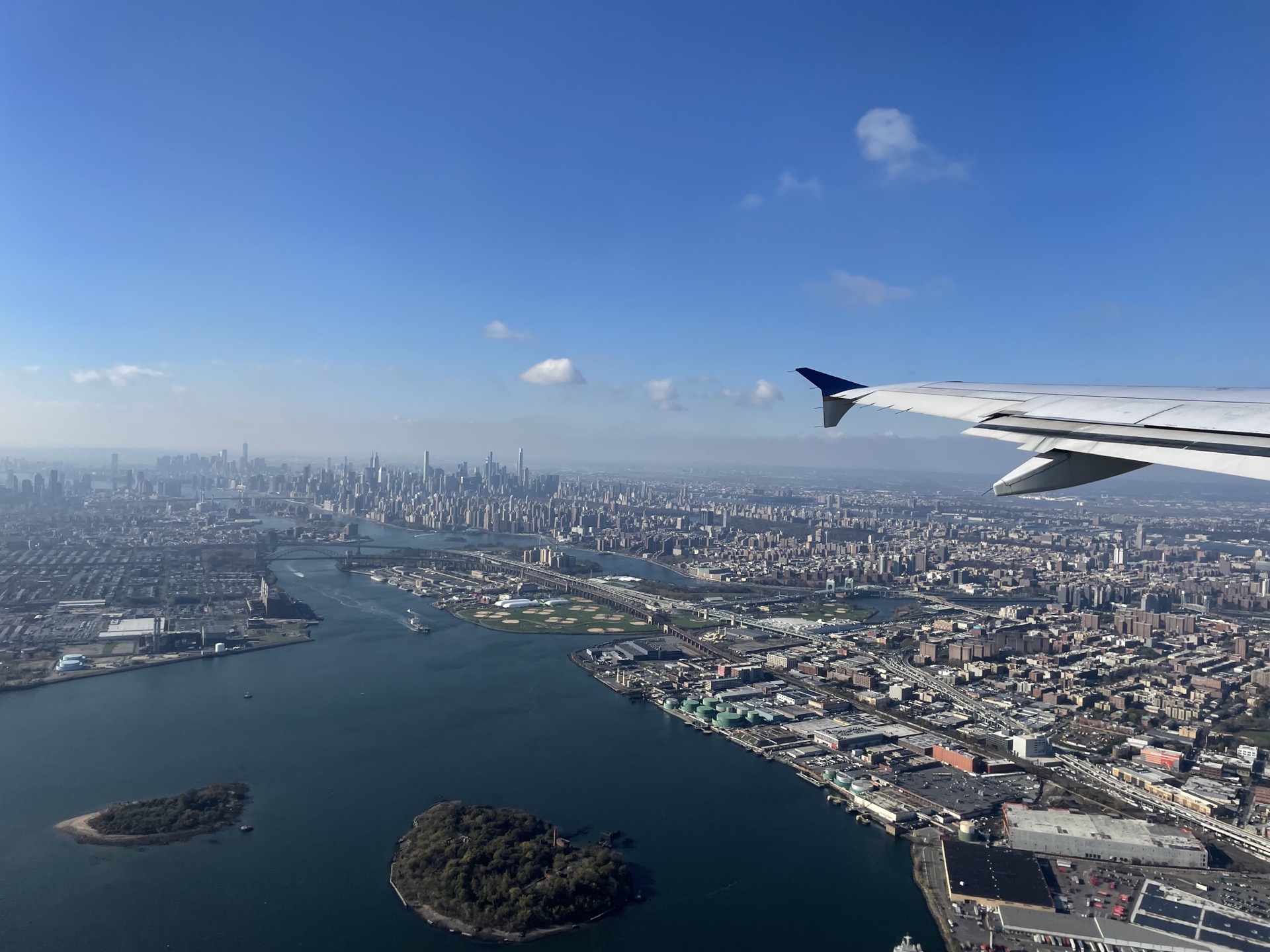 As a mentioned in the opening lines of this post, I flew First on United's A320 on this same route just a few months ago. That upgrade cost me only $149, but when I think back to how comfortable I was the entire flight, along with how easy it would be to get some work done in those seats versus these, I actually feel like the upgrade was a great idea.
While I have no major complaints overall, I will say I'm looking forward to trying other seats and products along this route in the future.
Other United Flight Reviews
If you are interested in other experiences with United, check out some of our other United reviews.