In this post, we are reviewing our experience flying Qatar Qsuite on a 777 from Doha to New York. This specific product has been on my bucket list since I started paying attention to premium cabins over six years ago. I'm so excited to finally be writing about it!
In this post, we'll detail every part of this experience including a complete seat breakdown and a recap of our specific flight. Then we'll wrap up with some info on flying Qsuites with a child, since their quad is an incredible option for families, plus some general tips for all flyers. If flying Qsuite is a dream of yours or if you're just curious about premium airline travel, keep reading!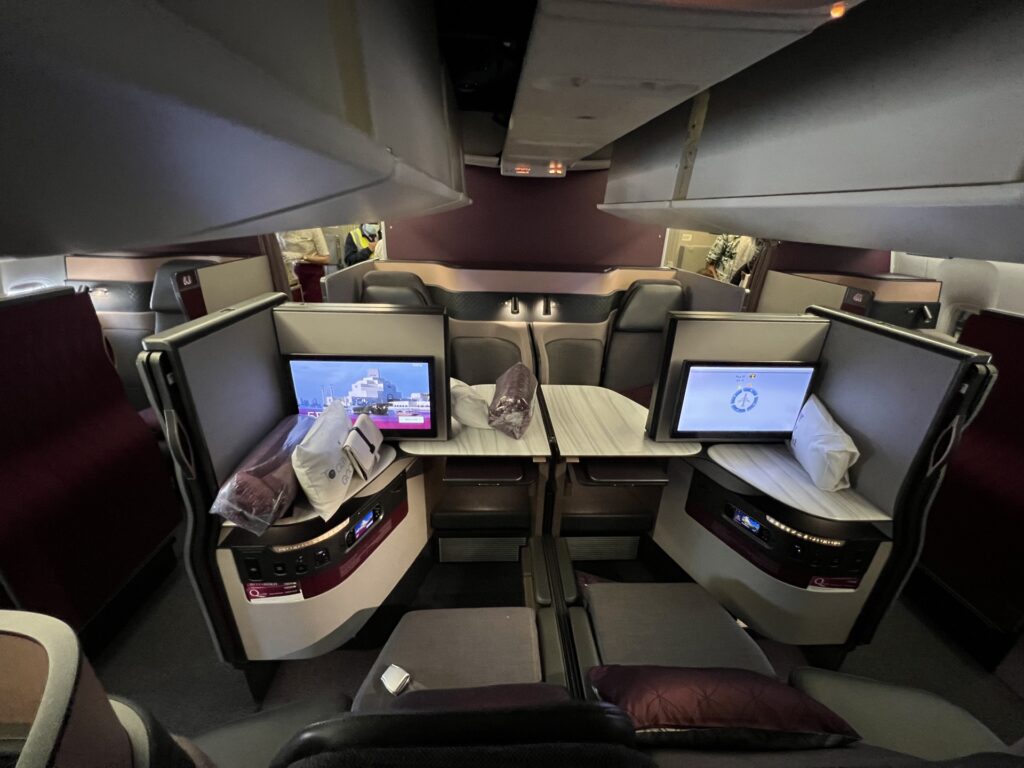 In this Post
Here's what we're covering in this post. We invite you to read the full guide or jump ahead to the section you're most interested in.
And if your journey on Qatar Airways brings you to Doha, be sure to check out our Doha planning guide for all the best things to do while you're there.
Other long-haul premium cabins
Before we go on, if you're interested in building your bucket list or seeing what we think of other long-haul premium cabins, check out some of these reviews:
Our Flight Details
For quick reference, here's a look at the details for our specific flight and booking.
Origin: Doha, Qatar (DOH)
Destination: New York, USA (JFK)
Flight number: QR 701
Plane: Boeing 777-300ER
Airline & cabin: Qatar Airways Business Class (Qsuite)
Seats: 5E, 5F, 6D
Departure time: 8:35 AM Doha local time
Arrival time: 3:17 PM New York local time
Total Flight Time: 13 hours 42 minutes
Distance: 6,704 miles
Cost (2 adults, 1 child age 2): $10,066 USD
About Qatar Qsuite
Qsuite is the name of a specific Business Class product offered by Qatar Airways. It is frequently named as one of the best Business Class products by publications like Condé Nast Traveler and One Mile at a Time and won the industry award for World's Best Business Class by Skytrax in 2022.
It is a premium offering because it does standard Business Class things really well — like offering chef-prepared meals, top tier service, and ultra luxurious seats — but it's also innovating with new and unique features.
Qatar Airways were the first to offer sliding doors and transform a seat into a suite … or Qsuite if you will. They've also created the first of its kind quad seating configuration. The Qsuite quad features two forward-facing and two rear-facing seats that fully open up to one big suite around a central table. This is a game-changer for larger parties, like families and coworkers, who want to enjoy the flight together.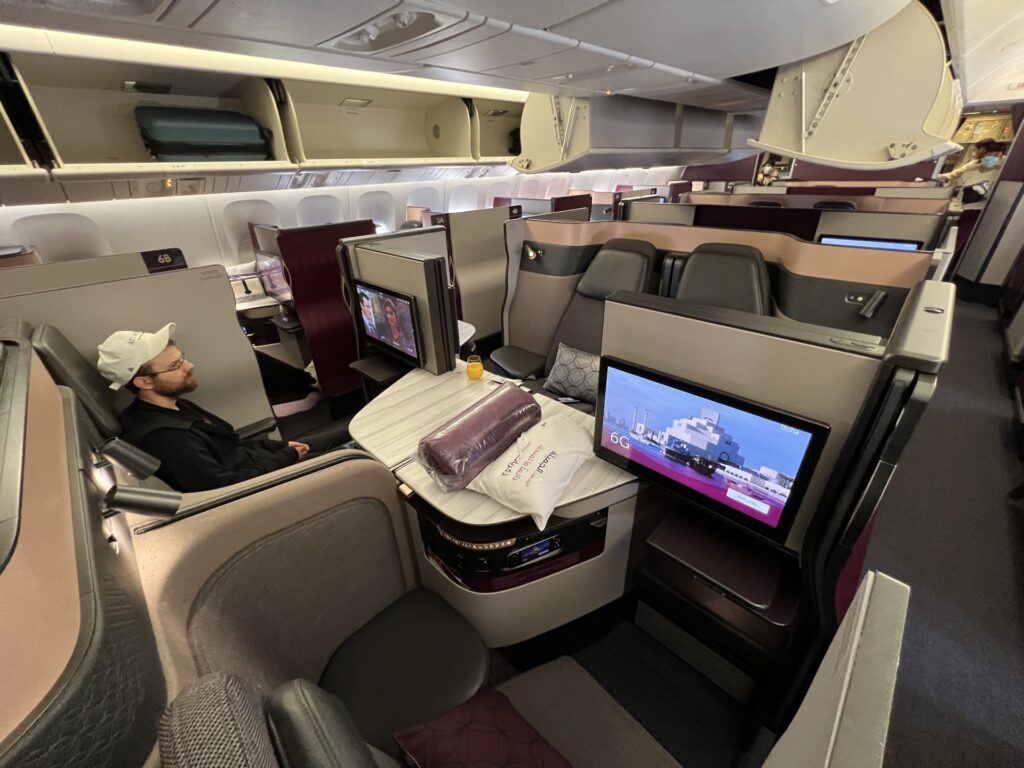 What's included with Qatar Qsuite
Let's take a look at some of the specific benefits and perks that come with a Qsuite ticket.
Expedited check-in. Skip the long economy line and check your bags quickly at the dedicated Business Class check-in desk.
Dedicated security lane in Doha. If you're flying out of Doha, there's a dedicated Business Class line for security and immigration to get you on your way quickly.
More baggage allowance. You are allowed two checked bags weighing up to 70 pounds each (vs two bags weighing up to 50 pounds each in Economy) and 2 carry-on bags weighing a total of 33 pounds (vs 1 bag weighing 15 pounds in Economy).
Airport lounge access. You will receive access to the Qatar Airways (or partner) lounge at your departure airport. In Doha, this is the Al Mourjan lounge and the newly opened Al Mourjan Lounge at The Garden.
Premium lie-flat seats. These large plush seats are 21.5 inches wide and can lie fully-flat to form a bed that's 79 inches long.
Private suite with closing door. Each suite has aisle access which can be closed off by a sliding door. Middle seat pairs are further separated by movable privacy dividers.
Quad seating availability. Traveling with a group? The Qsuite quad allows up to four people to enjoy the flight together in a large open suite.
Complimentary premium meals and beverages. Dine on chef-crafted, multi-course meals and snacks at anytime. The complimentary drink list includes a wide selection of handcrafted cocktails (and mocktails), curated wine collection and a variety of interesting coffee and tea options.
Designer amenity kit. Take your standard amenity kit but make it Diptyque.
Pajamas. A pajama set including pants, a long sleeve shirt and slippers were provided. Pajamas were only available in adult sizes.
Expedited baggage claim. Once the flight's over, your bags will be one of the first off the plane and onto the carousel.
Arrivals lounges in Doha. If you're flying into Doha, you will have access to two arrivals lounges when you land. One at immigration with dedicated immigration officers, and one after baggage claim and customs.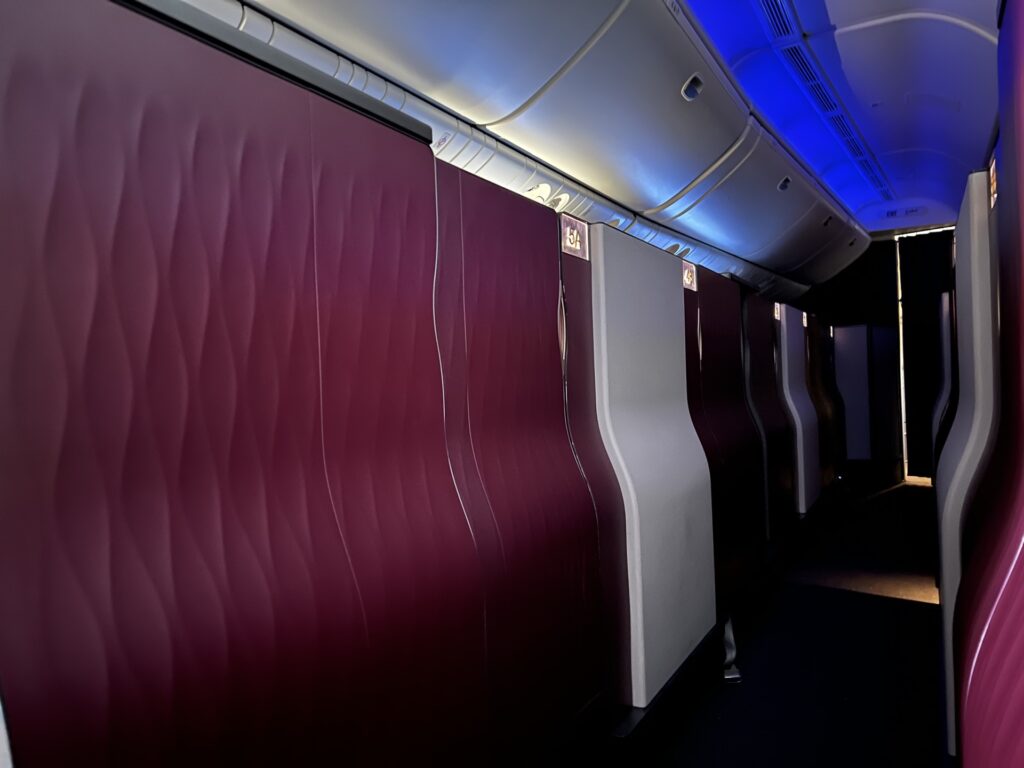 What's not included with Qsuite
As luxurious as Qsuite is, there are a few things that it does not include. Here are a few things that are either not offered by Qatar Airways at all or are restricted to First Class passengers.
Chauffeur service. While some premium Business and First Class products offer complimentary chauffeur services to and from the airport, Qatar Airways does not offer that for Qsuite passengers.
Onboard bar. Emirates Business Class has the Onboard Lounge on its A380 and Etihad Apartments has The Lobby bar, but Qsuite on the 777 does not have a similar bar or lounge on the plane.
Free wifi. Wifi is available for purchase on most flights, but it is not free for Business Class passengers.
Arrivals lounge in New York. There is no arrivals lounge for Qsuite passengers at JFK.
Qsuite booking & seat selection
When it's finally time to pull the trigger and book your flight, there are a few big things to consider.
First is how to book your flight. Tickets for Qsuite do not come cheap, so either your bank account or your points portal has to be pretty well stocked.
Then you will have the chance to pick your specific seat. The seat you select may impact your experience on the flight, so we'll go over some important differences between seats. Of course you can change you seat selection at a later time, but only if other options are available.
How to book Qsuite
First off, it's important to note that Qsuite is not the only Business Class product that Qatar Airways offers. Some planes and some routes are still equipped with their older Business Class seats.
If you're booking on the Qatar Airways website, Qsuite will be indicated on the flight selection page if it's available. If you're booking another way, check the seat map. Qsuites are in a 1-2-1 configuration while the 2-2-2 indicates the older product.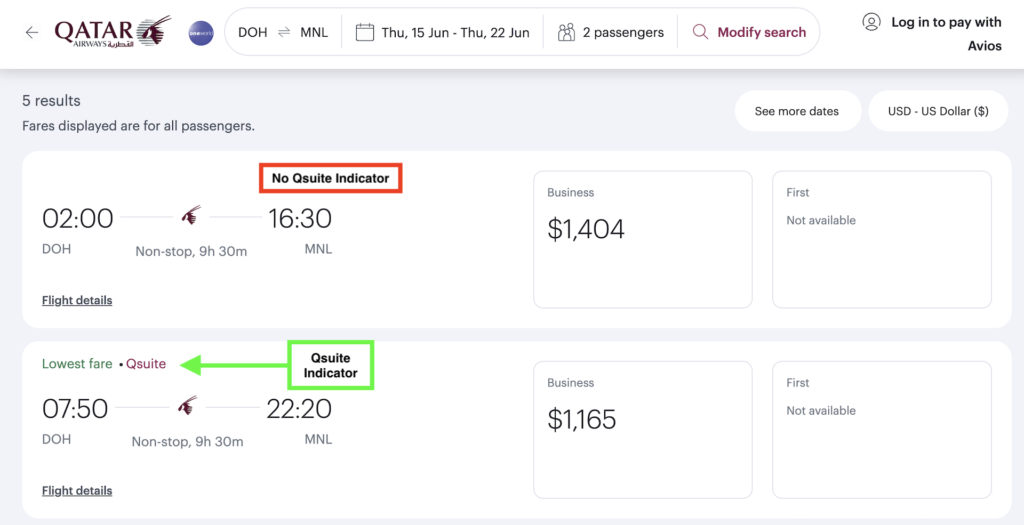 If you are booking with cash, the best way to book is directly through the Qatar Airways website. You can filter your flight results by First/Business class and then select the flight option that works best for you (be sure to check for the Qsuite indicator). From there, you'll be able to select Business Comfort fare (which allows for 2 changes and 24 hour cancellation) or a more expensive Business Elite fare (which offers unlimited changes and anytime cancellation).
You can also book Qsuite with points. Qatar Airways is a member of the Avios loyalty program, making it easy to transfer points across a few major airlines including British Airways. Another popular option to book Qsuite (and even just view award availability) is with American Airlines AAdvantage miles.
There are several good posts out there that will walk you through the different options for booking Qsuite with points. Specifically, we'd send you to this post by One Mile at a Time.
We personally booked this flight with cash, so the details for how we booked are not very interesting.
Qsuite seat selection
Qsuites on Qatar Airways 777 are set in a 1-2-1 configuration. Be sure to check the seat map for your specific plane when you're booking or on SeatGuru to further understand your seat selection.
When it comes to selecting your seat, you have two main options based on your travel party size. Solo travelers will only be able to book the single Qsuites along the windows, while parties of 2 to 4 will unlock the ability to book the pairs or quads in the middle. All seat types alternate between forward-facing and rear-facing by row.
I personally sat in a rear-facing middle seat. I'm pretty prone to motion sickness. For context, I don't do well on small boats or in the backseat of cars for long periods of time, but I can ride rollercoasters and do fine on cruises. I didn't love the reverse take off, but it didn't make me barf either. I recovered quickly and didn't notice it the rest of the flight.

-Emily
Window seats in even rows (seats A & K) face backward, with the seats closest to the window and the console closest the aisle. Window seats in odd rows (seats B & J) face forward, with the seat closest to the aisle and the console along the window. Basically you'll have to choose between a good window view and facing forward.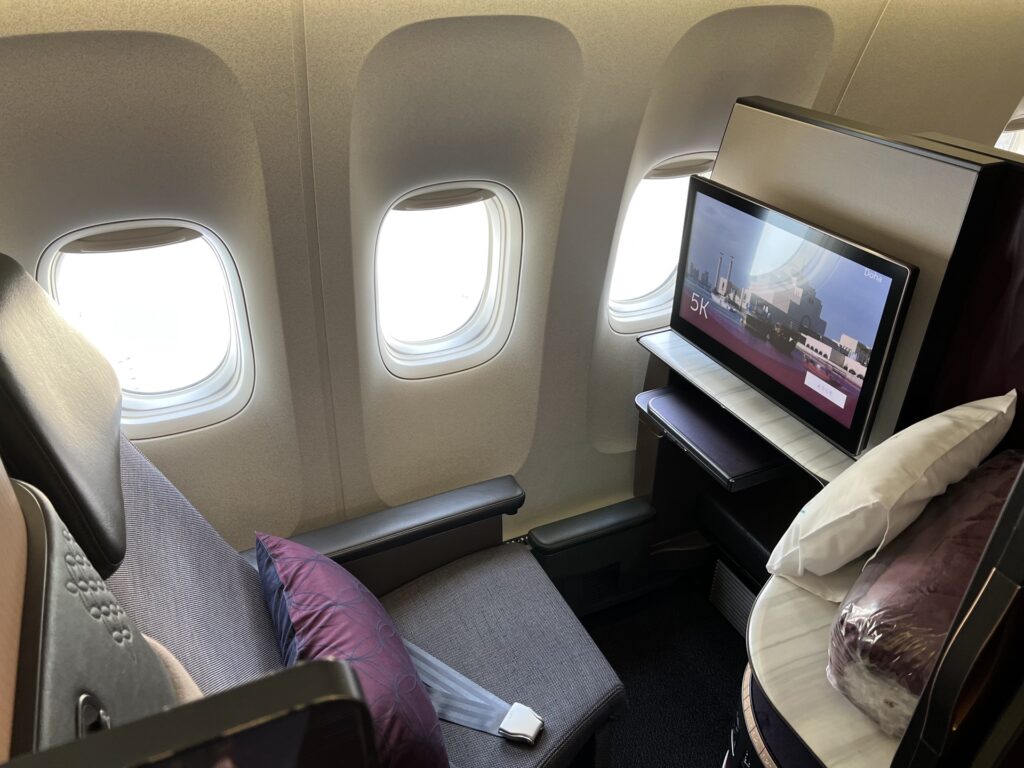 The middle seats are pairs of seats, separated by a movable privacy divider. Middle seats in even rows (seats D & G) face forward, and have the seats closest to the aisle with the console separating the two seats. Middle seats in odd rows (seats E & F) face backward, with the seats next to each other and the consoles along the aisle.
Seats E & F are best for couples or parents with children because they're closest together and lie flat to form a double bed, while seats D & G are better for business partners or solo travelers if no window seats are available.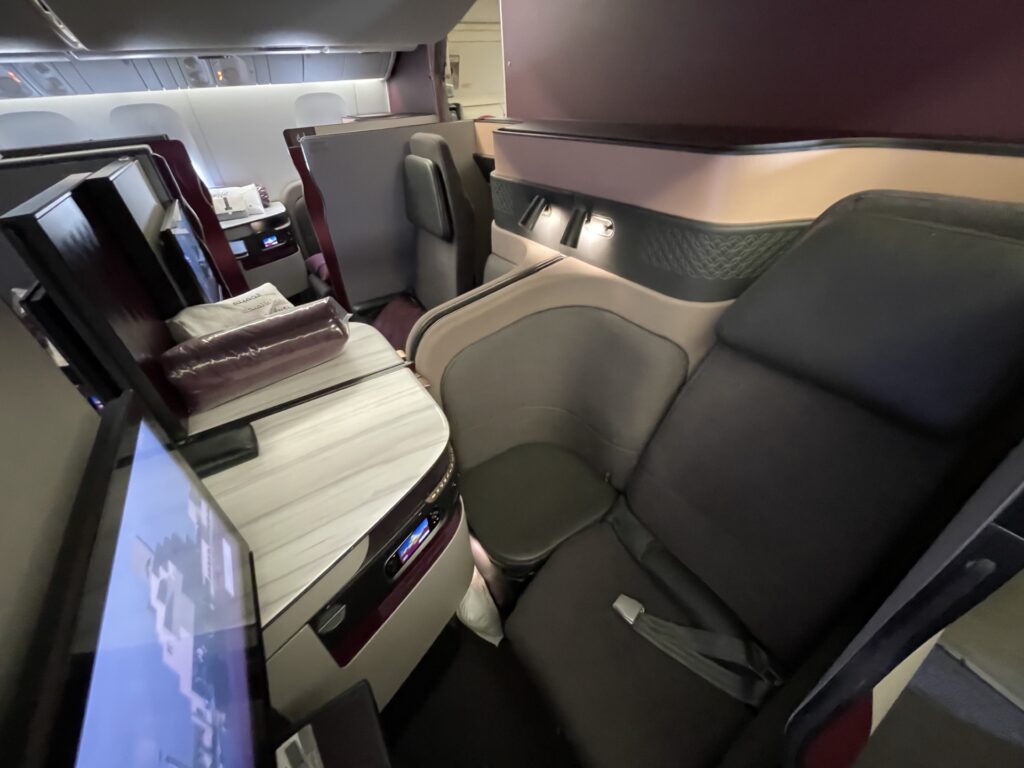 If you're booking for a group of 3 or 4, you will have the option to book a quad. The quad seating configuration gives larger parties a rare chance to enjoy the flight together as a group. With the privacy dividers down, all four passengers can see each other and sit around a shared center table.
If you have a party of 3, the fourth seat in your quad will be unlocked and a solo traveler could potentially sit there. However, this is probably unlikely unless the flight is completely full. In our experience, the fourth seat in our quad appeared to be booked but no one was seated there. It seems like they may have just blocked off the seat given that other single seats were available.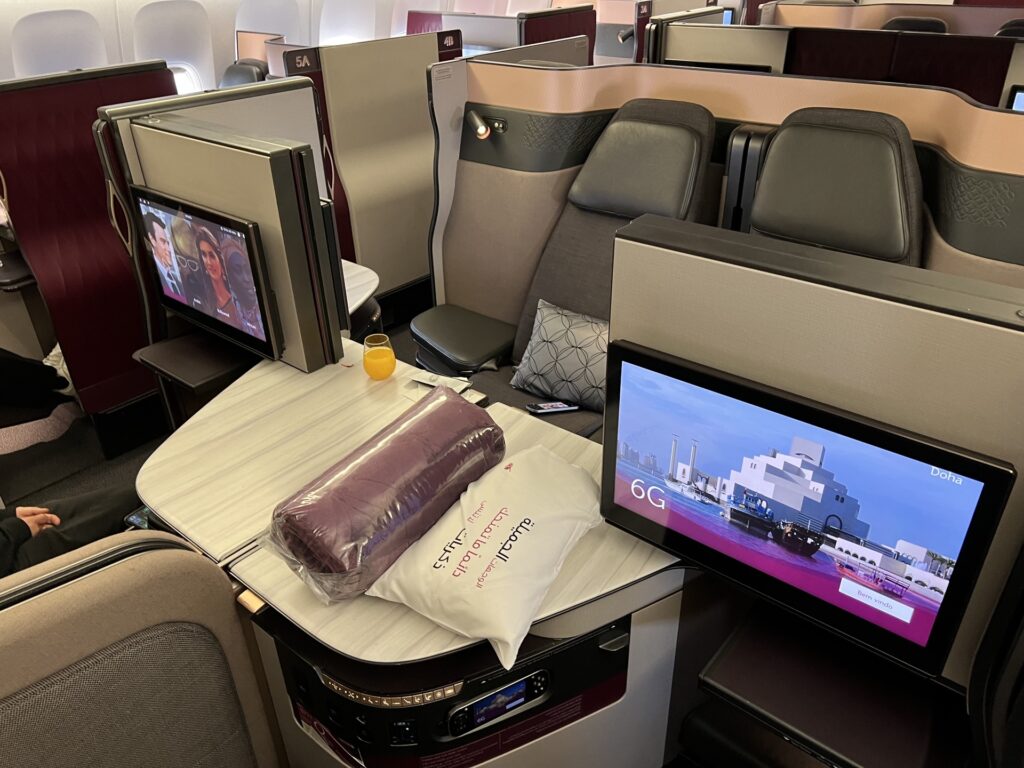 A final thing to note on seat selection is that the bulkhead seats have inflatable seatbelts. We personally find these to be less comfortable, especially if you're sleeping. This may also impact the ability to use a car seat in these seats.
Qsuite seat walkthrough and review
In this section, we'll take a closer look at the Qsuite specs and features.
Qsuite seats
The Qsuite seats set the bar for comfort and privacy in Business Class. Each seat has aisle access and a sliding door approximately four feet high that creates a semi-private pod, or suite.
The suites are configured in a 1-2-1 layout. Each pair of seats in the middle section are further divided by a privacy screen that reaches about shoulder height and can also be lowered completely.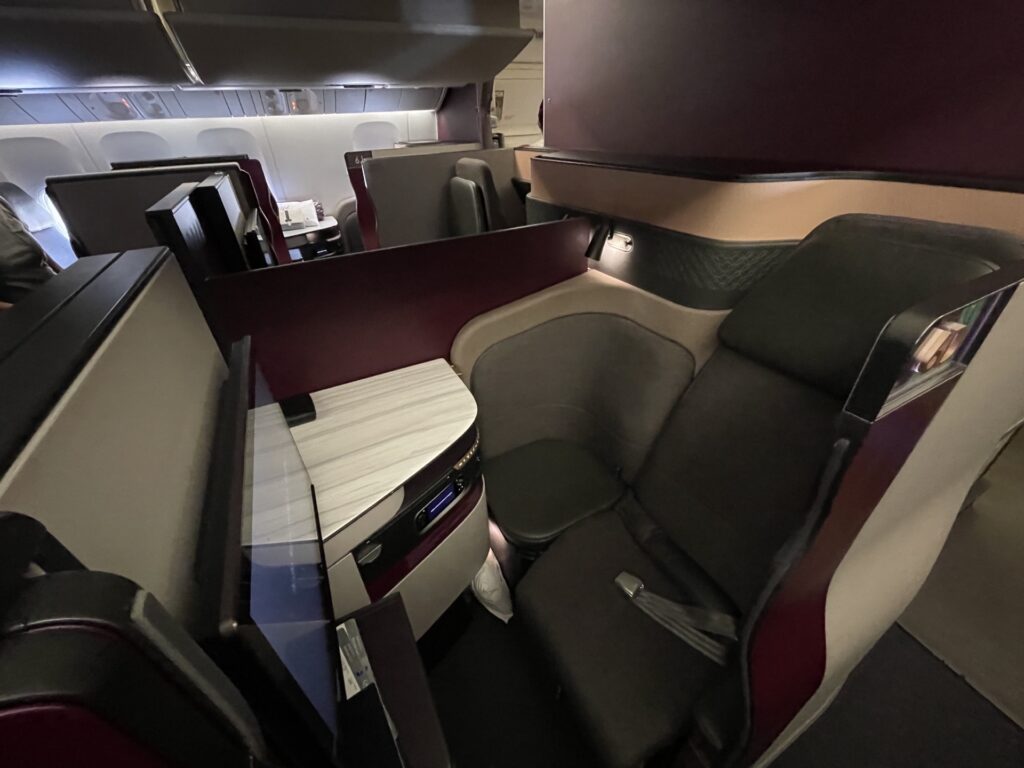 Some of the pairs of seats in the middle open up to an opposing row of seats to create a quad. The TVs and privacy dividers between rows in the quads are also about four feet high and can slide open. If you happen to be sharing a quad with a stranger, they can mostly isolate themselves with the privacy dividers up if needed.
The large, plush seats are 21.5 inches wide and covered with premium upholstery and a leather headrest. Seats can be positioned upright, reclined or completely flat, and are controlled by a set of controls on the console.
When flat, the seat becomes a bed that is 79 inches in length — long enough for a traveler up to 6.5 feet tall to fully stretch out. The two middle seats E & F can lie flat to form a double bed.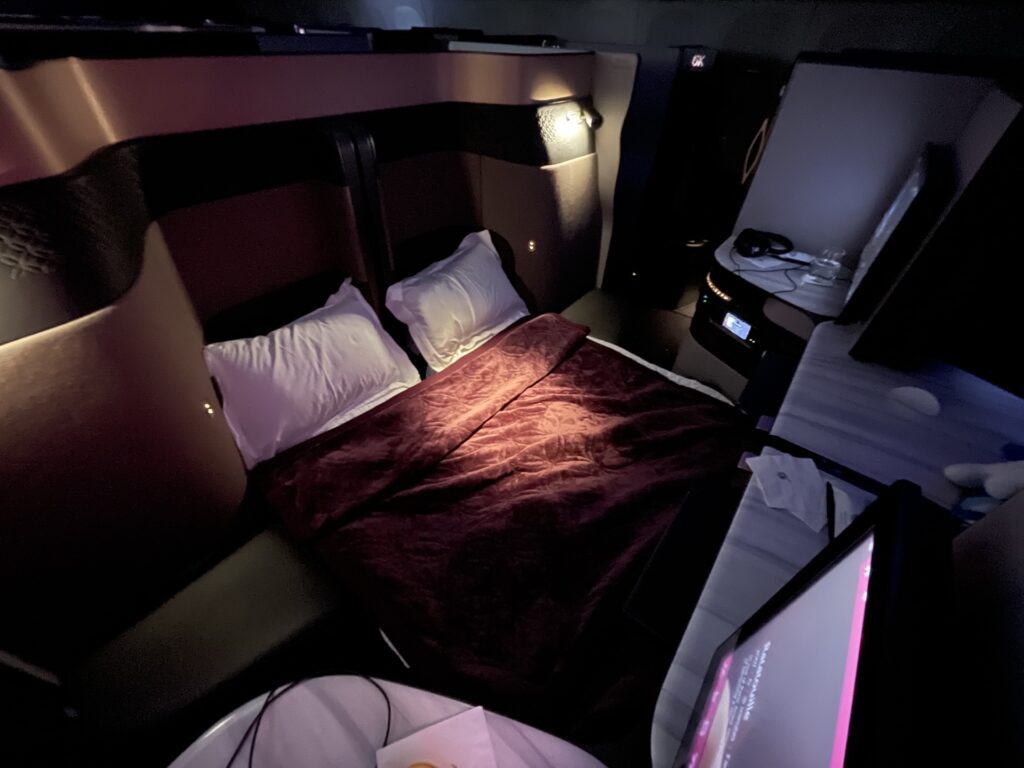 Qsuite storage
The Qsuite is so incredibly spacious that it's no surprise that there is plenty of room to store your things.
The largest storage space is above the padded footrest. You can easily store a small backpack, pair of shoes, and/or the provided pillow and blanket when not in use. Do note that the footrest becomes the foot of the bad when the seat is flat. There is also no storage space below the footrest, as there is some sort of vent there.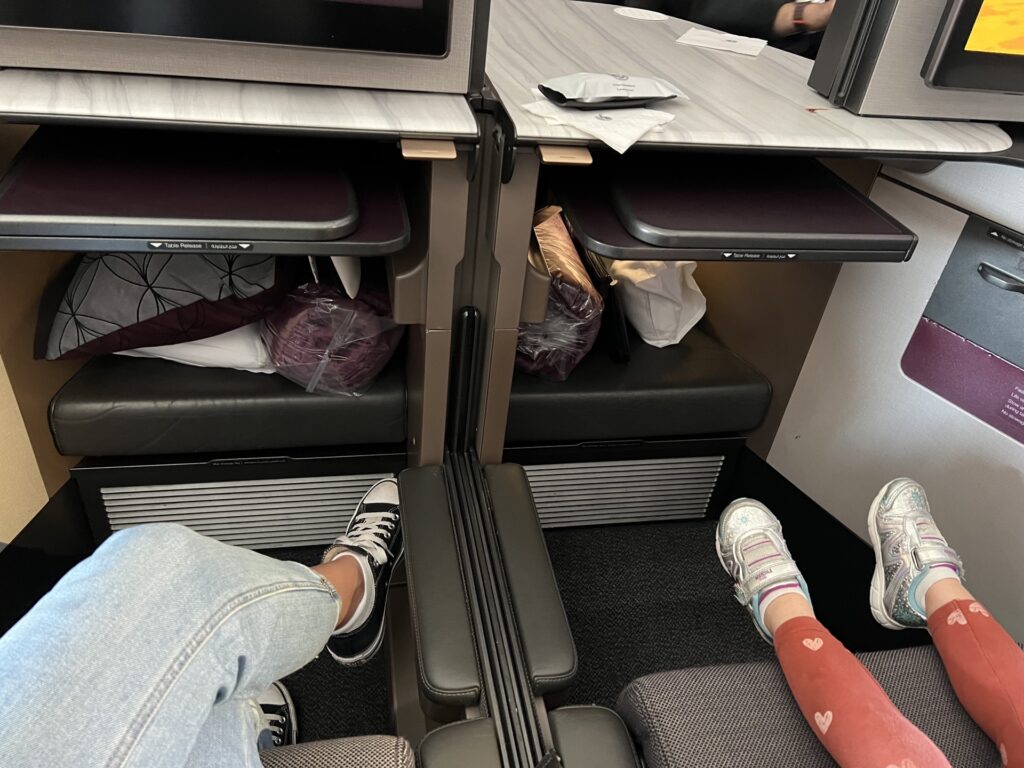 Beside each seat is a padded storage compartment that comes pre-stocked with the airline-provided headphones and a bottle of water. There's a small tray in there where you could store something like a cell phone or AirPod case that you don't want to lose. There's a bit more space in this compartment, but the shape is awkward. It'd be good for a tablet or maybe a book.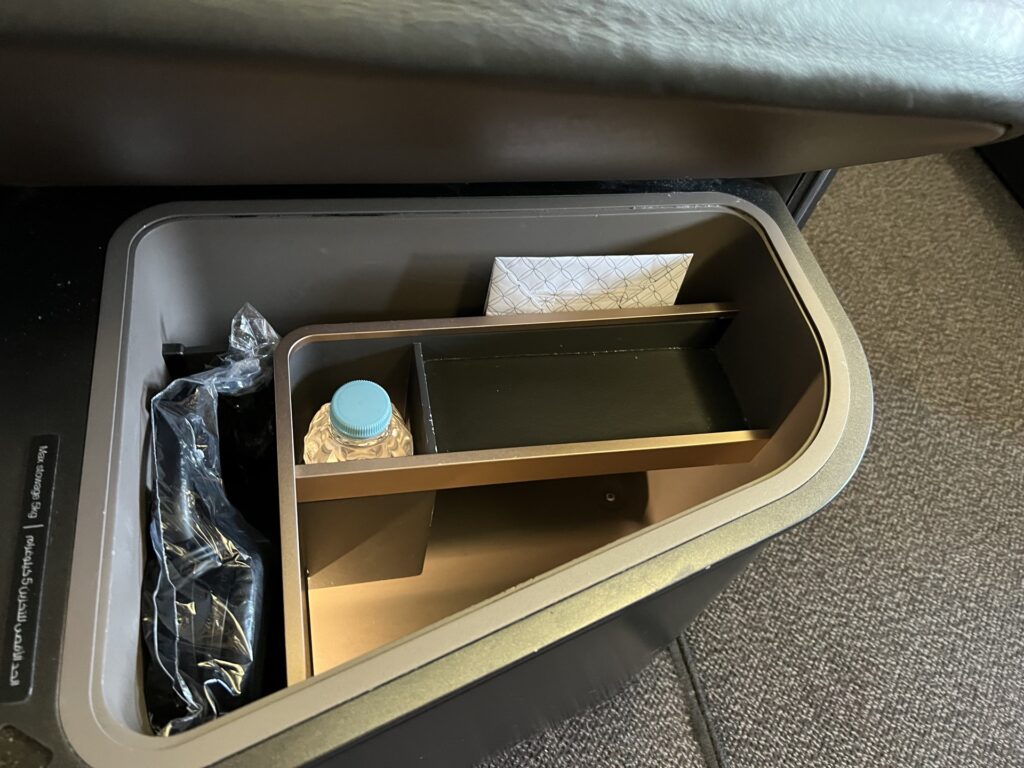 In addition to the large tray table, which could easily fold in and out, there was a small table space on the console. If you were in a quad, the center consoles of seats D and G created the main central table of the quad, with the consoles of seats E and F being to the side near the aisle.
My favorite storage feature was the small space below the table portion of the console. It was just a few inches high, but it was perfect for keeping things handy without cluttering the table space.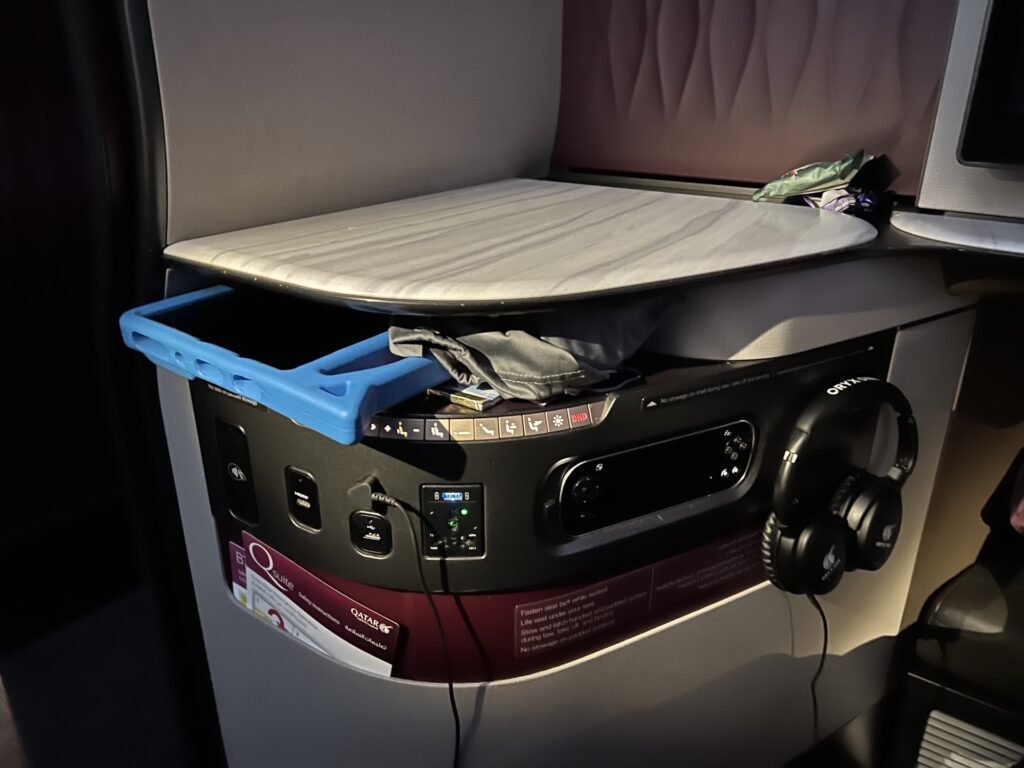 Each passenger also has a dedicated overhead bin to store larger carry ons, jackets and anything else.
Entertainment & technology
Each Qsuite seat is set up for all your technology needs.
First up is the entertainment system which has a 21.5-inch screen and is preloaded with a decent selection of TV shows, movies, music and games. I have to say, I was a bit disappointed by the media selection, though. I flew Qatar Economy a few days earlier and there was substantially more movie options on that route.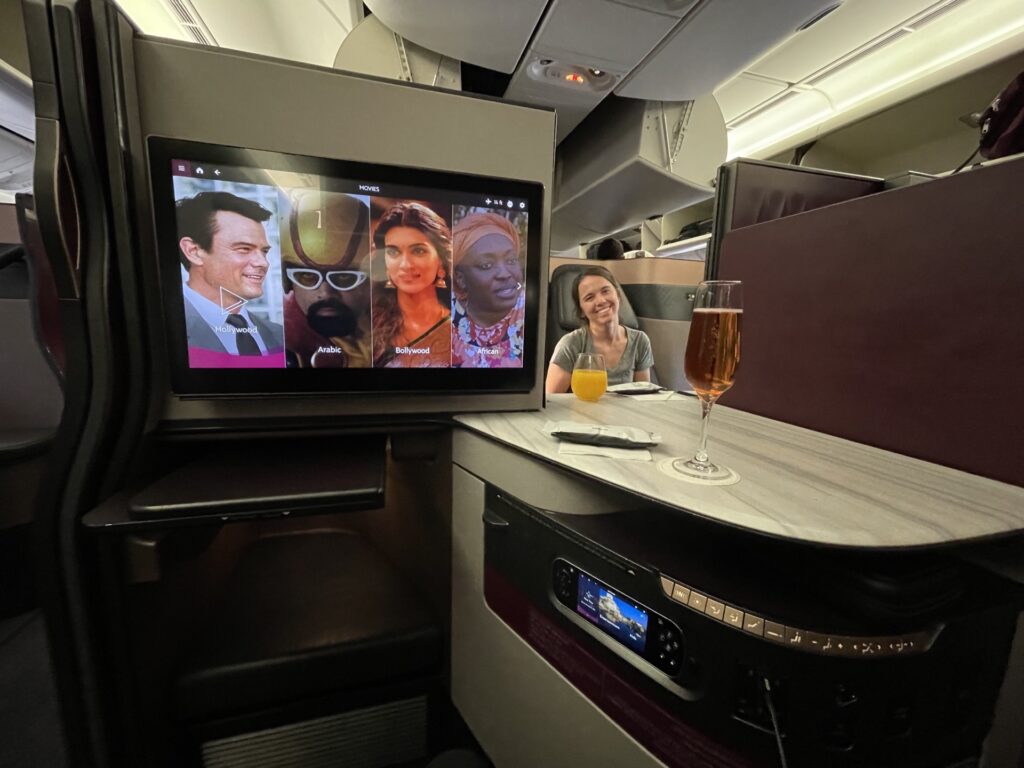 The entertainment system is touchscreen, but can also be controlled via the wired remote stored in the console. The remote can operate independently from the tv screen, so you could watch a movie on the main screen and play a game or watch the flight map on the remote. This remote also has the flight attendant call button on it.
All seat movements, overhead lighting, and the Do Not Disturb indicator are controlled by a panel of buttons on the console. Below that is a series of charging and plug-in options. There an outlet that supports a variety of inputs (including US and Qatar plugs) and a USB input for charging.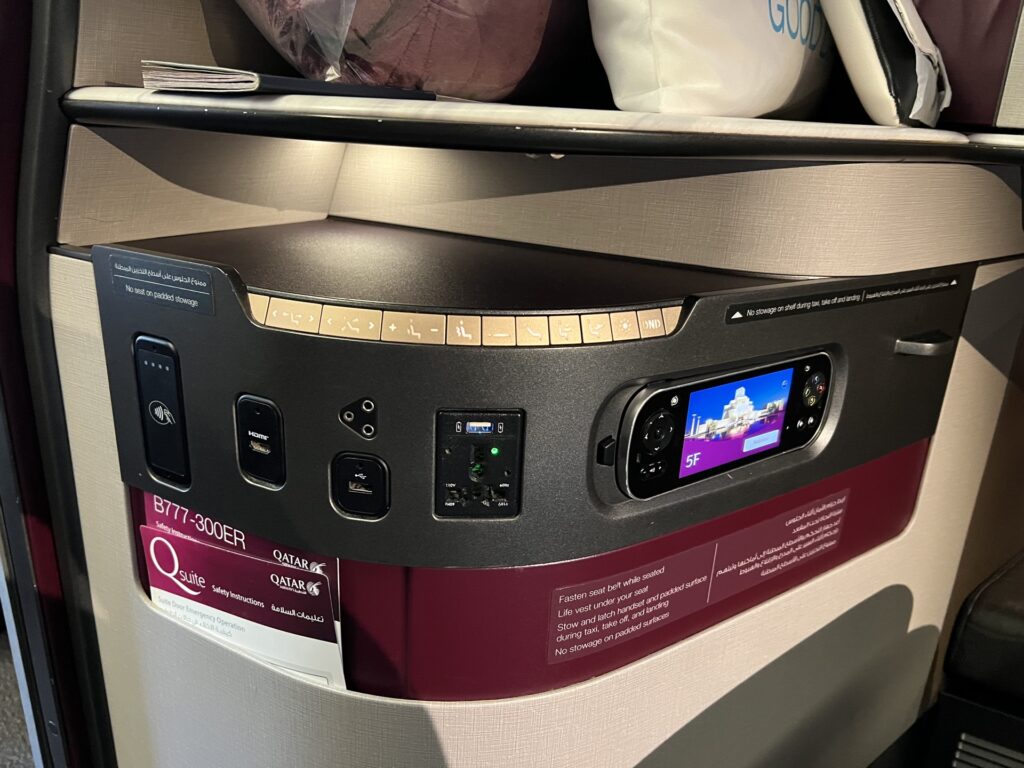 There are a handful of other input options including an NFC reader and HDMI input. The use case for these vary. You can apparently use the NFC reader to load playlists from the Qatar Airways app and you can stream content from your own device using the HDMI input.
Lastly there's a three-prong headphone jack that supports the provided noise-cancelling headphones. You can also use personal headphones with a standard jack. In our experience though, the sound doesn't come through as well when using a single prong jack.
Each seat has overhead lighting plus a reading light with multiple brightness settings.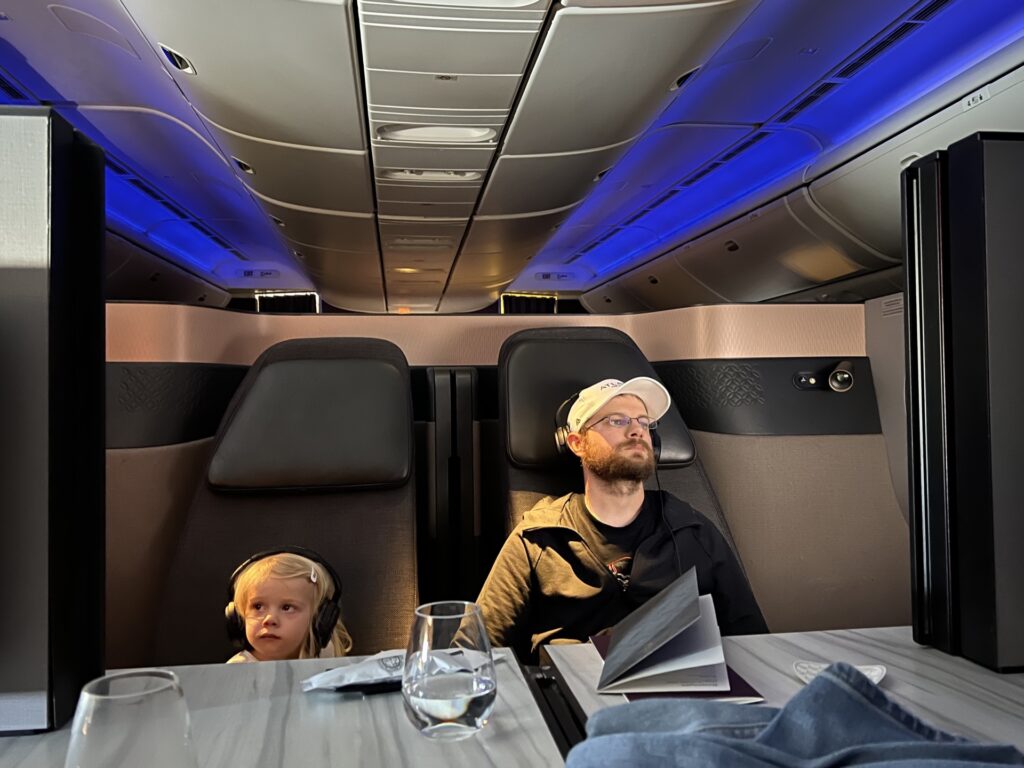 Qsuite amenity kit
Passengers flying Qsuite are treated to a premium Diptyque branded amenity kit. They offer a men's and women's kit which has mostly the same items but comes in a different bag and with different fragrances.
The women's amenity kit included the following items in a white Diptyque branded pouch.
Diptyque body lotion
Diptyque face cream
Diptyque lip balm
Diptyque fragrance spray
Eye mask
Socks
Ear plugs
Along with the amenity kit, we also received a pair of pajamas and slippers by The White Company.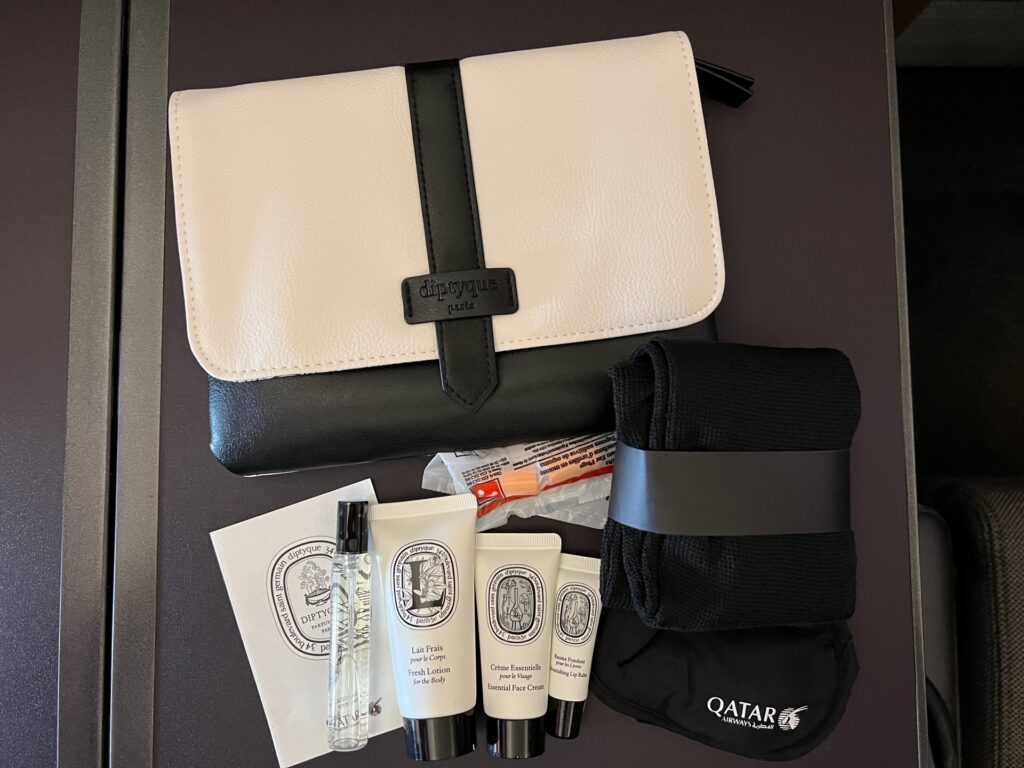 Bathrooms
Most airplane bathrooms, regardless of class, are pretty much the same. In Business Class, they just have some extra toiletries available.
In this case, the bathroom had slightly nicer interiors and was stocked with dental kits, fragrance and body location. The bathrooms also were equipped with infant changing tables.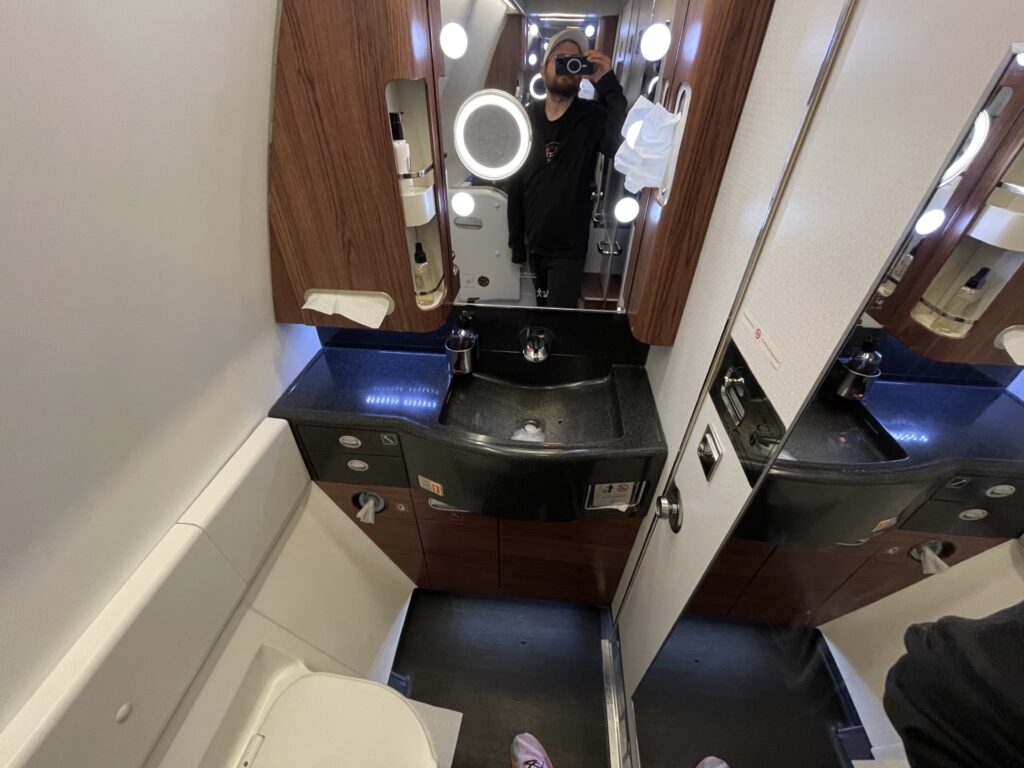 Our flight experience in a Qsuite quad
Now that we've fully documented the hard product, let's dive into our personal experience on the flight. In this section we'll go into more detail on the timelines, service and food/beverage offerings on our flight. This is where the specifics might vary from flight to flight or by destination.
Let's take a look at our journey from Doha to New York as a family of three in a Qsuite quad.
Doha Airport Check-In
At Hamad International Airport (DOH), there is a special drop-off area at departures for Business and First Class passengers. When we walked in, we were immediately greeted by an Qatar Airways attendant.
There was no queue for check-in. Instead, there was a long line of attended desks and a comfortable seating area. We were directed to an open desk as there were plenty available. Presumably as they get more crowded, you may be asked to have a seat while you wait for the next available agent.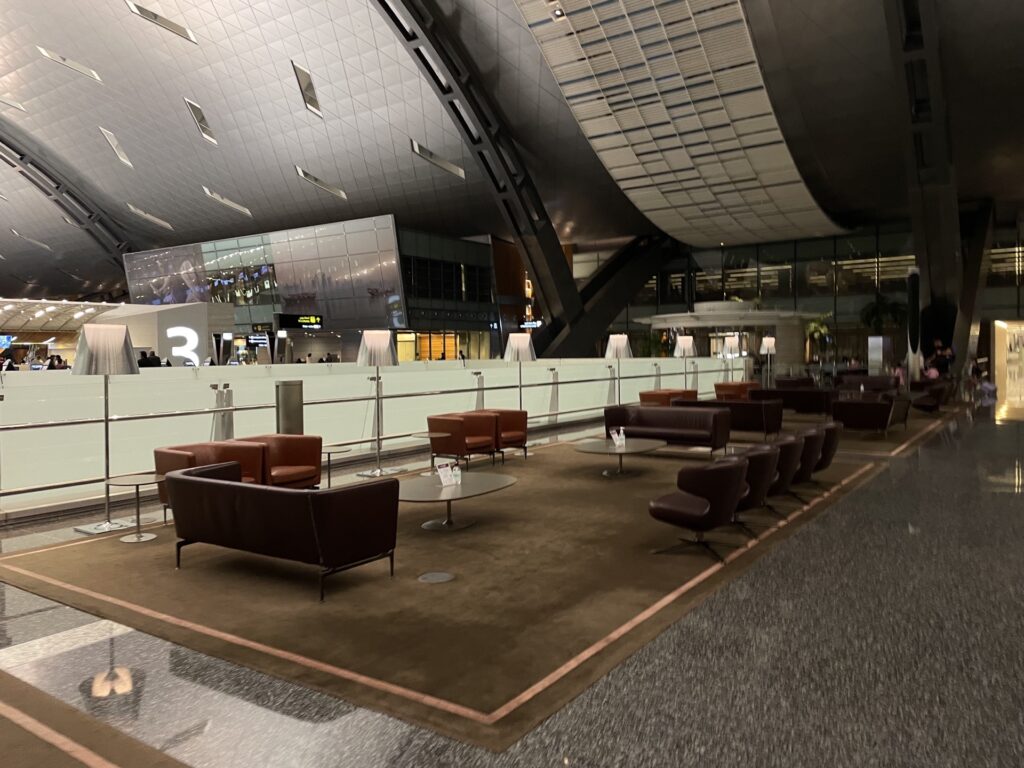 We arrived at 5:23 AM, and our 2-year old Zoe was still in their jammies. I was able to get them dressed in the seating area while Kenny managed the check-in. We were already off to a comfortable start.
DOH also has a special Business and First Class queue for immigrations and security. This literally could not have gone any quicker. There were no lines for either and we breezed through both in about five minutes.
Al Mourjan Business Class Lounge
NOTE: A new lounge — called Al Mourjan Lounge at The Garden — has opened at DOH since this post was written. This new space provides additional seating, improved offers (like a spa, barista coffee, and children's play areas), and garden views. Business class passengers can visit either of these lounges. You can read a detailed review of the new lounge Al Mourjan Lounge at The Garden by One Mile at a Time.
We followed posted signs from the exit of the Business Class security line to Al Mourjan Lounge and arrived just a few minutes later. An attendant at the base of the escalator to the lounge checked our tickets and then we further checked-in at the desk at the entrance.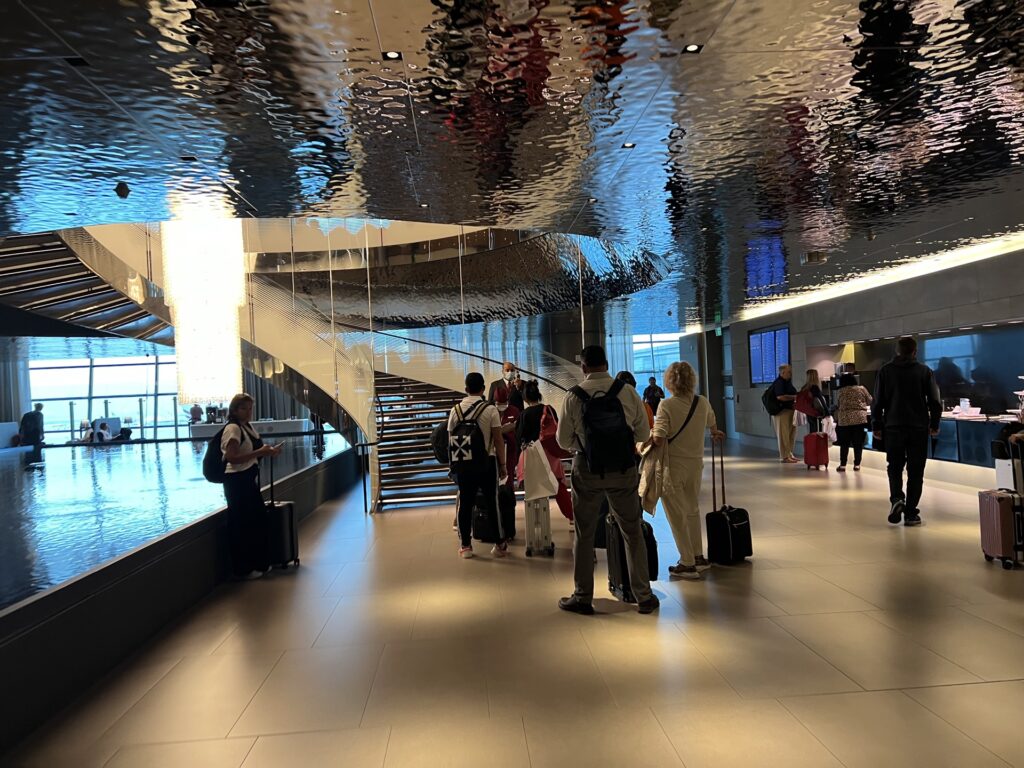 The lounge is huge and spans two floors. The upper floor is the dining area and the lower floor is broken up to a few different rooms with a variety of seating types. Most interesting of the seating types were semi-private sleeping pods. Bathrooms are only located on the lower floor and are equipped with showers.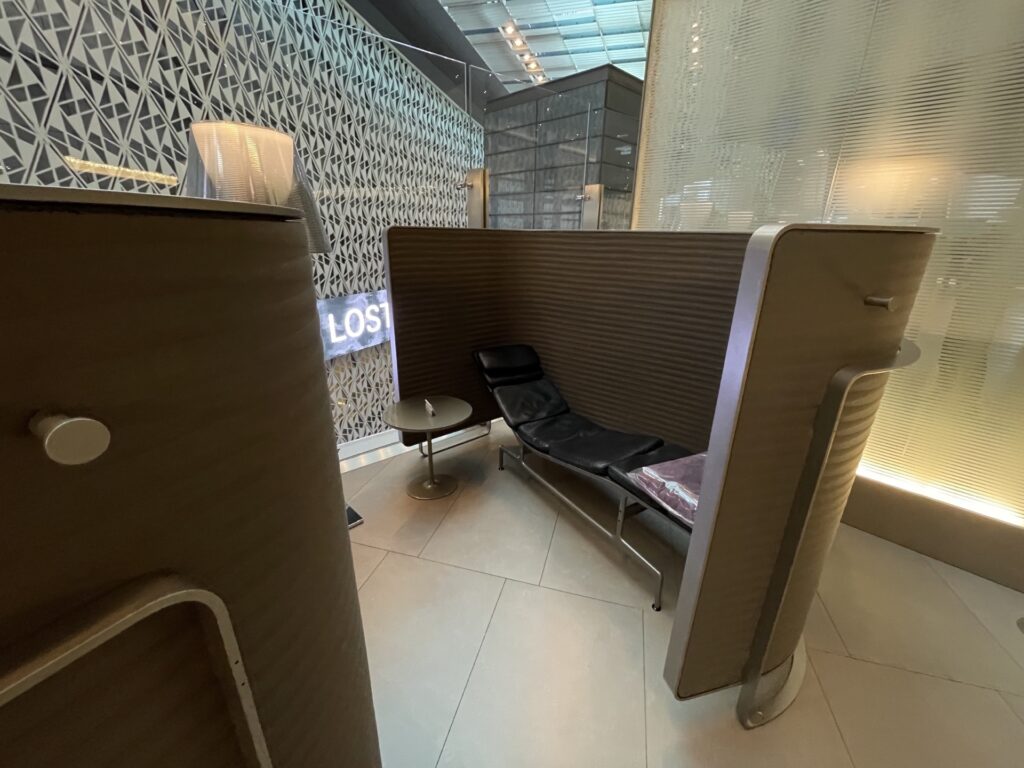 In the dining room, food was primarily served buffet-style. The selection was sufficient, but not abundant. Hot items included eggs, an Indian dish and breakfast meats. There was also breads and pastries, yogurt parfaits, fresh fruit and a few other things. Western staples like waffles and pancakes were notably missing.
The only full bar was in the dining area. They offered a wide selection of cocktails, beer and wine. Soft drinks including fresh juices, coffee and tea were also available.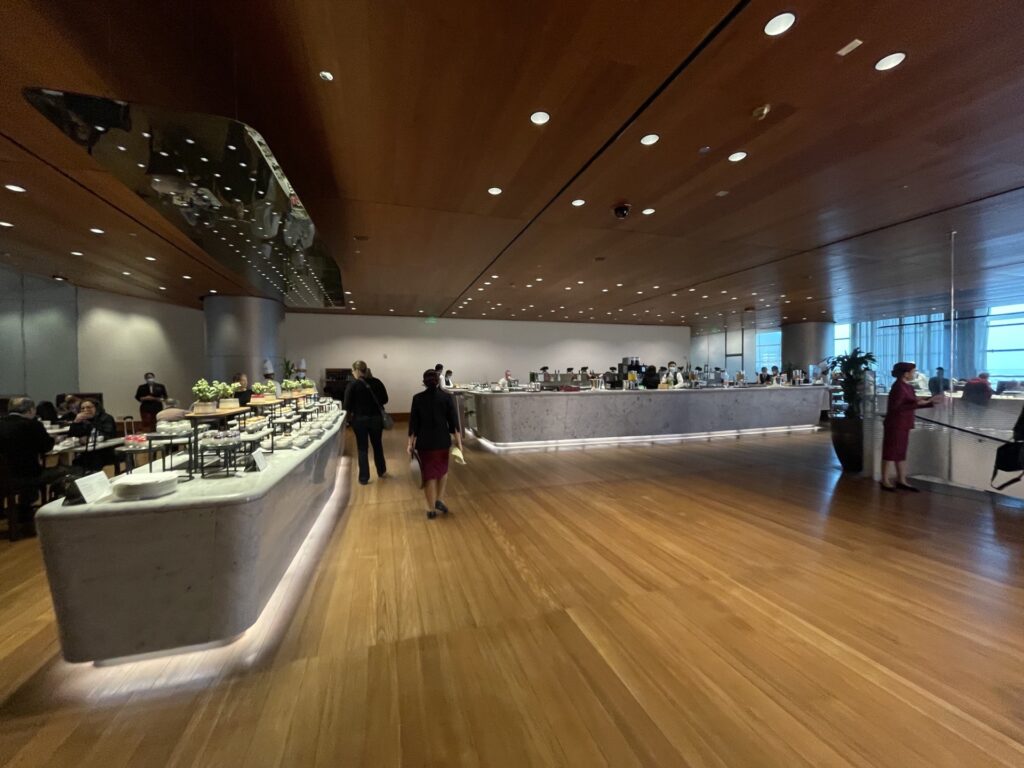 Downstairs, the food and beverage selection was more limited. There were a few coffee and tea stations, as well as self-service coolers where you could grab soft drinks and beer. A small pastry selection was also available.
During our morning visit, the lounge was very crowded. Guests who arrived after us had to wait in a line to enter the dining area and we struggled to find open seating downstairs after our meal. There was even a line for the mens bathroom at one point.
Overall, this was not my favorite lounge. It was too big, too crowded, and the food and beverage availability was just mediocre.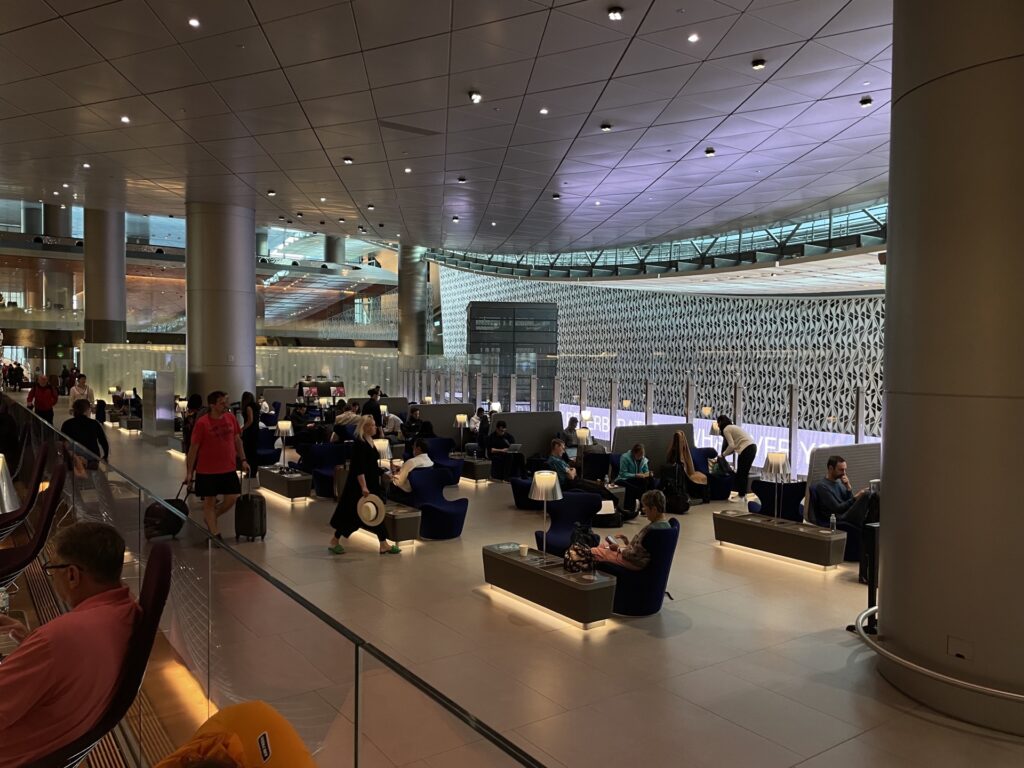 Gate experience and boarding at DOH
If you were thinking about taking a drink from the lounge onto the plane, think again! There was a second full security check at the gate where we had to ditch liquids larger than 3 ounces. In fact, arriving at the gate felt a lot like we'd just arrived at the airport, because also had to pass through an additional passport check.
I've been to airports that do security screens at each gate, but I've never been to an airport that had two full security screens. I'm truly not sure if this was the case for all flights or if it was extra because we were flying to the US. In either case, definitely plan to arrive at your gate with plenty of time to account for this extra step.
Beyond security was a gated off seating area which was arranged by boarding group.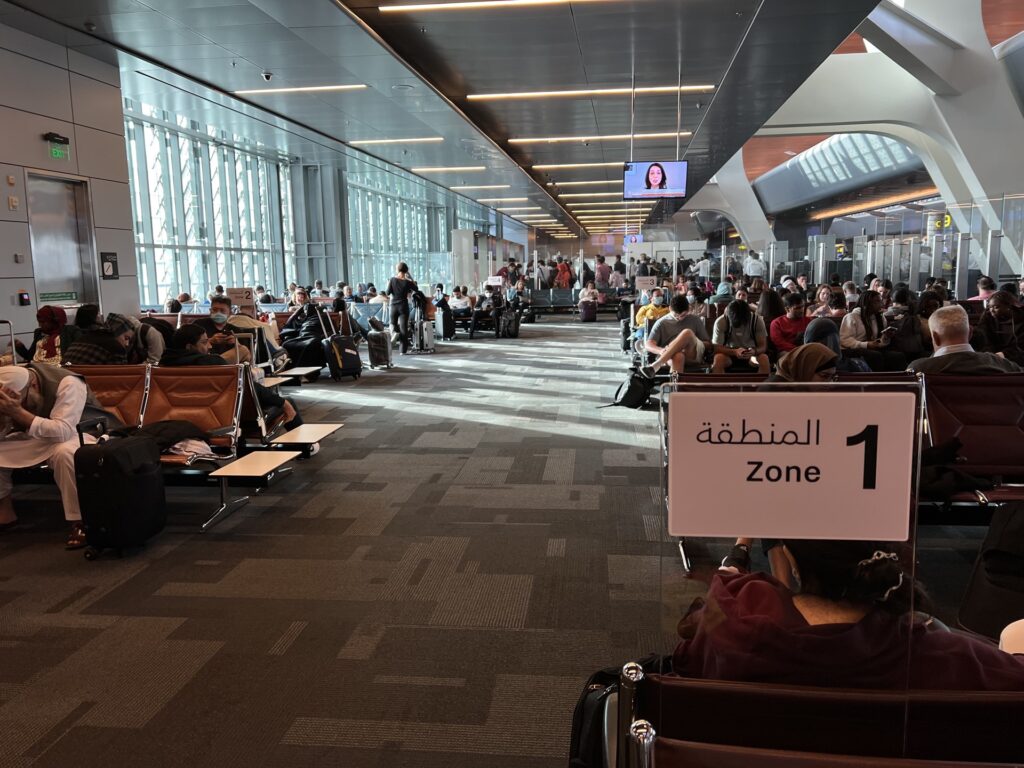 The boarding area did get quite crowded before they began boarding. It's generally not that big of a deal when you board for Business Class. However, we didn't know if a fourth passenger would be joining us in our quad and I really needed full quad photos, so I tried to board at the front of the pack.
Once they started boarding, they scanned tickets quickly and we were among the first few people on the plane.
Pre-Departure Service
We quickly found our seats, where a blanket and pillow were already placed. We were expecting a fourth traveler in our quad as the seat showed up as booked online. Luckily for us, no one ever showed and we had the quad to ourselves.
With all of the privacy dividers up, the Qsuite quad looked liked two separate rows of business class seats that happened to be facing each other. Once we opened all the dividers, we were impressed by how spacious the quad felt.
Since Kenny and I were seated along two different aisles, we were served by different flight attendants and had different experiences.
For example, we each received an amenity kit after we boarded. However, at the same time I also received a pair of pajamas and slippers in my size. Kenny never did. In fact, he didn't even notice that I received them and wore them the entire flight.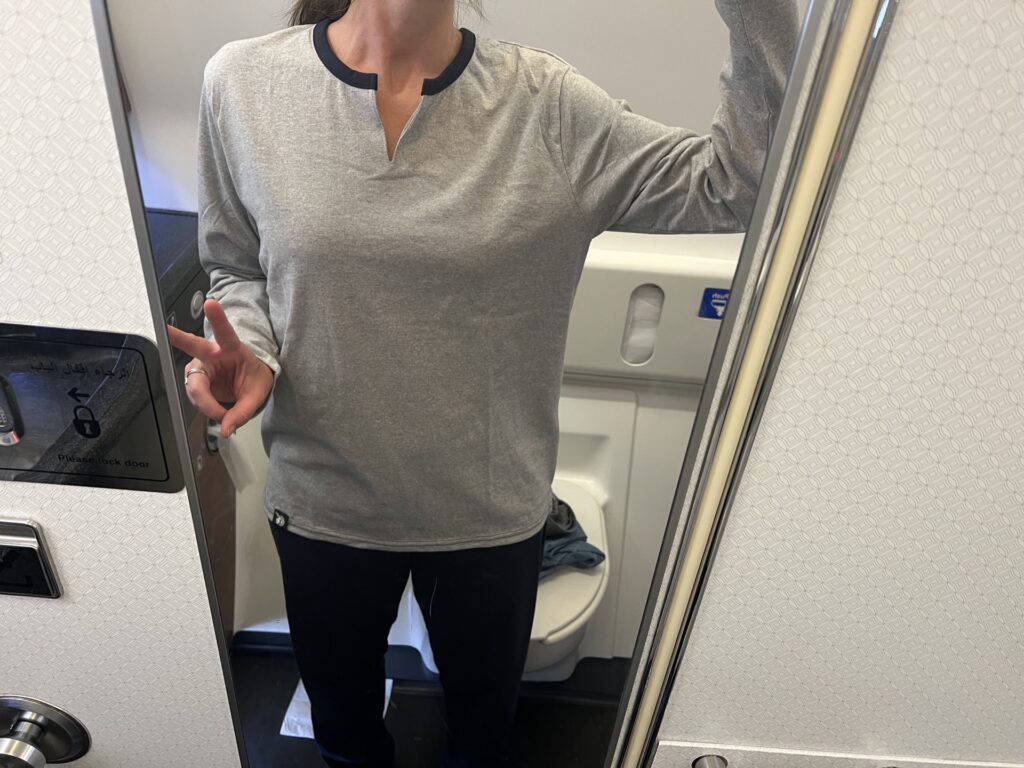 Oddly enough, Zoe did not receive a special kids amenity kit, children's pajamas or any goodies for that matter. (This was kind of shocking given how many gifts this child acquired over the past three weeks in India and the Middle East.) I'm not sure if this was by mistake or what, because their website states that children should receive a goodie bag.
I was also greeted by my flight attendant pretty quickly. He immediately introduced himself and where we has from (which happened to be Colombia so we chatted a bit about that), then offered me a short tour of the suite. He took my drink order, which to the best of my knowledge could have been any drink I wanted. I opted for Rosé champagne, which was Laurent-Perrier Alexandra Rosé 2006.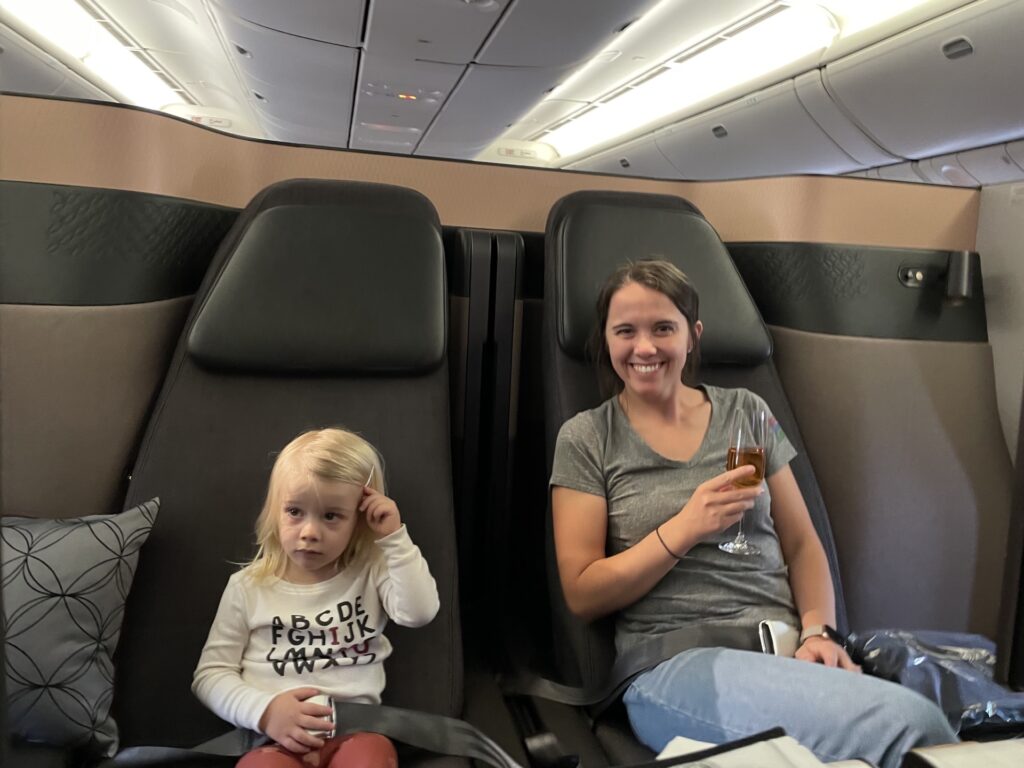 Kenny and Zoe were served much later. They didn't receive their pre-departure drink until just a few minutes before we left the gate. He didn't even time to finish it before takeoff.
Qsuite in-flight food and beverage service
We received a menu before takeoff that listed all of the food and beverage options for the flight. Our flight would be serving breakfast and lunch, plus there was selection of light snacks available to order at any time (including afternoon tea which I'm just seeing now and kicking myself for not ordering).
We pre-ordered vegetarian meals. On my side, the flight attendant care around and first confirmed my special meal selection. He first asked if I wanted to eat breakfast or lunch first, and then walked me through the menu selections for my special meal. He made a point to serve my breakfast first so I could finish and then assist my child.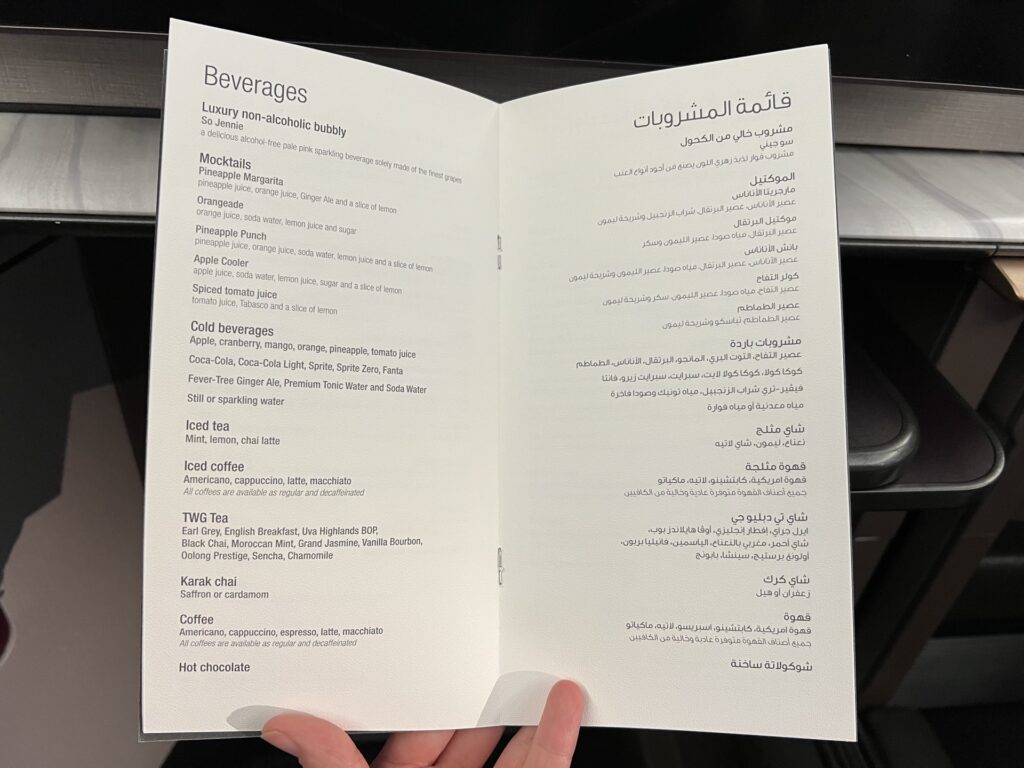 Kenny and Zoe shared a flight attendant and there was some confusion about their meals. I think that mixup may have resulted in Zoe getting an adult meal, and not the cute kids meal that they advertise on their website. It was still in line with our dietary requirements, though, and Zoe ate it just fine.
While I was more impressed by the cocktail options on Emirates Business Class, the selection of non-alcoholic beverages in Qsuites was incredible. I ordered an iced latte and later iced chai — the first time I've had either on an airplane! We also had a family happy hour mid-flight and Zoe's virgin pineapple margarita was out of this world.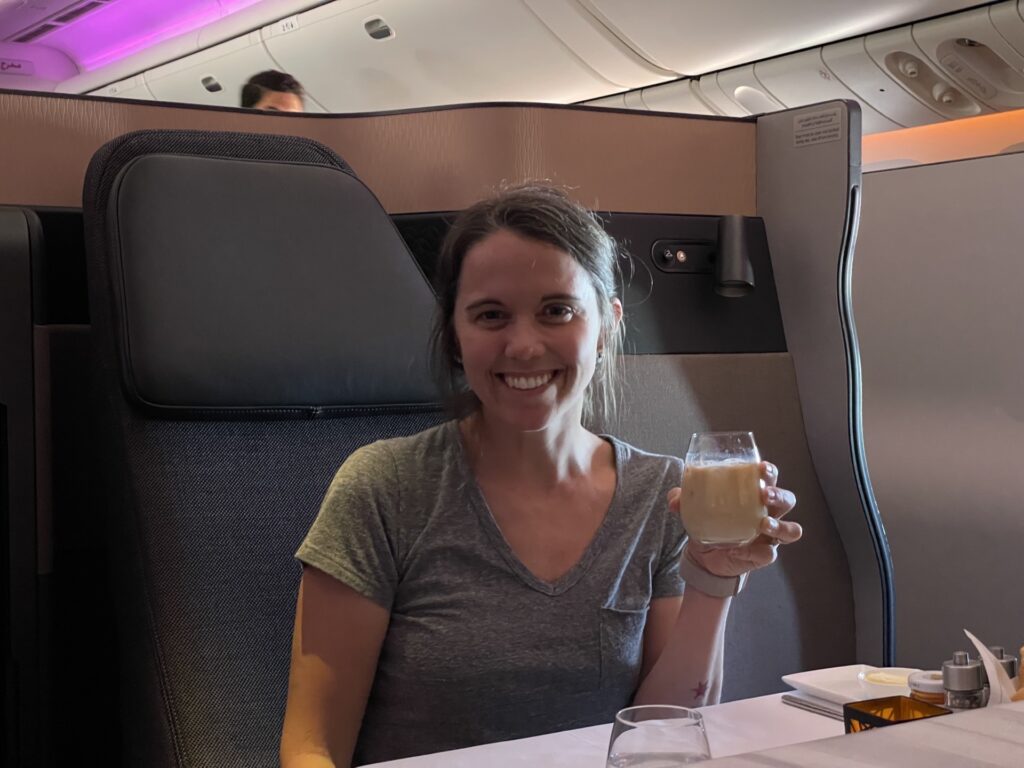 Our first meal was served about an hour after takeoff. After that, there was not much proactive food and beverage service. Instead, if we wanted to place a food or drink order, we'd just hit our call button. I did this plenty of times and never felt like I was a bother. I even ordered three drinks at once and he didn't even flinch.
The final meal service was schedule for about two hours before landing. Since we wanted to squeeze in a last nap for Zoe, we requested our meal about 3.5 hours before we landed. They were easily able to accommodate this request, but let us know that it would take about 25 minutes to heat up. We expected such.
Maybe this goes without saying, but the food and drinks onboard were delicious and substantial. Each meal was beautifully plated and served with a (fake) candle, mini salt and pepper grinders, and seemingly fresh-baked bread.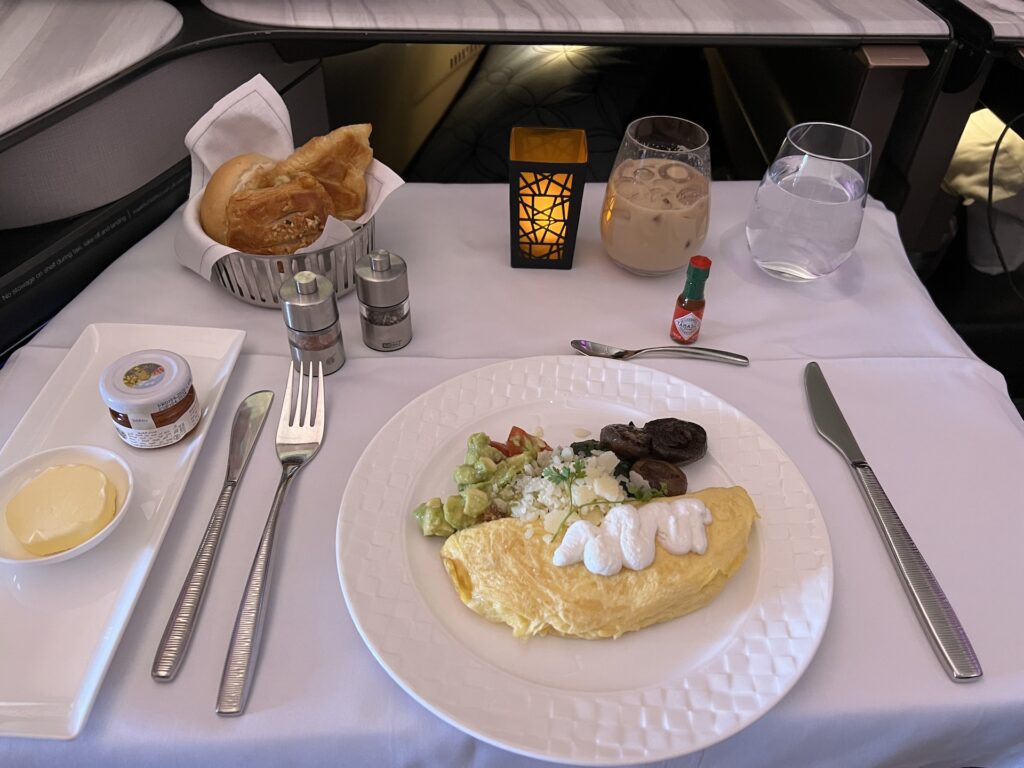 Sleeping in a Qsuite
The cabin lights dimmed after the first meal service concluded and remained down until the final meal service a few hours before landing. We were a bit surprised by this.
The dimmed lights are of course so people can sleep on the flight. However, this was a daytime flight from roughly 8:30 AM local time in one place to 3:30 PM local time in another. We didn't expect to be the only people who planned to fight the jet lag and stay up for the duration of the flight, but it seems like we may have been.
That said, our toddler no doubt benefited from the low lighting and quiet cabin. About four hours into the flight, we asked to have two of our suites made up into beds for nap time. We rang the flight attendant who quickly arrived to make up the bed.
She placed a fitted quilted mattress pad on top of each seat. She also brought over an additional larger pillow for each bed. Oddly enough, she did not actually lie the seat flat or place the comforter, so Kenny had to finish making up the beds.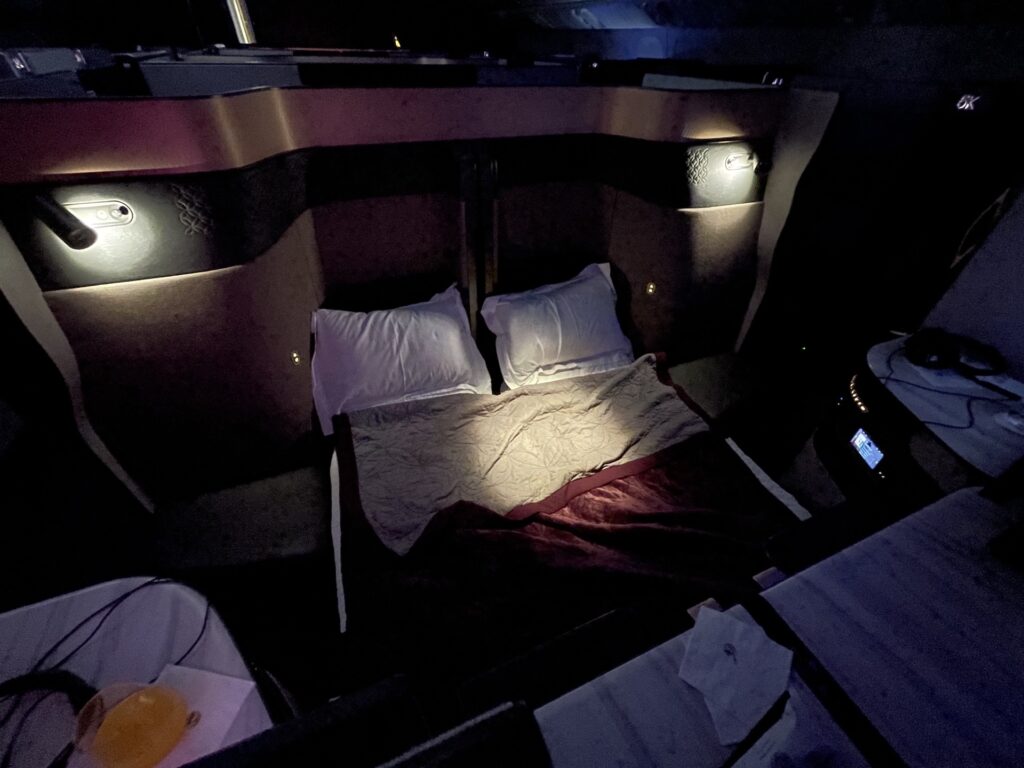 The lie-flat bed was very comfortable with the mattress pad topper and the duvet was incredibly plush and soft. We were able to fully stretch out in the bed and could easily see the TV from the lie-flat position. Seats E and F became a full double bed, which was great for a parent and child or a couple.
We turned on the Do Not Disturb light while Zoe was sleeping, though to be honest the flight attendants weren't really disturbing anyone anyway.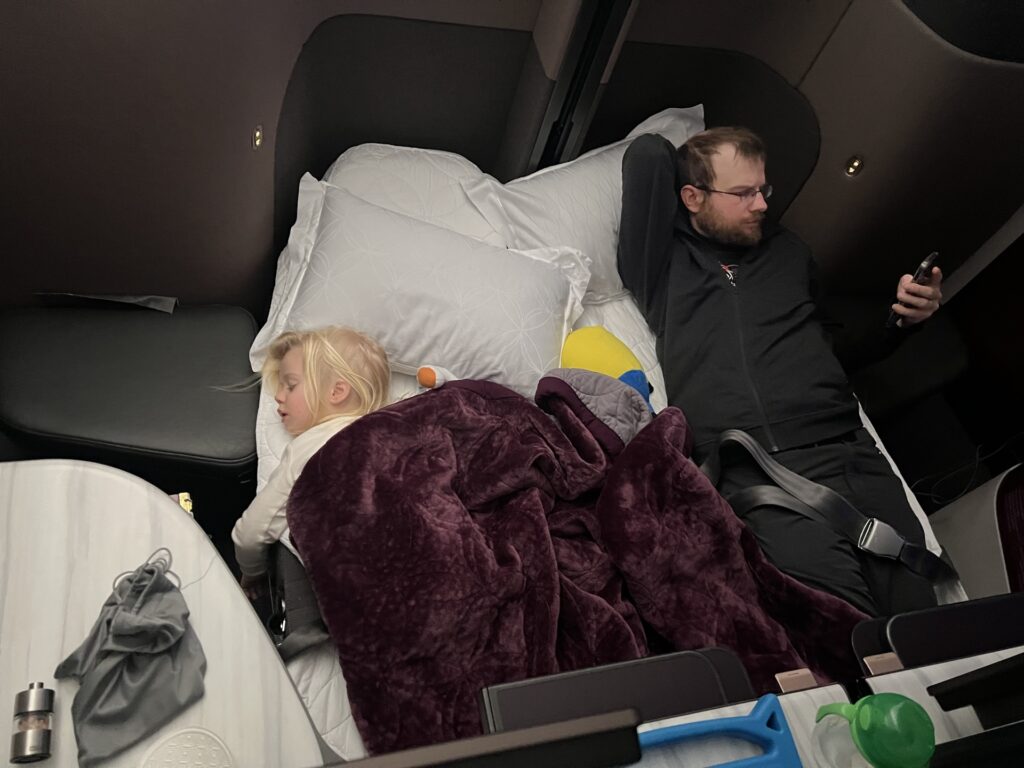 Keeping busy for 14 hours in Qsuites
The flight from Doha to New York was just shy of 14 hours. We've covered eating, drinking and sleeping in Qsuites, but what about the rest of the time?
During the majority of our flight, we had all the privacy dividers down in our quad. While we could all see each other with this setup, it actually wasn't the easiest to talk to each other. The plane was really loud and the two rows are actually pretty far apart.
We decided to split parenting duty. The in-charge parent and our toddler sat in seats E & F, since they were closest to each other. That parent was in charge of feeding and entertaining Zoe, which mostly meant restarting the same Mickey space show every 30 minutes.
The other parent got to sit on the other side of the quad in seat D and could do whatever they wanted, which was usually watch a movie and alternate drinks of coffee and champagne. We switched roles every few hours.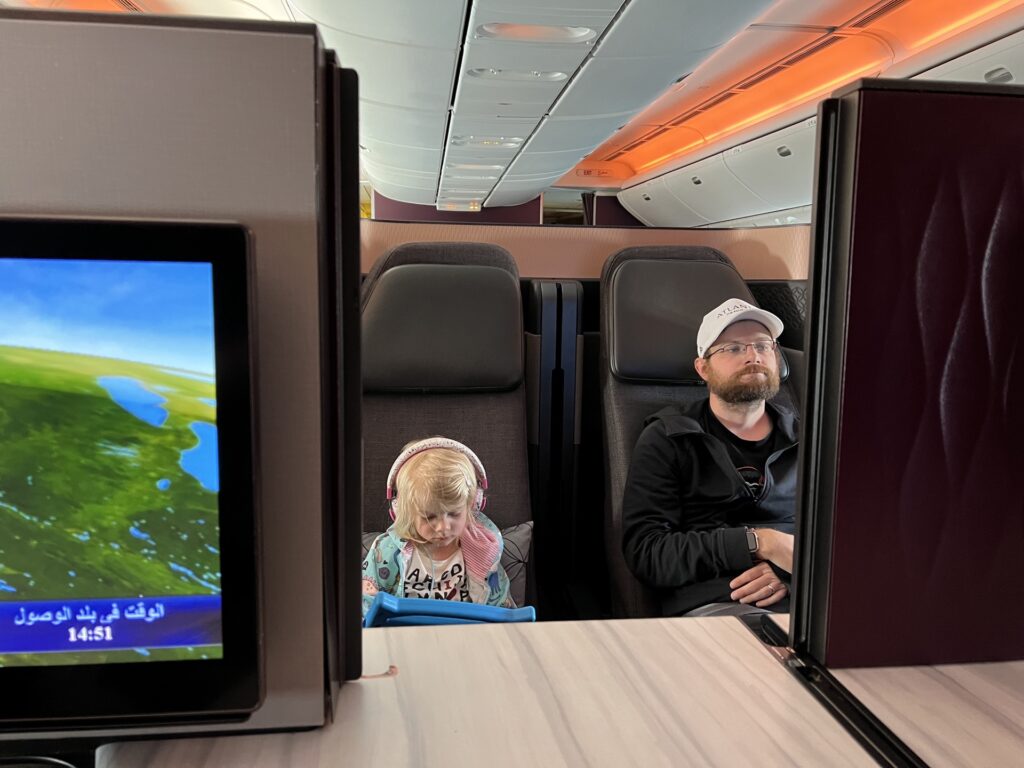 Zoe managed to take two long naps over the flight. While they were awake, they watched cartoons on the seatback TV, played games on their tablet, read books and colored. Snacks and special drinks went a long way, and when things got tough at the end, a flight attendant swooped in with chocolate.
Kenny and I each watched a couple movies and did a lot of crossword puzzles. We stayed up the entire flight so we could be ready to go to bed at a decent hour on New York time.
Arrival into JFK
Once the final meal commenced, it felt like the rest of the flight flew by. Before we knew it, we were back on the ground in New York.
JFK is a huge airport though and we had a long taxi. I had just chugged two americanos and hadn't slept in 14 hours, so not barfing during the taxi was honestly an accomplishment. Once we reached our gate though, they opened the jet bridge almost immediately and we were on our way.
Business Class does not have any sort of special queue at immigration on arrival. We did have Global Entry, so we went to that queue.
Global Entry always feels like a hot mess. They have all this technology so you don't have to show your passport or talk to a person, but it often doesn't work and you end up having to show your passport and talk to a person.
Our issue this time was with Zoe's photo at the Global Entry kiosk. We've used Global Entry three times with a baby and two times it hasn't worked. Fortunately the officer in charge of helping us was competent and got it sorted pretty quickly.
As a Business Class passenger, our checked bags were among the first ones on the carousel. We were on our way home!
Qsuite with a child
Qatar Airways is very pro-children, even in Business Class. (We love to see it!) They specifically advertise their Qsuite quad configuration for families. If you're planning on flying Qsuite with a child, here's a few things you should know.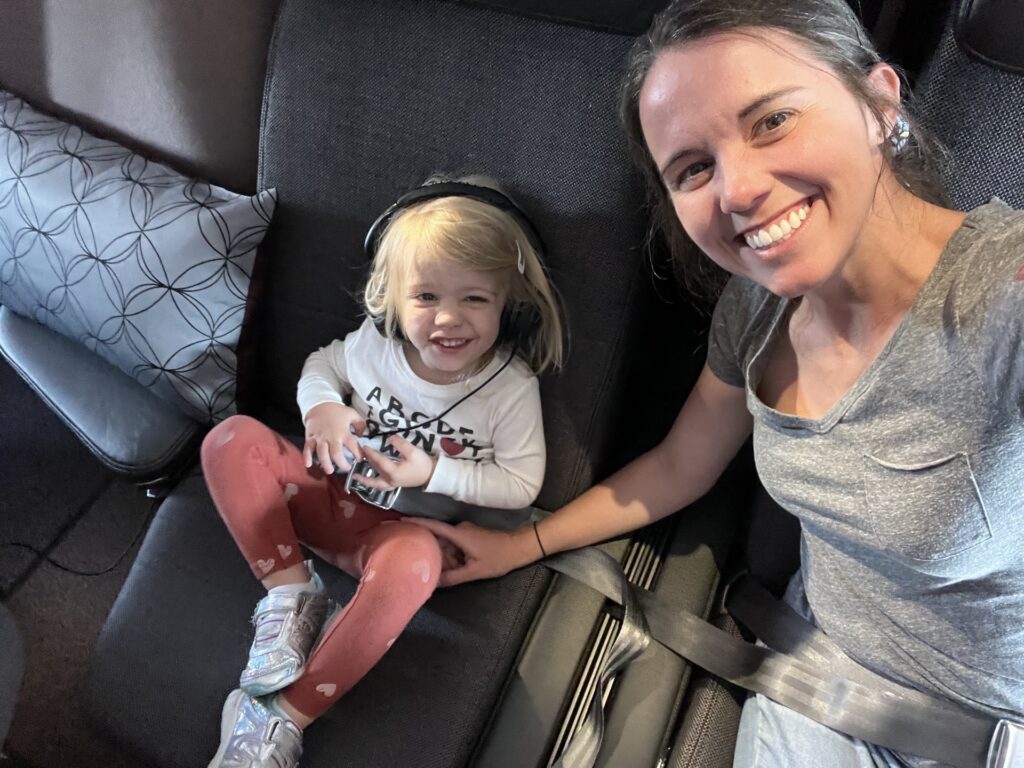 You'll have to pay for their ticket. Children ages 2-11 will require their own seat at a discounted rate (75% of the adult fare). Infants under 2 do not need their own seat, but they will need to pay for a discounted infant ticket (15% of the adult fare).
Pick the right seats. A parent and child should sit together in middle seats E & F. These seats are close enough that a parent can monitor and physically reach the child in the seat next to them. Middle seats D & G would be okay for a parent and an older child who does not require substantial supervision.
Bassinets are available. On the 777, there are two Qsuites that can be equipped with a baby bassinet (11 B & J). These seats can only be booked by passengers traveling with an infant.
Pre-oder a children's meal. You can pre-order a children's meal before your flight for kid-friendly foods and portions. This may or may not come in a cute kid's lunchbox. (It's advertised, but was not our experience.)
Book a quad. It's hard to mess this up, but it's possible. If your family travel party includes 3 or 4 passengers, you will want to book a full quad. When booking through the Qatar Airways website, quad seats will be grouped together and indicated by a shaded grey box.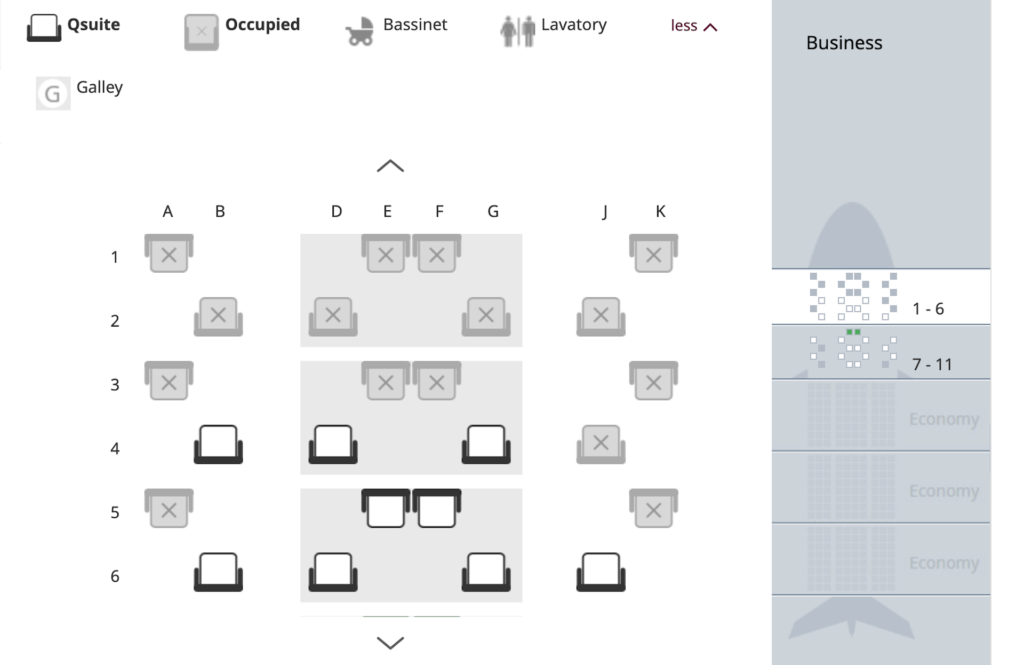 Tips for flying Qatar Qsuite
I don't normally include a tip section in flight reviews because I don't think it's usually necessary. However, I actually have a friend flying her first Business Class flight in a Qsuite in a few months and she asked for some tips. As I was writing out my thoughts to her, I figured it was actually worth including here.
So here are a few tips for flying Qatar Qsuite. Some of these are specific to flying out of Doha and may be different if you're departing from a different airport.
Use the call button. There is not a lot of proactive food and beverage service beyond the set meals. But with a stacked menu like they have on Qsuite, you're going to want to try everything! Do not feel bad ringing that call button to order whatever you like! This took me a while to get used to because I always felt like I was asking for too much or being a bother. You're not! Enjoy all the perks and ask for whatever you want.
Go to the gate early (in Doha). No one likes leaving the lounge in favor of sitting at the gate, but I'd urge you to give yourself more time at the gate than you normally would. There is a passport check and full security screen at the gate, which can take time.
Don't bring drinks to the gate (in Doha). The aforementioned security check means you can't bring any liquids more than 3 ounces with you into the gate area or onto the plane. So don't buy a coffee or bring a can of soda from the lounge because you'll just have to ditch it.
Check the menu in advance. If you're flying Qsuites from Doha, you can review the menu for your upcoming flight and pre-select your meal 14 days to 24 hours in advance. This ensures they don't run out of your specific selection (not likely, but can happen). Reviewing the menu can also help you decide whether or not you need to pre-order a special meal.
Double check your seat selection before you travel. Before your flight, click to modify your seat. From here, you can see what other seats around you have been booked. You may want to change your seat last minute to a seat that doesn't have as many people nearby. Or maybe a solo traveler joined your quad and you want to see if you can get a different one.
Closing thoughts on Qatar Qsuite
Qatar Airways calls Qsuite the most memorable flying experience. As I mentioned above, it was named World's Best Business Class by Skytrax in 2022. There's plenty of people and experts who rave about Qsuite as being one of the very best experiences you can have at 40,000 feet. I'm not here to argue with that.
We had an incredible flight in Qsuites. It's not surprising that we were comfortable and well fed. Our toddler managed to take two long naps on the 14-hour flight, which I'm not sure they would have done in many other scenarios. I had an iced latte and an iced chai on an airplane, which just blows this former barista's mind. It's hard to find many flaws with this product.
What stands out most about Qatar Qsuite specifically, over something like the Etihad Apartments or Singapore Suites, is the quad configuration. We're now a family of three and having a Business Class product that we can experience together is a really big deal.
We also loved that Qatar Airways truly embraces children. While we didn't receive many of the perks or amenities that they reference on their website, our experience with a child was incredibly welcoming. From the flight attendant who brought Zoe extra chocolates to the staggered meal timing, we felt like they were so accommodating to children.
That said, we paid cash for this flight and it was expensive. We would definitely fly this product again in a few years, but would probably hope to find a better option to book with points.