Let's talk about Amsterdam with kids. This capital city in the Netherlands has tons to offer, from beautiful canals to delicious local cuisine. Whether you're planning a future trip or have already landed with your little ones, this post is filled with info and tips to make your trip to Amsterdam with kids as easy as can be. Keep reading to learn more about what it's like to go to Amsterdam with kids.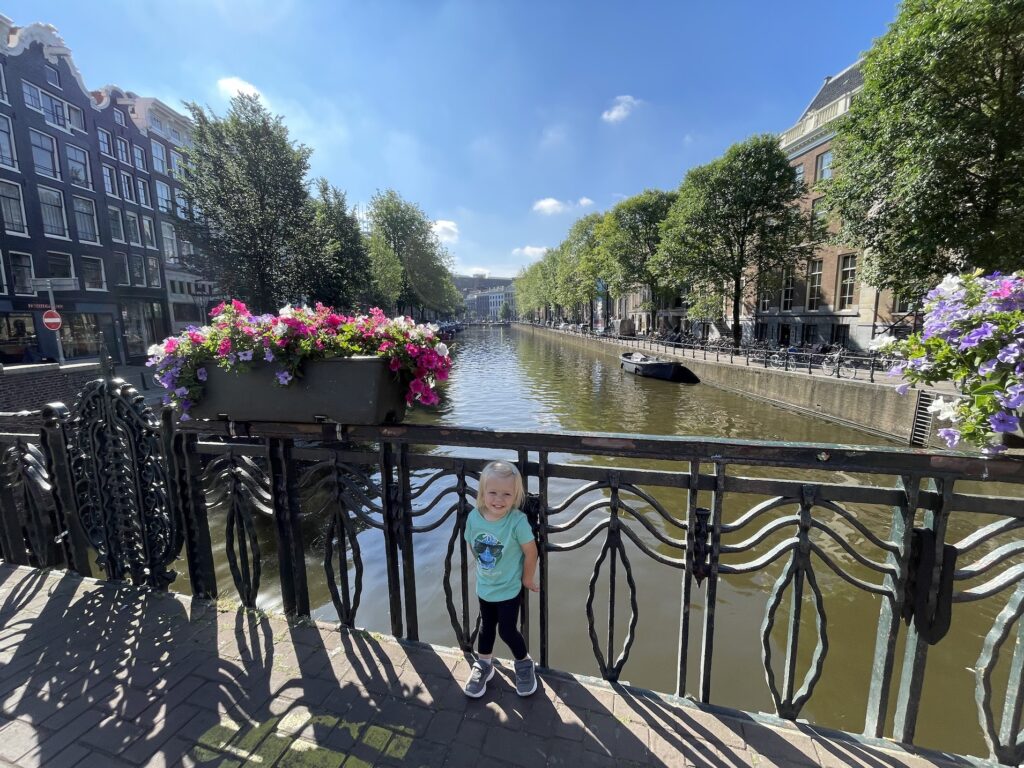 In this post
Here's what we're covering in this post. We invite you to read the full guide or jump ahead to the section you're most interested in.
What is Amsterdam like?
Amsterdam is the capital city of the Netherlands. It has a population of about 900,000, which makes it the most populated city in the country. That's on the smaller side of capital cities in Europe and is similar in size to Stockholm, Sweden or Zagreb, Croatia.
The focal point of Amsterdam — for tourists at least — is the canal ring around the historic old town. The canal ring comprises a series of canals that form concentric arcs leading out and away from the river IJ. These canals were manmade in 1600s for the purpose of transportation, defense and water relocation (irrigation/drainage).
Today, the canals are primarily used by tour boats and give the city its iconic charm. The canals and the bridges over them, decorated with flowers and lined with bikes, really are just as lovely as they appear to be on the post cards.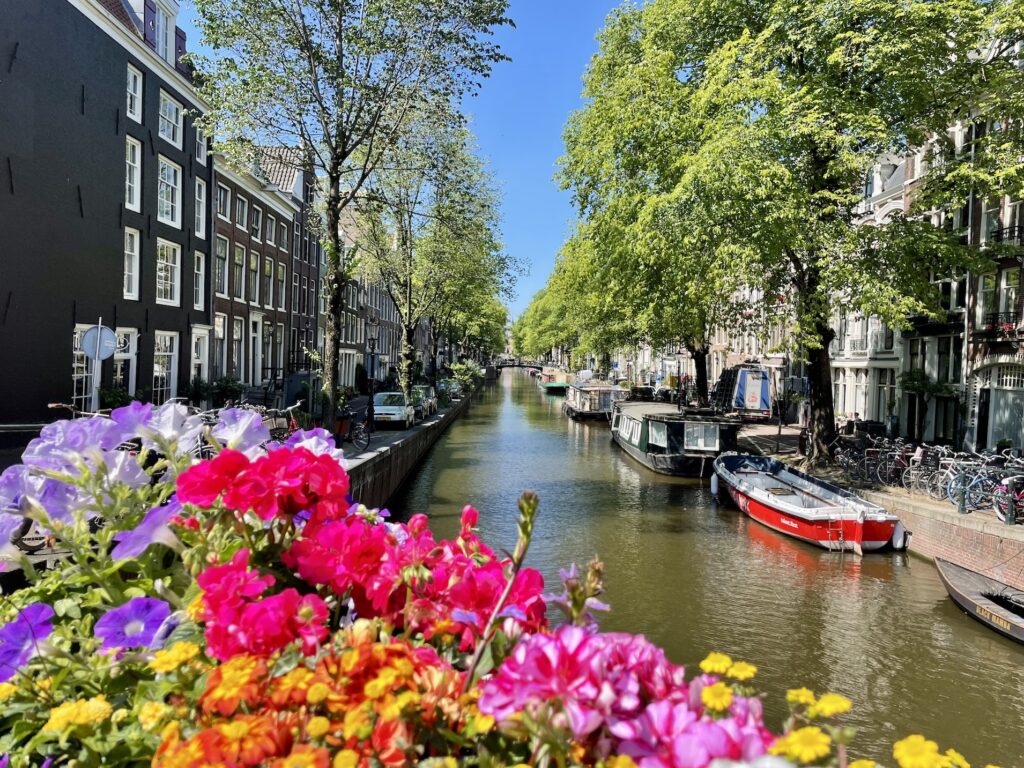 The canal ring of Amsterdam is relatively small geographically. It's only about 2 miles from the two furthest places a tourist is likely to venture (Amsterdam Central train station to Vondelpark). Most destinations and attractions are separated by a mile or less and are easily accessible by walking or biking. That said, the city has a great little public transportation system if you're looking to get around a bit faster.
Beyond its canals, the city itself is known for its world-class art museums, tulips and of course its vices, but more on that later. Amsterdam is also famed for its bike culture. In fact, the Netherlands as a whole has the highest concentration of bikes per capita in the world.
Then let's talk about the food. There's tons of delicious local foods and they're all super kid friendly. Some of Amsterdam's food highlights include pannenkoeken (large pancakes with a variety of fillings), Poffertjes (mini pancakes with a variety of toppings) and stroopwafels (made fresh). And don't forget the Dutch apple pie and famous dutch cheeses like gouda and edam.
Is Amsterdam kid friendly? What about toddler and baby friendly?
Yes, yes and yes. But don't just take my word for it. Amsterdam is consistently rated one of the best cities in Europe for children — topping lists here, here and here. There's plenty of good reasons to bring young travelers to Amsterdam, but here are a few of the major selling points that stood out to me during a recent visit with an almost-two-year-old.
1. Amsterdam is easy to get around with kids
Whether you arrive by plane or train, it's easy to get to Amsterdam's city center via public transportation in less than 30 minutes. Once you're in the canal ring, everything is walkable or is well connected by bus, streetcar or subway. Bikes are also a popular way to get around the canal ring.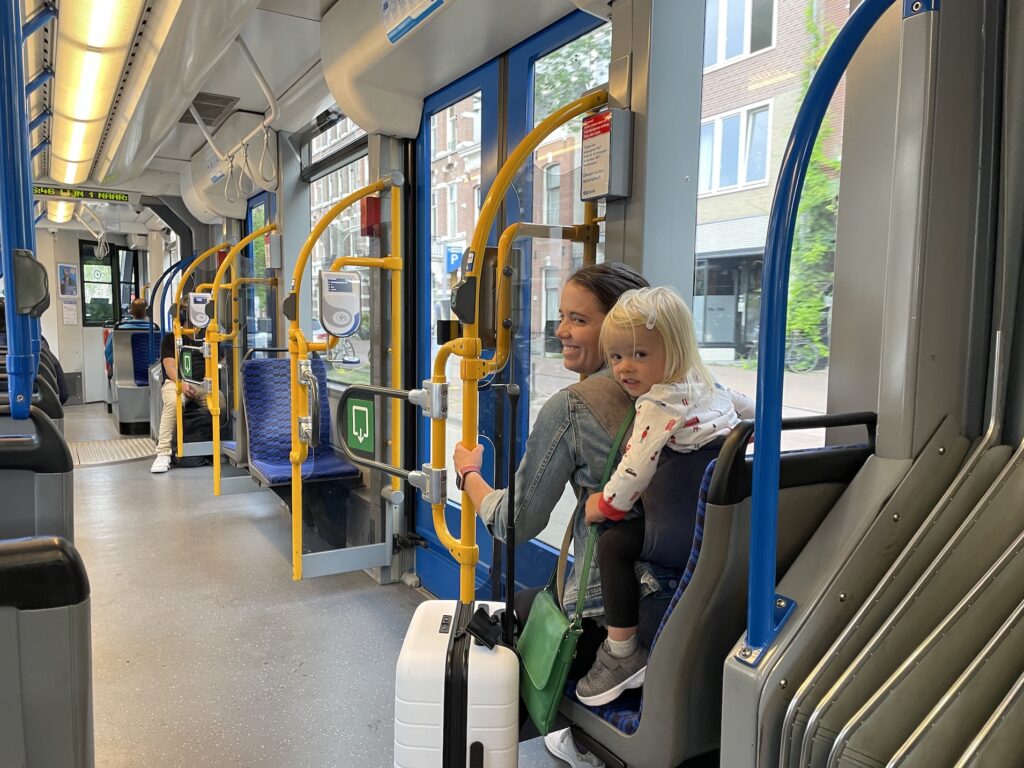 Not only can you walk through the canal ring, but you'll want to. From the traditional Dutch Baroque buildings to canal bridges lined with bikes and flowers, it feels like walking through an Instagram backdrop at each turn.
If you're visiting Amsterdam with kids, the small area and convenient public transportation means you won't need to rent a car or bring any car seats. Walking and public transit will get you everywhere you need to go.
Theres very few underground subway stations in the canal ring, so a stroller won't be too frustrating. However, the cobblestones are a bit bumpy in places so we'd recommend baby wearing if it makes sense for your family
We go into more details on getting around Amsterdam with kids down here.
2. Most people speak English
If you're fluent in English, you'll get along just fine in Amsterdam. Nearly everyone you engage with at restaurants, accommodations and attractions speaks English. There's also almost always English signage and menus posted or available everywhere a tourist is likely to go.
Your kids might have a bit of a harder time making friends on the playground, though. Most school children don't start to learn English in school until about 10. However, they'll likely still know a handful of words. Plus, we all know that all kids play in the same language, so they'll be just fine.
3. Kids will enjoy (most) of the things adults want to do
In many cases, travel with children focuses on "can children do X?" In Amsterdam, not only can children participate in the city's top attractions, but they will actually enjoy them.
Some of the best things to do in Amsterdam involve going to parks, riding bikes, wandering street markets and enjoying delicious sweet treats. These are all things that children will love!
So much of Amsterdam involves being outside. What children lack in appreciation for old buildings, they more than make up for with their interest in chasing pigeons and eating stroopwafel. They're likely to have a good time doing just about everything you want to do.
Nightlife and drugs aside, you don't have to miss much or alter your plans substantially if you're visiting Amsterdam with little ones.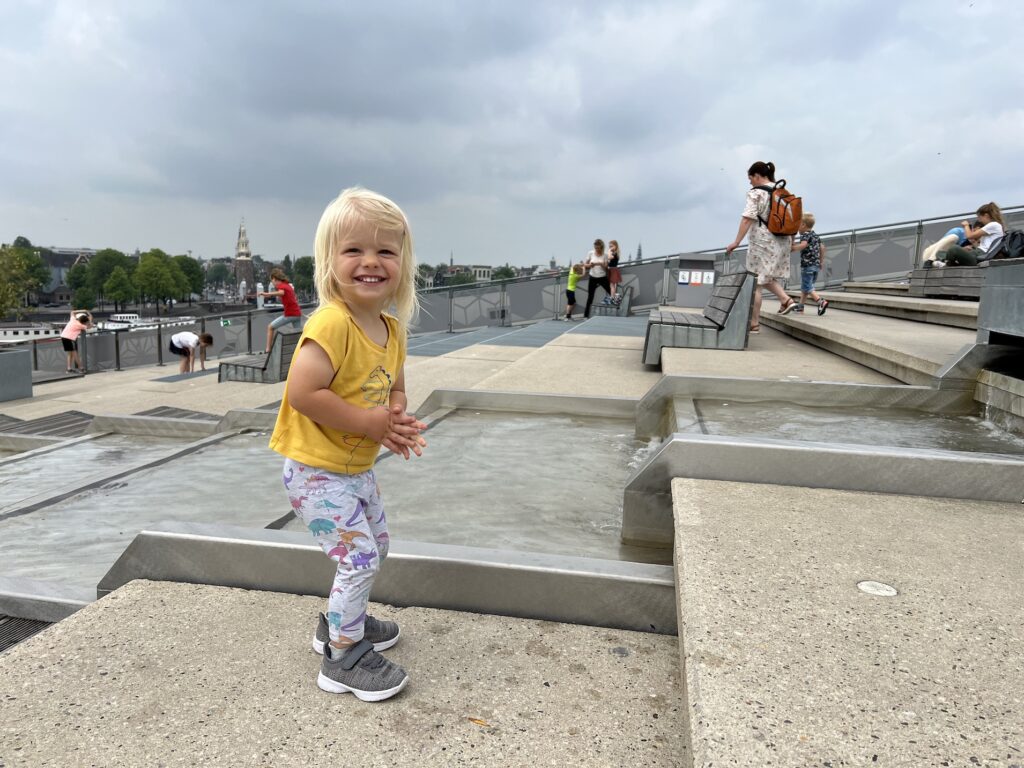 4. It's educational
I won't tell your kids, but they'll learn a ton on a trip to Amsterdam! Some of the most interesting and fun things to do in Amsterdam are also the most educational.
Kids of all ages will have a blast at the NEMO Science Museum. It has five stories of interactive exhibits where kids can learn about space, the human body, the elements and so much more.
Older kids (recommended 10+) can go inside the Anne Frank House. To learn about Anne Frank in school and then see the annex for themselves can be a really transformative (and emotional) experience for a child. While difficult, it is such a prime example of the power of travel and why it's important to travel with kids.
On a lighter note, they'll pick up bits of history at every turn. Maybe it's Amsterdam history on a canal boat tour, a fun fact about tulips from traipsing through the Tulip Museum or maybe they'll be blown away by seeing a Van Gogh painting in real life! They'll have all sorts of facts to share with their teacher and friends when they get home.
5. The food is amazing and kids will (probably) love it
Every city (or at least every country) has its local cuisine that visitors want to try. In Amsterdam, it's things like apple pie, giant pancakes and cheese. Aka, the kids meal of their dreams.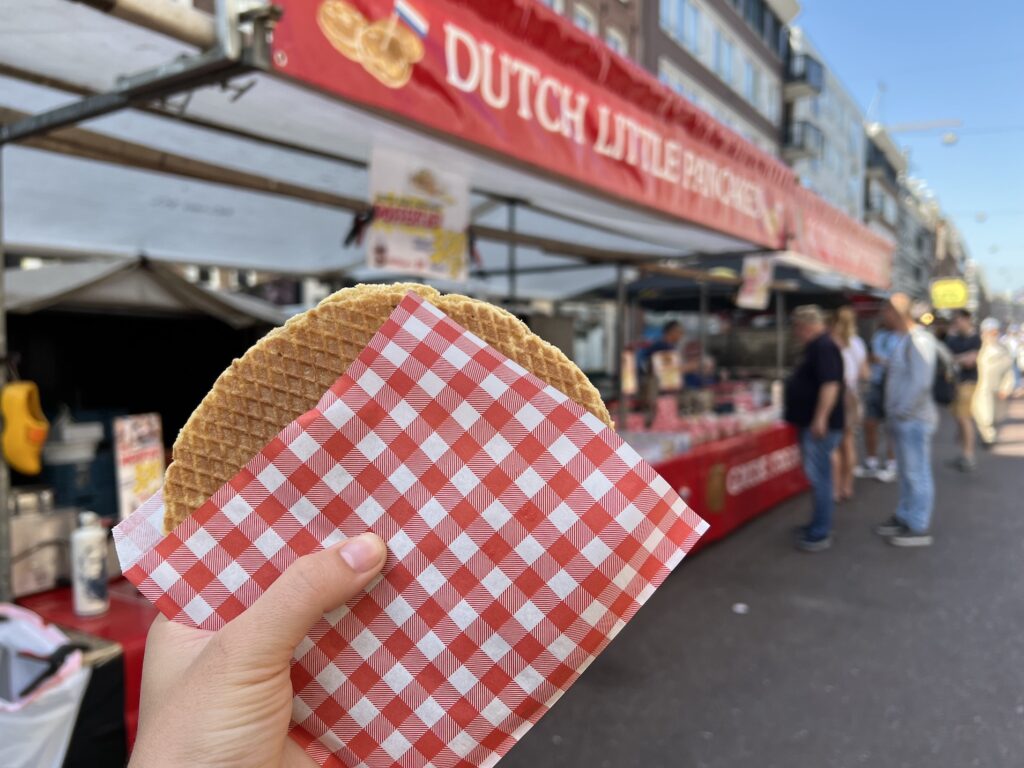 6. Amsterdam is incredibly safe
Amsterdam ranks as one of the safest cities in the world. Most recently, it ranked the #4 safest city in the world in an analysis by Berkshire Hathaway Travel Protection. (Topping this list by the way is Reykjavik, which is also a great destination for kids.)
What isn't great about Amsterdam for kids
No place is perfect, and there are a few things you should be careful about if you're visiting Amsterdam with kids.
Bike traffic. There are more bikes than people in Amsterdam, and they ride all year round, often very fast. Bikers in Amsterdam are good at following proper riding etiquette, but they expect that pedestrians do too. Be sure to look both ways and hold children's hands when you cross a bike path, just as you would a street.
Narrow sidewalks (cars). The sidewalks are narrow and often bump right up against the also narrow streets. Be sure to hold children's hands and stay alert for vehicles is high traffic areas.
Streetcars. If you don't come from a city with streetcars, it can be a bit alarming to see a train barreling down a street at you. Always look before crossing major intersections and follow street lights.
Red Light District and weed culture. Amsterdam definitely has some "adults-only" experiences, most notably legal prostitution and marijuana. Prostitution is easy enough to avoid by simply not walking through the Red Light District. Weed is tougher to avoid and is sold/smoked in most places around the city.
"Coffeeshops." On a similar note, the term "coffeeshop" in Amsterdam refers to a shop where you can buy and consume legal soft drugs, specifically weed. If you're looking for actual coffee, use the terms "espresso" or "cafe" in your search.
Price. Amsterdam is expensive. The food, the ticket prices, and the hotels can all be pretty expensive in the canal ring.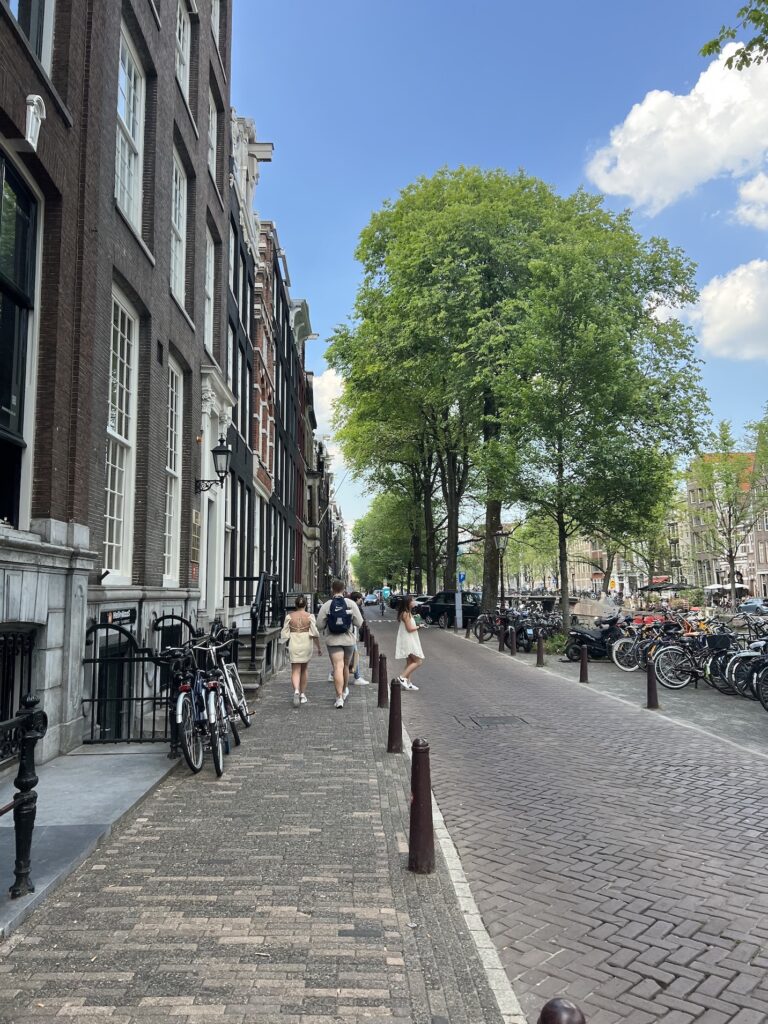 So should you visit Amsterdam with a baby, toddler or kid?
For nearly everyone reading this post, my answer is a resounding, "Yes!" All things considered, Amsterdam is a great place to travel with children of all ages.
It's popular enough to have plenty of fun things to do and feels lively, but not so crowded that it's unpleasant or that it forces you to plan too far ahead. Families can keep busy, but not be stressed. It's easy to get around, there's plenty of English, and it's really safe.
Amsterdam is honestly good for children of all ages.
Babies (under 2): Parents will love popping young ones in a baby carrier and walking around the beautiful streets and canals while their little one naps. When they're awake, they'll love the brightly colored flowers and watching/chasing pigeons in the square.
Toddlers (2-5): At this energetic age, little ones will love the city's abundance of parks and playgrounds. They'll enjoy exploring the science museum and watching all the bikes and boats.
Kids (5-12): At this age, bigger kids will be excited to explore right along side you. It's a great age to rent them their own bike or give them their own bit of spending money to pick out treats at a street market. This age group will also appreciate the museums a bit more (or not).
The only time I would warn parents against taking children is Amsterdam is if you're particularly averse to the presence of marijuana. Children can't buy or use it of course, but it's legal to sell small amounts of weed in most places (including souvenir shops) and it can be legally smoked on most public streets and parks.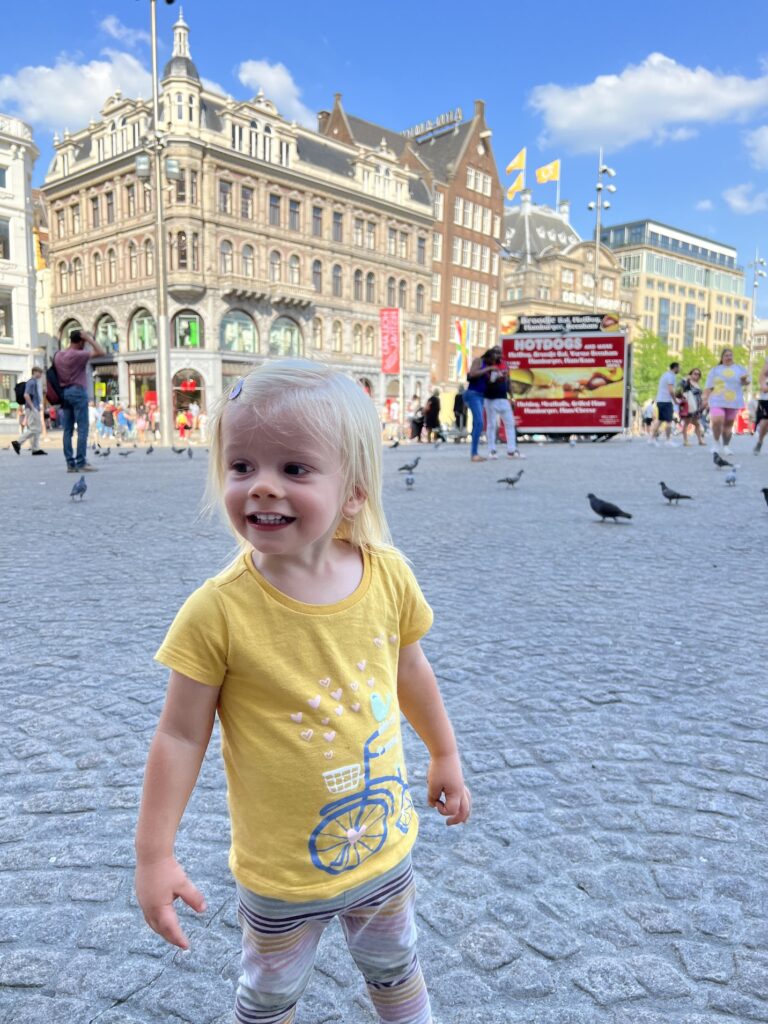 Things to do in Amsterdam with kids
Here are some of the best things to do in Amsterdam with kids. We've personally done almost all of these.
Get outside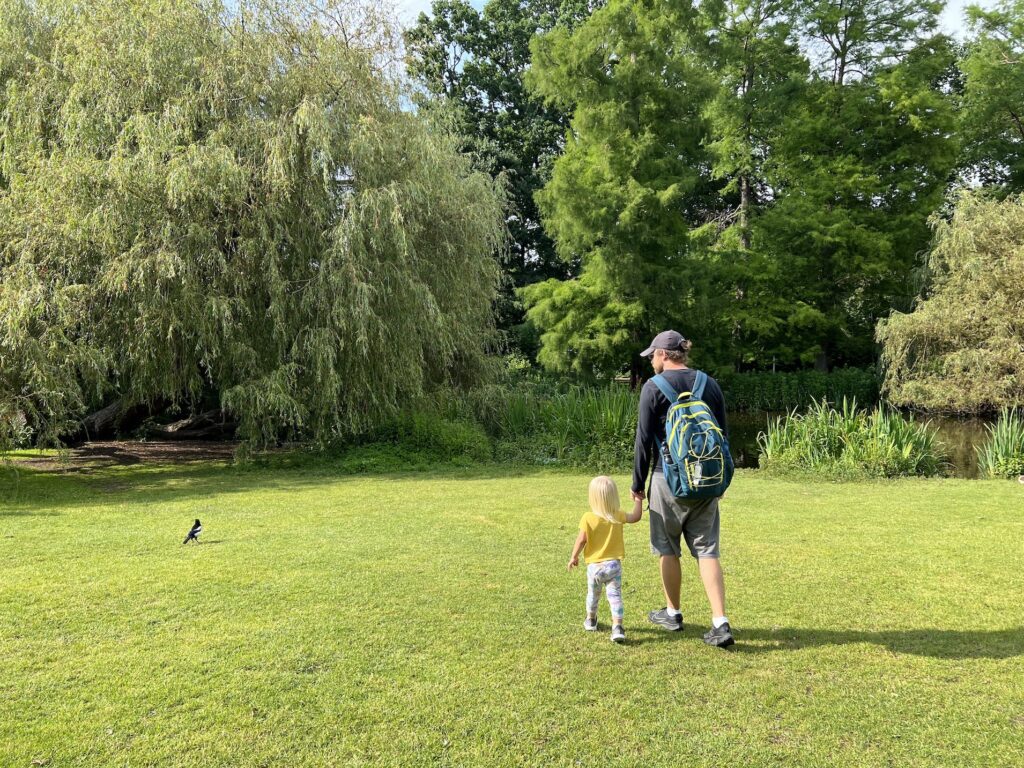 Museums
*Advance tickets required. Time slots do sell out.
Markets & Shopping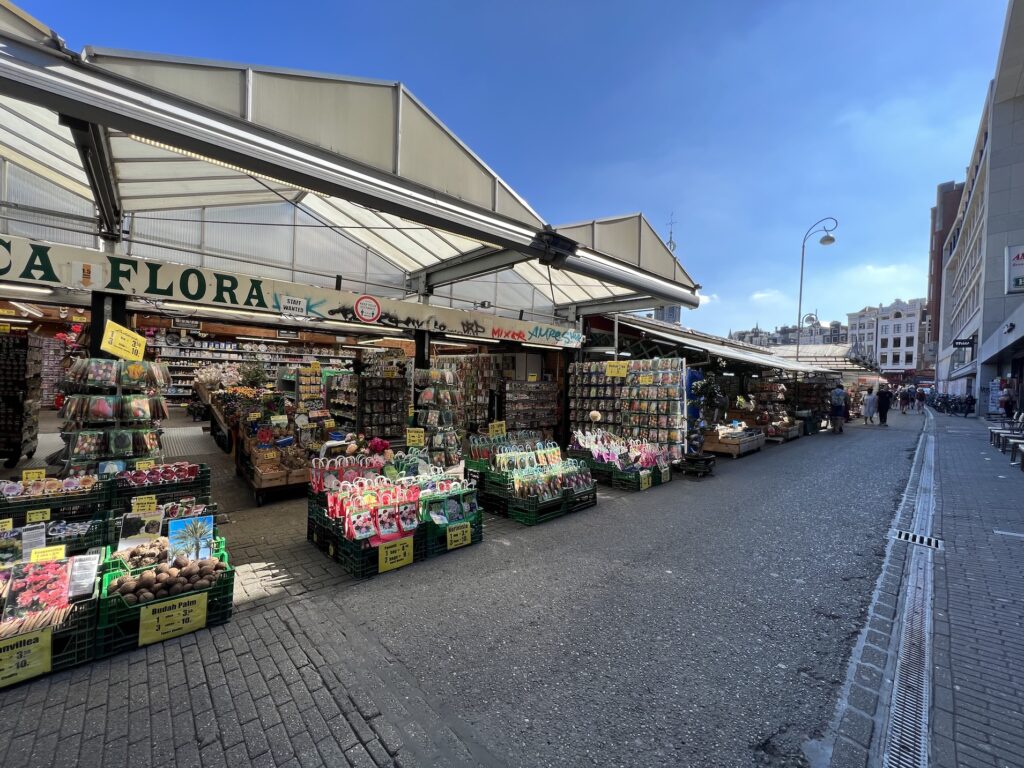 Other fun things for kids in Amsterdam
Dam Square: We went here without kids and stayed for five minutes. We visited this square with a toddler and stayed for an hour. Our little one loved chasing pigeons, watching other kids and just running around without holding our hand for a change.
soundLAB: Muziekgebouw is a concert hall located across from Amsterdam Central train station over by NEMO. They offer a workshop called SoundLAB, where children can learn about and play on a variety of interesting instruments. Workshops are limited to children ages 7 and up, and there are workshops with or without adults.
Amsterdam Library & cafe: We love going to libraries in cities around the world (shoutout to State Victoria Library in Melbourne who I still receive emails from years later), and it's even more fun with kids. It's a great spot to have in your pocket on a rainy day. Or they have a cafe on the top floor, OBA Café Oosterdok, which has incredible views of the city.
Free Walking Tour: Another thing we used to do in every new city was a free walking tour. We took one in Iceland with our baby who slept in the carrier for two hours, but it can be tough for older kids until they start to be able to walk more, pay attention, and care. That's up to you, your kids, and your travel style.
Stock up on sweets: Children and people smoking weed have a similar palate, which works out well for your tiny resident sweet tooth. There is tons of candy shops, elaborate ice cream shops and stores selling American delicacies like Pop-Tarts, Twinkles and Lucky Charms.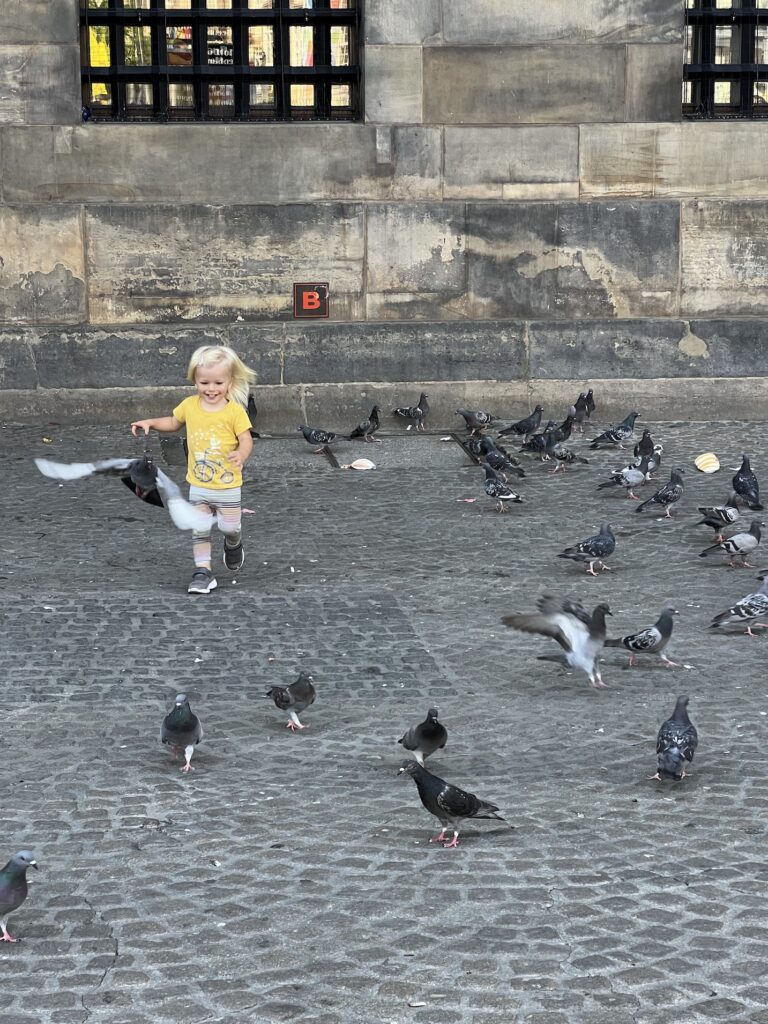 Day trips from Amsterdam
Haarlem: Leave the Amsterdam crowds behind and spend a day exploring the nearby Dutch village of Haarlem. It has all the charm — including canals, bridges, and Dutch architecture — but feels a bit more authentic and less touristy. The train from Central Station in Amsterdam to Haarlem is only only 18 minutes.
Keukenhof Botanical Gardens: If you're visiting Amsterdam in the spring, Keukenhof is where you want to go to see the most beautiful display of tulips in bloom. It's about 25 miles from central Amsterdam and takes about 90 minutes on public transit or 30 minutes by car. (In 2023, Keukenhof is open daily March 23 March through May 14.)
Efteling: This is more of a weekend trip, but you could technically do it in a day. Efteling is a fairytale-themed amusement park with rides, shows and a little bit of magic. It typically ranks among the top three visited theme parks in Europe (after Disneyland Paris and Europa-Park in Germany). It's about 65 miles from central Amsterdam and takes about 2 hours by train or 1.25 hours by car.
Planning guide for visiting Amsterdam with kids
In this section, we'll cover some of the things you'll need to know if you're planning a trip to Amsterdam with kids. Most of the information in this section would apply to kids of all ages, and honestly to adult travelers, too. We'll highlight how having children might impact these decisions when it comes to the planning piece.
Amsterdam Visa Requirements
The Netherlands (the country where Amsterdam is located) is part of the Schengen Area. The Schengen Area is a group of 27 European countries that allow visa-free movement across country borders. In other words, once you enter the Schengen Area you are free to move around between any of the 27 countries without going through passport control or customs.
If you are a resident of any of those countries or traveling from any of those countries, you can enter the Netherlands without a visa.
If you're traveling from select countries outside of the Schengen Area — including most of the rest of Europe, most of South America, Australia and a few Asian countries including Japan — you can enter the Netherlands (any any country within the Schengen Area) without a visa for a total of 90 days within a 180 day period.
Travelers from other countries (complete list here) will need to apply for (and pay for) a Schengen Tourist Visa in advance.
When to go to Amsterdam with kids
If you're considering a trip to Amsterdam, you definitely want to pick the right season. The weather and crowds change quite a bit throughout the year, and some attractions are only open during certain seasons.
Here's what Amsterdam looks like throughout the year.
Amsterdam in the Spring (March to May): Spring is tulip season in Amsterdam and one of the most beautiful times to visit. The weather can be unpredictable though — sometimes warm and sunny but sometimes cool and often wet — which can be extra inconvenient with little ones.
Amsterdam in the Summer (June to August): Summer is peak travel season in Amsterdam, with July being the most popular month to visit. Crowds are high, lines are long, and some ticketed attractions sell out, so you'll need to do some diligent planning. The weather is great though!
Amsterdam in the Fall (September to November): The heavy tourist crowds leave Amsterdam in the fall as the weather gets cooler and wetter. Weekends typically pick up with regional visitors, but the weekdays are often pretty quiet.
Amsterdam in the Winter (December to February): Winter weather in Amsterdam is no fun for anyone. While it doesn't get that cold (coming from a former Chicagoan), its very windy and wet. The city isn't known for their Christmas markets, but there are a couple that attract an uptick in crowds.
If you're traveling to Amsterdam with kids, we suggest June or September. In both cases, you'll just miss summer crowds but still get to enjoy pretty good weather. However, if you want to see the tulips, plan for early May.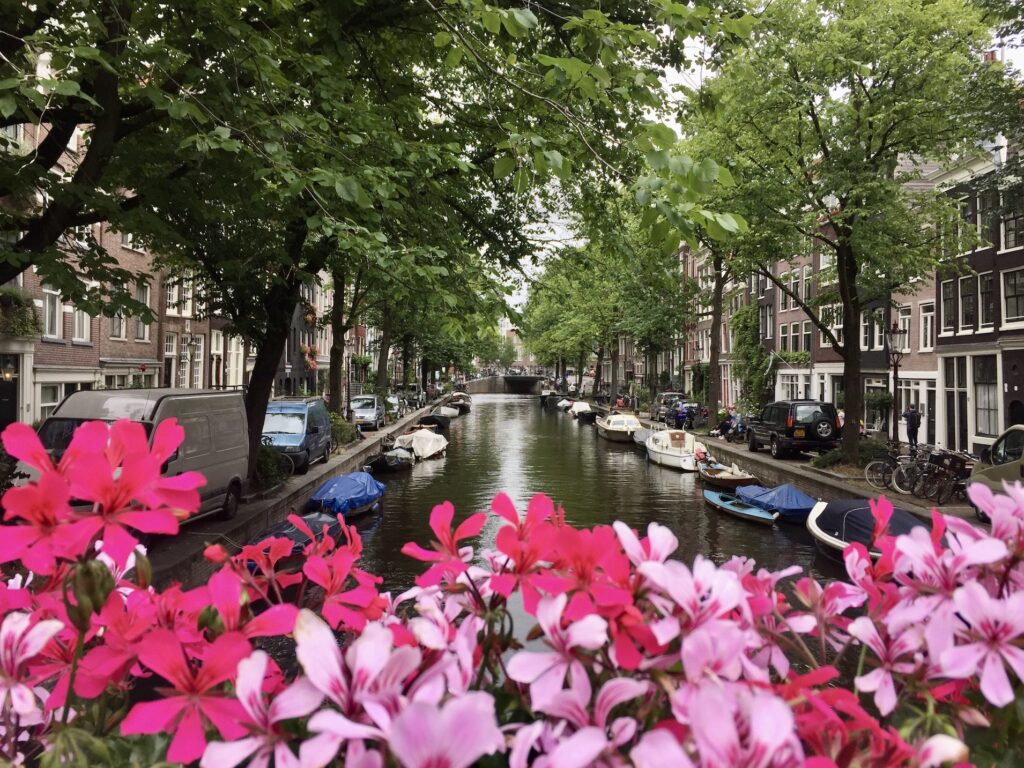 How many days do you need in Amsterdam with kids?
Amsterdam is a really relaxing city. There is plenty to do, but a lot of it allows you to move at your own pace. Amsterdam is about relaxing in the park, wandering around the canals, and tasting your way through markets. That really gives you the opportunity to tailor your stay to your family's travel style.
When we visited Amsterdam on our own, we took one quick lap around Vondelpark on our last day. Going back with a toddler, we went to that same park almost every day! We canvased the entire Nine Streets in under an hour on our own, but it filled up a full afternoon at toddler pace.
Here's some things to consider when deciding how long to stay in Amsterdam with kids.
Stay in Amsterdam for 1 day if … you happen to have a connecting flight or train that gives you a short day here. In one day, you can walk around the city and enjoy its beauty.
Stay in Amsterdam for 3 days if … you have a long weekend or are pairing Amsterdam with another nearby city like Brussels, Paris or London. It's the perfect amount of time to visit a few attractions and eat all of the tasty foods.
Stay in Amsterdam for 5 days if … you want to take a day trip or have a weather-dependent activity. If you really want to go Keukenhof on a sunny day, give yourself plenty of time to maximize the odds of one good weather day. You'll be able to see and do most things in Amsterdam in 5 days.
Personally, we'd suggest spending three days (3 or 4 nights) in Amsterdam. That'll give you enough time to see a lot at a relaxed pace. We detail a 3-day itinerary below.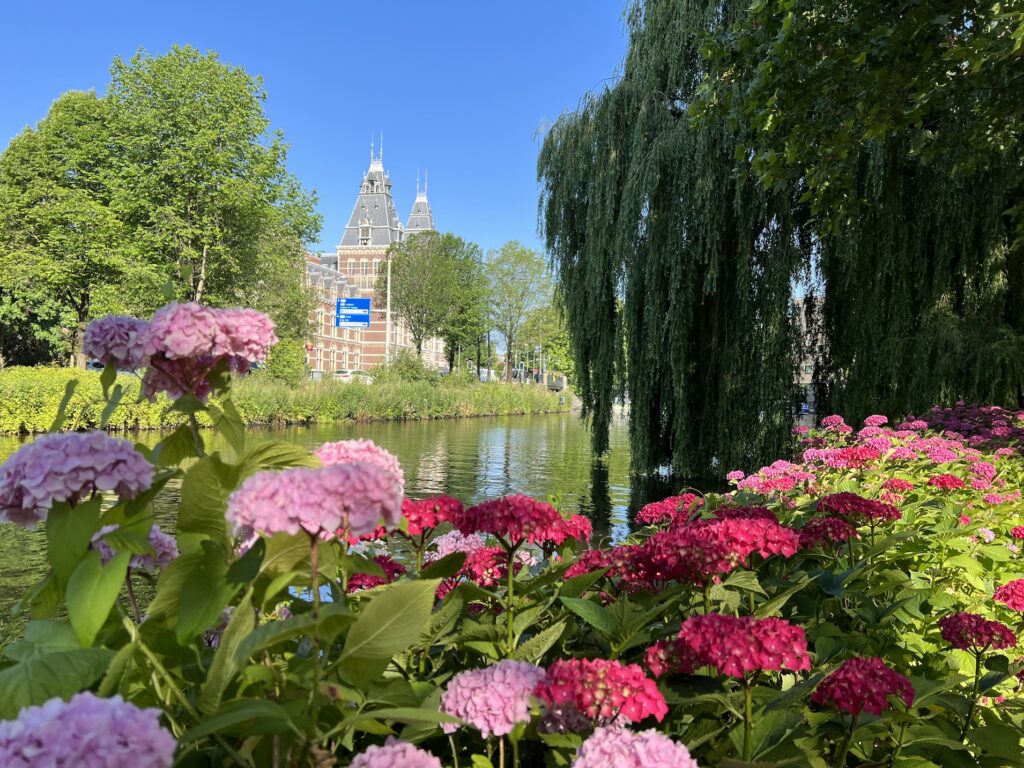 Where should families stay in Amsterdam
As a tourist, you'll likely spend a majority of your time in Amsterdam around the canal ring. In order to take advantage of the walkable center of the city, you ideally want to stay somewhere walkable (or trainable) to that area.
Now to be clear, when I refer to the canal ring, I'm typically referring to the entire area inside of Singelgracht. This is the canal ring that passes in front of the Rijksmuseum. This is a large area that is broken down into more specific neighborhoods. I really like this map for a breakdown of the detailed neighborhoods.
Here are some areas and accommodations that we'd recommend for families.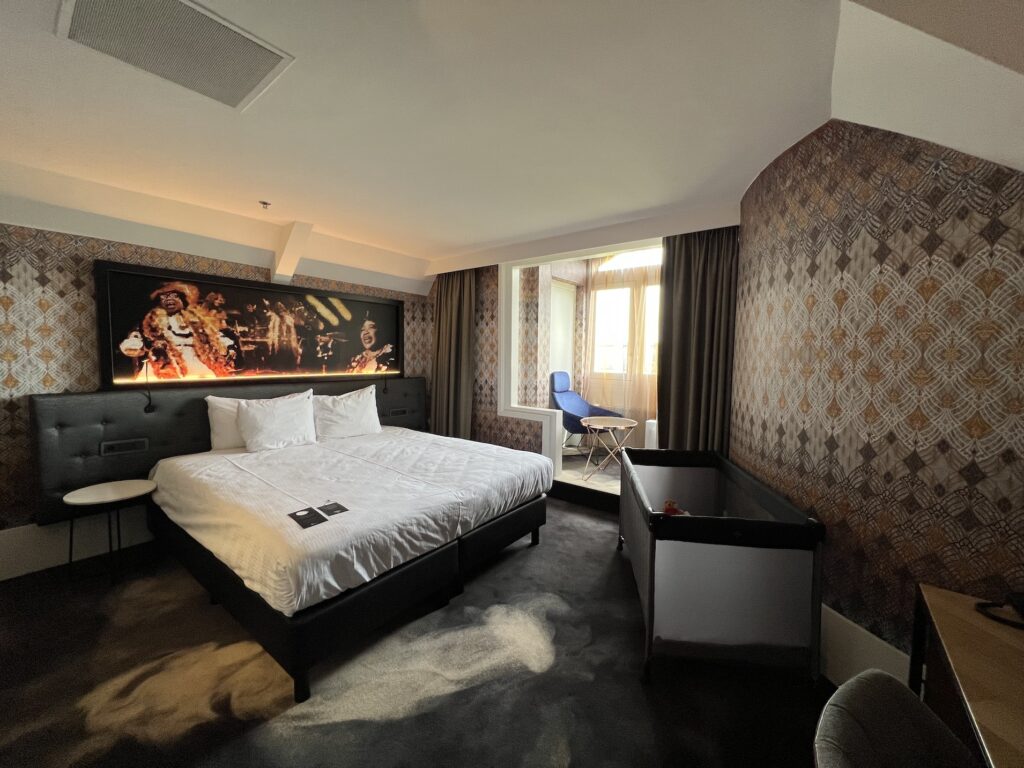 How to get around Amsterdam with kids
One of the reasons Amsterdam is a great destination for families is that it's so easy to get around. You can get from the airport or train station to city station on public transit in less than 30 minutes.
Once you're there, you can then walk or use public transit to get everywhere you need to go. That means you don't need to bring a car seat, stress about renting a car or finding a car service with car seats. (Something that got really expensive for us in Santo Domingo!)
Here's a look at the different ways to get around Amsterdam with kids.
Walk — Best way to cover short distances. There are sidewalks everywhere in Amsterdam. They are often narrow and the cobblestones can make them bumpy. Most of the canal ring is flat, but many bridges have hills. (Check here for detailed accessibility notes.) Major intersections have pedestrian crossing lights and pedestrians have the right of way at all other intersections (but stay alert).
Bus & Tram* — Best way to move around within the canal ring. With routes traversing most of the city, this is the best way to quickly move around within the canal ring or to nearby areas. If you have a stroller, enter from the rear doors and stand in the designated area. If it's crowded or that space is not available, you'll need to collapse your stroller.
Metro Train* — Best way to get to and from the canal ring. The Amsterdam Metro has 5 lines. Most of these routes connect other parts of the city to the canal ring, but don't cover much ground within the canal ring itself. Trains run from 6 AM to midnight.
Taxi & rideshare — Best for day trips & airport transfers. Taxis and Uber are both available in Amsterdam. Children are not legally required to be in a car seat in the back seat of these vehicles, which parents may or may not be comfortable with. You can also instal your own car seat in a back seat if you have one. Uber is often cheaper than taxis.
Bike — Best way to feel like a local. You can rent bikes for children or adult bikes with special seats or carriages for children. Be sure all riders are aware of the general biking rules in Amsterdam. To avoid crowds or intimidating local bikers, don't ride during rush hour or stick to biking in the park. Don't forget to lock your bike!
Ferry — Best for sightseeing. There are no public transit boats within the canal ring. However, if you're looking for a fun thing to do, you can take a ferry from Amsterdam Central Station to a few different points in Amsterdam Noord.
*The Metro trains, buses and trams all share the same ticket type. A 1-hour ticket costs €3.40 and children under 4 ride free. Children 4-11 can purchase a day pass for a reduced fare of €4.50 (versus €9.00 for adults). Tickets can be purchased with a credit card from machines at all Metro stations and most tram stops, or onboard buses and trams. Learn about other ticket options and details here.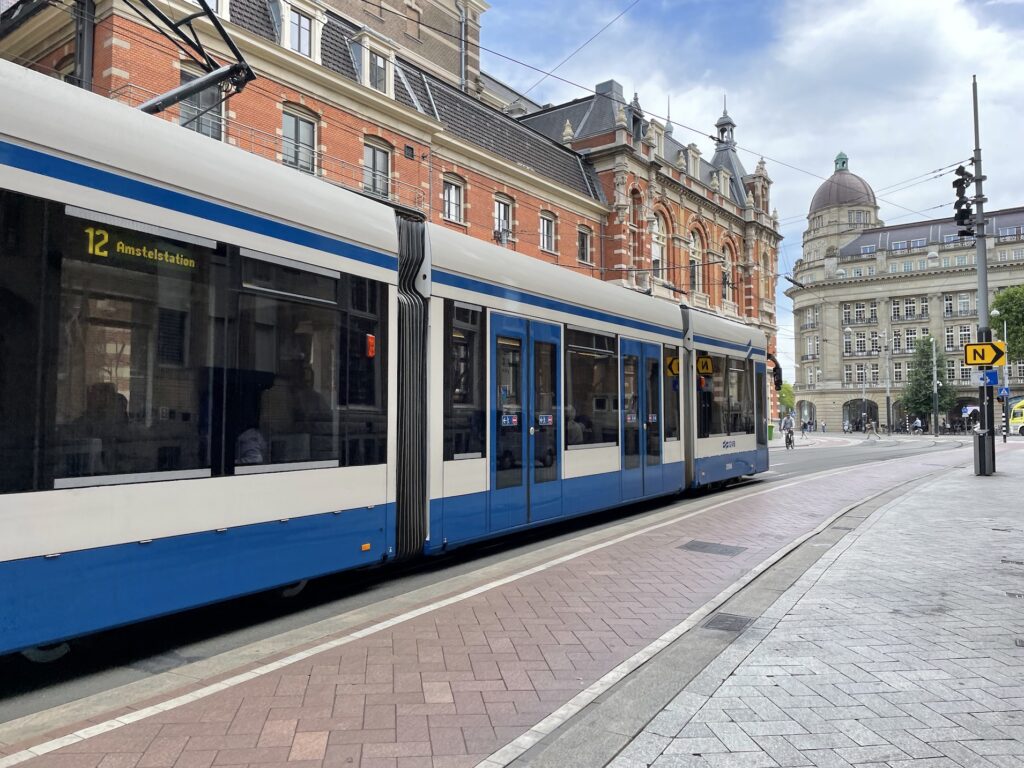 Eating in Amsterdam with kids
After three days in Paris with a toddler — where we really struggled to find kid-friendly restaurants — we were thrilled to discover that Amsterdam was great for eating with kids. Here's a few things that stood out to us about dining in Amsterdam with a toddler.
High chairs were available at many restaurants. Most restaurants had ample space for high chairs, and children in general. Some outdoor tables could not accomodate high chairs though, because there are rules about blocking sidewalks.
There was an abundance of quick-service restaurants open at all hours. It's a relief to know you can eat in a pinch without thinking too hard or waiting too long for food.
Local grocery stores (specifically Albert Heijn) offered a great selection of healthy prepared foods. This option was great for an easy dinner in the hotel or picnic in the park.
The local dishes that we wanted to try were kid friendly (and vegetarian). This included things like Pannenkoek (sweet or savory Dutch pancakes), Appeltaart (Dutch Apple Pie), Poffertjes (mini pancakes), and of course cheese.
Amsterdam has a lot of street markets, which was a great place to find food and snacks that children will eat.
Here are some restaurants that are great for kids in Amsterdam
De Carrousel Pannenkoeken Amsterdam: Dutch pancakes inside a refurbished carousel.
Winkel 43: Popular cafe for the best Appeltaart in town. Arrive early or be prepared to wait a bit as it does get crowded and they don't take reservations.
Pancakes Amsterdam: Another pancake house, but this one is located in the Nine Streets. Cozy indoor cafe, but we enjoyed their outdoor seating (even though we couldn't have a highchair there.)
Groot Melkhuis: This restaurant makes the list not because their food is amazing (I mean, it's fine), but because of it's location in the middle of Vondelpark. They have spacious outdoor dining and it's adjacent to a playground. It was perfect, low-key family dining for an evening in the park.
Box Sociaal: This casual Aussie cafe serves up some pretty legit brunch in a casual, breezy setting. They have a kids menu for little ones and space to keep your little one in their stroller if need be.
Albert Cuyp Markt: This street market has several different food vendors. It's great for families who all might want to try something different.
Kinderkookkafe: This children's cooking cafe has a help-your-self bar from 10 AM to 5 PM. It's a really cool, casual concept where kids can cook their own pizza, cookies or other items while the parents help or sit back and enjoy a coffee or light meal of their own.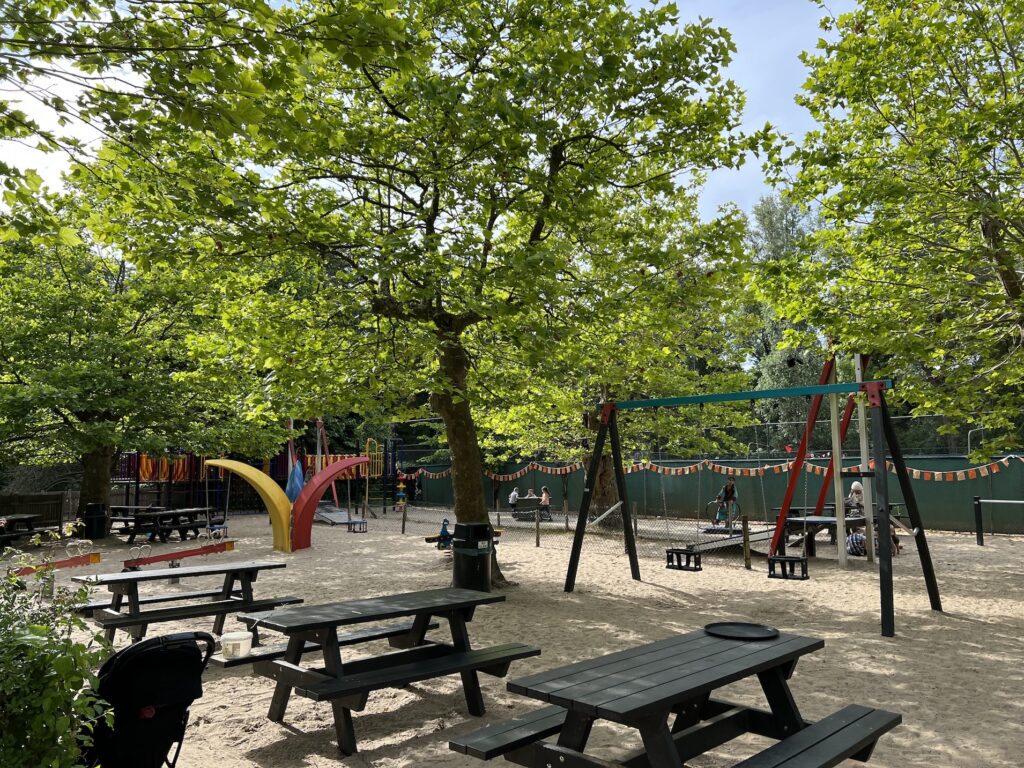 And for the parents …
Bocca Coffee: Great coffee shop for actual coffee.
Brouwerij 't IJ: This is a family-friendly brewery beside the tallest wooden windmill in the Netherlands.
What to pack for Amsterdam with kids
Here are a few things to add to your packing list if you're traveling to Amsterdam with kids. In fact, a lot of these items are things I bring anywhere I travel with a toddler. But don't stress too much about forgetting something. Amsterdam is a modern city where you can easily find and buy just about anything you left at home.
This post contains affiliate links, which means that we may receive a commission if you make a purchase using these links. As an Amazon Associate, this site earns from qualifying purchases.
Portable charger. We find our phones dying even faster on vacation because we're always looking up directions, reading restaurant menus or buying tickets to things. Any charger brand works, but we really like this Anker one.
Hand sanitizer on a clip. This is just something that's a part of my everyday life that I find incredibly handy. We always have hand sanitizer clipped to us.
Bento box. We started traveling with a little bento box like this when our baby was born and never looked back. We will put dinner leftovers in there for lunch the next day or pick up fresh fruit and veggies and bring it with us for snacks. It's always useful on trips.
Power converters. The Netherlands uses Type C and Type F plugs. This is standard for Europe, but if you're coming from the US (or elsewhere) you'll need an adapter like this one.
Portable highchair harness. We used this harness from the time our child could sit until about 18 months. It allows you to enjoy a meal together even if the restaurant doesn't have a highchair.
Soap sheets. If you'll be traveling for a week or longer, consider making some laundry detergent soap sheets (or bringing a Fels Naptha laundry bar). You can rinse your little one's clothes in the sink to get some extra wear out of them instead of packing a bunch of extra clothes.
Small bottle of dish soap. If you have a baby drinking milk, formula, or anything other than water from their cup/bottle, this is a handy trick. Fill up a small travel bottle with dish soap and throw it in your liquids bag. You can then wash their cup nightly to keep it from getting totally gross over the course of your trip. Of course you can buy soap in Amsterdam, but you won't need to waste a large bottle.
Sneakers for all. You'll be doing a lot of walking, so be sure everyone has comfortable shoes. You don't want to be stuck carrying your kid the whole trip because they got a blister on day one.
Packable tote bag. Whether it's my toddlers coat or the latest souvenir they have to have, I feel like we always acquire stuff anytime we're out. I like to keep these tiny tote bags in all my pockets so I have a bag when I need one.
Tips for visiting Amsterdam with kids
Here are a few tips if you're bringing kids to Amsterdam. Some of these are more generic than others.
Plan half days. The canal ring of Amsterdam is pretty small, so it's easy to come back to your hotel for naps. Plan to do one or two activities in the morning and in the afternoon.
Consider baby wearing instead of a stroller. We are always partial to baby wearing for travel, but it's particularly useful in Amsterdam where the sidewalks are often narrow and the cobblestones can be very bumpy.
Restock snacks at Albert Heijn. Albert Heijn is a supermarket chain that has locations all over Amsterdam. They sell fresh and packaged snacks and meals, and it has a ton of great, healthy options for kids.
Pick the right coffee shop. The term "coffeeshop" in Amsterdam refers to a place where you can legally buy and consume legal drugs (like marijuana). This is maybe common knowledge, but I get tripped up a lot when I'm looking for actual coffee. Use the term "espresso" or "cafe" to find a shop with your favorite caffeinated beverage.
Avoid the Red Light District. The other vice Amsterdam is known for is its Red Light District. They start operating pretty early in the morning (and even the ads can be graphic), so it's best to generally avoid this area with young children. The Red Light District is located in the center of the canal ring. You can find a detailed map of the area here.
Book your canal cruise in advance. There are plenty of canal cruises where you can book tickets on the spot. Kids are allowed on almost all cruise lines, but some are more kid-friendly than others. We recommend looking up some of the best canal cruises for kids and booking in advance.
Wait to reserve bikes. Contrarily, we'd suggest waiting to rent your bicycle(s). There are a ton of bike rentals and it's easy to find one when and where you're ready. You might change your plans (timing or location) after seeing the biking intensity. That's what happened to us!
Give kids some spending money. Our kid loved shopping in Amsterdam! They were always finding trinkets and snacks and toys that they wanted. Setting a limit with a dollar amount or toy count in advance is a good plan to avoid meltdowns later.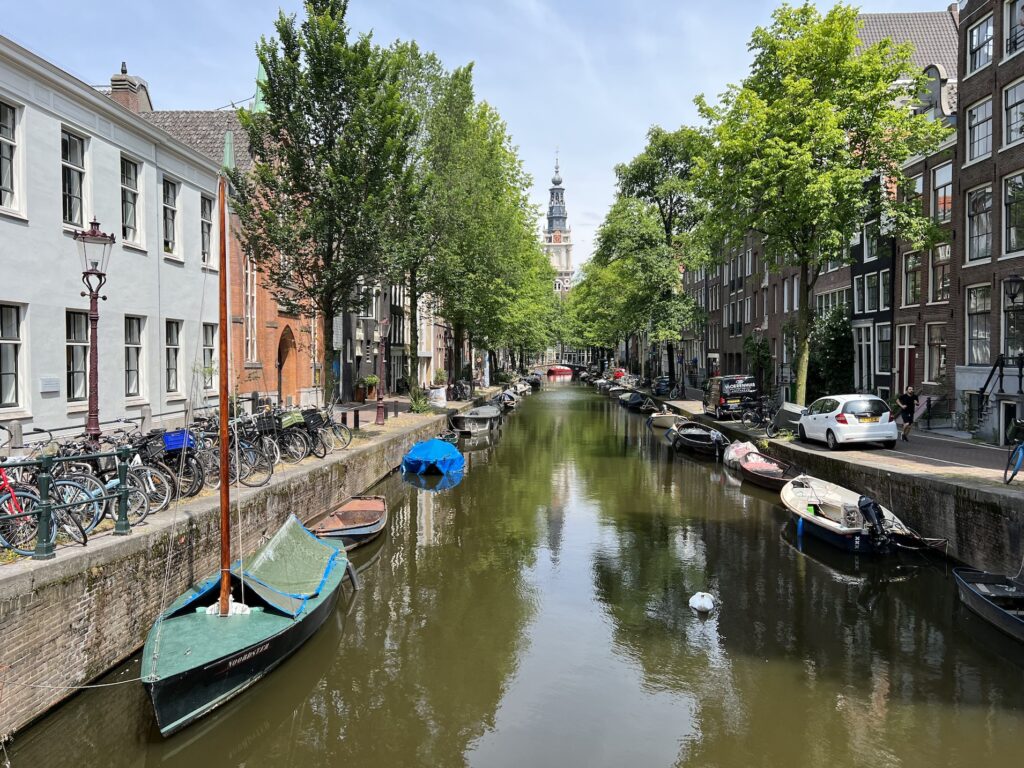 Sample 3-Day itinerary for Amsterdam with kids
Amsterdam is a place where you can easily arrive without a set itinerary, and spend your days wondering along the canals and stumbling into lovely markets. However, my Type A self can't possibly travel that way. So if you, like me, are looking for some guidance on how to specifically fill your days in Amsterdam, I've got you covered.
This is what we'd recommend for a three day visit to Amsterdam with kids. This assumes travel days on either side, but if you arrive/depart midday on either day, that'll work out fine here, too. Also, be sure to check the hours on different days and adjust this schedule as needed
Day 1: Bloemenmarkt, Nine Streets & Vondelpark
Coffee & Breakfast at Boca Coffee: There's plenty of good (actual) coffee shops in Amsterdam, so you may prioritize one near your hotel. Boca is one of our favorites, though the food is limited to small (delicious!) baked goods. For a heartier breakfast, head to nearby Eggs Benaddicted.
Bloemenmarkt: Head toward Munttoren (a beautiful carillon from the 1600s) and then explore Bloemenmarkt. It's a floating market that sells all sorts of tulip items from bulbs to cut flowers to souvenirs. (The market doesn't open till 11 on Sundays so you may ned to do this after lunch in that case.)
Nine Streets: Start strong with a walk through the most beautiful canals and streets in Amsterdam. This guide has a great suggested walking route with things to see/buy/eat along the way.
Lunch at pancakes Amsterdam: Dutch pancakes are required eating in Amsterdam. The pancakes are large, but a bit too small to share between two adults. They're perfect for sharing with a child, though. The classic cheese & apple was our favorite.
Break & nap: If you have nappers, now is a great time to go back to the hotel for a break.
Vondelpark: Make up for any bored littles with an afternoon at Vondelpark. You can rent bikes nearby, explore the different playgrounds, soak up the splash pad in the summer, or just run around.
Dinner (& beers) at Groot Melkhuis: Again, we're not foodies. At the moment, we are people who prioritize easy, comfortable restaurants with food our child will eat. Bonus points if they also have local beers and something for our kid to do while we wait. This one checks all those boxes. Our kid loved playing at the playground while we enjoyed our single beer of the day and waited for our pasta to arrive.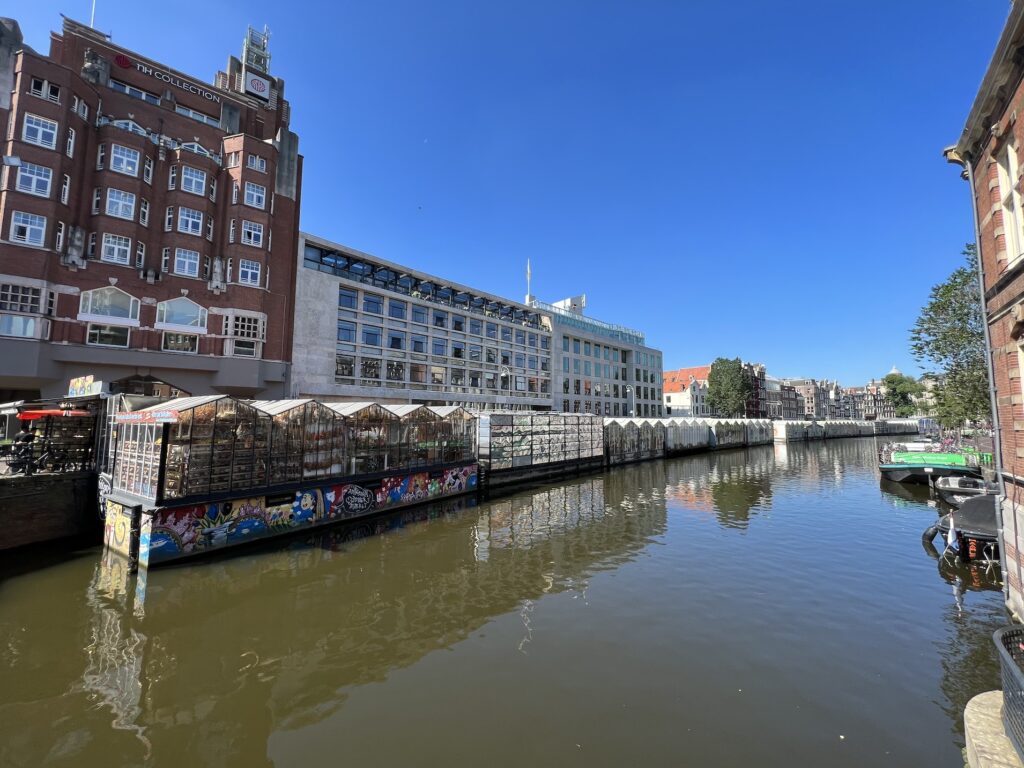 Day 2: Albert Cuyp Markt, Shopping Streets, Jordaan
Coffee & Breakfast at Back to Black: On your way to today's first activity, stop at nearby Back to Black for a flat white. Maybe fill up on quiche, smoothie bowls or baked goodies or save your appetite for …
Albert Cuyp Markt (Closed Sundays): This open-air street market is the largest in Europe. It's very eclectic, with a mix of food, clothing and souvenir vendors. It gets way more crowded in the afternoon, but our little loved having the place to themselves on a weekday morning.
Lunch at De Carrousel Pannenkoeken Amsterdam: If you got through the market without eating lunch, good for you! If pancakes were at hit yesterday, don't miss them again at this adorable cafe inside a restored carousel.
Break & nap: If you have nappers, now is a great time to go back to the hotel for a break.
Shopping streets in the central canal ring: Take some time walking through the winding — mostly pedestrian — shopping streets between Bloemenmarkt and Dam square. The LEGO Store is always a big hit, but our kid also found all the toy shops and candy stores.
North of the Nine Streets: Cut west from Dam Square and you'll find the Anne Frank House. We suggest walking past it, even if your children are too young to go inside. You'll also find the neighborhood of Jordaan, where you can get Dutch apple pie from Winkel 43 and/or pop into the Tulip Museum before 6 PM.
Dinner: There's a lot of moving parts on a day like today. I'd recommend bookmarking a few places in the area that you'd like to try, and then stop at whichever one is closest when you're hungry. This is a tactic we do often. We personally got fast food at Mister Wings because it's not often we find veggie "chicky nugs" at fast food restaurants for our vegetarian toddler.
Hot Tip: If you're planning this itinerary for a Saturday, flip your morning and afternoon so you'll be in Jordaan for the Noordermarkt before it closes at 4 PM. Then do Albert Cuyp Markt in the afternoon.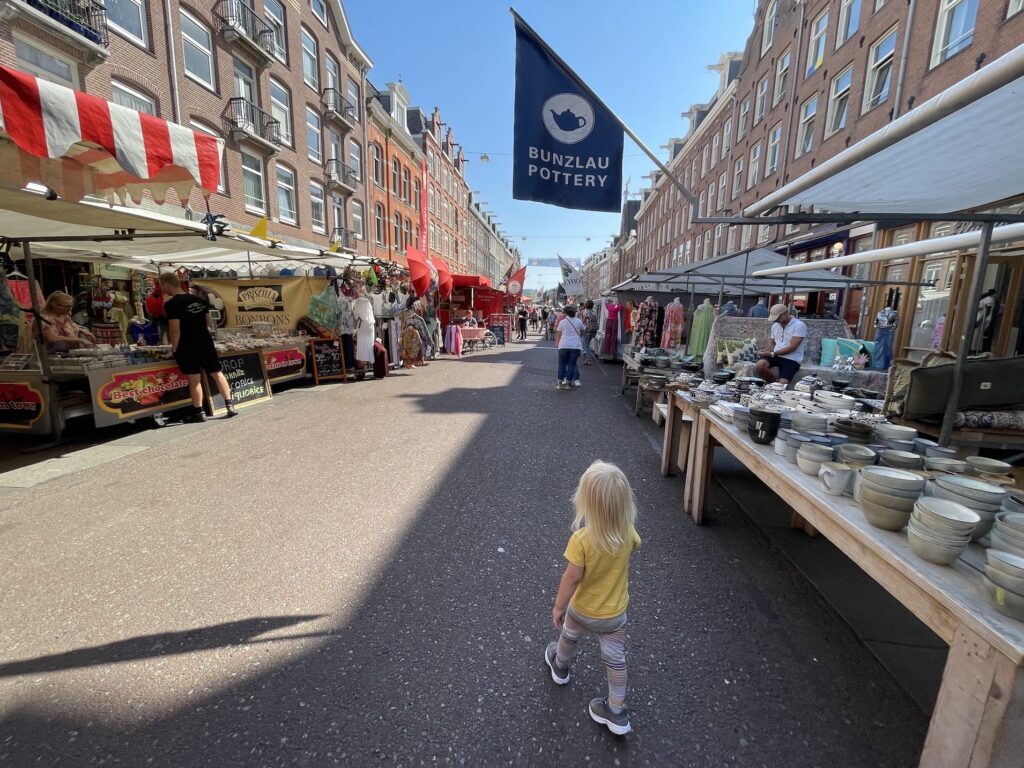 Day 3: NEMO Science Museum & anything you missed
Coffee & Breakfast at Box Sociaal: After two coffee-shop forward stops, fuel your day with a hearty brunch. This cafe opens at 9 and is a 15 minute (adult pace) to NEMO, which opens at 10.
NEMO Science Museum: This was the one thing we did in Amsterdam for our toddler. We let them lead the way, exploring and playing at their own pace. They LOVED IT. Our adult take is that it's not as good as science museums in bigger cities (like MSI in Chicago), but our kid had fun which was what we wanted.
Lunch at NEMO: The cafe at the top of NEMO was a good lunch option with high chairs, a kid-friendly menu and a great view. It also was cafeteria style, so it was also great for eating food you brought with you. (We personally fed our child a bento box packed with quinoa salad, fruit and veggies from Albert Heijn while we snacked on fries.)
Break & nap: If you have nappers, now is a great time to go back to the hotel for a break.
Anything you missed: I like to leave my last afternoon at a destination open if possible. That gives you the chance to visit somewhere you discovered along the way or revisit anywhere you loved. We personally spent our last night at Vondelpark. Other great options would include a twilight walk through the Nine Streets, drinks and apps at the windmill brewery (Brouwerij 't IJ) or a fun make-your-own-pizza night at Kinderkookkafe.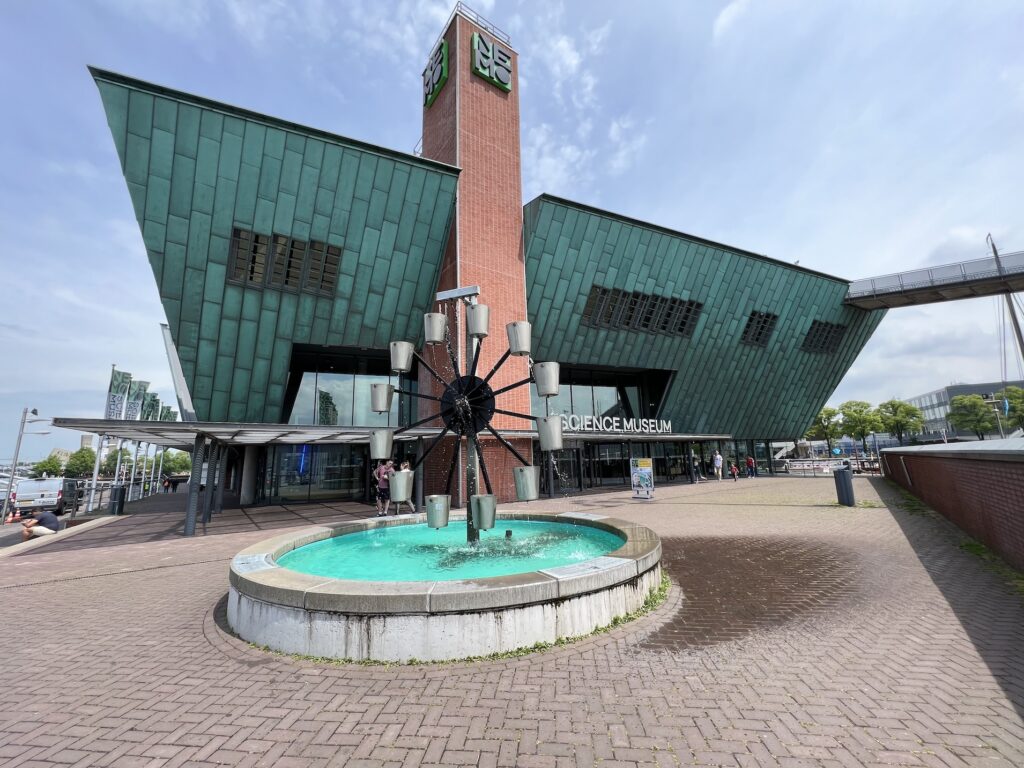 Closing thoughts on visiting Amsterdam with kids
What I've loved about traveling with a kid during their first two years of life is discovering the little things that they love along the way. In London, it was running down a small hill in a park by our hotel. In Paris, it was eating crepes on the ground in a square. And in Amsterdam, it was the tiny fountain in front of our hotel.
This are moments that you can't plan for. I loved visiting Amsterdam with my kid because it allowed them to lead the way a bit more than other they could at other destinations. We were never really in a hurry. They got to stop at shops, look at bikes, and watch the boats go by. There were very few moments when we had to rush them along to the next place.
I thought that writing a post about how Amsterdam is very kid friendly was going to be a hot take. The truth is, it absolutely was not. It turns out that most parents out there realize that Amsterdam is about so much more than drug culture and Red Light Districts. Amsterdam is a beautiful, unique, pretty small city where kids actually what to be.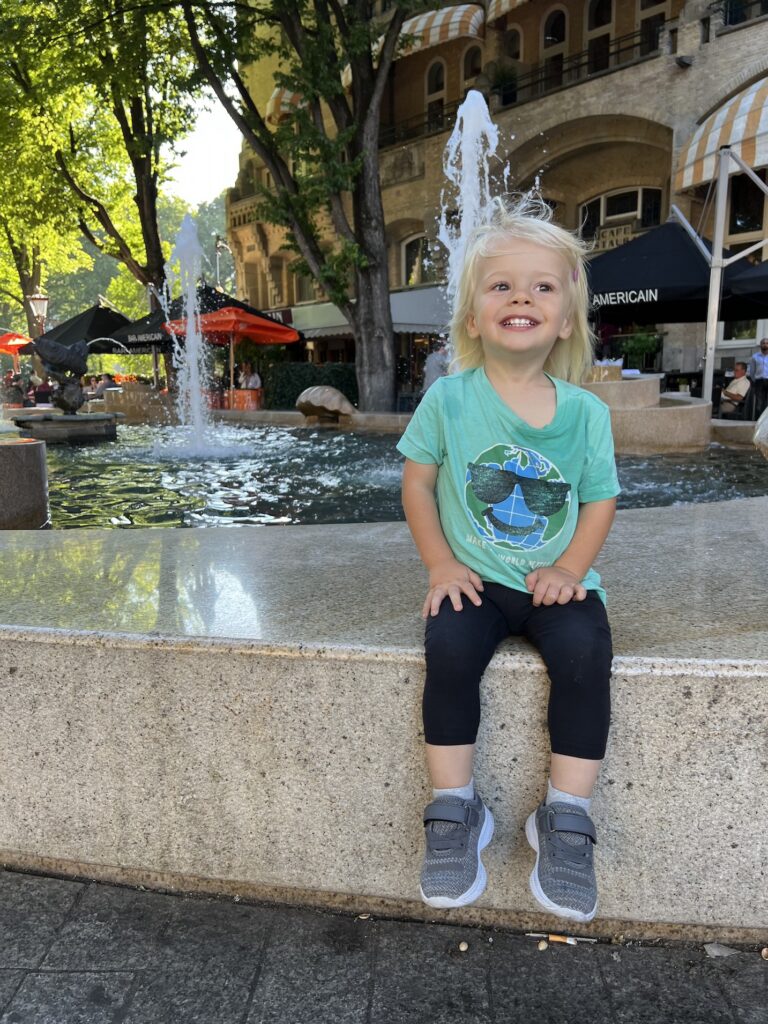 Are you heading to Amsterdam with kids? Let me know in the comments if there's any more questions I can answer. Or better yet, if you've been, what tips do you have for other parents?